We recently had a new RV awning installed on our travel trailer (we live full time in our RV). It is the Dometic 9200 Power Awning that has an electric motor for easy operation, a great LED light strip and several accessories that can attach to the awning arm.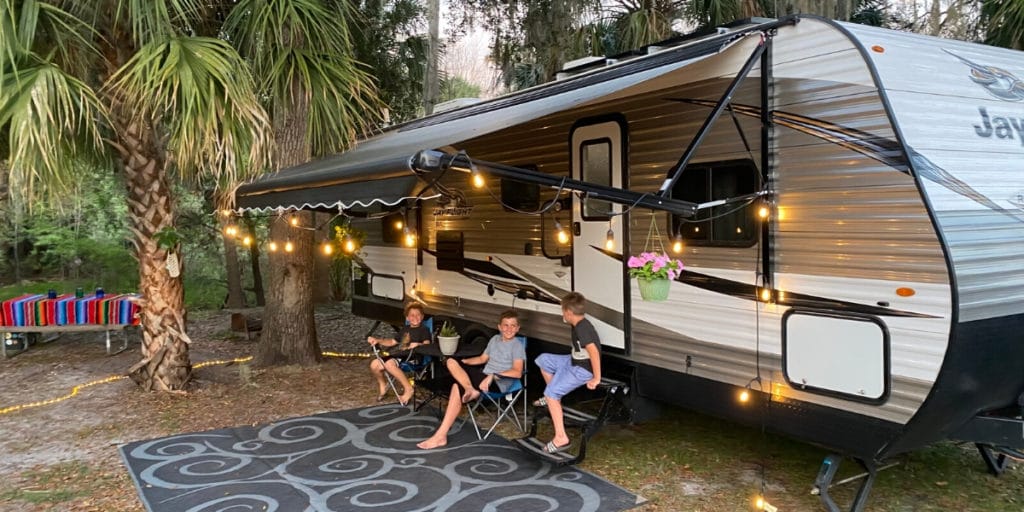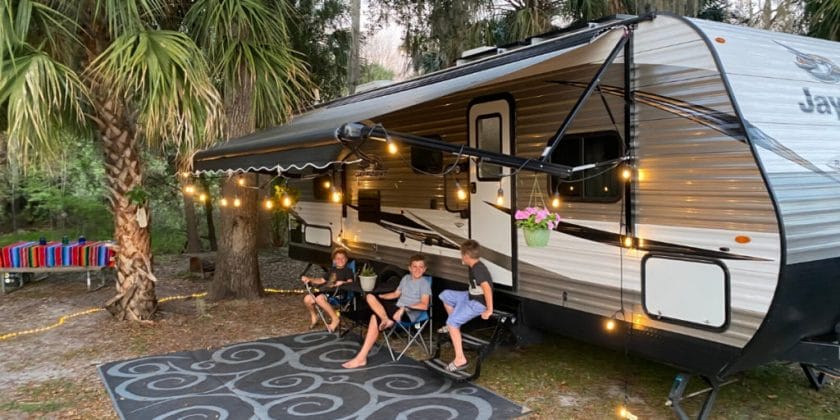 Design
The 9200 model is an RV patio awning that mounts to the sidewall of your RV. It has a knee-action design which means it flexes with the wind allowing it to stand up to a tough breeze. This is a great feature because wind can pick up out of nowhere and I've seen too many awnings become a victim to the wind.
The awning has a really nice pitch to it so it creates a lot of shade even when the sun isn't directly overhead. I see a lot of awnings on RV's that basically go straight out which doesn't help much when the sun is low on the awning side. The 9200 creates shade even into the late afternoon. This feature also allows for maximum rain protection.
Another design feature for rain is that the awning can be adjusted to tilt even further on one or both arms. This can allow for rain water to funnel toward the front or back of your RV.
Check out our video on this awning for more information and to see it in action!
Install
The installation of this awning was similar to the slide out awning we installed a while back. Basically it meant attaching the arms to the sidewall of the RV using some screws then sliding the awning reel into the slot along the roof of the RV. Once the reel is slid into place, you attach the ends of the reel to the awning arms, connect the wiring for power and that's about it.
I had an RV technician install this awning and with my help, it took just a couple hours. This was also done right at a campsite, so it doesn't need to be brought in to a shop or a dealer to have this work done. Dometic sends installation instructions that are easy to follow, so if you're a brave DIYer, you may be able to tackle this one yourself.
Check out the time lapse video of the install.
Operation
The use of camper awnings has improved significantly over the years and this awning is no exception. It is a powered awning, which means there is a switch inside the RV to make the awning go in or out. One touch of this button can reel the awning out in just a few seconds and the same button will retract the awning as well.
This makes it very easy and convenient to put the awning out any time of day. The operation is also very quiet due to the new WhisperDrive motor that is seamlessly built in. We also have a switch inside the RV to turn on the LED light strip that is under the awning.
If it is raining outside, you can manually adjust the pitch of the awning to make the rain funnel to the front or back of your RV so you don't have to step in a big puddle anytime you're heading out.
This is done by pulling down on the arm of the awning you want to have the rain pitched to then tightening the knob on the awning arm. Super easy!
Accessories
The 9200 Power Awning has a really cool new feature. There is a power channel built into the front arm of the awning. This channel has 12 volt power supplied to it, which can be used to power up several different accessories available from Dometic.
This power channel is what sets this awning apart from any other on the market. With something so easy to use and the fun accessories available, this awning is a great choice for any RVer.
These accessories include:
USB/12v charger that can be used to charge your phone or other USB compatible device. The charger has 2 USB ports and 1 cigarette lighter style 12v plug. There is also an elastic band on it that you can secure your phone into while charging.
An oscillating fan to keep air flow going under the awning to keep the space even cooler. The fan is fully adjustable to direct where you need it most.
Single or dual Bluetooth enabled speaker so you can connect your phone and listen to some music under your awning. The speakers sound great and very easy to connect to.
A spotlight or floodlight to really light up your campsite. These lights allow for you to cook, eat or play some cards under the awning well into the night.
These accessories make camp life much more fun and convenient. Installing these are a breeze using their "click-clack" fastening method into the channel – you insert the plug end of the accessory into the channel slot, then simply turn it to lock into the powered channel. Once you hear the click-clack sound, you know it's locked in and powered up.
We are very happy with the Dometic 9200 Power Awning and have been using it almost every day. Whether it's getting out of the sun and into the shade or getting out of the rain, the awning provides great coverage. This awning is extremely versatile with the coverage it provides, the tilting you can do with it as well as all of the cool accessories that can plug into it.
Also, be sure to check out all of Dometic's awning products also including window awnings and slide out awnings. Dometic offers fantastic products for both inside and outside of your RV.
This post is in paid partnership with Dometic.
Keystone Montana – 7 Owners Share What They Love About It
RV Living – 68 Things You Will Want To Know [Free eBook]
40+ Helpful Tips For Planning An RV Trip
21 RV Apps That Are Super Helpful For Your RV Trip
The Best Trailer Hitch On The Market – ProPride 3P
Why Having An RV Surge Protector Is An Absolute Must!
Pin it for later!
DISCLOSURE: This post may contain affiliate links, meaning I get a commission if you decide to make a purchase through my links, at no cost to you. Please read my disclosure for more info.