We recently got our first Keystone Montana High Country 5th wheel and we are loving it! Below we will share what we and fellow RVers like about their Keystone and why it is a great rig to get.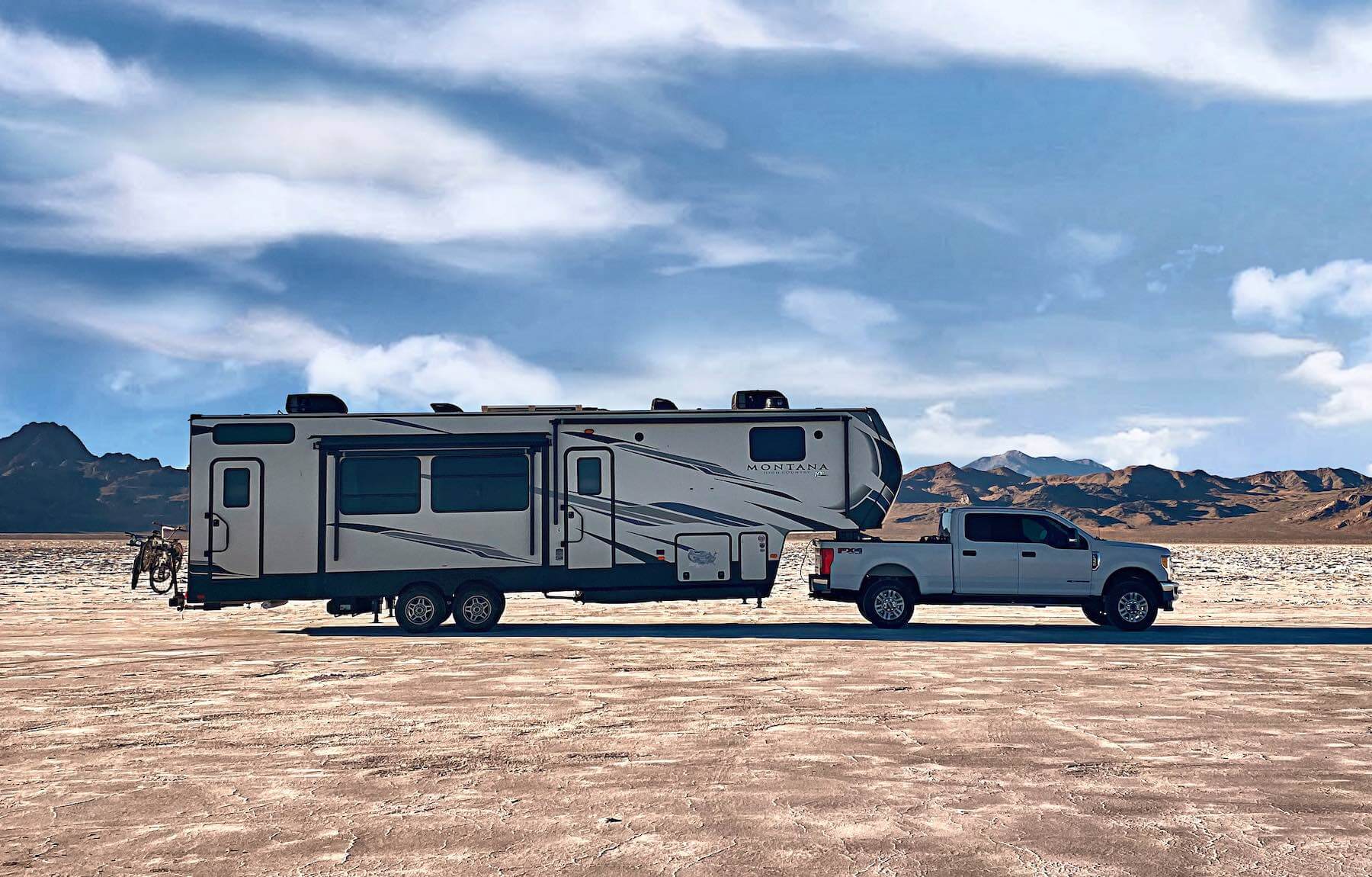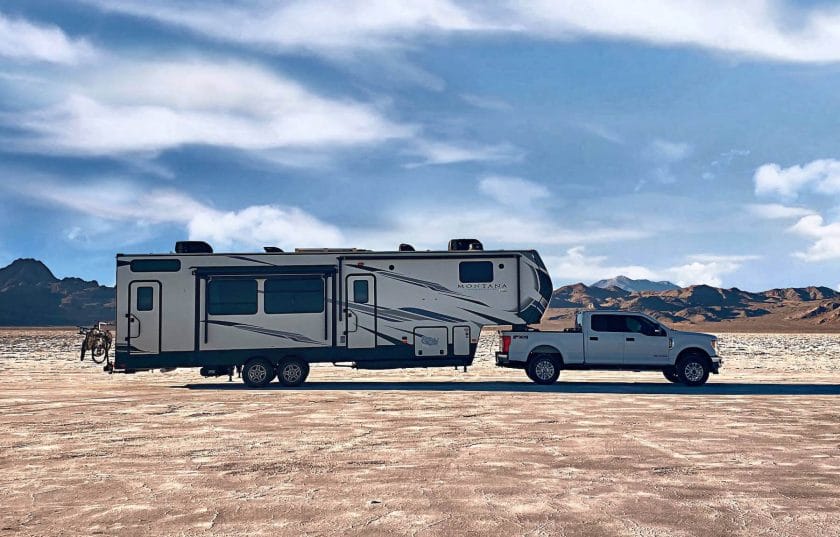 Let's start by answering a few common questions people have about Keystone and/or Montana rigs.
How Much Is A Montana RV?
A new Montana RV is normally going to start at $90,000. As you add packages and upgrades that price may go up. When you buy a Montana you are buying quality.
Who Manufactures Montana RV's?
Keystone is the parent company that makes Montana RV's. They make 5th Wheels, Travel Trailers, Toy Haulers, and Destination Trailers. From a brand perspective they have 27 different brands. The Fuzion, High Country, Raptor, Cougar to name a few.
Is Montana A Good RV?
The short answer is YES. As we will show in this article there are a lot of great things about Montana RV's from the quality, to the storage, to the layout and the solar prep.
What is the difference between Montana and Montana High Country?
They are both made by Keystone. The difference is that the Montana High Country comes in at a lighter weight than the Montana fifth wheel. They also start at a short length and a lower price tag than the Montana which is considered a luxury fifth wheel.
What do owners think about their Keystone RVs?
To provide even more insight into Keystone Montana rigs and other Keystone brands we reached out to fellow RVers who also have Keystone's to see what it is that they love about their Keystone Montana or Montana High Country – and a few other Keystone brands!
Crazy Family Adventure
We are a Full time RVing family with 4 kids and full time RV'd for over 8 years!
Rig: 2020 Montana High Country 335BH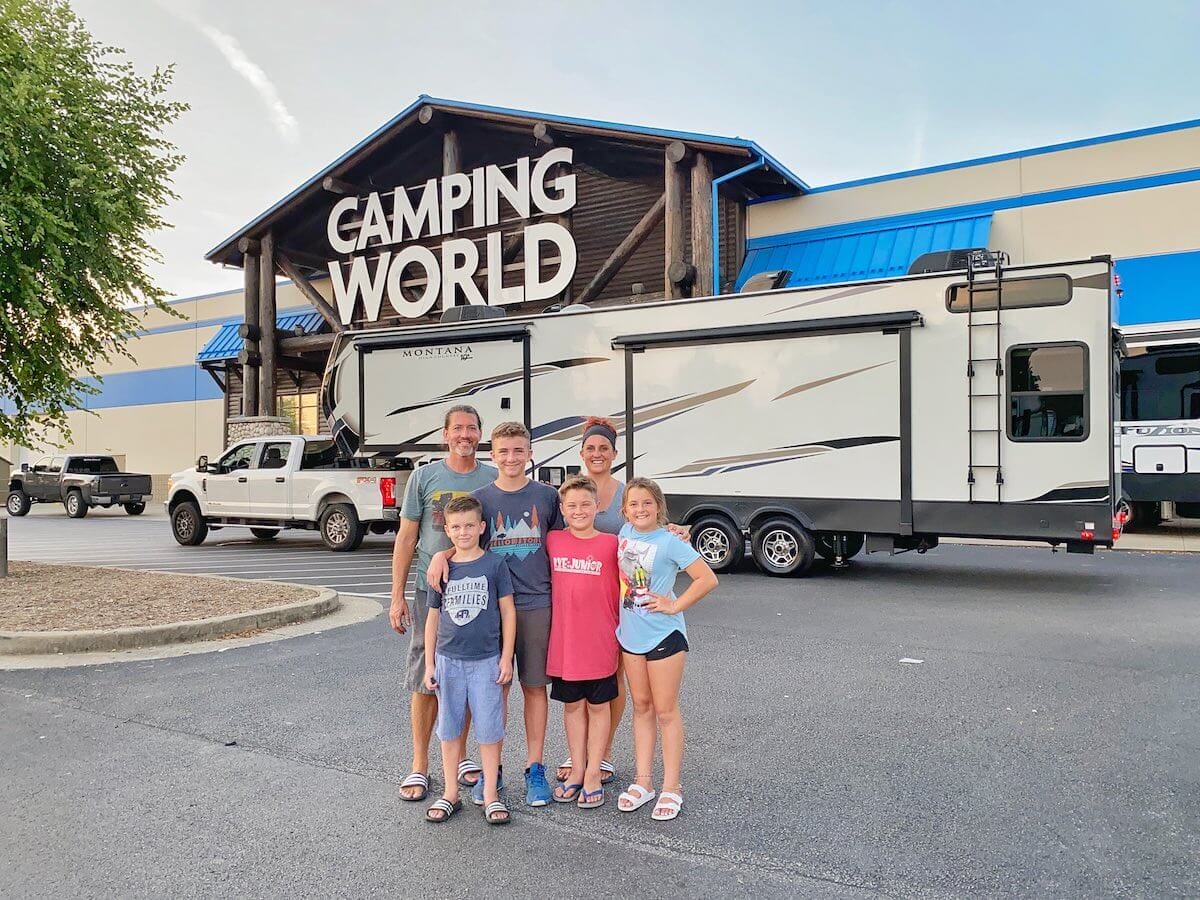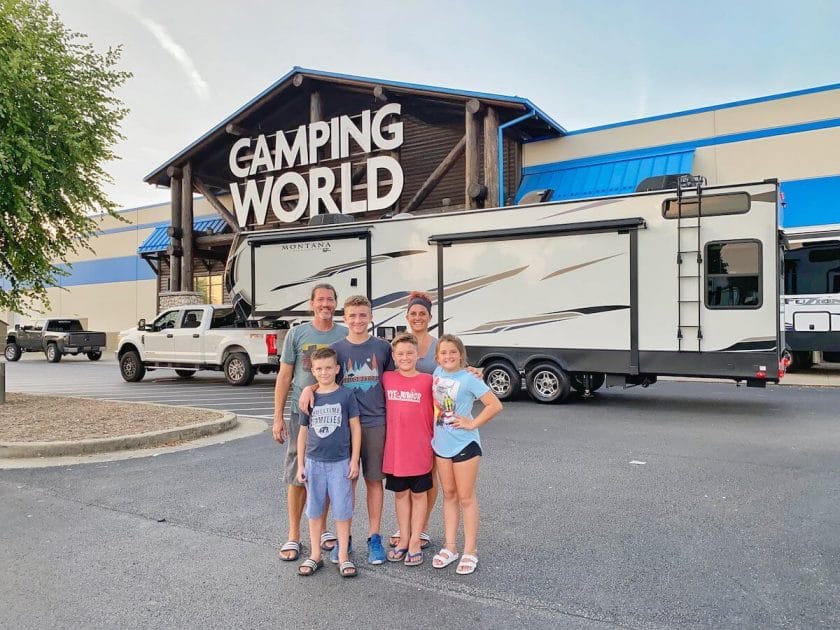 We have had 6 rigs so far in our RV life and have been full time on the road for over 6 years. We have tried a variety of brands and styles of RV's over the years.
When we went to look for our first 5th wheel we started researching brands and walked through a ton of different rigs. What we found is that the Keystone Montana High Country showcased a higher quality rig with things like better cabinet doors and handles, higher quality appliances and better overall construction, while also not being too heavy.
As we dug deeper, we found there were even more benefits! Our favorite being the solar prep. We knew we were going to get solar on the 5th wheel (we always do on our rigs since we enjoy boondocking). With the solar prep it was going to make the solar install cheaper and quicker than any other rig we have had.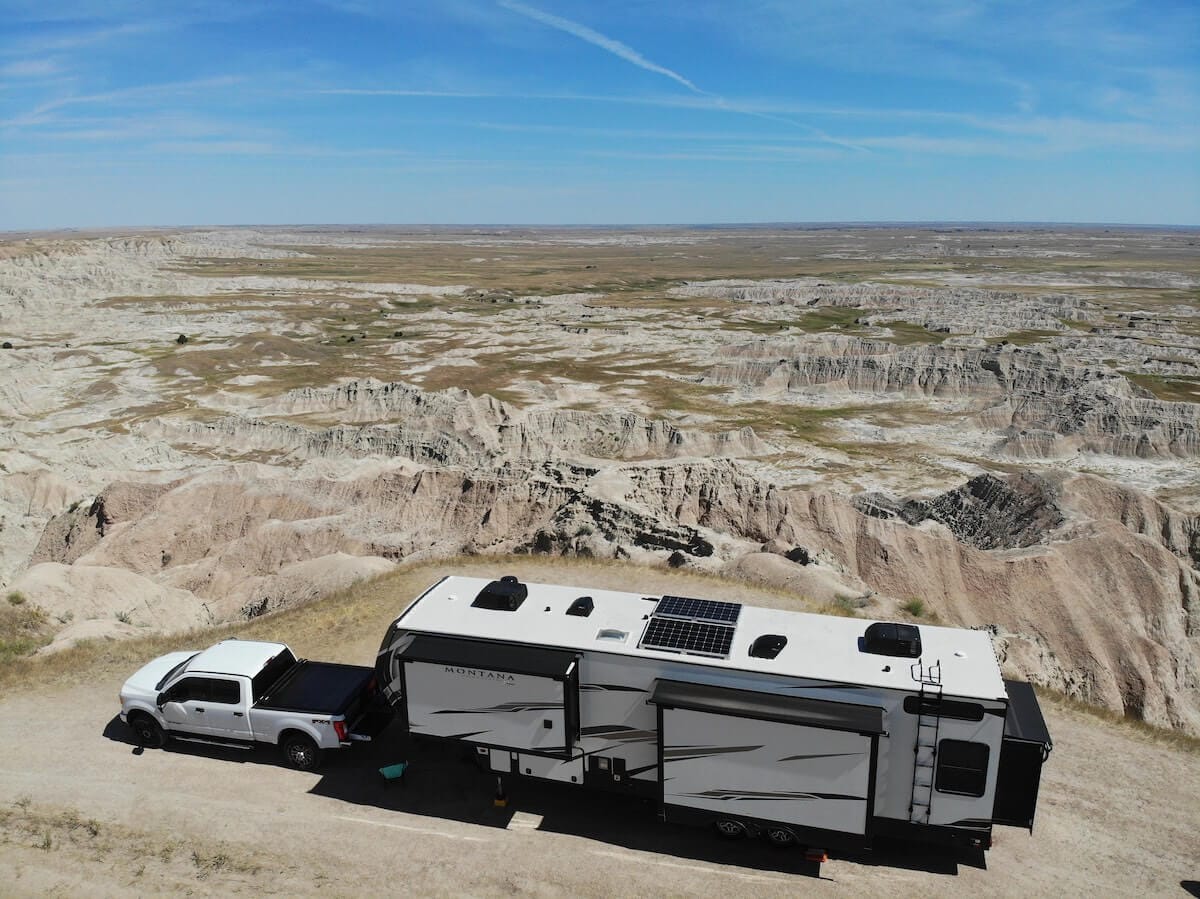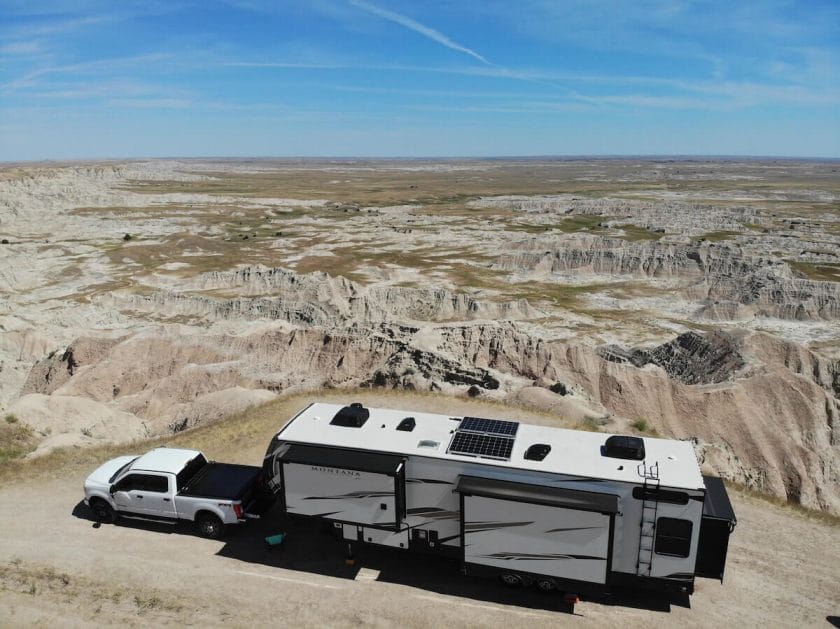 Montana High Country
We went with the Montana High Country 335BH model that we got at Camping World. It has 2 entry doors, a ceiling fan and a residential refrigerator. Plus a large living room area (with crown molding), a central vacuum, a big pass through storage compartment under the front cap and 2 air conditioners. It also comes with good quality basics like a large black tank and vent fans.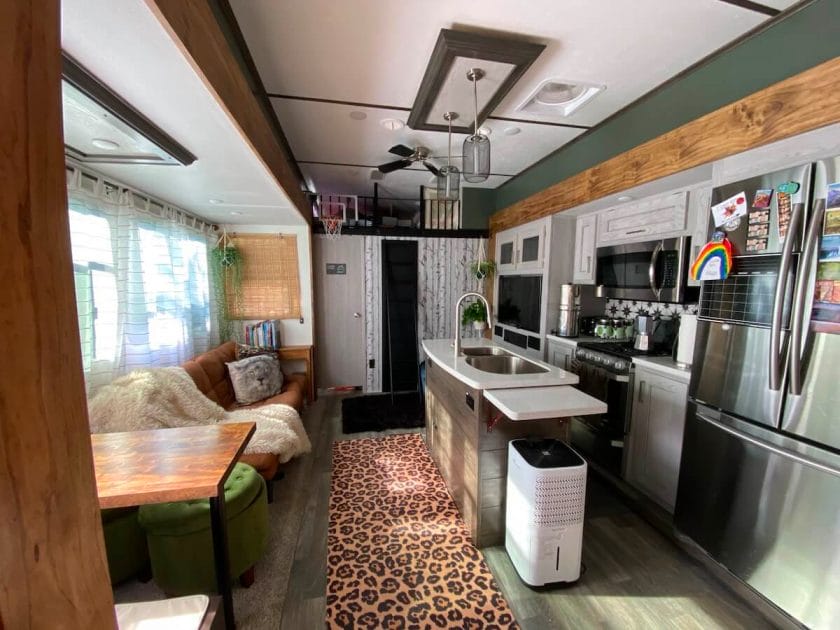 We have been in our rig now for over 4 months and we are extremely happy with it! Our solar was installed – by the team at Future Solutions in Indiana. They mentioned that it saved them over 10 hours of time on the install having the factory solar prep from Keystone.
We made a few changes inside the rig to make it work for our family. Since the design was already so open and light (it comes with light gray cabinets!) we were able to do all the changes we wanted in just over 2 weeks!
You can follow us here on our website, Instagram, Facebook and YouTube.
Janelle from Home With The Hoopers
Rig: 2020 Keystone Montana 3855 with Legacy Package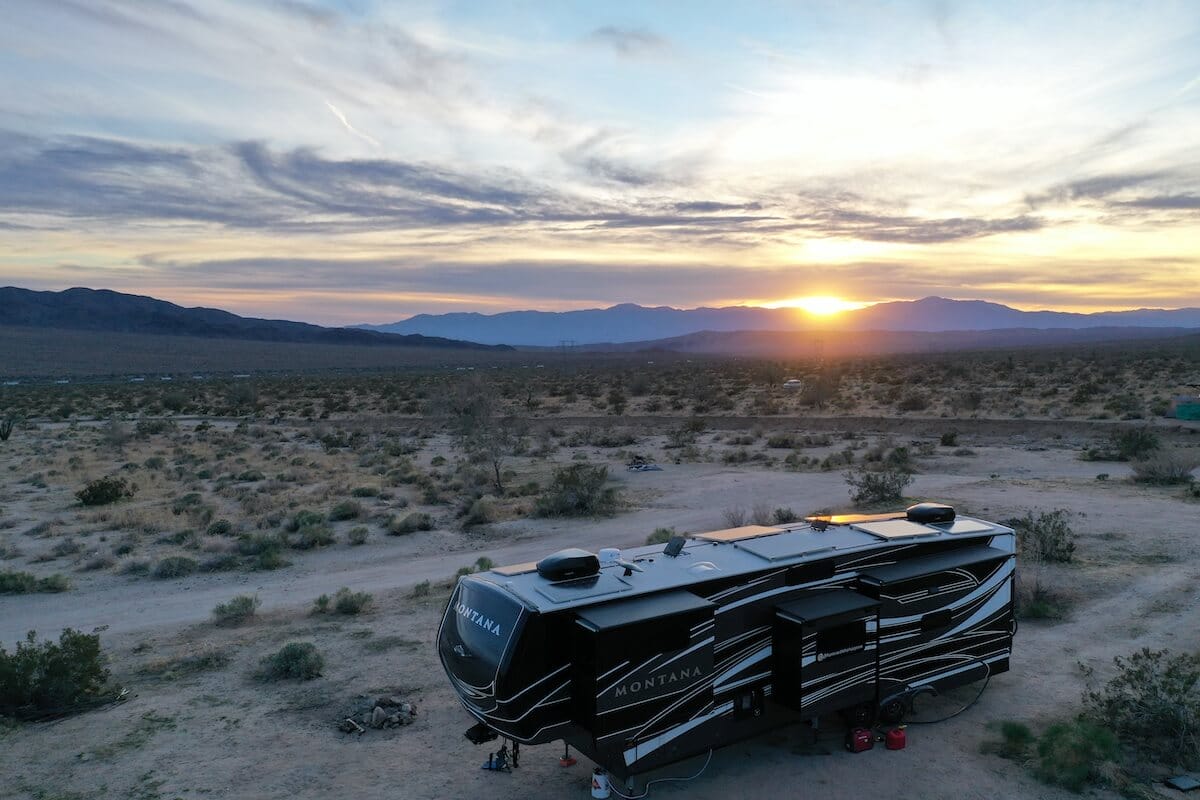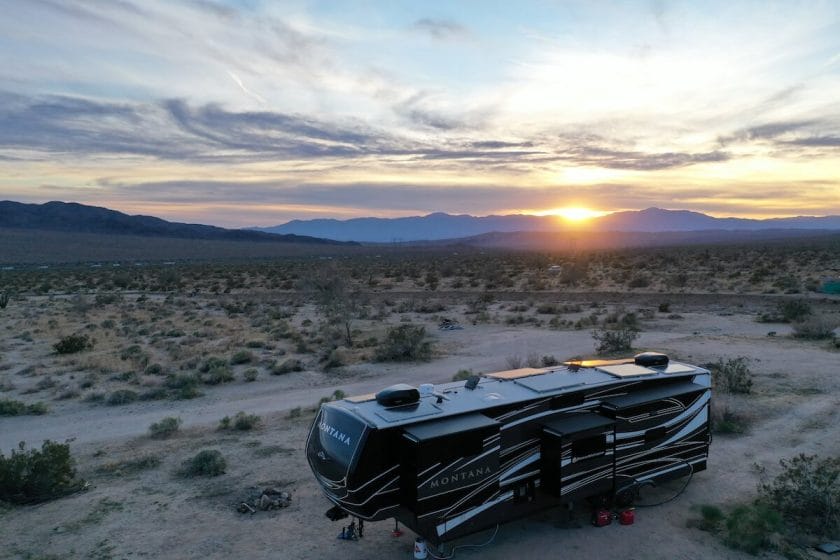 What I love about my Keystone RV.
There are countless things to love about Keystone RVs, but for me it goes beyond the rig itself. To me, Keystone embodies community – when you buy a Keystone you truly become a member of the family.
We had the pleasure of going on a factory tour of the Keystone Montana plant and we learned SO much, but more importantly we felt noticed. They asked us why – why we chose Keystone, what did we love, what would we change. I feel like Keystone cares.
They care about the consumer and what they want. They change and evolve with the industry and are constantly pushing new standards based on what the consumer wants.
When dealing with customer service, we have encountered amazing service and communication as well. Beyond the Keystone relationship with the brand, the actual RV community is amazing. There are keystone meet-ups and in particular Montana meet-ups.
We had the opportunity to join in the Montana Circle during Quartzite this past year and it was spectacular. The pride and joy fellow Keystone owners exude is bar none. Personally we have owned 3 Keystone RVs – 1 Raptor toy hauler and 2 Montanas. We are Keystone owners for life.
You can learn more about Home With The Hoopers on their website and Instagram account.
Katy from Full Cup Adventures
Rig: 2020 Keystone Montana 3761FL with Legacy Package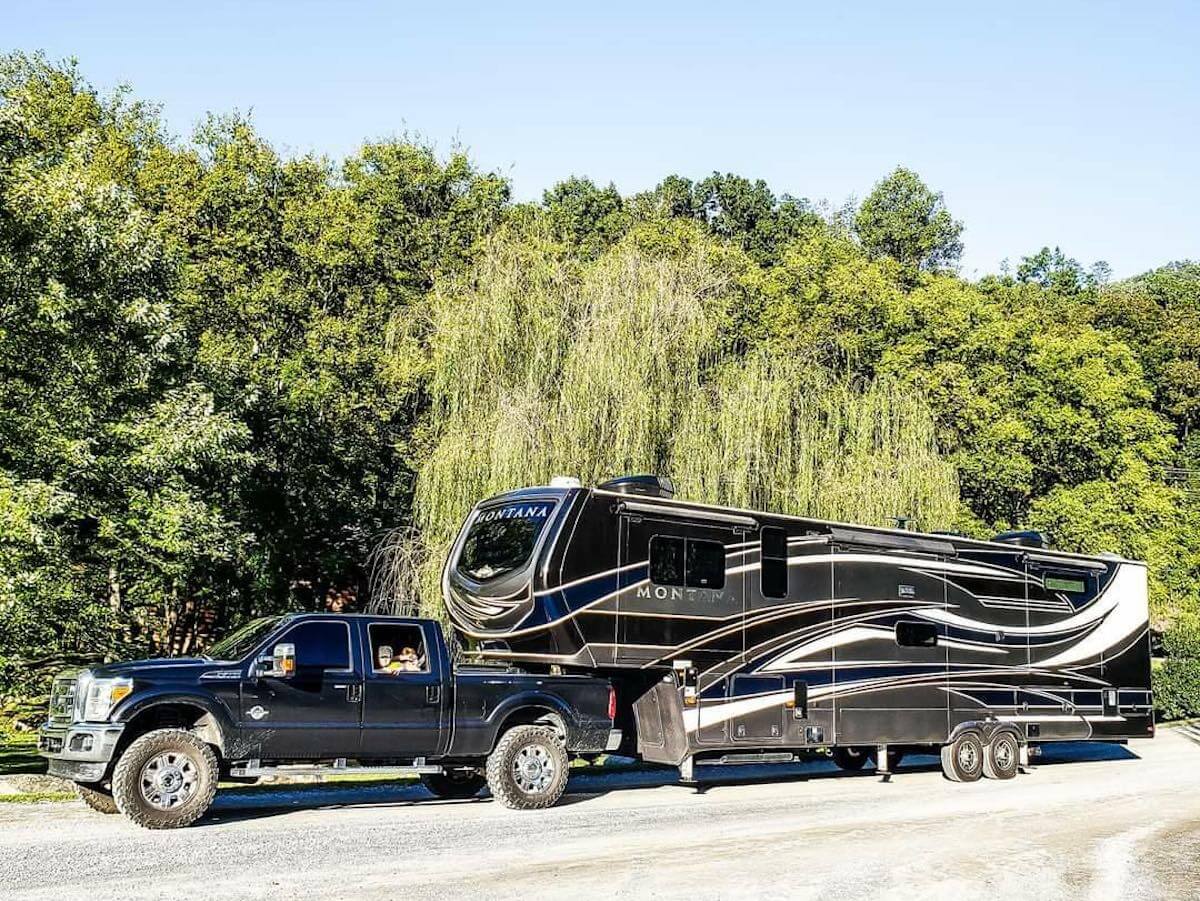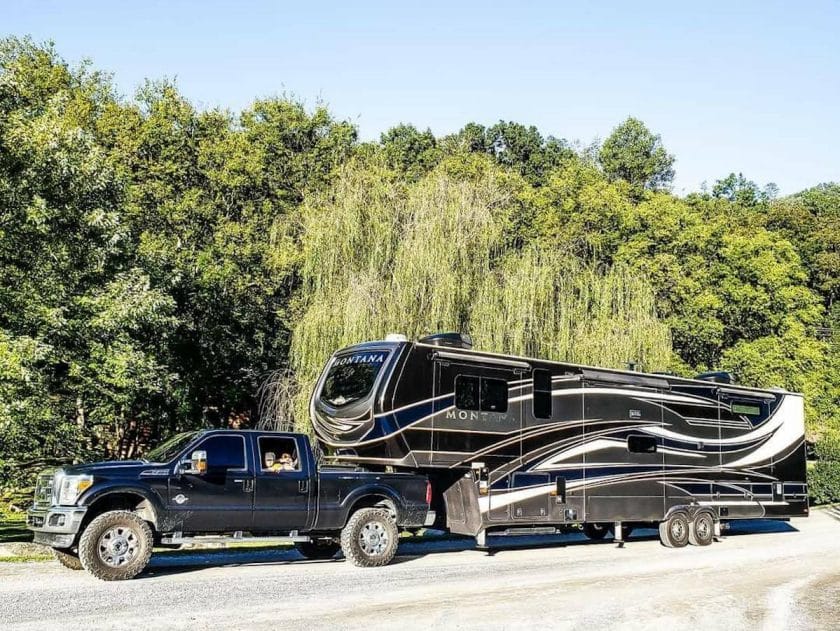 Our family had owned a "weekender setup" for several years when we decided to travel full-time. This made it pretty easy to create a list of "must haves," things we just absolutely would not skip in a rig for launching full-time travel.
We were told by so many dealerships that we would have to sacrifice something on our list but we quickly learned that the Montana by Keystone could check every box on that list! Premiums that made it an easy decision were 1 ½ baths, immense storage capacity (our raised master is entirely over storage compartments that are accessible from each side + the back), a residential fridge, washer/dryer (our combo unit actually works amazing), and modern finishes.
My husband would tell you that he was immediately drawn to our Montana because it had full auto-body paint and our Legacy package included disc brakes. We have just completed one year of life on the road in our Montana, and while we know so many families who have traded within a few months of making a purchase, our Montana has proven to be a solid decision that meets our needs!
You can learn more about Full Cup Adventures on their Instagram account.
Janae from Adventures With TuckNae
Rig Model: 2021 Keystone Montana High Country 335BH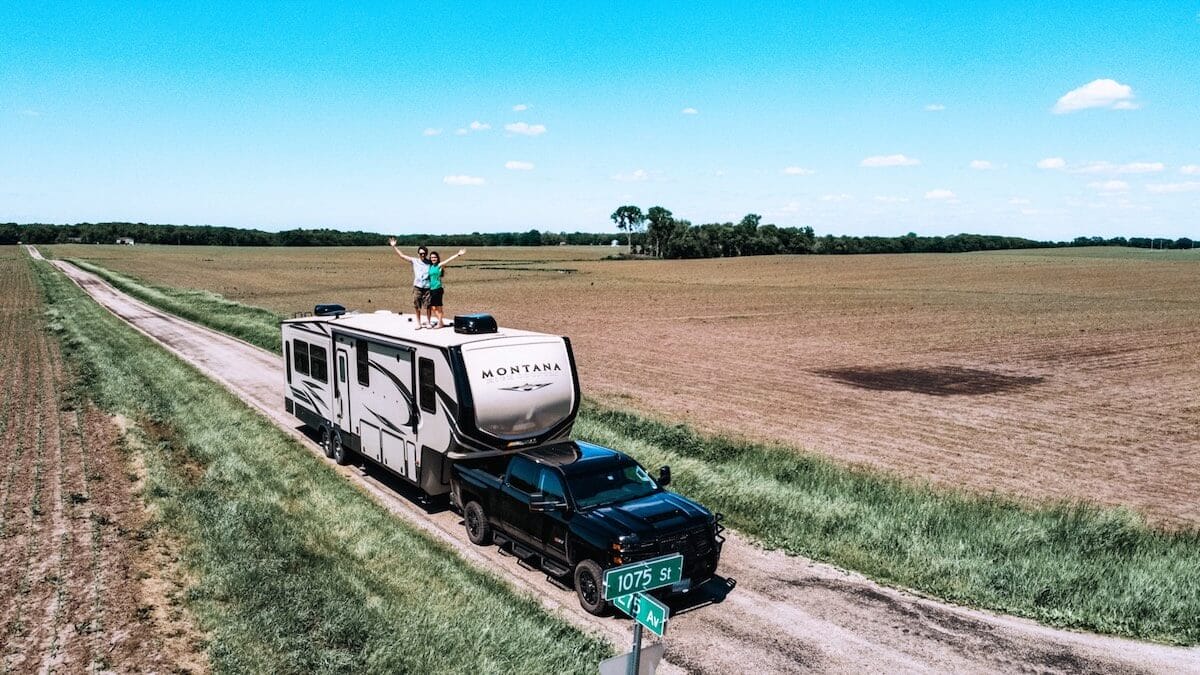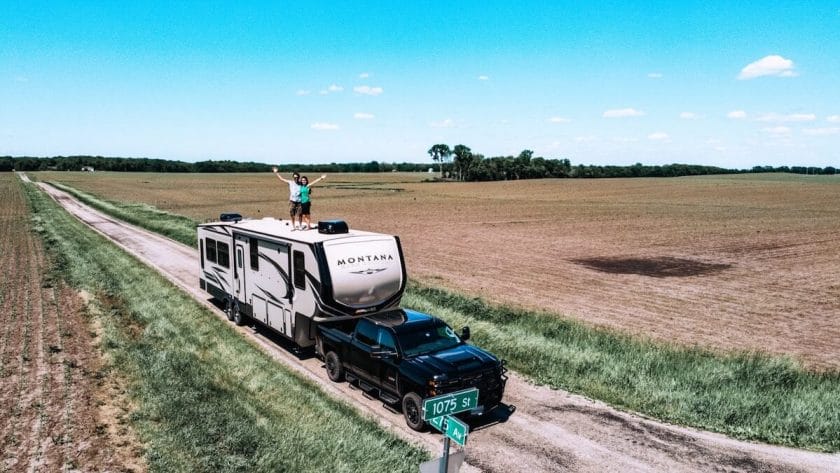 We are currently living full time in our second Keystone Montana High Country 5th wheel, and probably won't ever own another brand of RV. We love them! There are three main things that I like most about our current 335BH model.
First, the Master Suite! The way they designed the bathroom and bedroom to connect with a sliding door really makes it feel so much bigger and the convenience of having them connected is really nice as well.
The second thing that makes this rig stand out to us, is the amount of storage. It's almost endless! We actually moved into the 335BH from the 385BR, a downsize of roughly 4-5' shorter, and somehow we have more storage space than we did in our previous rig. And anyone who lives in an RV knows just how important that is!
I actually anticipated having to get rid of some things to make everything fit, but instead, I ended up having room left over!
Lastly, the massive front window! This model has a huge window in the Master Bedroom that looks out the front end of the RV. We love to boondock, and have ended up with some pretty amazing views out our front window.
We did have to give up a bit of closet space, but it was totally worth it to us. The window was actually one of the main things that sold us on this rig!
We love our Keystone Montana High Country 5th wheel!
You can learn more about Adventures With Tuckanee at their Website, on Instagram, YouTube and Facebook
Here is a video walk through video of their our rig:
Sammy from Big Hearts Tiny Spaces
Rig: 2021 Keystone Montana High Country 335BH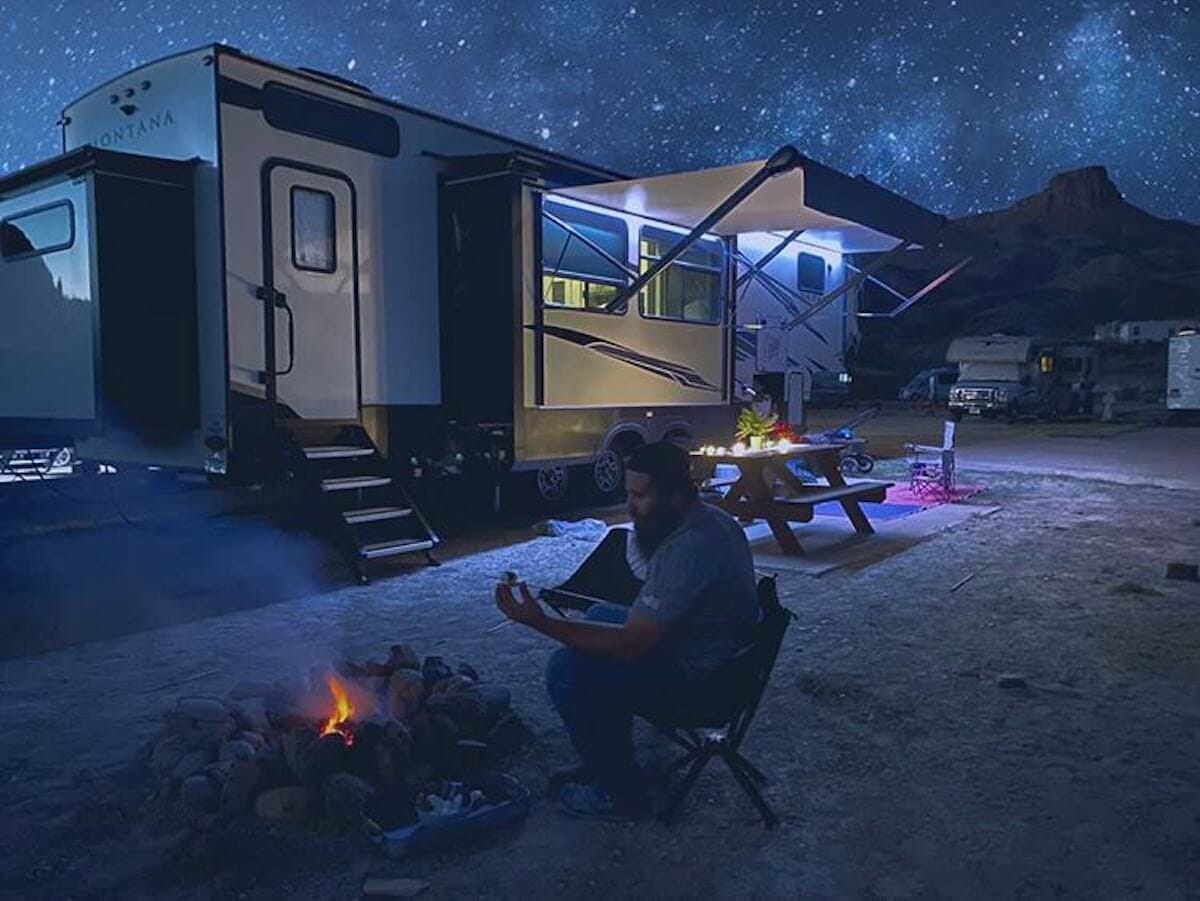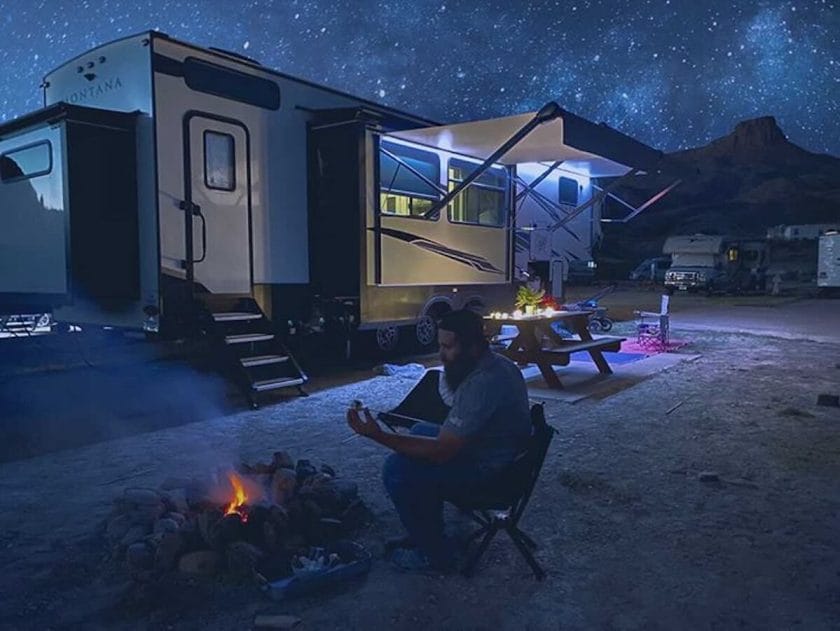 We personally love our Montana High Country 335bh because of the floor plan! It made the most sense for our family full time. The master and bedroom are spacious and we love that it has a bunk and a loft in the rear. Helps mom and dad feel like they have some space.
We really enjoy the large double awnings for all the time we spend outside. They provides the perfect amount of cover.
We couldn't be happier with our choice! We feel more at home than before.
Learn more about Big Hearts Tiny Spaces on their website and on Instagram.
Keystone makes more than just the Montana models! Here are a couple highlights from some of their other brands!
Jessa from Green For Keeps
Rig Model: 2015 Keystone Alpine 3620FL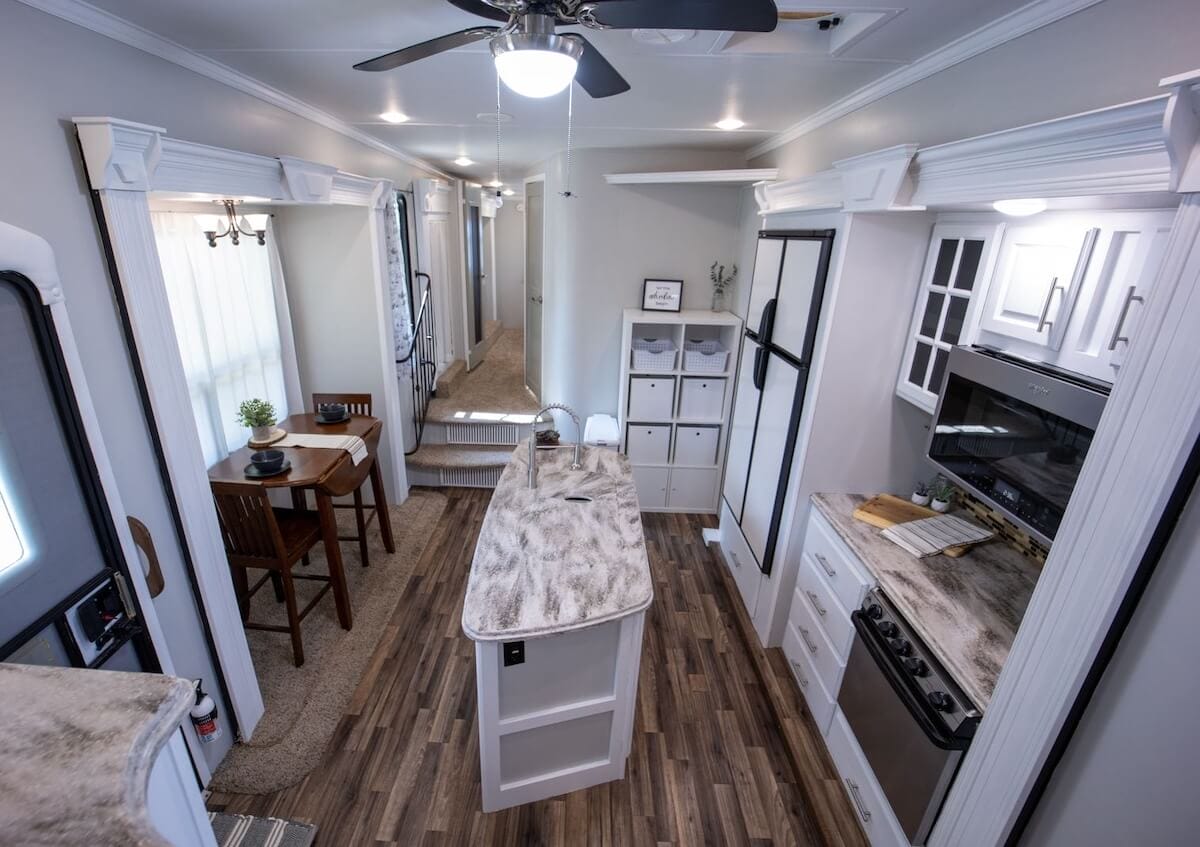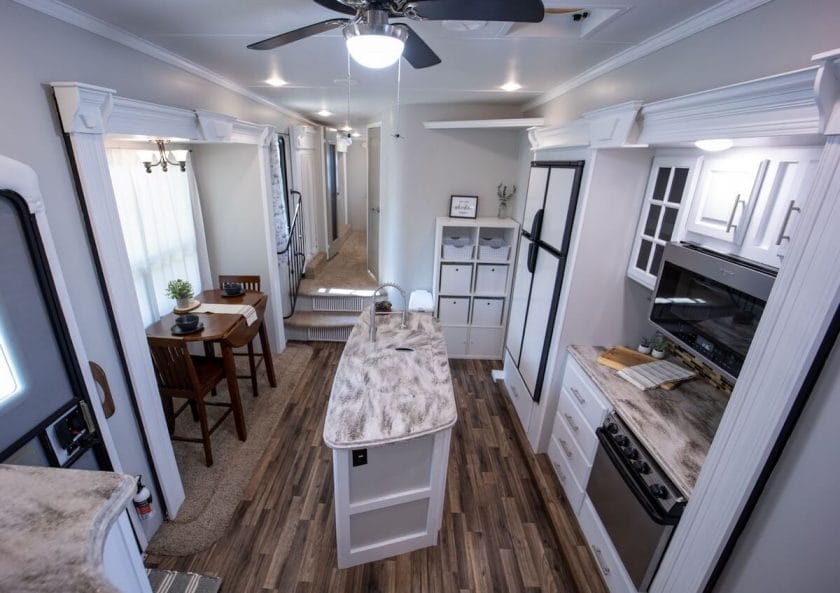 Our 2015 Keystone Alpine 3620FL (fifth wheel) is roomy with lots of windows and lots of potential. We chose this model to be our home when we decided to become full-time RV dwellers.
Shortly after purchasing it, we removed the old, worn couches in the living room and created a home office space for us both to work with our external monitors and plenty of desk space. We remodeled the entire inside (fresh paints and new hardware) and now it looks and feels like a gorgeous tiny home.
There is plenty of fresh air and natural light with all the windows throughout the rig. The two of us and our two kitties are incredibly comfortable.
This particular model has loads of outdoor storage as well, so we've had no issues with places to keep our board games, books, and other hobby items we didn't want to let go of when we decided to downsize to become full-time RVers. Keystone has several quality build models that work even for every-day use. We're quite happy with our home!
Jessy from Making McFarlin
Rig: 2003 Keystone Cougar 281 EFS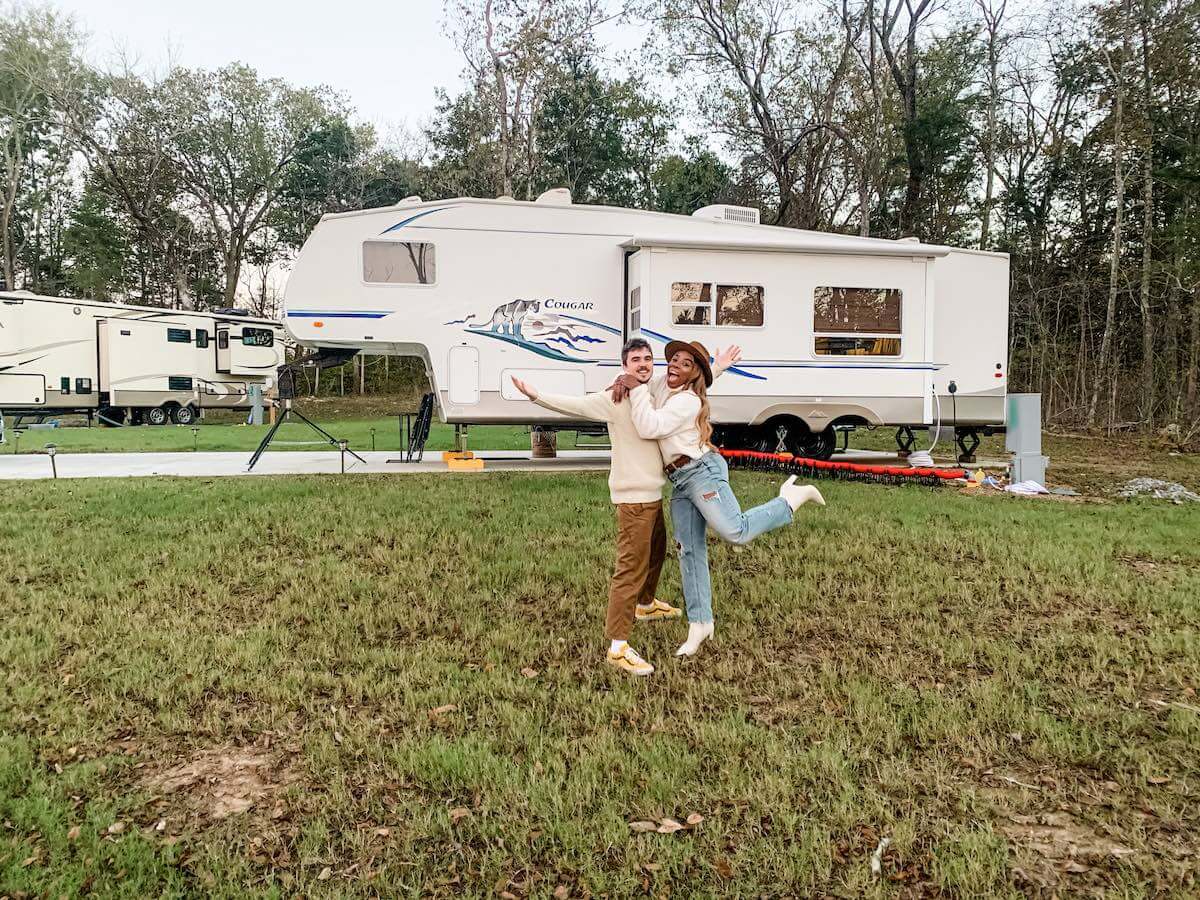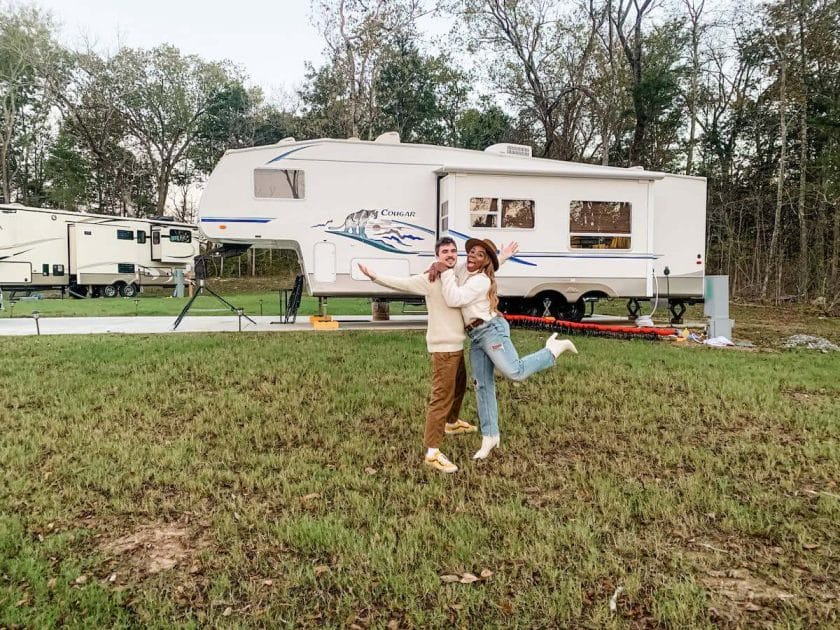 It was the second week of August when we took our first trip since the pandemic began. We had been locked away in our apartment and to say we were going stir crazy would be an understatement. Asheville was my choice, and though Jim wanted to go to the beach, we ultimately decided that a mountain town and time in nature would work better for social distancing. It was a wonderful trip.
Not just because it was the first trip since our wedding eight months prior, but because it was the trip that changed everything. While in prayer and meditation overlooking the Blue Ridge Mountains I felt a strong presence telling me we should sell everything, buy an RV, and travel.
I told Jim immediately. He didn't hesitate. His answer was yes.
It was only 6 weeks from that moment until the day we moved into our 2003 Keystone Cougar. We found our first camper already renovated and even though we didn't have a truck yet (we still don't) we took the plunge and moved out of our apartment.
We found an awesome spot to stay while we figure things out. They have a strict 10-year rule which is pretty standard for RV resorts, but our rig was approved even though she's 17 years old, almost double the age requirement.
You know why? Cause she's classic. She's aged like fine wine! It makes me so proud when we're taking a walk around the campground and we see all of the fancy new rigs and then we see ours sitting there on the hill, beautiful and timeless.
You can learn more about Making McFarlin on their Instagram account.
Conclusion
There you have it! 7 owners sharing their experience with Keystone. If you are looking for a 5th wheel for road tripping around North America or living full time in we highly recommend the Keystone brand!
As you can tell the ownership experience is amazing and we are all in it for the long haul!
What more on the RV lifestyle? Check out these recommended posts:
RV Living – 68 Things You Will Want To Know [Free eBook]
10 things we learned from 365 days of living and traveling in an RV
RV Living With Kids – What We've Learned After 2 Years
11 Things We Have Learned After 3 Years Of Full Time RV Living
How I Started My Online Business
How To Make A Successful Income While Full Time RVing
Come Learn All About Stationary RVing
Click here to pin this post for later: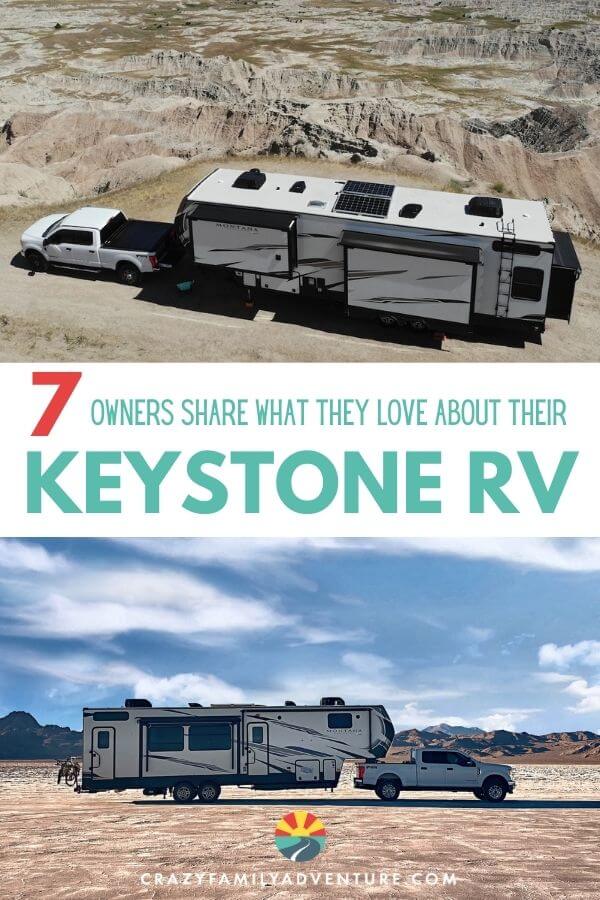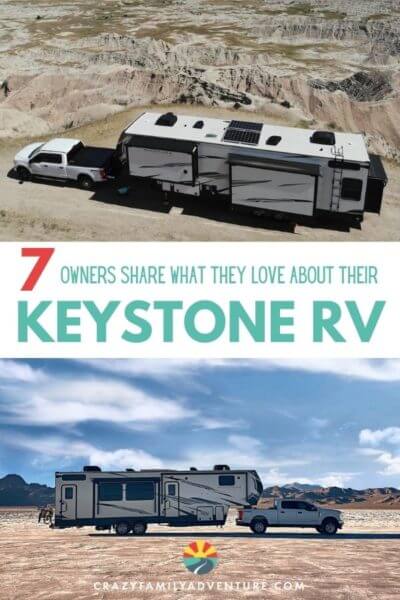 DISCLOSURE: This post may contain affiliate links, meaning I get a commission if you decide to make a purchase through my links, at no cost to you. Please read my disclosure for more info.