We are so excited to have the amazing Liz Wilcox share her fun and informative insights on Stationary RV Living. Check it out (you will love it!):

Feeling tired and overwhelmed by a to-do list as long as an Academy Award speech? Do you find yourself craving a simpler life? Well hunger no more, my friend! I, Liz Wilcox, have got the solution for you!
Stationary RVing!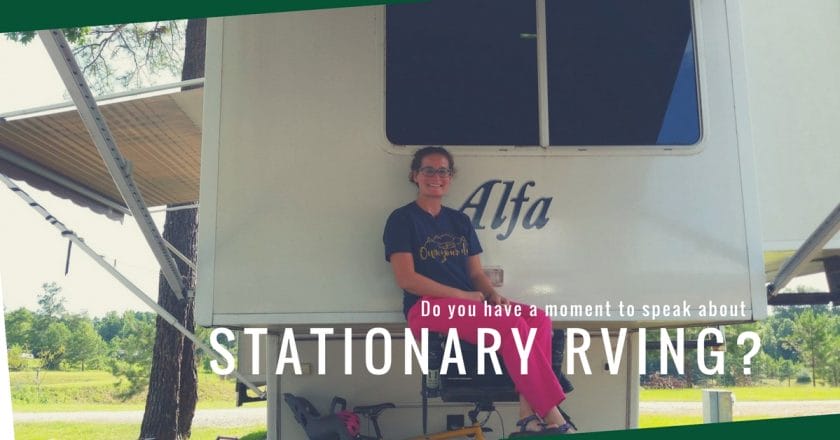 Yep that's right, stationary RVing. Now, what does that even mean, you ask? Well it's when you move into an RV and then you stay in one place. Yes, that's right! You don't move. You just live in the RV. Forget about that engine sticking out past your living room window or the hitch attached to the front…you keep that sucker in one place, you hear me?
Now I know what you're thinking, why would any one want to live in an RV and not go anywhere, amirite? It just doesn't make any sense, Liz! And how is stationary RVing going to solve my stress levels, hmm? Well, sit down, put your feet up, and keep scrolling down the page because I'm about to blow your mind, my friend.
Is your house always a mess?
Are your kids' toys everywhere? Do you find yourself constantly closing doors just so you won't have to look at the clutter inside the rooms? Are you constantly taking one step forward and two steps back when it comes to household chores?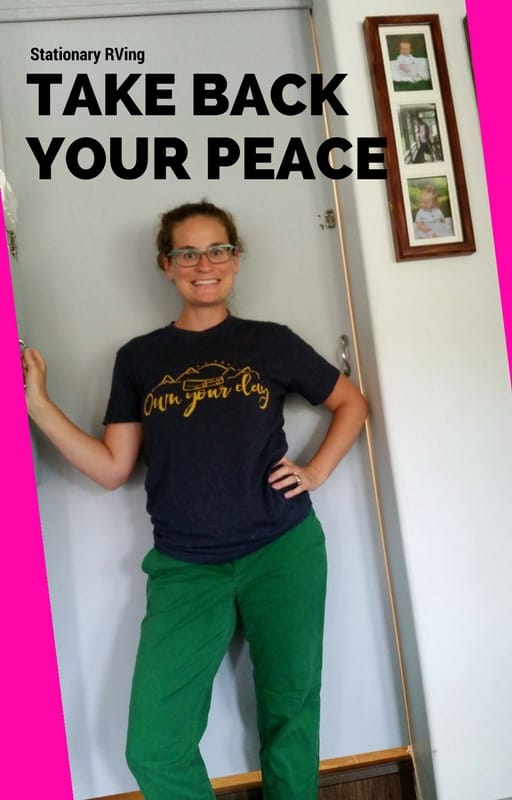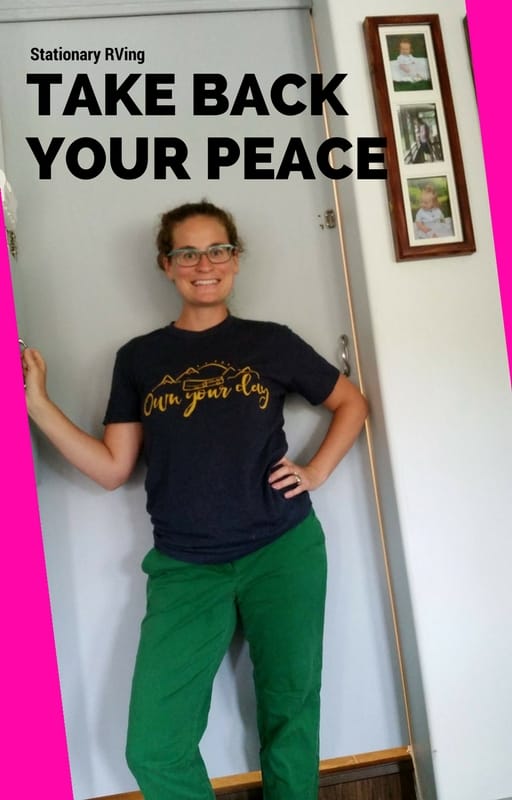 If you answered yes to any of these questions, stationary RVing is for you!
Yes, you're right, of course you're right. An RV does have much less space for your stuff, but hear me out. Living in a small space (like your stationary RV) will force you to get rid of stuff you don't really need! You will be amazed at what you can get rid of. Just ask The Happy Camper Wives.
"After we went to Alaska for the summer (on an RV trip), we realized we had already lived without all that "precious" stuff for 4 months and we couldn't remember what was even in there. We then downsized to whatever could fit into our trailer/truck."
After downsizing into the RV, you'll be blown away by how much less you have to take care of (i.e. CLEAN UP!!).
And as an added bonus, if you act now and discard of your unnecessary items, the ones you keep become much more valuable. And isn't that what life is all about? To surround ourselves with the things we love the most?
Do you like having money?
Of course you do! We all do!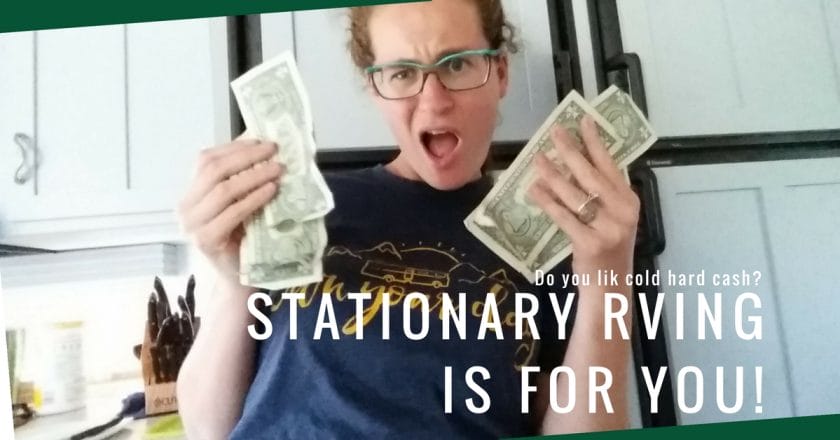 Stationary RVing is going to literally put money in your pocket!
Let's go back to point number one, less stuff in less space. When you don't have a lot of room, you can't keep bringing in new stuff. This means you gotta stop shopping so much.
Now I know what you're thinking. "I'm never going to be able to stop my Target addiction. Those dollar deals at the front of the store are just too good to pass up."
But what if I told you that you could very well stop that Target addiction? What if I told you living in just a few hundred or less square feet would completely change your shopping experience? Imagine this scenario, folks:
I pick up an item and think "Do I really have room for this bobble head Cupid?" If the answer is yes, I think "Do I really want to stare at this bobble head Cupid day in and day out? And what do I do with it once Valentine's Day is over?" No Liz. You don't want his stupid Cupid. Put it down and walk away.
Voila! You just saved a dollar! Thanks stationary RVing! You're the best.
Tired of all those blasted utility bills?
Stationary RVing can solve that problem, too.
When you buy your RV, put it in a park that has all utilities included and presto! Your water, electric, sewage, rent, and even internet can all be paid at once in one location. Talk about convenience!
Not only will this method give you less to think about during the month, it also saves you money! Rent at an RV park is much more affordable than a townhouse or suburb with a dastardly and restrictive HOA. Take yours truly for example! I pay $425 a month to live in an RV park, have all my utilities included, and get access to great amenities like a pool, clubhouse, and computer room!
Did your head just explode from the unbelievable power of stationary RVing?
Well hold up, this ain't over yet, baby!
Are you struggling with finding quality time for family?
Between the chores, the soccer practices, and the back and forth to the office, who has time for family? Sure, your whole life revolves around doing your part for the family, but there's never any time to actual build relationships with its members!
Give me a break, Liz! How is simply living in an RV going to magically give me more time to spend with my family?
Wow! What a great question! Please, allow me to explain how stationary RVing quite literally brings the family together.
Where there used to be lots of rooms for different activities, now there is only one main room. And that's where it all goes down. Mom can cook dinner while Dad plays with the kids (and vice versa, this is 2017 after all!), and you're all in the same room. Everyone is involved and spending time together.
And when you are feeling cramped in the tiny living space, take a step into the long-forgotten but mystical place called Nature! Yes, my friends, it is as easy as just taking a step out your front door. Stationary RVing means you're at an RV park or campground, or maybe even on your own land. It means you're not in the suburbs, but instead in nature! And with all that fresh air, beautiful scenery, and wildlife literally right outside your front door, you can easily create memorable moments with your family.

All of this can be yours with stationary RVing!
Yep. No scams, no gimmicks, and definitely no fine print. Stationary RVing will help you save money, spend quality time with family, and worry less about bill due dates and household duties. In simpler words, a simpler life. That's the Liz Wilcox Guarantee.
**A self-proclaimed RV missionary, Liz spends all her days trying to convert gypsy souls to the RV lifestyle. She believes in the power of the campfire, personal freedom, and above all else, jokes. She has recently sold her site but you can see all of her old content and the new owners content at: https://thevirtualcampground.com/.**
Be sure to check out Liz's ebook: Tales From the Black Tank, A Collection of Hilariously Crappy RV Stories
Pin This Post: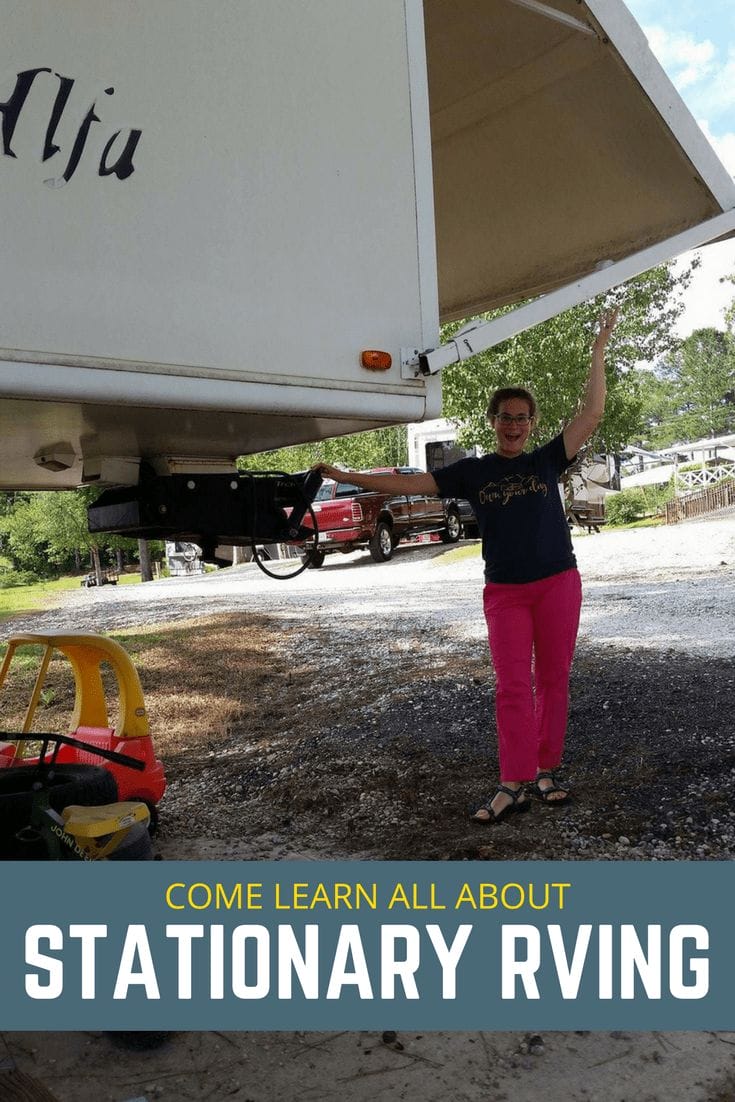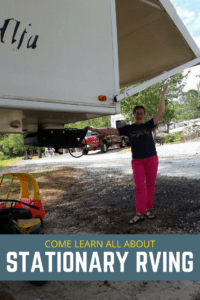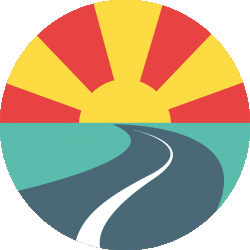 Latest posts by Staff Writer
(see all)
DISCLOSURE: This post may contain affiliate links, meaning I get a commission if you decide to make a purchase through my links, at no cost to you. Please read my disclosure for more info.