There's no denying the fact that every RV owner should have a good set of wheel chocks. That said, finding the best RV wheel chocks for your rig can be a daunting process.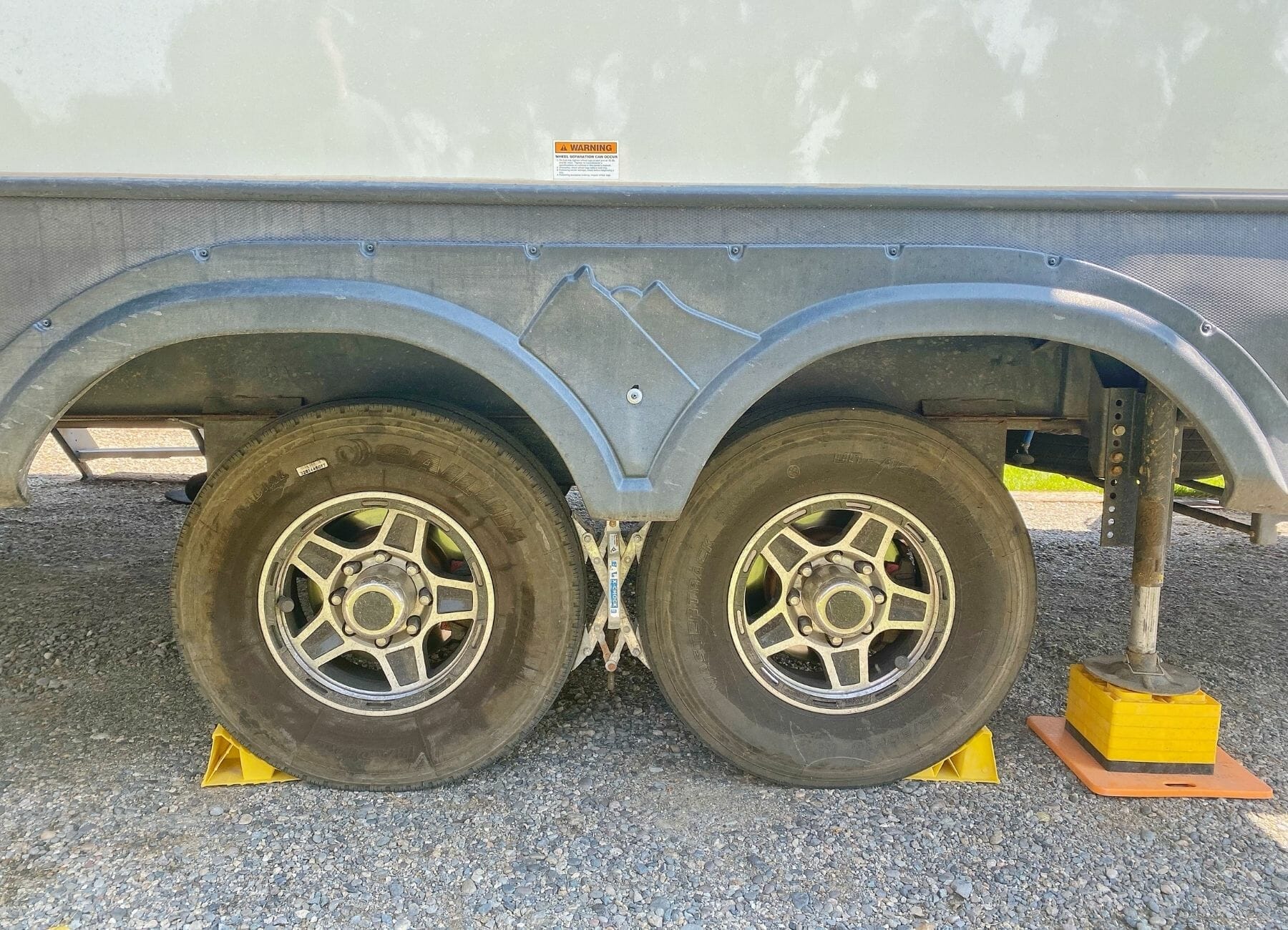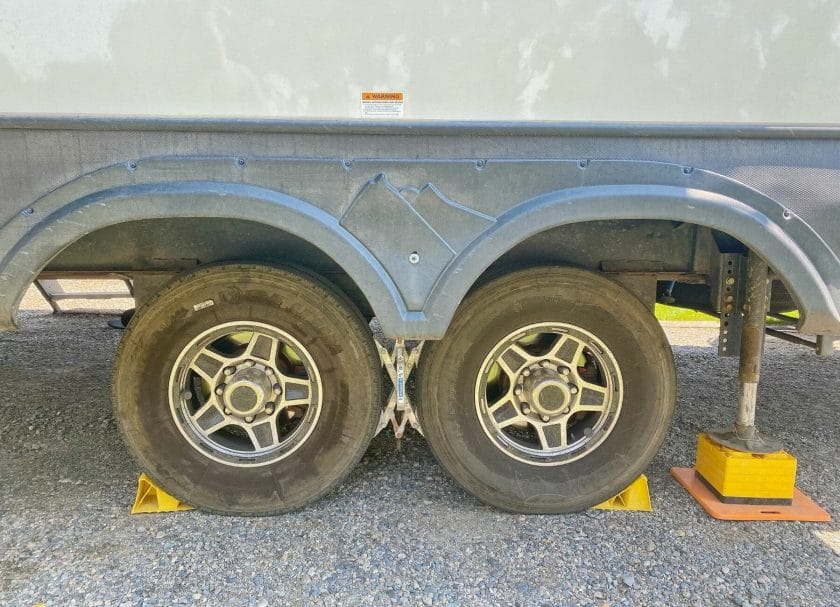 There's a lot to consider when picking out wheel chocks, and there are dozens of choices out there. This is all made even more complicated if you've never used wheel chocks before and have no idea what you should be looking for.
Fortunately, you've come to the right place. Below, we've compiled a list of the best options when it comes to RV wheel chocks. We've also included a bit about why you need wheel chocks and how to shop for them.
Hopefully this helps you on your hunt for the best wheel chocks for your situation, so you can stop worrying about what to buy and start enjoying your RV.
We traveled full time in our RV for 8 years so we have a lot of experience with wheel chocks and what works best. Let's get into the list!
Our Top Pick for Best RV Wheel Chocks: BAL X-Chock Wheel Stabilizer
If you're looking for a way to keep your RV from rocking and rolling as your family moves around throughout the day, this locking chock is our recommendation. It helps stabilize the RV, eliminating almost all motion and even helping provide stability to the suspension, potentially preventing damage.
The metal chocks are super durable, meaning you won't be dealing with broken chocks down the road. The fact that this chock is adjustable means you won't have to do any measuring before you order and can get a perfect fit every time.
Pros: incredibly durable; provides excellent stability and suspension support; has a rust-resistant coating; sold as a pair
Cons: time-consuming to install properly; on the pricey side; because X-chocks require a dual-axle setup to function, they will not work for single-axle trailers or motorhomes and are only usable on tandem wheels
Craig's Take: I really like the X-Chocks, they lock in the tires so all the little motion that drives you crazy when you're in the RV is gone. One thing to note on these is that they can rust if you're in a salty environment like near the beach, so be sure to spray them off every once in a while to keep them rust free.
Top Rated: Andersen Camper Leveler Chock Kit
We love the Anderson Camper Leveler Chock Kit because it provides a super quick and easy way to level your RV while simultaneously ensuring it stays in place. Simply drive onto the ramp-like curved leveler until the rig is level, and then place the provided wedge chock beneath that curved piece to hold your leveling job in place.
We appreciate that these chocks are durable, holding up to 30,000 lbs while still being lightweight themselves. On top of that, the bright red color makes it easy to see these chocks in any kind of lighting.
Pros: large weight capacity; lightweight and easy to store; bright red color; level and chock quickly and easily; comes in a 2-pack
Cons: will not fit tires bigger than 31 inches in diameter; requires a large gap between axles
Craig's Take: These Andersen levelers are the best. They're the easiest levelers to use since you just roll back on them and don't have to hit the gas to get up on the square blocks. They also have an infinte number of leveling options since they're curved, so you'll definitely get level. The chock wedges really lock the levelers in so you stay in place nicely.
We used a combination of the Andersen Camper Levelers and the X-Chocks to get our trailers and 5th wheels level and stable.
Best Value Option: Camco 44414 Wheel Chock
Looking for something a little less expensive? The Camco 44414 Wheel Chock is the item for you. These hard plastic chocks are sold in a pack of two for an incredibly inexpensive price, which is proof that ensuring your trailer stays in place doesn't have to cost a fortune.
The Camco wheel chock is ribbed, helping it hold its place under your travel trailer tires. And in true Camco fashion, it's also bright yellow so it's easy to spot even in dim lighting, and its UV resistance ensures the sun won't break the chock down over time.
Choose from chocks with or without ropes, depending on your preference.
Pros: inexpensive; bright yellow; UV resistance; made in the USA; available with ropes; sold in pairs
Cons: only supports tires up to 26 inches in diameter; not for larger trailers or motorhomes
Craig's Take: You really can't beat the price of these chocks. Also, you can find them at a ton of local stores, like Walmart and other home improvement stores. They'll definitely keep a smaller trailer in place and did I mention the price?? 👍
Why You Need RV Wheel Chocks
Wondering why wheel chocks are so important? Wheel chocks are used in tandem with the parking brake to prevent vehicles from rolling or slipping while parked. They are placed in between or behind the wheels, and they ensure your home-on-wheels stays firmly planted where you put it.
Since rolling is extremely dangerous and would likely cause extensive damage to your rig as well as the surrounding area, wheel chocks are of the utmost importance. They will prevent damage, injury, and heartache and allow you to go about your day-to-day life with peace of mind, knowing you won't roll out of your campsite and into a tree, another RV, or something else.
How to Shop for the Best RV Wheel Chocks
Knowing how important wheel chocks are is one thing; knowing what in the world you're looking for when shopping for them is another thing entirely. We always watch out for the things below when shopping for a new set of RV wheel chocks.
Style
The first thing we look at is the type of wheel chock. Generally speaking, we prefer X-chocks that work as RV wheel stabilizers, preventing the RV from shaking in addition to holding it in place.
That said, this isn't the best option for everybody. If you're looking for something super easy to use, a more traditional wedge-shaped chock might be for you. Meanwhile, many prefer chocks that help level their rig, like the Anderson chocks mentioned above.
Size
Size is also an important attribute to consider. If you have a smaller trailer or motorhome, the smaller chocks will be just fine. That said, those with larger rigs may want to look for bigger chocks that the RV won't just roll over.
Durability
Obviously, you don't want your chocks to break while in use. Therefore, it's incredibly important that the RV wheel chocks you choose can withstand the weight of your fully loaded rig. We generally recommend avoiding hollow chocks, and if your RV is on the heavier side, you'll likely want to look for chocks made with durable materials such as metal or rubber.
UV Resistance
RV wheel chocks spend most of their time out in the sunshine. Therefore, finding a set that is resistant to UV rays is definitely an added bonus.
Color
Another bonus feature is color. Brightly colored wheel chocks are preferred by many RVers because they grab your attention, helping prevent attempting to leave with the chocks still in place and making it easier to properly place the chocks in dim lighting.
More of the Best RV Wheel Chocks
We pointed out our absolute favorite RV wheel chock options above. That said, those are far from the only options, and there are plenty of other great choices on the market. If none of the three above suit your fancy, check out the picks below. We're betting you'll find something that will work perfectly for your situation.
MaxxHaul 70472 Heavy Duty Wheel Chock
A super sturdy option that works incredibly well for those with bigger, heavier RVs, the MaxxHaul 70472 is made with rubber, meaning it holds up to a lot of use and abuse. This choice of materials also means the chock is oil-resistant and provides a solid, non-slip surface. The chock does have a hollow bottom, but still performs surprisingly well without durability issues.
Perhaps the best thing about this chock is the fact that despite being incredibly sturdy and doing its job very well, it won't break the bank. In fact, this is one of the least expensive options on our list.
Pros: inexpensive; solid rubber wheel chocks; lightweight; built-in carry handle; works well with larger vehicles; sold in pairs
Cons: chocks have an offensive smell; often feel greasy out of the box; dark color that can be easily overlooked
EPOARTIST RVTW200 Camper Wheel Chock
Another option for those in the market for X-chocks, these metal chocks are durable and rust-resistant. Like other chocks of this style, they do an excellent job of reducing movement inside the rig as people move around, while also keeping the RV firmly in place.
We love that these chocks come in pairs, meaning you won't have to make an extra purchase to use them. We also appreciate the ability to adjust the chocks by adding a nut to them.
Pros: durable metal construction; rust-resistant; help reduce RV rocking and rolling; adjustable; sold in pairs
Cons: occasional tire shifts on steep inclines; only work on tandem tires; can take a bit to install; only retracts to 3 inches
SecurityMan SWHEELCHOCK Wheel Chocks
The bright color of these camper wheel chocks just screams, "Buy me!" Honestly, that's a good thing, and there's no reason why you shouldn't do just that. The SecurityMan SWheelChock is made using polyurethane material and it's solid construction allows it to hold up to 20,000 lbs, making it a great option for most small and medium sized rigs.
The unique shape of these chocks makes chocking a super quick job, and the tread ensures they hold their place well. We appreciate the holes for ropes as well as the built in handles, and the fact that these chocks don't have any offensive odors.
Pros: unique shape that makes installation super easy; unique shape also ensures a good fit on a wide range of tire sizes; good tread; bright orange color; no offensive odors; sold in pairs
Cons: cannot hold larger vehicles such as big class C and class A RVs; does not help stabilize the RV
Fastway 84-00-4150 ONESTEP XL Wheel Chock
Okay, so this option is super interesting. It looks like a crossover between an X-chock and the more traditional wedge chocks, and it works much like you'd think it would. It is placed between the wheels of a double axle trailer and the two wedges are pushed up under the tires. The metal bar in between holds the wedges firmly in place and helps stabilize the RV.
One of the things that makes this product superior to many other tire-locking chocks is the fact that no bending or kneeling is required for installation. Simply hold the attached cable and slide the chock between the tires with your foot. Removing the chock is just as simple and also doesn't require any bending.
Pros: super easy to use and doesn't require bending or kneeling. Offers benefits of traditional chocks and X-chocks or stabilizers. Powder-coated zinc plate finish and extra holes for cords or ropes to make use even easier
Cons: extra holes could stand to be bigger; is rather long, making it a bit tricky to store in tight spaces; only works on trailers with tandem wheels; sold individually
Having wheel chocks for your RV is a good idea! If it is trailer chocks or RV tire chocks you want to be sure you have some. They can be helpful when weather conditions aren't ideal but also when it is sunny and bright out they are needed. Make sure to get yours today!
Here are more RV posts on accessories we recommend:
9 Outstanding RV Stabilizers For An Unshakeable Camping Experience
Why you need Independent Trailer Suspension and Trailer Disc Brakes
MORryde StepAbove – The Ultimate RV Steps You Want!
6 MORryde Products You Need For Your Rig
DISCLOSURE: This post may contain affiliate links, meaning I get a commission if you decide to make a purchase through my links, at no cost to you. Please read my disclosure for more info.