When you go from a 2700+ square foot house into an RV full time, you think you need a LOT of space in your RV. And I think we did when we started which prompted us to look at 39 to 45 foot RV's when we made the decision to go full time.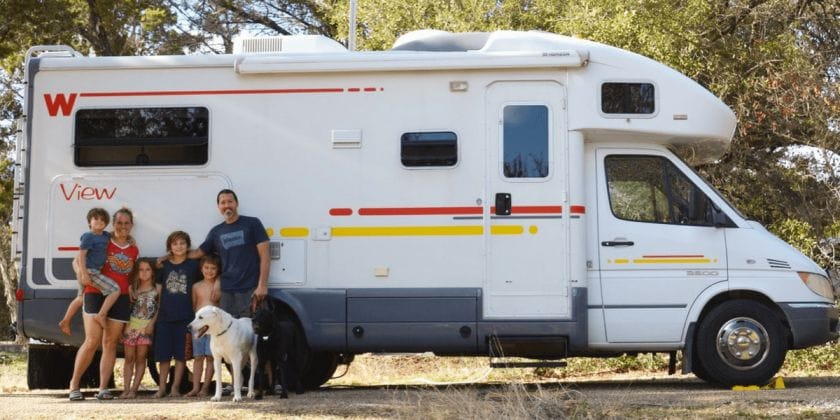 *Update* Video Tour of our Winnebago View 23J Below!
Before that we had owned a 29 foot class C for about 4 months, but that felt way to small to us at the time. So we found a great 39 foot Newmar Diesel Pusher Motorhome that we bought and made our own.
You can check the video walk through here of our old Newmar Kountry Star:
Challenges of a bigger rig
1. If something went wrong with this one it was going to cost us thousands of dollars to fix. . . .The tires alone cost over $4K. This started to get a little scary the longer we lived in it.
2 . We wanted to do more boondocking and we did with the 39 footer, BUT we never wanted to go that far off the beaten path since we didn't want to get in a situation where we couldn't get out of. Or we didn't want to get stuck and have to get it towed out!
This always made us hesitant to try to many boondocking sites unless we knew big rigs could easily fit.
3. When we left somewhere, we NEVER wanted to make an unexpected stop since again we were concerned about getting stuck, taking a wrong turn, hitting a low bridge, the list goes on and on. So basically it was a matter of getting from point A to B with the least amount of stops as possible.
4. Gas stations. The only ones that really work with a rig that big are truck stops. They work great for big rigs but they aren't always easy to find and even when you do find them it is always stressful getting in and out.
5. We found ourselves spending days at a time inside the RV without ever going outside. It almost felt like it was effort to get outside – crazy right?! But it really was like an apartment on wheels.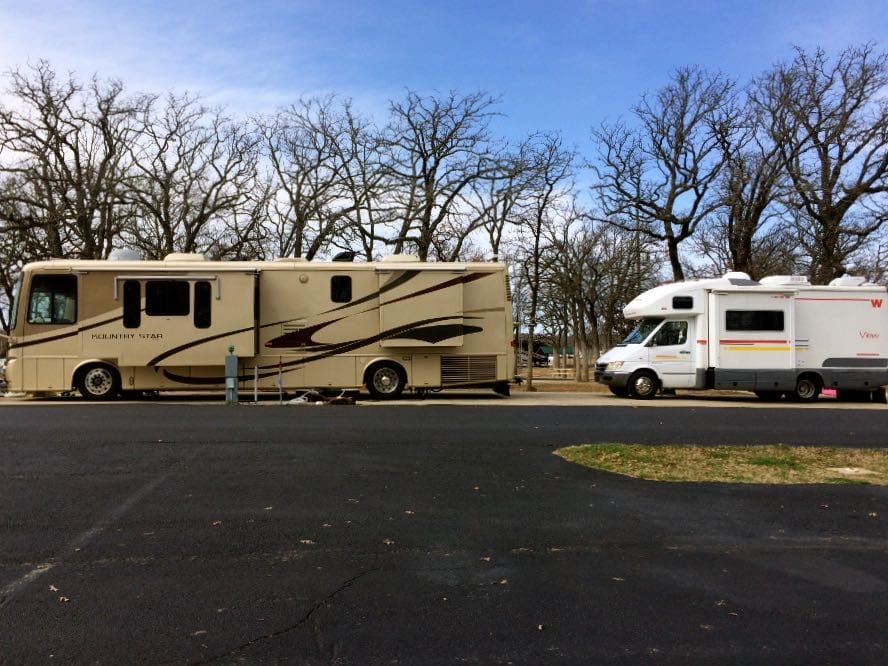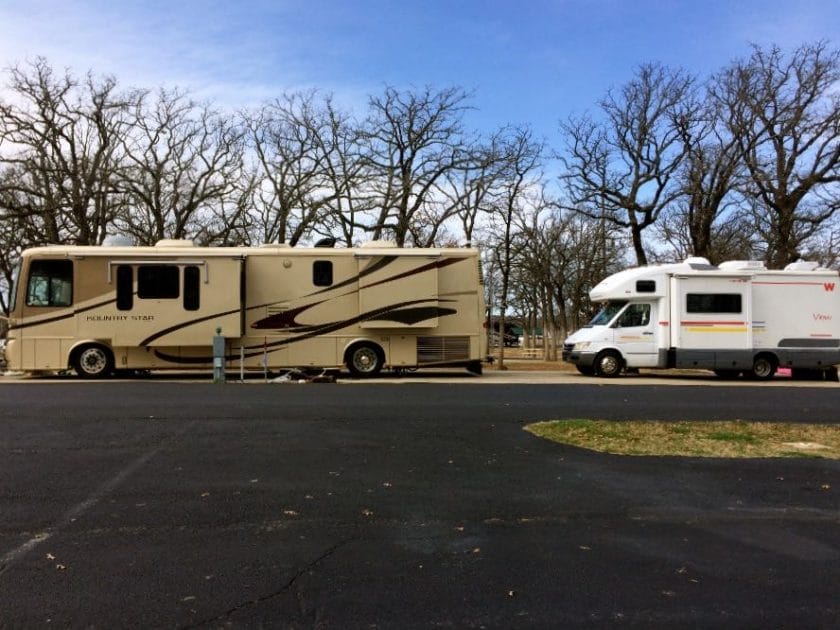 All of these reasons led us to start considering downsizing . . . we never planned on ending up in a 23 foot rig! Our original thought was to go around 26 feet with a full walk around queen size bed in the back that we could convert to a king bed and put a bunk bed above it.
We looked and found a few options, but started thinking if we were going to do this let's go all in . . . a van was not an option with the 4 kids and 2 dogs. We would have loved a Westfalia, but that felt too extreme.
Then we started looking into the Winnebago View which is built on a Sprinter chassis. That means it is basically as wide as a van – so we can fit in any parking spot! With the length being 23 foot we are just like a big dually truck, so we can park almost anywhere.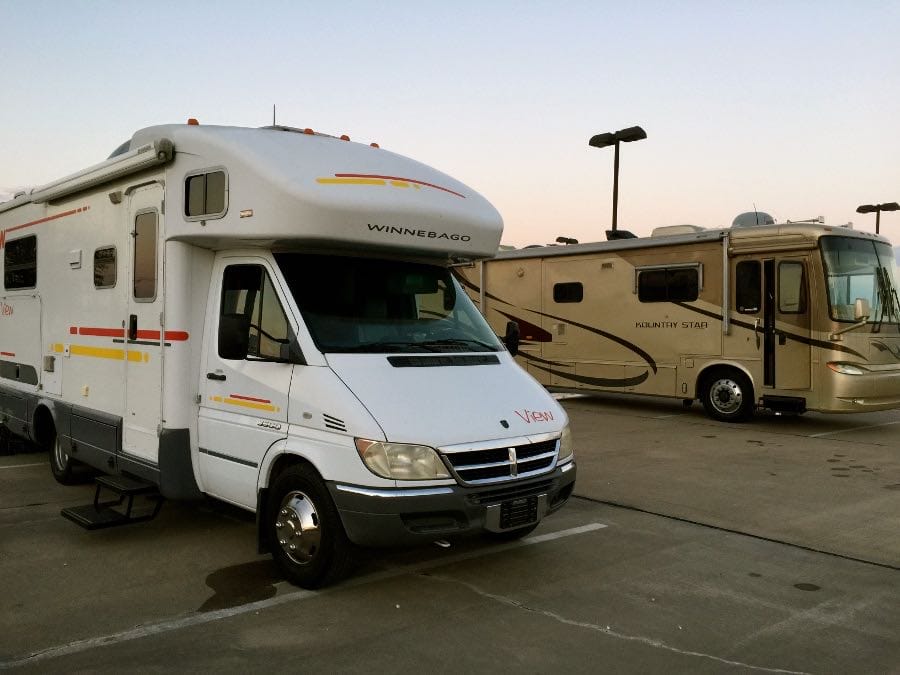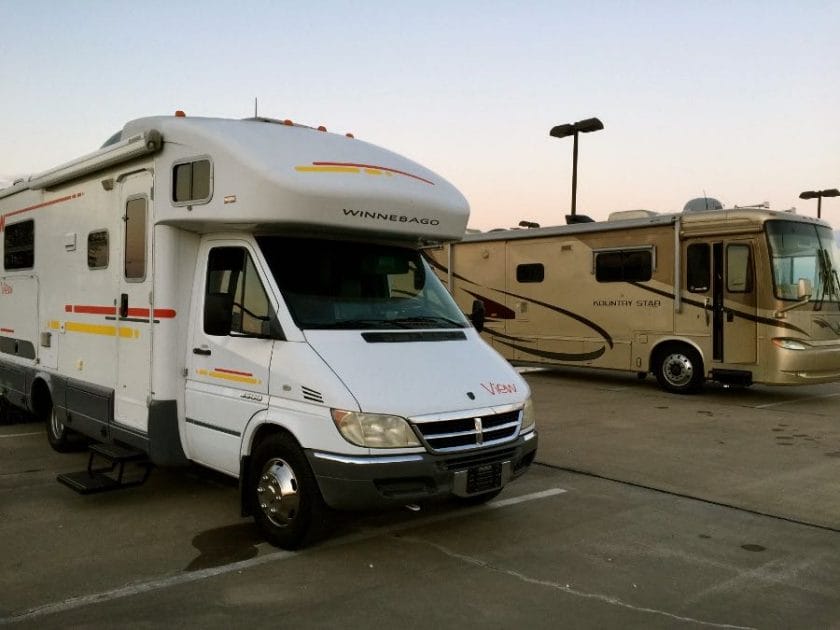 I still wasn't sold on it – I mean 23 feet and 1 slide-out for 6 people and 2 big dogs doesn't seem feasible. . . But Craig was in love with the View since it looked like a fun little toy and really liked the 2006 model and color scheme (which matches our logo – I swear we didn't plan on that!). I started to come around to it and really consider how we could make it work.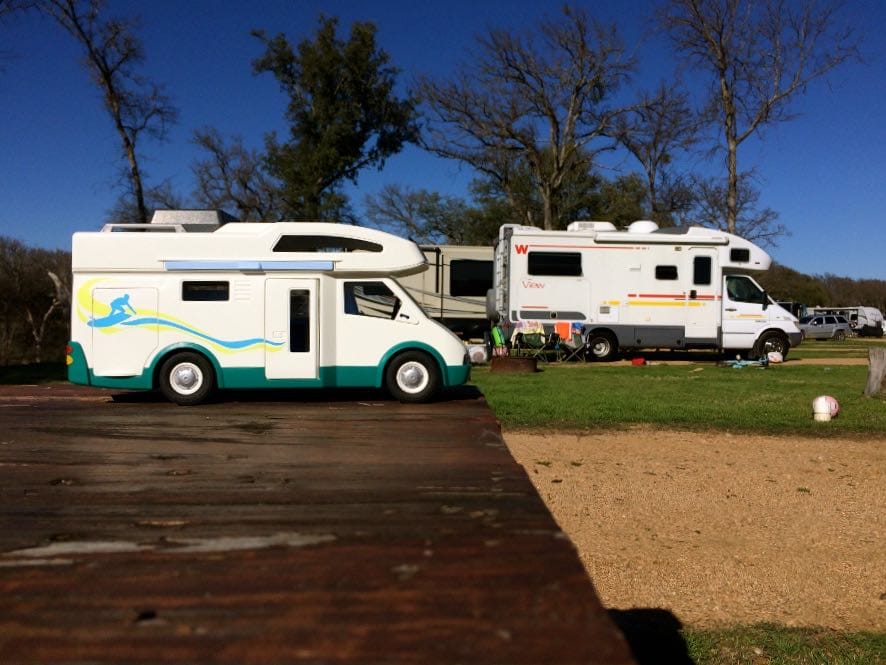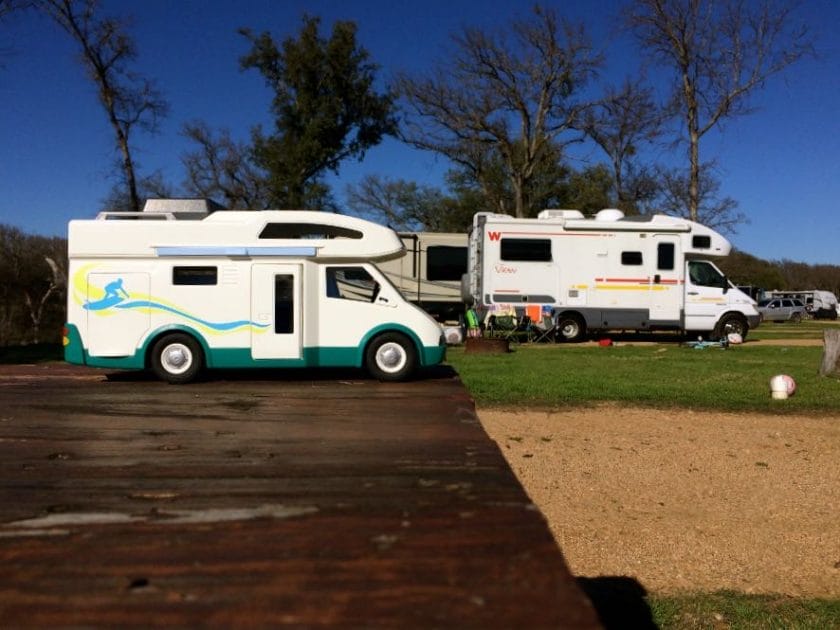 We came up with the plan to take the back corner bed and turn it into bunks. 2 kids on each. Then Craig and I would sleep above the cab which would still give us some privacy when the kids went to sleep at night.


It was decided we wanted a 2006 Winnebago View! We started looking and came across a few and also found out that it would not be able to tow our current car since it weighed almost 5K pounds and the View can only tow around 3500. We are still deciding if that means we don't have a car for a while or if we look at getting a lighter car like the Subaru Outback – where you can add an extra seat in the back – remember the old station wagons where the kids sat in back looking out the back window  – that's what you can do!
We will see. We haven't decided yet. As of now I am following Craig with the car. Yes 2 engines, double the gas, and I am losing my work time I use to have when we were traveling. But we are working on a solution. If there is one thing this life has taught us is to be flexible.
Other than that I can honestly say that at night when everyone is sleeping and Craig and I get a chance to take a breath and really think about where we are at we are very happy and content with our decision. It just feels right. We are spending a lot more time outside and even just being in the rig feels more like we are camping or living outside.
We're figuring out little storage options and places for all of our stuff to fit. We even found a spot for our Berkey on the counter!
It feels right. The kids didn't skip a beat and adjusted like nothing happened. The dogs are having a little bit of a harder time finding their place in the new rig but it is getting better every day.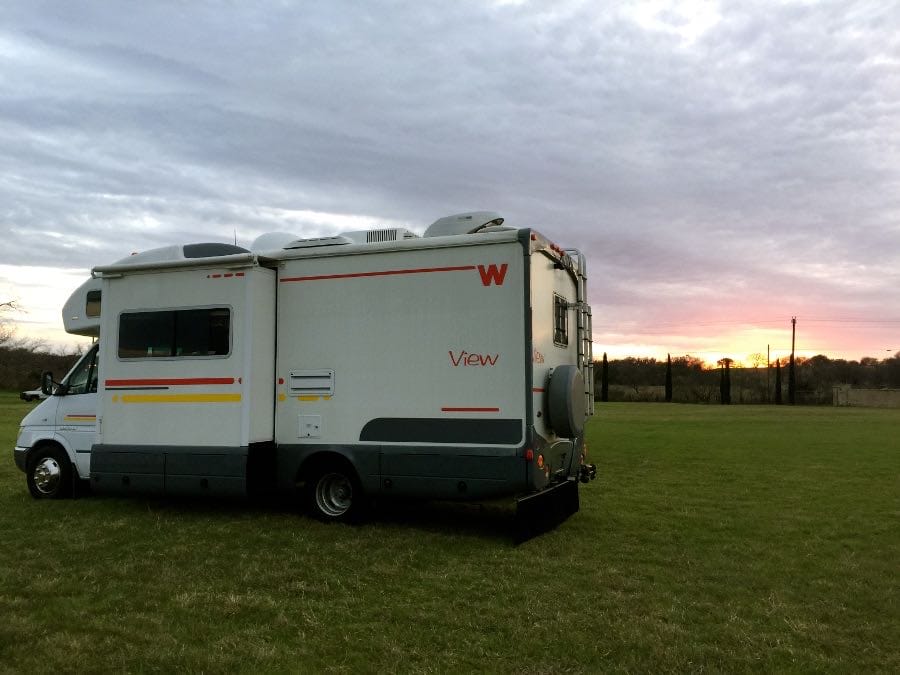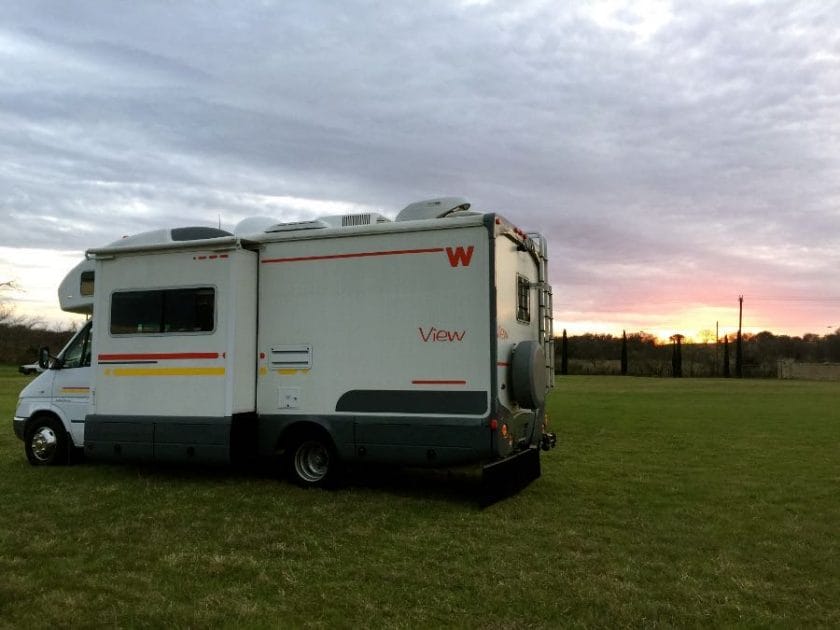 So here are there reasons we wanted to downsize
1. Ease of travel. 23 feet is a whole lot easier to pull into a grocery store parking lot, make a random stop at a farm stand, or turn around if we take a wrong turn!
2. Campsites. When you call and say we are looking for a site for a 23 foot rig – there are normally a lot of options! With a 39 footer, not so much.
3. National and State Parks. We can stay at all of the National and State Parks now. In the 39 footer that wasn't possible. With 23 feet there are no limitations for us.
4. Boondocking. We feel much more comfortable getting adventurous in this rig and maybe getting ourselves in situations where we never would have fit or been able to get out with the bigger rig.
5. Being outside. We are excited to spend more time outside and love the fact that the outside now feels like part of our living space since the rig is lower to the ground and the door is right there. It really feels like outside is part of our living space.
Video Walk Thru
We are about 3 weeks into the transition and we are really happy with the decision. Yes, I think we are still in the honeymoon phase and I am sure there will be times I am really annoyed with the lack of space. But we are definitely feeling like it is the right place for us to be at this point in our journey. We will check back in – after about 6 months – to let you know if we are feeling the same way!
Pin It For Later!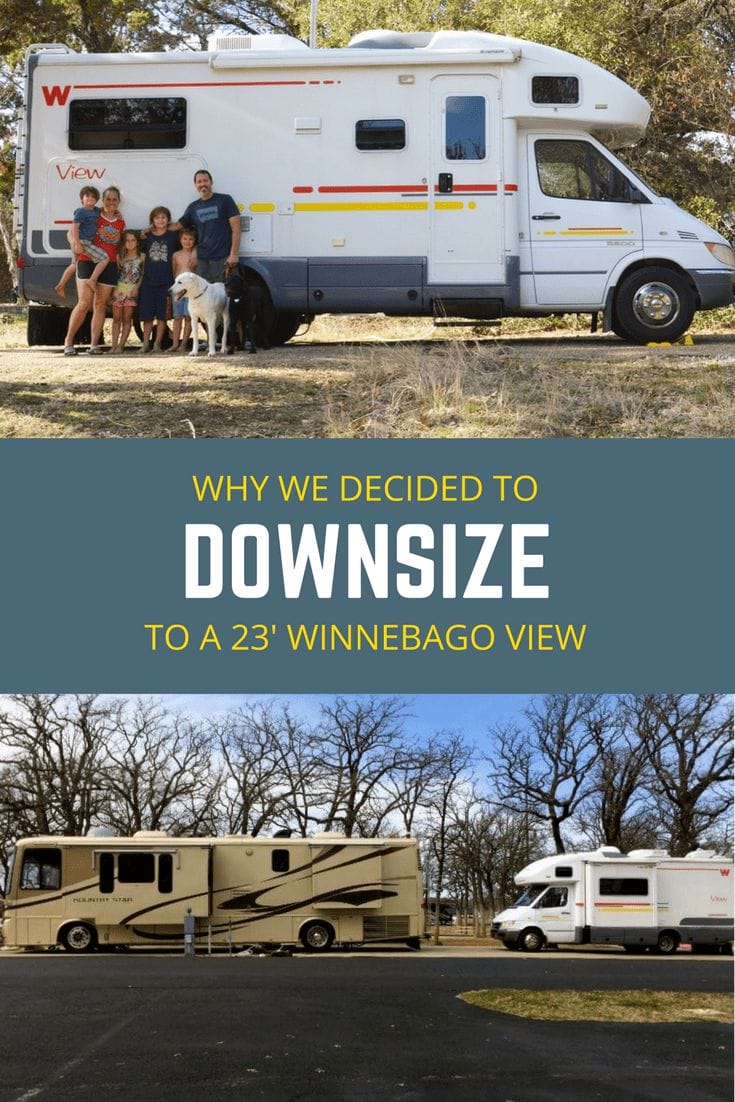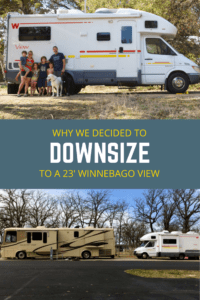 DISCLOSURE: This post may contain affiliate links, meaning I get a commission if you decide to make a purchase through my links, at no cost to you. Please read my disclosure for more info.