When you head on your RV trip you want to make sure you have everything you need. Here is our recommended RV packing list so you can get your RV loaded up and ready to go for an amazing trip!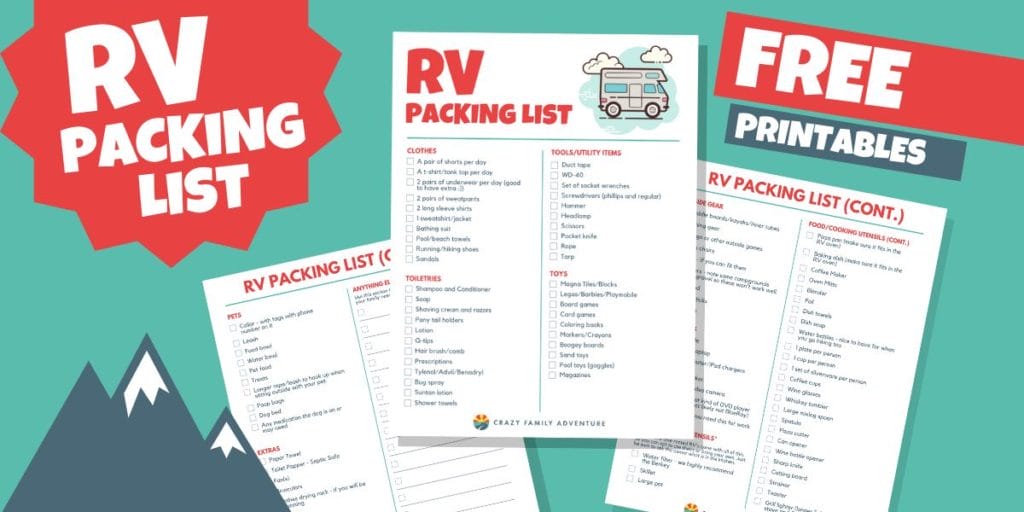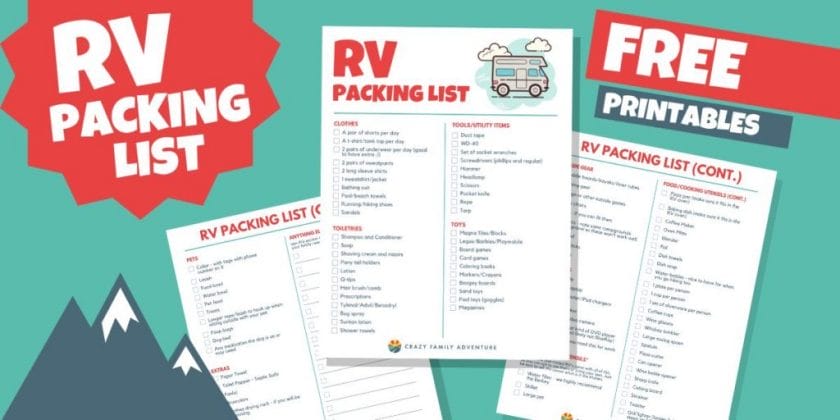 Check out our RV Checklist To Make Your Trip A Success too!
Clothes
Traveling in an RV means you are probably going to be spending a lot of time outside. Take that into account when packing and know it means the kids are probably going to get dirty so don't bring their fancy clothes. Instead bring outside clothes that they can run and around, play in and get dirty.
With being outside a lot it also means that you will probably want layers. Even if you travel in summer the nights can still get chilly and you will most likely be sitting around a campfire. Since the weather can get colder at night and the bugs can come out having long sleeves and pants for nighttime is a good idea.
Most RV parks do have a laundromat so keep that in mind when packing and know you can go and wash clothes if you need to. If this is a big part of your plan do confirm with the campground that they have a laundromat on site.
Here are the clothes we recommend for each person:
A pair of shorts per day
A t-shirt/tank top per day
2 pairs of underwear per day (good to have extra)
2 pairs of sweatpants
1 long sleeve shirt
1 sweatshirt
Bathing Suit
Towels
Running/hiking shoes
Sandals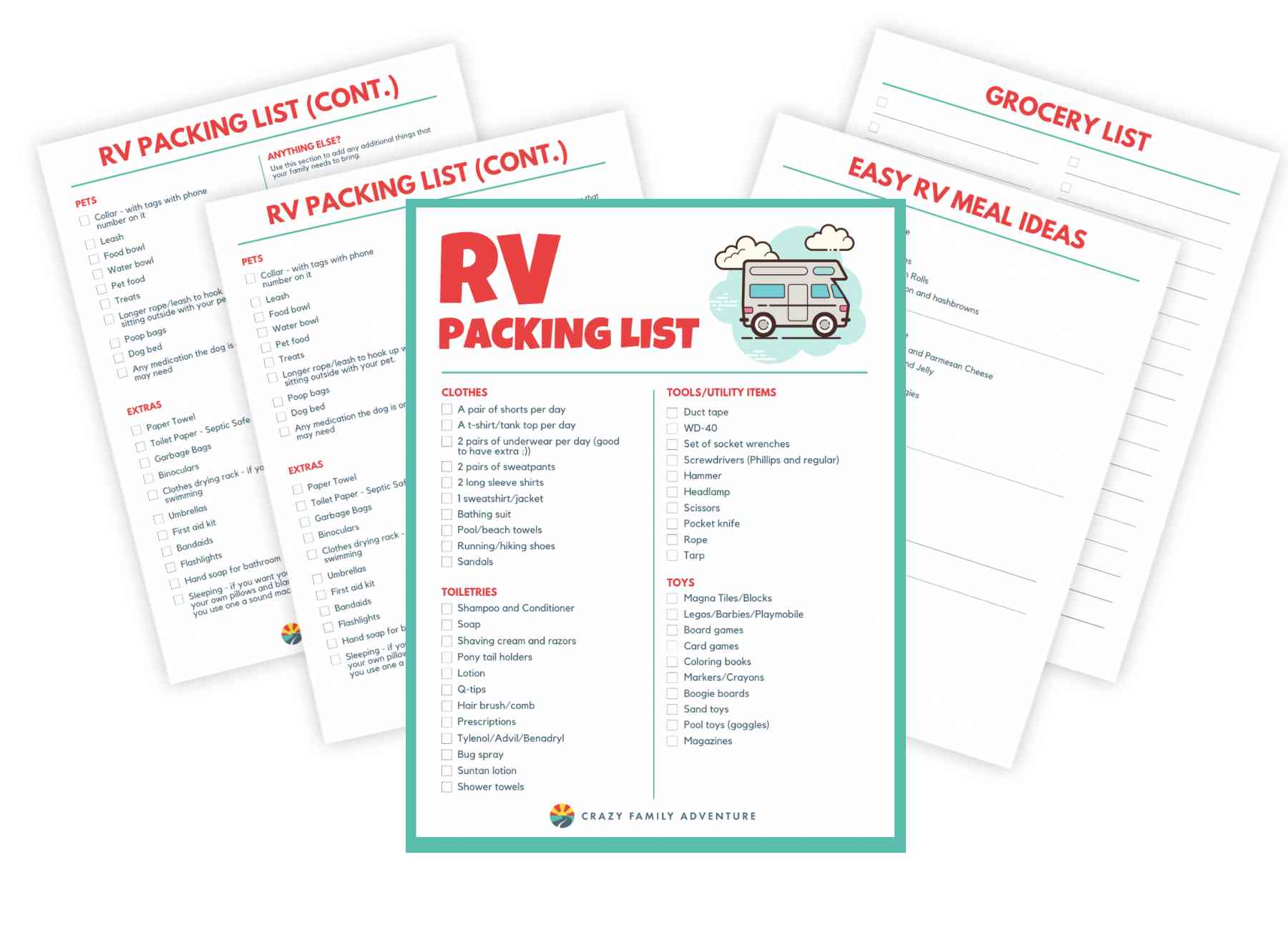 Toiletries/Personal Items
You don't want to forget all of your toiletries! You will be camping but the beauty of going in an RV means you probably have a shower in your rig. For these pack very similar to what you would if you were going to stay in a hotel:
Shampoo
Conditioner
Soap
Shaving Cream
Razors
Pony Tail Holders
Lotion
Q-tips
Hair brush/comb
A few other items you don't want to forget:
Prescriptions
Tylenol
Advil
Bug Spray
Suntan Lotion
Shower Towels (if you don't want to use the beach ones)
Feminine products if you will need those during your trip
Tools/Utility Items
Things in RV's break . . . so it is always good to have a basic set of tools along with you. Here is a list of what we recommend having on hand. If you are planning a trip longer then a couple weeks there is definitely more that we would recommend. But for your basic RV road trip this should do.
Please note if you are using an RV rental there is a good chance they may have some of these things already in the RV. Please do check with them and then decide what you want to bring.
Duct Tape
WD-40
Set of socket wrenches
Screwdrivers (phillips and regular)
Hammer
Headlamp
Scissors
Pocket Knife
Rope
Tarp
Toys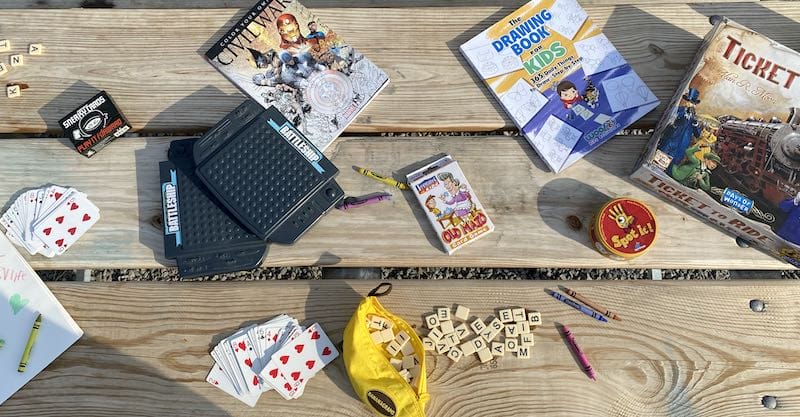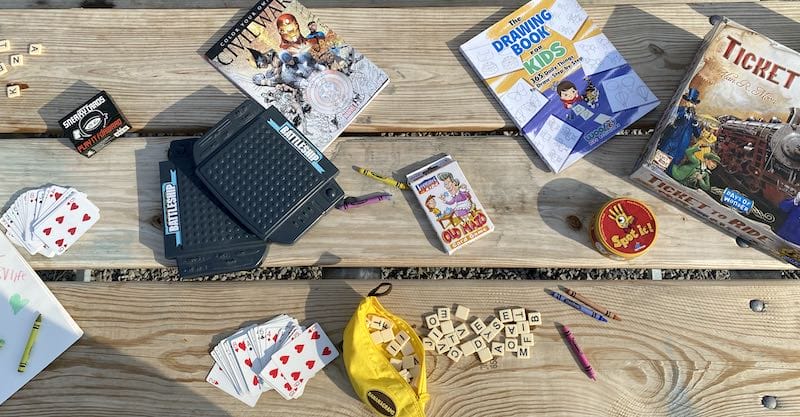 Don't forget the fun stuff! The kids will appreciate if you can bring a few toys from home that they can play with when they need some downtime. It is also fun to play board games together as a family and watch movies. Plus you don't want to forget all your fun toys too!
Magna Tiles/Blocks
Lego's/Barbies/Playmobile
Board Games
Card Games
Coloring Books
Markers
Sand Toys
Pool Toys (googles)
Books
Magazines
Outside Gear
Paddle Boards
Kayaks
Tubes
Boogey Boards
Fishing Gear
Baggo or other outside games
Bikes – if you can fit them
Scooters – note some campgrounds are all gravel so these won't work well
Firewood
S'more Sticks
Hammock
Electronics
iPads/Kindle
Computer/Laptop
Camera
Videocamera
Phone Chargers – plug with it
iPad Charger – plug with it
Computer Charger – plug with it
WiFi hotspot if you need to be connected
Movies – ask if they have a DVD Player – may not be Blue Ray
Portable speaker
Food/Cooking Utensils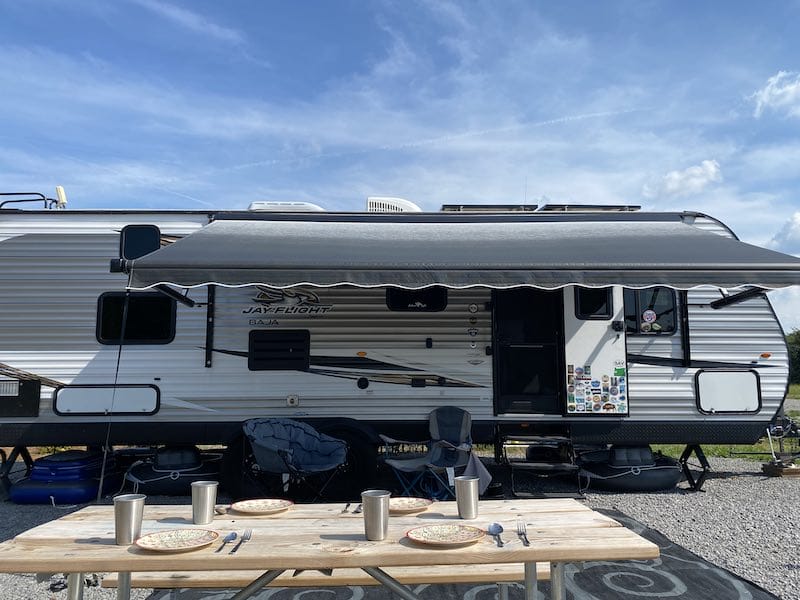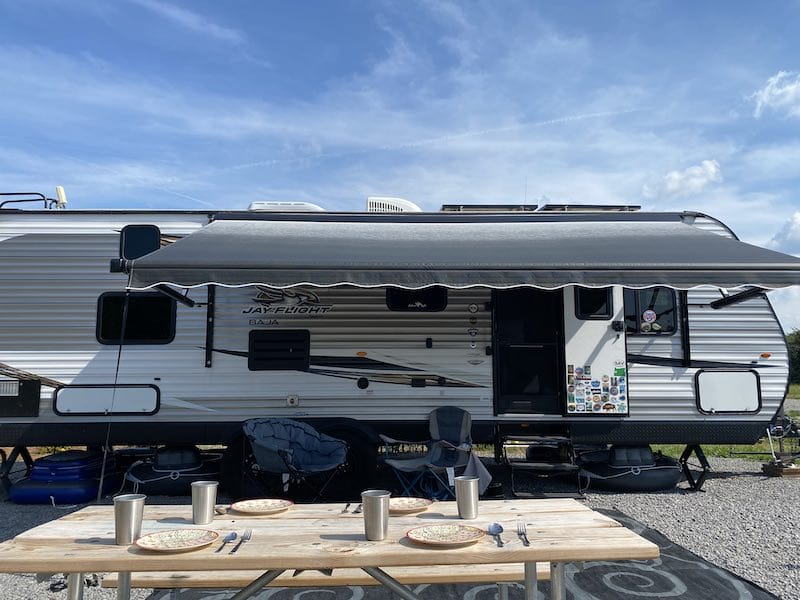 A lot of the time rented RV's come with all of this. If you are renting an RV you should ask them what they are providing and then you can use theirs or bring your own – whatever works for you! If you do bring your own I would recommend telling the RV owner so they can clear out their things from the cabinets.
You really don't need a lot when it comes to cooking utensils. If you keep your meal planning simple then you only need a few things.
Skillet
Large Pot
Pizza Pan (make sure these fit in the RV oven – ask the RV owner the size)
Baking Dish (make sure these fit in the RV oven – ask the RV owner the size)
Coffee Maker
Oven Mitts
Blender
Foil
Dish Towels
Dish Soap
Water Bottles – nice to have when you go hiking too
Water Filter – we highly recommend the Berkey
S'more sticks
Strainer
Toaster
Cutting board
Grill lighter – longer lighter for lighting the stove and firepit
If these aren't supplied (most will be if renting). Then you will also need the following:
1 plate per person
1 cup per person
1 set of silverware per person
Coffee cups
Wine Glasses
Whiskey Tumbler
Large mixing spoon
Spatula
Pizza cutter
Can opener
Wine bottle opener
Sharp Knife
Here are some of our easy RV Meal ideas to help you with planning your grocery shopping list. Remember keep it simple!
Breakfast:
Coffee
Cereal
Pancakes
Cinnamon Rolls
Eggs, bacon and hash browns
Lunch:
Grilled Cheese
Buttered Pasta and Parmesan Cheese
Peanut Butter and Jelly
Salads
Hummus and Veggies
Tortellini
Mac and Cheese
Dinner:
Tacos
Frozen Pizza
Spaghetti
Burgers
Nachos
Dessert:
Drinks:
Wine
Beer
Whiskey
Drink Mixes
Ice
Extras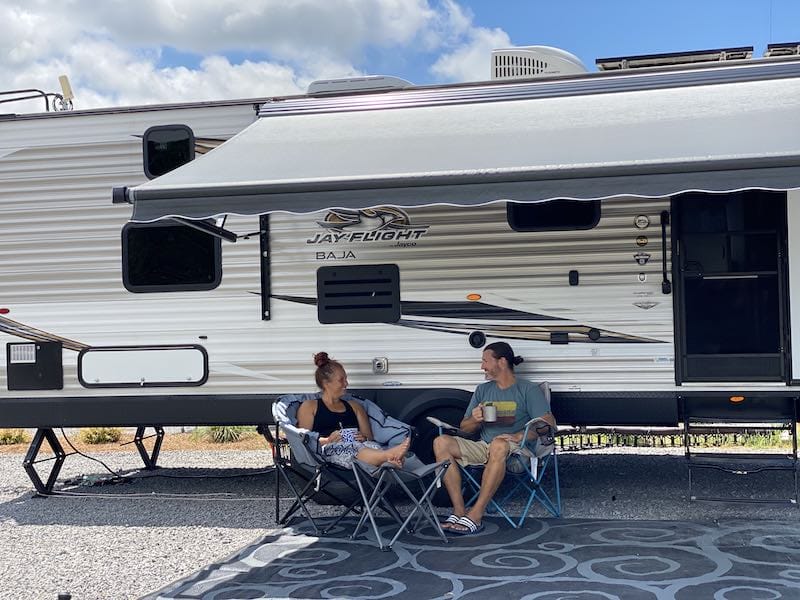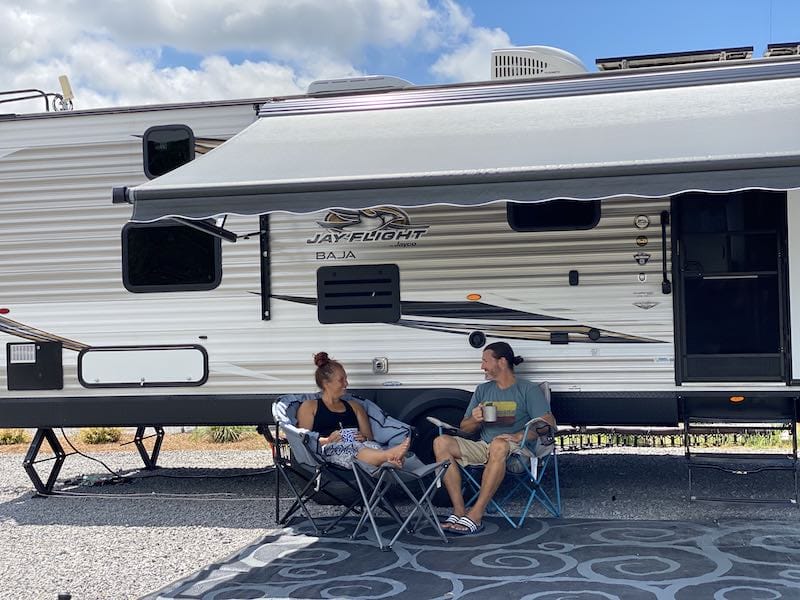 Here are a few more things that didn't fit into a specific category but we definitely recommend you have with you.
Binoculars
Umbrellas
First Aid Kit
Bandaids
Flashlights
Hand Soap for bathrooms
Clothes Drying Rack – may be good for drying swimsuits and towels – if you have room for it.
Folding Chairs
Toilet Paper
Paper Towel
Fan(s)
Sleeping – If you want you can bring your own pillows and blankets! Everyone may sleep better this way.
Pillows
Blankets
Sound Machine
Pet Gear
If you have pets traveling with you you don't want to forget all the things they need!
Pet gear
Collar (with tags)
Leash
Food Bowl
Water bowl
Pet food
Treats
Leash
Longer rope/leash to hook up when you are outside
Poop Bags
Dog Bed
We hope this RV packing checklist helps you while getting prepared for your RV camping trip!
Another good list to have on hand is an RV checklist to make sure that you do everything you need to do as you are preparing to hit the road. Click here to see our post on RV Checklist To Make Your Trip A Success
If you don't have an RV yet and are thinking about renting one check out our post: 9 RV Rental Tips You Will Want To Read
We hope you enjoy your RV trip!
More RV Content
RV Specific:
Why Having An RV Surge Protector Is An Absolute Must!
15 RV Campsites You Will Want To Stay At
Why A Slide Topper Is An Amazing Accessory For Your RV
2 Week Complete RV Remodel For Under $2000 [Video Included]
The Best Trailer Hitch On The Market – ProPride 3P
RV Living – 68 Things You Will Want To Know [Free eBook]
6 MORryde Products You Need For Your Rig
Keystone Montana – 7 Owners Share What They Love About It
Travel Ideas:
6 Epic National Park Road Trip Ideas [Maps Included]
The Ultimate Florida Road Trip: 31 Places Not To Miss
Utah Road Trip: All 5 Utah National Parks & More [Map Included]
19 Magical Things To Do In Glacier National Park [Map Included]
RV Podcast
We have a podcast on Full time RV Family Travel! You can check it out here!
Pin This Post For Later: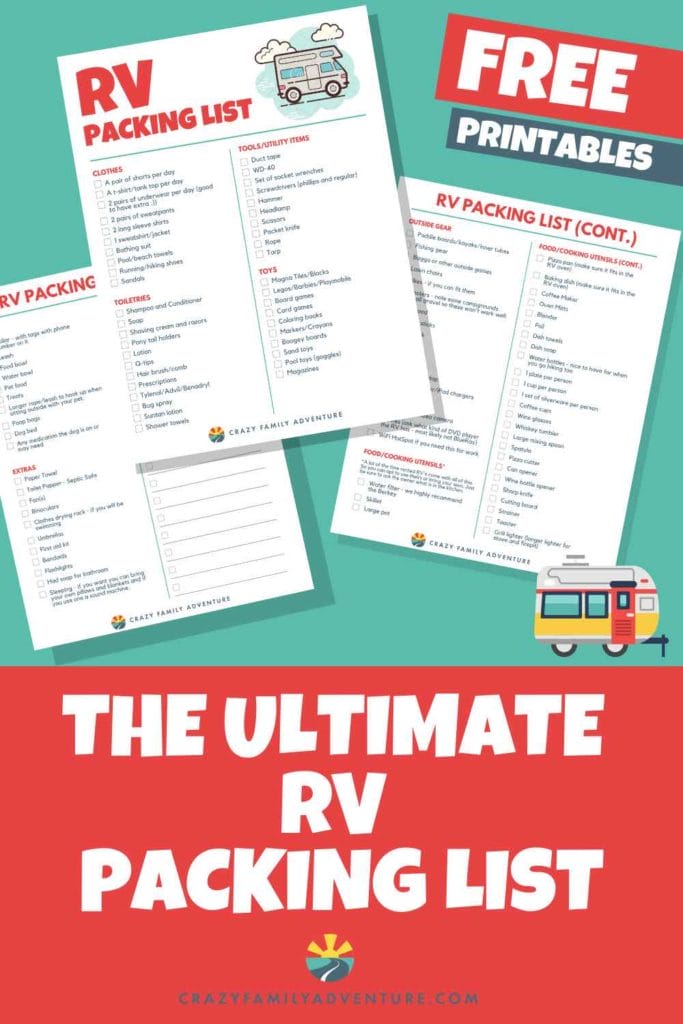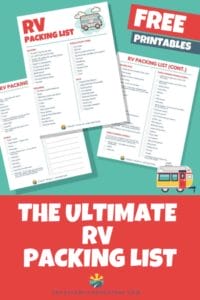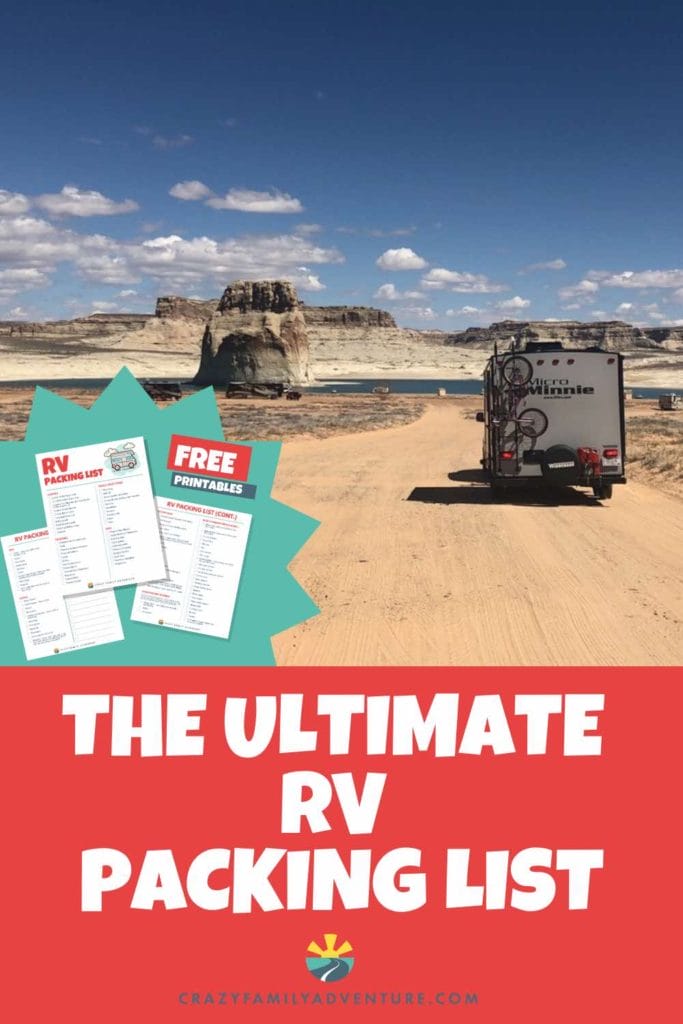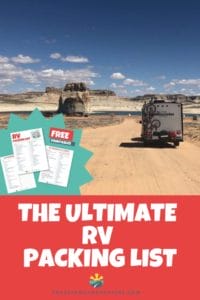 DISCLOSURE: This post may contain affiliate links, meaning I get a commission if you decide to make a purchase through my links, at no cost to you. Please read my disclosure for more info.