Our next stop was Traverse City, Michigan. We had heard great things about the City so we were excited to check it out! We pulled into the Traverse City State Park Campground and it was TIGHT!! We weren't sure if we were going to be able to back the RV in or not and it was raining. Luckily one of the sites across from us was open so we were able to pull in there and then back the RV in.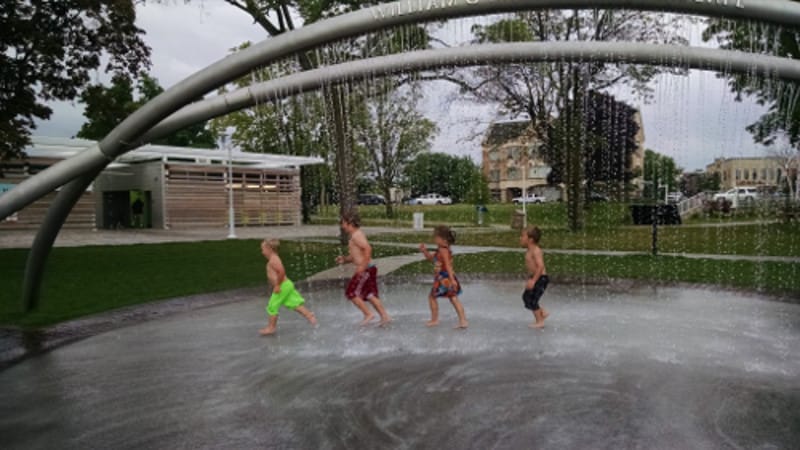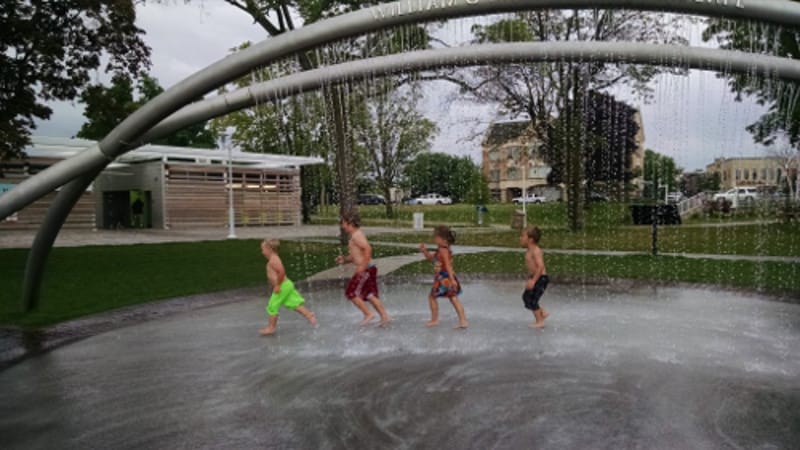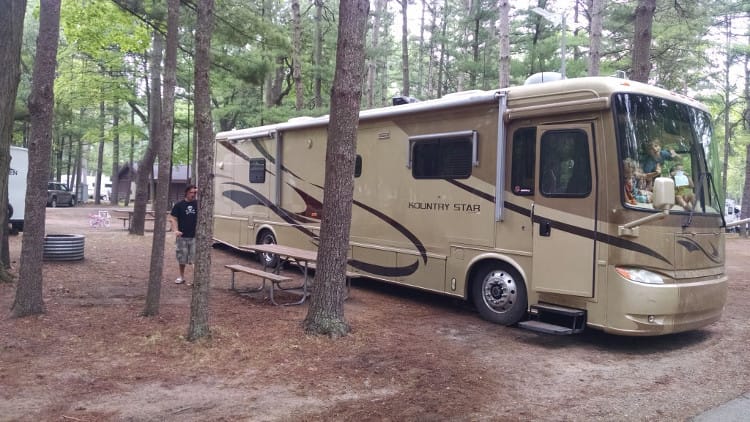 We hung out at the campground that night and decided to leave the slides in – in the back since we were moving the next day. We put the 2 of the mattresses down on the floor in the living room and Craig and Carson slept there. We walked around at night and the campground was crazy! Lot's of people and lot's of people on bikes! They also had a Tepee all set up that you could rent for the night – it looked pretty cool!
The next day we moved into our new spot – which was much larger and worked out much better!! After we got all settled and Megan and Jake were settled we got the bikes unloaded so we could ride into Traverse City. The bike trail was connected right to the campground so that worked out great! We jumped on the bike trail and started heading towards the city. About 5 minutes into the trip it started down-pouring on us!! I brought a garbage bag to cover the backpack and the three younger kids were in the bike stroller that had a cover – so they were good. But Craig, Carson, and I got soaked!! Megan and Jake had poncho's so they were good! I couldn't believe Megan was more prepared then me :)! So through Thunder and Rain we kept pedaling and right as we were getting into Traverse City the rain stopped!
Here are a couple of maps showing where the campground was and where the city was. It was about a 3 mile bike ride.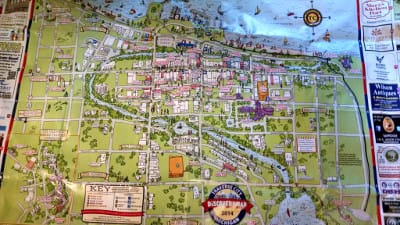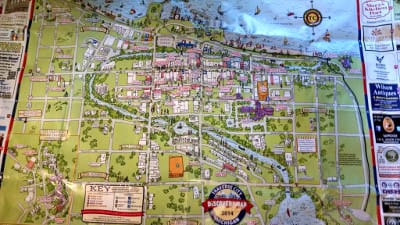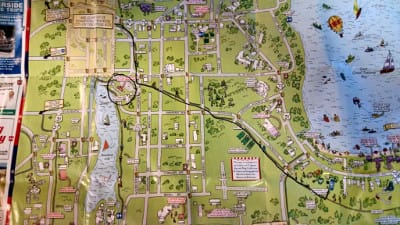 We made it into Traverse City and we were soaked! We started to change Carson when I said Wait! There is a splash pad – leave the wet clothes on! So they headed over to play in the splash pad!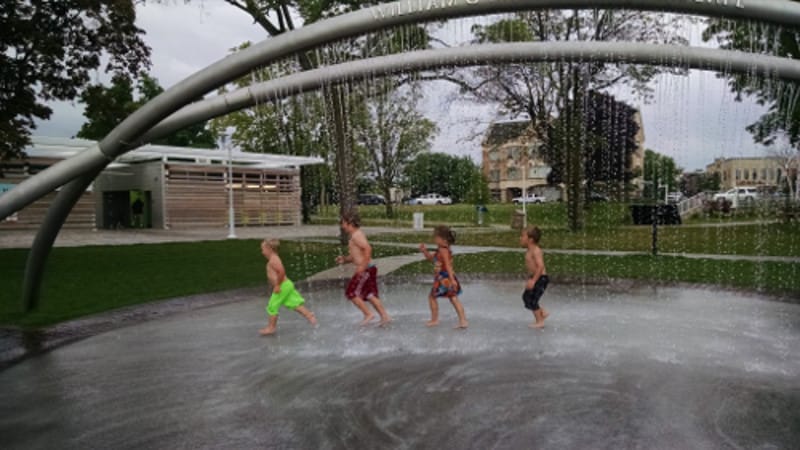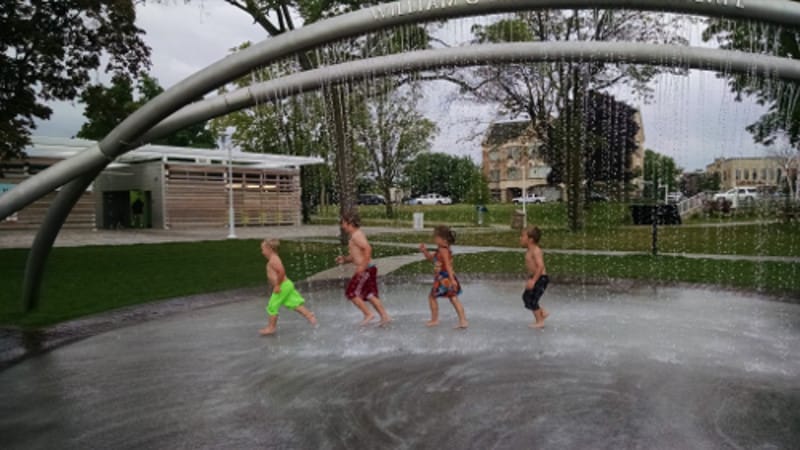 After that we headed into the city to check it out. They had a really cool downtown area with lot's of restaurants and shops. We went to a Cider Brewery and sampled 8 different ciders and ate some really good vegetarian food. Then we went and got some ice cream at a local ice cream shop. Then after that we headed back on our bikes and stopped at a restaurant called The Filling Station. It was a really cool restaurant! We knew we were at the right place when we walked in and they sandboxes for the kids to play in right next to the tables! Perfect!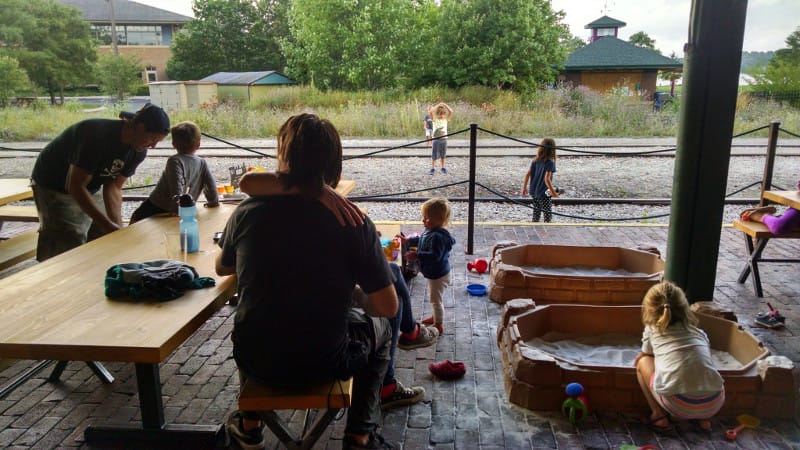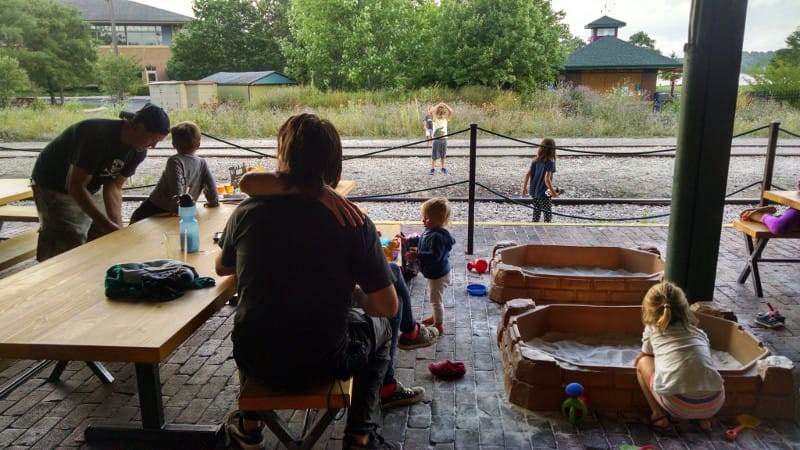 After that we headed back. The next day was cold so we went to the beach for a little while and then we got ready to head to our next stop! We wished we would have stayed longer. The campground was OK – but the fact it was right by the city and in the middle of everything was really cool and we definitely could have rode into the city again and done more bike riding – since the trails were so nice!
Bring bikes – the roads are paved at the campground
There is a playground but it really is just a few swings and that is about it
You can walk to the beach from the campground but you have to go up stairs, across the bridge, and down to get to the beach – which is great for avoiding traffic but not if you have a stroller.
The camp host was offering little activities (craft things) during the day.
You can ride to Traverse CIty but it is a good distance away (at least 3 miles). Carson – who is 6 was able to make it.

Make sure you get a big campground if you want to be able to easily back in. We had 471 the next day and it worked out great! It looked like 473 would work as well. Other sites would too they would just be tight and hard to get into!
The electric outlets are in weird locations so make sure you park where your cord can reach.
Craig's Nugget:
If checking out on Sunday, plan on getting to the dump station early. I watched a line of about a dozen RV's, TT's, and 5ers wait for upwards to an hour to get to the dump. Probably not the way you want to spend your morning!
Overall Review:


The only reason I did not give it a F (Full) is because it was not very big rig friendly in the park – until we got to site 471. We would definitely go back and just make sure we got the right site for the whole time!
More Info Check Out:
7 Amazing Michigan Campgrounds On Lakes To Stay At This Summer
Top 4 Indoor Water Parks in Michigan
DISCLOSURE: This post may contain affiliate links, meaning I get a commission if you decide to make a purchase through my links, at no cost to you. Please read my disclosure for more info.