Bar Harbor is one of the prettiest places in the United States, and should definitely be on every traveler's bucket list. Not only is the town absolutely adorable, there are also tons of things to do in Bar Harbor, Maine, as well as in the gorgeous Acadia National Park, which sits right next door.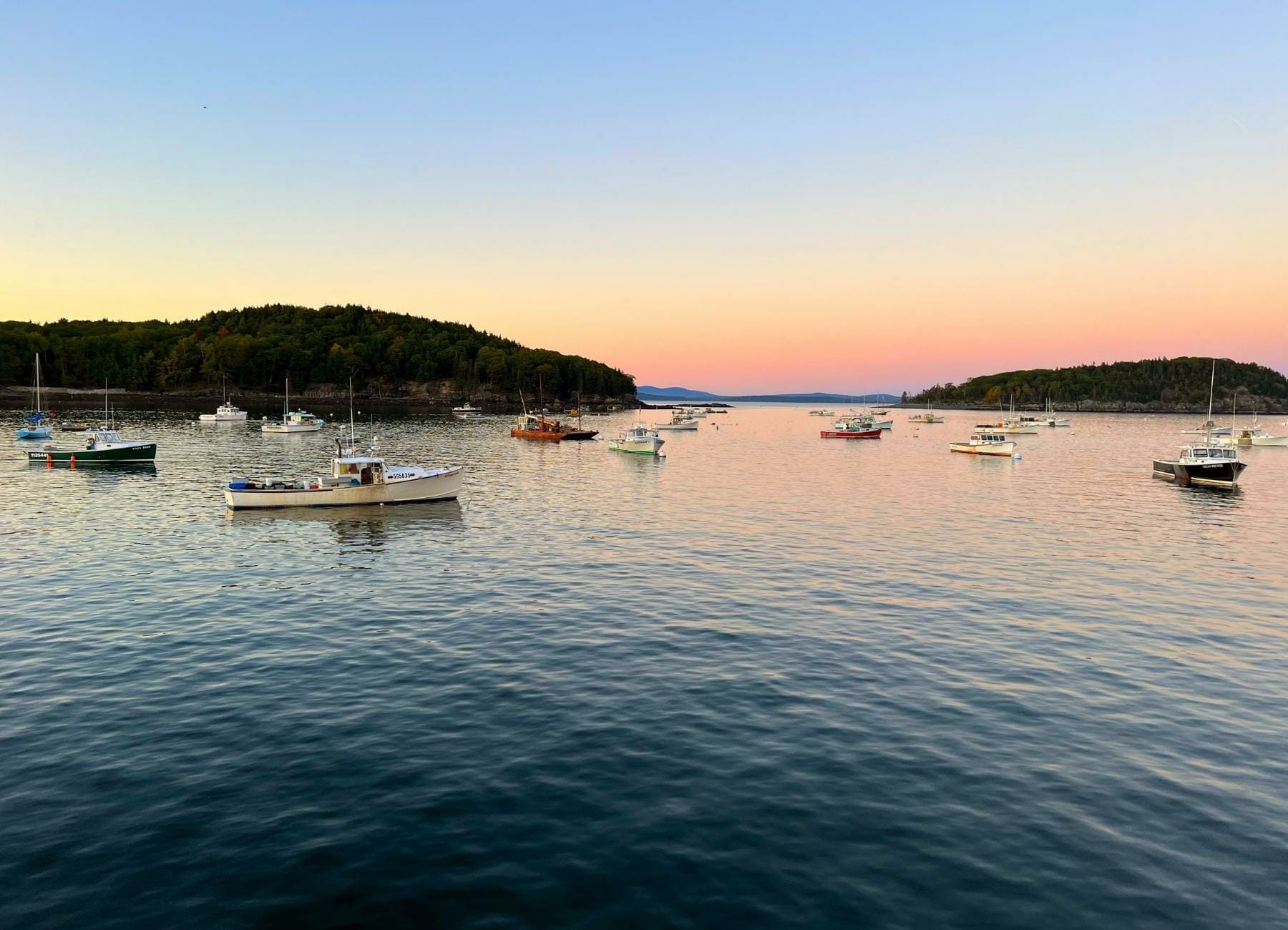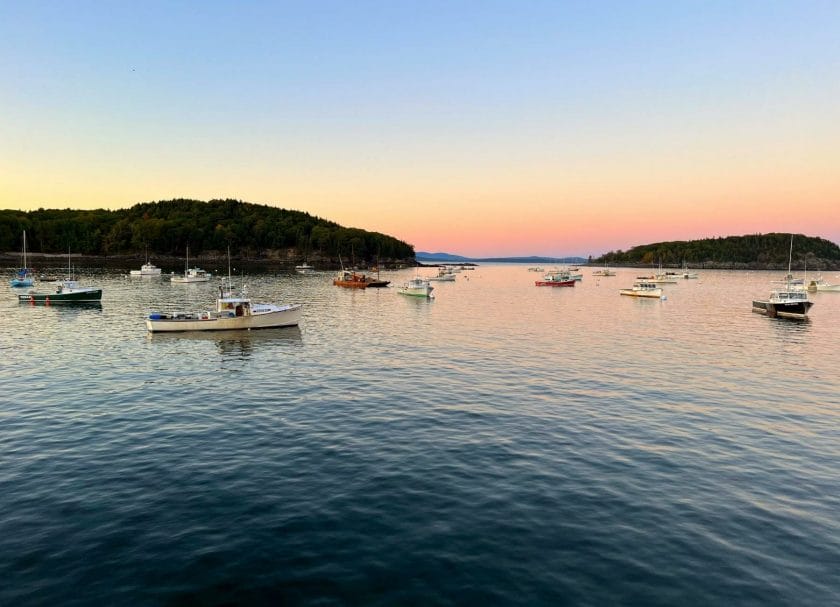 If you're planning an east coast road trip and plan to stop in Bar Harbor or just want to visit this awesome town, you might be a little overwhelmed trying to decide what to see and do. Lucky for you, we're here to help. Below, we've put together a list of our favorite things to do, as well as some of the best places to eat and stay while you're there.
Using this list, you will be able to plan the ultimate trip to Bar Harbor, Maine. If you have time to explore more of Maine – which we do recommend – be sure to check out this awesome post to help you plan your Maine Coast Road Trip.
Things to Do
As mentioned above, there are tons of amazing things to do in and around Bar Harbor. One of the very best things to do is visiting Acadia National Park, where you'll find plenty of hiking trails, biking paths, and other outdoor activities. That said, while this is one of our favorite national parks and is one of our favorite things to check out in the area, it is far from the only thing to see.
Check out the list below to learn about our favorite things to do in both Acadia and Bar Harbor proper. This should help you decide which options you want to take advantage of during your Bar Harbor getaway.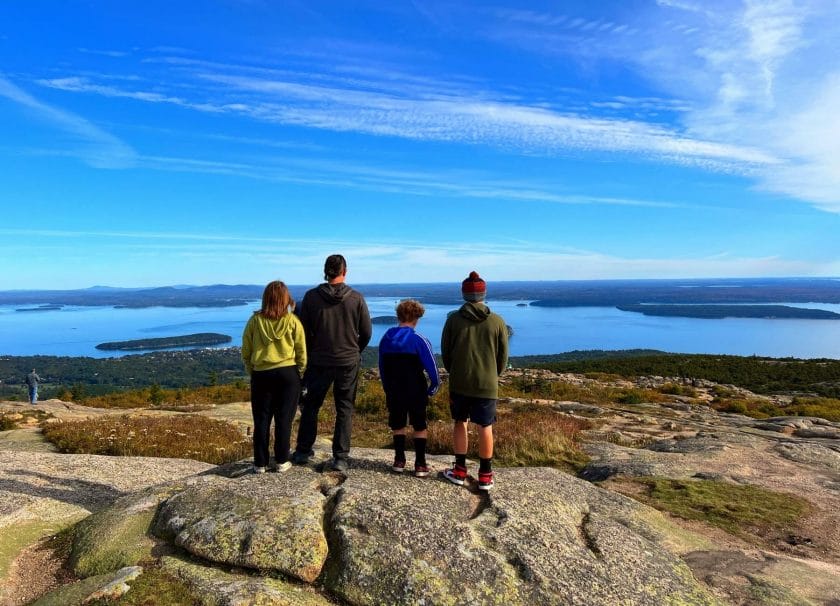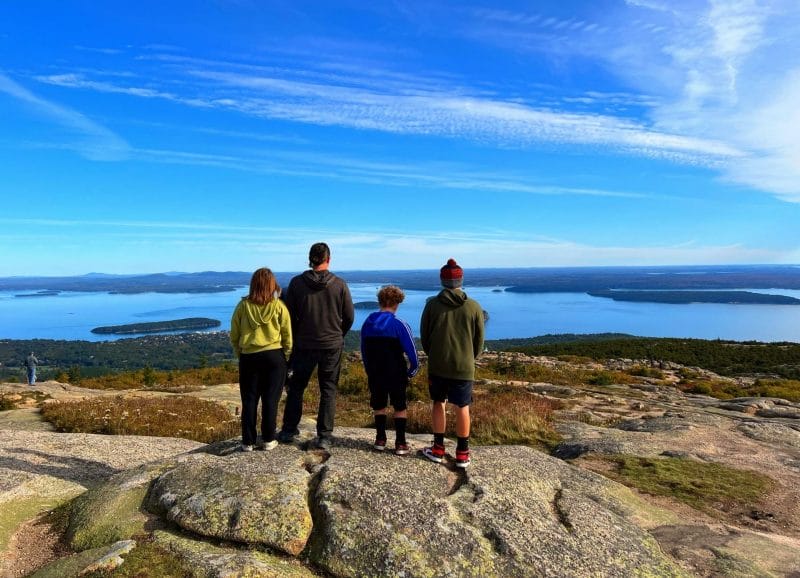 Acadia National Park: Mount Desert Island Area
The most popular part of Acadia National Park, the Mount Desert Island area has all kinds of amazing things to see and do. We recommend driving Park Loop Road so you can take in the views at the various pull-offs.
Driving up Cadillac Mountain is a must-do that should be added to your list. You might also want to consider hiking the thrilling Beehive Trail and the slightly terrifying Precipices Trail, stopping to watch waves crash through a rock tunnel at Thunder Hole, biking along the carriage roads, spending an afternoon at Sand Beach, and enjoying a meal at Jordan House.
TOP TIPS:
Sometimes a permit is required to drive up Cadillac Mountain. Find out if you need to obtain one before you go.
Jordan House is known for its delectable popovers. Be sure to order some if you make it there.
You have a much better chance of getting a table at Jordan House if you arrive before 4pm. Plan accordingly.
Arrive at Thunder Hole at high tide in order to get the full effect.
Acadia National Park: The Quiet Side
As the name suggests, the Quiet Side of Acadia is much quieter and less busy. There aren't nearly as many things to do on this side, but the scenic drive it offers takes you through a number of tiny towns and pretty places, making it worth visiting if you have the time.
While you're on the Quiet Side of the park, you might want to consider visiting Echo Lake Beach, where you can go for a swim. Other things to do include checking out the Bass Harbor Head Lighthouse and walking the easy Wonderland Trail.
TOP TIP:
You will probably have to wait for parking in the small lot that is for the lighthouse. It is worth the wait.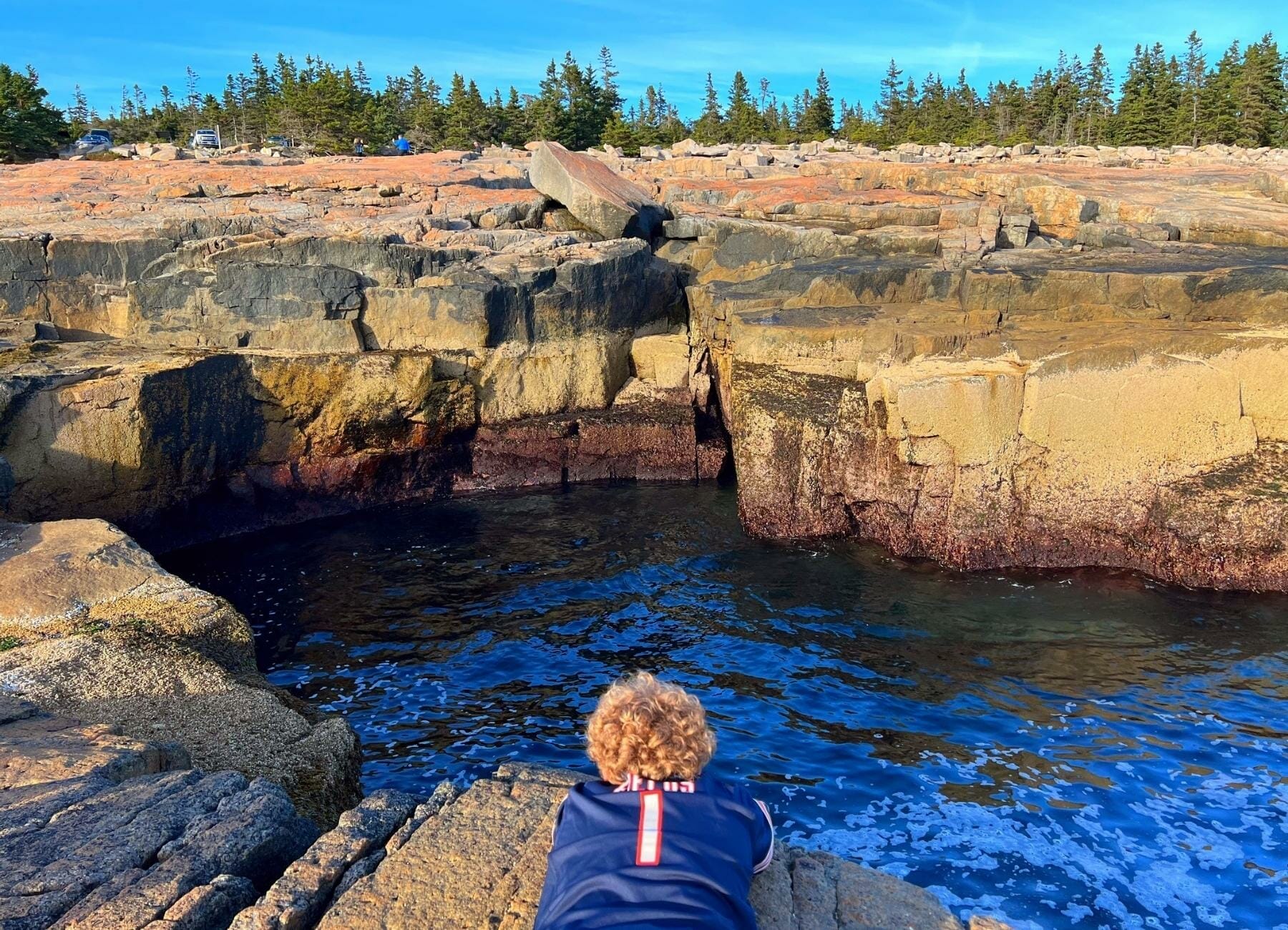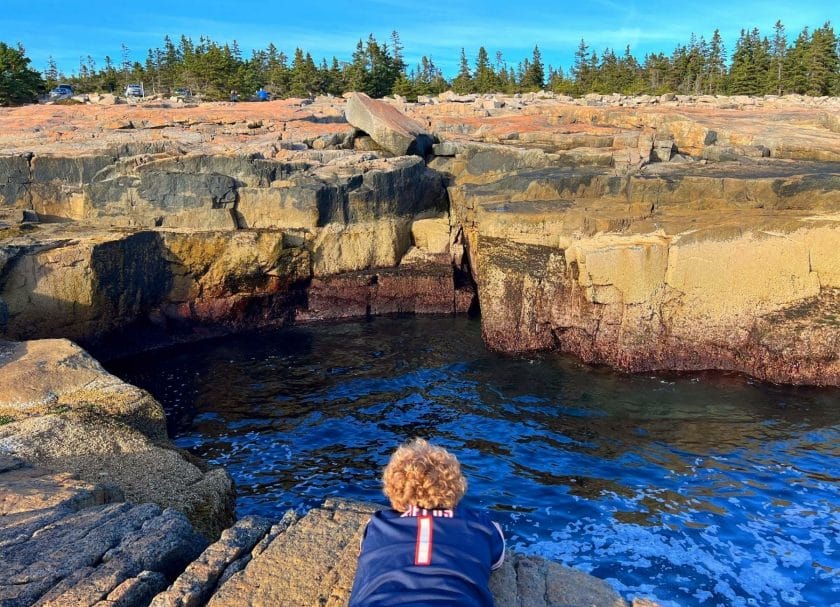 Acadia National Park: Schoodic Peninsula
There is also the Schoodic Peninsula. Like the Quiet Side, this area is less busy than the Mount Desert Area. This is likely because although it is only four miles across the water from the main part of the park, it's an hour-long drive to get there. Nevertheless, we recommend visiting the peninsula if you have time, as it is a lovely and secluded place.
Start your visit to this area at the Schoodic Institute and Ranger Station. We find that national park visitor centers are always great for getting an idea of where to go next. Other awesome places to do in this part of the park include seeing the gorgeous Schoodic Point, walking to Little Moose Island, and finding starfish at Tidal Falls.
TOP TIPS:
Be sure to visit Schoodic Point at high tide for the most dramatic waves.
If you want to see starfish at Tidal Falls and walk to Little Moose Island, visits to both places need to be timed to be at low tide.
Acadia National Park: Bar Island
Did you know you can walk to an island within Acadia National Park? You can! During low tide, there is a land bridge that can be used to take a stroll over to Bar Island, one of the five Porcupine Islands and the only one you can walk to. From there, you can explore the many trails on the island and enjoy the beauty of nature.
Of course, you will want to make sure you can get to the island and back again. Be sure to check the tide schedule beforehand and go in knowing that the land bridge is only usable for 1.5 hours before and after low tide. Also, it's good to know that there are no services on the island, so arrive prepared.
For more information on things to do in Acadia National Park, be sure to check out this post.
Shore Path
Morning is one of the best times of day in Bar Harbor, and a stroll along the historic Shore Path is one of the best ways to enjoy those morning hours. This coastal trail is lovely, offering plenty of beautiful views of quintessential New England-style homes, the ocean, small islands, and even lighthouses.
The path begins near the beautiful Agamont Park at the Town's Ellis Pier. It passes the historic Bar Harbor Inn as well as some lovely beaches that are perfect for sitting on as you enjoy the sunrise over the water.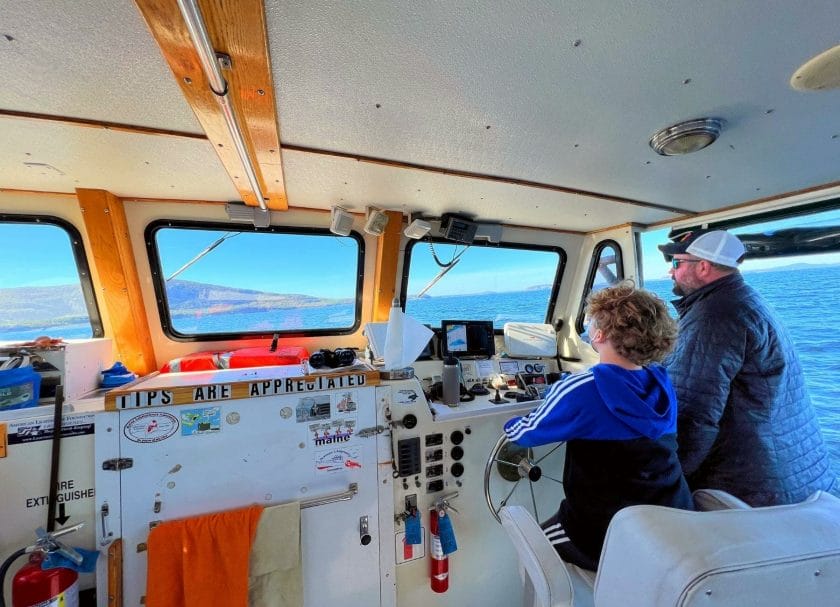 LuLu Lobster Boat Tour
Boat tours are hugely popular in Bar Harbor, and for good reason. Some of the best tours in the area are offered by the LuLu Lobster Boat Tour Company.
This company takes guests out on an actual lobster boat. The tour leaves from Bar Harbor, is a full two hours long, and circles the Egg Rock Lighthouse. Riders are given an enormous amount of information about lobsters and lobster fishing, and are even given an opportunity to hold lobsters that are brought up in traps.
TOP TIPS:
If you have kids, ask if they might be allowed to drive the boat. Sometimes the tour guides do allow this.
Bar Harbor Whale Watch Company Whale Watching Tour
Whale watching is one of the very best things to do in Bar Harbor. Whale sightings are extremely common, and the variety of whales found in these waters is astounding. You can definitely see whales from the shore, but the best way to get as close as possible to these magnificent creatures is to head out on a whale watching tour.
For a whale watching boat tour, we recommend going with the Bar Harbor Whale Watch Company. This company has been around for many years and offers a number of quality tours throughout the summer months.
TOP TIP:
This is another adventure you will want to carry a jacket for. We've found that even mid-summer tours can be a bit cool.
Abbe Museum
Looking for something to do indoors on a rainy day? The Abbe Museum might be just the thing. This museum is dedicated to sharing information on the history and culture of the Wabanaki Native American tribe.
The museum has two locations: one in Bar Harbor and a second inside of Acadia National Park. It features a huge collection of artifacts including arrows, spearheads, harpoons, combs, and even a 2,000-year-old flute!
Village Green
Located in the center of downtown Bar Harbor, Village Green is a communal gathering space that really brings Bar Harbor together. The creation of this park-like space began in 1899 when the bandstand was built. Since then, many more structures have been added, including a stone wall and bench memorial, a cast iron clock, an antique Italian fountain, and more.
While in the Village Green, you can stroll along the many pathways, admire the flowerbeds, and relax on the granite seat wall.
TOP TIP:
Check the schedule of events before you go. You never know when a performance or festival might be happening on the green.
George B. Dorr Museum of Natural History
Hoping to learn a bit about the wildlife in the Bar Harbor area? The George B. Dorr Museum is the perfect place to do just that. This wonderful museum is chock-full of engaging interactive exhibits, as well as lovely displays that allow guests to get a better understanding of Maine's ecosystems and wildlife.
We especially love the large touch pool that is filled with creatures such as hermit crabs, sea snails, and sea stars. The educational programs and nature walks are also awesome and help make learning a fun experience for all ages.
TOP TIP:
Admission is donation based, so this can absolutely be an inexpensive outing. However, you should be prepared to donate something.
Diver Ed's Dive-In Theater
A unique attraction, Diver Ed's Dive-In Theater provides an experience you will never forget.
Guests start their adventure by boarding a boat which is taken out onto Frenchman Bay. There, Diver Ed and his sidekick "Mini-Ed" dive underwater with special video and sound equipment. Everything they see and hear is recorded by their equipment and projected in real time onto the boat above them. This allows guests to have a diving experience without ever leaving the boat.
The divers also return to the boat with various sea creatures. Riders are allowed to touch the creatures before they are returned to their ocean habitat.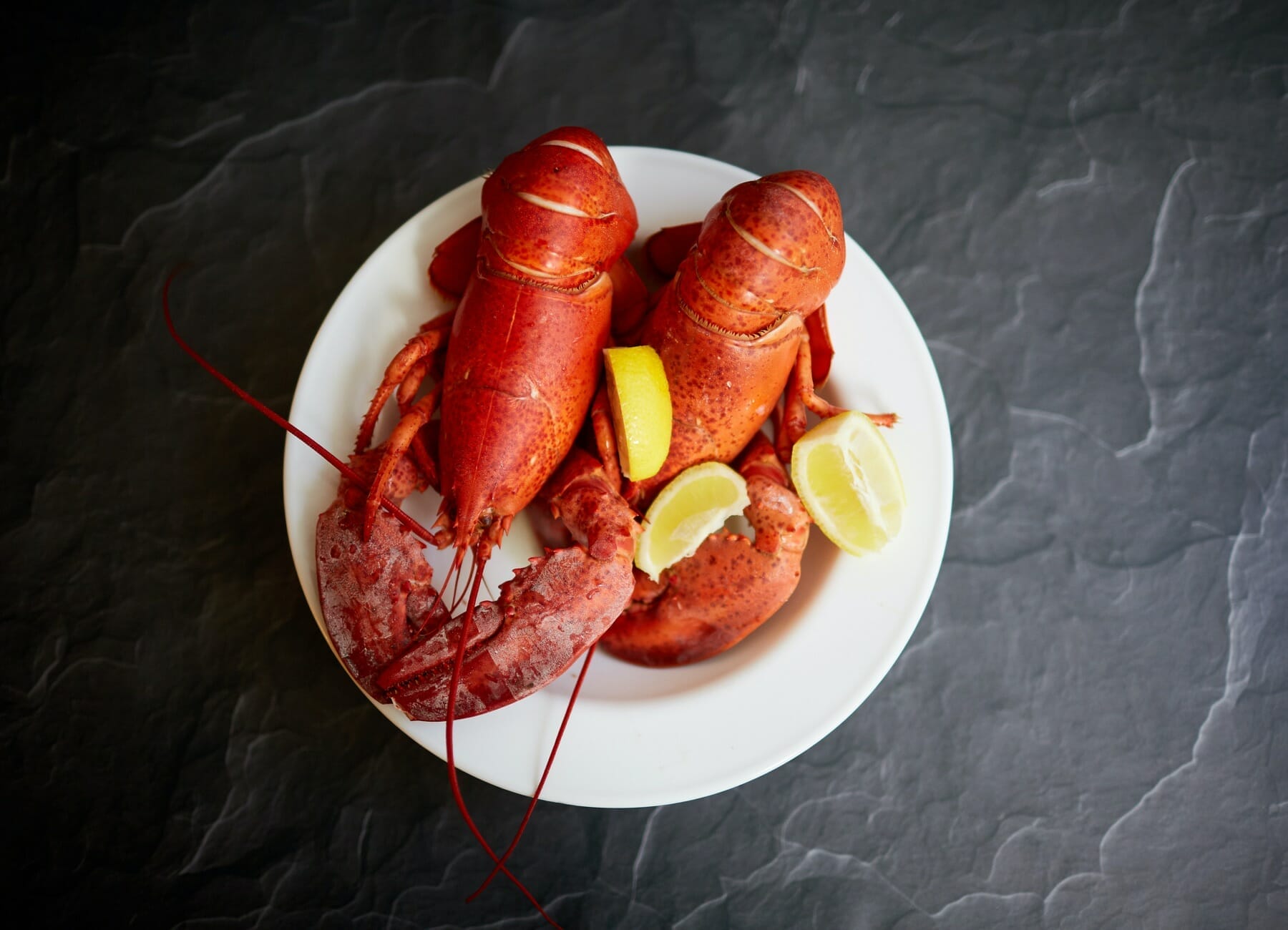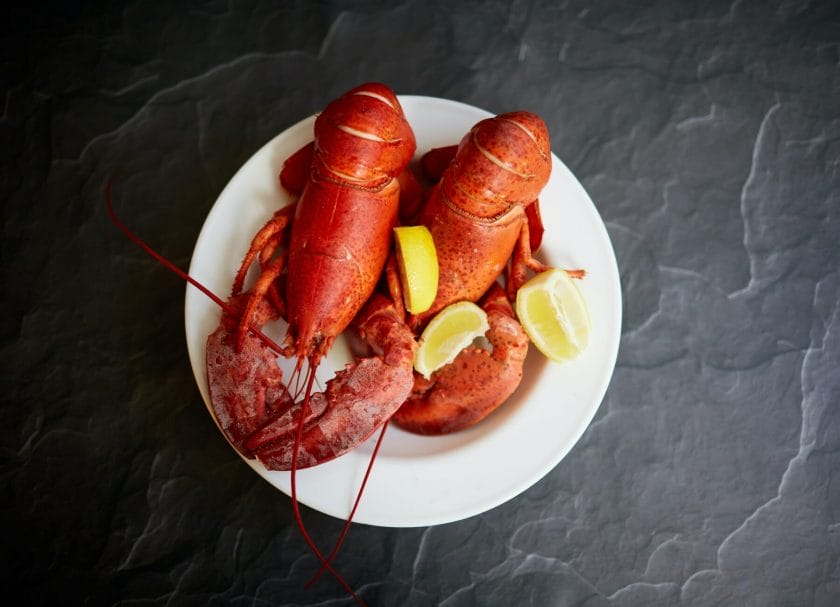 Where to Eat
With so much to do, you're definitely going to get pretty hungry during your stay in Bar Harbor. Fortunately, there are a number of fabulous local eateries in the town. These include adorable cafes, family-friendly seafood shacks, upscale restaurants, and even local breweries. There's no way anyone is going to go hungry while in Bar Harbor.
In order to help you decide where to eat during your time in the area, we've compiled a list of our favorite restaurants and other food stops so you can go out to eat with confidence.
Side Street Cafe
As you might've guessed, the Side Street Cafe is located off of one of the smaller side roads in town. Because of this, it is a lesser known eatery, meaning getting a table here may be easier. A huge portion of the menu includes seafood, and it is absolutely delicious. Another fantastic thing served here? The seasonal Apple Cider Margarita.
Happy Clam Shack
Unlike Side Street Cafe, Happy Clam Shack almost always has a line out the door. The restaurant is located about 15 minutes outside of town, but it's 100% worth the drive and the wait to get in. They have fresh lobster waiting in a tank, which they cook for you when you order it.
Other options include lobster rolls, clam chowder, and lobster bisque. You can choose to eat your lobster at a picnic table outside or take it to go.
Atlantic Brewing Company
Are you an ale person? If so, you simply must go to the Atlantic Brewing Company. Here you can visit the tasting room to taste the various ales made onsite and eat at the onsite restaurant, Mainely Meat BBQ. The whole experience is fantastic and a great way to experience local food and drink.
Where to Stay
Last but not least, we need to talk about places to stay. From quaint cottages and rustic campgrounds to luxury hotels, there are plenty of options when it comes to lodging in Bar Harbor. The trouble is, there are so many options that choosing can be a bit difficult.
Fortunately, we've done a lot of the legwork for you. The list below contains our top three places to stay in the Bar Harbor area. Choose from this list and we are confident you will be happy with your pick.
Shannon Cottage
An absolutely adorable cottage in an incredible location, Shannon Cottage is the ideal vacation getaway. It boasts three bedrooms, so there is plenty of room for the whole family, and the wrap-around deck is the perfect place to sit and relax after a long day of exploring.
Charming Bar Harbor Home
This amazing 3- bedroom 2 bath Charming Home is located in a quiet neighborhood in Bar Harbor. Acadia National Park is just a short 5-minute drive away. This house is perfect for your family vacation.
Bar Harbor Grand Hotel
Historic, iconic, and luxurious, the Bar Harbor Grand Hotel is the ideal place to unwind on your Bar Harbor vacation. The hotel features well-appointed rooms, a fitness center, a pool, and a hot tub. The location is fabulous, and the hotel is in Central Bar Harbor.
The Inn on Mount Desert
This gorgeous inn is located just one mile from Acadia National Park, with shops and restaurants within just a 5-minute walk. The Inn on Mount Desert offers a great complimentary breakfast each morning.
Hadley's Point Campground
Prefer a more natural setting? Staying at Hadley's Point Campground in your RV or tent might be the perfect pick for you. The campground is lovely, offering amenities like sports courts and a pool and playground. It's also a nice, quiet escape from the hustle and bustle of city life.
Timberland Acres RV Park
This beautiful Timberland Acres RV park is situated just 14 miles from the entrance to Acadia National Park. This great Campground offers wonderful family-friendly amenities like a playground, horseshoes, hiking, and even an arcade.
More Family Fun in Bar Harbor Maine
Experience the taste of Maine on this Culinary Walking Tour with Tastings. Enjoy a various array of local foods on this great 3-hour tour.
Take a walk through history on this great 2 hour Historical Guided Tour. Discover the history of Maine through the gilded age with a knowledgeable guide.
Explore the beauty of Acadia National Park with this Self Guided Driving Tour. Learn about gorgeous hidden areas of the park.
Enjoy delicious tea and popovers at the Jordan Pond House at the Acadia National Park.
As you can see, there are tons of incredible things to do in Bar Harbor, Maine. Not only that, there are also lots of delicious places to eat and welcoming places to stay. This means you are certain to have a wonderful time during your visit to this lovely town as well as the nearby Acadia National Park. Why not start putting together your trip itinerary today?
Pin This Post: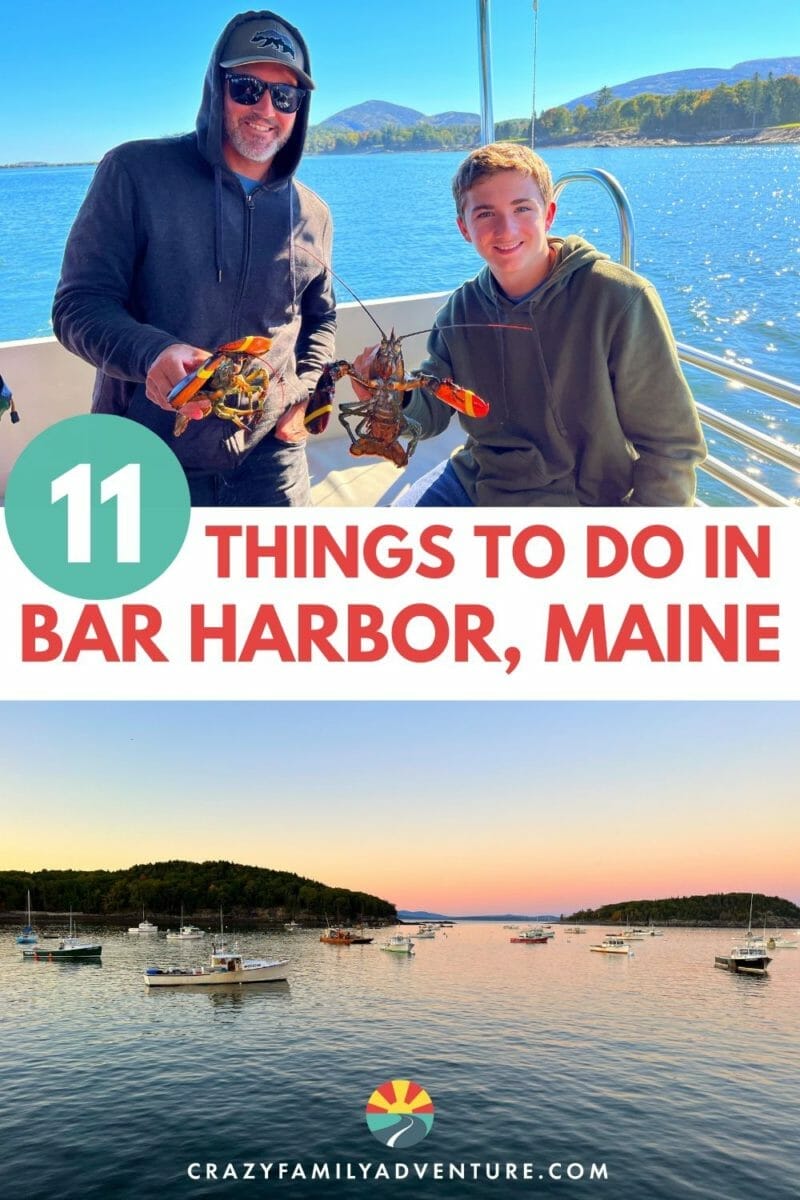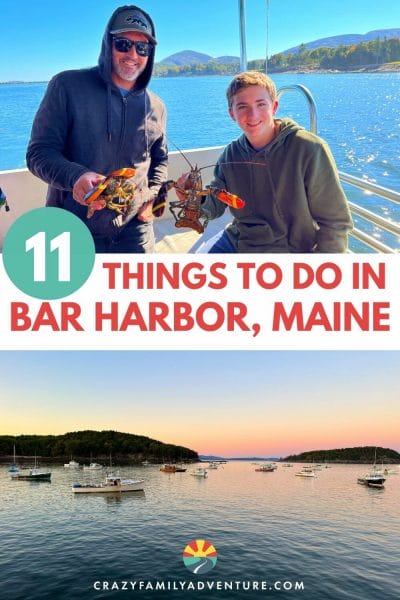 Check out these posts for more awesome travel locations:
21 Best Things to do in Mystic CT
4 Best Amusement Parks in Massachusetts To Visit
Top 14 Maine National Parks and State Parks To Visit
20 Fun Things To Do in Stowe, Vermont
31+ Fun Things To Do In Vermont [2 Day Itinerary included]
15 Fun Things to do in Burlington, VT
6 Epic National Park Road Trip Ideas [Maps Included]
21 Epic Things To Do In Glacier National Park [Map Included]
19 Best Things To Do In Newport RI
Latest posts by Chelsea Gonzales
(see all)
DISCLOSURE: This post may contain affiliate links, meaning I get a commission if you decide to make a purchase through my links, at no cost to you. Please read my disclosure for more info.