Here is the Acadia National Park Itinerary we used when we visited for 2 1/2 days. It was a bit rushed at times and we packed a lot in but were happy with the amount of time that we set aside to explore the park and Bar Harbor.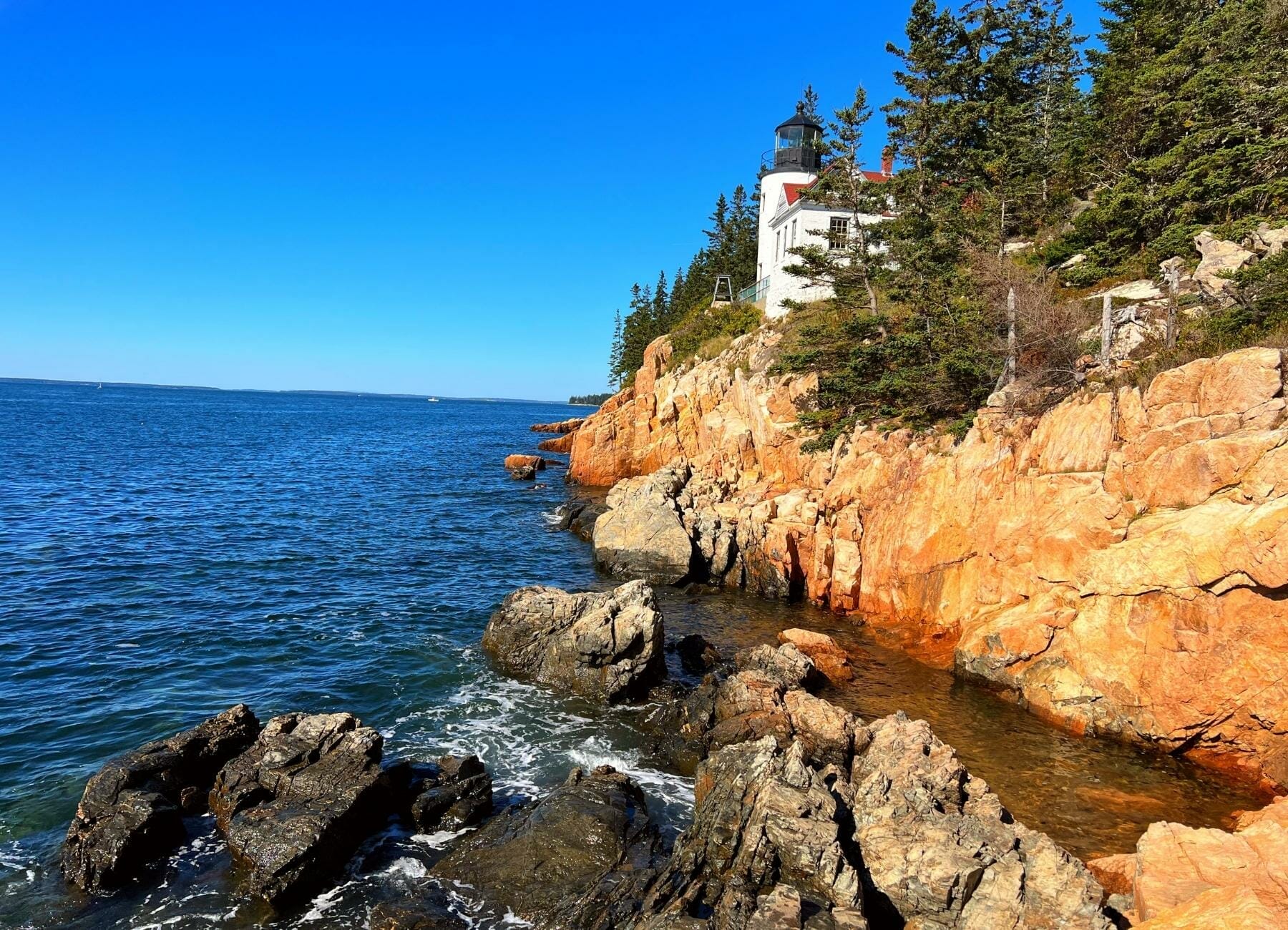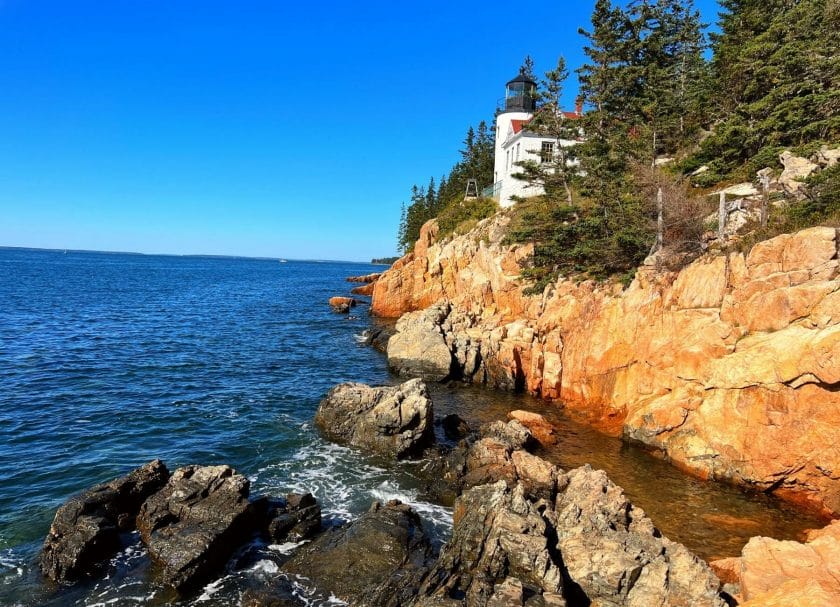 We broke Acadia National Park into 3 areas:
1/2 day: Schoodic Pennisula area
1 full day: Loop Road
1 full day: The Quiet Side and Bar Harbor
We did not get to the Isle au Haut on this trip. This would be a reason to stay an extra day. Also the Puffins were not in season. If they were we would have added extra time to do one of those trips.
We will start with the high level itinerary for the 2 1/2 days and then break it down into more details below.
Day 1 (1/2 day): Schoodic Pennisula
Schoodic Point
Little Moose Island (if the tide is low)
Tidal Falls (if the tide is low to look for starfish)
Happy Clam Shack for Lobster
2nd Day (full day): Great Loop Road
Cadillac Mountain Drive and Hike Around The Top (need tickets)
Park Loop Road – you drive this to get everywhere anyways
Precipice Trail
Thunder Hole via the Ocean Path Trail
Beehive Trail
Sand Beach
Jordan Pond House (if you can get at table) and Jordan Pond
Side Street Cafe – in Bar Harbor for dinner
Walk around Bar Harbor
3rd Day (full day): The Quiet Side and Bar Harbor
Echo Lake Beach
Bass Harbor Lighthouse
Wonderland Trail
LuLu Lobster Boat Tour
Walk around Bar Harbor
Acadia is Maines top National Park! But there is still a lot of Things To Do Near Acadia National Park too.
---
We would love to help you plan your trip! Check out our Acadia National Park Guides to get all the info you need to plan an amazing trip to Acadia National Park.
---
Day 1 (1/2 day):
Schoodic Pennisula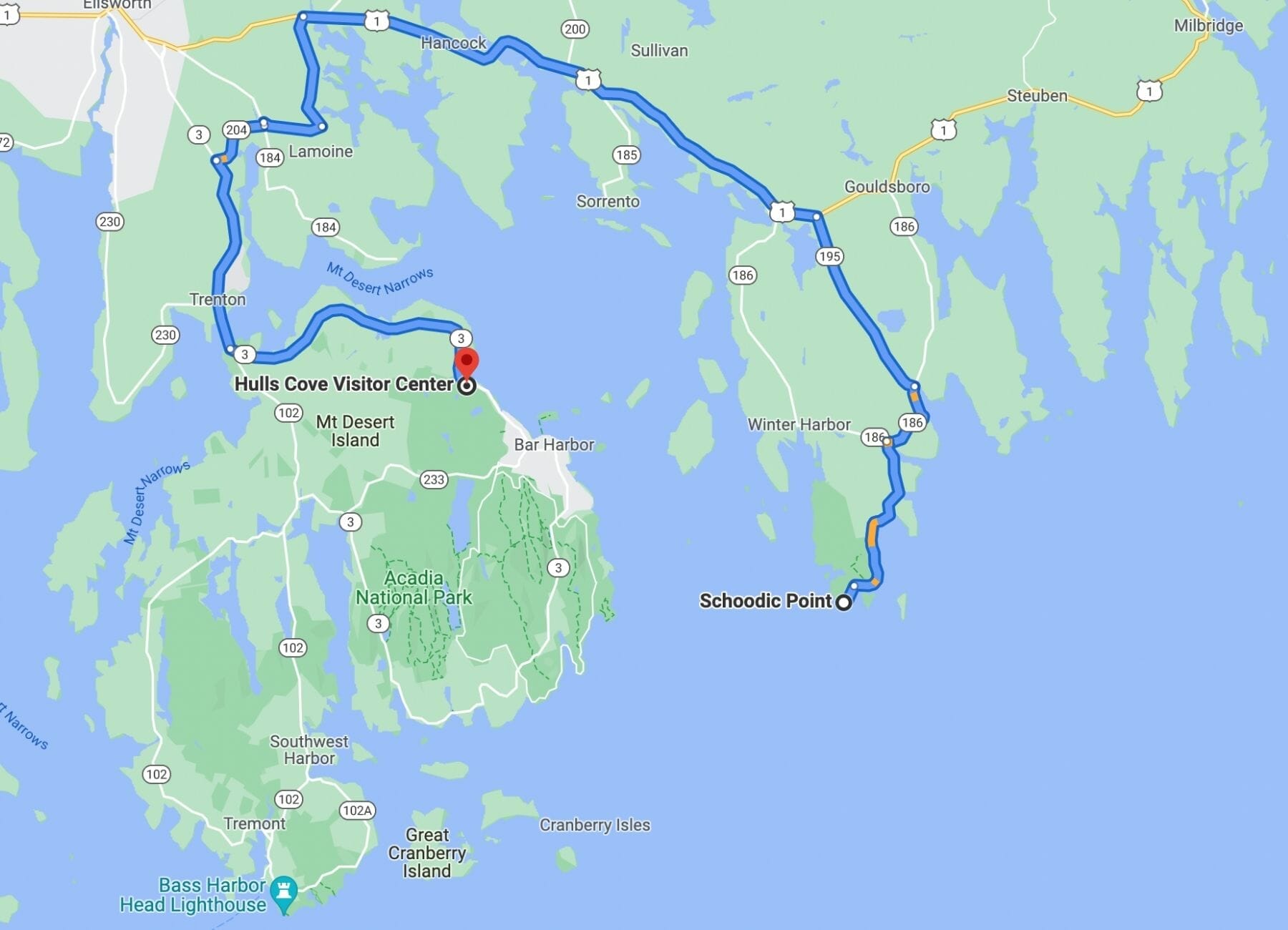 The Pennisula is located about a hour drive from the main park entrance. It is only a couple miles across the water but with a car it is about 45-60 minute drive. It is definitely a less visited part of Acadia National Park.
We arrived at a campground. Got setup and headed out at about 4pm to start exploring.
Stop 1: Schoodic Institute and Ranger Station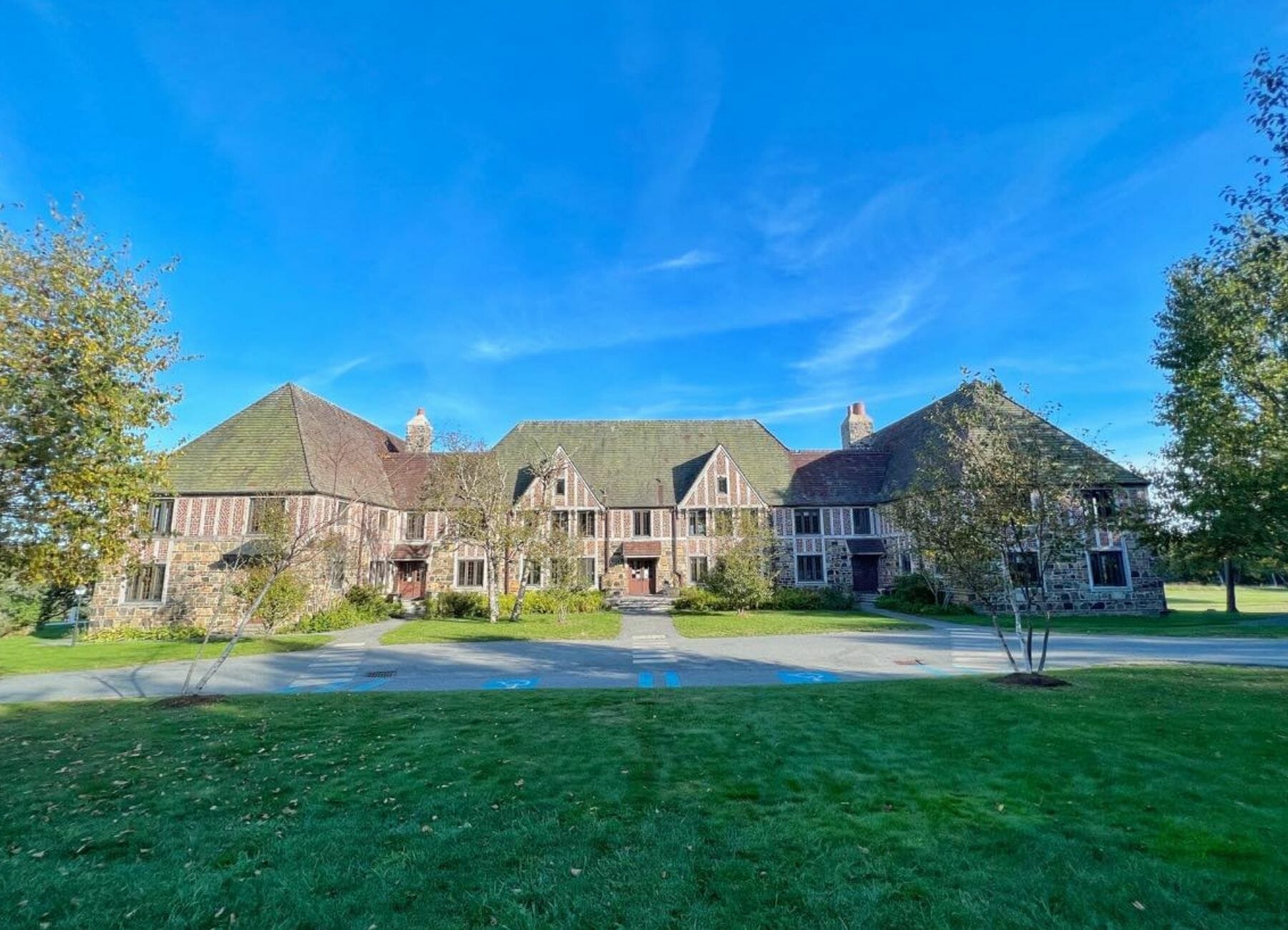 We first stopped at the Schoodic Institute and Ranger Station to check out the exhibits and talk to the Rangers about what we shouldn't miss! ⁠⁠We always like to talk to the Rangers at a Visitor Center when we first get to a National Park.
⁠⁠
Funny thing was we had a plan to hike by the Schoodic Point but they actually recommend we hurry up and finish in the National Park and head to the Tidal Falls Preserve to find the sea stars! We always listen to the locals so we did just that.⁠⁠
Stop 2: Schoodic Point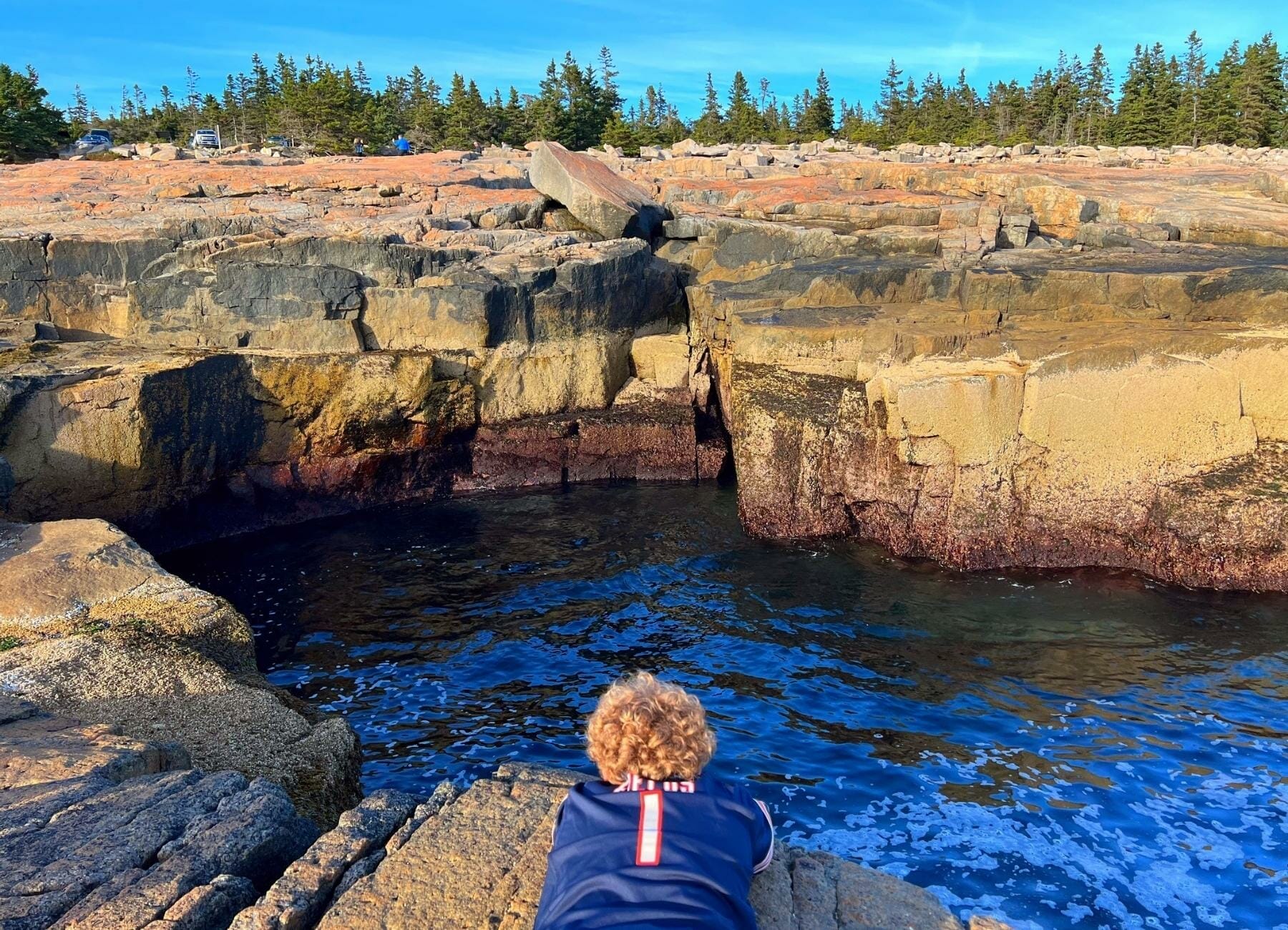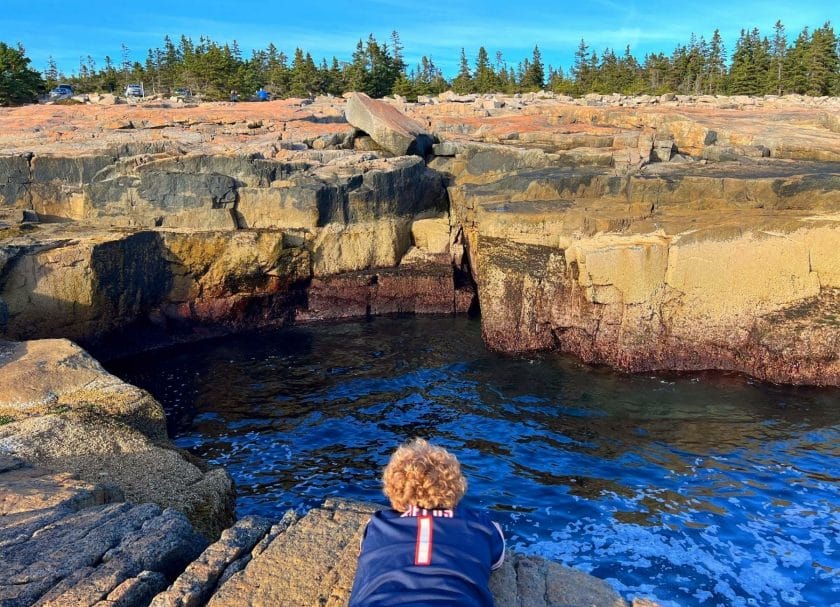 We made a stop at the Schoodic Point to check it out and watch the waves come in – unfortunately we hit it at low tide so the waves weren't as crazy. ⁠⁠It was still beautiful and we enjoyed climbing around on the rocks – just be careful not to get crazy and keep an eye on the water as waves can unexpectedly crash down on the rocks!
Stop 3: Little Moose Island⁠⁠
After that we headed over to Little Moose Island – where you can walk across the sea floor at low tide to get to the island -to explore for a bit. There ended up being water so just Knox and Cannon made it across. And in full disclosure I slipped when walking across the rocks and fell and scratched up my leg and hurt my elbow – it was a full on fall on my butt (it sucks getting older 🤣!! But I was fine just felt stupid for falling!). ⁠⁠
The kids enjoyed exploring around on the shore and finding different shells and sea creatures.
Stop 4: Tidal Falls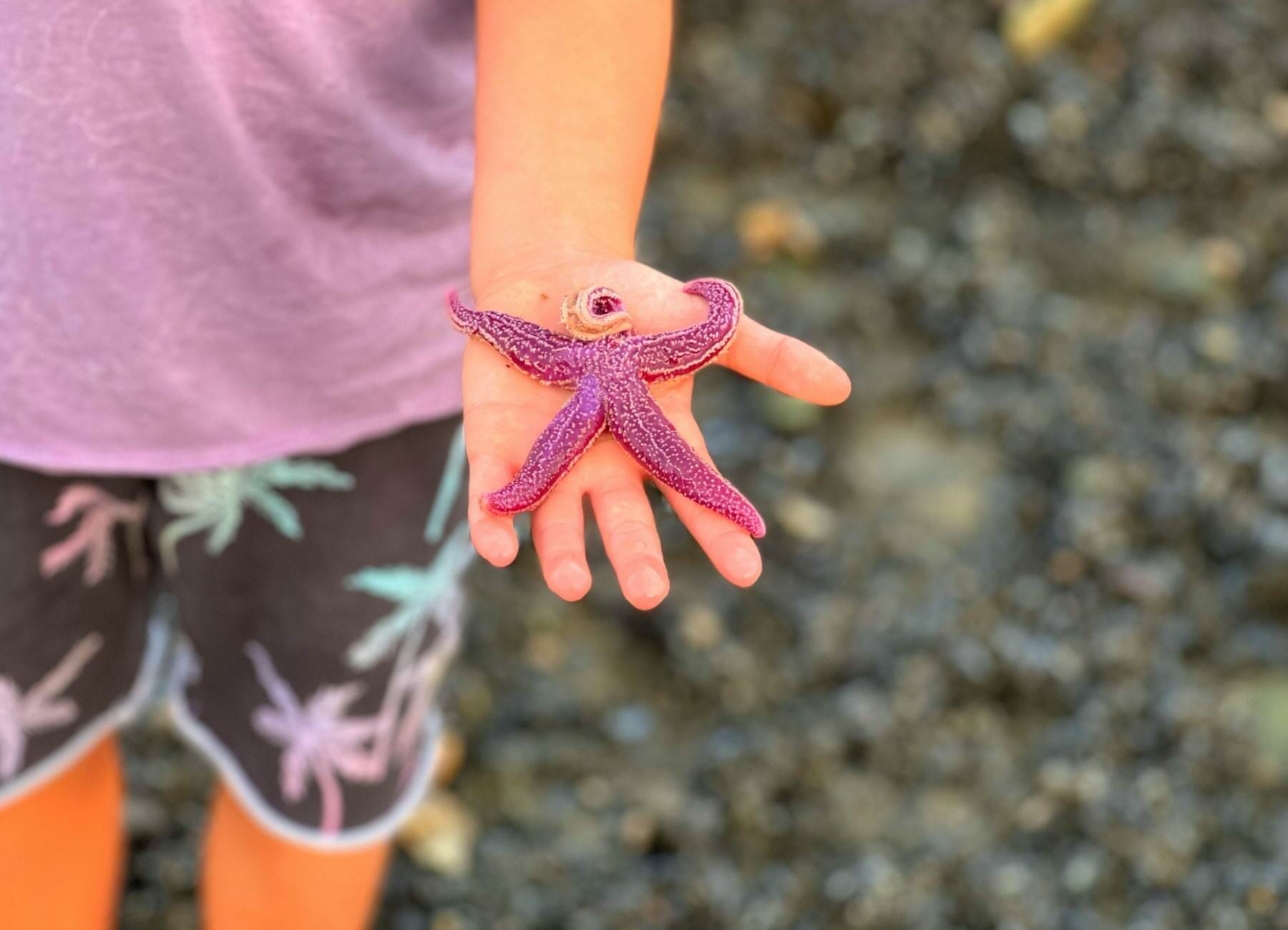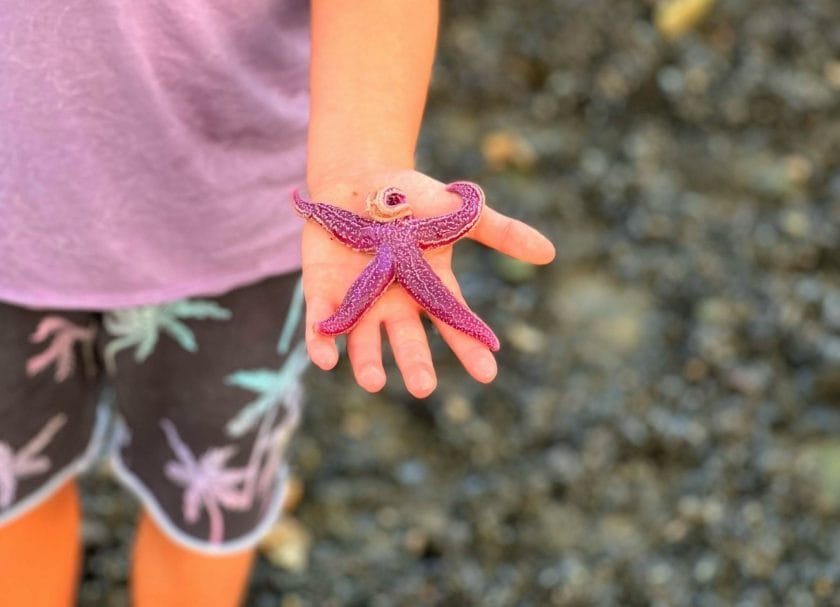 Next up we headed out to the Tidal Falls and the kids did find some sea stars so it was worth it!⁠⁠ This was a small area and if it wasn't for low tide and being able to find sea stars I would not recommend this stop.
Stop 5: Dinner at the Happy Clam Shack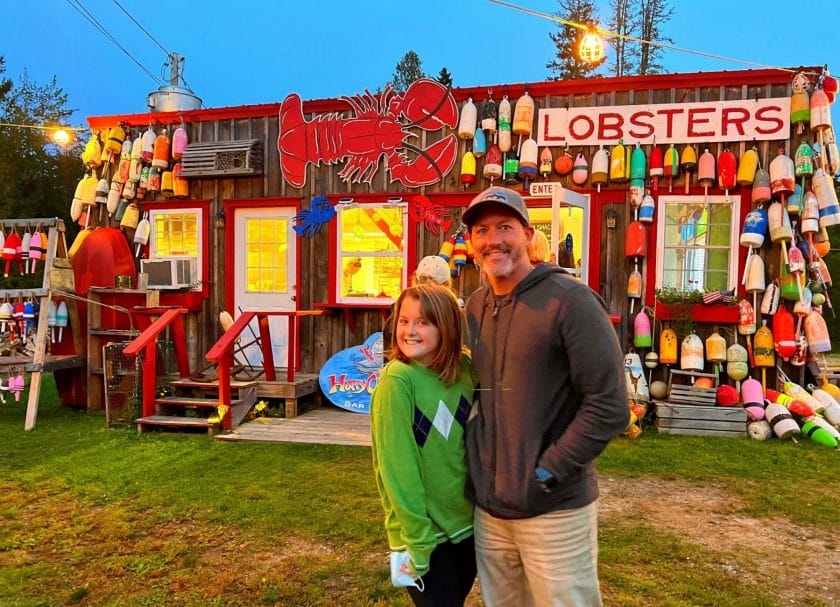 For dinner we stopped at Happy Clam Shack. If the line out the door was any indication the lobster was going to be good! ⁠⁠
We order 2 full lobsters that they cook for you there, clam chowder, a lobster roll, lobster bisque and some pie. They did have outside picnic tables but we decided to take it back to the RV to eat.
⁠⁠
We really had no idea how to eat the lobster so we googled it and made due with the tools they gave us and what we had at the RV. The kids haven't ever really had lobster so it was funny to watch them see this full lobster and to learn how to break it open to eat the meat. They weren't to sure about eating it – but enjoyed breaking it apart. It was a good experience. Craig and I loved the Lobster Bisque! ⁠⁠
Acadia National Park Day 2 – Loop Road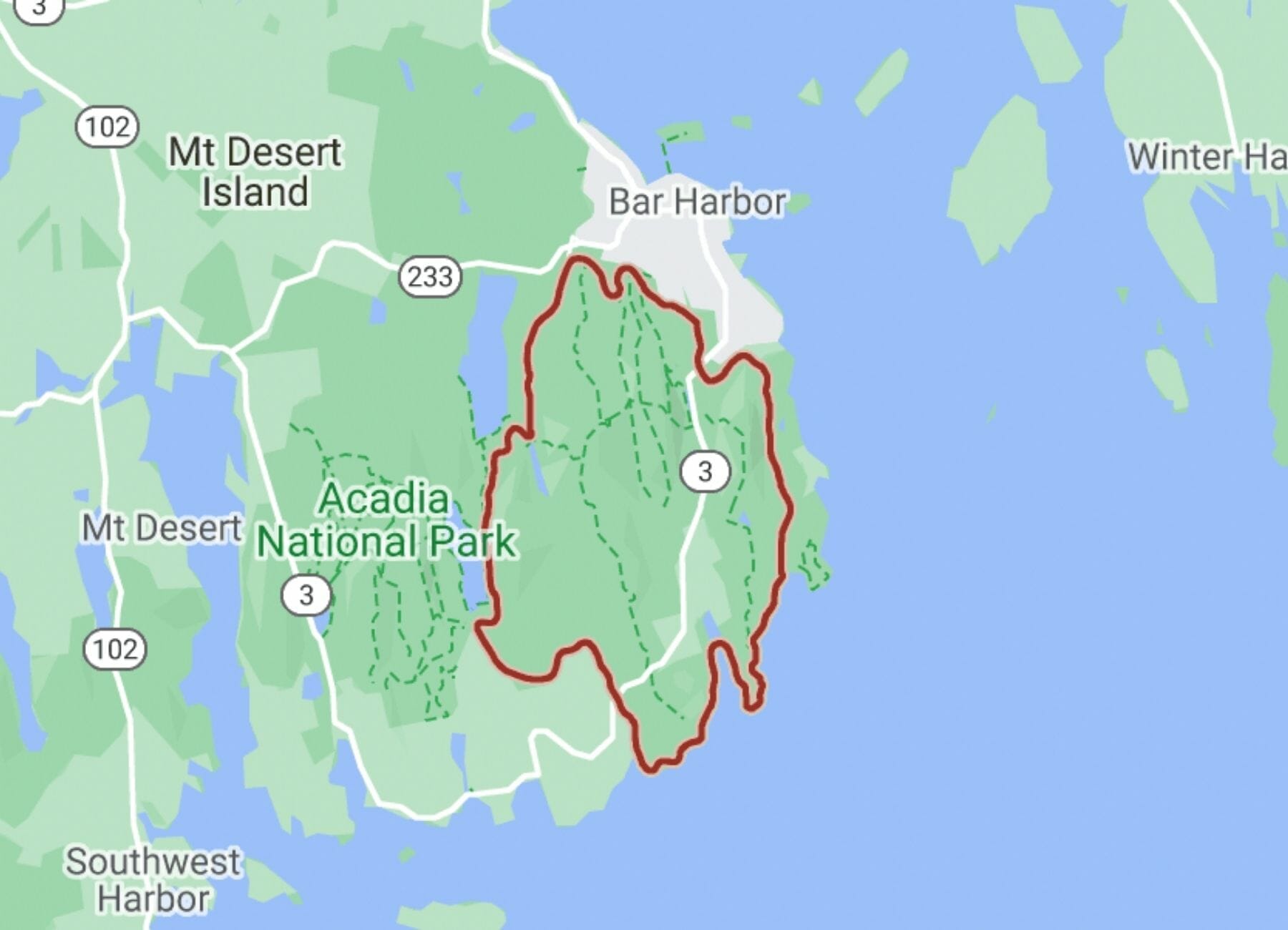 Day 2 we headed to the Loop Road. This is the main thing to do in Acadia National Park and for good reason. There are a lot of cool stops and hikes along the road. Take note most of the road is one way on the loop. Our itinerary followed the one way route so we did not need to go back around the road more then once.
We made breakfast at our RV and took coffee to go. 9am is an early start for us so this was easiest for us to do. If you want to grab breakfast somewhere you can check out all of the cute coffee shops in Bar Harbor. Just note there isn't a Starbucks or a quick drive thru in Bar Harbor so plan accordingly and give yourself enough time.
I would also recommend packing a lunch or at least snacks to bring with for your day. We had a cooler in the car with snacks and sandwiches for everyone. Our goal was to eat at the Jordan Pondhouse but we knew the wait could be hours so we came prepared. If that doesn't sound fun you could split the day in half and head into Bar Harbor for lunch and back into the park in the afternoon.
Stop 1: Cadillac Mountain at 9am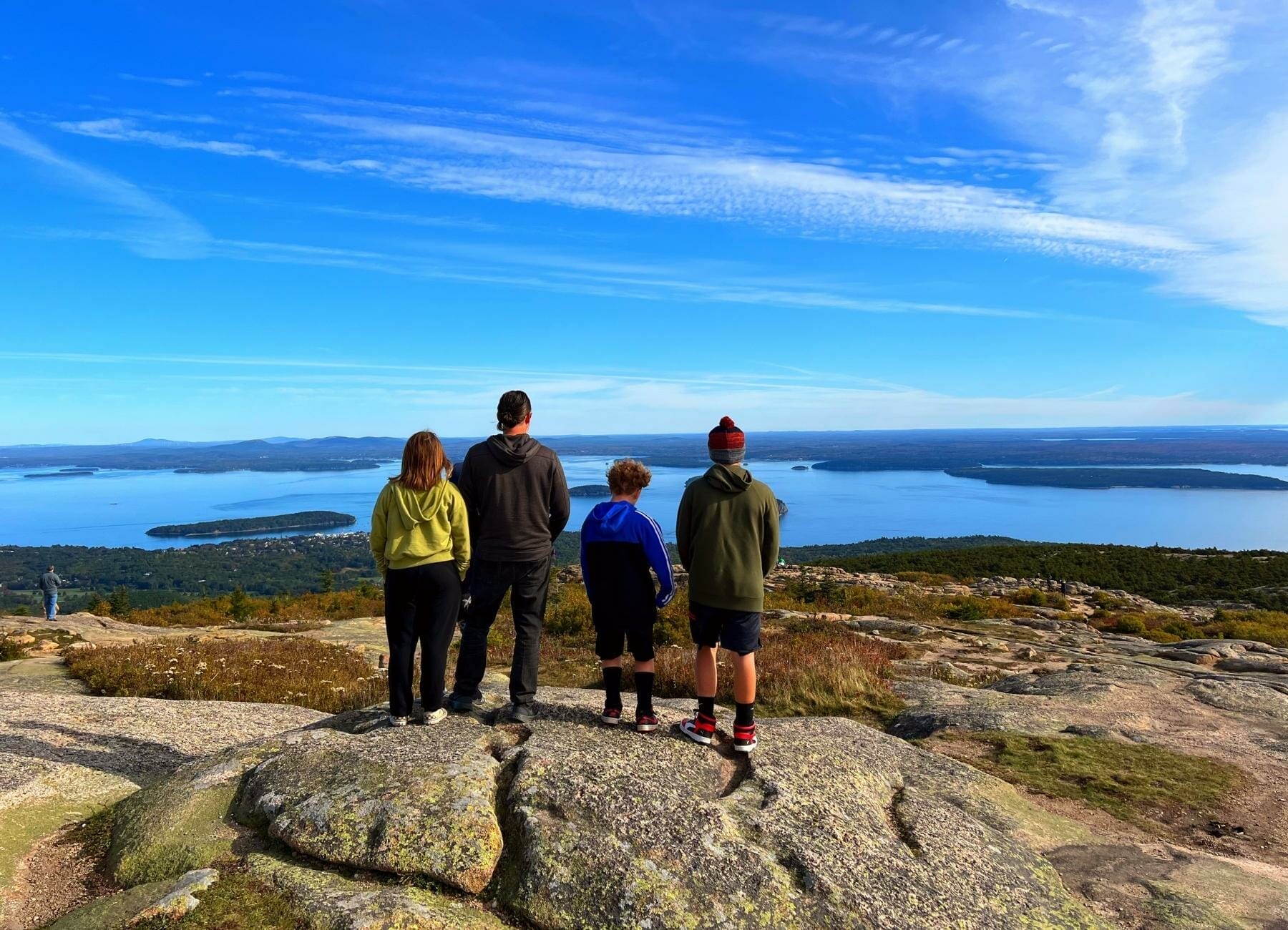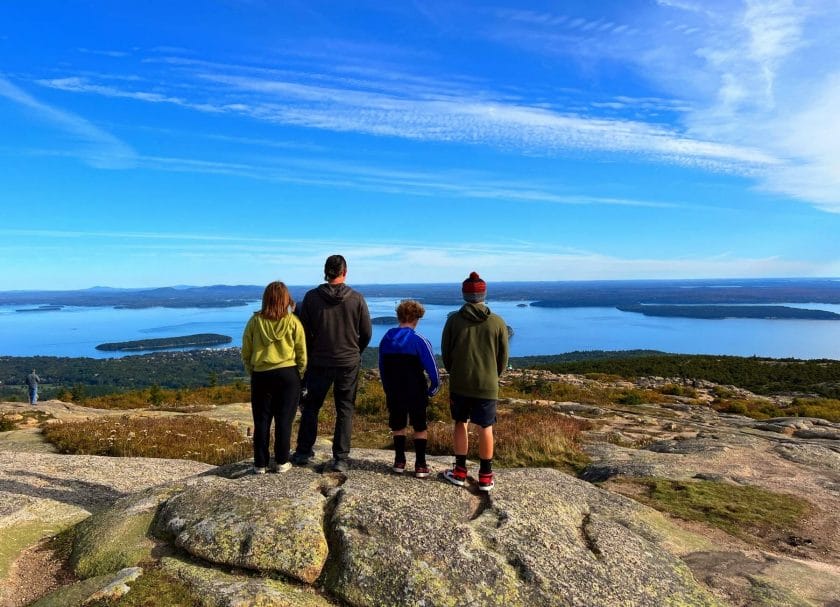 We got tickets to go to the top of Cadillac Mountain at 9am. I thought about doing the sunrise but lets be honest our family making the 9am time was an accomplishment so trying to do sunrise would have been cool but probably would have meant we were all crabby for the rest of the day so wasn't worth it.
Others who have done the sunrise time said it was amazing. It is pretty cool that this is one of the first places in the US that you can catch the morning sun.
It was beautiful up there, we visited the gift shop and did the Cadillac Mountain Summit Loop before heading back down. The loop was paved and it was a nice easy stroll. Just pay attention where you are so you don't end up getting on one of the longer trails that takes you down the mountain!
Check here for the latest on vehicle reservations.
Stop 2: Precipices Trail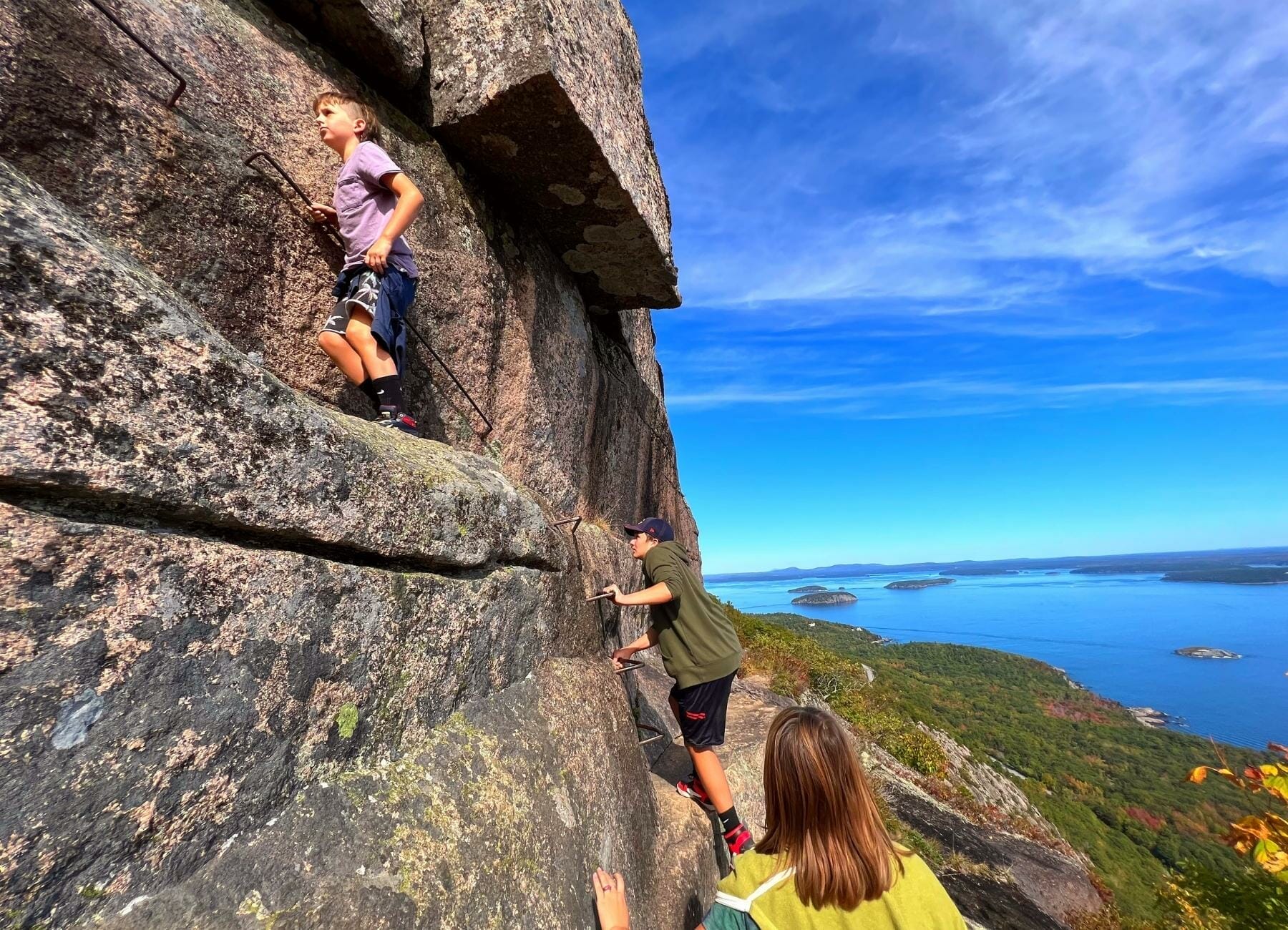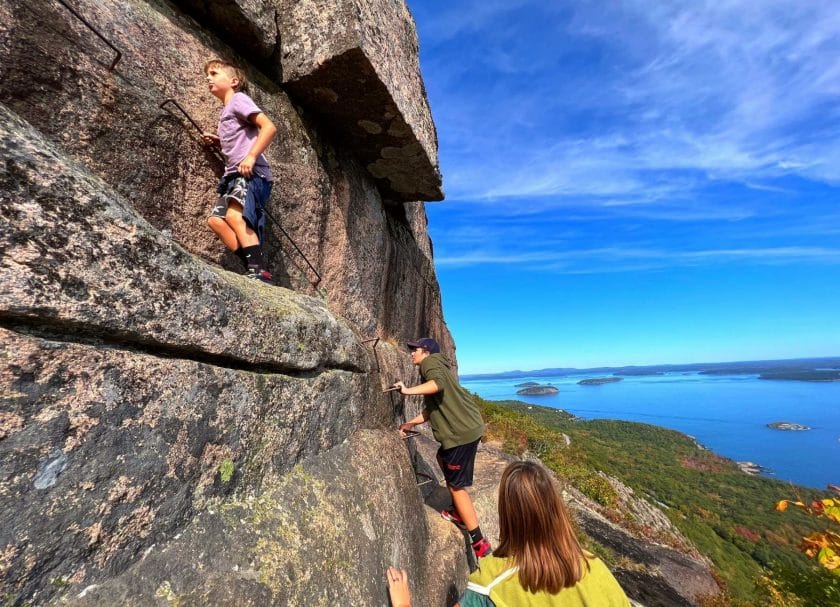 I told the kids a little bit about the hike . . . but not a lot . . . plus I didn't know much about it besides it was going to be a challenge and there were signs up that said it was a dangerous hike (like be aware you could die) . . . they weren't lying!! The hike was CRAZY!!
You are literally climbing ladders up the side of a mountain 1000's of feet in the air. After that you walk along the ledge with only a bar to hang on to and a foot bar in case you slip. It was scary and exhilarating and to be honest I don't know if it was the best idea to take the kids.
However, we did it since we do know our kids are capable and they did an amazing job on the hike. The kids were 14, 11, 11 and 9 at the time. They are also hikers and have hiked 12+ miles before with huge elevation gains. This was by no means their first challenging hike. But it was the first hike where they were climbing ladders on the side of a mountain!
Would we do this hike again . . . not any time soon! Was it amazing – for sure!!!
I have a more in depth breakdown of the hike here: Crazy Family Adventure – Things To Do In Acadia National Park – Precipices Trail
Distance: 2.6 miles – 1 mile which is straight up the side of the mountain
Elevation gain: 850 feet all in that 1 mile
Length of time to complete: 2-3 hours
Stop 3: Thunder Hole via the Ocean Path Trail
Up next we went to check out Thunder Hole – which we caught at low tide – our timing was just off to see these crazy waves in Acadia. But it was still pretty. We did the Ocean Shore Path Trail to get there and sat to watch and listen for a few minutes.
We parked in the Sand Beach parking lot for stop 3, 4 and 5. This would also be a good place to have some snacks or a picnic lunch either down by the beach or by your car.
Stop 4: Beehive Trail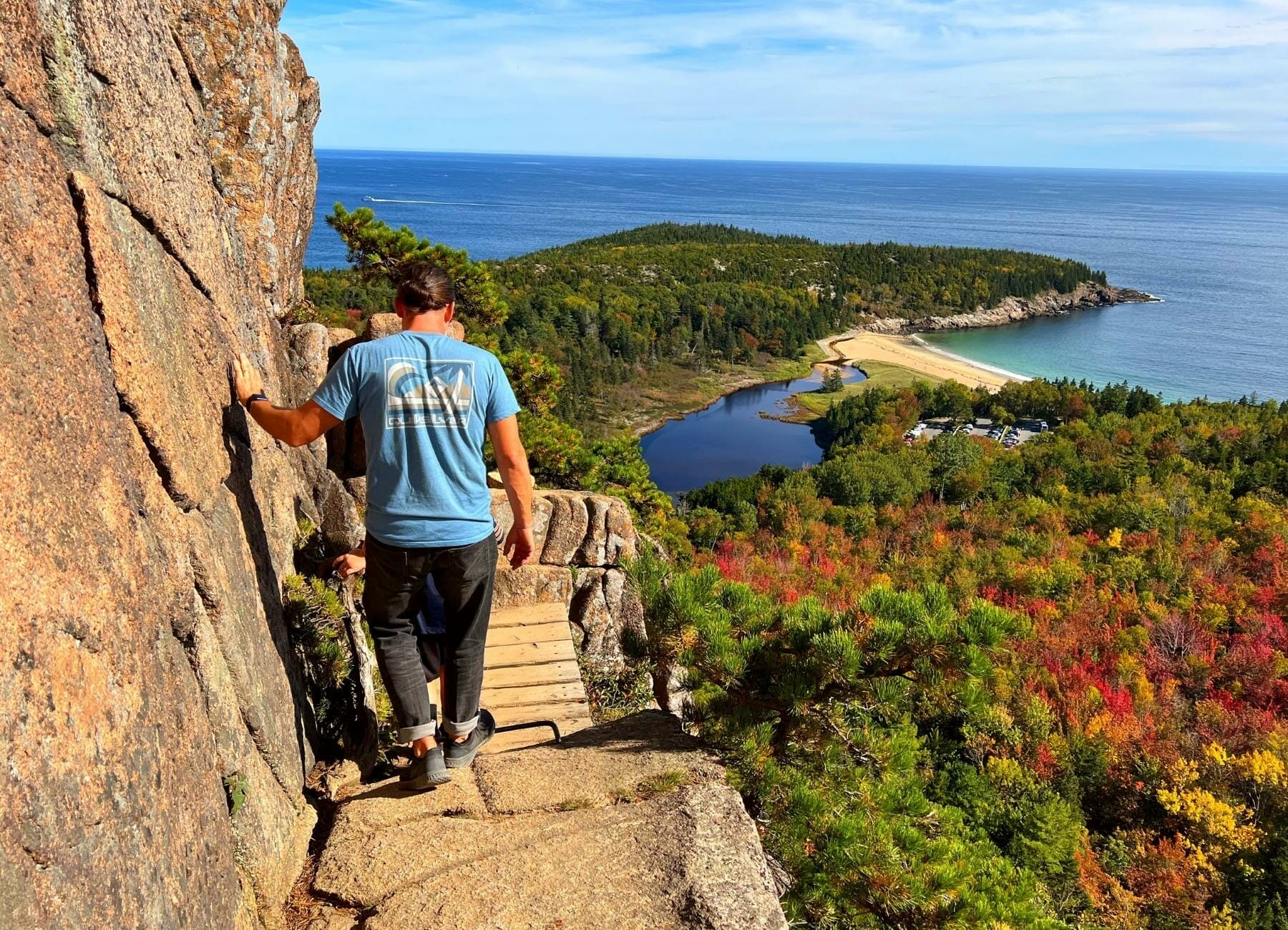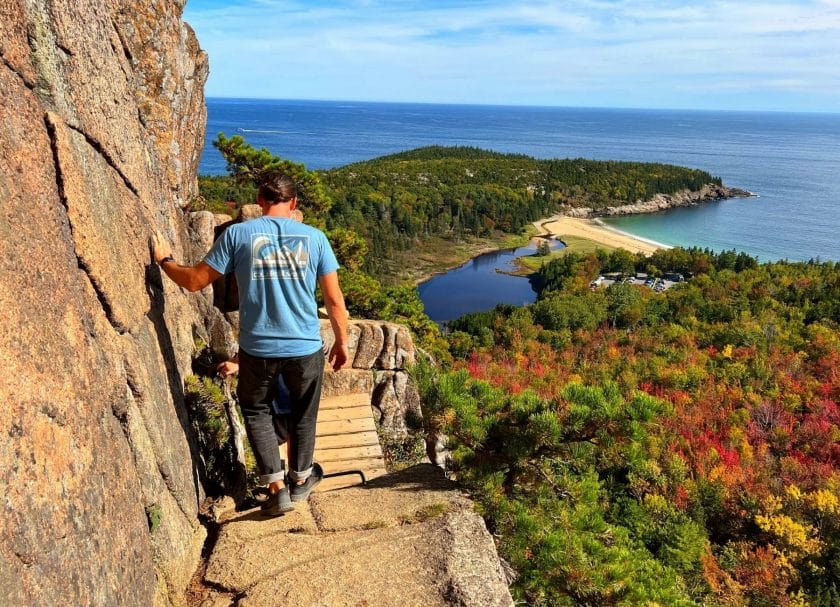 Since we only had one day in the park we also opted to do the beehive hike – after the Precipices since it is a one way road in Acadia and the Precipices Trail came first. Usually people do the Beehive first since it is a smaller version of the Precipices – which it was. Had we done that one first I am not sure if everyone would have done the Precipices one so I am glad we started with that.
The Beehive was a fun trail. Still lots of climbing and warning signs before you start the hike but definitely more doable then the Precipices trail. Still scary but not as scary! You are climbing ladders up the side of the mountain and walking over small ladder "bridges" connecting rocks. Plus making turns around tight corners with a huge drop off.
Distance: 1.5 miles
Elevation: 508 feet
Stop 4: Sand Beach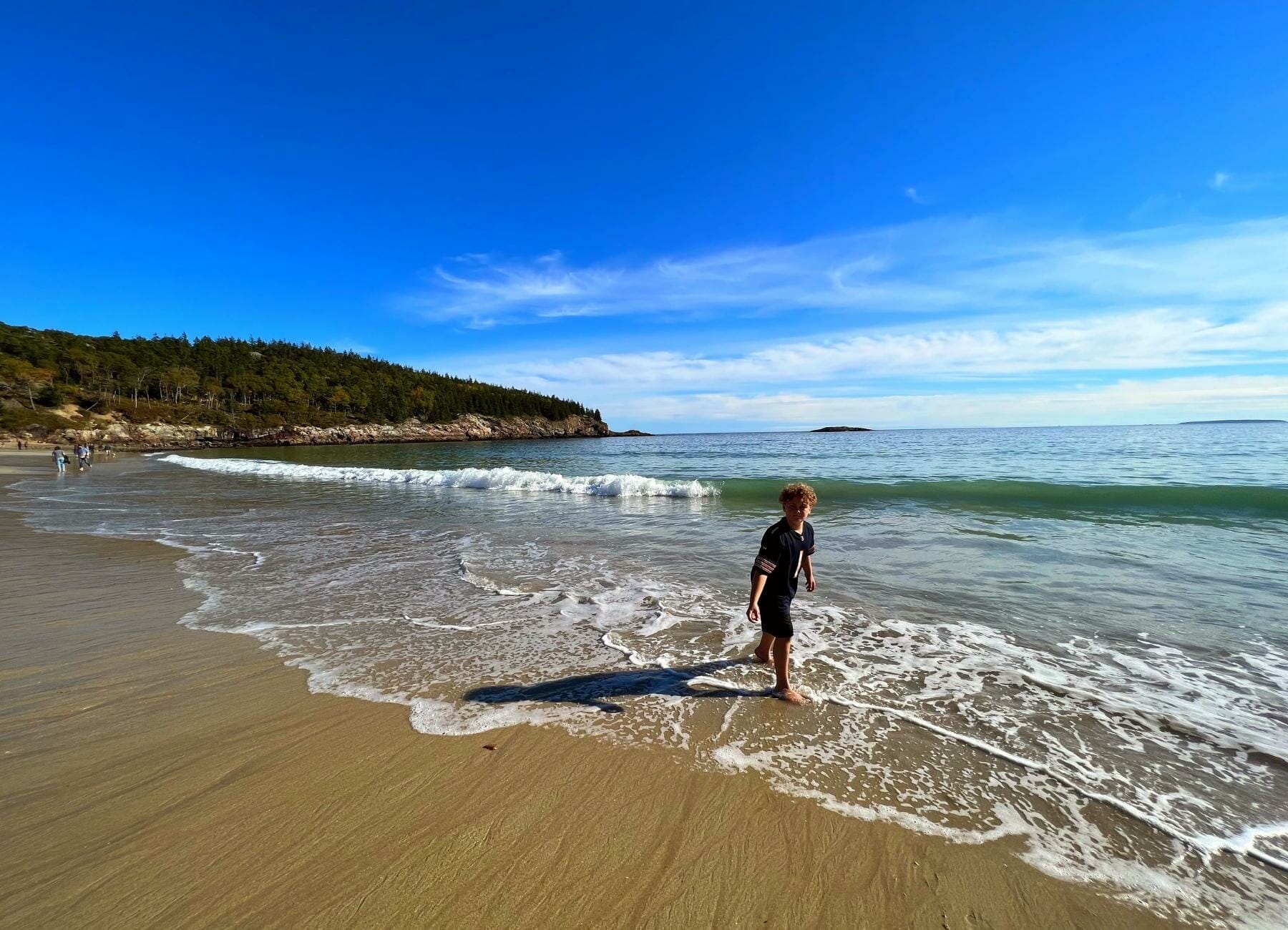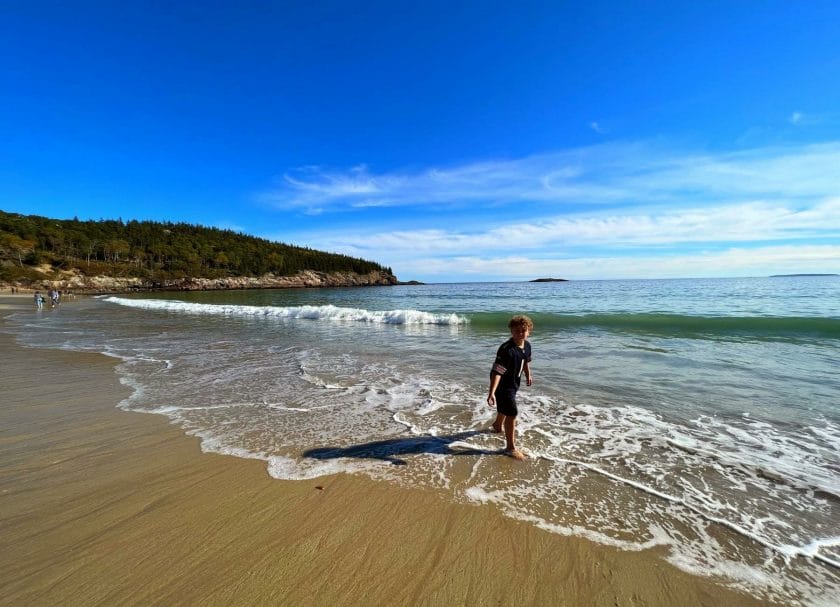 Next up we checked out Sand Beach. If we had more time in Acadia I could definitely see coming to spend a few hours or the whole afternoon at the beach!
Stop 5: Jordan Pondhouse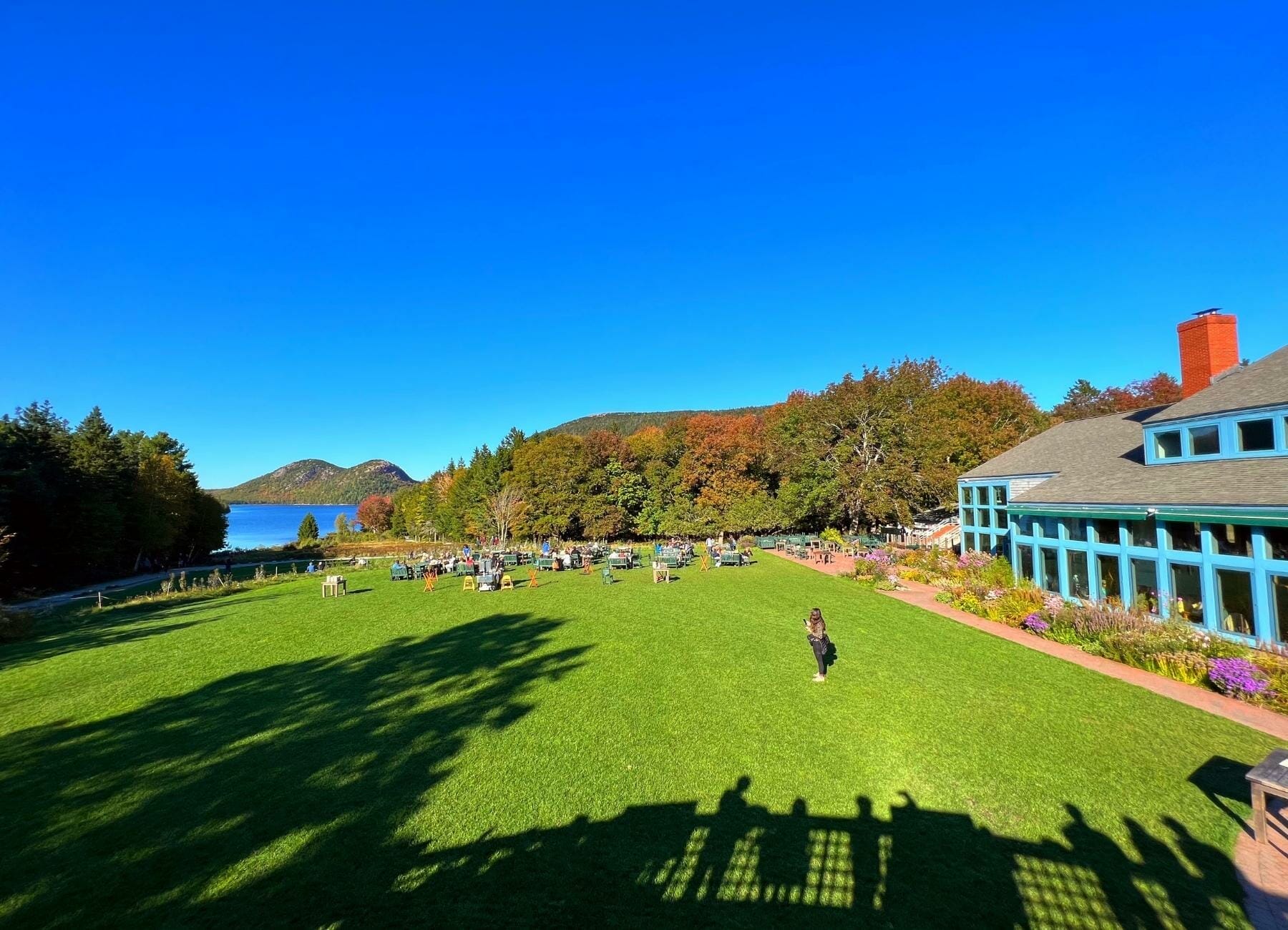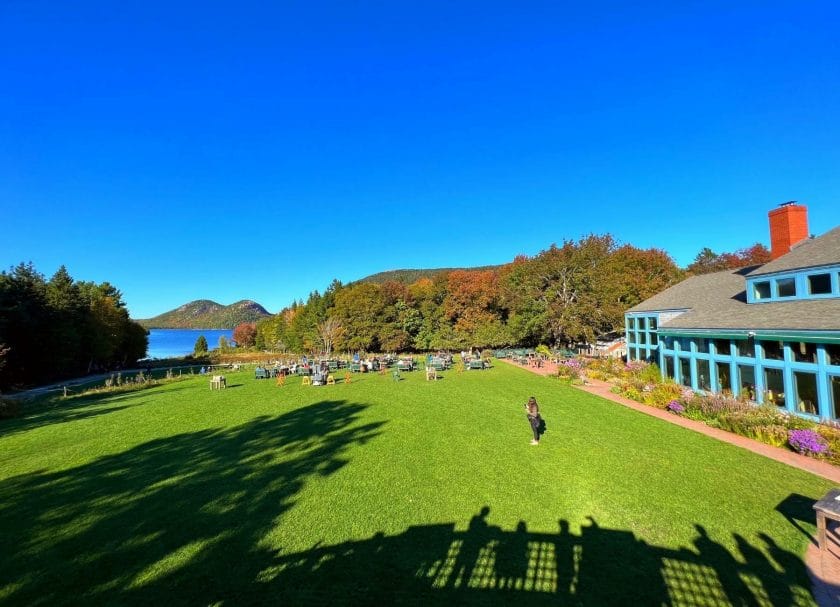 Our plan was to get to the Jordan Pondhouse at 4pm to hopefully not have to wait to long to eat here. Plus we heard the Popovers were amazing. Well we got there and it was a 2 hour wait. The kids weren't having that . . .
Stop 6: Jordan Pond Trail
We went and walked down to check out the super clear Jordan Pond (which Carson said was the largest Pond he has ever seen). You can do a hike around the Pond as well and to bubble rock if you are interested.
After that we all decided it wasn't worth it to wait and we headed into Bar Harbor to find dinner.
Stop 7: Side Street Cafe in Bar Harbor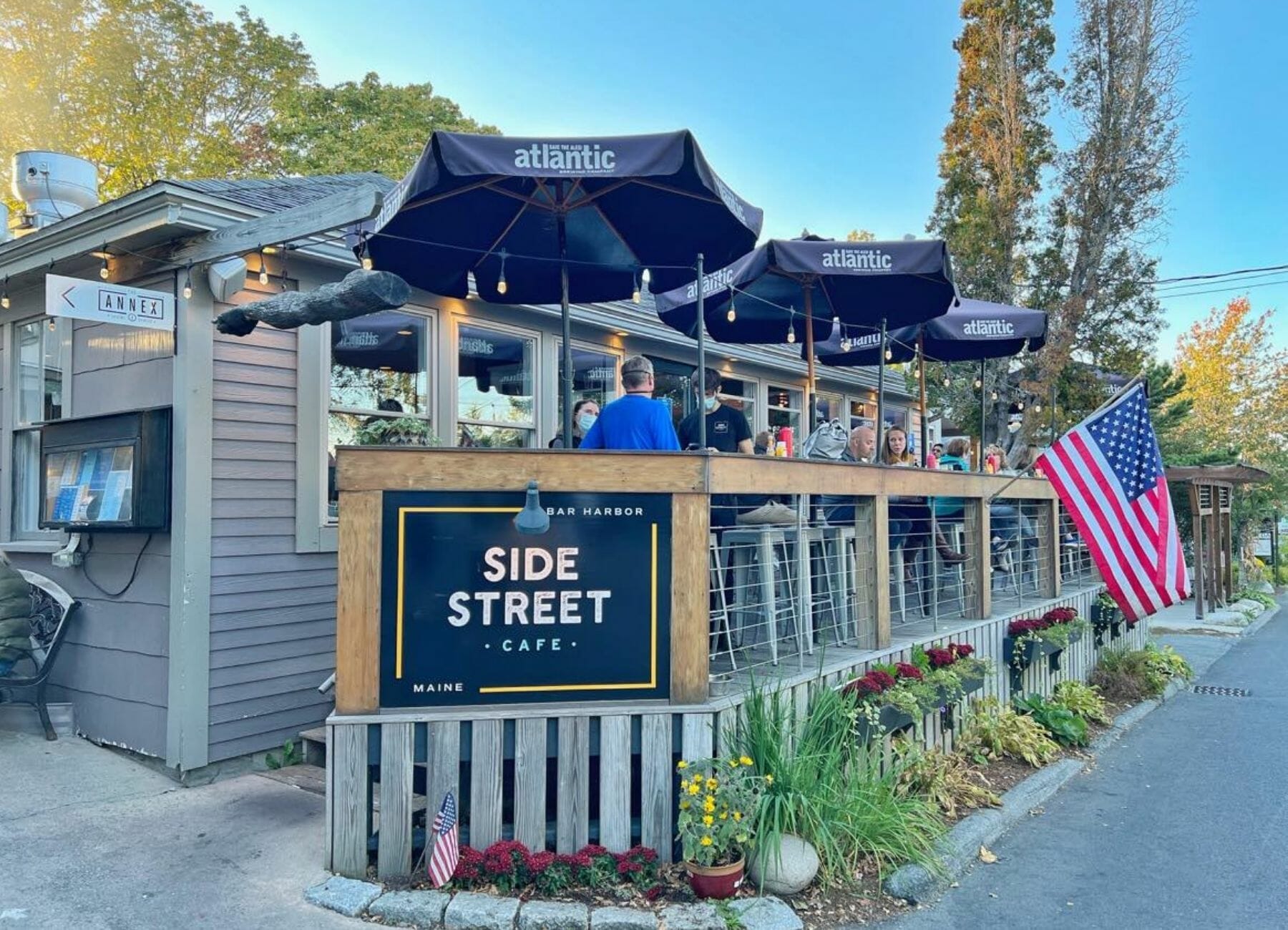 We ended up at the Side Street Cafe and it was delicious and a good choice. Plus they had an Apple Cider Margarita (seasonal) which was AMAZING!!
Be aware Bar Harbor is a small town with small streets. We ended up parking our F350 truck on the street and bringing out mirrors in. The next day we found a spot up one of the side streets. It is busy down there so if you are concerned about parking get there well before dinner time.
Stop 8: Bar Harbor for Sunset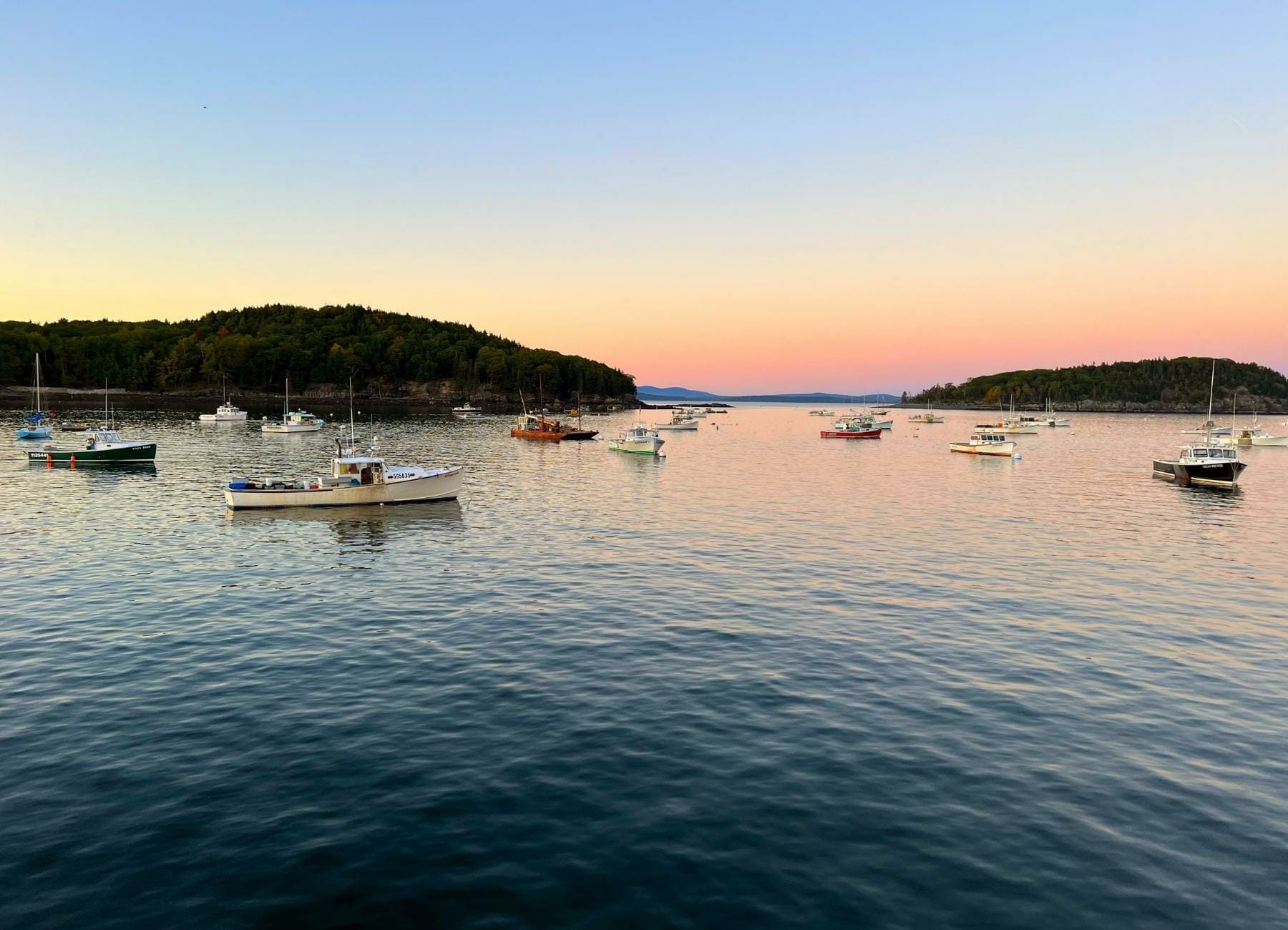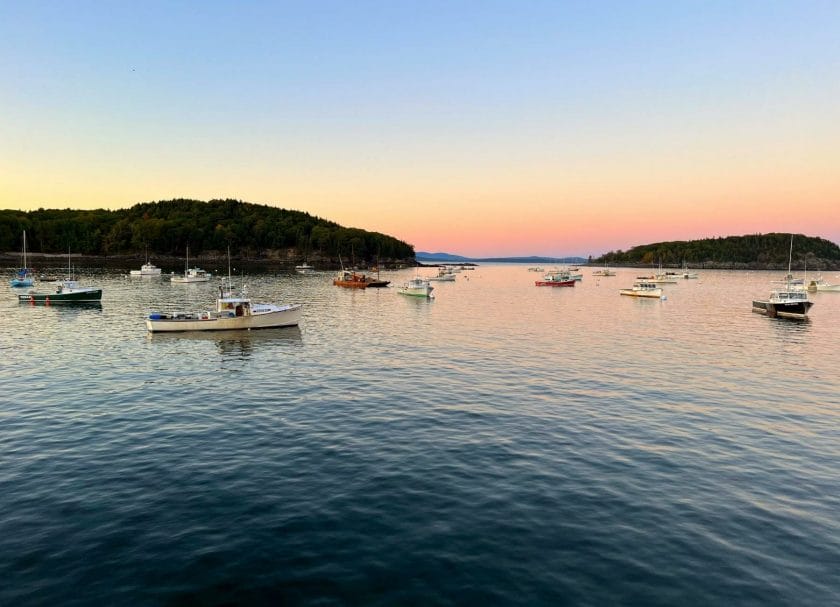 We walked around Bar Harbor to check it out and caught the beautiful colors as the sun set over the Harbor! Check out this post on more things to do in Bar Harbor Maine.
---
We would love to help you plan your trip! Check out our Acadia National Park Guides to get all the info you need to plan an amazing trip to Acadia National Park.
---
The Quiet Side and Bar Harbor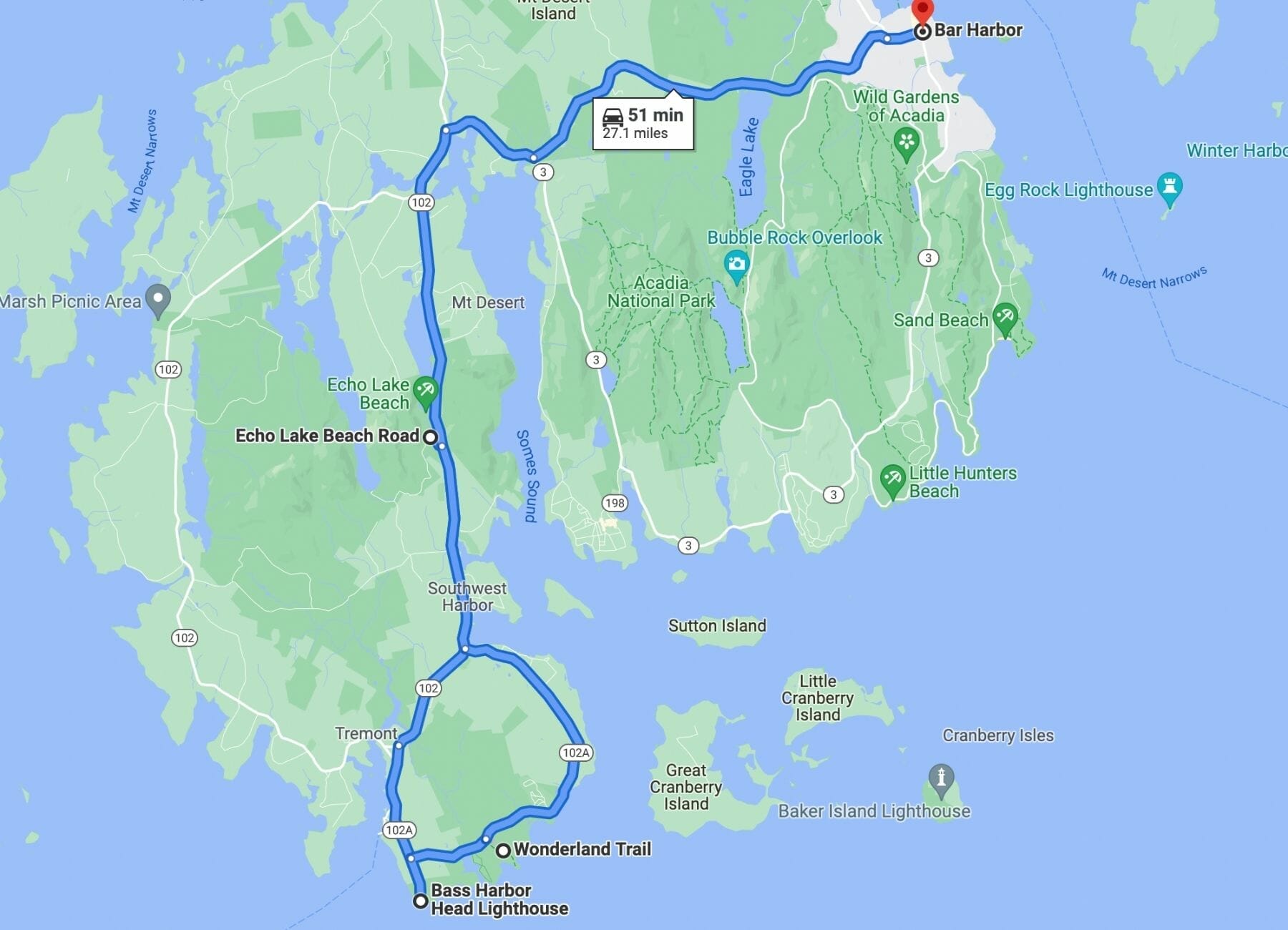 This was our last day exploring Maine and Acadia and we headed to the "Quiet-side" of Acadia. Whenever we are at National Parks we like to do the main things but also really enjoy exploring the whole park!
The Quiet-side of the island is the south side of Acadia and had a few highlights that we checked out. We did the same thing on this day and had breakfast at our RV before heading out to explore and brought snacks to get us through the day and opted to head back to the RV for dinner.
Stop 1: Echo Lake Beach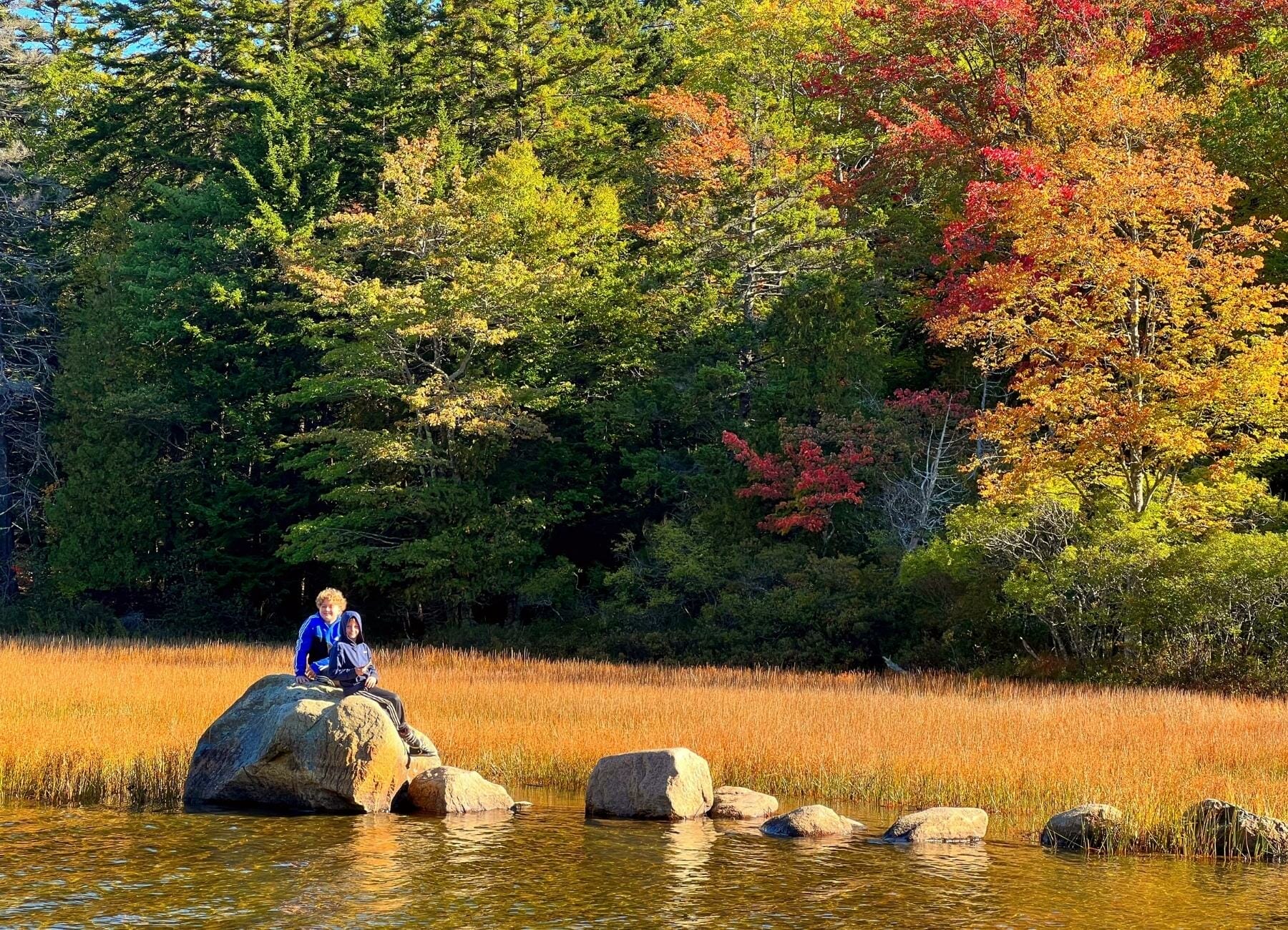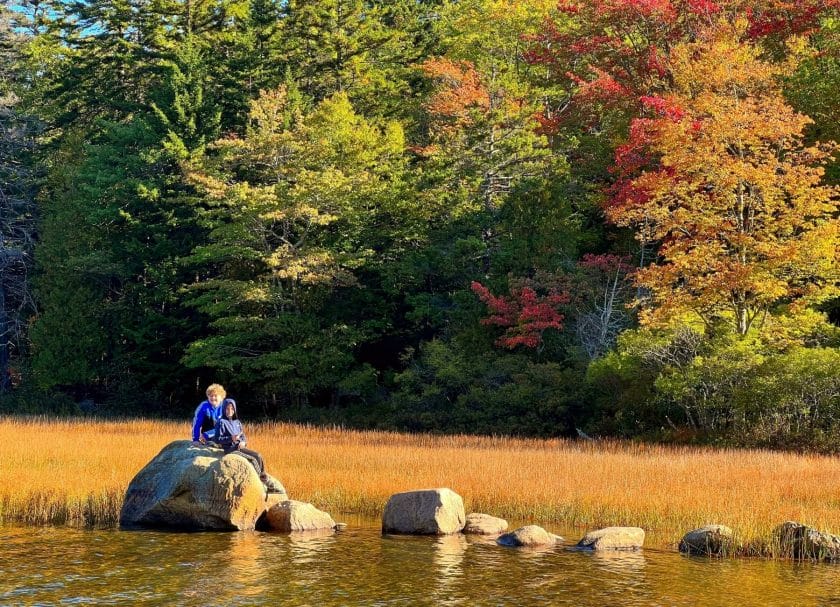 Echo Lake Beach is a beach that you can swim in in Acadia National Park. You can't swim in all of the lakes or ponds there since the water is used for drinking water. We were the only people there! It was too cold to swim but was nice to stop and see and was so quiet compared to the day before on the loop road!
Stop 2: Bass Harbor Head Lighthouse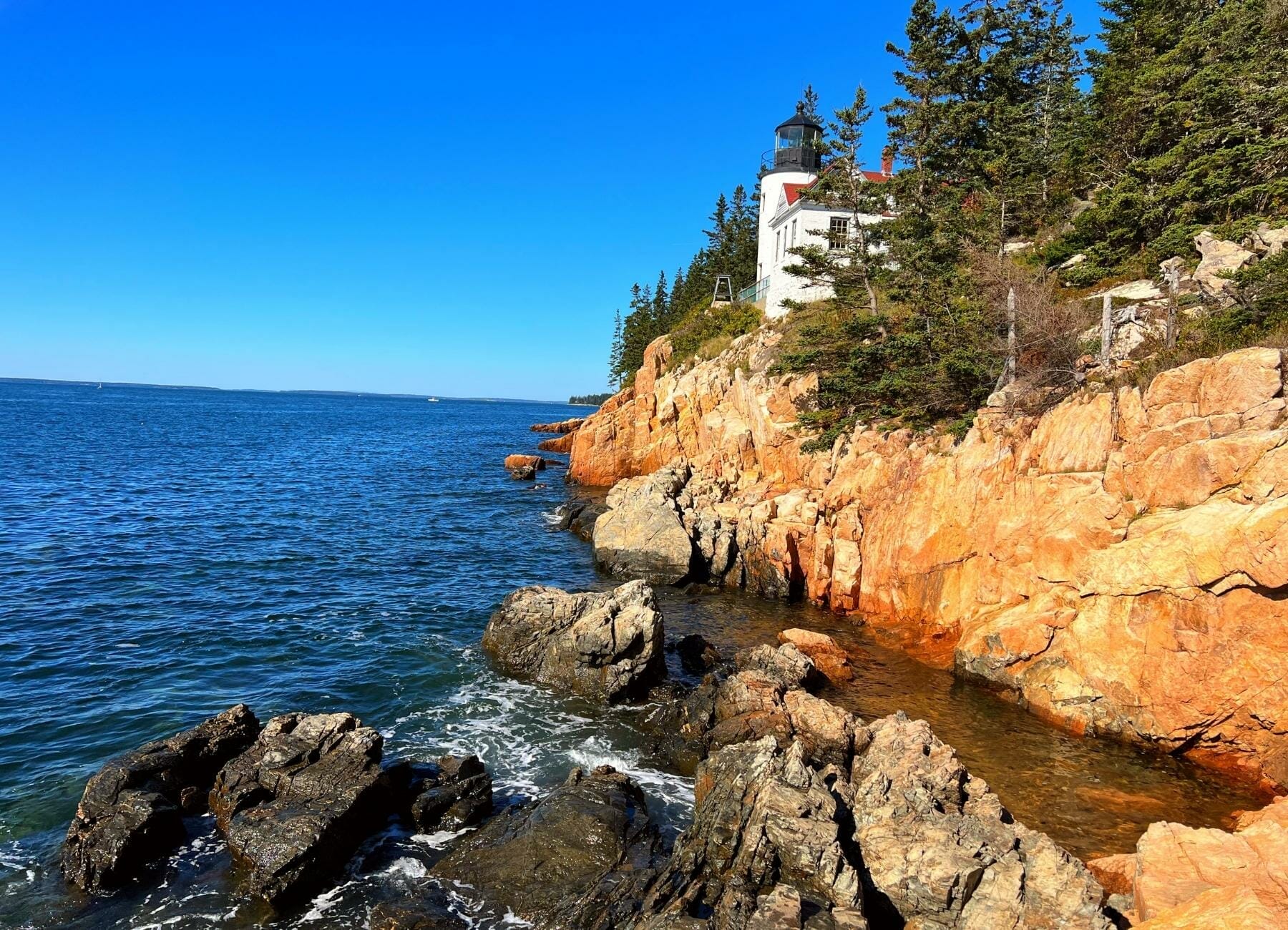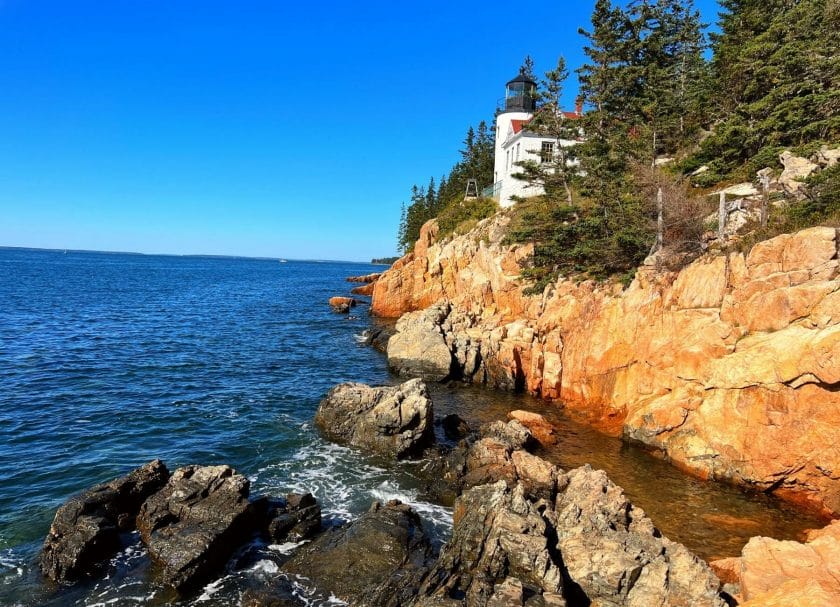 We knew we wanted to see a lighthouse when we were here and this one was just how I imagined they would be! We had to wait in a line on the street for cars to leave so we could park. But it wasn't a big deal we waited maybe 15 minutes.
It is a small lot but most people just stop for a quick view of the lighthouse and move on. Once we parked we walked down by the water and scrambled over the rocks to get a good picture. Please do this at your own risk. It was rock scrambling. Without doing that you can still see the lighthouse just not as good of a view.
Stop 3: Wonderland Trail
This was a super easy and quick trail and honestly we could have skipped it. Nothing too special about it. But we were trying to explore as much of the park as we could so we checked it out.
This whole area wasn't as drastic as the main section of the park but was still beautiful and it was nice to get away from the crowds.
Stop 4: LuLu Lobster Boat Tour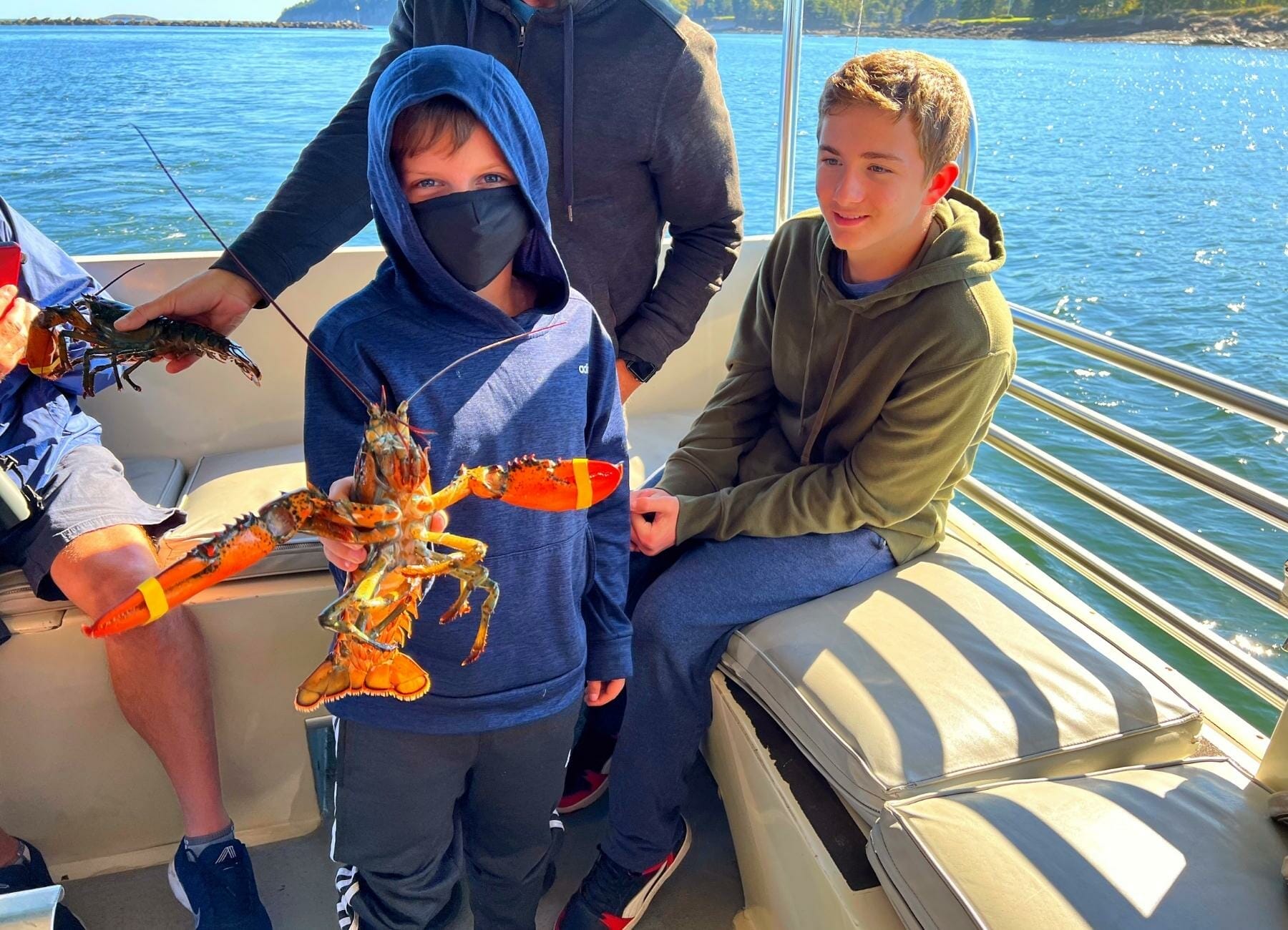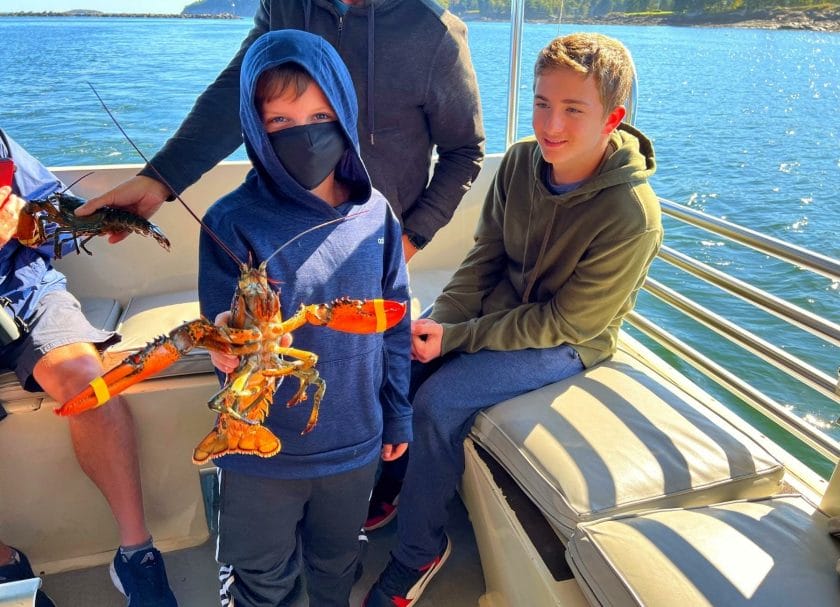 After exploring this part of the park we headed into Bar Harbor to get on the LuLu Lobster boat tour. It was an old lobster boat turned tour boat and the captain is a 3rd generation Lobster Fisherman!
It took us out to the Egg Rock Lighthouse to get a close up view from the water of the lighthouse. Before bringing us to a couple lobster traps that they pulled up and brought out the lobsters for us to hold.
The kids also got to put the rubber bands on the lobster claws and drive the boat!
It was a cool experience and fun to learn more about Lobster fishing and the history of Bar Harbor. We would definitely recommend this tour when you visit Acadia National Park!
Stop 5: Enjoy Bar Harbor
The Lobster tour launches right from downtown Bar Harbor so when you are done you can head out to try a new dinner place or just walk around Bar Harbor to check out the stops.
Where To Stay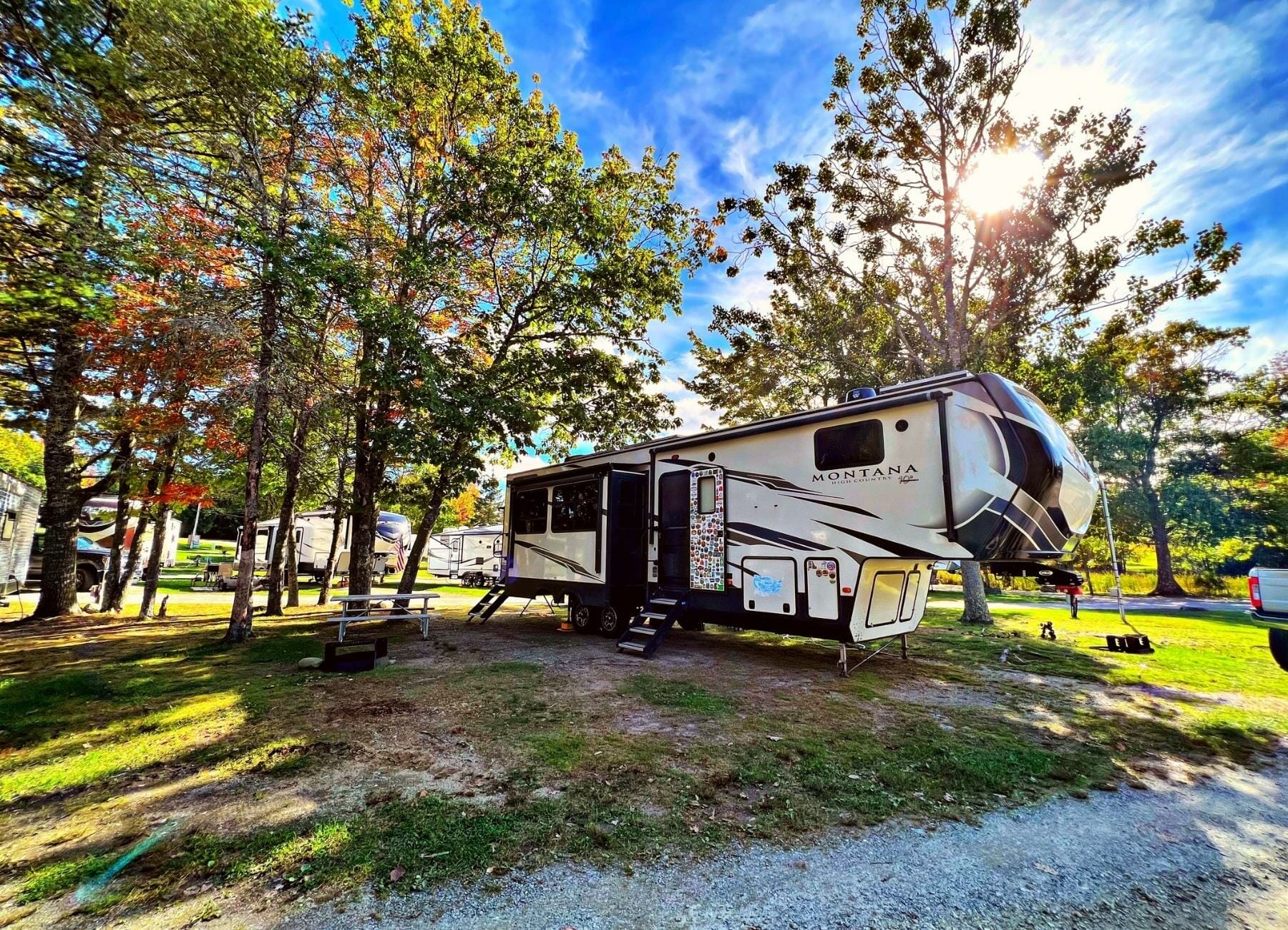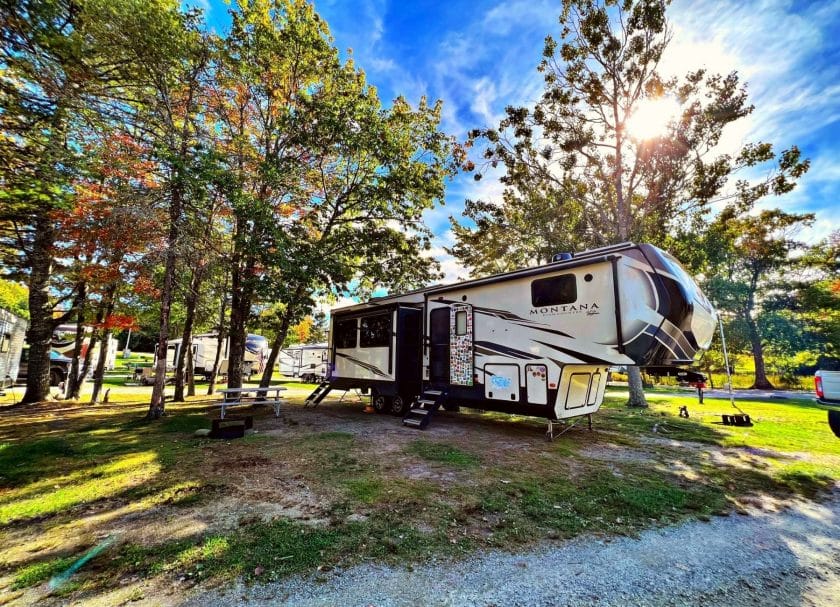 RV Park
We stayed about 14 minutes outside of Bar Harbor on Mount Desert Island at the Mt Desert Narrows Camping Resort. It was a good location to access all parts of the park.
VRBO
Shannon Cottage located in Bar Harbor.
Outside of Bar Harbor but a quieter less busy option: Mayapple Cottage.
Hotel
Bar Harbor Inn and Spa. The location is amazing you are right on the harbor. Would be awesome to watch the sunsets every night here.
If you want to even closer to the park then Bar Harbor check out: Otter Creek Inn.
We were road tripping the East Coast when we stopped in Acadia National Park. We weren't sure how many days in Acadia National Park we would need but 3 ended up being perfect for us.
If you wanted to do more tours (like whale watching or looking for Puffins) you could definitely add a 4th but for just exploring the park we were really happy with what we did and the length of time we were there. Don't forget it gets cold here so be sure to plan your trip before everything closes (normally in mid to end of October). We did our trip at the beginning of October and it was beautiful.
We hope you enjoy your trip!
---
We would love to help you plan your trip! Check out our Acadia National Park Guides to get all the info you need to plan an amazing trip to Acadia National Park.
---
Pin This Post: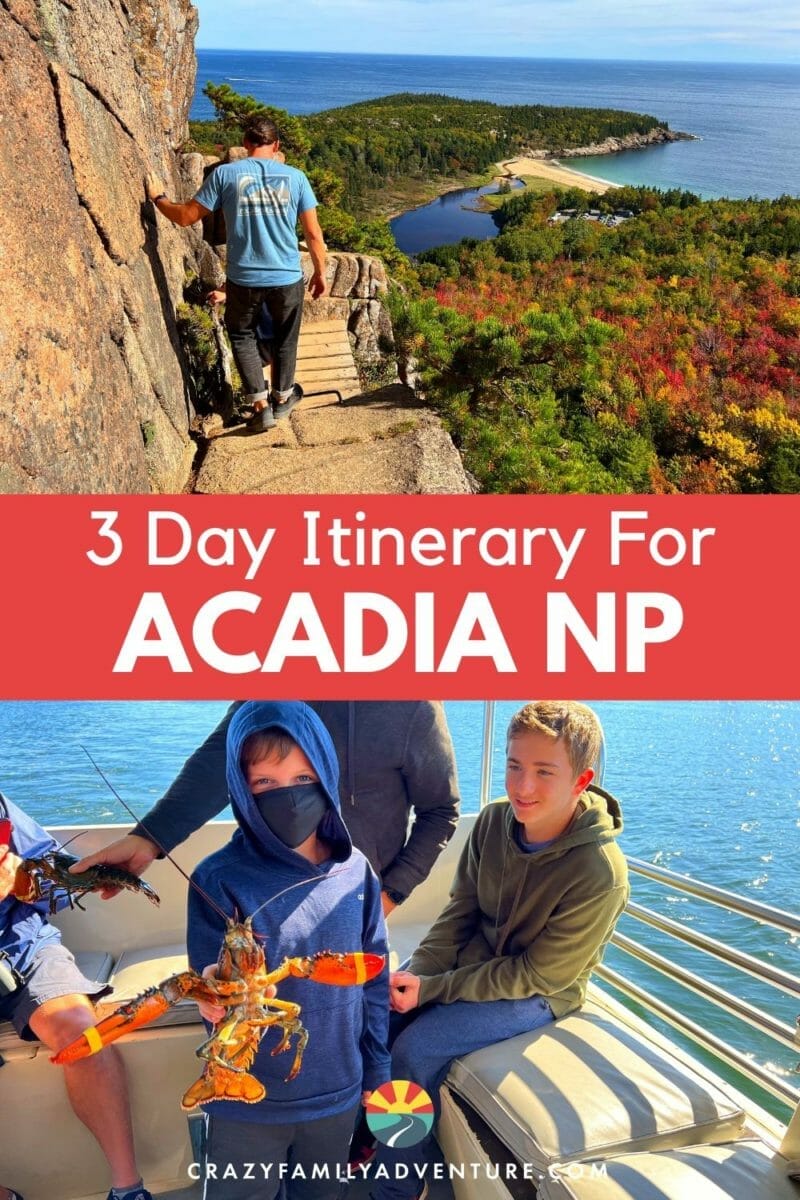 Be sure to check out our other blog posts and travel guides on where we visited on the east coast and beyond:
11 East Coast National Parks You Want To Visit This Year
20 Fun Things To Do in Stowe, Vermont
Top 14 Maine National Parks and State Parks To Visit
31+ Fun Things To Do In Vermont [2 Day Itinerary included]
15 Fun Things to do in Burlington, VT
6 Epic National Park Road Trip Ideas [Maps Included]
21 Epic Things To Do In Glacier National Park [Map Included]
18 Top Things To Do In Yellowstone National Park
DISCLOSURE: This post may contain affiliate links, meaning I get a commission if you decide to make a purchase through my links, at no cost to you. Please read my disclosure for more info.