We couldn't wait to get out and explore Cuyahoga Valley National Park! We took our 2 kids and headed out to see what the park had to offer. What did we discover on that day? An incredible experience and a park that could quickly fill a few days rather than the single day we had. We managed to add an extra half-day, but even that wasn't enough.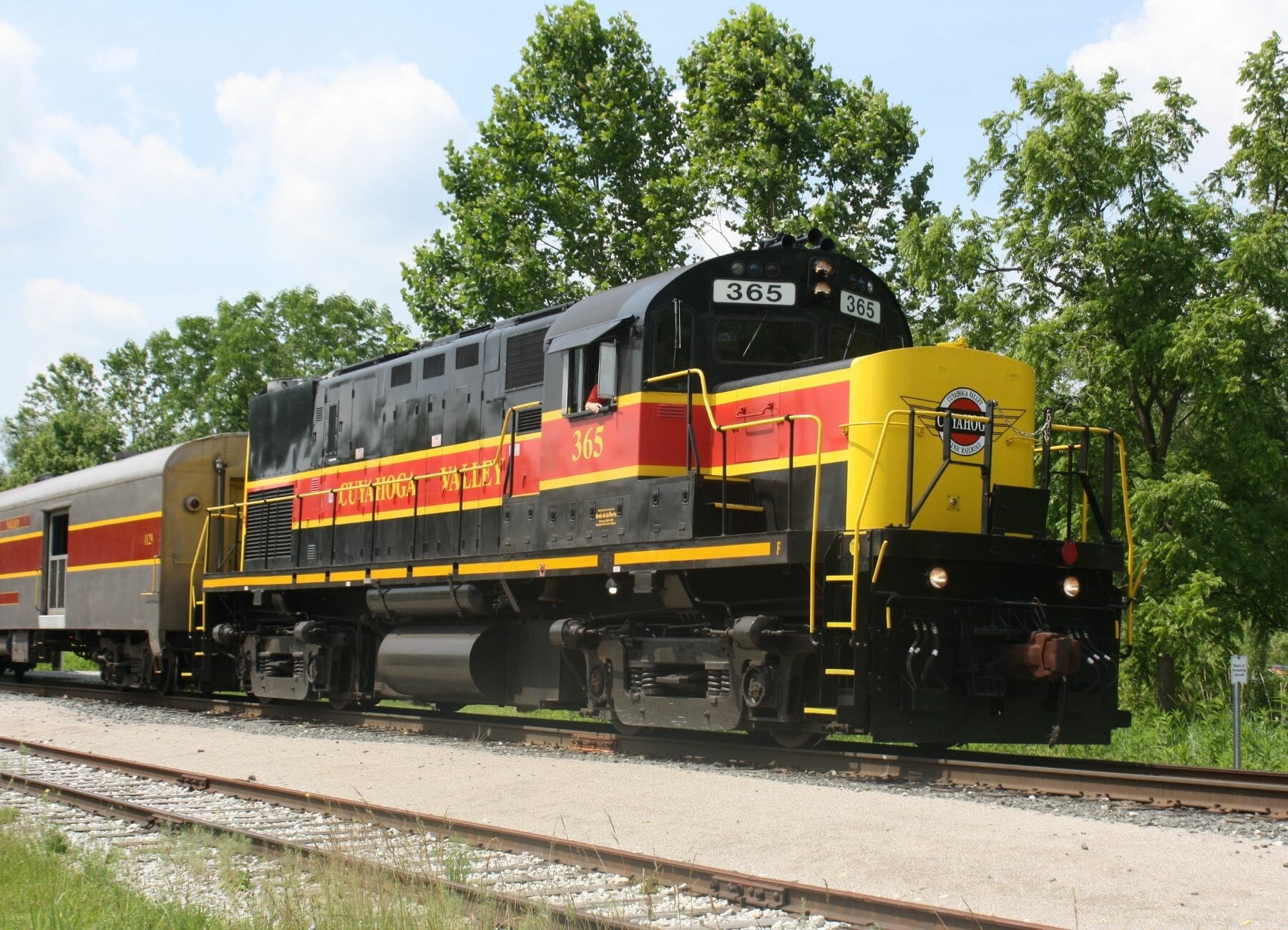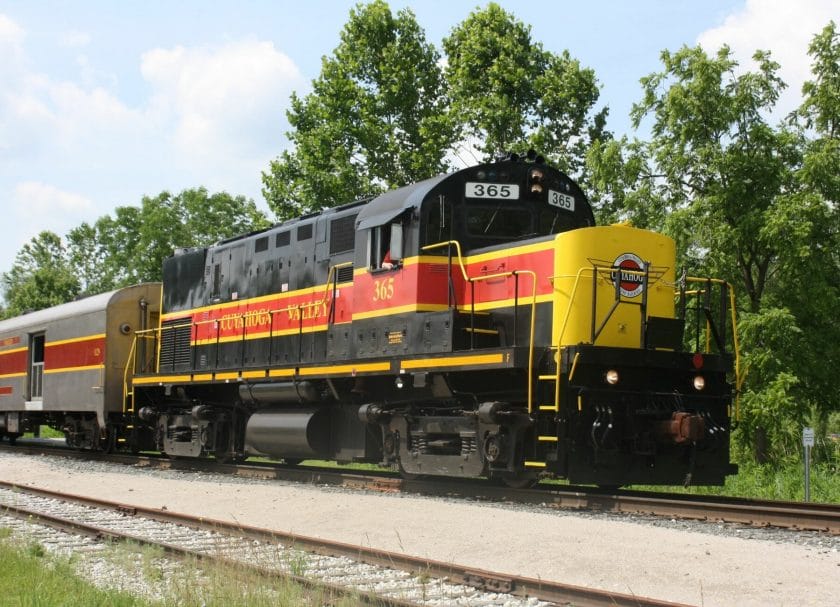 Cuyahoga Valley National Park is a relatively newer national park that didn't join the ranks as a United States national park until the year 2000. This national park and recreation areas are located in northeast Ohio between Cleveland and Akron, and because of this, it's hard to believe the setting will be anything but urban.
Still, it's the only national park Ohio has, and we felt it was something we really should check out while we were in the state, so we dutifully set aside a day to explore the place.
Much to our surprise, the park is not at all urban. Instead, it is home to green forests, rolling hills, interesting rock formations, wetlands, creeks and waterfalls, and of course, the Cuyahoga River. It also has a fantastic train and some pretty incredible history lessons to offer guests.
Our biggest mistake during our trip? Was Not doing enough research before visiting Cuyahoga Valley National Park. We honestly didn't expect there to be so much to explore. Please don't make the same mistake we did. Check out the info and the three-day itinerary below so you can prepare your visit thoroughly.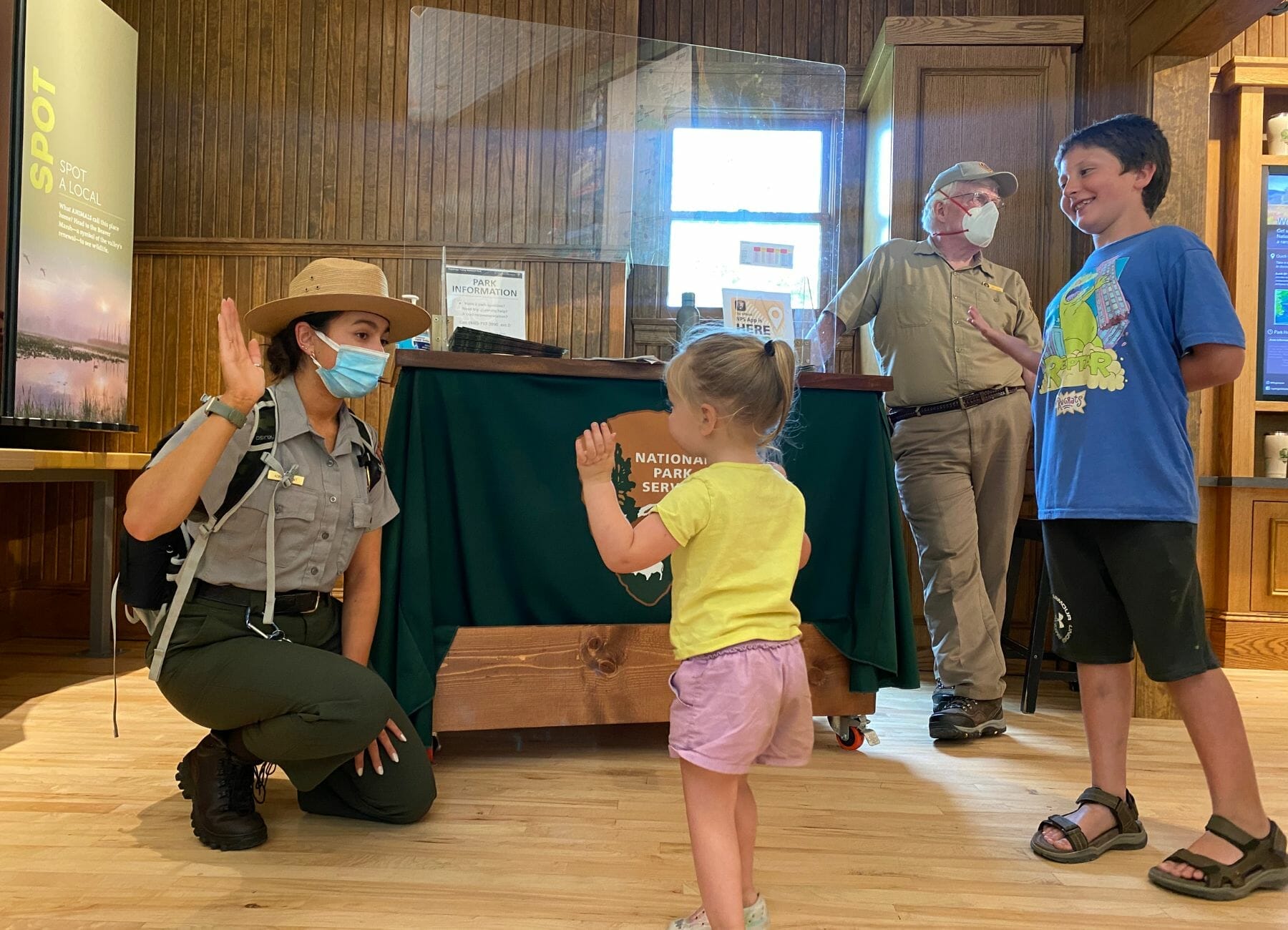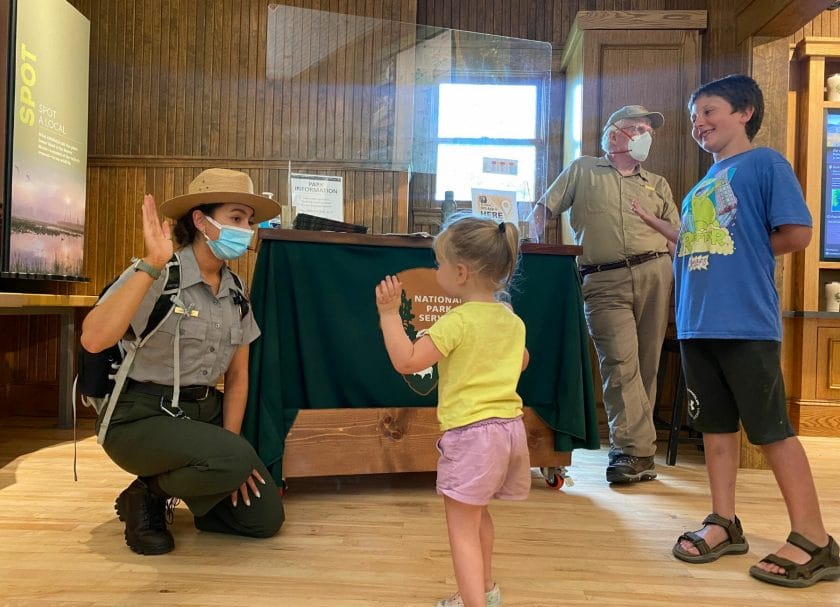 Day 1: Boston Mill Area
Start your visit in the heart of the park. This area is often referred to as the Boston Mill Area, and it's the perfect place to get your first taste of Cuyahoga Valley National Park.
Stop 1: Boston Mill Visitor Center
Honestly, this is a small visitor center, but the exhibits here contain some interesting information and are worth a few minutes of your time. Be sure to chat with a ranger while you're there to learn about any closures or other crucial current info, and grab junior ranger books if you have kids in tow.
Tip:
If you have a toddler or preschooler, there is a special Junior Junior Ranger activity card set they can do in order to earn a badge of their own!
Stop 2: Blue Hen Falls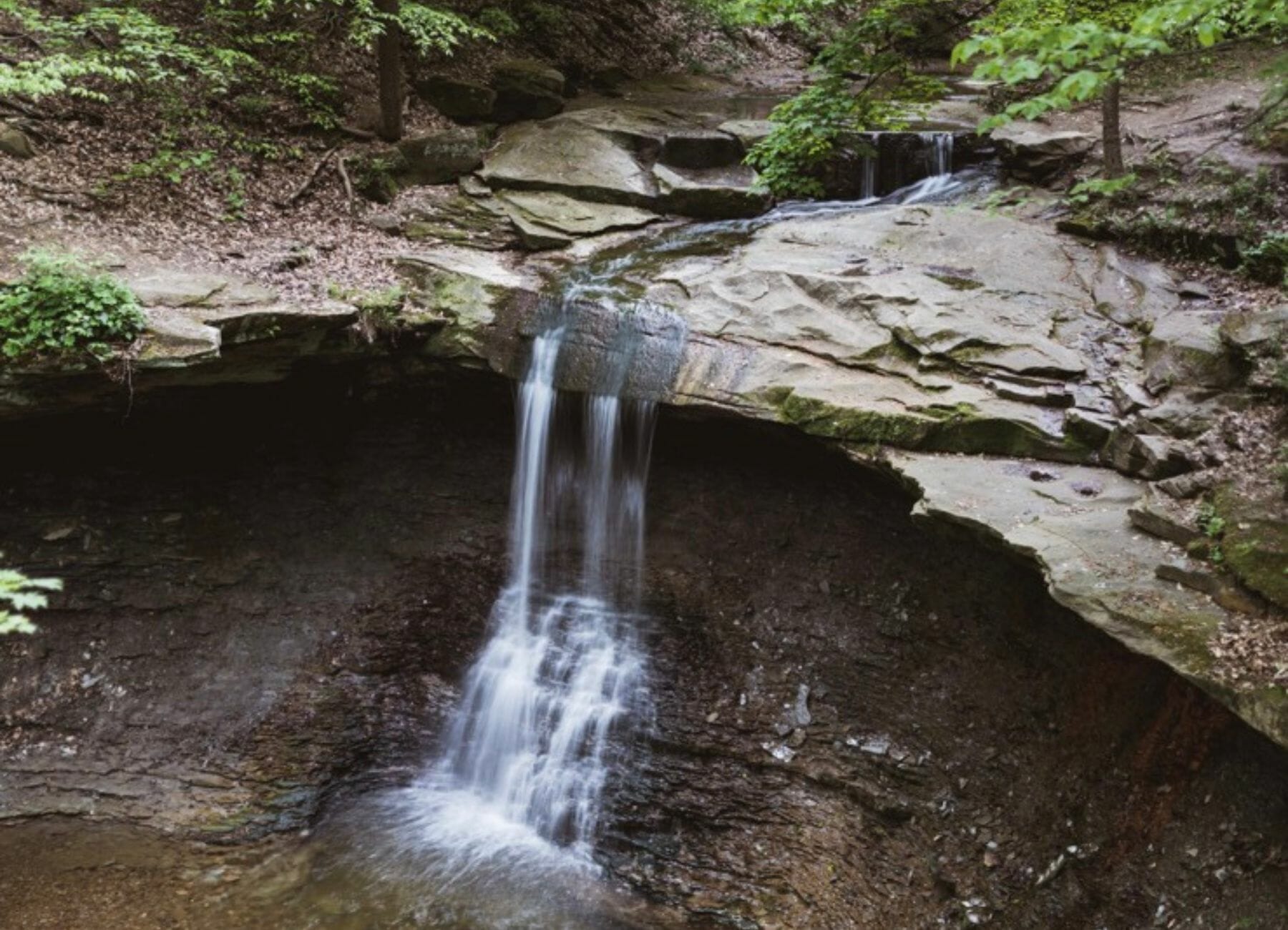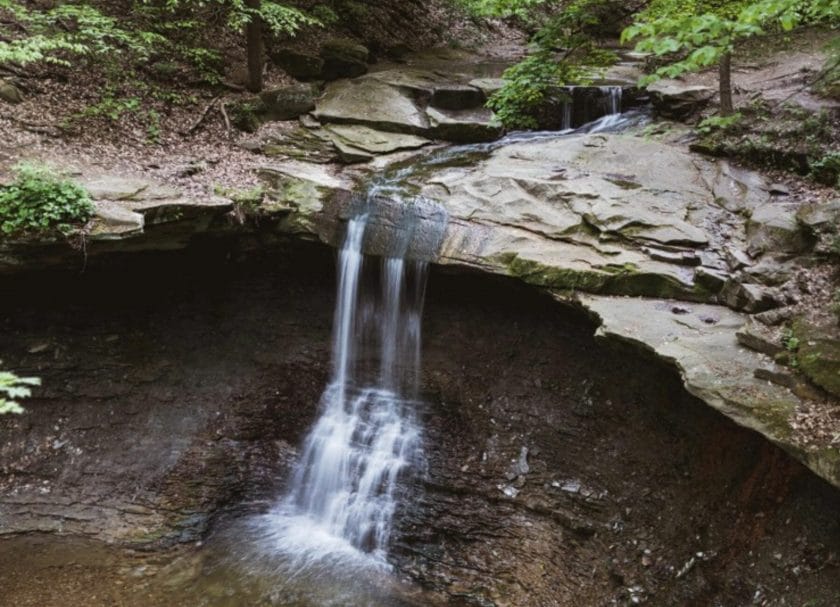 You can hike along the Buckeye Trail to Blue Hen Falls from the Boston Mill Visitor Center. This is a three-mile round trip hike, and though it is short, it is incredibly steep. That said, the reward at the end is a small but beautiful waterfall, so there is something to motivate everyone to get there.
If you plan to hike this trail, be sure to wear sturdy shoes, bring water, and try to visit on a dry day when the steep climb will be less slippery.
Stop 3: Bike to Brecksville Station and Ride the Train Back
As mentioned before, this park is home to a train—a.k.a. the Cuyahoga Valley Scenic Railroad, which makes trips around the park.
The round-trip ride takes 3.5 hours, so you'd spend a good chunk of your day seeing the whole route. That said, you see it a bike ride or hike aboard from one train station to another and then ride the train back to your starting point. The fee to do this is smaller than the fee for a round-trip ride, and you'll get a taste of the train without spending a whole day riding.
Tip:
The train schedule does change from time to time. Make sure to check the current timetable before planning your day!
Stop 5: Brandywine Falls
From what I understand, no trip to Cuyahoga Valley National Park is complete without seeing Brandywine Falls. I guess this means our own visit was incomplete because we didn't get to see this one. The parking lot for the falls was under construction at the time, meaning we would have had to hike five miles round-trip to get there. There were other things we wanted to do, so we opted out. However, it is on the top of our list for next time.
Day 2: Southern Section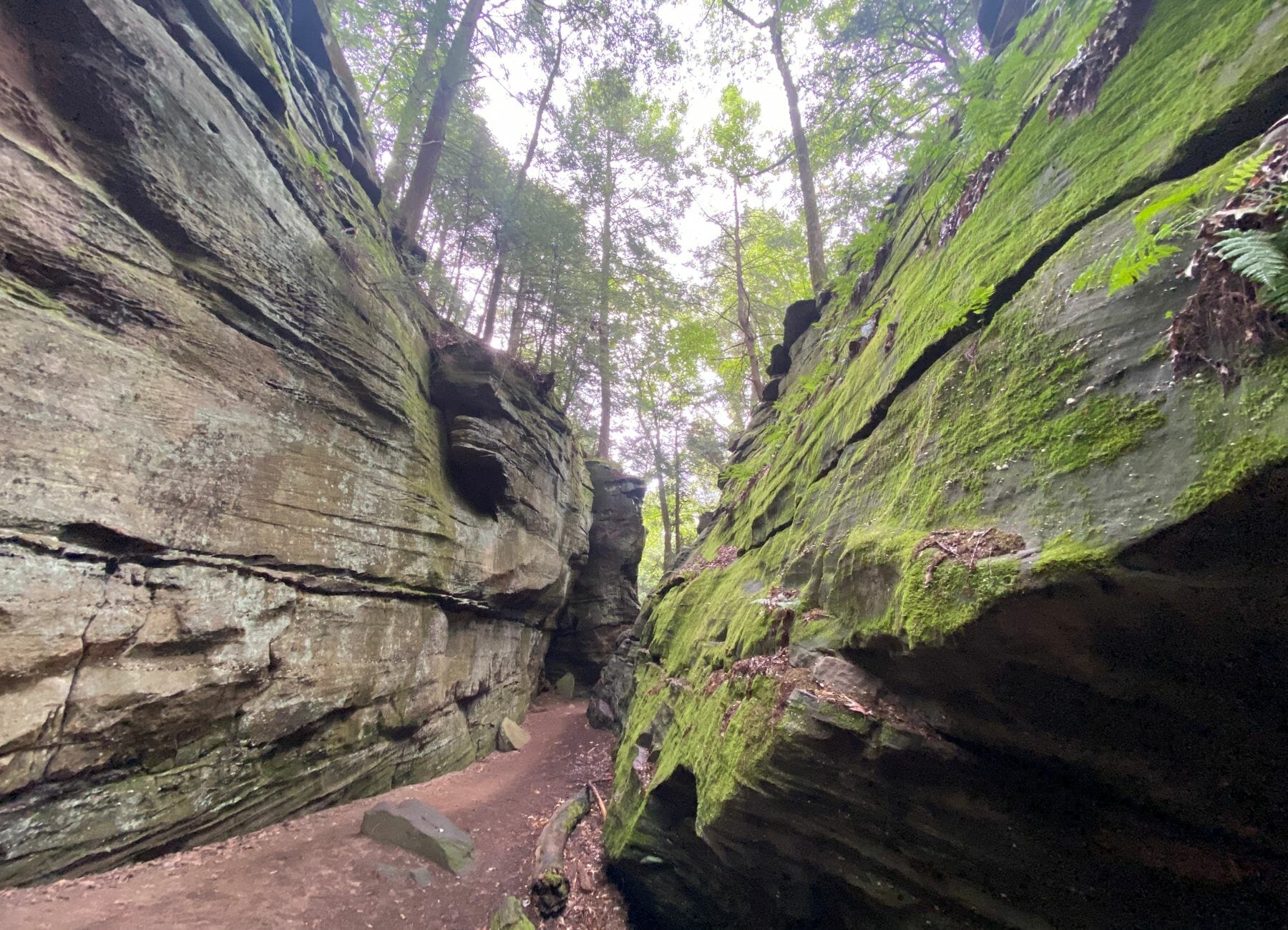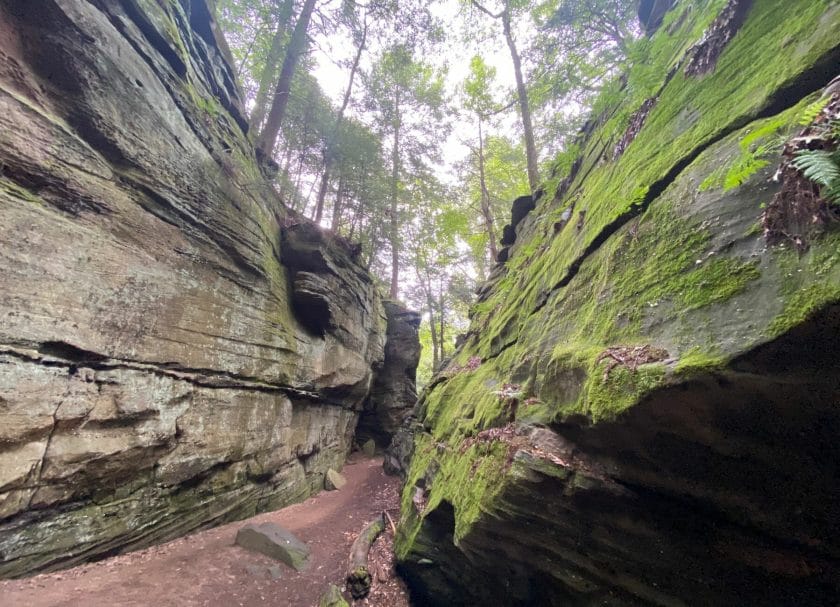 Day two is spent in the southern section of the park. This was our favorite area to explore, but we only saw a small fraction of what was there.
If you find that the options below don't fill a whole day, consider exploring one of the many other points of interest in the southern section of the park.
Stop 1: Beaver Marsh
A super exciting spot in this national park, Beaver Marsh is the perfect example of what a difference we all can make by taking care of our environment.
You see, back in the 1800s, this wetland was drained, and the Ohio and Erie Canal came through over time, homes were made, and litter was dumped on the land. In the 1980s, the US government bought the land, and the buildings were removed. They had plans for the land, but beavers started returning to the valley around this time and built dams that flooded the land.
This prompted mass trash cleanup efforts, and now the marsh is a thriving wetland with one of the most diverse ecosystems in the park.
Stop 2: Szalay's Sweet Corn Farm
Although the National Park Service does not run this farm, it is on park property and is worth a stop during your visit. The farm sells fresh seasonal produce that is absolutely delicious. A small on-site eatery is open on the weekends in the summer and fall, and the farm has a festival vibe in the autumn.
This particular stop is not listed on the official park map. However, my GPS pulled it up without issue.
Tip:
If you're only buying produce (and not planning to have a meal there), plan to stop in on a weekday! We didn't experience Szalay's on the weekend, but I hear it gets hectic. In addition to Szalay's Farm be sure to visit Hale Farm located on the southwestern edge of the park.
Stop 3: Everett Covered Bridge
Covered bridges are so cool, and they are pretty abundant in the state of Ohio. Everett Covered Bridge is the only remaining covered bridge in Summit, County. It's painted bright red and is fun to see and photograph, but it will probably only be a quick stop.
This might be a good place for a quick snack while the kids run around. There are also a few trails near the bridge that might be worth checking out.
Stop 4: Ledges Trail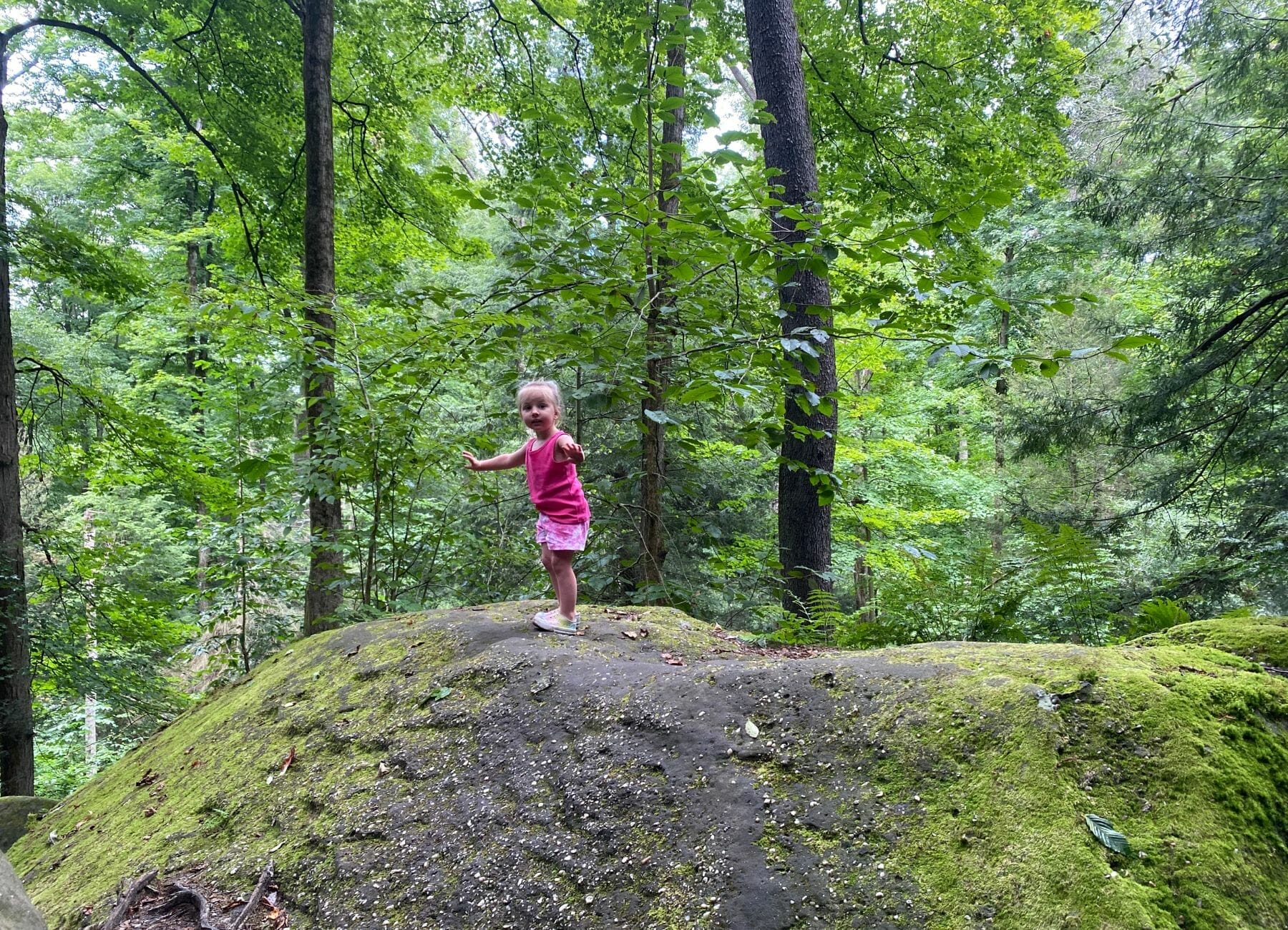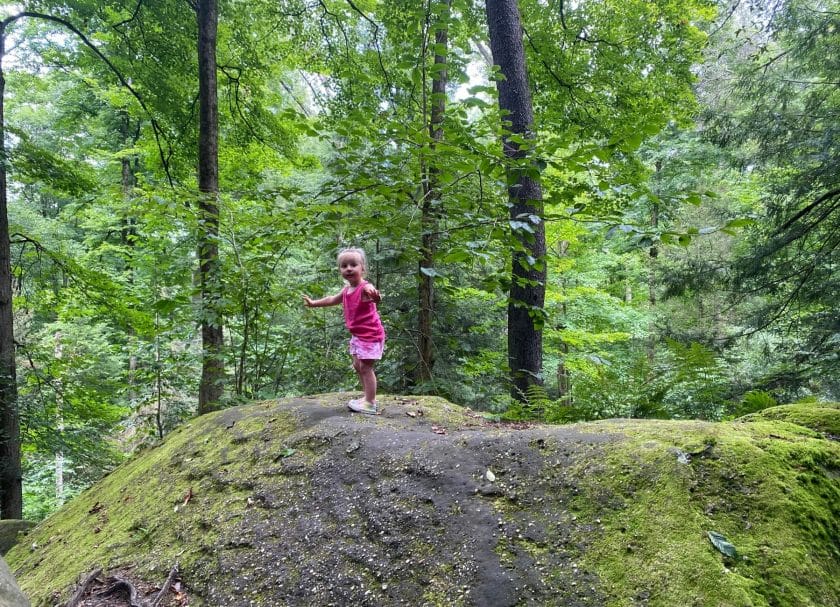 The Virginia Kendall Ledges Trail was our absolute favorite part of Cuyahoga Valley! That extra half day that I said we managed to get in? We made that trip precisely to finish this trail.
This hike is rated as moderately challenging, but our 2-year-old conquered it with very little help. At 2.3 miles, Ledges is a relatively short trail, but the numerous excellent climbing, sliding, and hiding spots meant our group of kids and kids-at-heart a good 3.5 hours to finish it.
The trail runs and winds in and out of amazing rock formations, and the whole place is covered in moss, giving it an enchanted forest vibe. It was a bit rainy when we visited, but that just made it feel even more magical.
In addition to fantastic rock formations and lots of fun nooks and crannies to explore, this trail also takes you by Ledges Overlook, meaning you get a really cool view. If you can, time things, so you get to the overlook to see the sunset. You can walk straight back to your car from there, so light shouldn't be an issue.
Day 3: Bedford Reservation and Brecksville Reservation
Your last day will be spent in the park's Bedford Reservation and Brecksville Reservation areas. There is a lot to do in these sections. We tried to pick the best options, but feel free to add sights if you have extra time!
Stop 1: Canal Exploration Center
An absolute must-see if you want to learn about the area's history—and a perfect stop for roadschoolers besides—the Canal Exploration Center is probably the best visitor center in the park. This restored historic tavern is packed full of interesting exhibits on the history of the Ohio and Erie Canal, which once carried goods into the heartland.
Once you're finished looking around inside the visitor center, be sure to head outside to check out the fully functional canal lock. You can even see a demonstration of how the lock works if you visit on a summer weekend (I wish we would've known this).
The use of the Ohio and Erie Canal dramatically impacted the way the people of this area lived and worked. Therefore, it is definitely something you'll want to learn about during your visit, and this is the perfect place to do just that.
Stop 2: Tinker's Creek Gorge Overlook
While you're in the area, be sure to stop by the Tinker's Creek Gorge Overlook. This short stop allows you to look over the gorge and is quite lovely. I'm guessing it would be even more beautiful in the fall when the trees in the gorge turn to bright oranges and reds.
I think it's important to note that this is not something I'd drive far out of my way to see. However, it is worth a quick stop if and when you are nearby, and since the Canal Exploration Center and the next stop are both close, I thought it was a nice addition to this itinerary.
Stop 3: Bridal Veil Falls Overlook Trail
Who wouldn't appreciate a short, sweet hike to see a beautiful waterfall? That's exactly what the Bridal Veil Falls Overlook Trail is. This 0.4-mile trail is easily accessed from a large parking area across the road from the trailhead. It includes some stairs but is well maintained and not overly strenuous.
Tip:
For the best waterfall viewing, consider visiting in spring. It'll be even better if you can visit after a good rain. The falls are pretty dry in the summer months.
Stop 4: Deer Lick Cave
Our kids love a good cave hike. That's why the Deer Lick Cave trail was on our to-do list. Unfortunately, it's also one of the things we never did get to, but it remains on the must-do list for next time!
From what I gather, this is a 4.2-mile hike trail that loops through the forest (and that alone sounds great to me). A creek runs through the forest near the trail, and at some point, you will run into a waterfall. Of course, the best part is the small "cave" found along the trail. This is actually a rock overhang rather than an actual cave, but it looks totally fun to explore!
Tip:
You will park at the nature center, and there are restrooms for hikers to use nearby. Young kids might also like to explore the nature center a bit.
Stop 5: Swim or Paddle in the Cuyahoga River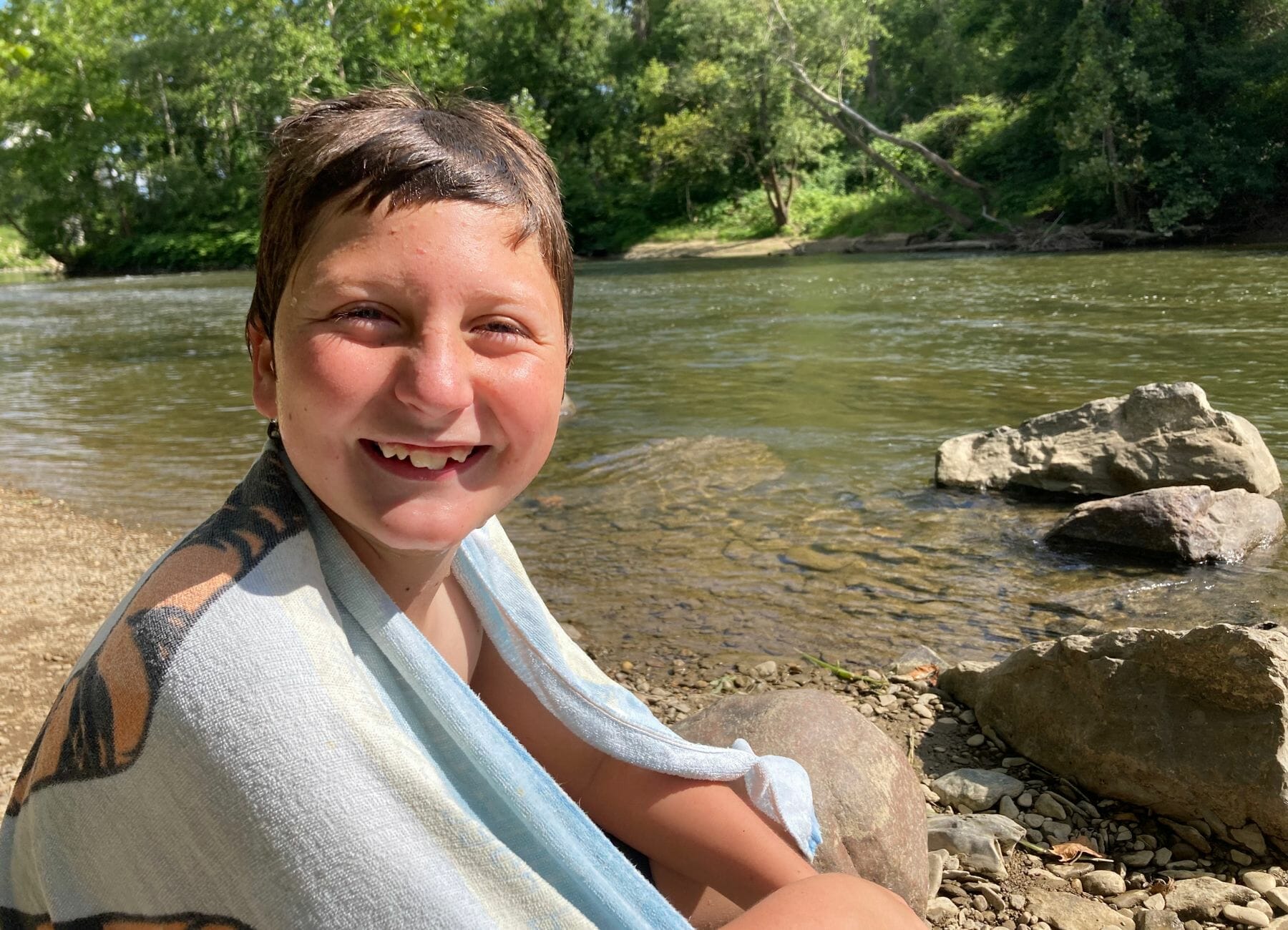 Of course, you will definitely want to take some time to enjoy the Cuyahoga River while in the national park. You could do this from the shore, but in my opinion, water is much more enjoyable when you're either in it or on it.
The good news? Getting in or on the Cuyahoga River is totally allowed. We spent a good portion of our first day in the park, letting the kids splash and swim in the river, and they absolutely adored it. We also saw plenty of kayaks and paddleboards entering the water.
According to the website, swimming is allowed in all parts of the river (though you will want to use good judgment and stay away if the current looks dangerous), and there are a number of places to put kayaks, canoes, and paddle boards into the water. Just make sure you check this page for known hazards.
When to Visit Cuyahoga Valley National Park
Wondering when to plan your trip to this park? We visited in August, and the weather was gorgeous (though I'm told it can get pretty darn hot).
We will visit again and will likely try to time our visit in the autumn so we can enjoy the fall colors that I'm certain the park is full of. I imagine this would also be a good park to visit in the spring. And those who enjoy winter sports might enjoy the skiing and sledding areas of the park during the cold months.
Where to Stay when Visiting Cuyahoga Valley National Park
Of course, you will need somewhere to stay during your visit. We were in our RV and were actually staying about an hour away at Kenisee Lake RV Campground. This was fine because we were planning to see other things near that campground. However, those who are planning to spend most of their time in the national park should look into the options below.
Campground
Yogi Bear's Jellystone Park Camp-Resort: Akron-Canton
In our opinion, camping is the way to go when visiting a national park. Some of our favorite campgrounds are the many family-friendly Jellystone Parks scattered across the country. This Jellystone campground is just 30 minutes outside Cuyahoga Valley National Park, making it a great choice!
Hotel
Nothing says vacation quite like a nice hotel. This hotel is the perfect lodging option for you if you want someplace comfortable to go to after playing outside all day. You'll love the location, on-site dining options, workout room, swimming pool, and other amenities.
Sheraton Suites Akron Cuyahoga Falls
Overlooking the Cuyahoga River and closely located close to the Akron Zoological Park and Akron Art Museum.
Holiday Inn Cleveland – South Independence
Located just 10 miles from Cleveland Hopkins International Airport and only a 15-minute drive from The Rock and Roll Hall of Fame and Museum
Vacation Rentals
Quiet & Private in the heart of National Park
Are you looking for a place that is in a perfect location? This rental house is actually in the national park! Not only that, but the house also boasts three bedrooms, two bathrooms, and plenty of room to spread out after a long day of exploring.
Beautifully Restored Historic Home
Located just 7 miles from Cuyahoga Valley National Park, this gorgeous home is located in the heart of Hudson's historic district
We thoroughly enjoyed our time in Cuyahoga Valley National Recreation Area and truly cannot wait to visit again. Especially now that we have a better idea of what to expect. Hopefully, this guide has given you a good idea of how to plan your time in the national park so you can see more than we did and have a blast doing it!
More Amazing Activities Nearby
Book a Private City Tour Experience the history, culture, and food of Cleveland.
Cleveland History Center See history up close at this amazing museum.
Top 12 Indoor Water Parks in Ohio You Will Want to Visit Your entire family will love these water parks
Find Out More About National Parks
The Top 14 National & State Parks in Maine
Top 5 Amazing Montana National Parks to Visit
11 National Parks Near Las Vegas You Need to Visit
East Coast National Parks to Visit This Year
Acadia National Park Itinerary
12 Fun & Exciting Things to Do in Olympic National Park
6 Epic National Park Road Trip Ideas
17 Amazing Things to Do in North Cascades National Park
Fun Things to Do in Acadia National Park
Top Tips for Visiting Gateway National Park
Pin This To Your National Parks Board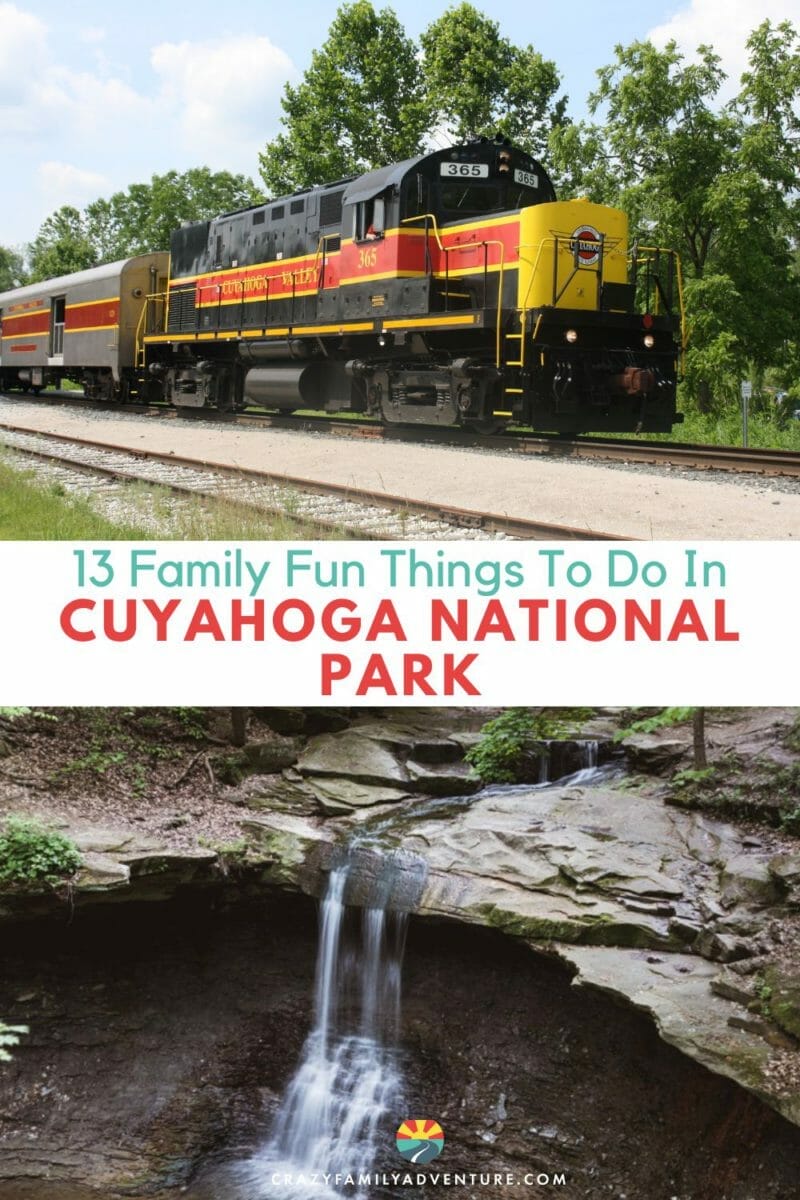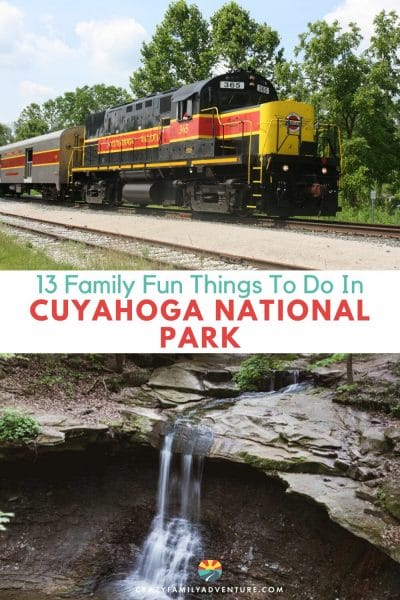 Latest posts by Chelsea Gonzales
(see all)
DISCLOSURE: This post may contain affiliate links, meaning I get a commission if you decide to make a purchase through my links, at no cost to you. Please read my disclosure for more info.