There are a lot of New Orleans Plantation Tours to choose from. But having kids with us we knew we could only do a couple before they hit their limit. We talked to locals in the area and lined up what seemed to be the best Plantation tour New Orleans had to offer to do with kids.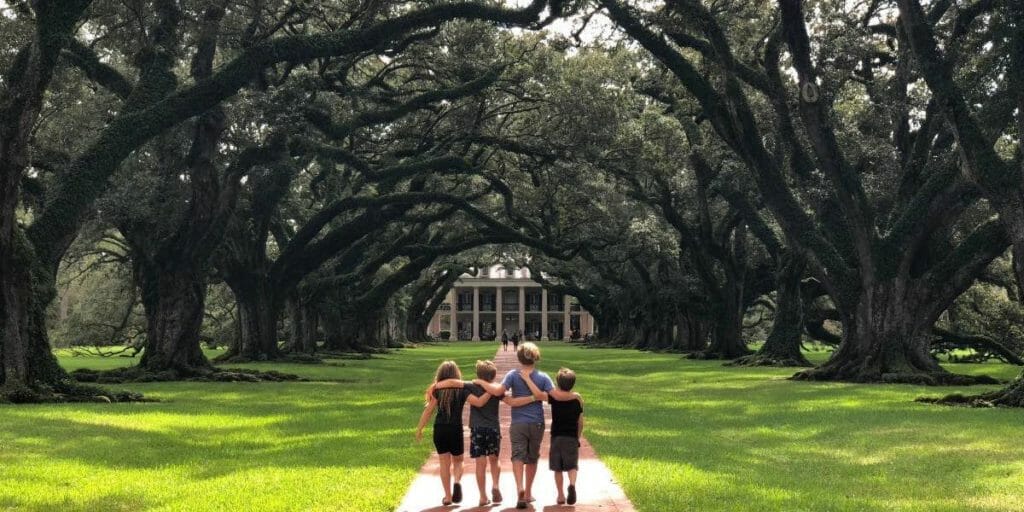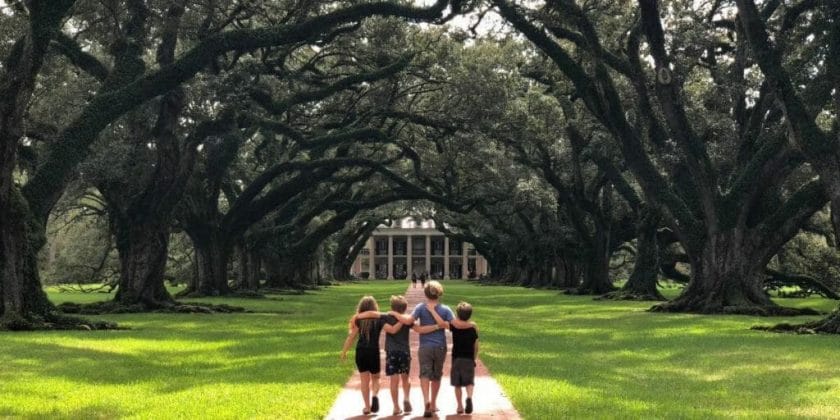 Read below to learn about our experience at the Plantations and which ones we recommend. We also choose to go the self guided route whenever possible. As we know with younger kids in tow this is usually the best option.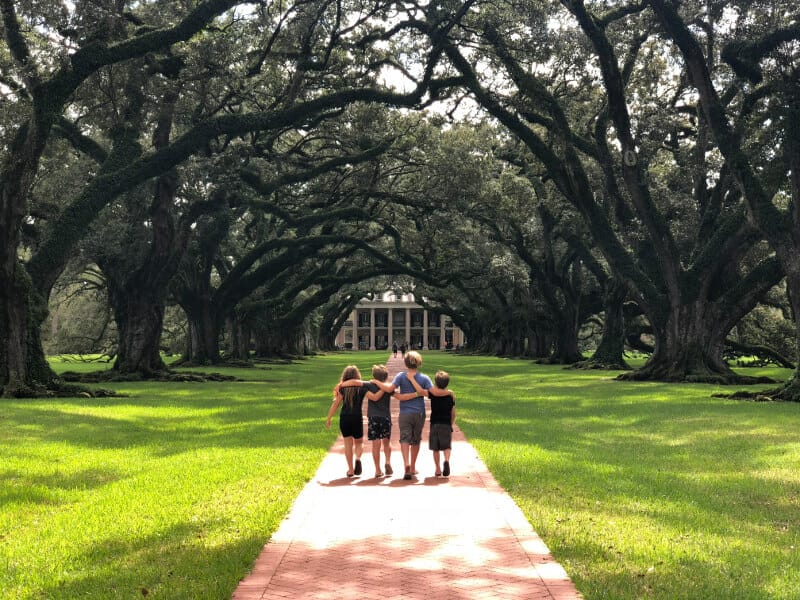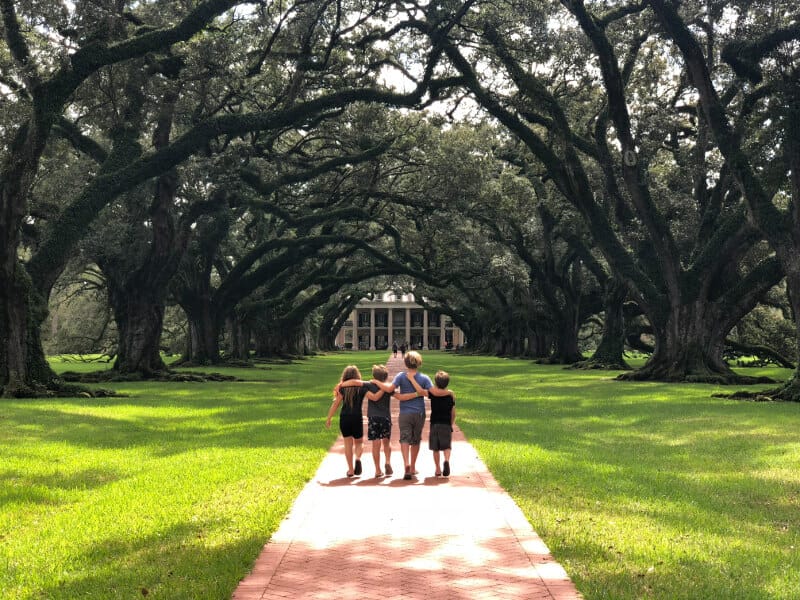 We couldn't go on a historic plantation tour without seeing the iconic Oak Alley plantation and the magical Alley of Oaks that line the walkway to the house! Luckily they had a great option for kids – the self guided tour.
There is an admission fee you pay just to walk the grounds. You can check out their prices here.
Our kids are 11, 8, 8 and 6 so their attention span is only so long. A self guided tour is almost always a good fit for us especially when there are signs that we can read along the way to teach the kids (and us) more about what we are seeing.
We headed out to explore the surrounding grounds. The only bad thing about the self guided tour is you can't go into the plantation house (a gorgeous building built in the Greek revival style) . . .our kids didn't mind that and we did find another tour where we went inside the house so we figured we covered that experience for them there.
If you are interested in going inside you can check out the tours that are offered here.
Slavery At Oak Alley Exhibit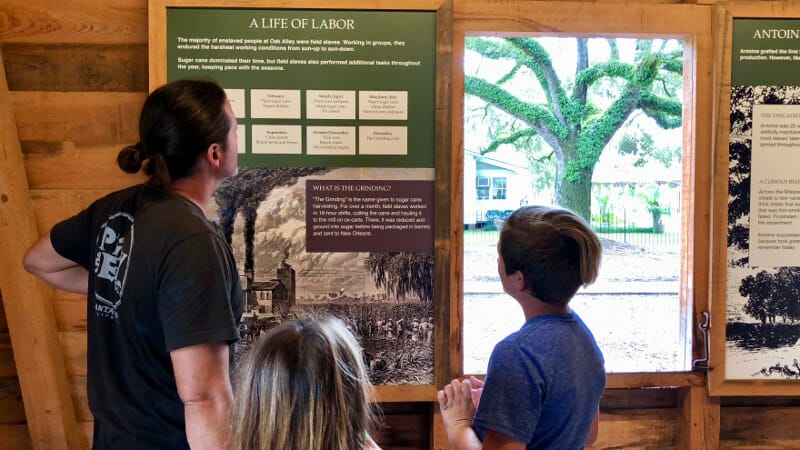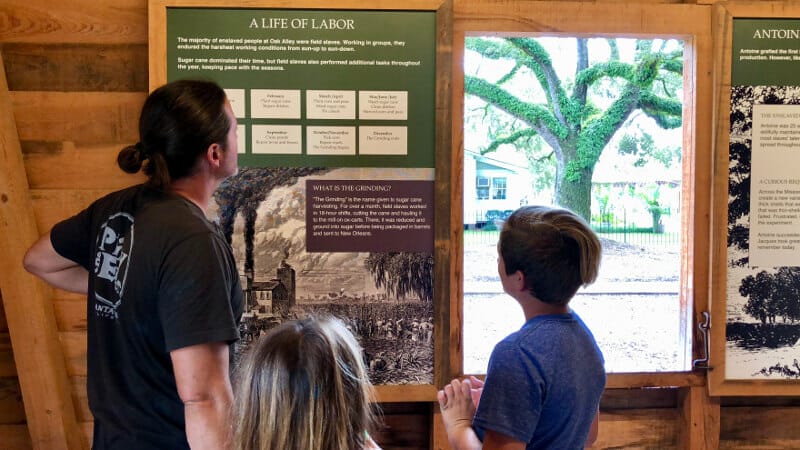 The first stop is the Slave Cabins. There are a couple you just peek your head into and then others you can walk into. Inside there is a museum setup with lots of great information about the antebellum south and facts about the slaves that lived and worked on the plantation.
They also had a wall covered with the names of the enslaved people that worked there. The visual impact was helpful for us as we explained to our kids about slaves and what their life was like on the plantations and how the Civil War outlawed slavery.
Mint Julep
After that we headed up to walk around the outside of the big house. The grounds are very well maintained and they are beautiful. Then we found the Mint Julep bar – hello!!! They sell Mint Juleps with and without alcohol so we had to get one without alcohol for the kids to try and one with for us. . . we had to try to local flavor! It was great!
Alley Of Oaks Plantation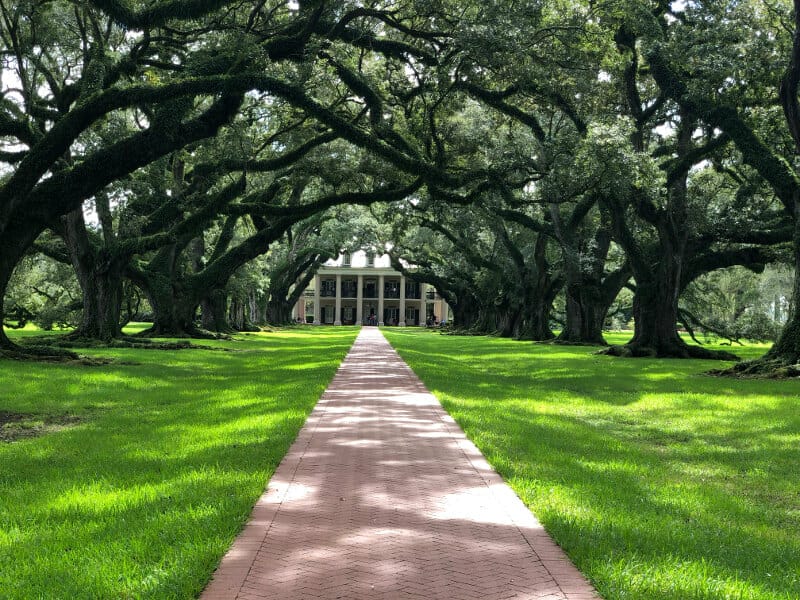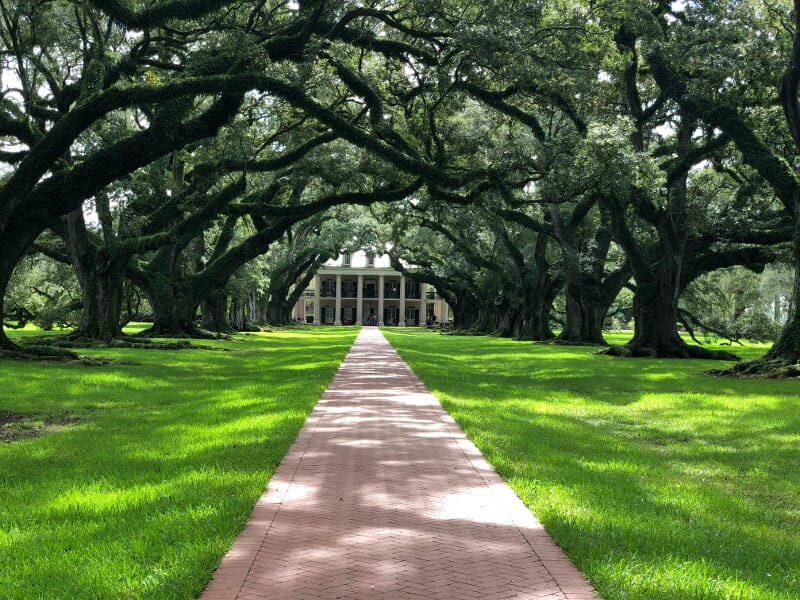 Next we went for a walk down the avenue of Oaks. The live oak trees are so magical and walking through them and turning to look back at the house was so cool. THIS is what you think of when you imagine the beauty of the south.
Ice Cream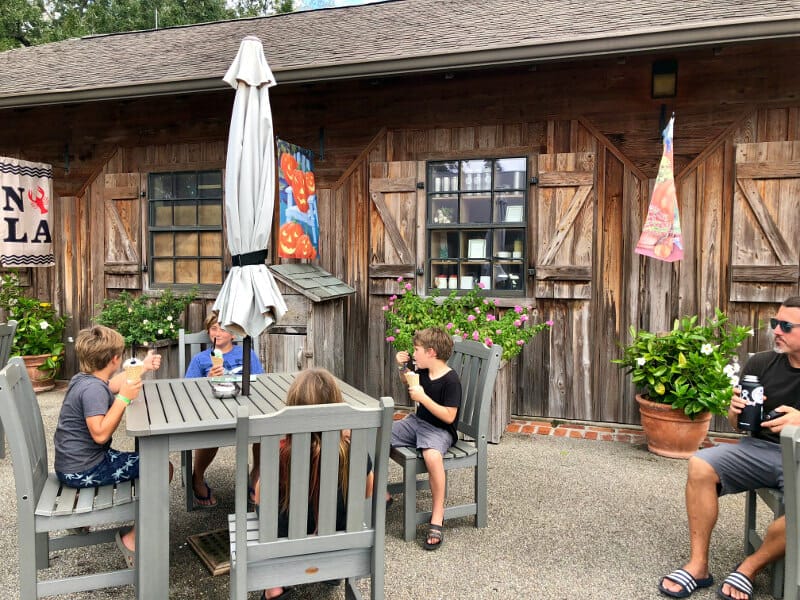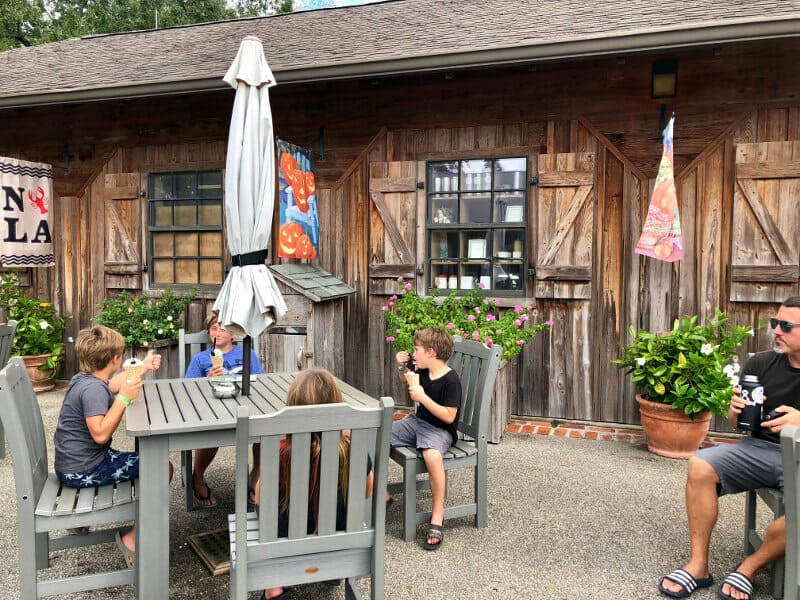 We grabbed a few pictures there and then made our way to the store/restaurant area. There we sampled pralines (yummy!) and then got the kids ice cream. The shop had a lot of great cookbooks, clothes, souvenirs a variety of things.
To wrap up this plantation offers: A self guided tour, great history/museum, Mint Juleps, ice cream and candy samples. I have to say this was the perfect plantation self guided tour to take our kids on!
Or if you are Staying in New Orleans check out this great deal where you take a bus to Oak Alley from New Orleans!
St. Joseph Plantation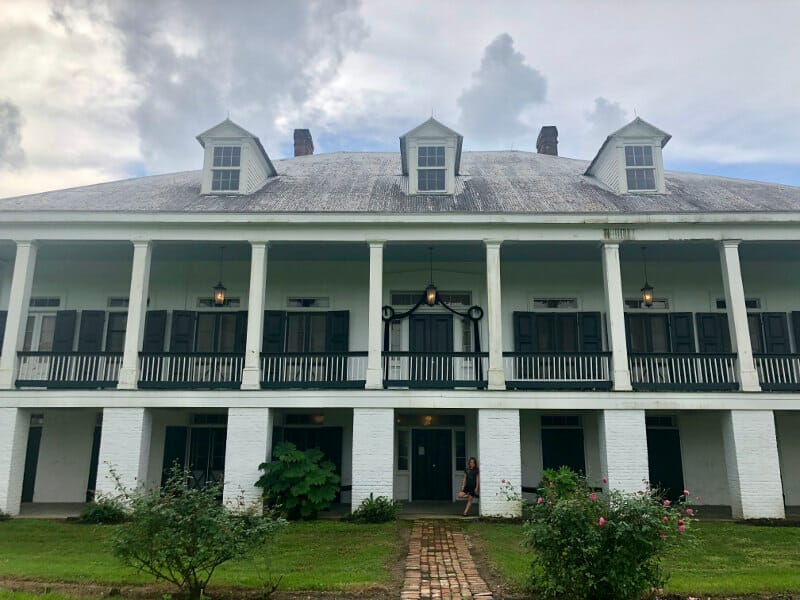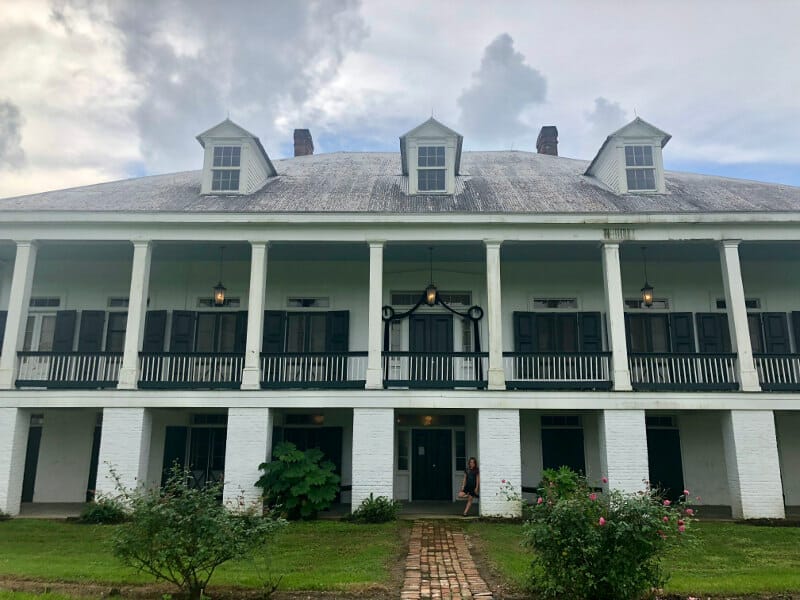 We also did the St. Joseph Plantation tour which was located right next to Oak Alley. For this one we did an actual tour of the inside of the plantation and it was really cool!
Tour
Our tour guide was a descendent of one of the Planation owners. She had great stories to tell us and lots of history to share. It was really cool to hear it from someone who's family had actually lived on the plantation.
I was a little nervous about how the kids would do on a 45 minute tour, but they did really well! The lady kept the tour moving and we were able to check out a lot of the rooms and also the outside porch (I know there is a really cool word for it but I can't remember it . . .).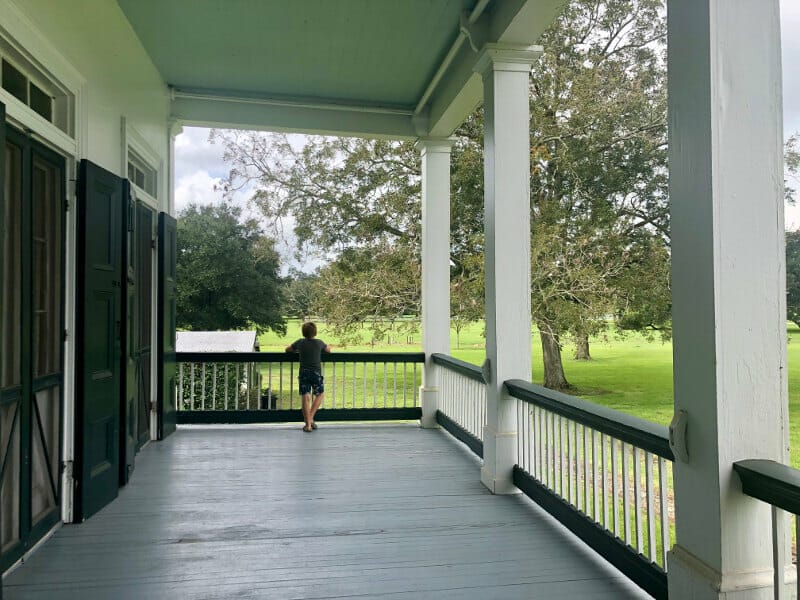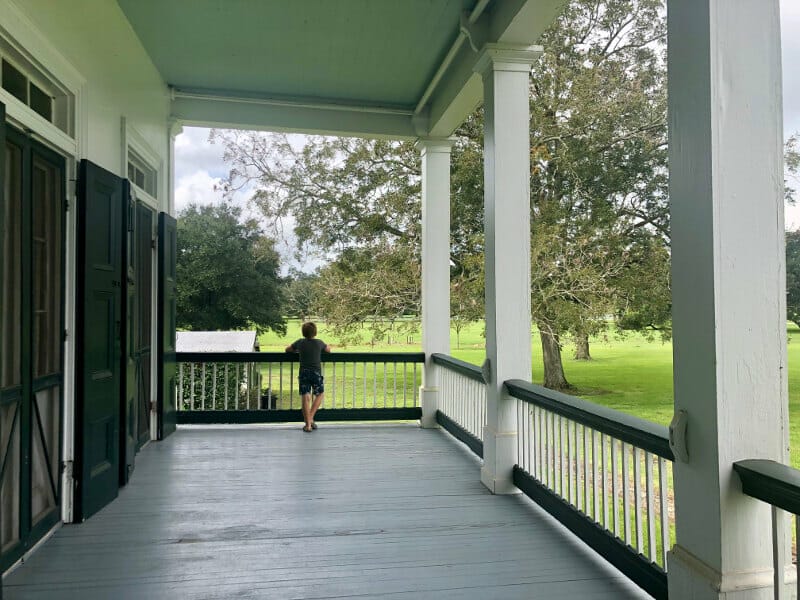 I was glad we found a tour that worked with our kids so they could get more history about the plantation and what life was like on it for a family that had lived there during the 19th century.
After the tour we were able to walk around and explore the grounds. We could go into the blacksmith shop and the slave quarters – which was an important thing for us to show our kids and explain about slavery and how unfair and horrible it was.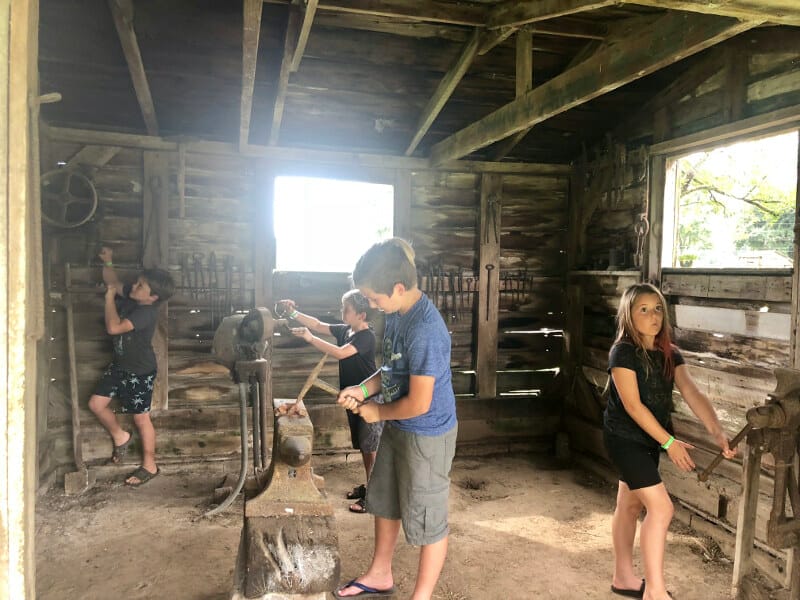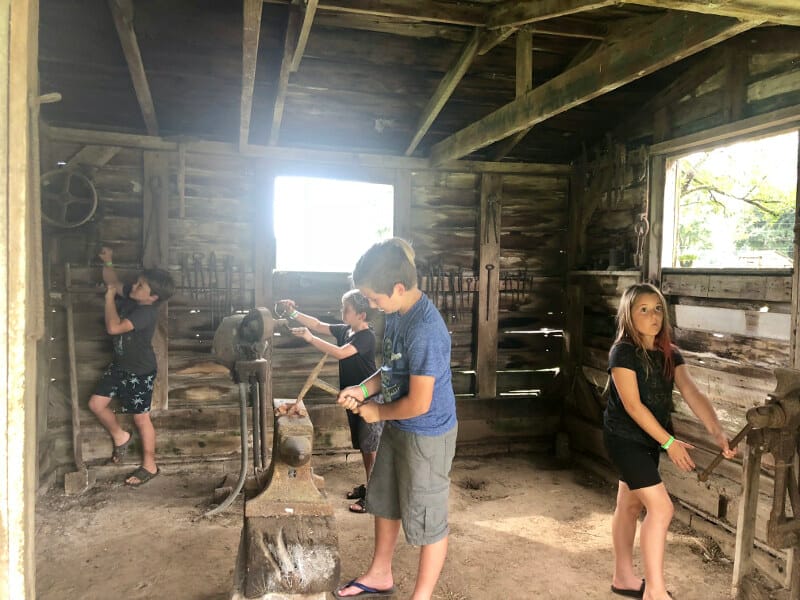 Talking about it was one thing, but actually being able to show them the slave quarters compared to the house and explain how the slaves had very little choice in what they were doing was really powerful for our kids.
The St. Joseph Plantation was not as commercialized as Oak Alley and that was nice to see too.
Other Plantations To Visit
There are a lot of other plantation homes and tours in the area that lined the Mississippi River road and we heard a lot about the Laurel Plantation. But we knew that 2 tours for our kids was all they could handle. And we were really happy with our choices!
Nottoway plantation
Laurel Valley Plantation
Where To Stay
We aren't exactly sure where to stay when we visited and without even knowing it we ended up staying in an amazing Lousiana town called Thibodaux! It was such a cool place and we are so glad that we spent a few nights here.
Carmel Inn & Suites (and RV!)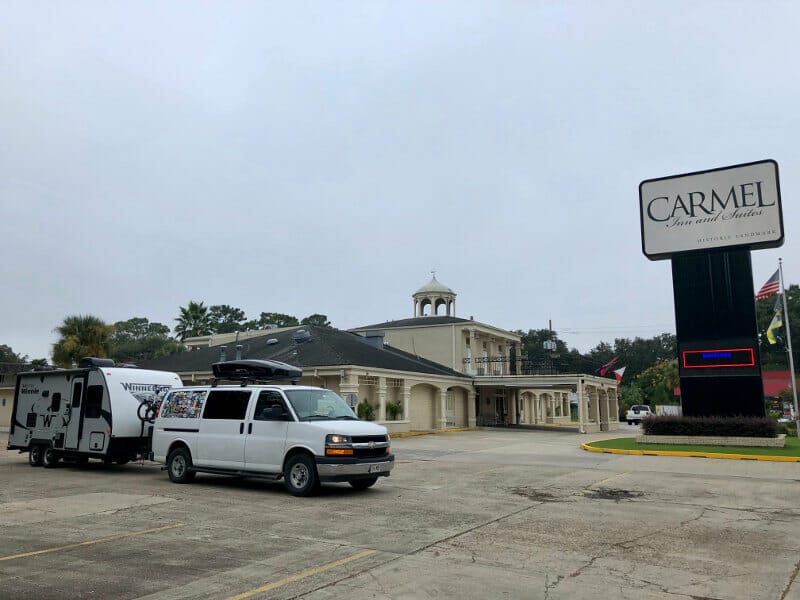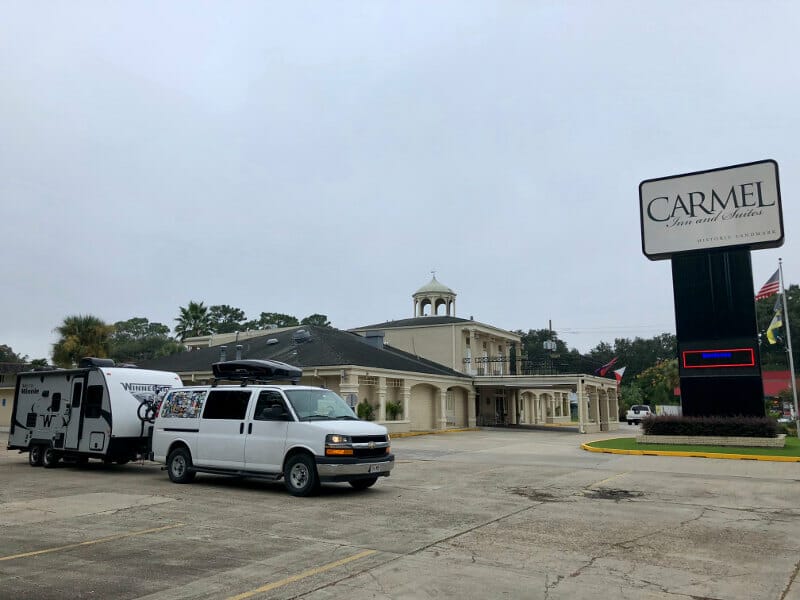 We stayed at the iconic Carmel Inn & Suites. The owners were amazing and the property was in a great location. And one of the coolest things was they had a hook up for our RV! If you are looking for a place to stay with your RV just them a call and they will let you know if they have an RV spot open and what the pricing is: (831) 624-1900 Be sure to tell them Crazy Family Adventure sent you!
The owners and front desk are super helpful on the surrounding area so be sure to ask them for recommendations when you get there!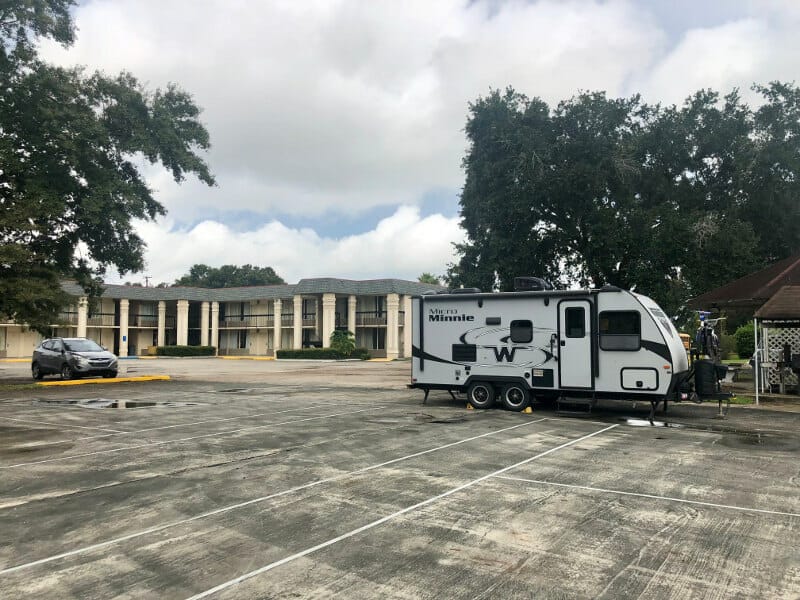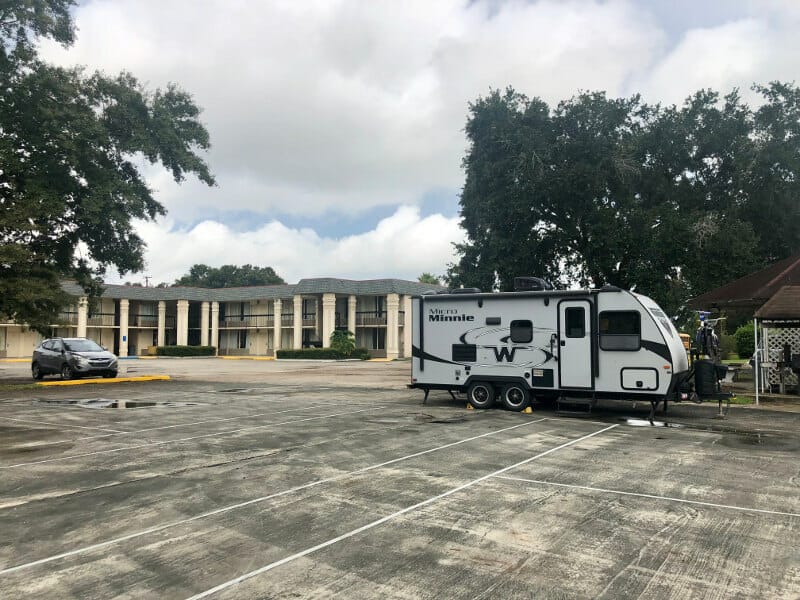 This meant we were able to hook up our RV to a 30 amp outlet (they have 50 amp too!) and park it on a nice flat blacktop lot. Then we could still get the free breakfast in the morning and use the amenities like the pool and laundry room!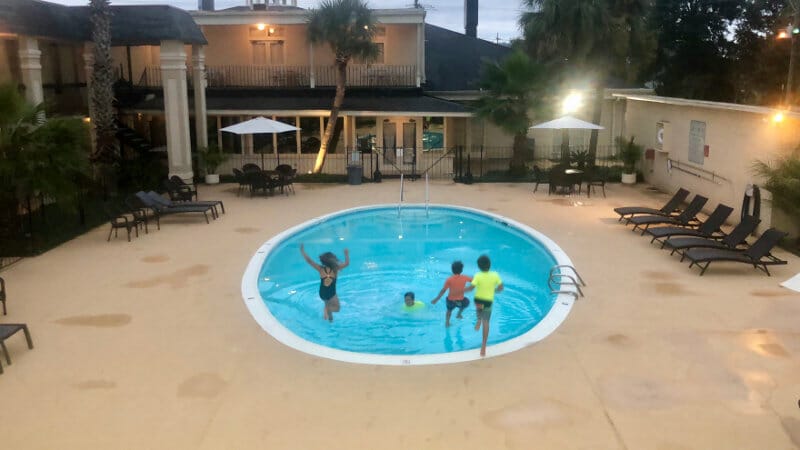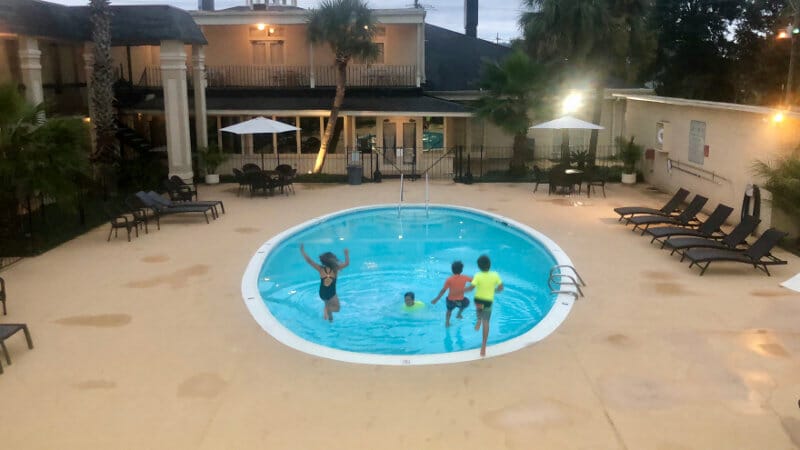 They also have rooms where dogs can stay with you. This was definitely a great place to stay it if you want to check out a cool city outside of New Orleans and visit the surrounding plantations.
Click here for great deals on Carmel Inn & Suites from TripAdvisor!
Things To Do In Thibodaux
After visiting the plantations we explored more of Thibodaux and the surrounding area. Along with having some authentic New Orleans food!
We visited the cultural center which is part of the National Parks system so we got in for free with our National Park pass. It had a small museum area inside with a fun scavenger hunt for the kids to do for a prize.
They also had a kids play area filled with fun toys and activities about the area.
Then you can walk outside to check out the bayou.
Downtown Thibodaux
We did a driving tour of downtown Thibodaux checking out all of the historic buildings – with a nice map with the history on it that we got from the hotel. It would also be a great walking tour to do but it was just to hot for us to do that.
We also checked out Peppers Pizza which had great pizza, local beer on tap and my favorite beignets!! We didn't have to go all the way into New Orleans to get a Beignet. I was happy!
Other Things To Do
If you are looking for more things to do you can head outside of Thibodaux for a swamp tour or into New Orleans.
Cajun Pride Swamp Tours
If you are looking to check out the swamp and spot some alligators be sure to head over to the Cajun Pride Swamp Tours. These tours are always great and help you understand what this ecosystem is all about. A swamp is definitely an interesting place!
New Orleans
And of course you can drive in to check out the city of New Orleans with kids and the French Quarter. There are so many great things to do in New Orleans WITH kids we highly recommend it! Plus there are some great New Orleans hotels to stay at. You could stay there and do a day trip to visit the plantations.
If you want to take the New Orleans fun home with you be sure to check out this Pat O'Brien Hurricane drink recipe!
And if you are there around Halloween check out these awesome New Orleans Halloween: Ghost Tours and Spooky Events!
Escape Game
If you are looking for a bonus fun activity to do while in New Orleans, check out The Escape Game! It is an awesome way to build your teamwork as a family and a ton of fun to work together and solve clues to escape before the clock runs out! You can read about our experience at The Escape Game in Chicago here.
More posts you may be interested in:
Free Things To Do In Baton Rouge
Pin it for later!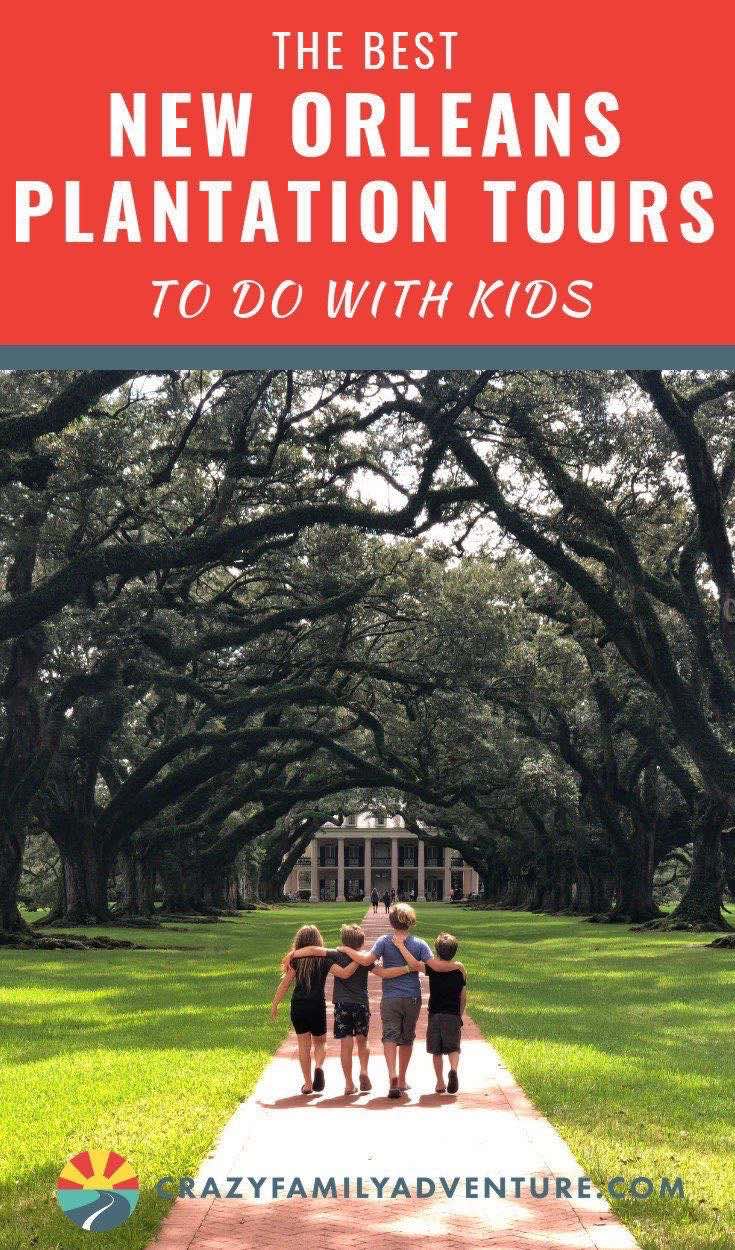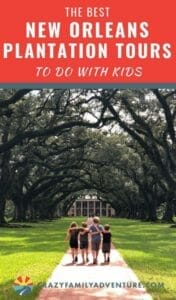 DISCLOSURE: This post may contain affiliate links, meaning I get a commission if you decide to make a purchase through my links, at no cost to you. Please read my disclosure for more info.