When we arrived in Asheville, North Carolina we were excited to get out and hit the trails! There are SO many hikes you can take that we had to do a lot of research to find what we thought would be the best hikes for our kids (8, 6, 6, 4). Below is a list of the best kid-friendly hikes near Asheville. Find out where to go hiking in Asheville, NC.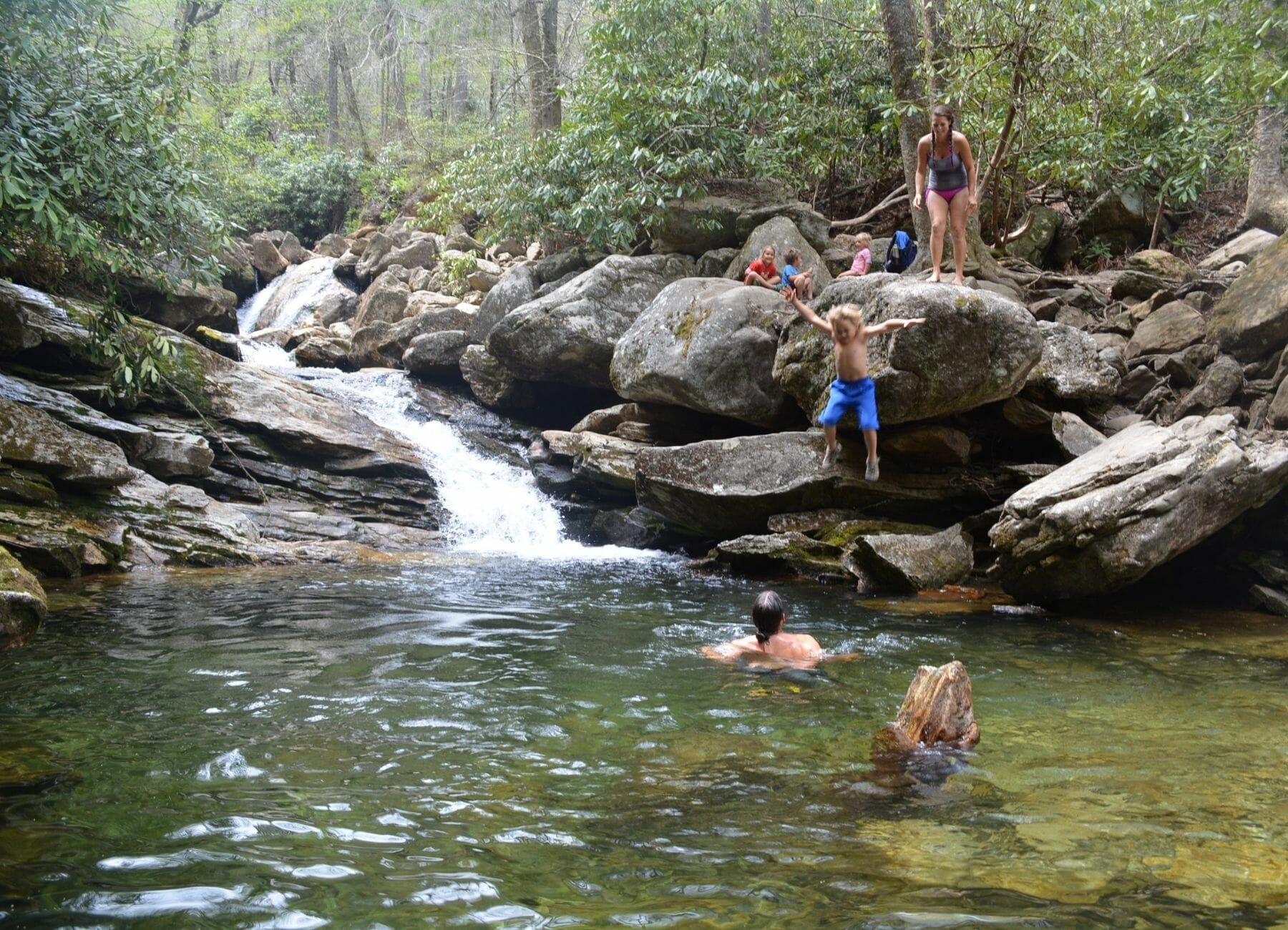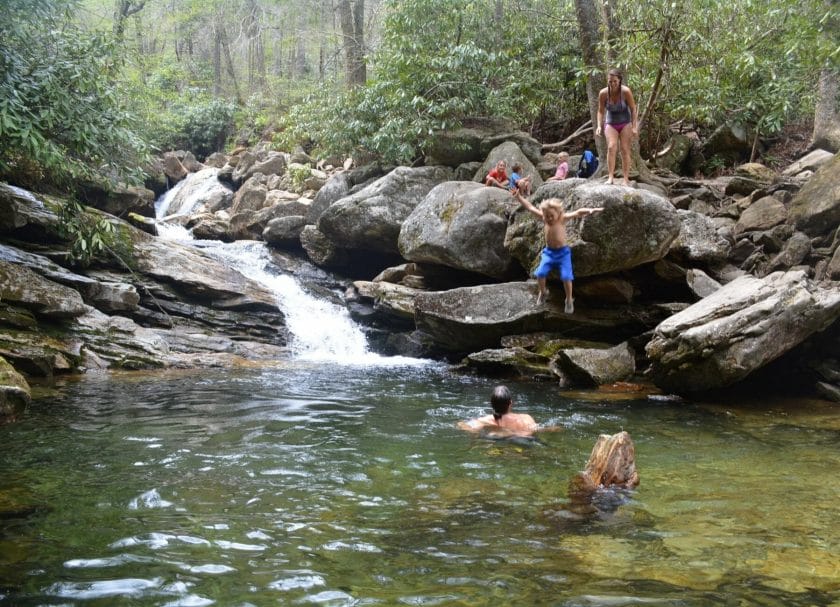 Please note not all of them are day hikes but more awesome locations to visit with a short walk to get to them. These work great with young kids and still get you out to go explore the area. Plus Asheville has so many kid friendly breweries you can hit up after your hike!
Looking Glass Falls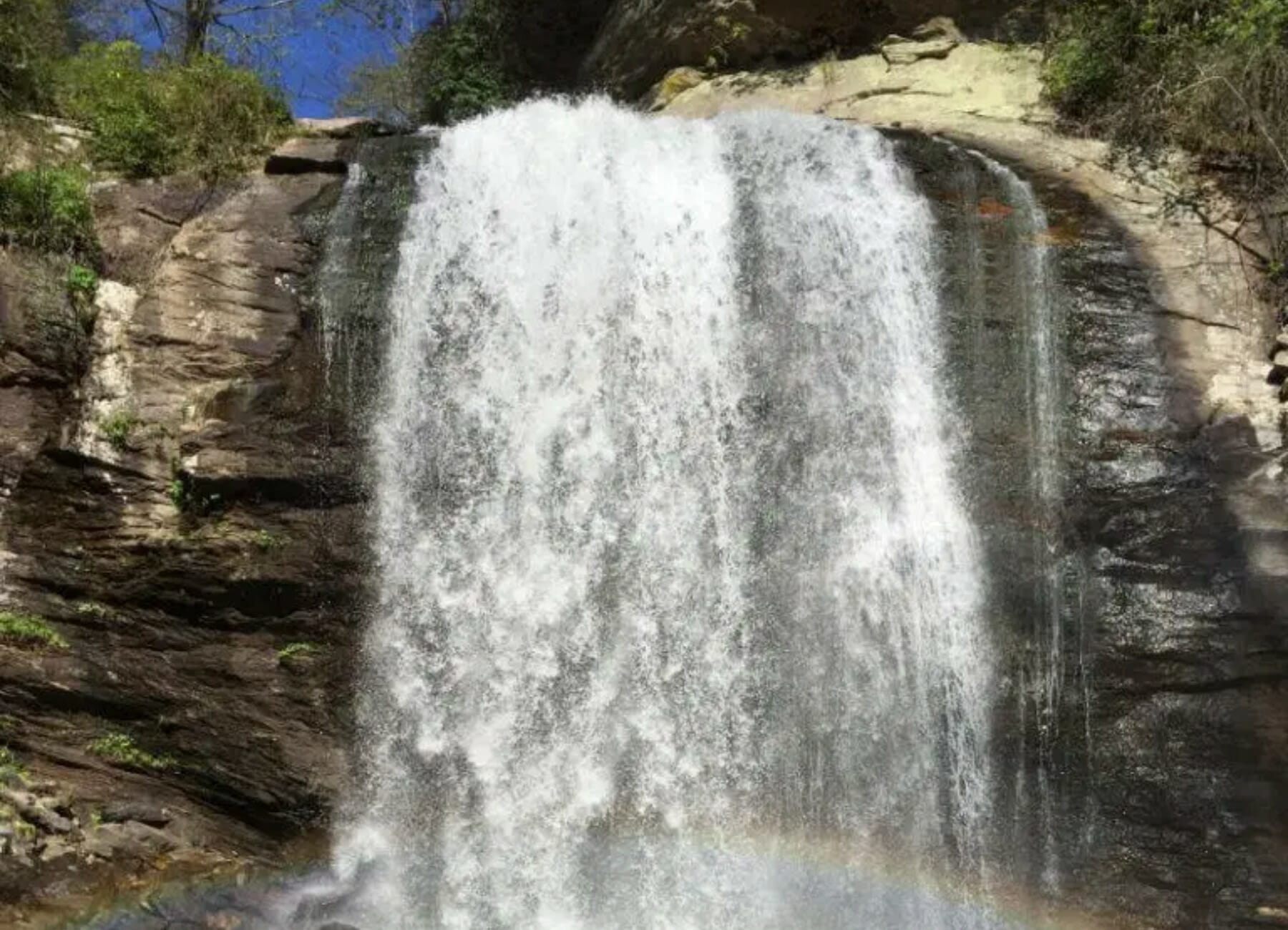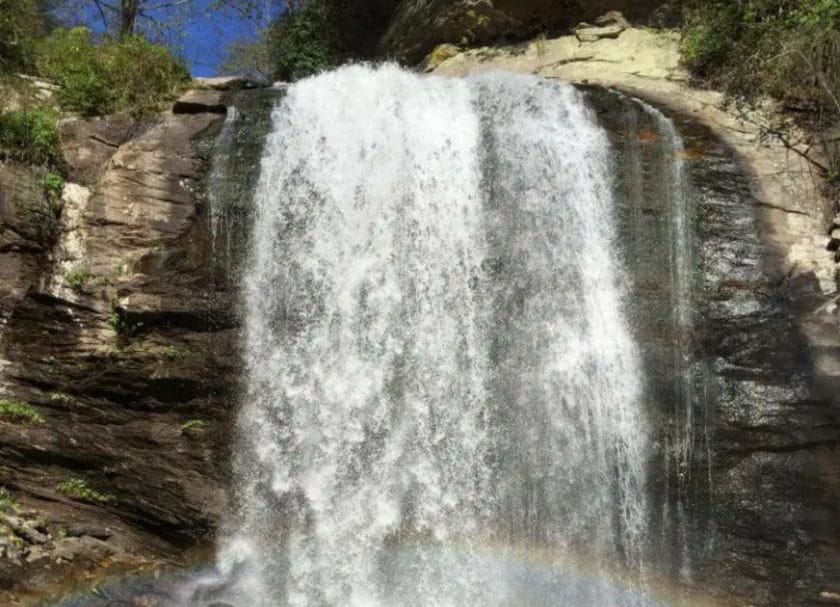 Our first stop was Looking Glass Falls in the Pisgah National Forest just outside of Asheville in the Blue Ridge Mountains. It is a beautiful waterfall that is right off of the side of the road. You literally pull over and park on the side of the road then get out and walk down a few flights of stairs to get down by the waterfall.
Once there you can walk into the falls if you would like or explore up and down the river bank. It was beautiful! It was definitely touristy and we were there in the off season so I can only imagine how busy it would be in the summer months.
As you will see there are so many great Asheville waterfalls to explore!
Sliding Rock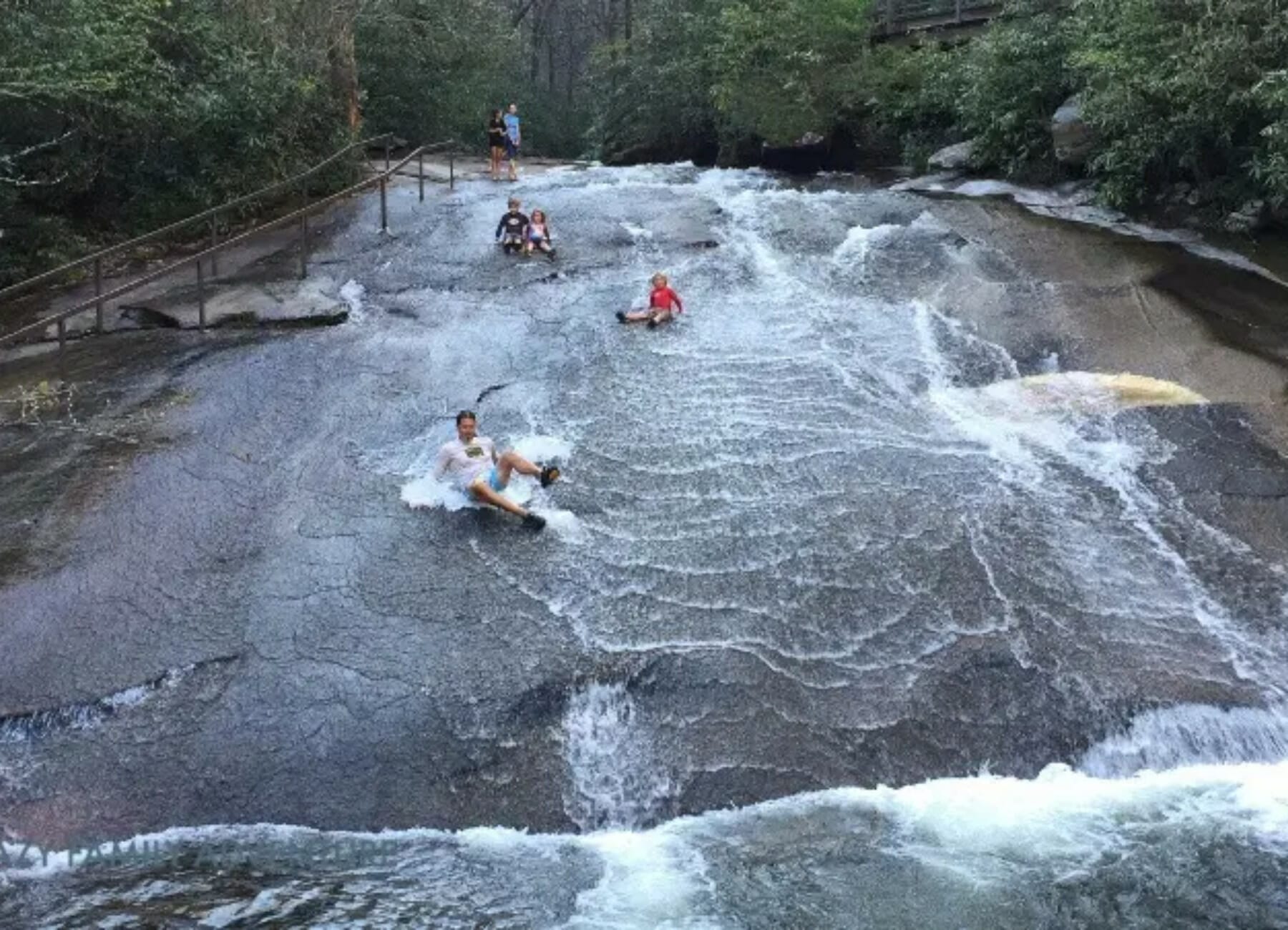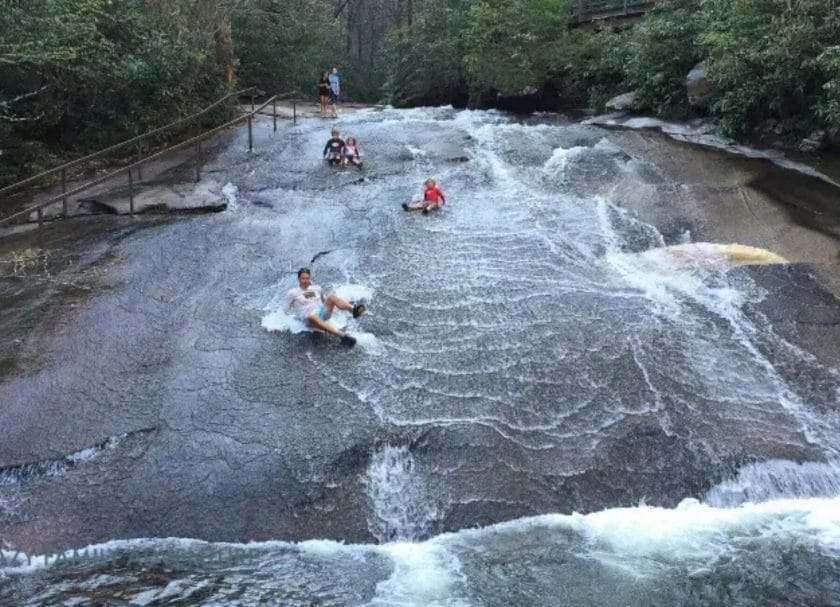 Our next stop was right up the road from Looking Glass Falls. We had found it online and were super excited to check it out. Sliding Rock! And it is just what the name says a rock that you slide down. We were here in April so the water was freezing but it was awesome!
You pull into the parking lot and then walk a couple hundred yards down a trail to get to the base of sliding rock. You then walk up the rock via a walkway (with a railing) before taking a seat and sliding down the rock!
At the bottom you land in a small pool of water where you can then swim over to the side to climb out. There is a nice deck area overlooking the slide where people can watch and take pictures and videos.
It was in the 70's outside and the sun was shining when we got there but the water was freezing since it was only April. But we couldn't pass up this awesome opportunity to slide down a rock slide. We got our suits and swim shirts on and went for it. We are glad we did. Plus it is much less busy during the off season!
On the way down my suit rode up my butt but it was all good. No scraps or bruises. If you have shorts wear them I think it would help protect your butt and legs as you are sliding down. Craig and the kids did it a couple of times but 1 time was enough for me since it was so cold!!
High Falls, Triple Falls, Hooker Falls
Located in the Dupont State Forest, these three waterfalls can easily be done in an afternoon with kids. This is a 4.5 mile hike if done from start to finish. However the park has parking lots near the falls so you don't have to hike all the way.
High Falls is the first and biggest waterfall and one of the best hikes near Asheville. High Falls drops 120 feet down a slab of granite. It is just a short walk from the High Falls access area. The falls and the a covered bridge can be seen from this location.
Triple Falls is the second waterfall you can access in the Dupont Forest. Triple Falls is only a 7 minute hike on the Triple Falls trail from the Hooker Falls parking lot. The main trail before you get to the falls is pretty steep so make sure you wear good shoes for this hike. The Hunger Games and The Last of the Mohicans both have scenes from this iconic waterfall.
Hooker Falls is the last waterfall of the Little River before it flows into cascade lake downstream. You can park in the Hooker Falls parking lot and only have a 6 minute walk. This waterfall also has an observation deck for guest. All 3 of these waterfalls are easy hikes if you drive to the parking locations nearest the falls. Driving in between hikes also helps give the kids a break to get some snacks and water.
Skinny Dip Falls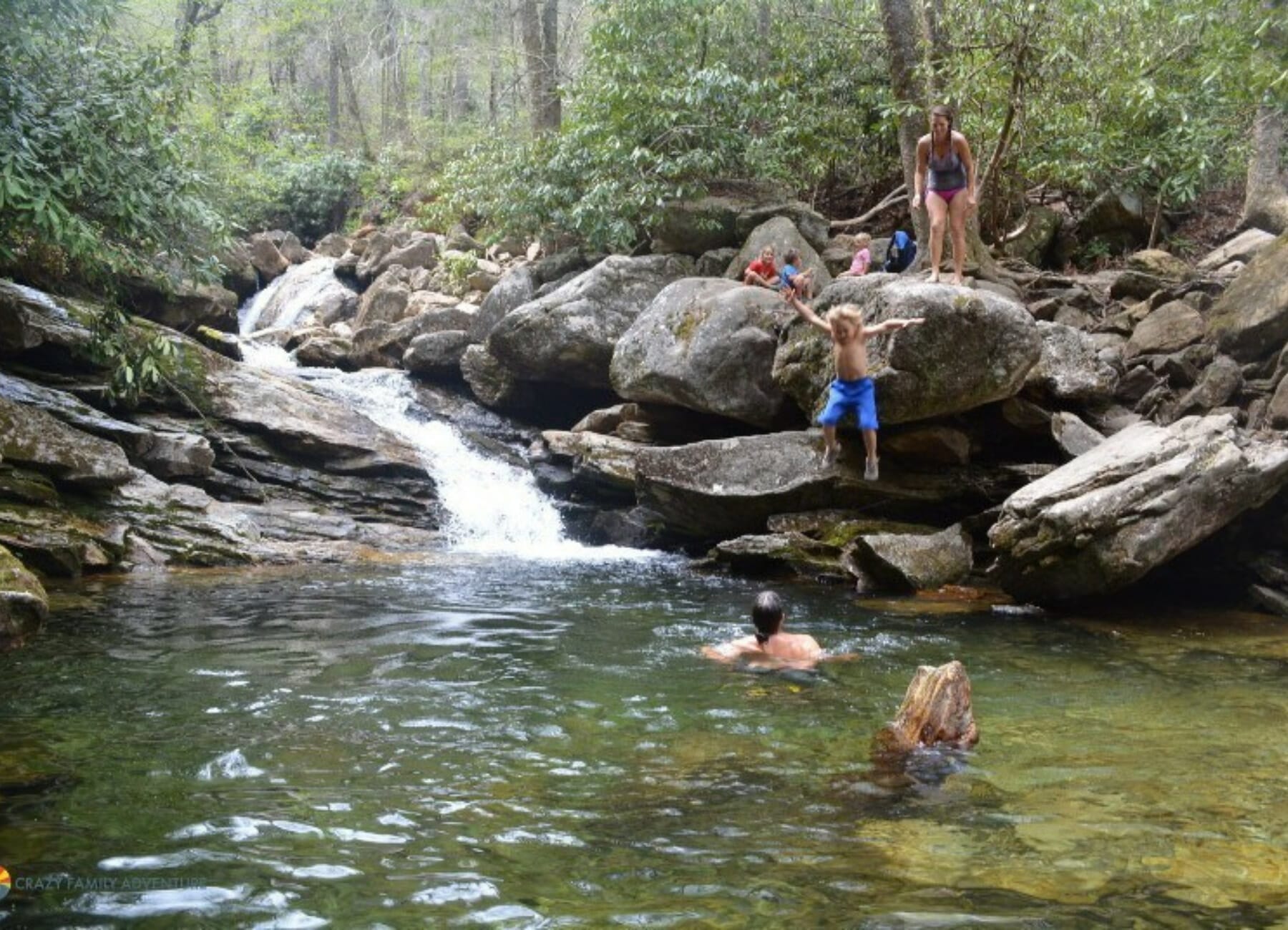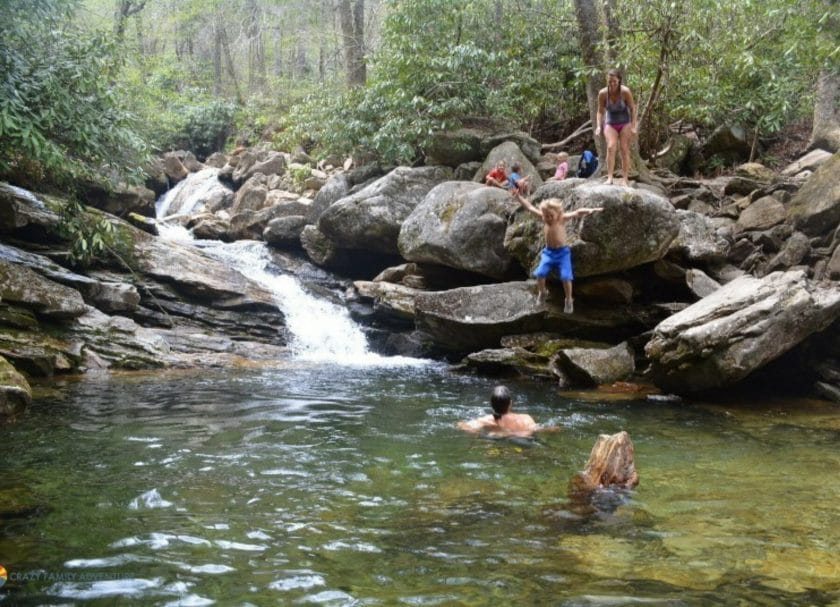 Don't worry there are actually signs saying even though this is called Skinny Dip Falls you MUST wear your clothes! It's a 3/4 mile hike to get to the falls. The hike is up and down so I wouldn't say it is easy but the kids had no problem jumping and climbing their way through the trail.
There was one point where we went the wrong way for about a 1/4 mile . . . so make sure when you are hiking that you stay to the left and you will find the falls just fine. Once there you walk across a really cool bridge to get over to a great cliff jumping area.
It was cold but Craig, Carson, and Cannon did it! The falls were really pretty and it was fun to walk around and explore the area and the hike was cool too. We love when a hike isn't just a flat surface but instead has rock stairs and lots of ups and downs.
How to get to Skinny Dip Falls: Park at Looking Glass Rock overlook which is at Milepost 417 on the Blue Ridge Parkway. Then walk across the street to the right (it will be to the right when your back is to the parking lot) to the Mountain To Sea trail post. The 3/4 mile hike starts here.
Distance: 3/4 mile in and 3/4 mile out. Uneven surface
Hickory Nut Falls Trail
This 1.4 mile round trip hike will take you the base of the tallest waterfalls east of the Mississippi River. The trail is mainly flat with some up and down rocky sections. Bring a backpack with snacks or even a picnic lunch. There are benches, resting areas, and tables located along the hike.
Hiking In Asheville With Kids, North Carolina: Craggy Gardens Trail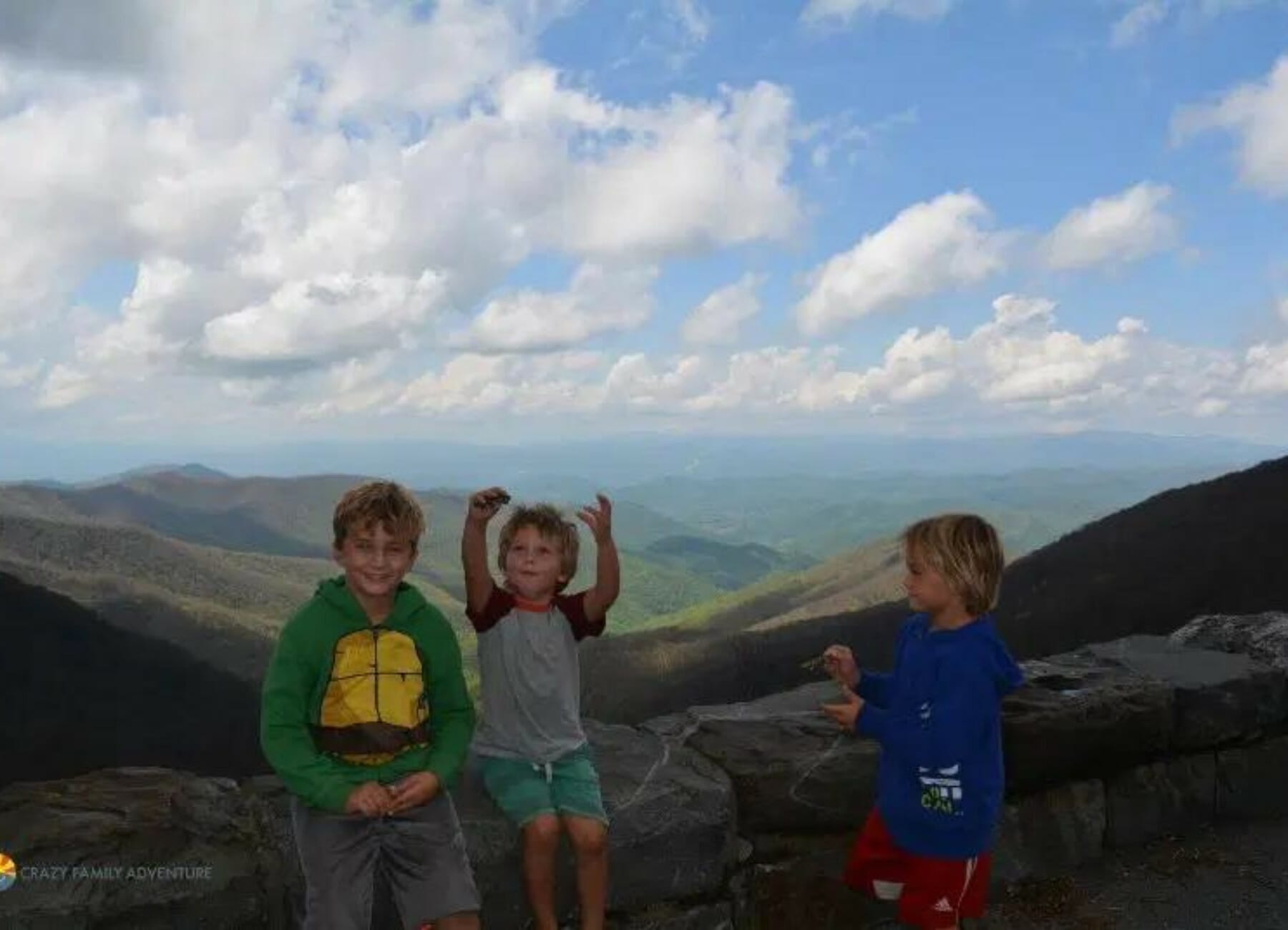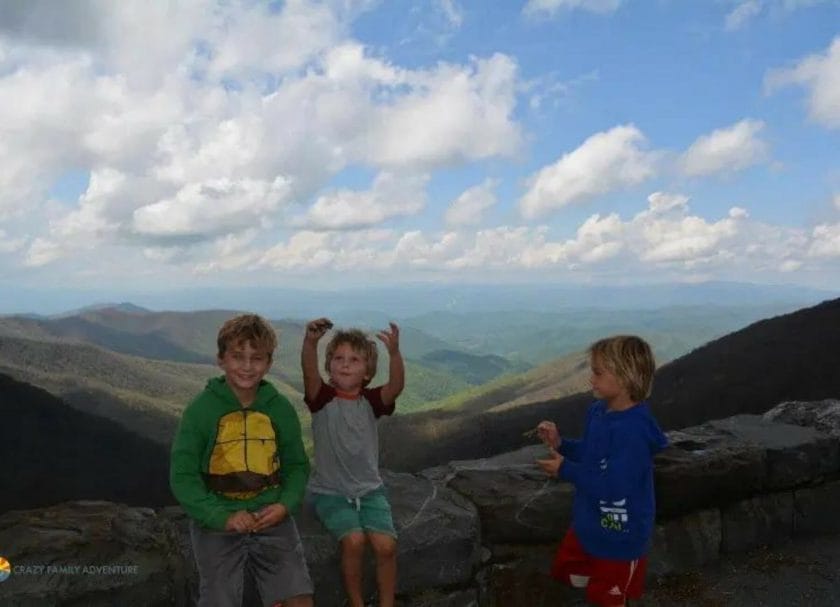 This is a really cool hike up to a grassy summit. Before you start you can stop in to explore the small visitor area and take in the amazing views.
The hike itself is really cool as it takes you through scenery that looks like it is right out of The Hobbit. The greenery and moss is breathtaking and then the view from the top is nice too.
At 1.4 miles round trip it is great with kids. The trail has a variety of terrain with some flat areas and a lot of rock stairs and uneven terrain that the kids love to hike.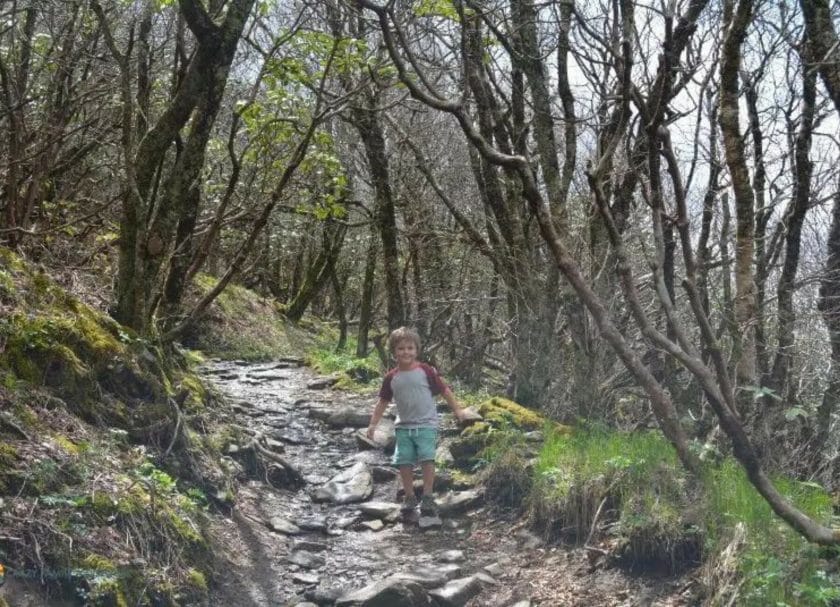 How to get to the Craggy Gardens Trail: Stop at the Craggy Gardens Visitor Center and the trail starts on the left hand side of the parking lot behind the rock wall.
Distance: 1.4 miles round trip – if you stop at the Pavilion/grassy summit and turn around. When you come to an intersection stay left.
Craggy Pinnacle Hike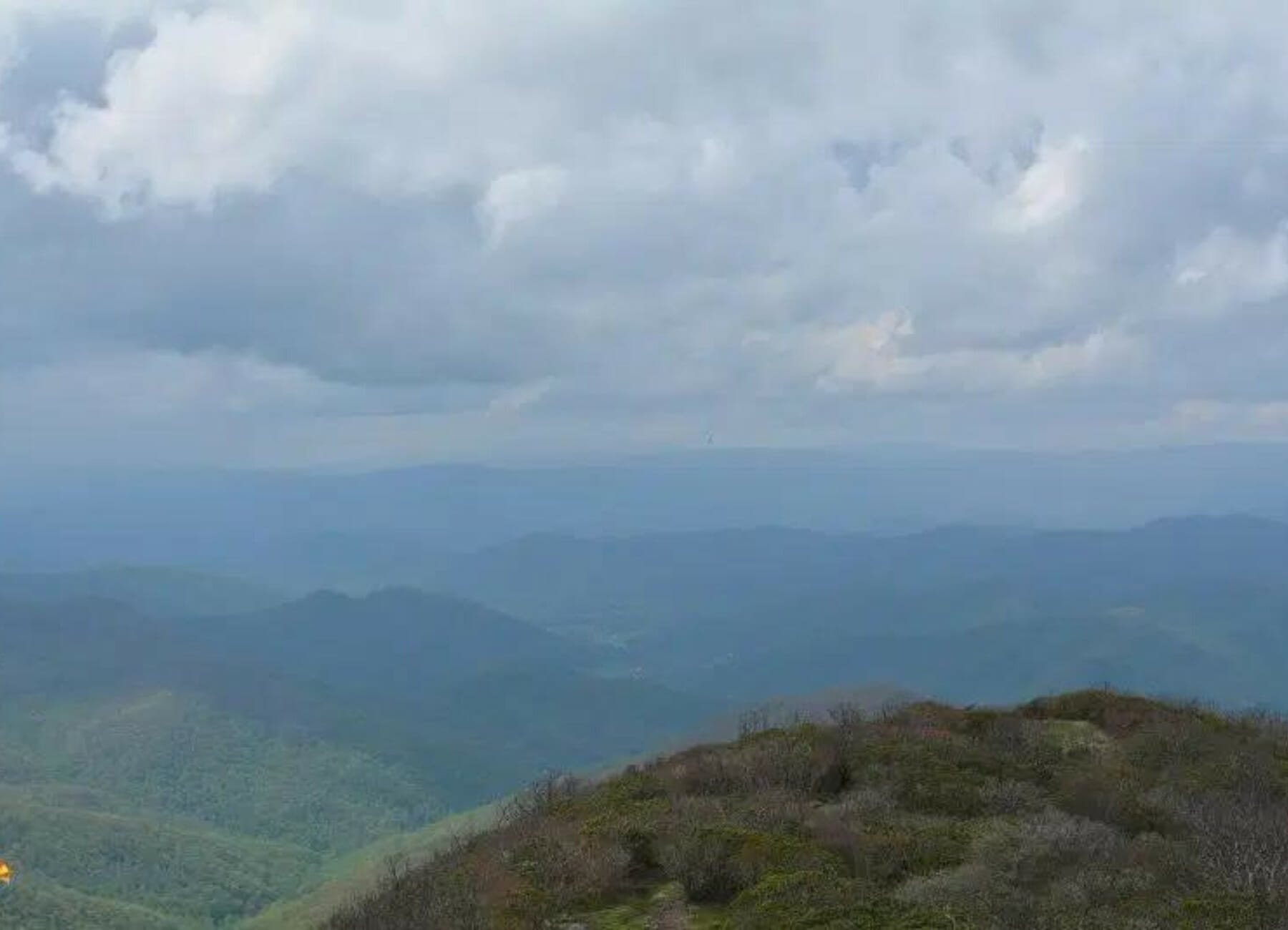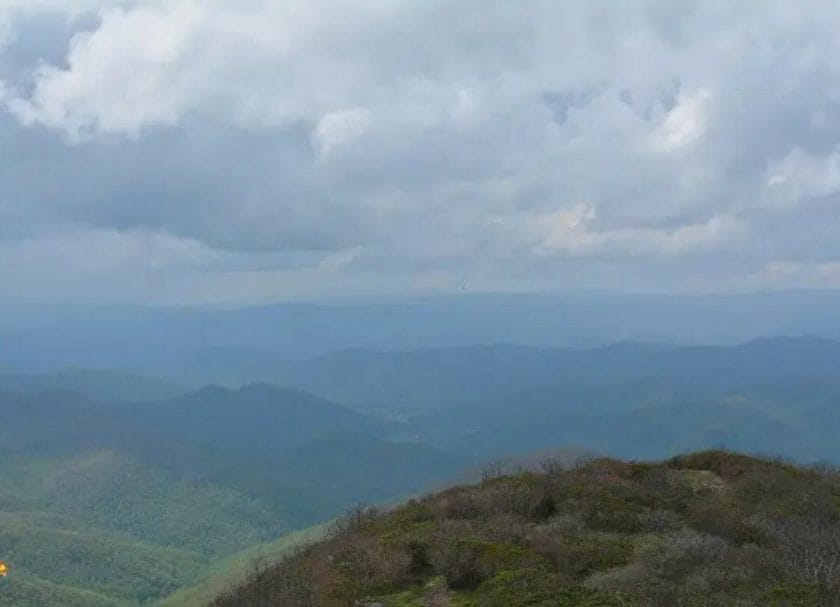 This is another beautiful hike up to an amazing 360 view overlook – that may just be the best 360 view on the Blue Ridge Parkway. The hike takes you through amazing trees that are covered with moss and beautiful greenery.
We loved the hike because it gave the kids some great climbing areas and the twisted trees were so cool looking. You felt like you were walking through a fairy world. When we got to the lookout the fog moved in and we literally couldn't see anything. Then the fog cleared and the views were simply amazing!
How to get to the panoramic views of Craggy Pinnacle Hike: Follow the Blue Ridge Parkway past the Craggy Visitor Center then through the Craggy Pinnacle tunnel and turn into the Craggy Dome overlook. Park in the upper parking lot and the trail head is right there.
Distance: 1.4 miles round trip. The trail is not flat but moderately climbs up and has uneven terrain.
Catawba Falls
Catawba Falls trail is just over a 2.5 mile hike. There are trees all around so you can take this hike in the summer time and not worry about the sun beating down on you the whole time. The trail is just east of Asheville. You will see countless waterfalls along the beautiful Catawba River.
Black Balsam Knob
The Black Balsam Knob is a wonderfully beautiful hike located on the Art Loeb Trail. From this 6,000 foot elevation gain at the summit you will see gorgeous wildflower covered mountains. This is a must see for any nature and flower lover.
Graveyard Fields Loop Trail
Located in the Mount Pisgah National Forest the Graveyard Fields Loop Trail is one of the best hikes in Asheville for families with older kids. This is an easy hike but it is one of the longer ones at 3.2 mile loop down and back. Bring your bathing suit so you can enjoy the waterfalls on a hot summer day. The national park has made some adjustments to the trail due to storm damage so make sure you have an up to date map with you. There are restrooms located at the trail head.
Places to Stay in Asheville:
VRBO
Mountaintop Log Cabin – With wrap around deck to see all the beauty of the NC mountains and hiking trails just steps away this log cabin is perfect spot just 20 minutes from downtown Asheville. Located in a well established community with plenty of privacy and a 300 acre nature preserve within walking distance as well.
Relaxing Mountain Cabin – Two story cabin with a wonderful deck with a hot tub and fire table. Located near downtown Asheville and close to all the many hiking trails that Asheville has to offer. Get a good nights rest after a long day on the new Serta mattresses.
If you are looking for other things to do in Asheville with kids check out our post: Things To Do In Asheville With Kids and the Best Kid Friendly Breweries in Asheville.
Hotels
Country Inn & Suites by Radisson – A mile from Asheville and 2.5 miles from the Biltmore the Country Inn has a continental breakfast, fitness center, and indoor heated pool.
The Omni Grove Park Inn – Built in 1913 the Grove Park Inn is a beautiful place to stay in Asheville. There is a massive fireplace in the lobby and solid oak furniture in the rooms. There are plenty of amenities on site such as a subterranean spa with mineral pools, sauna, steam room, and a Donald Ross golf course on site.
Camping
Wilson's Riverfront RV Park – This is a wonderful campground located right on the French Broad River. Just miles away from downtown and a short drive to a lot of hikes and Black Mountain. There are some paved trails that connect to the French Broad River Greenway.
Blue Ridge Travel Park – RV park located in Hendersonville has plenty of hikes nearby and beautiful views. They have full hook up pull through and back in sites. It is just a short drive to Asheville or you can visit one of the 40+ microbreweries nearby.
For more on Asheville be sure to check out our post on things to do in Asheville and awesome Asheville breweries to visit with kids.
More Great Activities to Check Out in Asheville
Self Guided Driving Tour of the Blue Ridge Parkway On this amazing self guided tour you will learn about the history of some of the most popular destinations along the Blue Ridge Parkway.
Looking Glass Heliocopter Tour Check out the beauty of Looking Glass Falls from above on this great heliocopter tour. This is an unforgettable experience!
Yoga on a Mountain Hike What can be more fun than a hike through the mountains? Yoga will give you time to reconnect with nature and unwind from your busy life.
More posts on things to do in the area:
Best Things To Do In Smoky Mountains National Park
Family Fun in Gatlinburg, Tennessee
East Coast Road Trip: 25+ Stops You Don't Want to Miss!
21 Fun Things To Do In Port St Joe Florida
Top 10 Fun Things To Do In Congaree National Park
Pin this post: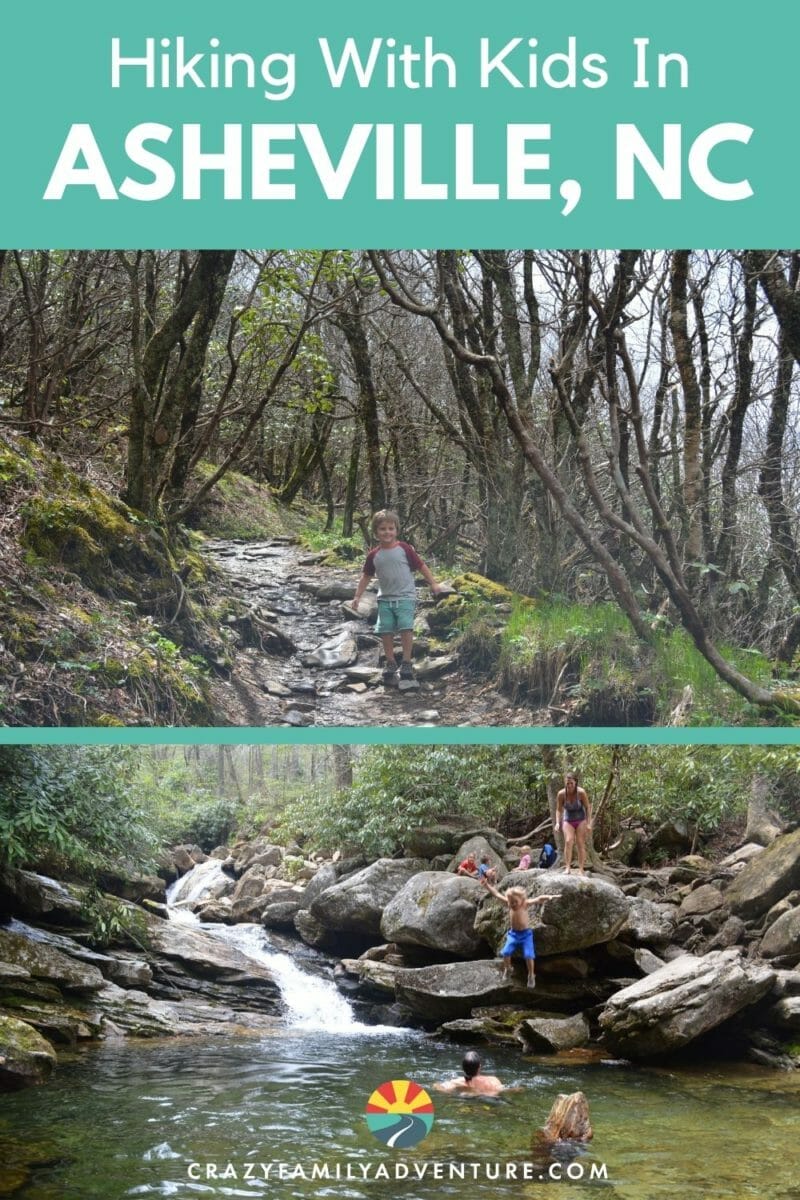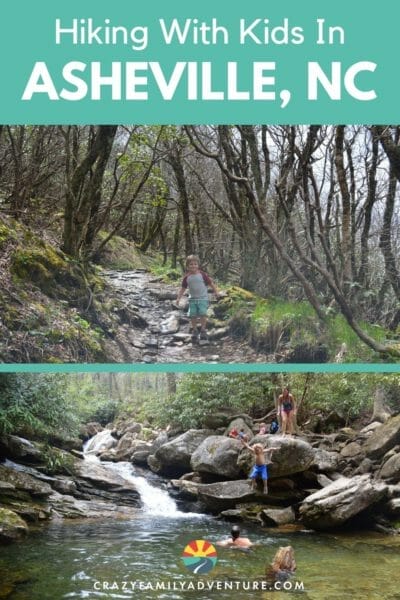 DISCLOSURE: This post may contain affiliate links, meaning I get a commission if you decide to make a purchase through my links, at no cost to you. Please read my disclosure for more info.