We just spent 3 days eating our way through Chattanooga and are excited to share all the delicious Chattanooga restaurants with you!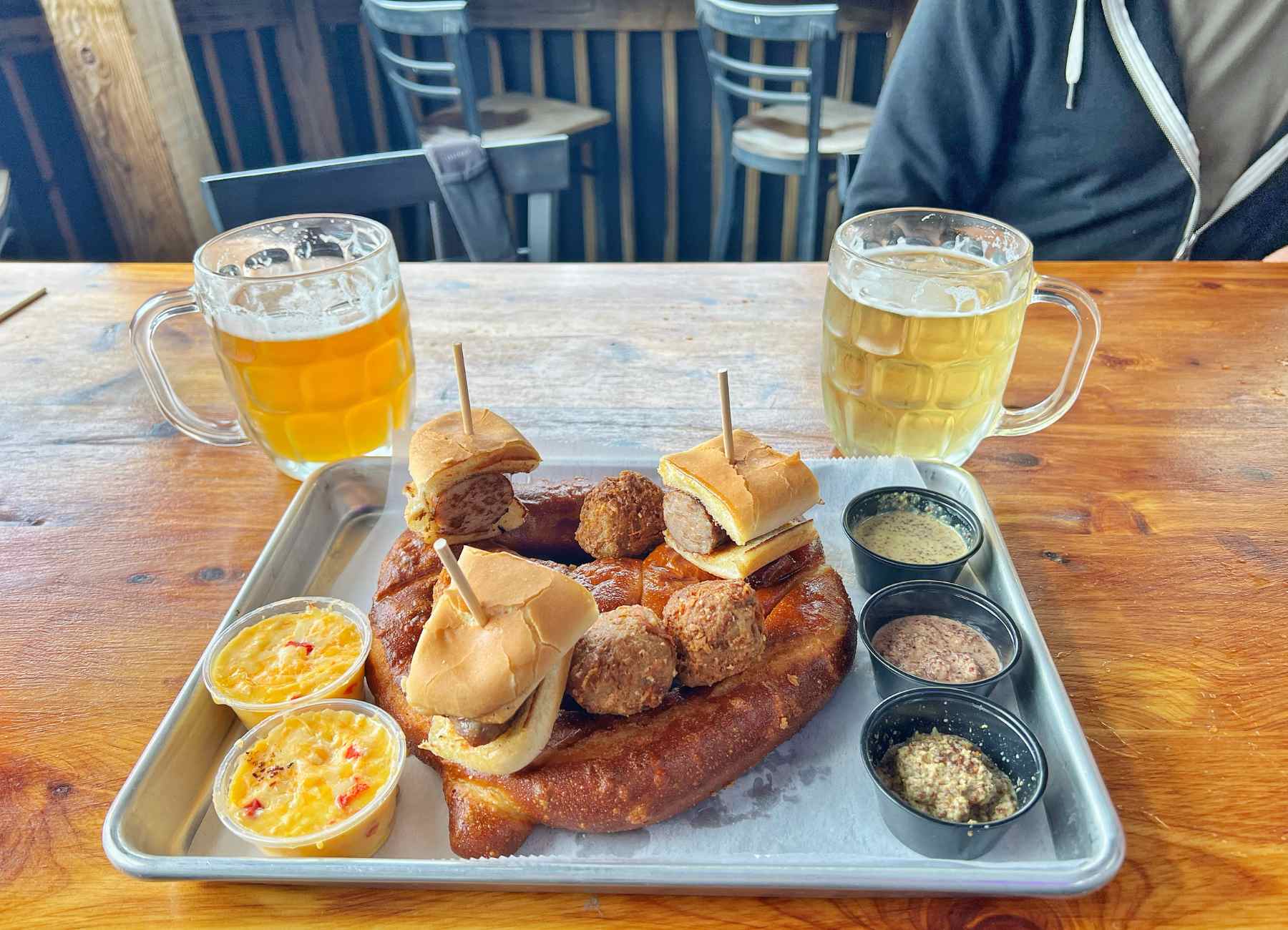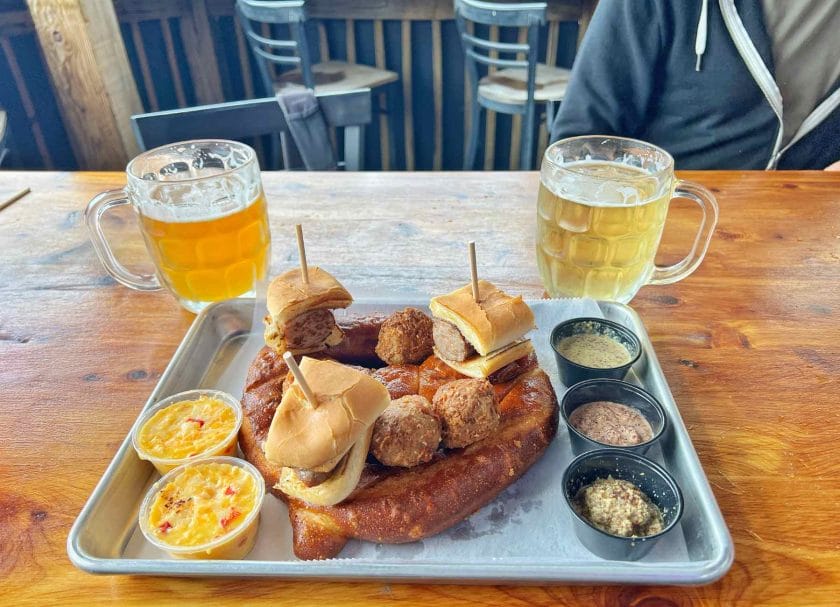 We had visited Chattanooga 8 years ago and since then the food scene has really taken off with a variety of new restaurants coming to town. There are still the staples like Clumpies Ice Cream and Julia Darling donuts but also a lot of new and delicious recipes.
Trying out as many restaurants as you can should be on your list of things to do in Chattanooga when you visit!
There is also a fun craft brewery scene in Chattanooga with a variety of beers to try, ciders and cool outdoor and indoor spaces to hang out for the afternoon. Most of them allow kids and dogs as well!
Let's jump right in by starting with breakfast and where you want to go to enjoy a delicious Chattanoogan breakfast and continue on with the best restaurants in Chattanooga!
Frothy Monkey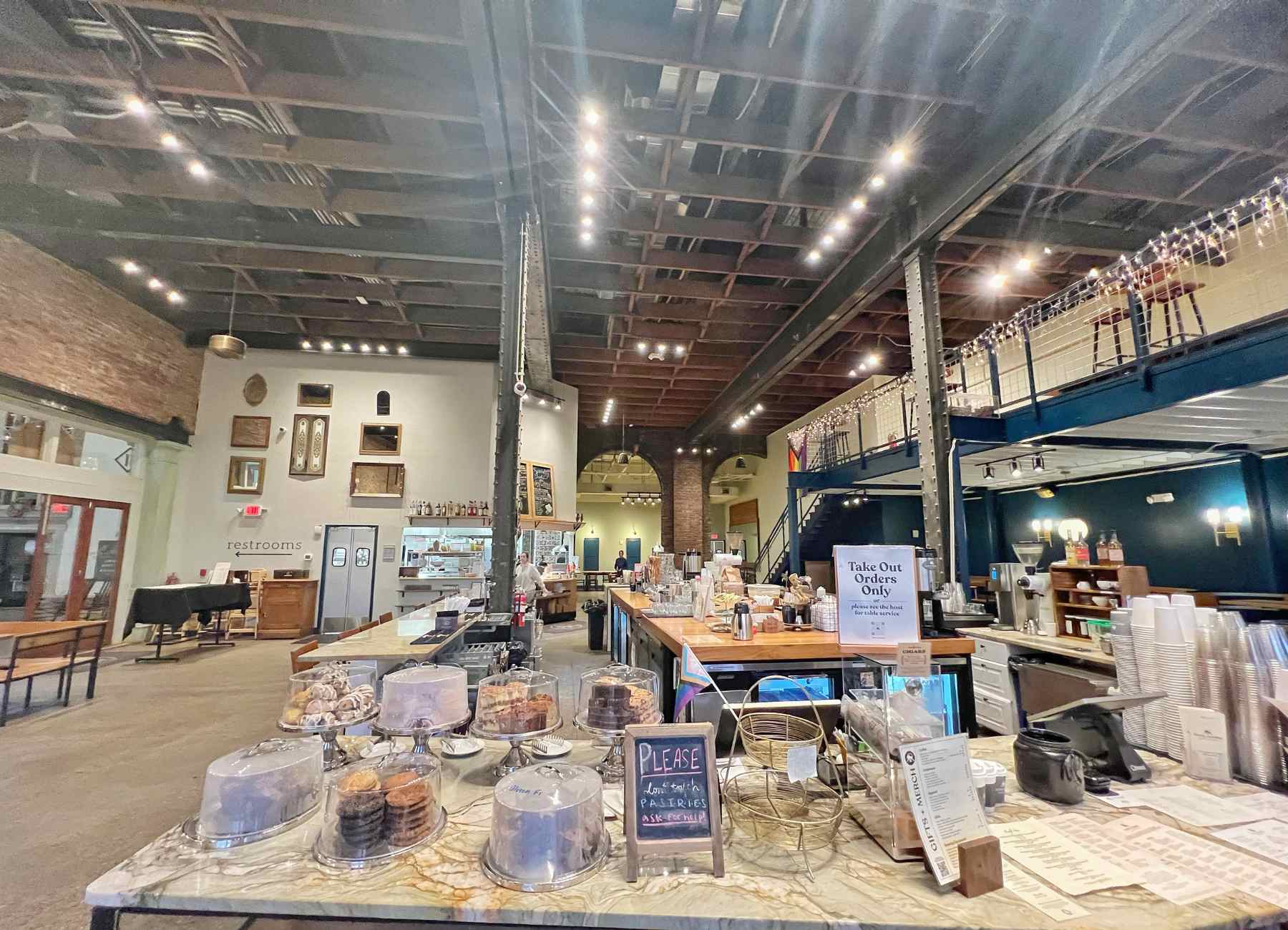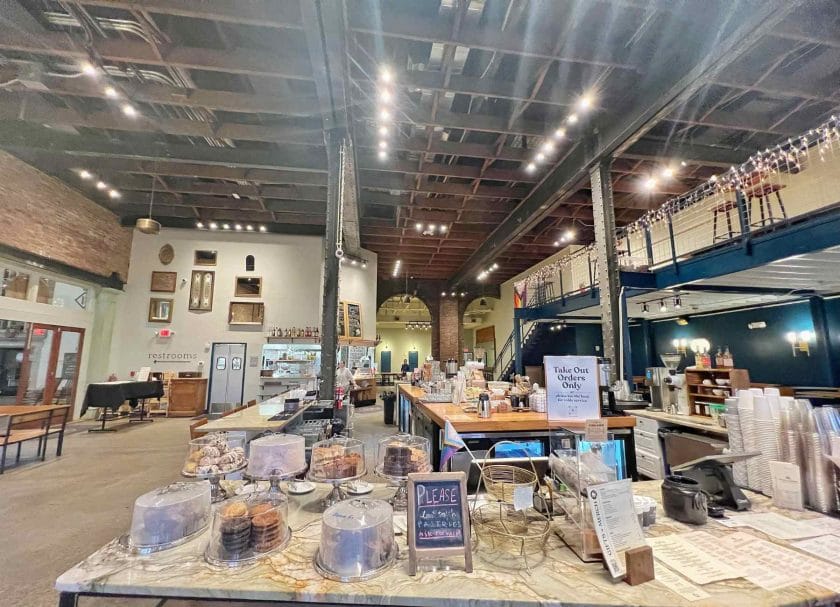 The Frothy Monkey is attached to Chattanooga Cho Cho and is in a gorgeous old railway building. With high ceilings and an industrial feel to it.
They offer delicious coffee with a variety of unique flavors and very tasty tried and tru options like a vanilla latte. The coffee comes in those large coffee cups with a fun design on top. This is when you know the coffee will be good!
They offer a variety of pastries if you are looking to go that route or else a full menu of delicious and fresh options. On the menu they even list the farms where their ingredients come from. Love that!
The kids opted for the large cinnamon roll and a kids order of french toast. In reality they definitely just needed one of those and not both! I was happy to help and sample each of these as well and they were both delicious.
They also got a chocolate milk and this wasn't your normal store bought chocolate milk. This was a thick and creamy chocolate milk with some of the cream coming up to the top. Yummy!!
Melia and I opted for the Avocado Toast with Eggs and it was so fresh and delicious. Though a bit messy to eat it was worth every bite. It came with a balsamic salad on the side. If you like balsamic you won't be disappointed.
Carson went with a full order of french toast and finished the whole thing! Craig went with the garden omelet and commented on how fresh everything tasted.
Needless to say we left full and happy! They offer breakfast food until 5pm – I LOVE that since sometimes we aren't eating breakfast until noon. Plus a full lunch and dinner menu.
Pucketts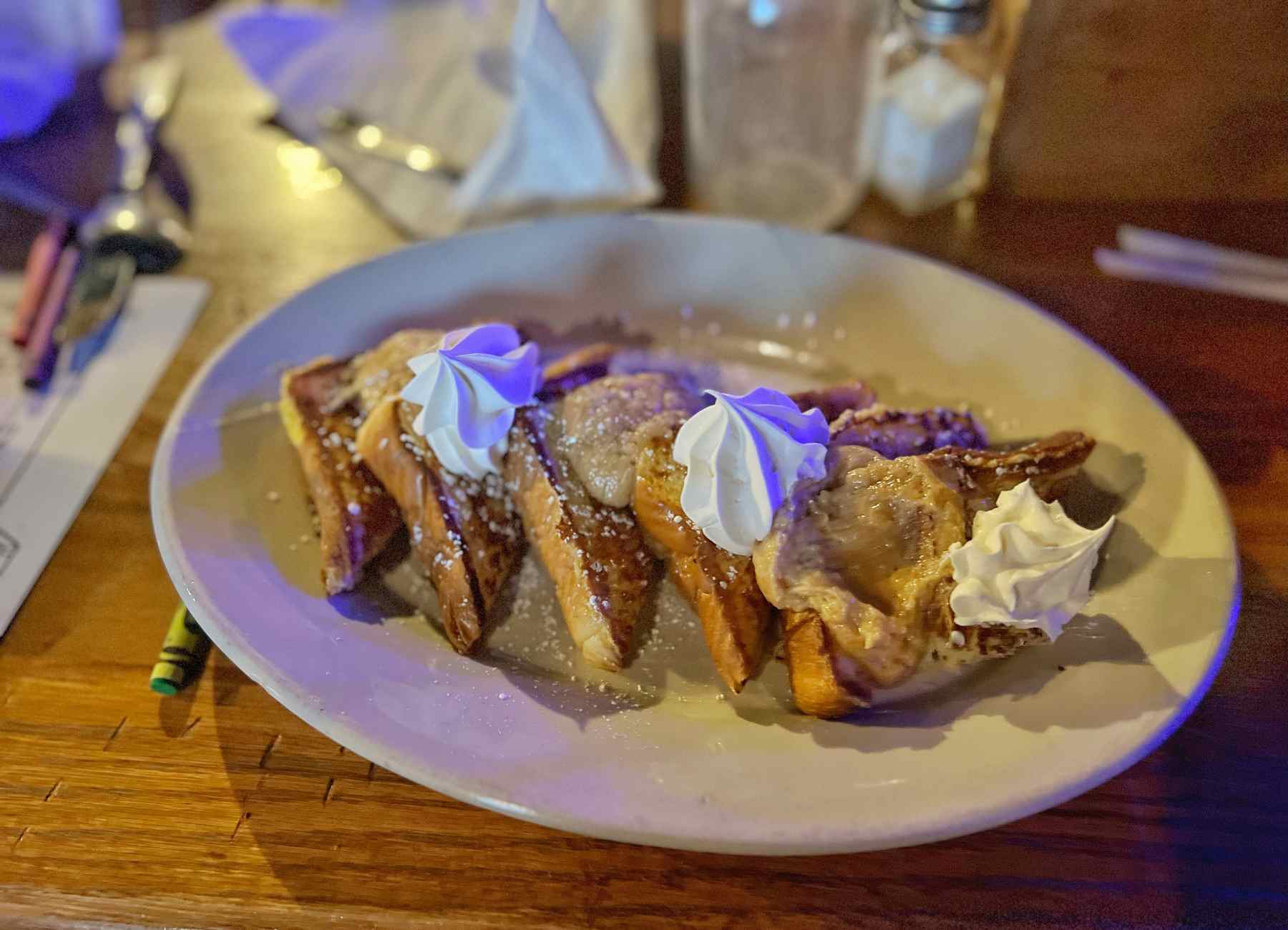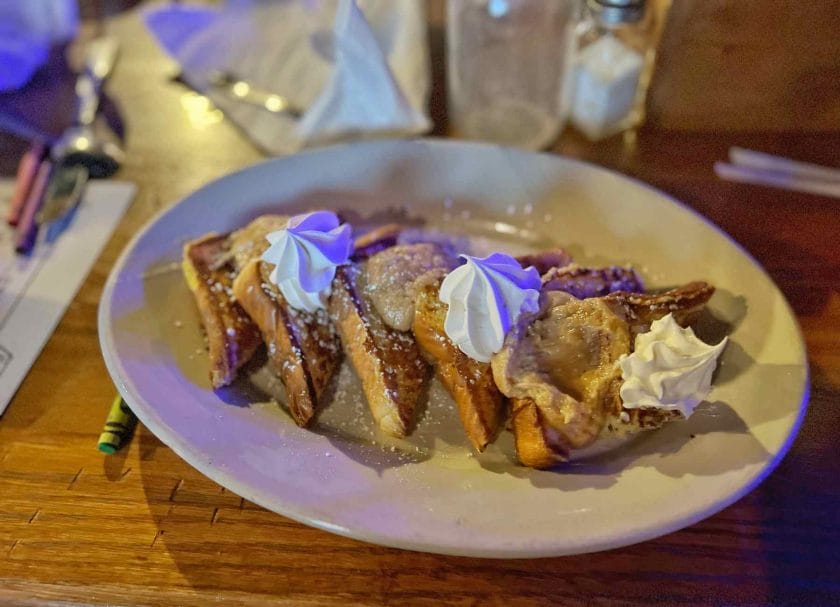 Pucketts has been a Tennessee staple since the 1950's and has multiple locations around Tennessee. They actually started as a small grocery store and have expanded to 6 restaurant locations.
They are known for their Meat + 3 specials and their famous slow cooked BBQ. You can also get the Feed 4-6 Pucketts To Go Pack! 2 lbs of mean, 2 quart sides and your choice of bread.
Pucketts is located close to the Aquarium so it is a good one to park at, eat breakfast and walk over to the aquarium. There is a paid lot right by the restaurant so you don't have to move your car.
Pucketts was more a diner style restaurant with diner style coffee, a bar scene setting and diner style breakfast food.
The kids went with the King's French Toast with a delicious peanut butter-cream cheese fluff topping.
I had the Leiper's Fork Favorite with buttermilk pancakes, eggs and bacon. I asked for the sweet potato pancakes but unfortunately it wasn't an option yet since they make them with fresh sweet potatoes each day and they weren't ready yet. Craig went with the omelet again.
We also got the skillet Cinnamon roll cooked in a cute cast iron skillet to share. By the end of the meal everyone's plates were empty which is a sign they enjoyed what they got! We finished up and walked over to the Aquarium.
Lunch In Chattanooga
Brewhaus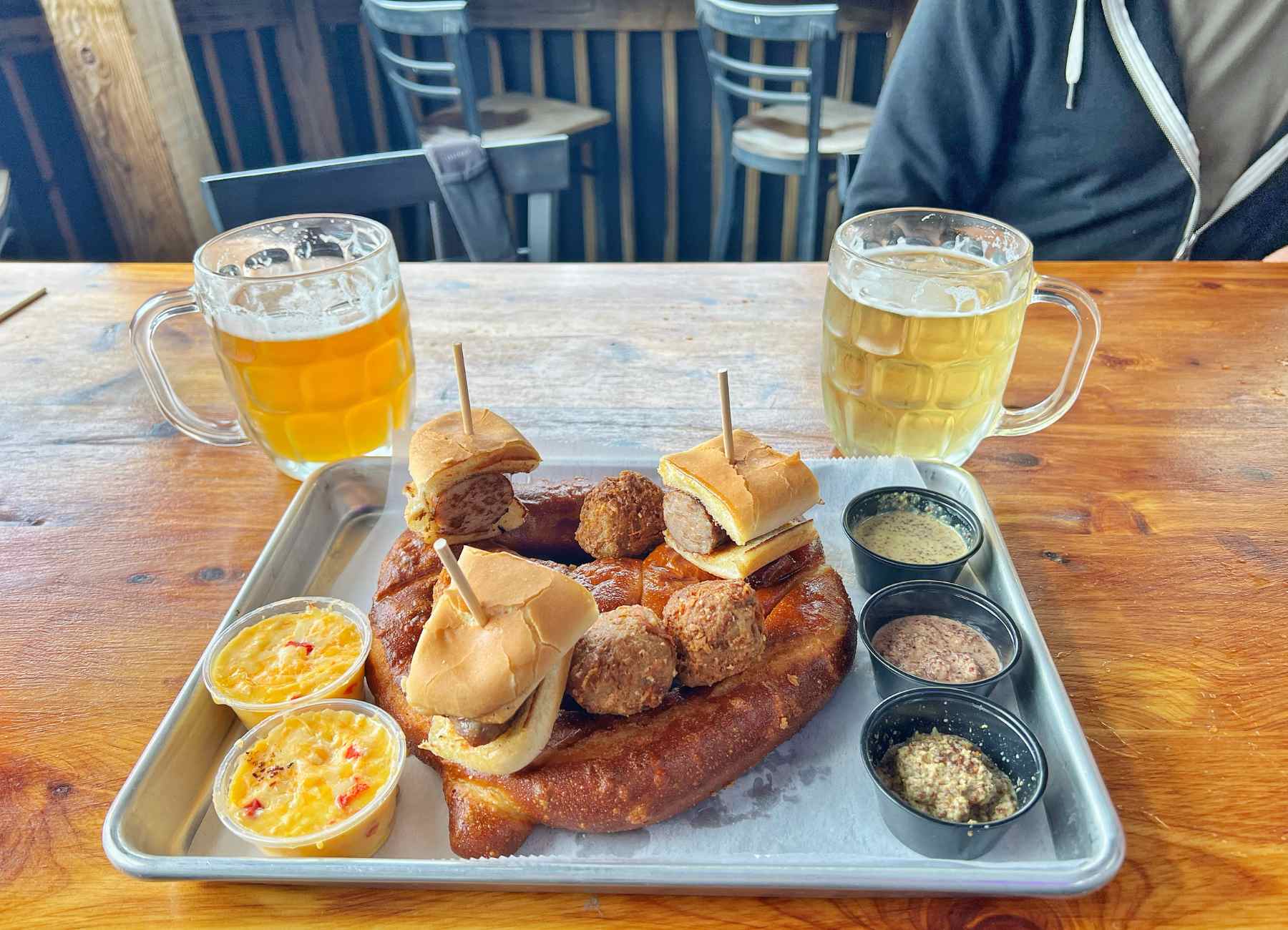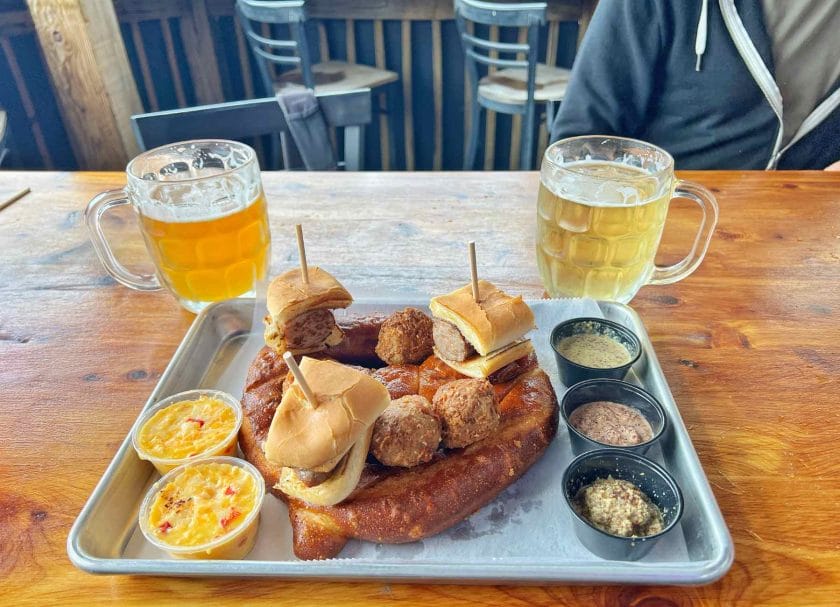 For lunch we walked across the pedestrian bridge over to Coolidge Park and Fraiser street and went to the German Brewhaus for lunch. I love how there is such a variety of foods you can eat in Chattanooga!
Craig and I went with the Sampler Platter which had brat sliders – such a great idea! A huge pretzel with multiple mustard flavors to try and a side of Pimento cheese and sour kraut balls. Basically kraut with some meat added in and deep fried.
We topped this all off with some delicious beers on tap. Well Craig got a beer and I got the cider on tap and it was yummy. Another bonus about eating in Chattanooga they have cider!!
The kids went with the mac and cheese bites and the large pretzels. I don't think anyone finished the pretzel it was that big. But also so delicious it must have been fried up a little bit?? Whatever they did to it it was yummy.
They had an outside seating area on the back deck which was good. We were there earlier in the day so it wasn't busy. If it was busy it could be hard to get a table so keep that in mind.
If you are looking for German food head to the Brewhaus you won't be disappointed!
Oddstory Brewery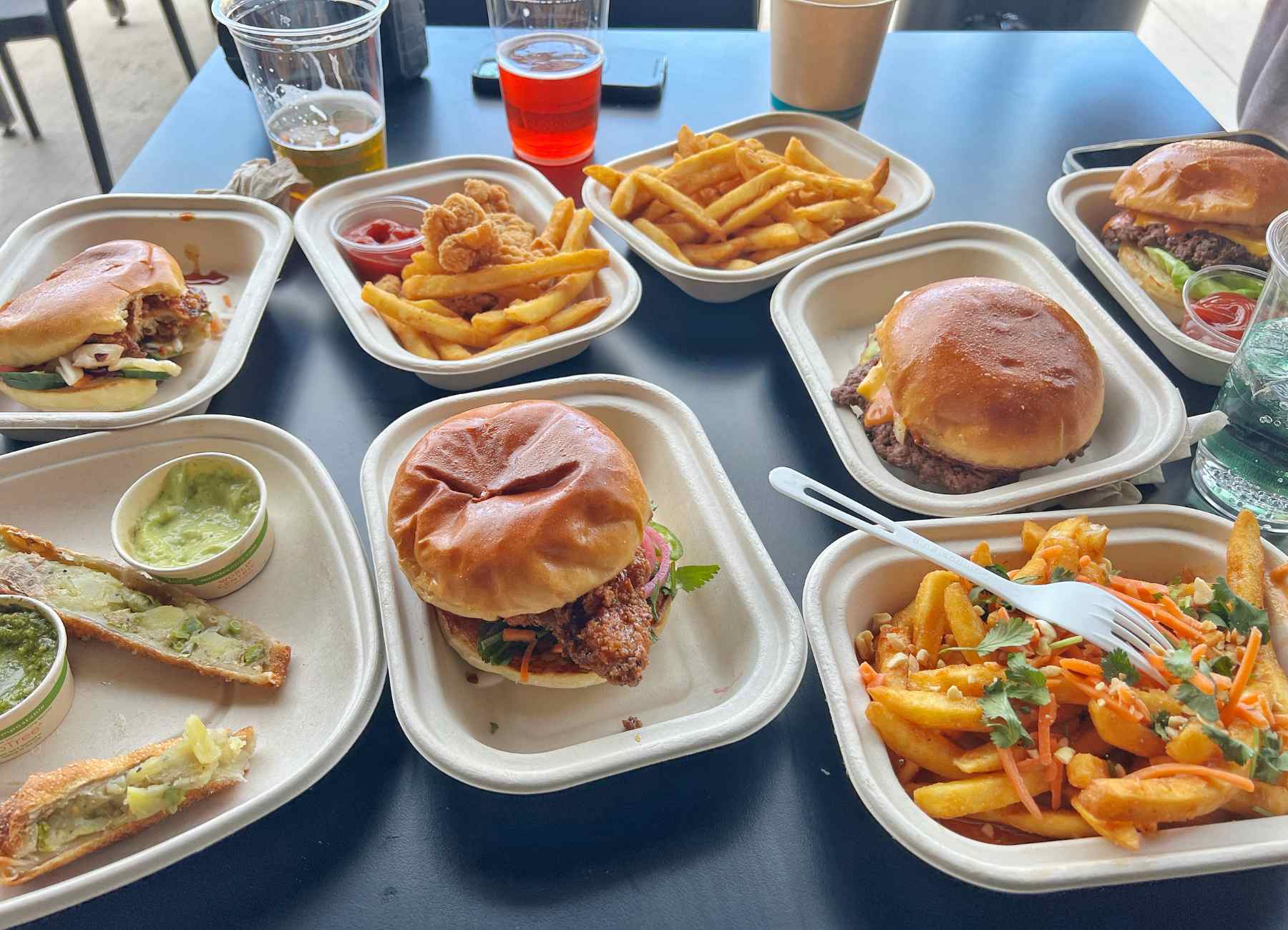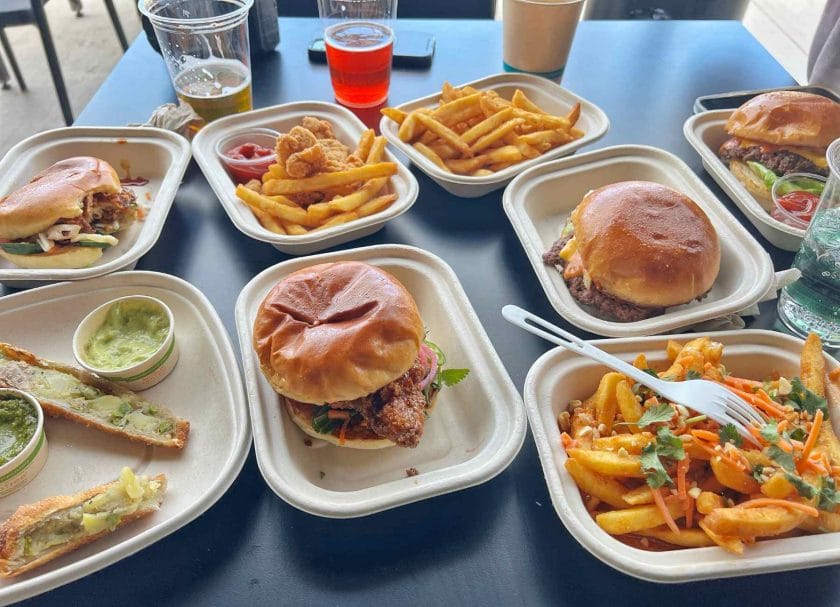 The Oddstory Brewery was the perfect place to enjoy a few drinks, lunch and a fun outdoor seating area with live music.
There is an indoor seating area but the outside is so much better! They have picnic tables out on the astro turf lawn with baggo and some areas with shade. We choose to seat on the back patio area that had a over hang covering it and heaters to make sure we were warm.
These setups are great when you are out with kids who don't want to sit still and wait for their food. Or if you want to bring your pup along with you. There were a lot of dogs there!
For drinks you order at the bar. Unfortunately they didn't have a cider but I went with a St Paddy's day mixed drink and it was delicious. Craig got a Pale Ale and enjoyed it.
For food you walk up and order at the counter – they text you when your food is ready. The restaurant is called Anomaly and offers noodles, fries, smash burgers with a spicy twist on everything. Plus a basic kids menu.
Both Craig and I went with a friend chicken sandwich and they were both spicy with a delicious flavor! We also got the Samosa's egg rolls and the Thai fries. Everything was delicious.
The kids got the smash burger or the kids mac and cheese or chicken nuggets and everyone left happy and full.
Dinner In Chattanooga
Tony's Pasta Shop & Trattoria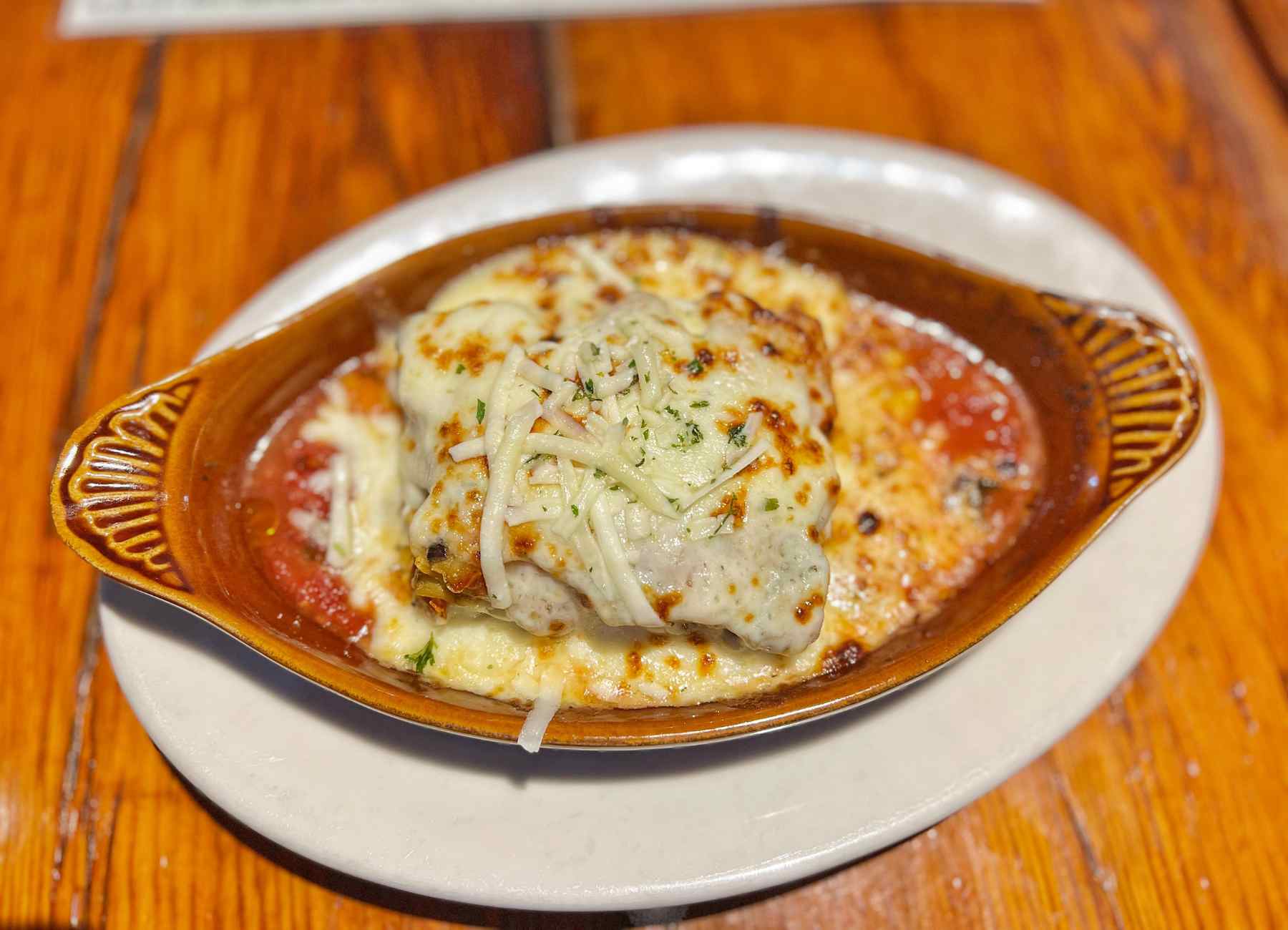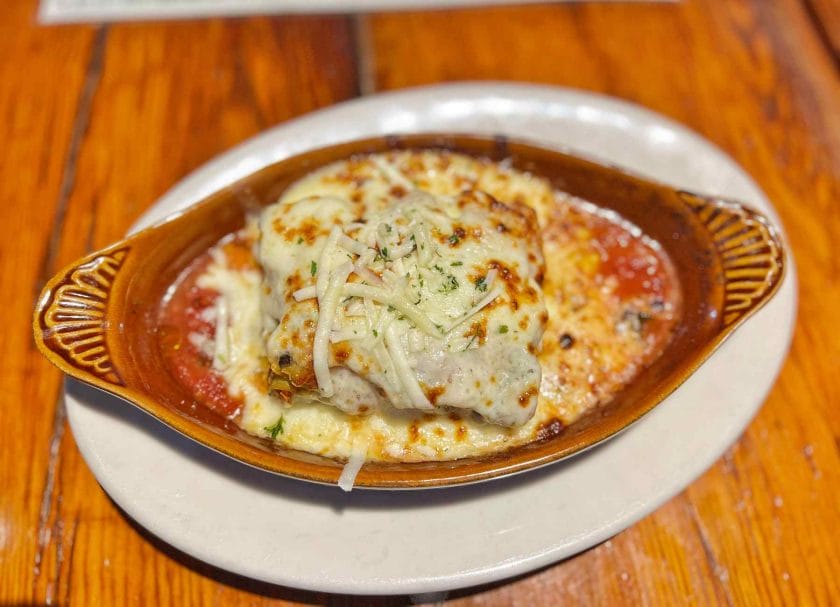 Tony's is located in this fun old building in the Bluff View Art District that has awesome sculptures and hanging flowers all around it. It is like the art from the surrounding museums spilled out of it's doors and populated random places throughout the neighborhood. Tony's is located right in the middle of all of this.
They offered a make your own pasta option plus a make your own pizza option. The kids opted for these. I went with the veggie lasagna and Craig went with the baked pesto chicken ravioli's. Everything was fresh and delicious.
We also ordered some prosecco and wine and they bring delicious bread out to eat and an oil and cheese dipping sauce before your dinner. They had a traditional bread and a garlic stuffed bread. I seriously could have just sat there and ate the bread for dinner!
This was another great spot for eating. The food and the ambiance was on par!
State Of Confusion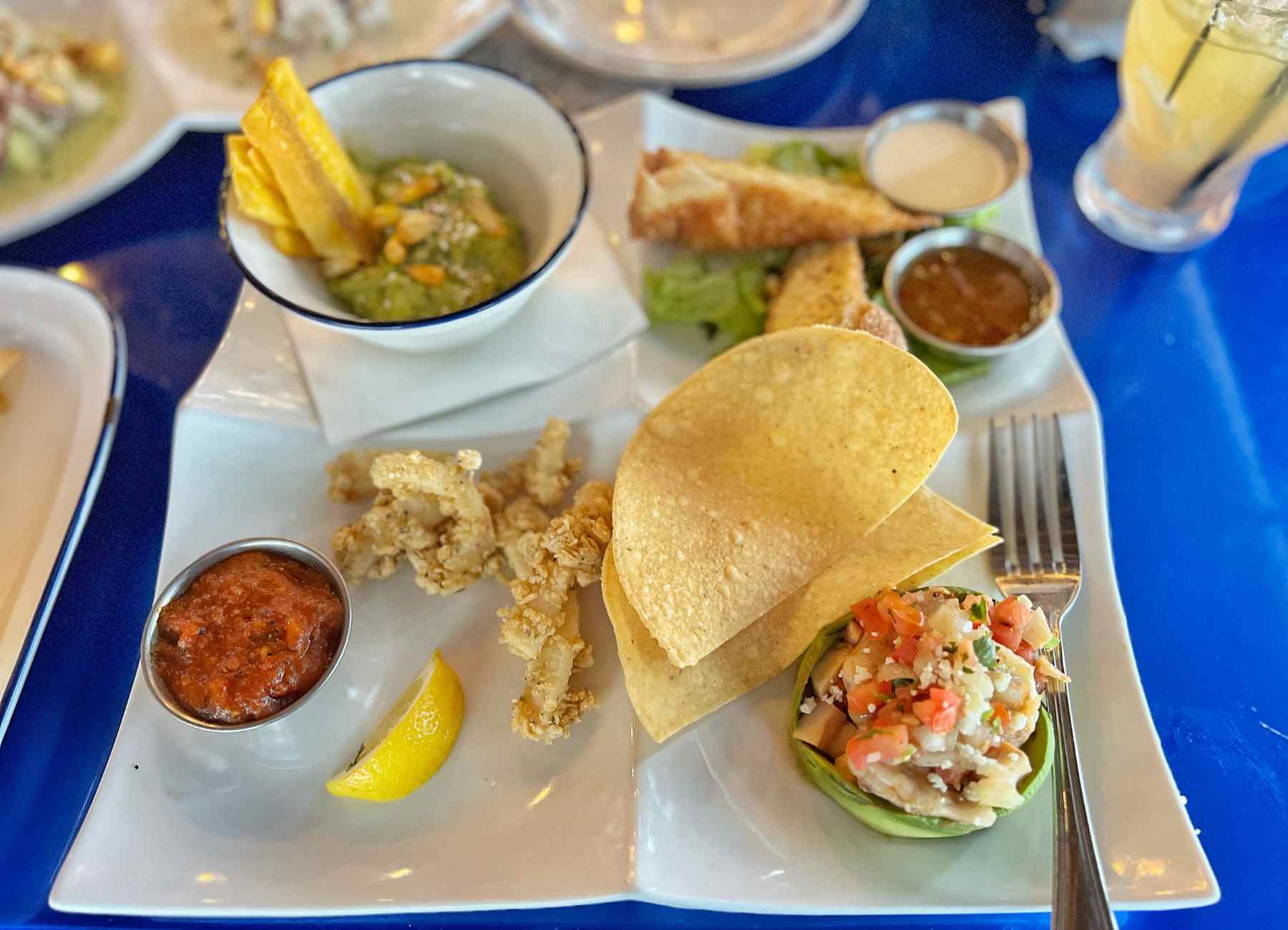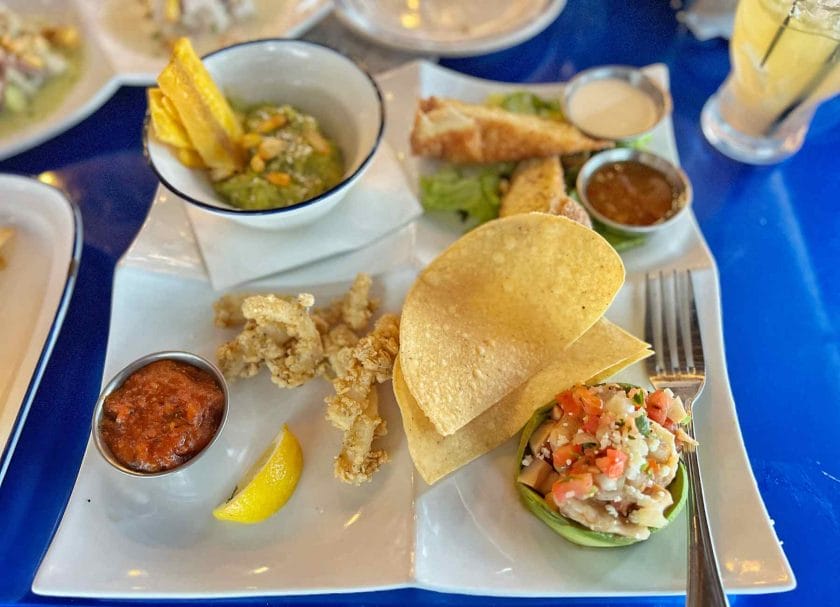 The kids thought the name for this restaurant was so fun! There were 2 inside seating options and an outside seating area in between. The outside area had warmers and could have worked. But we weren't sure with the rain coming in so we opted for the pour house – the indoor seating area up by the street. It worked out great for our group of 10.
The restaurant has authentic scratch made cuisine from Latin America, New Orleans & the Carolina Low Country. Hence the State of Confusion. But let me tell you it is a great combination and they had a lot of fun small plate options to pick from.
They also offered a unique list of craft cocktails. Have you heard of Chilian Pisco before?! I hadn't. The waitress explained it was similar to rum. They use it to make their Machu Picchu drink which was Chilia Pisco, hibiscus-raspberry pomegranate matcha green tea syrup, fresh citrus juices, botanical foamer, and hella apple blossom bitters. It comes without ice and was delicious!!
Craig and I got the Peruvian lettuce wraps with citrus marinated chicken, pineapple sweet chili sauce, confusion sauce, Cancha Corn, Cotija Cheese and sweet potato. They were yummy!!
We also got one of the monthly specials which was a sampler plate with Aji Chicken Egg Rolls (delicious!!), Friend Calamari Steak Strips, Mexican Ceviche and Peruvian Guacamole.
Carson got a country fried steak sandwich and finished the whole thing. The other kids got some basic items off of the kids menu.
When we saw the dessert menu we knew we needed to jump in and try that too! They had a 3 different mini pies (snickers, chocolate cream and lemon cream). We had to try that and they had beignets. Of course we got multiple orders of those.
We left full on cocktails, delicious food, yummy desserts and covered in powder sugar!
Forge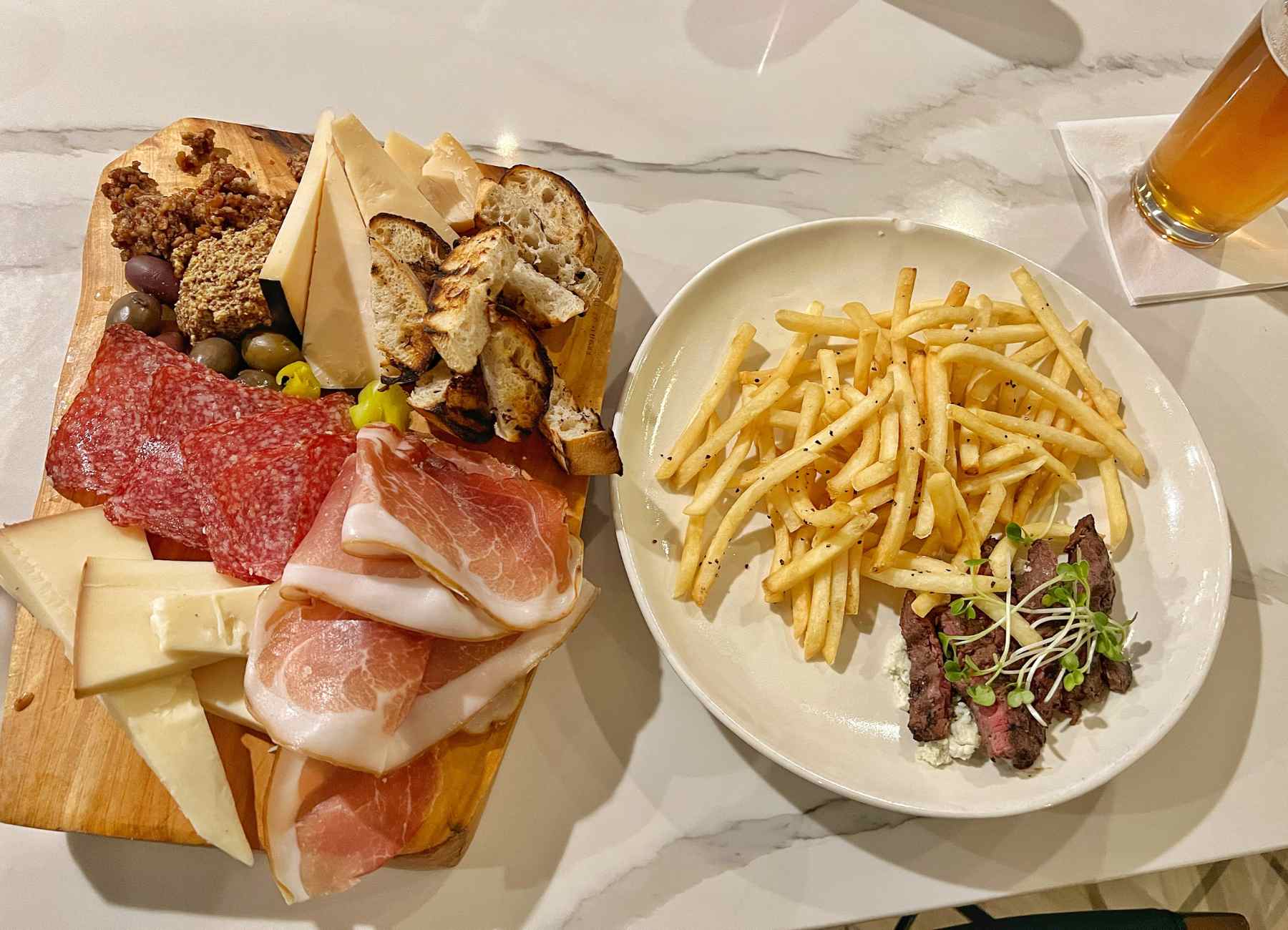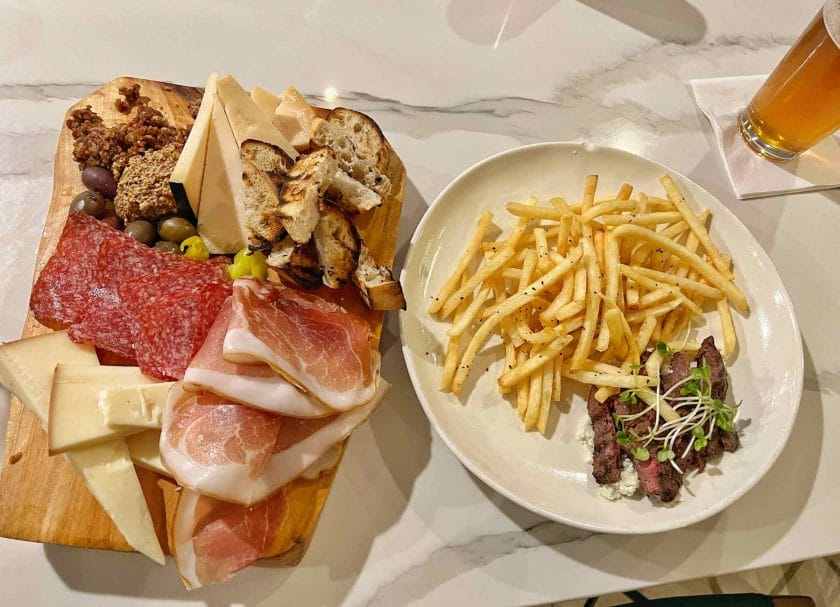 This is the restaurant in our hotel The Chattanoogan. You aren't always sure what you will get with a hotel restaurant but the Forge did not disappoint!
We sat at the bar and I drank a delicious Riesling from their wine list (with a lot of red wine and white wine options) and Craig tried a variety of local IPA's. I ordered the Charcuterie board and Craig got the Bison Steak strips. Everything tasted delicious and it was so nice to be able to eat dinner and just walk up to our room.
Cannon ordered the pizza from the roof top bar/restaurant. While the other kids opted for a burger and the mac and cheese and nuggets from the kids menu. They were super helpful and made their orders to go so they could enjoy them in the room while they watched TV and hung out with their friends we were there with.
Dessert In Chattanooga
Clumpies Ice Cream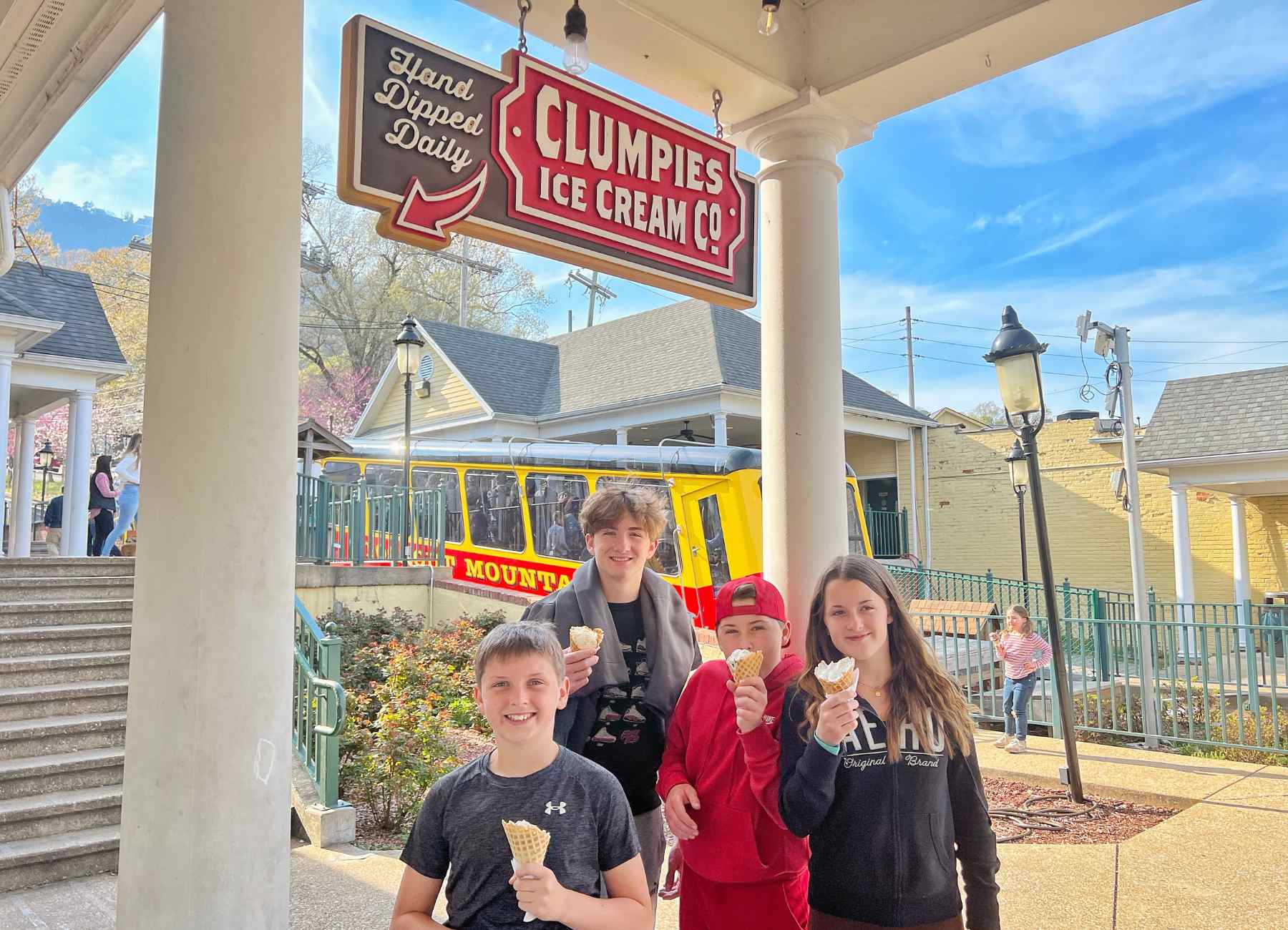 You can't come to Chattanooga and not eat the Clumpies Ice Cream! We got ours at the bottom of the Incline Railway. The kids opted for a mint chocolate chip – that wasn't green (thank you for no food dye!). Craig and I split a peanut butter ice cream swirl.
It was creamy and delicious!
The Hot Chocolatier
This shop had a variety of hot chocolate flavors and a selection of pastries and chocolates. The kids each got a hot chocolate. 3 Salted Carmels and 1 S'mores flavor.
It takes a minute to make it since they are making it by hand on the stove behind the counter. I took a sip to try and it was a divine cup of hot chocolate!!
Julia Darling Donuts
We had these donuts last time we were in Chattanooga and we were happy to see they were still open! Plus the donuts were just as good as they had been. They are a cakey donut with simple flavors to more complex flavors.
We got a few different kinds and cut it into 6 pieces so we could try a variety of flavors. We went with the salted carmel, samoa and sour cream cake donut.
Breweries
If you have been following us you know we are all about the craft breweries. Back when we were in Chattanooga last time there weren't as many available. That wasn't the case this time and we had to pick and choose which ones we would try!
Tailgate Brewery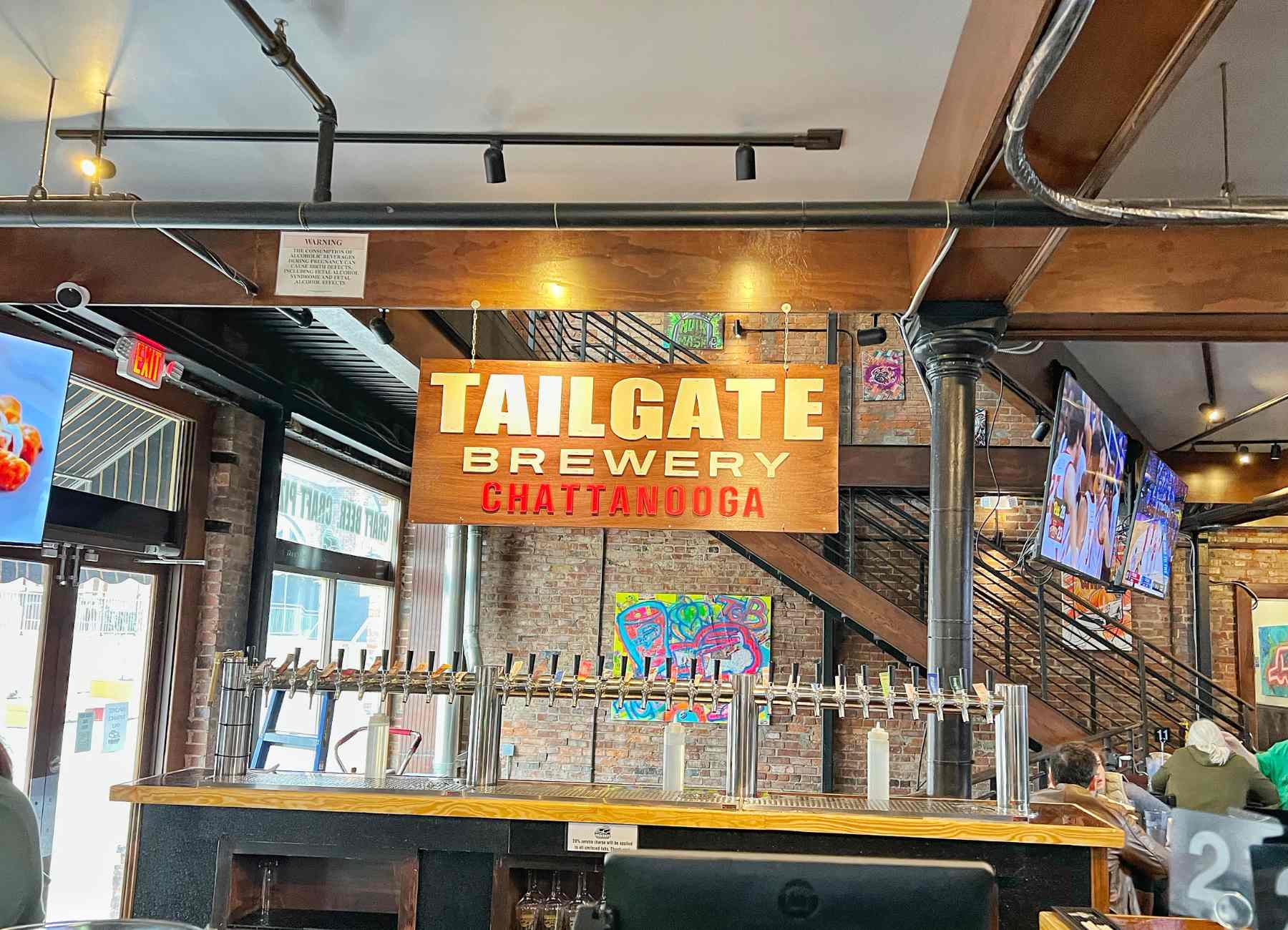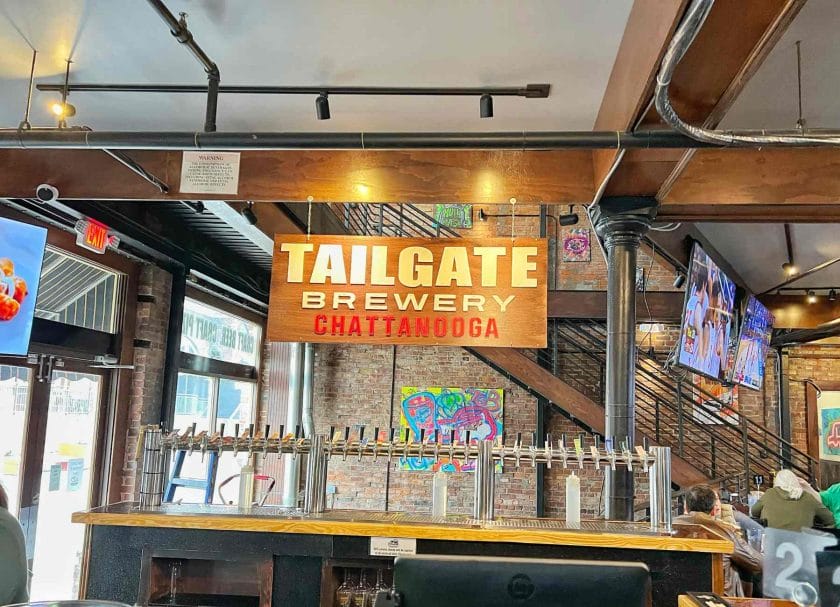 Located in this fun pie shaped building. Tailgate Brewery started in Nashville and has one taproom outside of Nashville that is in Chattanooga.
The Tailgate Chattanooga is home to their Belgian & Farmhouse style production facility. They focus on beer and scratch pizza!
You ordered your drinks at the counter off of their list of 30 different beers on draft. You can pick one or do a flight. From there you head to a downstairs or upstairs table in a room filled with TV's.
If you want you can also order a from scratch pizza! I was happy since they had a cider on tap. Craig got a White Double IPA and really enjoyed it.
They also had a self serve soda machine for the kids which was so smart!
The Tap House & Empyreal Brewing Co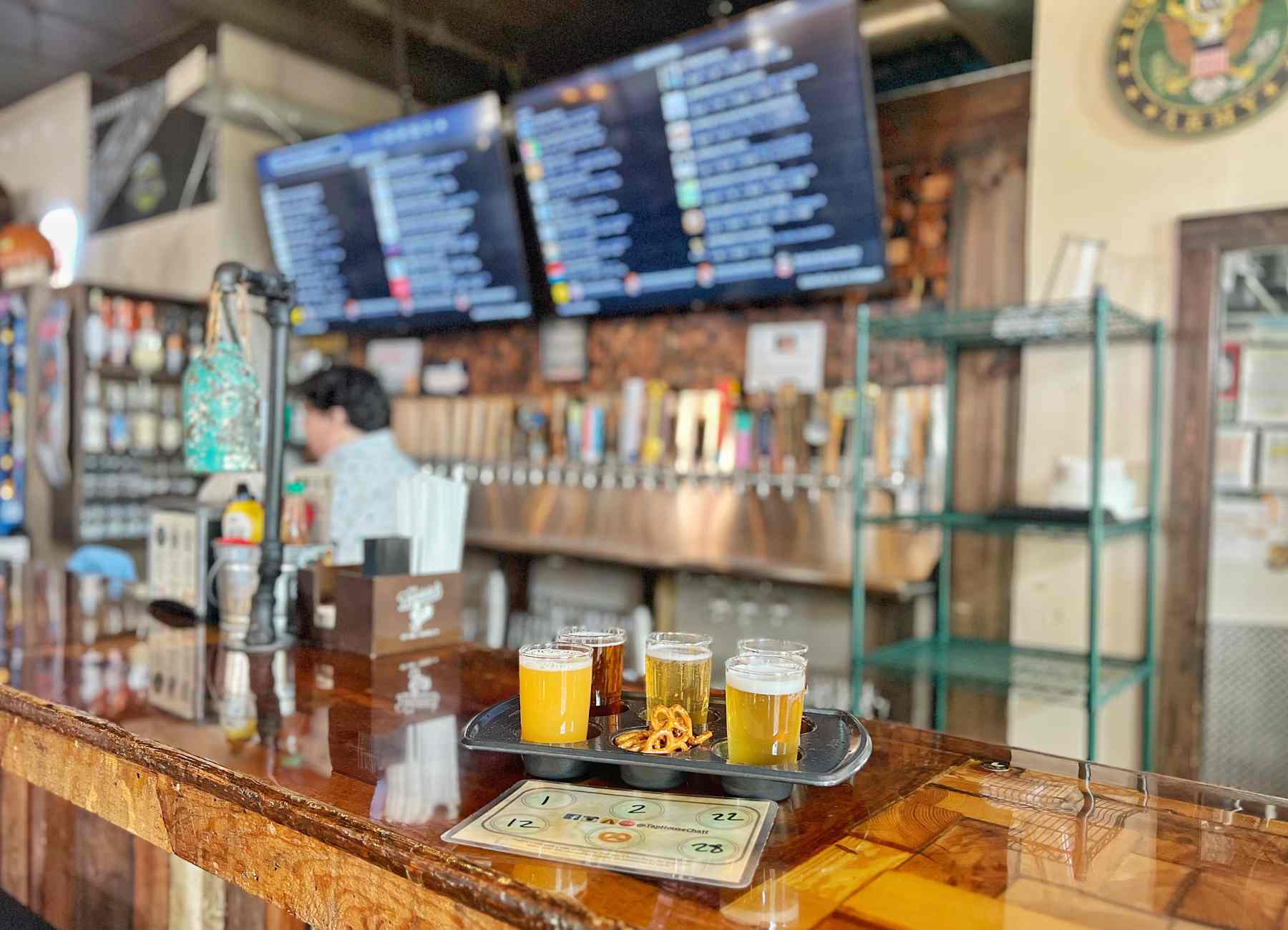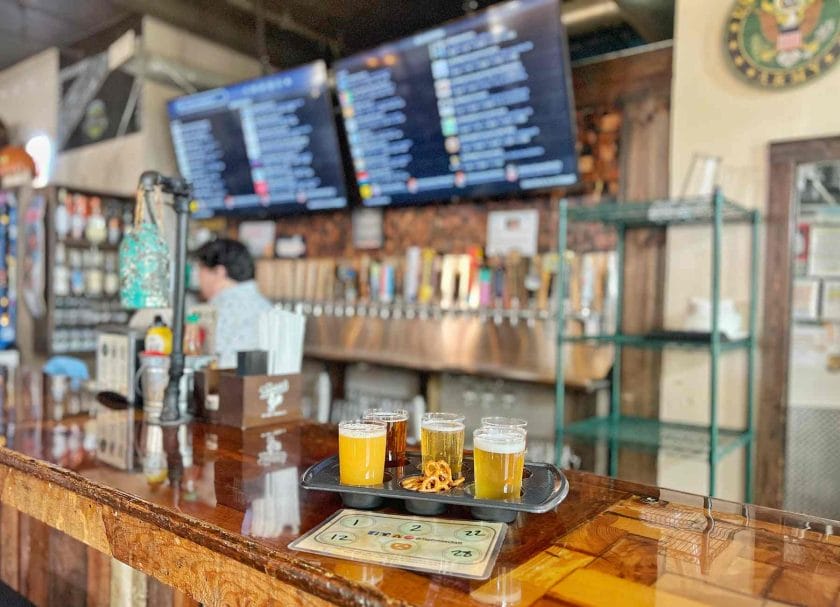 After doing Rock City we headed to the Taphouse Brewery. They host an outside market on the 3rd Saturday of every month that is located in the parking lot of the Taphouse Brewery. You can even get a beer inside and bring it outside (in a plastic cup) to walk around and explore.
We sat inside this time around – since it was a bit cool outside. I got a cider and sour flight and Craig got a beer to try. I really enjoyed the cider that I got! It was one of their locally made ones.
Chattanooga Brewery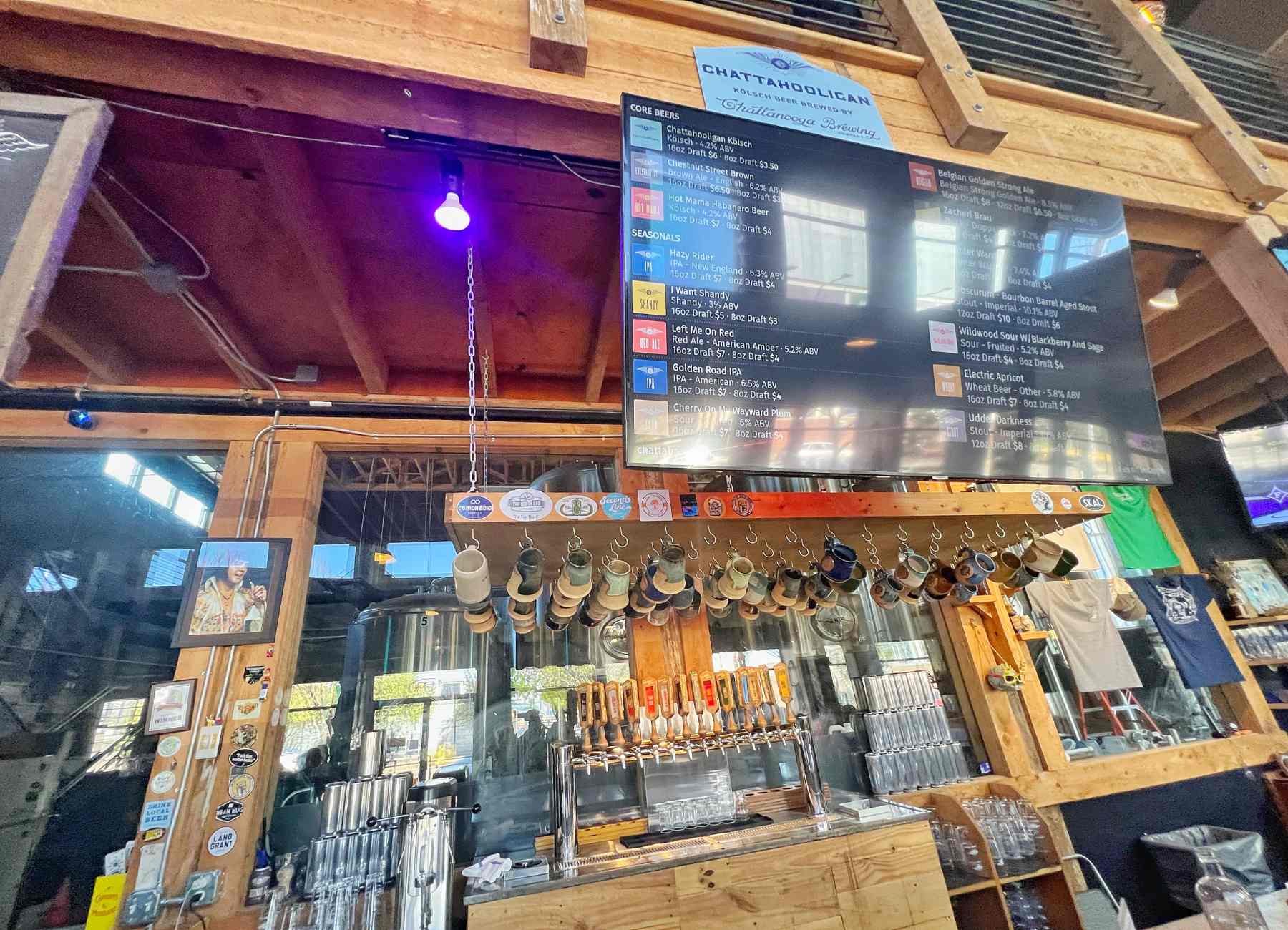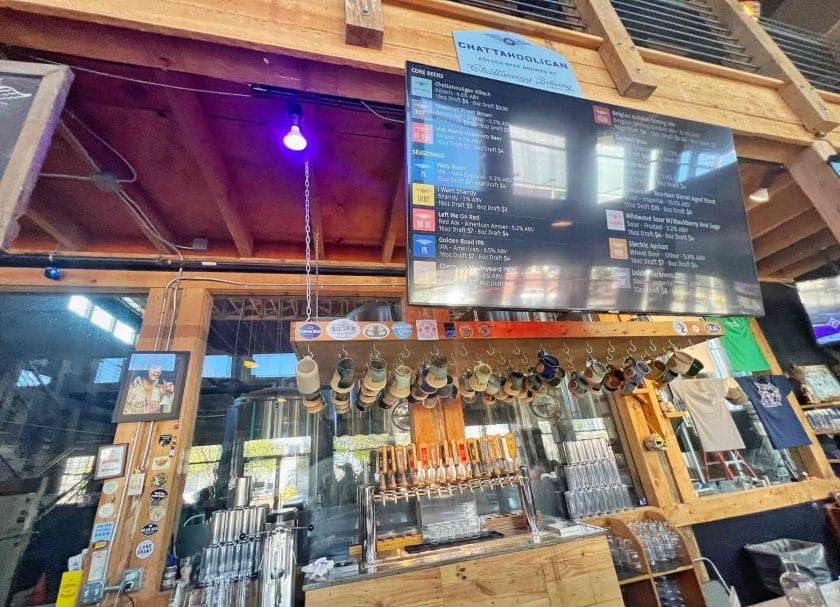 The Chattanooga Brewery is located right across the street from the stadium where the Chattanooga FC team plays. They happened to have a game the day we stopped in!
If you wanted to you could literally sit up stairs and watch the game. You can't quite see the whole field but you can see a lot of it.
They didn't have a cider and when I asked what to get the bar tender said the shanty. I didn't agree right away as shanty's aren't always my favorite. But he just got a sample and set it down in front of me. It was delicious!!!
They also had darts and a shuffle board table to play at. Kids were welcome but were specifically told not to mess anything up . . .
Craig got the Hazy Rider IPA and said it was good. Funny story our friends from 365 Atlanta Traveler were supposed to meet us at the brewery. But accidentally went to Southside Social which is a bar/restaurant/bowling alley next door.
When we found out they were there and they had baggo and ping pong outside we knew that was a better fit with the kids!
Southside Social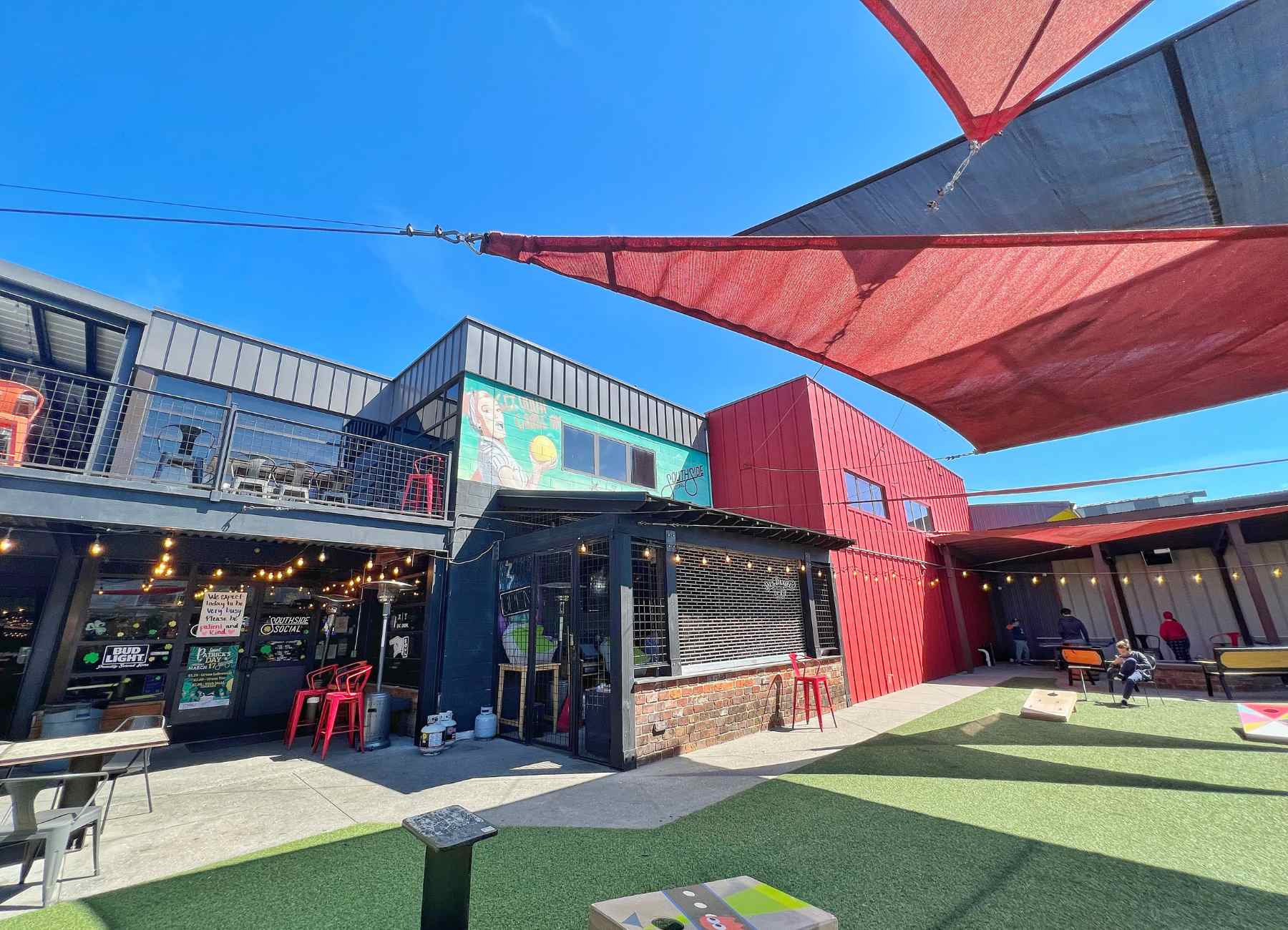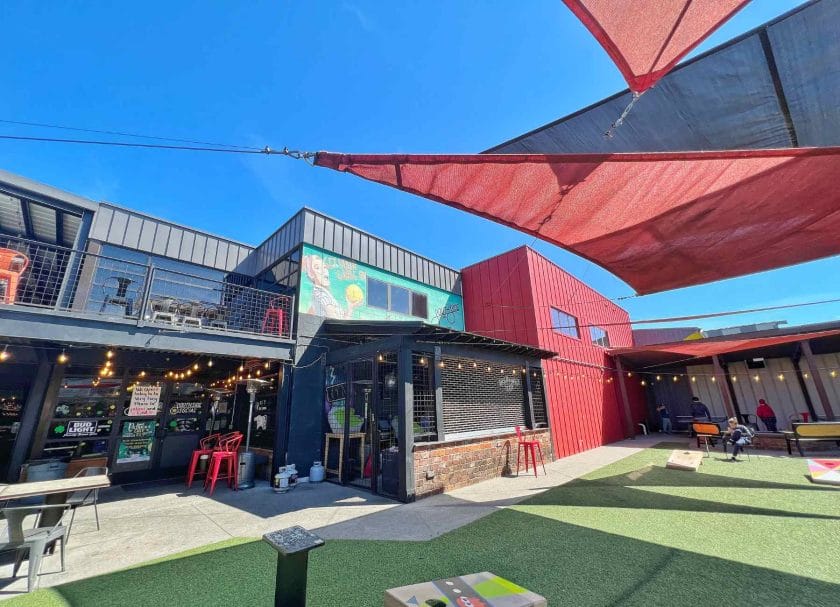 Not a brewery but they serve beer. We accidentally went here and we are glad we did! They have a bowling alley inside, plus ping pong tables and a lot of seating area.
Outside they have a cool setting with baggo, a fire pit and ping pong tables. We hung out outside and it was a perfect setting with kids. We got some nachos – which were delicious and some pretzels to hold us over until lunch.
Craig got one of the local beers he found he liked: Hutton & Smith Promenade. I opted for the Porch Sipper – Strawberry Rum, strawberry, peach, ,lemon and Sprite.
It was a fun place to hang out and I am glad we stopped to check it out!
Naked Brewery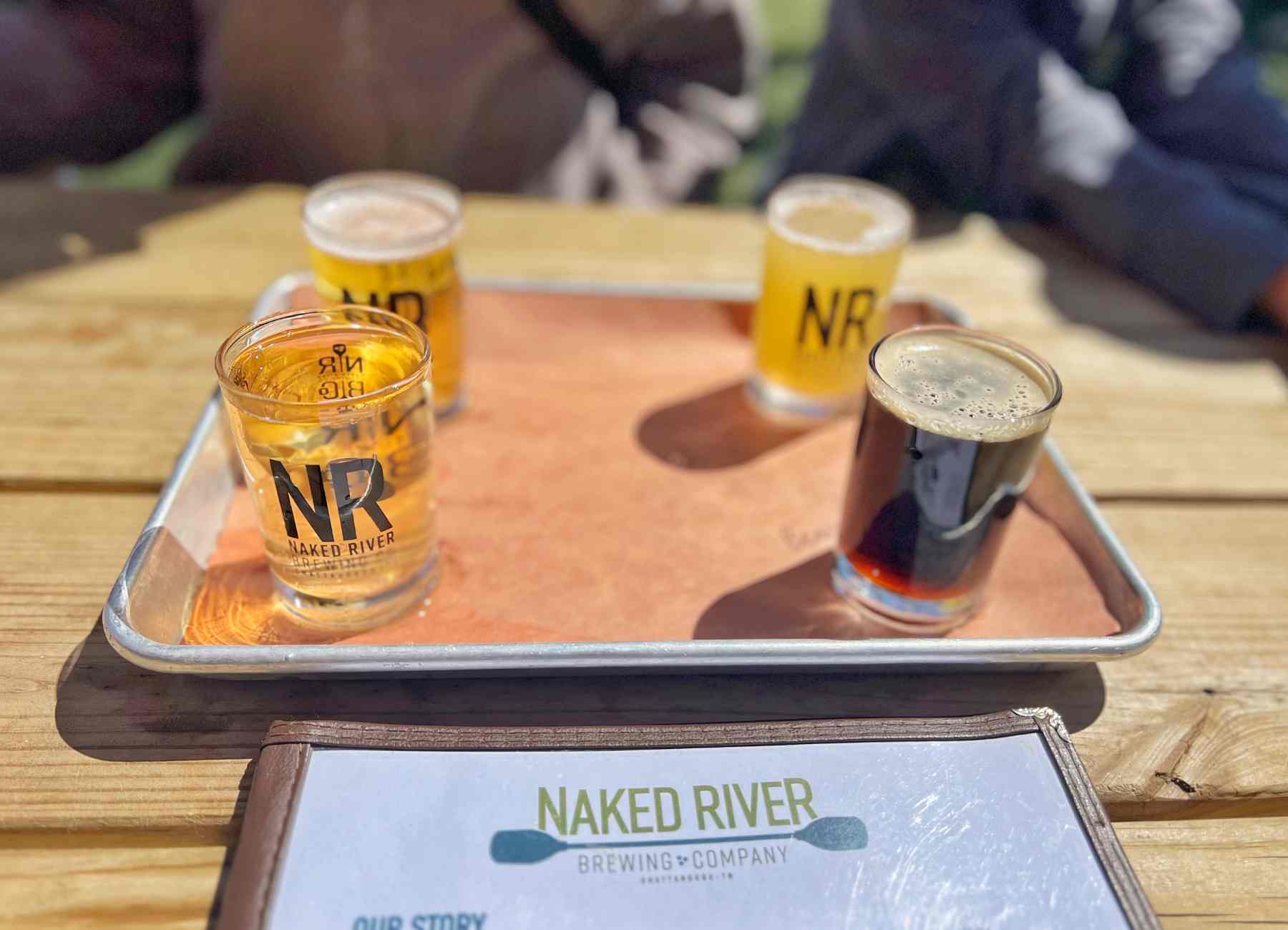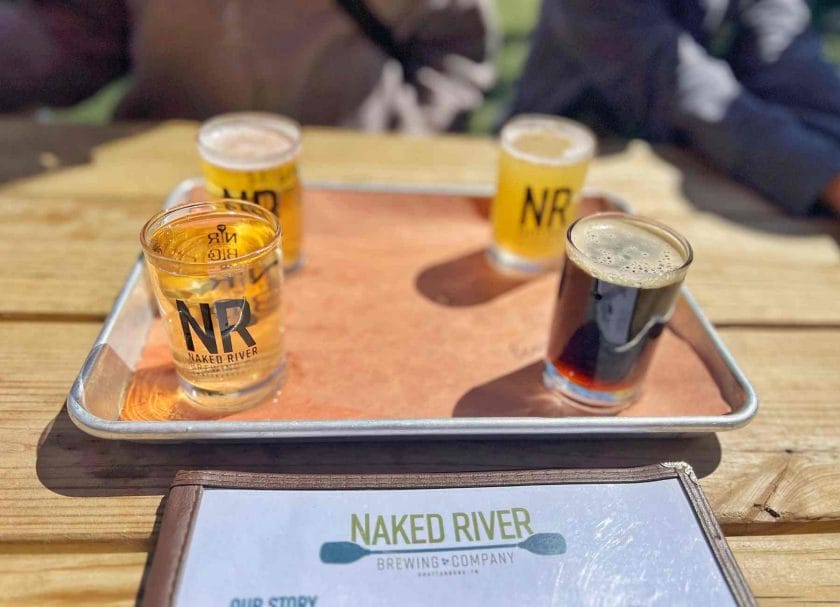 On the other side of the stadium was the Naked Brewery. We went it and walked through to go and sit in the outside patio in the back. It was covered in astro turf with picnic tables and baggo.
The stadium was right across the street so you could hear the cheers from the game! We got a sampler and each of us tried a different beer. Nothing stuck out as a favorite but the setting was cool and we would definitely go back to try more!
They did have a cider – which is what I sampled. Wish all breweries would carry cider on tap!!
Oddstory Brewery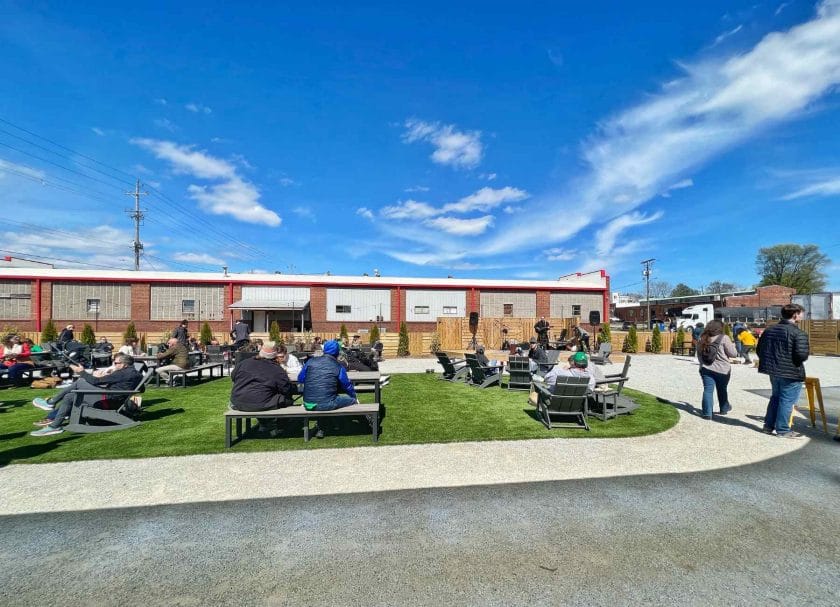 This was our favorite brewery. The outside area was amazing! There were options to sit inside, outside on the patio under a covering or out on the astro turf. I do have to comment that I have never seen so much astro turf at breweries in my life – ha!
We were there on a Saturday and it was packed with people and dogs! Plus they had live music. Unfortunately they didn't have a cider option but they did also serve cocktails so I got a fun cocktail.
We ordered food from Anomaly. Which is the restaurant located inside the brewery. It was a spicy mix of thai and chicken or smash burgers. It was delicious!
Craig got the Cloud Walker Pale Ale and said it was good. This is one of those places you could come every weekend to hang out drink a beer, listen to music and bring your kids and your dog with you.
I believe there are 2 locations. We went to the Central Ave one.
Hutton & Smith Brewery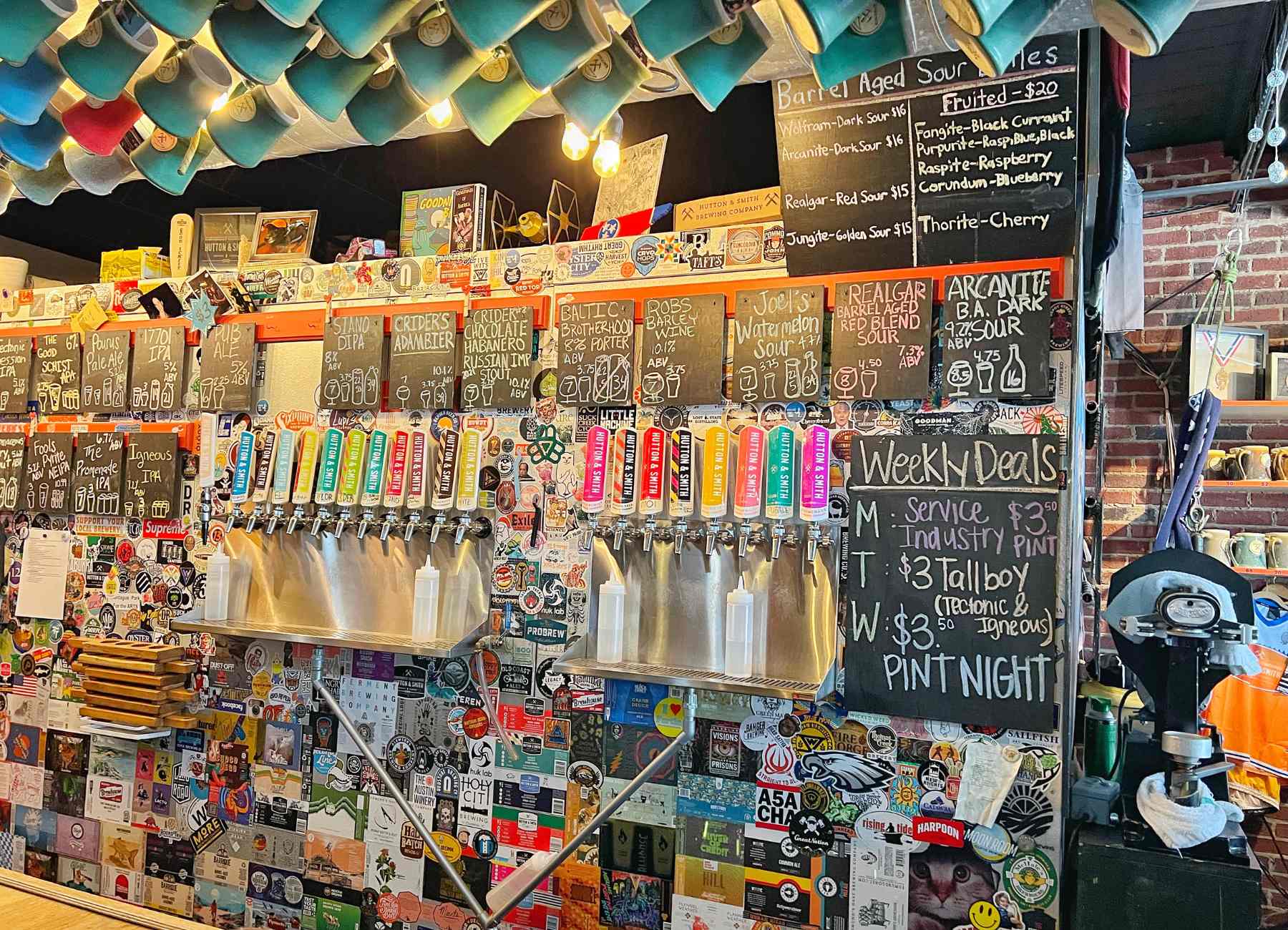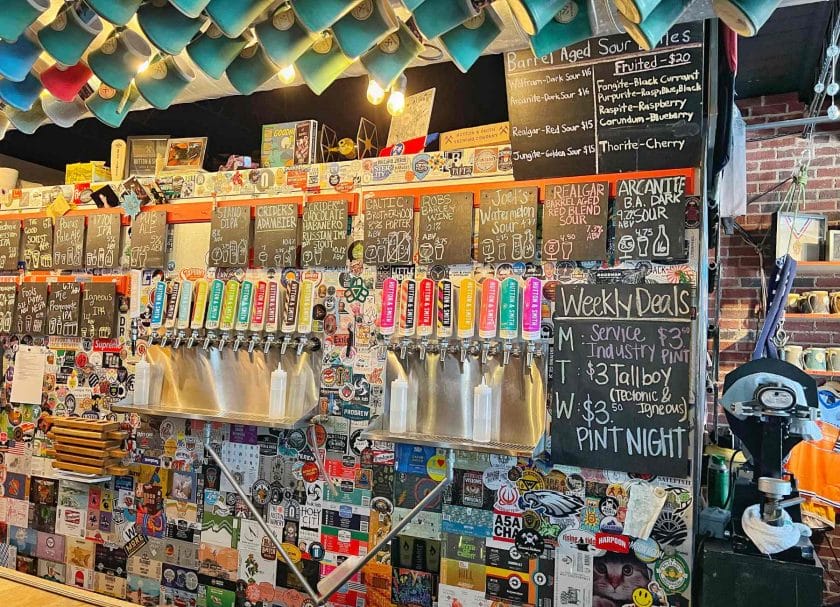 Craig had gotten this beer a few times when we were out for dinner and liked it so figured we would stop into the brewery. Sign on the door says no one under 21 years old and that was accurate.
This was the only brewery we had gone to that did not allow kids in. It was definitely more of a bar setting. But also had a game room area in the back and people were there with their dogs.
They didn't have cider on tap but had a couple of options in cans. I got a pineapple one and it was good. Craig tried the 1771 IPA but did not like that as much as the Hutton & Smith Promenade.
That is a wrap on our food experience in Chattanooga, TN. It is definitely turning into a foodie city with a lot of fine dining and locally sourced restaurant options. You could also just go to your neighborhood pub for a delicious meal. We would love to come back to keep exploring all the flavors and options that Chattanooga has to offer!
Here are a few other restaurants in Chattanooga TN that were recommended. But our stomachs were too full to try anything else! Flying Squirrel, Easy Bistro, Climbing Jasmine, and Public House.
I loved that you could find such a variety in the city from raw bars, to wood-fired pizza, fried chicken and southern fare! Plus you can even find some delicious butcher shops.
If you are planning a Tennessee Road Trip add Chattanooga to your list of places to stop and be sure to add Memphis (we really enjoyed the Memphis restaurants too), Nashville, Knoxville and the Smoky Mountains.
Check out more Tennessee Family Fun!
Top 4 Indoor Water Parks in Tennessee
11 Fun Things To Do in Coolridge Park
4 Amusement Parks You Need to Visit in TN
Visiting Incline Mountain, Rock City and Ruby Falls
Pin to Save for Later on Your Tennessee Travel Board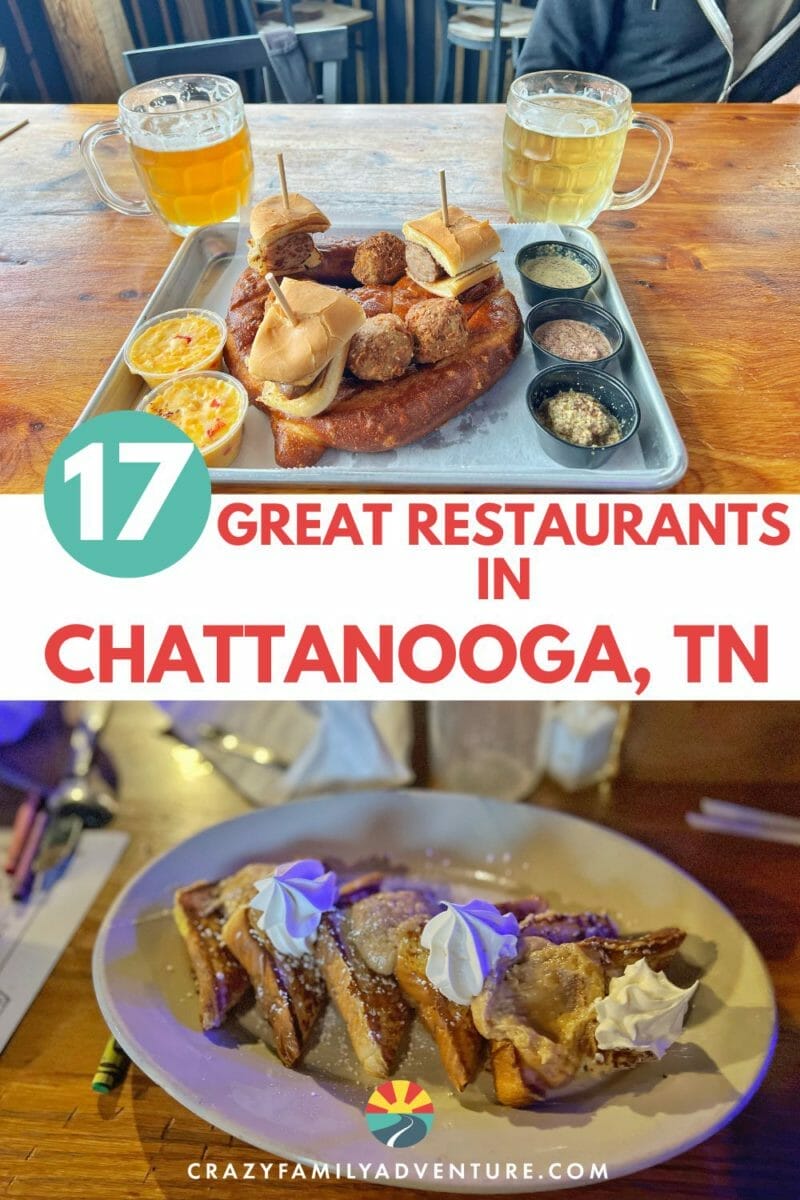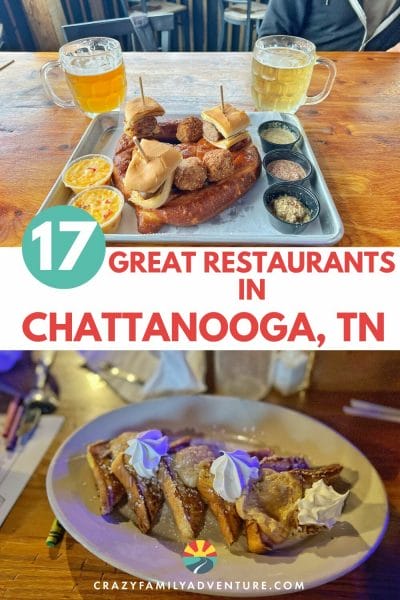 DISCLOSURE: This post may contain affiliate links, meaning I get a commission if you decide to make a purchase through my links, at no cost to you. Please read my disclosure for more info.