Jasper National Park is a beautiful area filled with those amazing aqua colored lakes, wildlife, mountains and amazing views! It has a much more rugged and remote feeling to it than Banff and gives off a whole different vibe. We were there for 5 nights and really could have stayed for 5 weeks!

Here is a list of things to do in Jasper National Park with kids or without!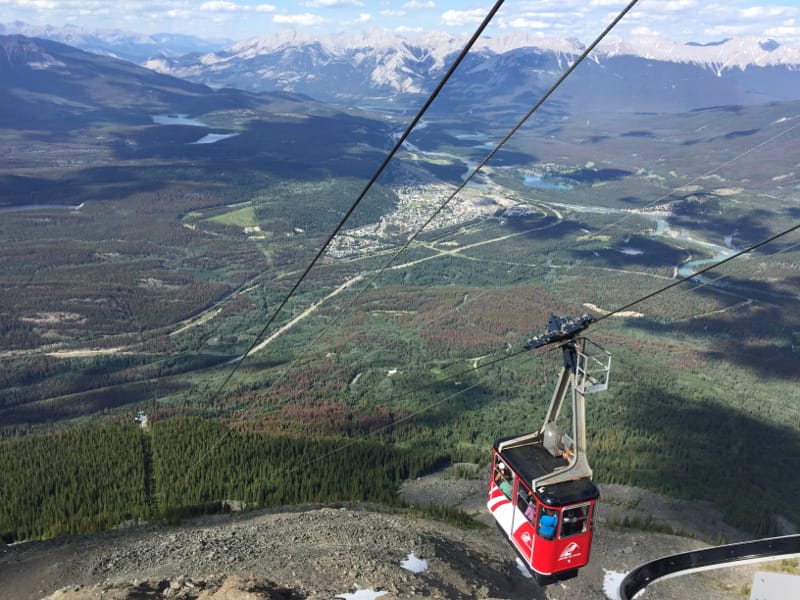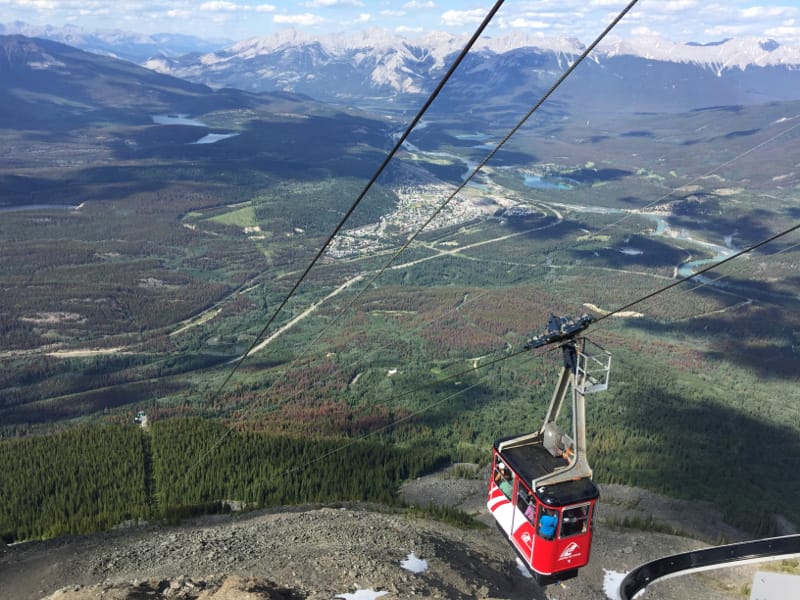 The Jasper SkyTram is a great place to start since you get to look out over downtown Jasper and the surrounding area and it gives you a great feel for where you are. The aerial tramway holds 26 people and there is a guide that talks you through what you are seeing and where you are going.
When you get to the top you can hang out at the Tram station and take in the views from the multiple view points. You can also check out the gift shop for souvenirs or a few snacks. We also recommend heading up to the restaurant to grab some lunch or dinner.
The prices were pretty reasonable for the kids meals and they had veggie burgers. The kids meals are not listed on the menu, but they did have grilled cheese and chicken fingers both with fries. Works for us!
They also do not have running water at the top, so if you don't want to buy drinks, make sure you bring your own filled water bottle up with you. They do have beverages like soda, juice, beer and wine.
After checking out the tram station the next thing to do is head out on the trail so you can reach the Summit of the Whistlers Mountain. This is no easy hike since you are literally walking straight up the mountain. But it is well worth it and there are lots of spots to stop and catch your breath while you take in the views of Jasper National Park.
There are plenty of well marked trails and places to explore, so plan on taking a good hour or more to hike up and explore. If you make it to the highest point, you will find the mountain dial which shows you the names of all of the surrounding mountains that you can turn and point to see which mountain you are looking at.
The walk down is a little slippery, but totally do able with more amazing views to take in!
Things To Know:
It is good to make a reservation so you don't have to wait to get on a tram when you get there.
The weather can be much cooler up top and especially if you plan on hiking to the summit. You will want to bring at least a sweatshirt.
The walk up to the summit is slippery so wear the right shoes, like these Keens.
There are no drinking fountains (the restaurant doesn't offer tap water either only bottled water) so be sure to bring up a full water bottle. Especially if you are going to do the hike at the top.
When you are ready to go down there may be a wait to catch the tram down. Be prepared for this and if you have somewhere else to be, give yourself plenty of time for the way down.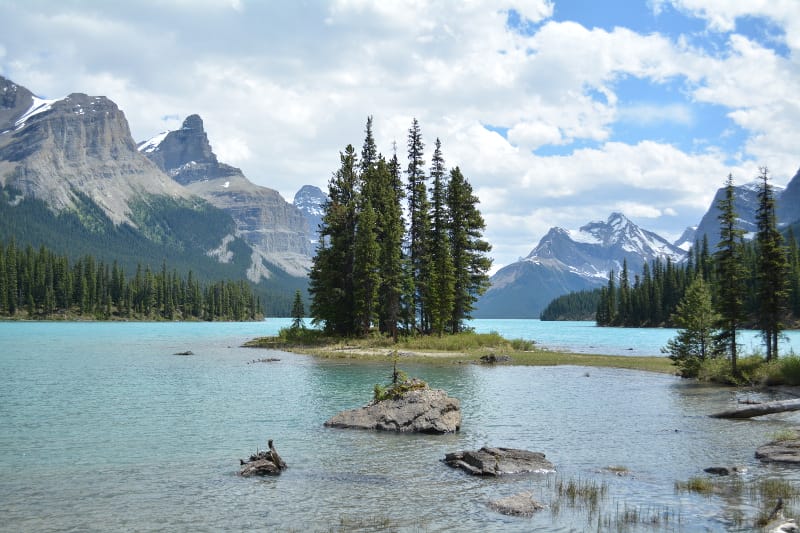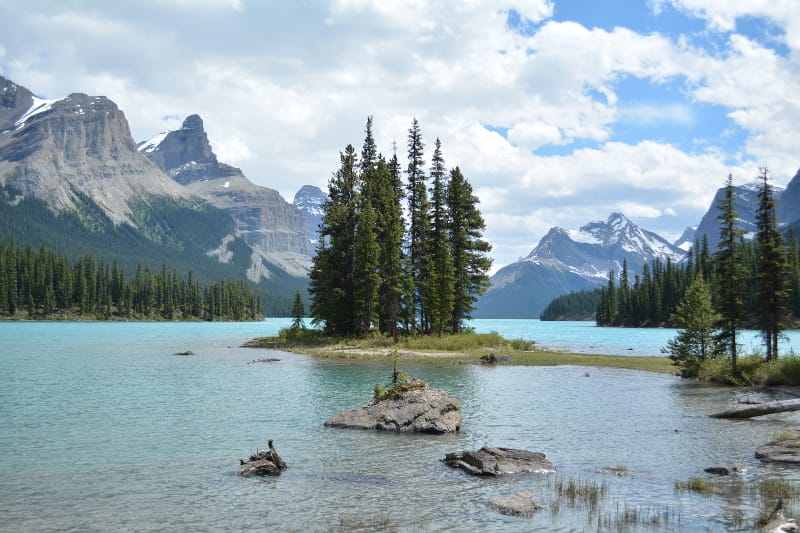 Everyone we talked to about things to do in Jasper National Park recommended Maligne Lake and now we know why! Maligne Lake is a good 45 minutes or more from downtown Jasper and the drive to get there is part of the fun and beauty. It is a popular drive for spotting wild animals.
You quickly lose cell coverage on your way there – which isn't a bad thing – since it means you won't be distracted when you get there. The lake is beautiful and there is a boat house where you can rent canoes or kayaks. Plus a restaurant and gift shop right there as well for you to grab some food, drinks or souvenirs.
You board the boat right in front of the restaurant building. The boat has bench seating and we sat 3 across comfortably. There is a captain and a tour guide on the boat. The tour guide gave an amazing overview of the lake, area, and history as we were cruising on the lake.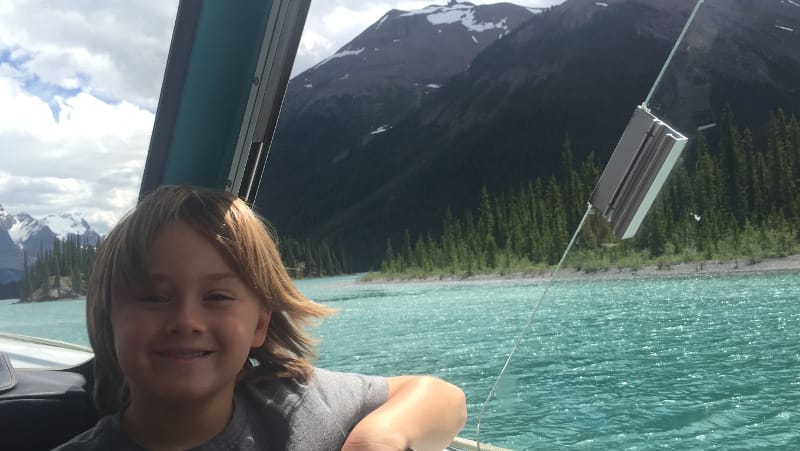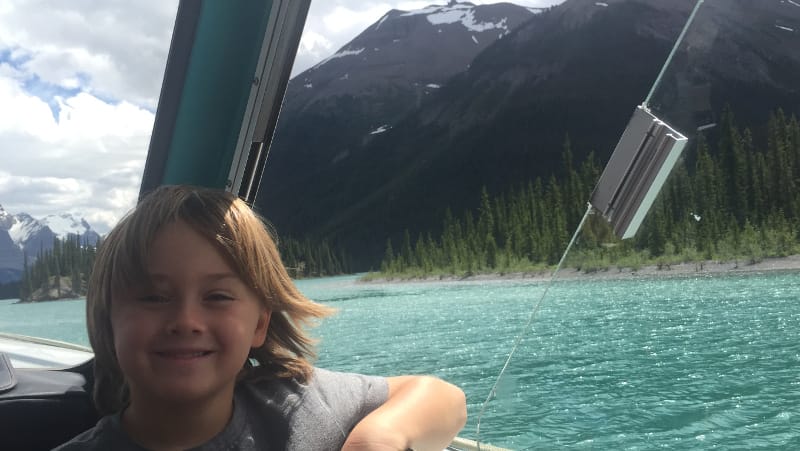 Our favorite part about the Maligne Lake Cruise is that you get to stop and get off to explore Spirit Island which is located at the far end of the lake. It is one of those picturesque places and such an iconic image of Jasper National Park.
Once the boat docked at Spirit Island, you have about 15 minutes to get off and walk to the lookout, grab a few pictures, and on your way down you can stop to play by the rocks or stick your feet in the water for a few minutes before getting back on the boat.
It was also really cool to see the water color change right before our eyes as we were cruising to and from the island. There are a handful of glaciers that you can see from the cruise and due to the amount of glaciers and where they are, the water color gets more and more of that aquamarine color as you get closer to Spirit Island.
The tour guide did an amazing job pointing out the glaciers and sharing a lot of knowledge about them. She also shared a few documents and images with us to teach us more about the area.
We recommend getting your tickets for the Maligne Lake Cruise through the Pursuit Collection website. When trying to decide what to do in the area the Pursuit Collection site was very helpful. They offer a variety of activities in the Jasper and Banff area.
Things To Know:
You are inside of the boat for most of the trip (unless you choose to go out back on the deck and when you get off at Spirit Island). The boat has windows that can open and close so you are totally covered.
The walk on Spirit Island is a short hike so wear shoes you can walk in.
While the boat is moving forward you can go out on the back deck – which I definitely recommend! Only 6 people at a time so take turns.
The tour guide does a great job talking through most of the trip and pointing out interesting facts. At the end she walked around to ask if we had any questions too.
You can (and should) tip the guide at the end of the tour. So be prepared to do that. We gave $10 CAD.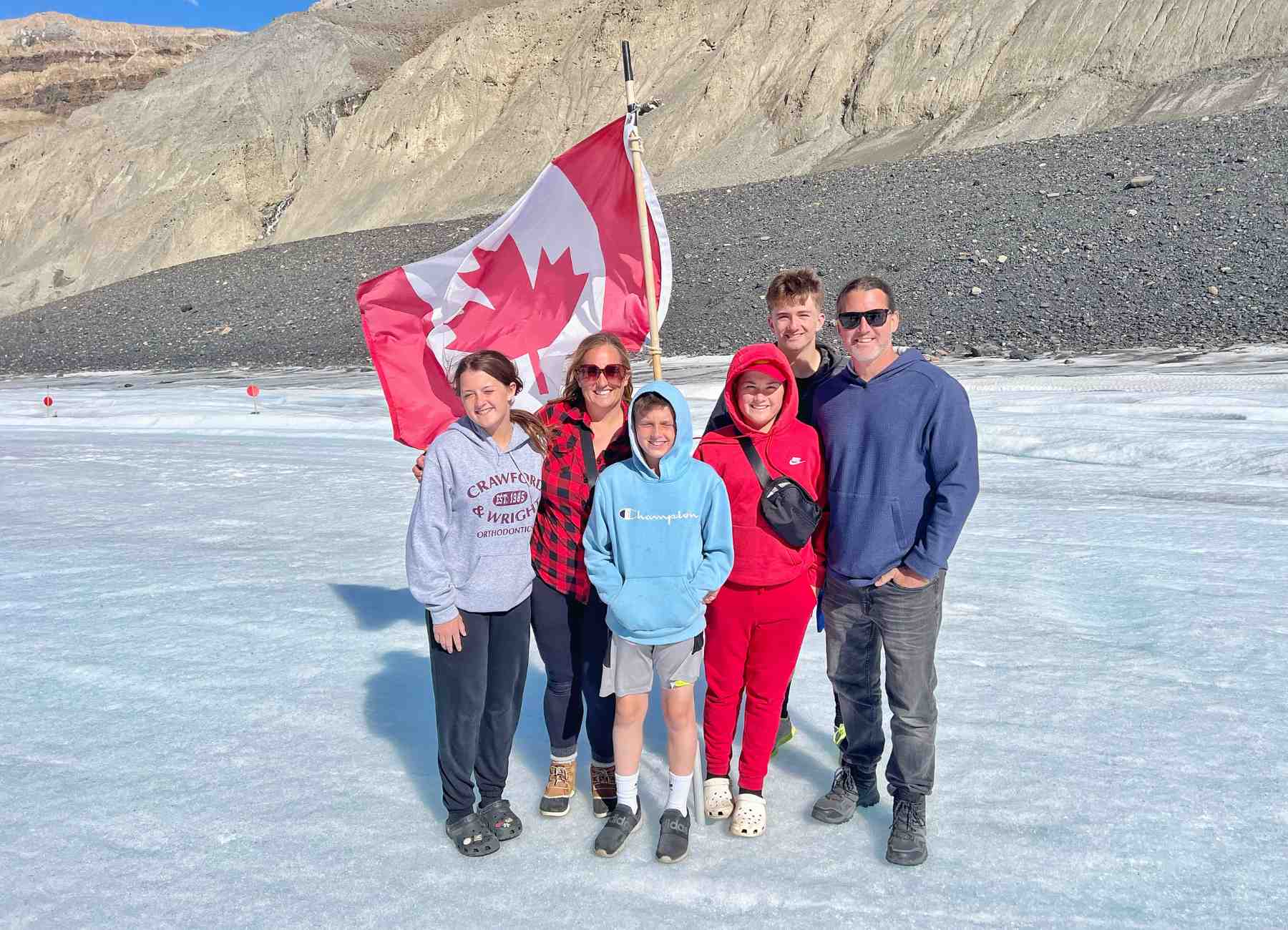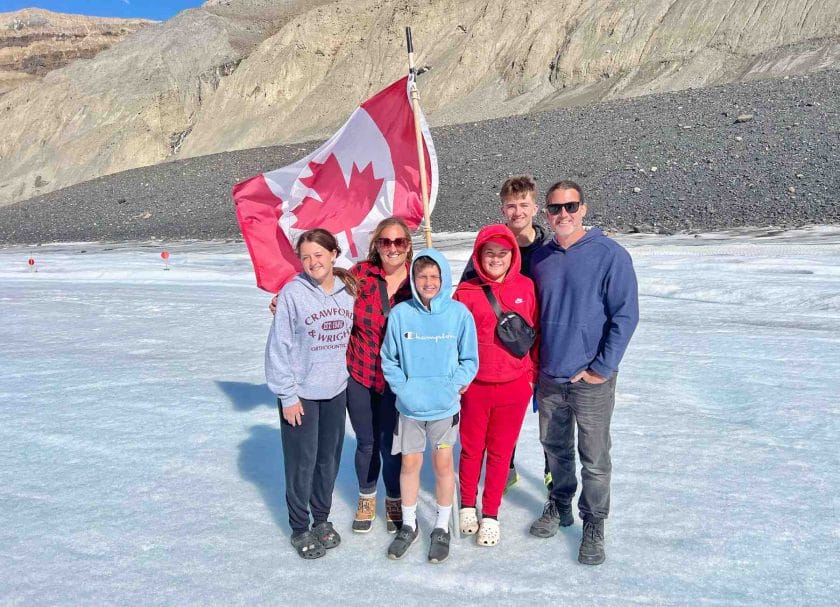 A 90 minute scenic drive through the Canadian Rockies from the town of Jasper is the Athabasca Glacier where you can take an ice explorer truck out onto a glacier! Yes you can actually stand on a glacier and if you want you can even drink the freshly melted glacier water.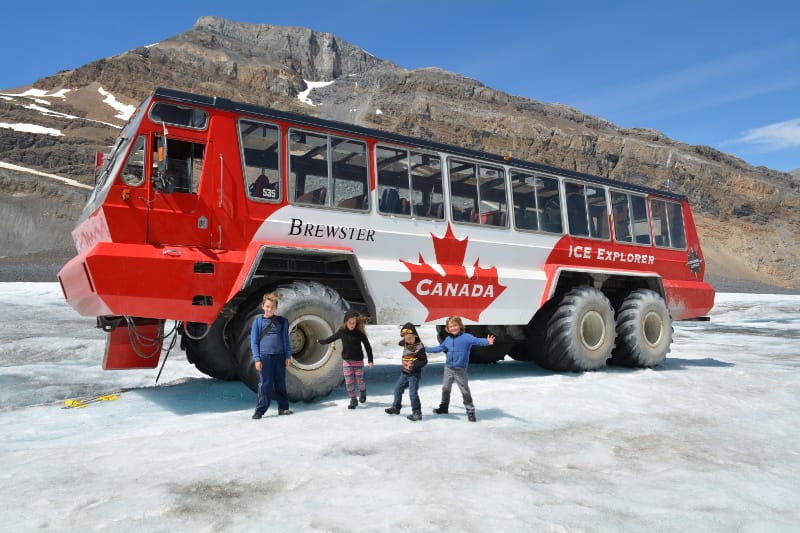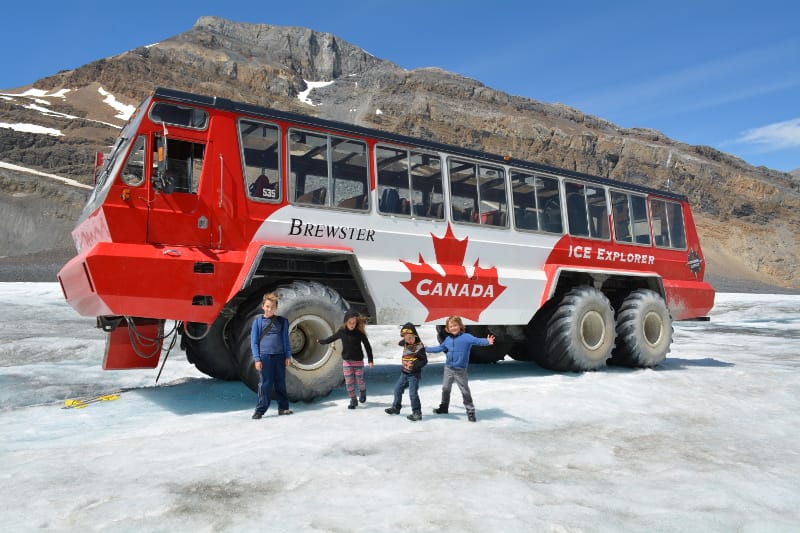 You can find the Columbia Icefield Adventure at the Columbia Icefields Discovery Centre in the middle of the Icefields Parkway. This is a great stop if you are coming to Jasper via 93 from Banff.
For the Glacier Adventure you get on a bus that takes you to the Ice Explorers which you then get on to be taken out onto the glacier to a safely marked spot where you can get out and walk on the glacier.
It was a really cool experience to be out on ice that is 800 feet deep and to be able to touch the fresh and freezing cold glacier water!
Glacier Skywalk
After being on the glacier you can also head over the Glacier Skywalk where you walk out on a glass-bottom platform located on the side of a mountain! The views are amazing and the experience of walking out and looking straight down a 100 feet was pretty cool.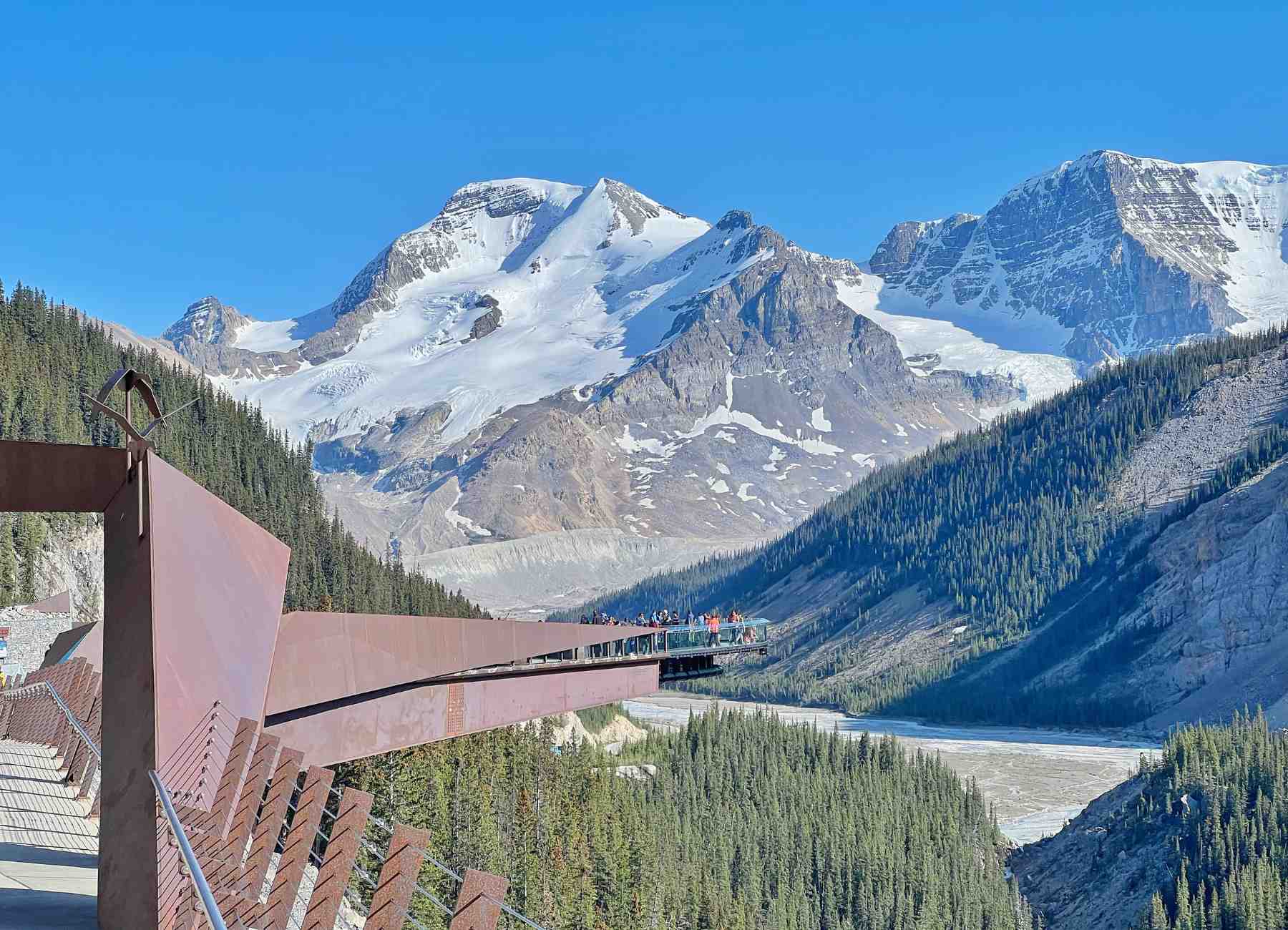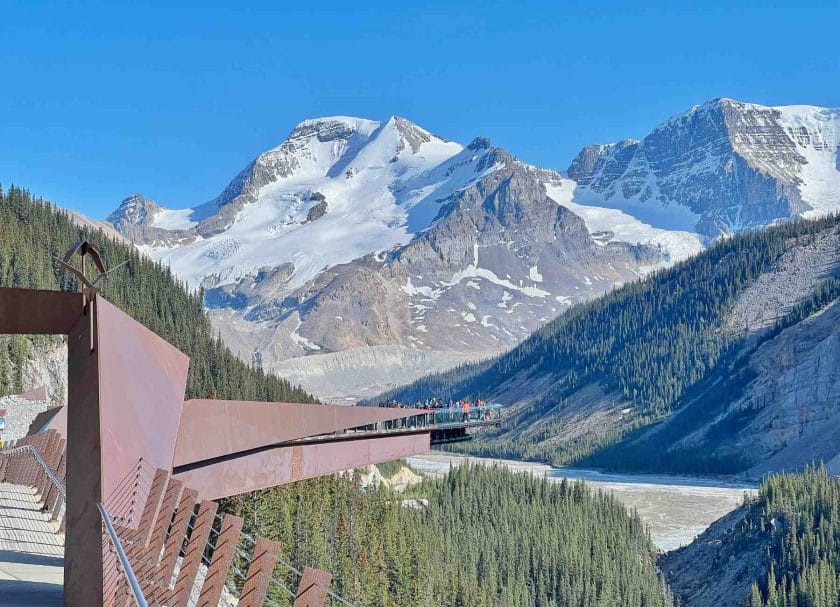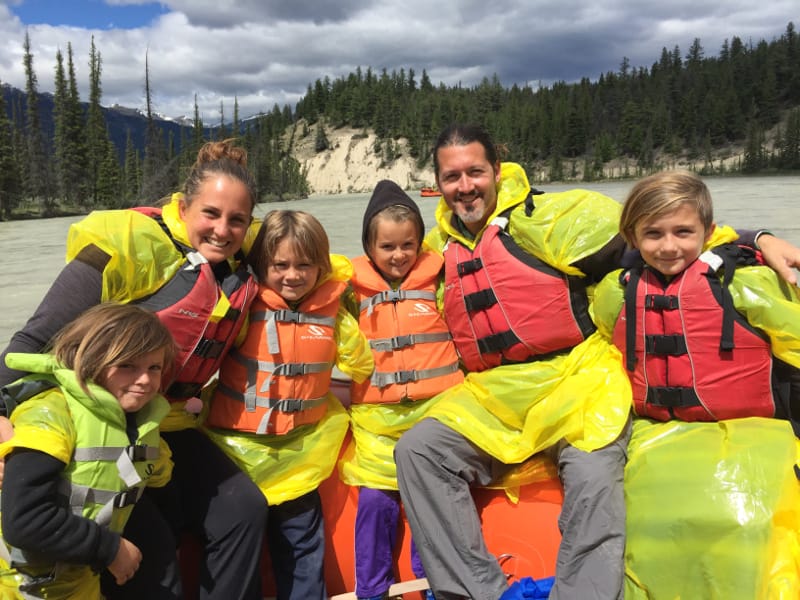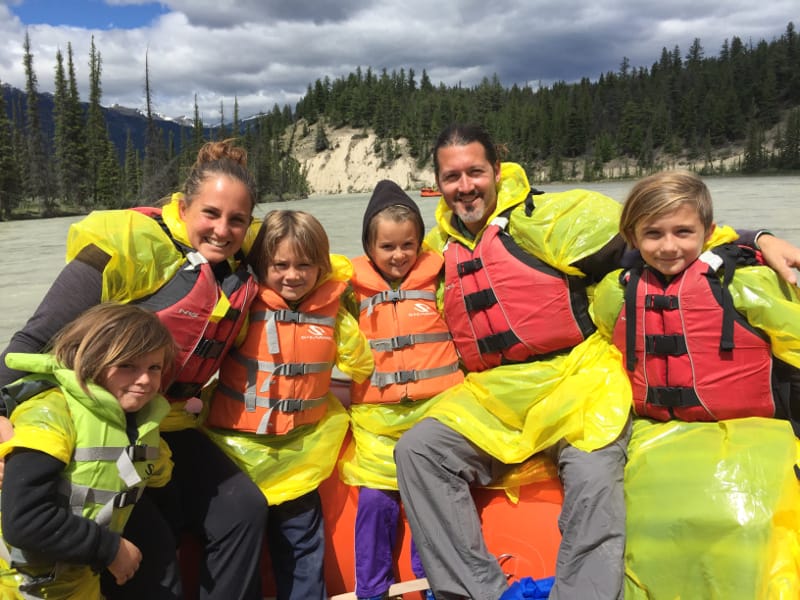 As you probably can tell we like to do pretty much everything with the whole family. So when it comes to rafting, we need an option that our youngest can do too. That is why we end up doing a scenic float!
It is actually a great option for all of us as it is getting us use to being in a raft and when it is time to take it up a notch to do some real rafting, we will all be ready! A perfect introduction to "whitewater rafting".
The Scenic Float With Jasper . . . was awesome! Want to know why?! Because we also got to do some rapids!!! It was so much fun.
When we first got to the Athabasca River we could tell it was moving pretty fast so we knew this wasn't going to be a nice slow float down the river and that was OK with us.
We climbed into our boat with our tour guide, Wyatt (who was amazing), and about 14 other people. I believe we had a total of 20 on our boat. We then headed down the river. Wyatt did a great job pointing out interesting things around the area and we kept our eyes pealed to see if we could see any wildlife.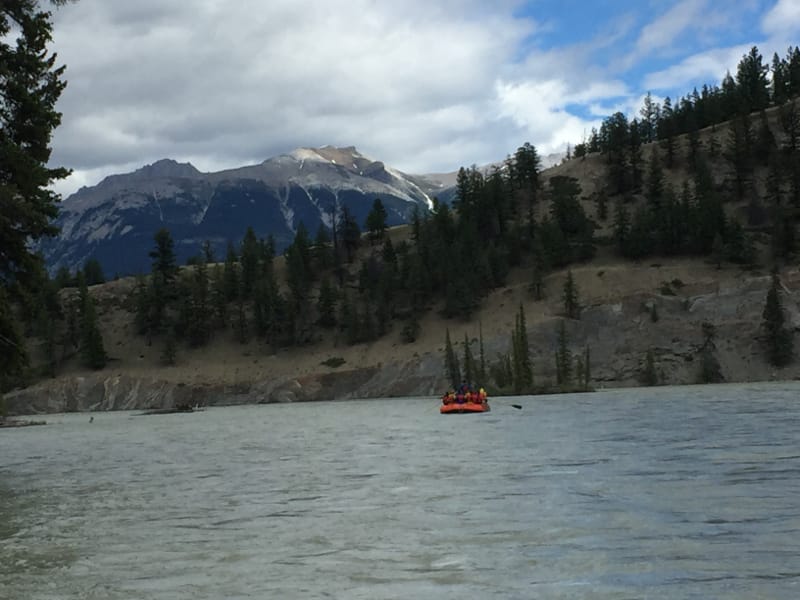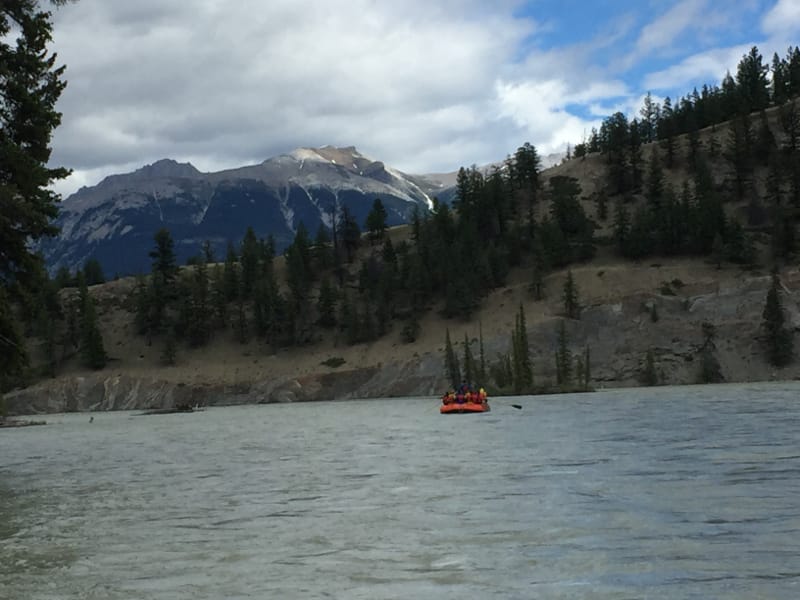 On the 80 minute float down the river we hit a handful of spots that were Class 2 rapids (that is what Wyatt said :)) for a short stretch. Once he realized Cannon (our 7 year old) was looking for a little more action he made sure to line the raft up so when we hit one set of rapids we all got a huge splashed. It was so much fun and was definitely a highlight of the trip!
Things to know:
There is a bus that takes you to the raft launch. The same bus picks you up down river and brings you back to the meeting spot in the town of Jasper.
They did provide us with ponchos and a life jacket. You don't have to wear the ponchos, but I am pretty sure everyone on the boat got at least a little bit wet so you may want to bring your own or take the one they give you.
The water is freezing!! An extra layer may be smart.
We were so glad we had our dry bag so we were able to put a towel in there and our phones if we didn't want them getting wet.
We saw pictures of the boat going out in snow in May so if you sign up be prepared that they go out rain, snow, or sun!!
You can (and should) tip the guide at the end of the tour. So be prepared to do that. We gave $10 CAD.
Valley of 5 Lakes Hike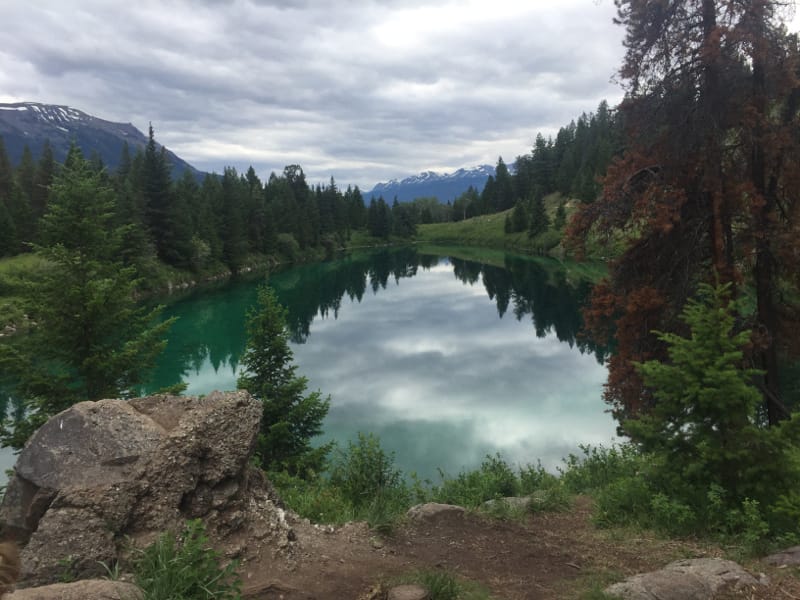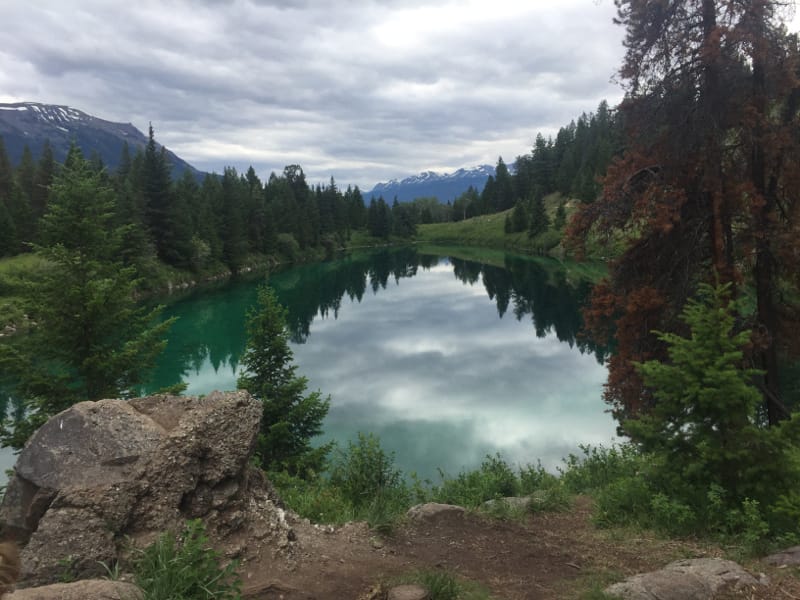 This is a great hiking trail for any skill level. It is pretty short at about 3 miles and you do a little bit of uphill climbing, but not horrible. If you have the right shoes, bear spray, and if you want, hiking poles, you will be good to go.
The hike takes you around to 5 beautiful lakes! At each one there is a spot where you could opt to walk down and touch the water. There are also multiple wood benches and few red chairs where you could take a seat and hang out for a while.
Make sure to check the map when you first get there so you are sure to see each of the 5 lakes. Then stay on trail 9a and then take 9b. We made the mistake of going on trail 9 and added a few extra miles to our hike . . .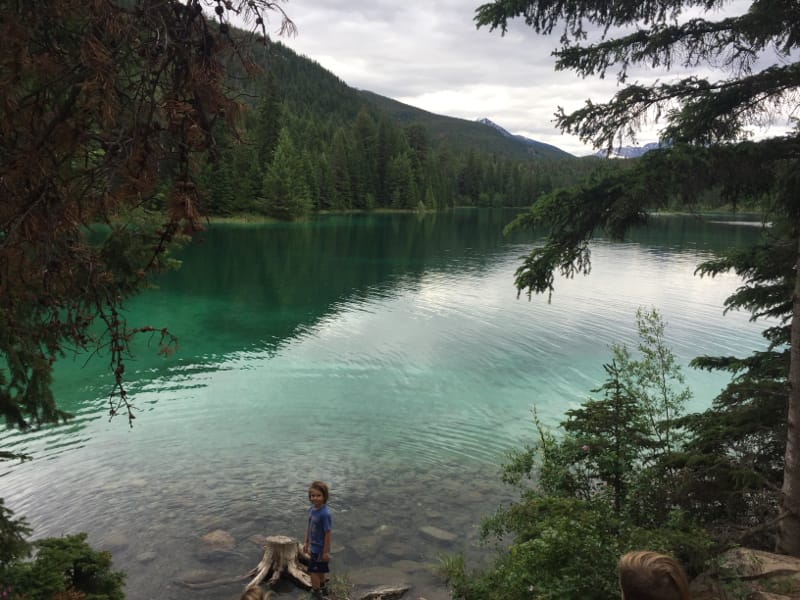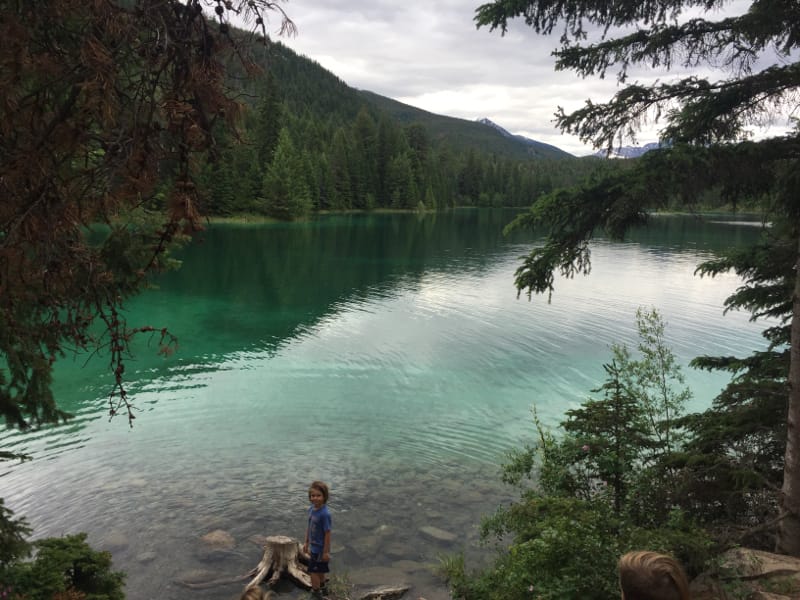 The views on the hike (which you can see from 9a and 9b) are so beautiful. I could seriously stare at that water color all day! Just be prepared for mosquitos . . . they were pretty bad on the hike around the lakes.
Maligne Canyon Hike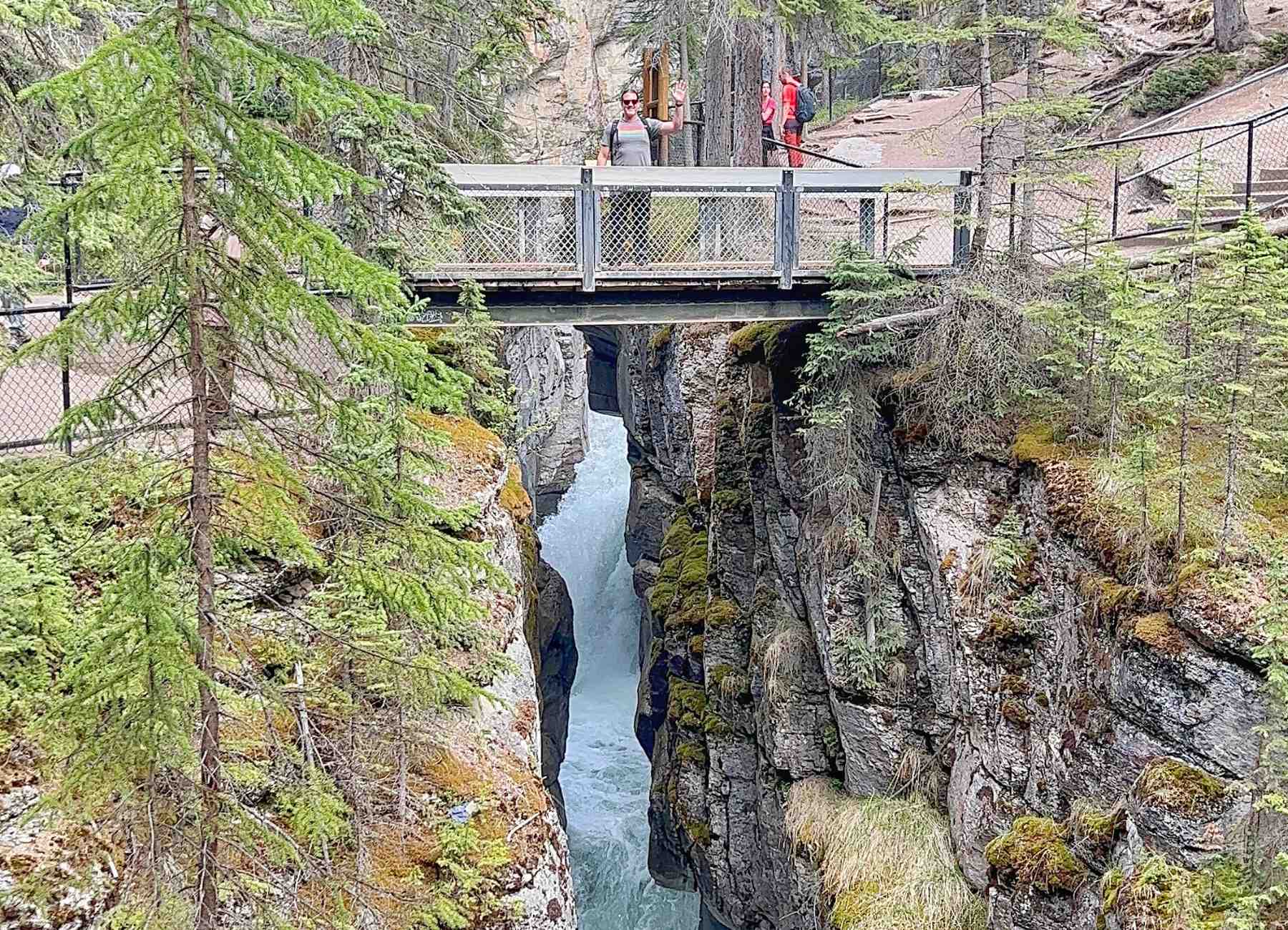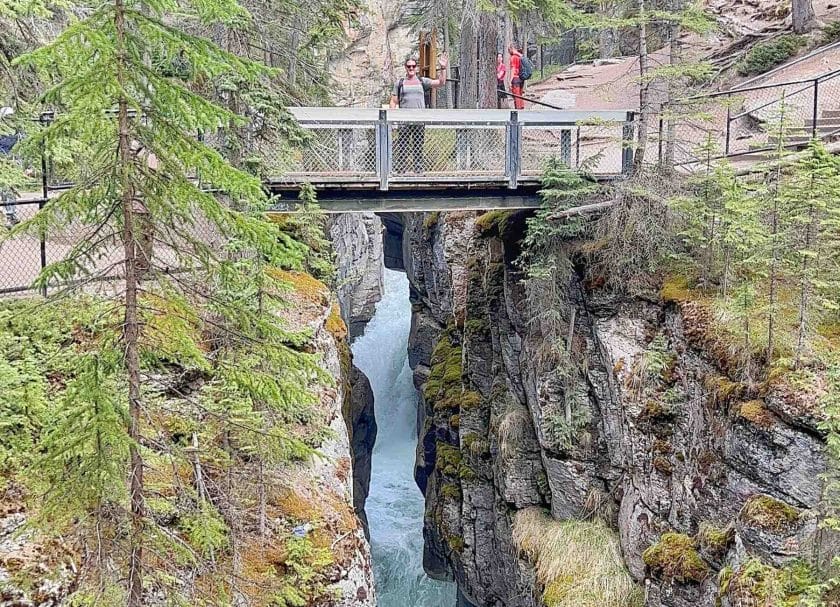 Another great hike to do is the Maligne Canyon Hike. On the hike you can cross 5 bridges and look down on some pretty epic canyons.
At the end of the hike there is also a Tea House that you can stop at to eat!
If you can't get to all 5 bridges I would recommend stopping here and visiting a few of the bridges and the tea house. It is beautiful.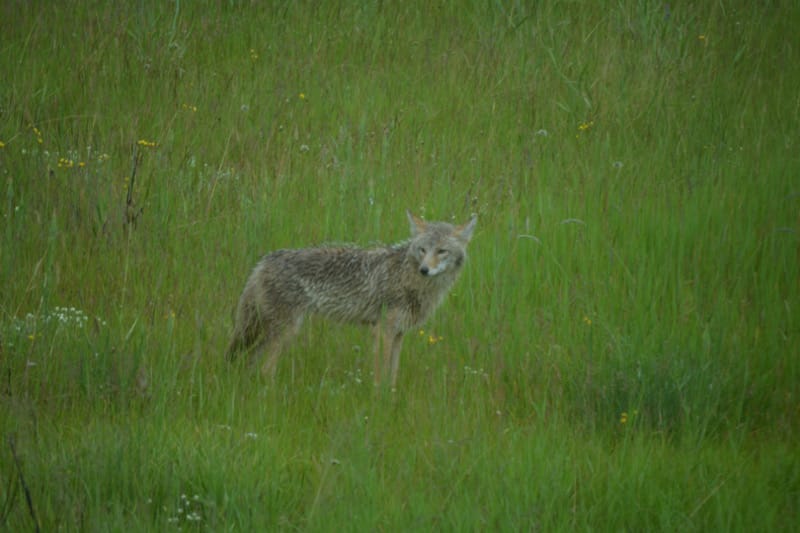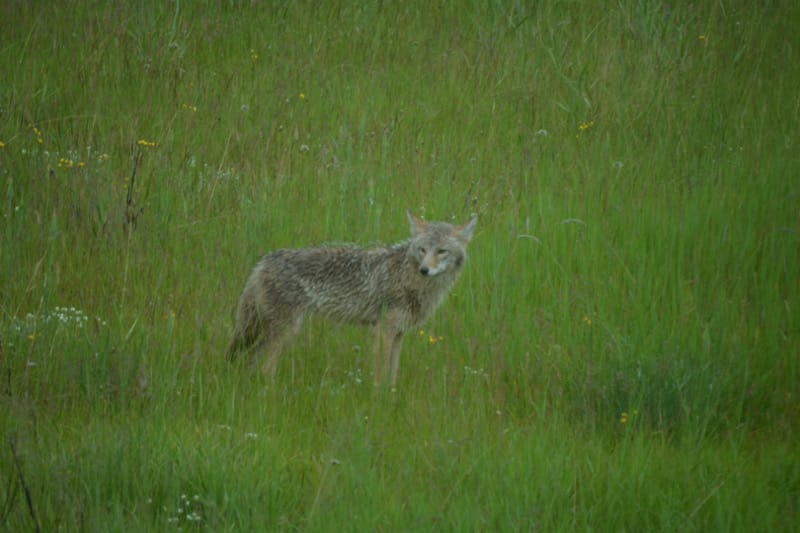 Hoping to see some wild animals while in Jasper National Park?! The Sun Dog Wildlife Tours will take you on a 3 to 3 1/2 hour bus tour of the area with a guide that knows all the best places for wildlife viewing.
The bus is super comfy with large seats and a/c or heat depending on the weather. The windows are huge so you have a great view.
The tour guide did an amazing job pointing out animals we otherwise would have driven past . . . like the bald eagle sitting at the top of a pine tree! He also give us tips on what we should do while driving our selves to spot animals.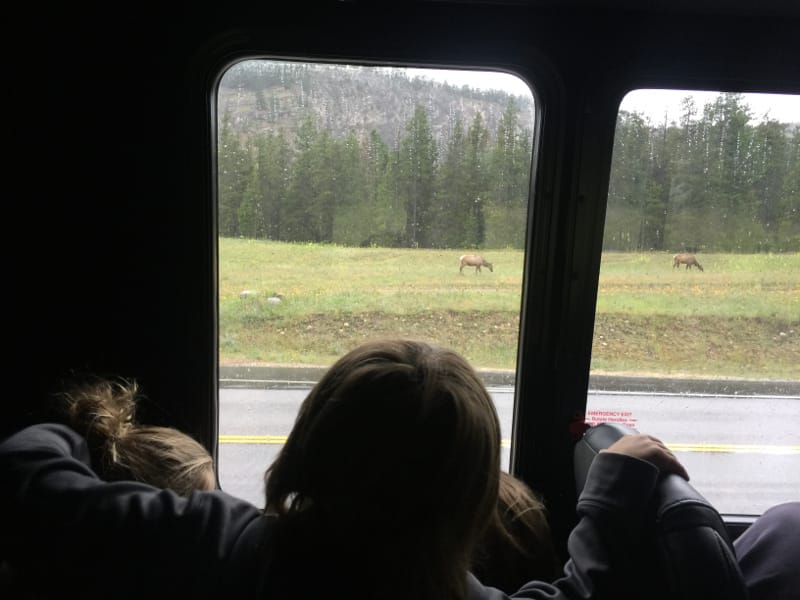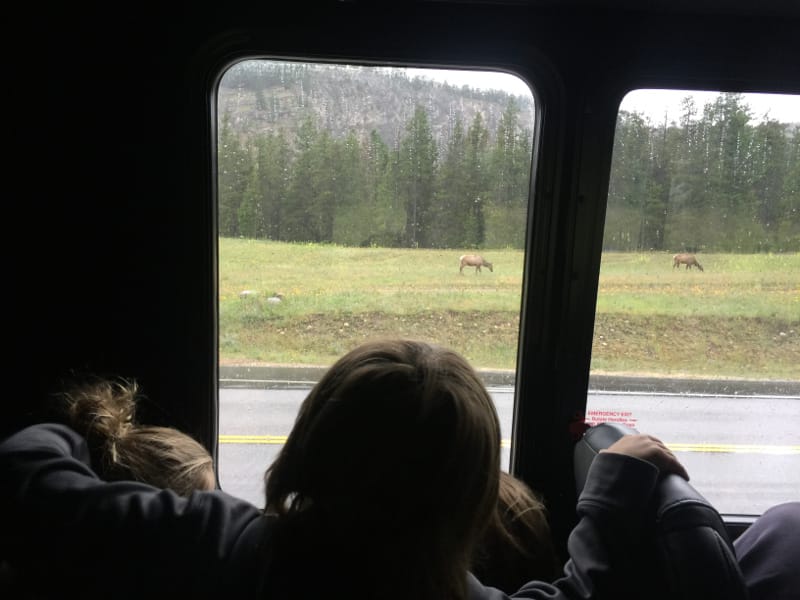 We saw male and female Elk, a bald eagle, a coyote, mule deer, and white tailed deer. He gave us a lot of great information about each of the animal and even had elk antlers to pass around for us to hold and touch. Other animals you could see: Bighorn sheep, mountain goats, bears.
He tried hard to find a bear, but unfortunately we didn't see any. But hey, they are wild animals so they can't guarantee you will see anything!
Things To Know:
There is no bathroom on the bus, but the bus driver will stop at a restroom if you need one.
You can bring your own food and water on the bus. You are on for over 3 hours so this is a good idea with kids.
If it is safe, the driver will let you out the door to take pictures of the wildlife – from a safe distance.
Bring a good zoom lens for your camera as wildlife will be far away. We used our 200mm Nikon lens and it worked out pretty well.
Bring a pair of binoculars to see further away wildlife.
You can (and should) tip the guide at the end of the tour. So be prepared to do that. We gave $10 CAD.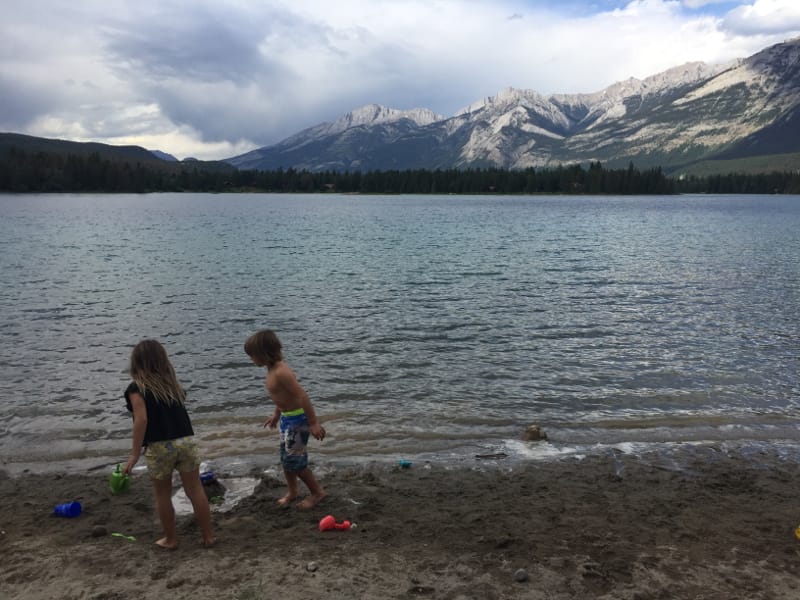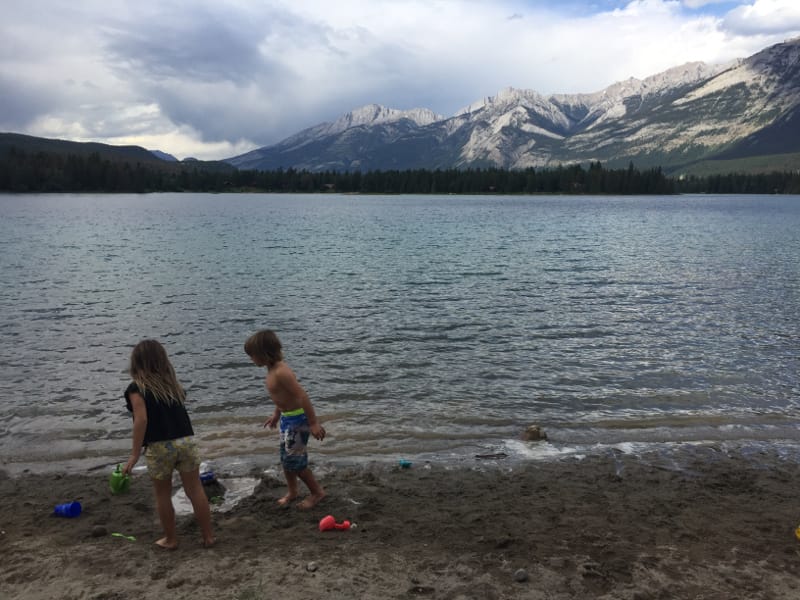 Did you know Jasper has beaches?! They do and they are pretty amazing since you are looking out over that unbelievable blue water with mountains in the background. The sand isn't the white sand beaches of Florida, but it is still sand the kids can play in and build sand castles in.
Spending an afternoon at the beach was exactly what we needed to let the kids unwind and just play. We went to Lake Annette and Lake Edith – which we are told gets a few degrees warmer than the rest of the lakes in Jasper National Park.
There is a playground by the parking lot which is right between the lakes and also has a nice picnic area so you could totally spend a full afternoon here.
Downtown
Downtown Jasper has an awesome mountain village vibe to it. Yes, there are your touristy stores, but there are also a lot of great local restaurants and coffee shops. We recommend being sure you make a couple stops in downtown Jasper to eat, walk around, and shop.
Where to Stay:
If you want to stay in downtown Jasper there are a couple of hotels right on the strip. There are also a few cabin locations and Pyramid Lake area. It all depends what you are looking for.
Jasper National Park Camping
Wabasso Campground
From an RV perspective, we stayed in Wabasso campground the first time we visited. I wouldn't recommend it.
Wabasso campground was nice, but there were no showers and we were a good 20 minute drive from downtown and a lot of things to do are located on the opposite side of town.
The reason we didn't stay at Whistler was because all the campsites were booked! If you want to have your pick of campsites, book early – I believe sites open up in January, but be sure to check the website for the most current information. Jasper National Park campgrounds fill up fast!
Whistler Campground
The next time we went we stayed at the Whistler Campground and it is now one of our favorite campgrounds! The sites are large, they do have full hook up sites, and the views are beautiful.
It is a new campground and they really did it right.
Hotel
If you're looking to be right in the mix, check out the Astoria Hotel on Connaught Drive. Here you'll be right on the main street in Jasper close to all restaurants and activities.
Fairmont Jasper Park Lodge is another option. Plus it has a golf course.
Eating
There is a grocery store in town and the prices were decent. Same thing with all of the resturants. They weren't crazy expensive, but they are vacation location prices. They do have an A&W and a few other fast food options.
You could also check out the Jasper Brewing Company. They offer craft beer and food.
When to go
Everyone kept telling us we have to go back there in the winter. It sounds like it is a pretty amazing ski town! We would love to come back and see what it is like with all the snow – but not in the RV!
We were there at the end of June and it was HOT a few days. There was one day where it rained all day. Be prepared for the weather to change a lot day to day and due to this you may want to add an extra day or two to your stay.
We have heard July and August are the really busy seasons. Though it was busy in June, it wasn't crazy. All that being said, we would recommend visiting in June!
Note we did see pictures of snow in May. So when we say June we mean late June, not early June :). But this past year we visited in late May/early June and we ended up with a few gorgeous days. So it is up to you and if you want to risk it.
If you want snow just take the Tram up. You will most likely find some on the summit of the mountain there – or even down by the Tram building.
Other things to do in Jasper (We ran out of time!)
Miette Hot Springs – we had heard great things about this and were disappointed that we missed out on them. If you want a big hot tub to sit in this is it!
Suplhur Skyline Hike – the guy at the visitor center recommended this hike. The hike is marked difficult so be prepared for that.
Bald Hills – this is another hike that was recommended at the visitor center.
Athabasca Falls – it looks amazing!!
Sunwapta Falls and Canyon – located in the Sunwapta valley.
Overlook Loop by Pyramid Lake – this looked like a nice walk as well.
Marmot Basin – If there in winter and into skiing check it out!
Visit Mount Edith Cavell
Jasper is the 2nd largest dark sky preserve in the world! Lots of cool things to do with that too.
Parks Canada offers a lot of great day hike options in Jasper.
Can you tell we weren't there for long enough?!
For more suggestions on what to do in Jasper with your family, check out this story from our friends at Rockies Family Adventures. We are hoping to visit Jasper again in the future on our way up to Alaska – now that would be quite a road trip!
Update – we did just that this past summer – but given the long drive to Alaska we only had a couple days in Jasper. All we kept saying is we wanted to come back to spend more time here!
Check out this post for tips on where to eat in Jasper!
Jasper National Park in Canada is well worth a stop and ideally you could spend a week here exploring and just hanging out and enjoying the area. You will also want to check out Banff National Park.
When driving from Banff you will go by Lake Louise. Make sure to make a stop here as well. If possible for a couple nights! One of our favorite hikes: the 6 Plains Glacier hike is here.
Fun fact: Jasper is 1 of 15 UNESCO World Heritage sites in Canada (part of the Canadian Rocky Mountain Parks World Heritage site).
More posts on the area:
21 Breathtaking Things To Do In Banff National Park
Learn All About The Golden Skybridge And Why You Don't Want To Miss it!
A Complete Guide To Skiing In Alberta
4 Epic Banff Attractions You Need To Do
Pin for later: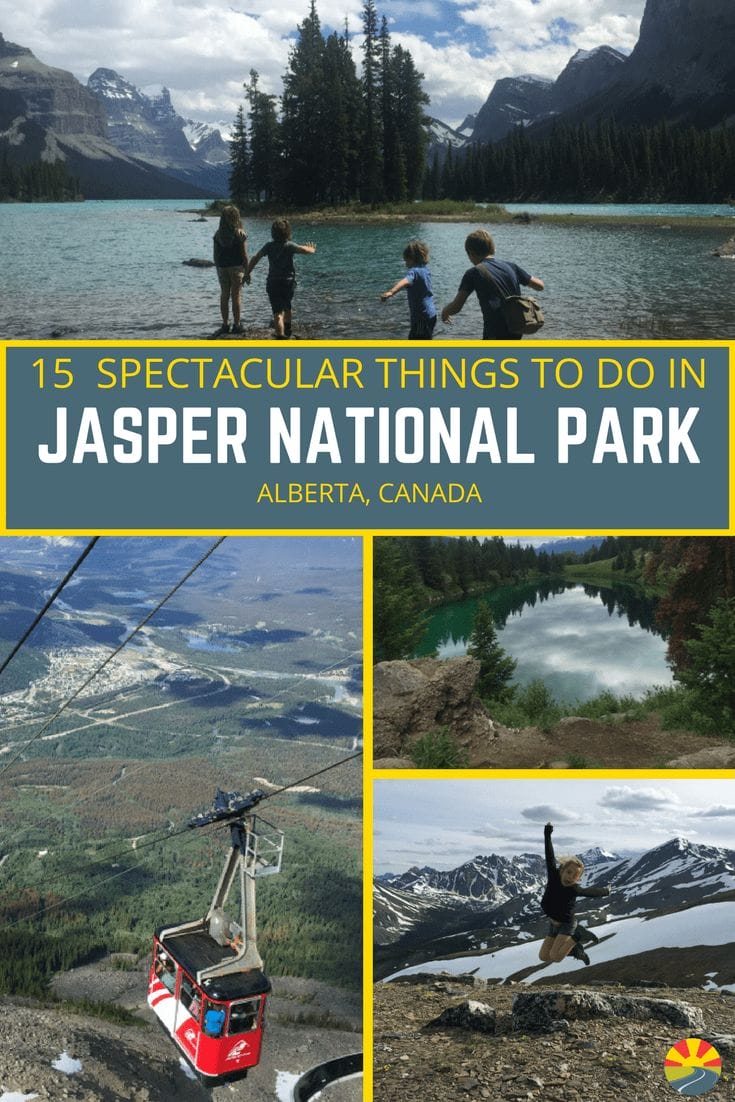 DISCLOSURE: This post may contain affiliate links, meaning I get a commission if you decide to make a purchase through my links, at no cost to you. Please read my disclosure for more info.