Should you do the Banff Gondola when you visit Banff National Park? The answer is yes!! The Banff Gondola is a great way to start your stay in Banff!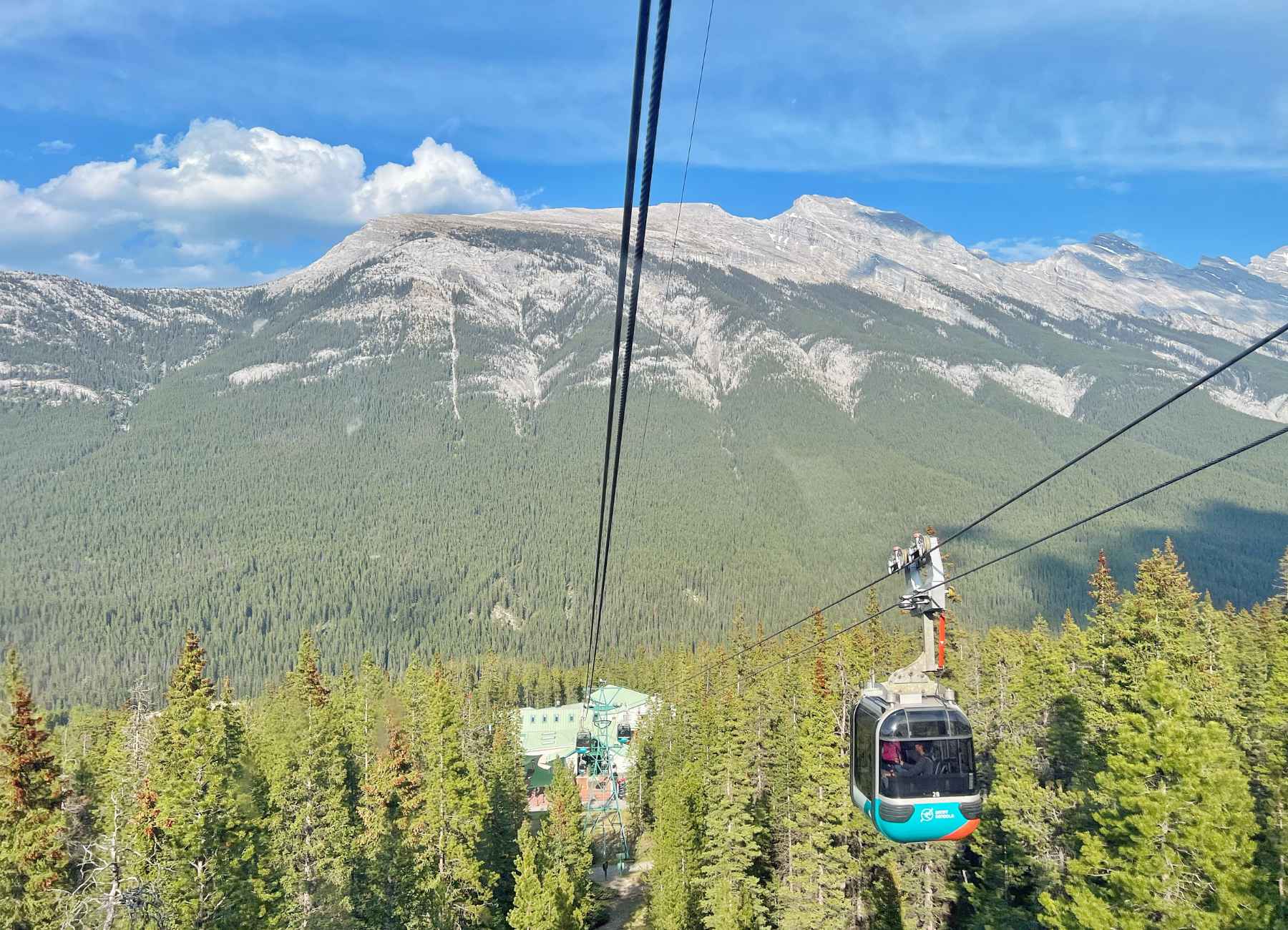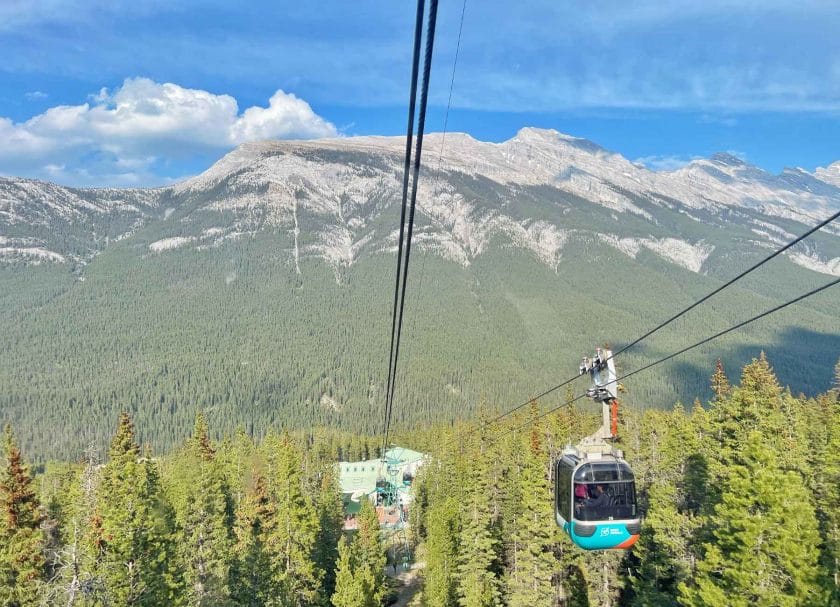 The views are amazing and it gives you an awesome overview of Banff from on top of the mountain. Plus there are a variety of things to do when you get to the top.
If you don't plan to eat at the top you can easily spend 2 hours exploring and hiking at the top. If you plan to eat add at least another hour if not more on to your time.
Getting There
There is a parking lot at the Banff Gondola. When we got there we had no problem finding a spot and I am hoping with the timed entry for going up the gondola it stays that way.
That being said things can get very busy in the summer. There is a bus that goes up to the Gondola so that is another option.
Getting Tickets
After getting there you can walk in to buy tickets – though I don't recommend this. Instead I recommend you get tickets on line before you come. We had online tickets (with barcodes) so we were able to skip the ticket line and go right in the line for the gondola.
If you aren't sure if what you have for tickets will work just find a worker and ask before waiting in the ticket line. That is what I did and just by showing her the tickets on my phone she was able to quickly tell me to just get in line for the Gondola!
If you have extra time when you get there they do have a Starbucks and also a large gift shop at the bottom of the Gondola. Right by where you buy tickets.
The Gondola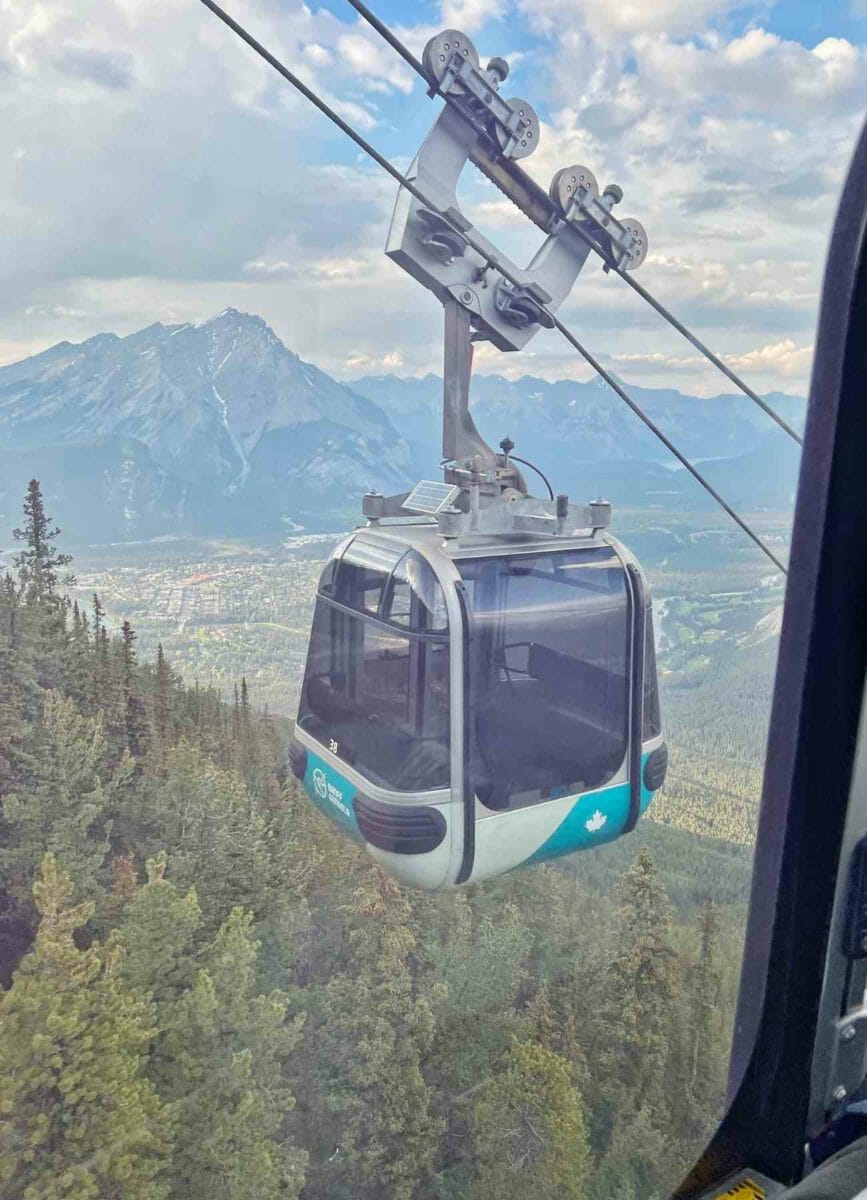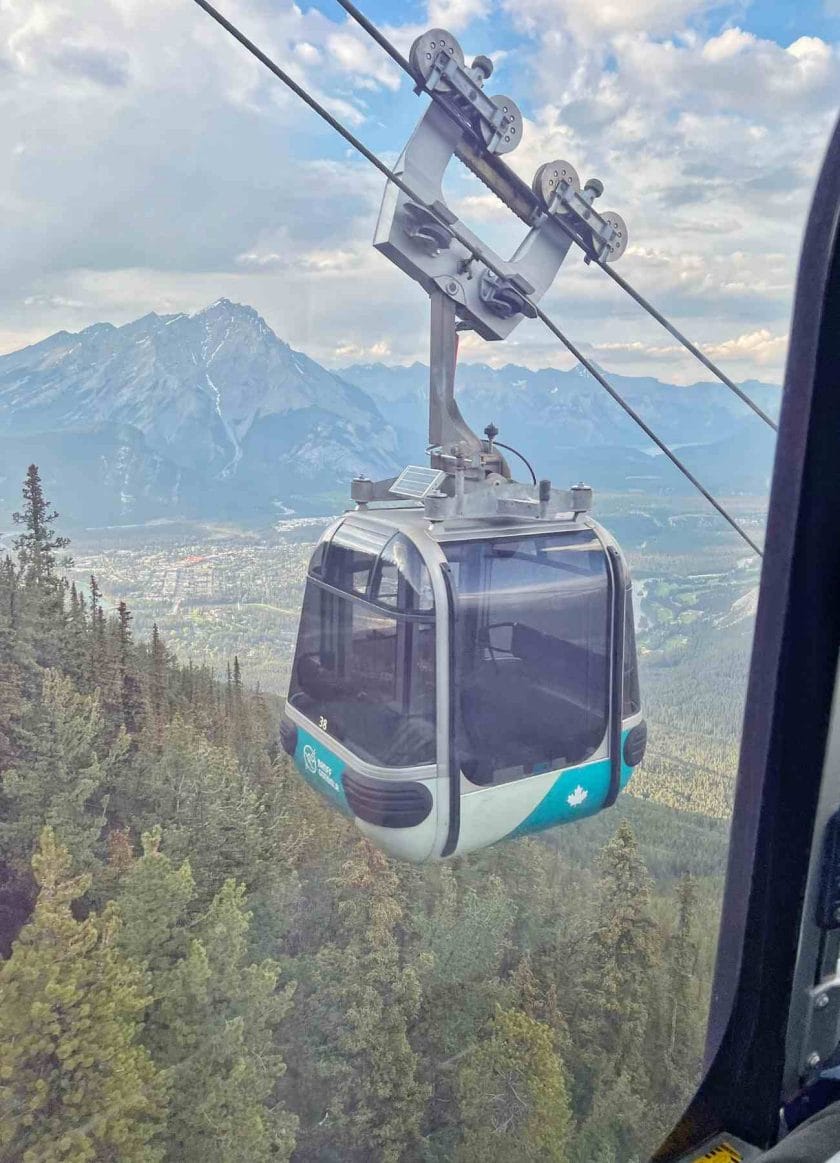 The Gondola is run like a ski lift so once you get in line be ready to move! We got up to the front with our party of 6. 2 adults and 4 kids (15, 13, 13 and 11). They split us into 2 groups of 3.
I did see groups of 4 adults going up together. But take note even when our kids were 10, 8, 8 and 6 when we rode the Gondola the last time they still split us into 2 groups of 3.
They usher you on the Gondola – don't worry a worker is holding it for you – so if you need extra help or a minute to get on they will help you.
Then off we went! Up, up and up! It is an 8 minute ride and the Gondola had 2 small windows open. We went on a 70 degree day and even with the window open it did get a little stuffy in there. So if you are going on a hot day be prepared it could be warm in the gondola car.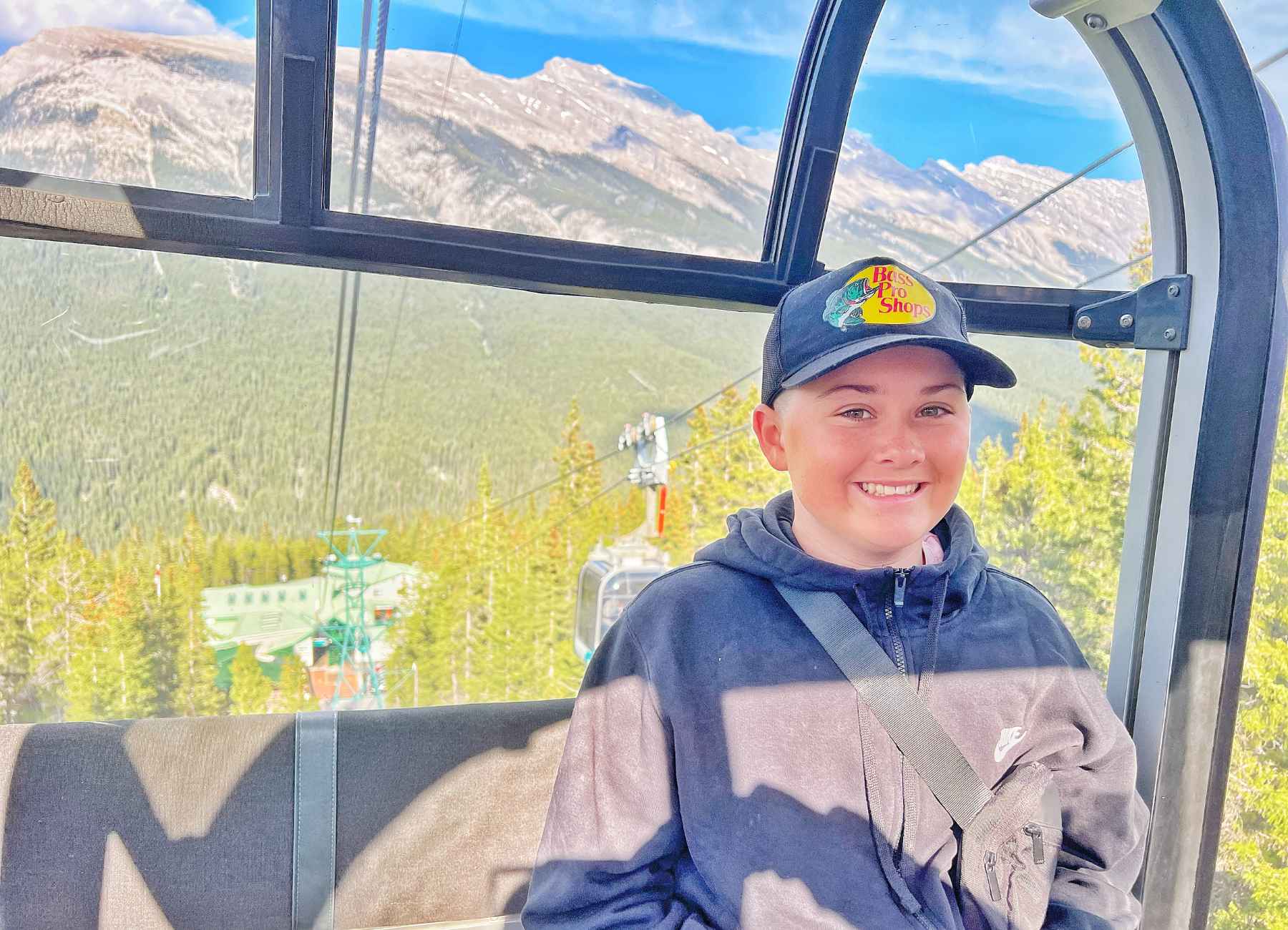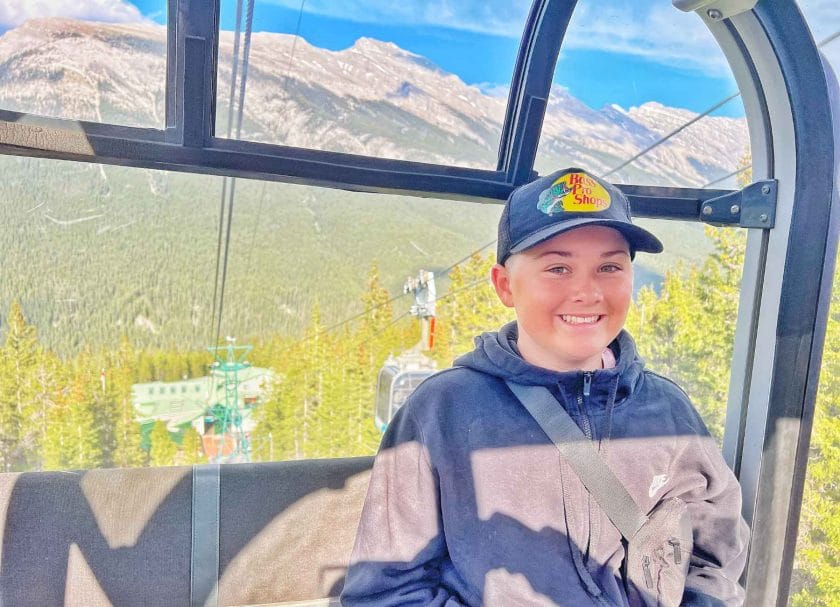 Be prepared to take pictures and videos of the gorgeous views and mountain ranges as you make your way up! The views are amazing!!!
Once at the top you get off the Gondola and can decide what you want to do first. There are 4 levels at the top and a variety of things to pick from.
View Point Over Banff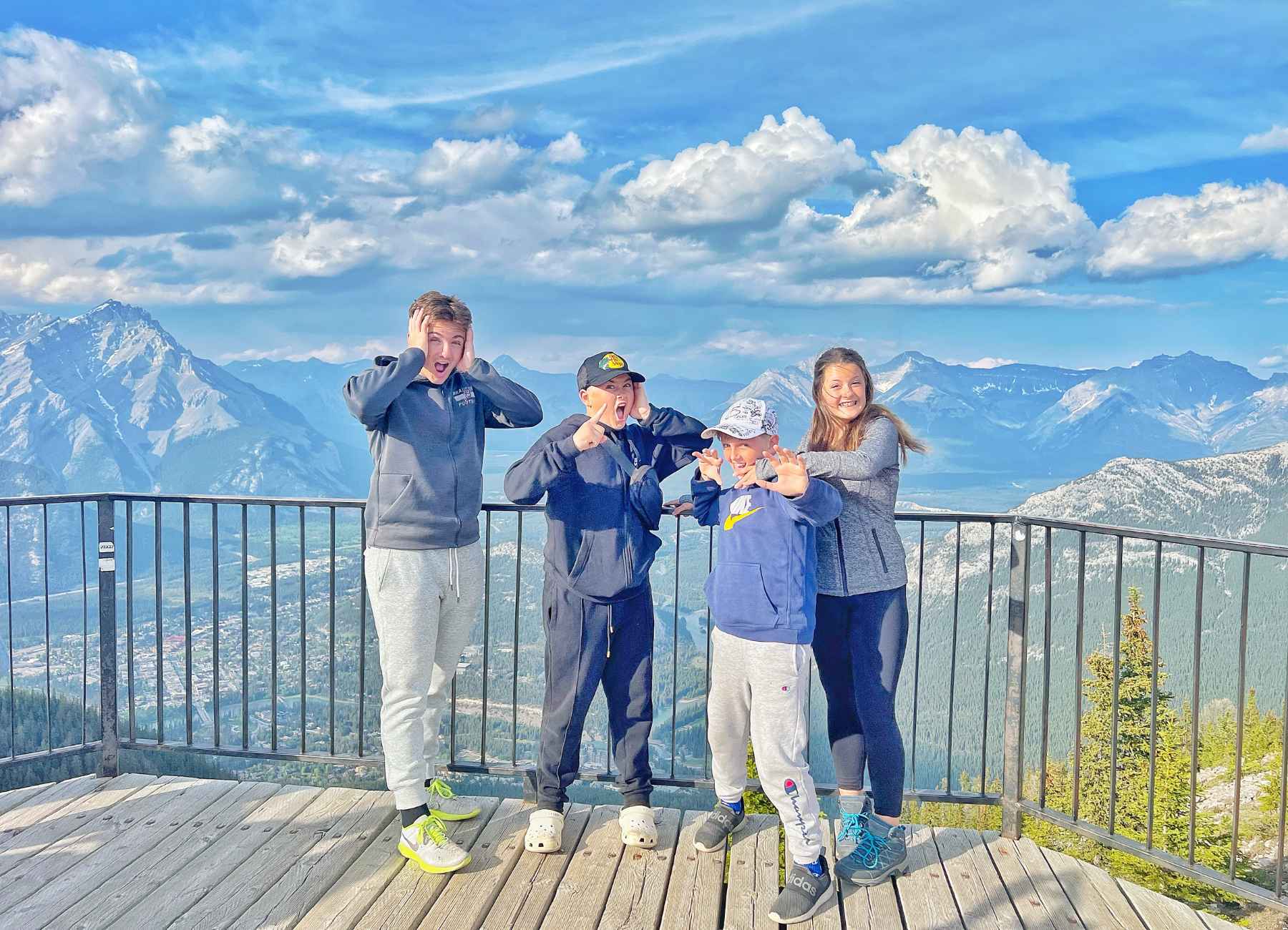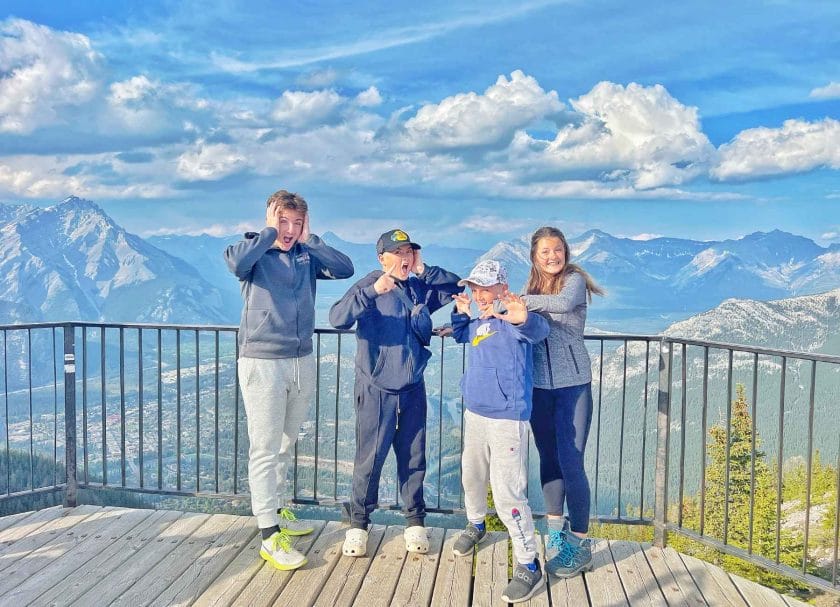 When you get off the Gondola we recommend walking straight out to take in the gorgeous views over Banff National Park, the Canadian Rockies and the Bow Valley. Being up this high you feel like you are in the clouds and the views all around you are breathtaking!
Sulphur Mountain Hike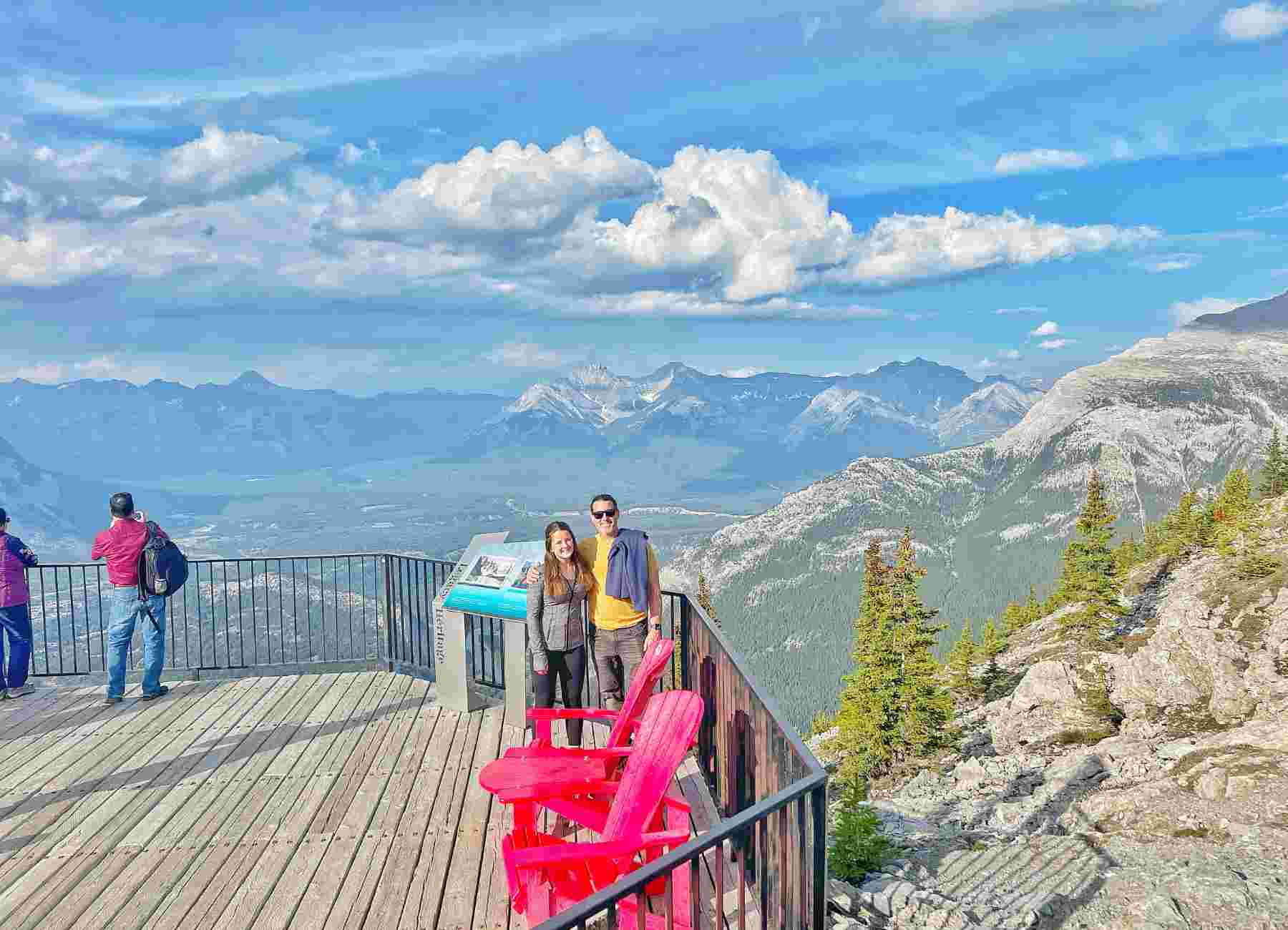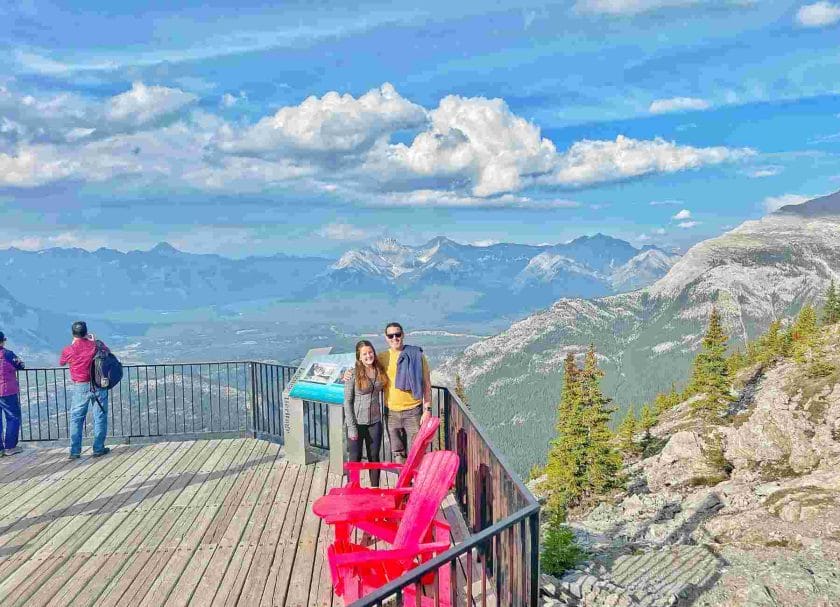 We opted to do the Sulphur Mountain "hike" as the weather was beautiful and we know how quickly that can change. We headed out and walked on the boardwalk going up and down a variety of stairs to get to the summit of Sulphur Mountain at Sanson's Peak.
Sulphur Mountain Cosmic Ray Station National Historic Site
At the top is the Sulphur Mountain Cosmic Ray Station National Historic Site. The station was closed in 1978 but parts of the building still remain.
This was the first activity that we did in Banff and the elevation hit us a bit on the "hike" but we were able to complete it without stopping. Well minus the times we stopped to take a picture or take in the view!
We made it to the top – where to get to the top spot you have to climb over some rough rocks – and up some stairs. But it is the top view you can get!
You can also turn around and get a view of the Banff Gondola station from up here.
It took us about 30 minutes to walk to the top and back to the Gondola station. That is with older kids and we walked pretty quickly.
There is also an option to walk out on a rock path – totally off of the boardwalk trail. We opted not to do that.
Our Experience On The Banff Gondola:
Castle Mountain Coffee Shop
There is a Coffee Shop in the Gondola station with a few small tables but if you want to get something I recommend grabbing it and heading up to the level 4 lookout area to enjoy what you got!
Banff Interpretive Center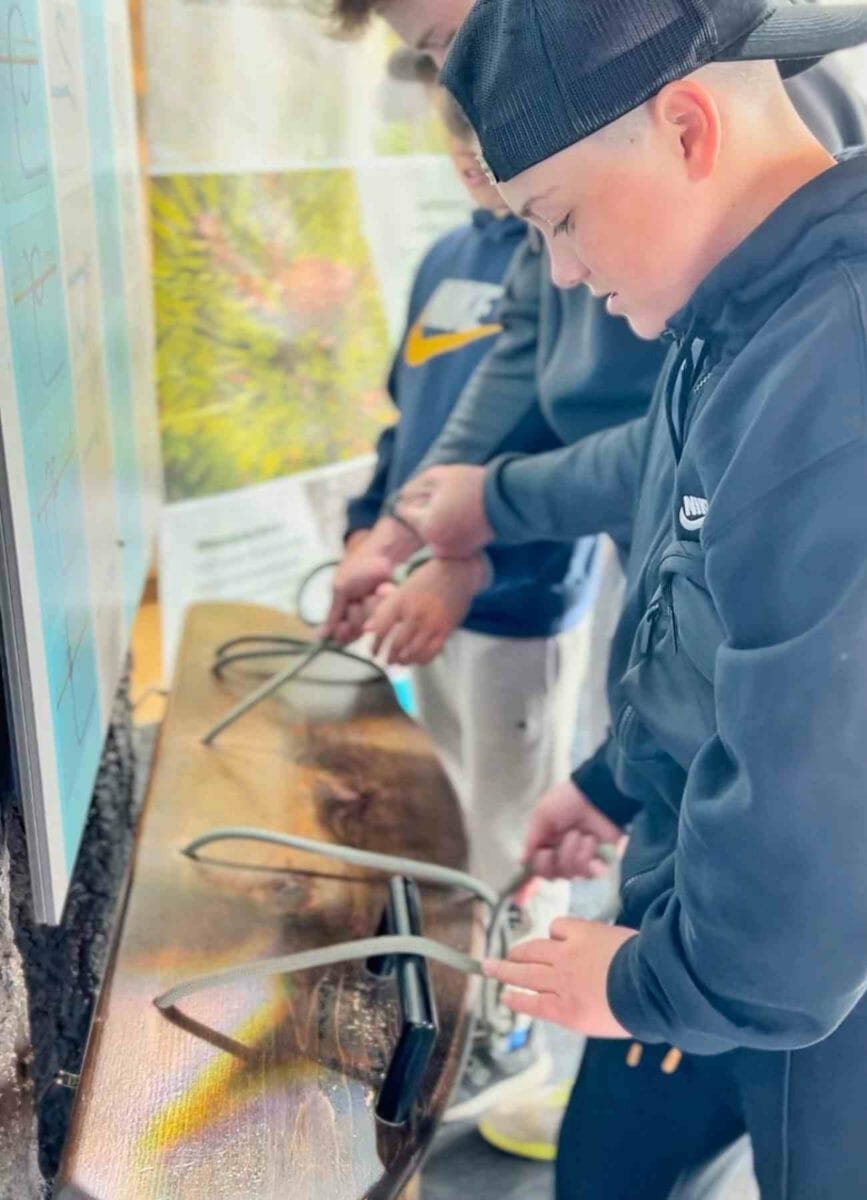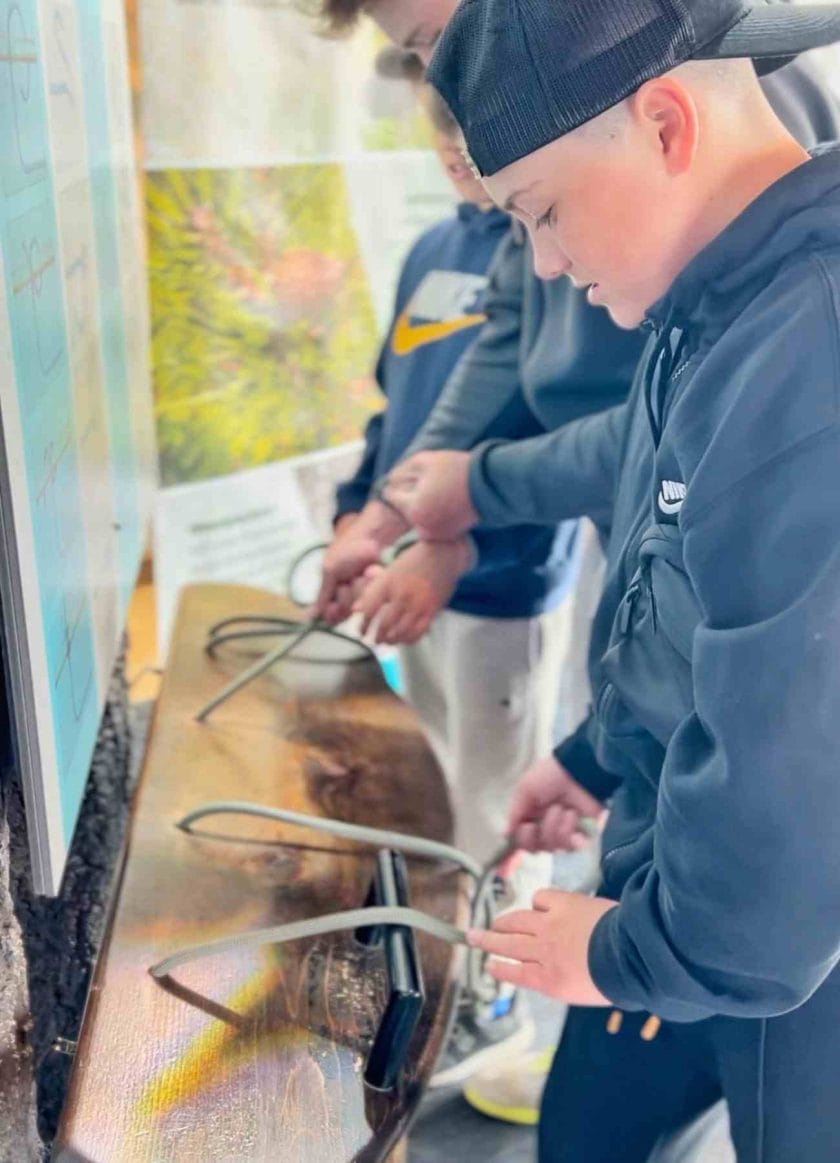 There is a whole section dedicated to learning more about Banff and the surrounding area. There are a variety of displays and fun hands on things to do. The kids enjoyed the knot station. There were also some areas they could crawl through and a tent setup you could hang out at.
If you have kids with you, you definitely don't want to miss this. But even the adults will enjoy it so be sure to stop.
Restaurants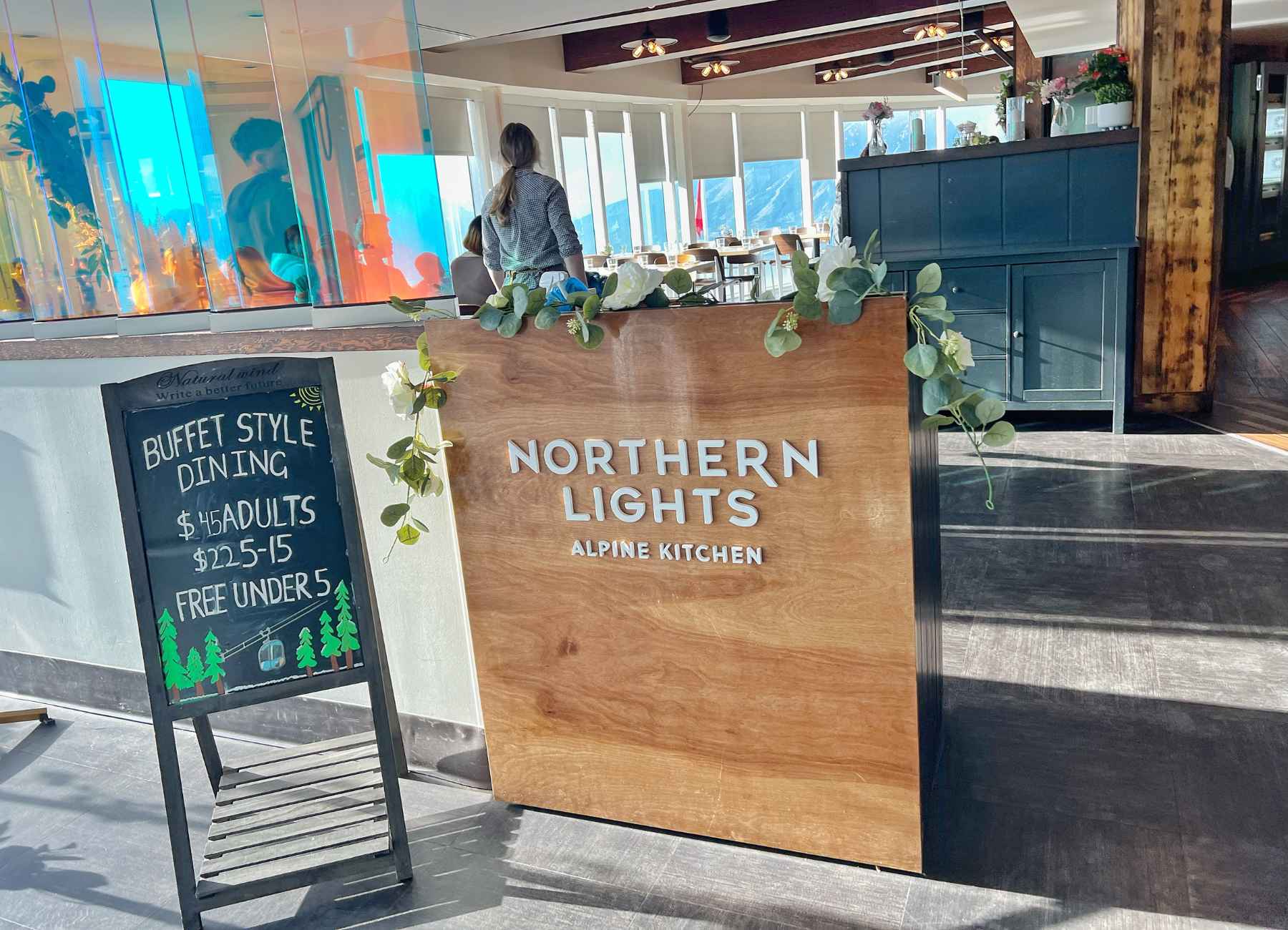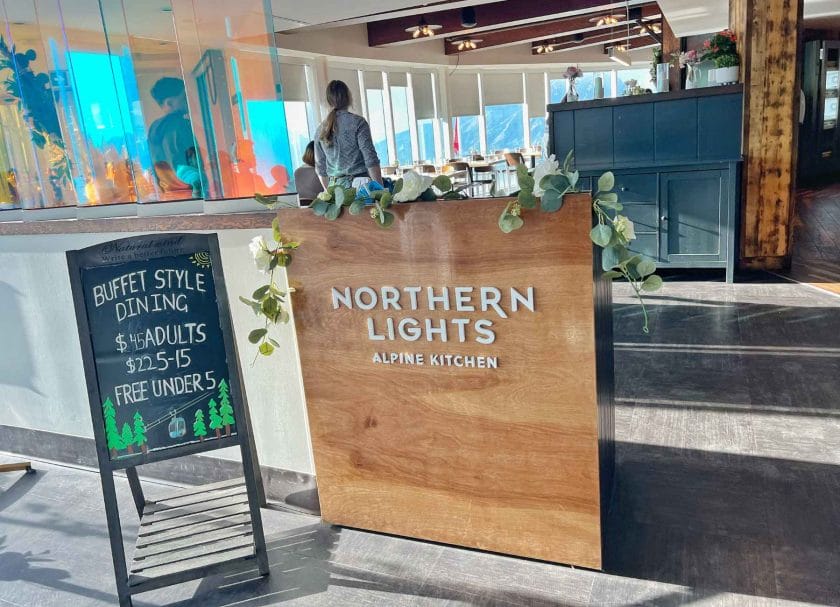 There are 2 restaurants at the top.
Sky Bistro
The Sky Bistro which is the Fancy one. It is recommended you make reservations if you want to eat here. You can do that online here. It is fancier and hence more pricey so be prepared for that.
Lunch will run you about $25 – $30 per plate. While dinner is more like $30 – $50 per plate. They do offer a kids menu and also have a cocktail, beer and dessert menu.
Northern Lights Alpine Kitchen
Reservations are recommended at the Northern Lights Alpine Kitchen as well (you can do that here 30 days before when you will arrive). They do also take walk ins when there are tables available.
It is buffet only with soup and salad, hot selection, carving station, pizza station and dessert station. When we came 5 years ago you could just get an a la carte item, you can no longer do this.
That was a bit disappointing as we were hoping we could just grab a cookie and soda and sit and enjoy the view from the restaurant. Hence the recommendation to grab stuff at the coffee shop and just do that up on the 4th floor.
Rooftop Observation Deck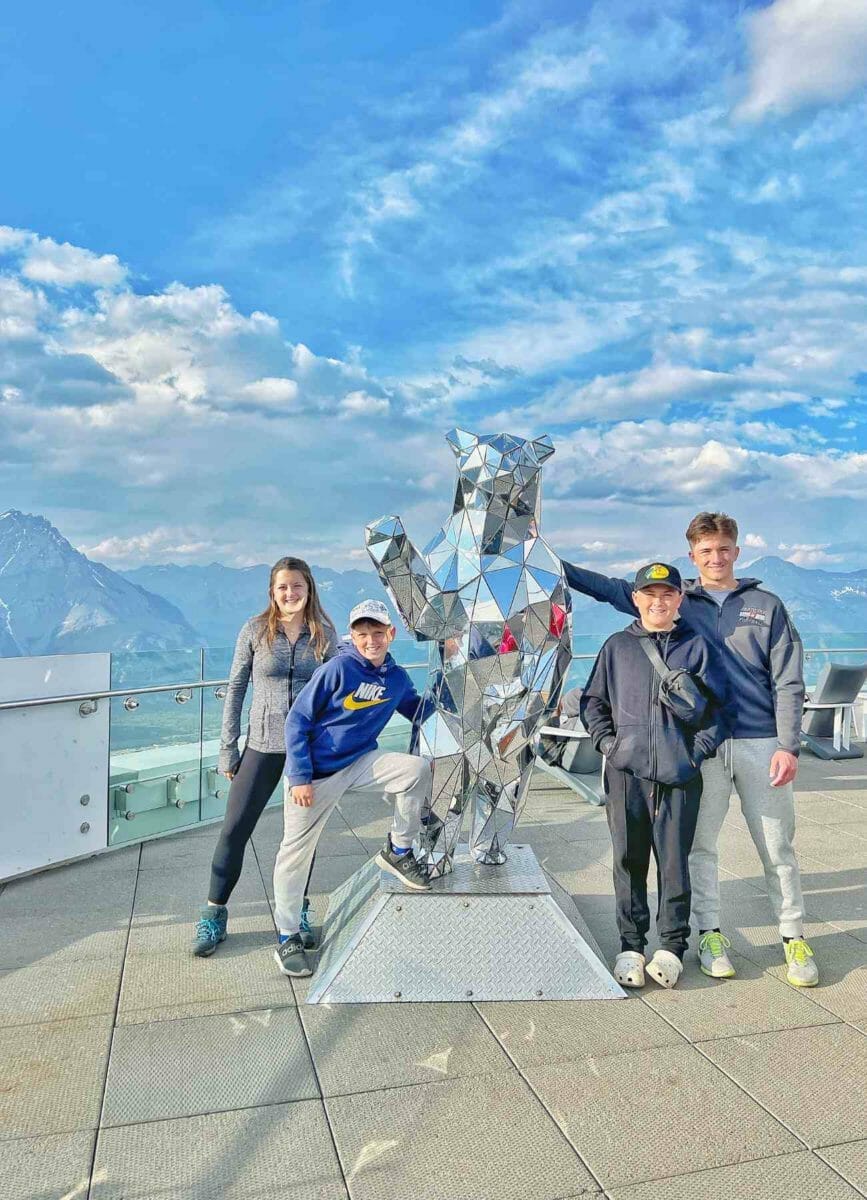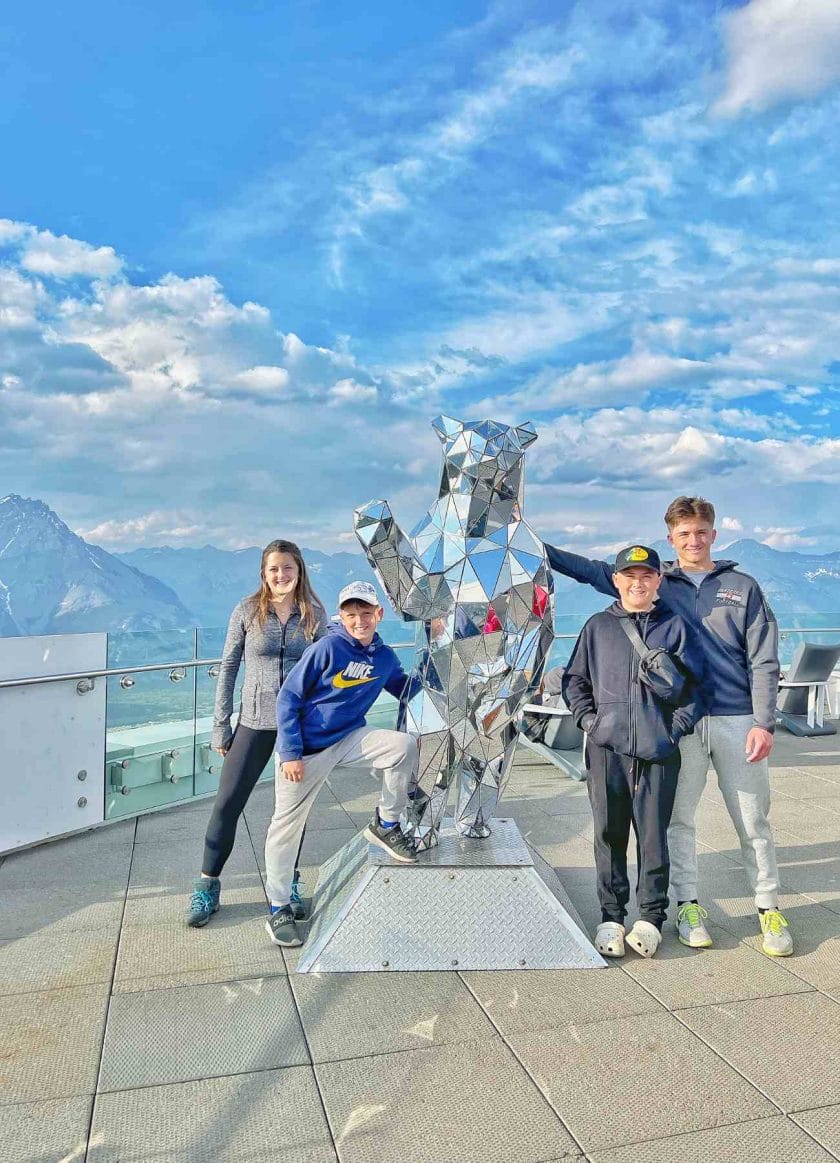 They do hold events here so if you come during that time this area may be closed. If not head up there for another beautiful view and to check out the Glass Bear!
If there isn't an even walk to the back and look out over where the hiking trail comes into the Banff Gondola station.
Gift Shop
Never fear there is a gift shop! I got a sticker and some maple cookies. There were a lot of good options.
Heading down
When you are done head to the downward Gondola station and get ready for the same process as when you got on. Take note they were taking pictures of everyone that got on and at the bottom you can look at your picture before walking through the gift shop.
Climb in to your Gondola cabin and get ready for the picturesque gondola ride on the way down. The views of the Rocky Mountains are beautiful! Make sure you look in all directions.
Thats a wrap be sure to check out all the other awesome things to do in Banff National Park and the surrounding area.
Banff National Park Itinerary
If you are planning your trip to Banff you can purchase a digital copy of our 4 day itinerary for $3.99 and download it immediately!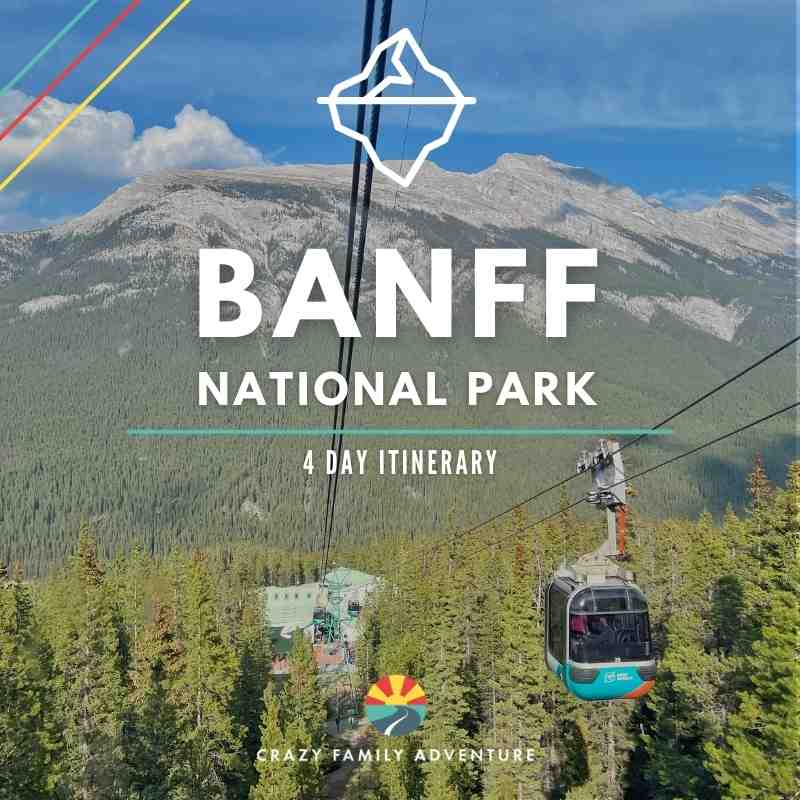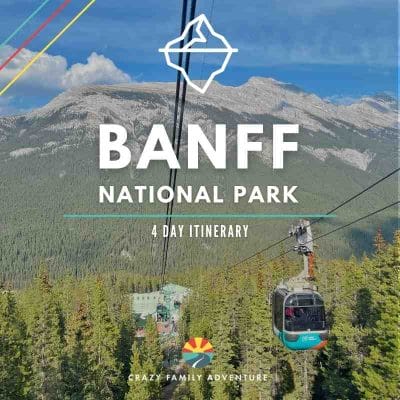 Additional Activities You Don't Want To Miss In Banff National Park
There are so many great things to do in Banff National Park. Here are a few we don't think you should miss.
Lake Minnewanka Cruise – getting out on the water in Banff National Park is a must do! We really enjoyed our time on the cruise. The views and everything we learned about the area!
Columbia Icefield Adventure – Walk on a glacier and out on a glass bottom skywalk over a canyon!
Horseback Riding With Banff Trail Riders – we went on an enjoyable 1 hour horseback ride along the Bow River with Banff Trail Riders.
Golden Skybridge – we had a blast spending the afternoon at the Golden Skybridge. Walking across suspension bridges, zip-lining and doing the ropes course!
Johnston Canyon Lower Falls Hike – Don't miss this quick, easy and beautiful hike while you are in Banff!
Whitewater Rafting – be sure to set aside an afternoon to go white water rafting with Chinook Rafting! We had so much fun!!
Pin This Post For Later: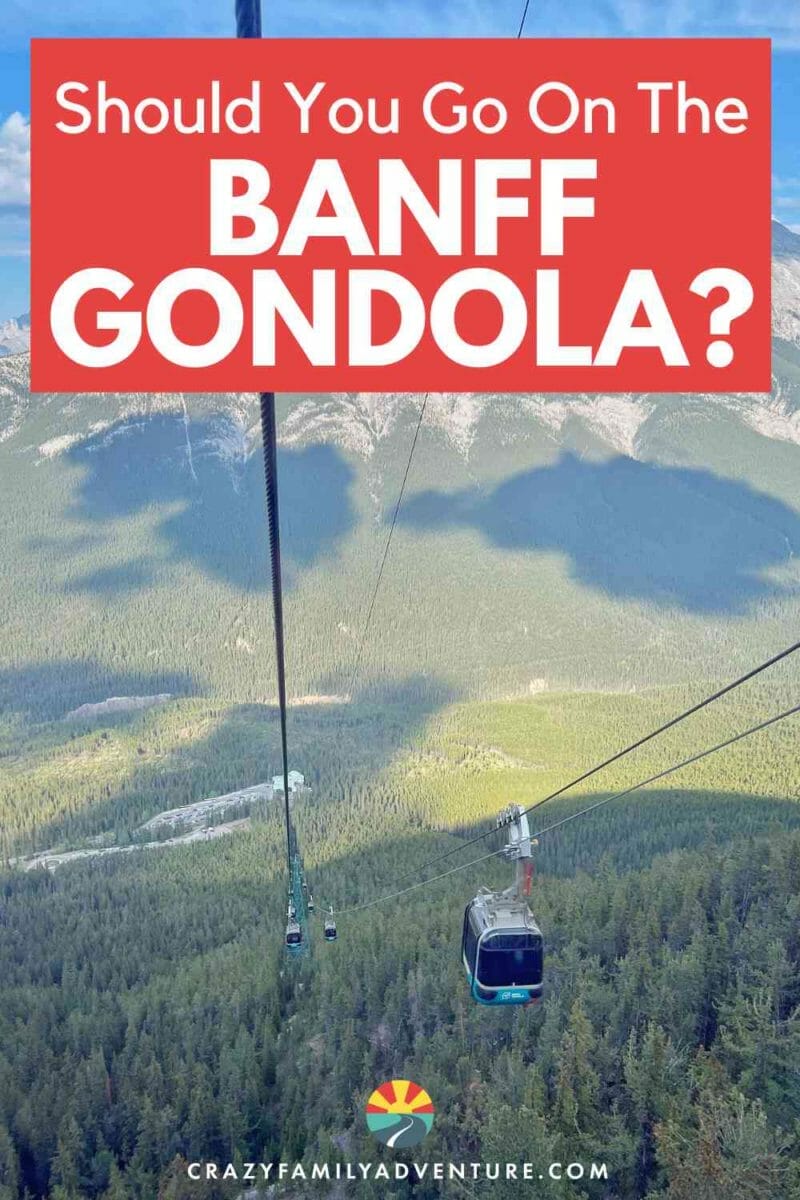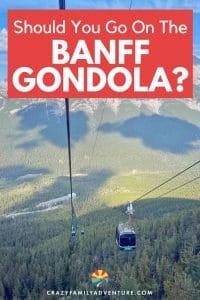 **We were hosted by Pursuit Collections on our Banff Gondola experience. All opinions are our own.
DISCLOSURE: This post may contain affiliate links, meaning I get a commission if you decide to make a purchase through my links, at no cost to you. Please read my disclosure for more info.