The Golden Skybridge was so much fun!! It is well worth it to plan an afternoon to visit here when you are in Banff National Park.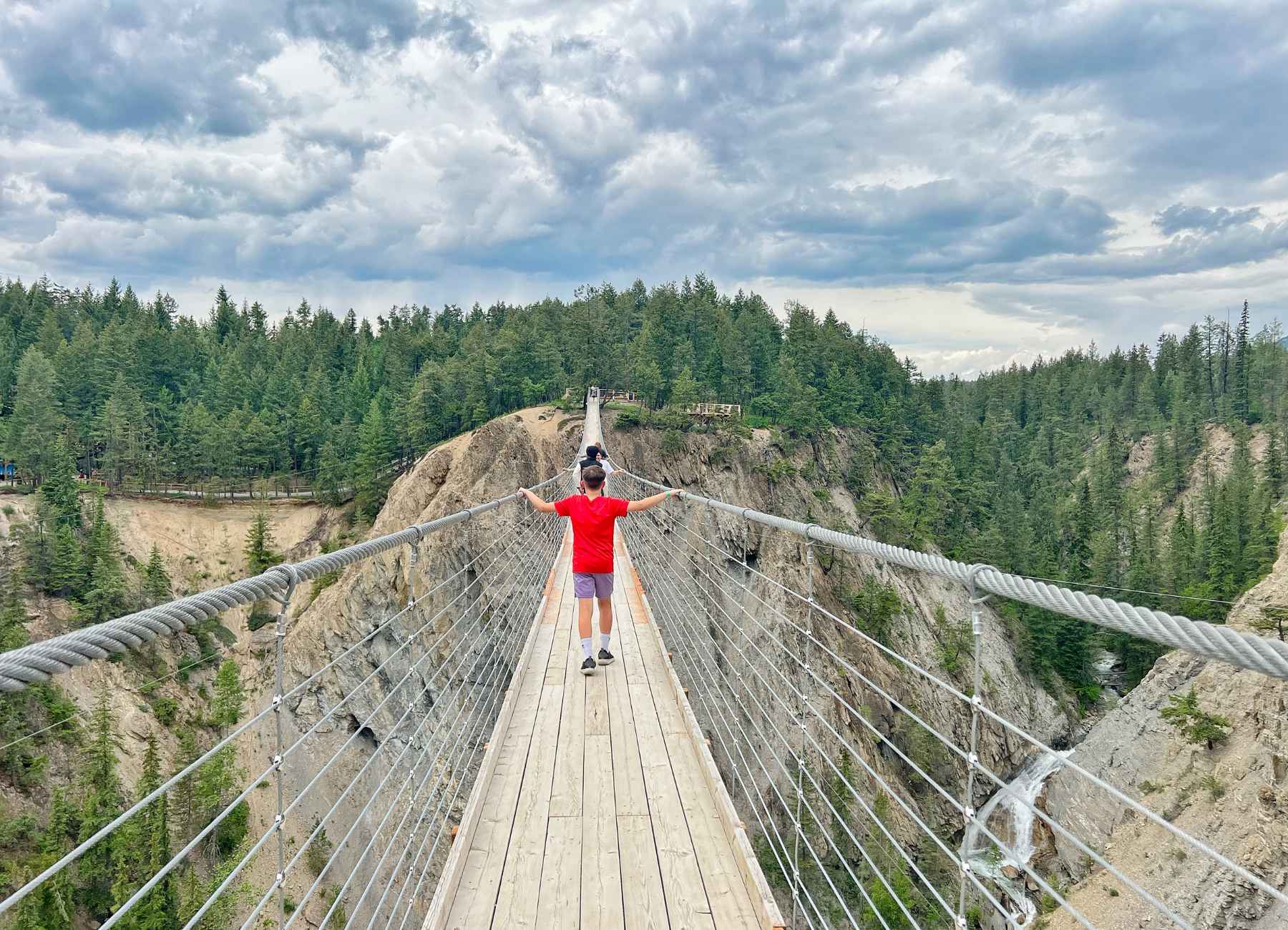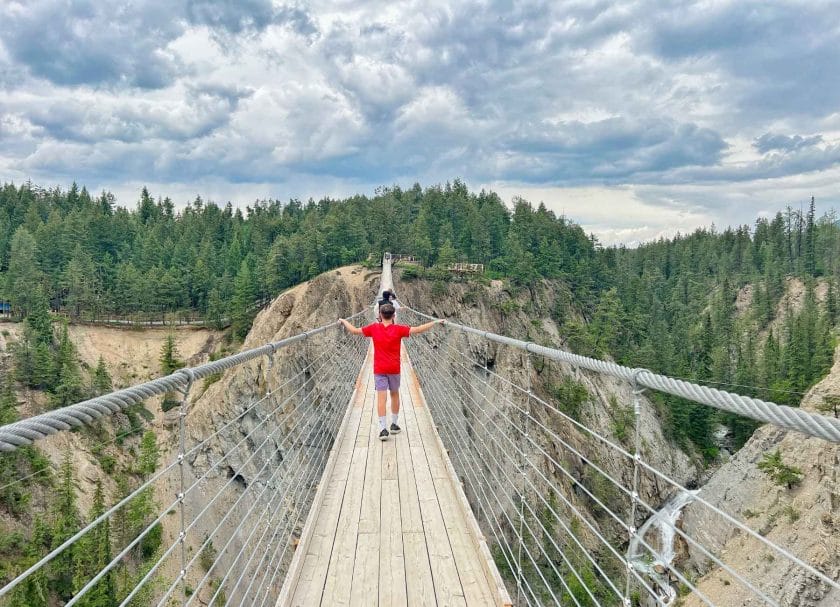 We got there at 2 and were given a lay of the land. There is a lot of stuff going on here!! Plus you have epic views of the Rocky and Purcell Mountain Ranges throughout the park.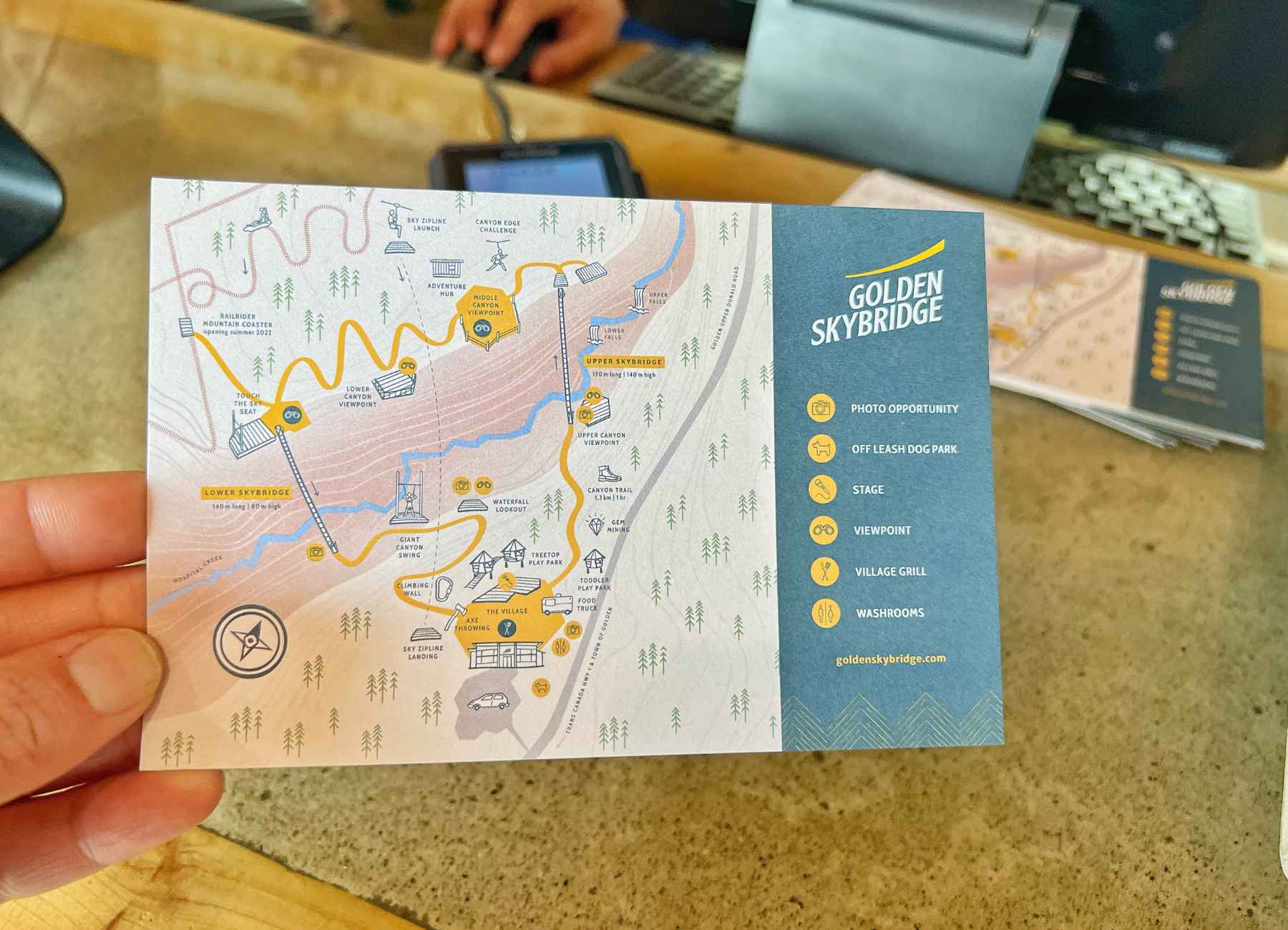 When you get your ticket they will walk you through a map of the park. It is laid out so you start in the play park and from there cross the upper suspension bridge. The ropes course, zip-line, mountain coaster and touch the sky picture point are all on this side of the canyon.
The zip-line will take you back across the canyon so if you want to do that first you will have to rewalk across the upper suspension bridge to get back to the other side of the canyon for the mountain coaster and the ropes course.
We did our activities in this order so we could end with the zip-line. However in hind sight we would have done it differently due to the weather. When we got there it was a beautiful sunny day. But you are in the mountains and the weather quickly changes!
When we were ready to do the Zip-line – what most of the kids were the most excited about. It started to get windy and rainy and there was a chance they would have to shut down the zip-line for the day. For this reason I would recommend if the weather is good and the zip-line is a top priority for your group go do it first thing!
Here is the order we did everything:
Play Park
Upper Suspension Bridge
Mountain Coaster
Touch The Sky Picture
Ropes Course
Zip-line (had a 30 minute delay due to weather)
Food
Rock Climbing
If you want help with planning your trip to Banff you can purchase a digital copy of our 4 day itinerary here!
Getting To The Golden Skybridge Park
The park is about 2 hours away from downtown Banff. But it is a beautiful drive! You can also spend 4 hours here so the drive is worth it. You could also add a late night stop (when parking is available) at Lake Louise to your day.
Kicking Horse Mountain Resort is also in the area if you want to add that to your trip.
The park is located at 503 Golden Donald Upper Rd Golden, BC V0A 1H0. Conveniently located only two minutes from the Trans-Canada Highway.
Video of us at the Golden Skybridge:
Getting Tickets
You will most likely want to get an Adventure Pass. But you can also go a la carte and pick what things you want to do or just get the general admission. There are a variety of other ticket options as well. Including a 3 pack for the mountain coaster.
You can check out ticket prices and options here.
Note that last admission is 30 minutes before close. The last Adventure Pass admission is 2 hours prior to closing time. Open and closing times may vary so be sure to check their site to confirm.
If you are getting an Adventure Pass you will need to book ahead and set a time for your entry.
Treetop Village Play Park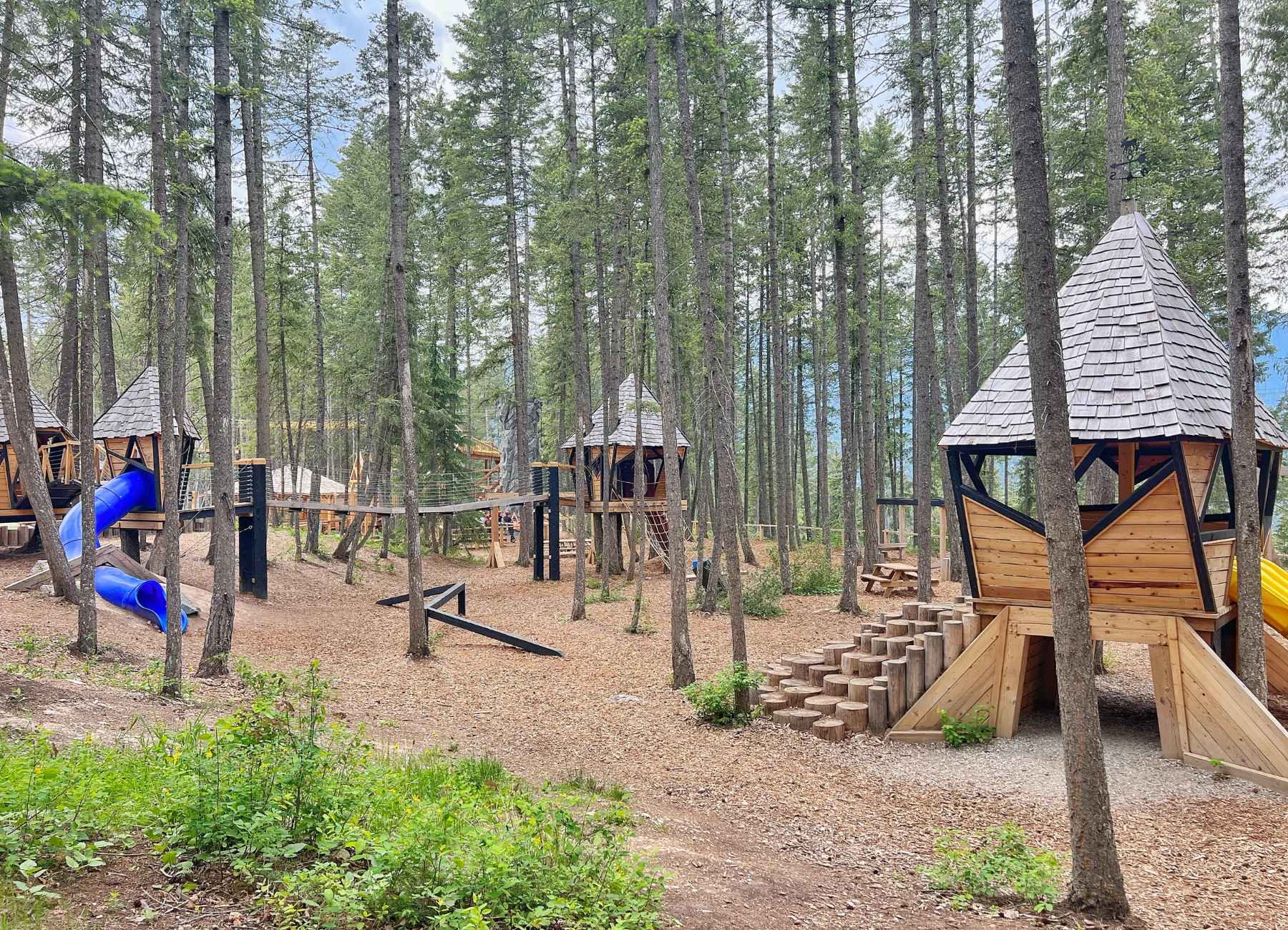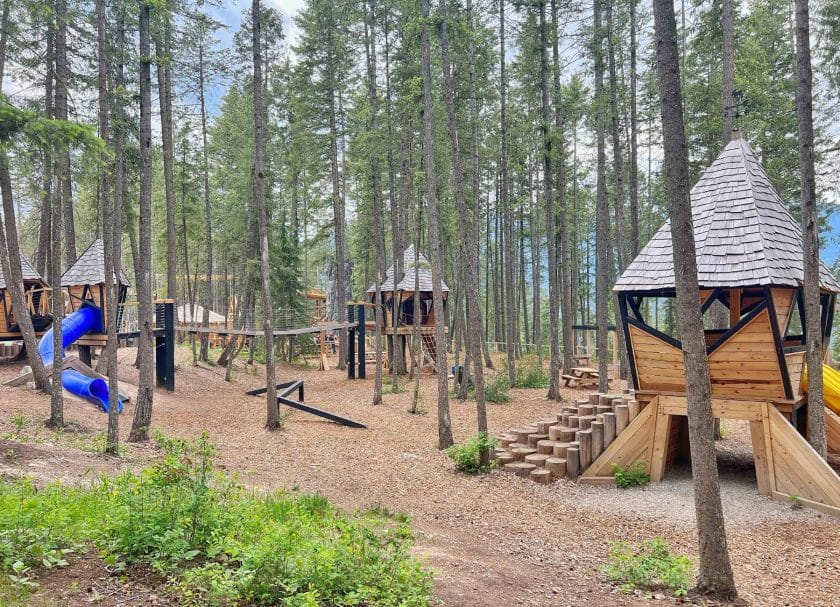 The kids headed over the Treetop Village play area to run around for a while – while Craig got a beer. Beers can only be drank by the food area – you can not take them past that to the park or the bridge.
The Play Park is designed more for kids 12 and under with weight limits on the zip-lines in the play park.
Suspension Bridge – Skybridge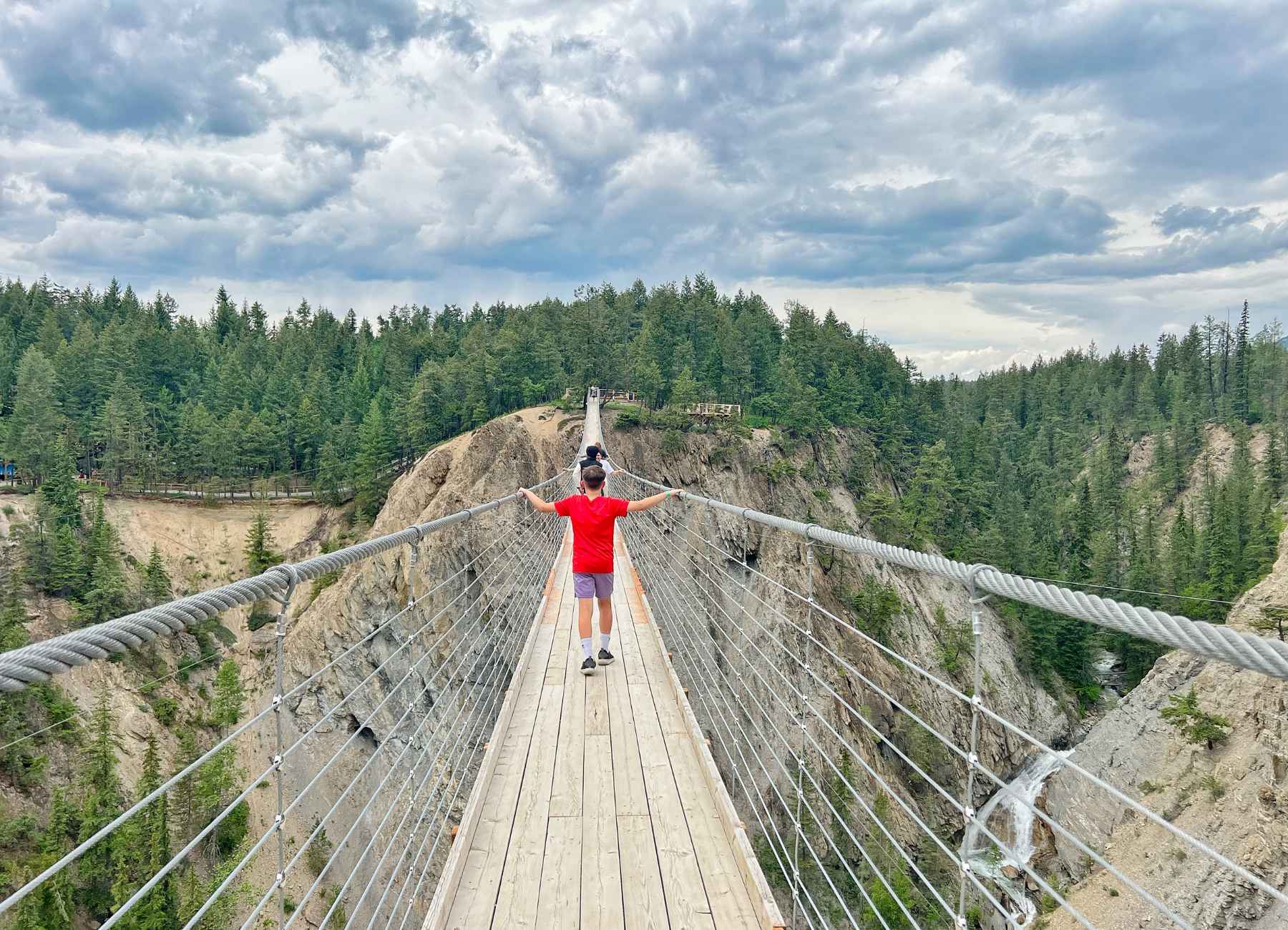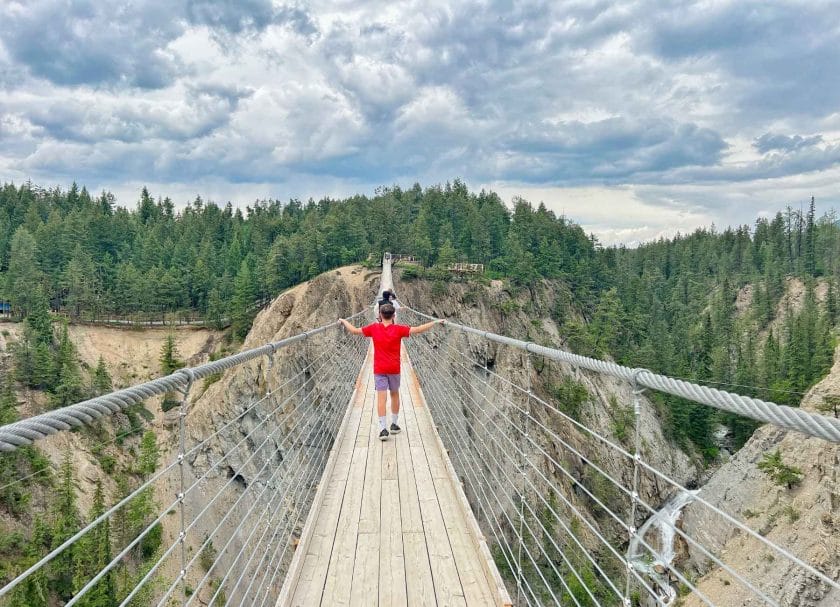 This was a legit suspension bridge. It is one of Canada's highest suspension bridges. It was super long and we were way above the canyon floor. While we walked across it, it started swaying back and forth. It was definitely a little scary!!
The bridge also kept rocking. I'm not sure who was doing it but I know someone in our group was!! Not funny at all!!
I had one hand on the railing and started off feeling good but halfway through my legs started to get wobbly. We all kept pushing through with everyone voicing their concerns through the whole time.
It was wild!! Not something to do if you are afraid of heights. But I am so glad we did it. It was a really cool experience.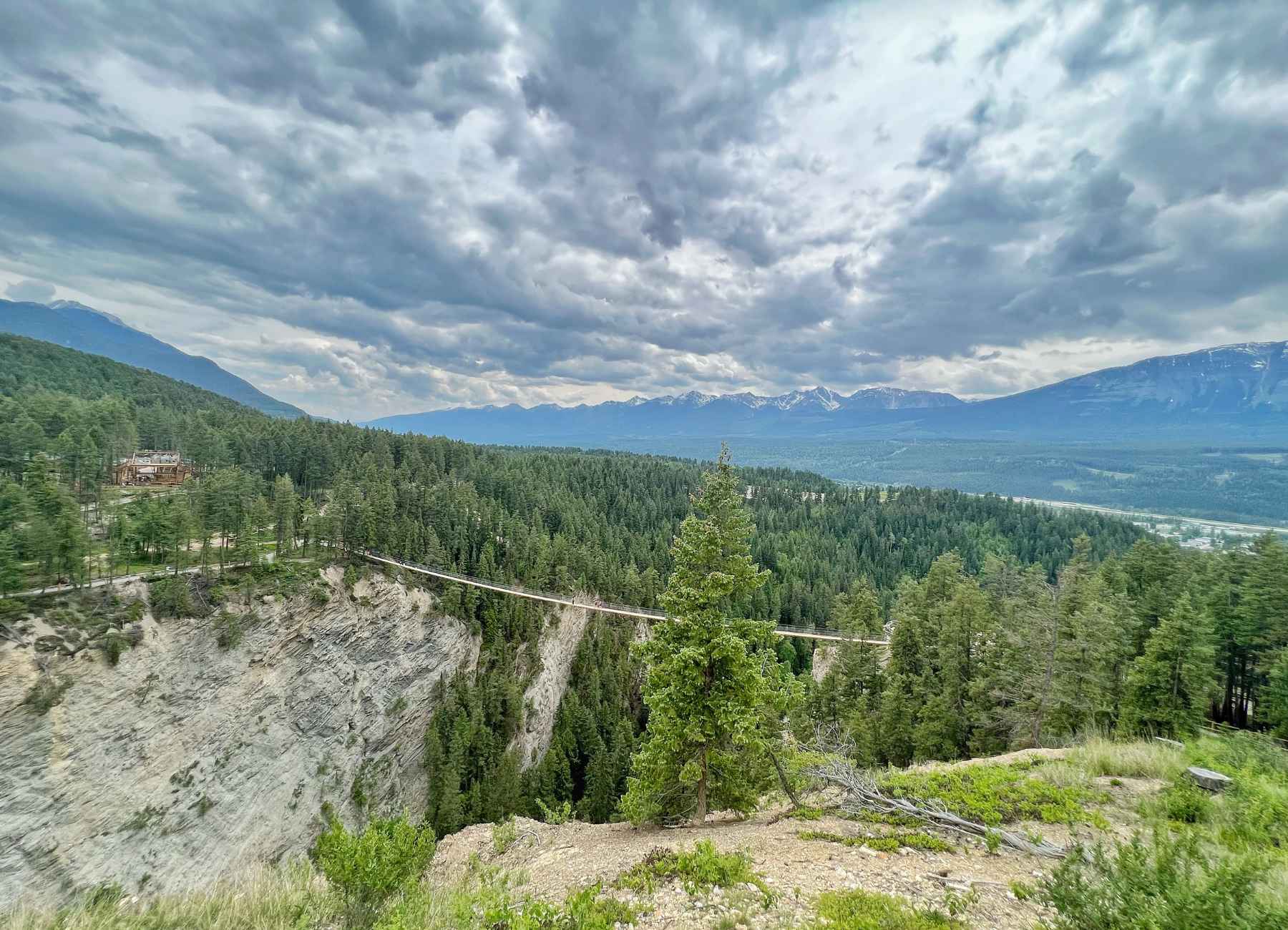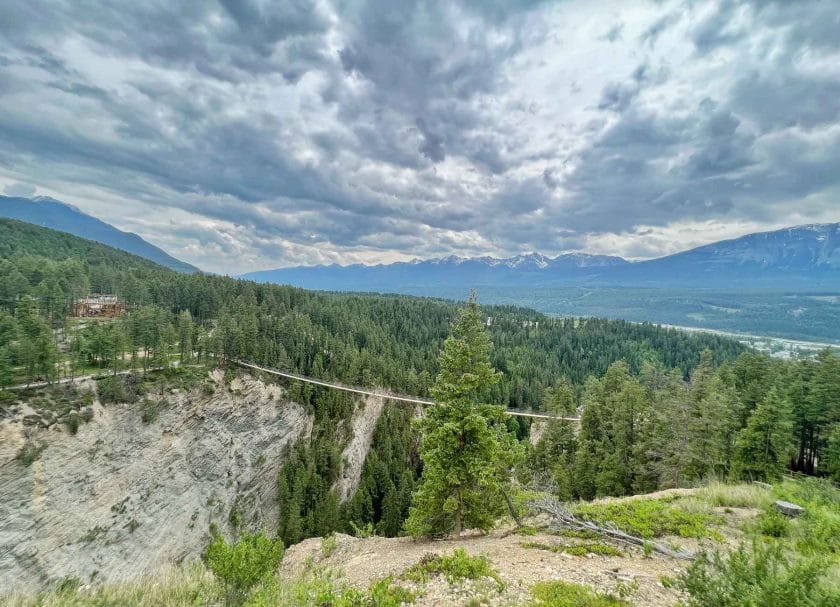 We did the Upper Skybridge. There is also a Lower Skybridge but we did not do that since we took the zipline back over the canyon instead.
Railrider Mountain Coaster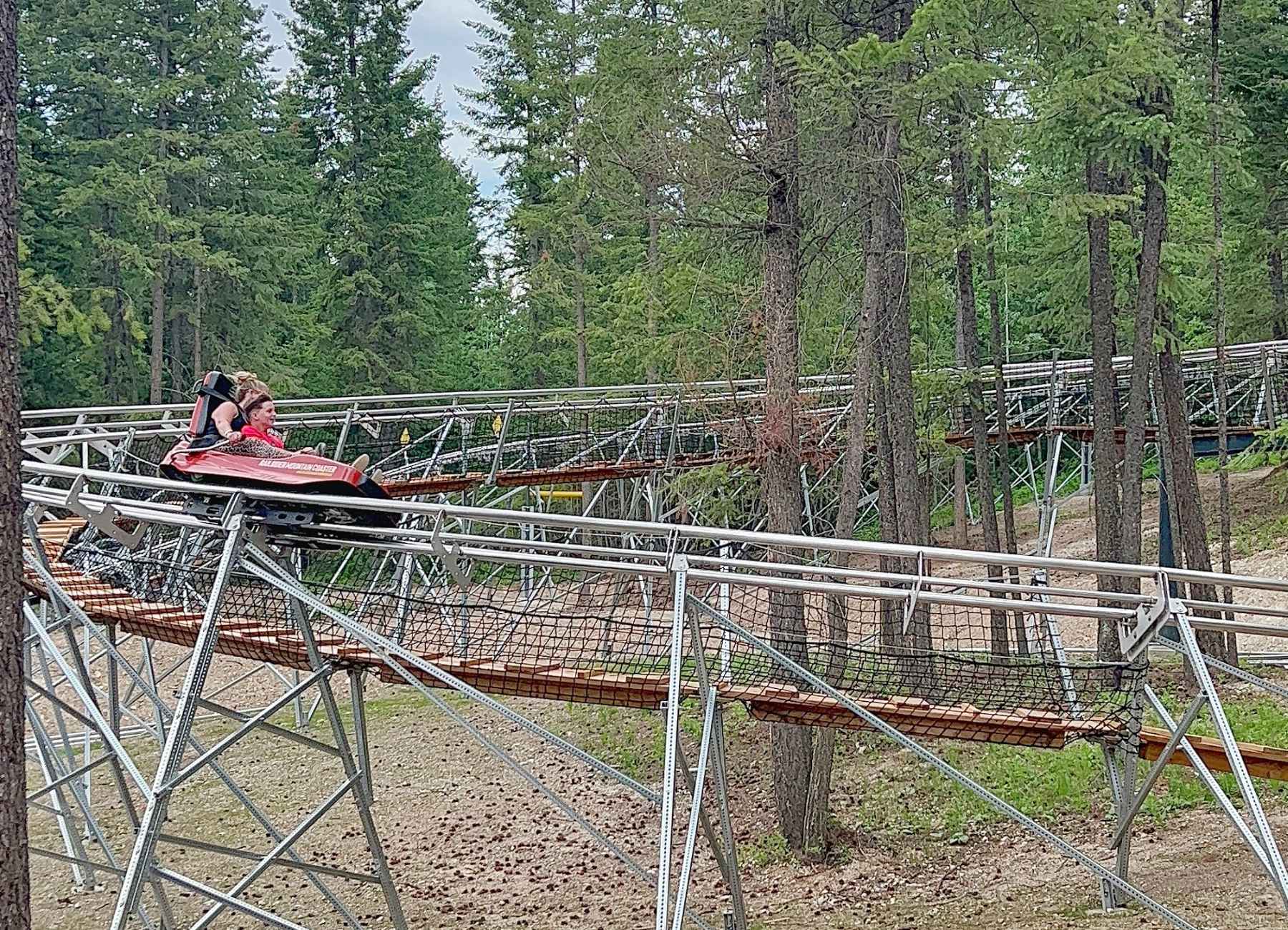 Up next we headed on the trail past the ropes course to the Railrider Mountain Coaster. 2 people can go together if you are under 310lbs. Knox and I went on one together, Cannon and Ivan went together and Melia and Inga went together. Carson and Know and Megan and Jake went on their own.
You are in control of how fast or slow you go. I tried to go full speed the whole time but I couldn't!! I had to put some breaks on at some parts since it felt like we were going to fly off the track.
It was a blast and Knox said he would have done it over and over again. We had the all access pass but that only included 1 ride. If he wanted to go again it would have cost $15 a ride.
Everyone enjoyed the coaster ride.
Reach Out And Touch The Sky Picture Area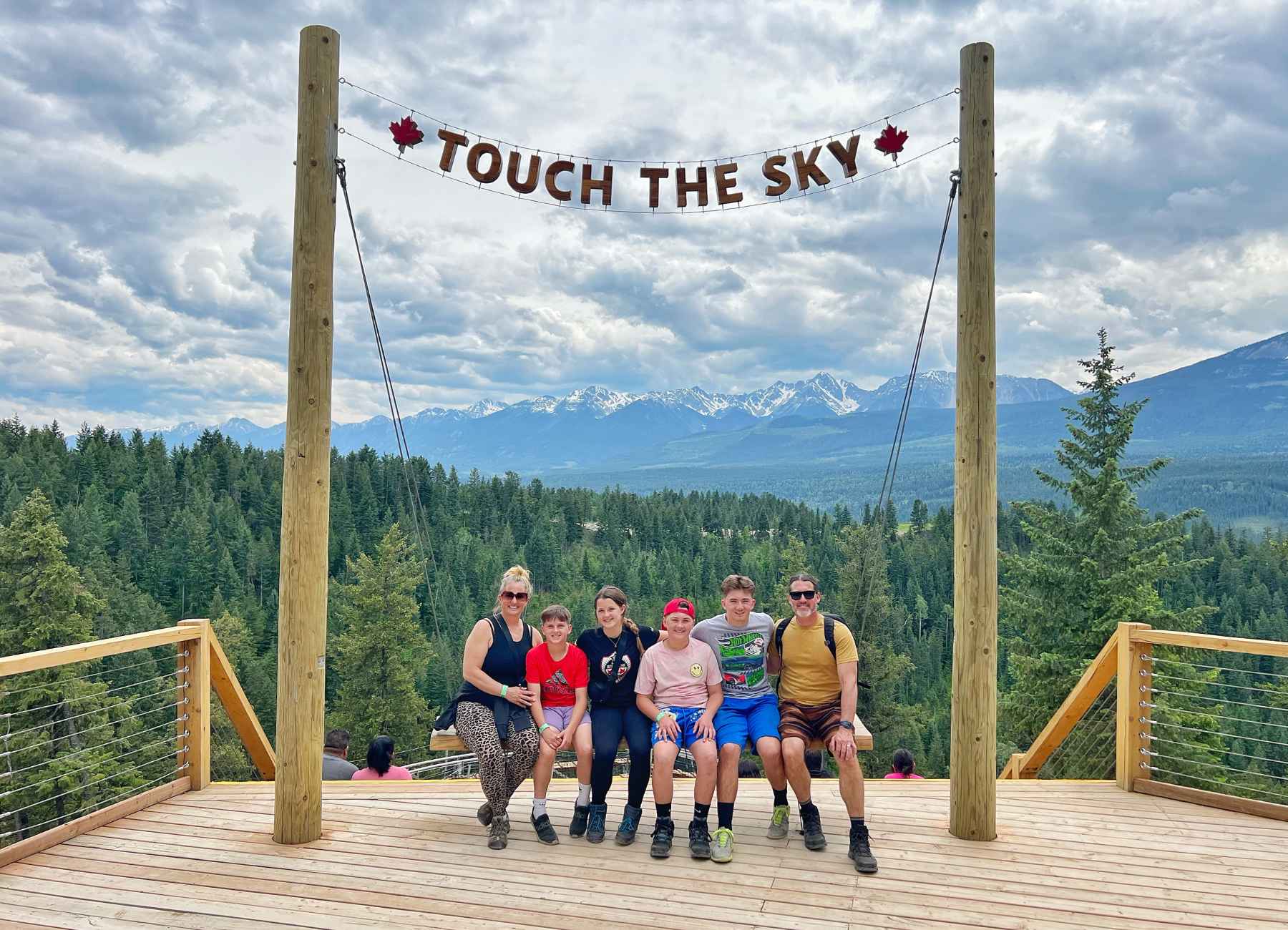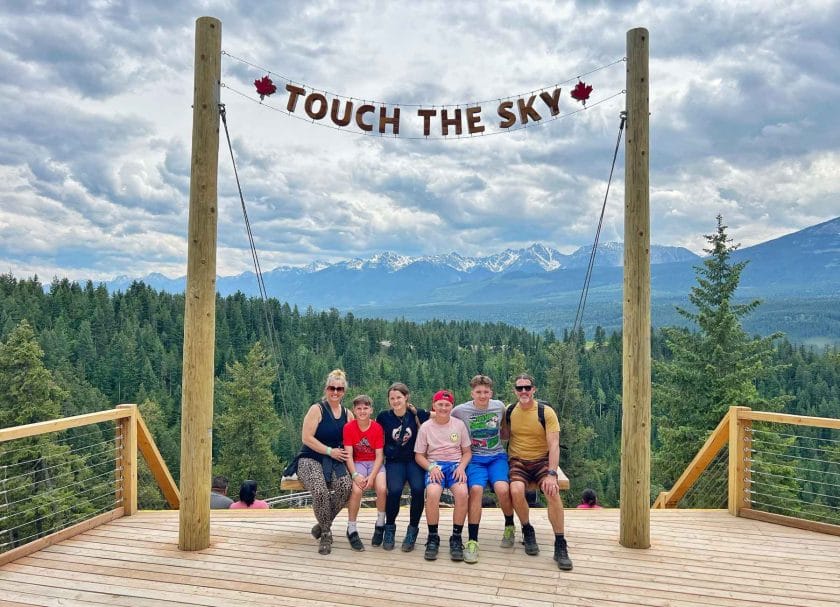 There is a great area where you can sit on a large swing with your family to get a picture with the mountains in the background.
Canyon Edge Challenge Course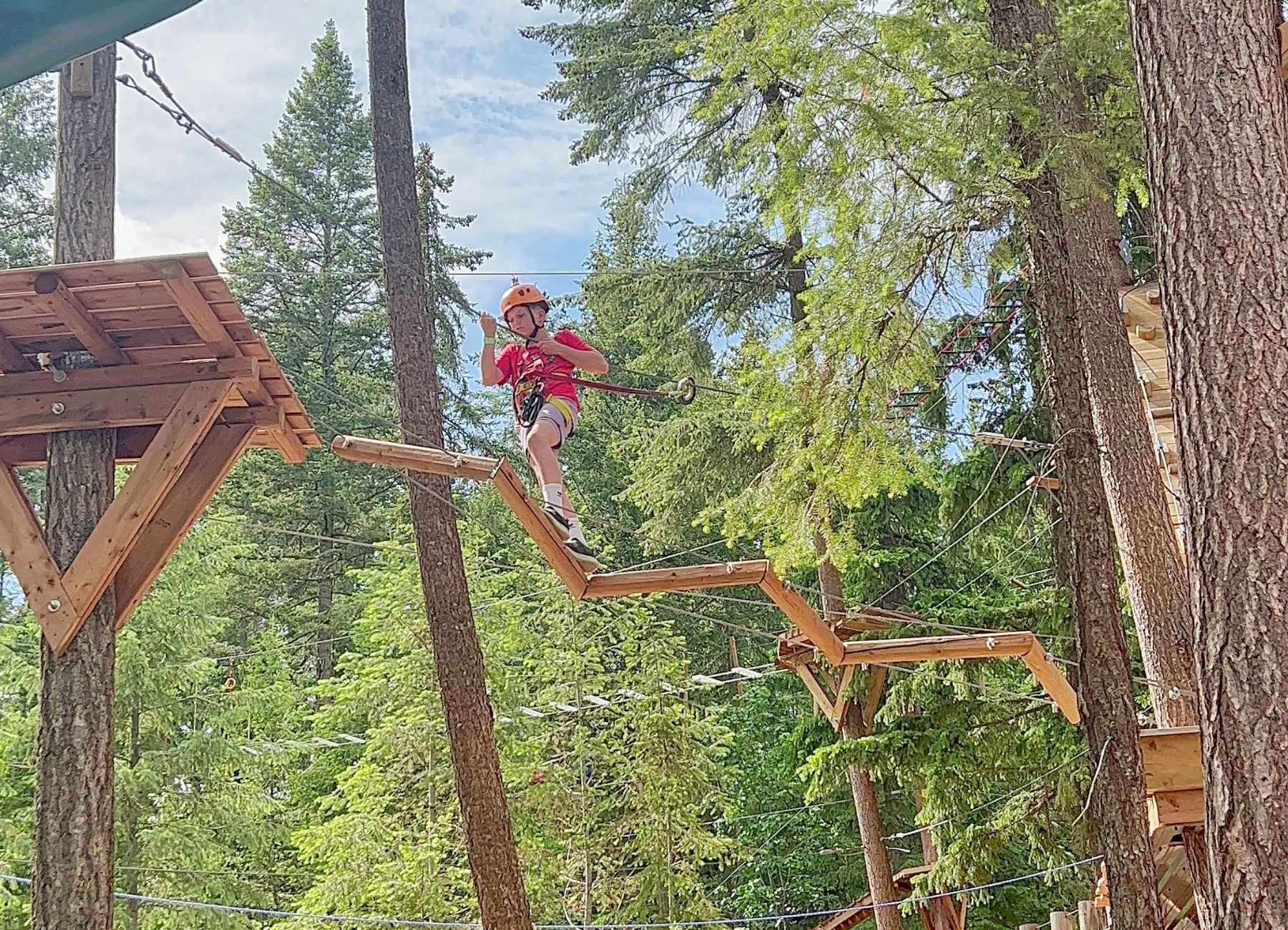 Up next we headed to the ropes course. Just Me, Knox, Carson, Inga and Megan did the ropes course. We got harnessed up and got the instructions on how to do the course and our harnesses, hooks and zip-line equipment and off we went.
Knox picked the harder level course and at first I didn't think I was going to be able to do it! but the more obstacles I did the easier it got. We finished with first course with just a little screaming by me when I did the zip-line and after that headed to do the zip-line course.
The zip-line course had zip-line after zip-line with just a few obstacles to do in between. It was really fun and Knox said that was his favorite part.
Zip-line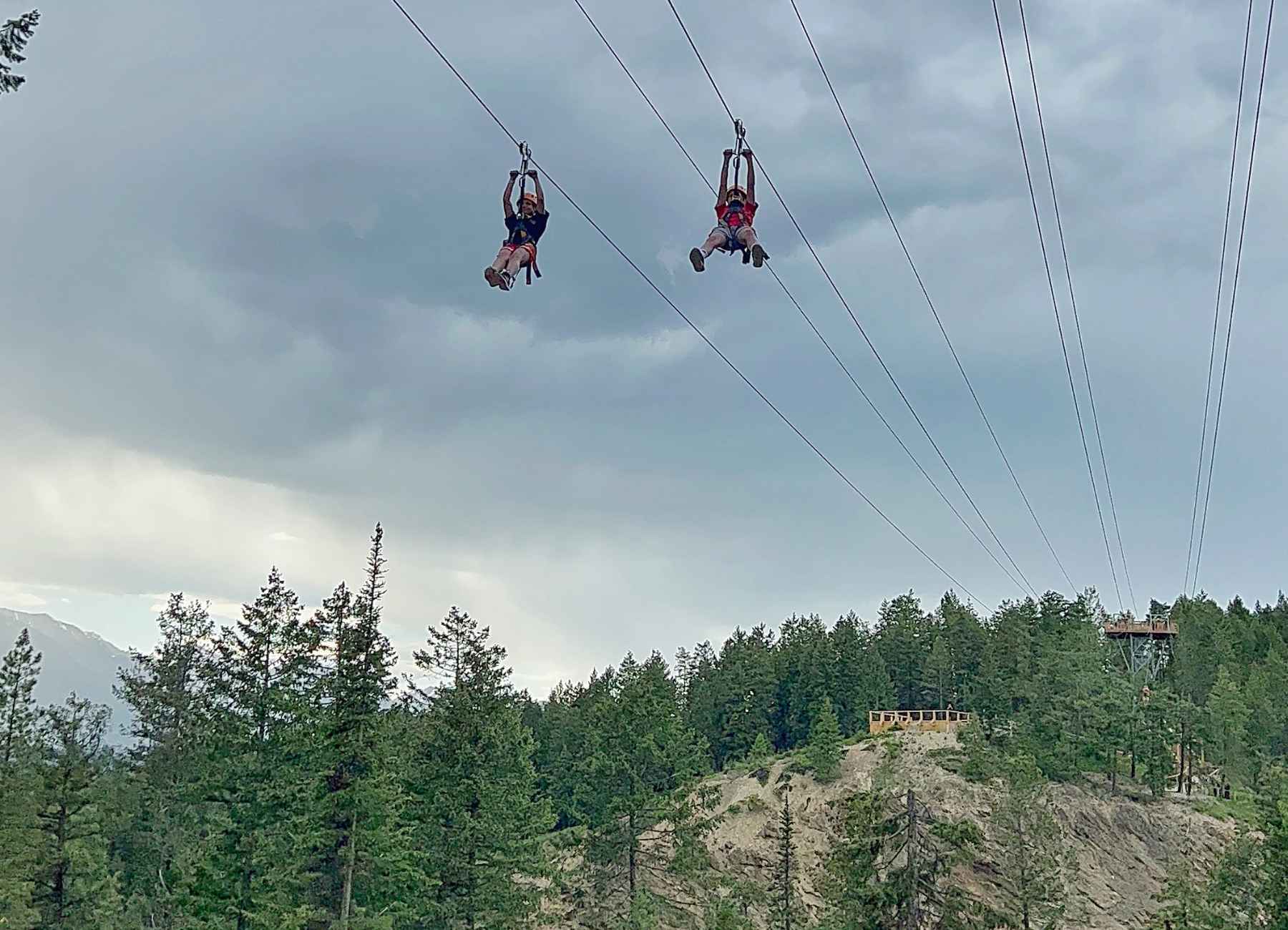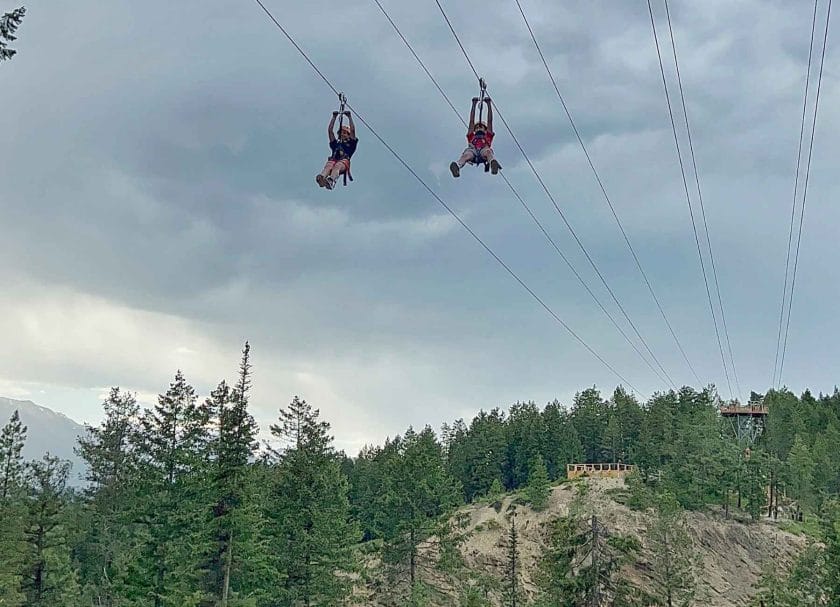 Now it was time for the Real Zip-line. You zip-line 426 feet above an expansive canyon engulfed by the Columbia Valley the epic views are so awesome. I was scared. We have actually never done a zip-line like this and it was a bit freaky!!
We were getting ready to go when high winds picked up so we ended up having to wait about 20 minutes to see if they would continue with the zip line experience for that day. Luckily they did and all of a sudden it was our turn!! They did give us instructions and got us all harnessed up before that.
We walked up the spiral staircase (the zipline climb) to the platform and had to watch a bunch of people go before we did. Talk about building up the suspense!!
When it was our turn Melia went first and did it like a champ!! I went with Cannon and Carson and was freaking out a bit. I kept asking the guy to check my harness and the kids again. He assured me it was all good.
When it was our turn I screamed as I went over the canyon ridge and went zipping across the canyon with my feet in the air. You come in fast and at the end it catches and slows you down and throws you forward and the catcher at the bottom grabs on to you and latches you in so they can get you unhooked.
It was a really fun experience but I don't know if I need to do that again!
After that we headed over to order food – they had a good variety of burgers, vegetarian options and kids options. We ordered food and checked out the gift shop.
Rock Climbing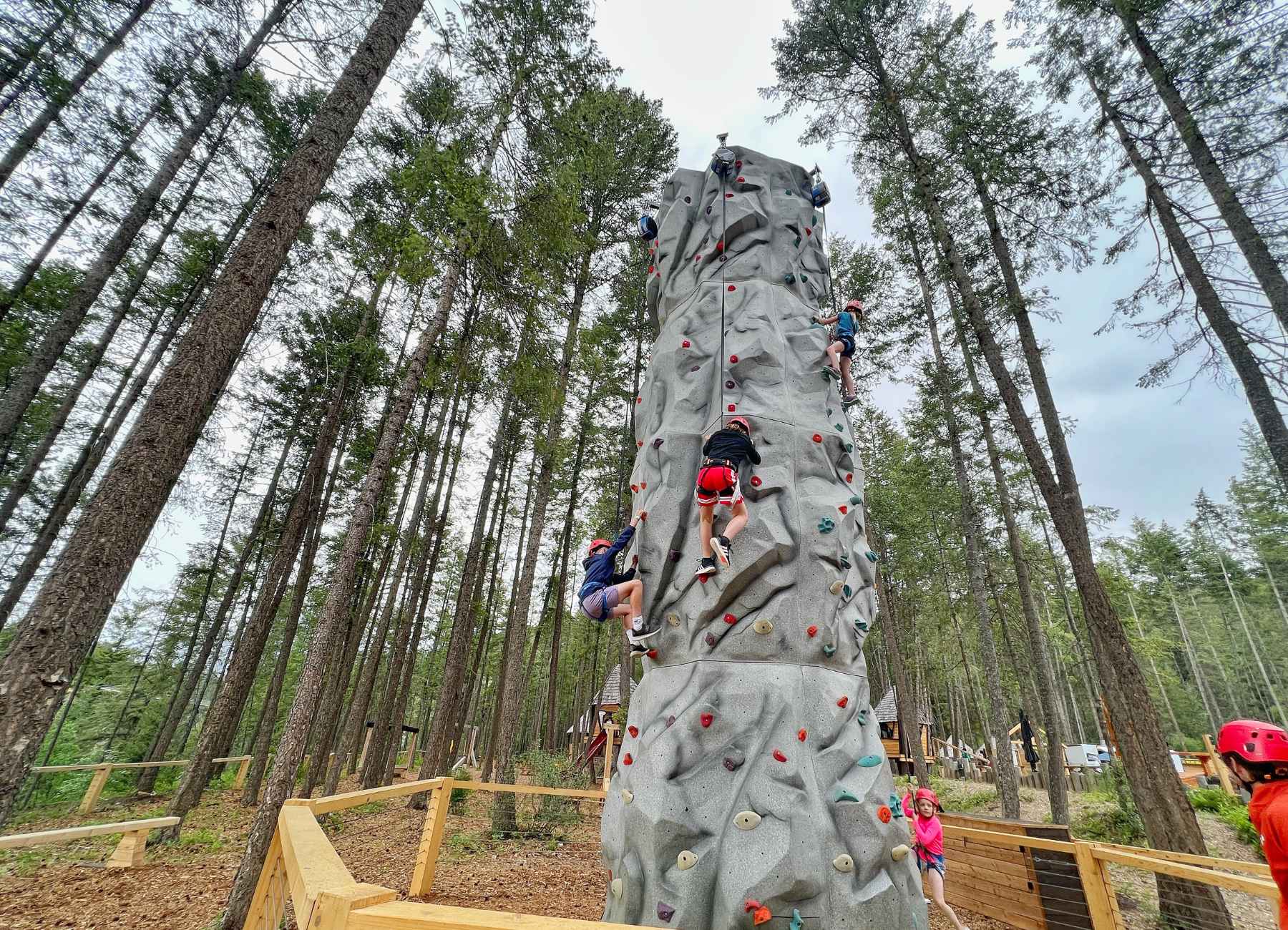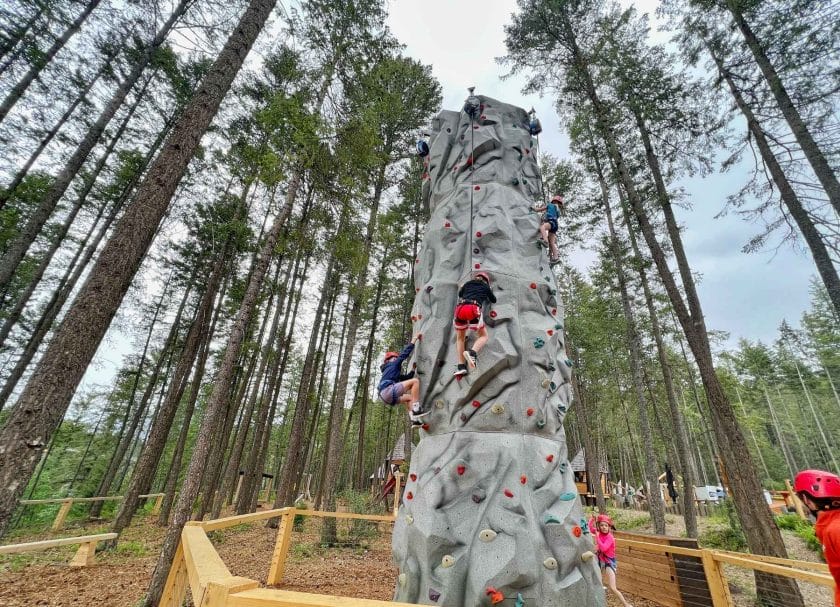 While we waited for our food Knox headed over with Inga to do the climbing wall and I watched the axe throwers for a while. We opted not to do the axe throwing this time around. The rock climbing wall was a good height for younger kids.
Canyon Swing
If you are looking for even more check out the Canyon Swing! Here you are harnessed in and send free falling over the canyons edge. This is a bonus activity so you must pay for it separately.
Food
In the area where the food was there are multiple picnic tables and they had a fire-pit going. We spent about 5 hours here and really enjoyed our time!!
It is about a 1 hr 45 minute to 2 hour drive from Banff but the drive is beautiful! We also included a stop at Lake Louise on the way back so that worked out well! Plus the Johnson Canyon hike was on the way from Banff to Golden so you can easily tie all of these things into your trip.
Banff National Park Itinerary
If you are planning your trip to Banff you can purchase a digital copy of our 4 day itinerary for $3.99 and download it immediately!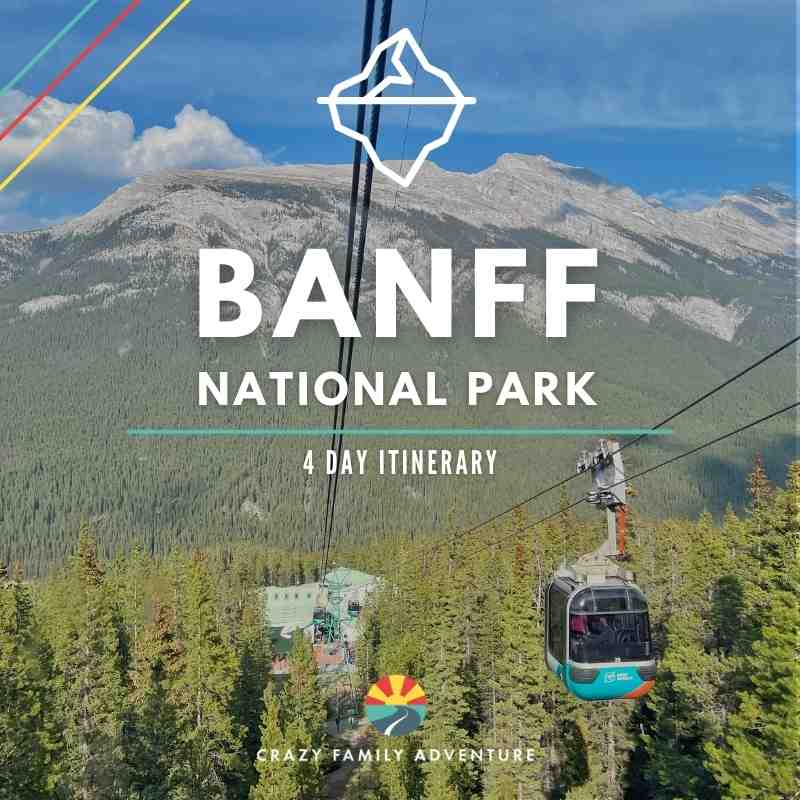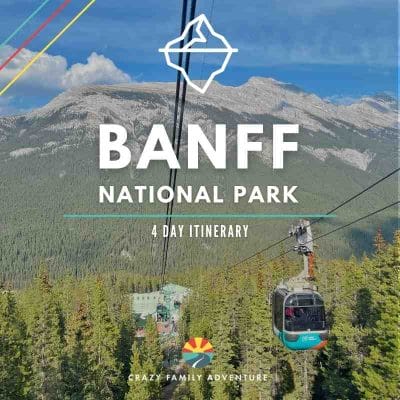 Additional Activities You Don't Want To Miss In Banff National Park
There are so many great things to do in Banff National Park. Here are a few we don't think you should miss.
Banff Gondola – we had an awesome time going up on the Banff Gondola. We loved taking in amazing views and hike to the top of Sulphur Mountain!
Lake Minnewanka Cruise – this 1 hour cruise will take you out on the beautiful waters of Lake Minnewanka.
Horseback Riding In Banff National Park – We did a 1 hour long horseback riding adventure along the Bow River and loved the horses and the views!
Columbia Icefield Adventure – Walk on a glacier and out on a glass bottom skywalk over a canyon!
Johnston Canyon Lower Falls Hike – Don't miss this quick, easy and beautiful hike while you are in Banff!
Whitewater Rafting – be sure to set aside an afternoon to go white water rafting with Chinook Rafting! We had so much fun!!
Pin This Post For Later: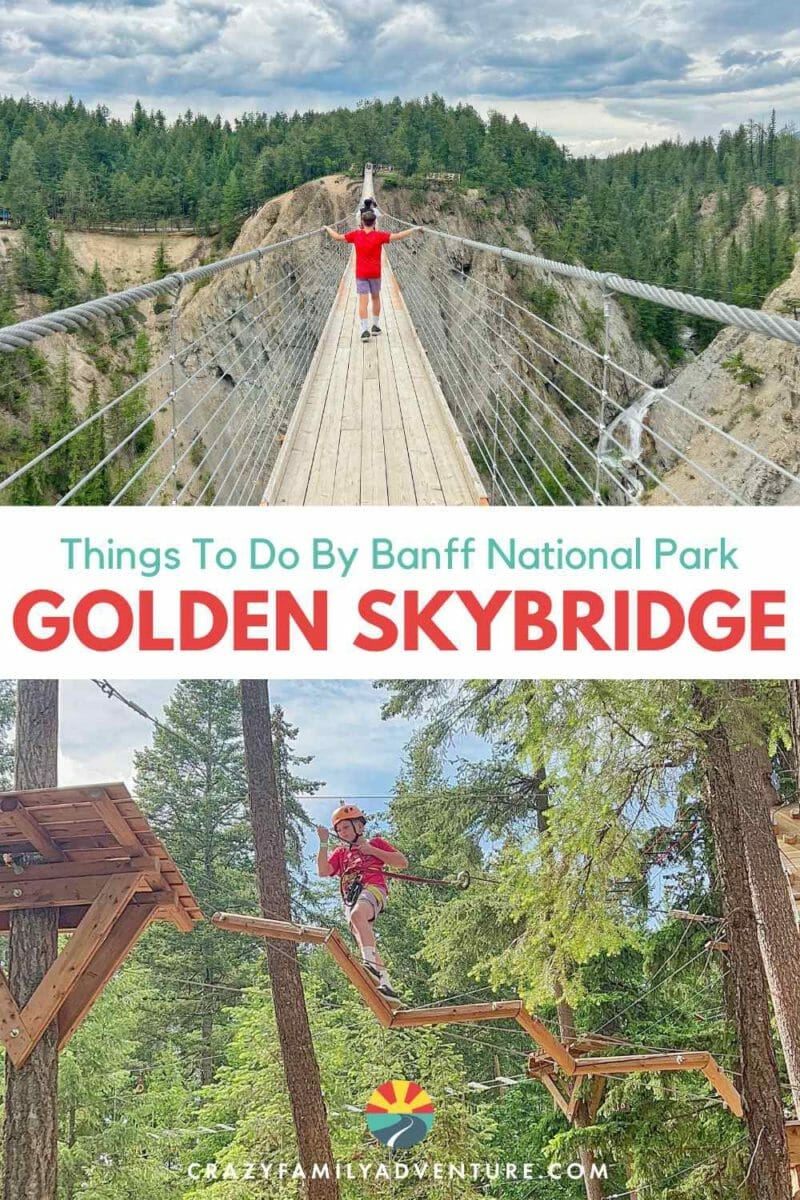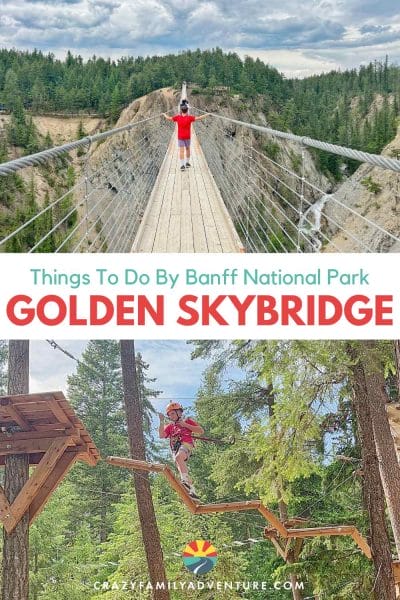 **We were hosted by Pursuit Collections when we visited the Golden Skybridge. All opinions are our own.
DISCLOSURE: This post may contain affiliate links, meaning I get a commission if you decide to make a purchase through my links, at no cost to you. Please read my disclosure for more info.