We were limited on time going from one activity to the next but wanted to squeeze in a quick hike to Johnston Canyon Lower Falls! Last time we were in Banff this whole area was closed so we were excited to get the chance to check it out.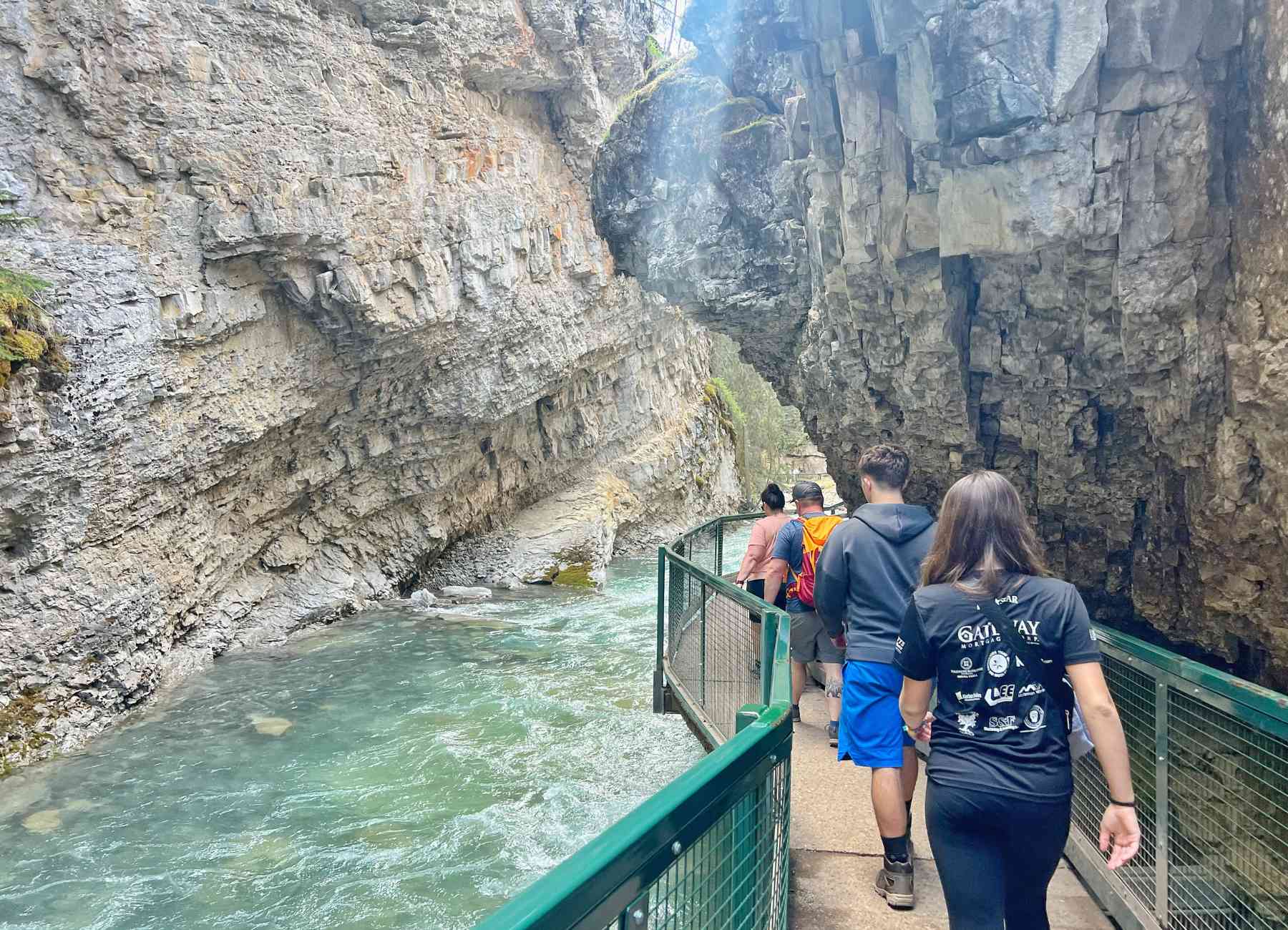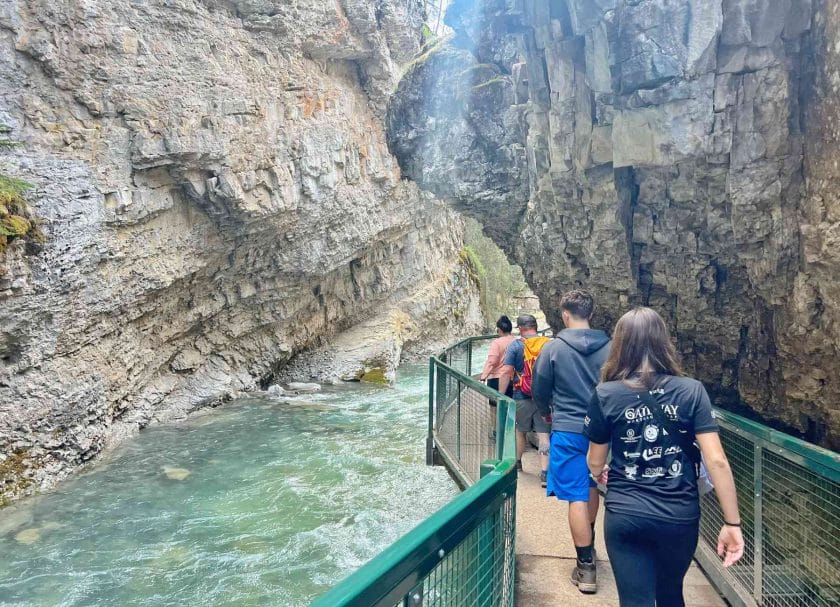 I have to say it was hard for me not to do the Johnston Canyon Upper Falls trail as we normally choose the more difficult one. But we had an entry time set for the Golden Skybridge so I knew we wouldn't have time to do the more difficult hike. Next time!
When planning your Banff Itinerary be sure to add Johnston Canyon Lower Falls hike to it!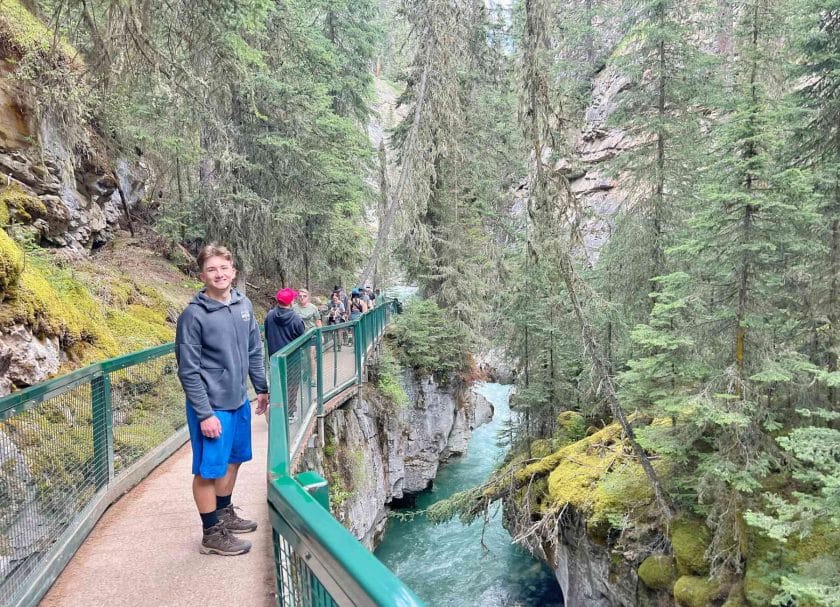 Stats
Length: 1.4 miles
Type of hike: Out and Back
Elevation Gain: 344 feet
Cost: You need a Banff National Park day pass
Level: I would say it is an easy hike
Johnston Canyon Parking Lot
The first parking lot was full but luckily they have a 2nd parking lot. We pulled in there and quickly got a spot – they also had RV parking. It was a bit of a hike to a hike from the parking lot. But they had a lot of signs that pointed us in the right direction so it wasn't too bad.
They also had bathrooms at the parking lot.
We made our way to the trail noticing that they also had a coffee shop and a cafe – so if you want to spend some time here you can!
Hiking The Johnston Canyon Trail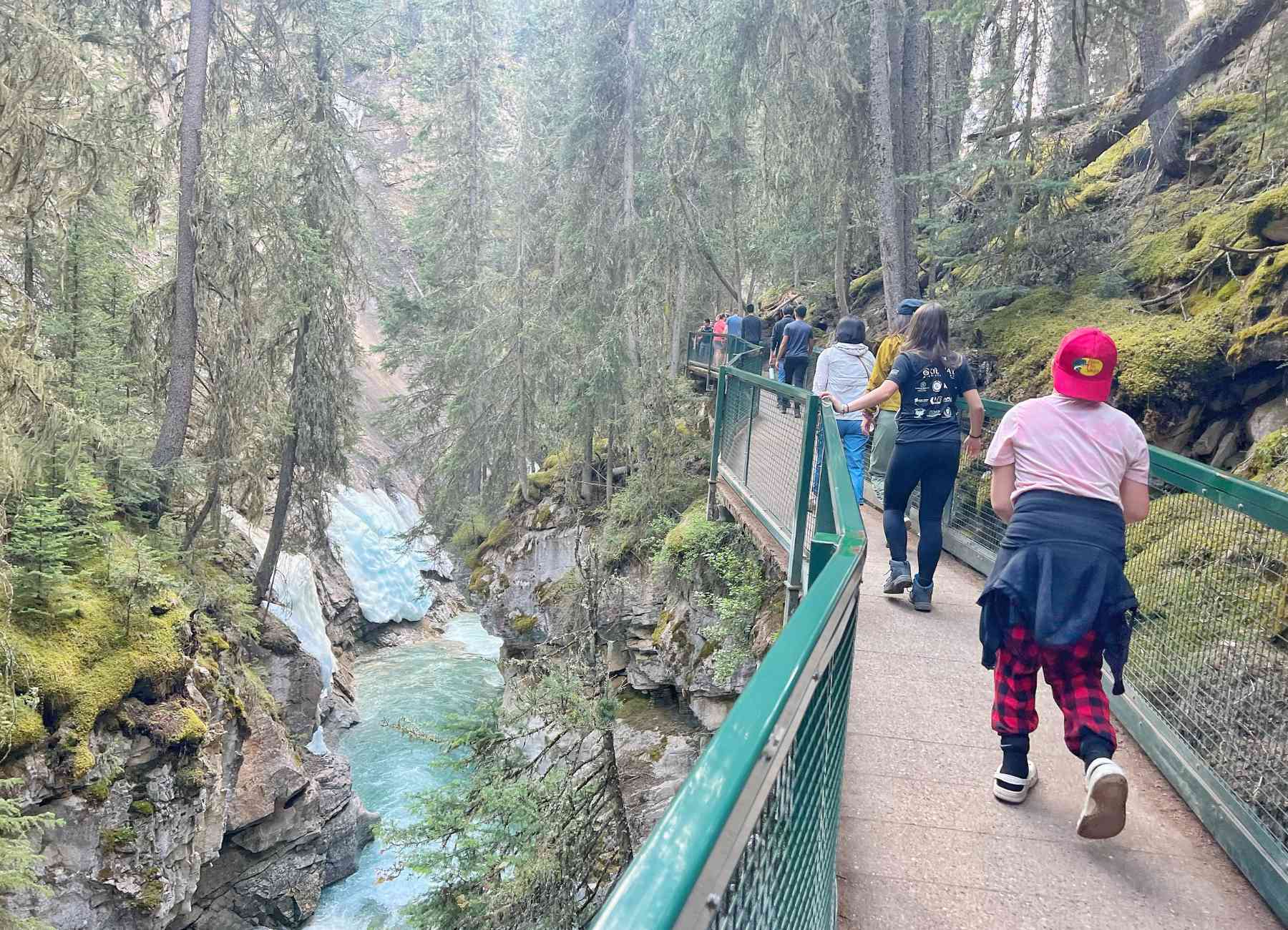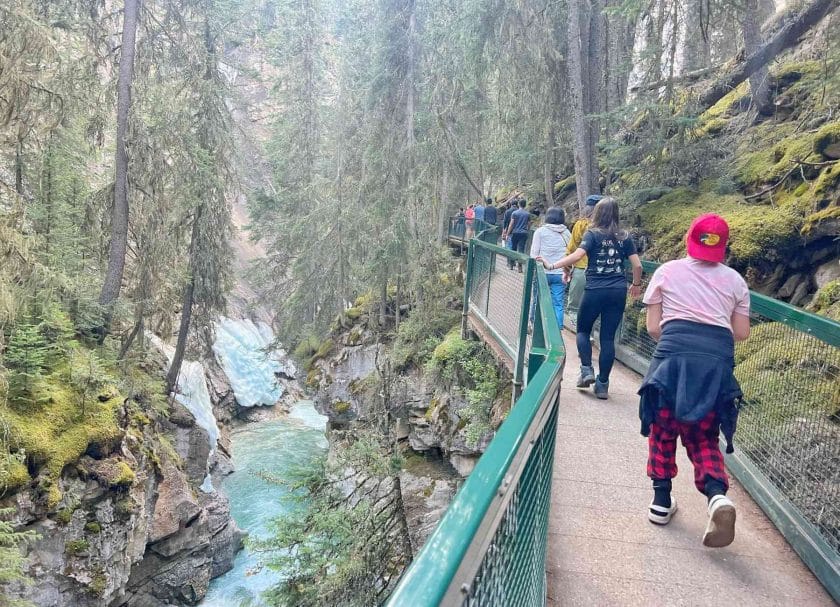 We started on the hiking trail with about 100 other people . . . yes it was busy but don't let that stop you from doing it! I am guessing throughout the summer months it is always pretty busy.
The trail was pretty easy going through the forest. My favorite part was when we started walking along the canyon and the Johnston Creek on a path that was attached to the canyon wall. It was beautiful!!!
The path was big enough for 2 people and there were constantly other people coming at you. It was a very busy hike. But it really didn't take away from the beauty of the hike.
Once we reached the waterfall viewing platform we grabbed a few pictures and got in line to wait to go back in the small cave. We weren't sure what the cave was but wanted to see!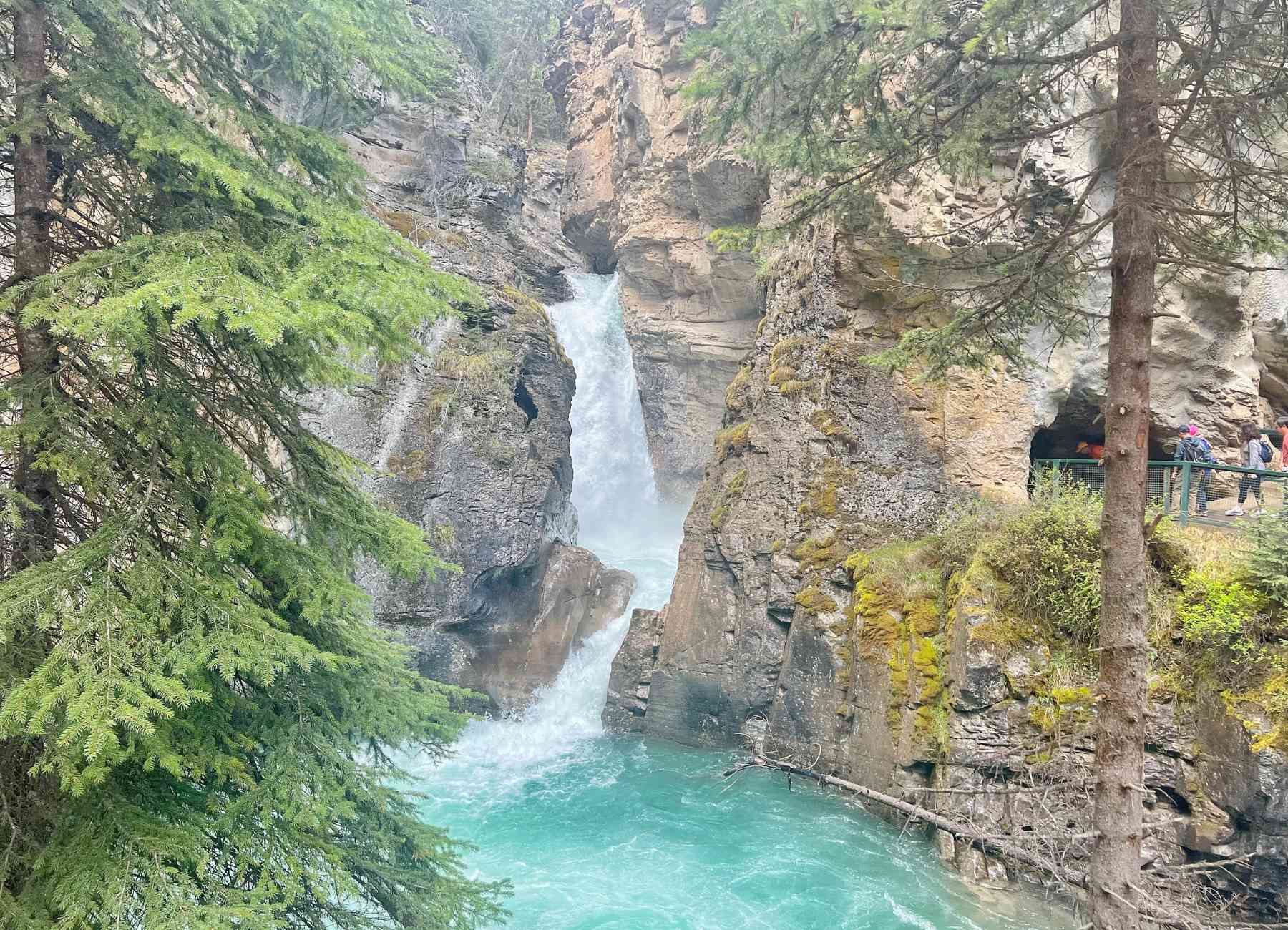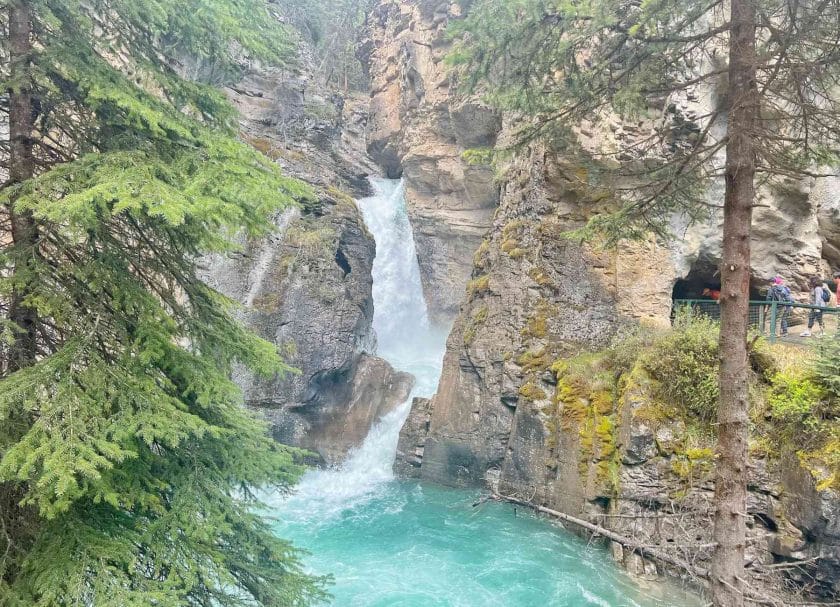 When it was our turn we walked back there and were so close to the waterfall that we were getting sprayed!! It was worth the wait and I am glad that we did it.
After that we turned around and made our way back. Without the waiting at the cave part we would have completed the full hike in 40 minutes even with getting stuck behind some slower people from time to time.
Tips:
Parking lot 2 has a lot of extra spots but be prepared to walk a bit further.
The Johnston Canyon Hike will be busy. Just be ready for it and go with it – it is what it is.
The Johnston Canyon is about 28 minutes from downtown Banff and 25 minutes from the Lake Louise visitor center on the Bow Valley Parkway.
If you have more time you could also do the Johnston Canyon to Ink Pots trail.
Q&A On The Johnston Canyon Lower Falls Hike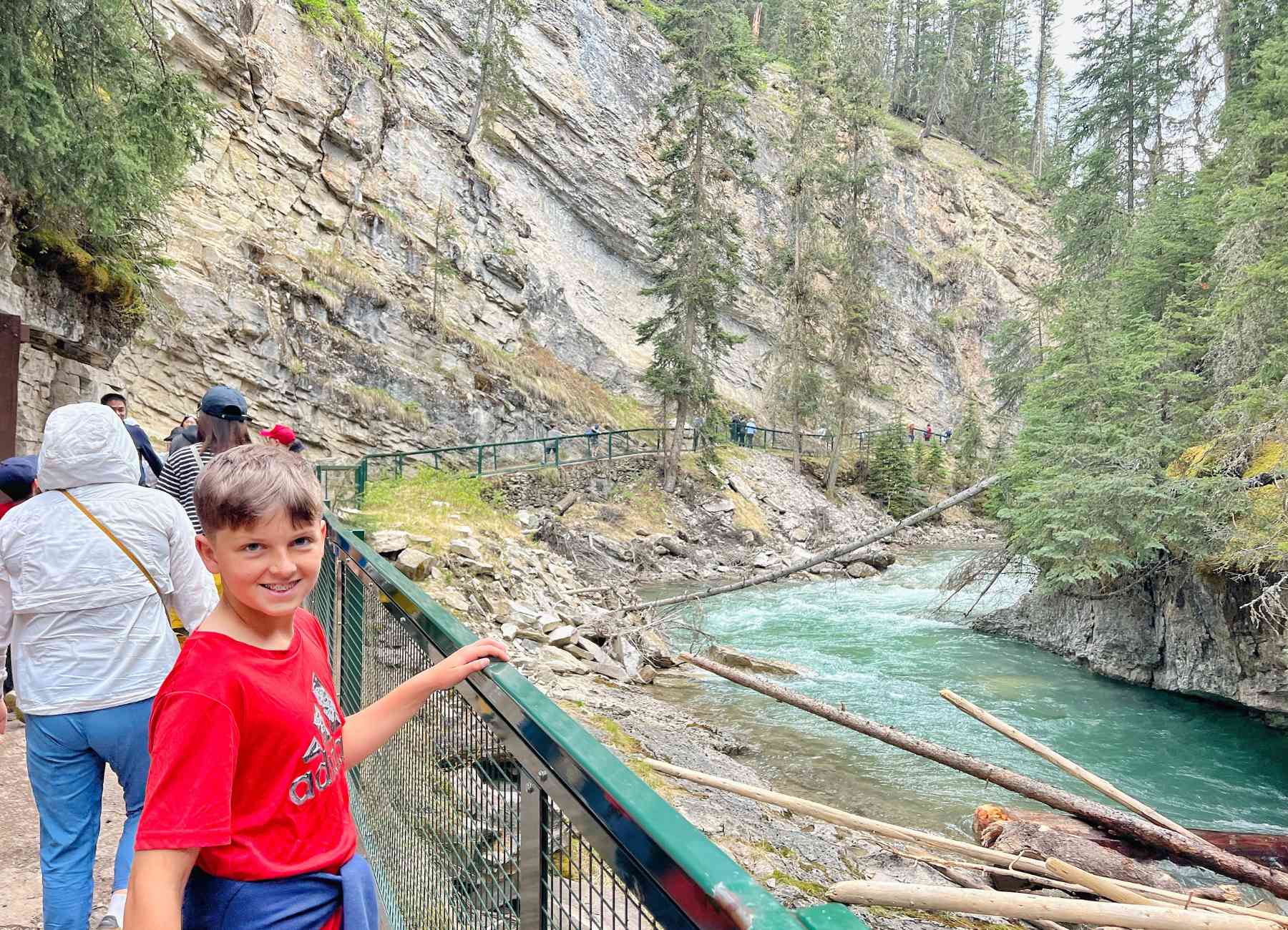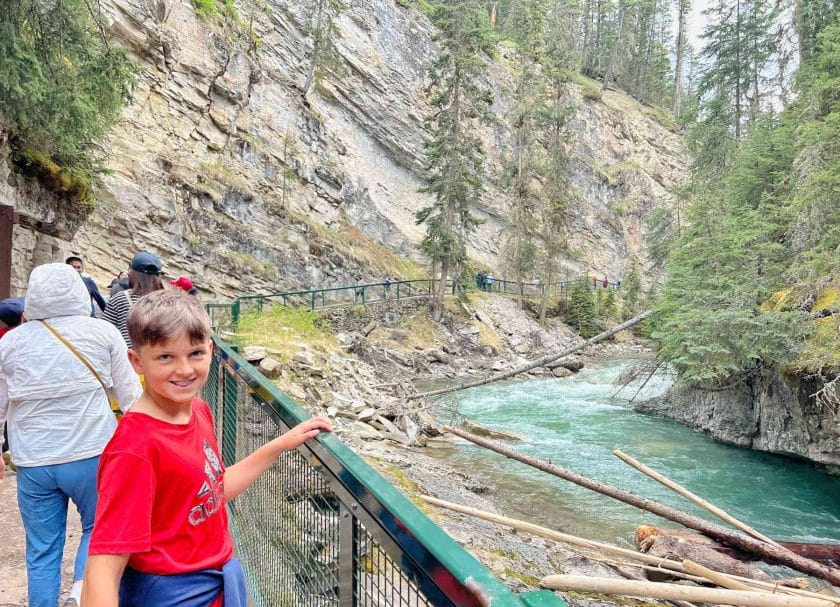 How long is Johnston Canyon Lower Falls trail?
1.4 miles roundtrip.
Is Johnston Canyon Falls open?
It is always good to check the day you are going hiking. It has been closed in the past.
Is it wheelchair or stroller accessible?
No unfortunately it is not.
Can you hike Johnston Canyon in winter?
It is possible but the trail usually has ice on it so you need proper footwear like ice cleats.
Can you stay overnight in this area?
Check out the Johnston Canyon Campground and the Johnston Canyon Lodge and Bungalows.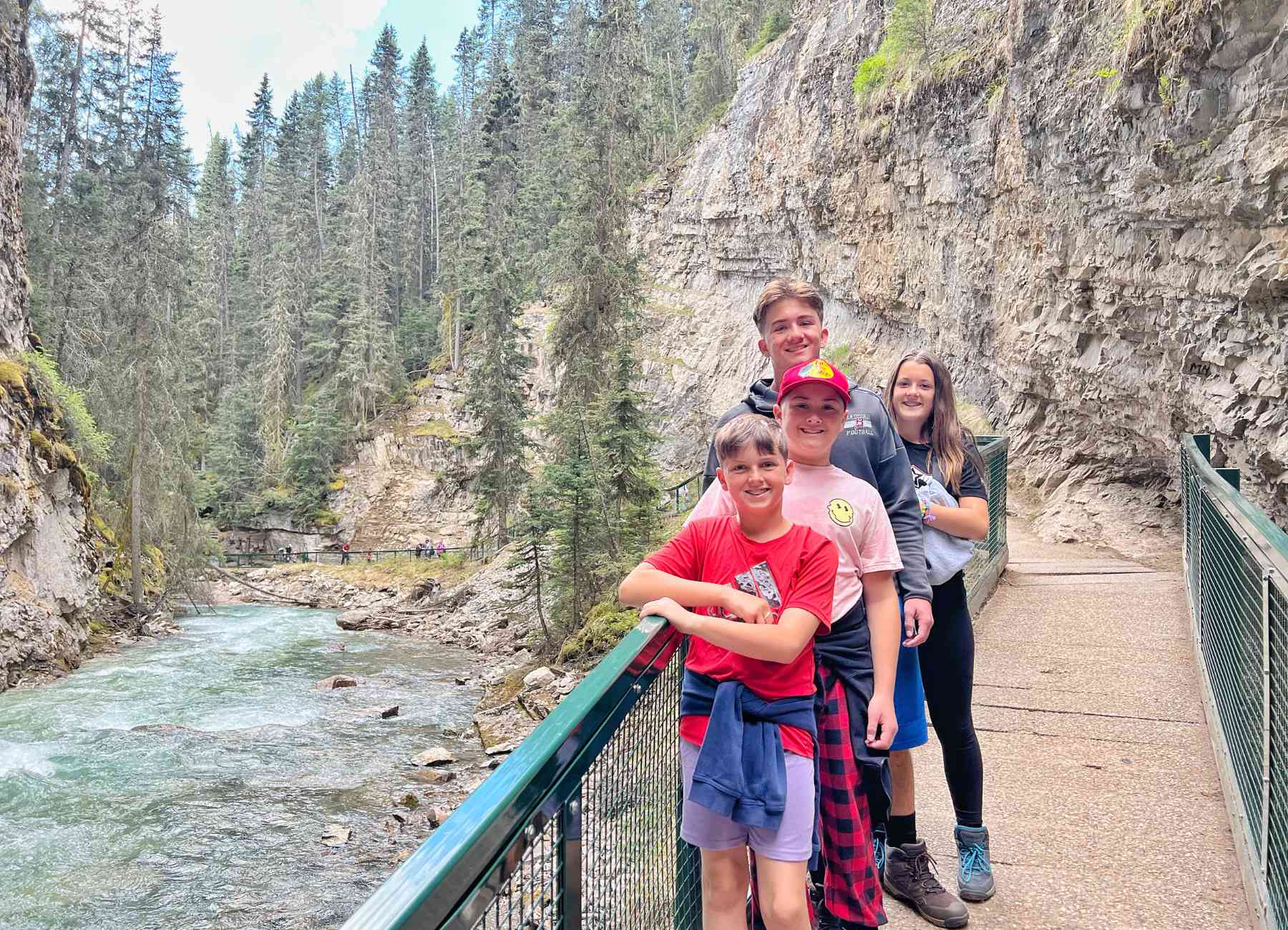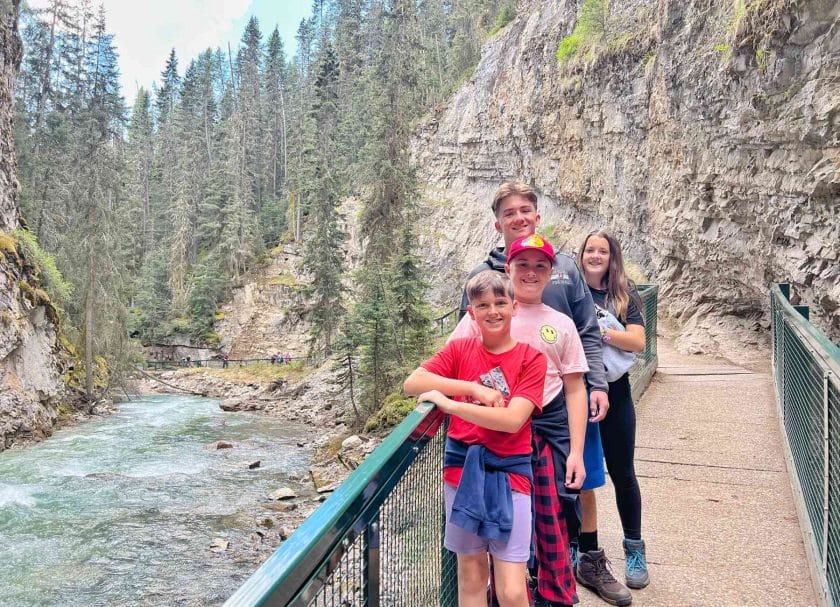 Banff National Park Itinerary
If you are planning your trip to Banff you can purchase a digital copy of our 4 day itinerary and download it immediately!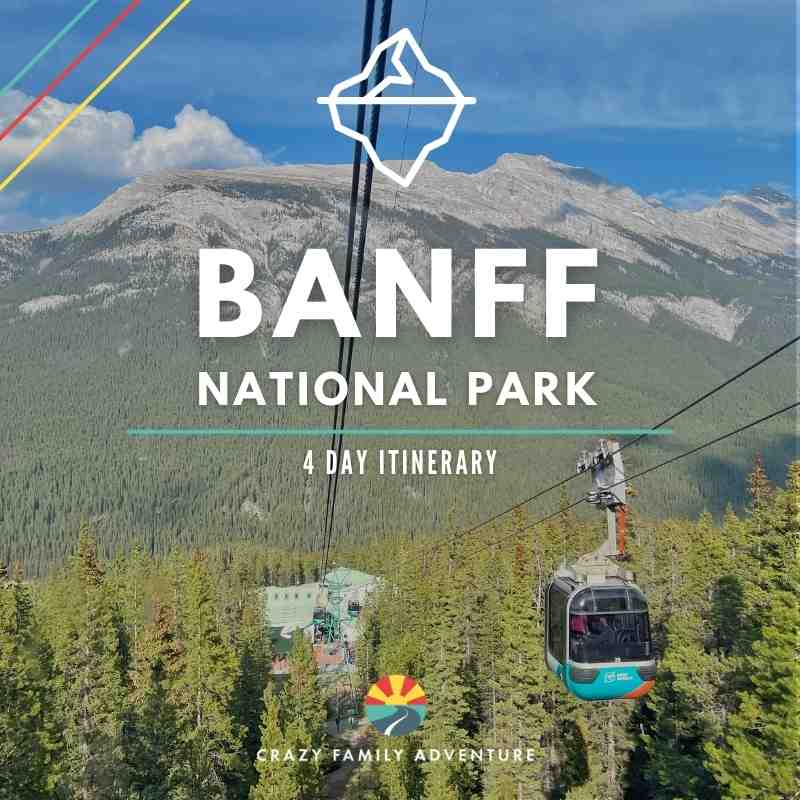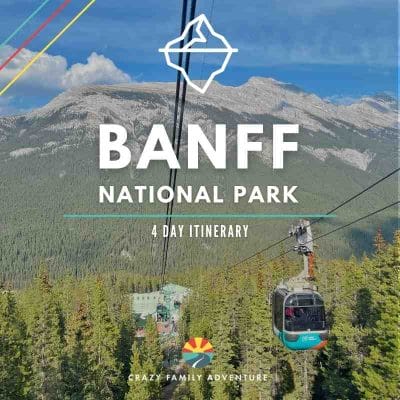 Additional Activities You Don't Want To Miss In Banff National Park
There are so many great things to do in Banff National Park. Here are a few we don't think you should miss.
Banff Gondola – we had an awesome time going up on the Banff Gondola. We loved taking in amazing views and hike to the top of Sulphur Mountain!
Lake Minnewanka Cruise – this 1 hour cruise will take you out on the beautiful waters of Lake Minnewanka.
Columbia Icefield Adventure – Walk on a glacier and out on a glass bottom skywalk over a canyon!
Horseback Riding In Banff National Park – We did a 1 hour long horseback riding adventure along the Bow River and loved the horses and the views!
Golden Skybridge – Drive a couple hours from Banff and spend the afternoon on suspension bridges, zip-lining and a ropes course!
Whitewater Rafting – be sure to set aside an afternoon to go white water rafting with Chinook Rafting! We had so much fun!!
Pin This Post For Later: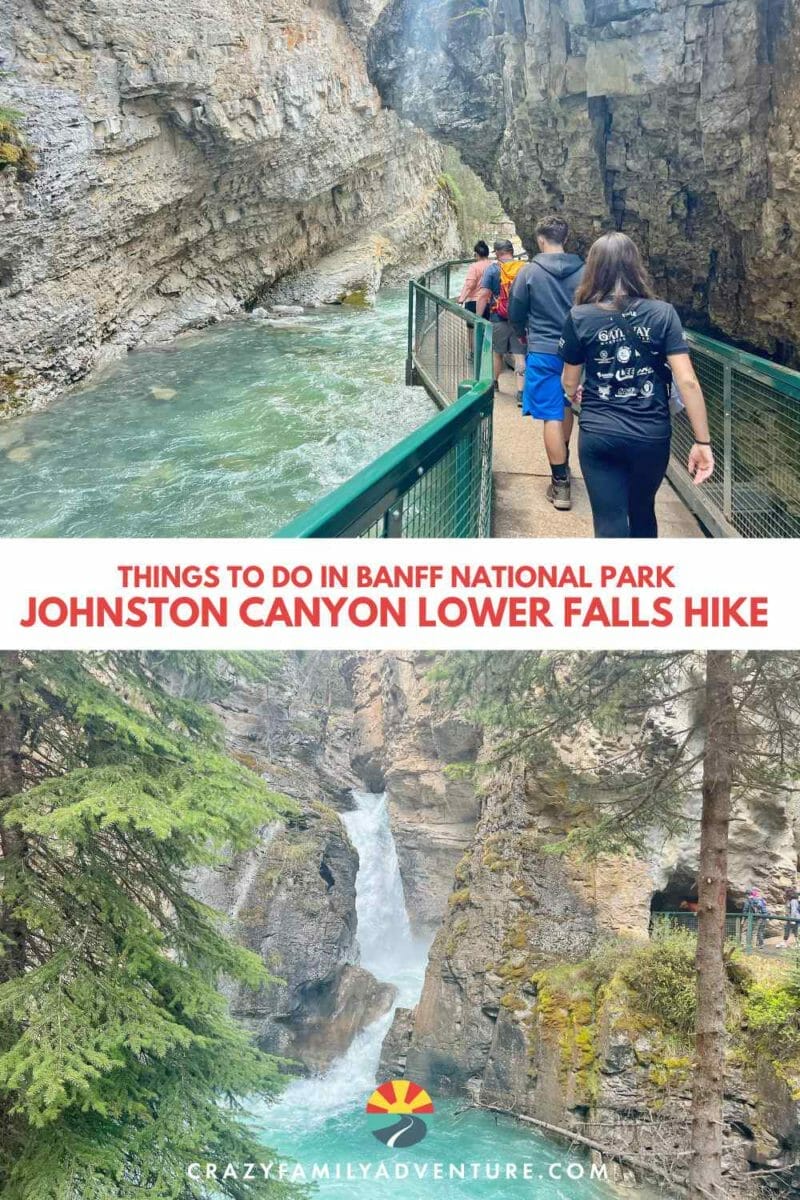 DISCLOSURE: This post may contain affiliate links, meaning I get a commission if you decide to make a purchase through my links, at no cost to you. Please read my disclosure for more info.