When we were in Jasper National Park we really enjoyed the gorgeous Maligne Canyon hike. We did get lost though so wanted to share our experience with you so you don't get lost and add on 2 miles to the hike!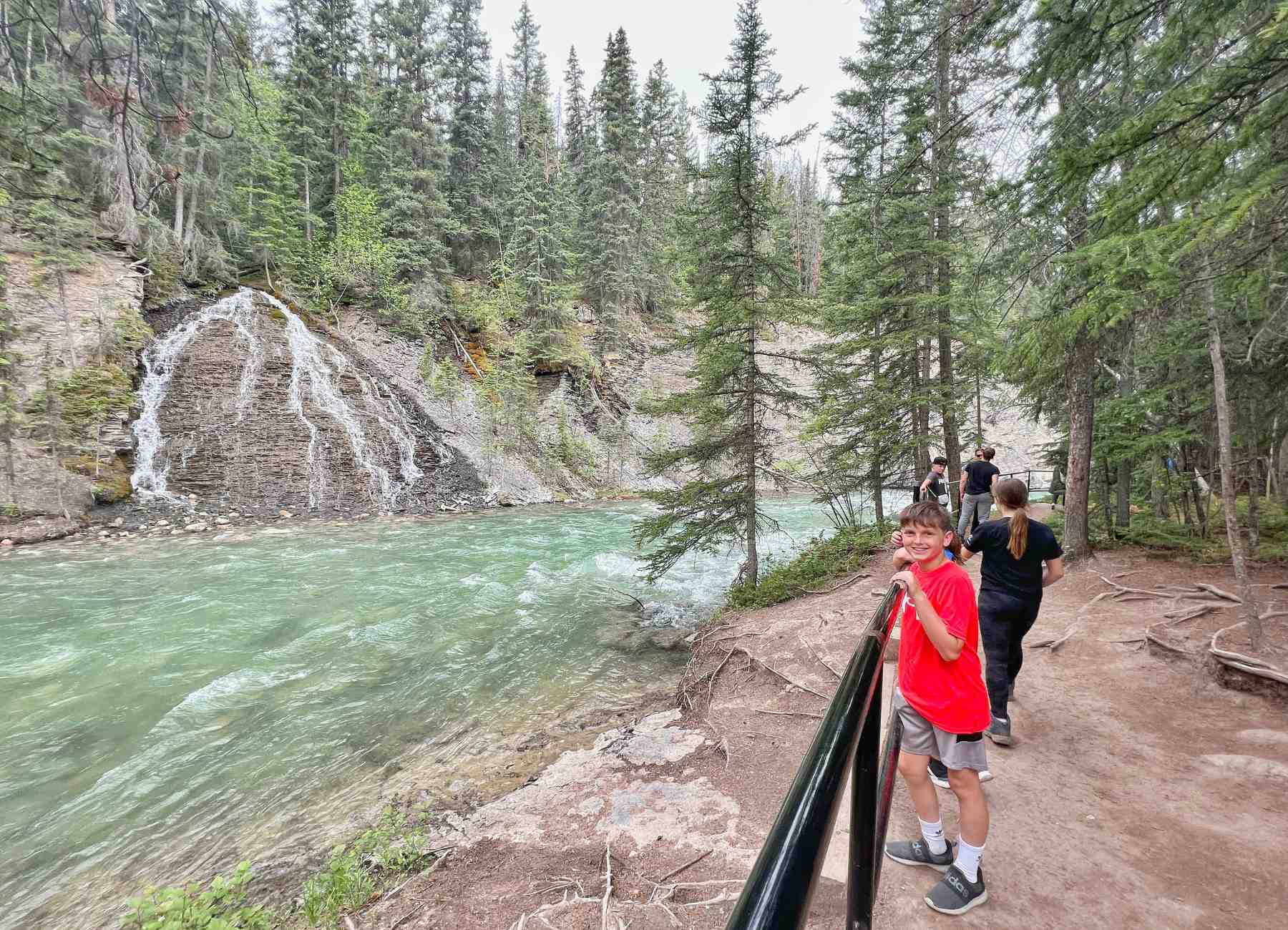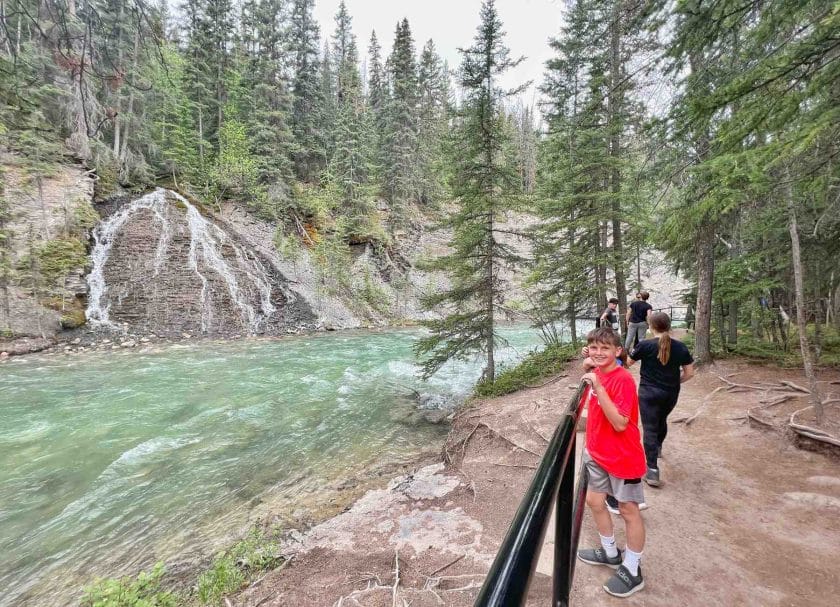 Visiting Maligne Canyon is free!
Parking
We parked at the Maligne Canyon parking lot that was just past the Malign Canyon Wildnerness Kitchen. This meant we would start by going to Bridge 1 and 2. There is also a parking lot called the Malign Canyon Trailhead on Google maps that will have you start at Bridge 5.
Where we parked was 16 minutes from downtown Jasper and we drove along the gorgeous Athabasca River on highway 16 as we headed north from Jasper. You come up on Malign Lake Road from downtown Jasper and turn left on the road that takes you to the Maligne Canyon Wilderness Kitchen but you don't turn in there you keep going straight to the parking lot.
The Maligne Canyon Hike
Once at the parking lot we got out to check out the map and figure out what route we would go on the Maligne Canyon trail. There were options! You could really do this hike anyway you want to.
There are 6 bridges with 5 of them being pretty close together and the sixth bridge being a bit further.
Our initial plan was to do the hike to the 5th bridge. Which would be about 2.3 miles in a loop. Well we ended up doing 4 miles instead . . .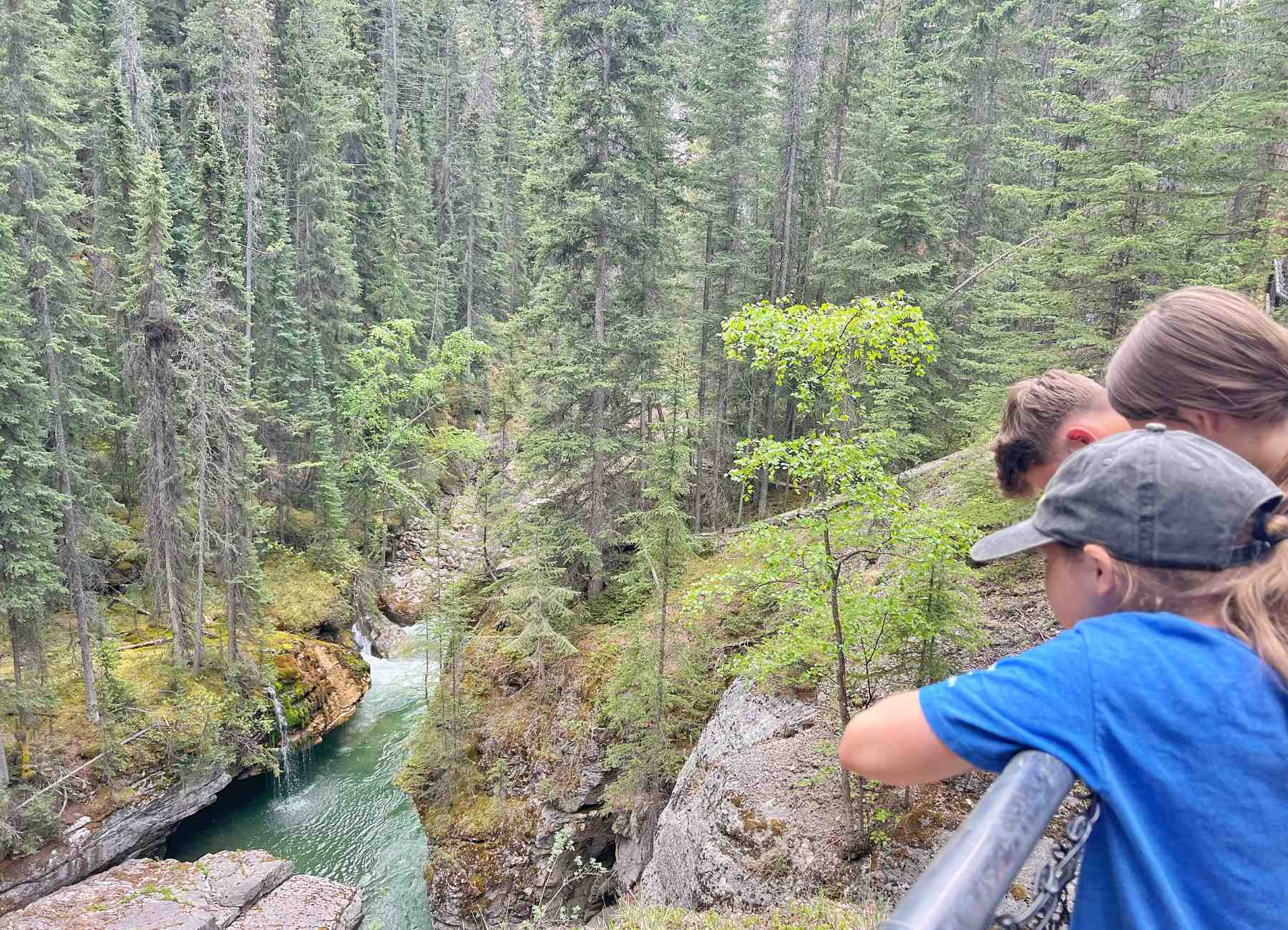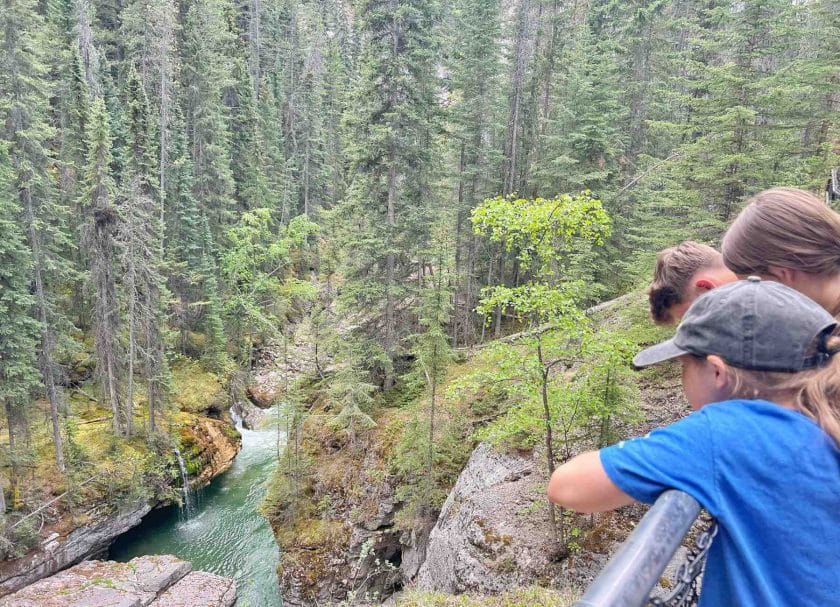 If you plan to do the hike pay really close attention to the maps and signs and where you should be going. Below we will share the route we took and where we went the wrong way so you can avoid the mistake we made.
We started by going down into the canyon to Bridge 2. From there we headed to Bridge 3, the fourth bridge and bridge 5. They were all gorgeous and it was so cool to look down into the Canyon walls! The water was rushing like crazy.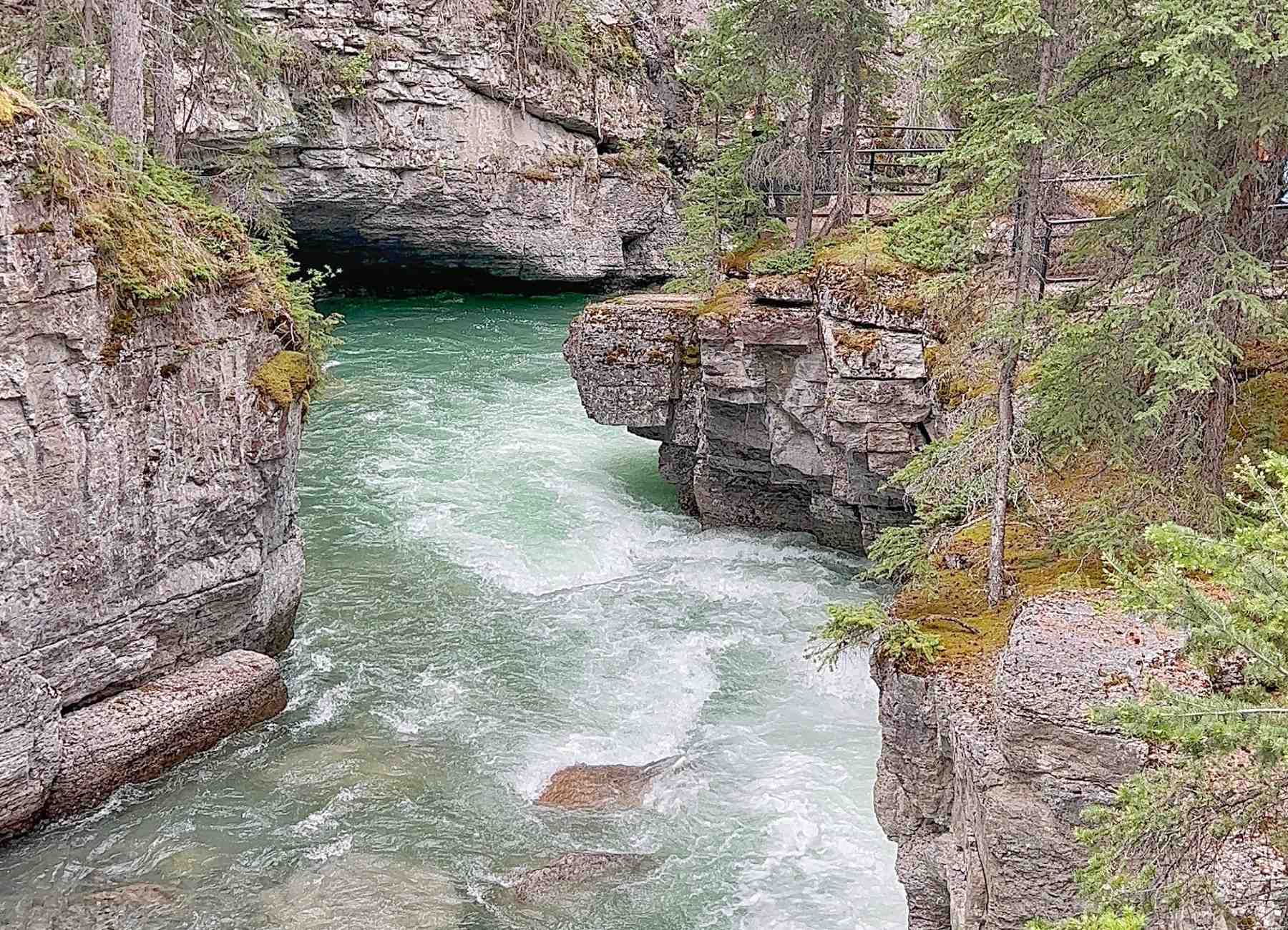 If you want to grab some cool pictures try to stay back a bit and let your family go out in front of you and have them stop at an overlook and look back at you.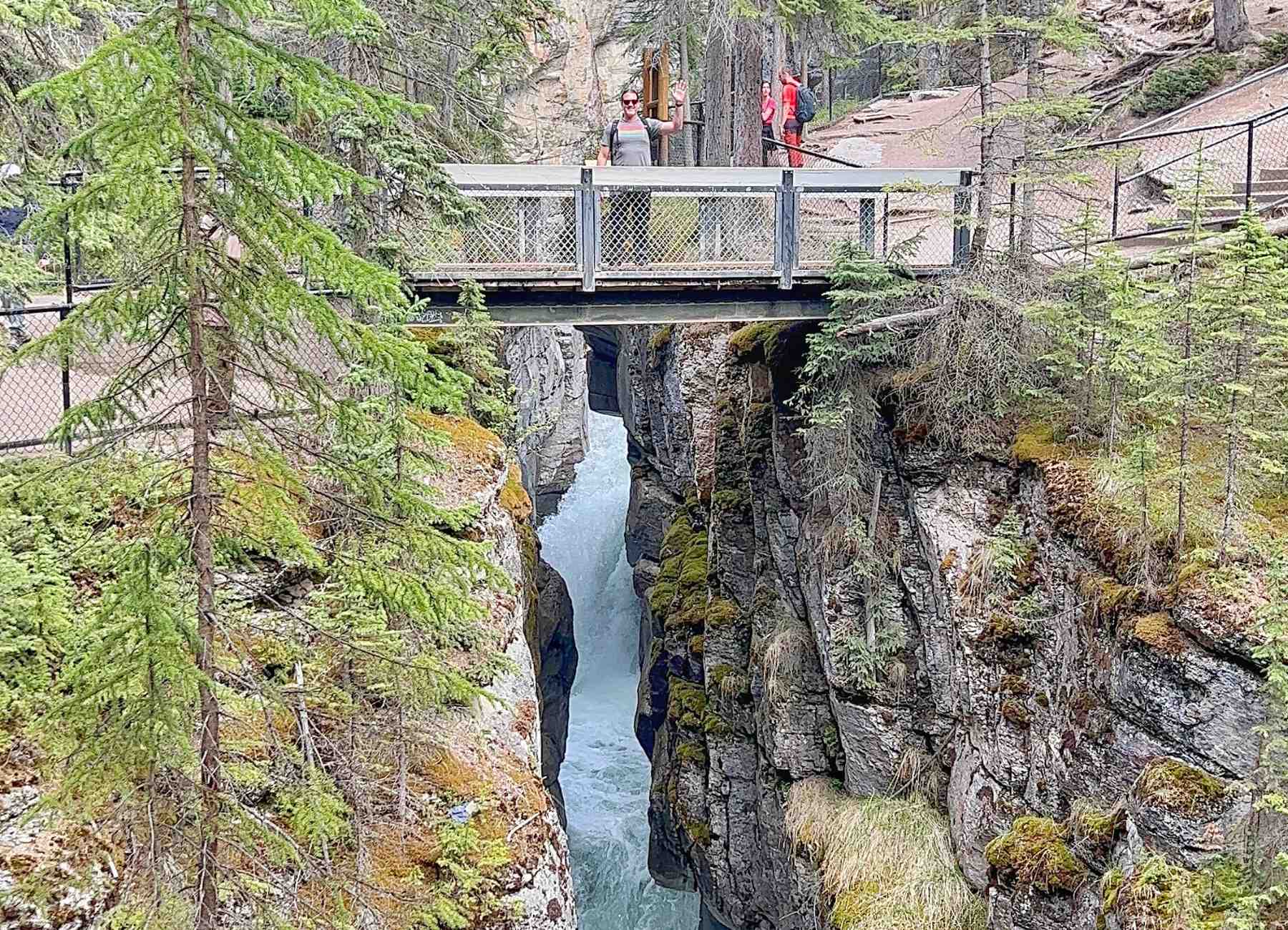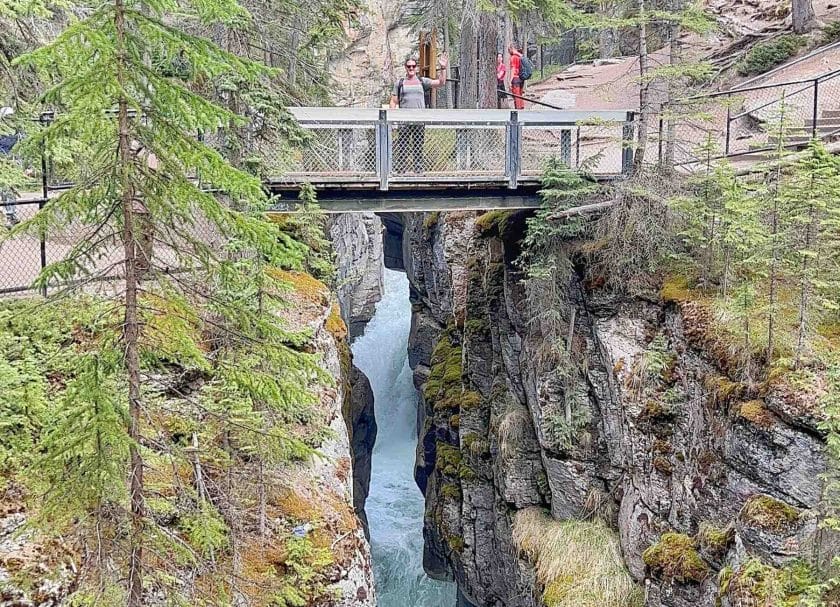 For Bridge 3 have your group stay on the bridge and you walk ahead and have them turn around and look at you from on the bridge. It is a pretty cool picture!
Where We Got Lost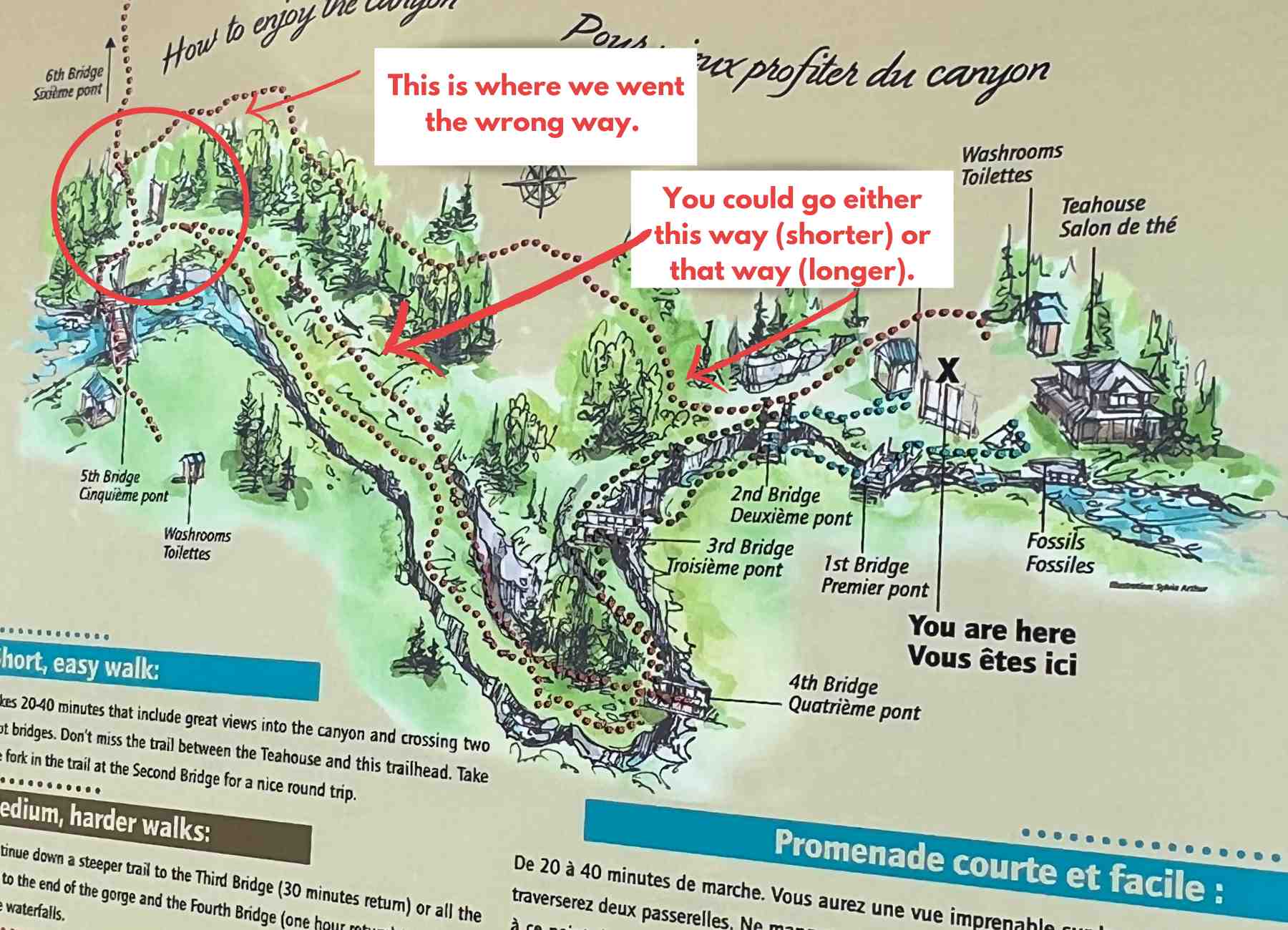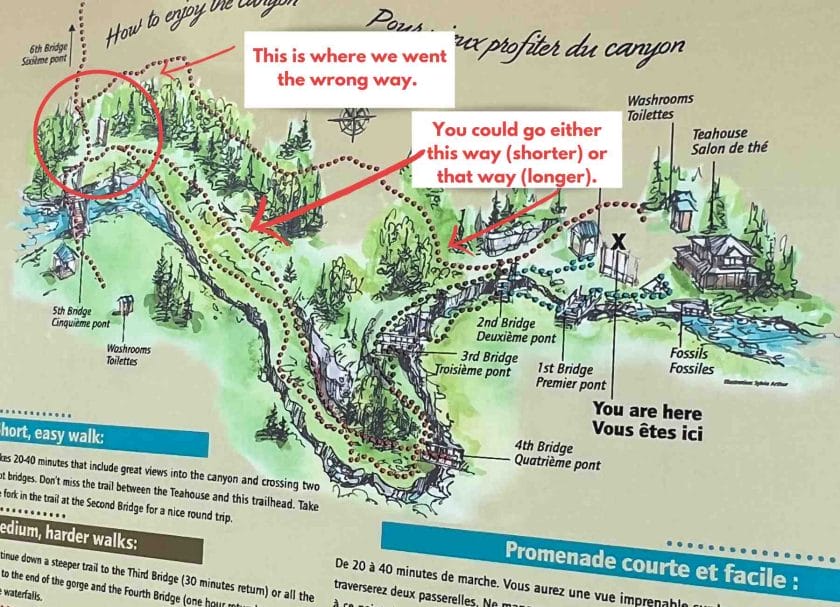 Once you reach Bridge 5 pay attention on where to go next. We thought we needed to go on the F trail which we did. This would have been OK if we took the turn off for the 7H trail. But we missed that too and kept going on the 7 trail. About 1 mile into going the wrong direction by sister started saying it didn't feel right.
Luckily we had cell service so we were able to look it up and saw yup we were way off course! There were also some pretty views as we walked along the river when we went the wrong way. And if you continue on one of these routes you do walk by the Maligne River.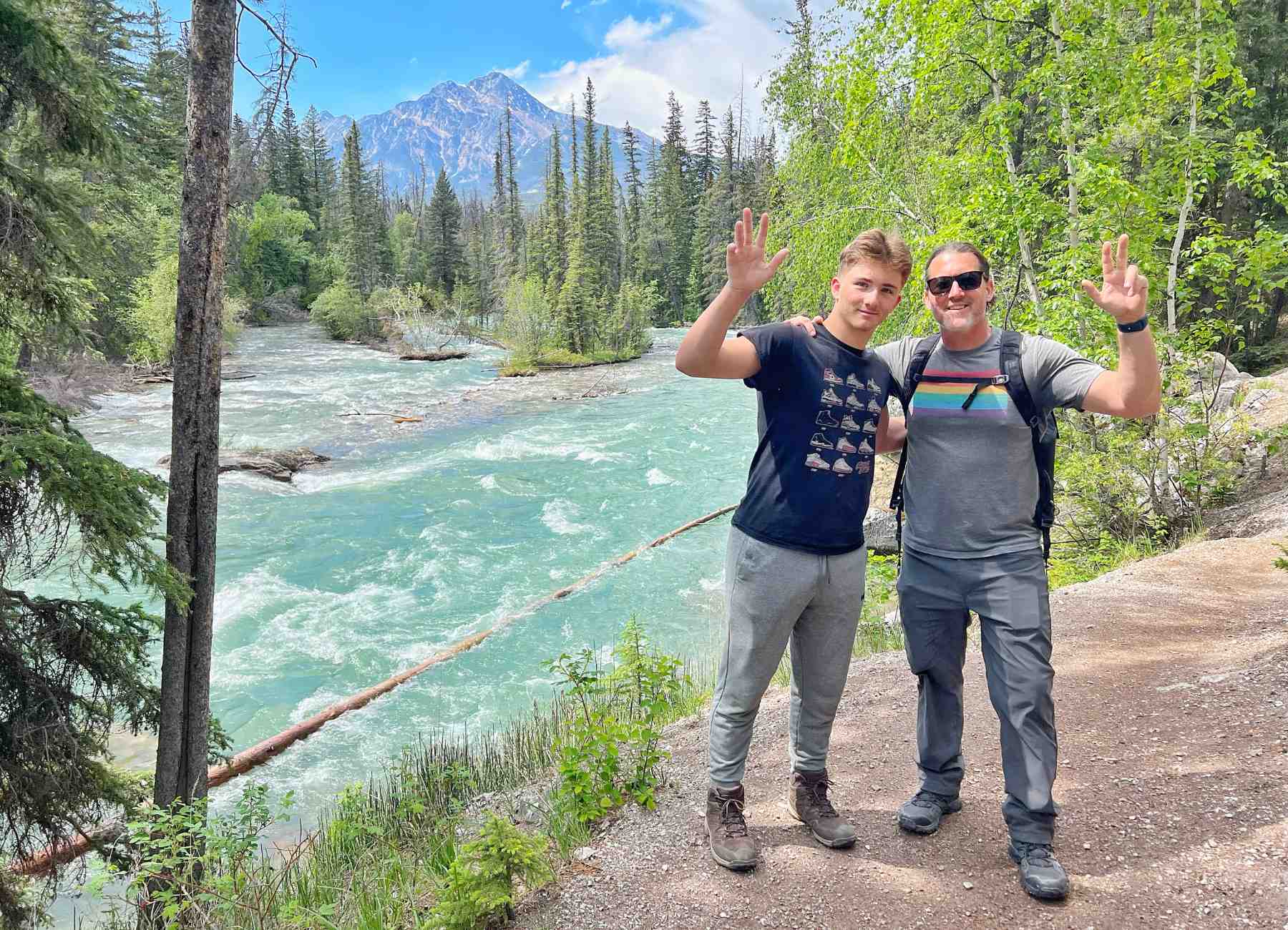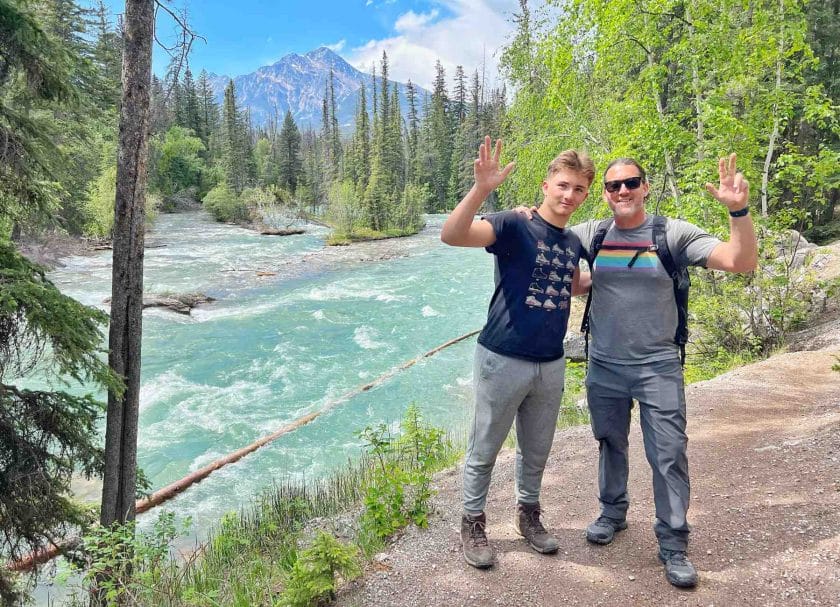 Once we figured it out we turned around and headed back to the 7H trail. And made our way up, up, up. This was a very steep climb. That brought us to this beautiful view: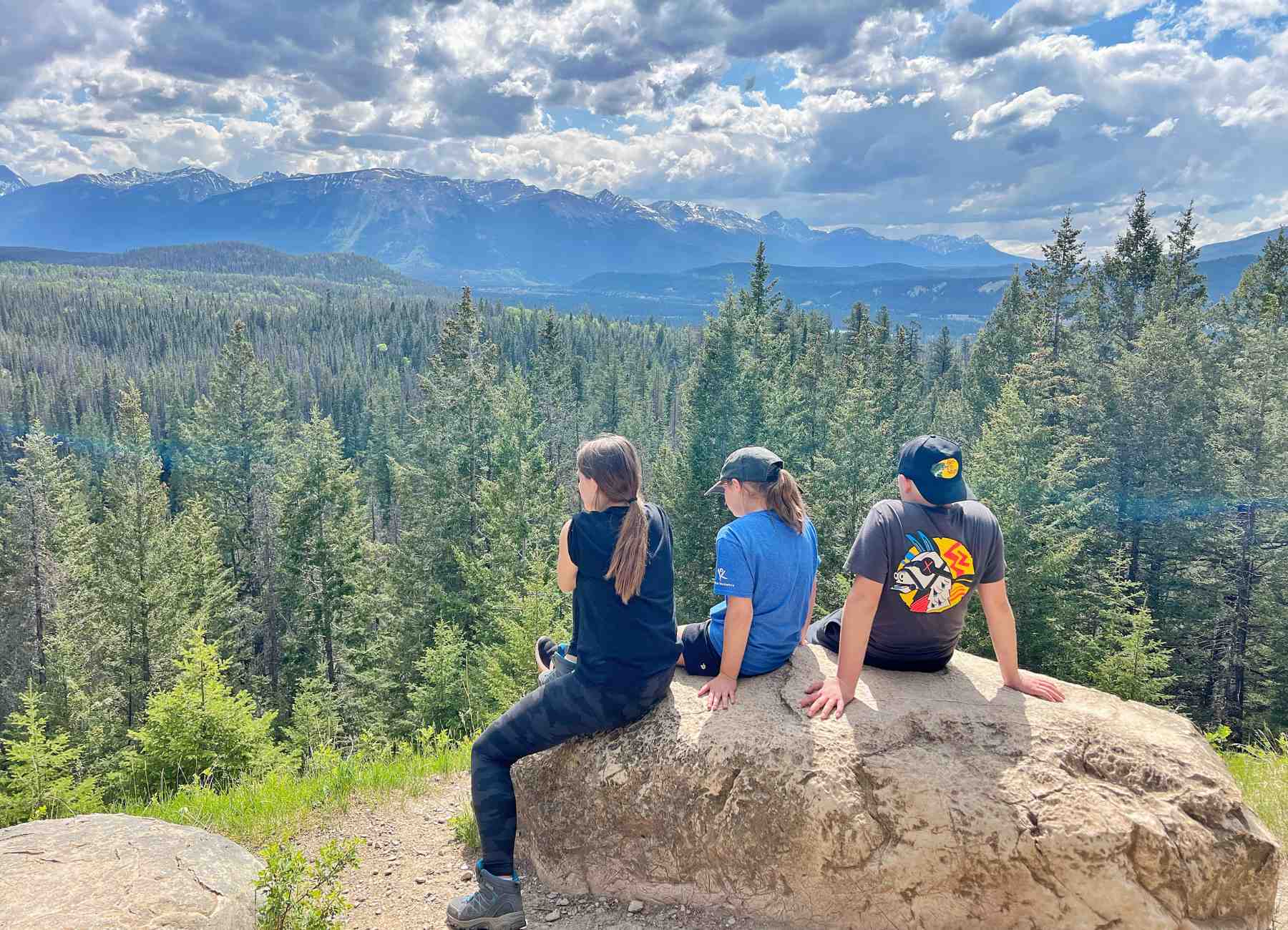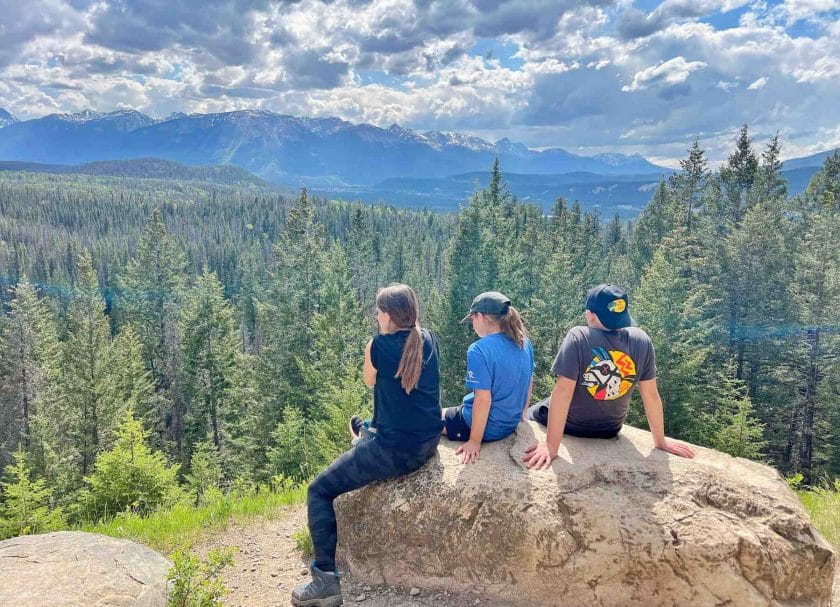 But we were happy to be doing it on the way up and not down – I think down would have been harder!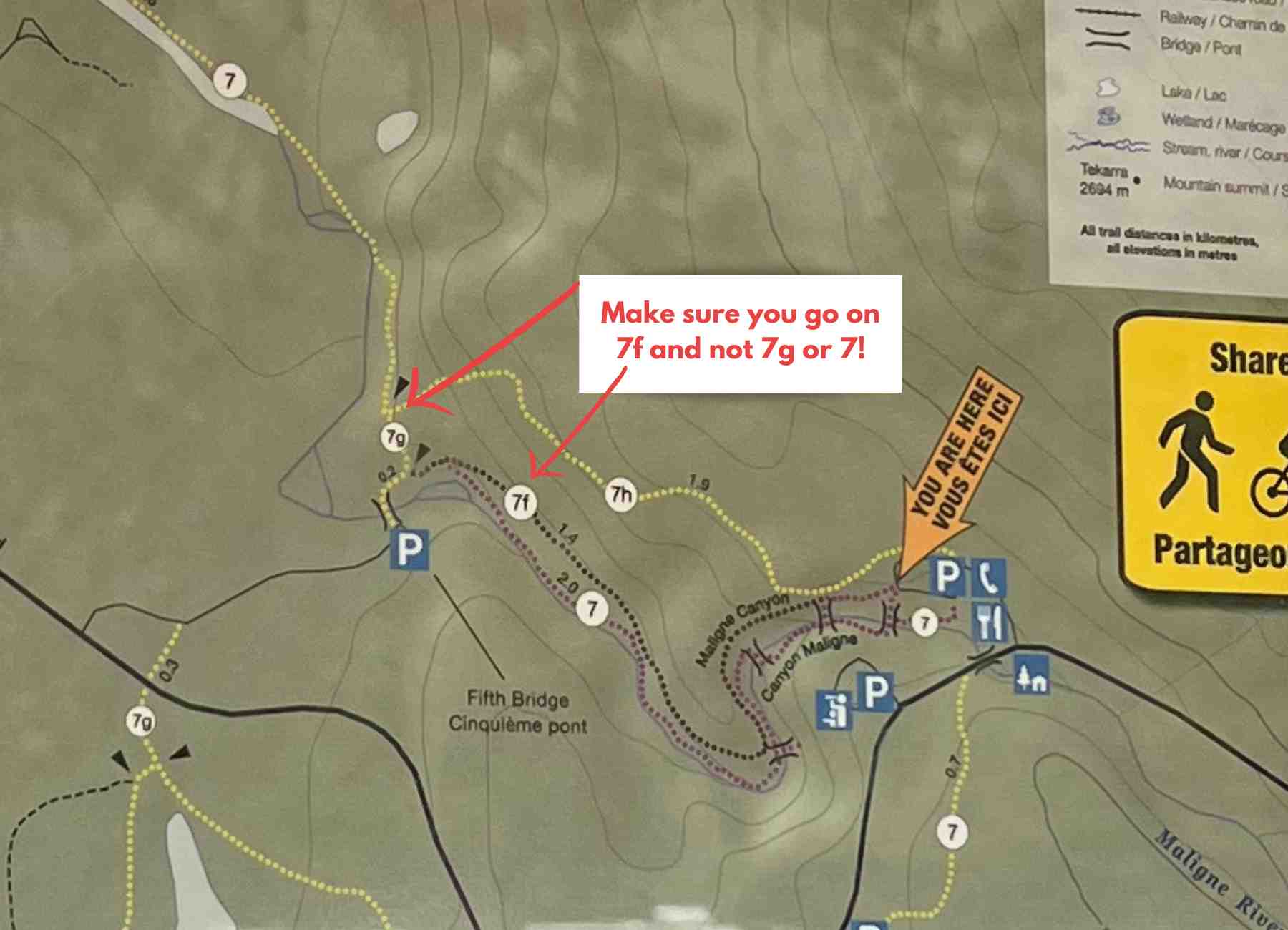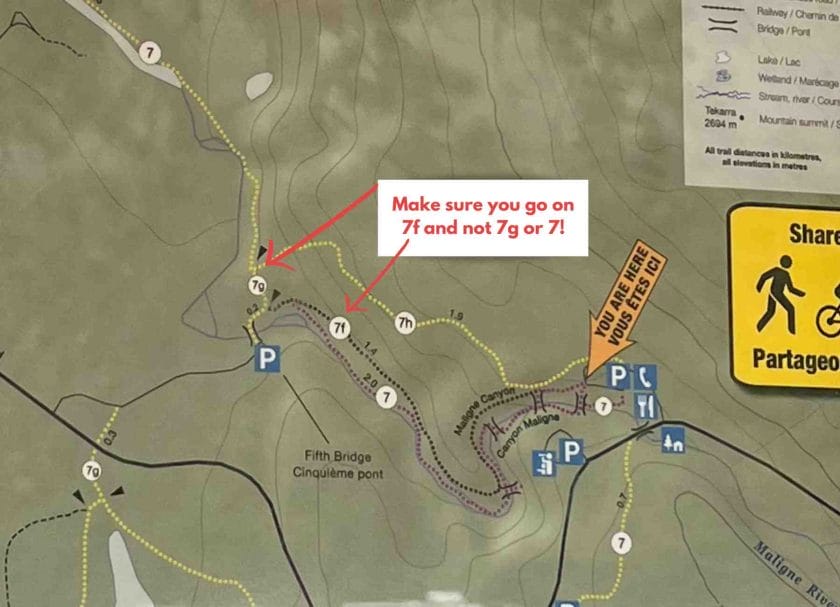 We could have made the turn off of 7 onto 7f and that would have made the hike even shorter. Here are some maps to show what we did and what the options are:
Tea House
We made it back to the parking lot. And headed over the tea house to see about getting a drink and some snacks.
The tea house is connected to a small cafe where you can order coffee and pastries to go. If you want to sit out on the cool deck, you do have to get a table and sit down for lunch. We opted not to do this. But if you have some extra time it would be a great place to have lunch!
Be sure to check the hours as I think they do close before dinner time.
We looked around the gift shop for a while before heading out and back to the town of Jasper. Once there we went to the Jasper Brewing Company.
When you take a trip to Jasper you don't want to miss the Jasper Malign Canyon hike! It was beautiful!! This Canyon in Jasper National Park is 50 meters deep and offers amazing views, bridges and waterfalls. It is considered one of the best canyons in the Canadian Rockies.
If you explore the Maligne canyon let us know what your favorite bridge of Maligne Canyon hike is! And if you want to do more continue down the Malign Lake Rd through the Maligne Valley to Medicine Lake. We love the Jasper area and all the beauty it has to offer.
Other Things To Do
There are a lot of great things to do in Jasper and be sure to check out our post: Things To Do In Jasper National Park to see what we recommend!
You can also explore the Icefield Parkway and the Columbia Icefield Adventure. Or check out all the cool things to do in Banff National Park:
Banff Gondola – we had an awesome time going up on the Banff Gondola. We loved taking in amazing views and hike to the top of Sulphur Mountain!
Lake Minnewanka Cruise – this 1 hour cruise will take you out on the beautiful waters of Lake Minnewanka.
Horseback Riding In Banff National Park – We did a 1 hour long horseback riding adventure along the Bow River and loved the horses and the views!
Golden Skybridge – Drive a couple hours from Banff and spend the afternoon on suspension bridges, zip-lining and a ropes course!
Johnston Canyon Lower Falls Hike – this short but beautiful hike is a top hike to do in Banff. Don't miss it!
Chinook Rafting – we had such a fun time on our family friendly rafting trip!
DISCLOSURE: This post may contain affiliate links, meaning I get a commission if you decide to make a purchase through my links, at no cost to you. Please read my disclosure for more info.