There are so many cool and fun things to do in Arches National Park that you could spend multiple days here exploring. Get out your hiking shoes as we share the best Arches National Park hikes and all of our favorite things to do when we visit.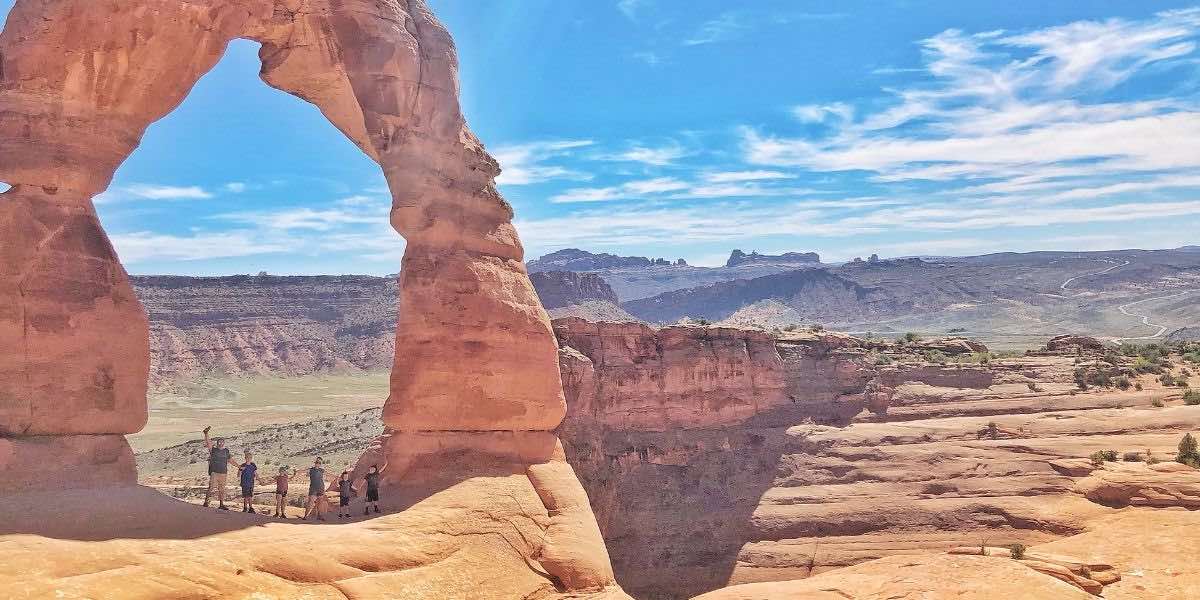 Check out our Utah National Parks Road Trip itinerary to plan a trip to see all 5 Utah National Parks. If you want to see even more check out our National Park Road Trip post!
**NOTE – tickets are needed to enter the park from April – October between the hours of 6am – 5pm. You can buy tickets up to 3 months in advance. Learn more here: https://www.recreation.gov/timed-entry/10088426 If you aren't able to get a timed entry ticket you can always go before 6am or after 5pm. These are actually really amazing times to visit the park!
For even more help planning your Arches National Park vacation, check out our pre-planned, 1-day itinerary in Arches. This guide gives you stop-by-stop activities and links to lodging and maps… everything you need to start (and finish!) planning your Arches trip.
Plus, we added a bonus 2nd day to this guide with ideas for more Arches activities and things to do in Moab.
Visitor Center
We always make our first stop the Visitor Center. We do this for a few reasons.
1 – We can check in with the rangers and see if there are any closures or anything we need to be aware of on the hiking trails. And also to ask for recommendations on things to do.
2 – The kids can get a Junior Ranger book to complete and then get a badge once they are done. Learning and fun! They really enjoy getting the badges. Plus Mom and Dad usually learn something new too.
3 – We have to get a sticker! If you have seen pictures of our van you know we love collecting stickers of the places we have been. And if we really like where we are we may grab a sticker for our water bottles too.
4 – Museum and Movies. The visitor centers almost always have a small little museum area (some have larger areas) and a movie about the park. It is a great way to learn more about where you will be exploring.
5 – Water. This is very important for Arches as it is HOT out there so you want to be sure to fill your water bottles before you head out. The visitor center offers a place for you to do that.
Hikes
At the end of each hike there is a breakdown of distance, elevation and difficulty level. If you plan to do these hikes check out these light and comfortable hiking backpacks!
Here you go, the best hikes in Arches National Park:
Delicate Arch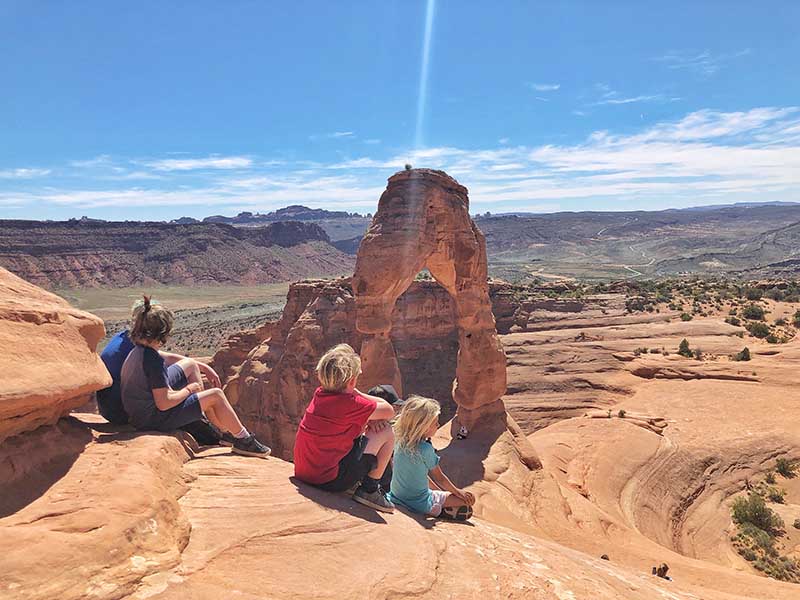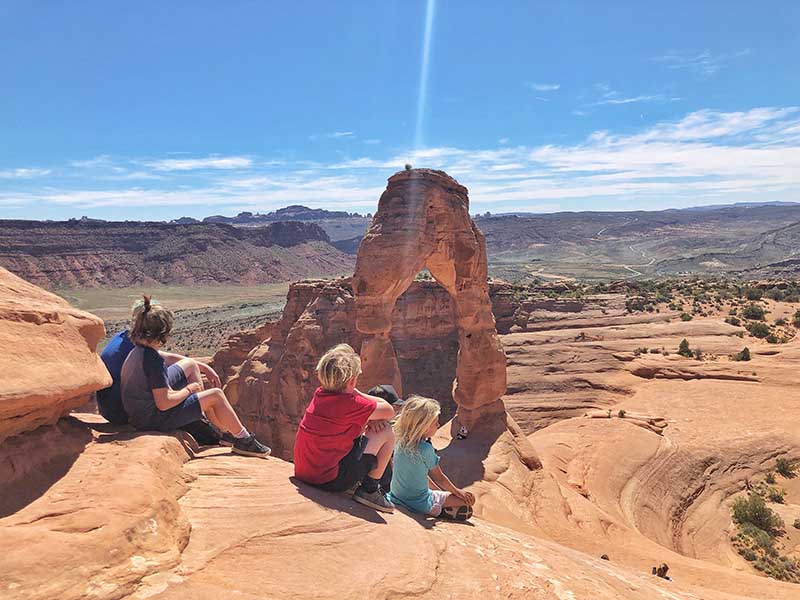 A strenuous (if it is really hot I wouldn't recommend it) hike up the rock face mountain to get to the iconic (and most popular arch in the park) Delicate Arch. It is the Arch you see on all the Utah license plates.
It is a beautiful view and if you are really careful – there is a huge drop off the back of the arch area – you can walk under the arch and take your picture.
When we came when the kids were 8,6,6 and 4 we did this hike and did not venture down by the arch – it was just too scary and stressful with the kids. Also note when you are hiking up to it you go across narrow ledges that had me yelling to the kids, "Keep your hand on the wall!!!" so they wouldn't get too close to the steep drop off edge.
We did the hike again 3 years later and this time we did venture down by the arch and it was really cool and had amazing views. If at all possible, do this hike when you are in Arches.
When you first start the hike you can also stop and see Wolf Ranch. An old homestead in the area. You can walk up to the door and peek inside. Crazy that someone used to live here!
Distance: 3 mile roundtrip
Elevation gain: 480 feet
Exposure to heights and NO shade
Recommended to carry 1 quart of water per person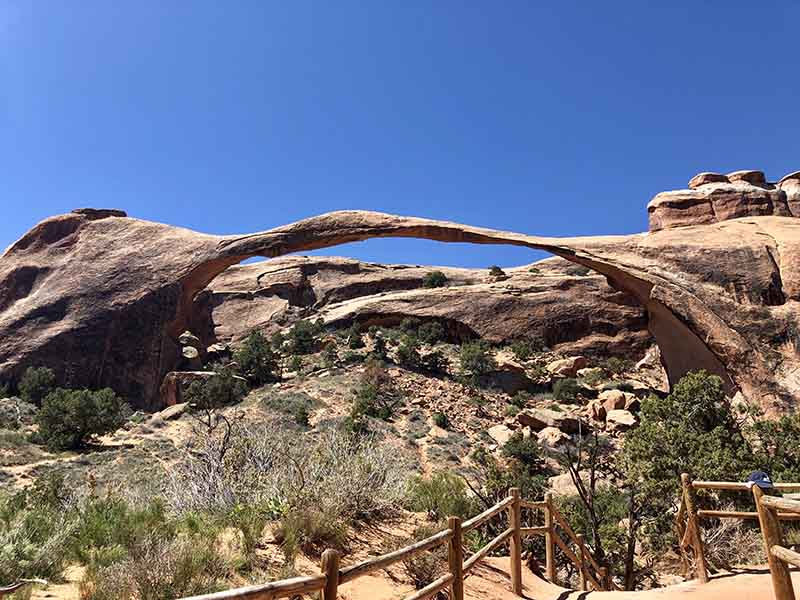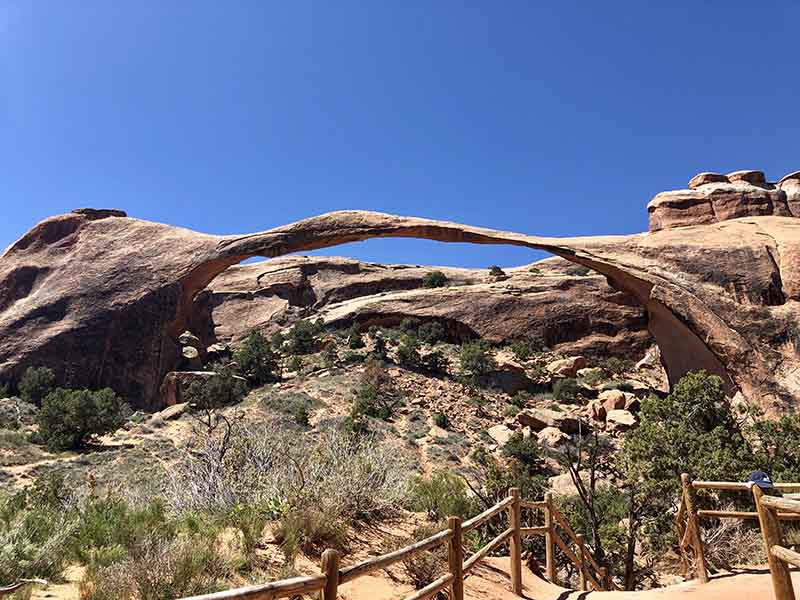 A great trail where you can see 3 arches. I also liked that a lot of this trail was sand so I hiked part of it barefoot. Landscape arch is the longest arch in the world.
While hiking to the arch you do have to go and a couple little side hikes (short distances of 25 – 50 yards or so) to see the other 2 arches. The trail straight to Landscape Arch is 1.6 miles but pretty easy with just a few small gains.
The real fun came when we got to the end of the trail (at the arch) and the kids wanted to take off and continue to Double O Arch on the primitive trail. There is a trail kind of, but when they say primitive they mean it!
We were hiking and scrambling up the rocks to stay on the trail. Of course the kids loved it but I was a little bit nervous! We just went a short way up the rocks to make it to the top to take in the views and then we turned around to head back down (I think down was harder on the sometimes sandy and slippery rock).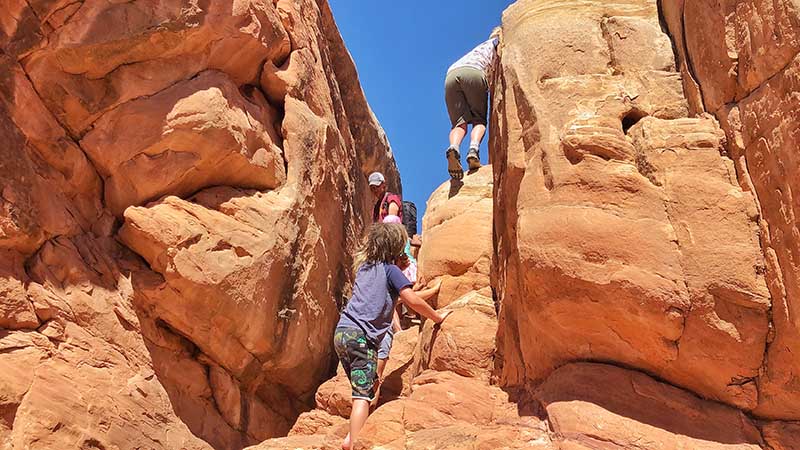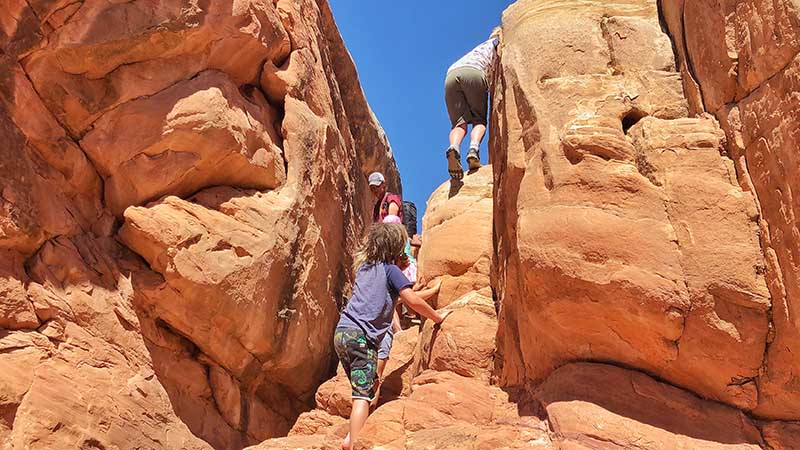 If we would have kept going the hike would have been 7.2 miles total and we would have seen Double O arch and could have gone to the Dark Angel, Navajo Arch and Pine Tree Arches. No one was ready for that!
This trail is called the Devil's Garden Trail and includes the Landscape Arch trail and the Devils Garden primitive trail. It is determined difficult and the longest in the park and is a loop trail. Learn more about this part of the trail here: Navajo and Partition Arches
Distance: 1.6 mile roundtrip (plus a few more yards to see the other arches)
Elevation gain: slight gain
Some shade areas throughout the hike
Trailhead: Devil's Garden Trailhead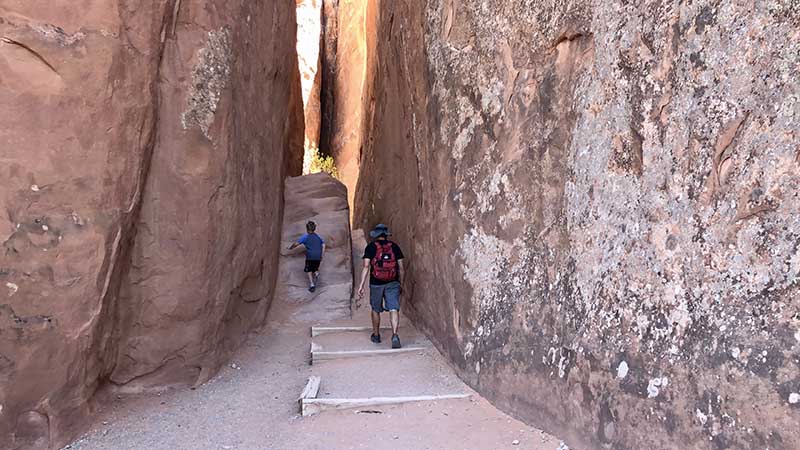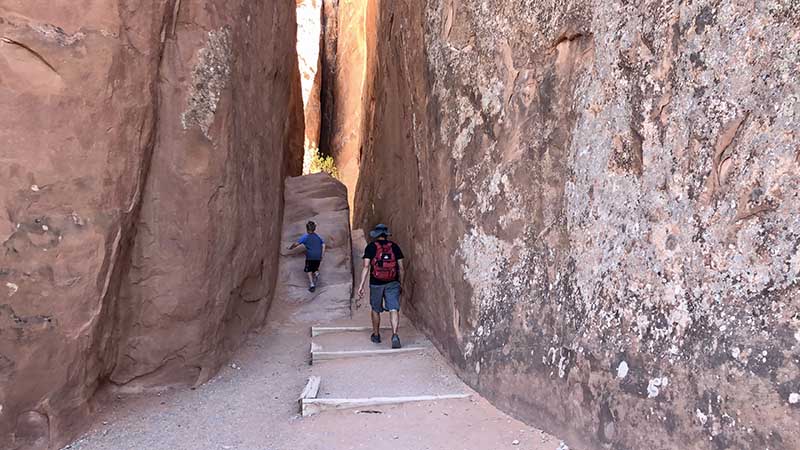 A short .3 mile hike back to an arch and a whole lot of sand! The kids could have cared less about the arch but they loved playing in the sand and climbing on all the surrounding rocks.
There were some shaded areas so it was nice for the parents to sit down in the cool sand and shade and watch the kids run and play! If you have kids don't miss this one!
Distance: .3 miles
Elevation gain: none
Some shade areas throughout the sand area
Easy trail and great for kids
A fairly easy trail – there are some stairs and elevation gain so be prepared for that. But it is just a 1 mile trail. You will see the South Window, North Window and Turret Arch. You can hike right up and under the North Arch and then head back on the trail towards Turret Arch but don't forget to turn around or you will miss South Arch!
When you are hiking up towards Turret Arch you stop and turn around and you can see both North Arch and South Arch and they look like a face! Then you can either continue up and under Turret Arch or just take in the view from afar and then head back to your car.
Double Arch is also located in this area and you can park in one lot and get to both trails. This one is a .5 mile trail to a view of Double Arch. We didn't do it since our kids were done with hiking by that time . . .
Windows is also a cool place to come back to on a clear and starry night. With the stars out you can see the arch silhouette with the stars behind it. Really sweet!
Distance: 1 mile
Elevation gain: stairs with a small gain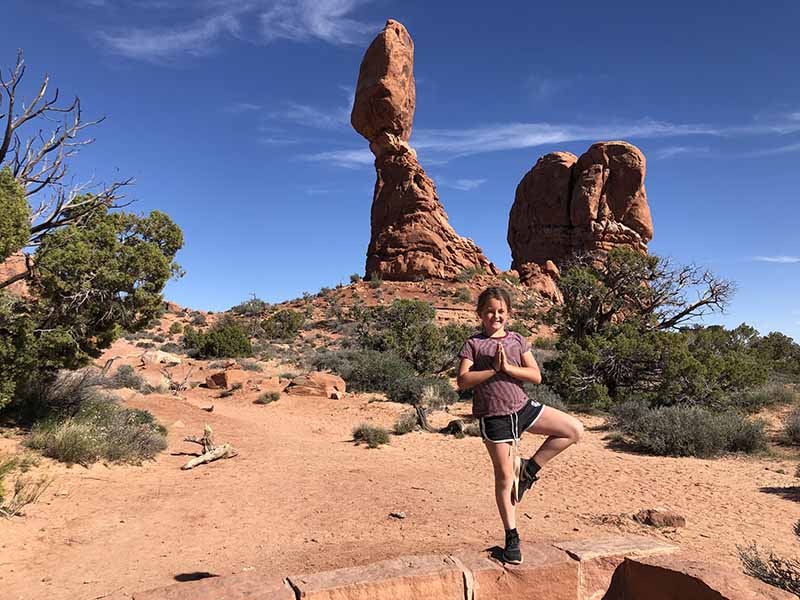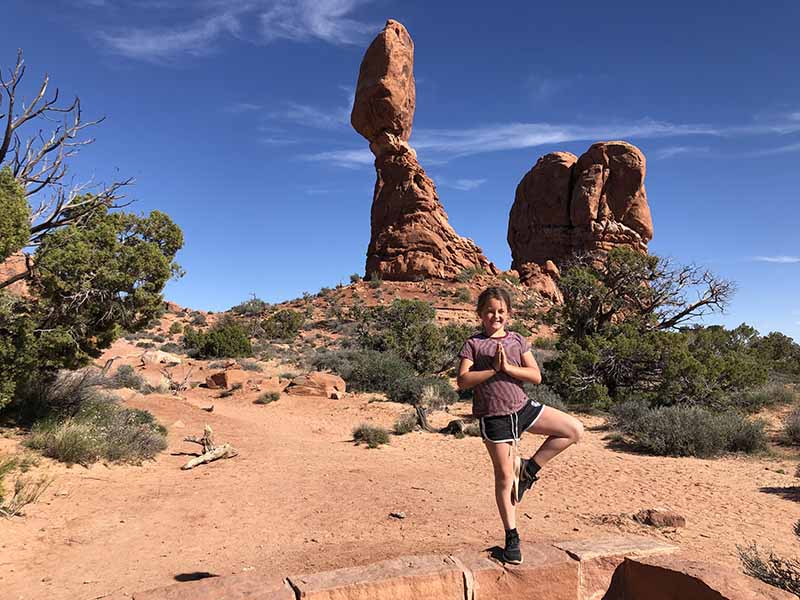 A simple park and get out to see it. Or take a short .3 mile hike on the trail to get a closer view. It is fun to see all these unique rock formations in the park!
Just keep an eye out and make sure the balanced rock doesn't fall on you! It seriously looks like it could!
Distance: .3 miles
Easy walk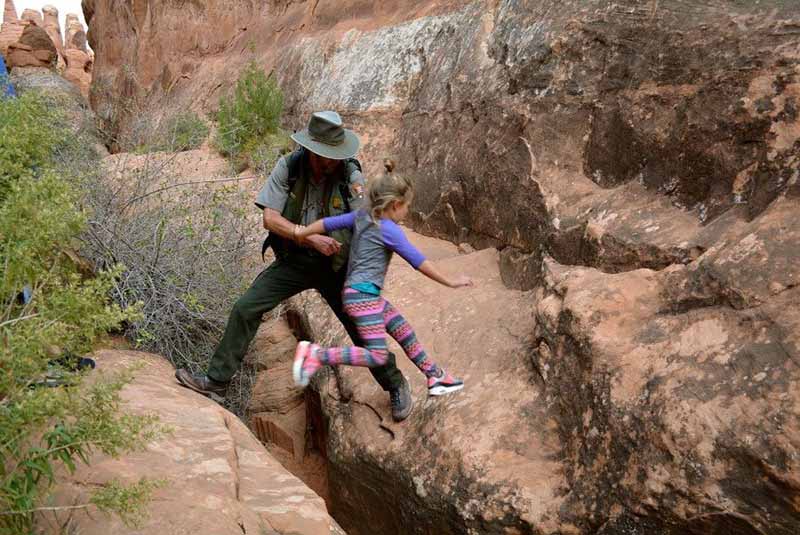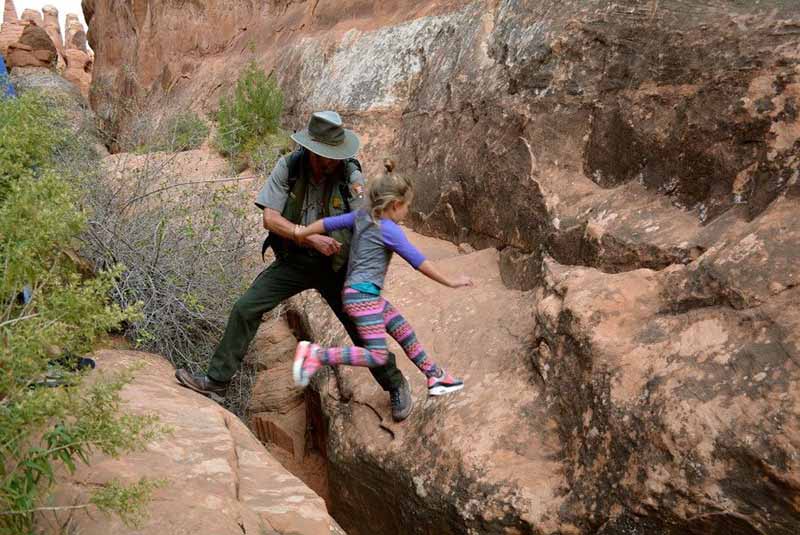 You can only do this hike with a permit or with a guide. Unless you really know what you are doing, I would recommend a guide.
You do have to pay – per person. You can sign up at the Visitor Center for afternoon hikes and the hike can fill up quickly so get there early to sign up. Or for morning hikes you can book via www.recreation.gov.
The hike was really cool and we did lots of rock scrambling and jumping. I can see why it it is a ranger led tour since it is like you are in a maze.
Only kids 5 and older can do the hike. We did it with our young kids (our youngest was actually 4 at the time but had lots of hiking experience so he was fine) and my parents who were in their 60's – but physically active and fit.
It was an awesome hike and if you are looking to do something unique and to get back into the less visited parts of the park then you should sign up to do this one!
To learn more and to read all the rules about this hike and what you can wear and all that check out: https://www.nps.gov/arch/planyourvisit/programs.htm
Distance: 2 miles roundtrip
Elevation gain: not much but lots of rock scrambling and some jumping needed.
This is not an easy hike and requires an ability to jump and climb. Make sure to check the site to learn more about the hike before taking it on. Also know we loved it and have found other hikes we have done to be a lot more difficult.
If you have a 4X4 vehicle and don't mind doing a little off roading, you can head out on the unpaved road to make it to the Tower Arch trailhead. It is a 3.4 mile roundtrip hike in a remote part of Arches National Park. It is moderately difficult with some elevation changes.
Distance: 3.4 miles roundtrip
Elevation gain: Moderately difficult with some elevation changes
It is in a remote part of the park so make sure you have water and that you told someone you were going here!
Early visitors said the canyon walls reminded them of buildings in a city. Hence the name Park Avenue trail. You can start this hike and have the shuttle pick you up at the end. Or walk to the end and turn around and walk back.
Distance: 2 miles
Elevation: 320 feet
Picnic Lunch
There are multiple spots throughout the park where you can enjoy a picnic lunch. Please note around lunch time they usually fill up and the parking lot could be full. So to do this plan to eat a little earlier or later than the normal Noon lunch hour.
Arches Scenic Drive
The whole park is one Scenic Drive. You will see this as you pull in and look out over the expanse of Arches National Park. The drive is about 22 miles and can take approximately 55 minutes to just drive it – assuming there is not stopped traffic.
Lookouts
There are a variety of lookouts and pullouts throughout the park, so if hiking isn't your gig or if you just want to take a quick look at the park you can just drive through. I would recommend you plan for at least 2 hours if you want to drive the whole park and plan on stopping to get out to take in the scenery, the arches, sandstone fins and more! Of course based on how long you take at each stop this could be well beyond 2 hours.
Here are the lookouts you don't want to miss listed in order of how you can see them as you drive through the park:
Park Avenue
Park Avenue is a great starting viewpoint right when you come into the main park area. Once you view it you will see why it is called Park Avenue (the red rocks looks like skyscrapers lining an avenue in a big city!).
Courthouse Towers
Shortly up the road you will come to Courthouse Towers viewpoint as well. Seeing all of the beautiful red rock and rock formations is amazing. If you pull into the view point there is a board that tells you the names of each of the towers.
The Windows
Hopefully you got out and did the Windows Trail hike here – even if you just went a little ways. But if you are tight on time you can take these in as you drive through or from the parking lot. Here you will see the Turret Arch, Double Arch and Parade of Elephants.
On the way in you will also pass the Garden of Eden. If you have extra time you can go down a side road to stop and take in this view as well.
*This is also a great place to come back at night to see the stars!
Wolfe Ranch
If you plan to do the Delicate Arch hike you will walk by this ranch at the start of the hike. If you don't want to do the hike you can just stop here to see the ranch.
This is where the Wolfe family lived in the 19th and 20th century. You can walk up to the ranch to have a peek inside.
**There is also a Rock art panel in this area where you can see Ute Petroglyphs.
Delicate Arch Viewpoint
If you want to see the Delicate Arch but not hike it – this is how you do it. Though it will not replace hiking up there to see it up close! There is a lower delicate arch viewpoint right off the road and an upper delicate arch viewpoint where you have to walk a short distance to get to the view.
In either case the arch is far in the distance but still beautiful!
Fiery Furnace
From this viewpoint you can lookout over the Fiery Furnace section of the park and images all of the little crevices and turns if you were to hike in here. Or maybe you already did the hike which gives you even more of an appreciation of this view!
Map of Overlooks In Arches National Park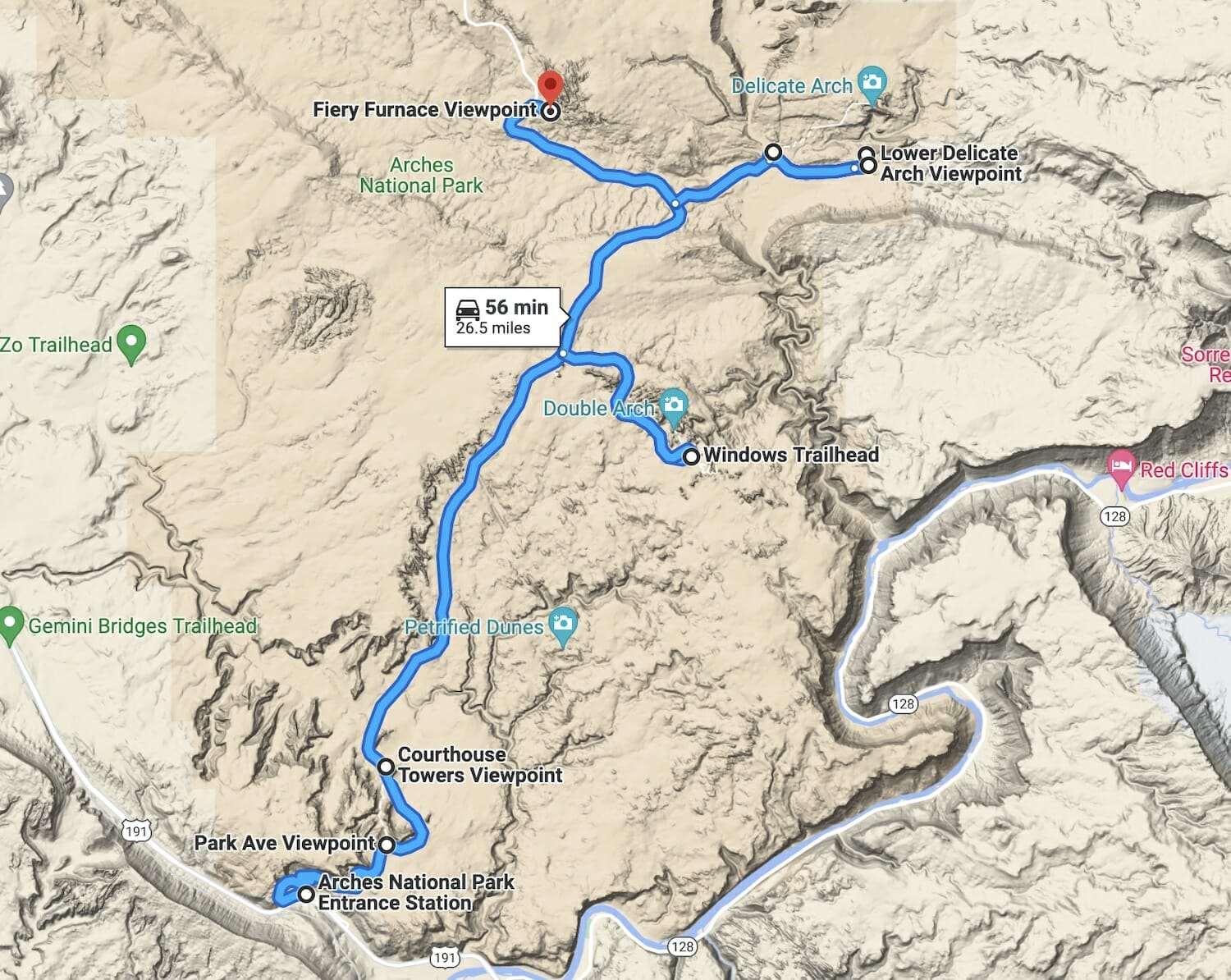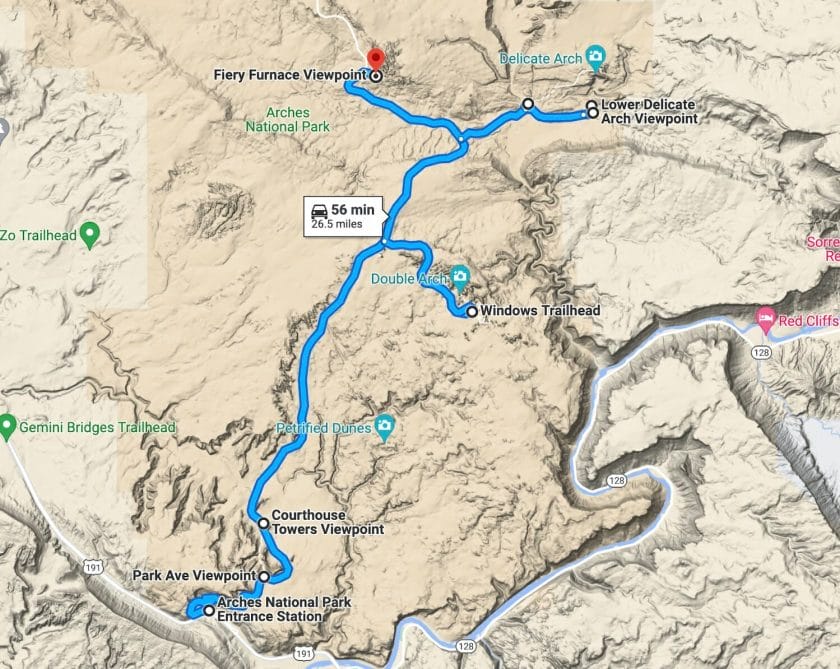 Click here to access the map: https://goo.gl/maps/ndJEi2fRSi8Gfyiv7
Hwy 128
For another drive option you can head out of the main entrance of Arches and take a left and then another left onto Hwy 128. It is a beautiful scenic drive that goes along the Colorado River and there is a winery right off the road
Potash Road Dinosaur Tracks and Petroglyphs
Located outside of the park but if you have a dinosaur lover in your family it is a stop you will want to make to see actual dinosaur foot prints and more petroglyphs. Just be prepared as it is a bit of a scramble to get where the dinosaur prints are.
Mill Canyon Dinosaur Tracksite
Another attraction located outside of the park but worth a visit! It is a 1.8 mile out and back trail with a boardwalk. At the end you can see fossilized dinosaur tracks up close! They also have a board with different images and information to help you know what you are looking at.
*Be sure to check if this site is open – as it does close for preservation.
Are you in love with the idea of seeing ALL 5 of Utah's amazing National Parks? This National Parks tour might be for you! Not only do you get to see and hike the awesome Arches National Park on your guided tour, but also Zion, Bryce Canyon, Canyonlands and Capitol Reef National Parks.
The six day tour includes your lodging and breakfast, lunches at trendy local restaurants and even a couple of dinners! You are driven to the parks and given plenty of time to hike and explore (2 whole days in Arches alone!) as well as given driving tours of the various parks.
This is a fantastic way to see all 5 of Utah's National Parks in just 6 days, while a local guide to give you lots of history on the parks and take you to the best local places to eat to boot!
Book Your Utah National Parks Tour here!
Where To Stay
RV/Camping
You can camp in the park at the Devil's Garden Campground. It is located way in the back of the park. The broken Arch hiking trail is located right off of the campground. It would be awesome to spend a few nights here!
Commercial Campgrounds in Moab (These should have RV hookups!)
Hotel
Hyatt Place Moab
If you want a nice, luxurious stay after your day out hiking in the heat, check out the Hyatt Place Moab for all of the amenities! It is one of the number one hotels in Moab.
Moab Springs Ranch
Looking for a more resort like feel? Check out the amazing Moab Springs Ranch. You can rent a one or two bedroom townhouse for the night with full kitchen and bathrooms.
Not only that, the resort has its own parks, ponds and hammocks in the shade as well as the requisite hotel pools and hot tubs. A truly relaxing stay after a day full of hiking!
VRBO
If a house rental is more your style, check out this Luxury House fit for a family! With five rooms, deck, and spacious back yard, this house will give you the feel of home while letting everyone have their own space. It's conveniently located in the center of Moab!
Arches National Park is a beautiful park with lots of amazing Arches to see and cool colors and views. If you can, plan to stay for a few days and really explore the park and the surrounding area. If you don't have that much time at least take a drive through and do the Windows hike to get a feel for how big these Arches really are!
I love the fact the park is located just outside of Moab. Moab is an awesome city with a fun outdoor vibe so be sure to save time to explore here too since there are so many great things to do in Moab!
Bonus! Check out our video of things to do in Moab:
Looking for more National Parks adventures? Check out our following posts:
11 Utah Mountain Biking Trails You'll Want To Check Out
12 Epic Things To Do In Page, AZ
How To Plan A Trip To All 5 Utah National Parks [Map Included]
Top 11 Awesome Things To Do in Bryce Canyon National Park
8 Of The Best Hikes In Capitol Reef National Park
Best Hikes In Canyonlands National Park [Maps Included]
15 Awesome Things To Do In Zion National Park [Plus Where To Stay]
12 Amazing Things To Do In Grand Staircase Escalante National Monument
Pin It For Later: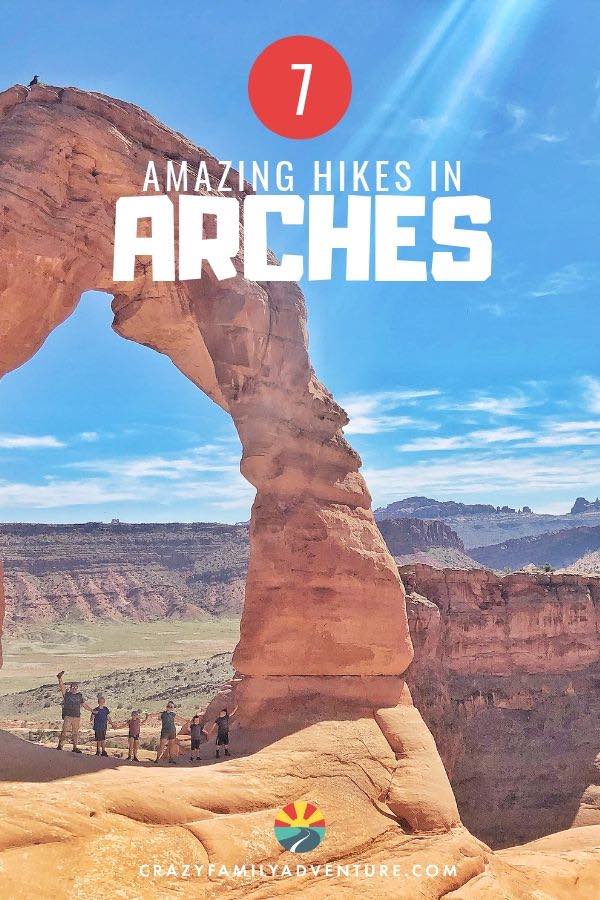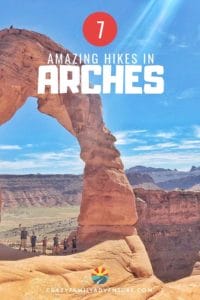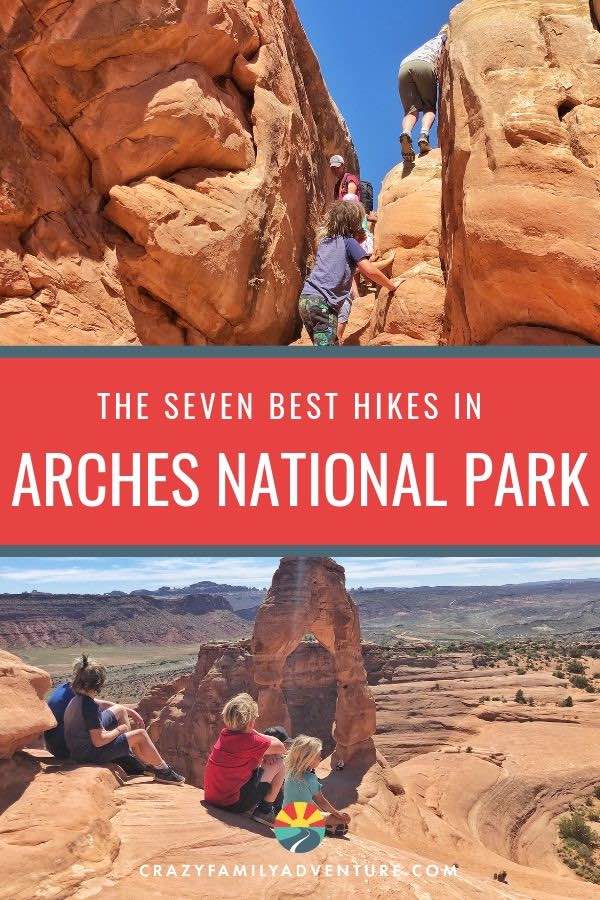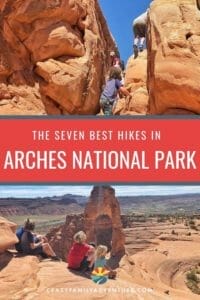 DISCLOSURE: This post may contain affiliate links, meaning I get a commission if you decide to make a purchase through my links, at no cost to you. Please read my disclosure for more info.