There is so much natural beauty in this remote areas of Utah. We have explored Grand Staircase Escalante and the amazing slot canyons on multiple occasions and we are never disappointed. Yes, we love the Utah National Parks. But the Grand Staircase Escalante area holds a special place in our hearts!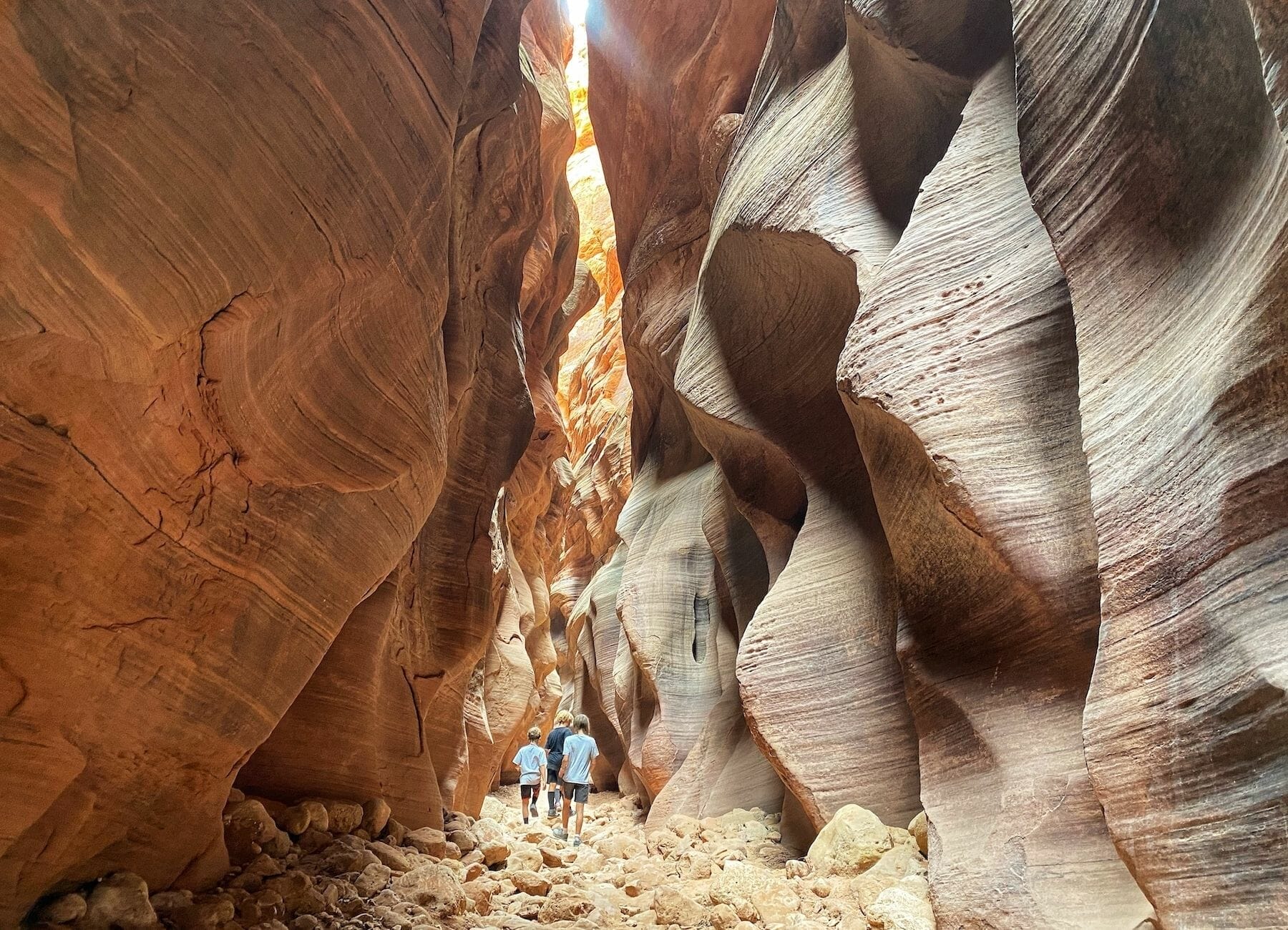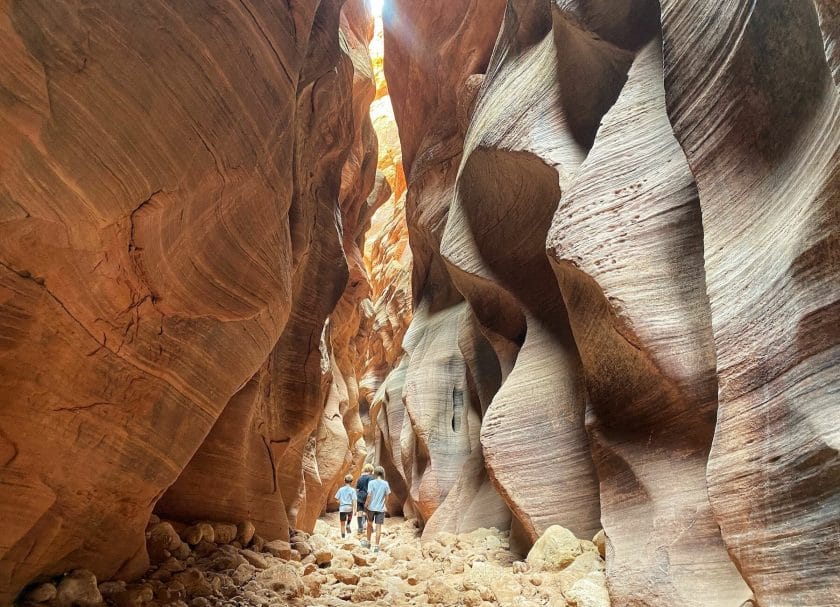 The canyons of the Escalante provide amazing scenic drives, awesome hiking, adventure activities and beautiful slot canyons to explore! These are our recommendations on the top things to do when you visit this unbelievably beautiful area:
Scenic Drives In Grand Staircase-Escalante
Hwy 12
To get there we drove on the beautiful Hwy 12. We weren't sure if this was possible in a trailer, but it was fine. A little tight here and there but nothing too crazy.
Our friends from yTravelBlog.com were even able to drive it with their truck and 37 foot travel trailer.
There are multiple stops with great viewpoints as you are making your way along the road. So be prepared for multiple stops to take in the beauty around you.
Burr Trail into Capitol Reef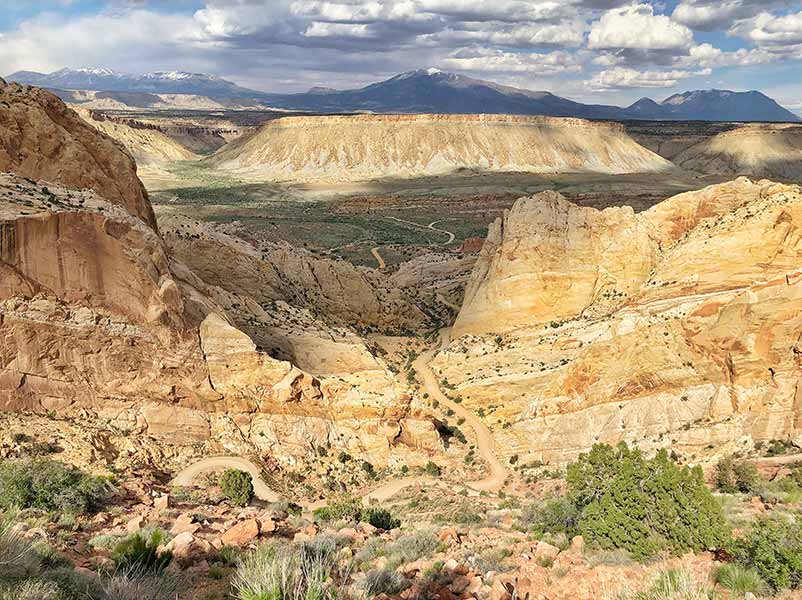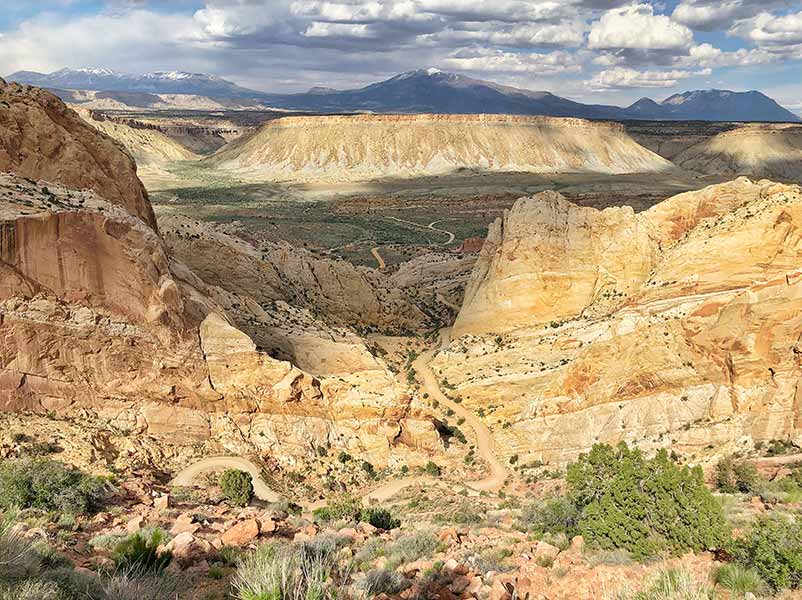 From here we drove into the back entrance of Capitol Reef. We saw like 2 cars on the whole drive there and back. It was really cool to be out in a beautiful place like this and feel like we had it all to ourselves.
There is also a fun switch back that you drive down to get into the waterpocket fold area of Capitol Reef.
Note: Part of the road is gravel – it was fine in our 2 wheel drive van.
Time: At least 2 hours for this drive
Notom-Bullfrog Road
It was recommended to also do the Notom-Bullfrog Road drive. We ran out of time so we did not do this, so can't say how it was, but if you are looking to have a day of driving you may want to check it out.
Hells Backbone Scenic Byway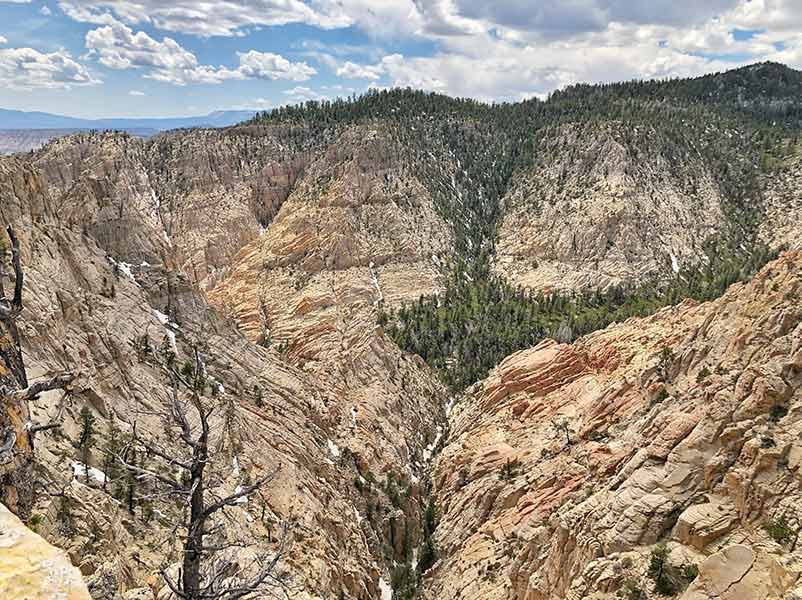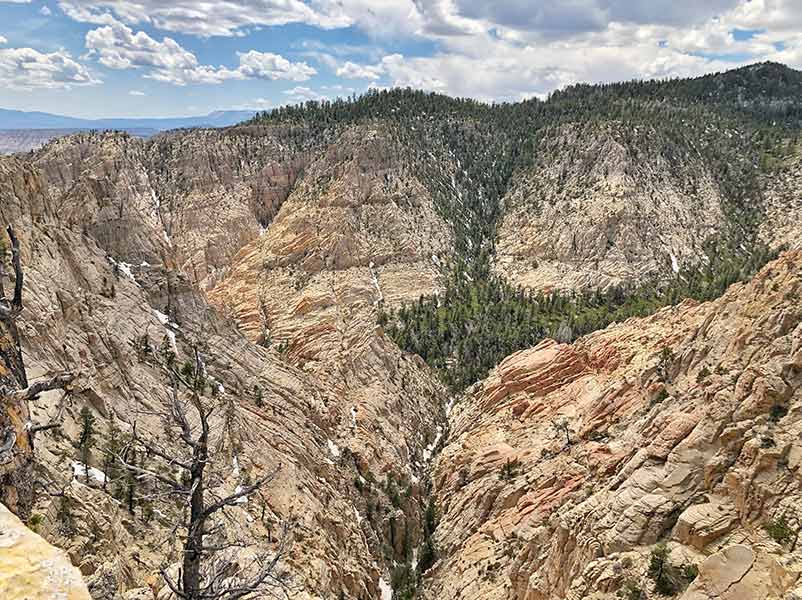 We took this drive up to the bridge and then turned around to come back down. To be honest, we didn't really think it was worth it.
You drive through a lot of forest so there isn't much of a view. Once you are at the top by the bridge it was beautiful. But that was a long windy drive just for that . . .
Hikes in Grand Staircase-Escalante
Wire Pass to Buckskin Gulch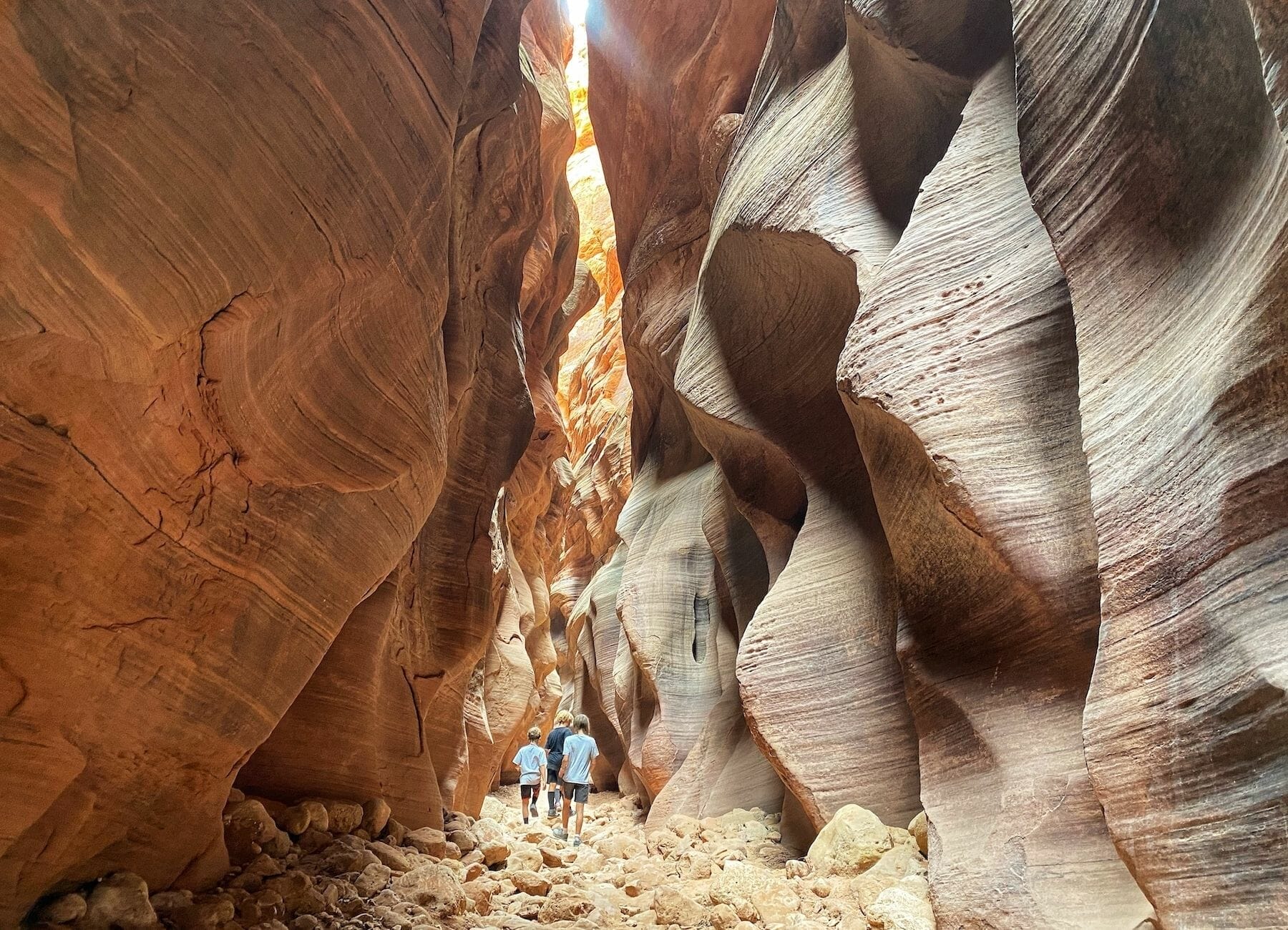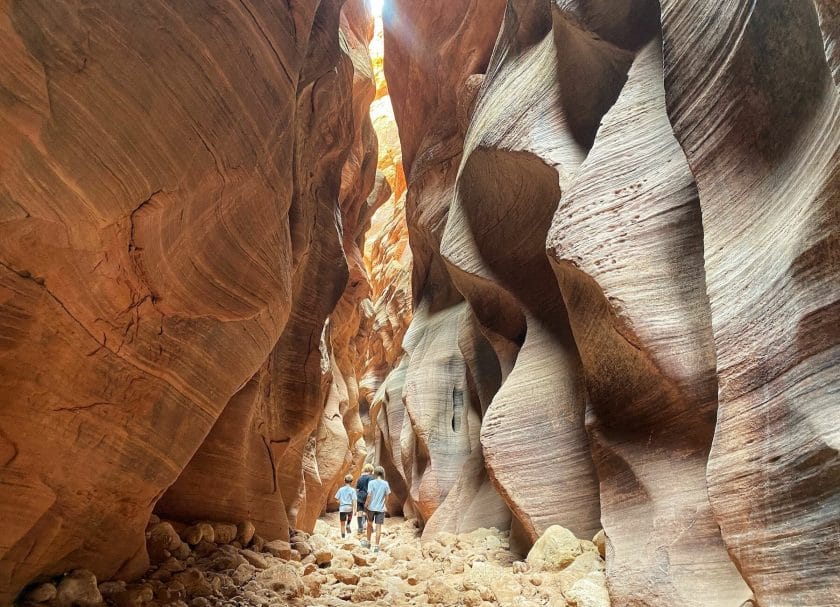 You start with a 45 minute drive on a rough road. But once you get to the trailhead there is a huge parking lot.
$6 a person for permits. You can buy ahead or there is a barcode to scan there and you can pay online. We had Verizon and it worked at the trailhead. Check here for current info.
You must fill out a form and put it on your dashboard with your permit number(s) on it.
It does take longer to hike because there are lots of rocks on the trail. The canyon is cooler and makes it comfortable for hiking. You may want to bring layers.
Trail length is about 5.6 miles. But you can turn around sooner. You will know it's time to turn around since there is a big opening. I also recommend downloading the route on All Trails so you know where you are.
It is a canyon so check the weather! You don't want to do this hike if there is rain!
Length: 5.6 miles – but you don't have to go the whole way you can turn around whenever you want to. It is a out and back trail not a loop.
Calf Creek Falls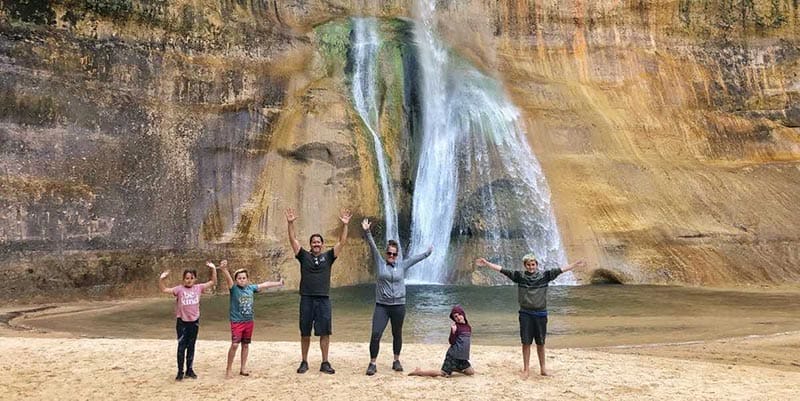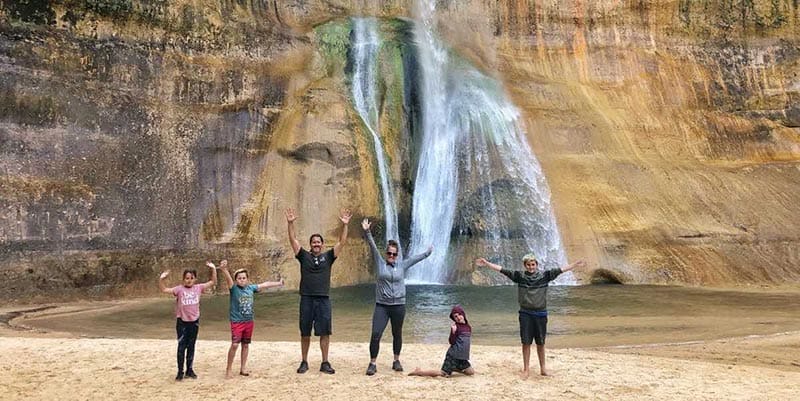 This was an unexpected but amazing hike! Our friends from yTravelblog recommended it and we are so glad we did it!
The hike itself was nice and we were able to see some petroglyphs on the mountain. They were huge!
The real highlight is when you get to the waterfall at the end. Not what you would expect to see in the desert! It was a beautiful waterfall with a nice little beach area.
It was cold when we got there but some of the kids ran in to cool off. When we were there another guy came and swam all the way out and under the waterfall. On a warm day, I would have loved to do that!
Length: 6 mile moderately strenuous
Waterfall: 126 feet tall
Peek-a-Boo and Spooky Slot Canyon Hike


This slot canyon hike is now on the list of our favorite hikes of all time! We had to drive on the Hole In The Rock road which is a very bumpy road to get back to the trailhead – not to mention drive on the side road to the trailhead that was uneven and very questionable. The whole way I was saying, "This hike better be worth it!"
When you pull into the trailhead parking lot it looks like nothing is there . . . then you walk down and get to the slot canyon and it was like, "YES! This was totally worth it!!"
You hike – wait, let me rephrase that – you climb up and into the canyon and then walk and shimmy your way through the beautiful canyon. There were multiple spots where we had to climb up and others where we had to climb down.
The kids did great scrambling around with a little post or hand hold here or there. The adults had a harder time fitting into and through some of these spots. But what an adventure!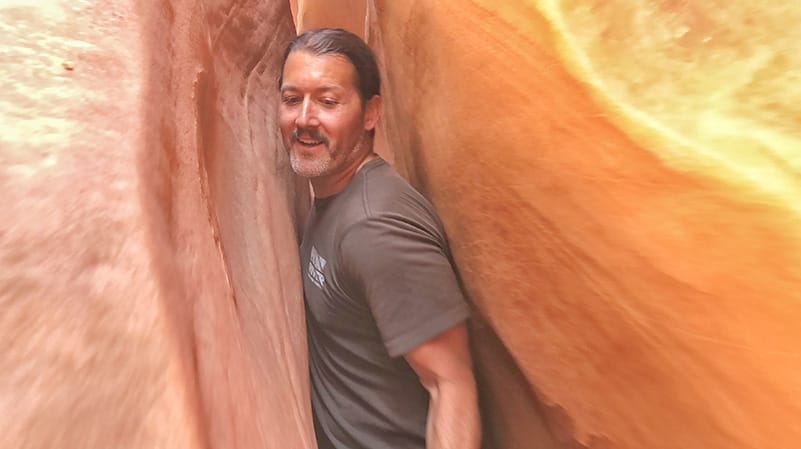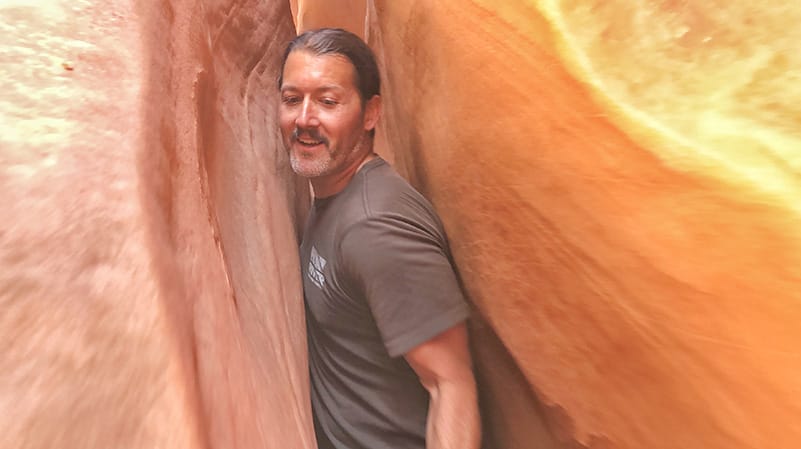 You then come out and have the option to continue on to the Spider canyon or head out. We highly recommend continuing to the Spider Canyon. At this point you have to be able to squeeze through 12 inch openings.
We thought we had done all the hard stuff. We were wrong! There were more challenging crevices to climb up and down and tight areas to fit through (note: don't bring a backpack if you can help it – but do know you need a good amount of water per person!).
We all came out of the canyon and talked about how much we loved the hike and that it was one of our favorites! There is a 1/2 mile or so hike back to the trailhead and it is beautiful as well. The trail ends with a hike UP to the trailhead, which is not so easy either!
All in all this was not an easy hike and not for everyone. But if you are fit and able to maneuver and climb and squeeze into 12 inch wide spots then go for it – it is totally worth it!
Note: Make sure to bring plenty of water, you will need it! But try not to bring a big backpack if you can help it.
Distance: We believe it was like 4.4 miles?? But with all the climbing it felt like a lot more.
Warning: Like we mentioned above this was NOT an easy hike. Lot's of climbing and tight spaces.
Zebra Slot Canyon
Drive down a bumpy dirt round for about 15 minutes. The hike is about 5 miles round trip. With the slots only being a couple hundred yards long. If that. But totally worth it!!
Areas in the slots were 10 inches wide or less!! Lots of climbing to get to where we stopped in the slots.
If you are going to do the hike download the AllTrails map on your phone. We did get off course a few times and the map helped us get back on track!
Be sure to check the weather and maybe even call the ranger station (we did!) to be sure there isn't too much water in the canyon to hike it or that there isn't a storm coming! You don't want to be trapped in the canyon if there is a storm.
Coyote Gulch
If you are looking for a backcountry adventure, then check into the 13 mile Coyote Gulch trail. It is recommended that you check in at the Escalante Interagency Visitor Center for a permit and to check the conditions before you go. There are four additional visitor centers for the area: Kanab, Escalante, Cannonville and Big Water.
Other Places To Visit
Escalante Petrified Forest State Park
A Utah state park with hikes through a petrified forest, a reservoir for paddle boarding or kayaking and a small visitor center museum to explore.
Anasazi State Park Museum
A Utah state park with a museum, information center for the surrounding area, a store, outdoor picnic area and ruins from an ancient Anasazi Village.
Where to eat in Grand Staircase-Escalante National Monument
Food Truck – Magnolia's Street Food
This is a cute food truck by the Anasazi State Park Museum that my sister and her family stopped at. They said the food was good and it was a fun place to stop.
For coffee and pastries with an awesome view check out the Kiva Koffeehouse! Assuming the parking lot isn't too busy you could pull a trailer or RV in here to park. Just be aware the entrance sneaks up on you so be paying attention to your Google Maps when you are getting closer.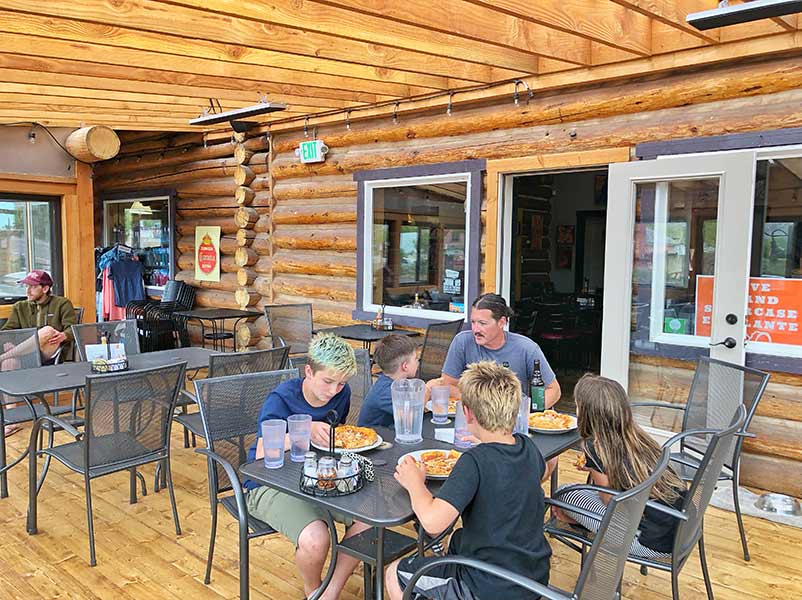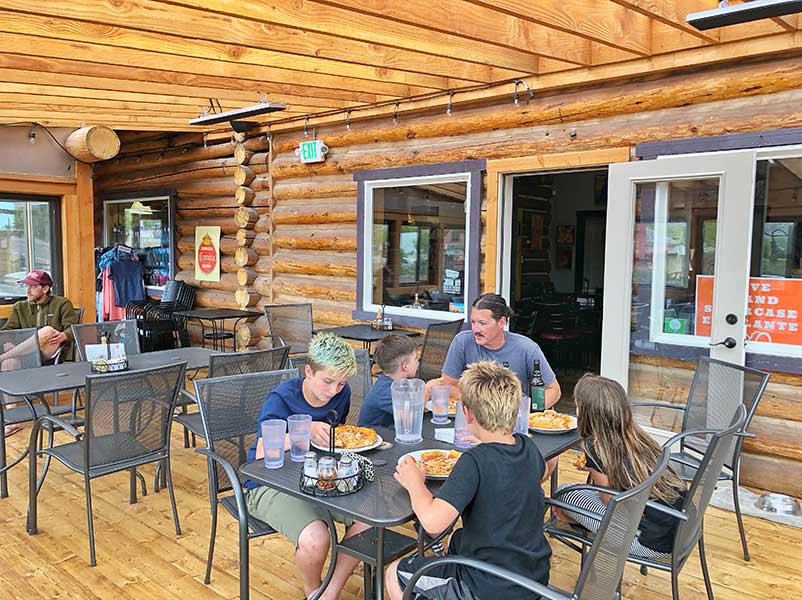 The restaurant was attached to the local Escalante Outfitters store in the town of Escalante. This is also where there are pay showers and laundry if you are boondocking and need that. Plus they have some really cute clothes and stickers!
We weren't sure how the food would be, but our pizza was yummy! And the beer was good too!
Beer, Wine and Alcohol
The Escalante Outfitters (yes the restaurant/store we mentioned above) does sell alcohol that is the real deal – hard to find in Utah – but you have to go into the cage room to get it!
Grocery Store
Be prepared – there isn't a really good grocery store anywhere around this area . . . either shop before you get here or be prepared for a very limited selection.
Where to Stay in Grand Staircase-Escalante
Camping
Free Camping
We stayed at the Hole In The Rock BLM land and it worked out great! It was easy to get into with our trailer and the spot was nice and level.
Had we gotten there earlier in the day we may have gotten one of the epic spots looking out on the amazing views. But unfortunately all of those were taken.
RV Park
Check out Escalante Cabins and RV Park! If you're willing to drive a bit Circleville RV Park is a little less than 2 hours from the National Park.
Interested in RVing, but haven't taken the plunge yet? Try out RVing on your trip to Utah with a rented RV!
The Entrada Escalante Lodge is voted the best value hotel in the area. The suites come with a kitchenette and some have a living room space as well. A great place to unwind after a day of hiking or sightseeing!
Vacation Rental
If you are looking to stay in a vacation rental, there are some beautiful homes available near Escalante. Check out one of these beautiful stays:
Passive-Solar and Great Views!
President Bill Clinton named it as a national monument in 1996 in a Presidential Proclamation. It was named Grand Staircase-Escalante due to the many plateaus (including the Kaiparowits plateau, the highest plateau at 9000 feet) that descend from Bryce Canyon National Park south to the Grand Canyon.
We hope you are inspired by our list of things to do in the Grand Staircase-Escalante area. This part of Southern Utah is one of the gems of the United States, right in the heart of the Colorado plateau and over a million years in the making. Don't forget to check out the Escalante River while you are there!
If you are headed to Utah or the surrounding area, you may also enjoy these posts:
12 Epic Things To Do In Page, AZ
How To Plan A Trip To All 5 Utah National Parks [Map Included]
8 Of The Best Hikes In Capitol Reef National Park
Best Hikes In Canyonlands National Park [Maps Included]
7 Arches National Park Hikes You Don't Want To Miss
15 Awesome Things To Do In Zion National Park [Plus Where To Stay]
Top 11 Awesome Things To Do in Bryce Canyon National Park
Pin this for later: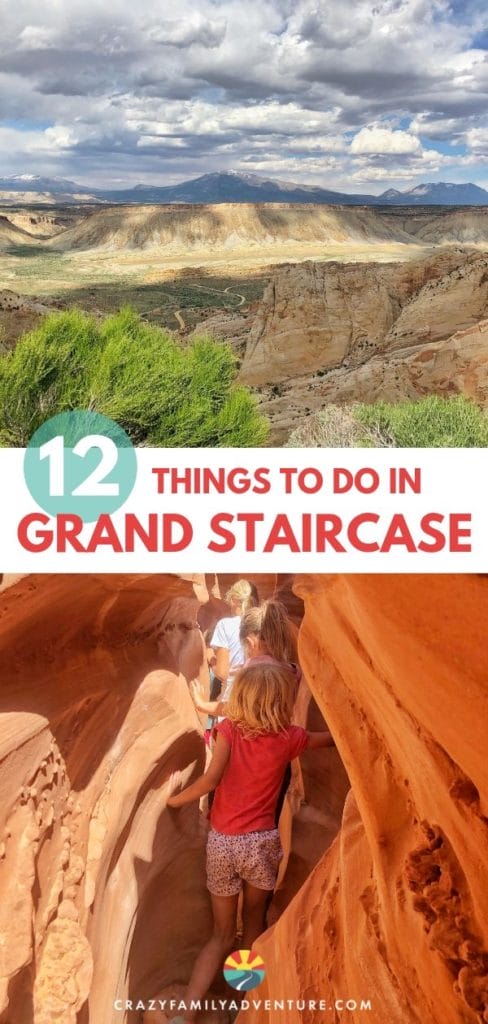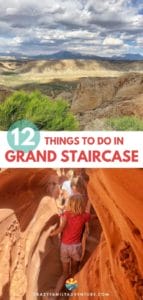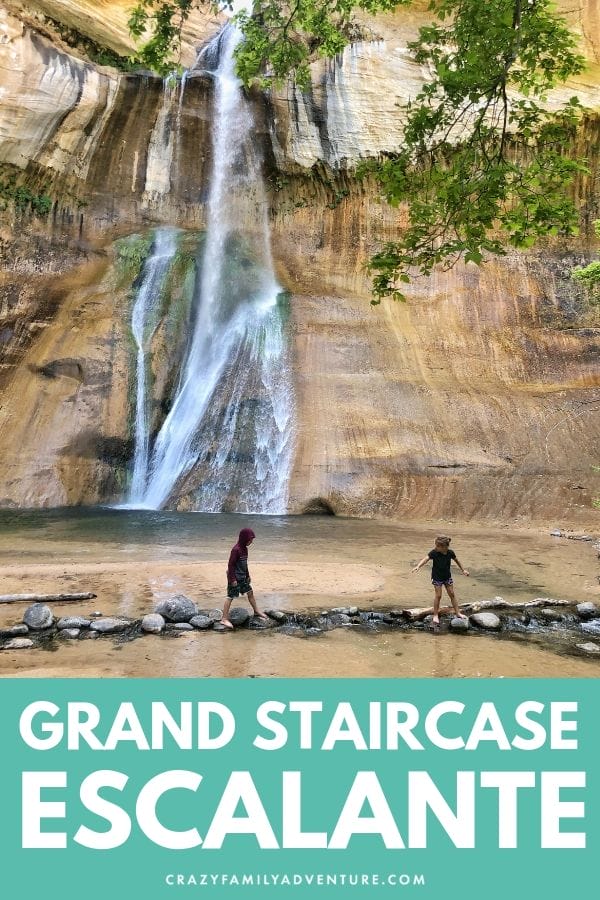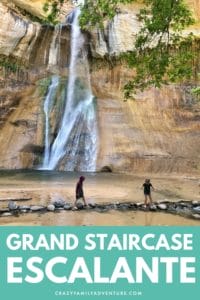 DISCLOSURE: This post may contain affiliate links, meaning I get a commission if you decide to make a purchase through my links, at no cost to you. Please read my disclosure for more info.