Capitol Reef National Park is our favorite National Park in Utah! It is less busy than the rest of them and has more of an overall wow factor than the other parks in Utah. One of our favorite things to do here is to go out hiking. Below we share the best hikes in Capitol Reef National Park and a few other things to do while you visit.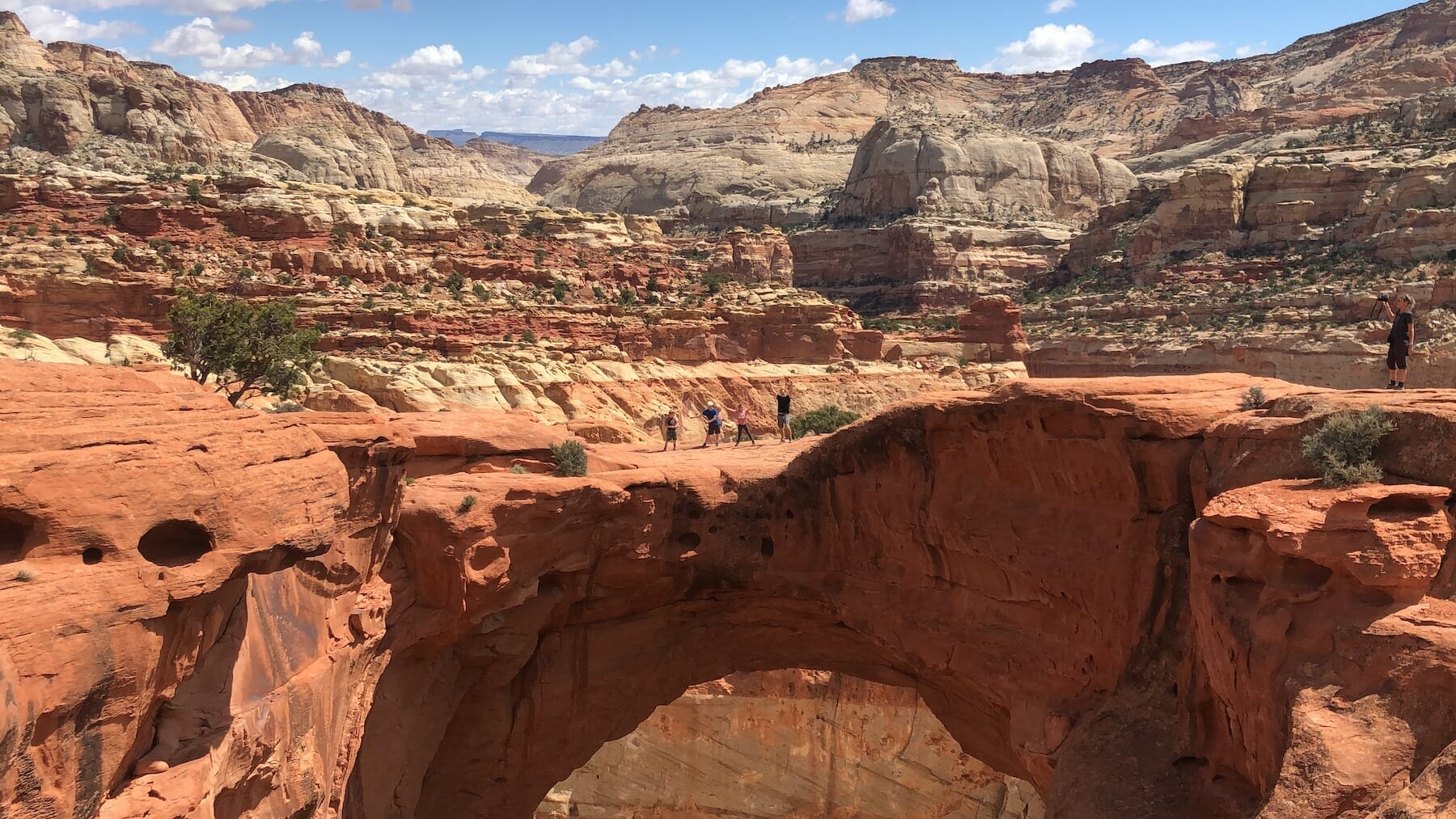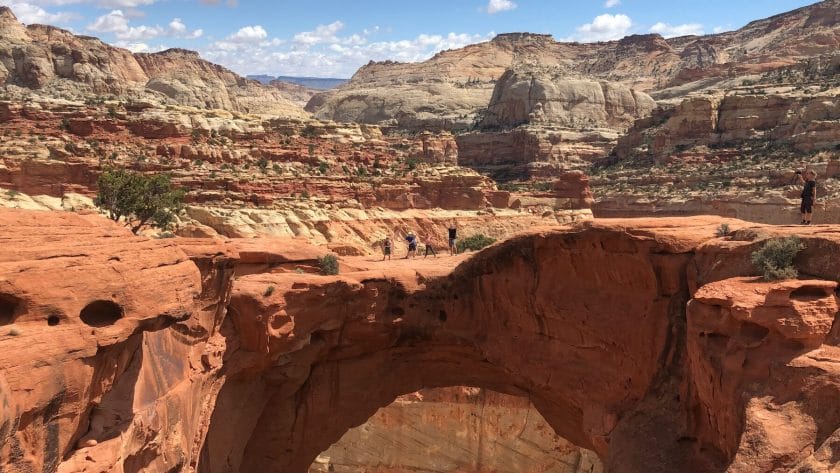 If you are planning an Utah National Parks Road Trip or a National Park Road Trip you will want to be sure to have Capitol Reef on your list. Sometimes people leave it off since it is a bit out of the way. Don't do that!
Like any time you visit a National Park or are anywhere out in nature practice Leave No Trace and make sure wherever you go looks the same as it did when you got there as when you leave.
Visitor Center
We always start at the visitor center to grab a park map and trail map. Plus we talk to the rangers about what hiking trails are closed and if there is anything we should be aware of. The kids usually get a Junior Ranger book too. Did you know that Capitol Reef was named for the Navajo Sandstone domes that look like the domes of Capitol buildings in the United States?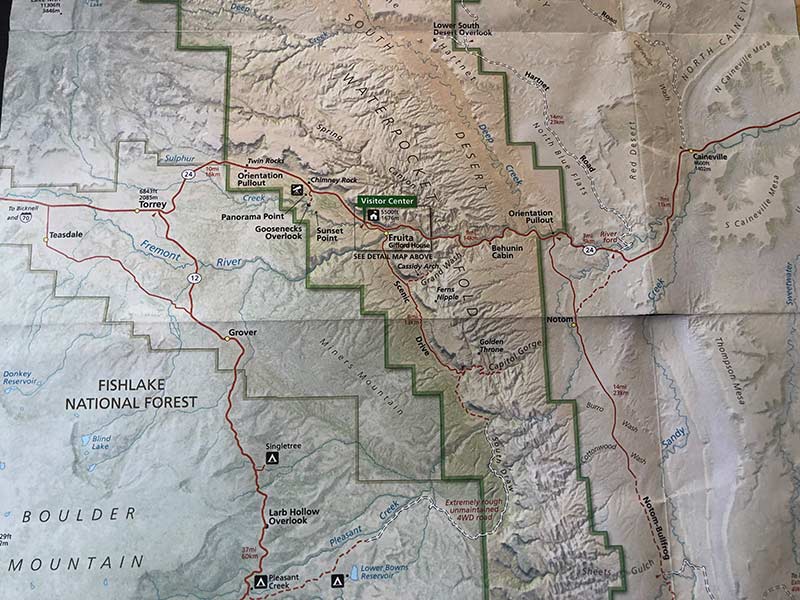 After we have that stop done we head out for our hiking adventures! Here are our top Capitol Reef hikes:
Hikes
Cassidy Arch Trail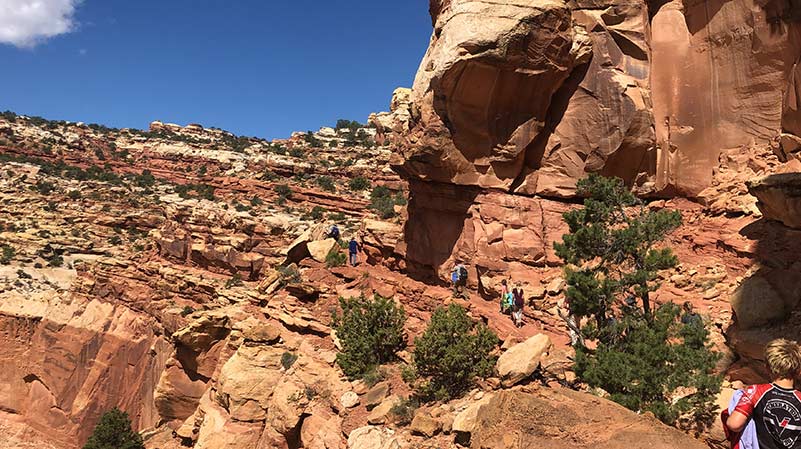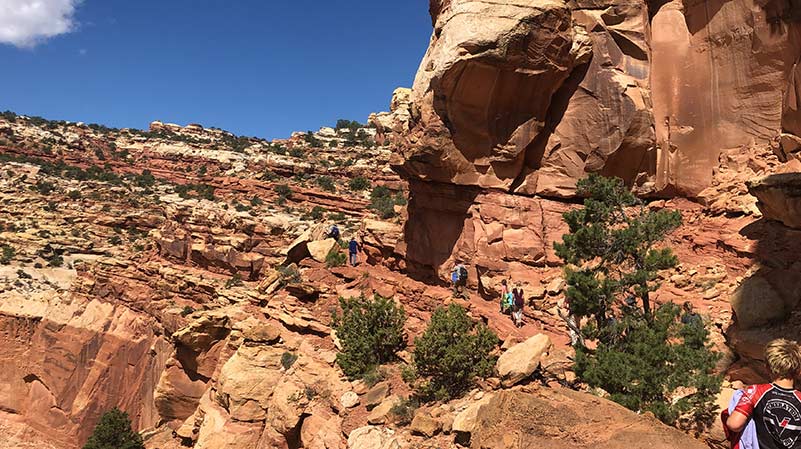 This is not an easy hike and is listed as strenuous for good reason. You have a gain of 670 feet and 3.4 mile hike.
But the reward is worth it when you can walk out on top of an arch! There aren't many arches in the US that you can do this on legally. But never fear, it is totally OK to walk on this one and the park service is OK with it.
Don't get me wrong, it is a little scary and your knees get shaky; but it is a bigger area to walk on than what it looks like.
The hike up is beautiful with lots of great views. However, be aware there are some scary parts with a big drop off.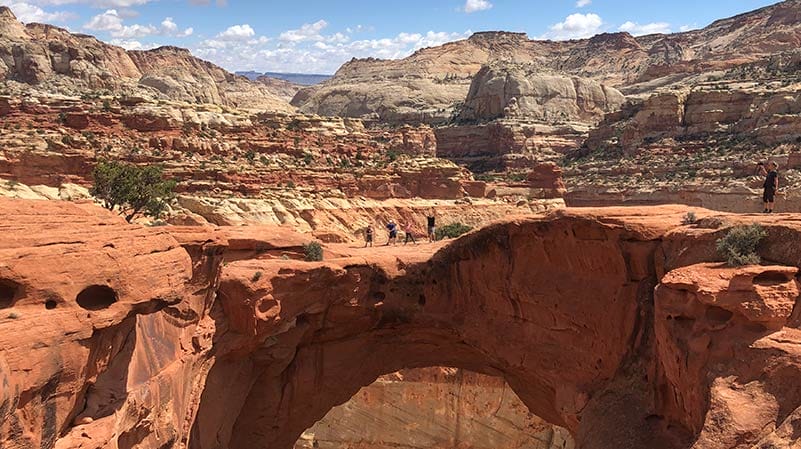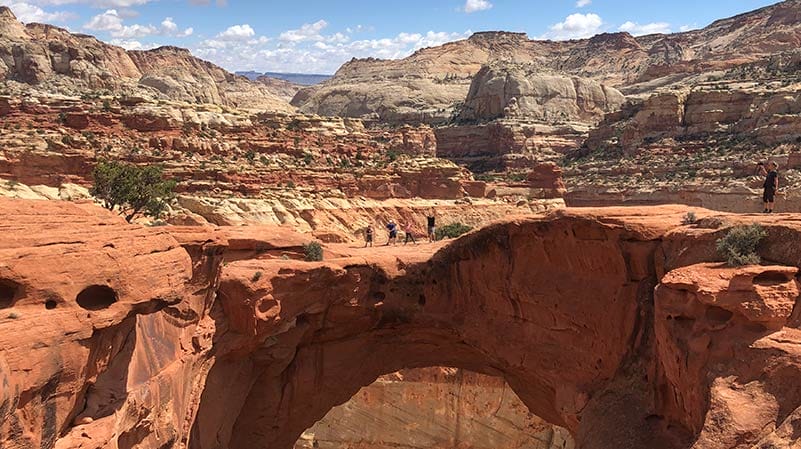 This is not a hike to do if you are looking for a nice stroll with your kids. Instead, this one is perfect if you are looking for adventure and a challenge! This is our favorite trail in Capitol Reef National Park!
Distance: 3.4 miles
Difficulty: Strenuous
Capitol Gorge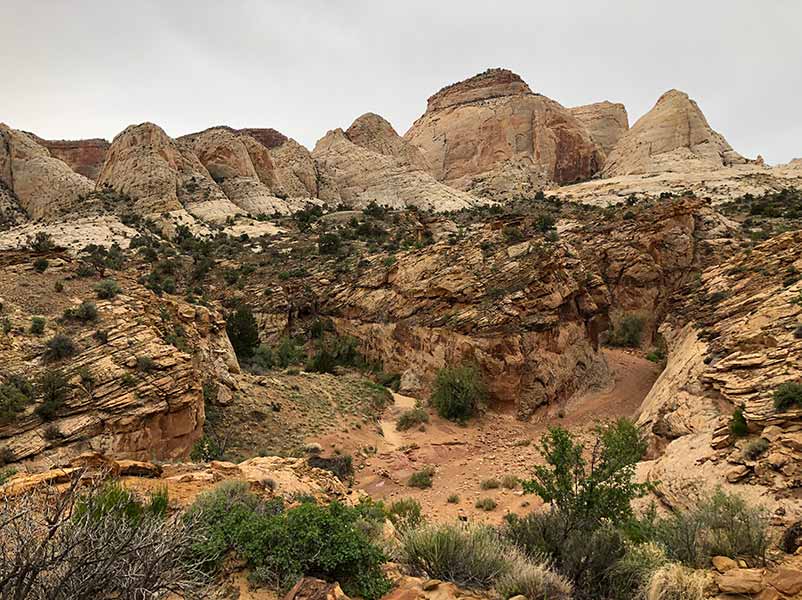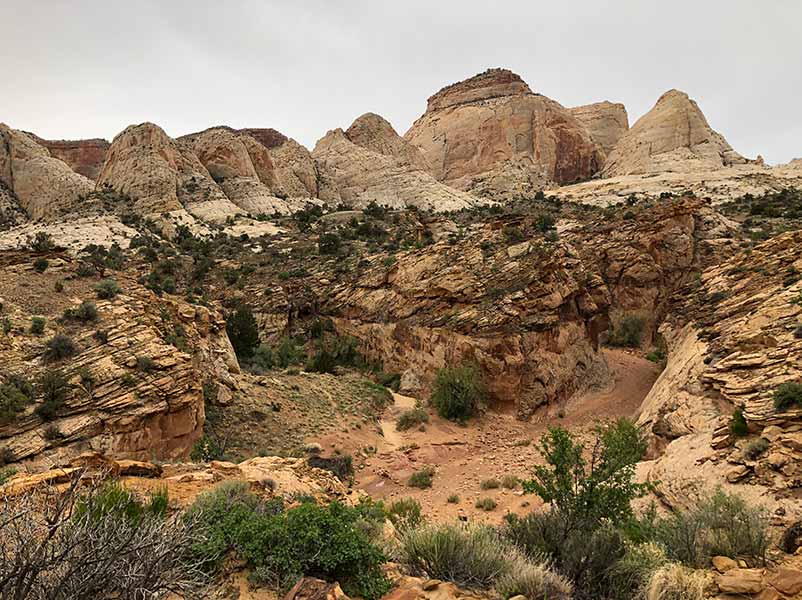 Part of the fun of this one is driving to the trailhead! You go on a dirt road that warns you not to drive there if there is an incoming storm since you are driving in a wash between 2 canyons. Assuming there is no storm coming – you do not want to be caught in a flash flood – this is an amazing drive!
From the trailhead you hike down a gorge which is really cool in itself. You come across some historic inscriptions on the wall and it is a nice level hike and great for kids to just run ahead and burn some energy!
If you are up for it when you reach the end, you can climb up to find the water tanks. We tried but got lost and never found them . . . but I know they are there since when we did it a few years ago we found them.
Distance: 2 miles
Difficulty: Easy
Hickman Bridge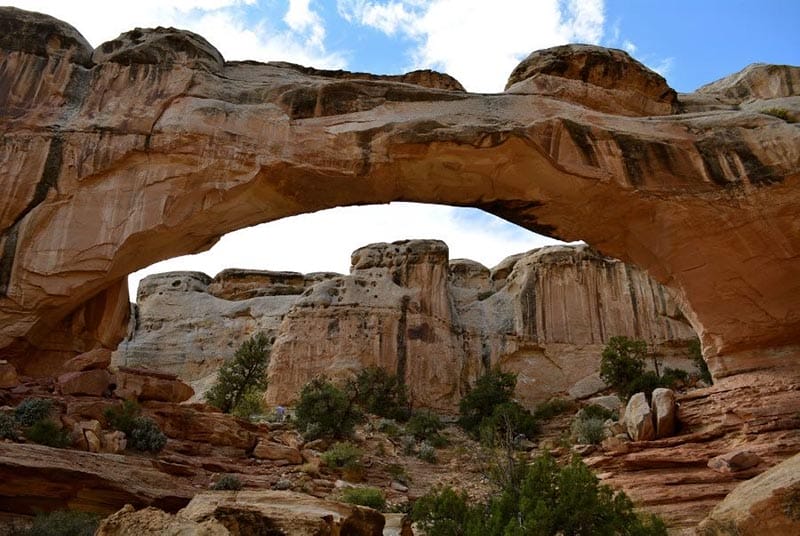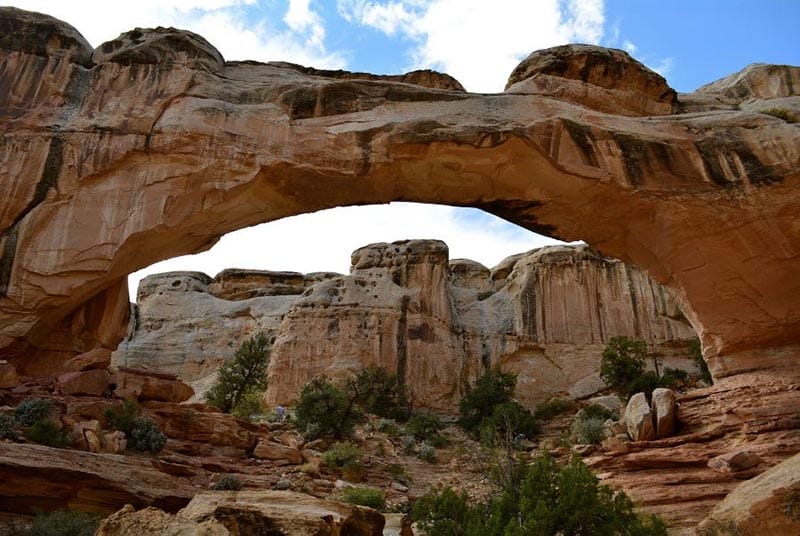 This hike is categorized as moderate due to the 400 foot gain. It isn't too bad and there are some stairs you hike up so isn't like scrambling the whole way up. It is a beautiful hike with a variety of landscapes including the Fremont River.
At the end of the hike you come to Hickmans Bridge: a 133 foot natural bridge! This would be a great hike if you have kids that are up for a little bit of adventure and want a challenge but not as crazy as Cassidy Arch.
Distance: 1.8 miles
Difficulty: Moderate
Grand Wash Trail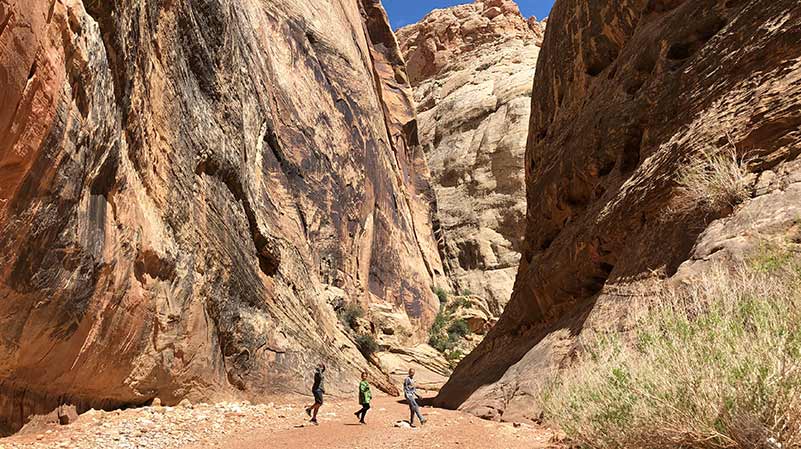 An easy but long hike at 4.4 miles with a 200 foot gain – but the majority of the time you are walking on a nice flat surface. It takes you on a trail through narrow canyons and was a nice trail to just walk and talk on!
It is also a fun drive if you take the Grand Wash road to get to the trailhead. Just be sure there isn't any rain predicted before you do the drive or the hike! if it rains and you are in a canyon it can be very dangerous.
Distance: 4.4 miles
Difficulty: Easy
Sunset Point
This hike/walk is located just off of Highway 24. You do have have to drive on a short dirt road and once you get there it is a short hike of 1/3 mile to get to where you can watch the sunset.
Cohab Canyon
A moderate hike that has hidden canyons and views of the Fruita Historic District. Plus you can do some side trails for beautiful panorama view points.
Distance: 3.4 miles
Difficulty: Moderate
Frying Pan Trail
Before you come to Cassidy Arch you could opt to head down the Frying Pan Trail which connects up with the Cohab Canyon trail. This is a strenuous trail with an 810 foot gain! So be prepared for that.
Distance: 5.8 miles
Difficultly: Strenuous
Chimney Rock
If you are looking for a great sunset hike this is it! Considered a strenuous day hike. It is a long hike with a 590 foot gain. It provides beautiful views of the Waterpocket Fold cliffs and a spectacular sunset.
Distance: 7.2 miles
Difficulty: Strenuous
Rim Overlook And Navajo Knobs
Other trails to check out if you are looking to really push yourself! The Rim Overlook is 4.6 miles with a 1110 foot gain and the Navajo Knobs trail is 9.4 miles with a 1620 foot gain. As you can imagine both of these hikes would give you amazing Panorama views!
Activities
Slot Canyons
Up for more adventure?! Check out the slot canyons of Capitol Reef National Park!
You won't easily find these if you don't know where you are going and you shouldn't do them unless you know what you are doing (we recommend asking in the Visitor Center). But if you have all that covered then check out the Burro Wash, Cottonwood Wash and Sheets Gulch slot canyons. You can find more info about all three slot canyons here.
Scenic Drive
If you go to the Capitol Gorge trailhead you have to take the scenic drive to get there! If you aren't up for the hike you can opt to just do the 8 mile paved scenic drive that offers breathtaking views of the Waterpocket Fold that Capitol Reef is known for.
The colors you see here really are amazing. There is also the Pleasant Creek drive which is supposed to be awesome!
Rivers
Another thing we love about Capitol Reef is all of the water. They have the Fremont River and Sulphur Creek which add more greenery to the area than you see in a lot of the other National Parks in Utah. If you have extra time, take a few minutes or hours to just hang out by one of the rivers while you are here.
Capitol Reef Back Country – Burr Trail Road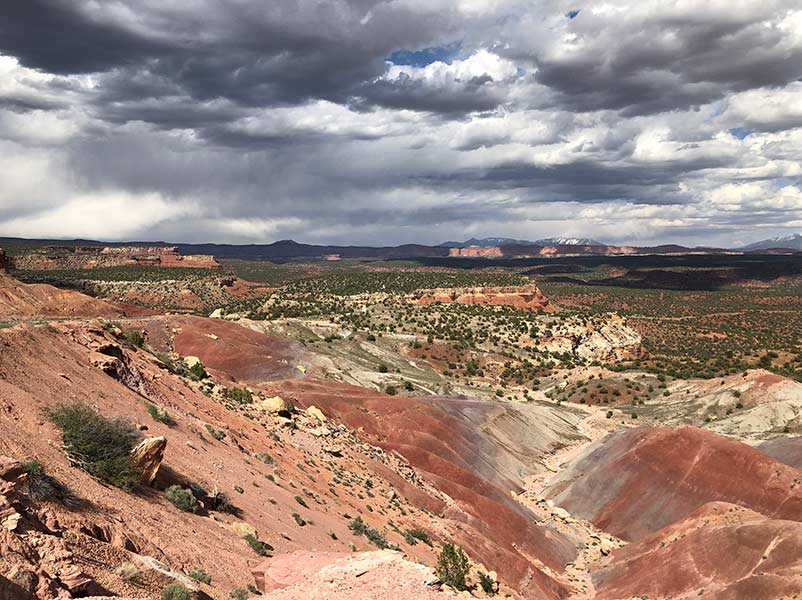 The back country of Capitol Reef is a fun place to check out if you are OK with a bumpy ride. We drove it in our Chevy Van without any 4 wheel drive and we were fine – note it was dry and not muddy. We love getting to off the beaten path places.
You drive through some beautiful scenery and then take a fun switch back (Burr Trail Switchbacks) down into the park. There are a few hikes and things you can do here as well like the muley twist canyon trail. But even just doing the drive is worth it for the views.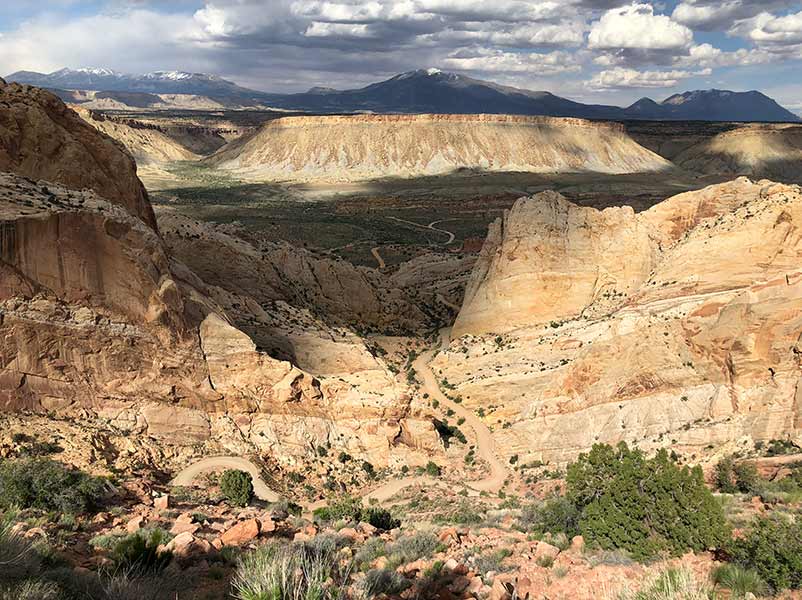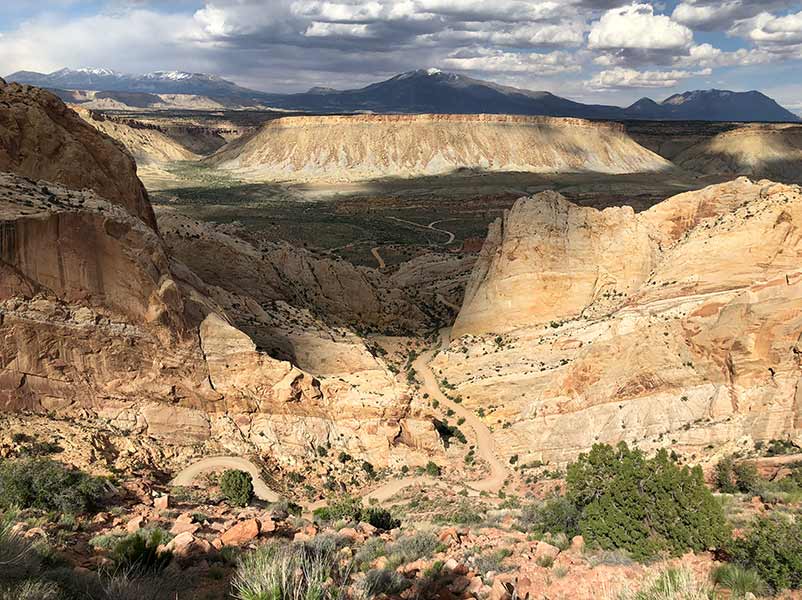 Fruita Historical District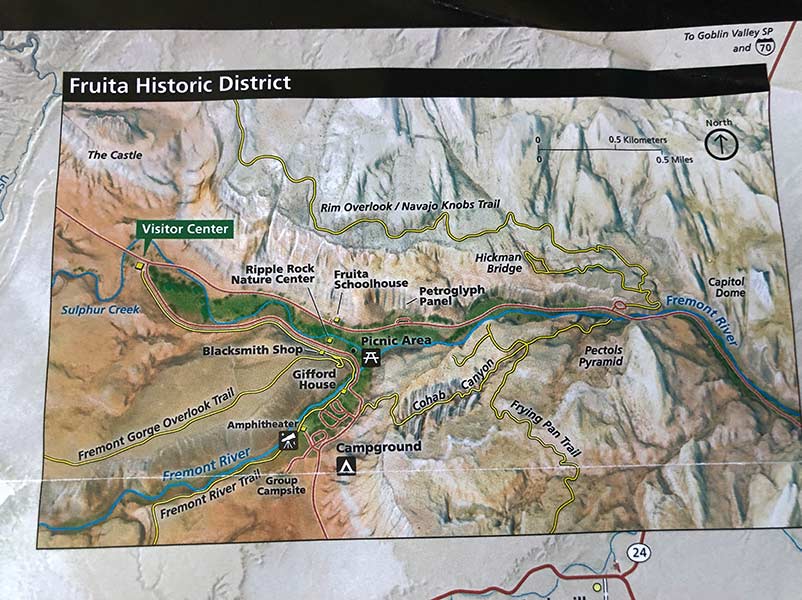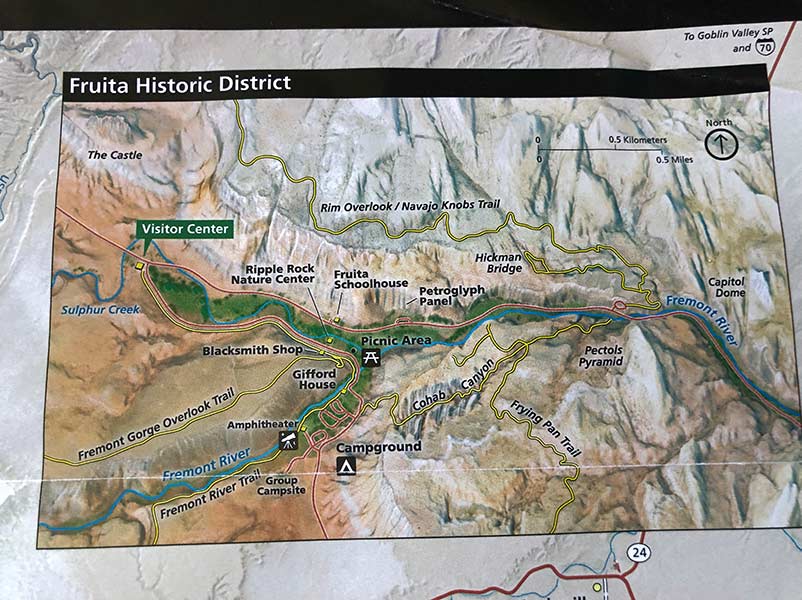 Another cool part about this park is the Fruita Historical District. This area use to be settled by a group of families and there are a few fruit orchards along with a little shop you can stop at to pick up some yummy food.
We highly recommend getting the pie and the kids may opt for some ice cream or cookies. You can pick these items up at the Gifford House and then walk over to the picnic area to enjoy them.
As you can see Capitol Reef has a lot of offer from hiking to beautiful drives and pie! If you make it this way don't miss out on our favorite State Park in Utah: Goblin Valley State Park – You can read all about it on our Utah Road Trip Post.
Llama Tour
Take a guided llama tour of Capitol Reef! This tour is customizable and can be from an hour up to a full day. It includes guides (and llamas) and gear as well as lunch and trail snacks.
This is a truly unique way to enjoy one of Utahs most breathtaking National Parks. Click here to get tickets for your guided llama hike!
Choose Your Own Adventure Tour
Interested in a guided tour? Here is a 4X4 tour through Cathedral Valley in Capitol Reef National Park.
Utah National Parks Tour
Are you in love with the idea of seeing ALL 5 of Utah's amazing National Parks? This National Parks tour might be for you! Not only do you get to see and hike Capitol Reef National Park on your guided tour, but also Zion, Bryce Canyon, Arches and Cayonlands National Parks.
The six day tour includes your lodging and breakfast, lunches at trendy local restaurants and even a couple of dinners! You are driven to the parks and given plenty of time to hike and explore as well as given driving tours of the various parks.
This is a fantastic way to see all 5 of Utah's National Parks in just 6 days, while a local guide to give you lots of history on the parks and take you to the best local places to eat to boot! Click here to check out this awesome tour!
Or check out our other Utah posts to put your own plan together. There is plenty to do with all the cool things to do in Bryce Canyon National Park, the best hikes in Canyonlands National Park, the top things to do in Zion National Park, fun things to do in Arches National Park (with a stop in Moab for all the fun things to do in Moab) and things to do in Grand Staircase Escalante National Monument.
And though technically not a part of Utah but very close you should also add all the fun things to do in Page, Arizona to your list!
Where To Stay
Camping
We stayed at this boondocking spot and it worked out well for us. You are only like 7 minutes from the entrance of Capitol Reef!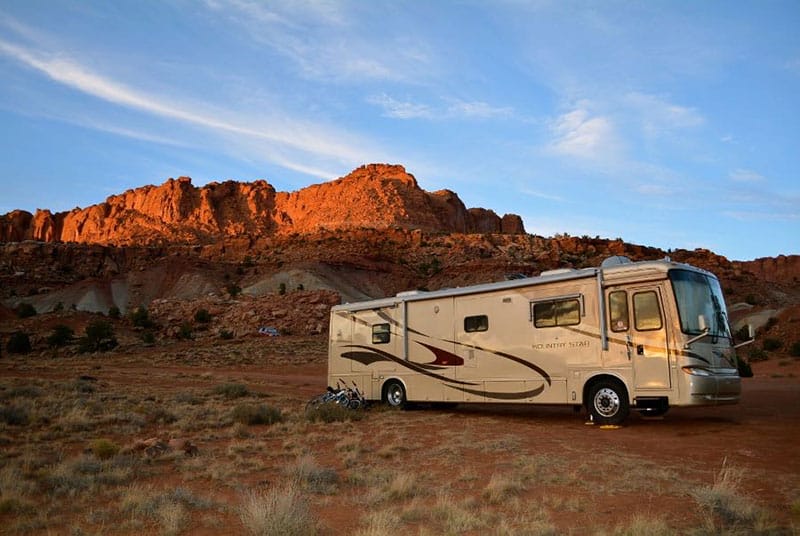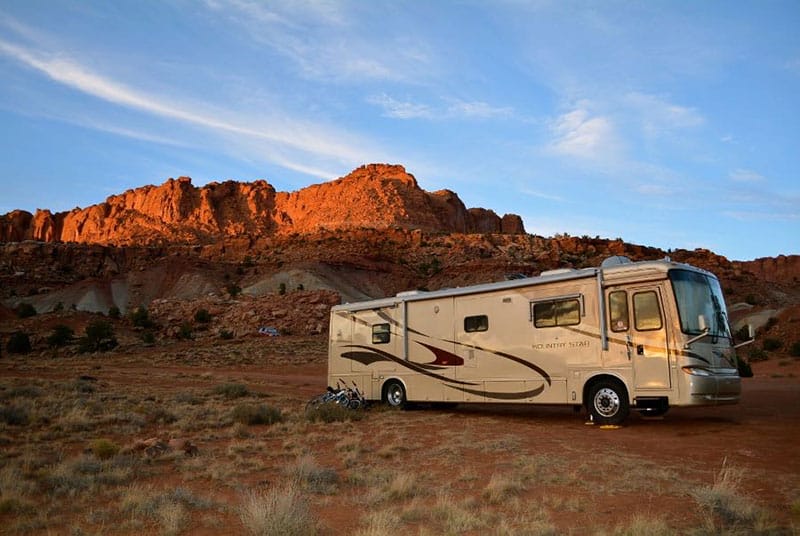 There are three campgrounds in the area:
Fruita Campground, Cathedral Valley or Cedar Mesa
There are also some nice RV parks in the area:
If you don't mind driving, check out Flying U Country Store & RV Park in Joseph, Utah and Sevier River RV Park in Sevier, Utah.
If you'd love staying at RV parks on your trip, but just don't have the RV yet, consider renting one! Check out rates on RV rentals here!
Hotels
Check out Capitol Reef Resort, just a mile away from Capitol Reef National Park, it is one of the nicer hotels in the area. Check out this review on the Capitol Reef Resort to learn more.
If you are looking for something a bit more rustic and homey, check out Austin's Chuckwagon Lodge.
VRBO
Check out this Serene Vacation Home complete with hammocks and just minutes from Capitol Reef!
Or this Rustic Cabin which can house up to 10 people.
More posts you might like:
11 Utah Mountain Biking Trails You'll Want To Check Out
How To Plan A Trip To All 5 Utah National Parks [Map Included]
Pin this for later: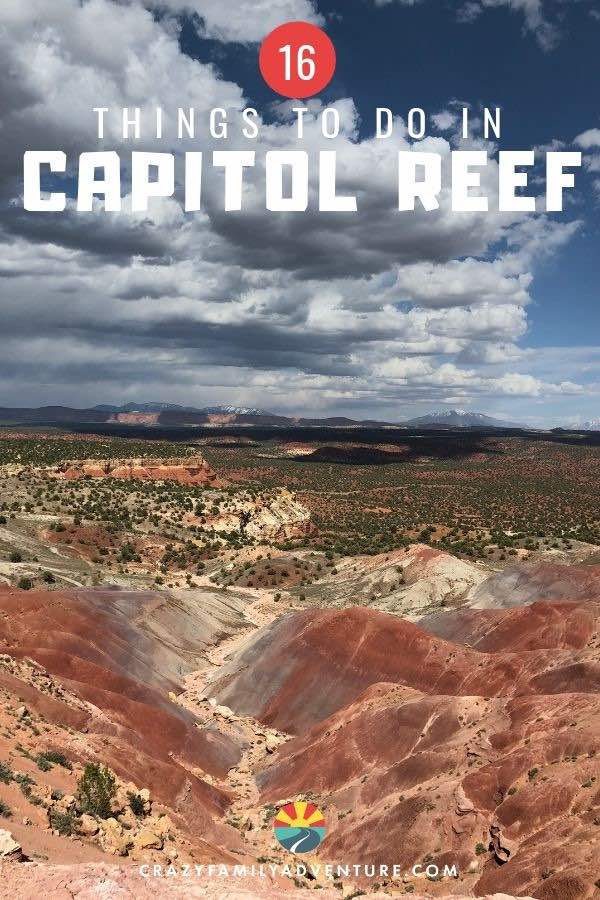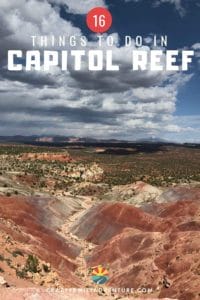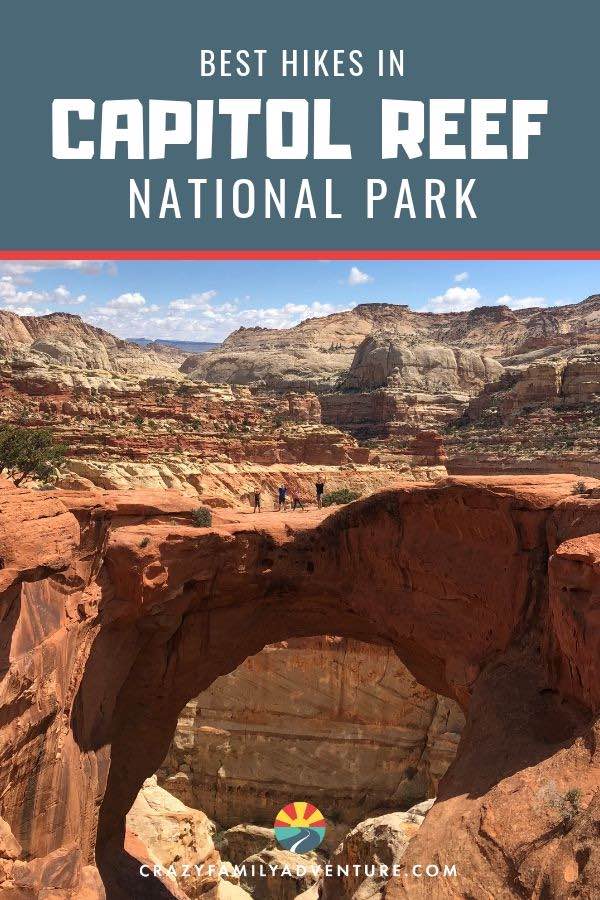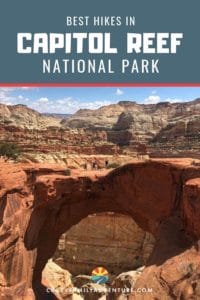 DISCLOSURE: This post may contain affiliate links, meaning I get a commission if you decide to make a purchase through my links, at no cost to you. Please read my disclosure for more info.