Biking is quickly becoming one of the best sports to do in the whole state of Utah. With hugely varied terrain from red rock desert to high alpine riding, you can find something for everyone when Utah mountain biking.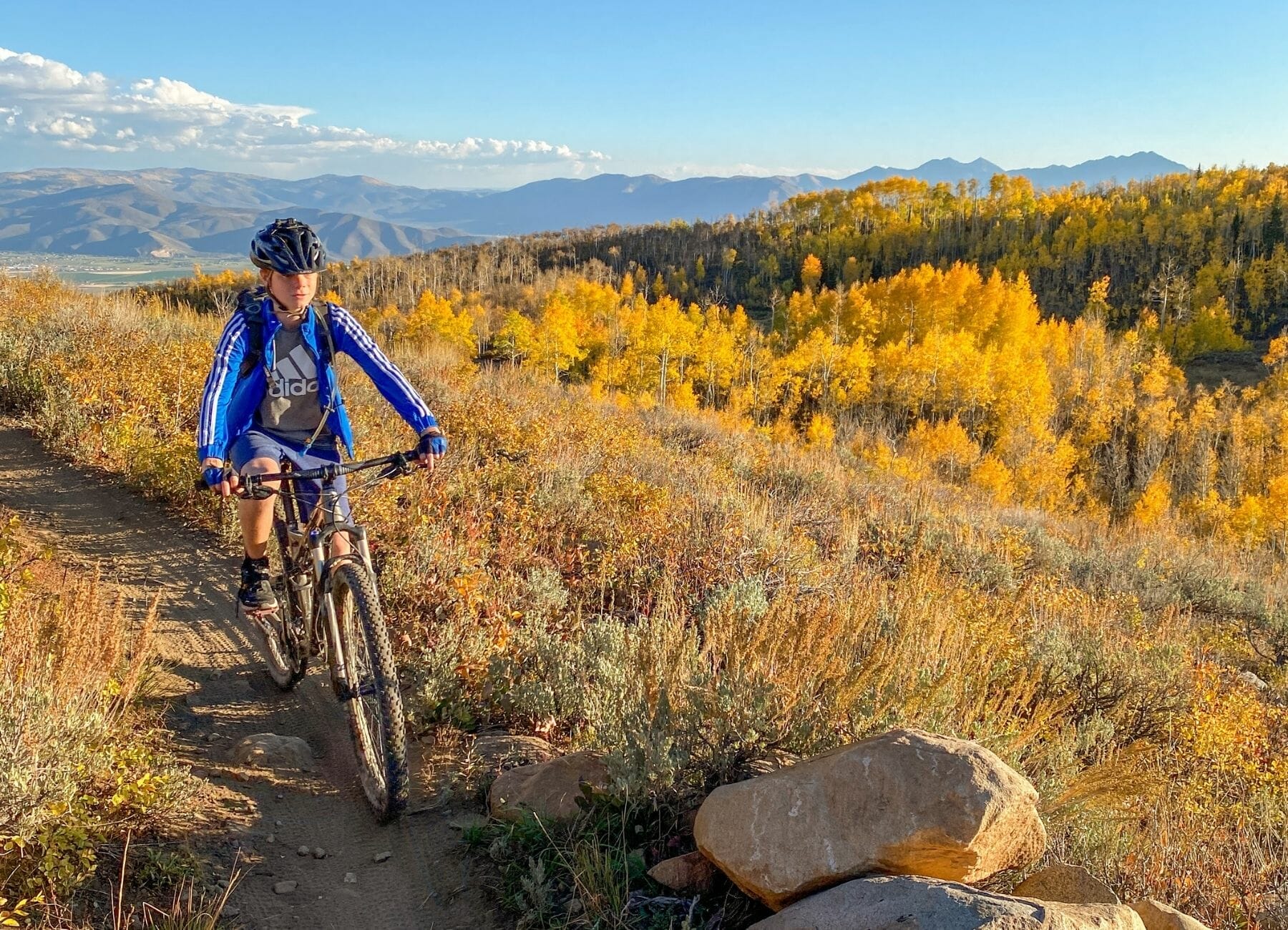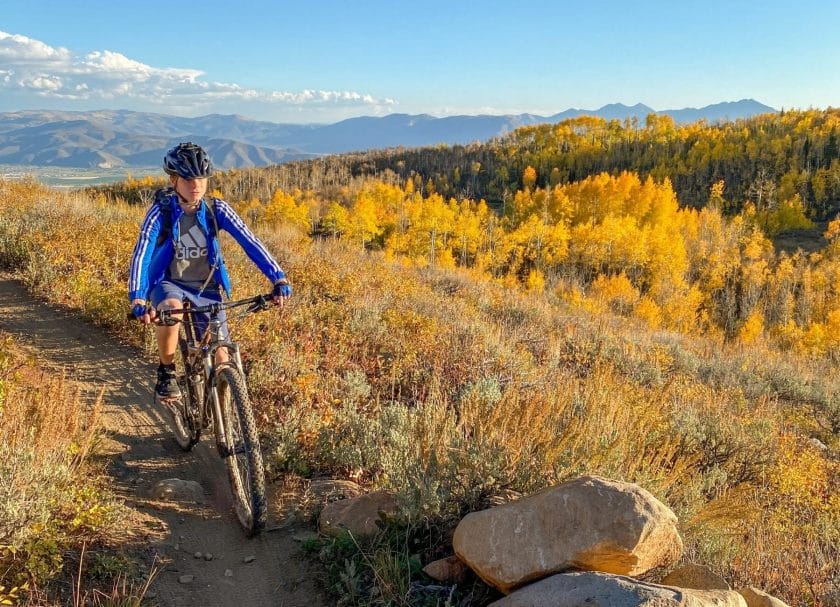 While there is no shortage of good Utah mountain biking, we've rounded up the top 11 mountain biking trails that we think are the absolute best. Most of them have incredible scenery, some offer cross-country races to participate in, others are located in iconic areas, and all will leave you wanting to ride more!
What To Bring Mountain Biking In Utah
When going on a Utah mountain biking trip, you will be away from roads and have easy access to help for several miles. Here are some essentials mountain bikers need to bring along when Utah mountain biking:
Plenty of food and water (a hydration pack is great for carrying both)
A first aid kit including bandages, gauze patches, rolled gauze, and butterfly closures
A basic bike tool
Small bike pump
Replacement bike tube
11 Best Utah Bike Trails
Red Canyon and Thunder Mountain, Bryce Canyon Utah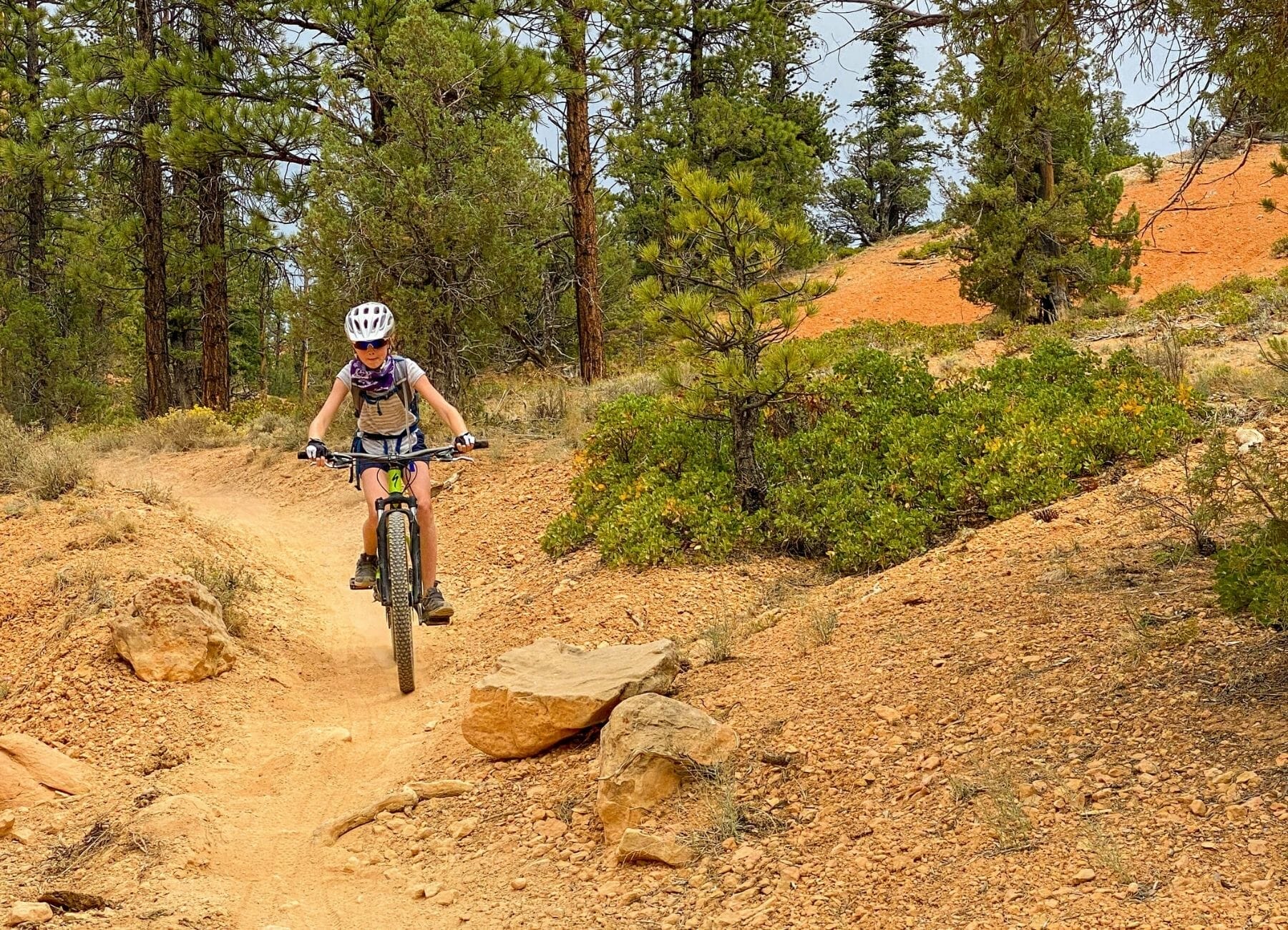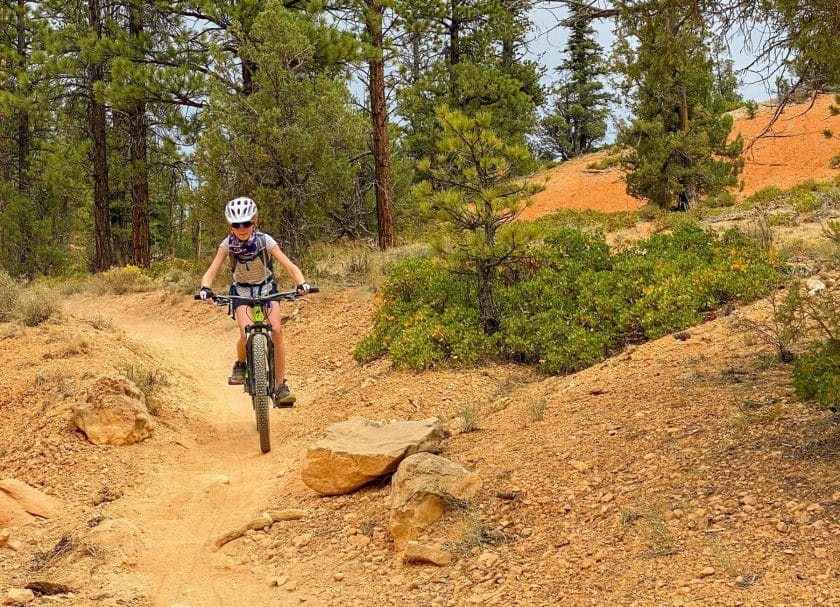 You must ride Red Canyon and Thunder Mountain if you're anywhere around Bryce Canyon. Thunder Mountain trail in Utah is a technical downhill trail that will give you incredible views of the hoodoos and rock formations.
The Thunder Mountain trailhead is easy to access and to make a loop you can just ride the Red Canyon back to the top.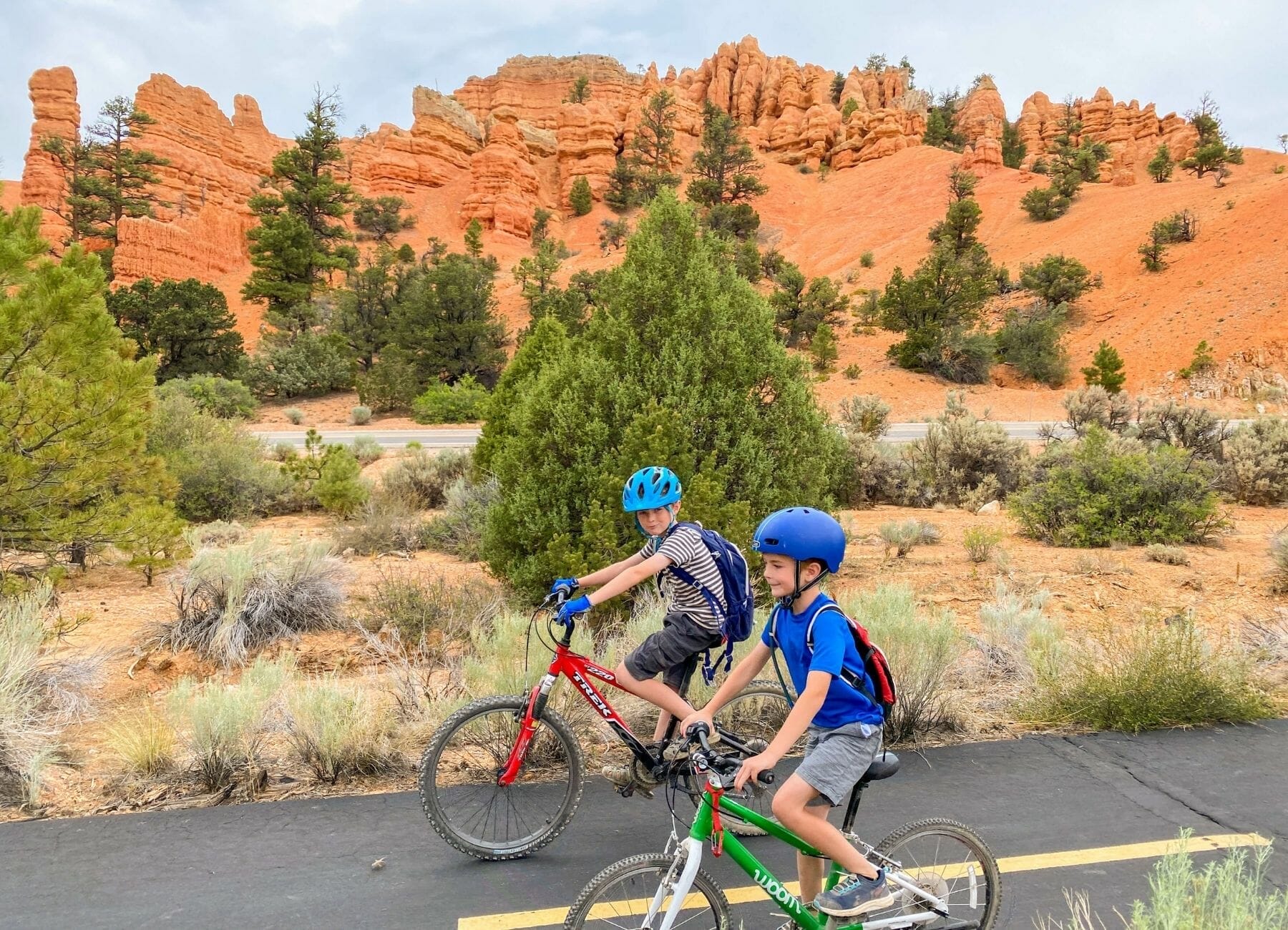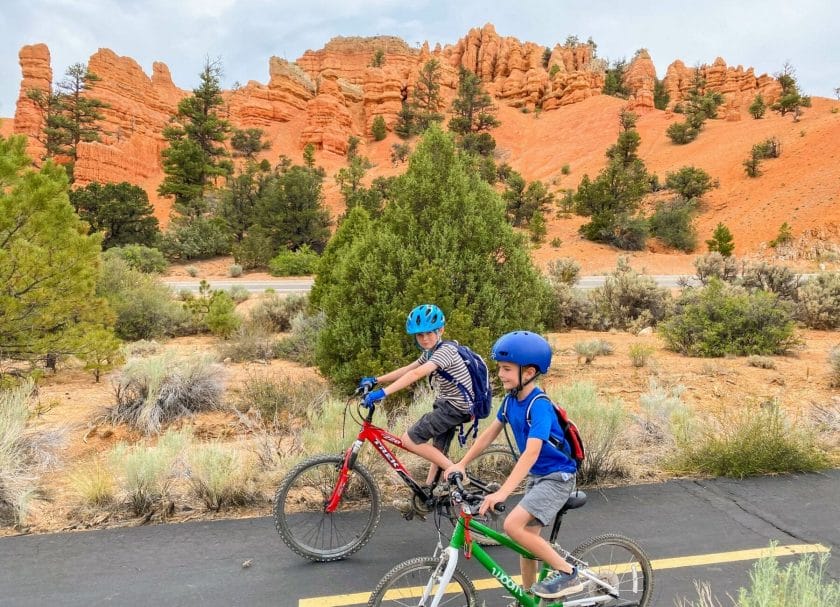 Red Canyon is a paved bike trail along the highway that offers fantastic scenery. The asphalt was newly laid and is in fantastic condition, so plan on a nice, smooth ride. It's easy enough that young kids and families can ride the whole trail. This is a good alternative if you're riding in a group with different abilities.
Check out Top 11 Awesome Things To Do in Bryce Canyon National Park for more info on Bryce Canyon National Park!
Where to Stay in Bryce Canyon
Hotels
Bryce Pioneer Village is located just a short 5 miles away from Bryce Canyon National Park. This hotel is filled with great amenities to make your stay better.
Best Western Plus Ruby's Inn Great family-friendly hotel with comfortable amenities located close to Bryce Canyon National Park.
Bryce Canyon Mountain Resort is a full-service and comfortable hotel great for your family vacation.
Vacation Rentals
Modern Country Cabin is located just minutes from Bryce Canyon. This comfortable cabin sleeps 5.
Cozy Home Near Bryce Canyon & Zion National Parks This 2 bedroom home sleeps six and is located just 20 minutes outside of Bryce Canyon.
Wasatch Crest Trail, Salt Lake City Utah
The Wasatch Crest Trail is easily the most scenic bike ride in Utah. The trail starts in Utah County and winds its way up to the top of the Wasatch Mountains. Here riders are treated to incredible views of the Salt Lake Valley and the surrounding mountains. This trail is strenuous, with plenty of steep climbs and challenging descents. Although difficult, it's well worth it for the amazing views you'll enjoy.
The Wasatch Crest is a trail for advanced bike riders and is a long hard ride, but the scenery is well worth the effort. If you can get in a September ride, you'll enjoy gorgeous fall colors along the trail.
Bonneville Shoreline Trail, Wasatch Front Utah
The Bonneville Shoreline trail is one of Utah's most accessible and simple bike trails. It's a well-maintained and generally smooth dirt trail that travels along the mountain bench along the Wasatch Front. It's 100 miles long, but most people just ride short sections of the trail as there are access points all along the Wasatch Front.
Without a strenuous uphill climb, get onto the trail behind Red Butte Gardens and the Natural History Museum for the easiest access.
The Bonneville Shoreline Trail is hard to beat if you want a simple bike ride with amazing city views. There is not much shade along the trail, so keep that in mind when riding on a hot summer day. Also, remember to be courteous to other trail users since hikers frequent the trail.
Corner Canyon, Draper Utah
Corner Canyon isn't just one trail but an incredible trail network where you can overlook parts of the Salt Lake Valley. The trails are well-maintained and perfect for all levels of riders with lots of different routes. Best of all, it's just outside of the city, but you'll feel like you truly escaped to the mountains here.
You'll find a huge variety of terrain at Corner Canyon, from beginner terrain over in Little Valley to the massive tabletops at Maple Hollow. Corner Canyon is one of the best Utah mountain bike areas for groups with riders of different abilities.
Slickrock, Moab Utah
Moab is well known for biking, and few trails are as well known as the Slickrock bike trail. This trail is considered a classic and one of the best bike trails in Moab. It offers riders a challenging but fun ride on some of the unique terrain in the country.
The Slickrock Trail is a 9.5-mile loop that starts and finishes in Moab. The trail is mostly downhill, with a few uphill sections to challenge riders. The rock formations and scenery are simply amazing, and the trail is a must-do for any serious mountain biker.
Follow white dashes along the slickrock sandstone instead of a single track to find your way. The slick-looking sandstone that gives the trail its name for riders new to Utah can be a challenge to ride. Luckily, the rock grips to tires more than you expect, but come prepared for a mental challenge.
There is a modest fee to enter the Sand Flats Recreation Area, where the route begins. A vehicle costs $5 to get in, or you can pay $2 per person on a bike.
Big Mountain Trail, Snowbird Utah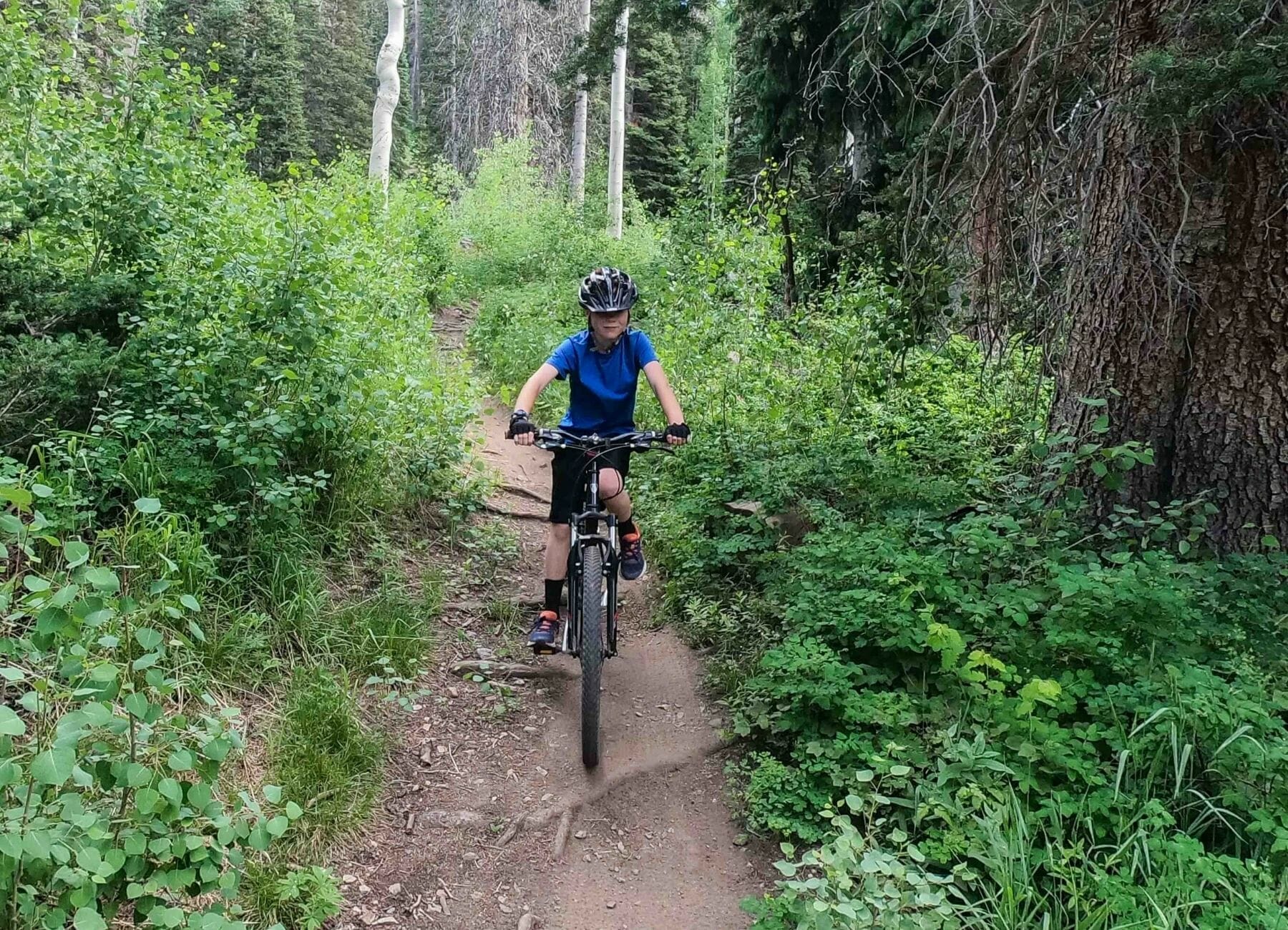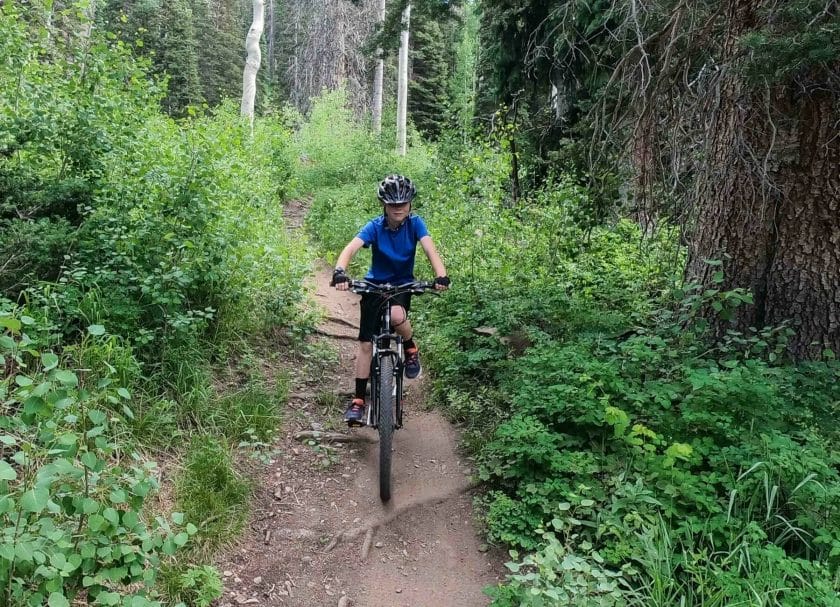 If you're looking for lift-serviced mountain biking, you won't be disappointed by Snowbird's Big Mountain Trail. This trail is the main downhill route at Snowbird, and you'll likely want to take several laps on the tram to fully enjoy it.
With over 2400 vertical feet and an average grade of 7%, this trail is not for the faint of heart. Tackling such a challenge is reason enough to stop by the plaza for a cold drink after a few laps.
Located up Little Cottonwood Canyon, the scenery at Snowbird will blow your mind. With jagged rocks and steep descents accented by some of the best wildflowers in Utah, you'll love this incredible mountain bike trail.
JEM Trail, Hurricane Utah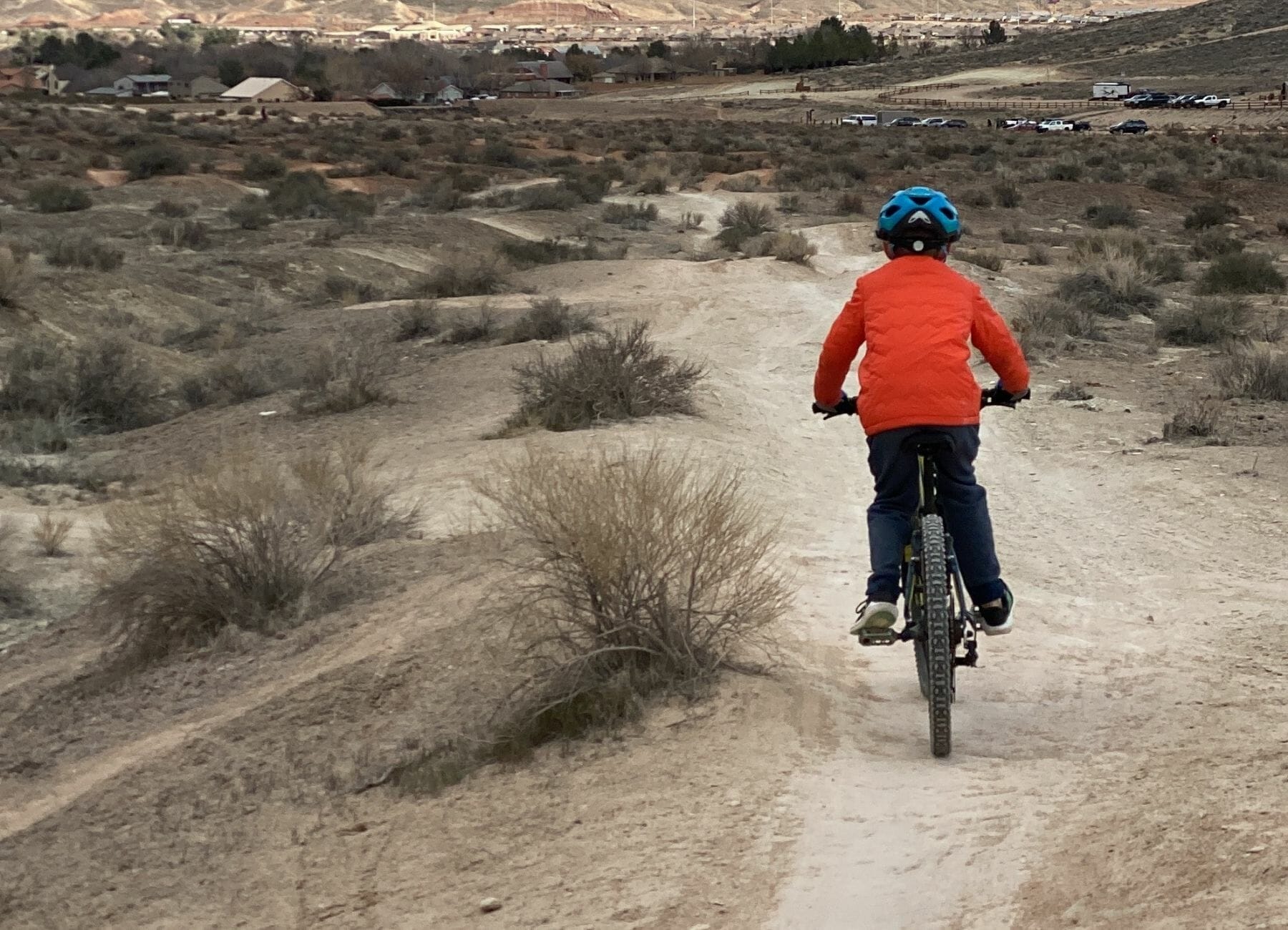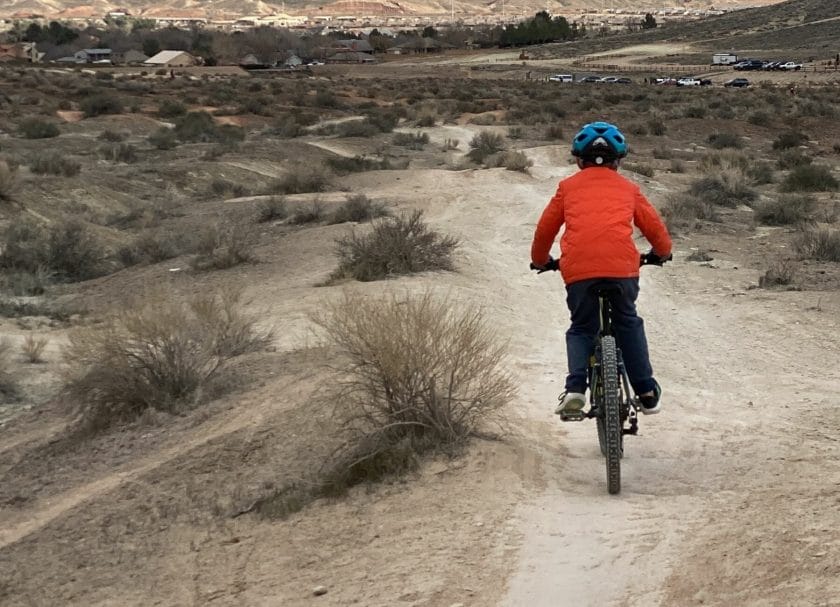 The JEM Trail is one of southern Utah's best intermediate single-track bike trails. Located just outside of Hurricane, you'll find yourself right between Zion National Park and St George, with easy trailhead access.
The trail is a 12.5-mile loop that offers something for everyone, with some technical sections and a fast, flowy single-track. If you're riding the JEM Trail with beginners or kids, consider shuttling the trail instead of riding it as a loop to avoid the climb back up the butte at the end.
The trail is well-marked and easy to follow, making it a good choice for riders who are new to the area.
The JEM Trail System is constantly expanding and improving. If you're looking for areas to bike with kids, the Cryptobionic trail is perfect for them. At the same time, older and more experienced riders will love riding the Original JEM Trail, Deadringer, and Goosebumps loops.
You're going to want to take your time on this bike trail to enjoy the incredible views of Zion National Park and the Virgin River. If you have a little extra time to spare, just a couple hours from Zion National Park is Brian Head, Utah which offers amazing mountain biking trails to explore.
Check out 15 Awesome Things To Do In Zion National Park [Plus Where To Stay] for more info on Zion National Park!
The Whole Enchilada, Moab Utah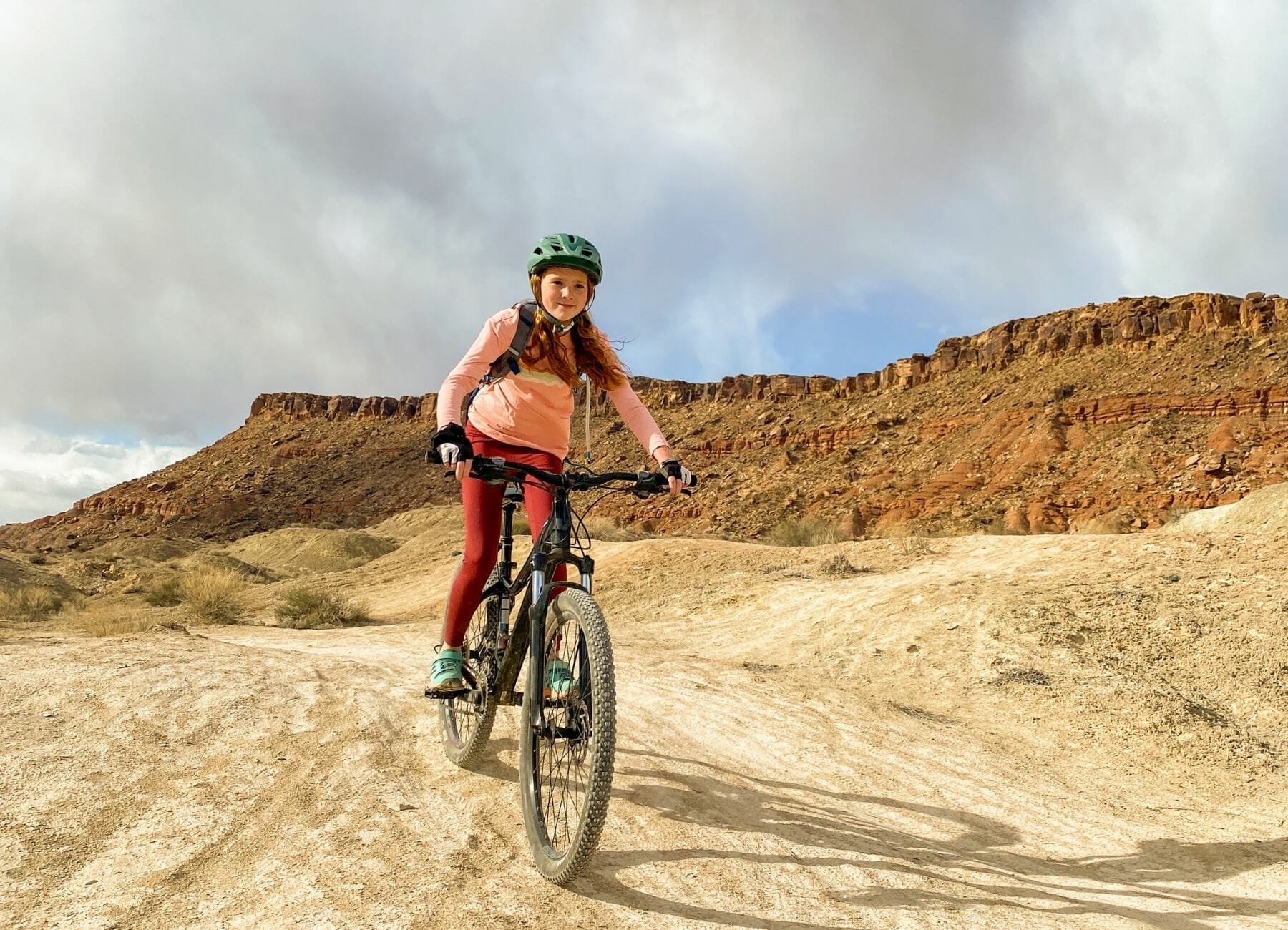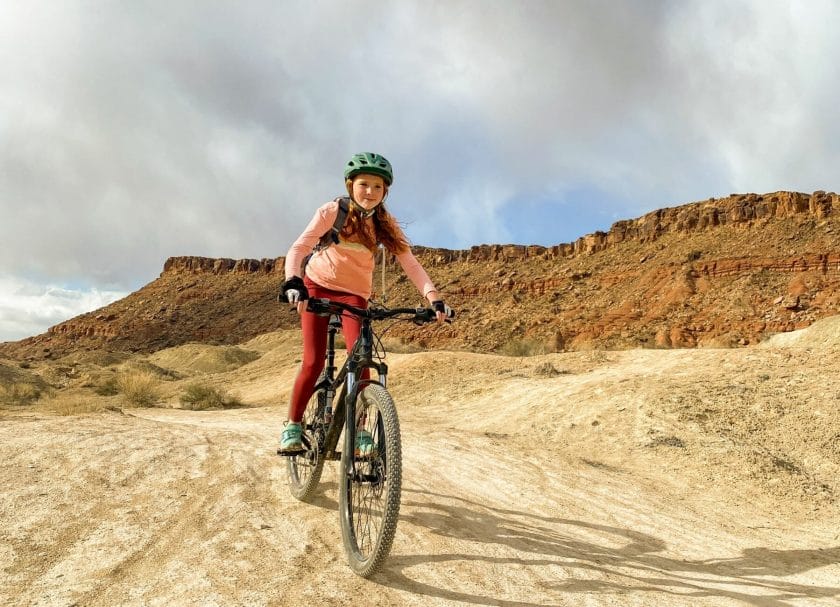 Another iconic Moab mountain bike trail, The Whole Enchilada, is a difficult bike trail that goes over 30 miles. To shorten the trail, instead of riding it as a loop, shuttle to the top and then end back in town; this cuts half of the riding distance out and allows you to get more than one ride in during the day if you want to do more Moab biking.
The Whole Enchilada is not for the faint of heart, with a mix of downhill, technical, and uphill sections. Riders will enjoy the incredible scenery. Some challenging features make this one of the most popular mountain bike trails in Moab.
Plan on a full day of riding to enjoy this incredible trail, and bring plenty of water and snacks. Due to the nature of this trail, flats are incredibly common (even if your bike is tubeless). Make sure that each rider has 2 spare tubes and a pump so that you're not stranded out on the trail. Trailforks has named The Whole Enchilada one of the best bike trails in the world!
Check out 21 Fun And Exciting Things To Do In Moab for more info on Moab, Utah.
Where to Stay in Moab
Hotels
Hyatt Place Moab has all the features your family will love including fitness center, pools, and complimentary breakfast.
Scenic View Inn & Suites Moab This great hotel even offers bus and trailer parking. Your family will love this location.
Dry Fork Flume Trail, Vernal Utah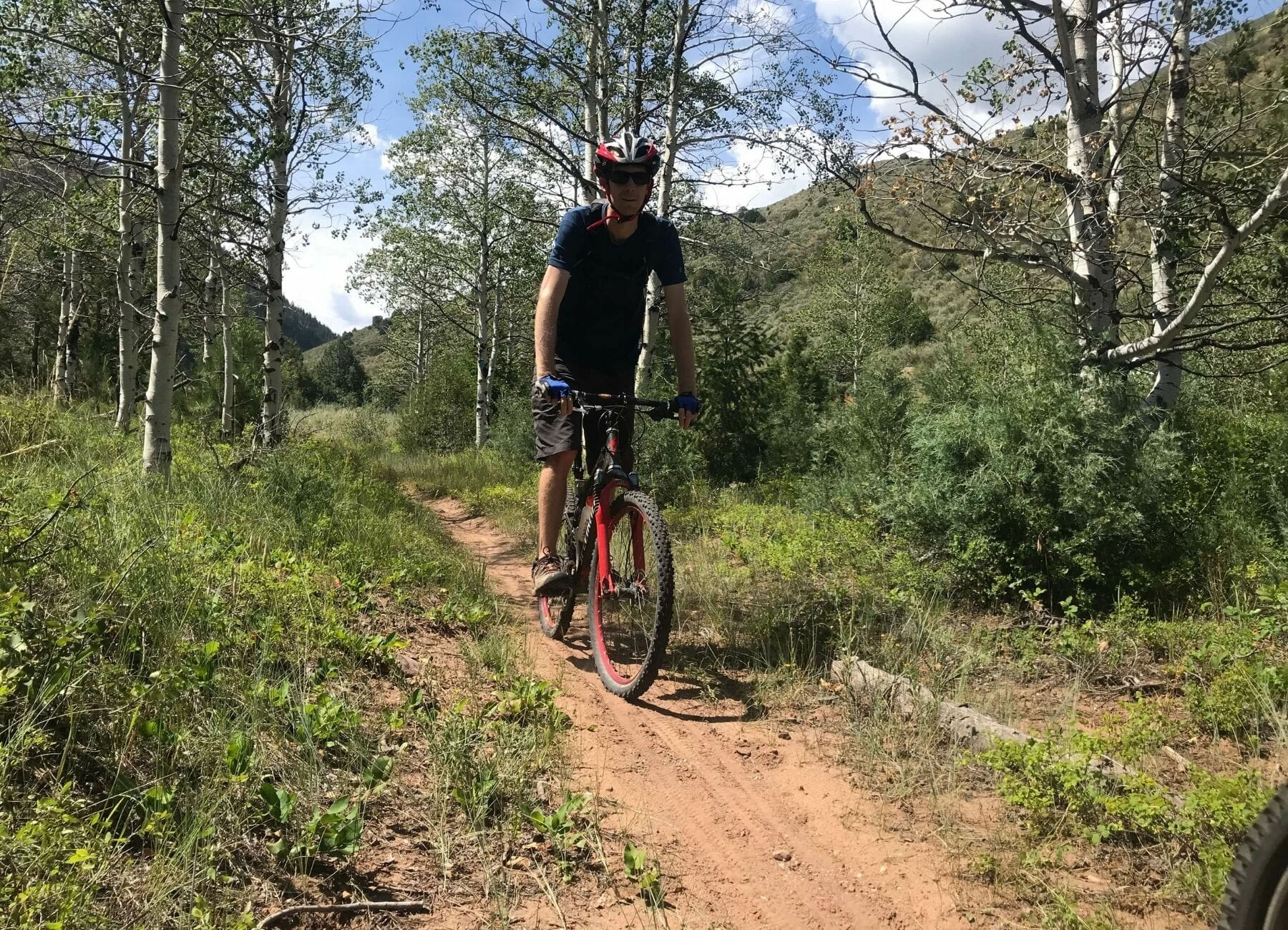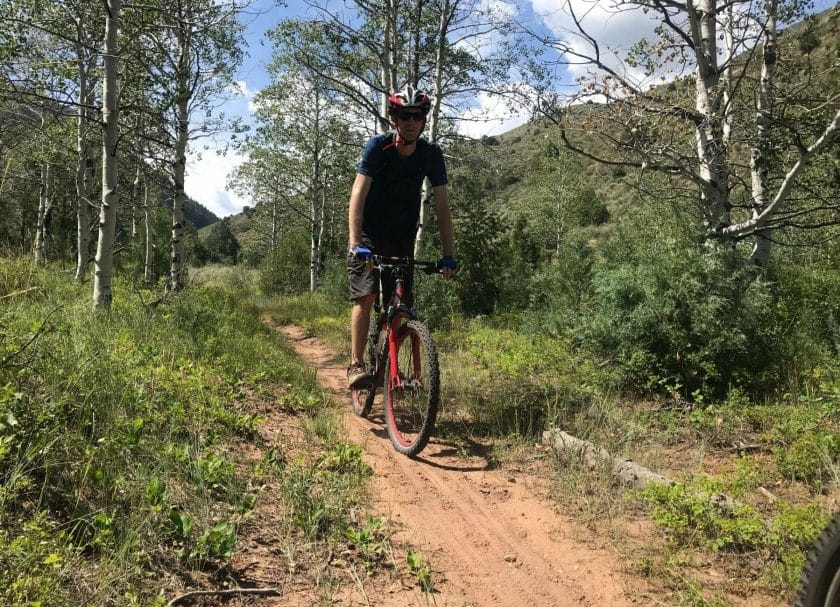 If you're looking for a great Eastern Utah bike trail, you'll love Dry Fork Canyon. With lots of flowy trails, this single-track trail will take you through a lush canyon in the Uinta Mountains.
Dry Fork Flume mountain bike trail runs between the Flume Interpretive Trail parking lot to the Flume Trailhead parking lot for 4.5 miles. This trail is well maintained and will be a challenge for intermediate riders and also has some features that advanced riders will love (like the bridge crossing). Riders will also appreciate that this trail is rarely crowded. While this trail can be ridden in either direction, most bikers prefer to start at the west end and ride downhill. Many riders will even ride uphill on the nearby road to do laps in this riding area.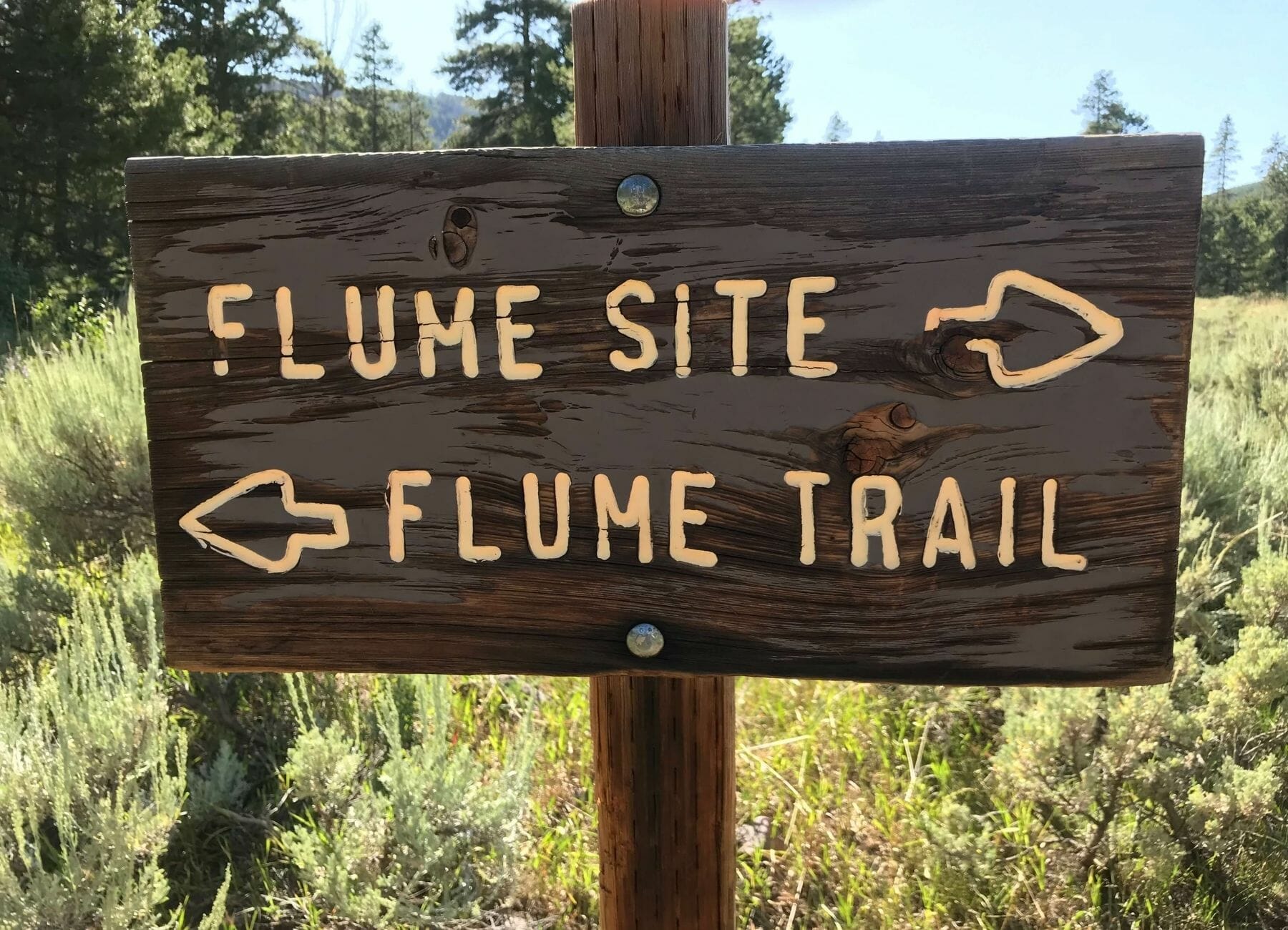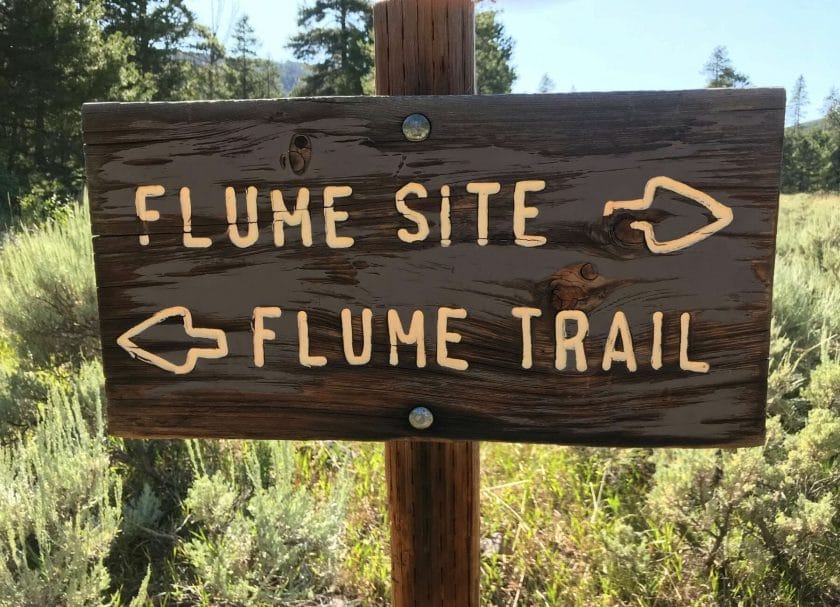 This is a great single-track trail to escape the heat since the whole trail is shaded, making it significantly cooler than the surrounding desert area. You'll also likely find water flowing down a dry creek in the spring and early summer. Dry Fork Flume is one of the best Eastern Utah mountain bike rides.
White Rim Trail, Canyonlands Utah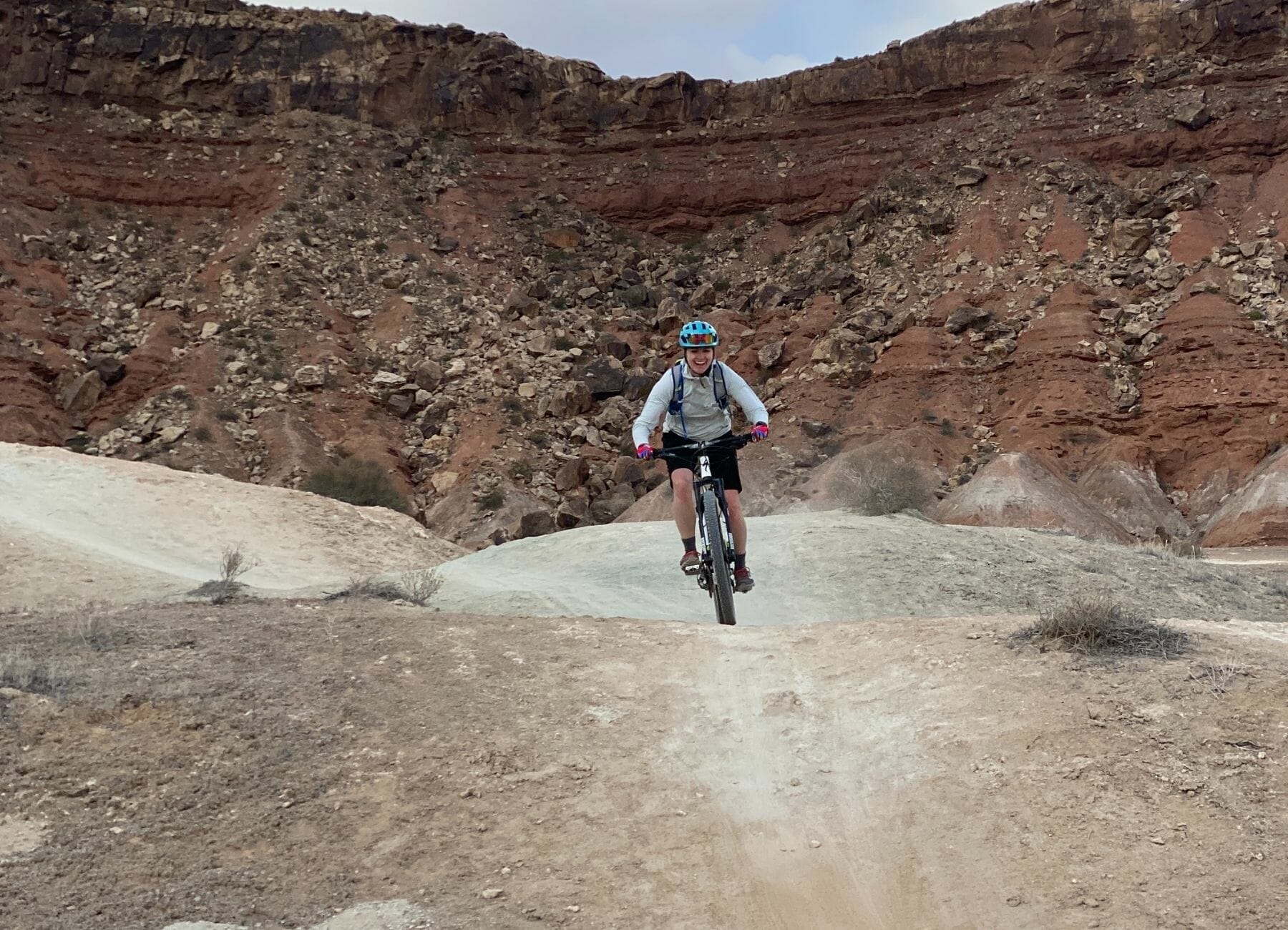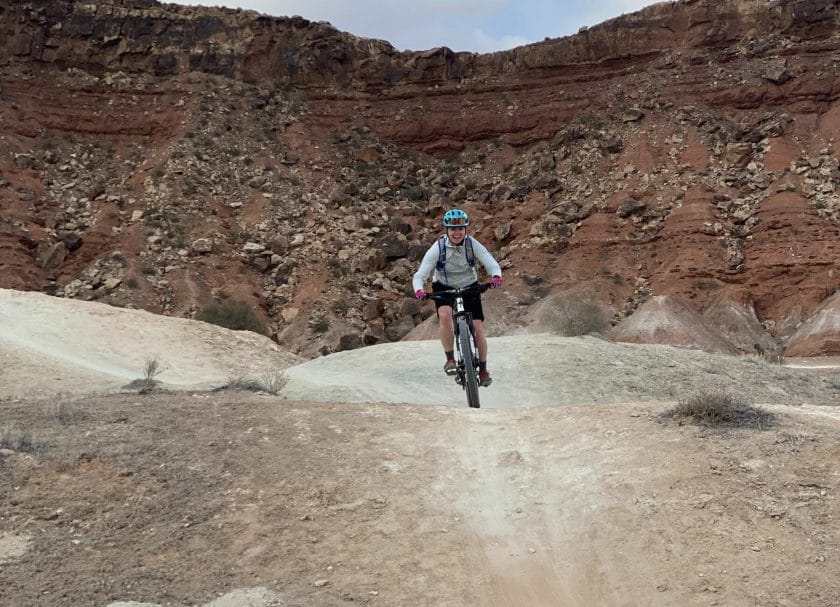 The White Rim Trail is a 100-mile trail that will take you deep into Canyonlands National Park. Avid and very fit bikers will do the full ride in one very long day, though camping is an option. You can break the ride up over several days, which most bikers do. Advanced permits are required and sell out quickly.
The White Rim Trail offers trails of all skill levels, mostly a jeep road, making it a good choice for riders looking for an easier but long ride. Some sections of the trail are more difficult, but for the most part, the trail is moderate. There are difficult climbs on the White Rim and some rocky and sandy areas that will test your biking skills.
The trail starts with a steep, long descent down the Shafer Trail, with exposed drop-offs and tight switchbacks that may be a challenge for bigger support vehicles. Ending the trail is a solid uphill climb from Mineral Bottom back up to Island In The Sky.
You'll be able to see some of the most beautiful scenery in southern Utah while riding the White Rim Trail, including buttes, mesas, and canyons. The highlight for many is riding alongside the Green River and hopping in to cool down after a hot and dirty ride. Some trails in the Canyonlands even lend you the opportunity to look down on the Colorado River. Take lots of food, water, and bike and car repair supplies with you since this trail is hard to access.
Check out Best Hikes In Canyonlands National Park [Maps Included] for more info on Canyonlands National Park!
Holy Roller, Deer Valley Resort, Park City
If you're looking for a solid intermediate trail that will make you feel like a champion, you've got to try Deer Valley's Holy Roller. This trail is over 4 miles long and has 1,600 feet of vertical, so you can get cruising down the trail. Holy Roller has some super fun berms that you can lean into and is a well-maintained flowy trail. This is a great trail for solid riders new to downhill riding or intermediate riders looking to improve their technical skills. Best of all, it's lift-serviced, so your legs will stay fresh all day. If you're an experienced rider, Holy Roller is a great warm-up before you start laps on one of Deer Valley's more technical downhill trails. This is the best all-around downhill bike trail in Park City Mountain!
These are just a few of the amazing bike trails that you'll find in Utah. If you are wanting to explore Utah more, there are other areas worth mentioning, like East Canyon State Park, Captain Ahab, Big Cottonwood Canyon, Capitol Reef National Park, and Gooseberry Mesa, offering mountain range biking trails for all skill levels. With so much variety in the natural landscape, Utah truly does have something for every type of bike rider.
More Info Check Out:
8 Best Hikes In Capitol Reef National Park [Map Included]
19 Things To Do In Arches National Park (Hikes Included!)
Utah Road Trip: All 5 Utah National Parks & More [Map Included]
Pin This Post: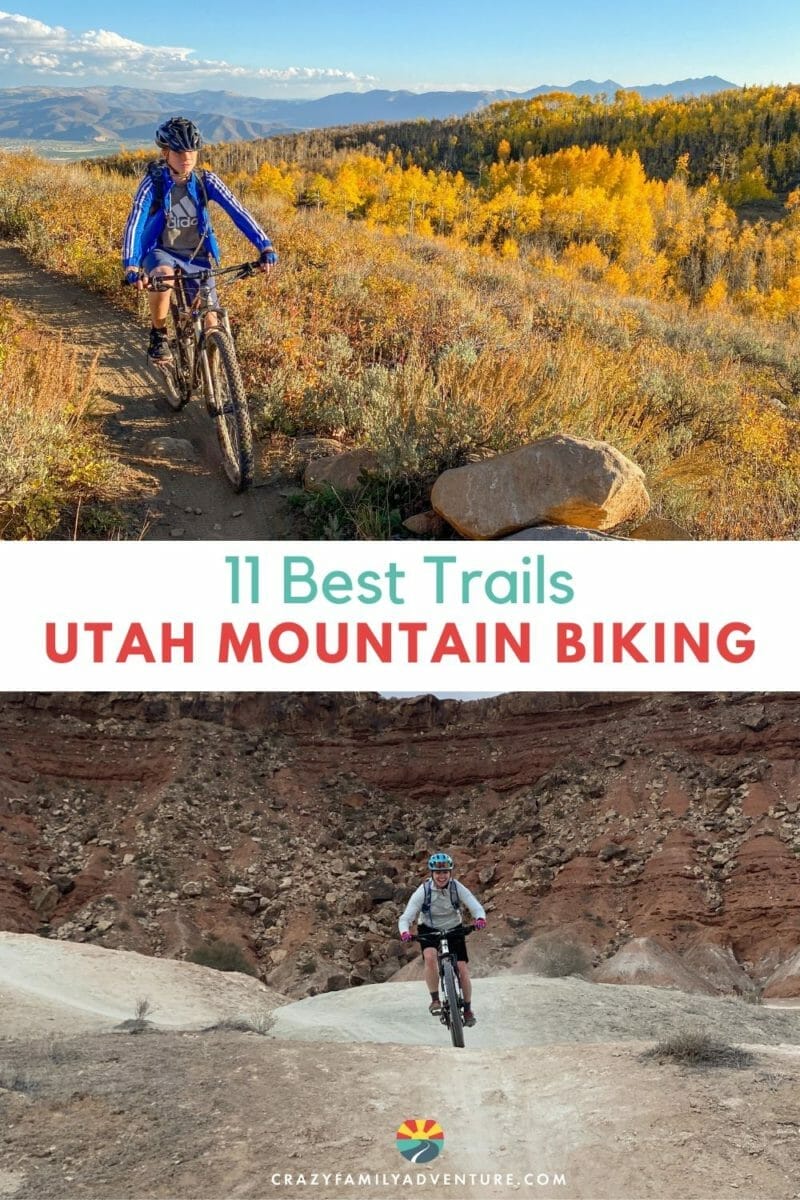 Latest posts by Jessica Murray Averett
(see all)
DISCLOSURE: This post may contain affiliate links, meaning I get a commission if you decide to make a purchase through my links, at no cost to you. Please read my disclosure for more info.