We are excited to share this guest post on Bryce Canyon National Park. They have some great insight on things to do in Bryce Canyon National Park!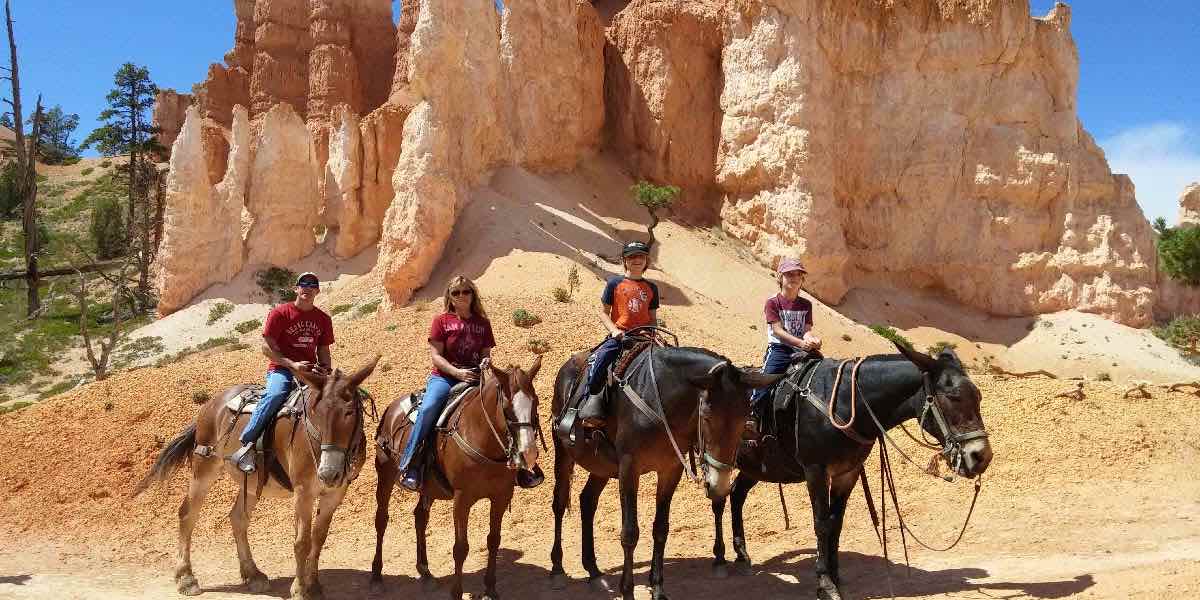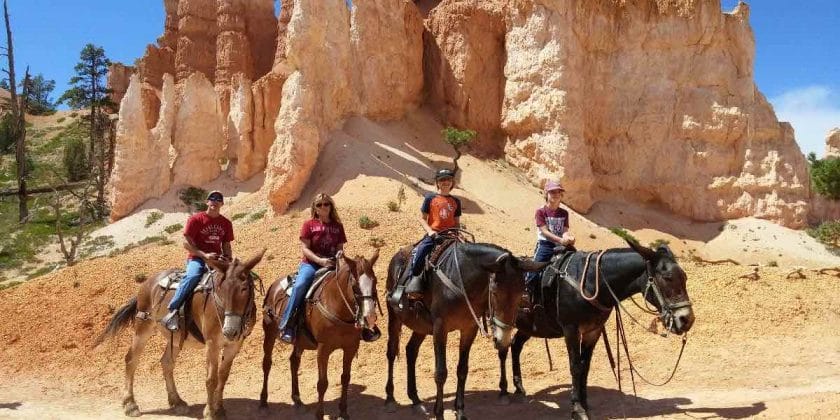 Check out our Utah National Parks Road Trip itinerary to plan a trip to see all 5 Utah National Parks and more! If you want to do even more check out these National Park Road Trip ideas.
There are so many awesome things to do in Bryce Canyon National Park, which is why it is our favorite of the "Mighty 5" Utah parks and should be on your southwest road trip plan! Below we share our top things to do when you visit this amazing park!
Visitor Center
Be sure to stop at the Bryce Canyon Visitor Center as you enter the national park and pick up maps and watch the park movie. You can also pick up Junior Ranger books, and purchase some souvenirs. There are so many great things to do in Bryce Canyon with kids.
We attended an evening ranger program on astronomy. The night skies are really dark since there are no big cities nearby so you can see so many stars. After the astronomy program they had big telescopes set up outside and we were able to see Saturn with its rings.
Activities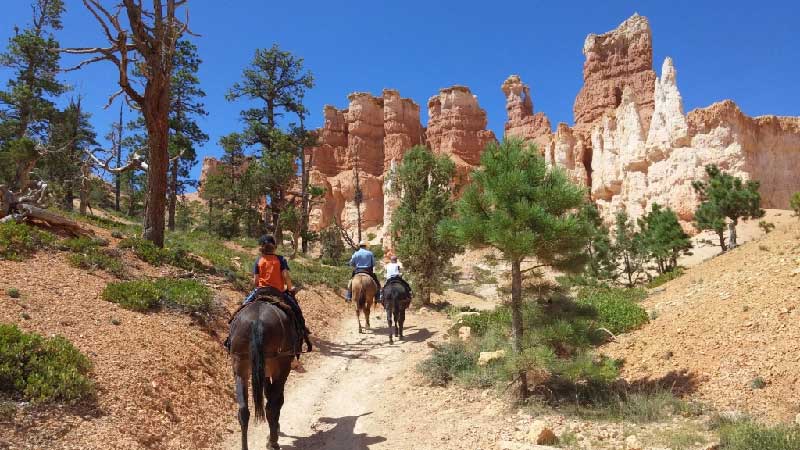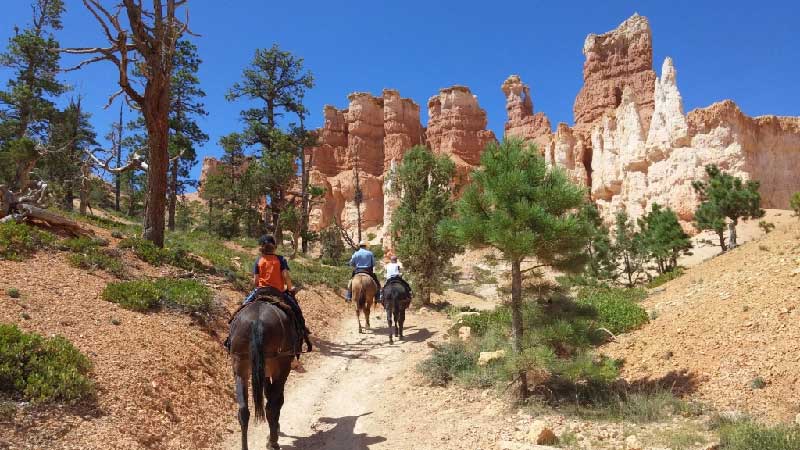 One of our very favorite memories in our 4+ years of full-time travel is the day we went on a trail ride into Bryce Canyon.
Trail rides into the canyon are offered at the Bryce Canyon Lodge by Bryce Canyon Trail Rides. They offer half-day and full-day rides. We did the half-day because our youngest was only 9 at the time, and you must be 10 or older for the full-day ride.
Our guide, Shawn, was awesome! He stopped and pointed out interesting places to us and told us a lot of history about Bryce. He also told a lot of jokes that my kids continued to repeat for the next month or so!
I have to admit there were parts of this ride that made me quite nervous. You start out going down into the canyon and for some reason the horses and mules like to walk right along the edge.
We all breathed a sigh of relief when we finally made it down to the bottom!
As you get close to the canyon floor, they have a photographer ready to photograph each member of your group. After the ride ends, you can purchase an 8 x 10 of each photo. During the ride, our guide lined us up to take our family picture also so we have plenty of mementos to remind us of that fabulous day.
We loved this trail ride, but you could also check out this 3 hour trail ride in Red Canyon!
ATV Tour
Consider taking a one hour ATV tour of Bryce Canon! Children must be at least 7 to ride accompanied by an adult and 16 with a valid license to ride solo. This would be a fun, adrenaline fueled way to see Bryce Canyon and might be for you if you aren't big into hiking or just love ATVs.
Book an ATV tour now!
Covered Wagon Tour
If you want an even more relaxing way to take in Bryce Canyon, you can book a covered wagon tour. Sit back and relax as the horse drawn wagon takes you through the forest and up to the Rim of Bryce Canyon. You'll also get to hear some cowboy stories and learn some Old Western history.
Small Group Tour
If you are staying in Vegas and just looking for a day trip, this is for you! Bryce canyon is just a few hours further away from Vegas than the Grand Canyon.
Take a small group walking tour which departs from Vegas and stops for a few hours in both Bryce Canyon and Zion National Parks. This tour includes lunch and ends with you back at your Las Vegas hotel at end of day.
Book a small group tour from Las Vegas.
4 Hikes Not To Miss In Bryce Canyon
You will see spectacular views of the Bryce Amphitheater along the rim trail, and at various viewpoints like Sunrise Point, Sunset Point and Inspiration Point. However, if you want to see the best views of the hoodoos up close, you'll need to take a hike into the canyon. If you like hiking, you're in luck because Bryce Canyon has many amazing hiking trails to choose from.
Queens Garden Trail and Navajo Loop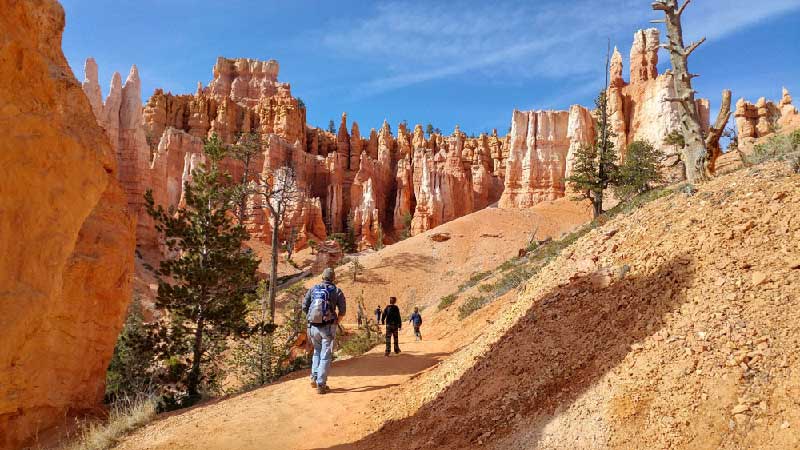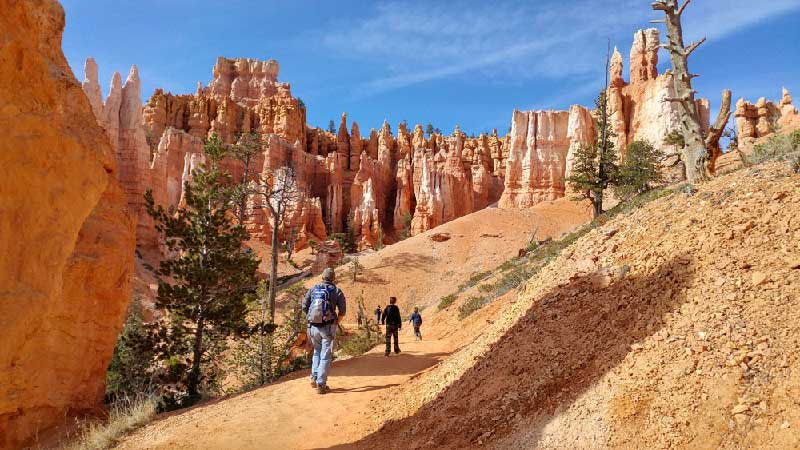 One of our favorite hikes was the combined Navajo Loop and Queens Garden Trails which is a 2.6 mile loop into the canyon and back out. This is definitely one of the most popular hikes at Bryce so be prepared for lots of crowds on the trail. If you only have one day in Bryce be sure to do this hike!
You can do this loop in either direction, but we started at Sunrise Point and hiked down to Queens Garden on the canyon floor, then continued on up the Wall Street section of the Navajo Loop to Sunset Point. From there you just walk along the rim trail back to where you started at Sunrise Point.
You could choose to do this in the opposite direction; I think the hike up from Queens Garden may be a little easier than the way we did it.
Wall Street is a slot canyon and also a steep uphill climb. With slot canyons you need to keep an eye out for the weather because flash floods could occur in slot canyons when it rains.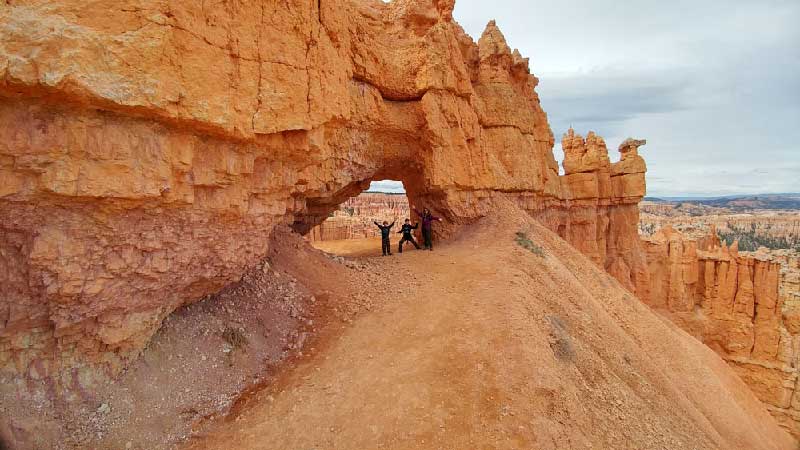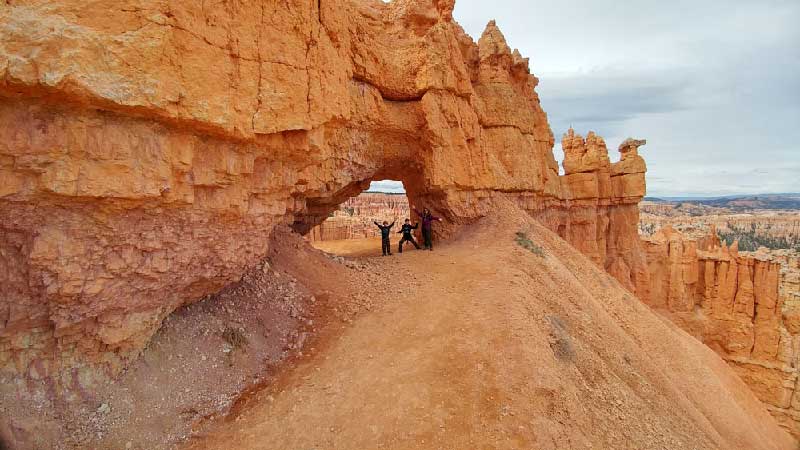 Another one of our favorite hikes at Bryce is the Peek-A-Boo Loop trail starting from Bryce Point. This hike is a total of 5 miles: 1 mile down from Bryce Point, a 3 mile loop on the canyon floor, and then a mile climb back up.
This is considered a challenging hike due to the rapid elevation change, and particularly the climb back up.
It had snowed at Bryce earlier in the week, so when we did this hike the trail on the way down was very muddy and slippery making it extra challenging. It was also not crowded at all that day. I'm not sure if that was because of the snow or if this trail is typically less crowded.
Anyway, it was a gorgeous and peaceful hike with so much to see around every corner.
Tower Bridge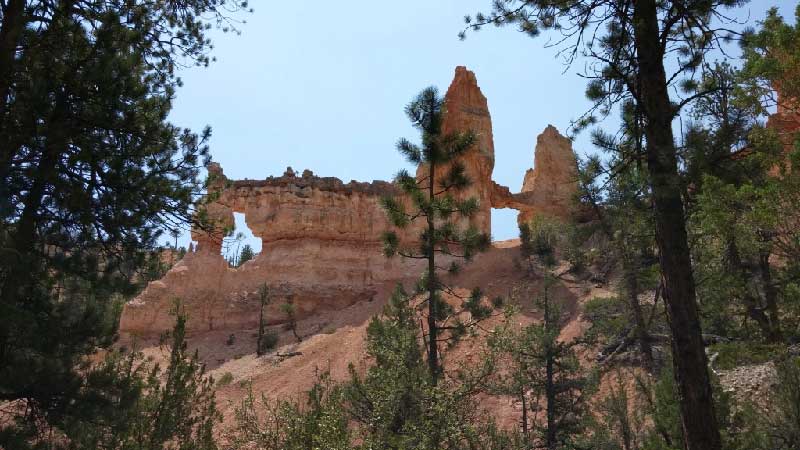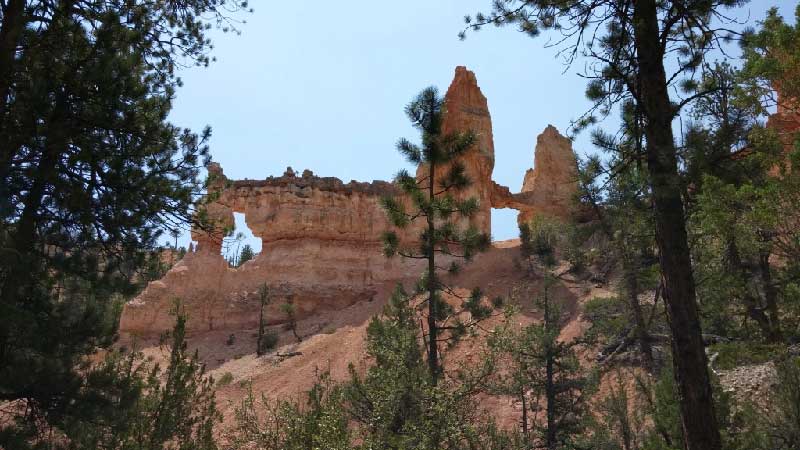 Another hike we enjoyed was the 3.4 mile out and back hike to Tower Bridge. The hike to Tower Bridge is less crowded than some of the other more popular trails if you're looking for a quieter hike.
This trail is part of the longer Fairyland Loop hike so you could extend it and make the hike a total of 7.4 miles. We haven't done the Fairyland Loop hike yet, but it's on the list to go back and do someday.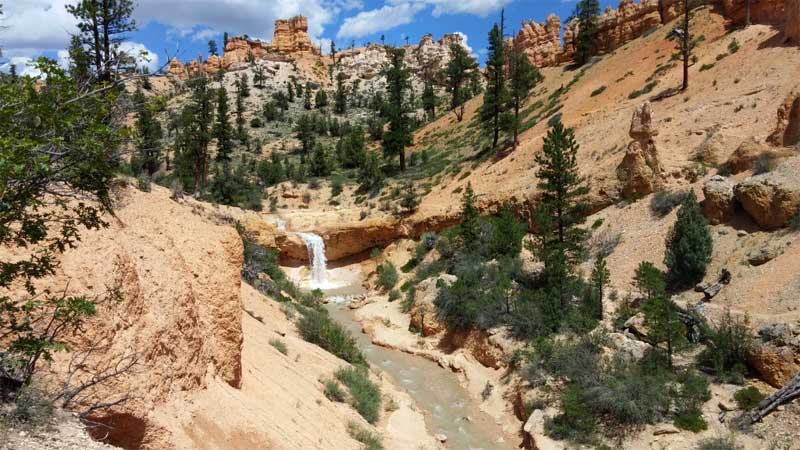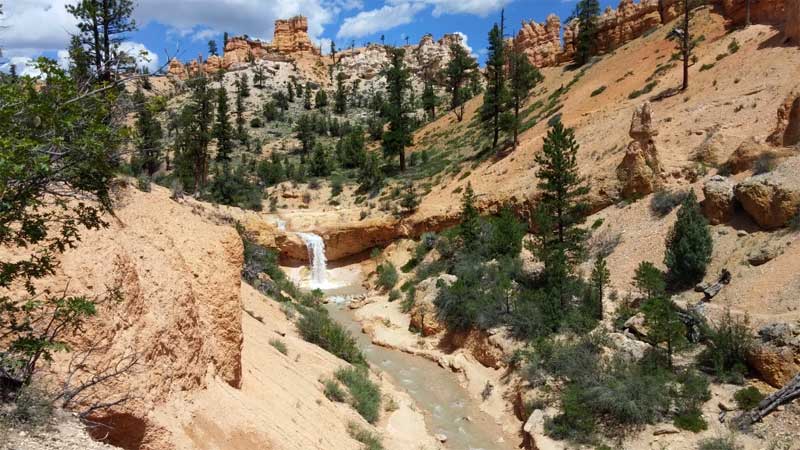 To access Mossy Cave Trail you have to exit the national park and head back out to Highway 12 and make a right. There is limited parking and a vault toilet at the trailhead. This is also a less crowded area of Bryce. Since it's outside of the park and a little hard to find.
The trail is easy and only about a mile out and back. You will see hoodoos, a waterfall and a mossy cave which sometimes has icicles hanging from the ceiling.
We were surprised by the waterfall because we had been traveling out west for several months. Where it was so dry everywhere. Our kids were excited to finally see some water. They loved splashing in the river which is very shallow and easy to walk through.
Scenic Drives
Drive Through The Park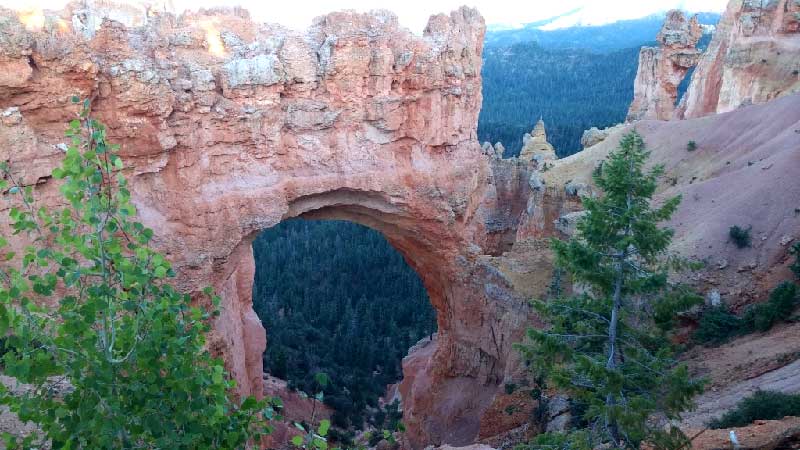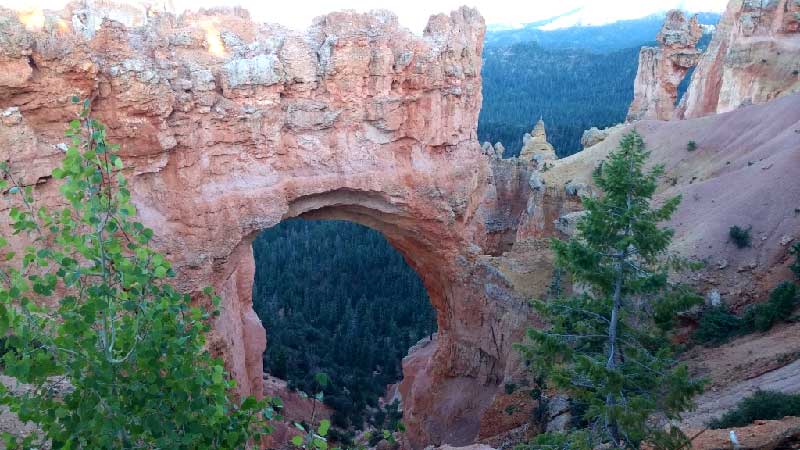 The scenic drive through the park from the entrance is 18 miles long one way. There are many stunning viewpoints to stop along the way including Rainbow Point and Natural Bridge.
Rainbow Point was a nice spot to watch the sunset.
We were surprised how much colder it was as we got further along on the drive. It was warm and in the 80s when we left our campground at Ruby's Inn. But it had dropped down to the 50s by the time we reached Rainbow Point! The elevation at Bryce Canyon varies from 8,000 to 9,000 feet. So it's a nice park to visit in the summer when it's so much hotter at the other Utah parks.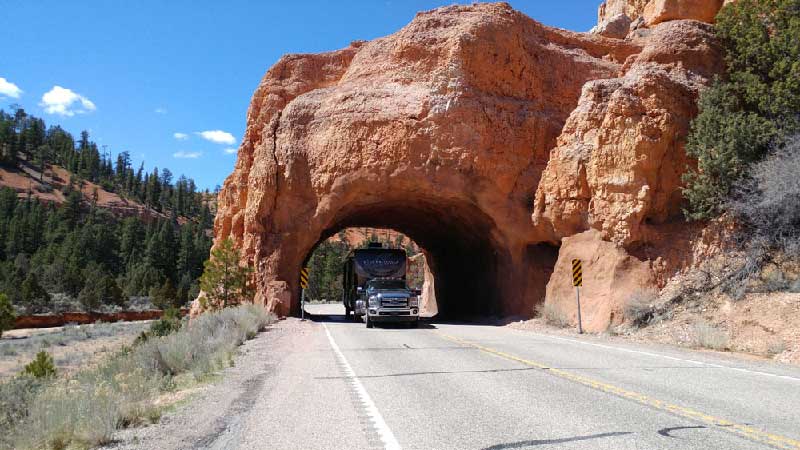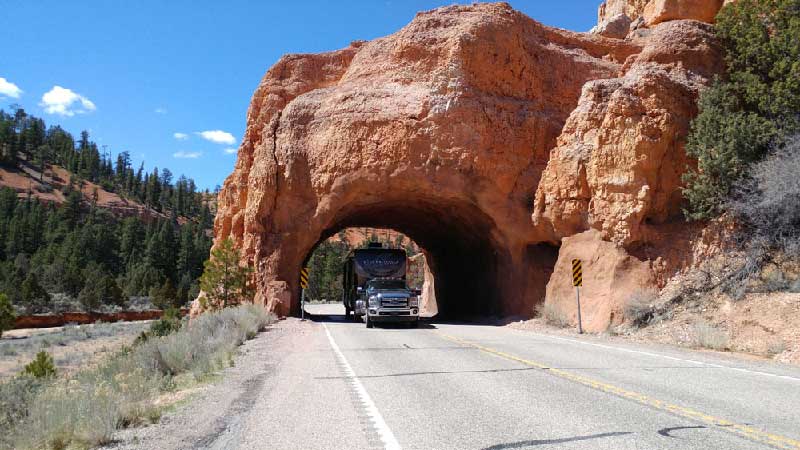 Red Canyon is not actually in Bryce Canyon. But it is only about a 10 minute drive and there are some beautiful hiking trails without the crowds. It's also worth the drive along Utah Highway 12 Scenic Byway. Just to get to Red Canyon because it is so scenic, and even includes a couple of tunnels.
We drove through these tunnels with our RV. The posted clearance sign showed the height was 13' 6". We got worried and pulled off the road to make sure we could fit, which we did. We have a taller RV now though so I'm not sure if we can go this way anymore while towing the rig.
I'm sure Red Canyon gets its name from all of the amazing red rock formations. There is lots of rock scrambling which the kids loved. And you can hike up pretty high to get a spectacular view.
Wildlife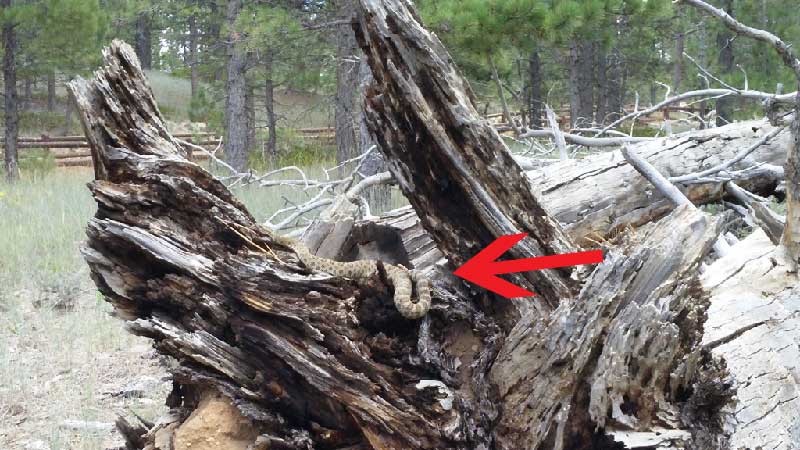 Among some of the wildlife you might see at Bryce Canyon are elk, mule deer, pronghorn, Green Basin rattlesnake and the Utah prairie dog. We saw a rattlesnake one day and we were so surprised by how well it blended into the background. We wouldn't have even noticed it if others hadn't pointed it out on a tree branch we had just passed!
Winter Activities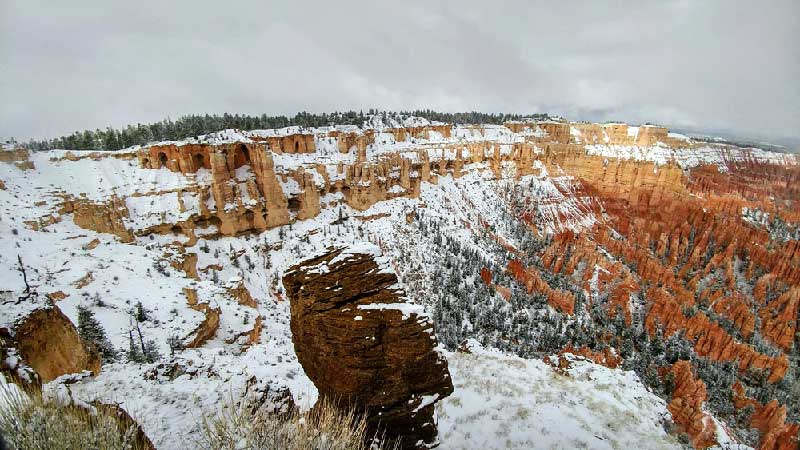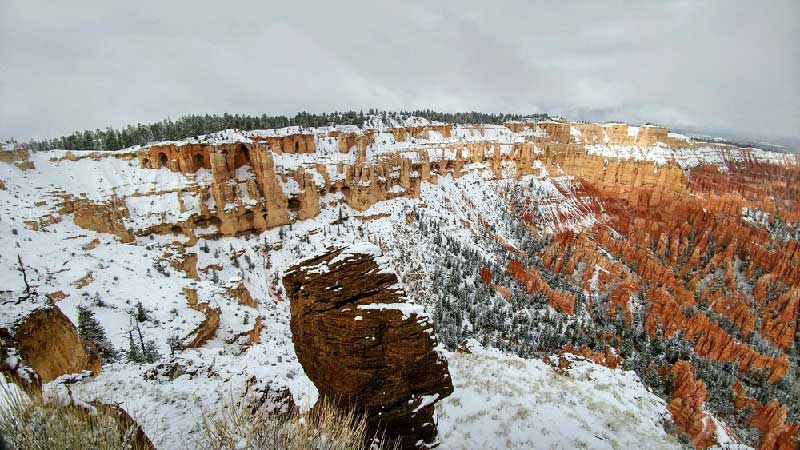 We have visited Bryce Canyon twice. Our first visit was in the summertime, and we loved how pleasant the weather was with cooler temperatures compared to surrounding areas in Utah. The second time it was April, and we were so surprised and excited that it snowed!
If you think Bryce Canyon is beautiful in the summer, you should see it in the snow. The red rock amphitheater is absolutely gorgeous in the snow!
If you'd like to do some cross country skiing, Ruby's Inn rents out skis if you don't already have them. There are cross country skiing trails from Ruby's to the rim of Bryce. You can also ski to some of the lookout points where the roads are not plowed.
We did not ski while we were there, but it sounds heavenly so I think we'll try to do that on a future trip back to Bryce.
Other Utah Parks
Southern Utah has no shortage of amazing national parks and national monuments. If you're flying, the closest airport is in Las Vegas. Traveling from Las Vegas, the first park you'll get to is Zion National Park in Southwestern Utah.
Zion is very crowded and hot in the summer. But after visiting there you can cool off when you visit Bryce Canyon. Which is typically cooler due to the higher elevation.
From Bryce, you can continue on up to Capitol Reef National Park. Then head over to Moab to see Arches and Canyonlands National Parks. If you have time, it's worth a visit to see Grand Staircase Escalante, Natural Bridges and Cedar Breaks National Monuments also.
You might need a whole month to see all of these amazing parks in Utah!
If you are interested in taking an RV Road Trip through Utah to see all of these amazing parks, we've written a post on How to Rent an RV and you can rent one here.
Rent an RV for your Utah Road Trip!
Utah National Parks Tour
Are you in love with the idea of seeing ALL 5 of Utah's amazing National Parks? This National Parks tour might be for you! Not only do you get to see and hike the awesome Bryce Canyon National Park on your guided tour, but also Zion, Arches, Canyonlands and Capitol Reef National Parks.
The six day tour includes your lodging and breakfast, lunches at trendy local restaurants and even a couple of dinners! You are driven to the parks and given plenty of time to hike and explore. As well as given driving tours of the various parks.
This is a fantastic way to see all 5 of Utah's National Parks in just 6 days. While a local guide to give you lots of history on the parks and take you to the best local places to eat to boot!
Book Your Utah National Parks Tour here!
Where To Stay
We stayed at Ruby's Inn RV Park just outside of the national park. There is a free shuttle bus that will take you from the campground into Bryce. However, the shuttle bus only runs from mid-April through mid-September. Aside from staying in the national park. This was the closest and easiest way to spend lots of time at Bryce.
Ruby's Inn also has a hotel, an onsite grocery store, a couple of restaurants and some other shops. The grocery store is quite pricey, so I would recommend stocking up on groceries before you get there.
Other Campgrounds
About an hour north of the National Park is Circleville RV Park. This campground requires a good drive to visit Bryce Canyon. With limited options closer to the National Park it may be your only option available.
It is always worth it to see if you can camp in the National Park too!
Hotel
There aren't many great hotel options close to Bryce Canyon, but here are a few other good options:
Best Western Plus Bryce Canyon Grand Hotel – 5.7 miles from Bryce Canyon
Mountain Ridge Cabins and Lodging between Bryce and Zion. Just under 15 miles from the park, these are more of an upscale cabin stay.
VRBO
A VRBO is a great option if you are looking for a homier place to stay. Here is a family friendly option near Bryce Canyon:
Private 2-Story Home 10 Miles to Bryce Canyon. This home is fit for 10 guests, if you are traveling with a crowd!
Check out these other Utah Parks posts:
7 Arches National Park Hikes You Don't Want To Miss
21 Fun and Exciting Things To Do In Moab, Utah
Best Hikes In Canyonlands National Park [Maps Included]
8 Of The Best Hikes In Capitol Reef National Park
15 Awesome Things To Do In Zion National Park [Plus Where To Stay]
12 Amazing Things To Do In Grand Staircase Escalante National Monument
12 Epic Things To Do In Page, AZ
Thank you Heather from 4 Radical Roadschoolers and A Fat Cat for this great post!
Pin this for later: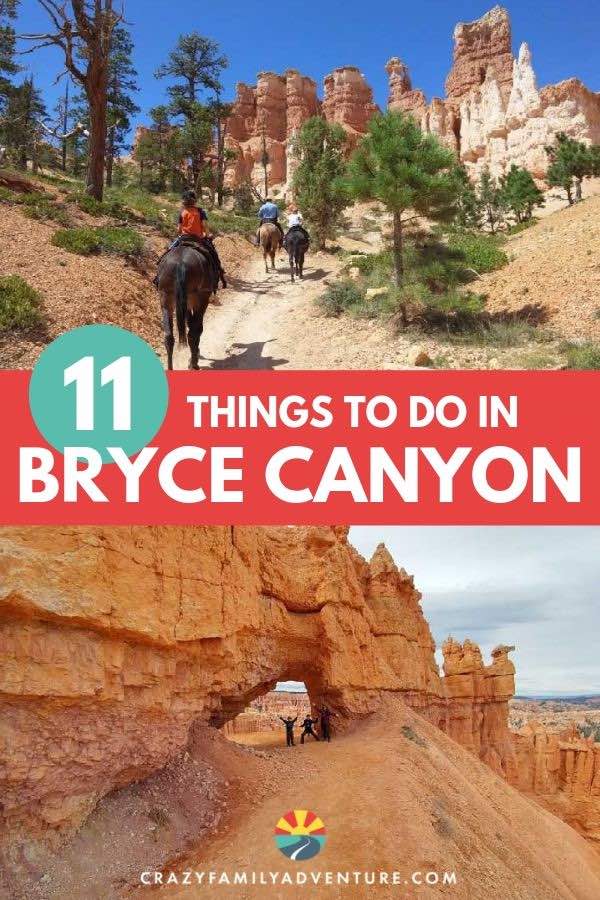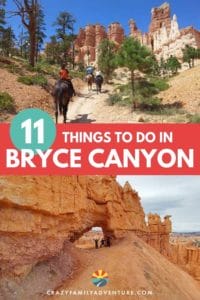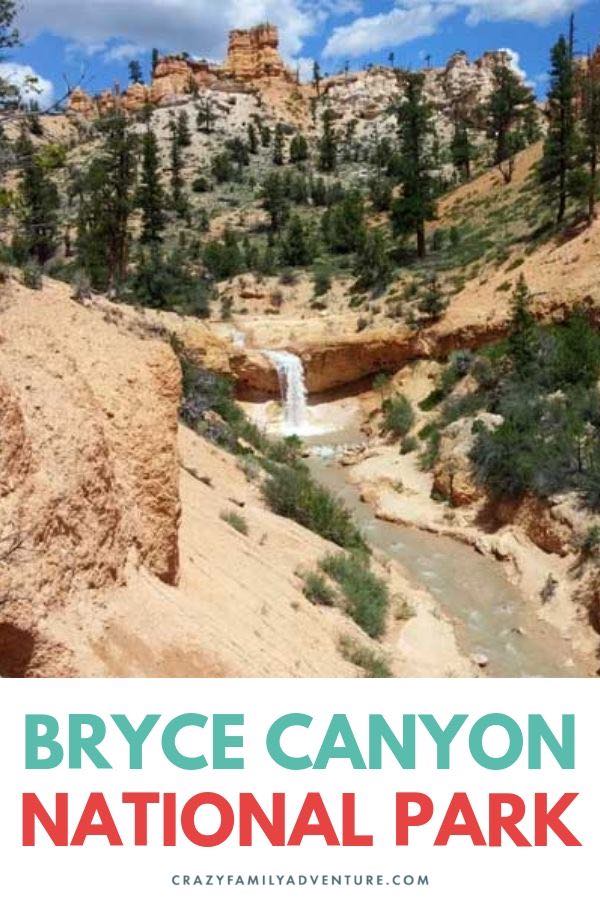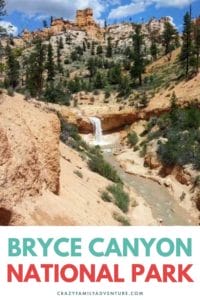 DISCLOSURE: This post may contain affiliate links, meaning I get a commission if you decide to make a purchase through my links, at no cost to you. Please read my disclosure for more info.