South Dakota. Driving east on I-90, the state seems pretty boring and flat. Then just before you hit the Wyoming border, BOOM! You got Rapid City, the Badlands, Mount Rushmore, and the Black Hills! Our opinion quickly changed about a South Dakota road trip. Here is our recommendation for an epic South Dakota Family Vacation!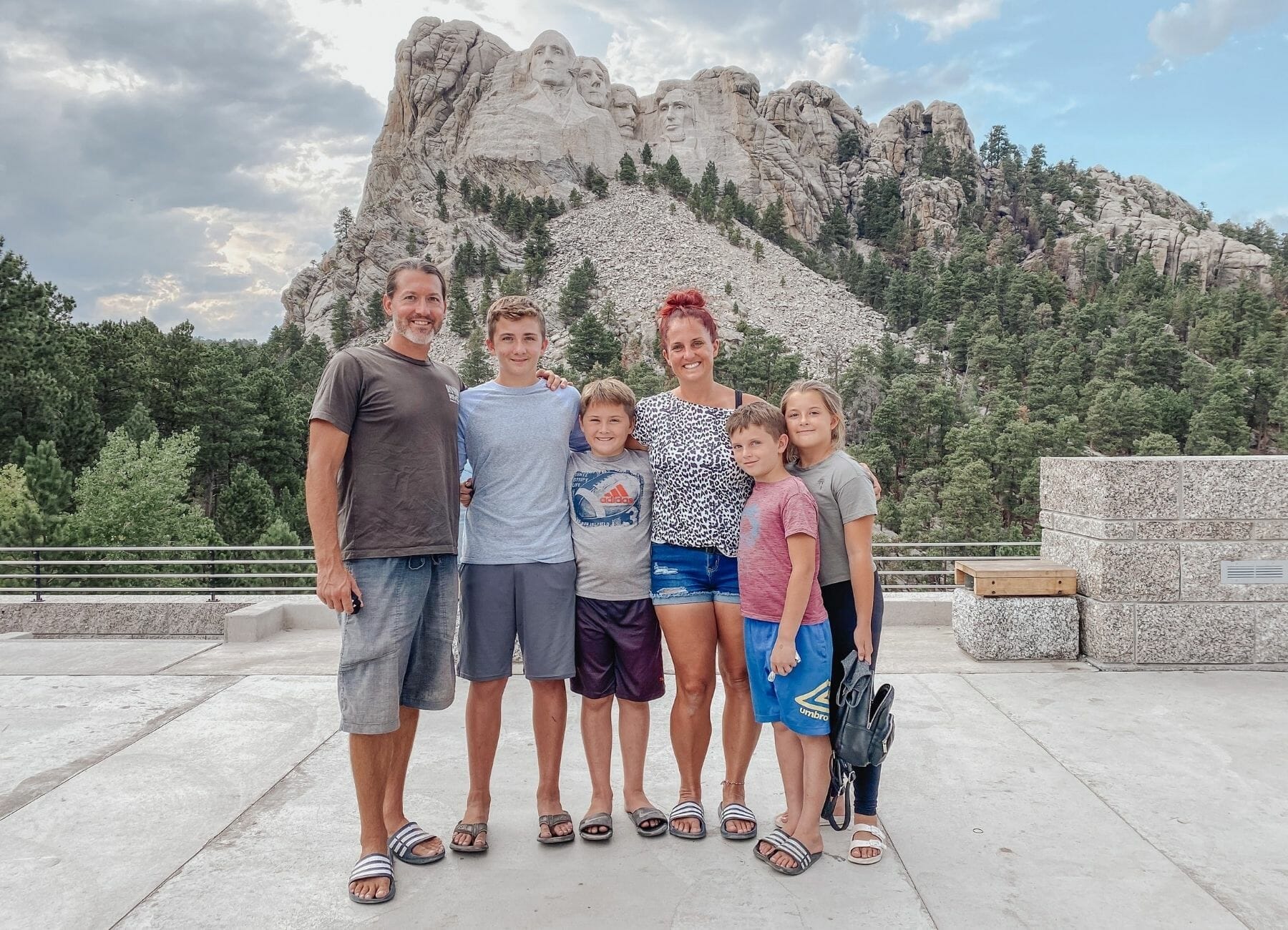 If you have even more time look to add this road trip into a National Park road trip and continue on the adventure!!
Featured Tours To Take On Your Trip:
South Dakota Road Trip Route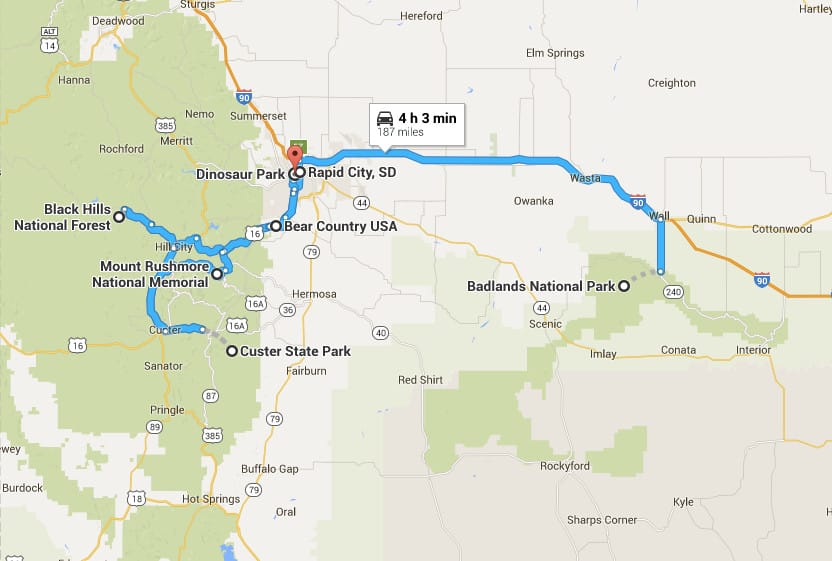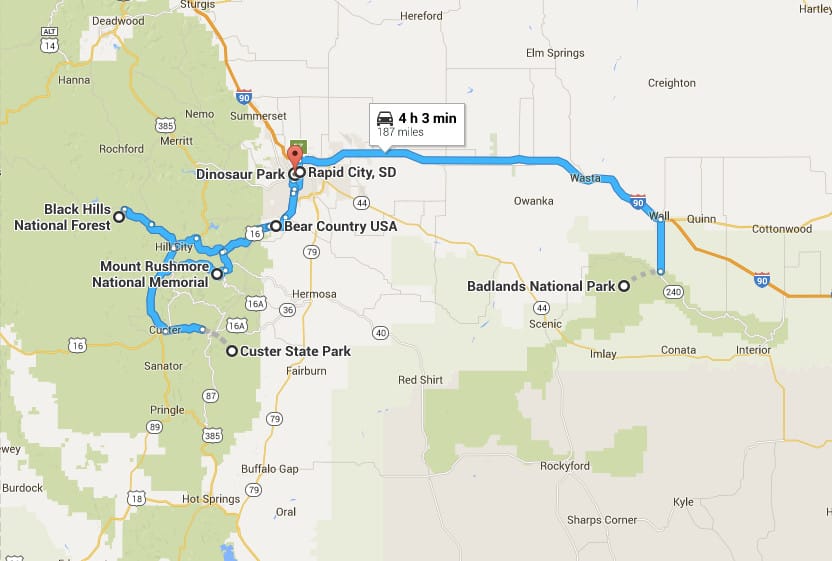 The Badlands
The Badlands are awesome! They are so beautiful and unlike landscapes you would normally see in the United States. It is so weird how they aren't there and then all of a sudden you drive into the park and there are these amazing formations everywhere. It's like you're on another planet!
When we went, it was hot. Like hot with a capital H. O. T!! They say that happens in the Badlands and it is usually warmer than other areas. It must have to do with the ground and how it reflects or absorbs the heat (I don't really know what I am talking about), but just believe me when I say it gets HOT! Like regularly 100+ in the summer.
Hiking In The Badlands
There are some really cool hiking areas, like the Notch Trails, so be prepared by bringing water and not going too far down a trail without having water with you. Plus if you are going to be climbing, make sure your kids have Keens or running shoes on. We had regular flip flop sandals and we were slipping all over the place.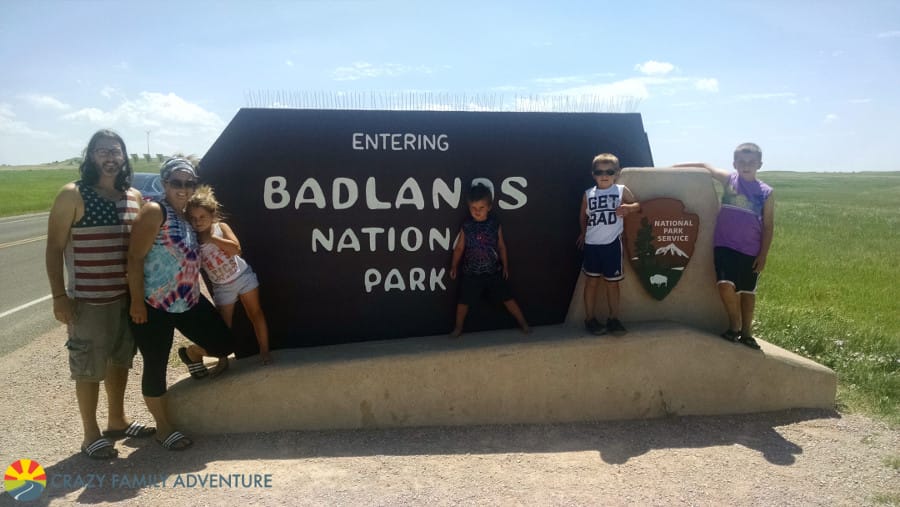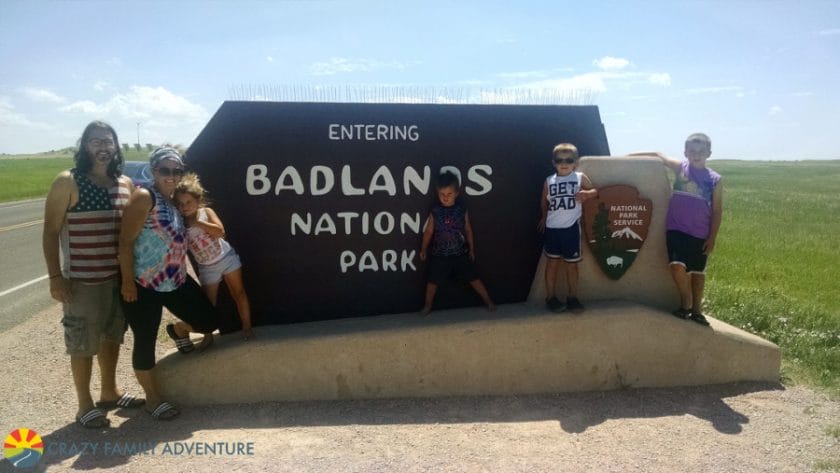 There are lots of opportunities to get out and climb and see some amazing views! Even though it is hot, you can still look for wildlife like prairie dogs. It was too hot for our kids and I don't blame them.
We spent a lot of time in our car driving around and checking things out. Then we would jump out of the car to check out a cool spot for 5 minutes then jump right back in the car. You can drive Badlands Loop Road for a great look at the north part of the Badlands.
They do have a nice air conditioned visitor center with a museum, an opportunity to get your Junior Ranger badge, and even get a Badlands tattoo!
I would expect nothing less from a place called the Badlands! If you are continuing your trip east from the Badlands, check out Falls Park in Sioux Falls, South Dakota.
Learn more about boondocking in Badlands National Park. This is another area with few places to stay. So if you're looking for a lot of vacation home, hotel, or campground options during your South Dakota family vacation, you'll probably have to look farther out.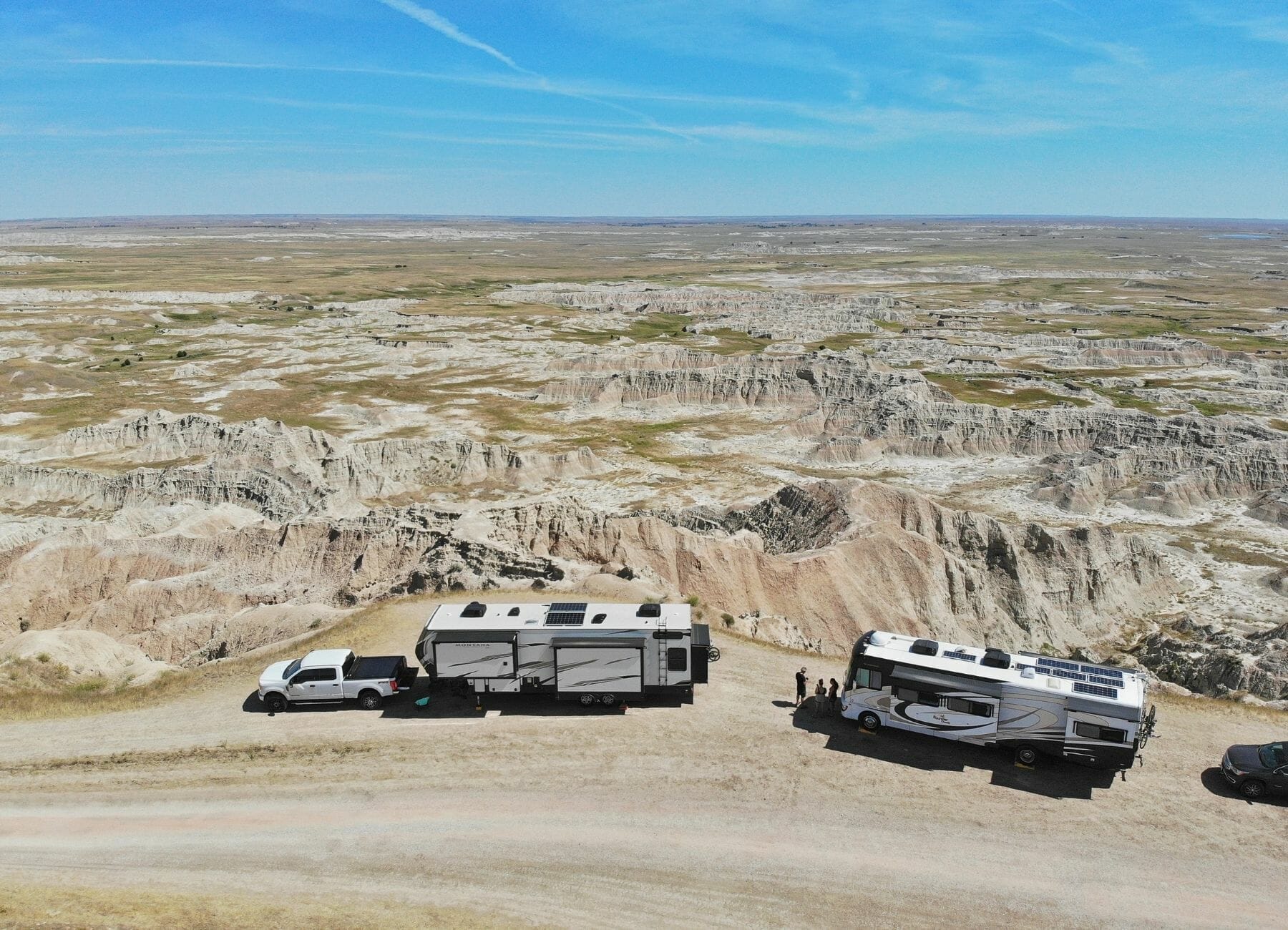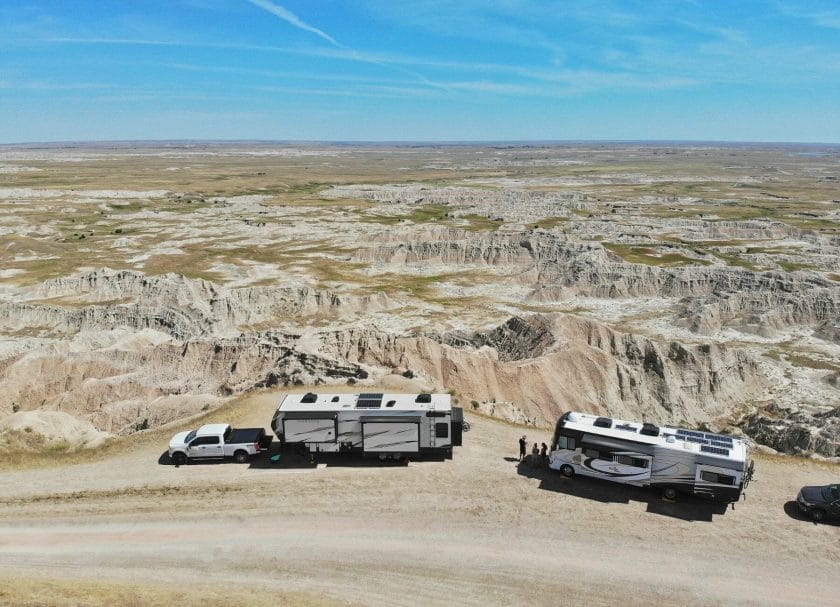 Nomad View – There is an epic camping spot you can stay at right outside the park. It is on BLM land so it is free but there are no hookups and it can get crazy windy. But the views are amazing! If you are interested in staying here and boondocking check out our post for tips on boondocking.
Rapid City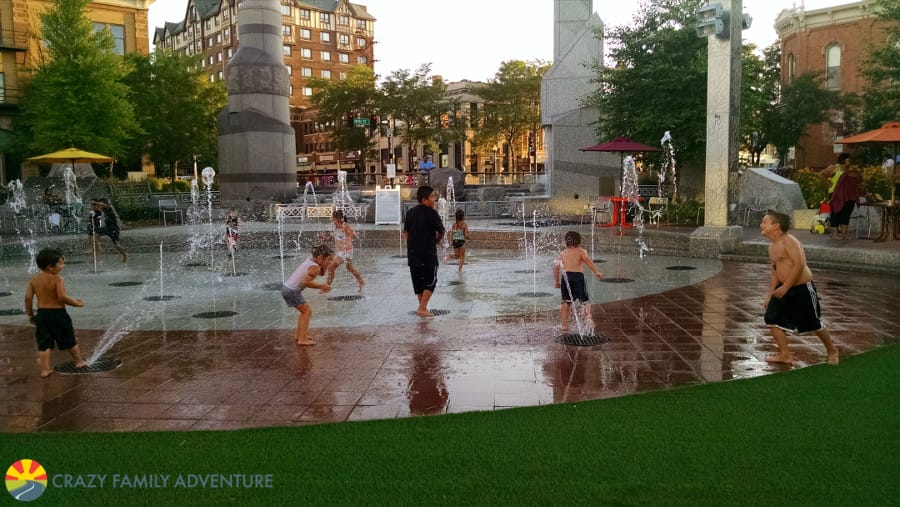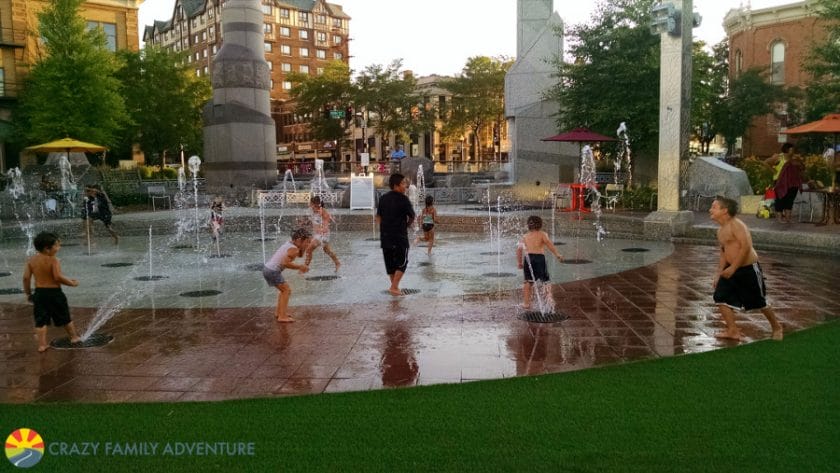 We weren't sure what to expect of a city in South Dakota that's near Sturgis and Deadwood, but we were pleasantly surprised by how cool the downtown area was! If Rapid City isn't on your list of places to visit on your South Dakota road trip, it should be.
They have an awesome square in the city that has a stage for music, a large open grassy area, and a splash pad for kids. The square is also surrounded with restaurants and shops. We ate down the street at the Firehouse Brewing Company. It was a great family friendly restaurant with a nice outdoor eating area and the kids all left with fireman hats. Score!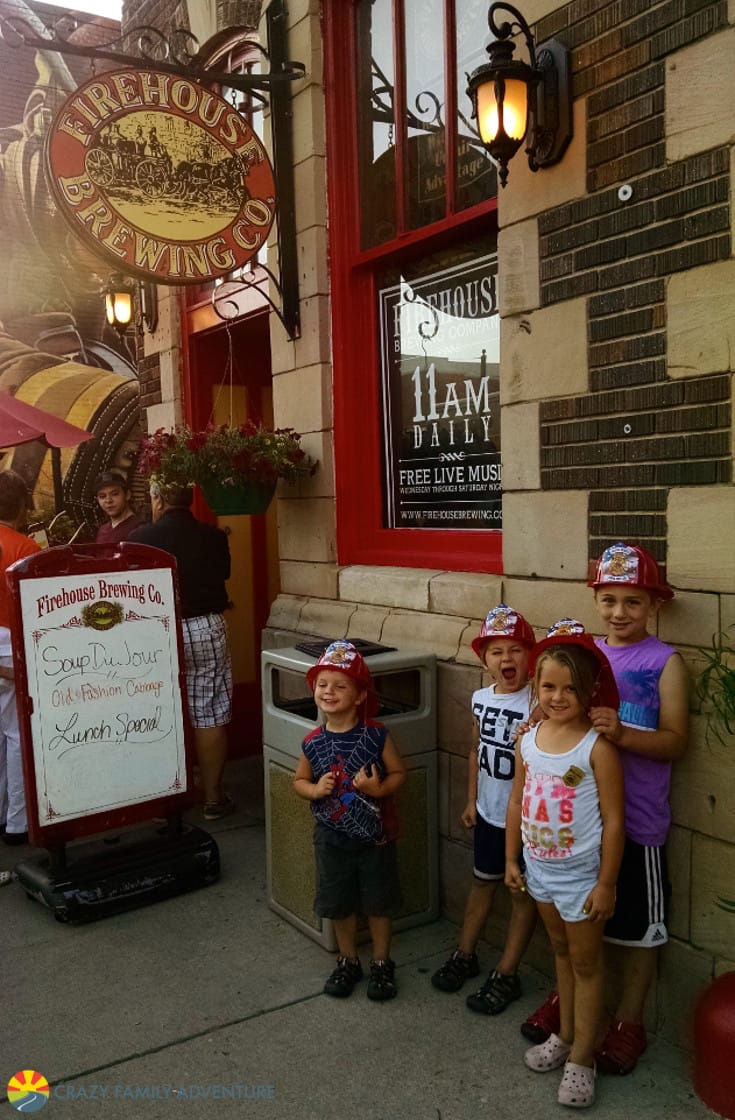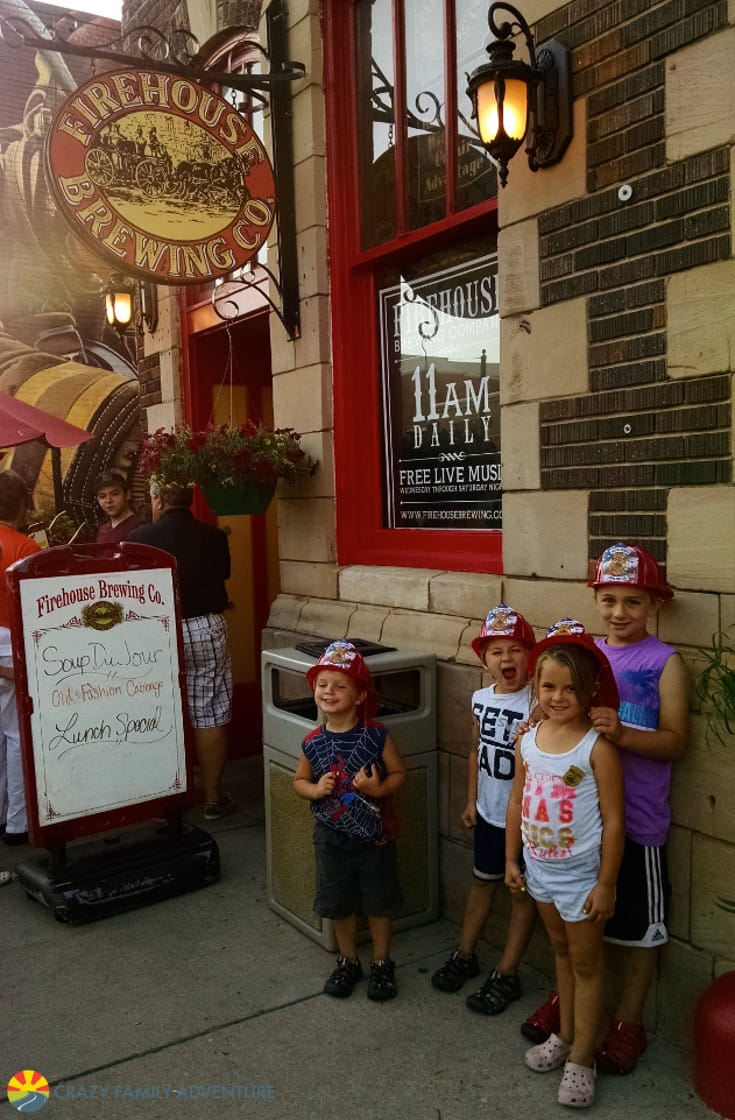 After dinner we walked down the street and hung out in the square, played tag on the grass, danced on the stage, and of course got soaked in the splash pad. When it gets dark you can keep playing in the colorful lights that go on display making it look like the water is changing colors.
They also have amazing murals on the outside walls of the buildings and statues on the street corners throughout the downtown area. I am sure the city has even more to offer, but our kids were happy and content in the square so we just hung out there.
Spearfish Canyon Scenic Byway
Even though it's an hour driving west of Rapid City, Spearfish Canyon Scenic Byway is a gorgeous 20 mile drive through the Black Hills of South Dakota. With vertical cliffs and high walls, some of the canyons only get 1 hour of sunlight a day. This drive should make your list of things to do on your South Dakota road trip!
Dinosaur Park
This is a free park at the top of Rapid City where the kids can climb around on dinosaurs. There is also an amazing view of the city from here.
The Dinosaur park has a gift shop/concession area. I think it is worth a stop if you are in the area!
Where to stay
Vacation Homes
Luxurious Purle House – Renovated historic home located just 5 minutes from all the downtown shops and restaurants. Take a walk or ride your bike!
Historic neighborhood home – This 4 bedroom, 2 bathroom house is located on a 1/2 acre with a raspberry patch, tree swing, and trampoline. Just blocks away from trail heads and biking trails and a 1 mile walk into downtown. Great place for a South Dakota family vacation.
Hotels
Staybridge Suites Rapid City – Rushmore – Located in Rapid City just miles away from downtown, the Rushmore Mall, and museums, this hotel offers a swimming pool and is pet friendly.
The Rushmore Hotel & Suites – Just a 10 minute walk from downtown, the Rushmore Hotel is a great location to stay in Rapid City. It also has a martini lounge with live music on the weekends.
Bear Country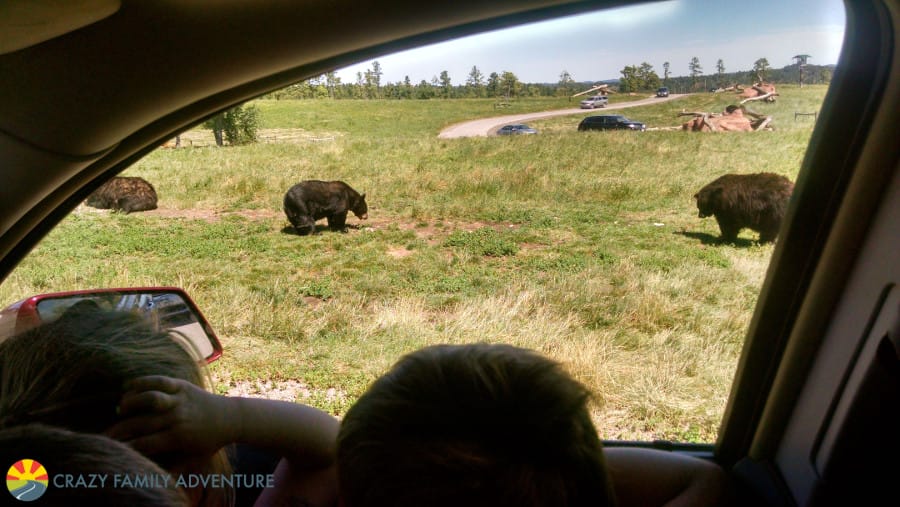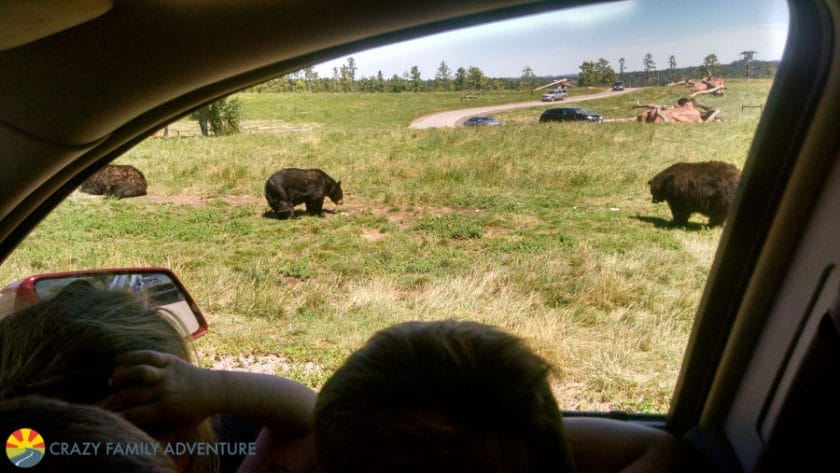 We almost didn't go. We had just been to Yellowstone and we had seen multiple bears out in the wild. However, I read a few reviews and they were really good, so we decided to give it a try. I am really glad we did. It was really cool!
You drive in, pay, and then follow a road through the park which takes you right into the habitat of each of the animals. They had wolves, mountain lions, bears, and more! I mean Oh My!
When we got to the bears, we couldn't believe how many there were. There had to be over 20 bears and they were right there next to your car. They were very clear about how you HAD to keep your windows closed at all times and I see why!
When you were done driving through, you pulled over in a parking lot and walked around to check out all the baby animals. There were the cutest bear cubs, baby foxes, and so many more adorable baby animals.
We highly recommend making this one of your stops on your South Dakota road trip! We have mixed feeling about zoos and animals in captivity. Especially since being at Yellowstone. But I have to say that the animals all looked well fed and happy.
Custer State Park
Custer State Park covers 71,000 miles and is South Dakota's largest state park. While you are here we recommend you visit the Black Hills, Needles Highway, Sylvan Lake and do the Wildlife Loop Road.
If you are looking for a unique adventure check out this hot air balloon trip over the Black Hills and Custer State Park!
Check out all the details below:
Black Hills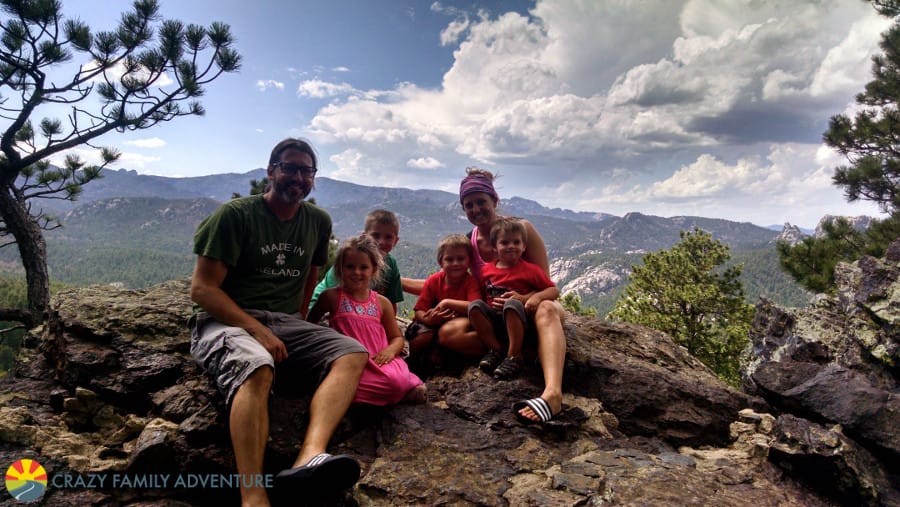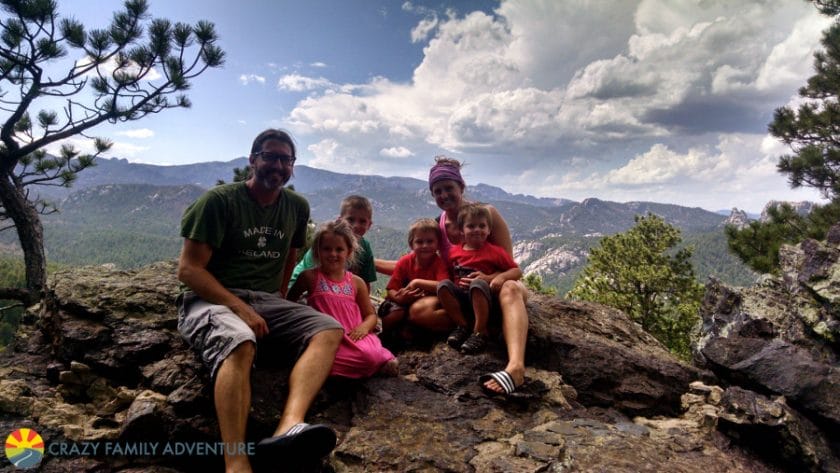 We were really impressed with the Black Hills National Forest area which includes Custer State Park and the stops we list below. There are so many great things to do in the Black Hills.
Iron Mountain Road
We drove this beautiful 17 mile road which consists of 314 curves, 14 switchbacks, 3 tunnels, and some of the best scenery in South Dakota! As you drive, you go through these super tight square cut-outs in the mountains. A couple of them give you an amazing view of Mount Rushmore. If you have a high zoom lens for your camera, bring it with you because you can get some amazing pictures!
Norbeck Overlook
We stopped at Norbeck Overlook on the Iron Mountain Road and the kids did some impromptu rock scrambling. Then we continued driving.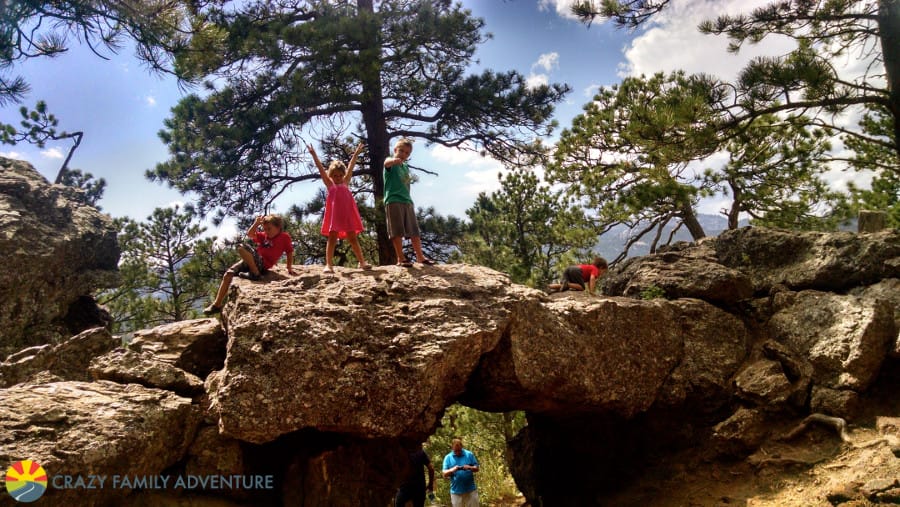 When driving through, make sure the vehicle you have isn't too tall or wide for some of the tunnels on the drive. There are literally square cut-outs in the rock that only a single car can fit through. Consult the all-knowing Google if you have a wide car or a dually truck. This was one of the coolest drives we have been on and is definitely a must on a South Dakota family vacation.
Needles Highway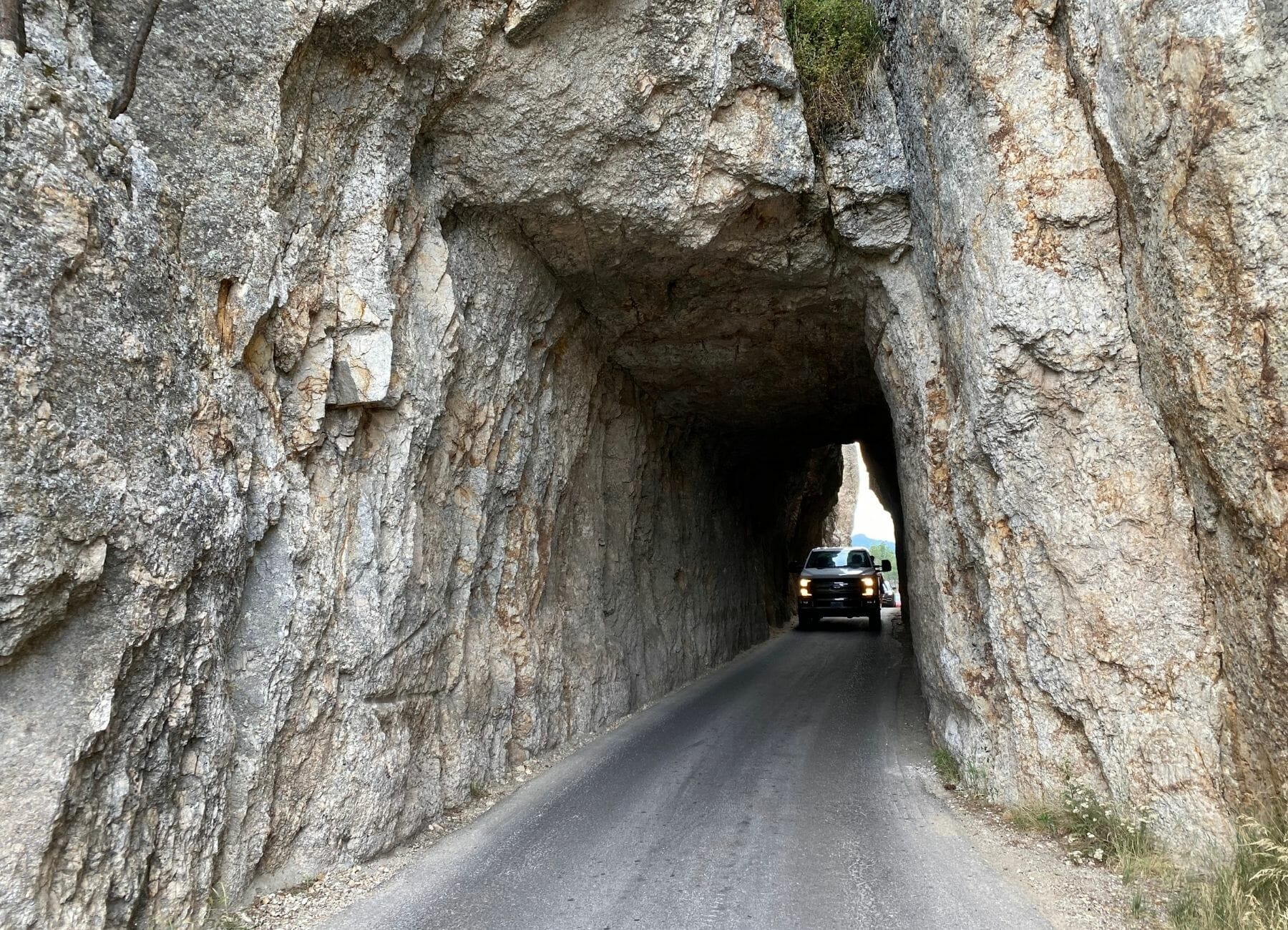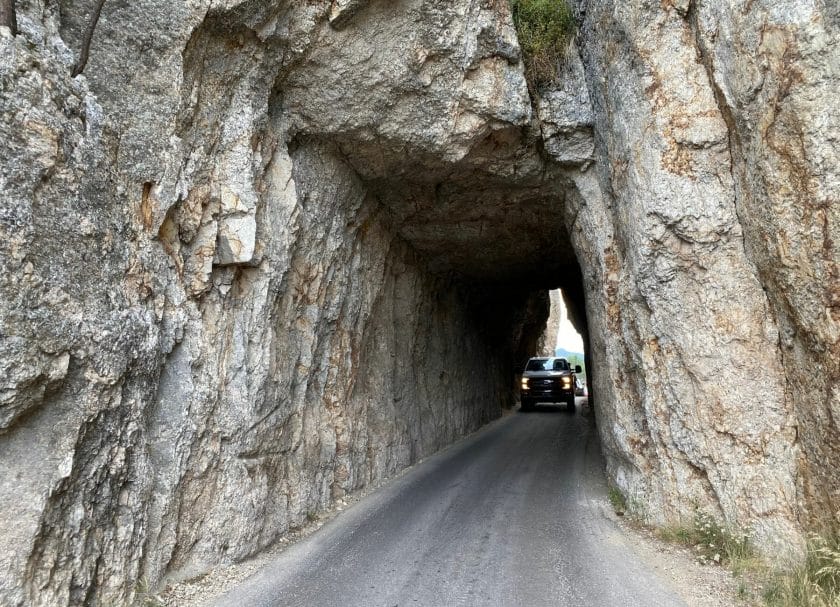 Another must-see is Needles Highway. Seriously do it! You drive up to the top of the mountain and see these needle-like formations. They were really cool and looked like something out of the Lord of the Rings. Precious!
Once you reach the top you drive through this tight tunnel. It is a bit nerve wrecking but also really cool!
Sylvan Lake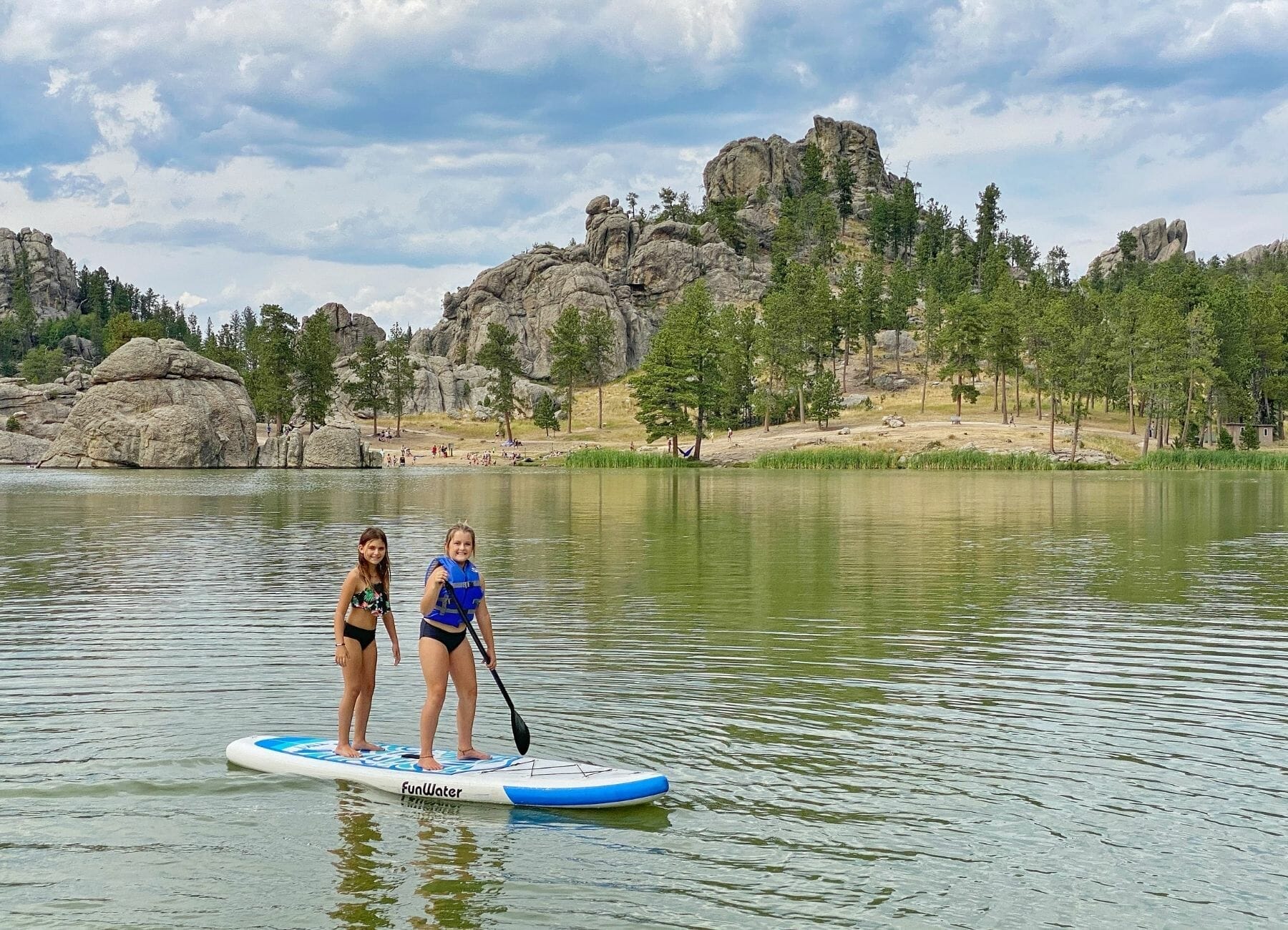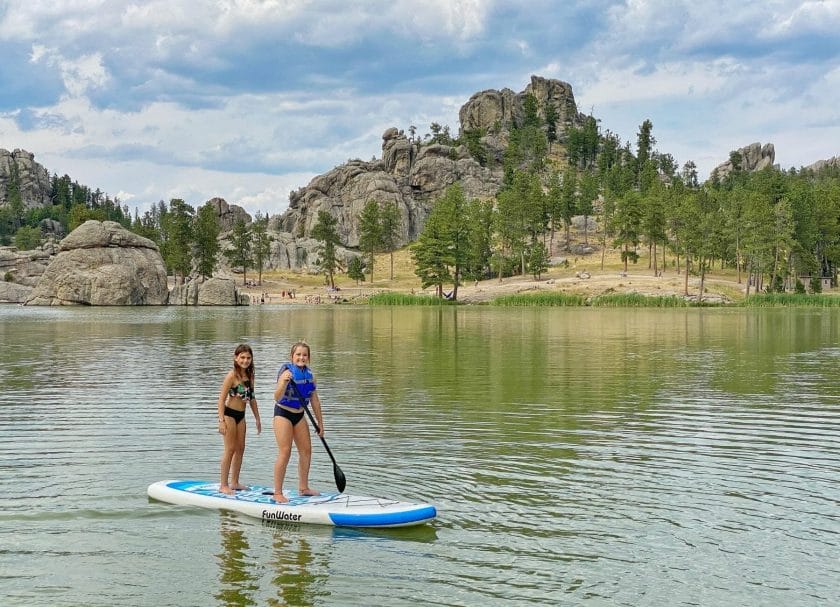 At the top is Sylvan Lake. We brought our blow up paddle boards and got out to do some paddle boarding and to hang out by the lake. There is a beach area here as well but it was pretty busy so we opted to set up on the grass across the lake from the beach. It was perfect for paddle boarding.
You can also hike around Sylvan Lake for a nice easy walk.
Sunday Gulch Trail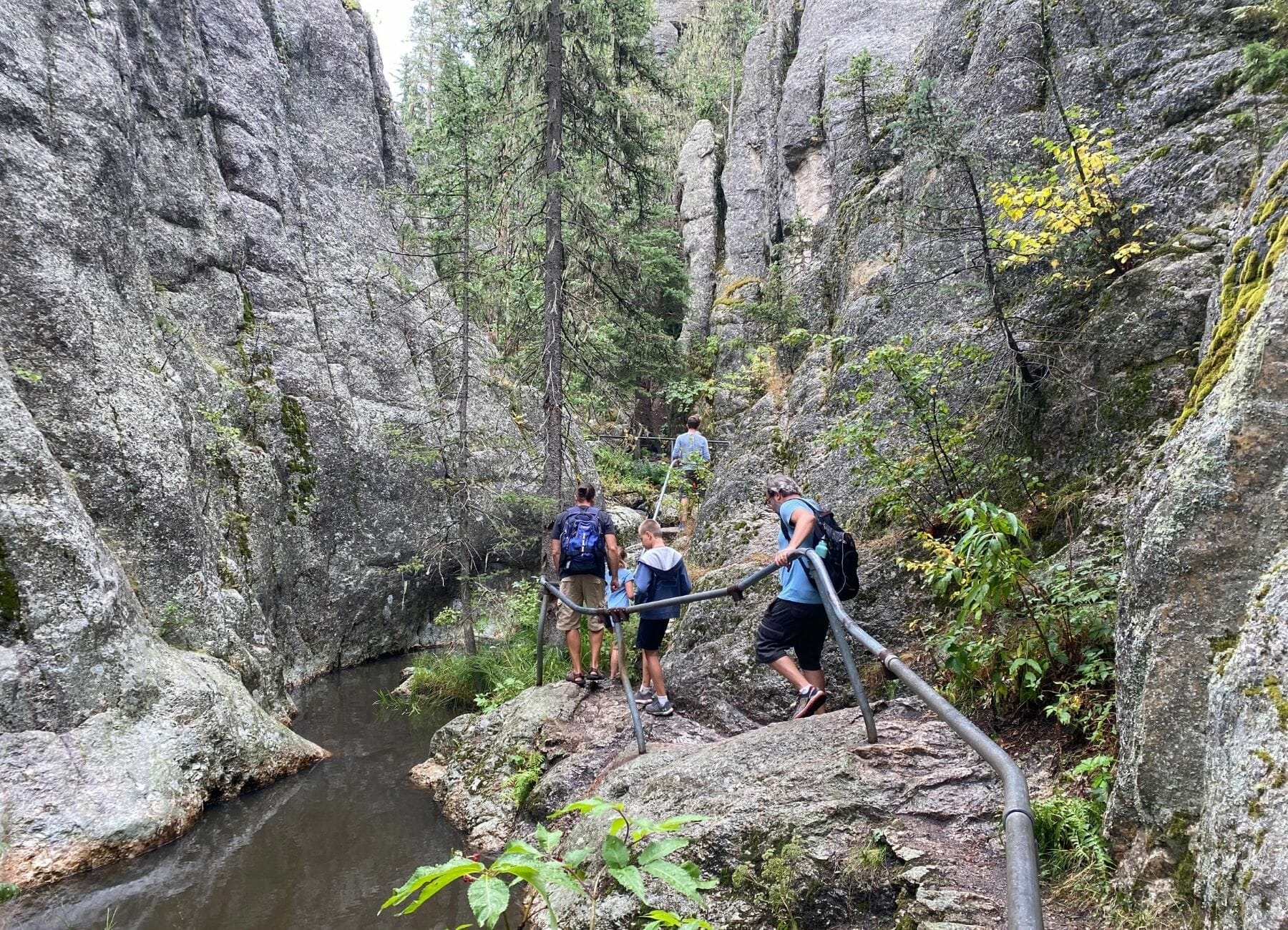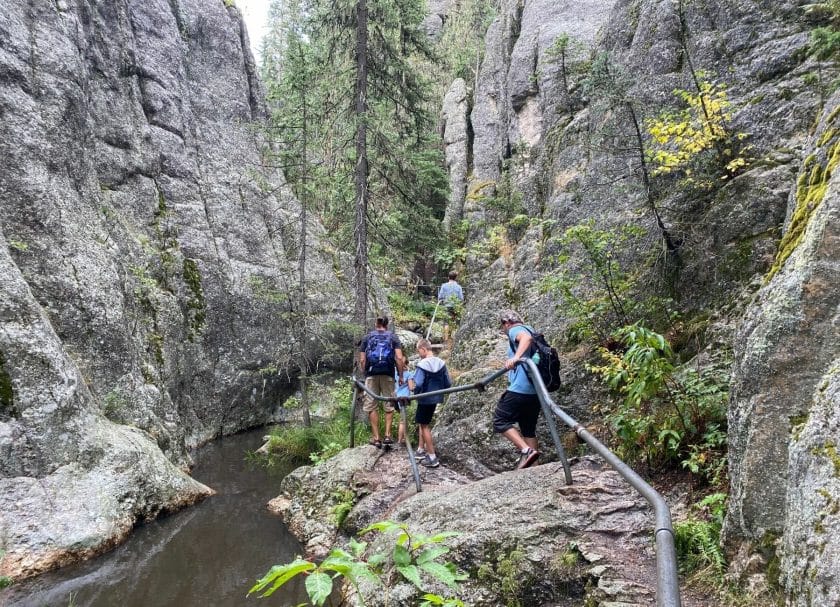 An awesome 4 mile loop trail that is marked as Hard on All Trails. We did it clockwise which meant that we climbed up and out of the gulch at the end which was super fun. I would not want to go counter clockwise and climb down into the gulch first. It is hard but well worth it!
Wildlife Loop Road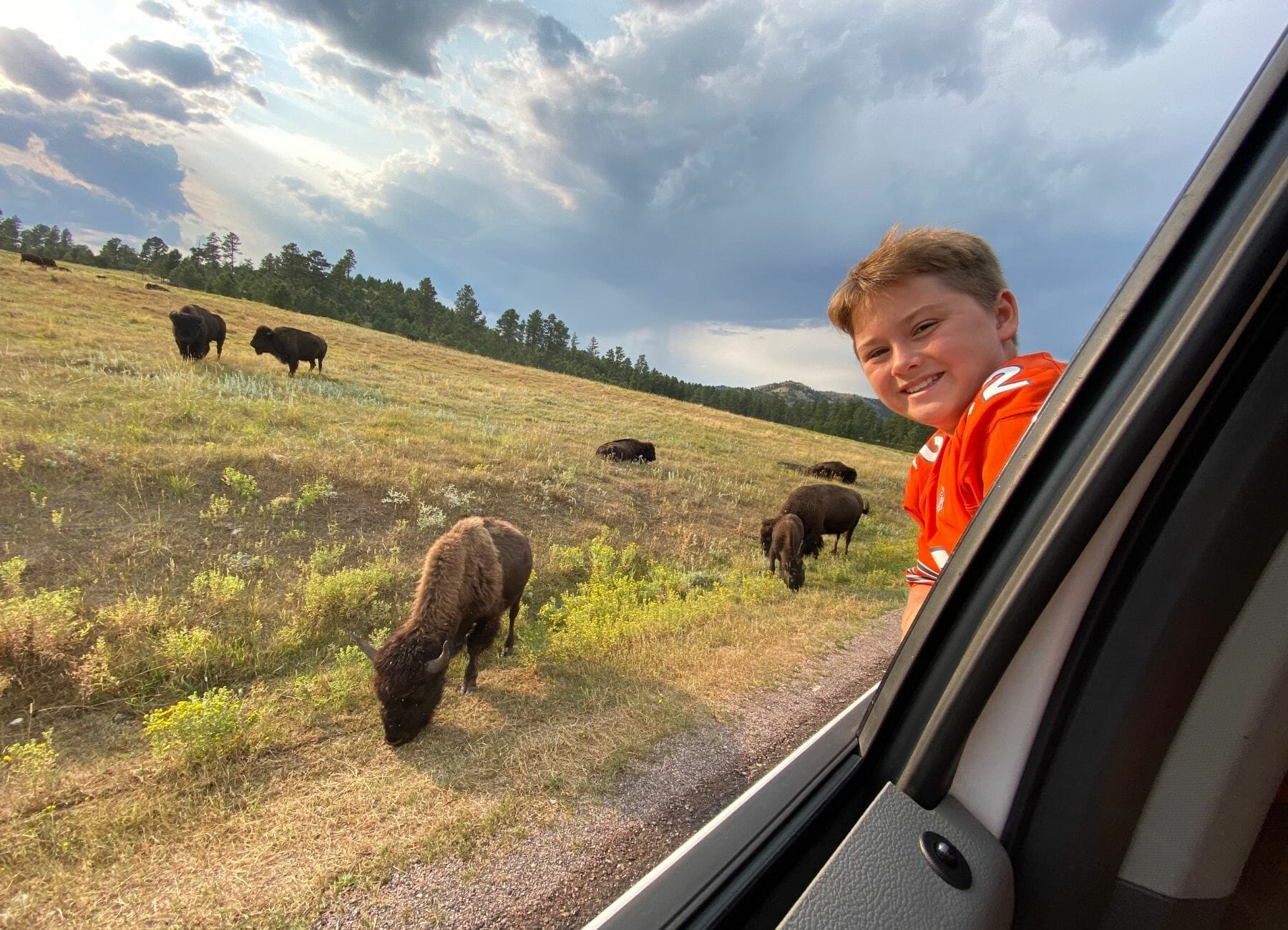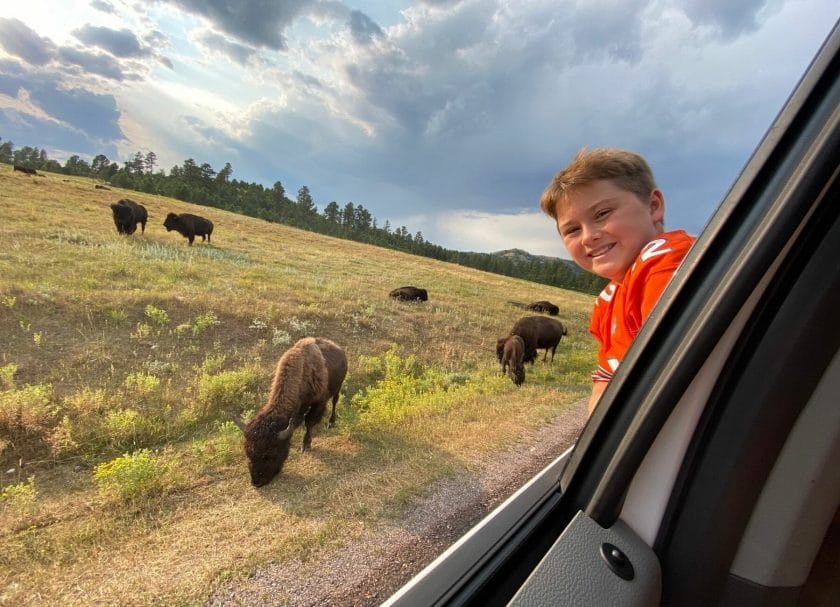 We have done this drive a couple times and we have heard that you could see a lot of animals. Unfortunately we only saw a few our first time. It was a nice drive but after being at Yellowstone, it just couldn't compare.
The second time we saw a huge herd of Bison. We were hoping to see the burrows but we never did. After seeing the bison (close by where we started) we didn't see anything else and it was a somewhat long and boring drive . . . I guess it just depends on what animals are out.
If you are in the area, we still recommend you stop. It was really pretty and we know people who have had the burrows actually stick their heads in the window of your car! If you want to know more check out this post: Things do in Custer State Park.
Where to stay
Vacation Homes
The Wandering Goat – A 3-acre getaway provides a nice place to relax on the 3-sided porch to take in all the beautiful views after a day at Custer State Park.
Cozy Creekside Cottage – This cottage is a little off the beaten path but only a short drive to Custer State Park. The outside deck area has a grill and a gas fireplace.
Campground
Hidden Lake Campground and Resort – About a 45 minute drive from Custer State Park, Hidden Lake Campground is situated on a lake. Go canoeing, kayaking, or fishing during your stay.
Larsson's Crooked Creek Resort – Located 2 miles south of Hill City, South Dakota this campground has 84 RV sites, 15 cabins, a 14-room lodge, and12 Presidential Creek Side Sites. Amenities include a barn with music and kids movies and an on-site café and bakery.
There are very few places to stay in this area so just be aware as you're planning your South Dakota family vacation.
Mount Rushmore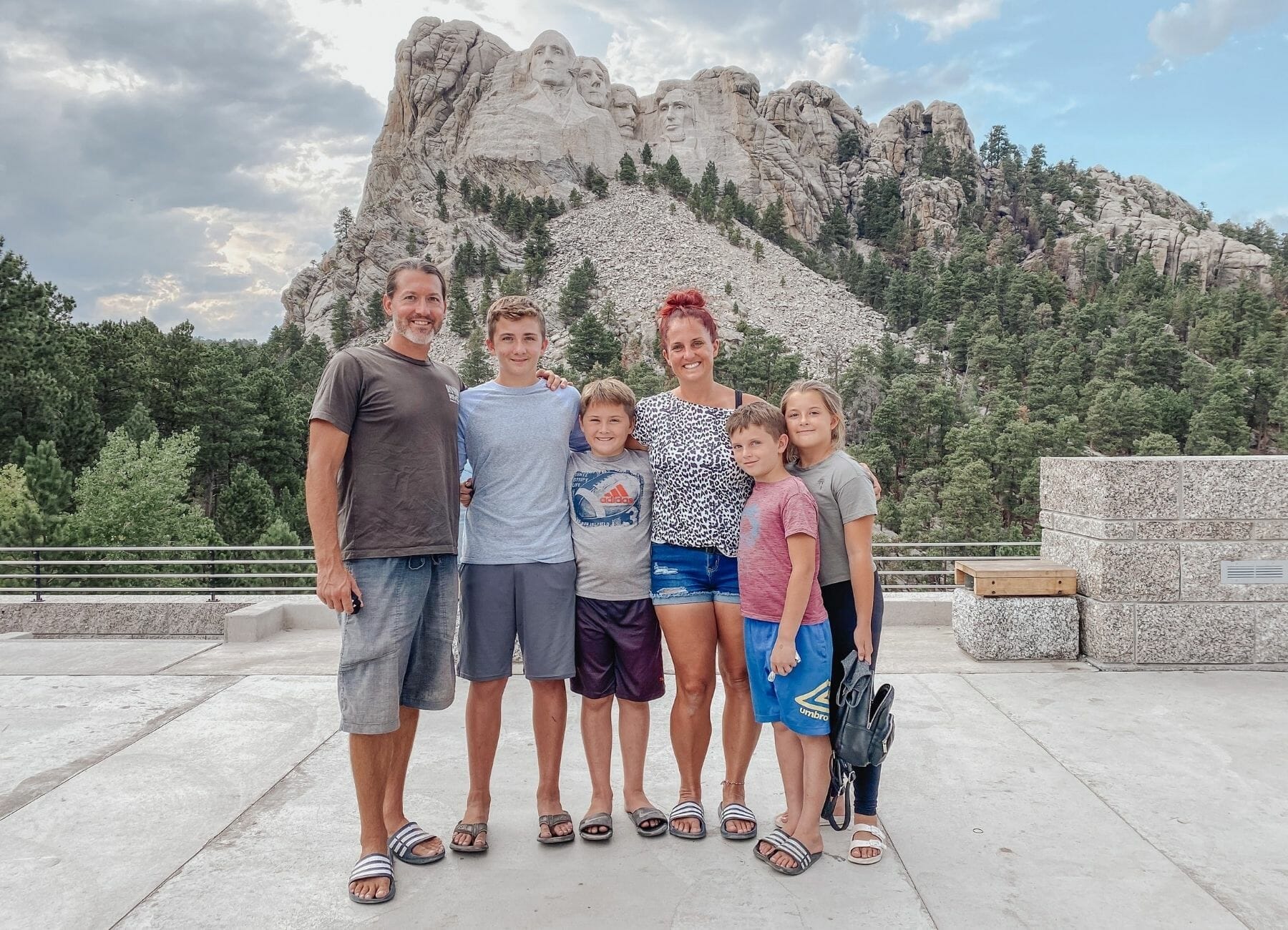 I have mixed feelings about Mount Rushmore National Memorial. I mean it is a mountain with faces carved out of it . . . But it is one of those places that you can't not do on a South Dakota road trip. I don't know if it is the National Park setup that makes it that way or if it is just the awe of what they were capable of doing to the rock and how cool and detailed the faces are.
If you have never been, you should go. There is a museum area, a video, restaurant, and concessions. Plus your kids can get a Junior Ranger badge (check, homeschooling done for the day!).
We stayed late to see the lighting of Mount Rushmore. I wouldn't recommend you do that. We thought there would be a light display or fireworks or something. Nope, they literally just put a spot light on the mountain, and prior to that, they talked for about 20 minutes. If your kids are older, they would enjoy the talk and presentation beforehand. With younger kids, they couldn't have cared less. So we spent the majority of the time trying to keep them quiet.
Then when the light show was done, we sprinted for the car so we didn't get stuck in the parking garage! So, if you are going to stay, you would want to watch/listen from as far back as possible so you can be the first one out. A trick Clark Griswold taught me 🙂
You don't have to pay for getting into Mount Rushmore (this was a stipulation by the designer or something) but you do have to pay to park. Sneaky sneaky.
If you are looking for a tour so you don't have to do the planning check out this Rapid City: Mount Rushmore and Black Hills tour or this Rapid City: Private Black Hills Monument Full Day Tour.
Where to stay
Vacation Homes
The Carriage House at McDonald Mountain Ranch – Although this is only a 1 bedroom cabin, it does have 2 bathrooms, 2 levels, and would be great for a quick stay. Offers a washer/dryer and is just a short drive from Mount Rushmore.
Keystone Escape w/ Amazing Mt Rushmore View – The porch views from this escape are breathtaking. This 3 bedroom, 3 bathroom cabin would be great for a family looking to explore Mount Rushmore.
Hotels
Baymont by Wyndham Keystone Near Mt. Rushmore – Located in Keystone, South Dakota, this hotel is less than 2 miles from Mount Rushmore. Black Hills National Forest is only 12 miles away.
Ramada by Wyndham Keystone Near Mt Rushmore – Just minutes away from Mount Rushmore, this option offers an indoor heated pool, hot tub, gift shop, and fireplaces in the guest rooms.
More To Do
If you are looking for more parks nearby, Wind Cave National Park is about a 30 minute scenic drive south of Custer State Park. If you have extra time, this stop would be a great addition to your South Dakota family vacation.
South Dakota has a lot to offer and you could either make it a quick stop as part of a longer road trip or you could stay in Rapid City for the week and spend a good day or two at each of the locations we mentioned.
We spent a week there and know there is a ton more to do, like the 1880 train in Keystone, South Dakota. Let us know in the comments of other places you have been to in South Dakota. I'm sure we'll be back!
Also if you like this area we recommend checking out these other great posts for family vacations and road trips!
Things to do with kids in Theodore Roosevelt National Park
Road Trip With Kids: 11 Tips To Make It Enjoyable For Everyone
Florida Keys Road Trip: 29 Amazing Places To Visit [Map Included]
Florida Road Trip: 31 Amazing Places You Won't Want To Miss
6 Epic National Park Road Trip Ideas [Maps Included]
37 Stops For The Best Cross Country Road Trip [Map Included]
Utah Road Trip: All 5 Utah National Parks & More [Map Included]
26 Oregon Coast Road Trip Stops You Don't Want To Miss
Pin this post: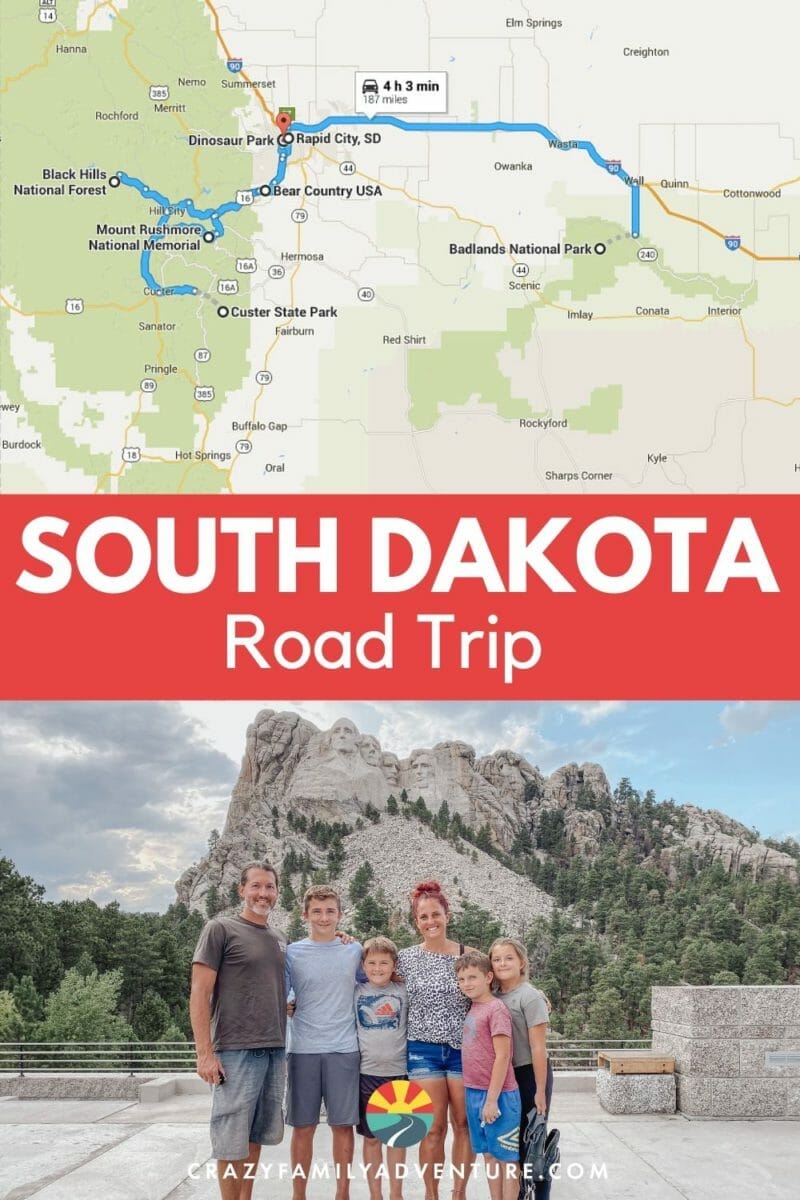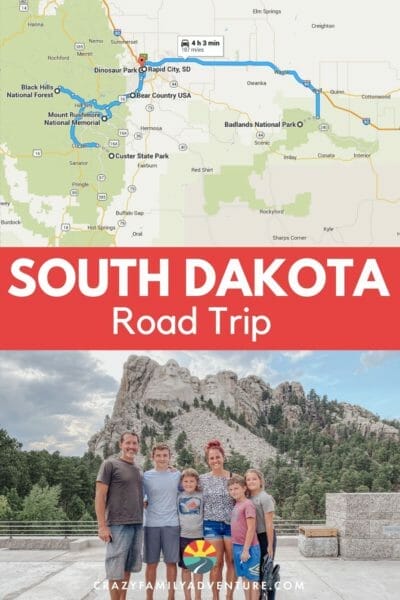 DISCLOSURE: This post may contain affiliate links, meaning I get a commission if you decide to make a purchase through my links, at no cost to you. Please read my disclosure for more info.