Are you looking for the best springs in Florida? We have you covered!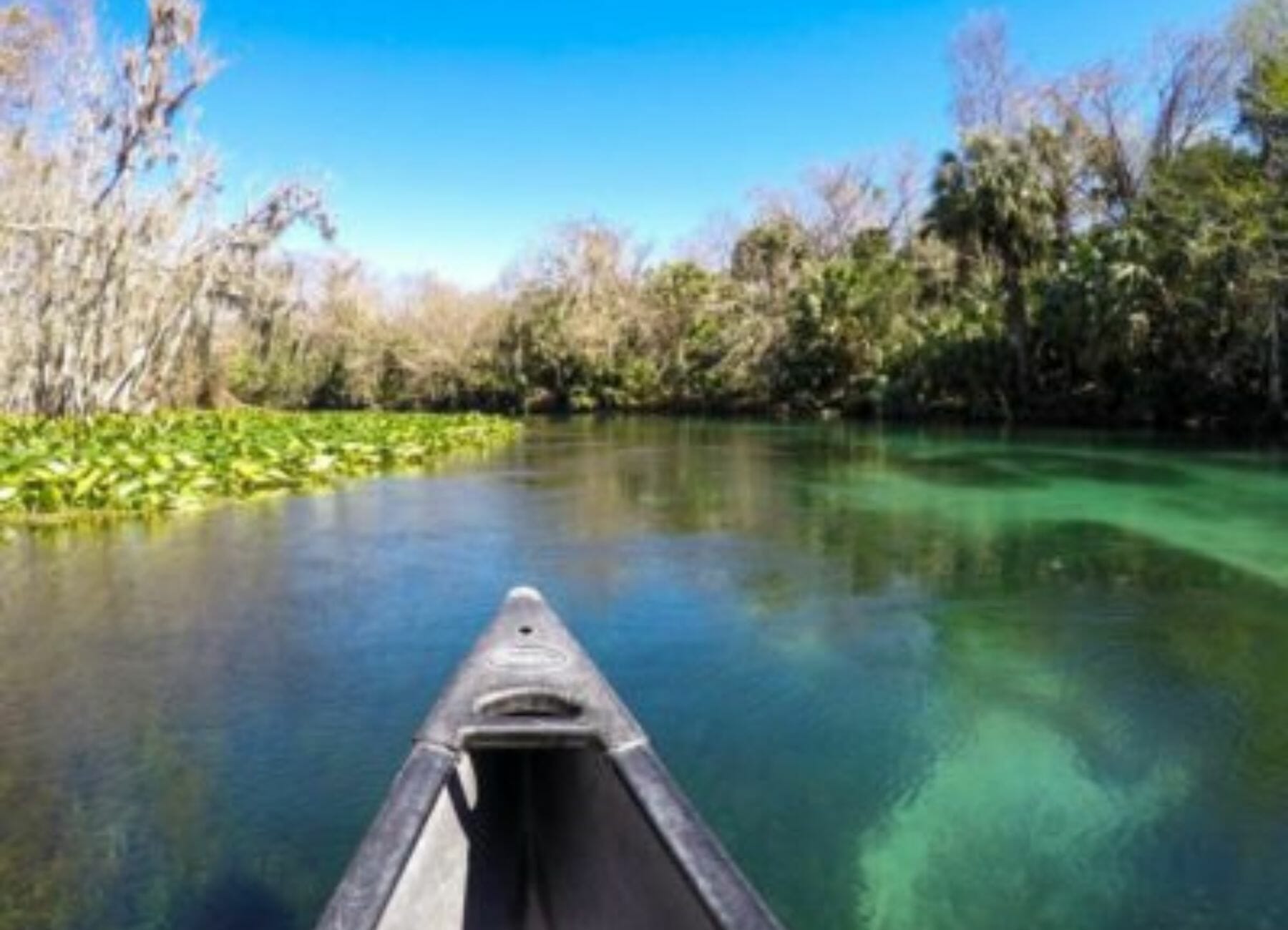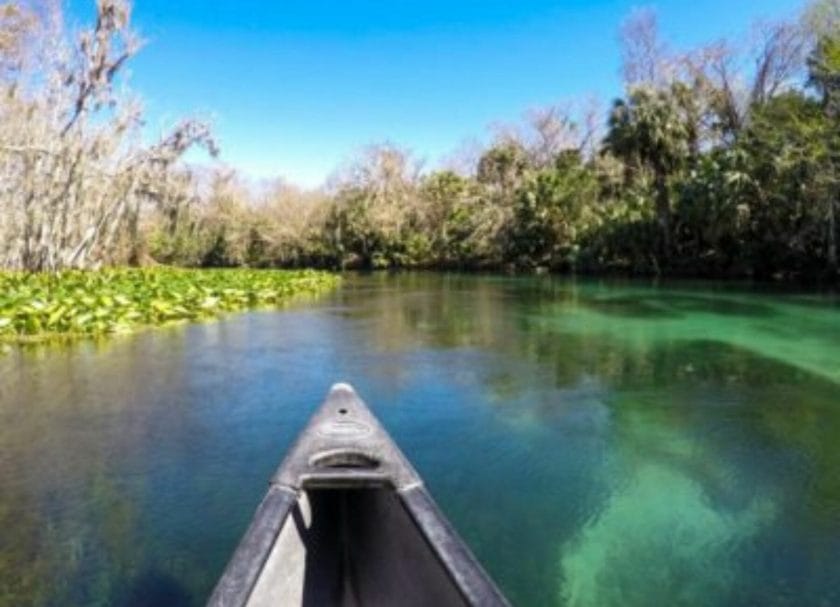 If you're searching for a fun and memorable way to experience Florida with your family, look no further than visiting one of the many incredible natural springs found throughout the state. These springs make for great stops on your Florida Road Trip or East Coast Road Trip!
The crystal-clear water provides the perfect backdrop for snorkeling and swimming to activities like camping or kayaking on scenic waterways. There is something special about venturing into these beautiful spots that will make lifelong memories.
Read on to learn more about some of the best springs in Florida that offer the perfect outdoor adventure for families!
What Is A Spring?
Florida's beautiful crystal clear freshwater springs are exposed areas of the underground aquifer system. Florida has the largest first-magnitude spring and second-magnitude springs than anywhere else in the US.
Underground, Florida has a layer of dolomite and limestone that is dissolved by rainwater forming underwater caves and sinkholes. These openings in the ground allow the springs to come up to the surface.
This geology has formed many natural springs across the central and northern parts of Florida. Almost all of the springs are cold water and have an average water temperature of 70 to 75 degrees year-round.
These gorgeous springs are surrounded by pine, oak, and cedar trees, making them extremely popular with photographers.
They are also the perfect spots for swimming and water sports. Since you can see right through the crystal clear water to the bottom, the springs are a wonderful place to swim, snorkel, or dive.
Many of Florida's natural springs have a designated roped-off swimming hole to enjoy. The water is freezing cold all year, so it helps to visit on a warm day.
The springs are also incredible places to paddleboard, kayak, and canoe. Many springs also have places to rent a canoe or other water sports equipment to enjoy during your visit.
Each spring has designated areas for swimming, kayaking, or putting in your equipment. Make sure to check where each water activity is permitted at the spring location.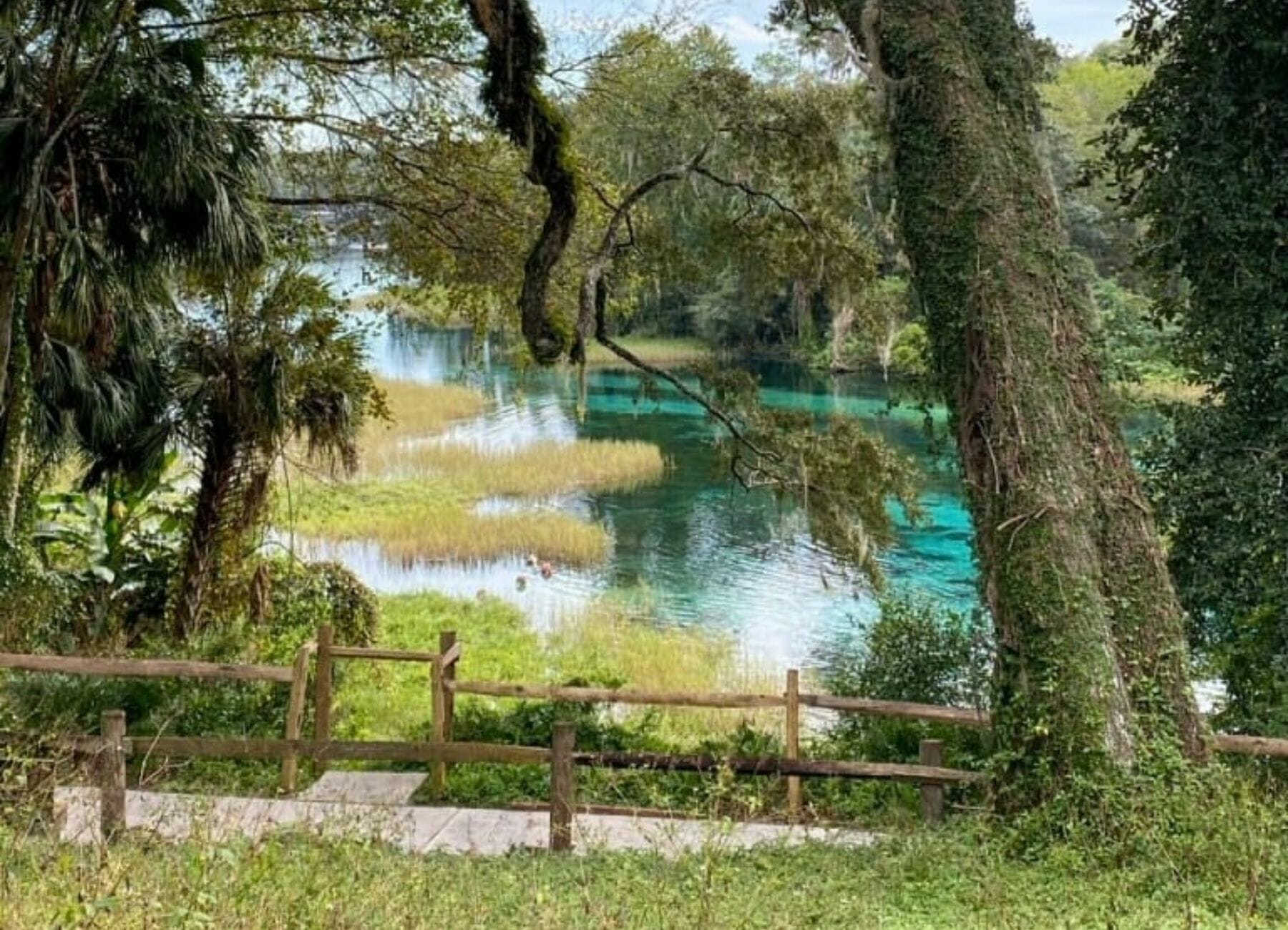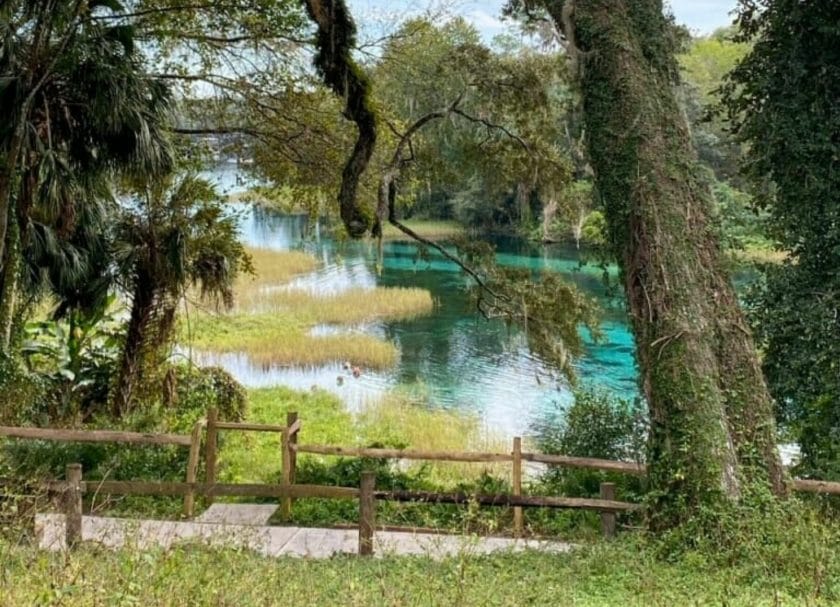 Animals Found In Springs
The crystal clear waters make it easy to view all of the water wildlife. It often feels like you are swimming or floating in an aquarium.
You can view fish, turtles, and sometimes manatees which makes the springs incredibly popular with snorkelers and divers. Manatees are most commonly viewed during the winter months when the daytime temperatures are in the lower 60s or colder.
Manatees are most frequently in the ocean but flock to warmer spring waters when the temperatures get chilly. The freshwater springs and rivers are like temporary manatee hot tubs to help keep their body temperature up until the colder weather passes.
On the shore, it's easy to view many types of bird species, some even unique to Florida. During our visits, we often see great gray herons, anhingas, osprey, hawks, and even bald eagles. Birds love to hunt for fish in the springs, which makes the springs areas perfect for bird watching.
You can also occasionally find alligators at the springs. They are rare and would be easy to spot in the clear water, but the risk for alligators is present in any fresh body of water throughout Florida.
There are signs posted at most springs that alligators may be present. Definitely keep your eyes open and be aware of your surroundings when near or in any body of water in the state.
Swimming
Swimming is allowed at all of the springs listed in this article. At some springs, like Silver Springs, swimming is prohibited due to alligators. That specific spring is wonderful for paddling, but many gators sunbathe along the shores.
When visiting any of the springs in the Ocala National Forest, be on the lookout for black bears. They are often not found in areas where people gather, but it is important to store food properly and keep an eye out for them.
It's wild to think that there are bears in Florida. In fact, our family traveled all over the state before finding out that there were bears in Florida.
During an RV camping stay in Ocala National Forest, we were shocked to find many bear signs on the roads and at our campground. Before the trip was over, we did get to see a mother bear with a group of cubs cross the road within the national forest.
It was wild to see the bears. Now we know that they do exist and to watch out for them when spending time in the national forest. It's important to stay bear aware.
It's also possible to find an occasional snake in the springs area. Most of Florida's snakes are not poisonous or aggressive, but this risk does exist anywhere in the state.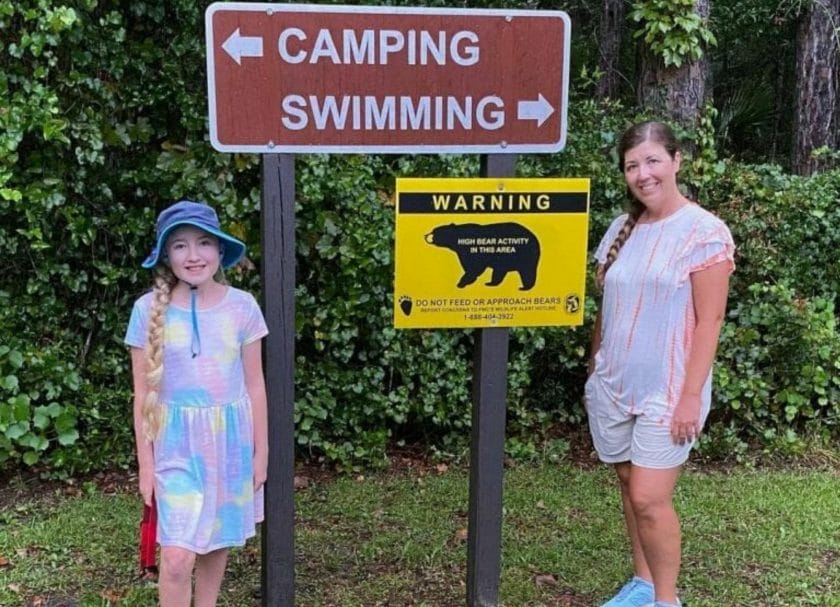 What To Bring
A day at one of Florida's natural springs can be anything from a chill day swimming and floating to a thrilling day of paddling or diving. There are many options for enjoying crystal clear waters.
You will want to bring along natural sunscreen that doesn't hurt the wildlife, sunglasses, sunhats, swimsuits and sun shirts, and towels. A great natural sunscreen that stays on well in the water and is reef friendly is Thinksport. That is our family's favorite natural option.
The spring water is very cold so it may be helpful to bring a wetsuit if you would like to swim or snorkel during the winter months or on chilly days.
It can get frigid for short snaps during the winter months in Florida, especially in more northern parts of the state where the springs are located.
We swam in one of Florida's springs on a cold day in February and were so happy to have wetsuits. The air temperature was in the 60s, and the water temps were low 70s, but it felt freezing. You may be happier with a wetsuit in the winter months.
The bugs can be insane in Florida. No matter where you go for outdoor adventures, always bring along bug spray. A great natural insect repellant that our family uses is All Terrain Herbal Armor.
Pack drinks and snacks to enjoy in the picnic area at the springs. Note that many of the springs on our list have strict rules regarding food and drink packaging on and near the river.
Check The Rules
Check the rules of the spring you wish to visit to see if food or drinks is allowed in the river area and the specific rules. Some springs don't allow any disposable containers, such as plastic bottles, foil, wrappers, etc. to keep pollution down in these beautiful areas.
Now that you know a little bit more about what to expect when visiting one of Florida's springs, let's dive into some of the top springs in the state so you can plan your trip!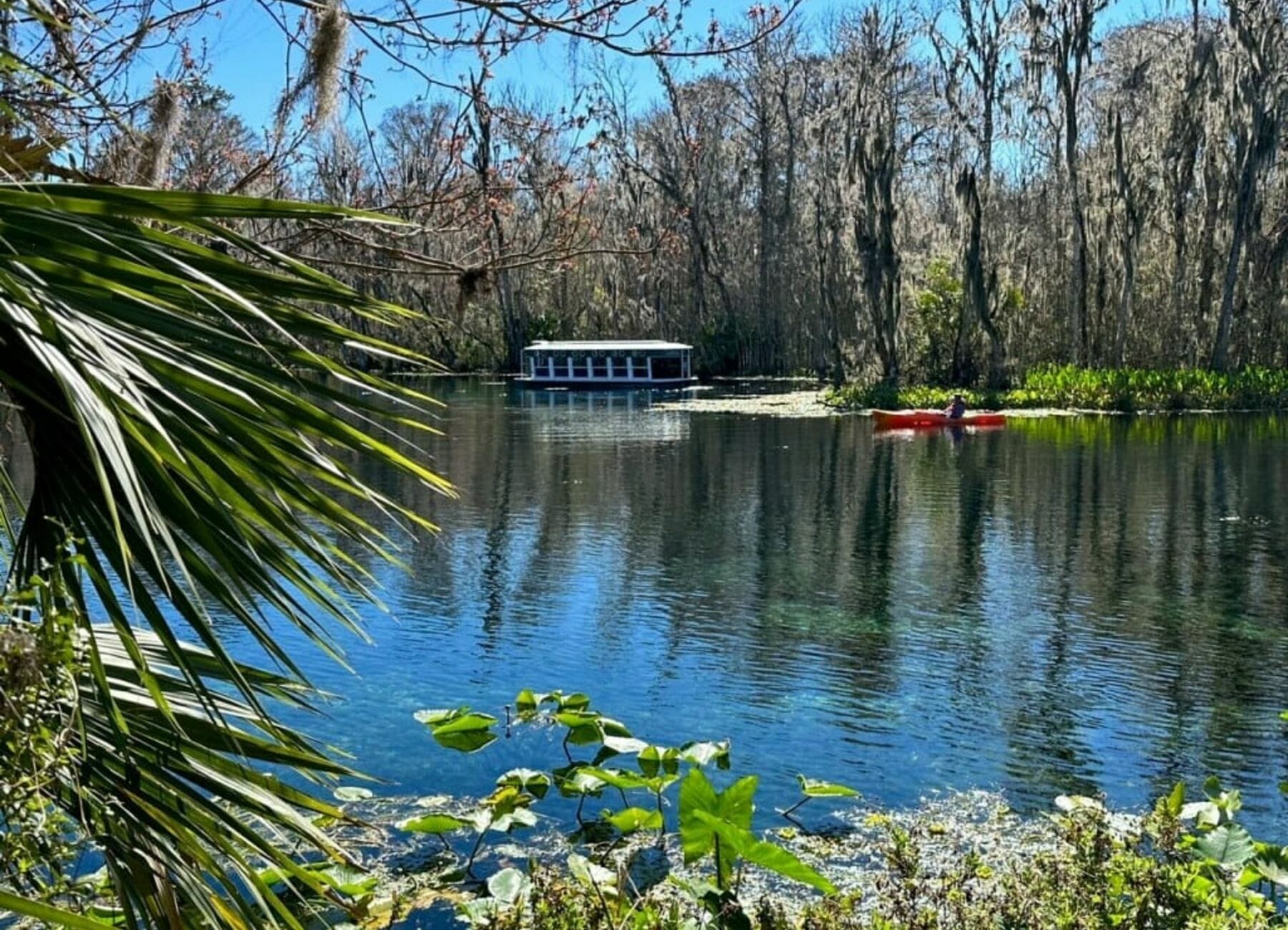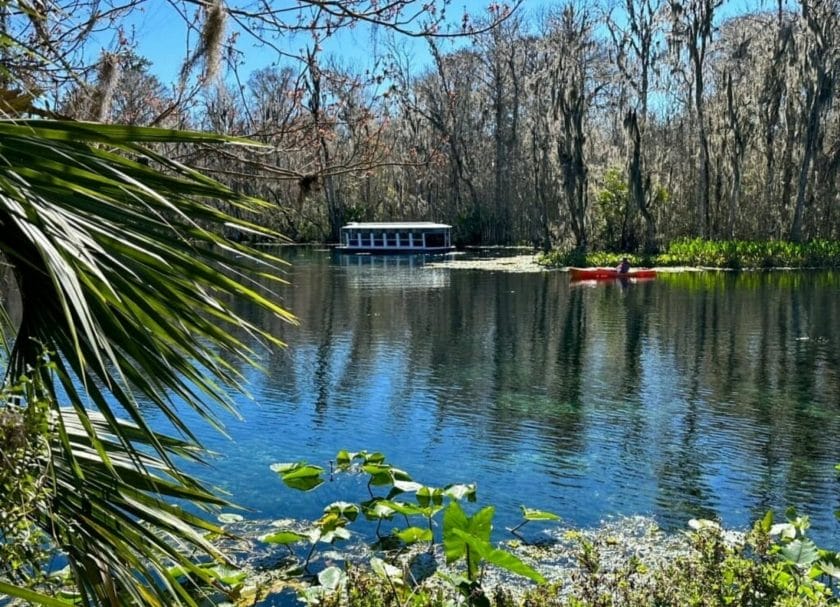 Rainbow Springs State Park
Rainbow Springs State Park is located in North Central Florida outside of Ocala. The crystal clear blue waters of the Rainbow River and Rainbow Springs lure many visitors to get out and enjoy the water here.
Rainbow Springs is open year-round. The water here comes from a first-magnitude spring where over 400 million gallons of water flow out of the ground per day.
The water is a chilly 72 degrees year round and was regarded historically by native peoples to have special healing powers.
Today many flock here to enjoy swimming, snorkeling, paddling, and walking the scenic state park paths. Before this area was a state park, it served as both a mine and a private tourist attraction.
Those previous uses of this area left behind steep hills, developed gardens, and man-made waterfalls. Today this has created a nature trail loop that begins at the visitor center and winds 2 1/2 miles through the state park.
Although the waterfalls here are man-made, they are still a big feature in this park. This is because there aren't many waterfalls within the state of Florida.
The state park has a designated roped-off swimming area at the springhead. The water is crystal clear and perfect for snorkeling as well as simply taking a dip.
Snorkeling and diving are only allowed in the roped-off swimming area or further up the river away from the headspring location. When snorkeling out of the swim area, a divers flag and float are required so boats can see you in the water.
The swim area is 5 to 18 feet deep and has many fish and turtles that you can view easily in the clear water. No inflatables are allowed in the swim area, but you can bring noodles and life jackets.
Paddling and Tubing
The Rainbow River is also famous for paddling and tubing the river run. There is a separate entrance for paddling and tubing with rentals and a shuttle available.
The float run is 2 miles long and takes about 2 hours to complete. You can rent tubes, kayaks, paddleboards, and canoes at the tubing entrance. No disposable food containers or plastic water bottles are allowed on the river.
If you are staying at the Rainbow Springs State Park campground, you can also put in a tube or kayak from the campground and shuttle back from the state park pickup.
Where To Stay When Visiting
If you want to camp while visiting Rainbow Springs, the best place to stay is at the Rainbow Springs State Park campground. You can access the river for swimming, diving or to put in a kayak just a short walk from the campground.
For a close hotel option to stay near Rainbow Springs, consider the Comfort Suites Near Rainbow Springs Dunnellon.
If you are looking for a great vacation rental near Rainbow Springs, check out this 2 bedroom House With Kayaks. It's located less than 2 miles from the springs.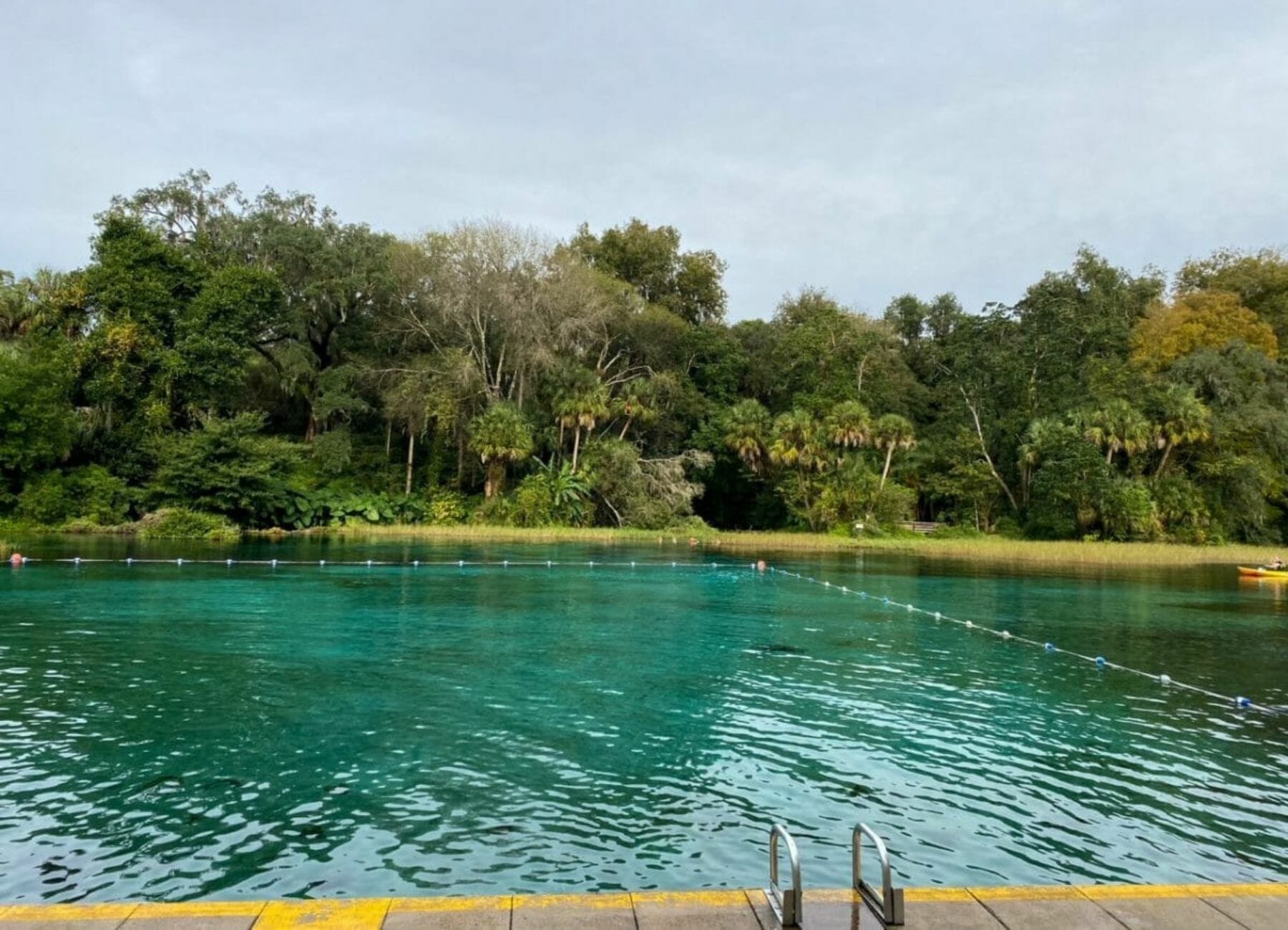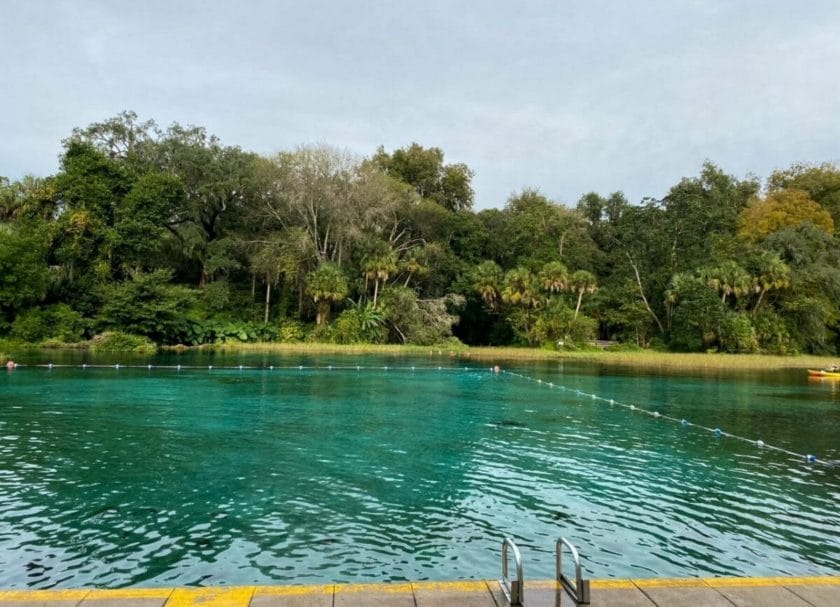 Gilchrist Blue Springs State Park
Gilchrist Blue Springs State Park is located in north central Florida outside of Gainesville. This area of Florida is loaded with natural springs to explore and is a great place to stay if you want to see multiple springs.
If you visit Gilchrist Blue Springs, don't miss checking out Ginnie Springs right down the road (featured later in this article) and Ichetucknee Springs State Park, which is a little north of this location on the Ichetucknee River.
The full name of this state park is Ruth B. Kirby Gilchrist Blue Springs State Park. It is one of the newest in the Florida State Park system.
This park is known for its beautiful crystal clear second-magnitude spring that pumps out 44 million gallons of underground water daily. It is open year-round to enjoy.
Swimming and snorkeling are fun activities to enjoy in this park at the headspring. You can view many fish and turtles in the clear water.
Paddling is a popular activity in this park. There is a short .25-mile paddle run from the spring head to the Santa Fe River, where you can view the clear spring mixing with the darker tannin-stained river water at the convergence.
You can also continue to float farther down the river until you reach the beautiful Ginnie Springs. See more about Ginnie Springs later in this article.
Canoes and kayaks are available to rent here. However, there is no shuttle service available. This location works better for paddlers that have a second vehicle.
Don't miss checking out the short nature trail in the park. It's less than a mile but features a unique sinkhole with many turtles and a giant cypress tree that is over 350 years old!
Where To Stay When Visiting
If you want to tent or RV camp during your trip, the best place to stay is here at Gilchrist Blue Springs. The tiny state park campground has 16 RV sites and 7 tent sites.
Staying in the park keeps you close to the action while also enjoying nature. This campground is better for smaller RVs.
For a hotel option near the springs area with breakfast, check out the Holiday Inn Express and Suites Alachua.
For a nearby house rental, this gem is located close to the springs and has river views with a dock for fishing. Check out Fishing Paradise With a Deck And Dock On Suwannee River.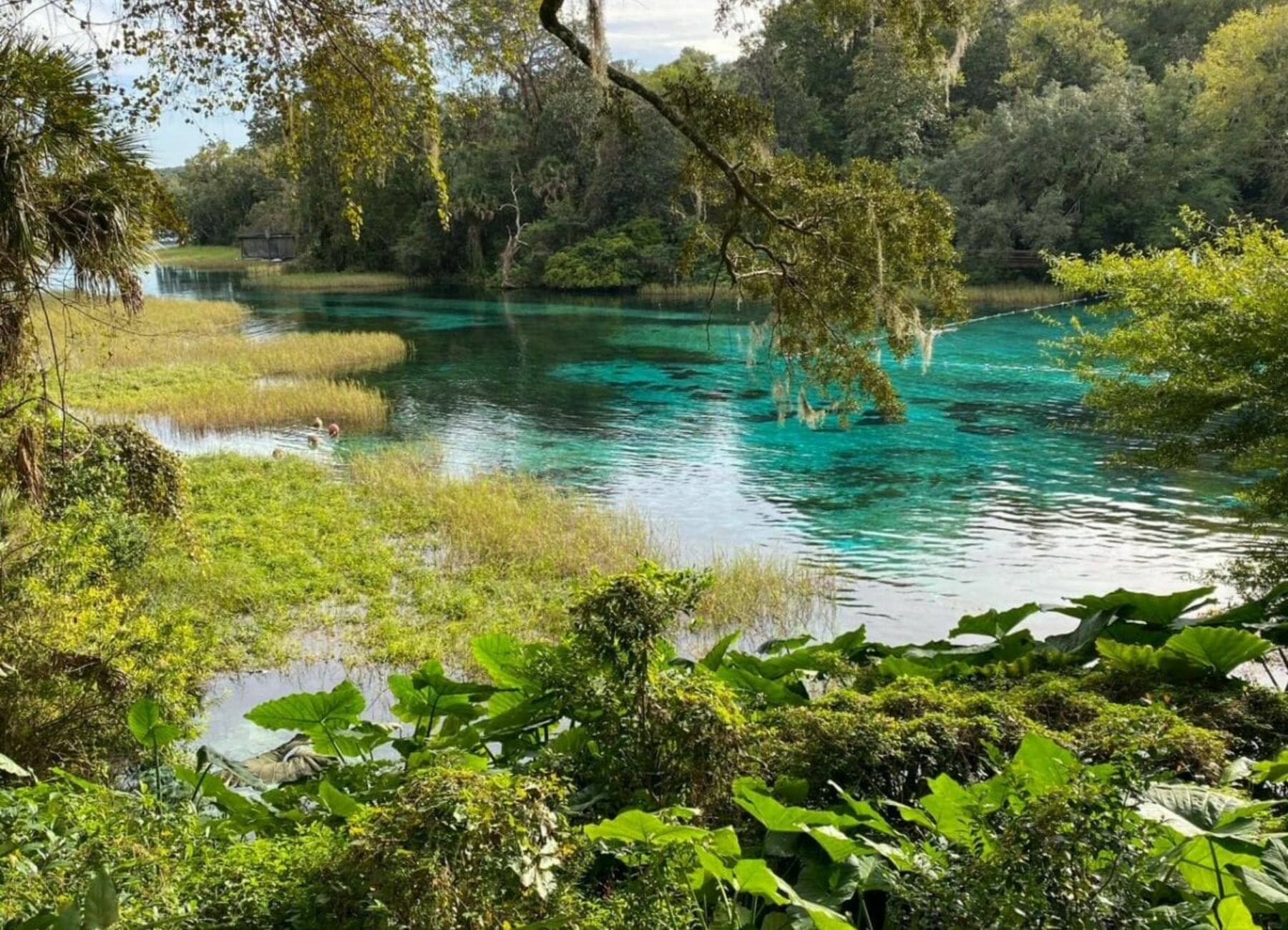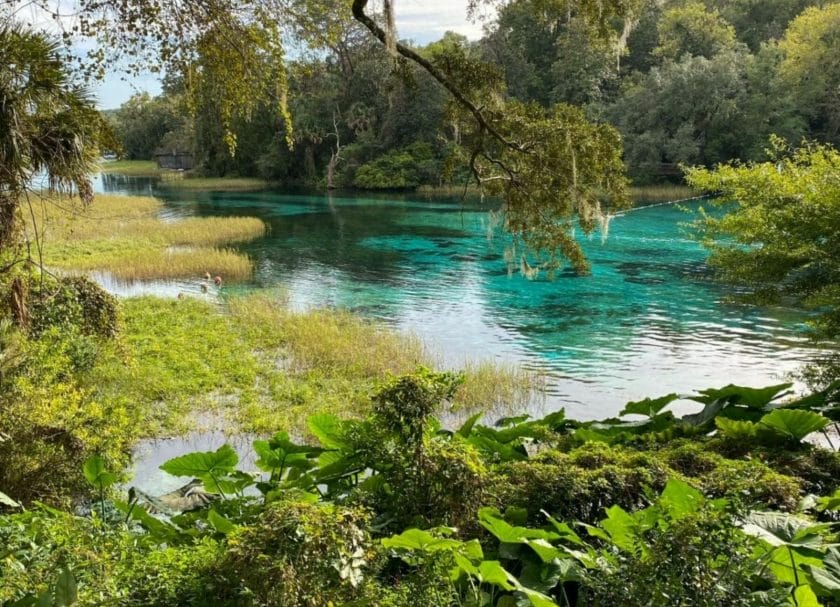 Weeki Wachee Springs State Park
Weeki Wachee Springs State Park is by far the most unique destination for families on our list. It is loved for both the beauty of the springs and the number of things to do at this unusual tourist attraction.
The spring is located north of Tampa on the Gulf Coast of Florida. This is a great stop to add to a vacation on the Gulf side of the state. It's a little bit of old Florida and a great way to break up a beach trip.
Weeki Wachee Springs isn't just a swimming hole or a gorgeous place to paddle. It also has a full water park and a live mermaid show. There really is something here for your whole family.
The water park is open seasonally and features a white sand beach for relaxing. It also has water slides to keep the family entertained during your visit. Also on the gulf side of Florida, you will find 3 Sister's Springs.
Mermaid Show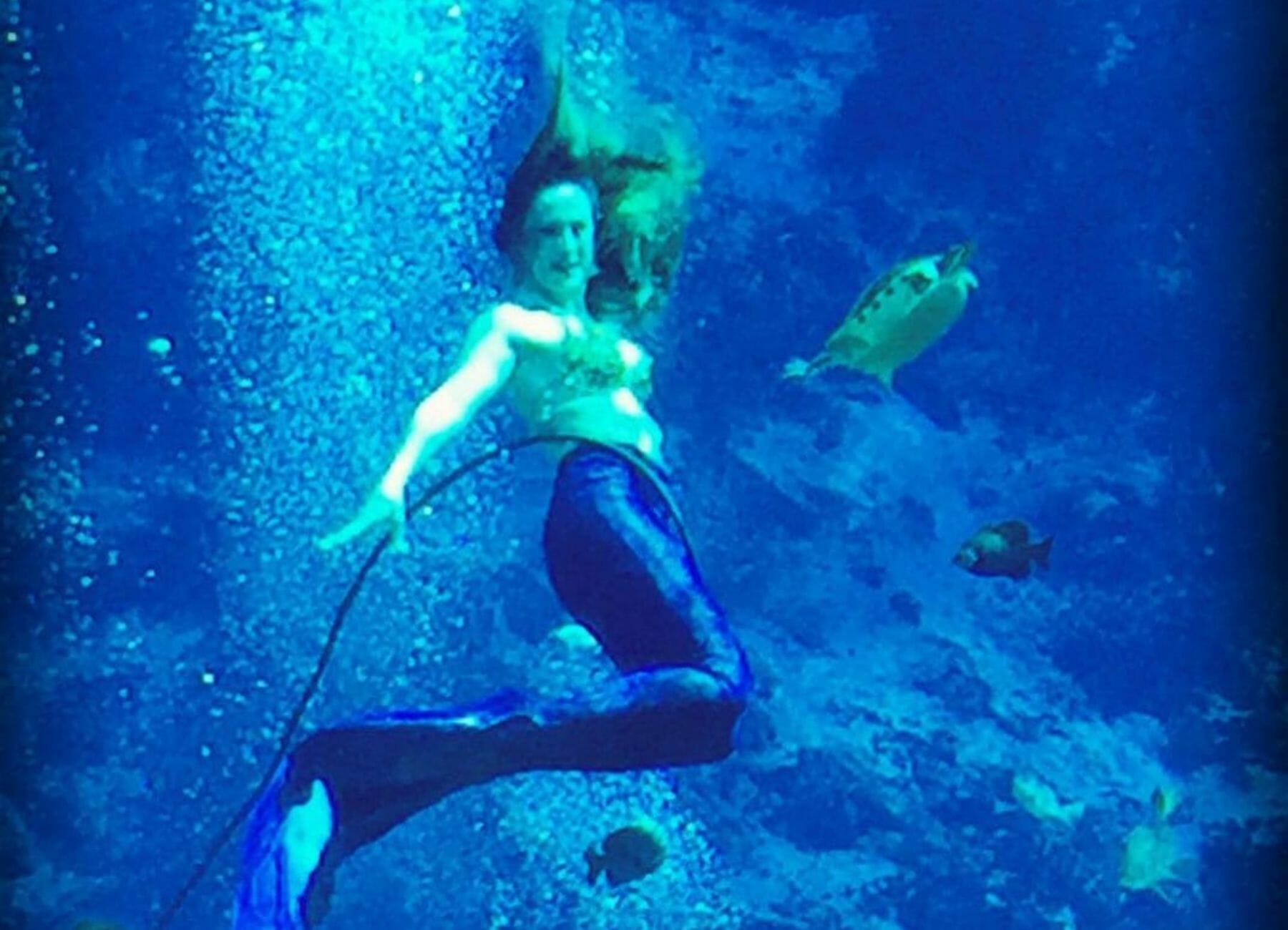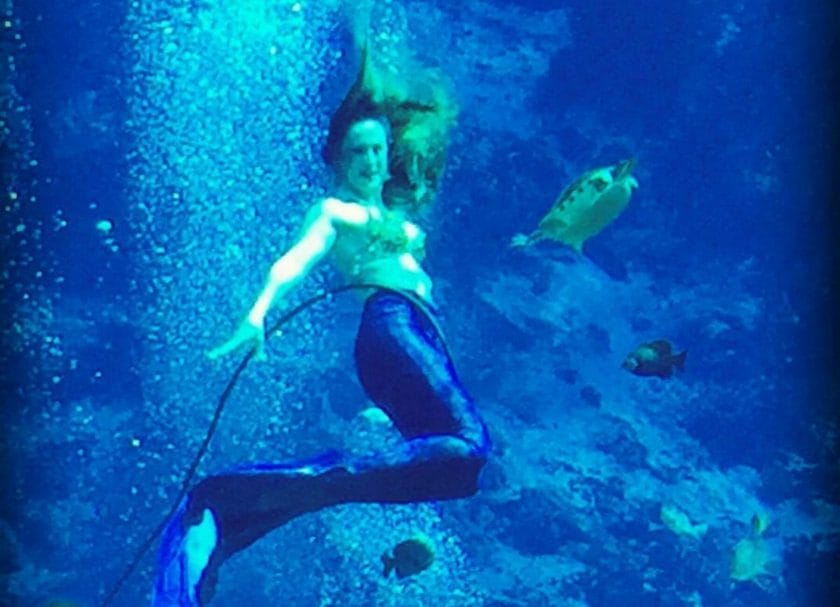 The highlight of this park is the historic live mermaid show. This began as a private tourist attraction in 1947 and has been delighting crowds ever since.
This year the mermaid show is a version of The Little Mermaid. You enter an underwater theater 16 feet below the surface to view the show.
The mermaids swim and do tricks while using an oxygen tube occasionally to take a breath. This is quite a feat to witness once you realize they are doing this while fighting a 5 mph water current.
The show is a delight to watch, and kids especially love it. You can even meet and take a photo with one of the mermaids after the show. This one part of the park alone is worth the visit.
Things To Know
The spring and state parks are open year-round. However, the waterpark is only open seasonally. The mermaid show also closes in cold weather under 50 degrees, so be sure to check the website before your visit.
The state park also offers a guided boat tour as part of your admission. It's a great way to learn a little bit about the history of the area, all while enjoying the beauty of the spring.
Paddling the Weeki Wachee River is a popular activity in this state park. The river run is 2.8 miles and takes about 1 1/2 hours.
You can rent kayaks and paddleboards at the park or bring your own to launch. There is also a shuttle available to bring you back to the parking area once you are finished floating.
Where To Stay When Visiting
There are no camping areas within Weeki Wachee Springs State Park. A nearby option for camping is Three Lakes.
For a hotel in the area of Weeki Wachee Springs, consider The Holiday Inn Express Spring Hill Florida.
If you prefer a larger rental, check out this 4-bedroom vacation home Waterfront Hernando Beach House On Deep Water Canal With Dock, Fishing, and Kayak.
Silver Glen Springs
Silver Glen Springs is located in Central Florida, east of Ocala. This year-round spring is part of Ocala National Forest.
If you really want to get away from it all in Florida, Ocala National Forest is a wilderness paradise. It is so different from the rest of the state that you will think you actually are somewhere else.
There are many springs as part of the national forest, but a popular one to visit is Silver Glen Springs. This is a wonderful swimming hole with shallow crystal clear water that is 73 degrees year-round.
There is a designated swimming area popular for snorkeling. It is easy to view many types of fish and turtles in this area. No diving is allowed here.
Historically this area was heavily inhabited by Native Americans. You can still view large midden mounds that are protected archeological sites today.
A popular activity at this spring is paddling the Silver Glen Run to Lake George. You can rent canoes and kayaks onsite to enjoy floating in this beautiful area.
If you enjoy hiking, you can hike 3 miles around Lake George or take the 3/4 mile Spring Boils Trail to see Jody's Spring. For even more fun take a Guided Paddleboard or Kayak Adventure Tour.
Things To Know Before You Go
Note that there are no pets allowed in the day-use area. You also need to be extremely cautious about your food. Crows and raccoons frequently raid the picnic area for food left out on tables.
There are black bears in Ocala National Forest, and although it's rare to see them near crowded public areas, it is important to be bear-aware.
When you are visiting Ocala National Forest, it's worth a trip farther west toward Ocala, Florida, to visit Silver Springs. They offer a historic glass-bottom boat tour that the whole family will love. It's also another amazing paddling location.
Where To Stay When Visiting
There is no camping located at Silver Glen Springs. There are campgrounds within other nearby areas of Ocala National Forest. Or check out the campsites at Elite Resorts Salt Springs.
For a lodging option near Silver Glen Springs, check out Big River Marina And Lodge. There are limited hotels and lodging options in this very rural area. The best options to be close to the springs are camping or private rentals.
A great rental option is the four-bedroom two bath Family Forest Retreat Paradise At Point Pleasant.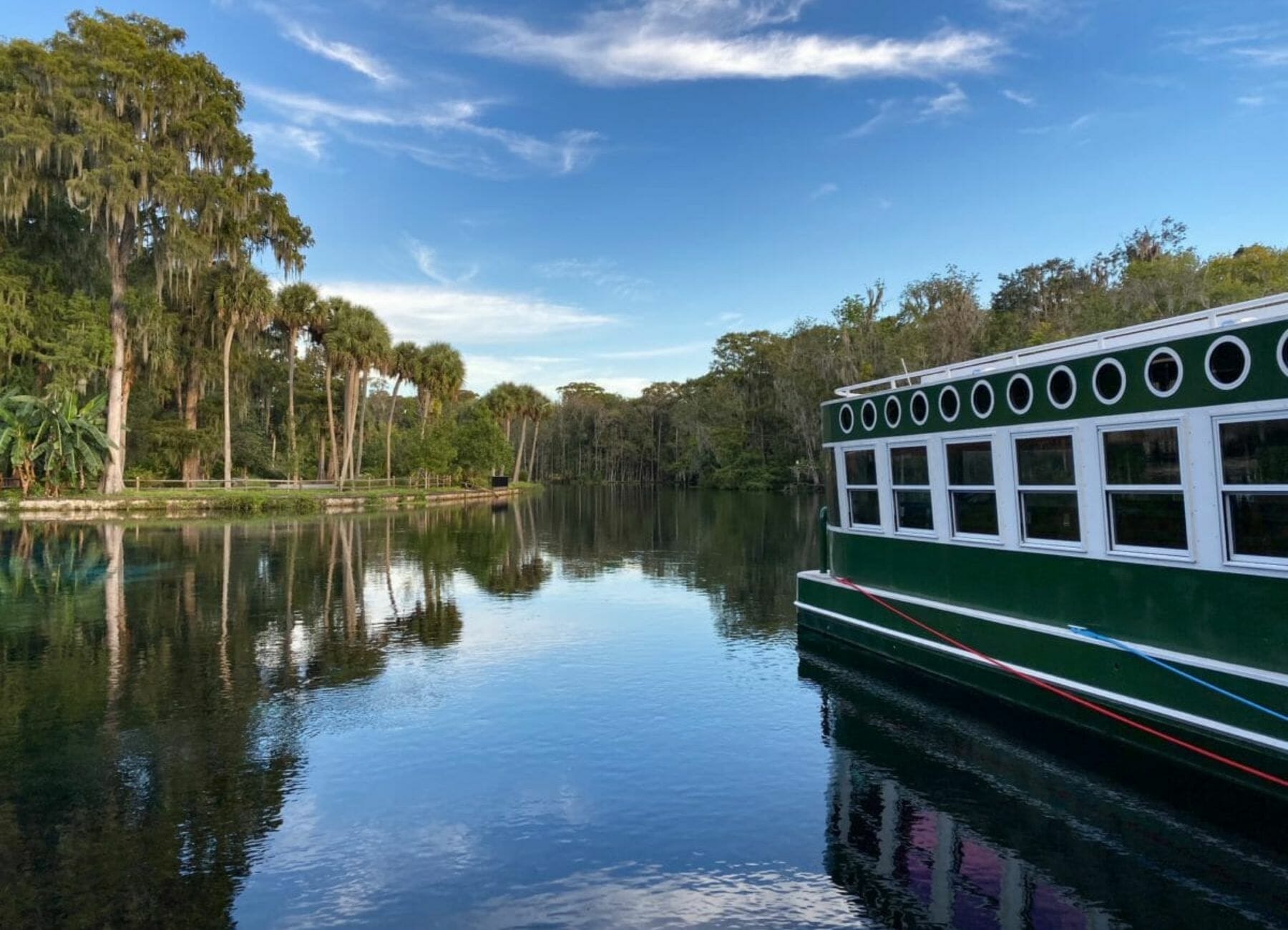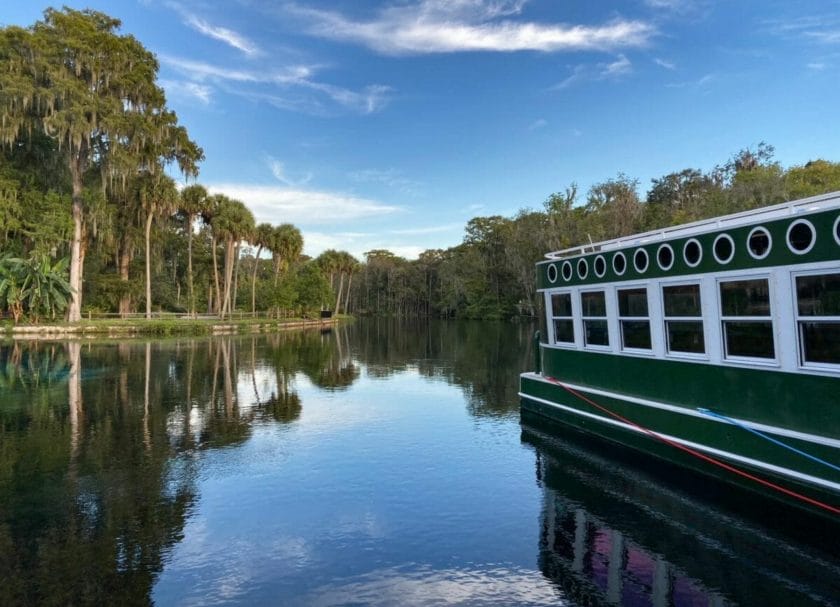 Madison Blue Spring
Madison Blue Spring State Park is a beautiful spring to swim, snorkel, or cave dive. This area is located in Northern Florida near the Georgia border and is open year-round.
Madison Blue Spring was rated by USA Today as the best swimming hole in the US. The water is 72 degrees all year, with a dedicated swimming area that ranges from 5 to 25 feet deep.
You can bring tubes and inflatables to the swimming area here. There is also a picnic area to enjoy lunch. Note that no disposable food containers, wrappers, foil, or plastic bottles are allowed near the spring.
This spring is a top cave diving location in Florida. Certified cave divers can explore a huge maze-like system of cave passages 30 feet underwater. Cave diving is only allowed in pairs; no solo diving is permitted.
Paddling is not allowed or available within the park, however, you can paddle the nearby Withlacoochee River if you are looking for a kayaking location.
If you enjoy hiking, there is a short nature trail. Pets are not allowed near the spring area but are allowed at the picnic area of the park. Just a short drive from the Madison Blue Spring, you will find Wes Skiles Peacock Springs State Park too.
Where To Stay When Visiting
There is no camping available at Madison Blue Spring, but check out nearby Lake Park RV and Campground.
For a nearby hotel to stay at during your visit to Madison Blue Spring consider Holiday Inn Express Lake Park.
For a rental option, check out this 3-bedroom home on the water All Decked Out Home On Cherry Lake With Dock.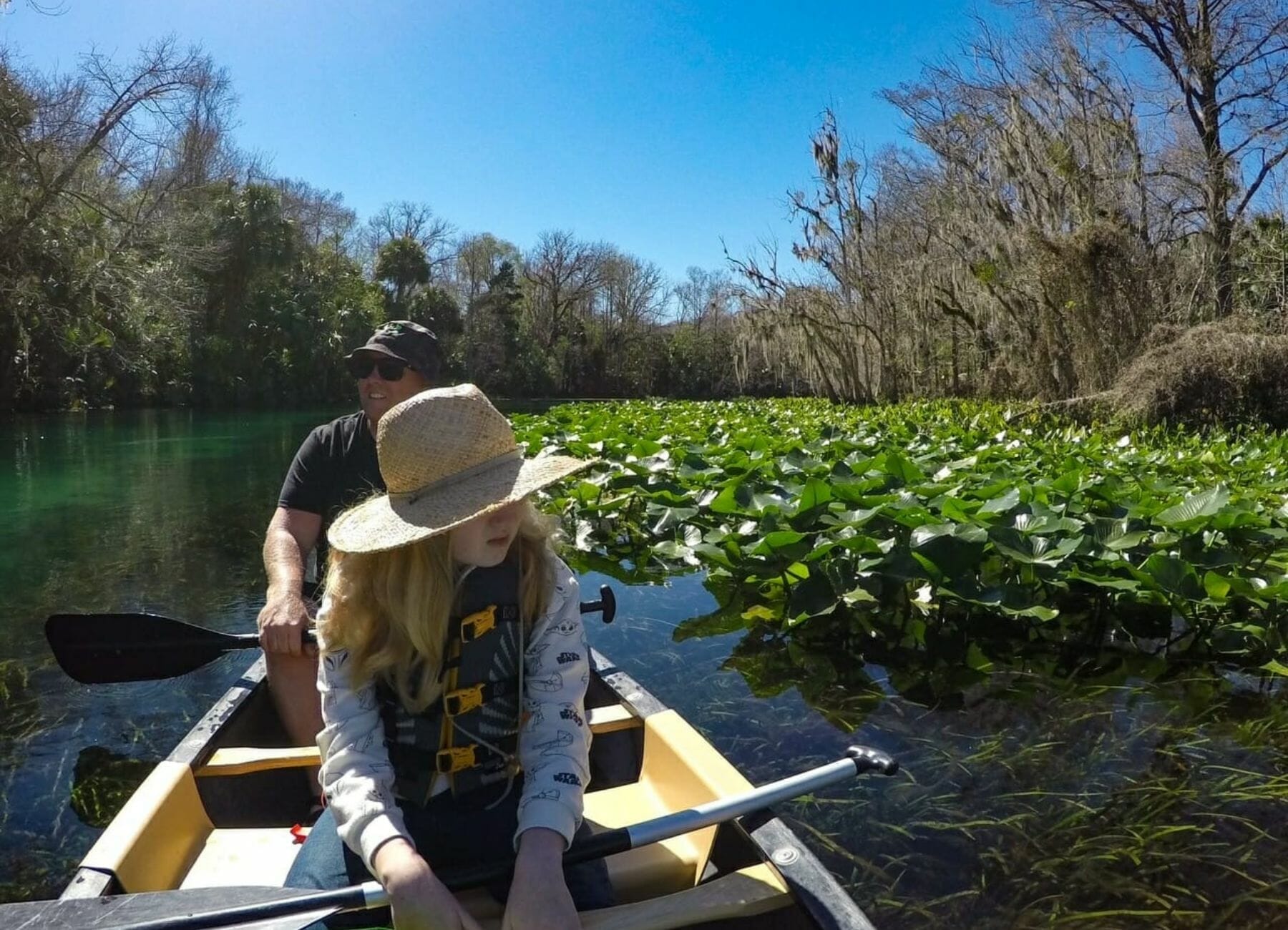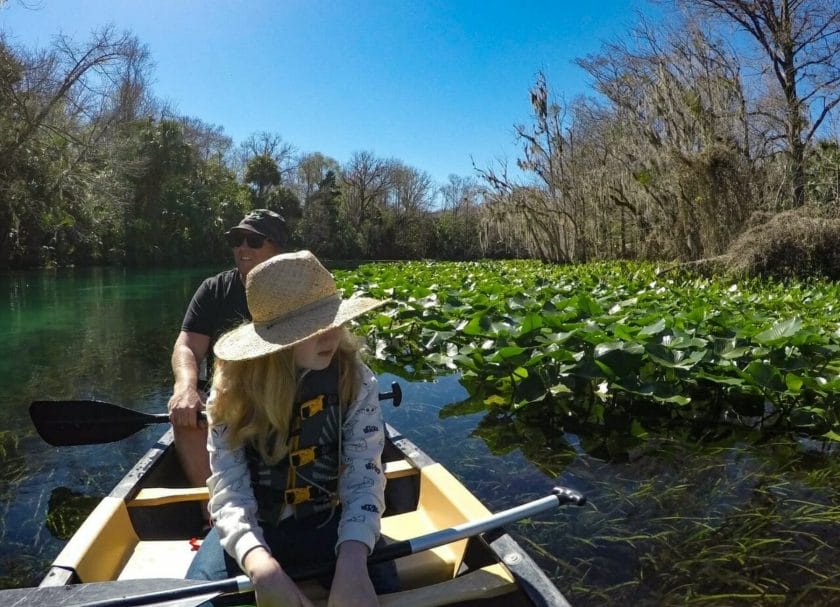 Ginnie Springs
Ginnie Springs is the only privately owned spring on our list. It is located in North Central Florida near Gainesville and is open year-round.
This gorgeous 72-degree clear water swimming hole is wonderful for snorkeling. They have snorkeling gear rentals available here as well.
In the summer months, even the Sante Fe River that the spring runs into turns clear and is great for snorkeling and diving. You can view larger fish in the river. If you want to snorkel or dive on the river, a dive flag and float are required.
Tubing and kayaking are popular here. It takes about an hour to float from Beaver's Landing to Twin Spring on the Santa Fe River. You can rent tubes, paddleboards, kayaks, and canoes here.
You are also welcome to bring your own tubes, and they offer an air fill station and free life jackets to use during your time in the park.
Ginnie Springs is a popular diving location. They offer diving equipment rentals and have three dive sites available to explore.
Something that makes cave diving unique at this spring, is that if you are a certified diver and haven't yet received your cave diving certification, you are allowed to cave dive at the Gennie Springs Basin. It has a wider and safer opening to Gennie Cavern.
Certified cave divers can also dive into the Devil's Spring System. Santa Fe River diving is open to any divers.
Note that this spring has a strict no-pets allowed policy which also prohibits emotional service animals.
Where To Stay When Visiting
If you are looking for camping locations, you can tent or RV camp right at Ginnie Springs. They have 123 water and electric campsites. This campground is better for smaller RVs under 30 feet.
For a hotel option near the springs area with breakfast, check out the Holiday Inn Express and Suites Alachua.
For a nearby house rental, this gem is located close to the springs and has river views with a dock for fishing. Check out Fishing Paradise With a Deck And Dock On Suwannee River.
Incredible natural springs in Florida are like nature's waterparks. There is so much to see and do with a day visit or an entire trip to one of these natural beauties. This is a great place to take the family for an outdoor adventure vacation. So what are you waiting for?
Check Out More Great Florida Family Fun
21 Fun things to do in Port St. Joe, Florida
Where to see Manatees in Florida and Where to Swim with Them
8 Best Things to do in Jupiter, Florida
Best Florida Keys Sunset Cruises
31 Things to do in Destin with Kids
Florida Road Trip 31 Places You Won't Want to Miss
Best Beaches in the Florida Keys
27 Awesome Things to do in Orlando with Kids
Pin to Save for Later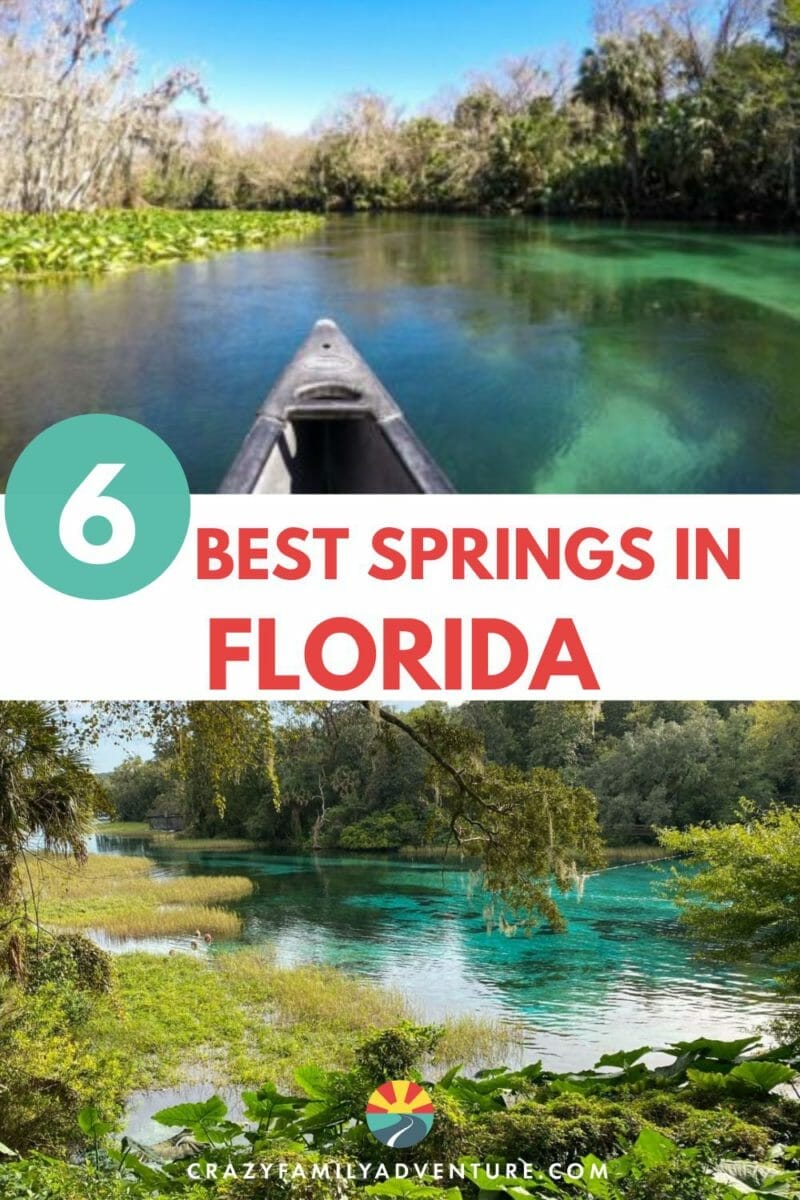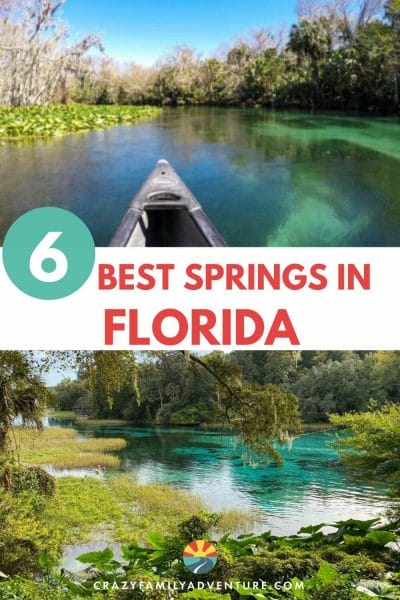 Latest posts by Vanessa Russell
(see all)
DISCLOSURE: This post may contain affiliate links, meaning I get a commission if you decide to make a purchase through my links, at no cost to you. Please read my disclosure for more info.