Are you wondering where to see manatees in Florida? Viewing these beautiful, enormous, gentle animals in the wild is a bucket list experience you will never forget when visiting Florida.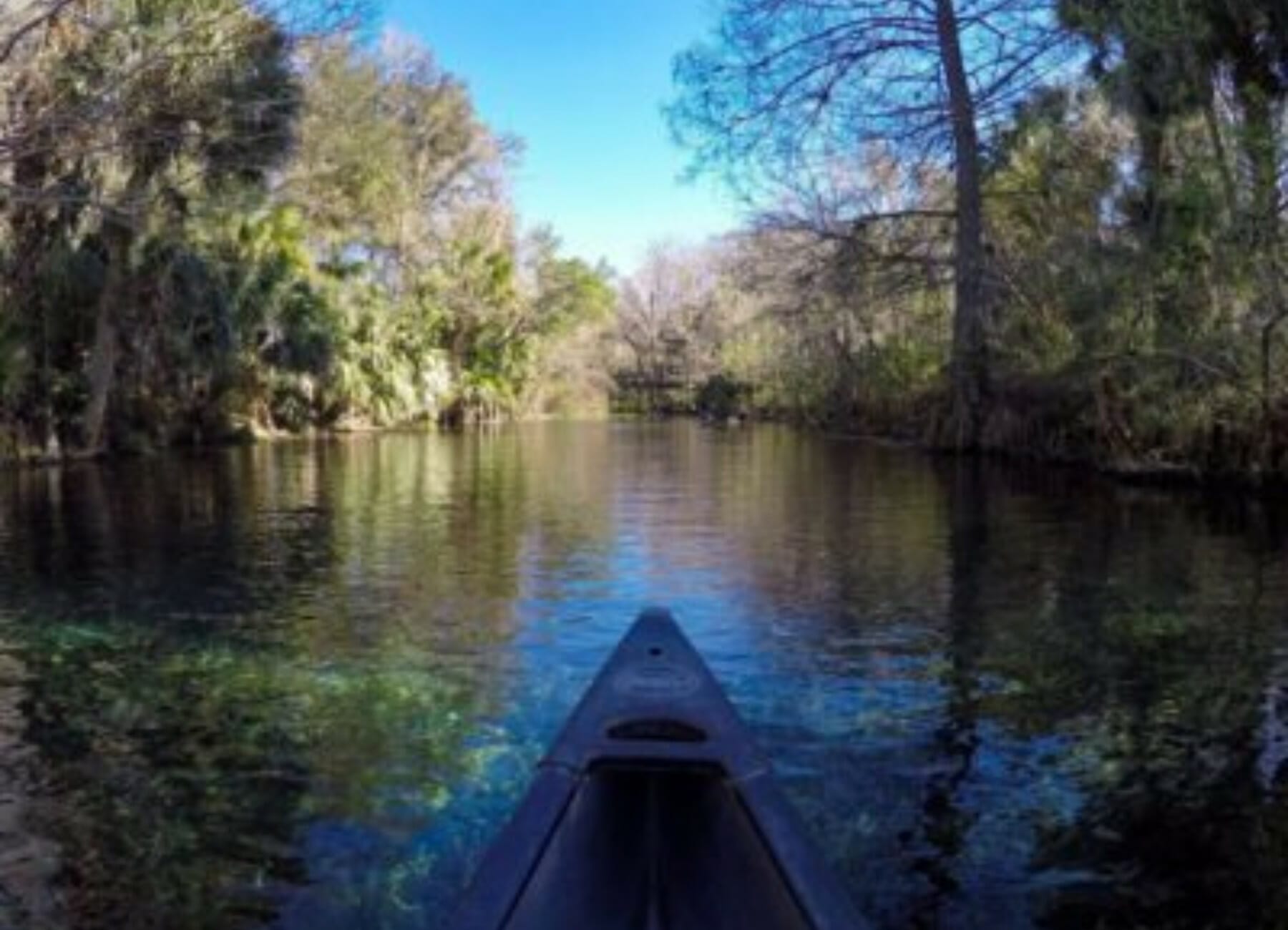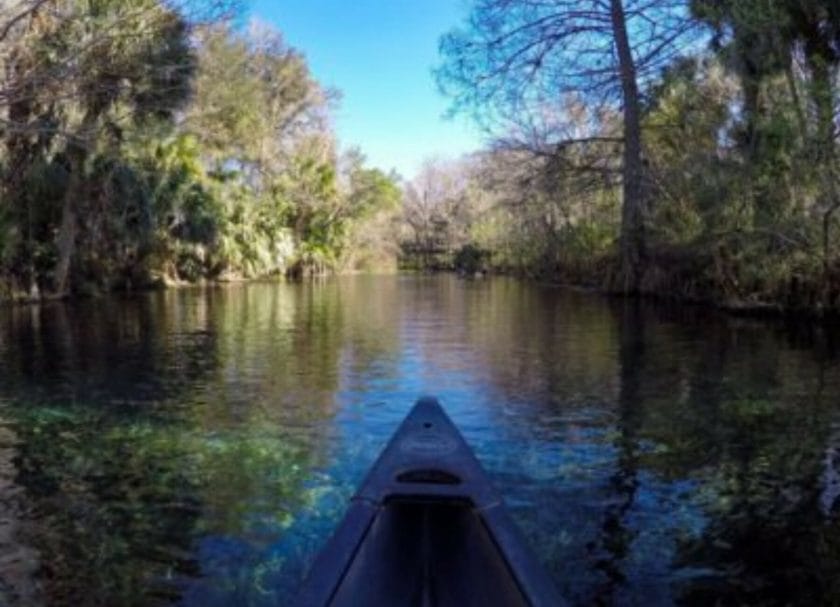 Our family has spent 7 winters traveling Florida and loves exploring new places to view these amazing animals. From Northern Florida to the Florida Keys and everywhere in between, we have discovered some amazing gems to share with you.
This article will not only share some of the best places to view the manatees but also where you can swim with them. Let's dive into tips and tricks to find and enjoy these amazing animals on your next trip.
Why You Don't Want To Miss Seeing Manatees In Florida
Florida manatees are a unique and majestic species of aquatic mammals that inhabit the waters of Florida. They are the state's official marine mammal and are adored by everyone throughout the state.
Manatees can grow up to 13 feet long and weigh over 3,000 pounds, making them an awe-inspiring sight to behold. Manatees are gentle giants who eat plants and algae found near the surface of warm, shallow waters.
They have an impressive ability to stay submerged for long periods of time, so they are difficult to spot in the wild. However, the reward of seeing these majestic creatures firsthand is well worth the effort.
Unfortunately, the Florida manatee species is threatened. Therefore, it is important to be respectful of their habitat and observe them from a distance when viewing them in the wild.
What Time Of Year Do You See The Manatee?
Winter months are the best time to see manatees in Florida, as they gather in larger numbers while searching for warm springs and other reliable sources of heat.
Even though some can be found during summer months, large gatherings occur in rivers and freshwater springs in the winter. During colder times of the year, the number of manatee sightings increases due to fleeing from colder ocean water temperatures.
Many manatees seek refuge around power plants or natural Florida springs that stay warmer longer throughout the winter season. Manatees are warm-blooded creatures that rely on external sources of heat to survive in cold waters.
The optimal water temperature for the Florida manatee is 72°F (22°C). When temperatures drop below 68°F (20°C), they start to get sluggish and can become ill or even die if exposed to prolonged periods of cold water.
Therefore, it is best to search for manatees on colder Florida days between November and March, when larger groups typically congregate in the springs, rivers, and near power plants. This will give you the best chance of seeing them in their natural environment and getting an up-close encounter with these majestic creatures!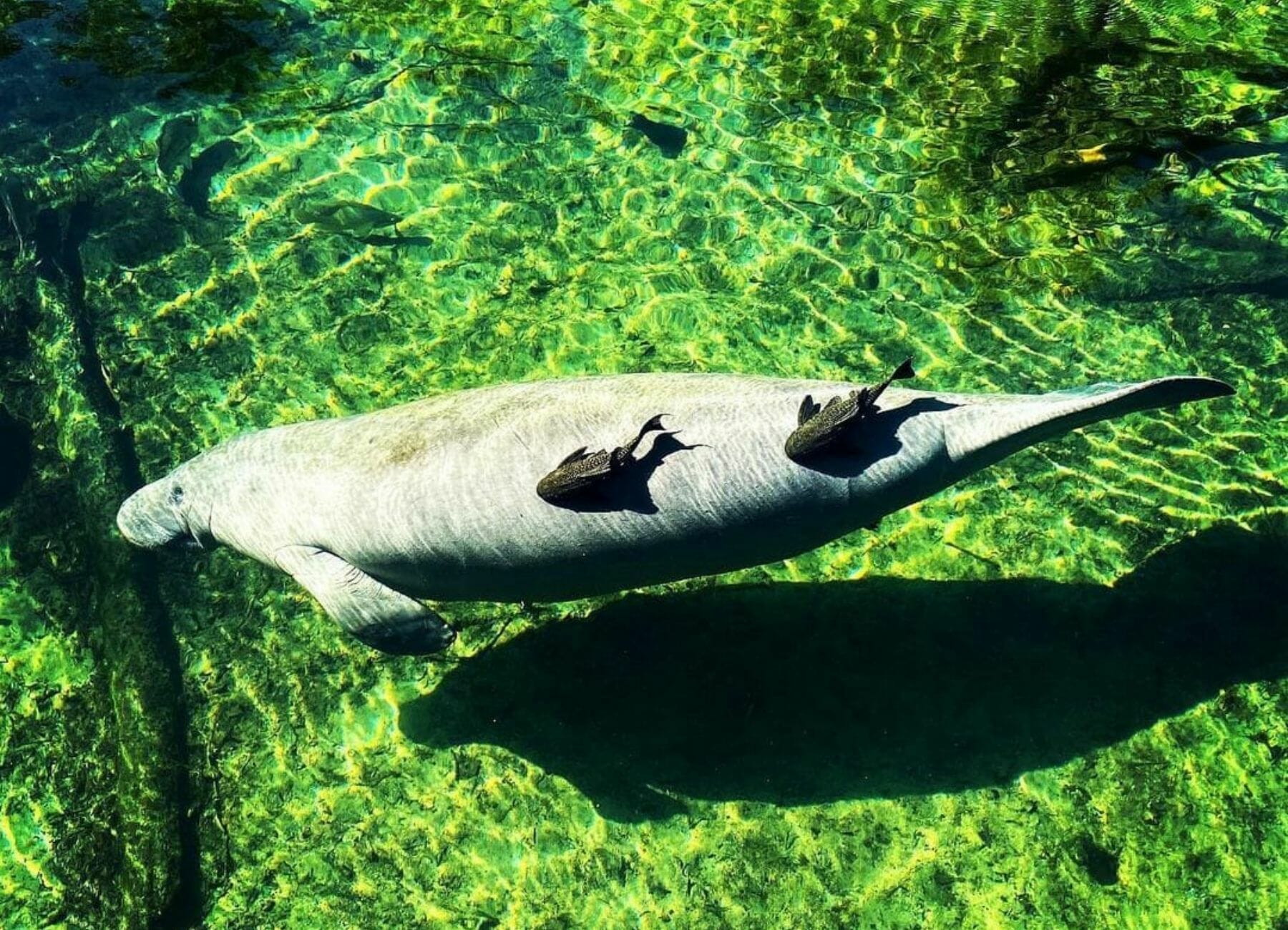 Best Time To Visit The Manatee
The best time of day to view manatees in Florida is first thing in the morning. During this time, the air and water temperatures are still relatively cool, making it an ideal environment for manatees to gather in the warmer springs and rivers.
As the sun rises and temperatures start to climb, manatees are more likely to exit from the warm springs or power plants to escape the heat. They sometimes go back out into the ocean.
Overnight, manatees often remain in the warm rivers and springs, making first thing in the morning a prime time for spotting them in the wild. Additionally, mornings are when crowds are at a minimum which can help make your experience more enjoyable.
Many parks and viewing areas reach peak capacity shortly after the morning park opening time during peak season. There can be long lines waiting to enter the park.
It helps to check the park hours in advance and head out early. The manatees are worth getting up early for, and you will be so glad you got the chance to view these majestic creatures!
Tips For Visiting The Manatee
Florida's freshwater springs are great places to see manatees due to their crystal-clear waters. The clarity of the water is important for viewing these gentle giants, as it allows sunlight to penetrate deep into the depths and makes it easier for visitors to spot them.
In addition, this clarity also helps give the underwater area a greater sense of tranquility and beauty. Florida waters outside of the springs areas have extremely dark-colored water due to naturally occurring tannins. The clear springs are by far the best place to easily see the manatees.
The warm waters of the springs attract manatees in large numbers to find refuge from the colder winter months. This makes it easier for visitors to get a close-up encounter with these beautiful creatures than if they were searching in cooler ocean waters or other waterways.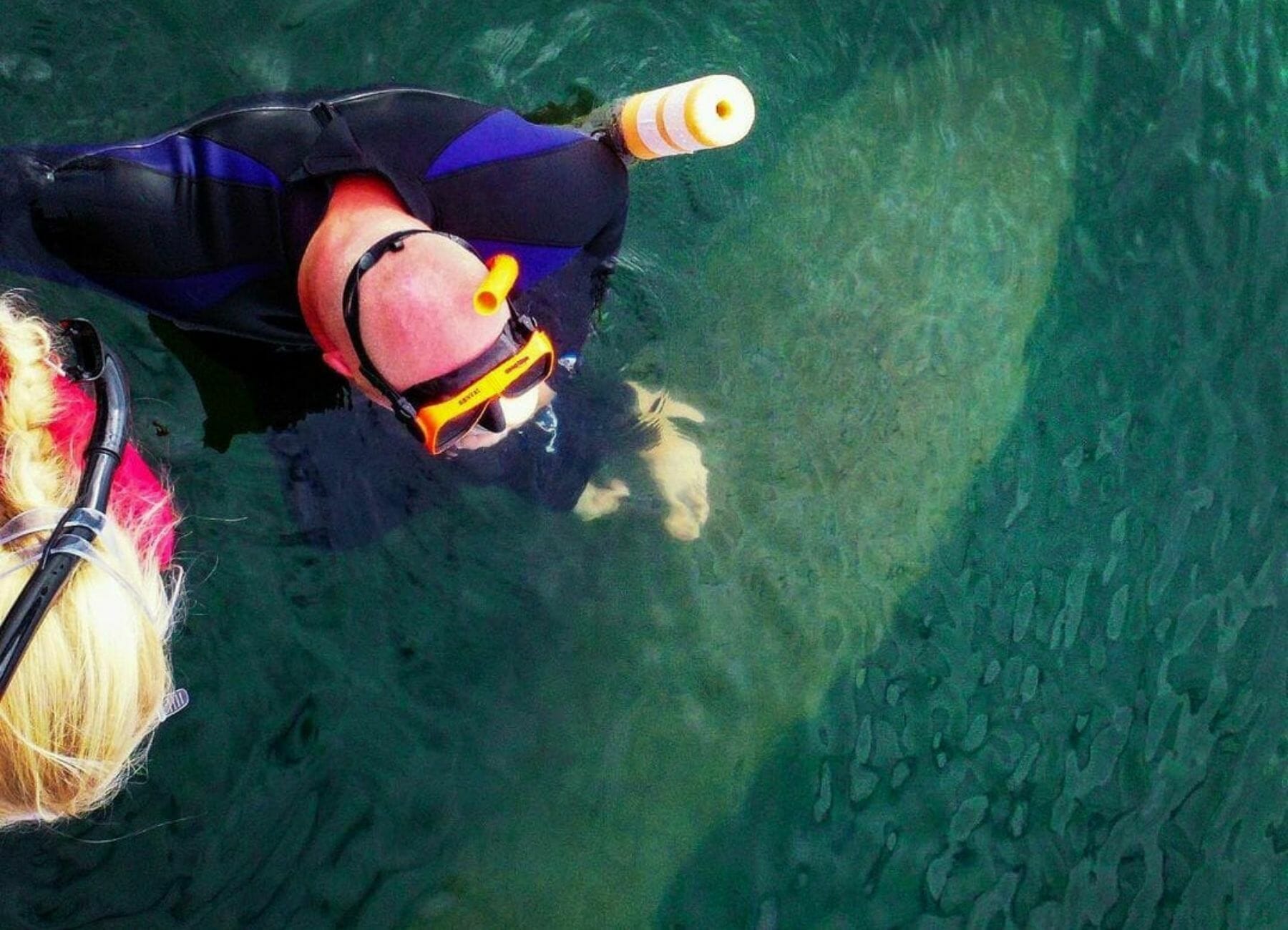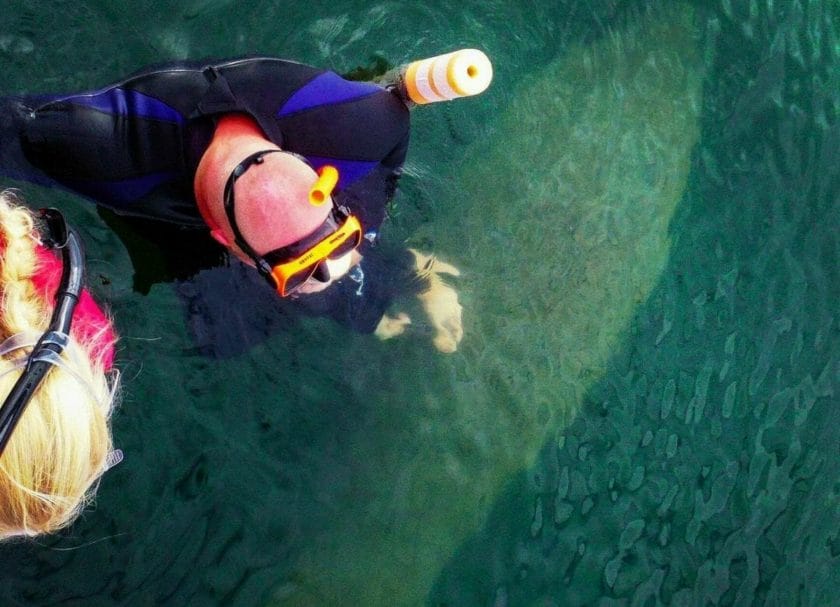 Can You Swim With The Manatee?
Florida Fish And Wildlife Service strictly regulates what activities are allowed in areas of high manatee activity during the winter months. The species is limited in number and highly protected throughout Florida.
Due to this special protection, swimming with manatees is only allowed in certain locations. Keep reading to find the best place to swim with manatees in Florida.
Where To See The Manatee
Let's dive into some of the best parks and places in Florida to view manatees in the wild. We will also explain tips for how to see them and if you can swim with them.
Crystal River National Wildlife Refuge And Three Sisters Spring
Crystal River National Wildlife Refuge encompasses Kings Bay, a large complex of over 70 springs. This refuge is 80 acres of protected waters with 20 islands only accessed by boat.
The Kings Bay area includes major springs such as Tarpon Spring, King Spring, and Three Sisters Springs. All 70 springs pump out around 600 million gallons of water per day.
Manatees flock to these freshwater springs in the winter season in search of warmer waters compared to the ocean. There are many ways in which you can experience the manatees in this area of Florida.
One of the most popular ways to see the manatees in Crystal River is to paddle the springs. You can bring your own equipment and launch from Hunter Springs Park.
Alternatively, you can rent kayaks or paddle boards in the area and paddle on your own. You can also take a guided paddling tour to go with a group.
A huge highlight of viewing the manatees in this area is that you are allowed to swim with them here. This is one of the only places in the state where this is allowed.
You can take one of the guided boat tours that include snorkeling with the manatees. You could also head out on your own to swim near Hunter Springs Park.
The water is very cold at a near-constant 72 degrees. One benefit of going on a guided boat tour is that it often includes all of the equipment as well as a wetsuit. The wetsuit is key to comfort in these cold waters.
Whether you swim with manatees on your own or on a tour, it's important to note that you can't touch or chase after/pursue the manatees. Florida Fish And Wildlife volunteers are in kayaks patrolling the area to keep the manatees safe from interference.
You have to be patient and let the manatees come to you as you swim. Pursuing the manatees can result in fines as they are a protected species due to their declining population.
If you aren't looking to get out on the water with the manatees, a great place to view them from the land is Three Sisters Spring. There is a popular viewing area in this park where huge groups of manatees typically gather on cold days.
Crystal River is the best place to go swimming with the manatees. It is, however, so packed with people that it is our family's least favorite location to view the manatees from land. It's the most popular location but not a great pick if you want to avoid crowds.
It is also very expensive to view them from Three Sisters Springs. So keep those drawbacks in mind if you are only looking to view them from the shore. Keep reading to find out our family's favorite spot to view manatees from the land.
Where To Stay When Visiting
There is no RV camping available at Crystal River National Wildlife Refuge. A great nearby campground is Sun Retreats Crystal River.
Looking for a hotel option near Crystal River? Check out the convenient location of Holiday Inn Express Crystal River.
Rather have a rental for your time exploring Crystal River, Florida? Check out this 2-bedroom rental home, New Cozy House Three Sisters Springs.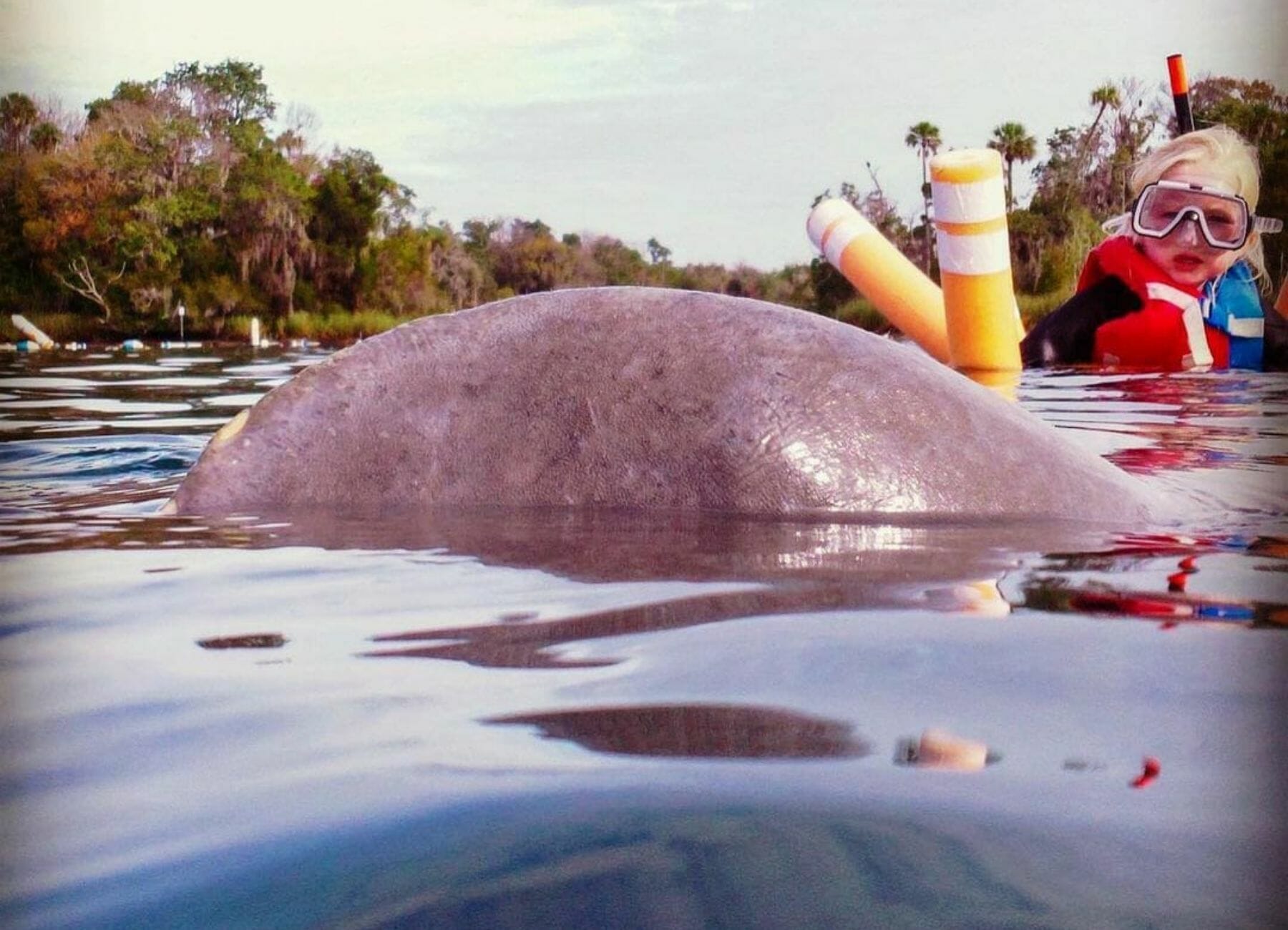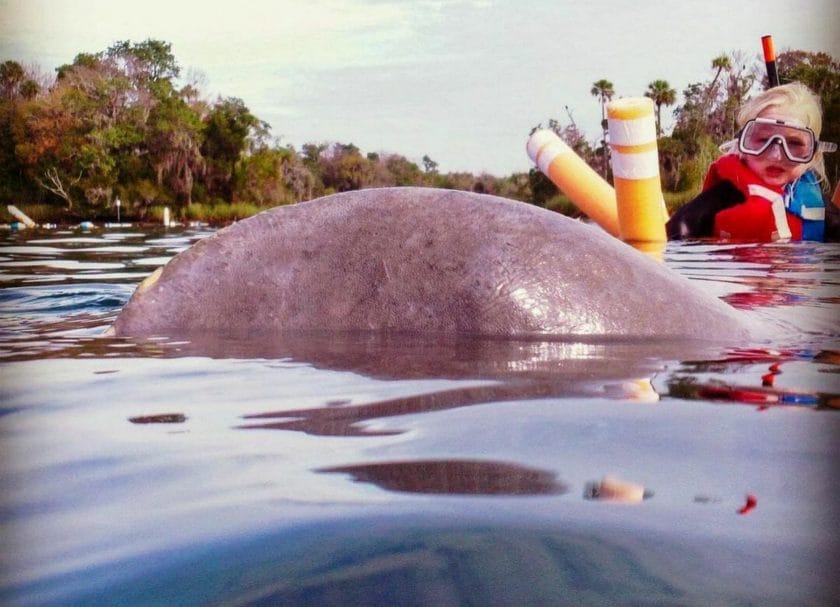 Merritt Island National Wildlife Refuge
Merritt Island National Wildlife Refuge is a little bit of a wild paradise between the Indian River and the Atlantic Ocean near Titusville, Florida.
The refuge is a great place to view different species of birds as well as to go hiking on six different trails. Don't miss the 7-mile self-guided Black Point Wildlife Drive. Note that vehicles over 29 feet are not allowed on the scenic drive, so it's not RV friendly.
The best location to view manatees in the refuge is the Manatee Observation Deck located at Kennedy Parkway and the Haulover Canal. Manatees tend to gather in this particular spot in the river which makes it easy to spot them.
If the parking area is full, give it a few minutes, as people don't tend to stay long at the viewing area. Also, check out the Bairs Cove Boat Ramp as they also often gather in that location. There is no swimming allowed with manatees at this location.
Also, check out nearby Manatee Cove Park, which is a small river lagoon park where manatees like to gather. This park is also a great place to launch a kayak or paddle board to paddle with these gentle giants. A short walking trail goes around the lagoon.
When we are in this area, our family also loves to visit the uncrowded preserved beaches of Canaveral National Seashore. It's a beautiful area to explore.
Where To Stay When Visiting
Looking for RV camping near Merritt Island National Wildlife Refuge? Head a little bit north to visit Indian Mound Fish Camp to stay right on the Indian River during your stay.
A nearby hotel option is Hyatt Place Titusville Kennedy Space Center. Breakfast is included, and this is a great location to also check out the Kenedy Space Center and the beautiful beaches of Canaveral National Seashore.
Have a large family or looking for a little more space? Consider this nearby 6-bedroom rental home with a pool, Spacious Waterfront Home.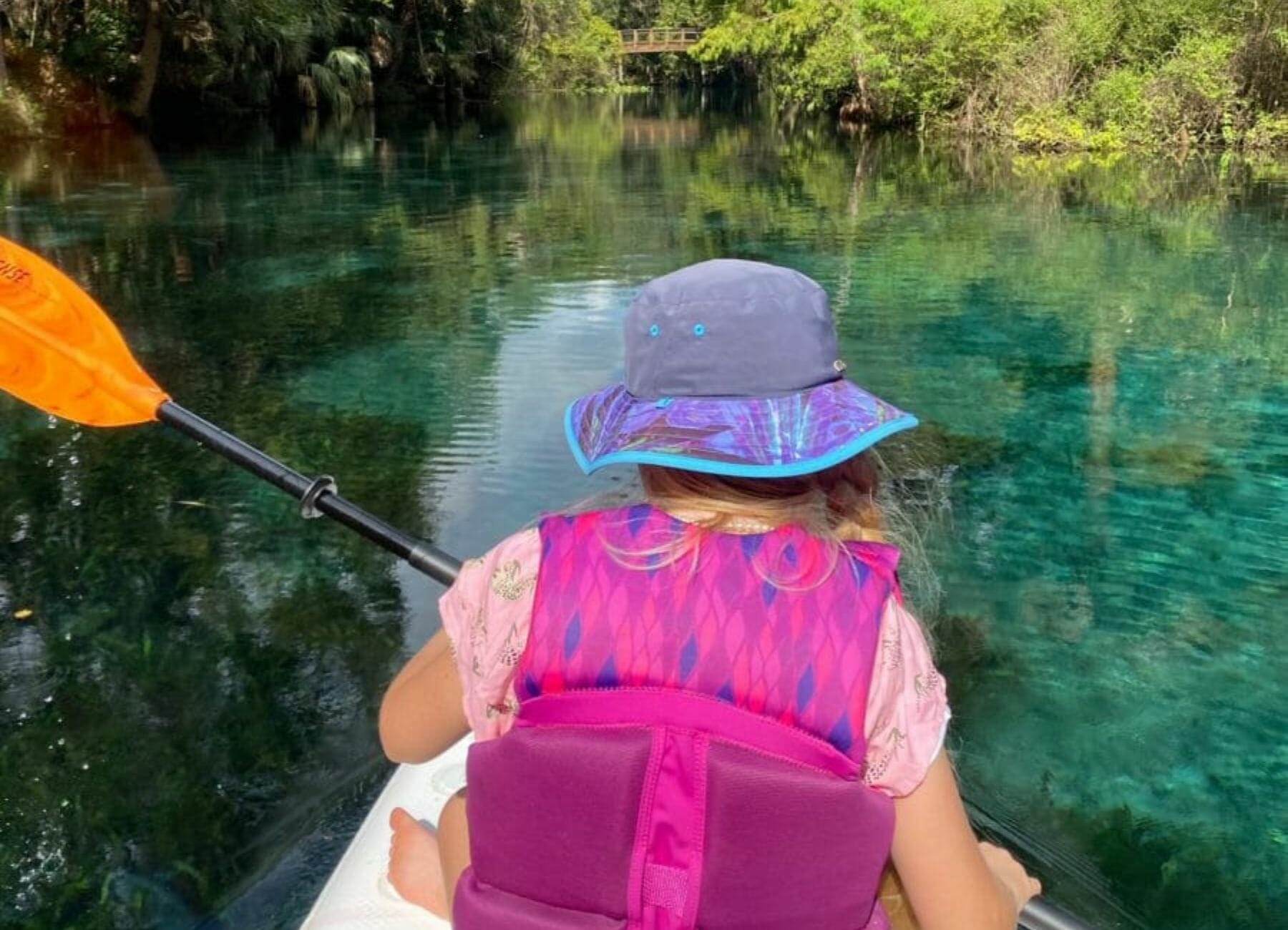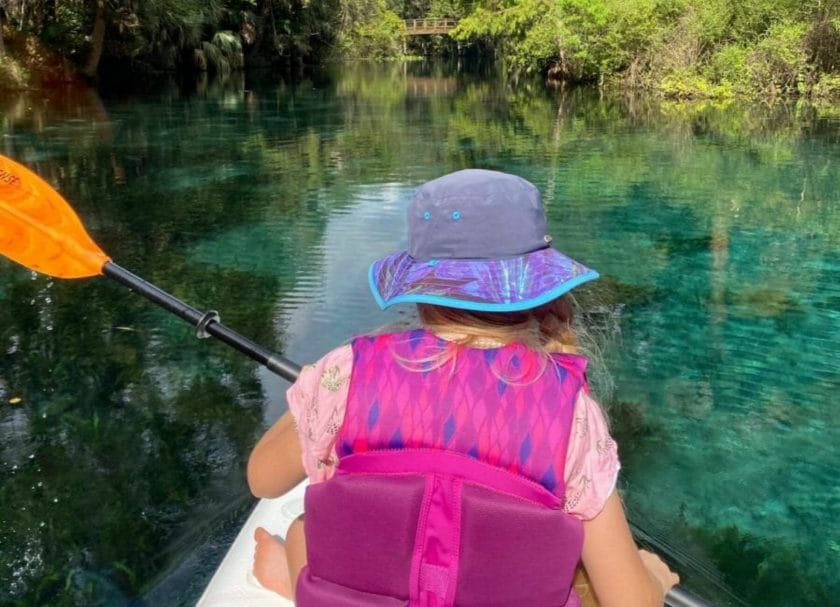 Tampa Electric Manatee Viewing Center
The Tampa Electric Manatee Viewing Center may be the most fun and interactive place to view the manatees on our list.
Not only can you view many manatees that flock to the warmer waters surrounding the power plant, but there are also many other interesting educational exhibits available at this facility.
The power plant discharge area is a designated manatee sanctuary to protect these beautiful animals. The most popular spot to view them from is the tidal walk. This accessible walkway gives you a great vantage point to watch the manatees in the water below.
Another must-see part of the Manatee Viewing Center is Ray's Touch Tank. This tank of cownose rays lets you touch and enjoy these sea creatures up close. They are the mascots of the Tampa Bay Rays baseball team.
There is also a short boardwalk habitat trail to enjoy the coastal marsh areas from above. Along the trail, you can also climb the observation tower for a bird's eye view of the area.
Head inside the Education Building to learn more about the manatees and the habitats they enjoy. Our family's favorite part of this location was the sting ray touch tank. It's fun to be able to touch and interact with the rays as they swim.
Note that there is no water access or swimming at this location.
Where To Stay When Visiting
The best camping close to the Tampa Electric Manatee Viewing Center is a gorgeous waterfront county park campground called EG Simmons Park. You can't beat the view!
Rather stay in a nearby hotel when visiting the manatees? Check out the Holiday Inn Express and Suites – Ruskin.
To have a little more room to stretch out consider this beautiful and newly renovated 3 bedroom home, The Palm Tree IV home.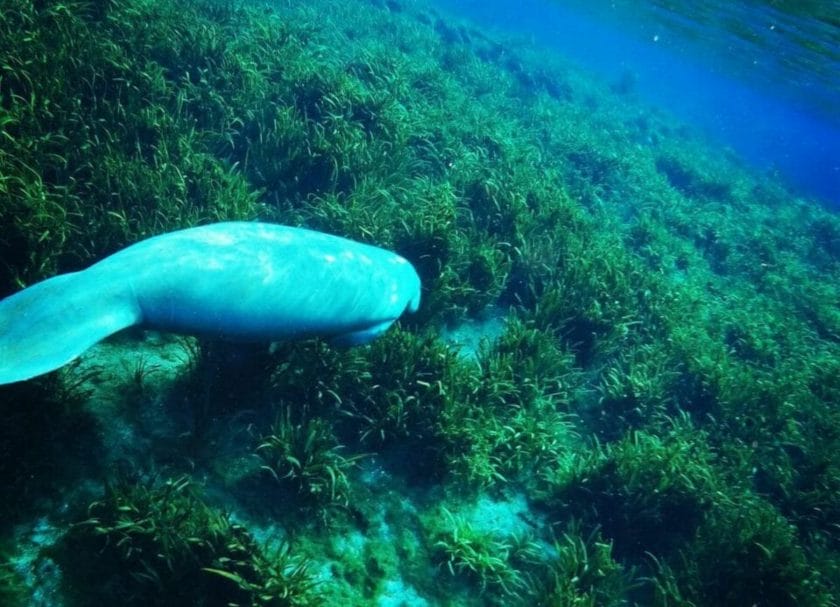 Ellie Schiller Homosassa Springs Wildlife State Park
Homosassa Springs is a state park unlike any other in Florida. This park is part state park and part zoo. There is so much to see and enjoy here!
Homosassa Spring is a crystal clear, gorgeous water area surrounded by lush greenery. It is also a great place to view park animals such as Key Deer, black bears, alligators, flamingos, a famous hippo named Lou, and manatees.
A park highlight is the Underwater Observatory, a sunken viewing area that allows you to watch fish and manatees swim by from below the water's surface. A paved and boardwalk trail winds through the park to view the wildlife.
The park features two manatee education programs daily, allowing visitors to view the gentle giants while learning more about them. This program has bleacher-style seating available.
Another highlight of this park is the optional pontoon boat ride that takes visitors along the river from the visitor center to the other end of the park. The ride is beautiful, and it's another great way to view the spring and learn more about wildlife in the area.
Our family's favorite part of this park is the pontoon boat ride and the underwater observation area. There is so much to see and enjoy here!
This is a great overall park to view manatees and many other animals found in Florida. There is no water access for paddling or swimming allowed in this park.
Where To Stay When Visiting
Homosassa State Park doesn't have any RV camping available within the park, but there are local campgrounds available. Check out Sun Retreats Homosassa River.
If you need a hotel option near Homosassa, check out Holiday Inn Express Hotel & Suites Inverness.
For a little more space, consider a rental home in the area like this 4 bedroom home that sleeps 12 people, Estuary Oasis.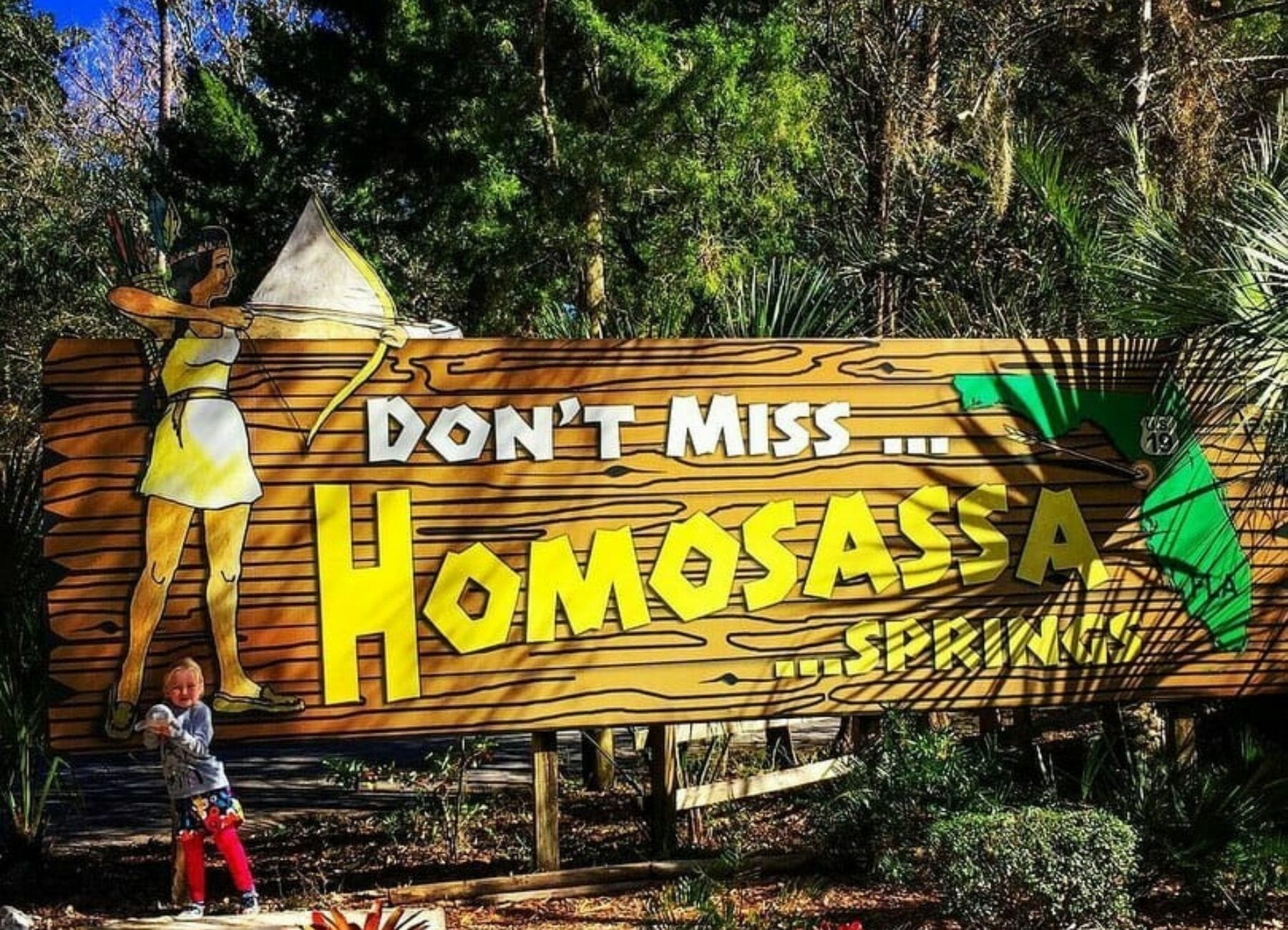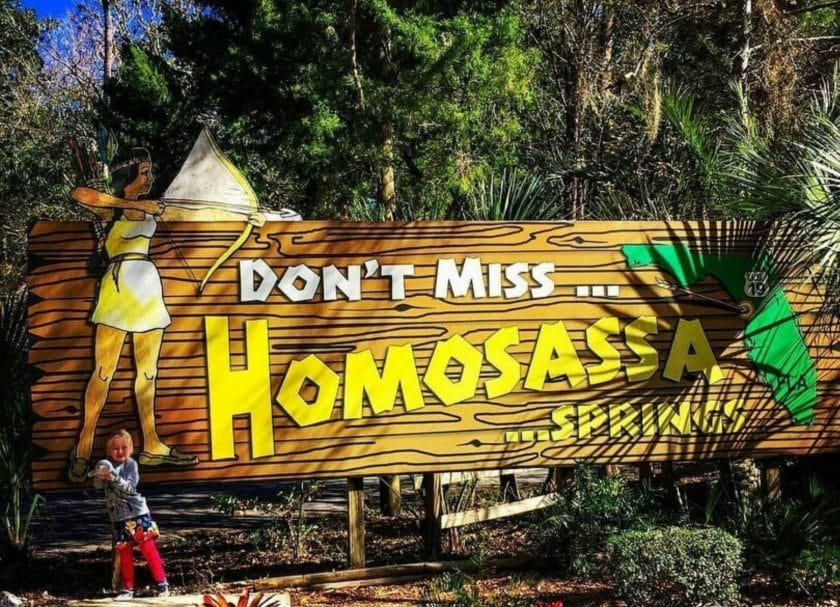 Florida Power & Light Company – Riviera Beach
Earlier, we talked about how manatees often flock to the warm water discharge from power plants like the one in Tampa. For a similar experience on the east coast of Florida, check out Riviera Beach.
West Palm Beach, Florida, offers Manatee Lagoon as a viewing area for manatees attracted to the warm waters. This scenic location has views of Peanut Island and is a great place to view fish as well as manatees.
Also, check out the educational exhibits, including a manatee skeleton, and check for programs offered during your visit. Common programs offered include Manatee Tales kid's story time, guided walking tours, and outdoor yoga classes.
Manatee Lagoon is open daily in the winter, and admission is free. The facility does close early, so be sure to check the hours. There is no swimming with manatees at this location.
Looking for another fun area to enjoy wildlife during your trip? Head north a bit to check out the Busch Wildlife Sanctuary. Our family loves to walk around and look at the animals here. Don't miss checking out Stu, the whistling duck. He is like the resident celebrity, and you will see why!
Where To Stay When Visiting
If you are looking for RV or tent camping near Riviera Beach, check out John Prince Park Campground. This beautiful Palm Beach County Park offers lakeside camping.
Why not stay on the beach during your time visiting the manatees? Check out Marriott's Ocean Point for a beach resort experience during your trip.
Looking for a little more room to stretch out but still within walking distance of the beach? The 2-bedroom with heated pool, tiki bar and lush gardens may be a great fit for your trip.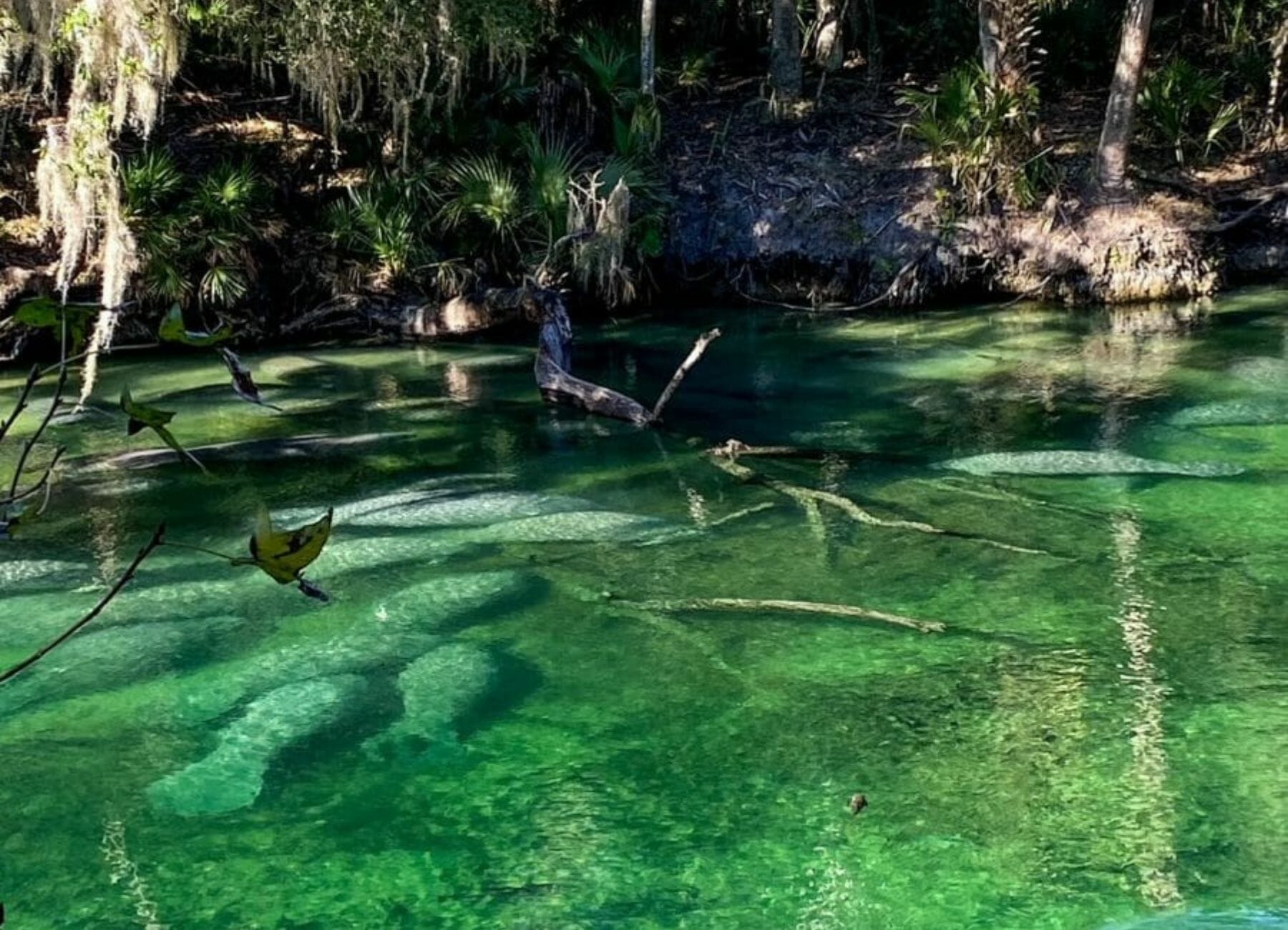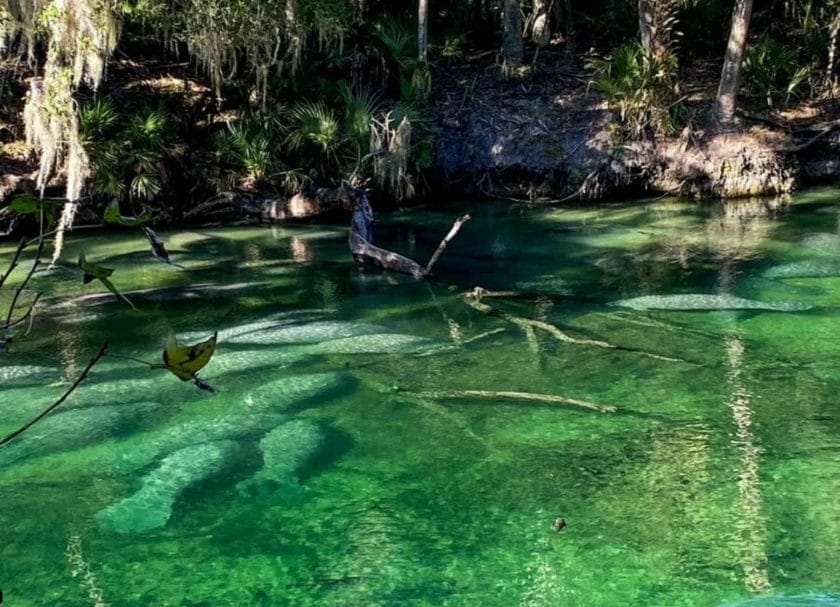 Blue Spring State Park
Blue Spring State Park, also called Blue Springs State Park by many, is our top pick for viewing the manatees from land. When thinking of manatees, this is one of the top spots where you can see manatees in Florida. Its crystal clear water and lush greenery make this park especially scenic.
This park also has a long boardwalk that follows the river. This makes it easy to view the manatees from many locations on the river as you enjoy the scenery. We love hiking in this scenic park.
Manatees love this natural spring location. It is protected in the winter, so there is no swimming or kayaking here from November 15th through March 15th.
On the adjoining St. Johns River, boat tours and kayak rentals are available. However, there is no access to the spring area in boats, tubing, or swimming during manatee season.
Blue Spring State Park is located about 45 minutes north of Orlando in Orange City, FL. Don't confuse this park with Blue Springs Park, which is a Levy County park in Bronson, FL.
Where To Stay When Visiting
The best place to camp when visiting Blue Spring is actually onsite at the state park campground. This allows you to be close to the action and walk over to view the manatees.
A nearby hotel option with breakfast is the Holiday Inn Express & Suites – Deland South.
For a more unique and scenic stay, consider staying at this beautiful 4 Bedroom Private Lake Front House.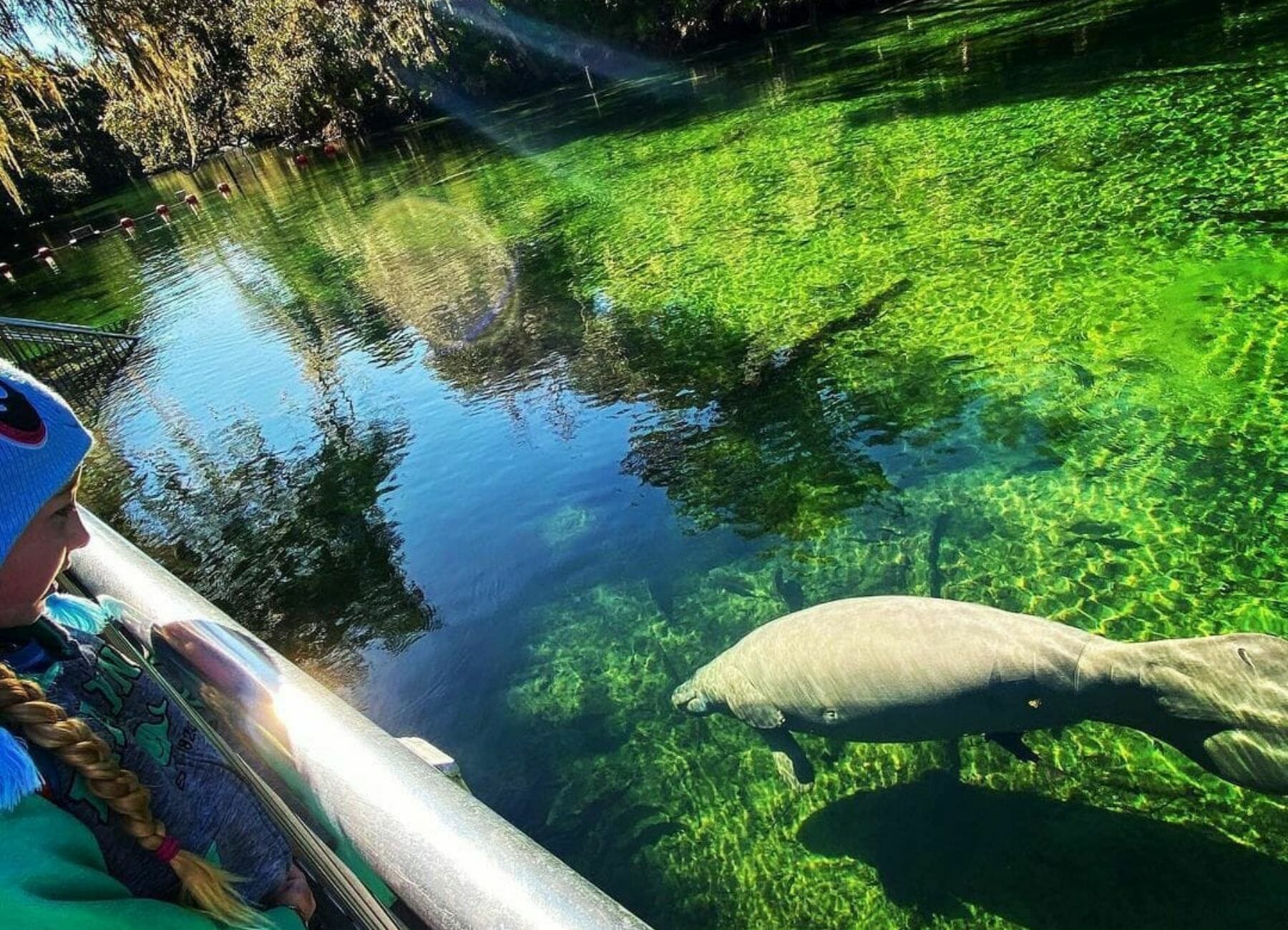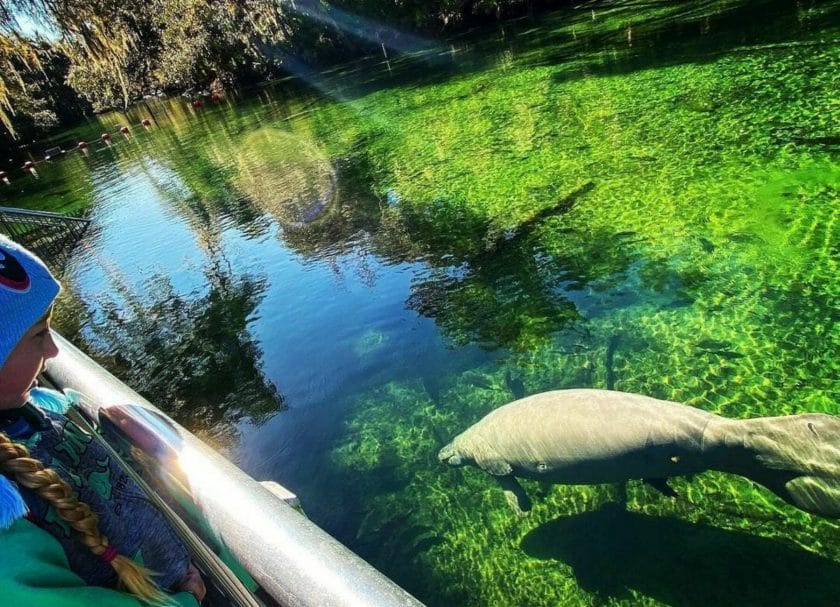 Edward Ball Wakulla Springs State Park
Wakulla Springs State Park is one of the world's largest freshwater springs. This natural treasure is located in Florida's Panhandle and is a top spot to view manatees.
This park has especially scenic swamp areas and has been featured in movies such as Tarzan and Creature From The Black Lagoon. There is also a historic lodge from the 1930s with a distinctly Spanish style and old Florida feel.
A unique park activity that is also perfect for viewing manatees is aboard the park's riverboat tour. The boat tour takes visitors on a 2-mile loop on the Wakulla River. It's a great way to view alligators, manatees, and other amazing wildlife.
When water quality is clear, visitors can also choose to take a glass-bottom boat tour of the springs. Call ahead to see if this boat tour will be available during your visit. It's rare that the water is clear enough now to run this tour.
You can also view manatees from the diving platform. This designated swimming area is perfect for snorkeling, diving, or cooling off in the spring. Although swimming is allowed here, it's rare for the manatees to be inside the designated swimming area.
This park is a great place to visit just for the scenery and boat ride alone. The spring and jungle feel of the place is beautiful to explore. Viewing manatees is just another bonus to your visit!
Where To Stay When Visiting
Looking for a place to camp for your Florida Panhandle manatee adventures? Check out Tallahassee RV Park.
The most amazing place to stay in the area is right there at the park in the historic Lodge At Wakulla Springs, Crawfordville. Staying onsite is perfect for being close to all the outdoor action and fun.
Looking for more space during your trip? Consider renting this private 3-bedroom Waterfront Home with gorgeous views of nature.
Our Top Pick To See The Manatees
Anywhere that you can go to view the manatees is worth the trip! Seeing them is a once-in-a-lifetime experience, and swimming with them is even more exciting. These top destinations are the perfect place where to see manatees in Florida.
Our family's top pick on this list is Blue Spring State Park. If you visit the park on a cool day in the low 60s or colder, you will be treated to large numbers of manatees that are close to the boardwalk and easy to see.
On our last winter visit to this park, we got to view over 400 manatees. The state park keeps a board at the check-in building that tells you the manatee count per day. The spring itself is so clear with lush green surroundings that it makes the perfect scenic backdrop where to see manatees in Florida!
Spending time with Florida's manatees in the wild is a bucket list experience you will never forget. Whether you view them from land, paddle with them, or swim with the manatees, these gentle giants will capture your heart. Add this memorable activity to your next winter trip and find out where to see manatees in Florida!
More Florida Family Fun
21 Fun Things to do in Port St Joe, Florida
8 Best Things to do in Jupiter Florida
31 Things to do in Destin, Florida
Florida Road Trip 31 Amazing Places You Won't Want to Miss
Florida Keys Road Trip 29 Places to Visit
Top 11 Beaches in the Florida Keys
Save to Your Florida Vacation Board for Later!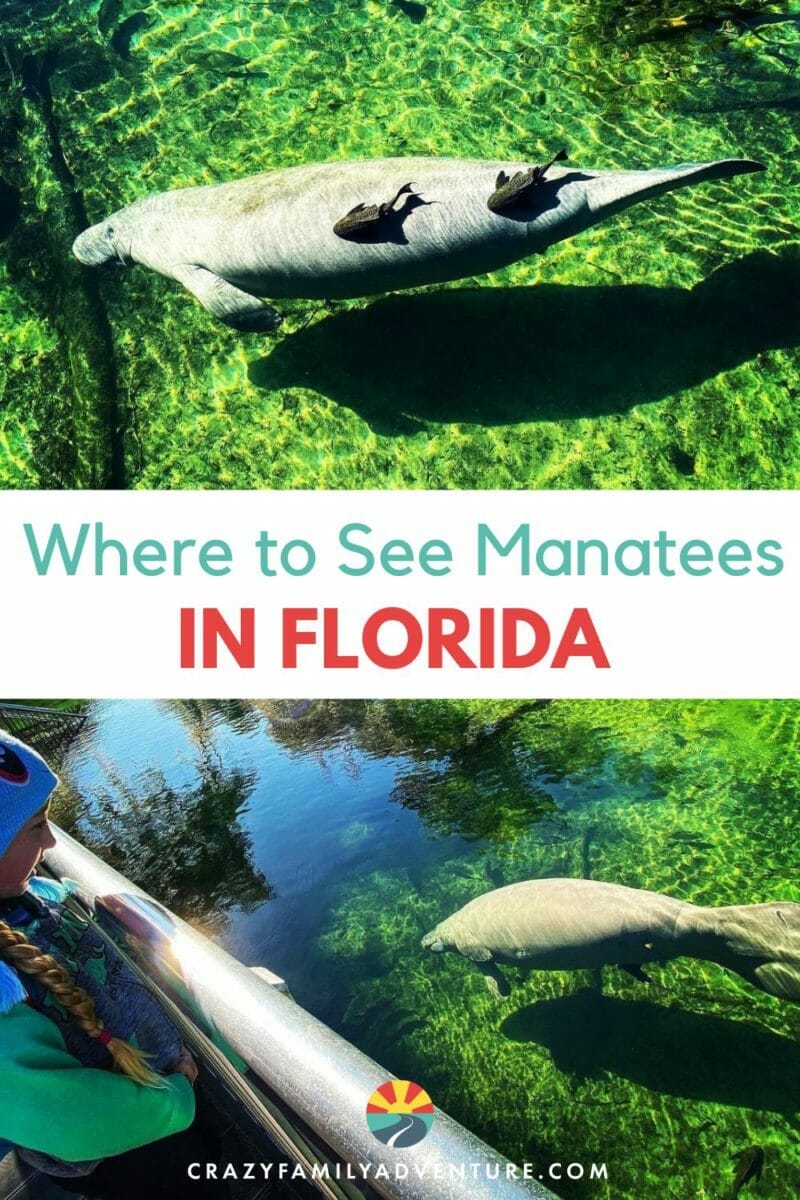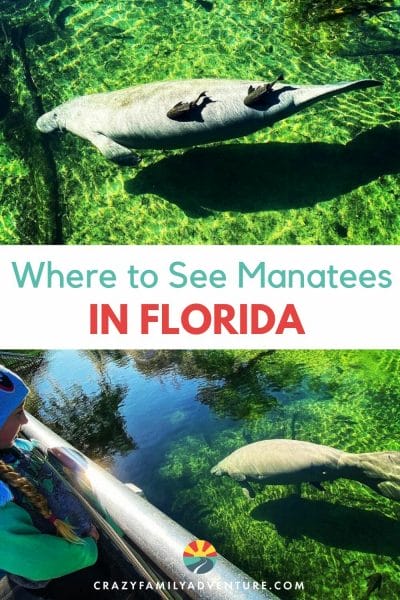 Latest posts by Vanessa Russell
(see all)
DISCLOSURE: This post may contain affiliate links, meaning I get a commission if you decide to make a purchase through my links, at no cost to you. Please read my disclosure for more info.