We have visited Destin, Florida so many times I have lost count – once we stayed for 2 months! It is one of our favorite places in the US to visit with the gorgeous beaches and fun family-friendly attractions. We keep going back because of all the awesome things to do in Destin, FL!
Water sports, golf, fishing, dolphin cruises, waterfront dining, and amazing sunsets are just a few of the best things to do when you visit Destin!
Below are our top 5 picks for the best tours in Destin and keep reading for more fun in Destin:
The first permanent settlers in Destin were fishermen from the Florida Keys and fishing has remained a top thing to do in Destin! Destin is also known for its delicious fresh seafood so make sure to set time aside to visit multiple seafood restaurants like AJ's Seafood, Oyster Bar, and The Crab Trap when you are here.
Things To Do In Destin, Florida With Kids (or without!)
If you are headed to Destin for an awesome family vacation, on a Florida Road Trip or an East Coast Road Trip you aren't going to want to leave. At the bottom of the post we also cover some awesome Destin RV Parks and Destin VRBO options.
Gulfarium Marine Adventure Park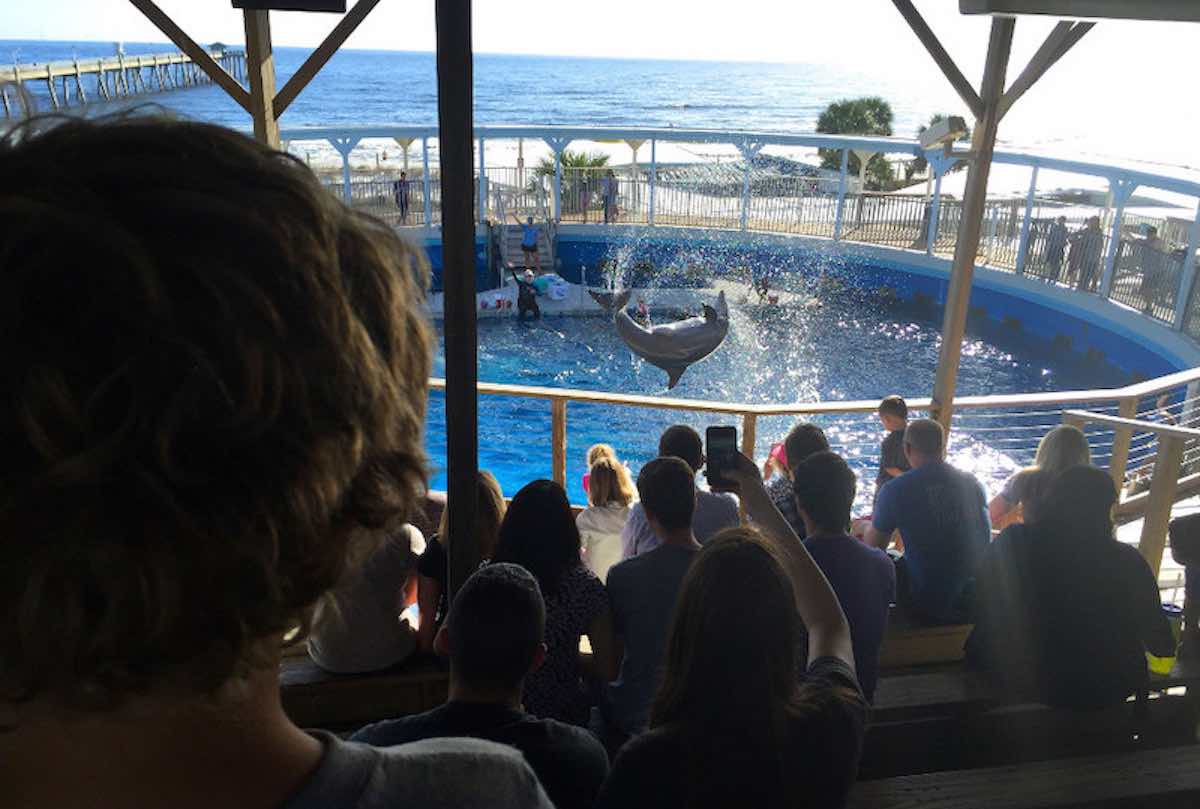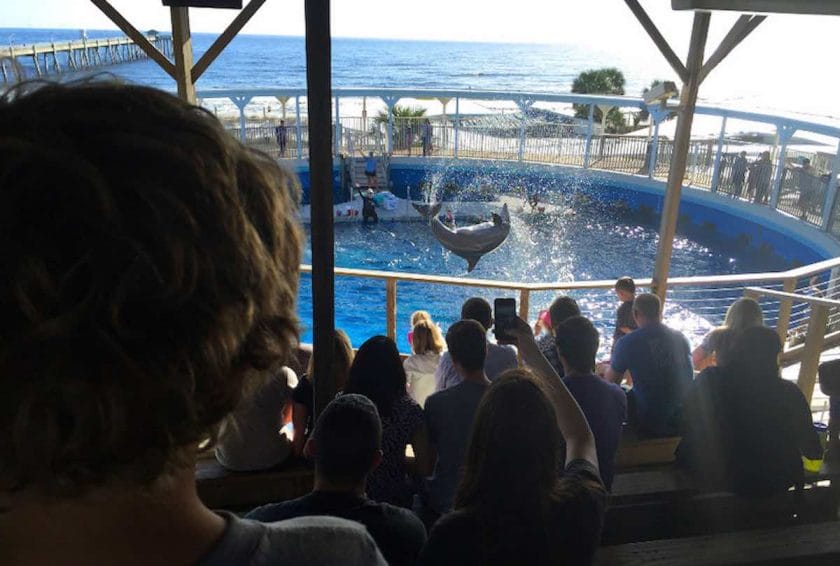 If you like visiting aquariums this is the place for you. They have tons of marine life to see: dolphins, tortoises, sharks, sting rays, sea lions, alligators, and more!
They have a touch tank where you can pet hermit crabs and hold starfish. And if you want you can pay and sign up to help with the animals or swim with the dolphins and sting rays.
We enjoyed watching the dolphin show! It is a smaller facility so we were able to get a close seat for the shows. They offer shows throughout the day so you could spend all day there if you wanted to.
They had an obstacle course area for the kids to play plus a sandbox area (perfect for toddlers). Theres is also a snack stand where you could get popcorn, drinks, and much more. I loved that it was right on the water so as you were walking around you were able to look out over the ocean as well.
The Gulfarium is located on Okaloosa Island just outside Destin. It is part of Destin's Fort Walton Beach area and well worth a visit.
Price: from $30 a person
Buy your tickets here: Gulfarium Marine Adventure Park
Location: 1010 Miracle Strip Pkwy SE, Fort Walton Beach, FL 32548
Great For: Kids, Babies, Toddlers, Adults and Couples
Crazy Family Adventure Ranking: 5 out of 5 stars
Pro Tip: If possible visit in the off season. There were barely any people there when we visiting in November and December.
Dolphin Sunset Cruise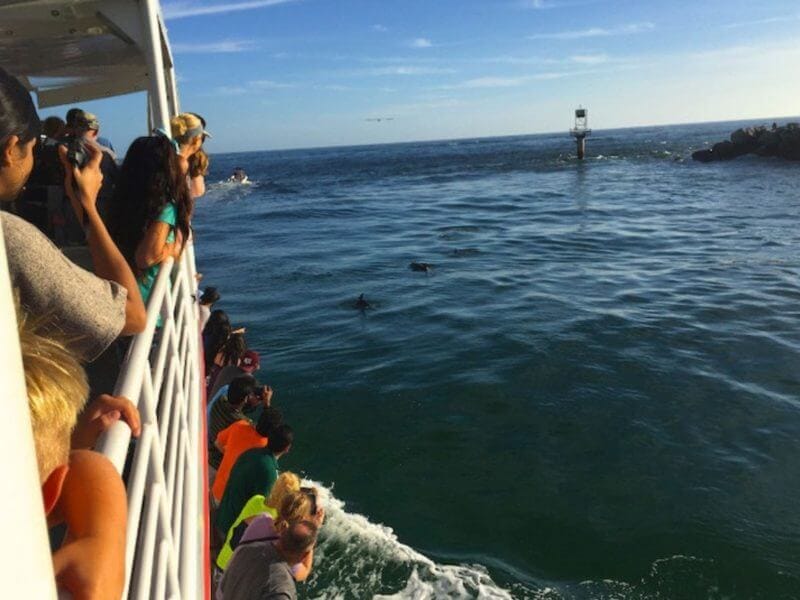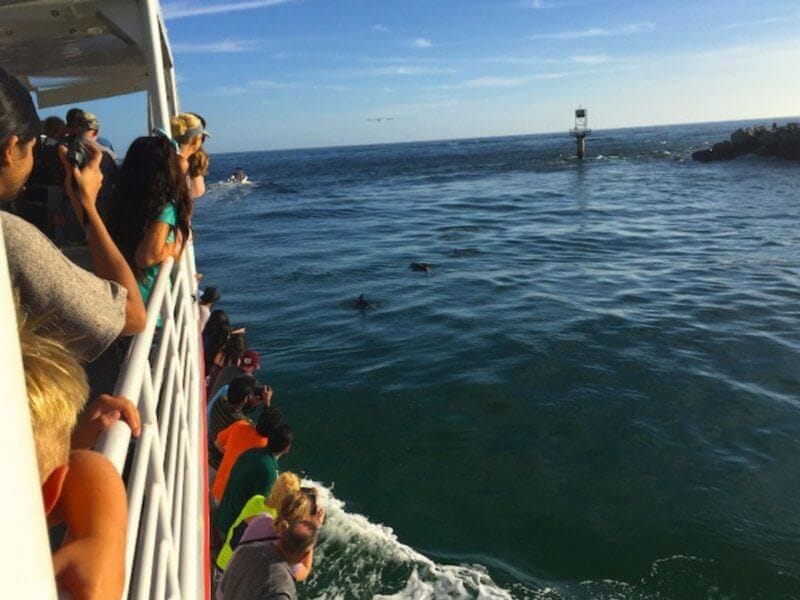 You see all the advertisements for the dolphin tour and cruises and my first thought is always: how are they going to guarantee you see a dolphin?
I don't believe it. I was wrong. We saw so many dolphins! It was crazy!!!
Some of them were playing together in the waves while others swam right next to the boat. It was a really cool experience. Again I wasn't sure about bringing kids on another boat tour, this time it was for 2 hours.
We came prepared: lots of snacks, treats, and drinks. Plus they have a snack bar if you want to buy anything.
While on the boat they had food we could feed the seagulls. The seagulls took chips right out of your hand! They also have a glass bottom, but to be honest we never really saw much through it.
The highlight for the kids was getting a chance to drive the boat! We saw a ton of dolphins and a beautiful sunset. The kids had a lot of fun and since we had the snacks everyone was great the whole time. Another one to add to the list and you can buy your tickets for the Dolphin Cruise now so you are all ready to go.
Price: from $25 a ticket
Buy your tickets here: Dolphin Cruise now
Location: 102 Harbor Blvd, Destin, FL 32541, USA
Great For: Kids, Adults and Couples.
Crazy Family Adventure Ranking: 4 out of 5 stars
Pro Tip: Everyone will go to one side of the boat to see the dolphins – but there may be more on the other side where no one is looking!
Pontoon Boat Rental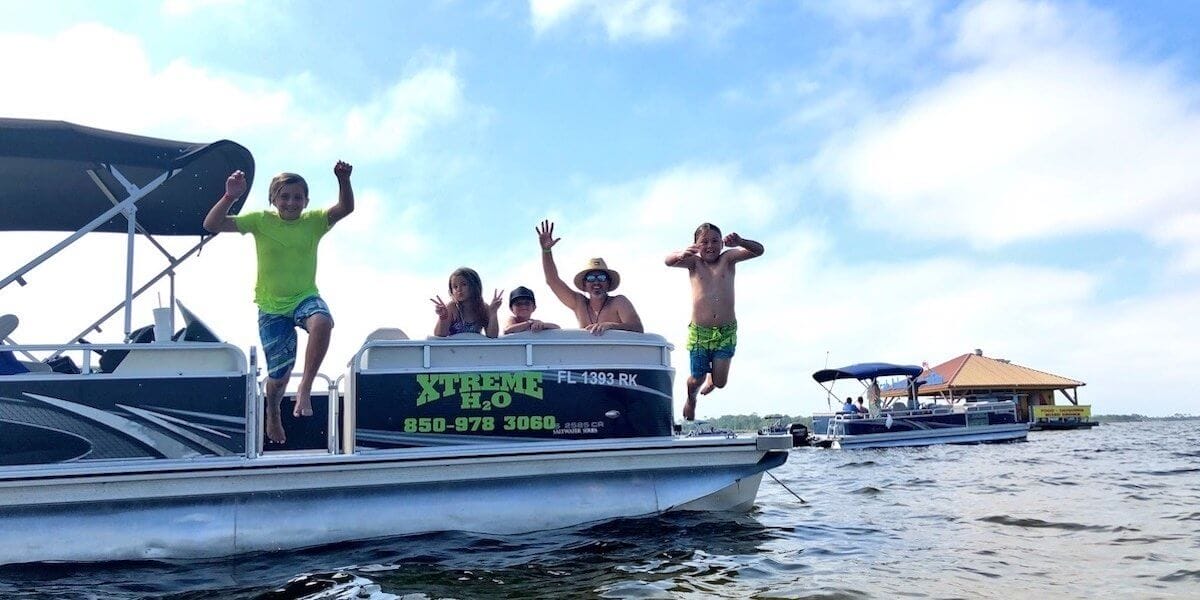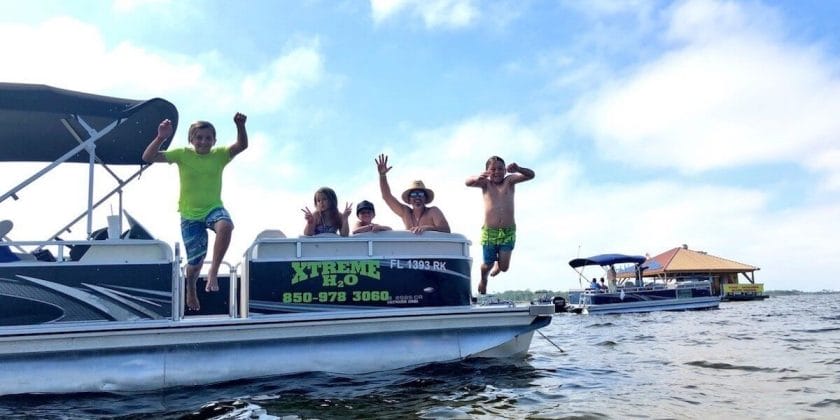 How have we been to Destin so many times and never rented a Pontoon or visited Crab Island?!!! This is now on the top of our must do list when you visit.
When you rent the pontoon at the Destin harbor ask the people getting your boat ready how to find Crab Island. Then take a nice boat trip around the bay for a few minutes before finding a place to put your anchor down at Crab Island.
What is Crab Island?
It is a sandbar in Choctawhatchee Bay that has floating restaurants or what I like to call Food Boats – like Food Trucks but on water. The water level is about waste high for adults and after putting an anchor down on your pontoon you can hang out in the boat or spend hours jumping off the boat into the beautiful clear water.
Before walking over the Food Boats to get some drinks and food! Be prepared it is usually really busy and I am sure can get wild. But with kids go early in the day and it will be fun for everyone.
Price: from $275
Book your pontoon here: Pontoon boat rental
Location: 214 Harbor Blvd, Destin, FL 32541, USA
Great For: Kids, Adults and Couples.
Crazy Family Adventure Ranking: 5 out of 5 stars
Pro Tip: If you go earlier in the day you can pick the spot you want at Crab Island – it gets really busy!
Catamaran Sailing Trip With Sailing Moby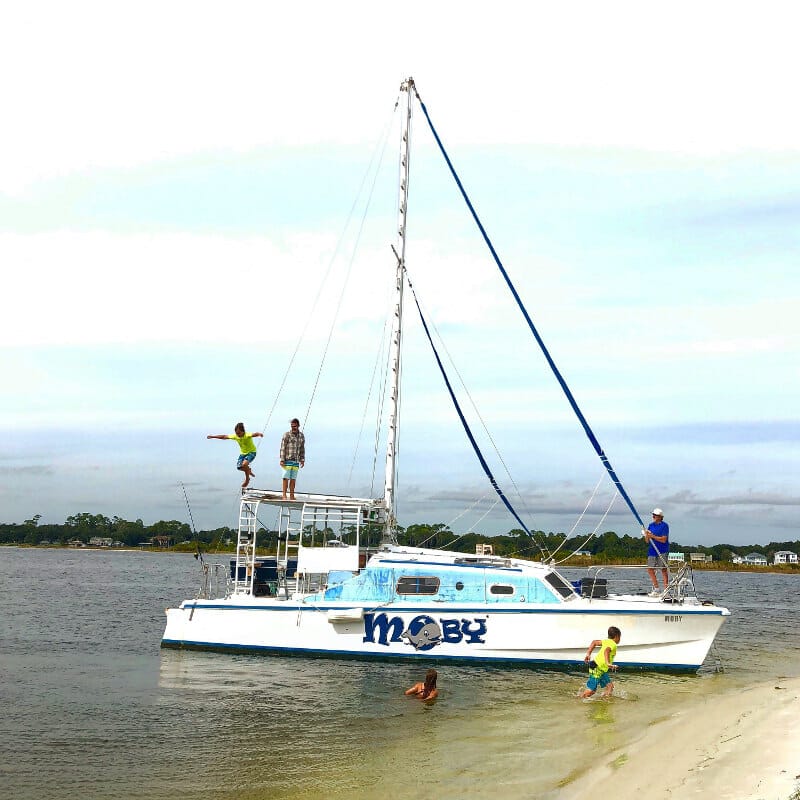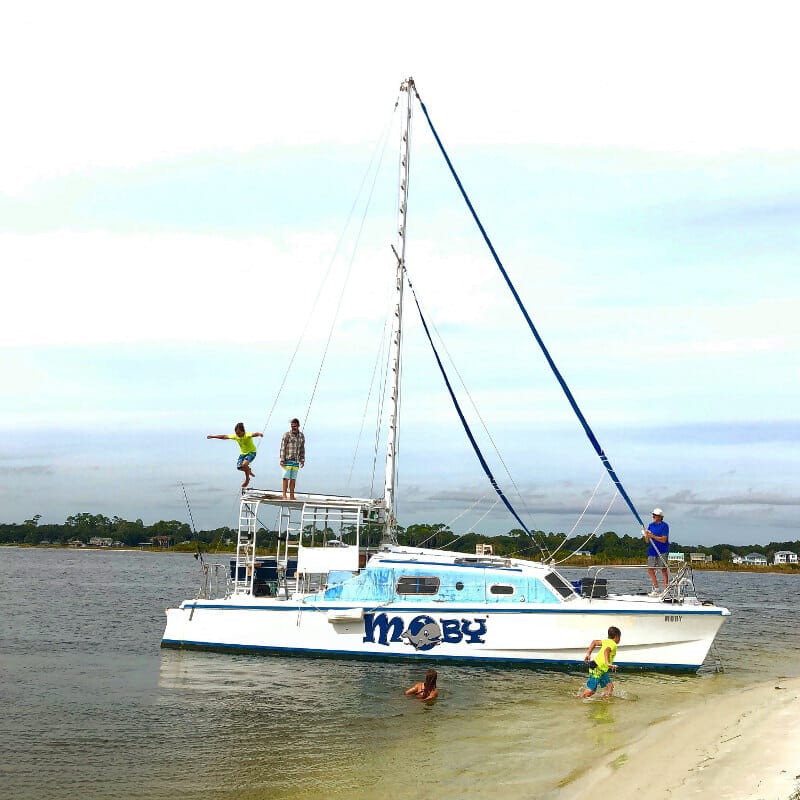 If you being the captain of the pontoon doesn't sound fun then leave the driving to the Sailing Moby team and bring your family (max of 6 people) onto their sailboat. Then sit back, relax and let them take care of everything on your boat ride!
What I loved about their boat is they have an inside area. So if you have little ones that need to take a nap or get out of the sun there is a perfect place for this.
They will take you to Crab Island to just hang out there if you would like. Or they have some other great recommendations on places to go based on the weather and what your crew would like to do.
For us we opted to sail to a couple islands where the kids got out to snorkel by the beach and then were able to jump off the boat – their favorite part of the trip!
They also have a bathroom on the boat which is super helpful when you travel with kids or plan to have a couple beverages on your trip.
Price: from $600
Buy your tickets here: Sailing Moby
Location: 1201 Miracle Strip Pkwy SE, Fort Walton Beach, FL 32548 USA
Great For: Kids, Adults and Couples – could work with toddlers or babies since there is a room downstairs they can go if they are getting fussy and don't want to stay by their parents.
Crazy Family Adventure Ranking: 5 out of 5 stars
Pro Tip: If you like heights ask about jumping off the boat by the beach! They know the spot where the water is deep enough. But always be sure to check the water level yourself and make sure it is safe!!!
The Beach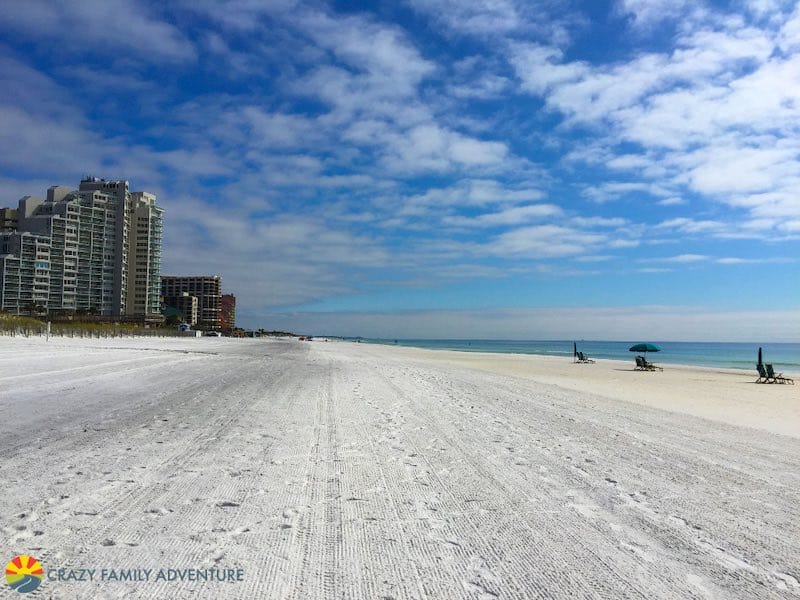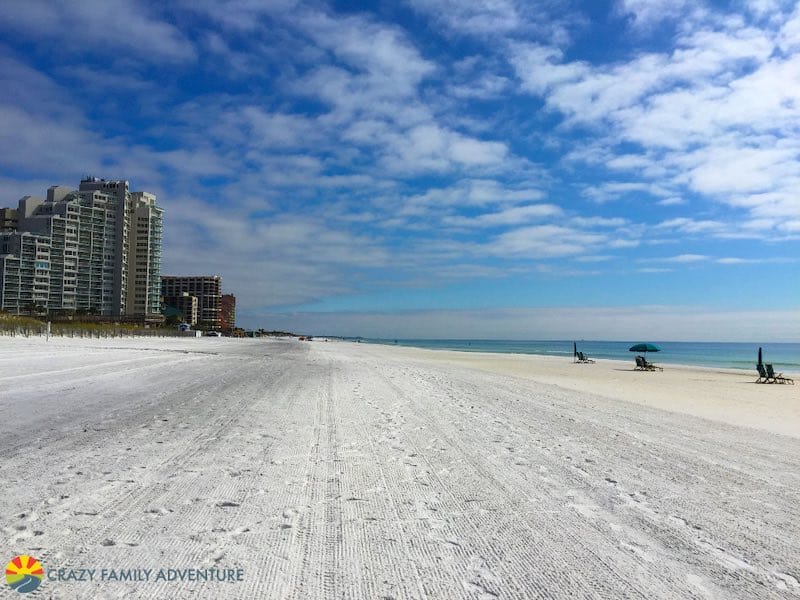 Honestly this is our favorite thing to do in Destin. Visit the beach! Swim in the ocean, play in the sugar white sand, and hit the swimming pool for a few hours every day. To be honest I can't think of a better family vacation! Plus the white sand beaches on the emerald green waters of the Gulf of Mexico are so beautiful.
A beach vacation can be all about focusing on your family and deepening your family bond since you aren't running off to a bunch of activities. Instead you are taking life slow and enjoying that non-rushed feeling.
What I love about the Emerald Coast is when you are at a resort, condo or RV park on the beach, you don't even realize all of the hustle and bustle that is going on out on Hwy 98 and all the attractions Destin has to offer.
Destin Beaches
James Lee Park
East Pass
Henderson Beach State Park
Grayton Beach State Park – outside of Destin but worth a visit!
Tips for having a great beach vacation:
Buy some breakfast food to have ready so you don't have to rush out in the morning and so you don't have hungry kids.
Sit out on your balcony or head out to the beach to sit and enjoy your coffee while the kids either play, eat breakfast, watch TV. No seriously, let them watch TV or do their own thing while you take in the views and enjoy your morning coffee!
After everyone has eaten breakfast head down to the sugar white beaches and build sand castles. They have the perfect sand for it! You may have to mix in a little water if it has been dry, but once you get the right consistency you are good to go! Swim in the water, play frisbee, just hang out.
Head back for a nice slow relaxing lunch. If it was hot out, take some time to relax in your room or RV. Play a card game, watch a movie, read a book as a family and enjoy the fact you have no where to be!
Head out to the pool (if where you are staying has one) or else head back down to the beach!
As a family, cook and prepare dinner and then eat it outside.
Finish the night up by watching the sunset and going for a walk on the beach.
Go to bed and wake up the next day and repeat steps 1 – 8 again!
Parasailing
If you have never gone parasailing we highly recommend it. All of our kids love it and it is another great way to get a different view on the beach and ocean. It can also be a great couples activity to do.
With how clear the water is in Destin I bet there is a good chance you could see some bottlenose dolphins or sting rays in the deep waters while you are up there!
Price: from $50
Buy your tickets here: Check out this great deal on Destin Parasailing!
Location:530 Harbor Blvd, Destin, FL 32541, USA
Great For: Kids (over 6), Adults and Couples
Crazy Family Adventure Ranking: 5 out of 5 stars
Pro Tip: This can be scary the first time you do it. But once you get up there it is pretty amazing!
The Sunset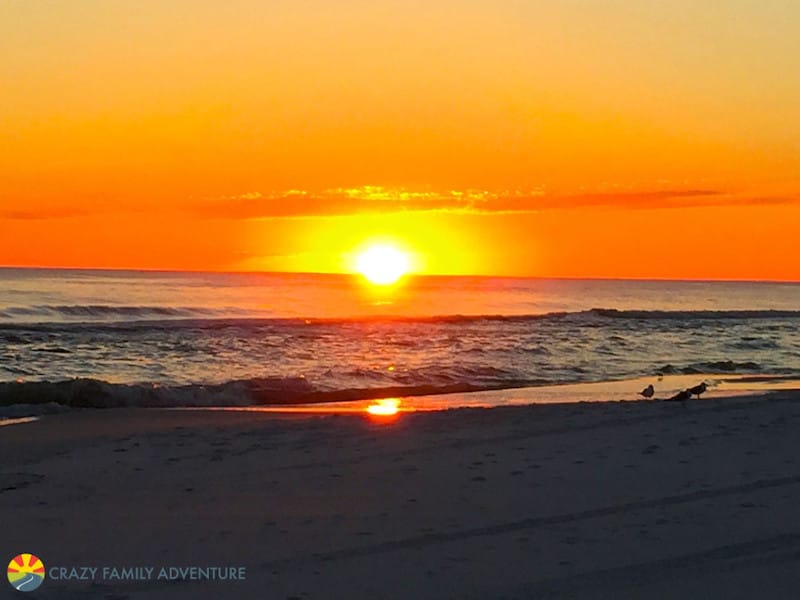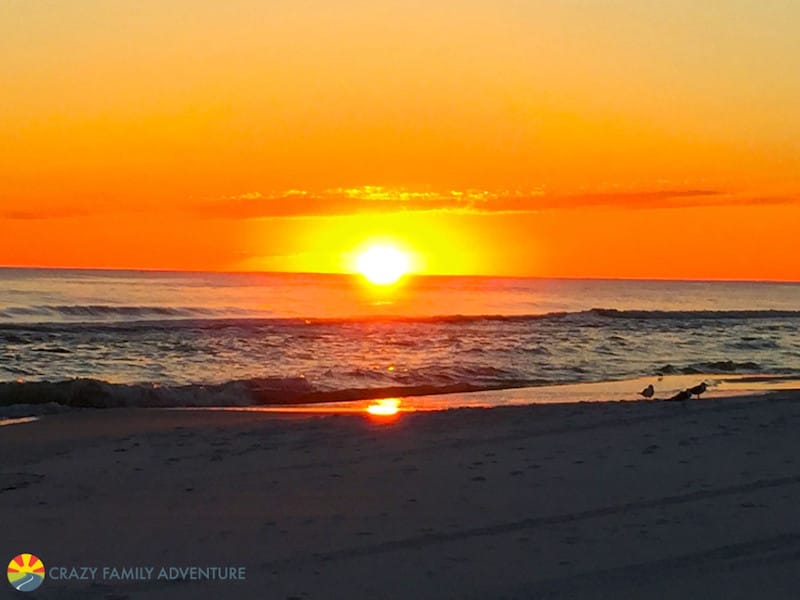 Looking for a FREE Destin Attraction that you can do every night?! We highly recommend making it a nightly ritual to get a glass of wine for the adults and some juice boxes for the kids and heading out to see the sunset out over the water. Or if you can get away for a romantic couples sunset!
It was amazing how every night the sunset looked different and amazing. After watching it one night it seemed impossible that it could be any prettier and then it would amaze us again!
When you are staying on the Emerald Coast, make it a priority to see the sunset every night! You won't be disappointed! Even if there are clouds – the sky still changes to an amazing color.
There's quite a few other things to do in Destin Florida with kids. Depending on when you are coming make sure to check all activities schedule. Their prime season is from May to September. So in the off season things may not be open.
Big Kahuna's Water Park
If you are visiting in the heat of summer and looking for a water park to cool off check out Big Kahuna's waterpark!
Price: from $50
Buy your tickets here: Big Kahuna's Water Park
Location: 1007 US-98, Destin, FL 32541, USA
Kids Fishing Trip
Destin – known to have the worlds luckiest fishing is a great place to take the kids out fishing! I also love how this trip is geared towards kids as anyone with young kids knows spending time on a boat with kids can be a challenge but also awesome to watch them bring in their catches!
Be sure to check out our list of 8 Fun And Exciting Destin Fishing Charters for your trip!
Price: from $550
Buy your tickets here: Kids Fishing Trip With Rolling Tide Charters
Location: Kids Fishing Trip With Rolling Tide Charters – 21987 US-331, Santa Rosa Beach, FL 32459, USA
Kayaking
You can rent 1 or 2 seater kayaks to explore the harbor and bay, and even paddle yourself out to Crab Island, if you're up for it! Other renters have even seen dolphins and other wildlife while kayaking the area. This is a great activity to burn some extra energy while enjoying the great views and wildlife!
Price: from $69
Buy your tickets here: Click here to book your Kayak rentals! Or if SUP boards are more your thing, rent those here!
Location: 200 Harbor Blvd, Destin, FL 32541, USA
Great For: Kids, Adults and Couples. Would also work during a toddlers nap time – we have had our kids fall asleep while sitting in between our legs while kayaking.
Crazy Family Adventure Ranking: 4 out of 5 stars
Pro Tip: This can be very tiring so be prepared for that!
Banana Boat Rides
Take a private ride on the banana boats! This is a one hour trip where they take your private group (minimum 4 people, maximum 6 people) out in a boat and pull you behind on the bouncing banana boats.
A great opportunity to cool off, have some laughs and excitement, enjoy the water adventure and potentially see some wildlife while you're out. Riders must know how to swim!
Price: from $65
Buy your tickets here: Private Destin Banana Boat Excursion
Location:314 Harbor Blvd, Destin, FL 32541, USA
Wild Willy's Adventure Zone 4D Movie Experience
Looking to get out of the sun and away from the beach and water then head to Wild Willies where you can play arcade games, see a 4D movie, play laser tag. Then head outside for a mini golf course and a ropes course. So many fun activities!!
Price: from $49.99
Buy your tickets here: Wild Willy's
Location: 1306 Miracle Strip Pkwy SE, Fort Walton Beach, FL 32548, USA
Great For: Kids, Adults and Couples
Crazy Family Adventure Ranking: 5 out of 5 stars
Pro Tip: You do have to sign up for some movie times, golfing, lazer tag so figure out what you want to do and what times are available right when you get there.
Smile n Wave Sailing Adventures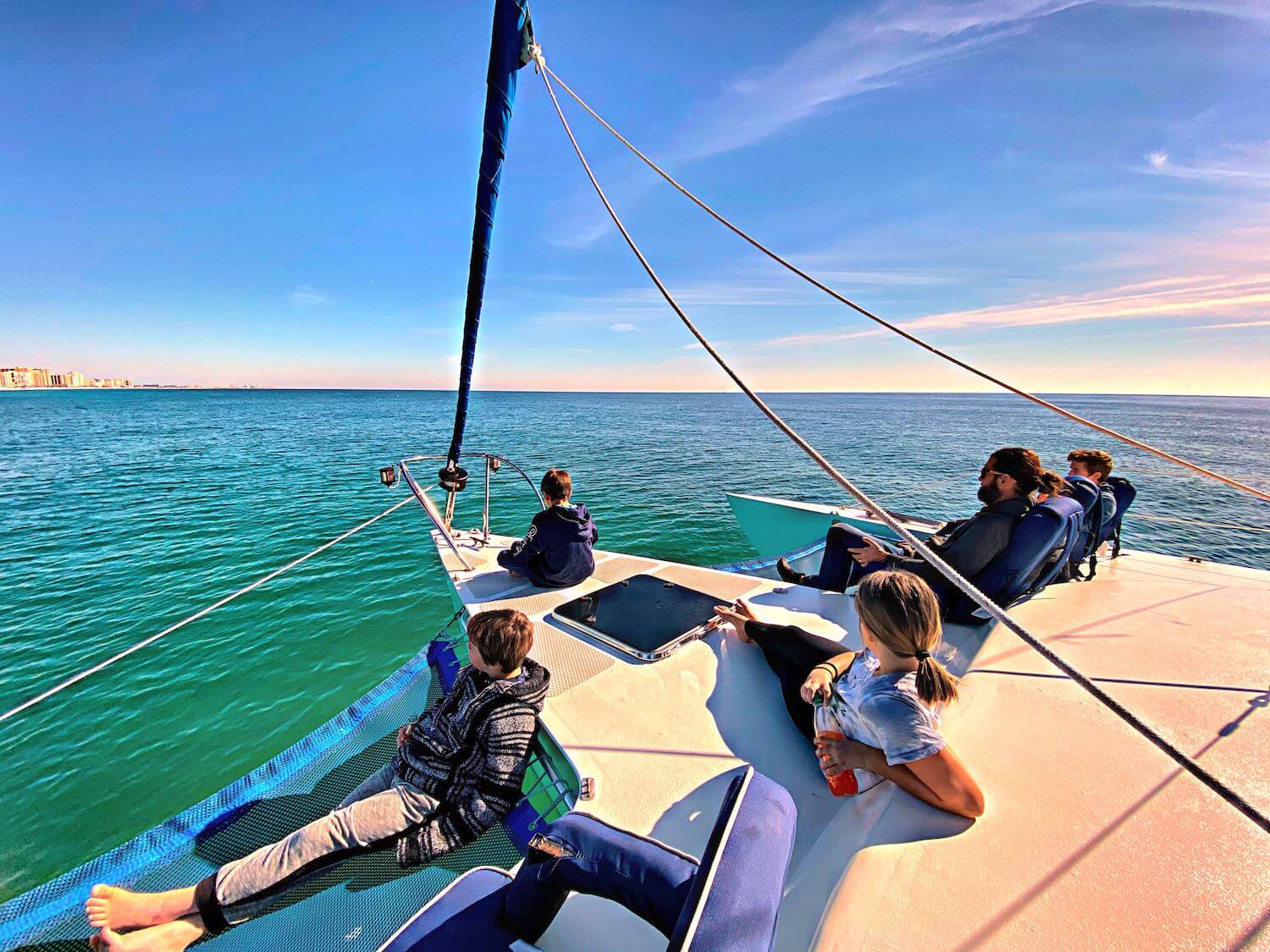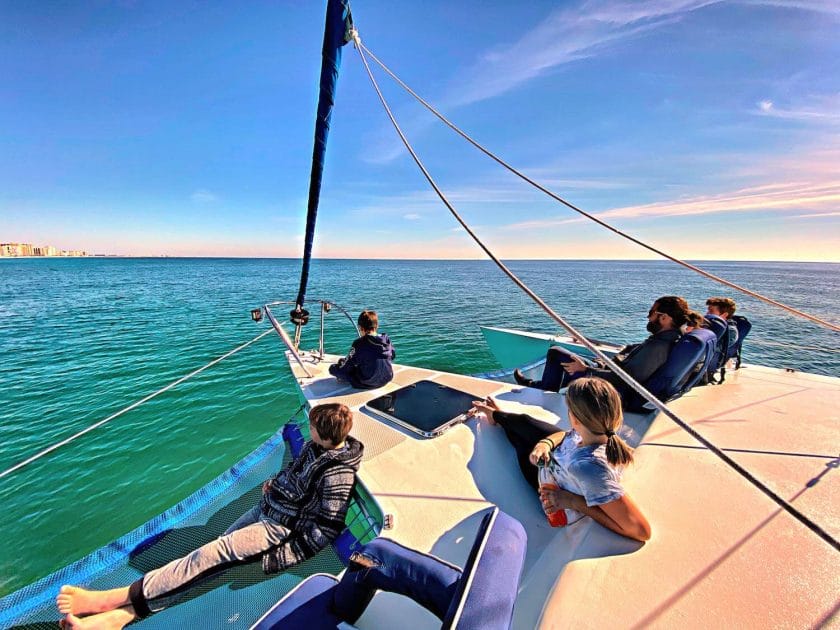 Take a private catamaran adventure on the Smile n Wave! Captain Pam will take you out to the best spots to look for dolphins, go swimming, out in the Gulf, visit Crab Island and more. Just talk to her and see what she recommends!
Her boat is great for families as it has a bathroom below deck. Along with an area where you can get inside with your kids for a minute if you need to.
She had awesome chairs on the boat that we could sit in and a couple net areas out over the water you could hang out in. She was also totally fine with the kids walking around and switching up where they were sitting while we are sailing.
You can bring your own food and drink along and Captain Pam offers you a cooler if you don't have one.
We saw a bunch of dolphins and just enjoyed being out on the water when we did our 2 hour trip! Captain Pam was super nice and made all of us feel really comfortable on our trip. When you are in Destin you will want to do this!
To learn more visit her site Sailing In Destin!
Uncle Bucks FishBowl and Grill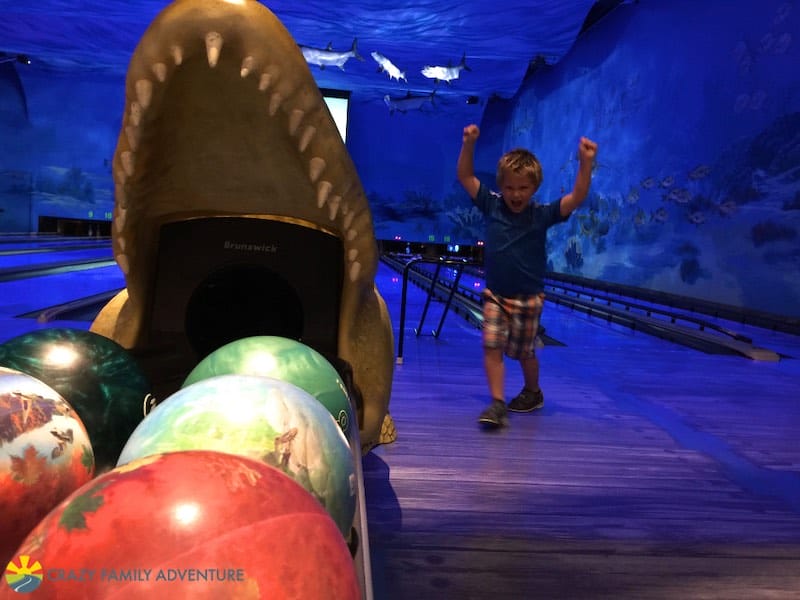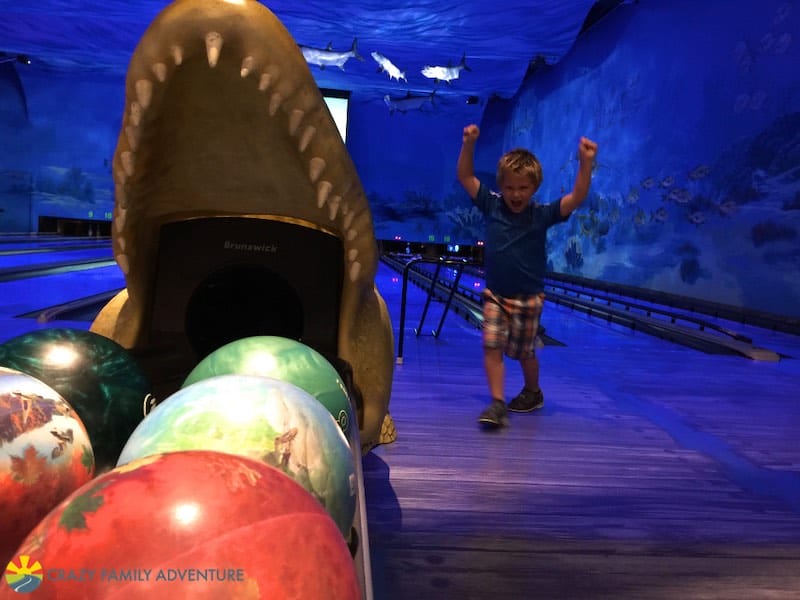 This is not your typical bowling alley! This is an underwater experience! You can choose to eat your dinner at the restaurant; where you sit at a table with sharks hanging from the ceiling, or you can eat while you bowl. Whatever works for you!
The bowling area gives you the feel of being underwater – from the sights and sounds, it is an underwater experience! We had a lot of fun and it was great with the kids since they had bumpers and also a bowling ball ramp so the kids could roll the ball right down it.
We loved the extra touch of the bowling balls being covered in sea creatures too! The food was good, the drinks awesome, and the atmosphere was great! If you are looking to get out of the sun and into the air conditioning or looking for something to do at night when it gets dark out Uncle Bucks is the place for you!
Price: from $42
Buy your tickets here: Learn more at their website.
Location: 4251 Legendary Dr, Destin, FL 32541
Great For: Babies, Toddlers, Kids, Adults and Couples.
Crazy Family Adventure Ranking: 5 out of 5 stars
Pro Tip: The scenery will keep all ages entertained!
Maximum Magic Show
We were so excited to take the kids to an actual magic show! If your kids are like ours they love seeing magic tricks and being able to go to a live show that was family friendly was a great way for them to see their first magic show.
Price: from $35 a ticket
Buy your tickets here: Maximum Magic Show
Location: 10 Harbor Blvd Unit 234, Destin, FL 32541, USA
Great For: Kids, Adults and Couples – but the show is geared towards kids.
Crazy Family Adventure Ranking: 4 out of 5 stars
Pro Tip: If you want a seat up front you need to get there early. We were one of the last people there and had to get seats in the back. We could still see everything but there were definitely better seats.
Buccaneer Pirate Cruise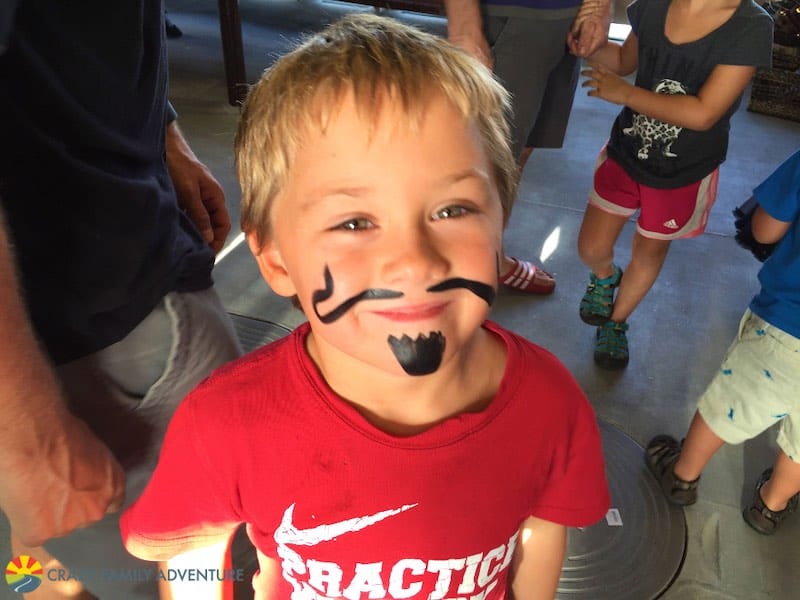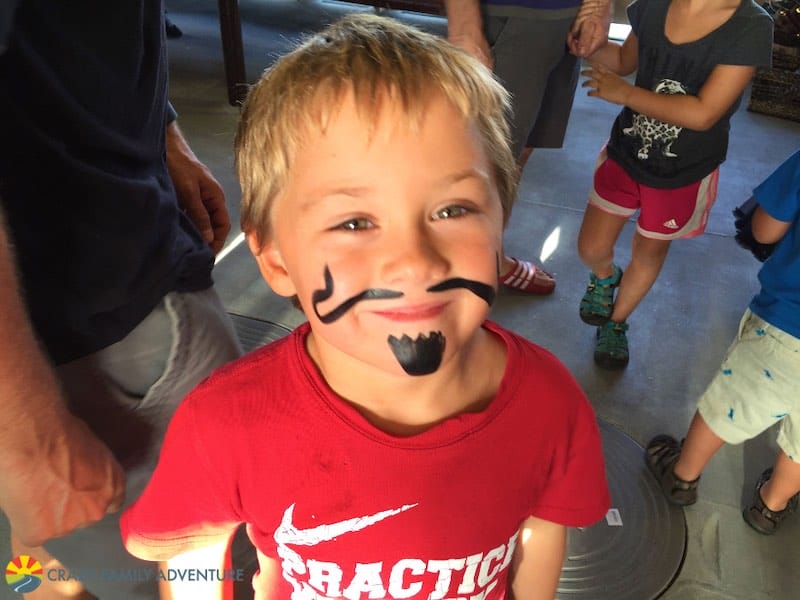 We had a great time on the buccaneer pirate cruise. I wasn't sure at first how it was going to go. Four kids on a boat, but from the minute we walked onto the pirate ship they started entertaining the kids and it didn't stop until we docked about 90 minutes later. We don't even know where they took the boat since we were so in to what was going on :). It was super kid friendly!
They did everything from squirt gun fights and sword fights to having the kids swab the deck (which they loved! I need to buy one of those mops!) to face painting and pulling a real treasure chest out of the ocean, like for real! Plus they "shot" the cannon twice. It was a lot of family fun!
It was a great time and I would recommend it for kids ages 3 and up! And if you have any pirate gear make sure to dress up. It makes the experience even better. My Mom has an awesome pirate costume so she wore it on the ship and fit right in! Actually, she almost got a job!
Price: from $35 (for kids) $49 (for adults)
Buy your tickets here: Buccaneer Pirate Cruise
Location: 100 Harbor Blvd Unit B, Destin, FL 32541
Great For: Toddlers, Kids, Adults and Couples.
Crazy Family Adventure Ranking: 5 out of 5 stars
Pro Tip: The scenery will keep all ages entertained!
Here are more fun things to do in Destin! We haven't had the chance to try them all but they are on our list for next time we visit!
Map Of Destin
Here is a map of Destin showing a few of the attractions mentioned and the vacation home we recommend. You can see it is a bigger area since it does stretch from Fort Walton Beach to Destin to Miramar Beach.
What historical things can you do in Destin?
Destin isn't just a tourist town there are also a few historical things you can do in the area. The history of Destin and learning about how they were so known for fishing and why the sand is so white and soft is really interesting.
Indian Mound Museum
Want to learn about the history of the area? Then check out the Indian Mound Museum where you can learn about the Native Americans that lived in the area and see a variety of artifacts found here as well.
Destin History and Fishing Museum
Visit this museum to learn how a small fishing town (termed the "luckiest fishing village") turned into a huge vacation destination. It really is quite amazing.
BONUS Activity!
If you happen to be in Destin in the month of October and you love salt water fishing you may really enjoy the Destin Fishing Rodeo! There are all kinds of prizes daily, weekly and monthly during October and any child who brings in a fish over 1lb gets a free rod and reel! Fishing may even be free if you hop on one of the boats on the chartered fishing fleet for the event.
There are so many fun things to do on a trip to Destin – the list goes on and on! If you want to give bungee jumping a go check out The Track, or if you want to learn how to build beach sand sculptures you can schedule a Sand Castle building lesson or go jet skiing. If you are into animals then check out the gators at Gator beach.
What are things to do for adults in Destin Florida?
Destin is a great family destination but also has a lot of great activities for adults to do. Here are a few we recommend:
Private Catamaran Sunset Sail
Go out for a sunset sail on the ocean. Nothing is better when you are by the water than getting out and taking in the sunset. Plus this is a private tour.
Price: from $375
Buy your tickets here: Private Catamaran Sunset Sail
Location: Marina, 214 Harbor Blvd East Pass, Destin, FL 32541
What are Things to do for Couples in Destin Florida?
If you have a chance to visit Destin with your significant other do it! There are some great couples activities.
Rent Jet Skis
Jet Ski rentals are perfect for the water sports loving couple. The Jet Ski's can fit 2 people so if you want to share a ski for a romantic trip you can! Or if both have a need for speed then each get one and hit speeds of 50mph+ as you jet across the Choctawhatchee Bay.
Price: from $89
Buy Tickets: Destin X Jet Ski/Waverunner Rentals
Location: 1201B Miracle Strip Pkwy SE, Fort Walton Beach, FL 32548, USA
Rent a Pontoon Boat
Rent a pontoon boat and head out on your own private boat for the day. A perfect date afternoon!
Price: from $275
Buy your tickets here: Pontoon boat rental
Location: 214 Harbor Blvd, Destin, FL 32541, USA
What are good group things to do in Destin, Florida?
Deep Sea Fishing Party Boat
Head out with 30-35 people for a 4 hour deep sea fishing adventure! You are on a 65 foot boat and will hopefully catch snapper and grouper while you are out. All fishing equipment is included.
Price: from $79
Axe Throwing
Rent a lane and try your had at Axe Throwing. Who in your group will be the best?!
Price: from $30
Location: 304 Perry Ave SE, Fort Walton Beach, FL 32548, USA
What Free Things Are There To Do In Destin, Florida?
Destin Commons
This is an outdoor mall located in Crystal Beach that makes shopping so much more enjoyable than having to be inside walking from store to store. At Christmas they have an awesome tree and holiday display. There is also an outdoor play area for the kids to play. There are a lot of great stores and restaurants so you can eat, shop, play, and/or people watch!
Village of Baytowne Wharf
A great area for dining, shopping and nightlife. Plus there area lot of activities and festivals that go on here. The village is not on the beach so if you are looking to get away from the sand and surf for a while this is a great place to go. Plus they have yummy ice cream!
HarborWalk Village
The HarborWalk Village is loaded with restaurants and shops and is the place where a lot of the water activities in Destin (Pirate cruise, Dolphin cruise, pontoon rental) take off from. They also have a variety of different activities available at the Destin Harbor Boardwalk.
Hiking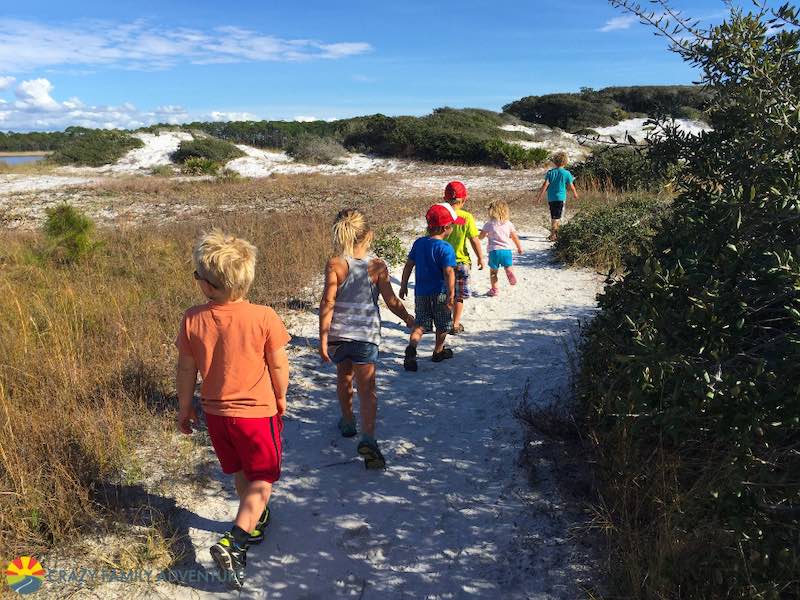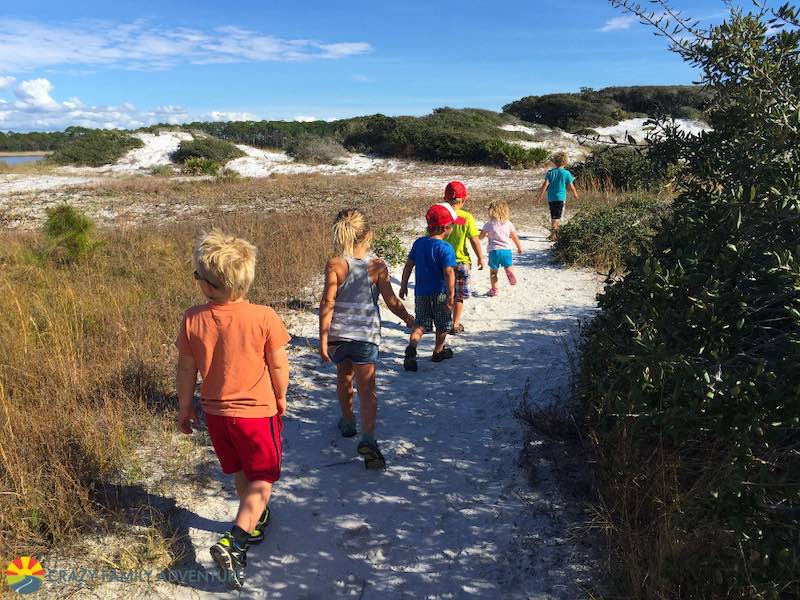 Hiking in Florida! Not quite the same as hiking to the top of a mountain in Yellowstone or the Appalachian mountains but it was still a fun hike. In Florida's Emerald Coast you can find nature trails and hike at the following parks: Henderson Beach State Park, James Lee County State Park or John Beasley Beach Park. Or you can just go for a nice walk on the beach.
What is there to do on a rainy day in Destin, Florida?
The hope is that you have clear skies and lots of sunshine when you visit Destin. Reality is there be a rainy day in there. Never fear there are plenty of things to do in Destin on a rainy day!
Wild Willy's Inside Activities
Bowling at Uncle Bucks
Indian Mound Museum
Destin History and Fishing Museum
Maximum Magic Show
Where to Eat
LuLu's Destin
It's hard to categorize a restaurant as a thing to do in Destin with kids, but we absolutely loved LuLu's! Any time the kids have somewhere to play while we wait for our food is a great restaurant and LuLu's has that and more!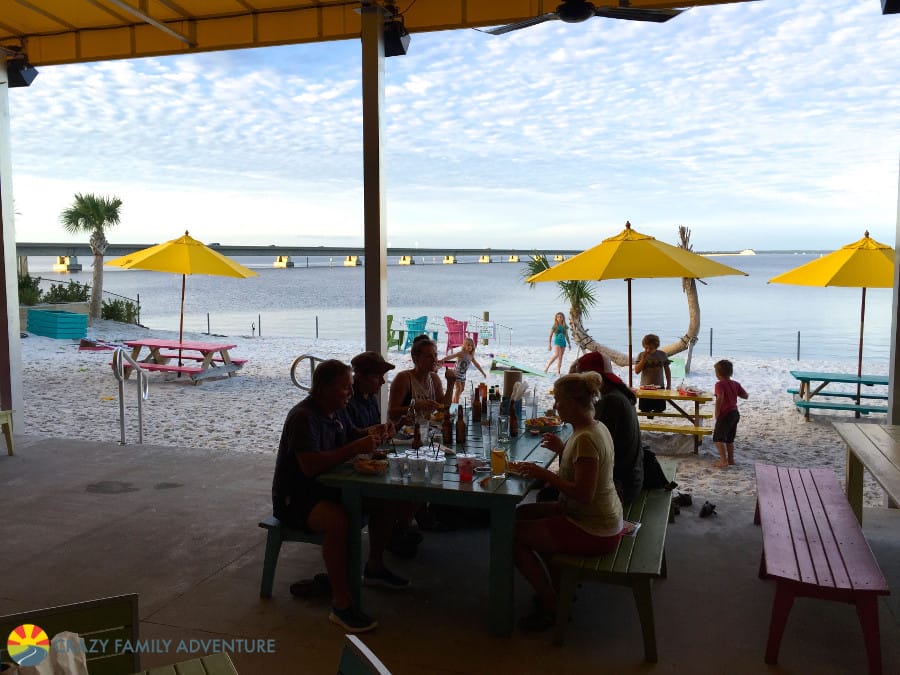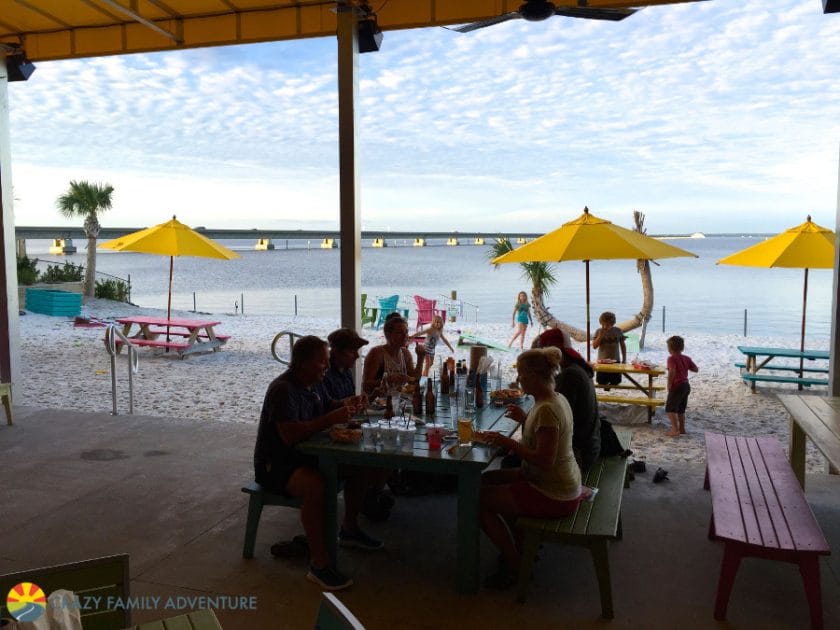 There is a nice sand/beach area that has 2 containers filled with kids sands toys. Plus a palm tree for them to climb on, cornhole, and hula hoops! While the kids played we were able to sit at our table and listen to the live music.
Their food selection is awesome with a focus on food allergies. With a town filled with seafood it is nice to have an option where they are on top of food allergies and give you lots of options.
When you are done eating they have some great desserts including a Krispie Kreme bread pudding or natural homemade popsicles! The kids loved the root beer and sea salted caramel flavor. And so did we!
Location: 4607 Legendary Marina Dr, Destin, FL 32541
Crab Trap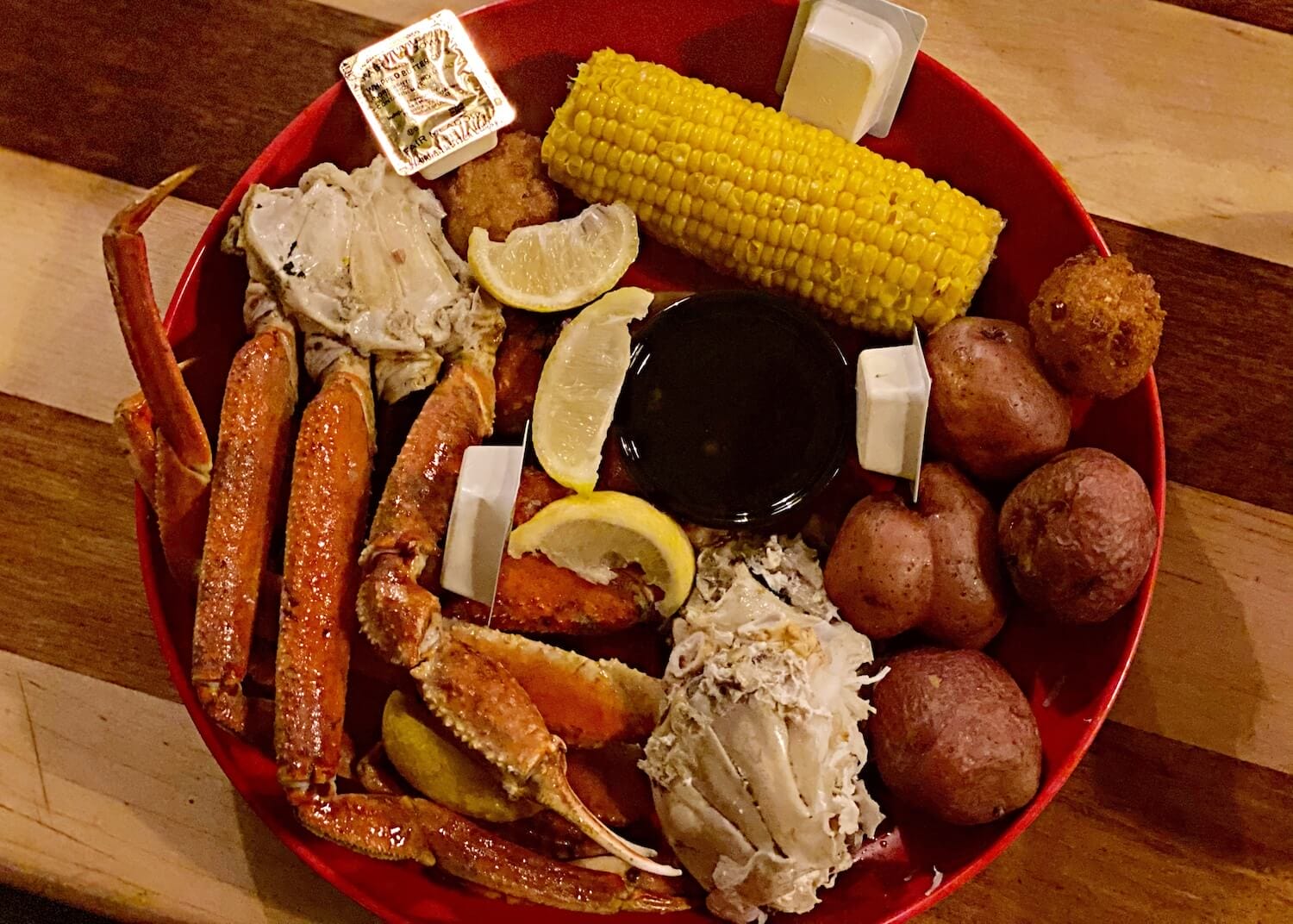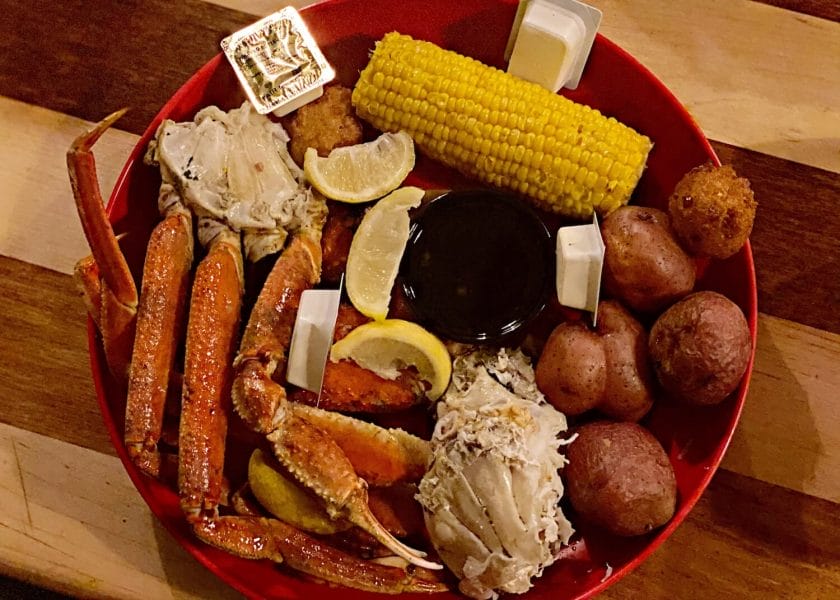 When you are in Destin you should definitely check out the Crab Trap! Our server Daniel recommended that we try the Bairdi Crab dinner. It was the perfect recommendation.
The Crab was delicious and it was so easy to get a lot of the meat out. I am by no means a crab eating expert so Daniel our server came over to show me exactly how to do it.
We also tried the Hot Crab Dip and the Southern-Style Crab Cake and they were both delicious! Craig got the catch of the day and was really happy with his meal as well.
If you aren't a seafood fan don't worry! They also have pasta and burgers and the kids menu has a few options like chicken tenders and burgers.
The restaurant is located on the beautiful Destin beach and when the weather is nice you can sit outside.
You can check out their menu and learn more here: The Crab Trap
Small Cakes of Destin
You know we love our sweets and when we couldn't find a local donut place we headed out for Cupcakes! As you can see they were super yummy and the kids loved them. I did too! They had lots of great flavors and I had to stop myself from coming here every day to try a different flavor.
Location: 36150 Emerald Coast Pkwy #110, Destin, FL 32541
Beach Restaurant – Surf Hut
There are a variety of restaurants on the beach so depending on where you are staying you can look into what is in your area. We loved walking down the beach to a restaurant for happy hour and appetizers or dinner or lunch.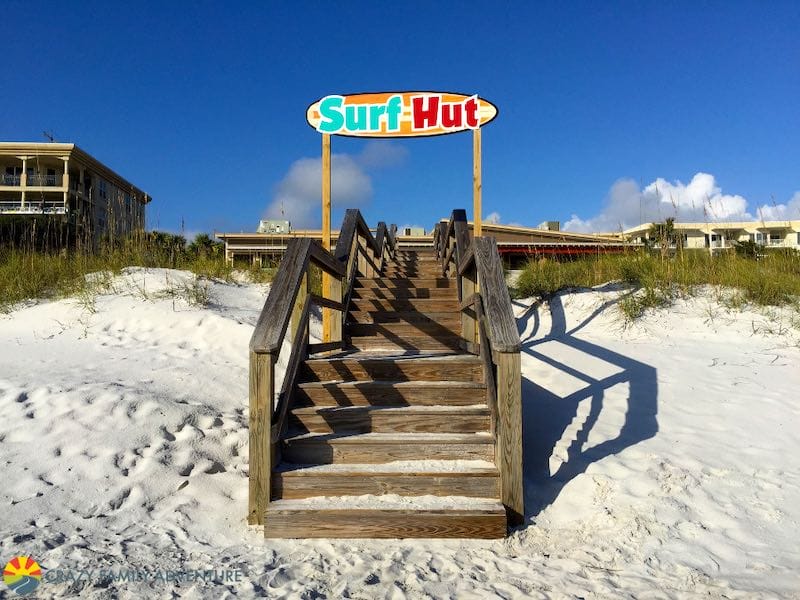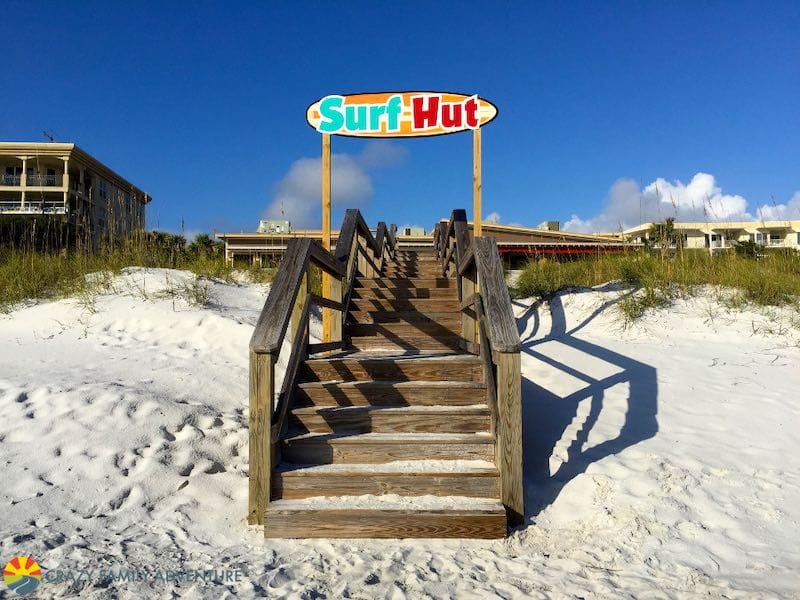 We really enjoyed The Surf Hut and were told that the The Back Porch was a great spot to checkout too!
Location: 551 Scenic Gulf Dr, Destin, FL 32550
Dewey Destin's Seafood & Restaurant
Dewey Destin currently owns two restaurant locations with family friendly atmosphere serving fresh-as-can-be fish daily! There is also a snowball location that serves New Orleans style snowballs to help you beat the heat and a third restaurant location coming soon!
Fun Fact: Dewey Destin's Seafood & Restaurant is owned by the great, great grandson of the founder of Destin, Leonard Destin!
Location: 9 Calhoun Ave, Destin, FL 32541
When To Visit
The Emerald Coast is an amazing vacation destination. We have never visited during prime time (May to September). So we can't speak for what it is like during that time. But I have heard it gets busy but the weather is beautiful.
We have always visited in the off season and we do we miss out on some activities (that aren't open) but we love that it is less busy and that the weather isn't super hot. We have been there in November and December and normally had weather in the 60's with sunshine making it feel much warmer.
Where to Stay
Vacation Home
Be sure to check out our post 15 Best VRBO Destin Florida Locations You Will Love!
We stayed at this amazing vacation home that was a short walk to the beach (it saves you a lot of money if you aren't right on the beach!). The house had plenty of room for multiple families to stay along with a long Kitchen table, big couch and plenty of outside sitting. Plus our favorite part was the hot tub and pool. We spent a lot of time just hanging out back there.
The house is located just a couple minutes from Hwy 98 where you have all the stores that you would need. Yet is in a quiet neighborhood without a lot of traffic. The driveway was also large enough that we could park our 21 foot travel trailer there when we stayed – it was so nice not to have to leave the rig somewhere plus we didn't have to pack since everything was right there in the driveway!
Honestly it was hard to leave the house to go do anything! If you are coming with your family (and dog – yes they allow pets!) or planning a multi family trip be sure to check out Zula Life or any of their other properties: Zula Dreams and Zula Beach.
Hotels
Hilton Sandestin Beach, Golf Resort & Spa
If you're looking for luxury at it's finest, check out the Hilton Sandestin Beach, Golf Resort & Spa. The resort is located right on the white sand and emerald water. You will be in paradise with a fantastic pool and a great beach bar overlooking the ocean.
Holiday Inn Fort Walton Beach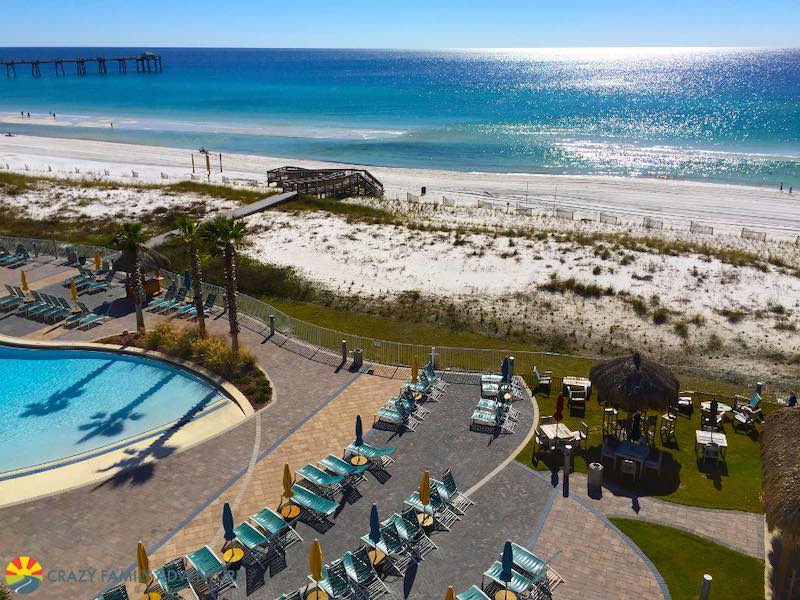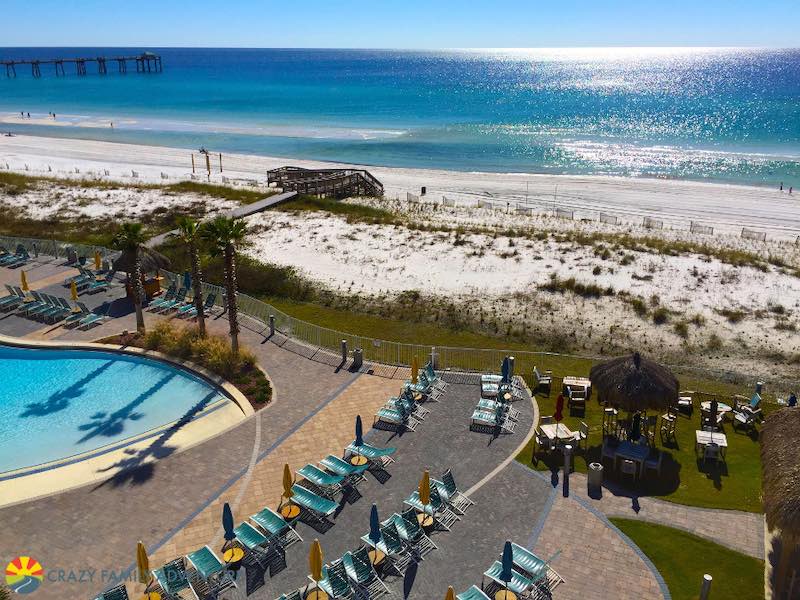 If you aren't going to be traveling in an RV we recommend the Holiday Inn Fort Walton Beach. We were able to tour the hotel and spend a day swimming in the pool. The facility is amazing! It is very new, clean, and comfortable.
They offer a kids room that has bunk beds and an Xbox in the room! Plus the rooms have an amazing balcony that looks out over the pool and the ocean.
The kids LOVED swimming in the pool. It has a zero entry end, which was great for our little ones and also has a lazy river! Plus there is a hot tub and an indoor pool if the weather is cooler when you are there.
We loved that you could walk right out to a beautiful beach too. So you could spend your morning at the beach, head in to eat lunch at their restaurant and then head out to the pool in the afternoon.
This hotel is perfect for families but would be great for couples as well! Click here to check out the Holiday Inn Resort Fort Walton Beach!
RV Parks
Rent an RV
Have you ever considered renting an RV?! It would be an awesome way to stay in Destin and you can get a spot right on the beach or stay a quieter State Park like Grayton Beach or Henderson Beach State Park.
Check out great RV Rentals in the Destin area. And Learn more about renting an RV and planning an RV trip.
Camp Gulf RV Park

This is one of our favorite campgrounds in all of North America. Seriously, it is so cool to be so close to the beach! Our RV spot was literally 20 yards from the beach.
Yes, there was a row of RV's in front of us for most of the time, but it didn't matter. (We couldn't stay in those spots because pets aren't allowed in those sites).
There is a couple rows of RV spots that are right by the beach. If you are someone who prefers not to have sand in your RV everyday. There are also spots that are farther back and away from the beach. Some of these spots are closer to the pools at the campground.
There are 2 pools and if you go in November they put a big tent over the back pool so that you can still swim even if it is colder outside. Being in North Florida it does get colder in the winter months.
Every day we opened our door to the smell of the surf, the feel of the ocean breeze, and stepped out into beautiful white sand. Yes, we slept with sand in our bed and I don't think we will ever get all of the sand out of our car. But we don't care. It was worth it!
If you don't have an RV you can rent one! This campground is worth it!
We stayed at Camp Gulf, which is in Miramar Beach. We love this campground because of how close the sites are to the beach. We're total beach fans!
If you don't want to stay in and around Destin, Sun Outdoors RV Resort is about 30 minutes down the coast in Panama City Beach, and The Hideaway Retreat is about 25 minutes up the coast in Navarre, FL.
Grayton Beach State Park
This is probably our all time favorite state park. It's in Grayton Beach, which is east of Destin, away from all the craziness, and tucked back in a private little spot perfect for quiet camping. While you're not right on the beach like at CampGulf, you are just a short walk, bike ride or drive away from it. This is the kind of place where you don't really do anything but beach bum it!
We have heard people ask if Panama City is better then Destin our answer is no. The gulf coast – other wise known as the emerald coast is magical! You won't want to leave when you visit. Or if you are like us you will come back multiple times!
Want more ideas on things to do in Destin, Florida?! Check out this great post from 365AtlantaFamily: The Best In Beachy Fun
If you are looking to fly in there are some regional airports in the area or else you will have a drive from some of the larger surrounding cities/airports.
Also, be sure to check out our Florida Road Trip as this Northwest Florida location is a stop on the route!
More Florida Adventures
Looking for more adventures in Florida? Check out our following posts: 
The Ultimate Guide to Universal's Halloween Horror Nights Orlando
14 Amazing RV Parks in Destin Florida
Florida Keys Road Trip: 29 Amazing Places To Visit [Map Included]
4 Favorite Florida Beaches – From a near native Floridian
The Best Place to See Turtles in the Florida Keys
Top 8 Amusement Parks in Miami You Will Want To Visit
29 Best Things To Do In Gulf Shores, Alabama
17 Great Reasons To Make St. Augustine Your Next Family Trip
7 Things To Do In Miami With Kids
Hawks Cay: The Best Resort In The Florida Keys
8 Fun And Exciting Destin Fishing Charters
The Best New Orleans Plantation Tours To Take With Kids
26 Epic Things To Do In Key West [Including Where To Stay]
9 Best Airbnb Gulf Shores Vacation Rentals For Families
8 Things to do in Jupiter Florida
Where to See Manatees in Florida and Where to Swim with Them
Pin It For Later: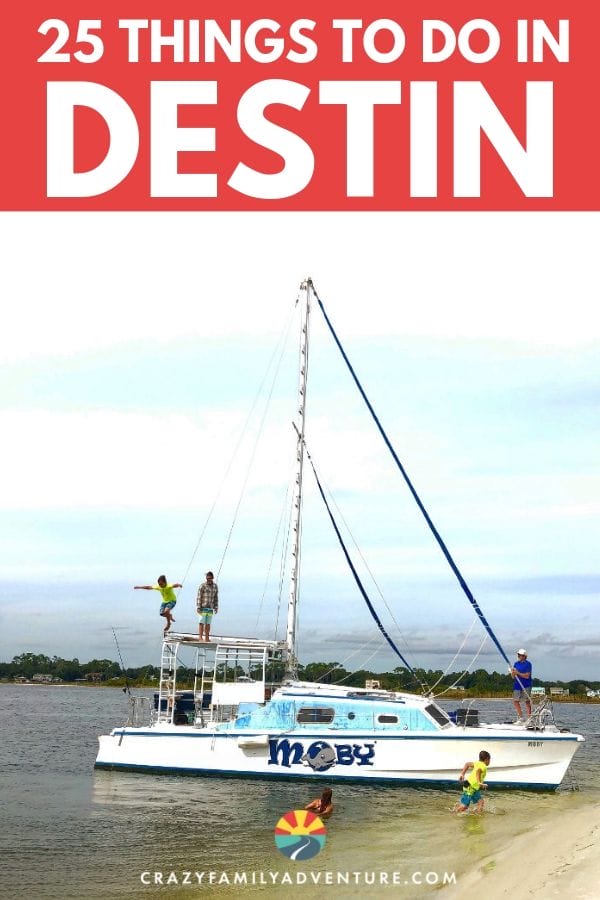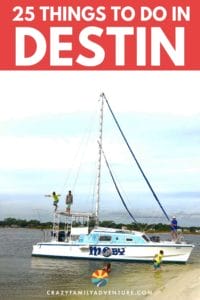 Disclosure: A big Thank You to Destin Fort Walton Beach Florida, TripShock and the Emerald Coast Convention & Visitors Bureau, area attractions, and restaurants for hosting us. All opinions expressed are our own. Truth.
DISCLOSURE: This post may contain affiliate links, meaning I get a commission if you decide to make a purchase through my links, at no cost to you. Please read my disclosure for more info.