Gulf Shores, Alabama is the perfect place for a fun, relaxing, and unforgettable family beach trip! There are so many great things to do in Gulf Shores, Alabama both on the beach and inland. Check out our list below of things you will want to do while you are there.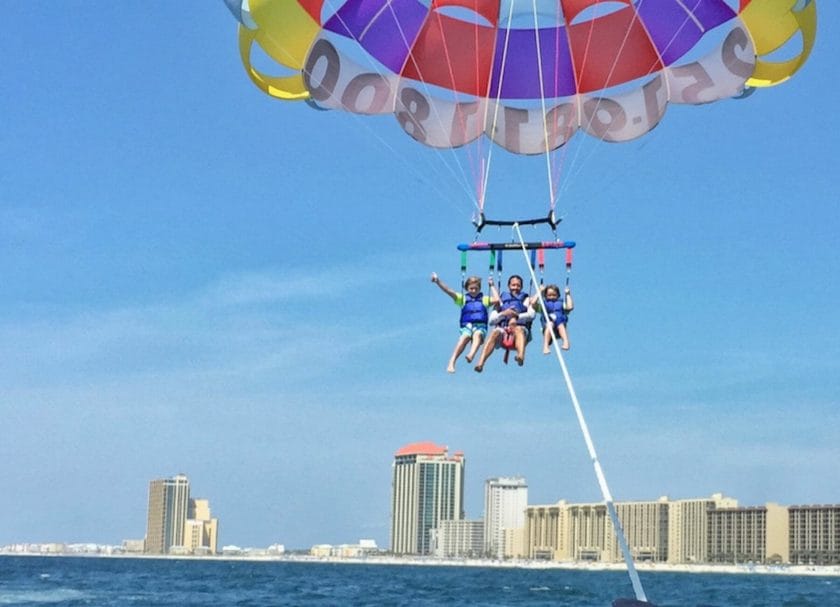 We stayed for one week and had a jam-packed fun time from the amazing restaurants to the water activities to the exciting and interesting attractions in Gulf Shores. Plus we enjoyed just hanging out at the beach on the Gulf of Mexico in coastal Alabama!
Gulf State Park Beach
If you are looking for a fantastic Gulf Shores beach, then Gulf State Park is the place for you! There is a small entrance fee but it is worth it for the sugar-white sand beach and crashing waves. We spend the afternoon hanging out on the beach, playing in the sand, and crashing into the waves.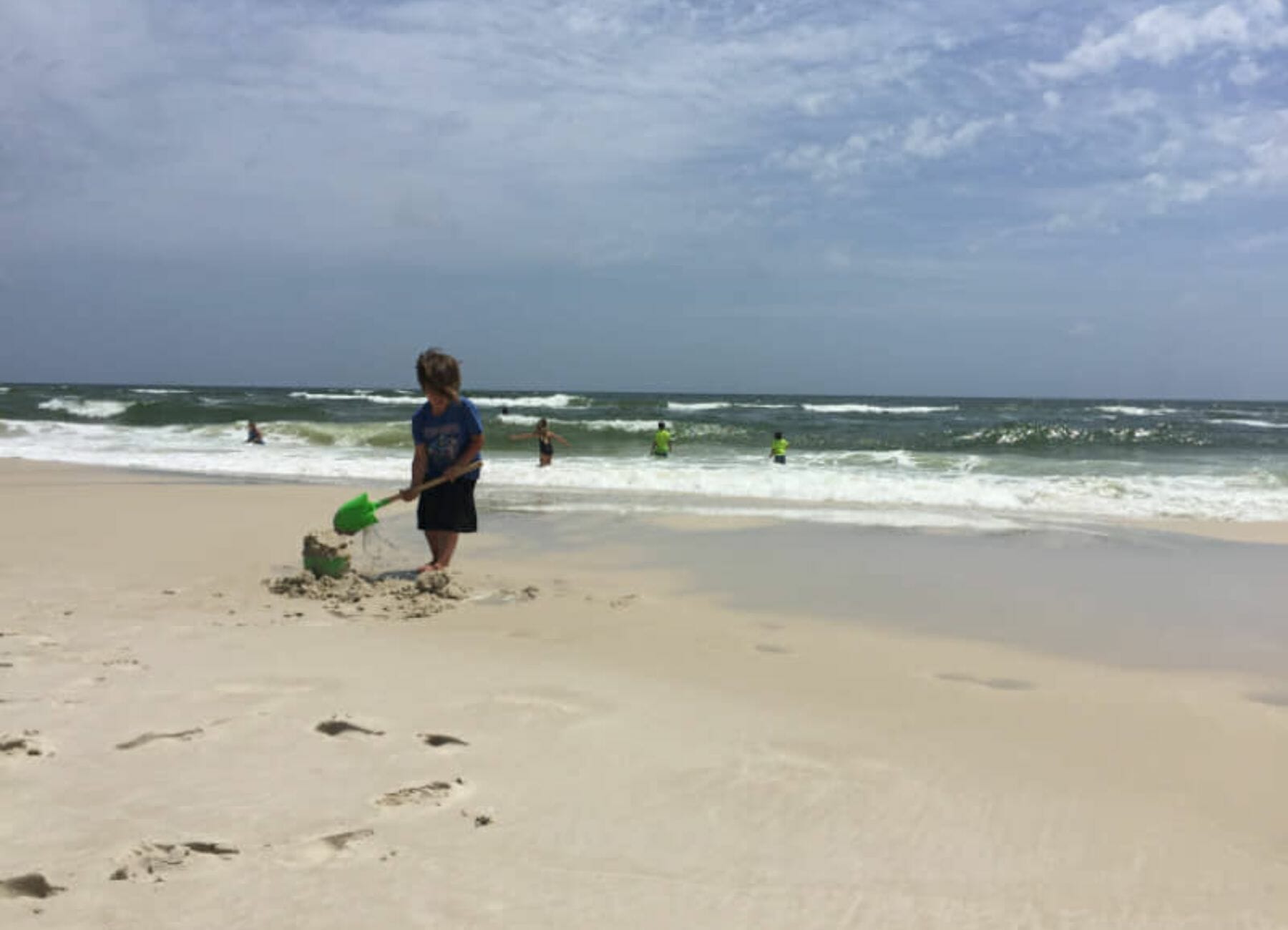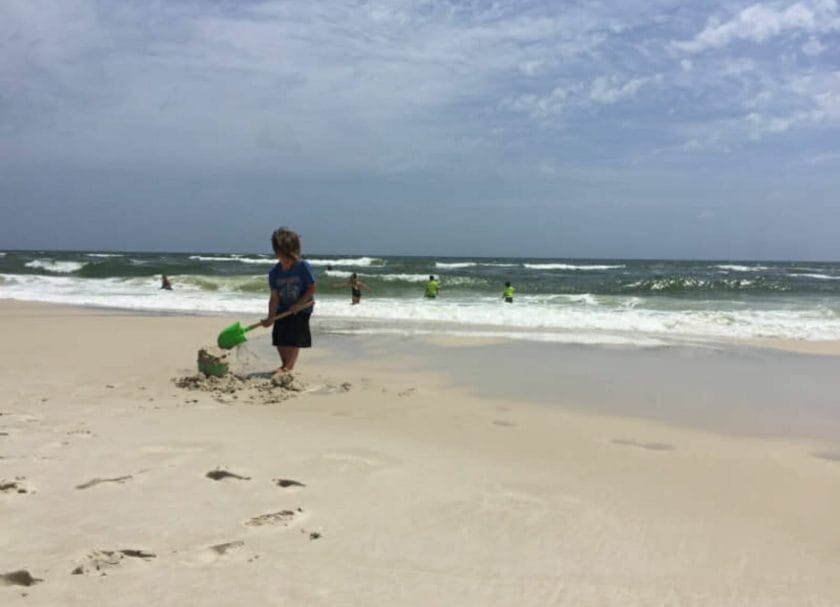 It is a large beach area so there is plenty of room for everyone. They have a nice bathroom area with outside showers for when you are ready to clean up and head home. You just can't beat a day at the beach!
While here be sure to keep an eye out for the sea turtles and if you see any nests give them lots of room and don't disturb them. You can learn more about the Sea Turtles here.
There are a few public beaches in the area where you may have to pay for parking but that is all. The Gulf State Park Pavilion area is a free public beach with a $10 fee for parking. It is located 6 miles east of Highway 59. Bon Secour National Wildlife Refuge Beach is another free beach option.
If you are interested in hiking or biking be sure to check out the Hugh S Branyon backcountry trail system that runs through the park.
Check out our video on our week in Gulf Shores, Alabama:
Alligator Alley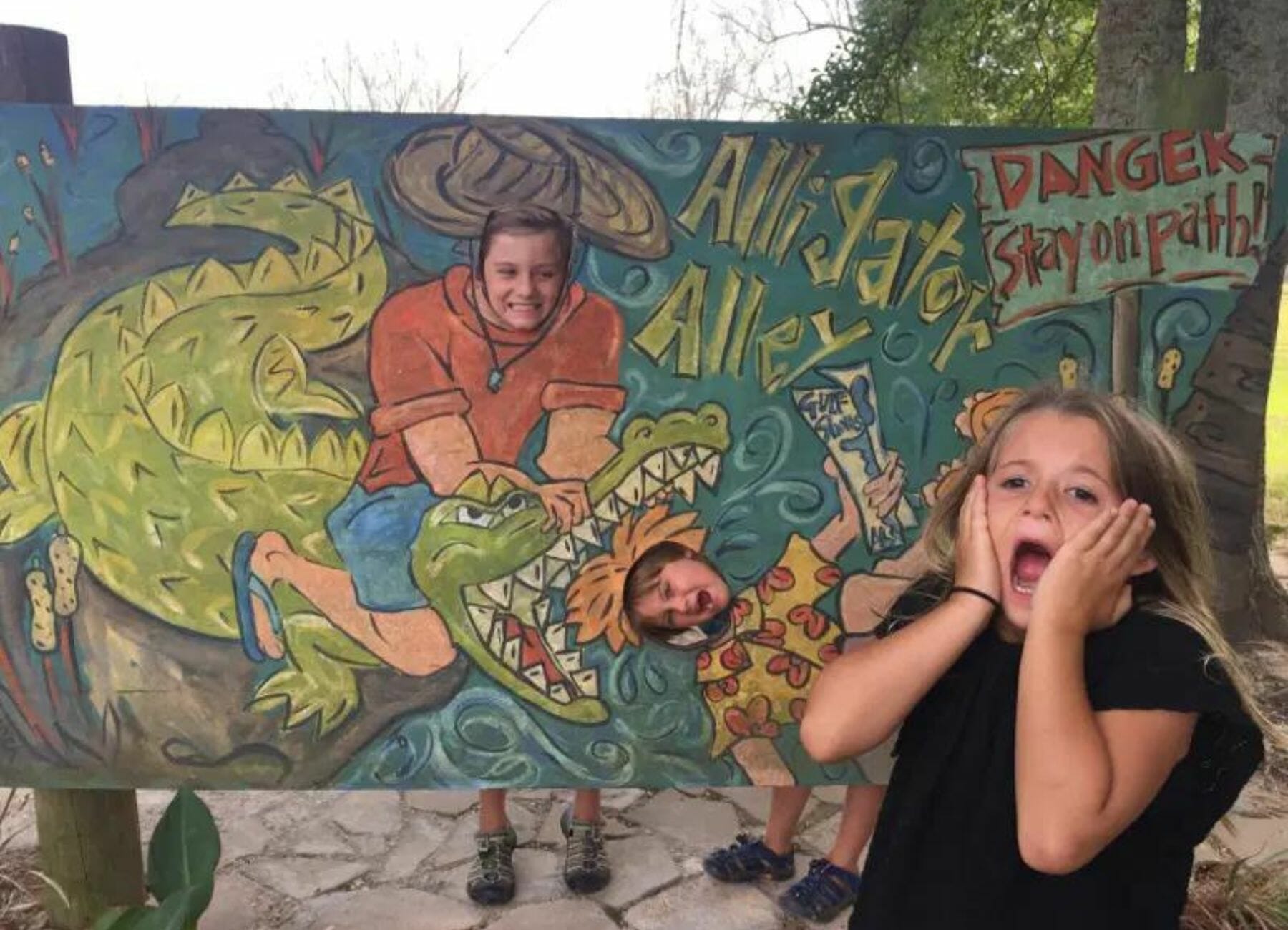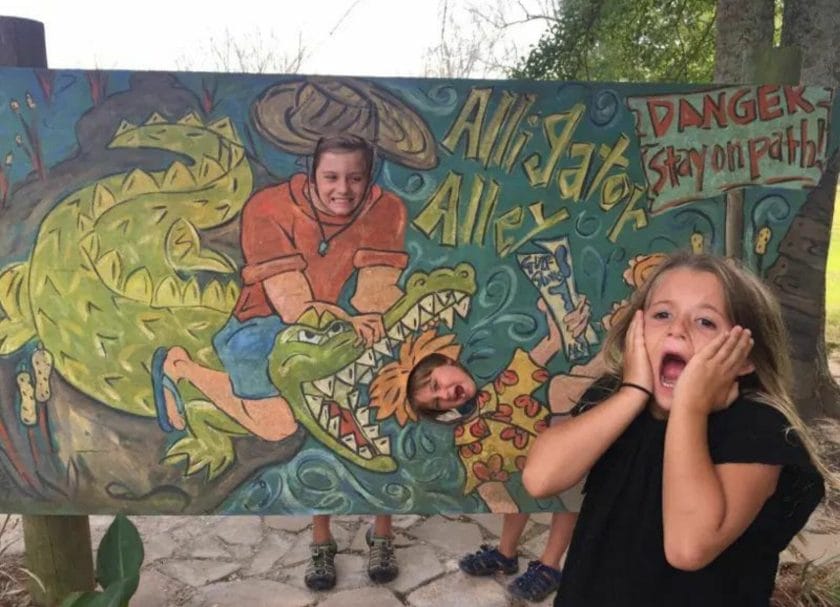 We had heard amazing things about Alligator Alley so we were super excited to check it out! When you first get there you wonder if you are in the right place because it seems like there couldn't be a swamp there. Then as you walk in the experience just gets better and better.
Your first stop is the baby alligators. Those things are so darn cute! From there you go up age by age as you walk through the property. They have a LOT of alligators in each age group in the enclosure and it is crazy to see them all climbing all over each other. Make sure to bring quarters so that you can buy the alligator food to feed them.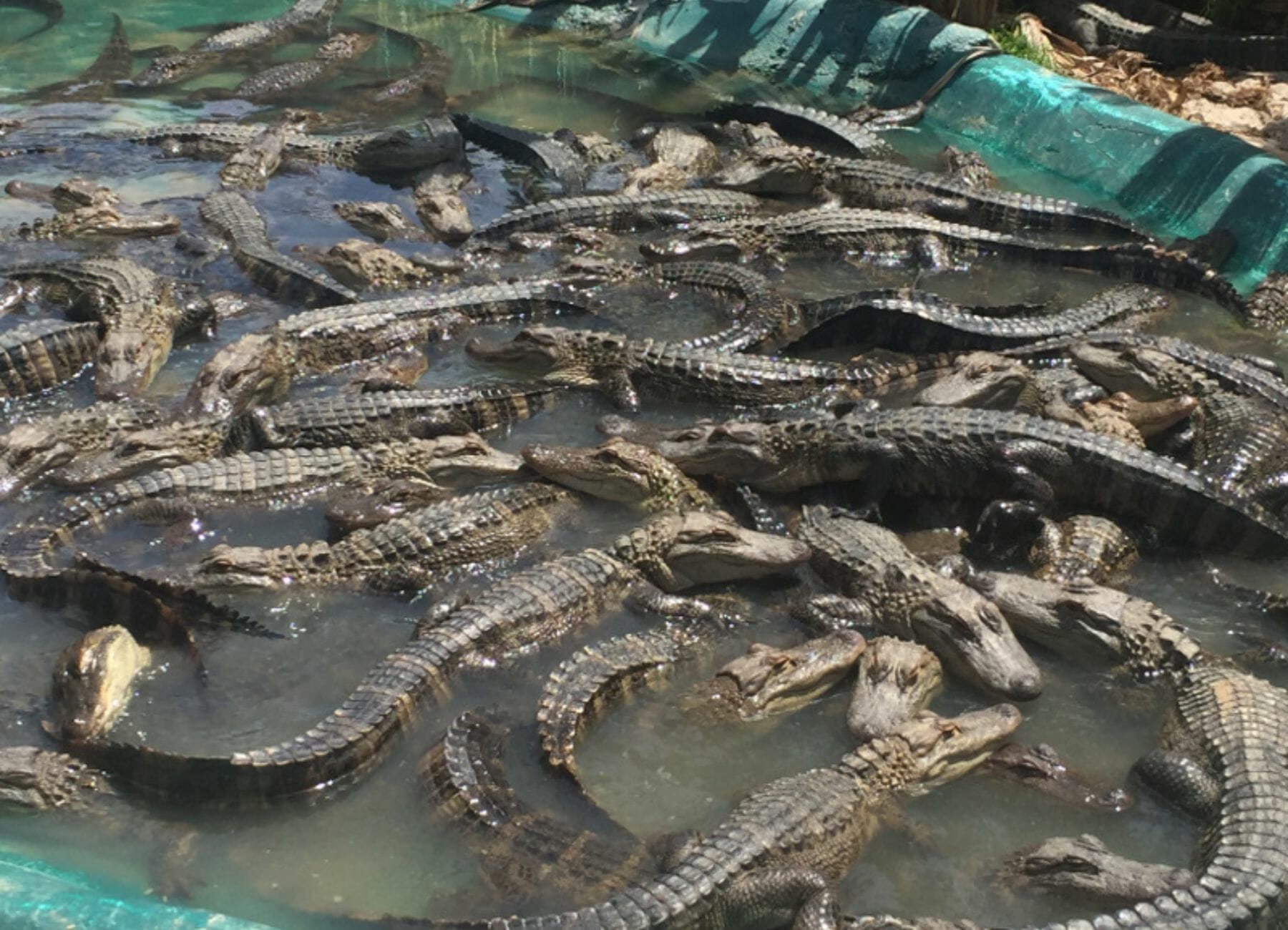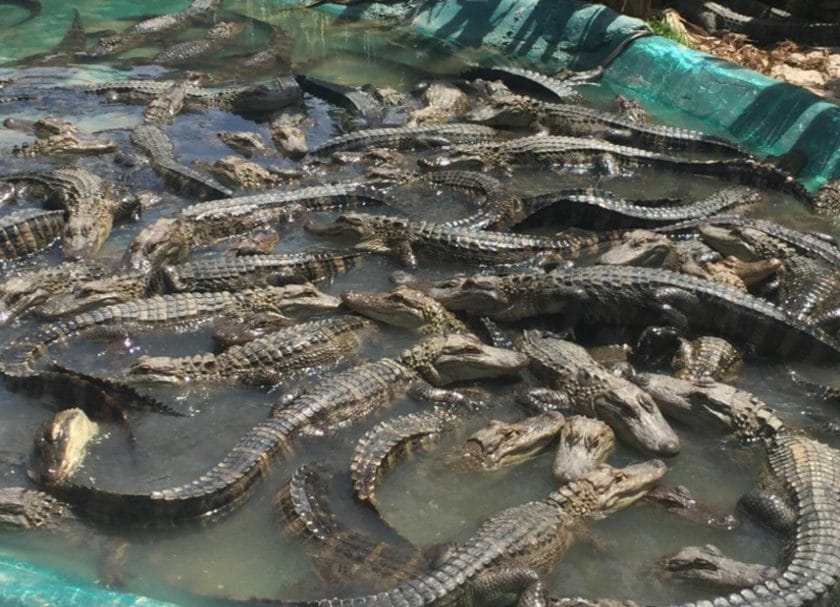 As you continue to walk through you go from the 1-year-olds to 2-year-olds and up. Until you get to the swamp area. This place was crazy cool! You walk out on an elevated boardwalk over the swamp and at first, you don't think there are any alligators there. Then you look around and start to notice that they are EVERYWHERE!
These aren't any 1 year old alligators, they are huge – 10 or more feet long – gators! They are just hanging out in the fluorescent green swamp water. I am not going to lie, it was a little scary and nerve-wracking walking out on this small walkway with these huge animals right below us.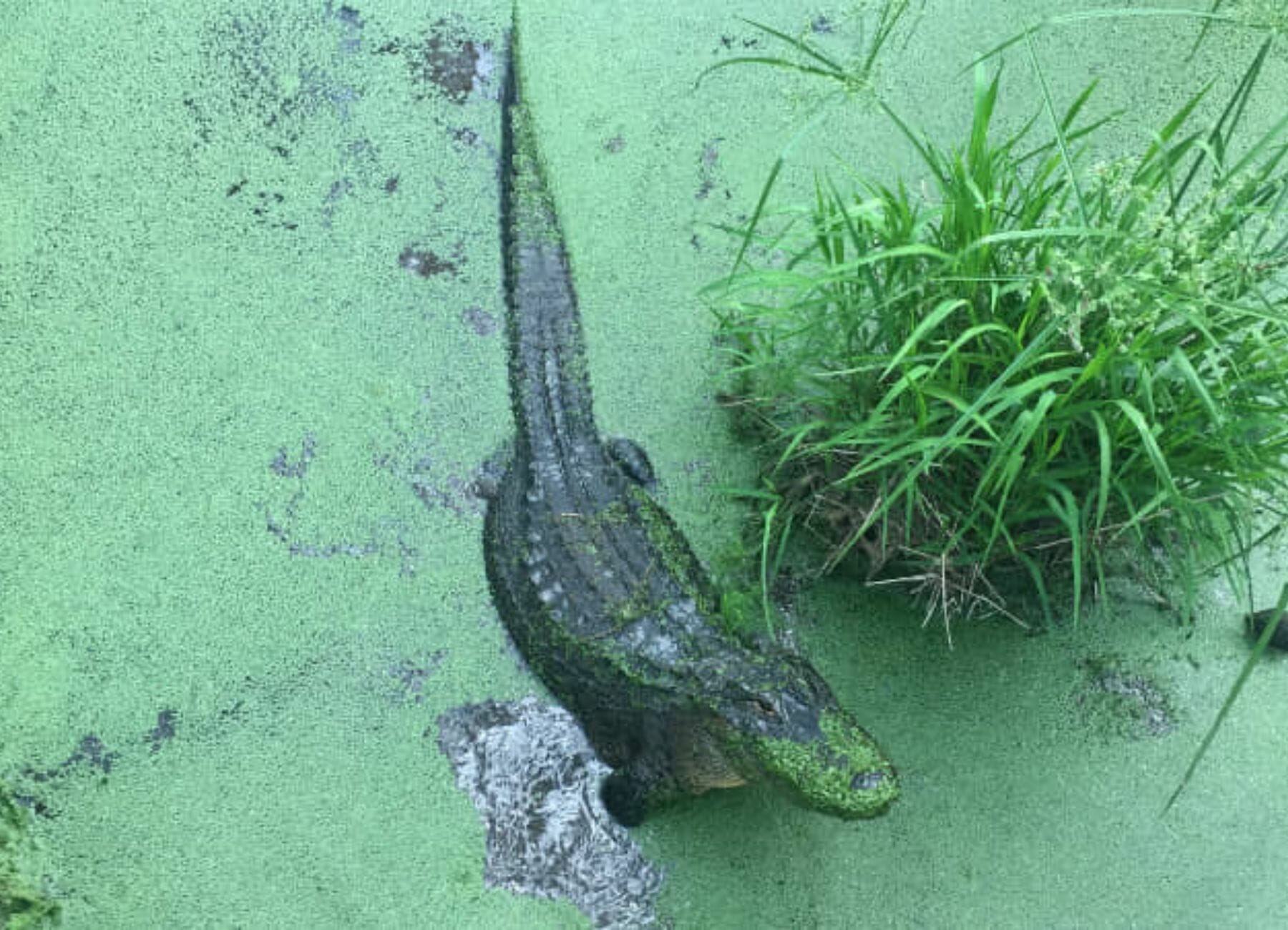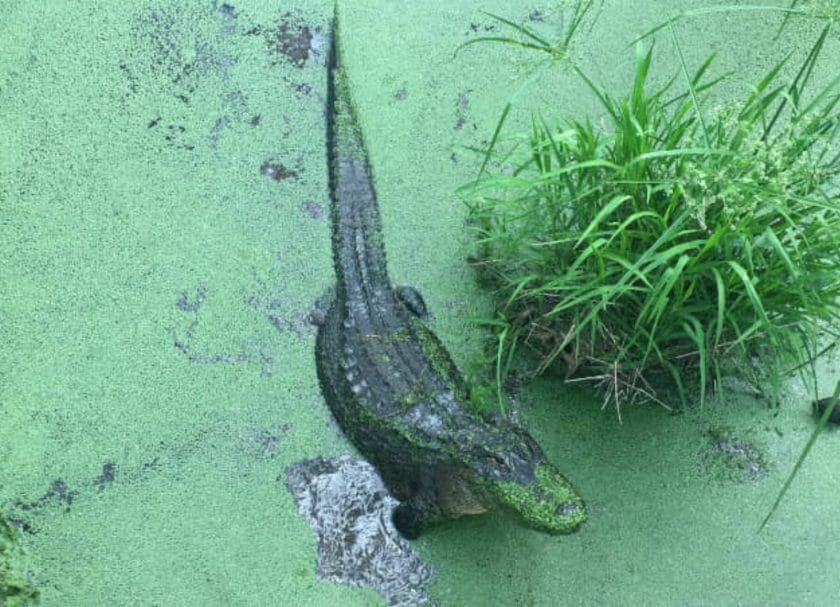 The thing is, it was also beautiful. As you walk deeper and deeper into the swamp you really take in the peace and quiet. Plus the beauty of the area. Then all of a sudden you hear a loud chomp! One of the gators just caught lunch! That is not a noise you hear every day nor will you soon forget.
After hanging out here for a while we headed over to watch the alligator feeding. They do this multiple times a day. One the way we ran into a worker who had a 2 year old alligator that we could all hold.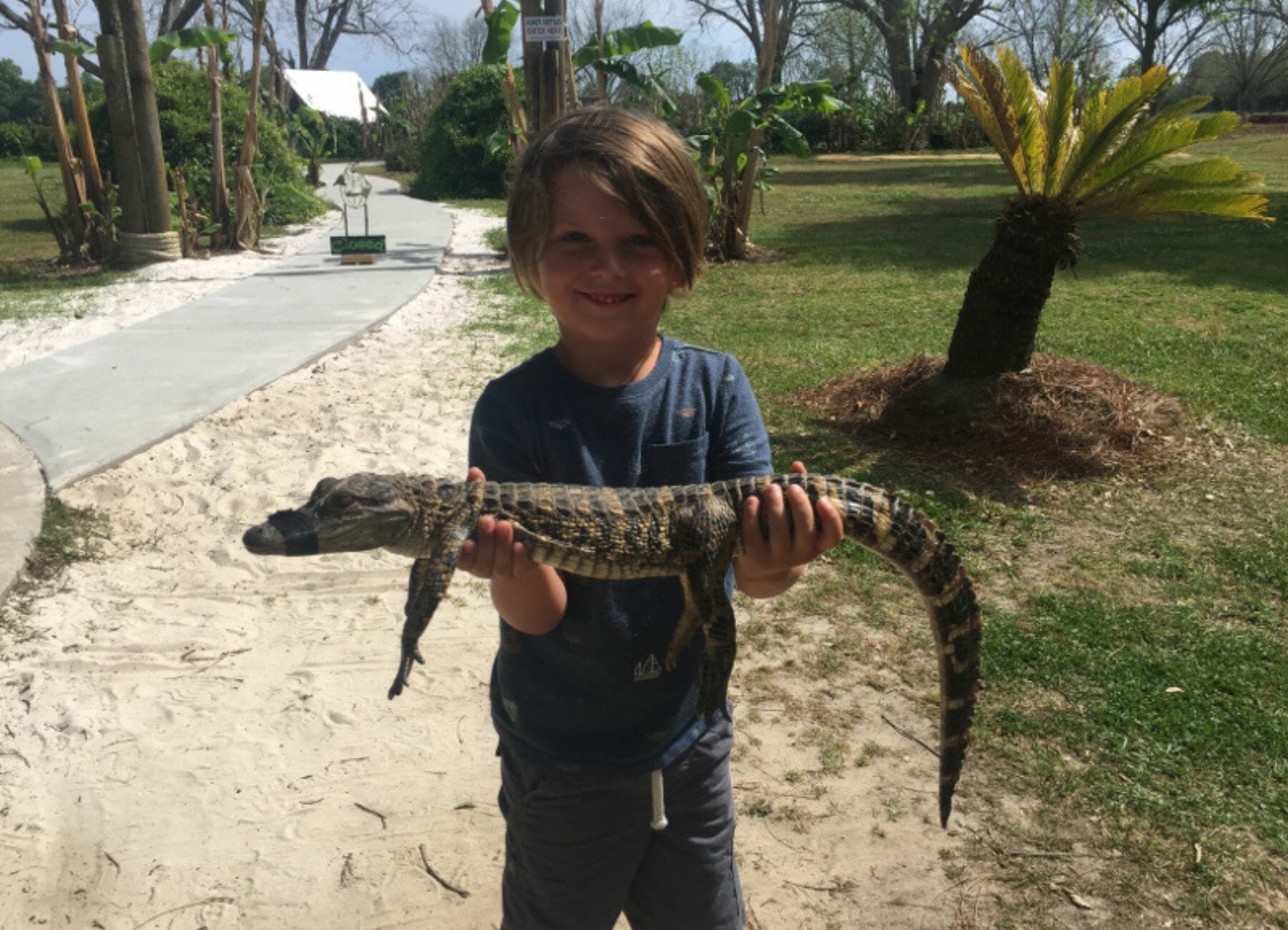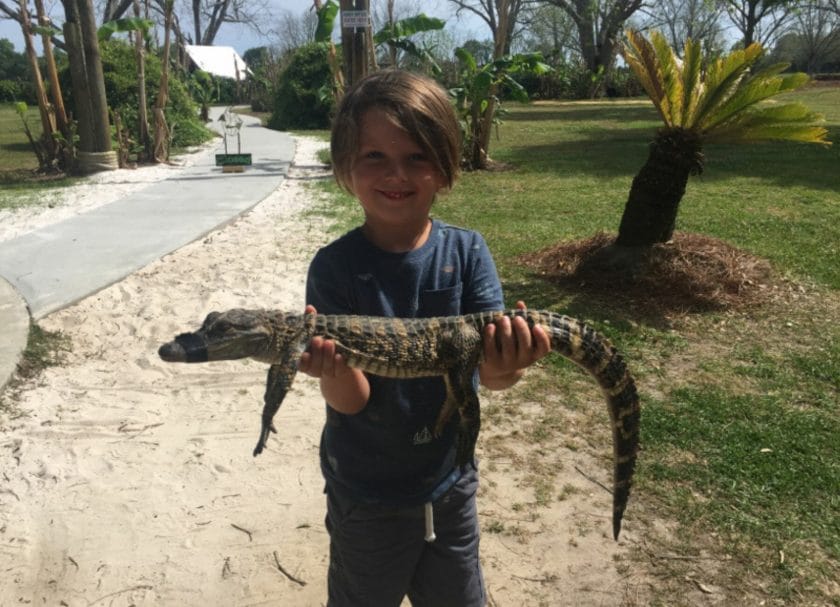 All 6 of us got a chance to hold the alligator and it was amazing how soft their skin really was. It was so cool to watch the kids hold the alligator and to be able to get such a closeup look at them.
After that we headed over to watch the show. During the show one of the crazy workers gets right out there with about 20 large alligators with only a stick to ward them off . . . he then feeds them large steaks . . . Yup, all a little bit crazy, but very fun to watch!
We really enjoyed our time at Alligator Alley and would highly recommend it to anyone in the area. Especially if you have never really been up close by Alligators before. Remember to bring quarters, make the walk all the way to the back so you can go in the swamp area, and time it so you can see a show!
Jet Skiing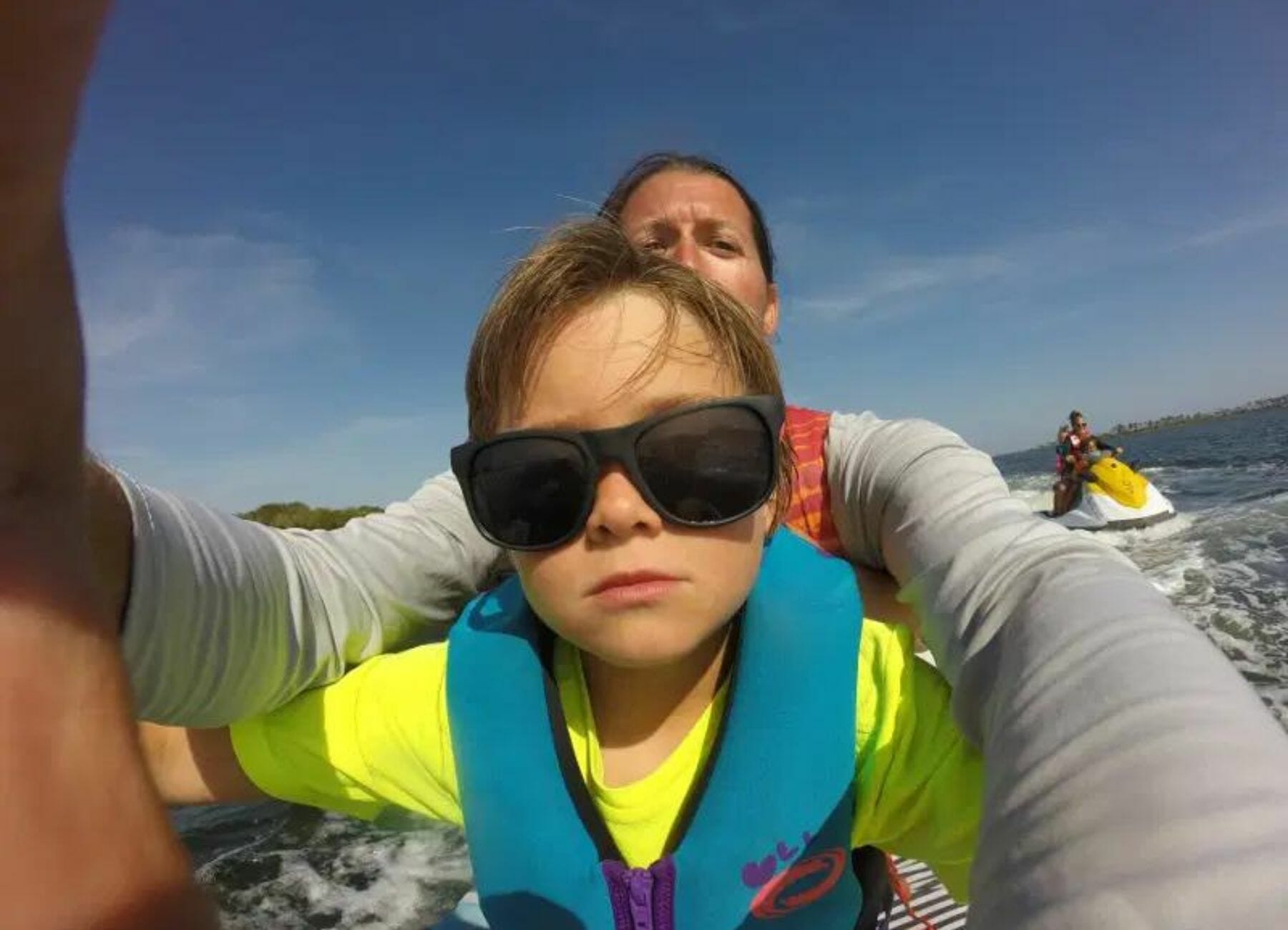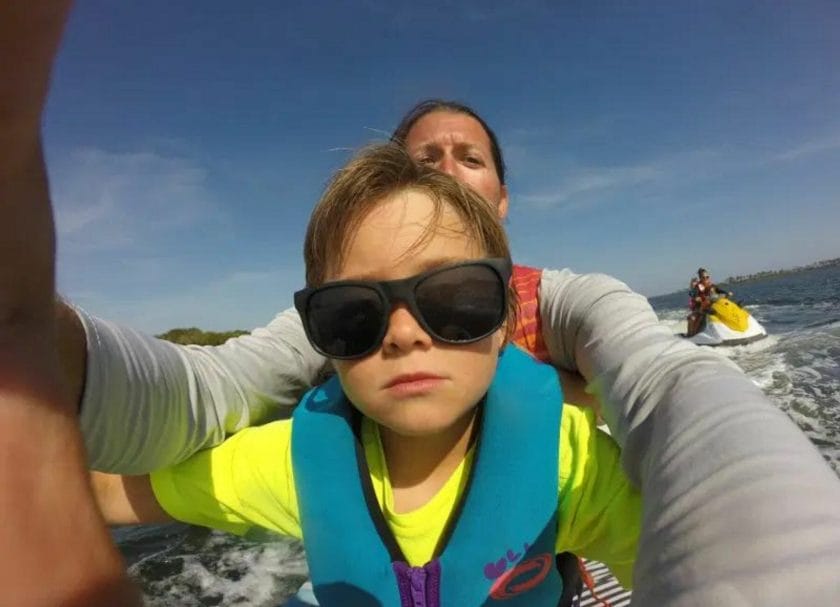 When by the ocean you must jet ski! We have taken a couple of jet skiing trips now with the kids and we always have a blast. Though I have to say my need for speed is not as great as the kids. Driving a jet ski 40 MPH along the Alabama coastal waterway with one kid in front of you and one behind can get a little stressful. Especially when you don't have a need for speed!
All that aside the kids have so much fun – it is well worth it for us to take them. Plus I love being on the water. On this trip they specifically took us out to look for dolphins. We have seen dolphins from a boat, but seeing them from a jet ski – when you are that close to the water – was a really cool experience!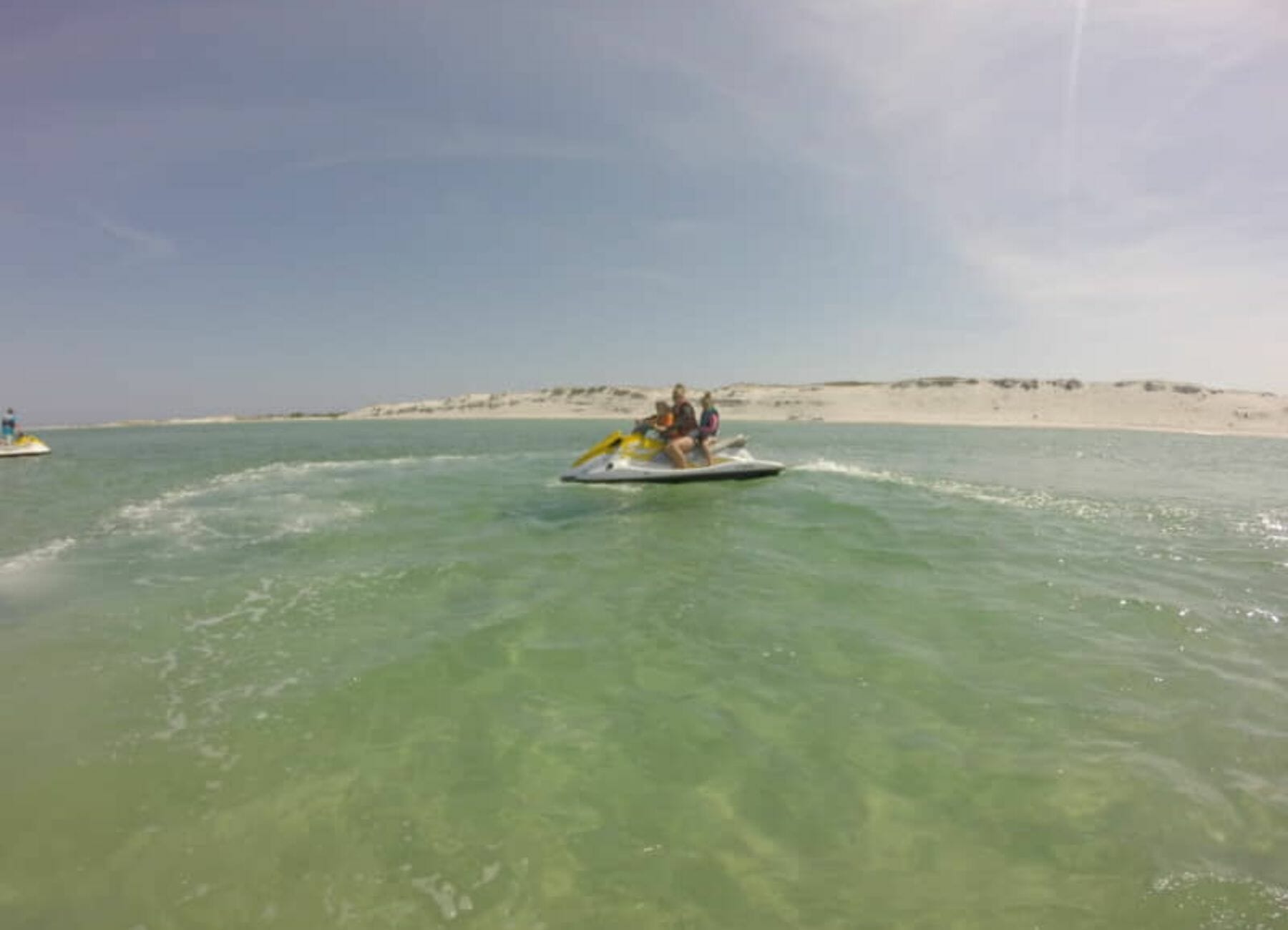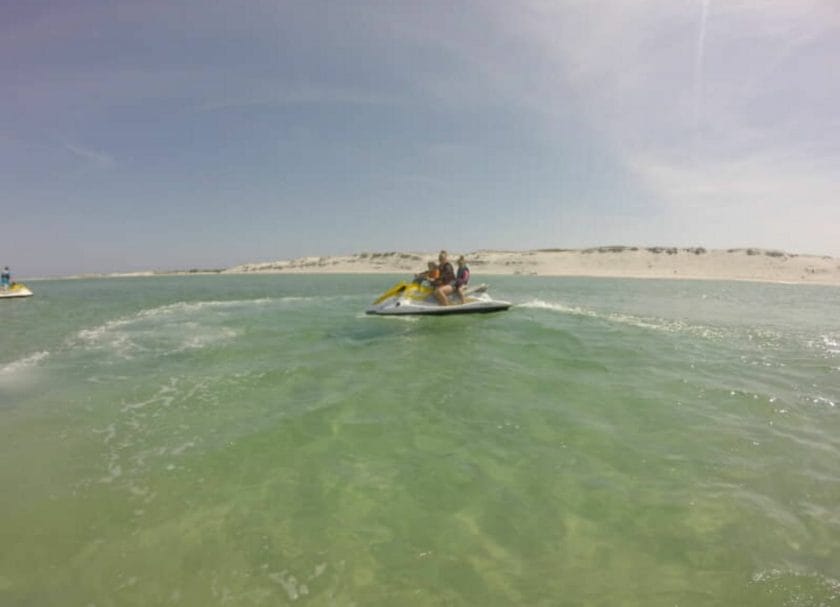 We were on the jet skis for a little over 2 hours. Throughout that time we had stretches where we could go 50+ mph. Stretches where we went slow and took in the scenery around us. And other times where we hung out to look for the dolphins. It was a great combination of the 3 and kept all of us entertained and every single one of us enjoyed it!
Click here for a great deal on Gulf Shores Jet Skiing!
Parasailing – Orange Beach Marina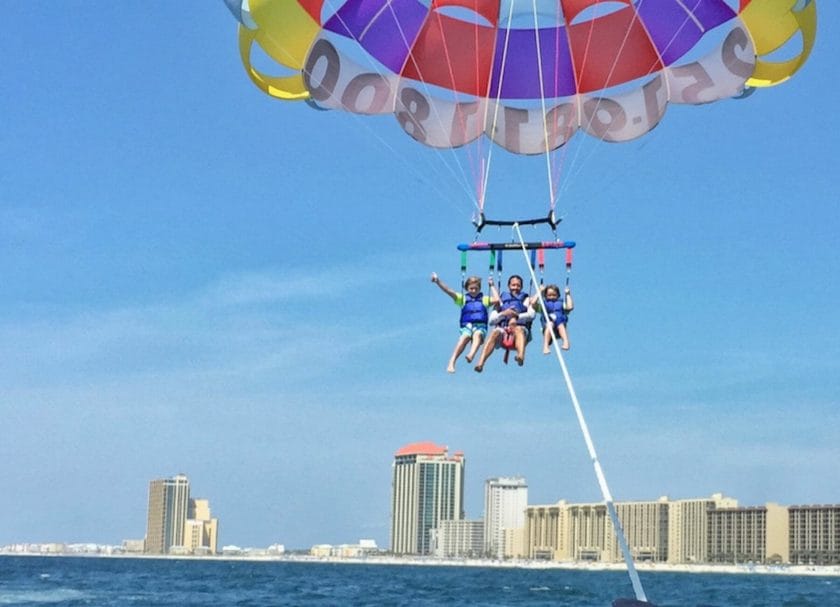 Orange Beach and Gulf shores are great places for water activities! Let the water sports continue! All of us but Knox have been parasailing and it is so much fun. Any time we get a chance to go, we go. This time Knox was old enough so it would be his first time up. He was excited! We took the boat out of the harbor and got a fun speed boat trip with water spraying at us before it was the first group's turn.
I went first with Melia and Knox. They harnessed us in and up we went! At first Knox was scared and cried for a minute, but then once we got up there and he asked a few questions. Like: "Will I fall if I let go?" and, "Will the harness hold me?" he was able to settle down and started to enjoy it.
When we were done I asked if he had fun and he said yes! The true test will be if he wants to do it again next time we go.
After we were done Craig, Carson, and Cannon went up and they wanted the whole experience. This means the guy will dip you in the water on the way down and will also flick the rope so you get jostled while you are up there.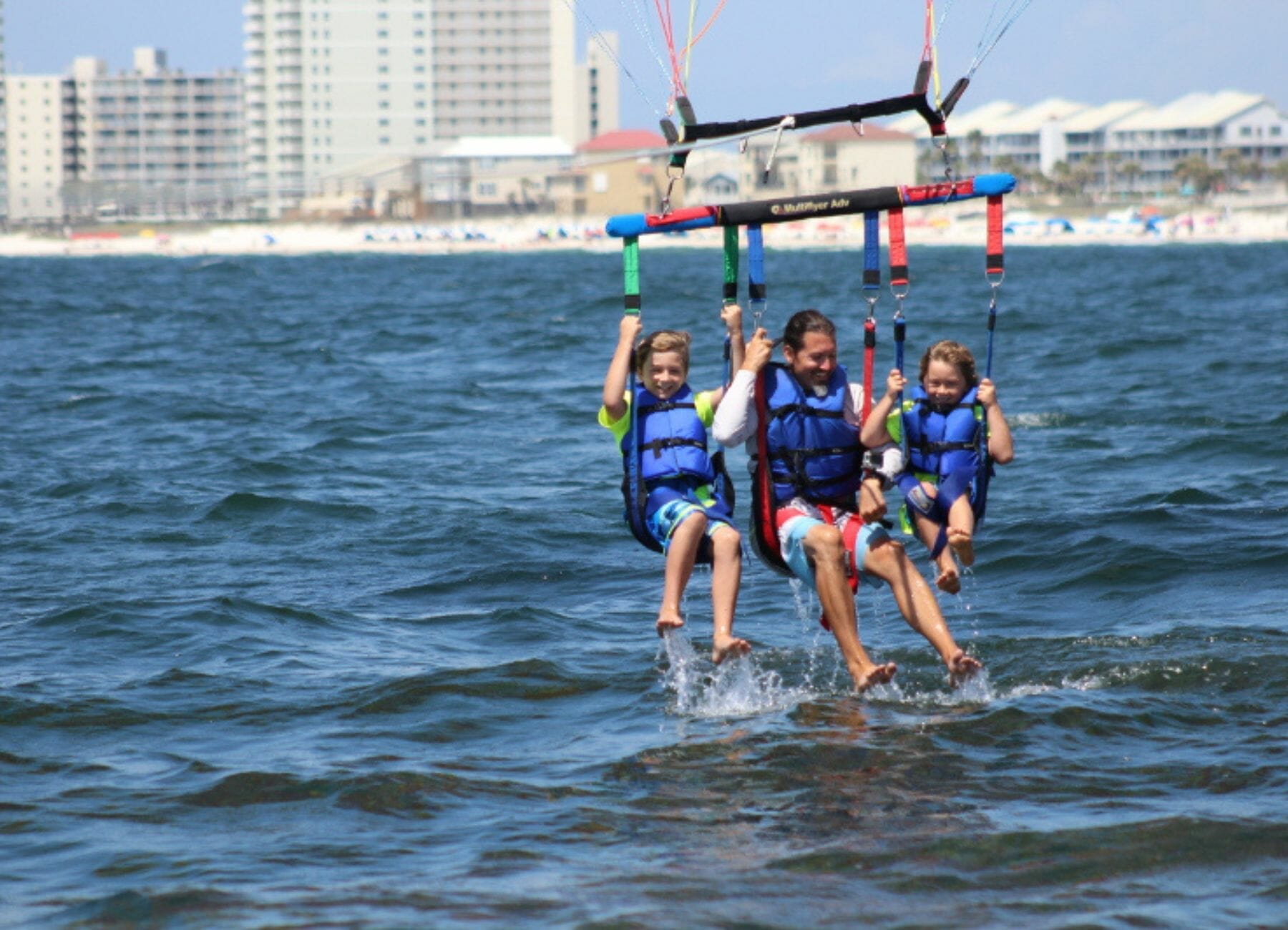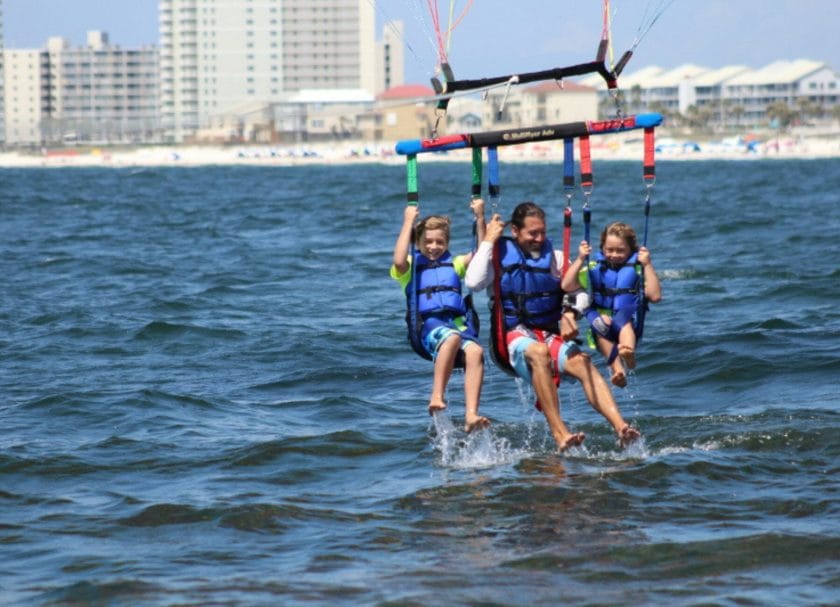 They loved it and had a blast. After the other people on the boat had their turn we headed back and got another fun speed boat ride with the air and water splashing in our faces. We were really glad we had our dry bags so none of our stuff got wet!
Sale
If you decide to go and anyone gets car sick or sea sick you may want to bring some Dramamine or ginger candies. The ride out there can be a little rough and it is wavy when you are sitting in the boat as each person takes their turn. The calmest part is when you are up in the air parasailing.
Click here for great deals on Gulf Shores Parasailing!
Banana Boats- Gulf Shores
Take a 15-minute ride on a banana-shaped boat pulled behind a waverunner! Enjoy the novelty of riding on a banana with your kids as you laugh and bounce along the waves!
Book your banana boat tickets here!
Kayak and Paddleboard Rental – Orange Beach Marina
Rent Kayaks or Paddleboards for a half day (4 hours) and explore the Gulf Coast and Orange Beach Islands at your own pace!
Click here to book Kayaks or Paddleboards in Orange Beach!
Inshore Fishing Trip – Gulf Island Charters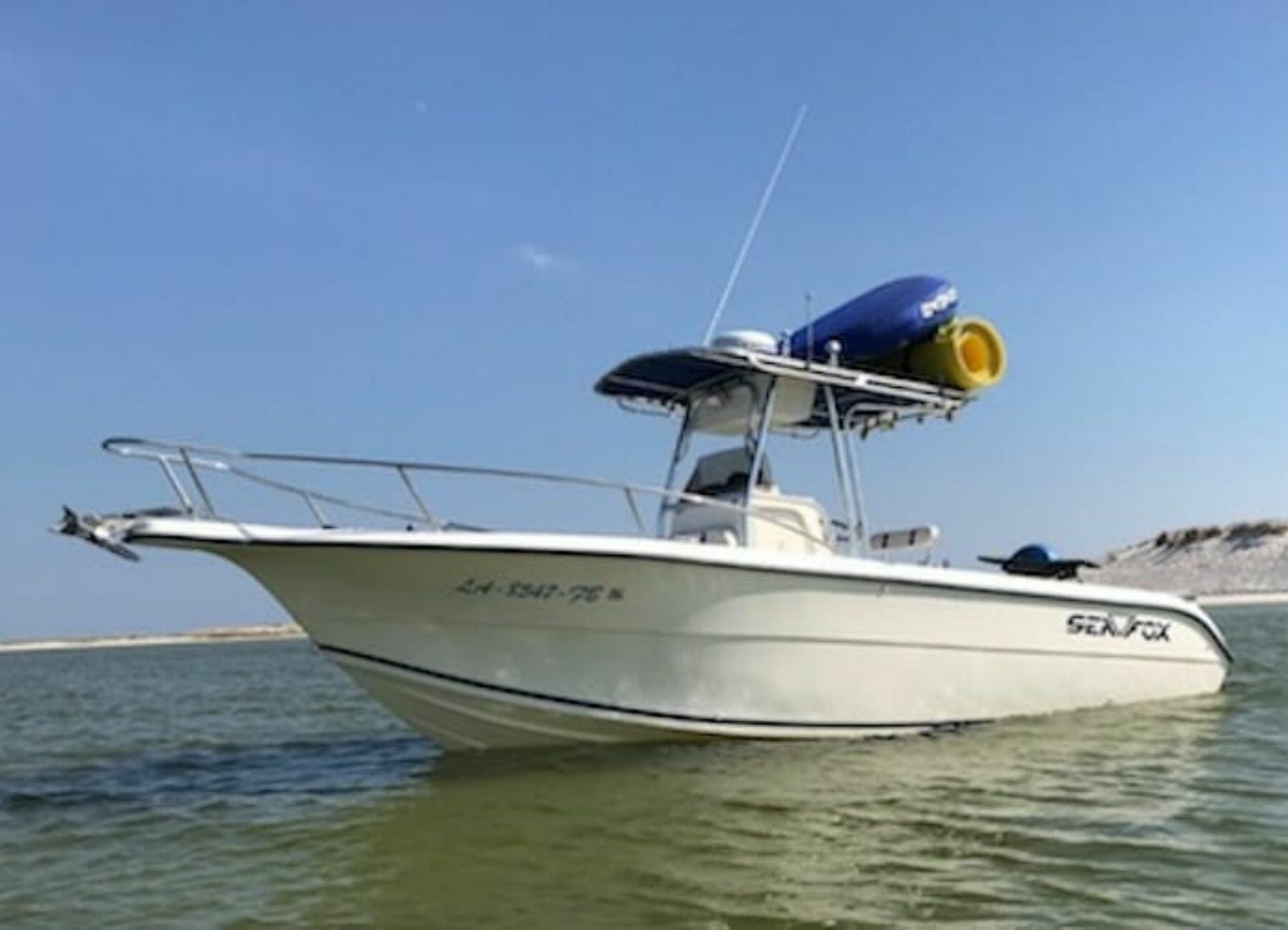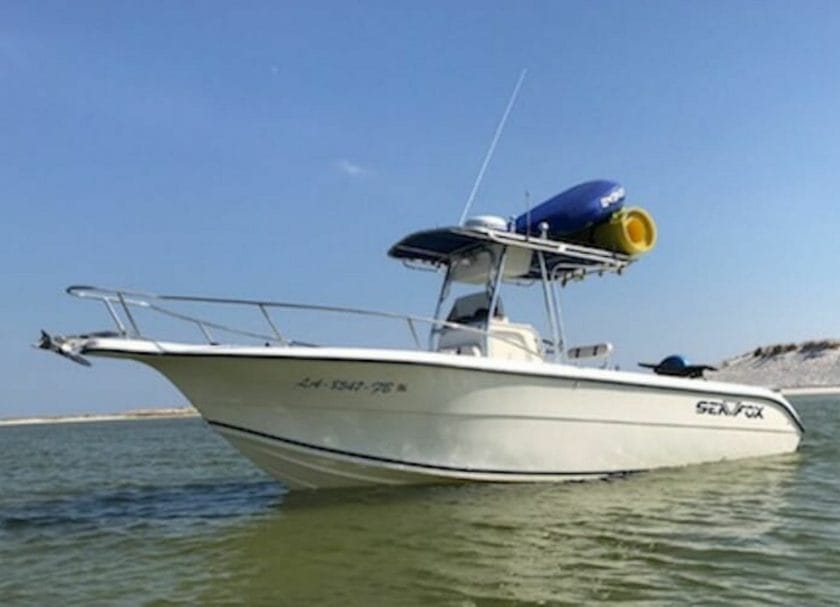 The perfect fishing trip if you have younger kids who aren't quite ready for a deep-sea fishing trip. The owner is a Dad himself so he knows how to make the trip great for kids! It is about a 2-3 hour trip so come prepared.
Deep Sea Fishing
If fishing is your thing than Gulf Shores and Orange Beach is a great place for you! There are a lot of great ways to cast a line while you visit. From half-day to full day deep sea fishing to inshore fishing to fishing charters you will find the right setup for you and your family.
The Spa & Salon at The Beach Club Resort & Spa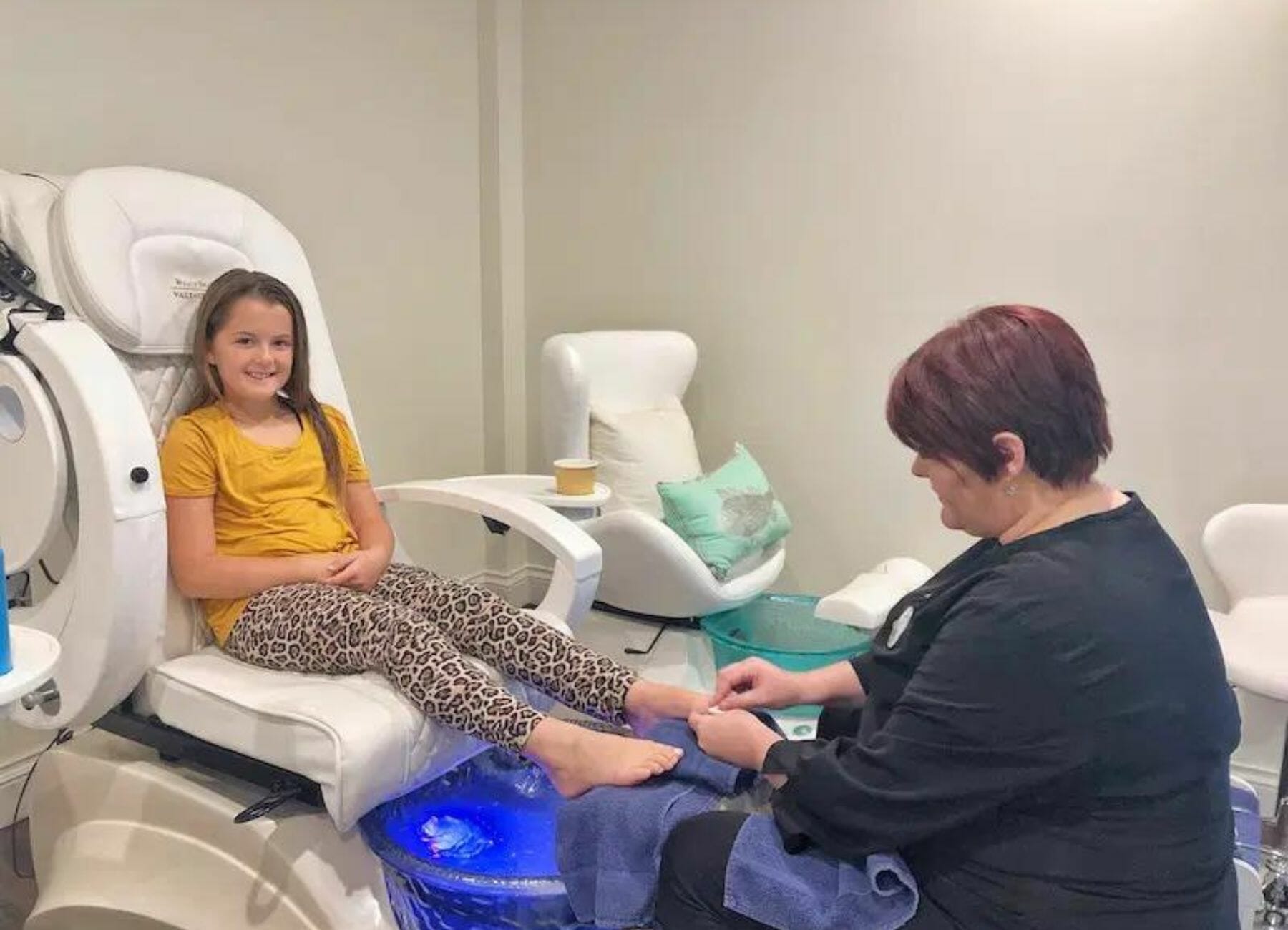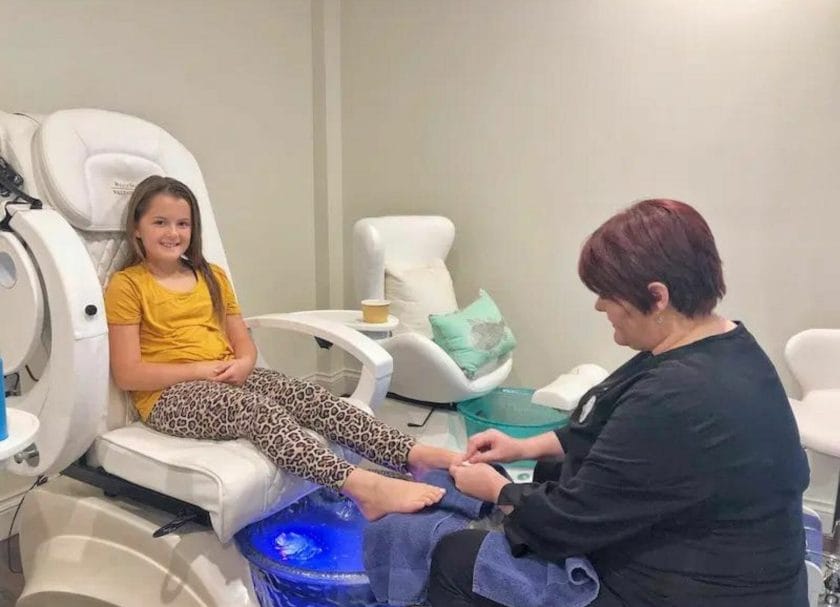 Looking for something relaxing to do?! This is the place for you! Melia and I got pedicures and did mini facials and it was a perfect way to spend our morning. We felt pampered from the minute we walked into the door all the way to the end. They have a variety of services they provide so be sure to check them all out.
Click here to learn more about The Spa & Salon at The Beach Club Resort & Spa.
Oak Hollow Farm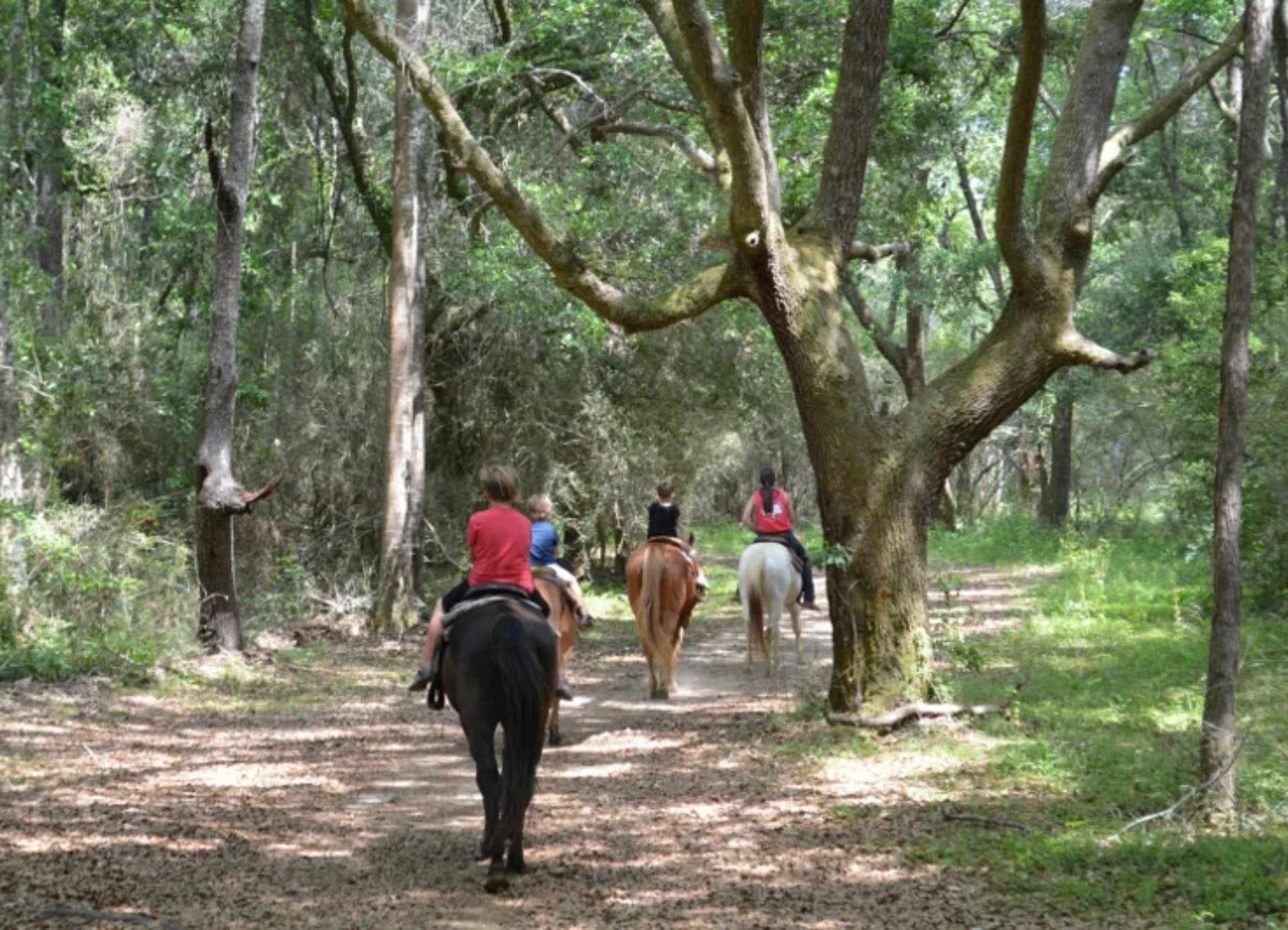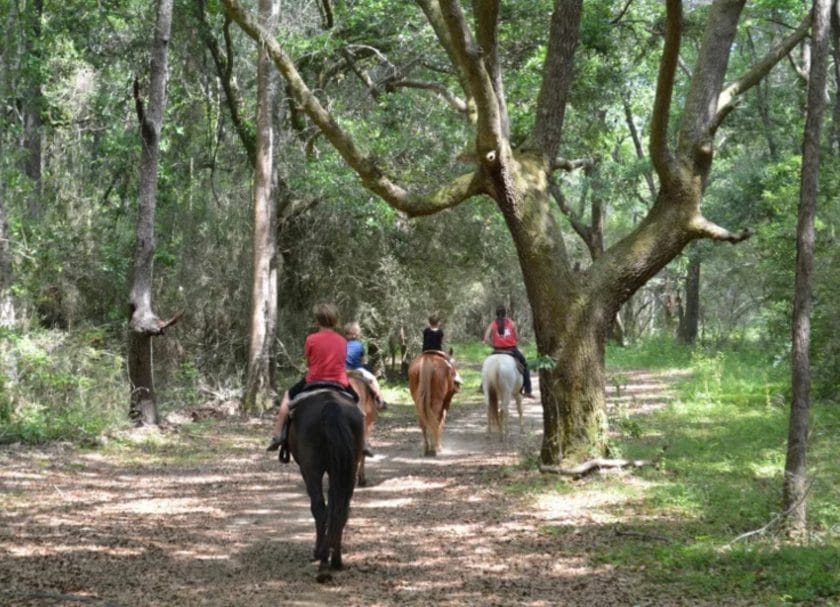 I know I mentioned beach vacation, but have to also recommend taking the drive out to Oak Hollow Farm to take in the peace and beauty and to go on a horse back ride. This beautiful farm is family owned and has one of the most beautiful barns – perfect for a barn wedding – that I have ever seen!
They have over 50 horses that are great for people of all ages and skill levels and they will take you on a nice horseback ride around the property. Our horses were great with us and the kids and the guide was awesome with the kids.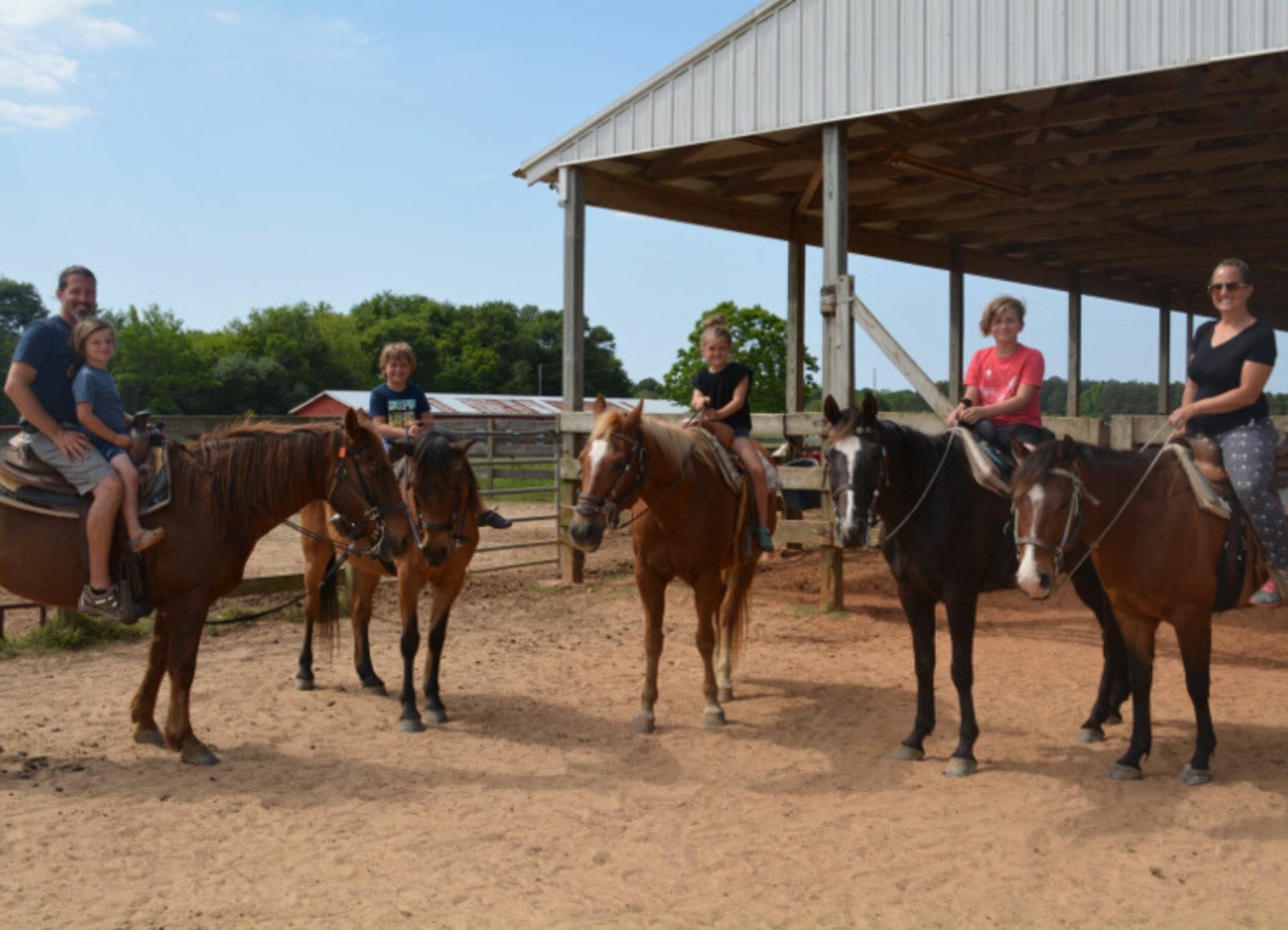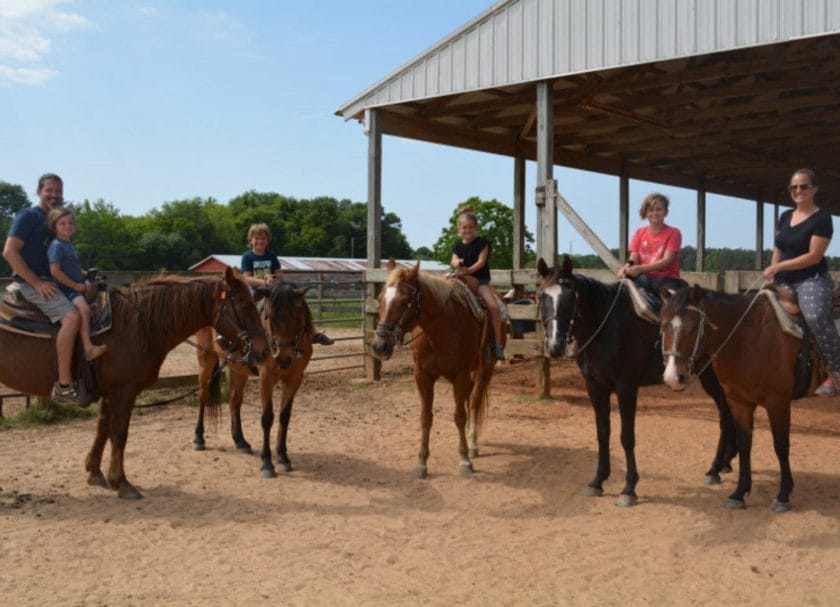 If you are in Gulf Shores it is worth it to head out to the farm, bring a picnic lunch, and ride horses. When you get there they come and pick you up and give you a hayride out to the stable. Then you get a few instructions and hop on to head out on the trails. When you get back the guide will bring some carrots out so the kids can feed and pet their horses.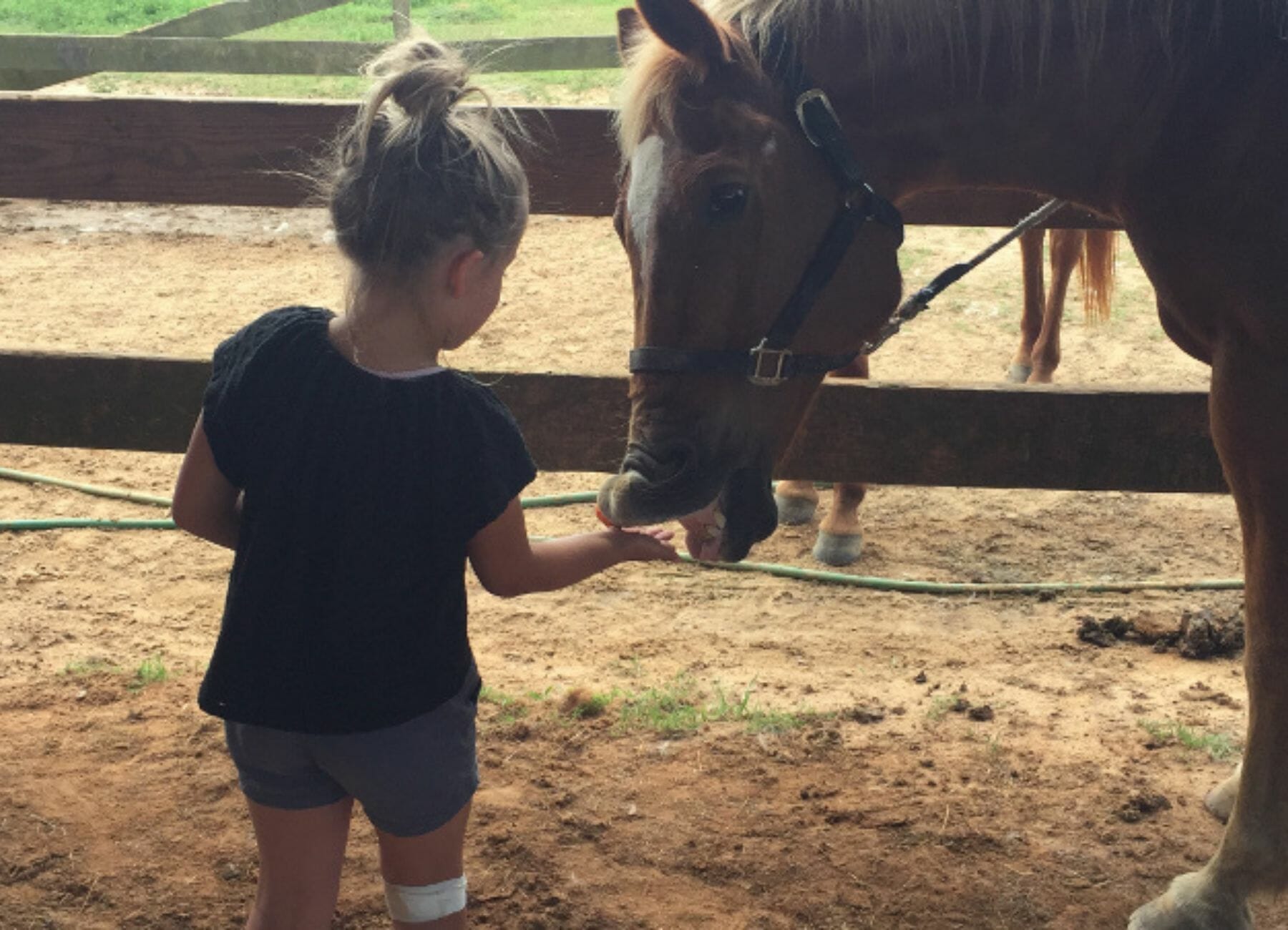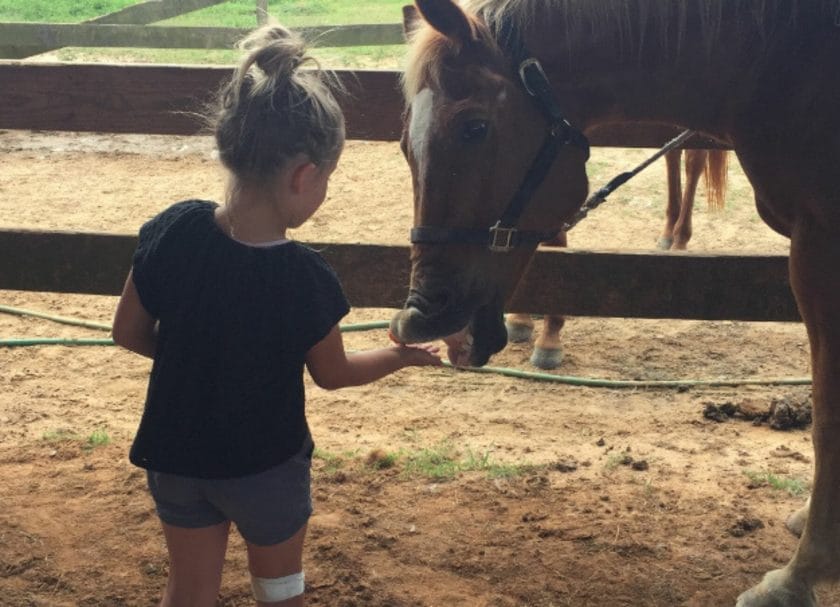 It was a lot of fun and a great relaxing way to spend the afternoon away from the fun and craziness of Gulf Shores and the beach.
**Be sure to check their site (http://oakhollow.farm/) to see if they are offering horseback riding. If not they do have a few other activities that they offer like fishing.
The Wharf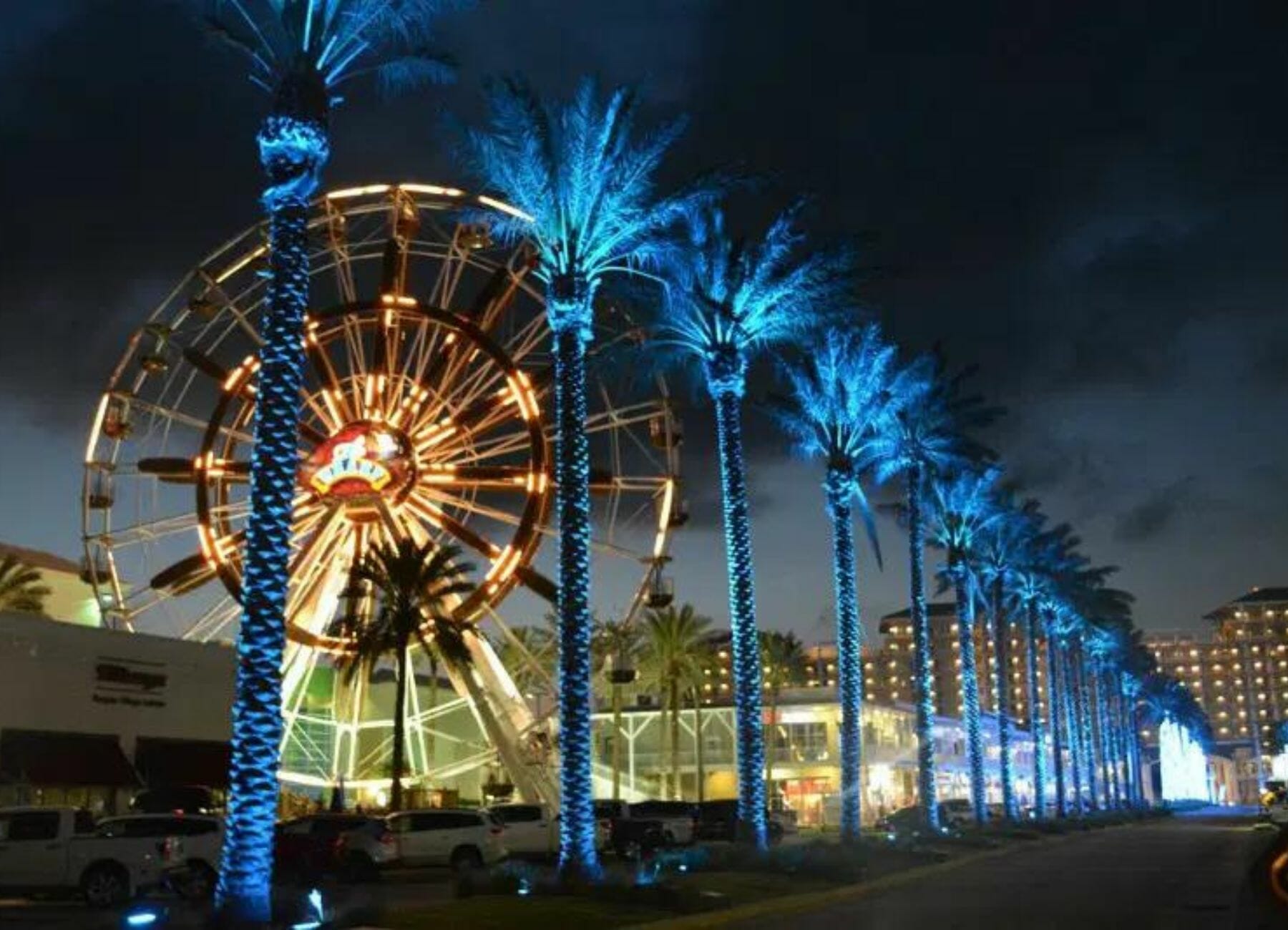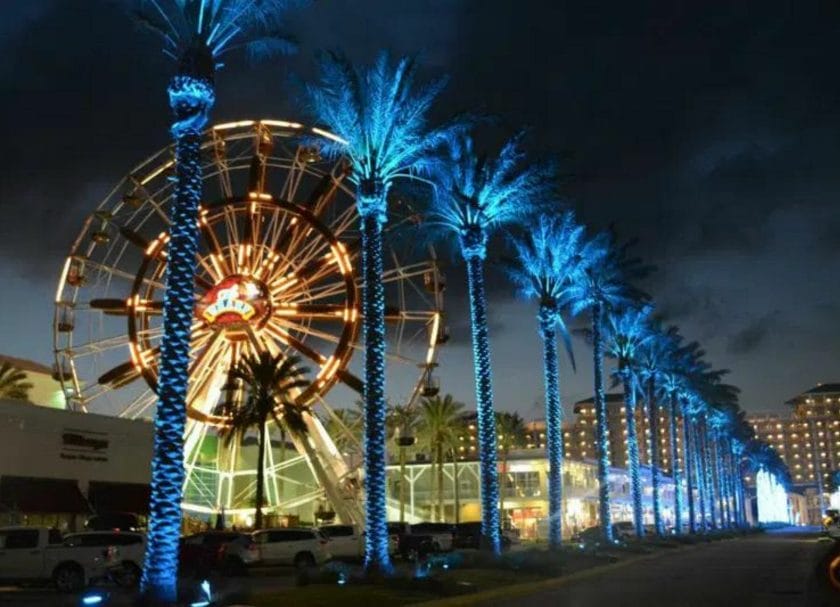 Want to do a dolphin cruise Gulf Shores style? The Wharf is the place to go. They offer a dolphin cruise multiple times throughout the day. We recommend sunset. You'll head out on the water and literally drive in circles when they spot a dolphin so no matter where you are sitting you can see them.
We saw quite a few dolphins on the trip and were even able to see some playing in the waves right next to the boat. If you do head out at dinner time or for the sunset cruise and the kids are hungry you can buy dinner at one of the restaurants by the Wharf and bring it on board. They also have a concession stand on the boat if you wanted to purchase some snacks.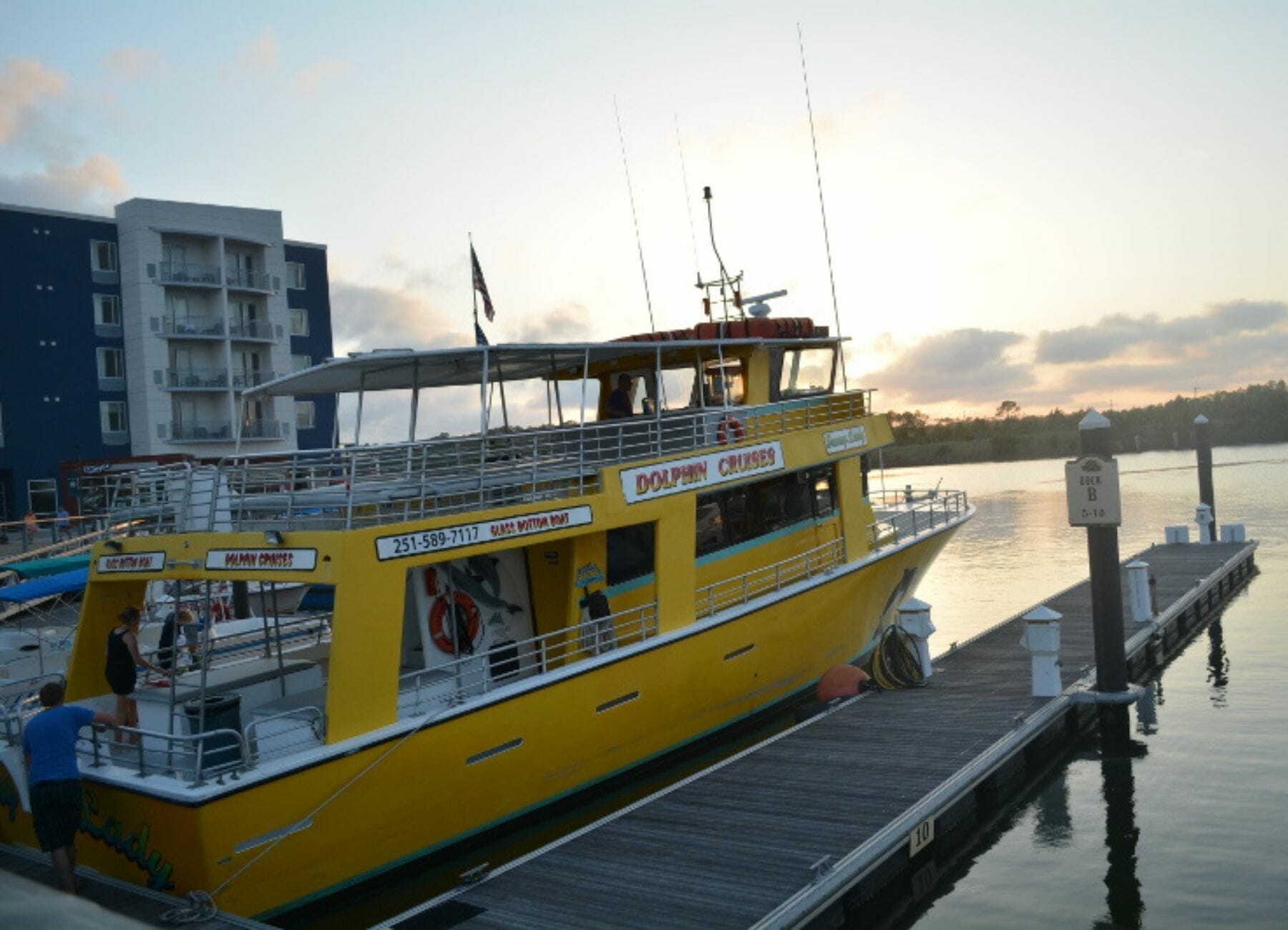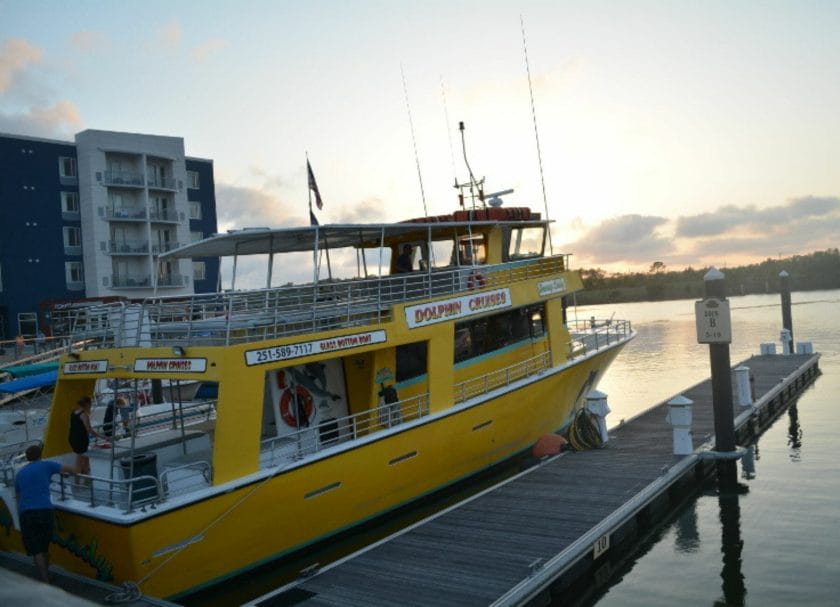 After the dolphin cruise, we headed over to the Wharf area to play some mini golf. The course was fun with a beach/ocean vibe and perfect for the kids. We all grabbed a club and a ball and completed the 18-hole course. I think about halfway in we stopped keeping score and just had fun!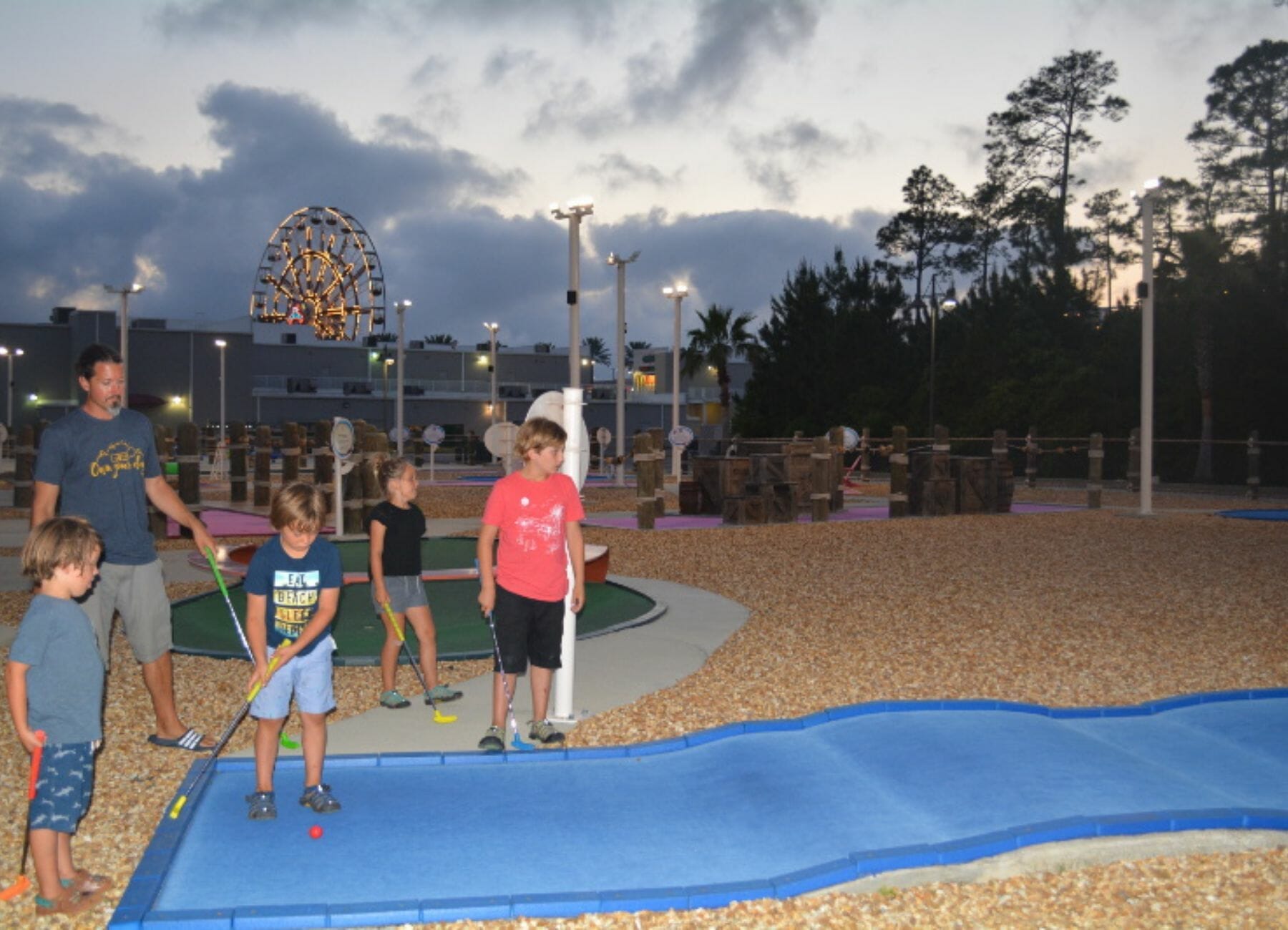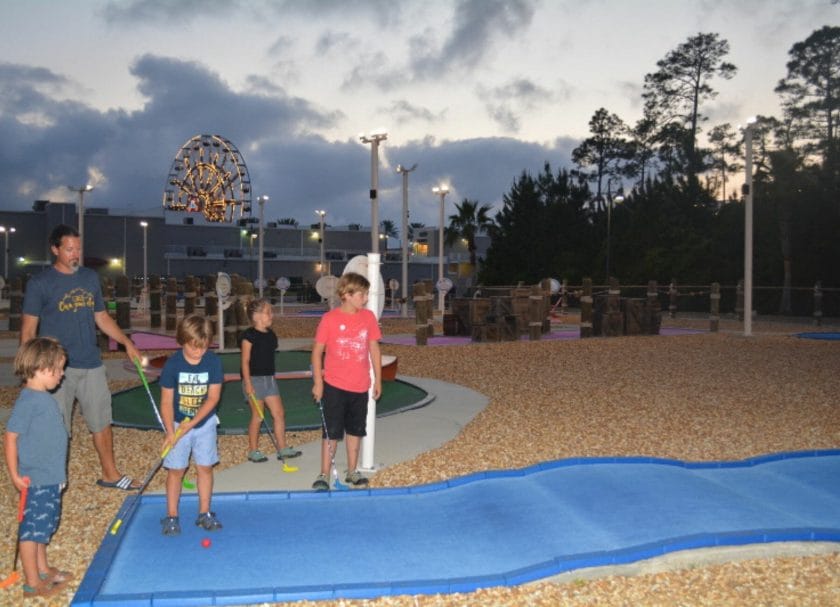 Next we headed over to the Ferris Wheel. Any time we see a Ferris wheel the kids want to go on it and this was no exception. By this time it was dark so we jumped on and were able to catch the Wharf's nightly light show from the Ferris wheel. It was the perfect (totally unplanned) time to go!
Be sure to check the event calendar – we happened to be there for the opening weekend of the indoor ice skating rink! So much fun!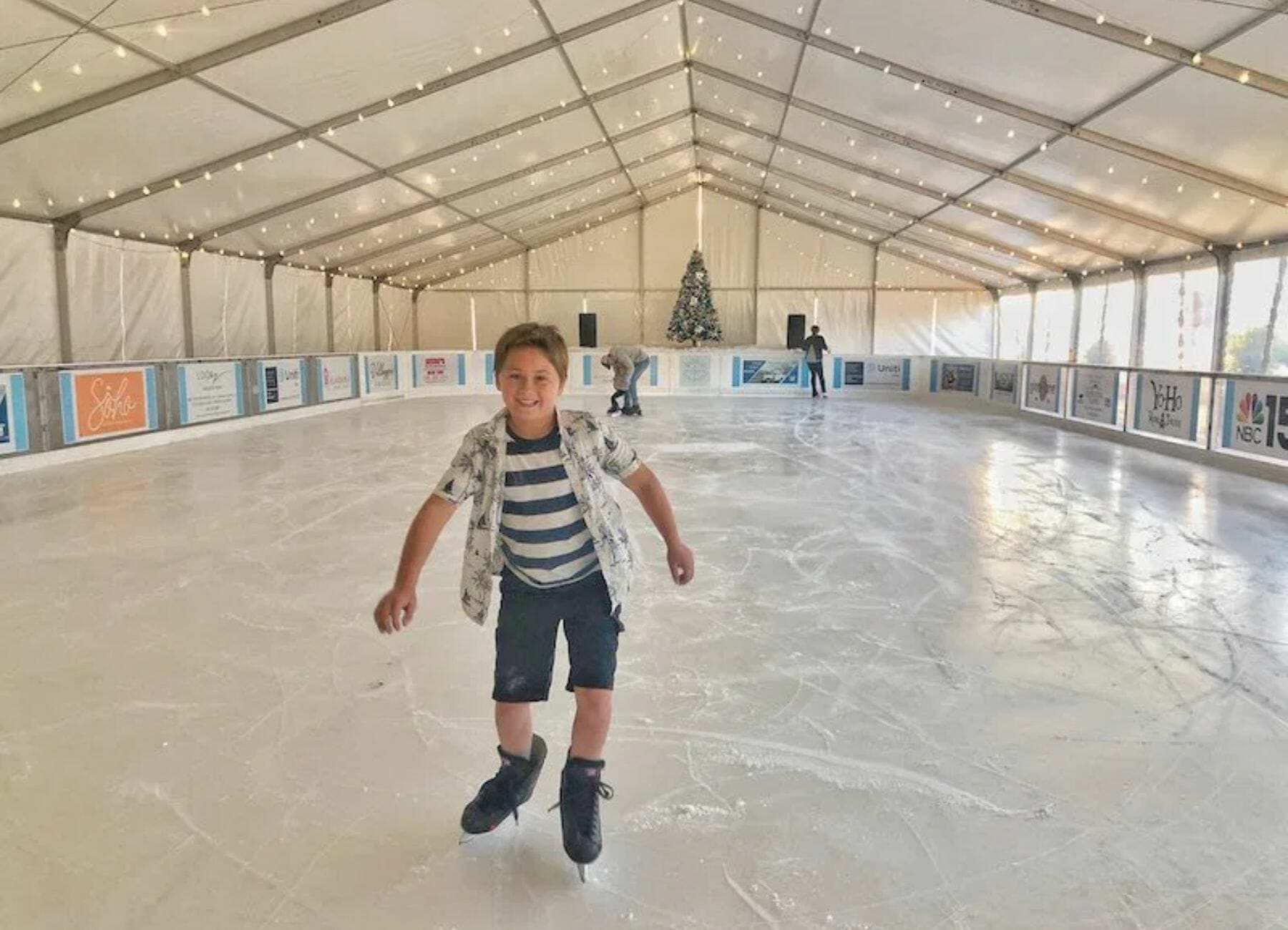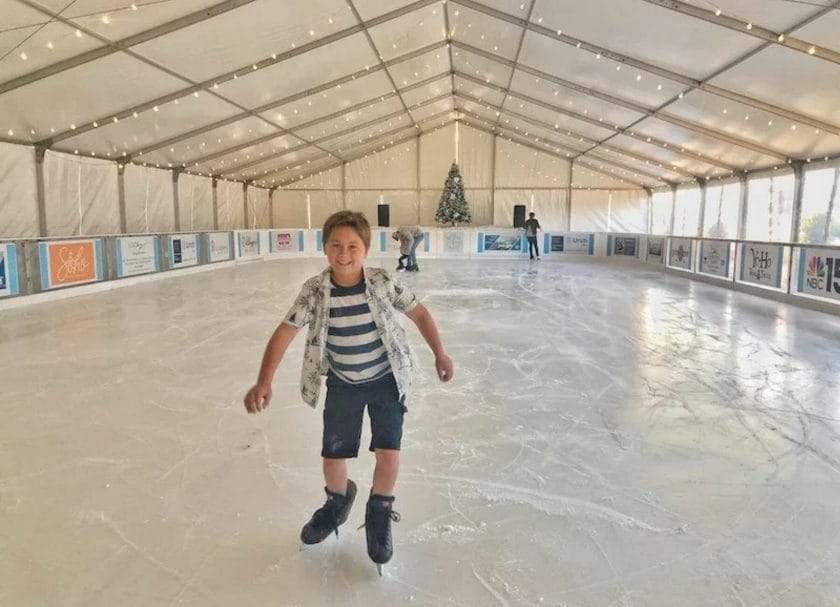 You can also spend hours eating dinner at the wharf, getting dessert, and shopping at all of the great shops. It is a really cool setup and I love that they offer so much in one spot.
Visit Fairhope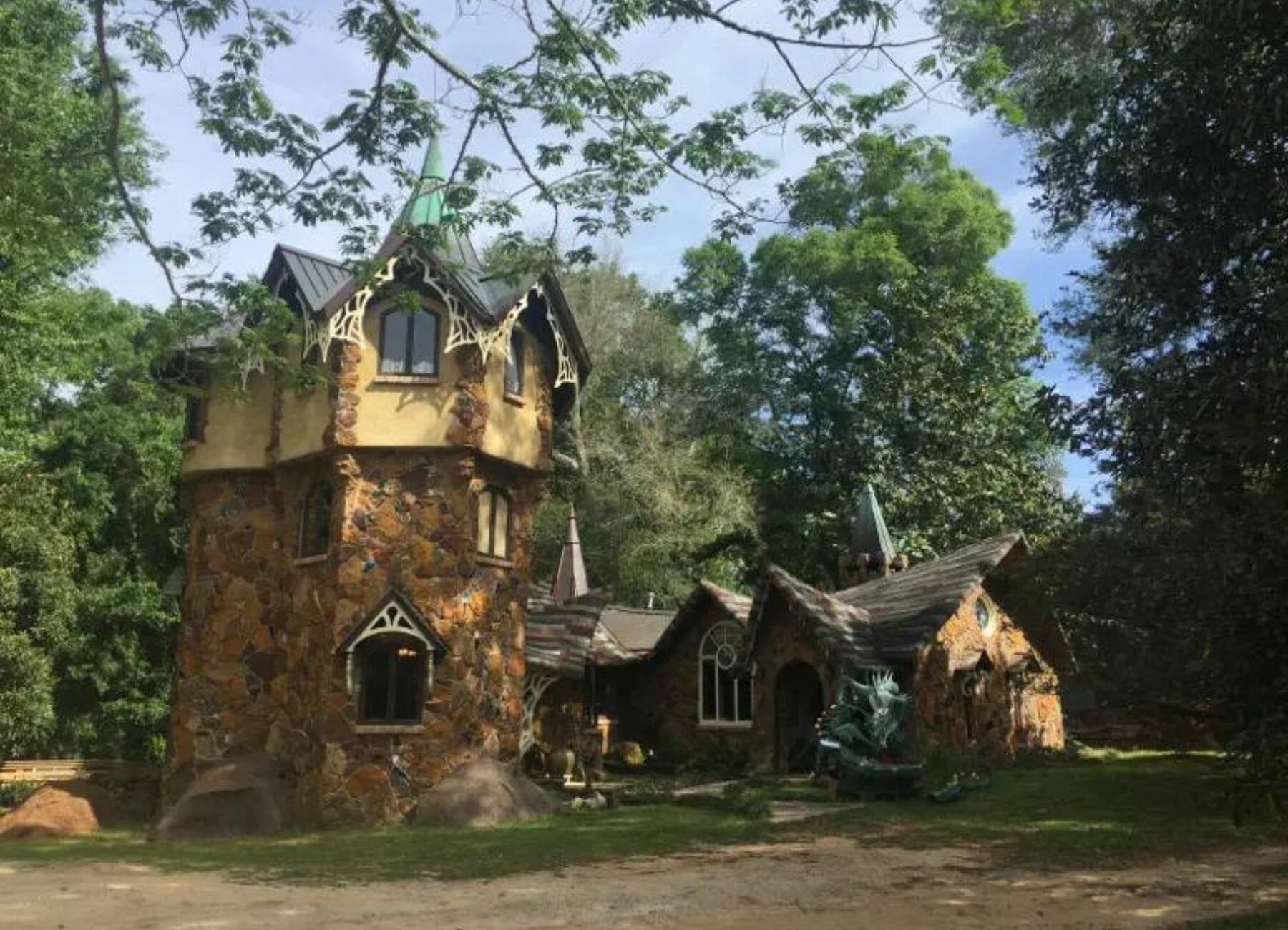 If you have a chance you should also head north up to Fairhope, Alabama. This unique and funky town is worth a visit and we had a lot of fun walking around downtown (we have friends who live here so we got a local tour :))! We visited the park, ate ice cream, and walked over to see the castle – that is an actual house people live in! – visited the local museum, and took a walk around town.
At night we went to a local blueberry picking festival where they had food trucks and live music. There is nothing like eating fresh blueberries! Fairhope has a totally different vibe than Gulf Shores so if you are looking to mix it up be sure to head up here for a visit.
Bon Secour Wildlife Refuge
A great place to go to learn about wildlife in the area. It is a beautiful sanctuary for native flora and fauna and one of the last undisturbed coastal barrier habitats in the area. When you visit, be sure to stop by the visitor center to learn about the area and check out the recommended trails for hiking. It is also a great place for kayaking.
Trampoline Jump and Ninja Course
The Factory looks to have just about every possible activity to expend every drop of your kid's energy for the day. Tons of trampolines at all angles, a ninja obstacle course, foam pits, trapezes, extreme dodgeball, something called the adrenaline wall and, in case your kids were getting tired, ice cream to give them a boost of energy! Believe it or not, that is just the beginning of the list- take a look and book your trip!
Helicopter Ride
If you are looking for something epic to do on this trip, look no further! Take a helicopter tour of the Gulf Coast and view the Gulf of Mexico from the sky. Minimum of 2 passengers and maximum 3 at a time. You can take a trip anywhere for up to 40 minutes and enjoy the spectacular coastal view from a unique perspective. Tours depart from Gulf Shores.
The Park At OWA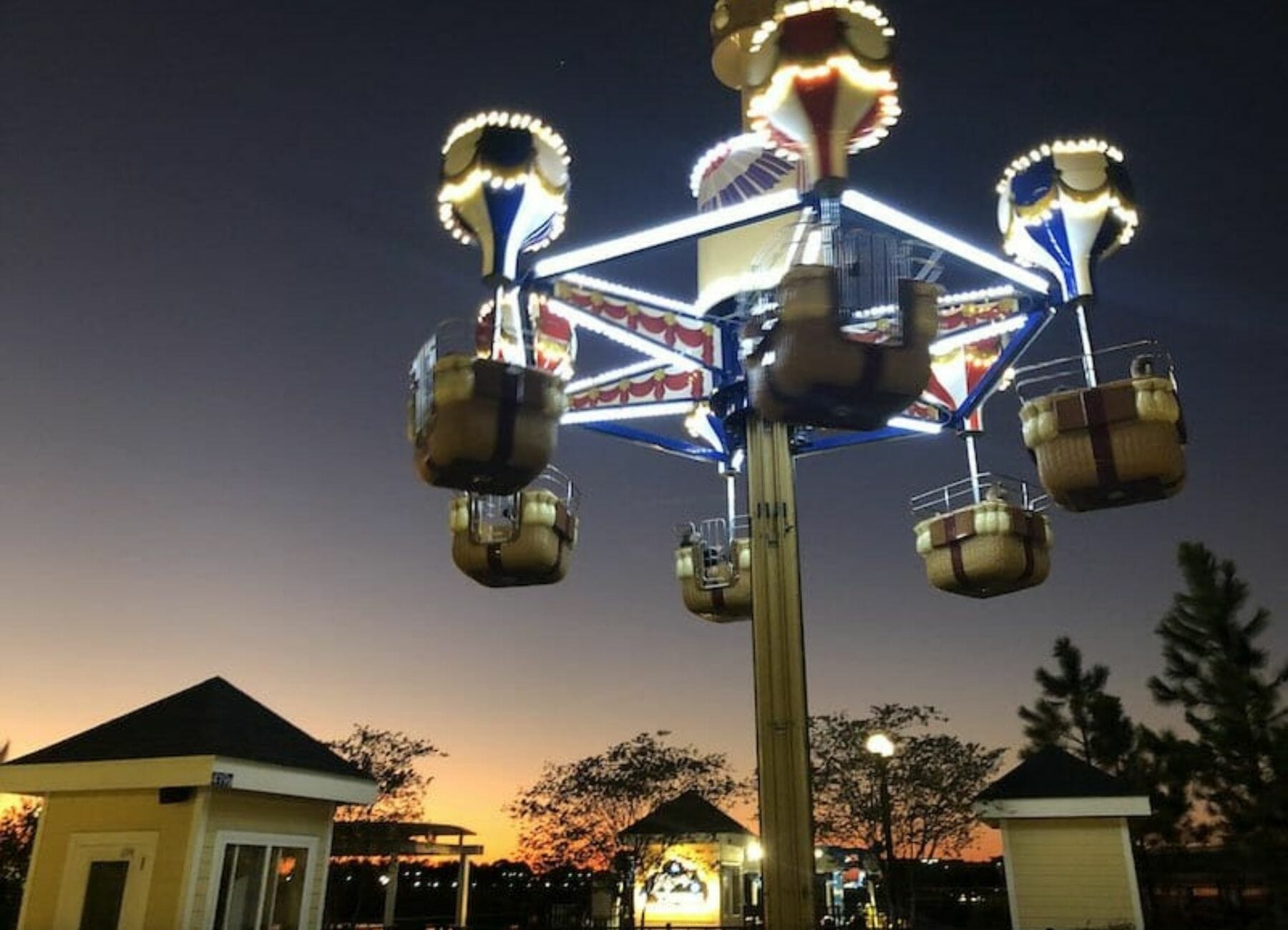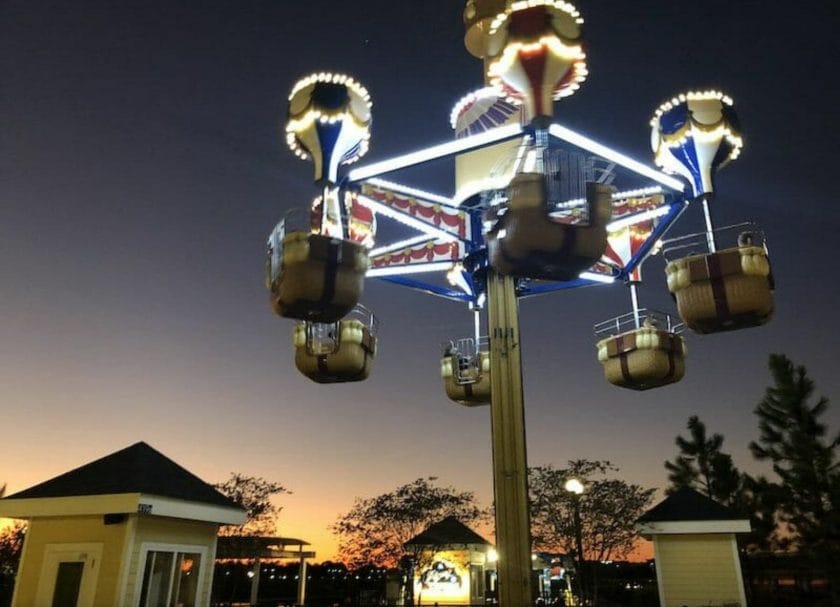 Take the family out for a true Southern Amusement Park Experience! The Park at OWA offers 21 rides, shops, games, restaurants, and more. We headed there for the night and had so much fun! The rides were perfect for our kids aged 7-12. They have everything from little kids' rides to medium rides to crazy roller coasters. Craig, Cannon, and I did the crazy roller coaster and it WAS crazy!!! If you are a thrill seeker you will love the Rollin Thunder ride.
If you are there in the heat then spend a day enjoying the rides and cool off at the splash pad if things get too hot. The Park at OWA is located 26 miles north of Gulf Shores in Foley, Alabama.
When you are done with the park you can head into Downtown OWA for dinner, shopping, and more fun!
Groovy Goat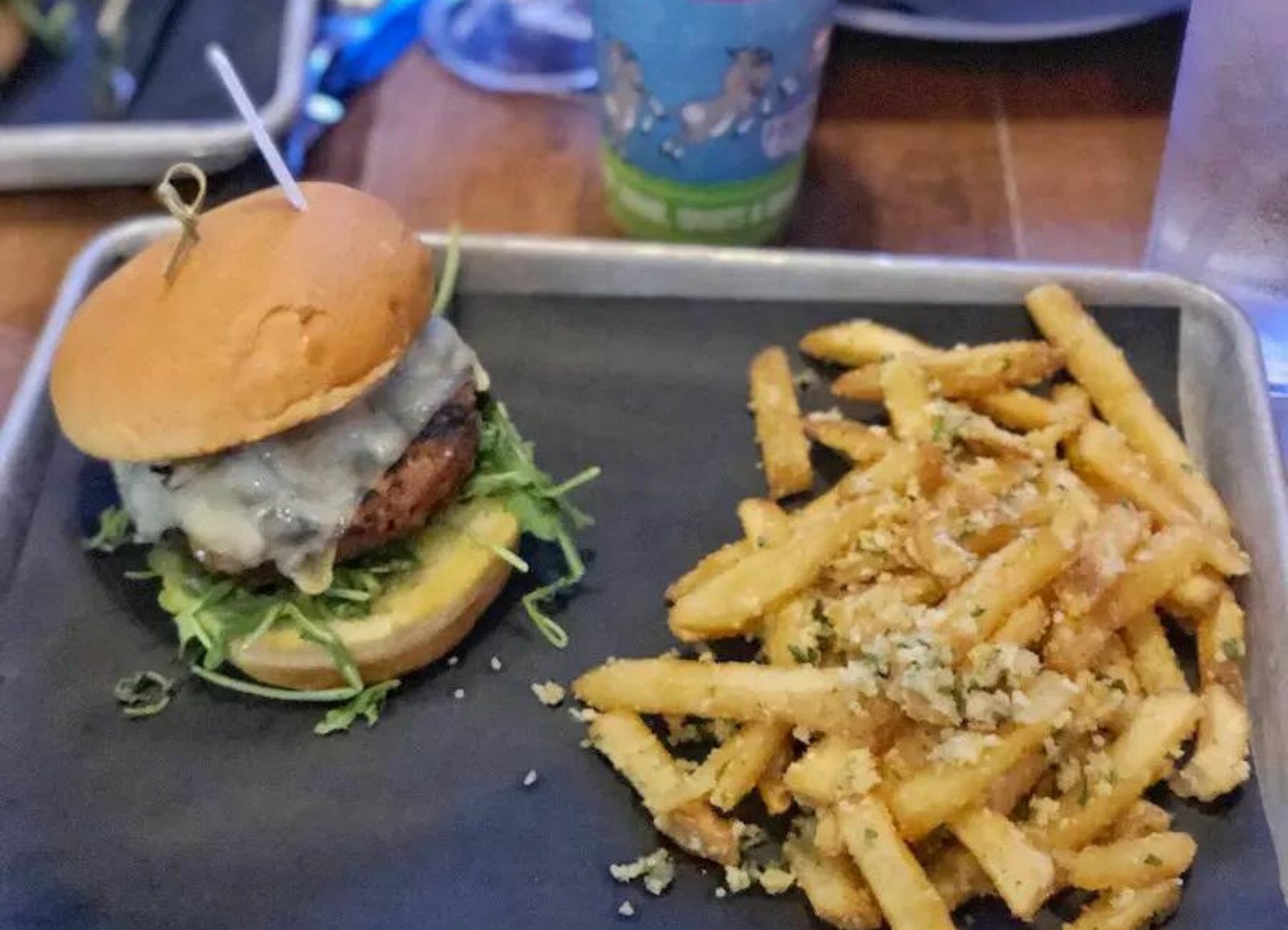 We highly recommend checking out the Groovy Goat! They had an awesome menu and great drinks. Plus it is right outside the park entrance. Perfect!
Fort Morgan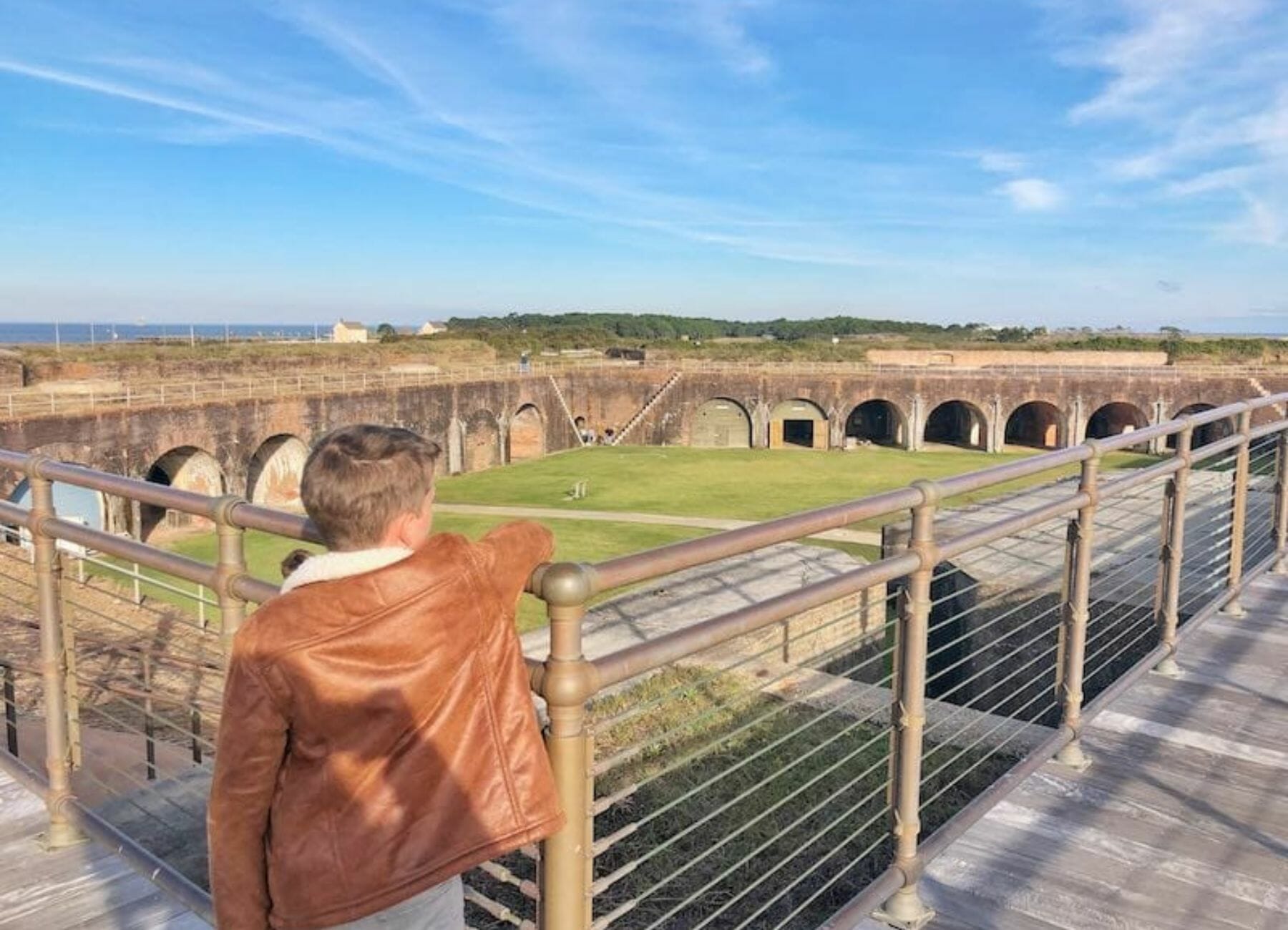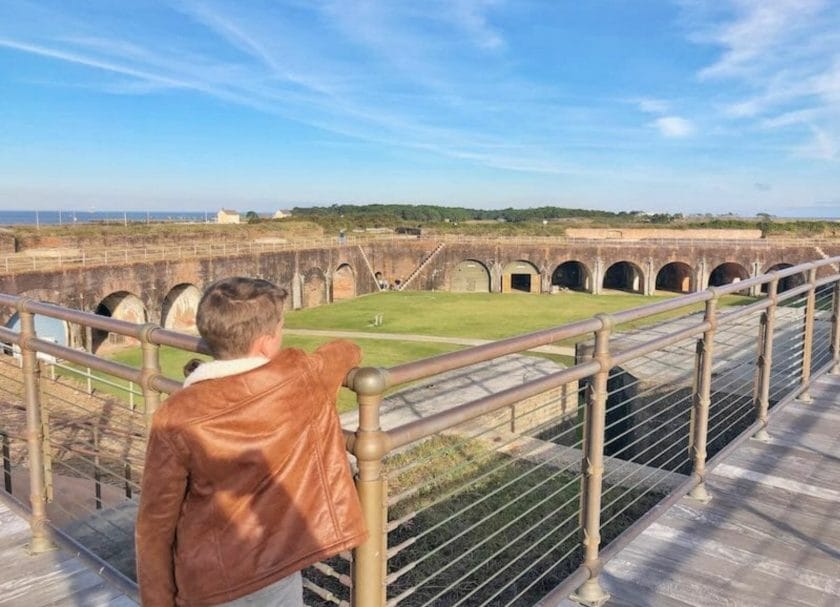 Fort Morgan is an awesome and unique thing to do in the Gulf Shores area and is our favorite Gulf Shores Museums! Head out to this old fort – built in the 1800s that was part of 4 wars. There is a lot of history to learn here and it is cool to walk around the Fort and imagine what it use to be like. They also have a museum on site to learn even more about the Fort.
Besides all the history it is just a beautiful place to visit and to take in the beauty of the ocean around you.
Alabama Gulf Coast Zoo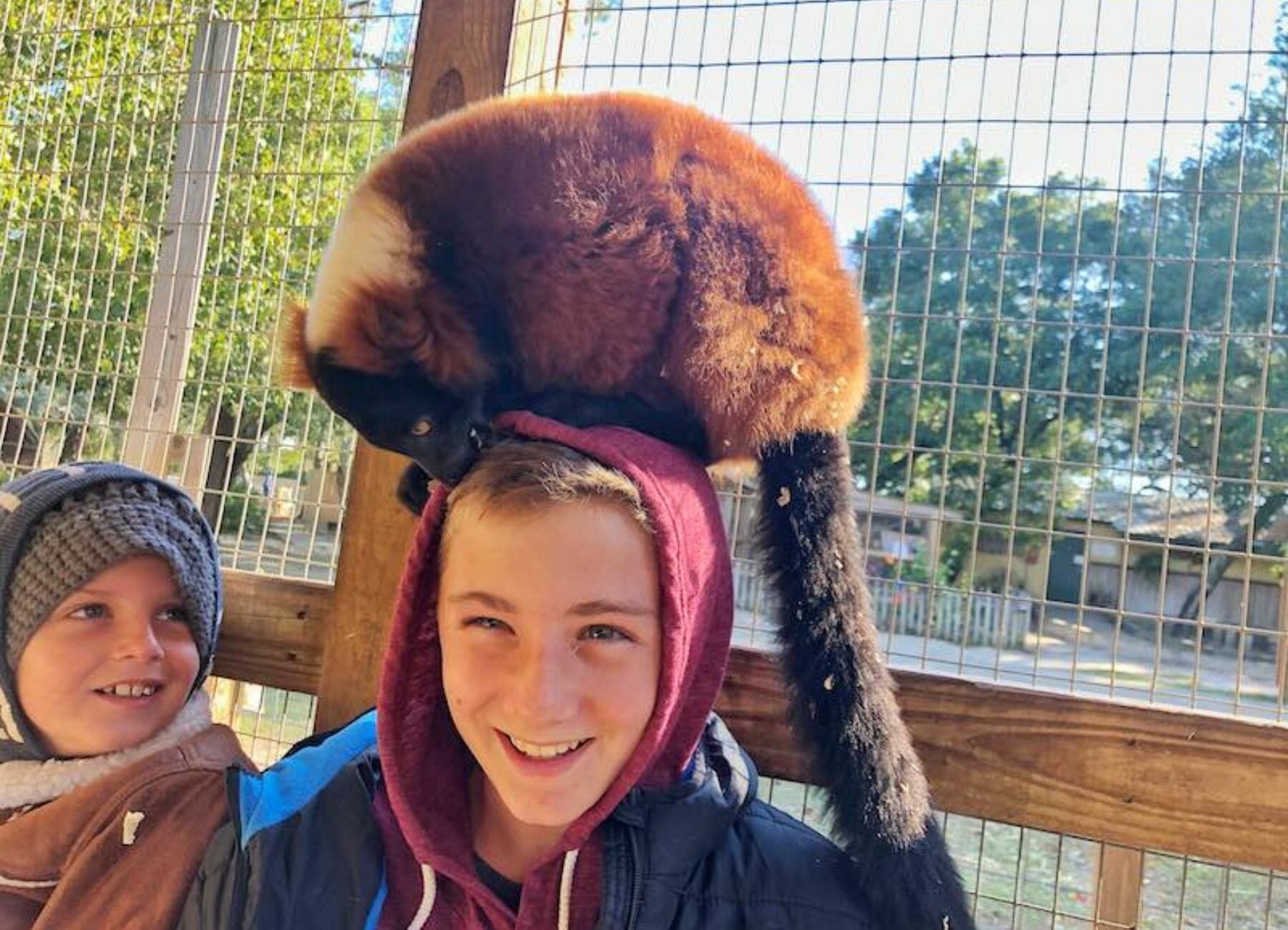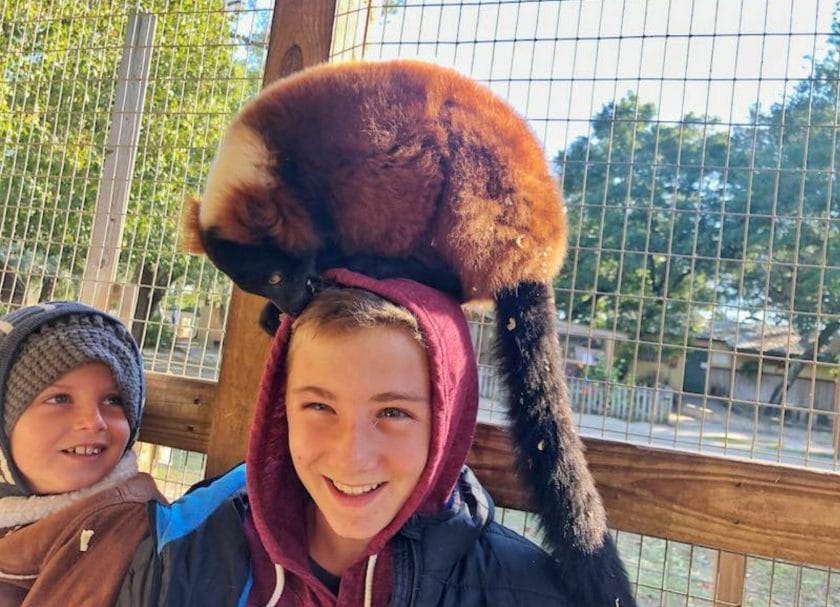 The Alabama Gulf Coast Zoo isn't that big BUT there are some cool things you can do here including spending time with the Lemurs! At first, I wasn't sure about it but after talking with the zoo keeper about the Lemurs I learned a lot about what the zoo is doing to help the Lemurs and all endangered species.
When you get to the Zoo you can add on the Lemur experience and then head over to the Lemur cage where you will get to go into the area with the Lemurs. They may run around, flip and jump right where you are sitting (which is what happened to us!) – be aware of them peeing and pooping . . . or they may just want to sit on your lap and hang out.
You can also feed a lot of the other animals at the zoo by buying a cup full of food. We enjoyed how hands-on the zoo was. They also have a variety of other animal experiences you can pick from kangaroos, reptiles, sloth,s and anteaters!
Clash eSports Center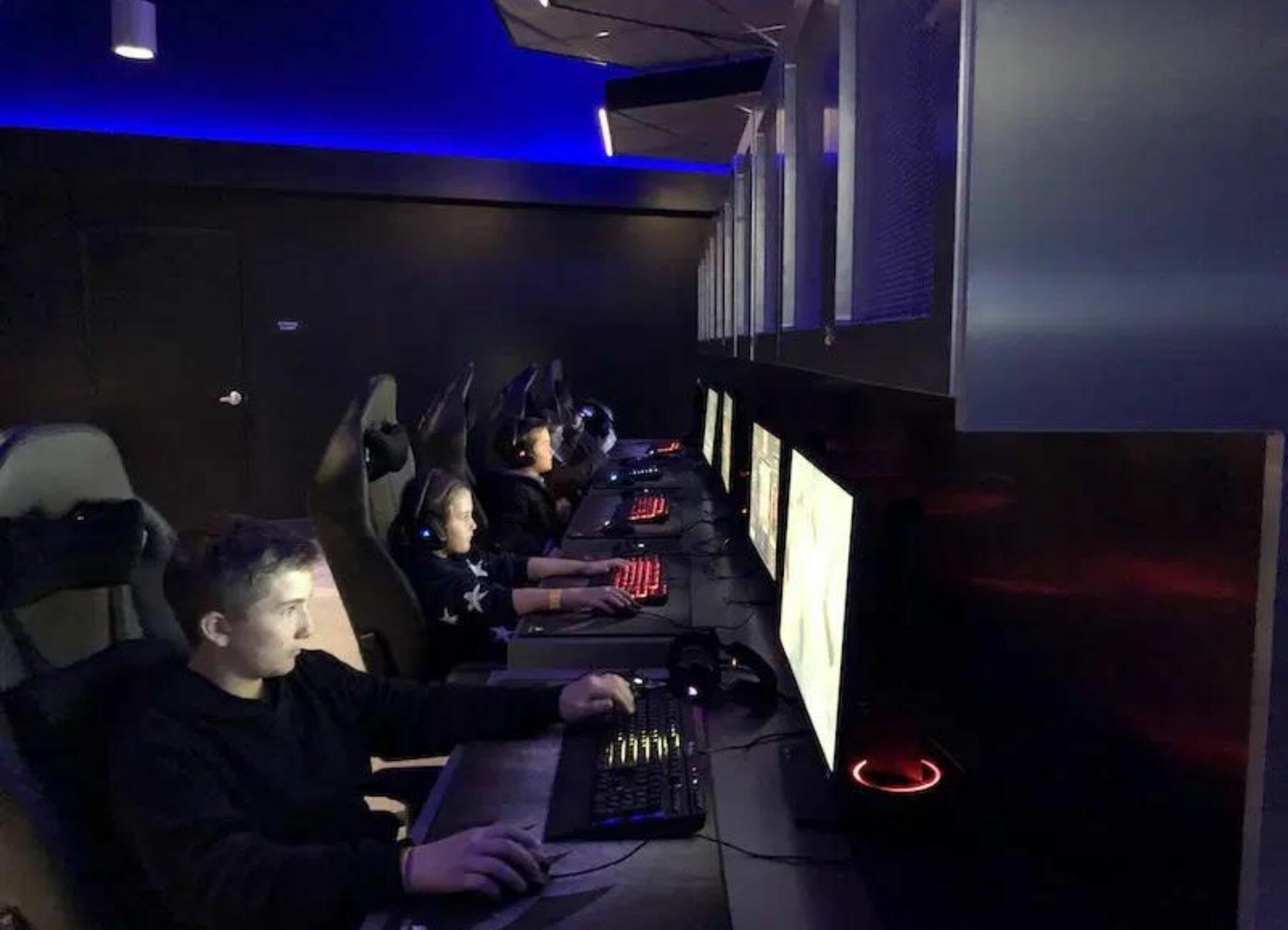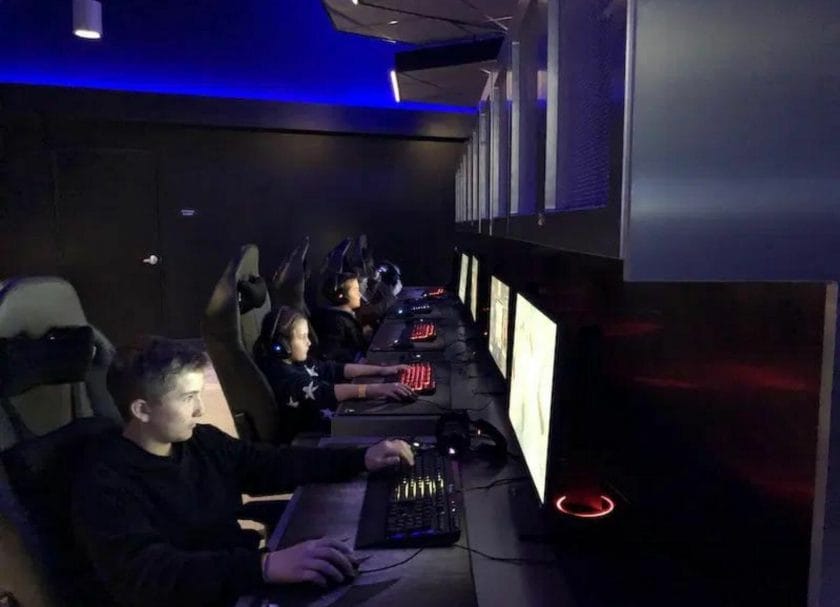 If you have kids that are into gaming you have to come here! They have 25 gaming PCs and other gaming devices. Our kids loved it. You pay for the hour and during that time you can play and try all of the games that they have. After the hour was done the kids did not want to leave (never fear you can add on more time).
They also have those awesome gaming chairs and headsets for the kids. Seriously the perfect place to go for kids that are into gaming. This had to make our Gulf Shore things to do list.
If golf is more your thing be sure to check out the local golf courses. Want to add some speed to your trip? Check out a Segway Tour!
Hopefully we have inspired you with all of the amazing things to do in Gulf Shores & Orange Beach Alabama and to get out and explore Alabama State's 32 miles of white sand beaches and natural beauty. From beach tourism to fresh seafood, watersports to city parks, Mobile Bay to Gulf Shores, Alabama has a lot to offer! Plus it can be a great romantic getaway in the USA too!
Where to eat in Gulf Shores
LuLu's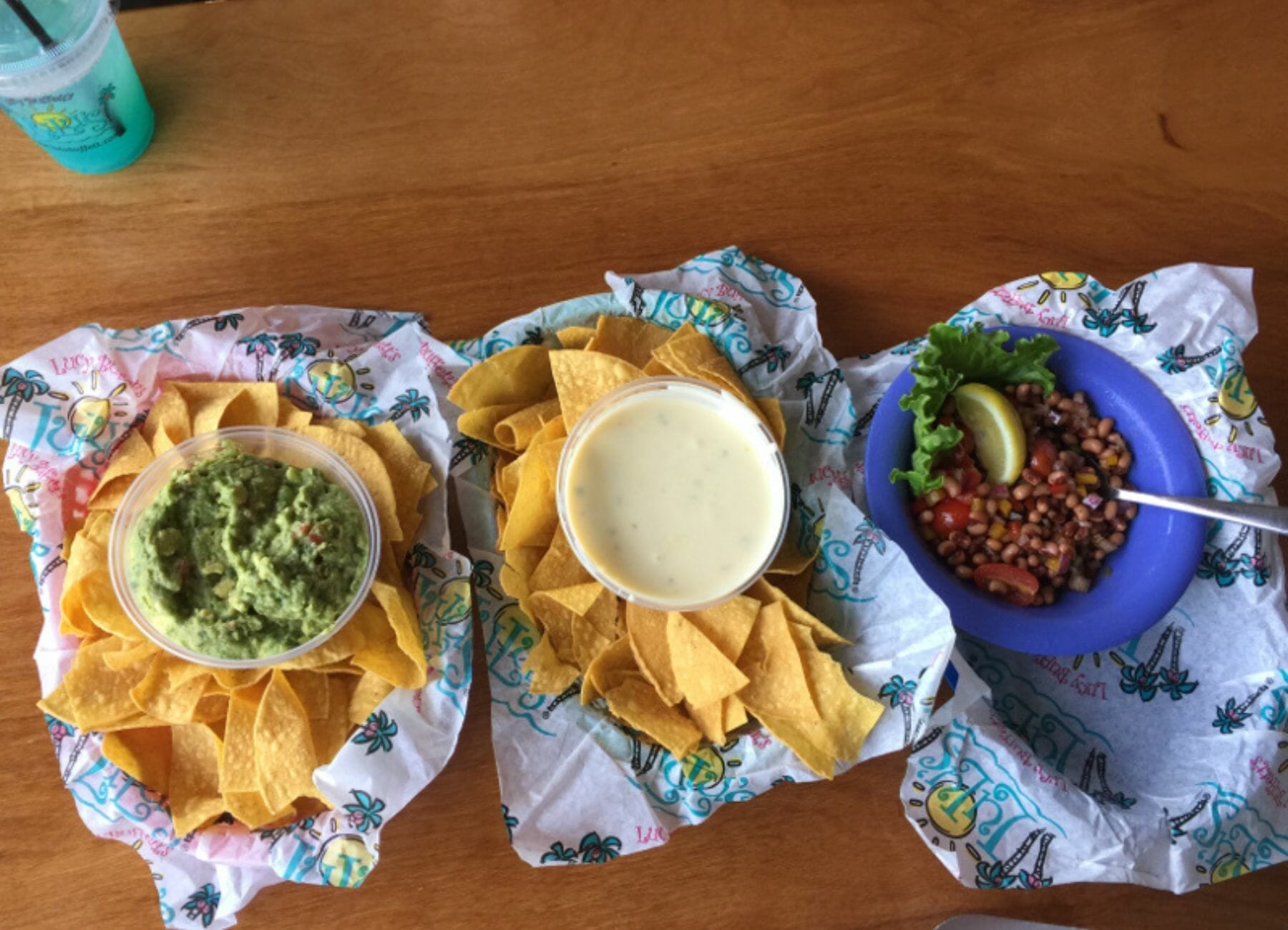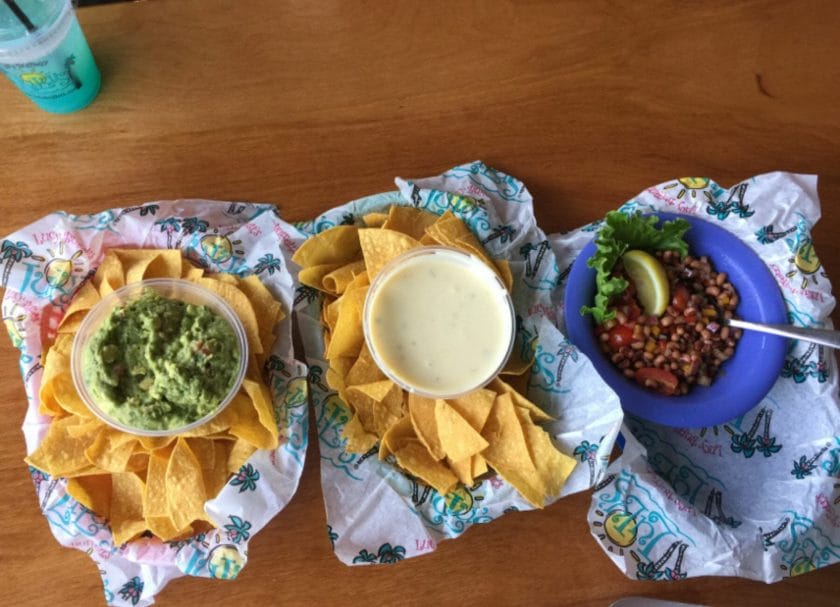 We had been to LuLu's in Destin and knew that LuLu's Gulf Shores was the original started by Jimmy Buffett's sister, so we were super excited to check it out! LuLu's is the ultimate family-friendly restaurant and I wish they had locations everywhere!
Our table looked out over the canal with the windows open so we could wave at the boats as they went by. Then they have a large sand area where the kids can play while the parents sit at the bar plus an arcade and ropes course.
The setting is perfect for letting kids burn their energy while you wait for your food and a great place to hang out once dinner is done. Mom and Dad can hang out and get a drink while the kids play in the sand, do hula hoops, and just have fun running around.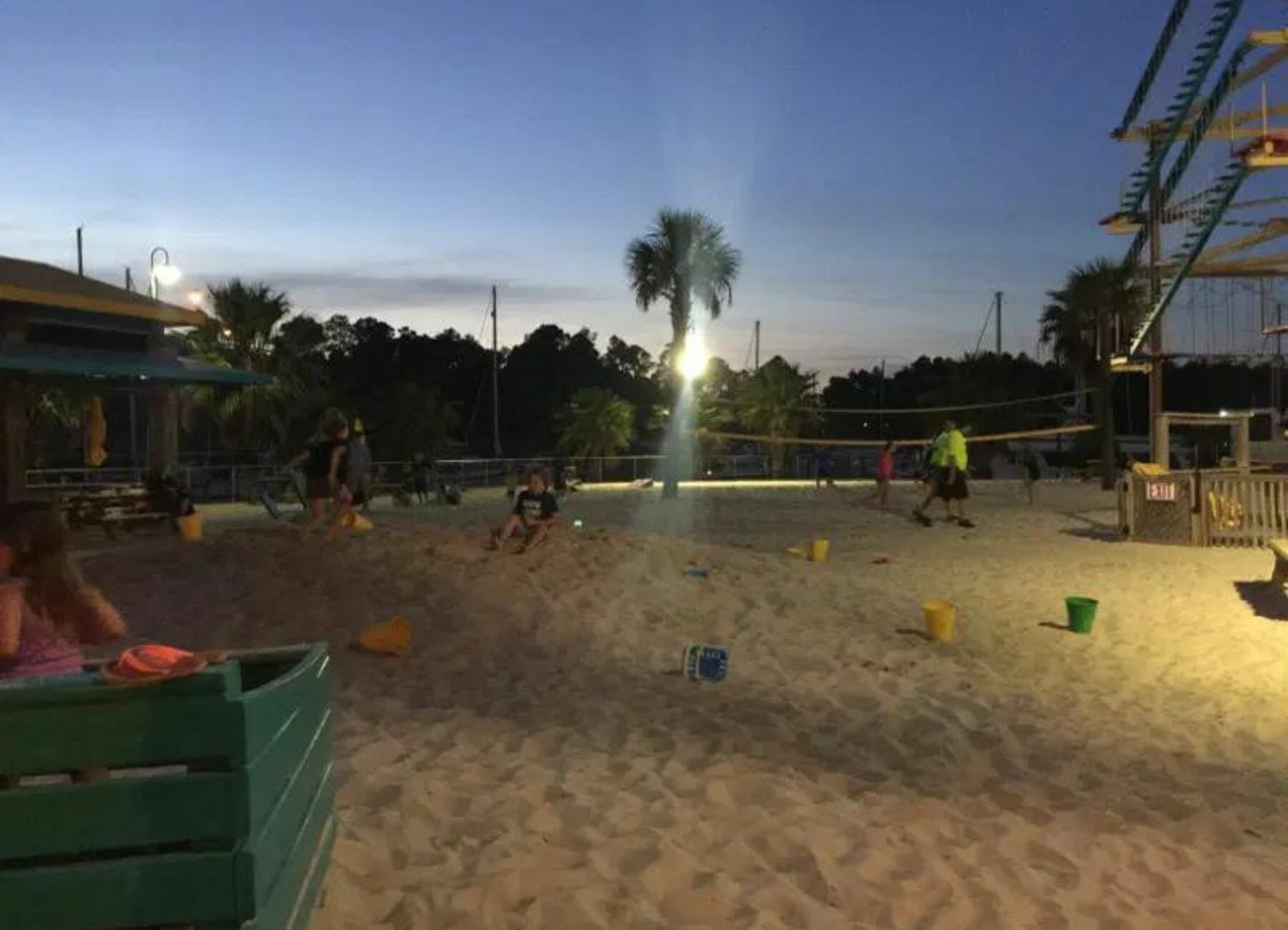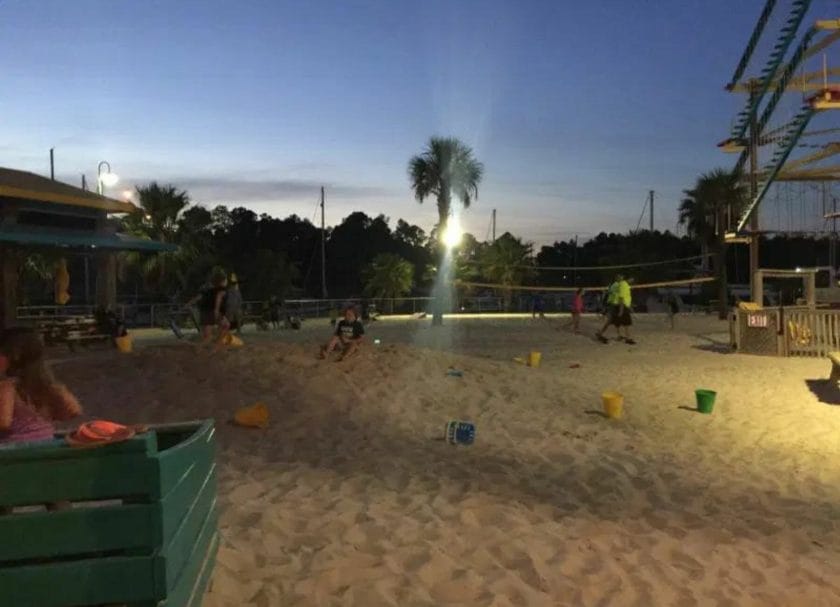 The food is also yummy with a wide variety of appetizers, dinner choices, a kids' menu, handmade popsicles, and a drink menu, including some of their very own beers. Our server was amazing, the food was delicious, and we felt so comfortable being there with our kids.
We recommend getting one of their specialty drinks or the local beer along with a recommended appetizer. And if you are vegetarian or gluten-free be sure to ask about those options.
The Village Hideaway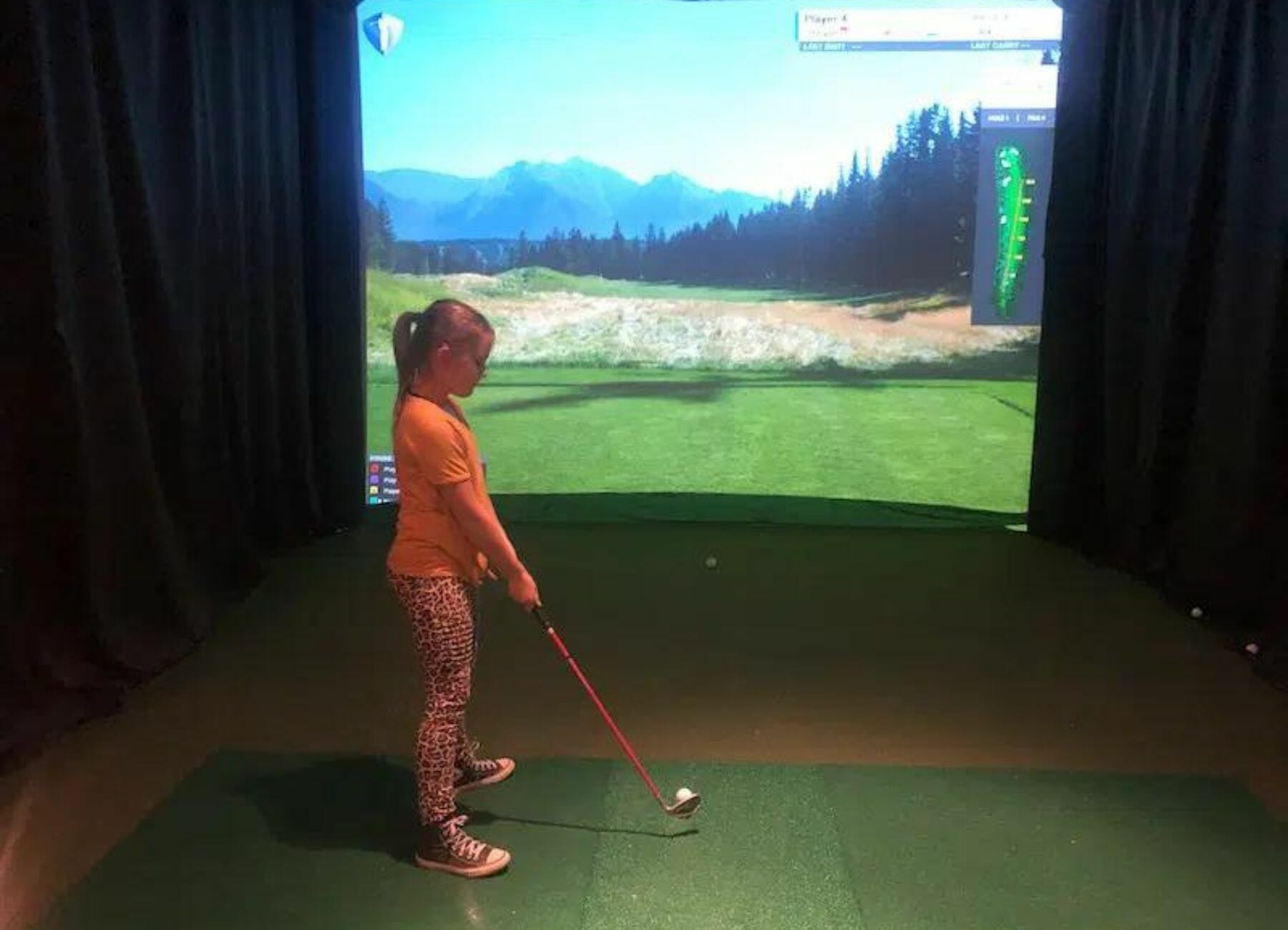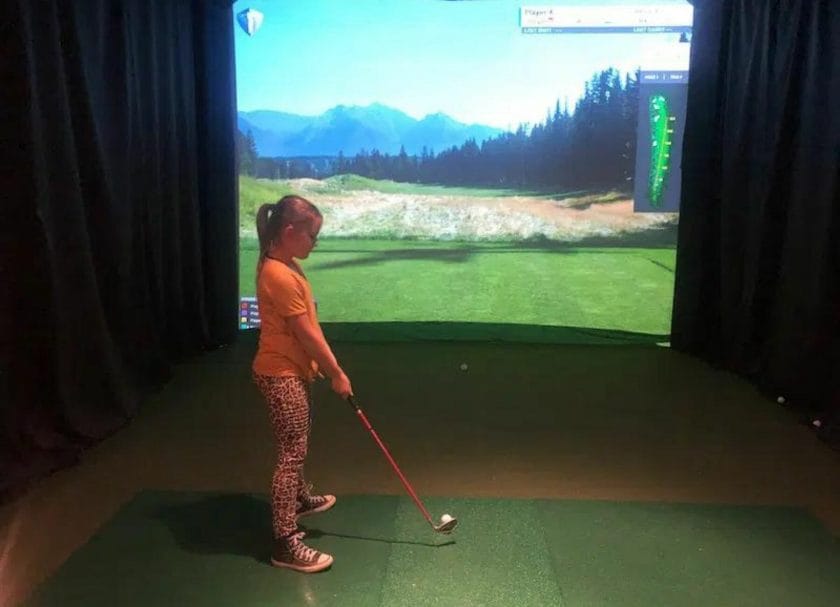 An awesome place to bring the kids for dinner – since there is an XBox, Sports simulator and an arcade! This means Mom and Dad get to sit and enjoy their drinks while you wait for dinner to be ready.
It is a large dining room and a good food and drink menu. If you are looking to chill out after a day at the beach this is the place to go. Plus it is close to the Top Shelf house – if you are staying there!
Flora-Bama Yacht Club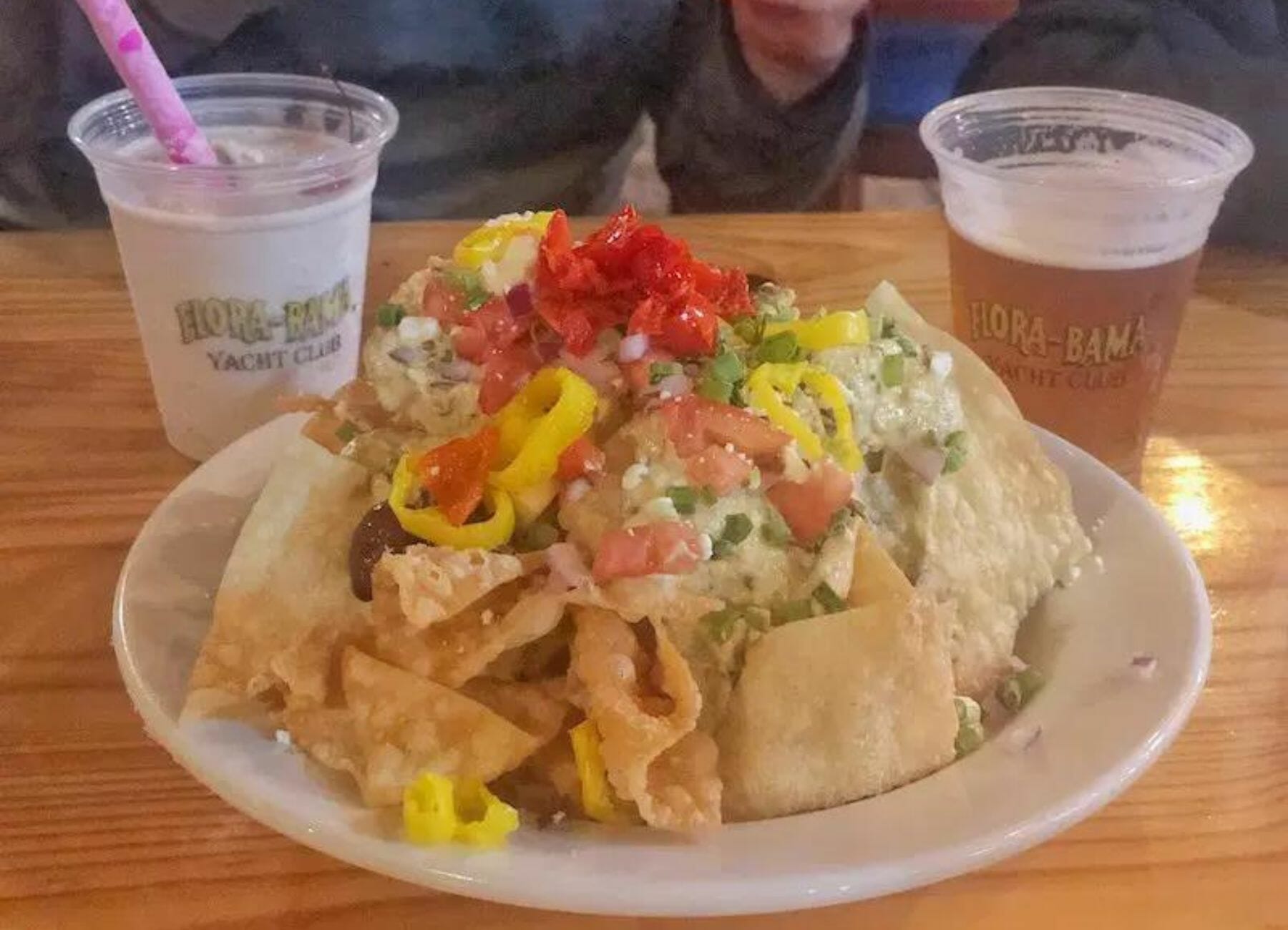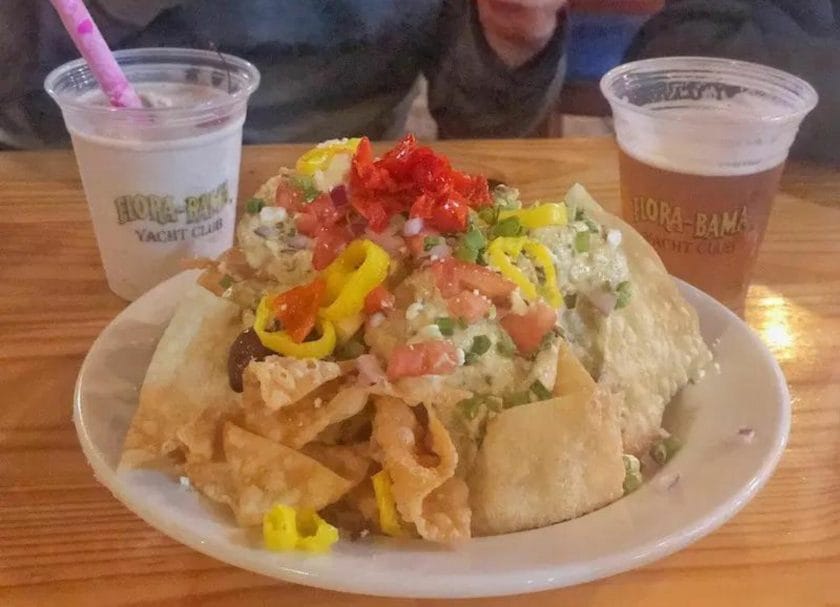 Called Flora-Bama for a reason this restaurant is located right on the Florida/Alabama border! We were here in cooler weather but know that it has an awesome beach scene hangout in warmer weather. We were lucky enough to be there when they had songwriters singing their songs. It was an awesome way to eat dinner while listening to some great music.
They have a fun menu with a variety of different things. You have to try the Greek Shrimp Nachos and the Beignet Fries for dessert! And of course order, one of their famous Bushwacker drinks – trust me it is delicious (it does have alcohol so just for the adults!).
If you want to make your own at home check out this awesome Bushwacker recipe.
The Sunliner Diner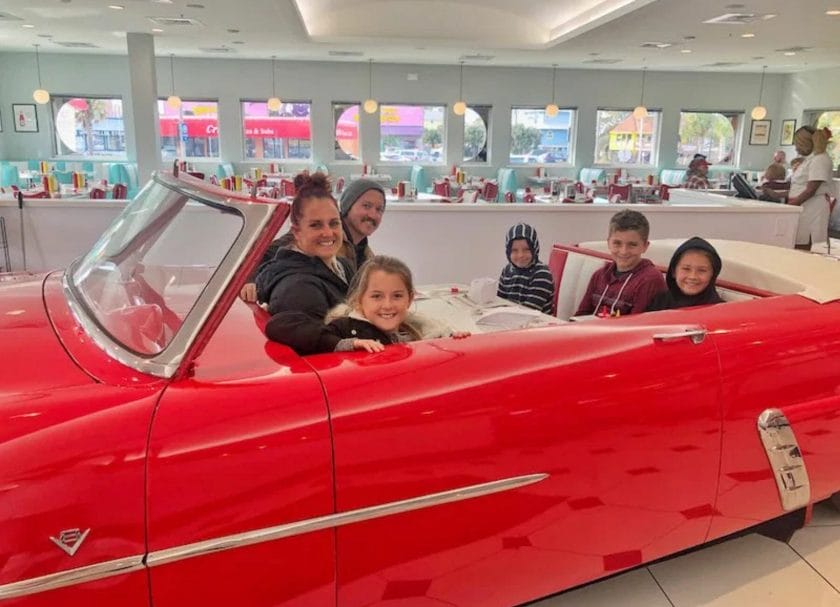 For a different kind of experience check out the Sunliner Diner. It is a blast from the blast with diner food and delicious milkshakes! We were lucky enough to get to a seat that the sweet car table. When you visit be sure to save room for dessert.
Tacky Jacks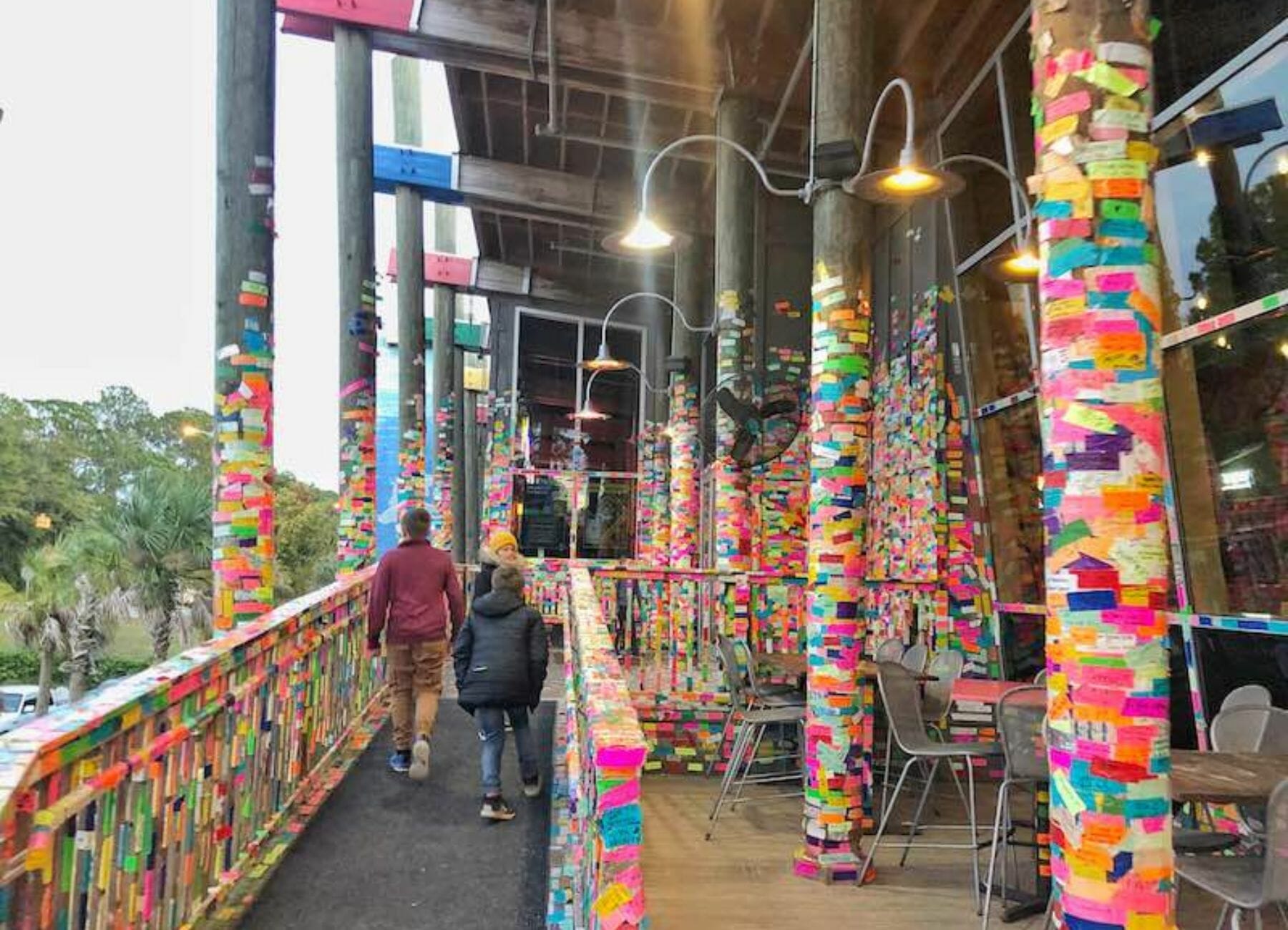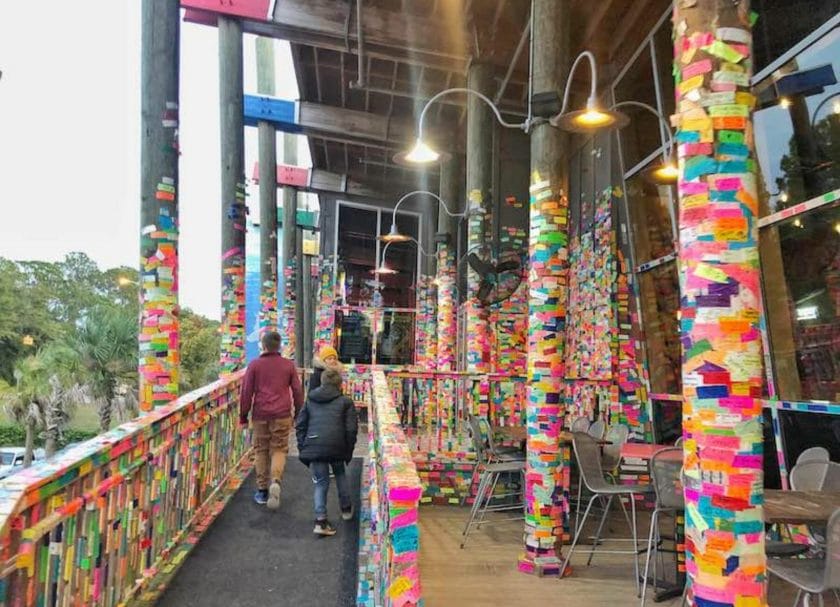 This was another unique restaurant in Gulf Shores. I love how there are so many different places you can eat here! When you get to the restaurant you see all this colorful tape up on the outside of the building. As you get closer you see it is duct tape that people have written things on – so don't forget to add your own before you leave.
Make sure to order the nachos for the table to share and you have to try the Bushwacker (alcohol drink) here and compare it to the one at the Flora-Bama. Let us know which one you liked best. There are multiple locations – one closer to Fort Morgan and the Top Shelf house – so be sure to look for the multiple locations.
The Hangout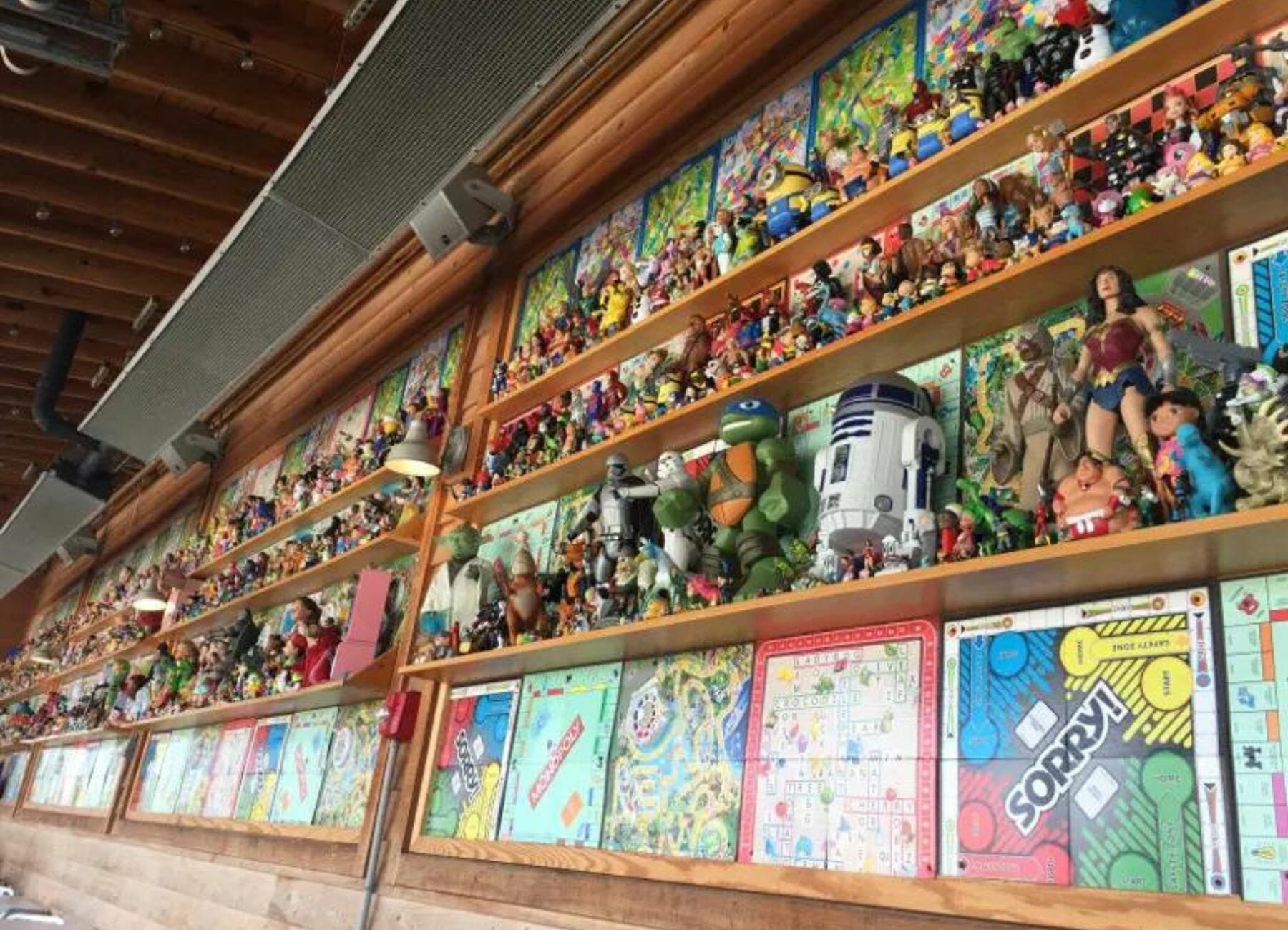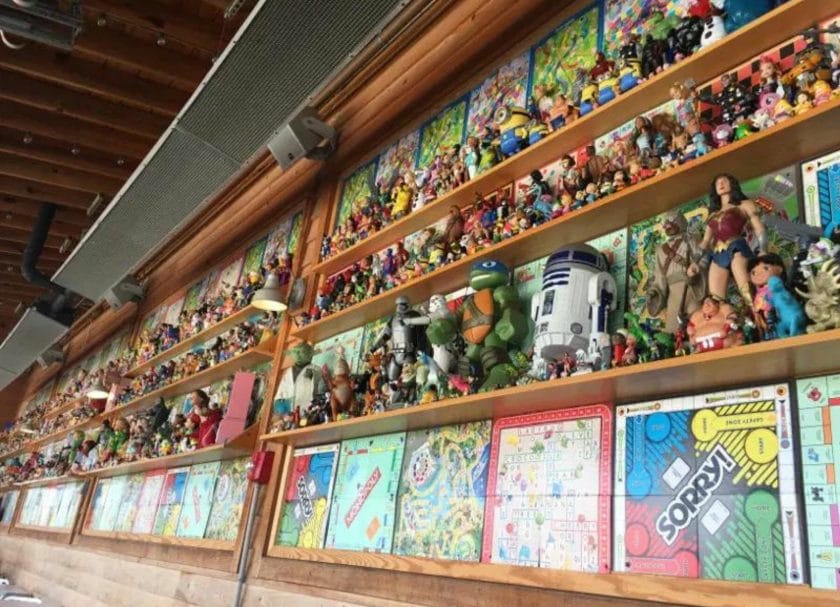 We love how restaurants are catering more and more to families and understand that little ones don't like to sit still!
The inside of the Hangout is huge and one side of it looks out over the beach and ocean. The other side looks out over the outside area where the kids can play in the sand and climb through tunnels. The inside walls are lined with toys that the kids had fun looking at and pointing out their favorites.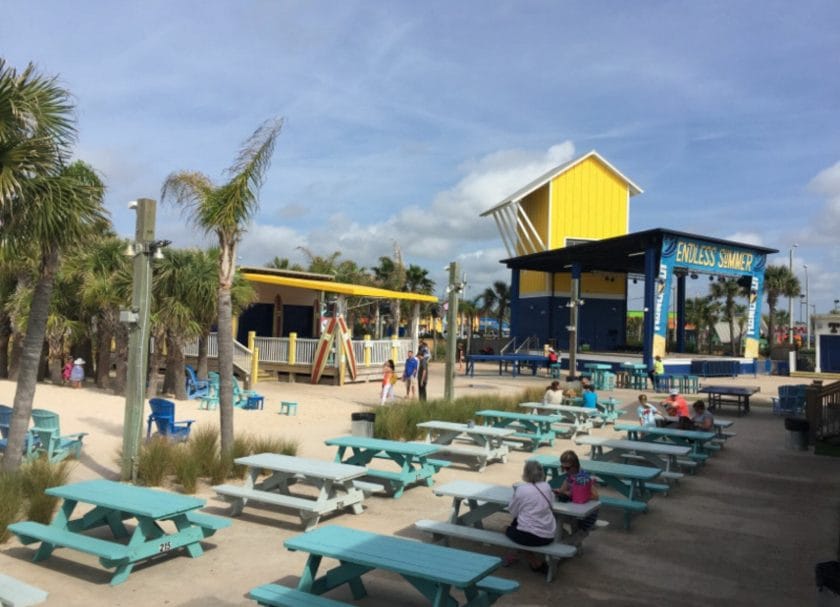 They also offer a foam party for kids every hour! How cool is that? Back in our college, days Craig and I attended a few foam parties in Cancun, Mexico and it was quite the experience. I am sure kids would love it!
It looks like at night it turns into an upbeat place with live music and lots of dancing. If you aren't in to that you may want to go during the day or early in the evening before all of that really gets going.
Looking for a Brewery Tour? Check out Big Beach Brewing Company, the only Brewery in Gulf Shores! The website says they are kid-friendly before dark, but we haven't had a chance to check them out yet and they don't serve food, just brews.
Click here for More great places to eat in Gulf Shores!
Where To Stay
Top Shelf – Vacation Rental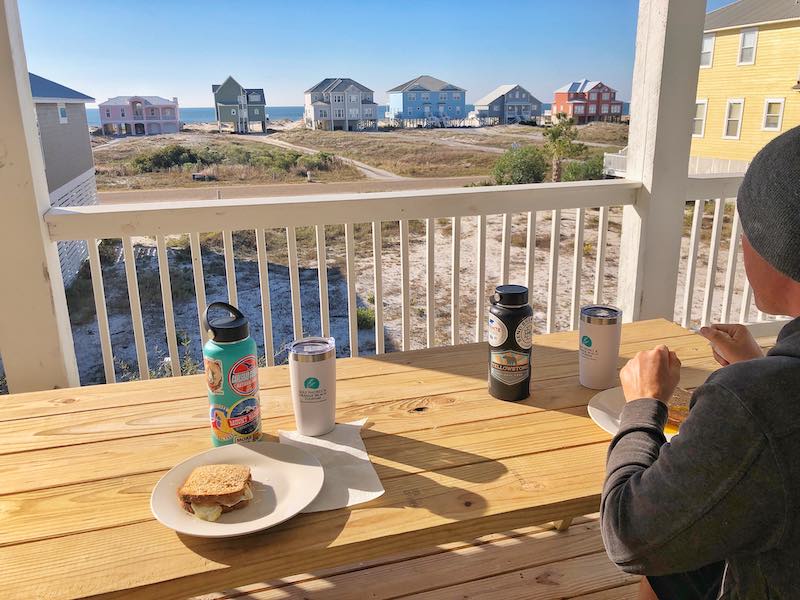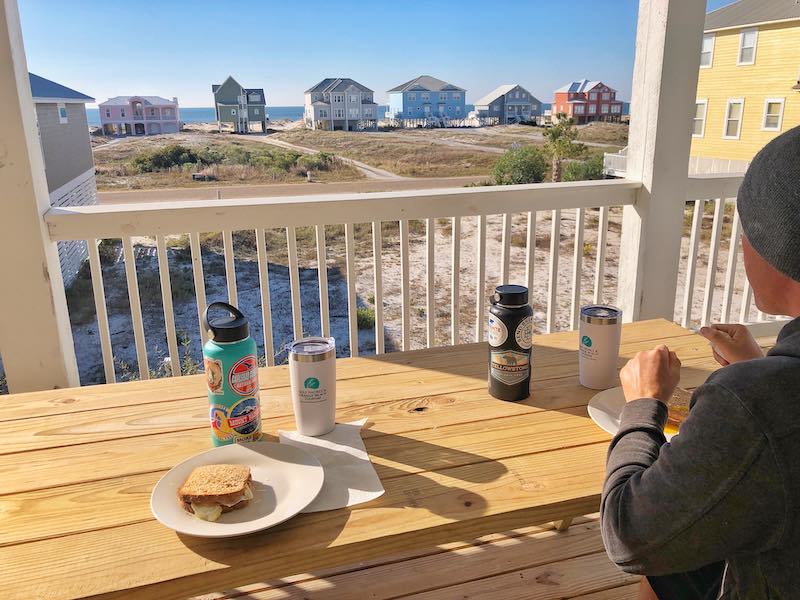 If you are looking for a great house on the beach a bit of a ways away from the craziness of Gulf Shores then the Top Shelf house is the place for you! The house was huge and had an amazing view. Plus it was a short 5 minute walk to the beach. The house was big enough 2 families easily could have stayed here together. There were 4 bedrooms – 2 on one side of the house and 2 on the other and plenty of bathrooms for everyone.
My favorite part was the porch with the view of the ocean. It was so nice to sit out here every morning to eat breakfast and drink our coffee.
If you do decide to stay here (which we recommend!) be sure to check Google Maps so you can see where it is located compared to downtown Gulf Shores and all of the attractions there.
Look at this kitchen!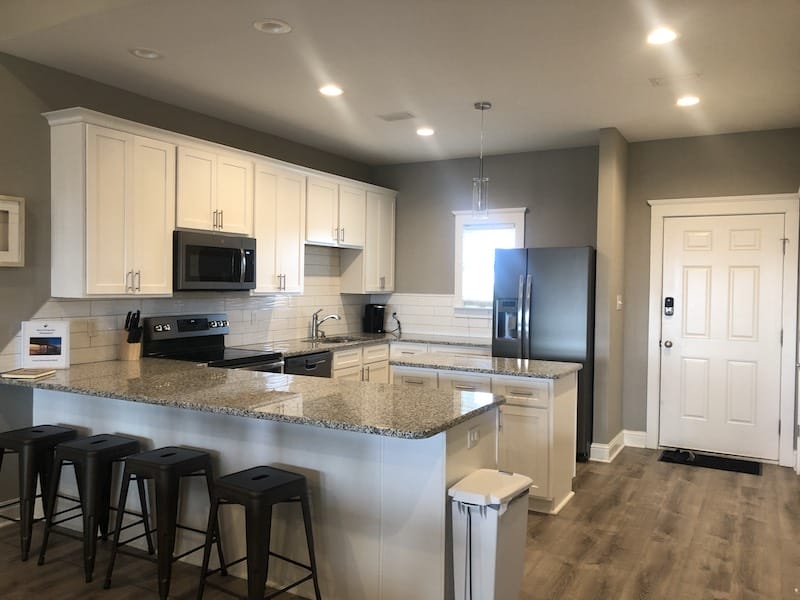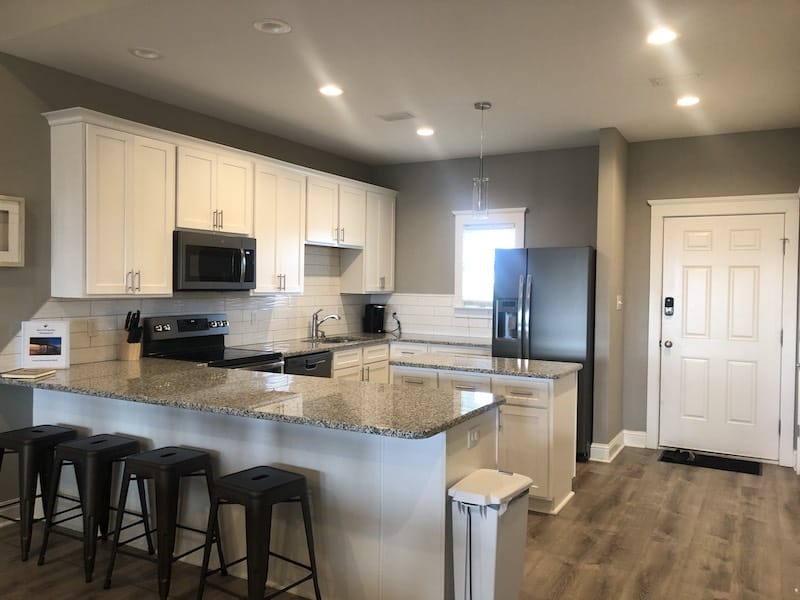 Click here to learn more about the Top Shelf house!
Camping at Gulf State Park Campground
If you are looking for a campground to stay at Gulf State Park is a great spot! The location is perfect for exploring all of Gulf Shores plus the campground has a large pool and great bike trails. The Branyon Backcountry Trail System runs right through the park and offers several distinct trails with different ecosystems to explore!
If State Parks aren't your thing, check out Pandion Ridge RV Resort located in Orange Beach. With a lake, two swimming pools, hiking trails, and more, there is plenty to do when you're not exploring Gulf Shores!
And a little further inland is a Jellystone Park in Elberta, about 30 minutes from Gulf Shores. These parks are some of the premier family-friendly campgrounds in the US!
Have you ever considered taking an RV road trip to Gulf Shores? It is a great place to RV and Gulf State Park is an awesome campground. Click here to rent an RV for your trip or check out our post: 9 Things You Will Want to Know When Looking For An RV Rental.
SpringHill Suites Orange Beach at the Wharf
If you love shopping and activities, SpringHill Suites is a great option. You have restaurants and retail all within walking distance of your hotel room. The hotel is beautiful and has a great pool to relax by. You're also just a short drive from the white sand beaches.
Click here for great deals on SpringHill Suites from Booking.com!
Best Western on the Beach
If you're looking to be closer to the beach, look no further than Best Western on the Beach. As the name suggests, you'll be right on the white sand beach in Gulf Shores. You can't beat that! With a great pool, updated rooms, and a Hawaiian feel, you'll be in paradise for sure!
Click here for great deals on Best Western on the Beach from Booking.com!
VRBO
We have really been enjoying staying in VRBO houses when we need a break from our RV. There are a lot of great options for condos and houses on or near the beach in Gulf Shores.
Here is a post we did on 9 great Airbnb and VRBO's for families in Gulf Shores.
Thank you to Gulf Shores and Orange Beach Tourism for hosting us on our stay!
Want to learn more about us? Come visit our Start Here page. We are a family of 6 plus a dog who have been traveling full-time around North America since May 2014 in our RV!
Looking for more information on Gulf Shores Alabama? Check out this great guide on more things to do in Gulf Shores or this Gulf Shores Travel Guide on how to spend 2 days there. If your family loves water parks be sure to check out Waterville USA in Gulf Shores.
There are also a lot of great places to eat in Orange Beach. And if you like the Gulf Coast in Alabama you may want to check out the Mississippi Gulf Coast and the Destin, Florida area. While in Alabama be sure to check out Birmingham.
There are a lot of other places in the Southeast US we would recommend. Orlando, Florida is always a favorite with Universal, Magic Kingdom, Volcano Bay (our favorite waterpark in the US) or skip all the parks and go tubing at Kelly Rock Spring!
If you like this post, you might also enjoy:
The Ultimate Florida Road Trip: 31 Places Not To Miss
25 Exciting and Fun Things To Do In Myrtle Beach, SC
26 Epic Things To Do In Key West [Including Where To Stay] also (water activities, beaches, turtles)
9 Outstanding Places to Visit with Kids in Atlanta, Georgia
7 Superb Things To Do With Kids In Savannah, Georgia
The Best New Orleans Plantation Tours To Take With Kids
17 Great Reasons To Make St. Augustine Your Next Family Trip
Pin For Later: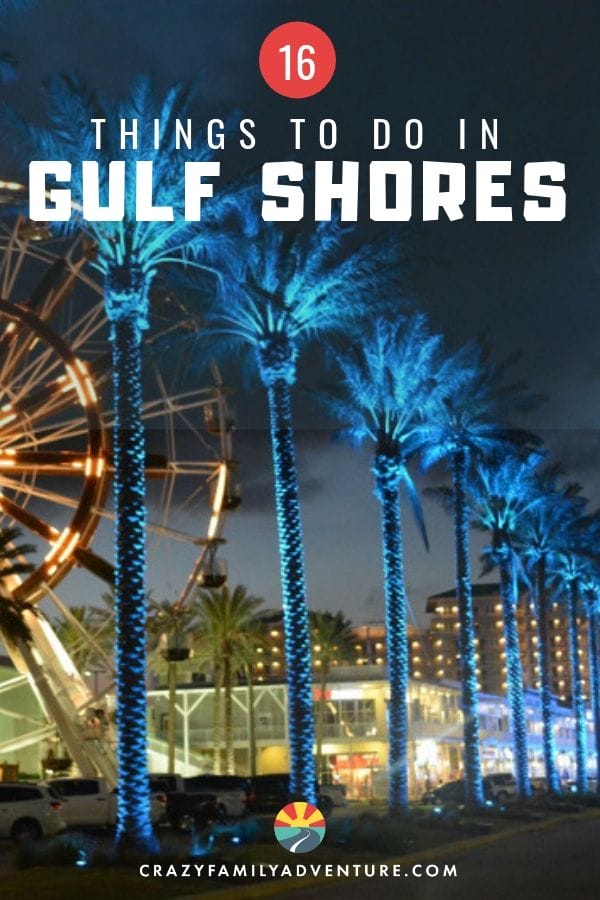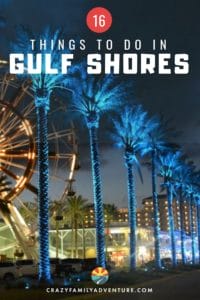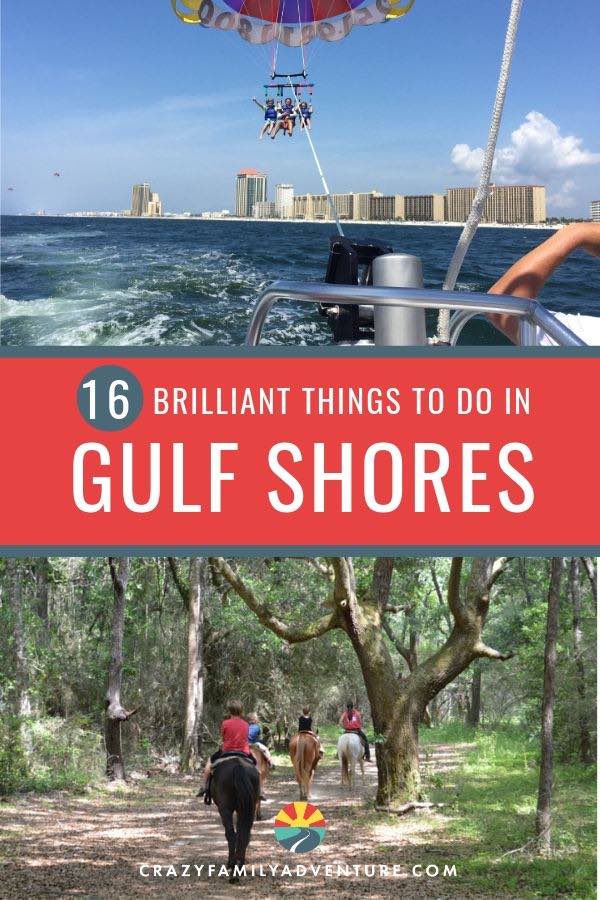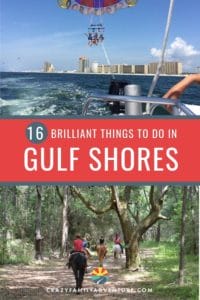 DISCLOSURE: This post may contain affiliate links, meaning I get a commission if you decide to make a purchase through my links, at no cost to you. Please read my disclosure for more info.