We spent an amazing week at The Beach Club Resort and Spa in Gulf Shores, Alabama! When we were planning where we would go this spring we knew we wanted to go to a beach and a resort but we honestly didn't know that Gulf Shores offered something so fabulous.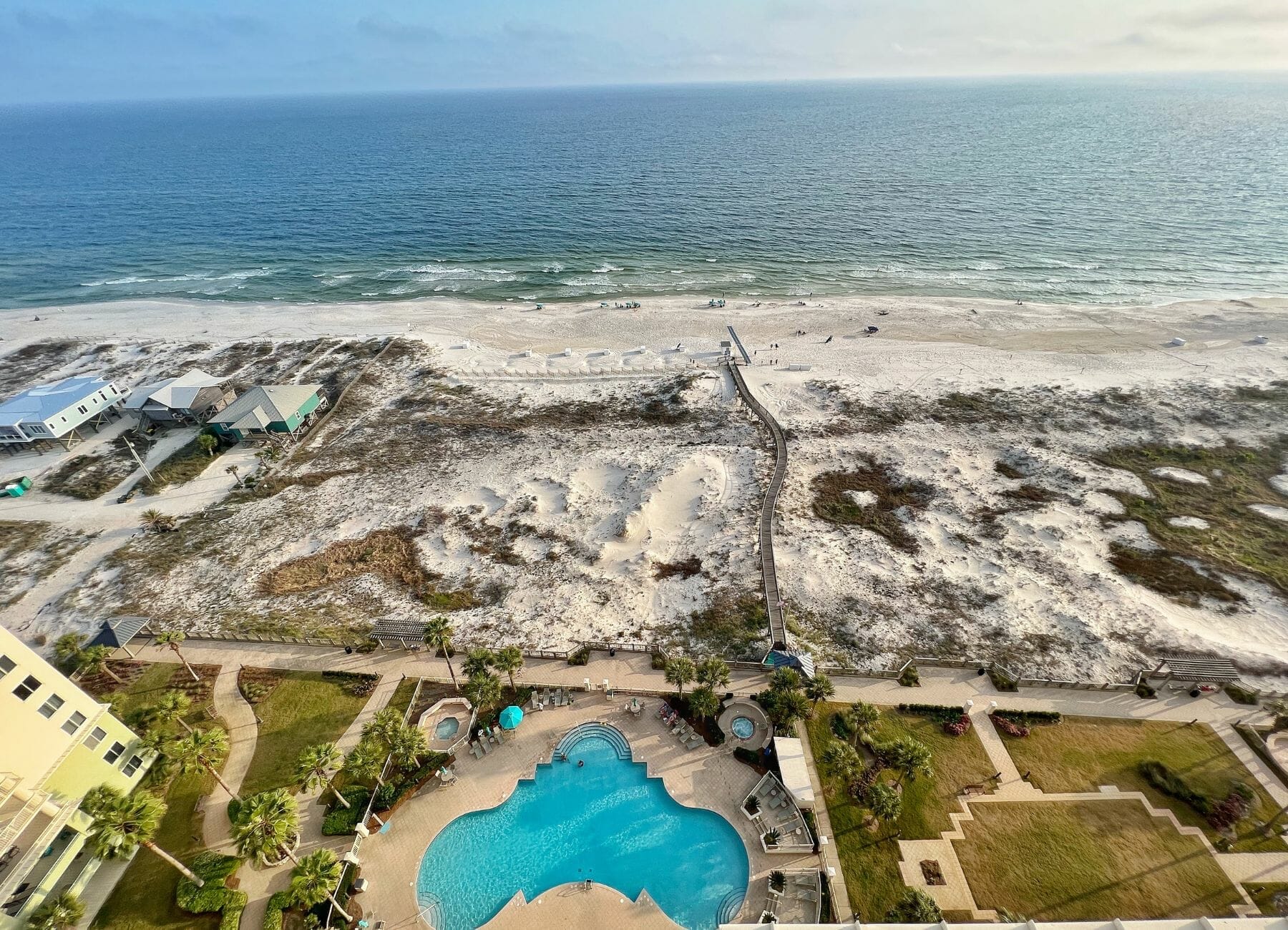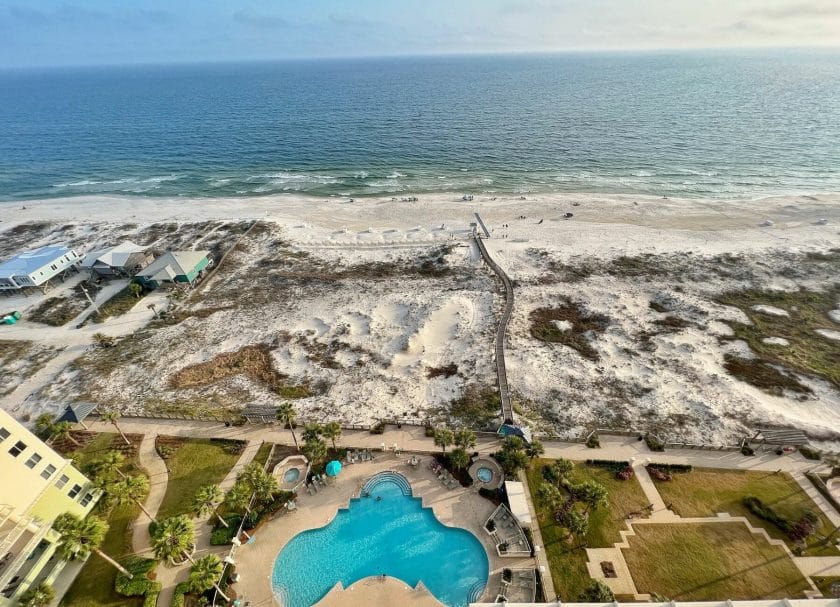 We have visited the area before and knew there were a lot of great things to do in Gulf Shores, Alabama. But this would be our first time visiting The Beach Club Resort and Spa.
The Beach Club Resort and Spa in Gulf Shores is a Spectrum resort that covers 86 acres and is located on the Alabama Gulf Coast.
The resort offers a variety of different styles of condos with balconies over looking the Gulf. We were traveling with another family – which meant we needed a condo that was large enough for multiple families to live in for a week.
This meant the Penthouse was a perfect fit for our group! It is located on the 20th floor and I have to say it was pretty cool getting into the elevator and clicking PH :).
Our condo was 2 stories with 5 bedrooms and 5 bathrooms plus a kitchen area, living room and dining room area. The 2nd story was a loft with 2 sets of bunkbeds (queen on bottom and twin on top) and a bathroom. The best part was the wrap around balcony that looked out over the Gulf with an awesome view of the beach!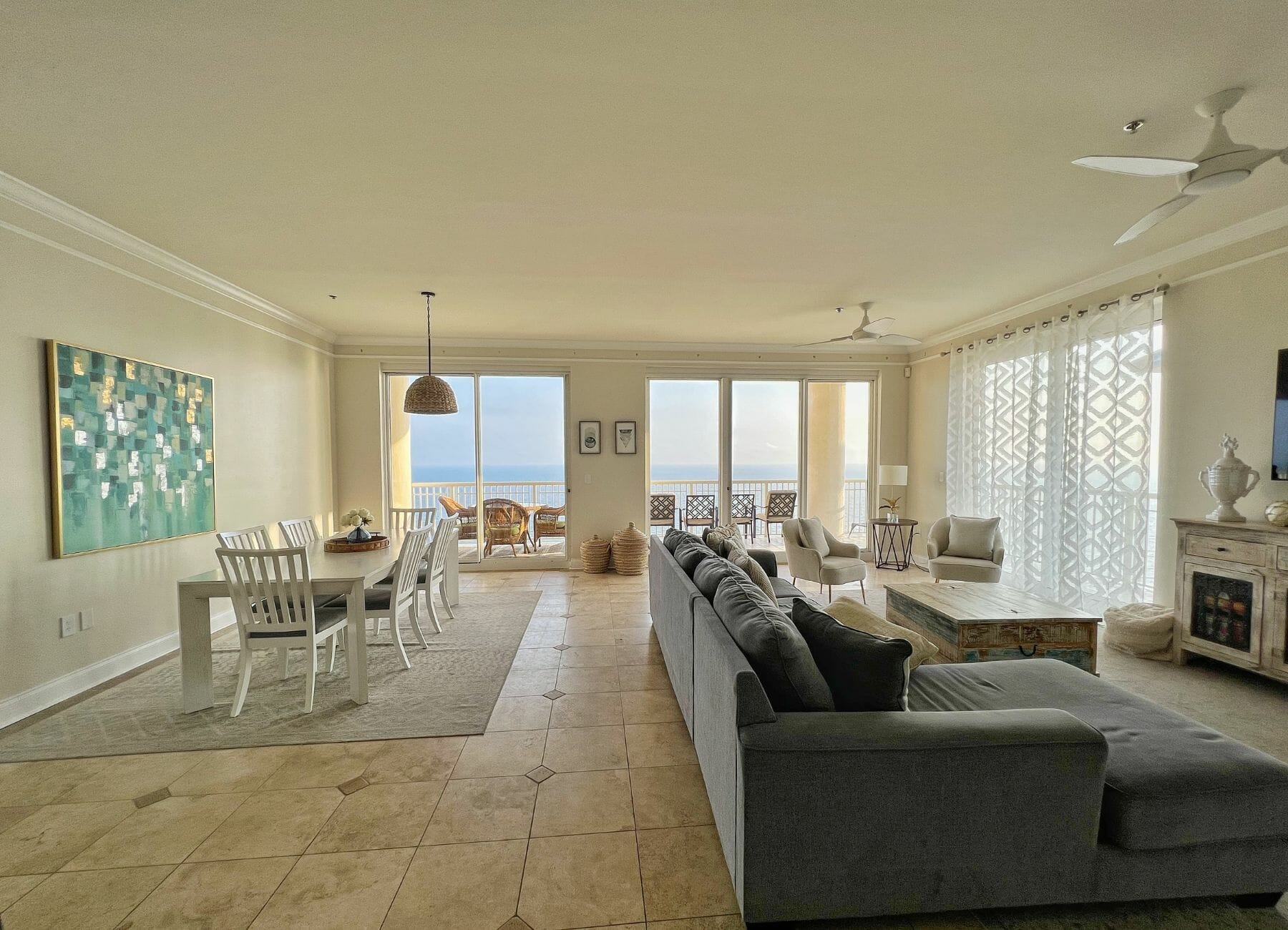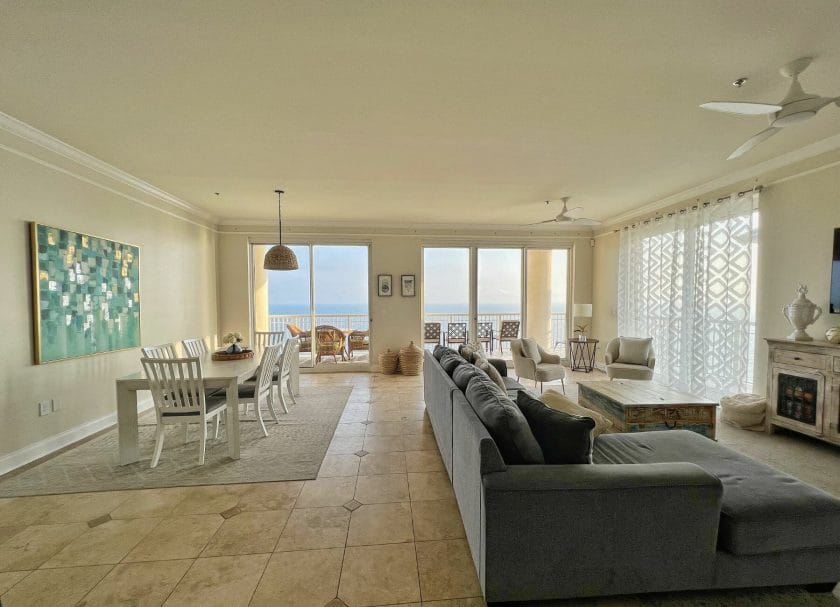 The beds were comfortable and there was plenty of room for the 10 of us (the Penthouse can sleep 14). Plus they offer a clean duvet guarantee which means I could snuggle into my blankets at night and not worry that the duvet wasn't washed from the guests before us.
Having a condo gave us the flexibility to decide if we wanted to eat in or go out to eat. We went grocery shopping before we got to the resort so we could eat in a few times but it wasn't always easy since the resort offers some great dining options.
They also offer Lakeside Cottages that are located north of the gulf front condominiums. It is awesome that they offer so many different vacation rental options.
Read below to learn more about this awesome resort so you can start planning your family trip to The Beach Club Resort in Gulf Shores, Alabama.
Swimming Pools
There are 6 pools at the resort. Yes you read that right – 6 pools! Each condo building (there are 4) has their own pool, hot tub and wading pool found at the base of the condo buildings. Between the condo and the beach.
The 5th pool is located in front of the Clubhouse – located in the middle of the 4 condos. It also has a hot tub and wading pool. Pool #6 is an indoor pool – which you may not think you would use. But we did on a rainy day.
The pools are heated in March and April during high use times. Note this doesn't mean they are hot tub warm but they are not ice cold either. We spent some time in our condo pool but preferred The Clubhouse Pool – maybe that had to do with the poolside bar??
The Clubhouse Pool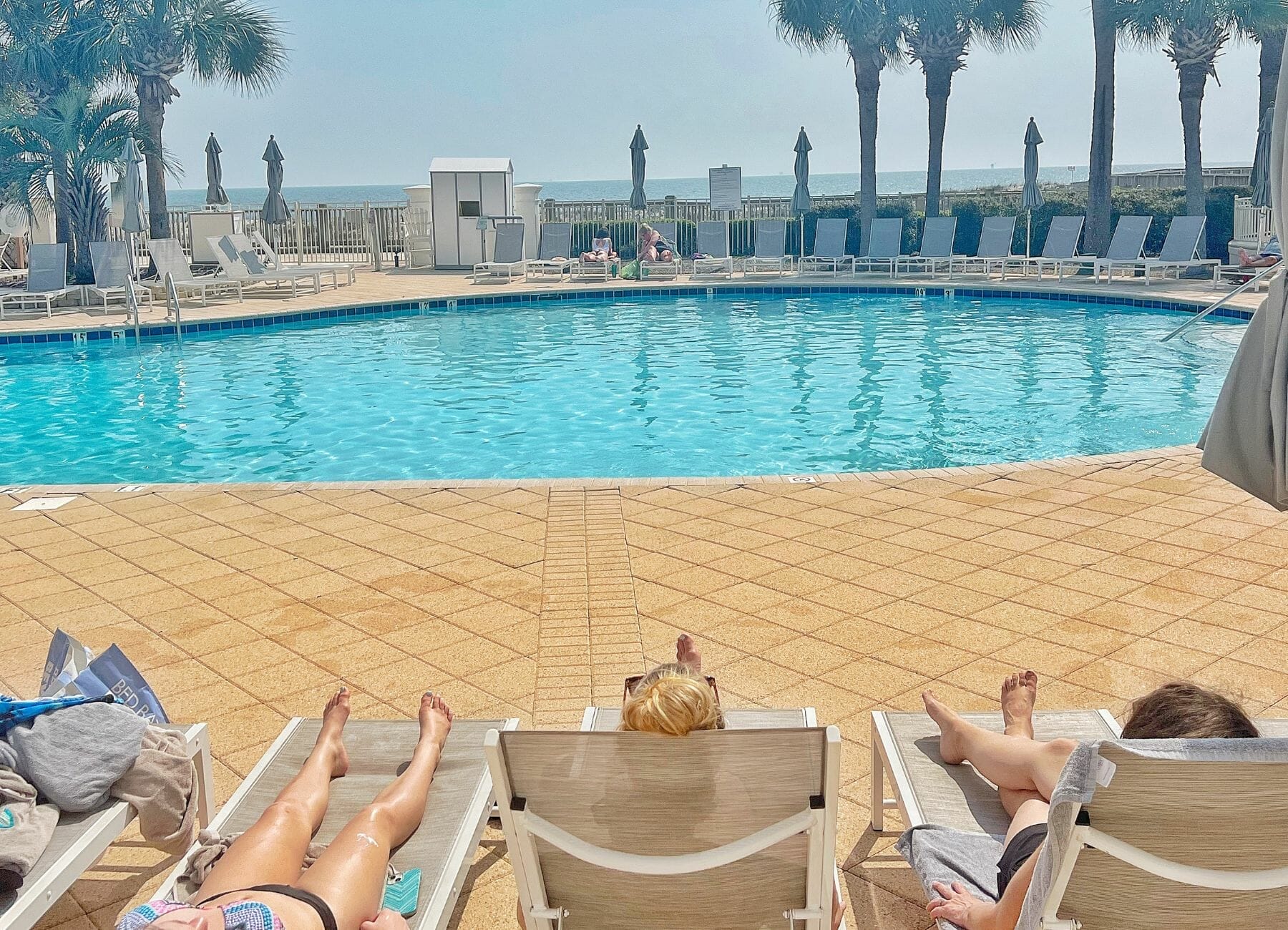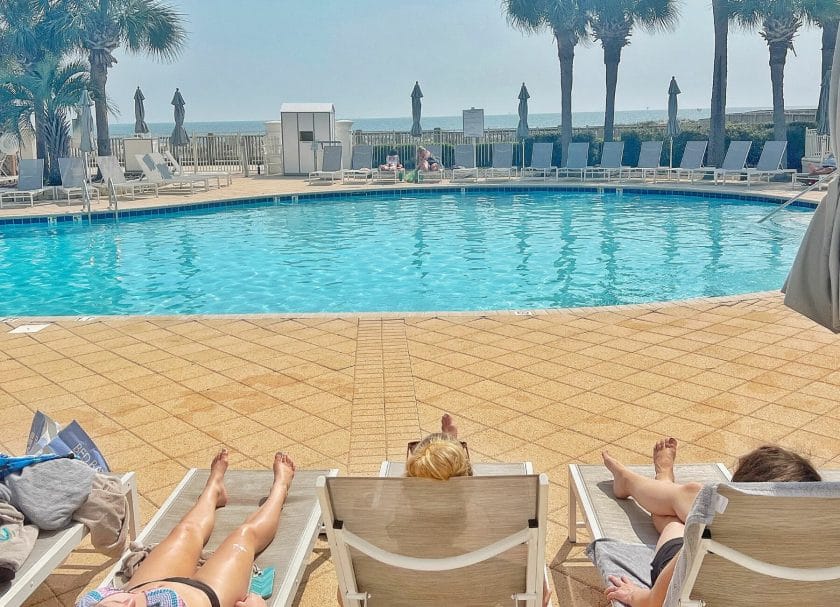 We spent the majority of our time at the Clubhouse Pool. We did this since there was a bar and grill by the pool. Plus we liked the overall vibe here better.
You do need a wristband to enter the pool area. But if you don't have one you can still order drinks from the bar on the beach side.
The drinks were expensive with cocktails starting at $12 each and cans of soda for $3.50 but they did have a special on craft beer for $3 a can so Craig was happy.
Sitting by the pool with a cocktail that someone else made for you while you relax in the sun with family and friends is exactly how I want to spend my vacation so it was worth spending the money on the drinks.
**You can't bring coolers into the Clubhouse pool area but you can by the condo pools.
They also had towels here that we could use and you could order from the grill and they would bring your food right out to your lounge chair. The fried green beans were delicious!
Fitness Center
Our oldest has been in to working out so he was excited they had a workout room in the Clubhouse as well.
They also offer fitness classes like Yoga and a few other options. The schedule changes each week so be sure to check it the week you will be staying here.
The Beach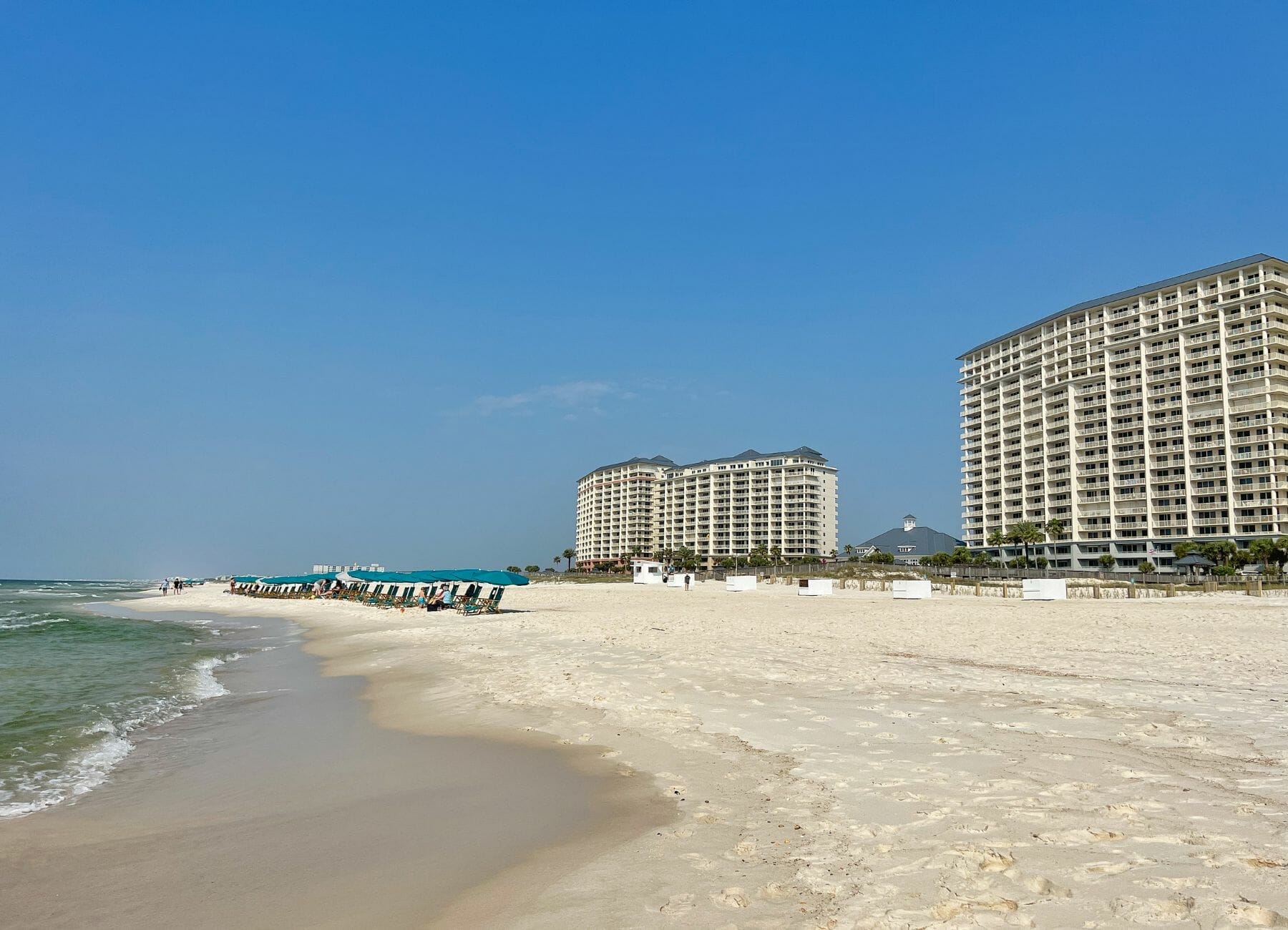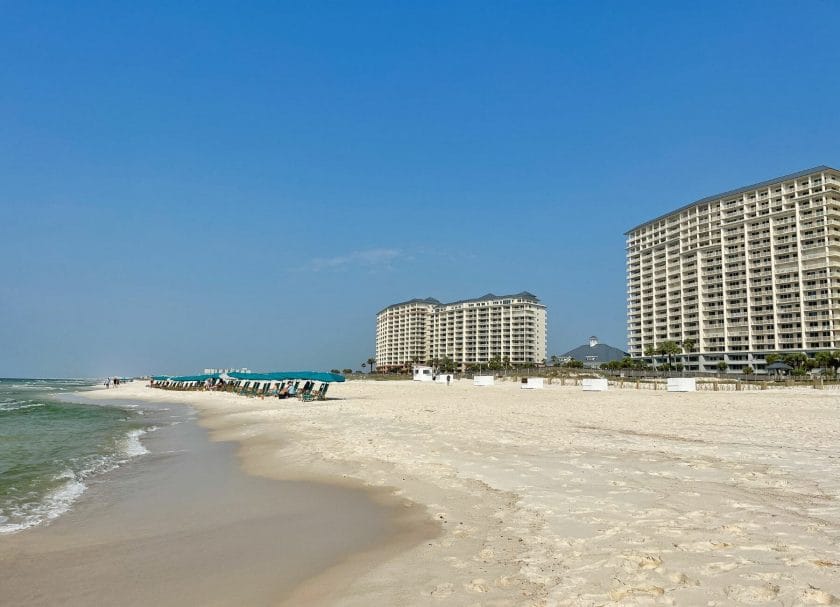 There are boardwalks that go out from each of the condos to get you to the beach. It is a nice beach with soft sand and the ocean is a good depth for the kids to swim. Or to boogey board when the wind is right.
You can rent beach chairs and an umbrella to have setup on the beach waiting for you. Or if you are like us and don't want to spend the money to rent chairs you can also buy some at the Dollar General or Publix on your way in and use your own chairs.
Volleyball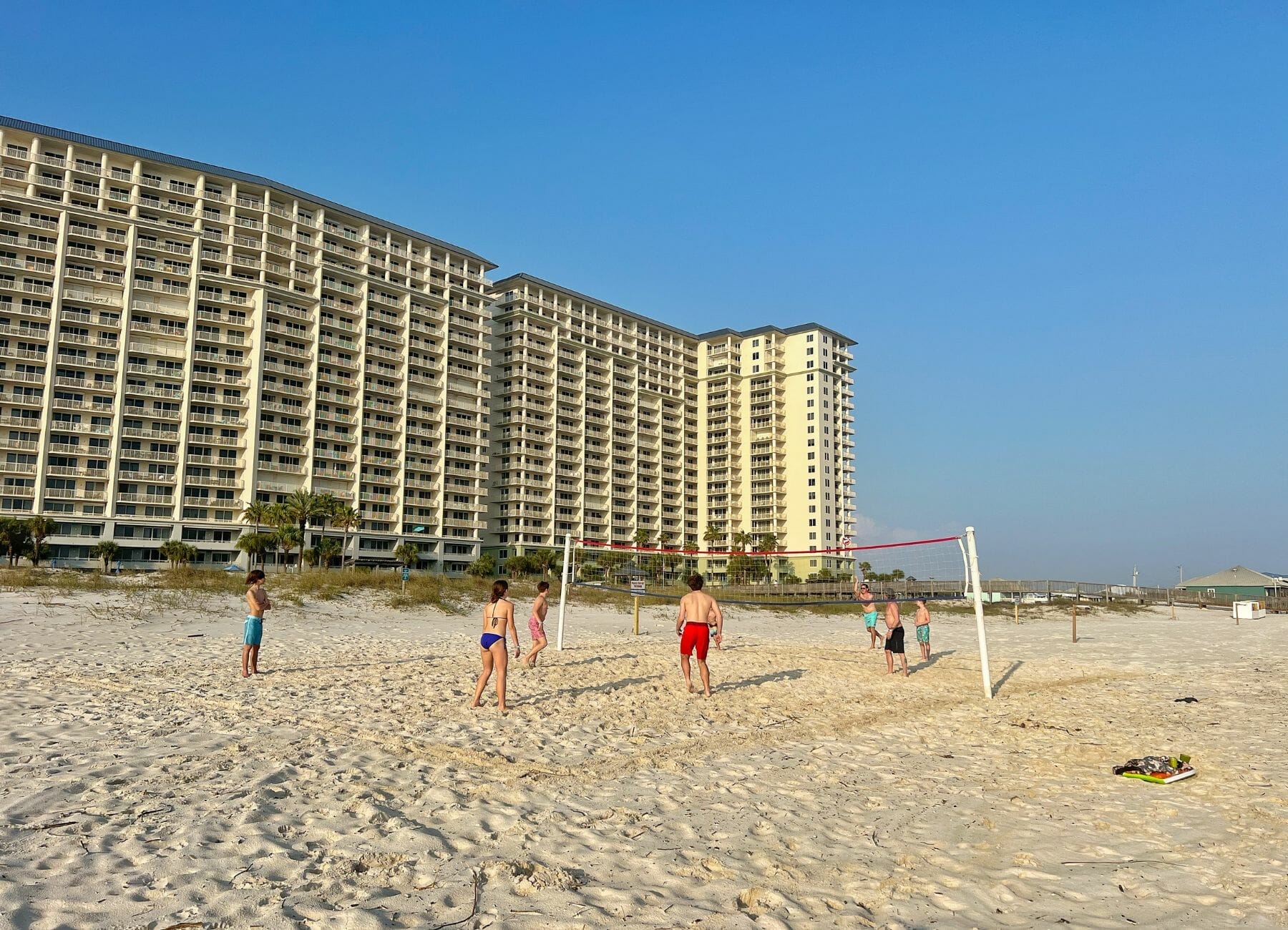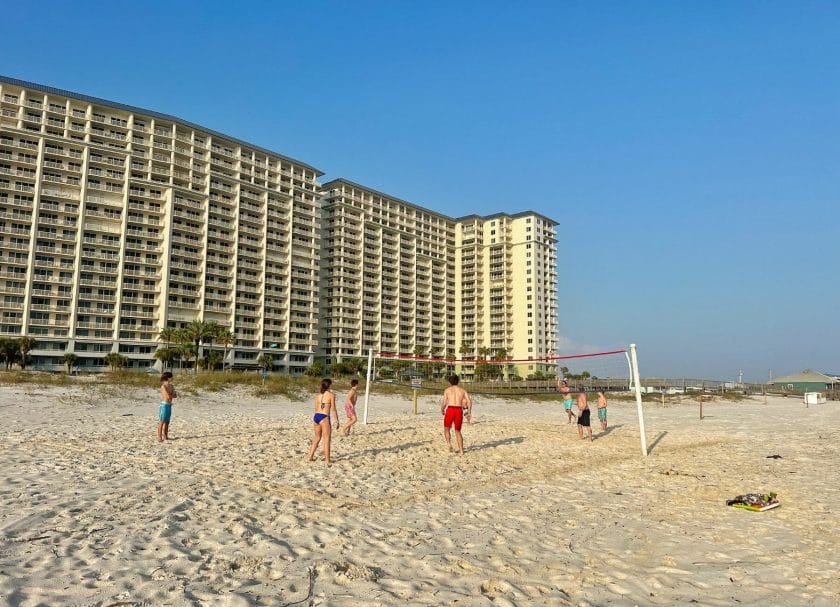 There is a volleyball net on the beach by the Clubhouse that is perfect for a family game of volleyball. I loved that the beach was right there. No driving to get there or crossing a street to walk to the beach.
When you were done they had showers and hoses you could use to wash the sand and salt water off of you.
Beach Bonfire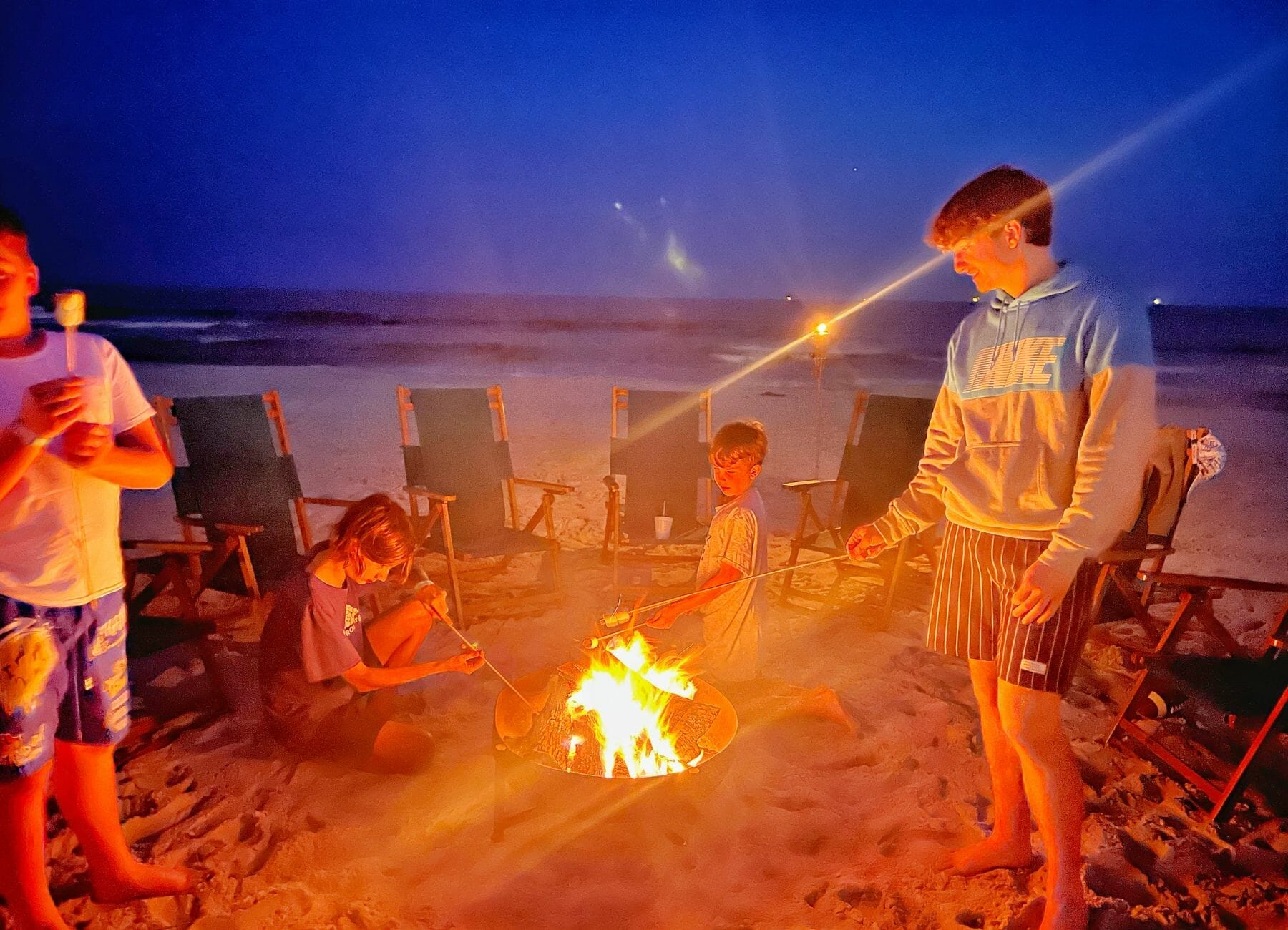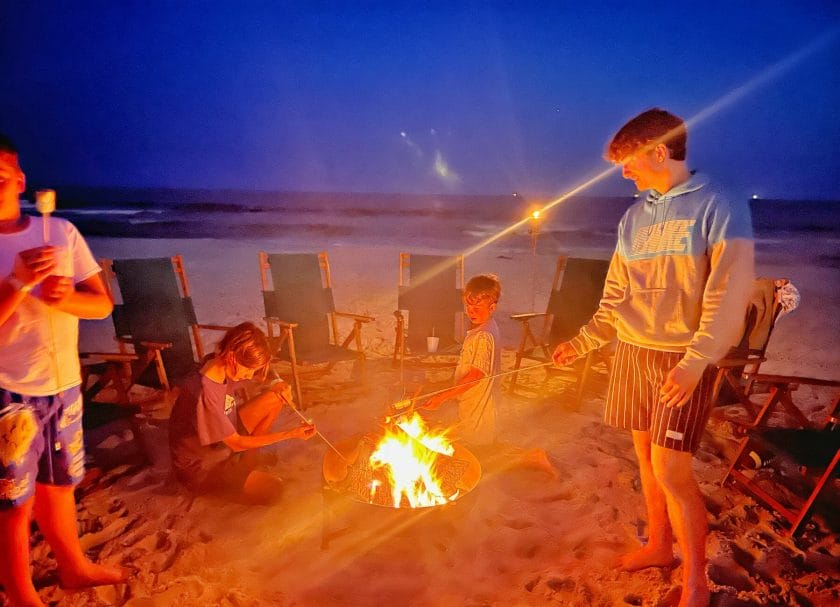 If you are looking for a fun night time activity for the whole family you can book a Beach Bonfire! There are chairs, tiki torches, a firepit and table filled with s'mores ingredients all set up for you. So all you have to do is walk down and enjoy it!
They provide bottled water, marshmallows, chocolate and graham crackers. Along with roasting sticks. You are welcome to bring your own beverages along as well. And it is OK to have alcoholic beverages on their beach (this isn't the same in all of Gulf Shores – but is at The Beach Club Resort beach). **NOTE: alcohol is not allowed on Gulf Shores or Orange Beach during spring break weeks which are normally in March and some of April.
Once the S'mores were done the host surprised us with packets of color changing magic that you can throw into the fire to watch the flames change all different colors.
The bonfire lasted about 2 hours and was a fun thing to do at the end of the day! Plus the kids loved the s'mores, evident by there being no ingredients left when we were done with the fire.
The Spa and Salon
Inside the Clubhouse they also have a full service Spa. The 2 moms spent a couple hours here getting a massage and a facial. It was so relaxing and was a great way to start off our day.
They offer a variety of services from massages to facials to nails. I loved how this was also at the resort so it was easy to just walk over for the appointment.
Where To Eat
There are a variety of places to eat from super casual – like next to the pool casual. To more fancy where you can dress up and have higer end food and cocktails.
Gulfside Bar & Grill
The Gulfside Bar & Grill or what I call the Clubhouse grill (always be sure to check opening times as it was just opening for the season when we were there in early March) was perfect for when we wanted a beach/pool day and didn't want to go back up to the room to change or make lunch.
They had salads, burgers, chips, fried green beans (we recommend these) and a few more options that fall into this category.
The Village Hideaway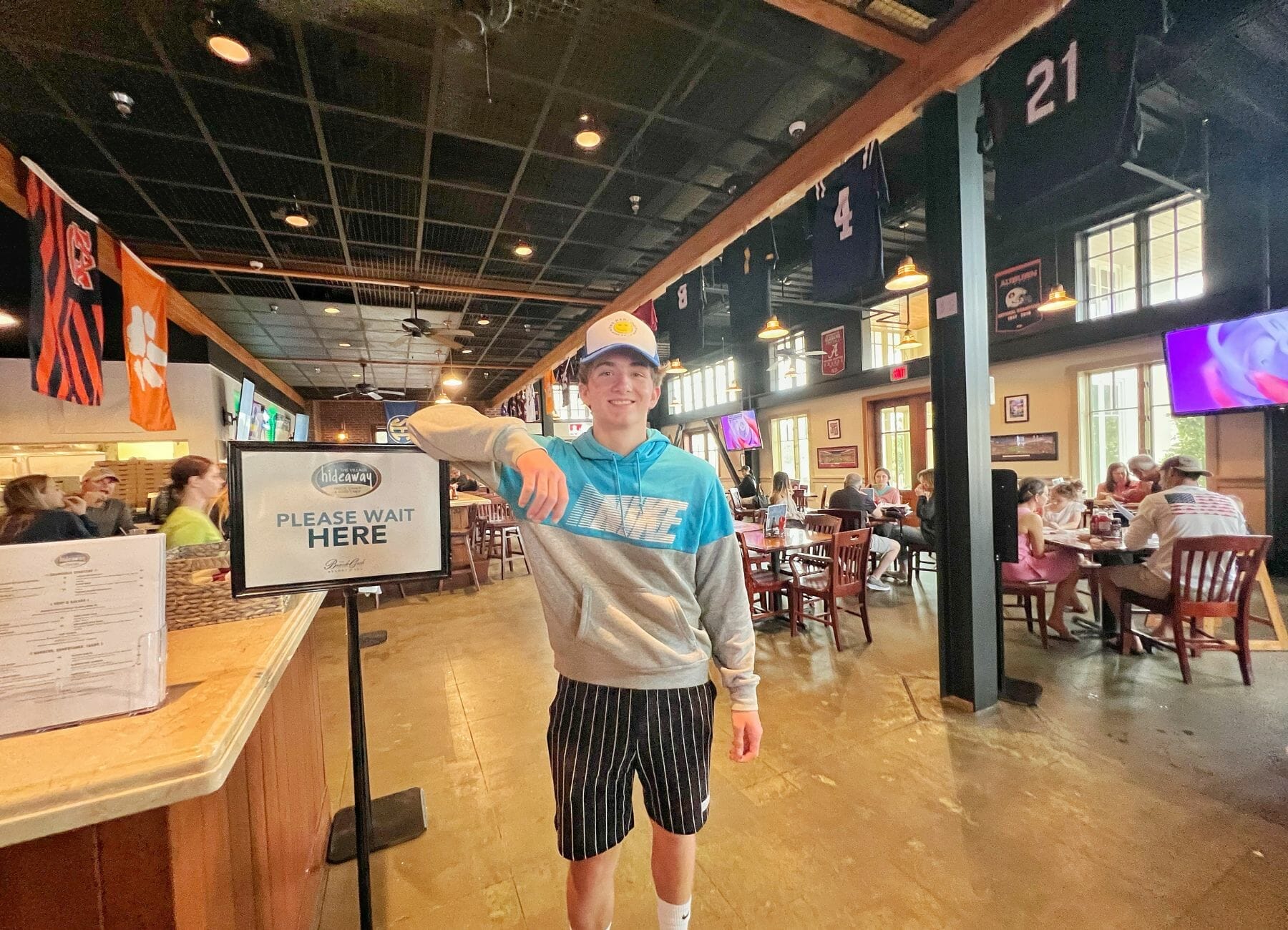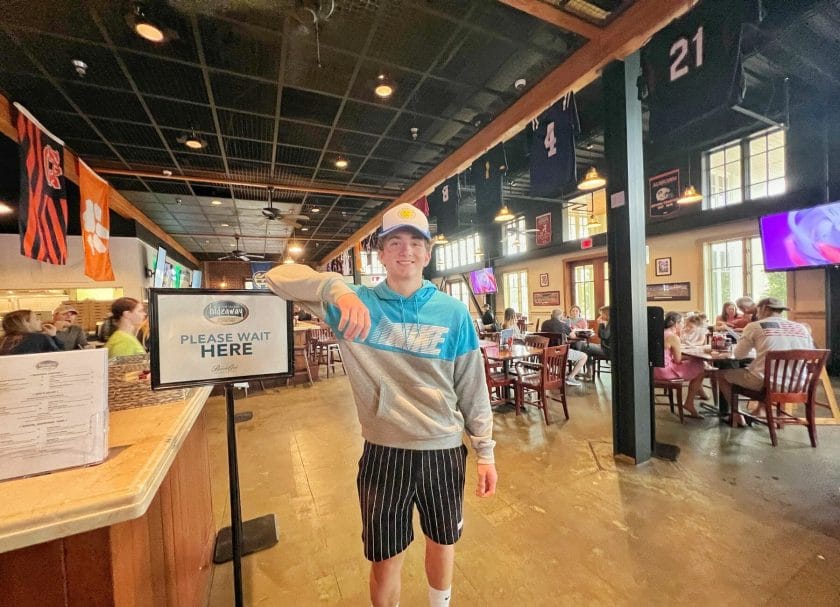 This was a short walk from the condos – and can also be accessed from outside of The Beach Club gated entry. They offered a Happy Hour – $4 margaritas! A full sit down menu and easy takeout for Pizza or any of their other food.
If you travel with kids you know that having a pizza option is always important. One night the adults went out to the fancy restaurant while the kids walked to The Village Hideaway to get pizza and sodas to go.
They also offer wings, tacos, a kids menu and a few more options for food. With a full menu that everyone in your group will be able to find something that they like.
There is an arcade in the restaurant – where you buy a card and put money on it. A gaming station where you pay per half hour of play. Plus a simulator with golf, soccer and baseball where you pay per half hour as well.
Pool tables and air hockey. Plus a whole outdoor grass area with a few games and room to run. This is the place you come with kids and know everyone else will be there with families too so it is OK that it is chaos!
The kids loved it and always wanted to go back to eat here. Maybe for the food but more for all the fun things to do while you waited for your food and once you were done.
The Village Creamery
We also made a few stops at the Village Creamery for ice cream. The kids each got a free scoop with our stay. But of course we also went back to buy ice cream a few times. The Creamery is located in the gift shop that has lots of cute things and also a few necessities incase you forgot anything.
Coast Restaurant and Gulf-Front Veranda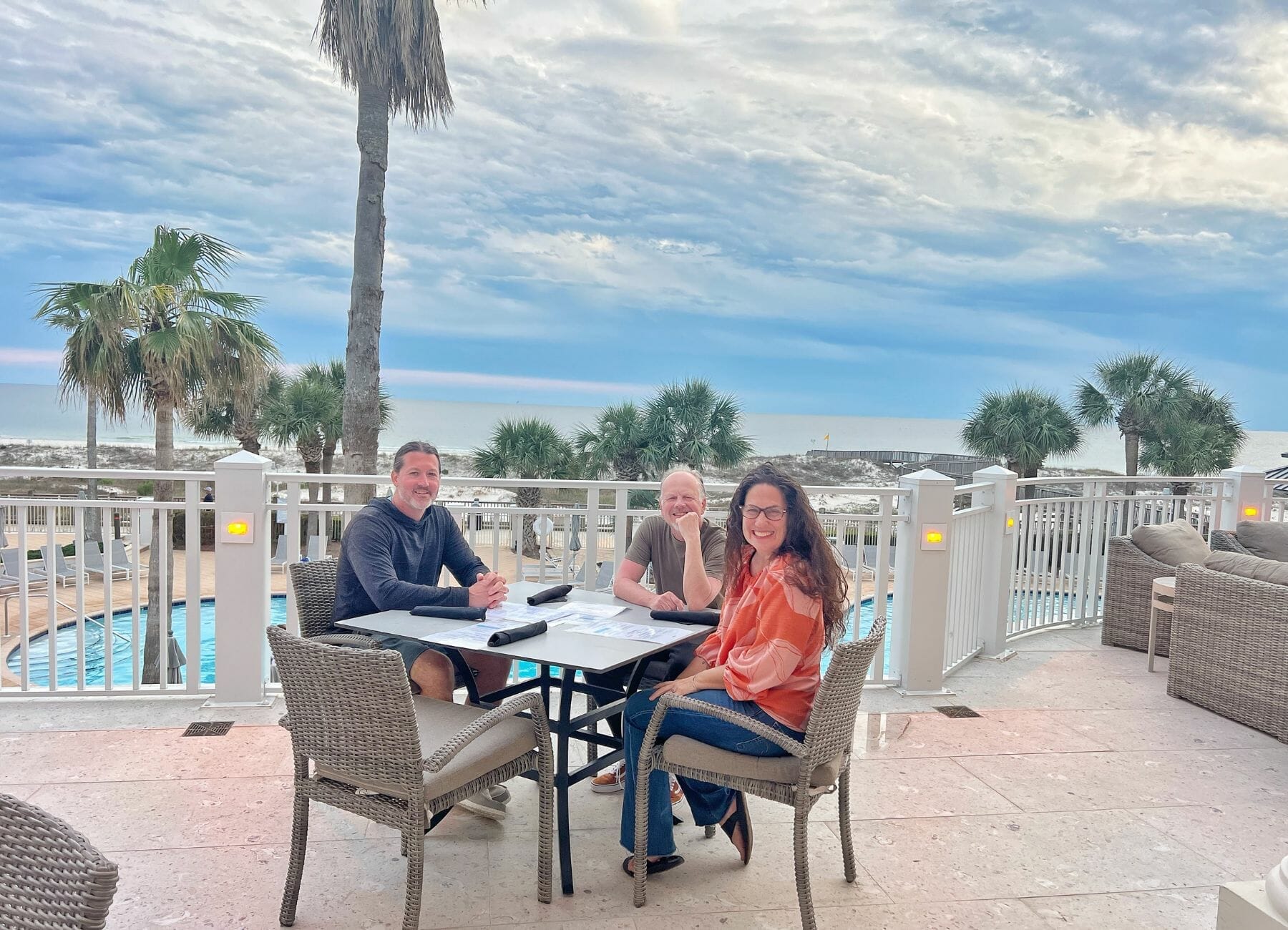 This is the fancy restaurant I mentioned above. Don't worry if you didn't bring any fancy clothes that is OK. But if you feel like getting a little dressed up for dinner you can absolutely do that here.
They offer yummy appetizers with oysters and other seafood options. Including some non seafood options as well.
A catch of the day, crab legs, steak and chicken options for dinner. We each got something different and everyone was happy with their meals!
They also have a fun cocktail menu with unique and delicious drink options. The Peanut Butter Old Fashioned was yummy!!
This was a great parents out night option. We spent a couple hours here taking our time with an appetizer, our meal and dessert. Plus a few cocktails as well. It is always nice when you can walk to dinner so no one has to drive home.
The Village Lawn and Food Trucks
During the summer months they also offer The Village Lawn that is located outside of the Village Hideaway and is filled with food trucks. This would make for another fun place to hang out and enjoy dinner.
As you can see there are a lot of options for eating. But if eating out every night doesn't sound like a good plan you also have the ability to cook at your place which is always a good option to have. Especially if you have picky eaters!
In Conclusion
We stayed at The Beach Club Resort and Spa for 6 nights and we only left the resort 1 time. For me that is exactly what I am looking for with a resort. It is a relaxing vacation where everything you are looking for is in walk distance and you can just kick back and relax!
If you are looking to get out and do things there is plenty to do. Fort Morgan is up the road and if you go the other direction you can get into the city of Gulf Shores and all the awesome things to do there. You can also check out all the great Gulf Shores restaurants. We always enjoy a visit to the Hangout when we are in Gulf Shores!
More To Do In The Area
The gulf coast is such a beautiful area of the country. We have stayed weeks in the area and explored up and down the coast. Gulf Shores is a favorite stop along with these other locations:
31 Best Things To Do In Destin, Florida [Plus Top Tours]
The Best New Orleans Plantation Tours To Take With Kids
21 Fun Things To Do In Port St Joe Florida
Pin This Post: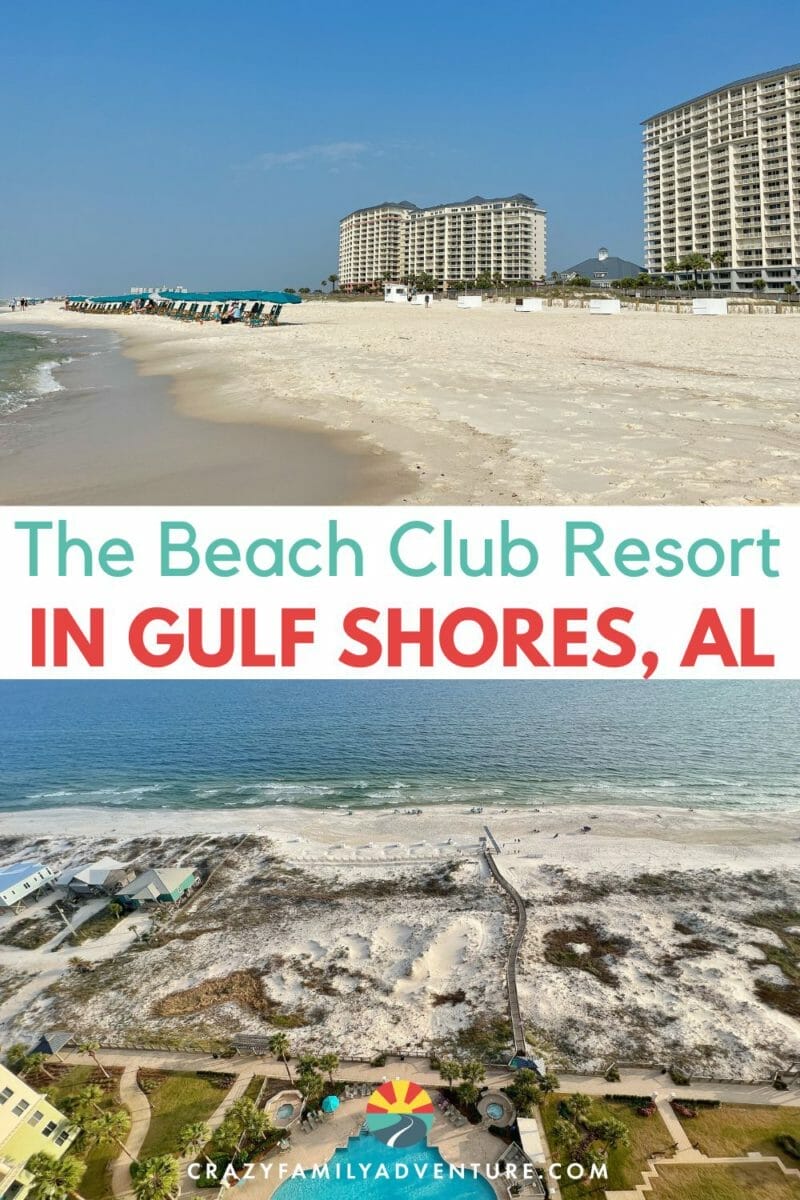 DISCLOSURE: This post may contain affiliate links, meaning I get a commission if you decide to make a purchase through my links, at no cost to you. Please read my disclosure for more info.