There is so much beauty and wonder in Northern California. From waterfalls to volcanos and lava tube caves, there is an abundance of epic things to do in Northern California. Below we list out our favorite places to visit.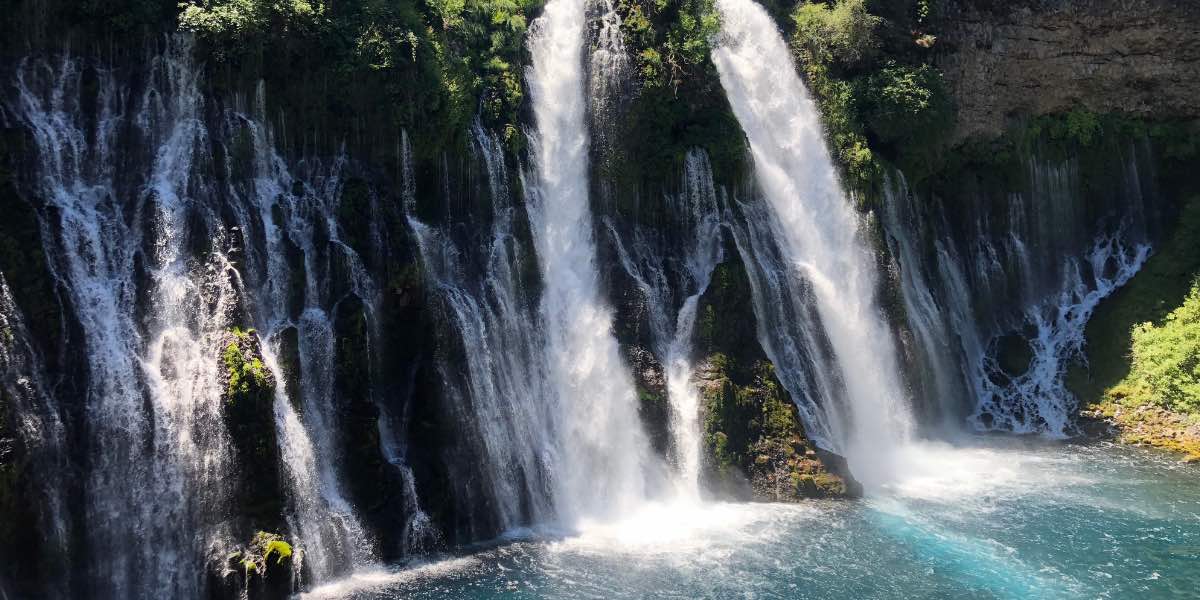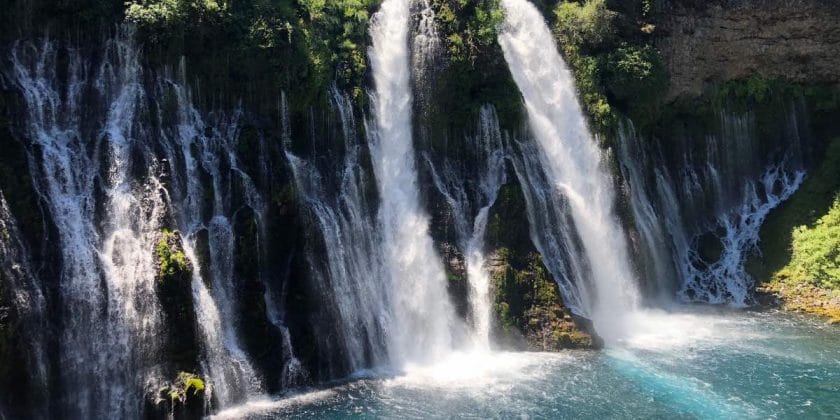 Up for even more of an adventure think about renting an RV for your trip! Here our are top tips on Renting an RV and planning an RV trip.
We will start at the southern part of northern California and make our way from San Francisco up to the Oregon border. Here is a map of the locations we will visit: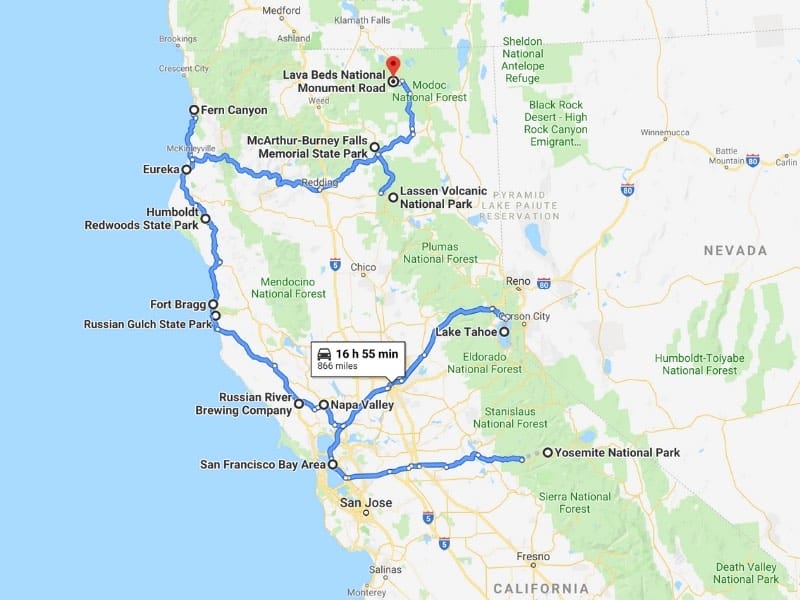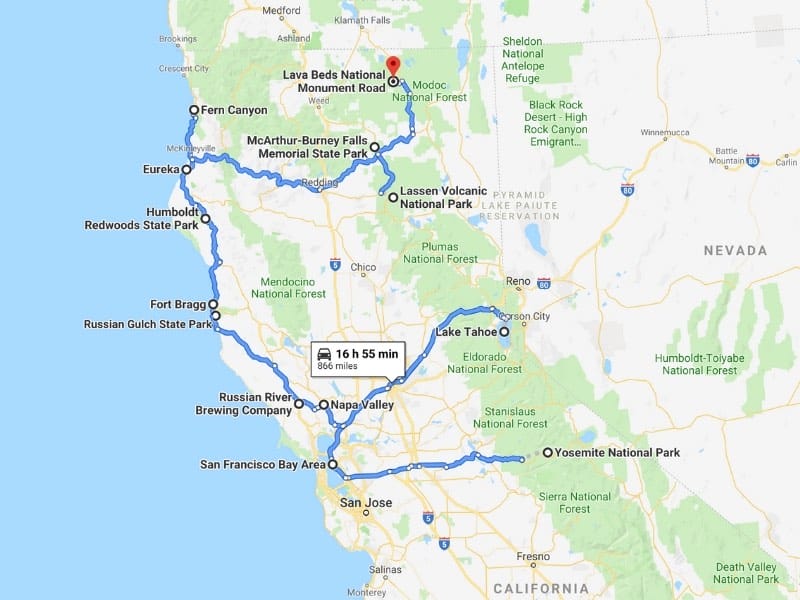 Here is an interactive map with most of the stops (Google didn't let me add all of them on the interactive one): https://goo.gl/maps/6wEYYPEtr1aaTeqv6
Yosemite National Park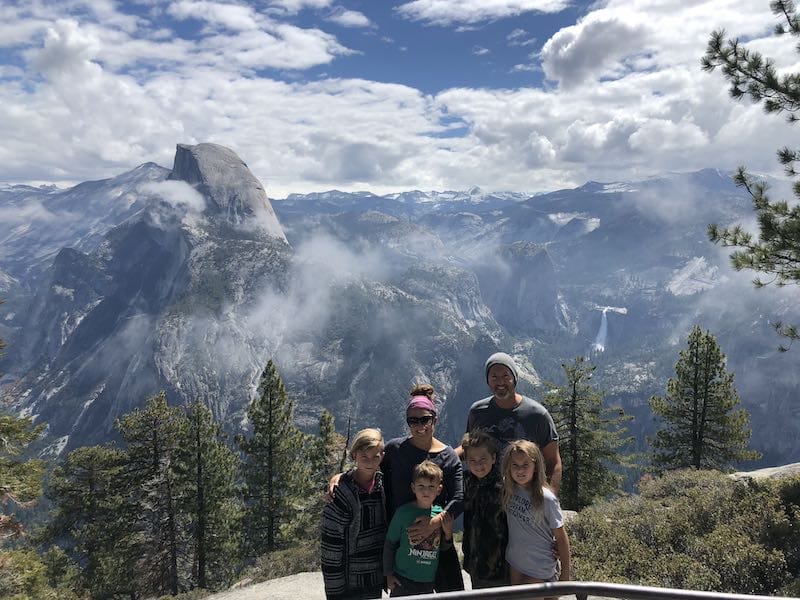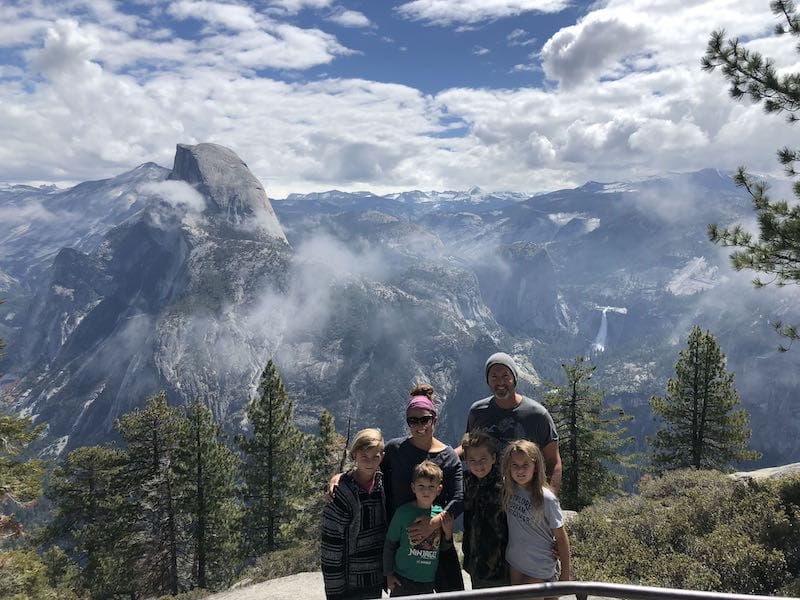 We had heard Yosemite was amazing and they were right! We spent 5 days in the park and did one of our favorite hikes of all time: The Mist Trail. California really has amazing National Parks!
The Trail had us hiking up right next to a waterfall. We had brought rain jackets for the kids and it was a good thing we did because they got soaked!! It was such an awesome hike. Definitely wasn't easy hiking up the mountain, but was well worth it.
You can check out more great things to do in Yosemite here: 21 Epic Things To Do In Yosemite National Park With Kids
Tours
We normally just go and visit the Visitor Center and then go on hikes, but if you are someone who prefers tours there are options out there! Get Your Guide is a great resource to find a tour in Yosemite. Check them out here.
Where To Stay
Hotel:
Inside Yosemite – Check out The Majestic Yosemite Hotel
Outside of Yosemite – Check out The Evergreen Lodge
RV/Camping: North Pines Campground – IN Yosemite National Park! We loved staying in the park but please note there are a lot of restrictions on rig size and you usually have to book 6 months to a year in advance to get a site. But Yosemite camping is totally worth it!
Airbnb: Prefer to Airbnb it? Check out the Airbnb options by and in Yosemite.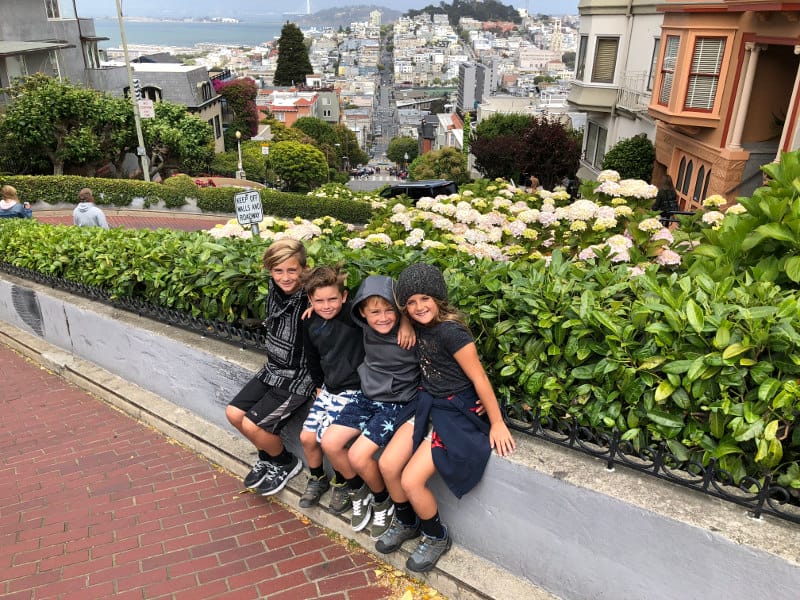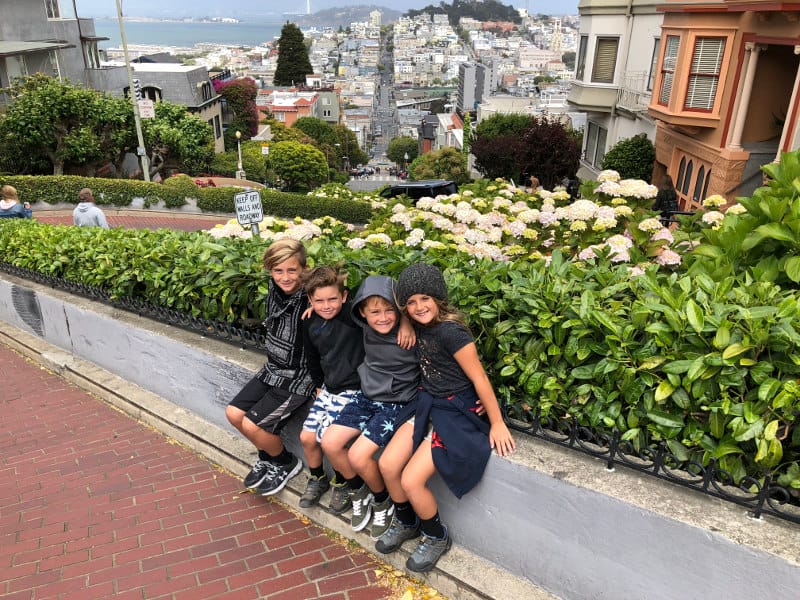 An interesting city for sure! There are a lot of really cool things to do in the San Francisco Bay area really and lots of historic sites. We spent a couple days exploring the city.
One day was spent just walking around by Pier 39, going up the crookedest street in America, and checking out the botanical gardens. Then heading over to Chinatown where we literally felt like we were in China.
There are also great children's museums and other museums to visit in the city along with the awe-inspiring Muir Woods and Point Reyes Seashore just a short drive outside of the city across the Golden Gate bridge.
If you are looking for a good deal on a variety of attractions the San Francisco CityPASS is the way to go!
If you have more time in the area you may want to head to Santa Cruz or the Sacramento River.
Learn more about visiting San Francisco here: 17 Unforgettable Things To Do In San Francisco With Kids
Where To Stay
Hotel: Westin St. Francis in Union Square
RV/Camping: San Francisco RV Park – Basically a parking lot, but you can walk to a bus stop that will take you to the Metra that you can take into the city. So there is that. Or else you can drive into downtown in about 20 minutes.
Airbnb: There are so many great Airbnb options in San Francisco too! Be sure to check them out here.
San Francisco is also a great place to plan a graduation trip!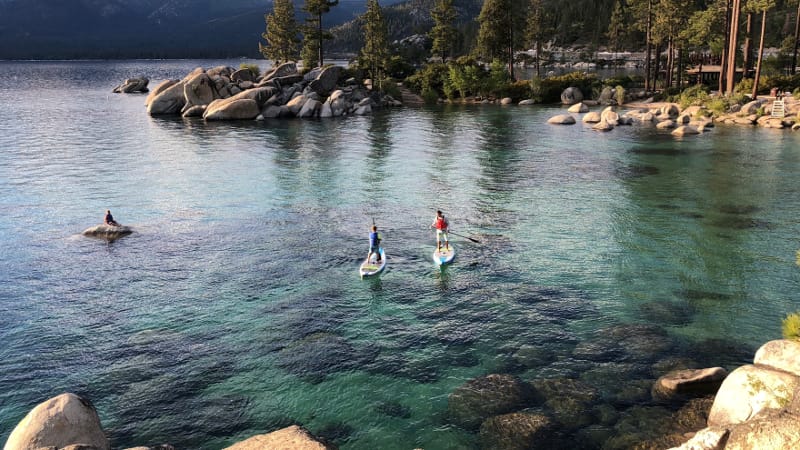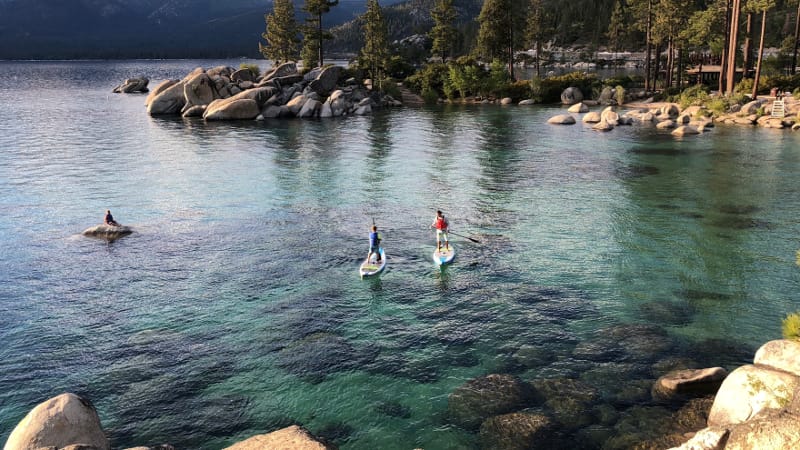 If you are looking for more nature and beauty then you don't want to miss Lake Tahoe. Plus there is lots of hiking, biking, paddle-boarding and more. I know the area is known for its winter skiing, but it is also a spectacular place to visit in the summer.
We loved Sand Harbor Beach for paddle-boarding and spent a whole afternoon into sunset enjoying the gorgeous water and views.
Learn more about visiting Lake Tahoe in Summer here: 24 Spectacular Things To Do In Lake Tahoe This Summer
Where To Stay
Hotel: Hotel Azure – we really enjoyed spending a few nights here in South Lake Tahoe.
RV/Camping: Campground By The Lake – Located right across from the Lake in South Lake Tahoe this is a beautiful campground to stay at.
Airbnb: Airbnb options in Lake Tahoe.
Russian River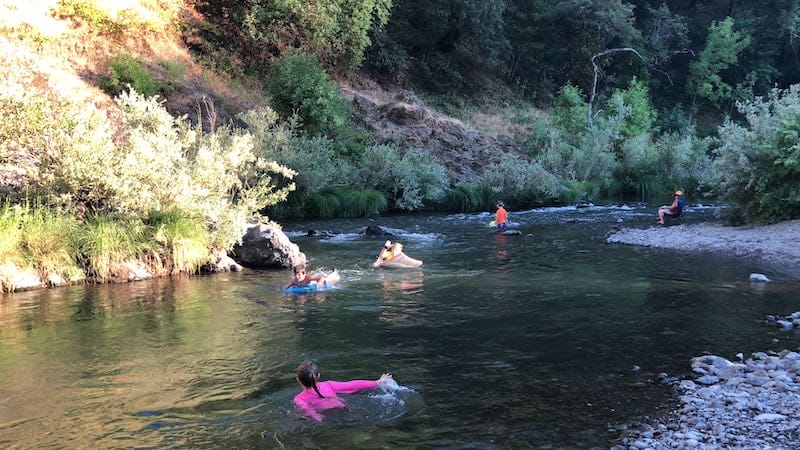 If you are a beer person you don't want to miss Russian River. Plus there is more than just beer here! We stayed at a campground that had a fun rapids/stream/river that the kids played in for hours.
But back to the beer. Russian River is where Pliny the Elder is brewed. And it is my husbands favorite beer of all time! We headed into Santa Rosa to go the Russian River Brewing Company and it was packed!
We waited in line for about 10 minutes then got a table. Having a Pliny The Elder out of the tap was a highlight of our California trip for Craig and we went home with a case and a t-shirt!
You are also close to the Napa Valley area here and there are a lot of tasting rooms where kids are welcome.
Where To Stay
Hotel: There are a variety of options available in the Russian River area. Check them out here. 
RV/Camping: Russian River RV Campground. This was a fun campground with an area to put tubes in the creek and ride it down about a 100 yards and then get out and walk back up to do it all over again!
Airbnb: Check out these airbnb options by Russian River.
Russian Gulch State Park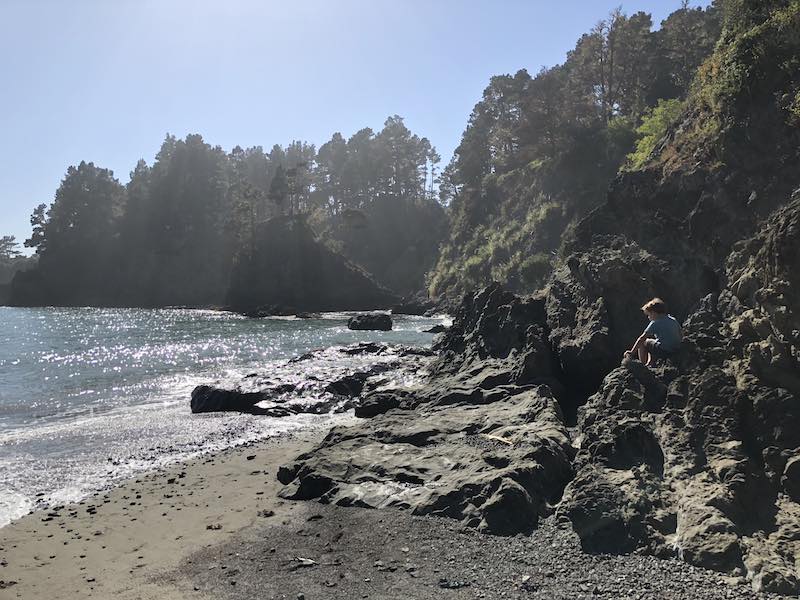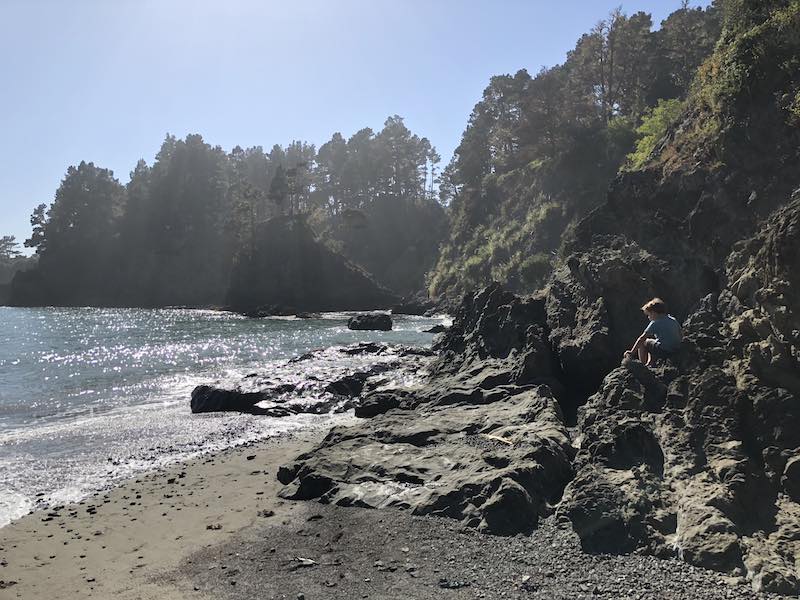 A beautiful state park area that takes you away from the hustle and bustle of San Francisco and Yosemite and out in the middle of nowhere. When you go down the hill into the State Park you loose all internet connection and you can feel the stress melt away.
There is a creek running through the park, a trail at the back end of the park and a beautiful beach that you can walk to.
If you are looking for nature and relaxation this is the place for you.
Where To Stay
RV/Camping: Russian Gulch State Park is the campground we stayed at. We didn't recommend a hotel since this stop is all about the state park campground!
Fort Bragg – Glass Beach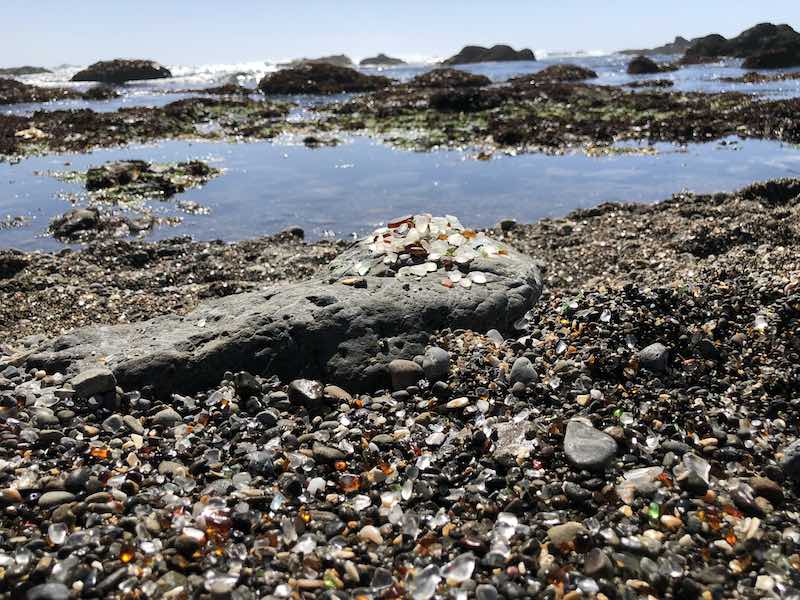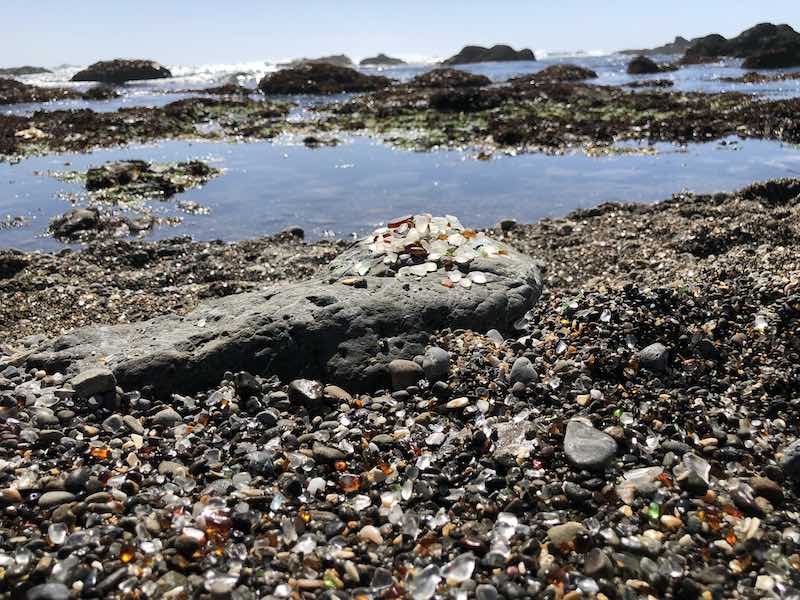 You know those Instagram pictures of the beaches covered in glass. This is the place!! It doesn't quite look like what it does in the pictures. Since just recently they made it illegal for people to take the glass home with them. Prior to that you could take glass off the beach which depleted the glass.
But don't let this stop you from going. There is still lots of beautiful glass on the beach and you can sit for hours and search through the sand looking for all different colored glass.
It is also a pretty beach area and nice to just sit and look out over the ocean.
Where To Stay
Hotel: There are some really cute bed and breakfast and cottage options around Fort Bragg. Check them out here.
RV/Camping: Russian Gulch State Park is the campground we stayed at when we visited Fort Bragg and Glass Beach.
Airbnb: Check out these airbnb options by Fort Bragg and Glass Beach.
Humboldt State Park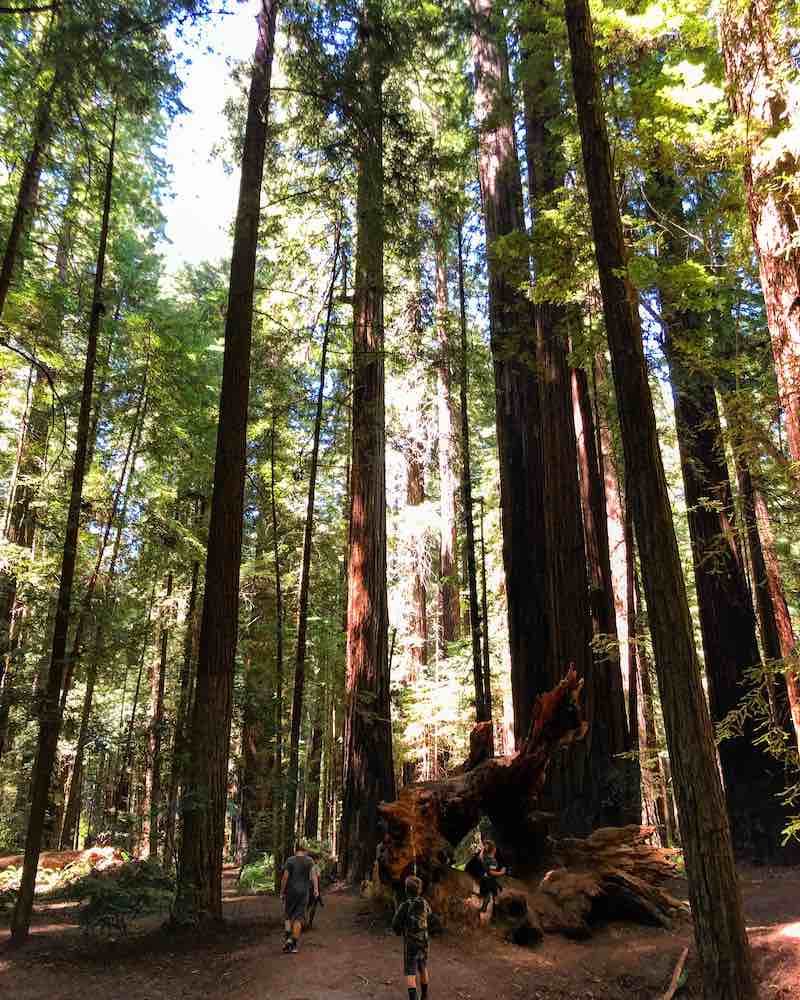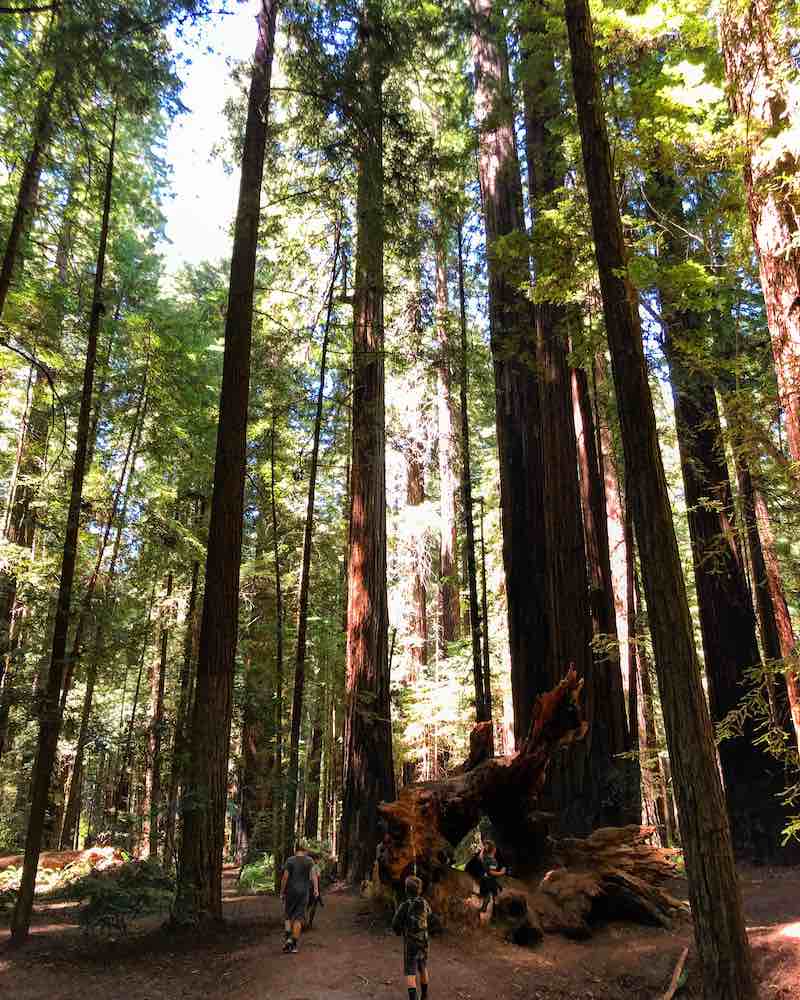 We drove on the Avenue of Giants to get here and it was awesome. The Redwood trees are so magical and driving through them makes you feel so small! We pulled into Humboldt State Park and we were able to camp among the Redwoods. To date this is one of our favorite campgrounds.
They have a visitor center area where you can learn more about the Redwoods plus multiple trails you can walk right through the Redwoods. There are also trees that have fallen down and you can walk along them. The kids loved this.
You can also climb in the roots of some of the fallen trees. It is a great way to get a perspective on how big these trees are.
While in the area we also visited the town of Loleta so we could check out the Loleta Cheese Factory! If you like cheese don't miss this stop.
Where To Stay
RV/Camping: Humboldt Redwoods State Park. You could drive in to explore this area from some of the surrounding towns but if you have a chance to stay here it is amazing!
This video covers Humboldt State Park, the Redwoods and visiting a couple cities in the area (more on all of them below):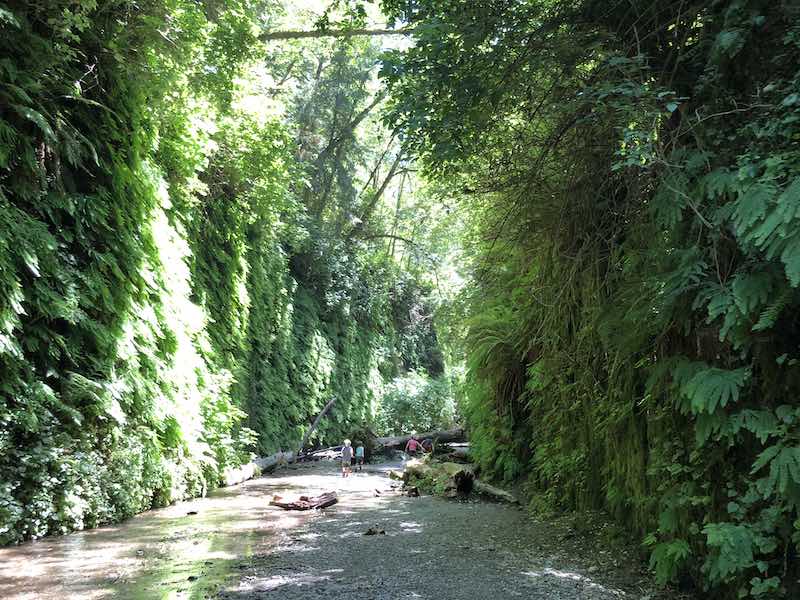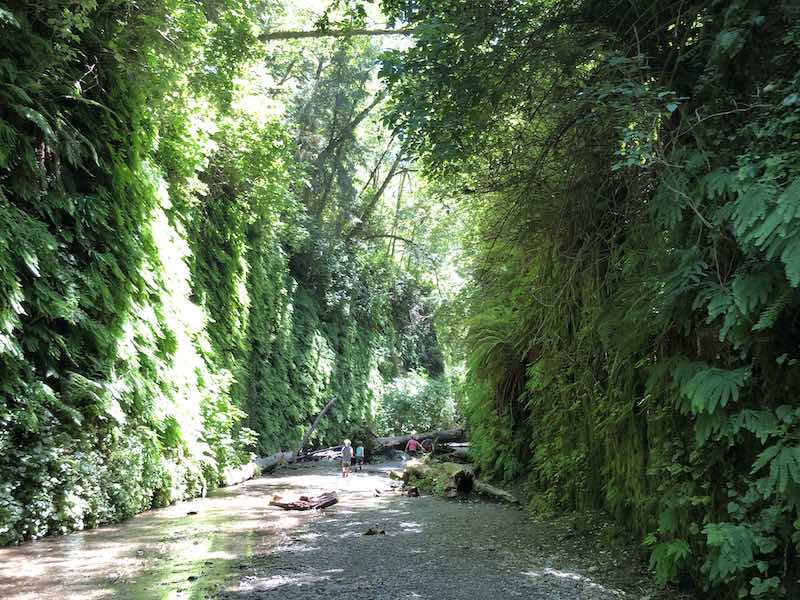 I hadn't realized how spread out the Redwoods are. I thought it was like other National Parks where you went to the Visitor Center and then followed a map around the National Park. Not quite. The National Park is spread out over all of coastal Northern California with a few state parks mixed in.
We ended up doing the Fern Canyon hike which was amazing since it is where they filmed part of the 3rd Jurassic Park movie! Our kids loved that. The trail takes you through trees and ferns while you are walking within a creek. So come dressed in the right clothes!
This is all we did officially in the Redwoods National Park. But after being at Humboldt State Park and driving the Avenue of the Giants we felt we had gotten the Redwoods experience.
If you want to add in another stop check out: Patricks Point State Park. It was a beautiful beach area – though very dangerous so don't plan to get in the water! But there is a nice sandy beach area to hang out and take in the views around you!
There is also the Redwood Forest Steam Train you may want to check out.
Where To Stay
Hotel: There are a variety of hotels to stay at around the Redwoods. Check them out here.
RV/Camping: Red Wood Coast Cabin and RV is the campground we stayed at when we visited the Redwoods and Arcata. It is located in Eureka.
Arcata
We had a great time exploring the quirky town of Arcata. They had an herbal shop in their downtown area that we really liked and the square in the middle of town was a fun place to hang out.
We also took a drive over to the town of Eureka to check out the Humboldt Cider Company brewery! It was yummy and a great place to bring the kids along to hang out, play games and listen to music while I tried a flight of Cider beer.
Where To Stay
Hotel: There are a variety of places to stay in Arcata. Check them out here.
RV/Camping: Red Wood Coast Cabin and RV is the campground we stayed at when we visited the Redwoods and Arcata. It is located in Eureka.
McArthur Burney Falls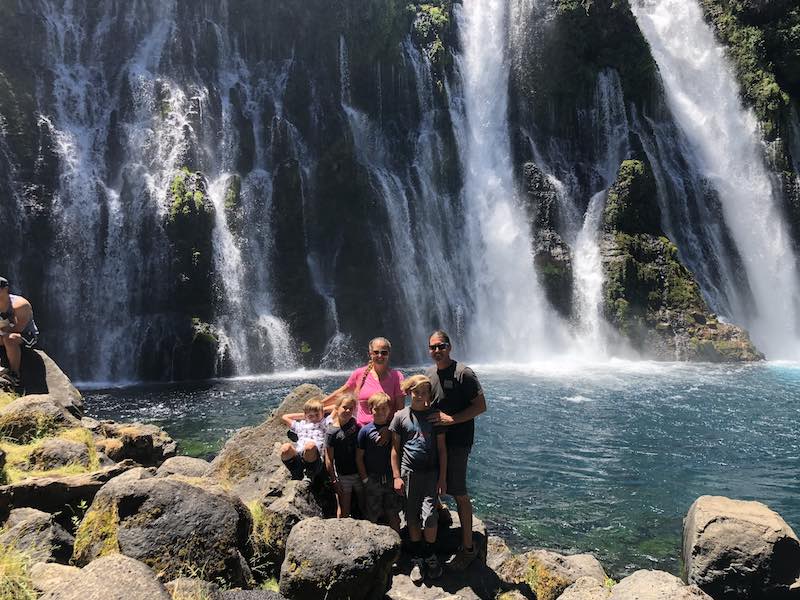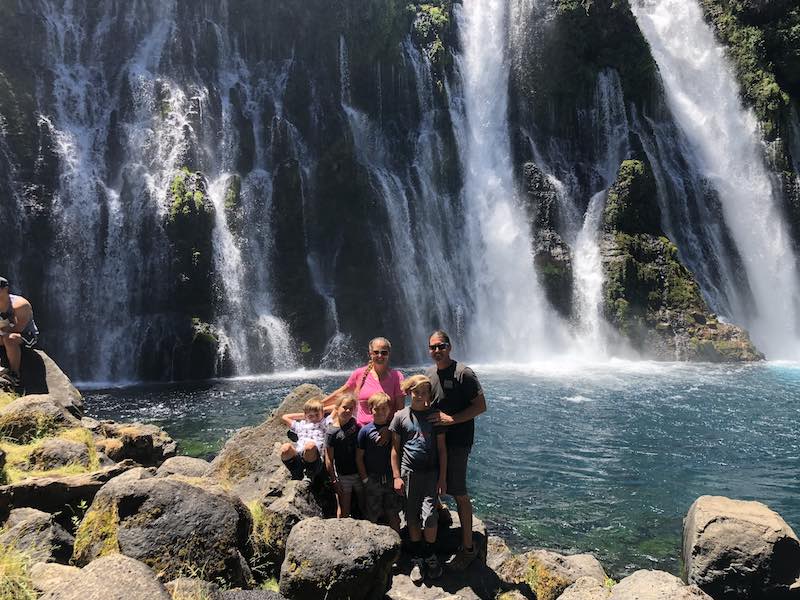 After the Redwoods we headed inland to what was named: The Most Beautiful Waterfall in California – McArthur Burney Falls. It didn't disappoint. The waterfall was amazing!! It is definitely a place to stop and take the short hike down to the waterfall.
You can also camp here and the campground was beautiful and the spots were big with plenty of room.
Where To Stay
Hotel: There are a few places to stay in the city of Burney. Check them out here.
RV/Camping: McArthur-Burney Falls Campground is the campground we stayed at when we visited the falls and also Lassen (it was about an hour drive to get to Lassen from here.
Lassen Volcanic National Park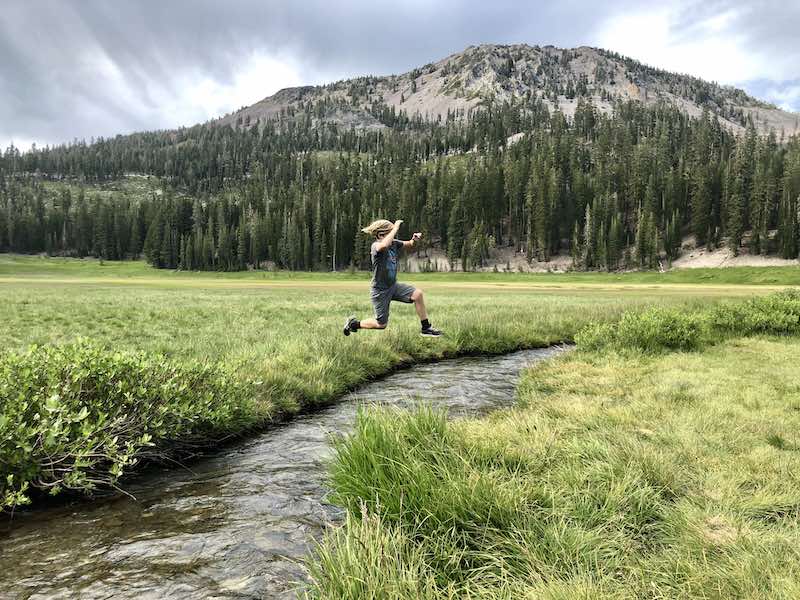 Our next stop was Lassen Volcanic National Park. We actually camped at McArthur Burney Falls and drove a little over an hour to get to Lassen for a day trip. It worked out well for us.
Once there, we stopped at the Visitor Center to watch a movie about the National Park and to learn about the 4 different kind of volcanoes that are here. We then headed out to drive through the park.
It was a beautiful drive and you can see all of the volcanoes they talk about in the movie. We went from one end of the park to the other. Then stopped at the second visitor center to sit out on the patio and have some beer and ice cream.
Here are a list of hikes you can do in Lassen:
Brokeoff Mountain – 6.8 mile hike
Kings Creek Falls – 3 mile hike
Cider Cone – 5.5 mile hike
There is also the hydrothermal areas and caves to explore (We didn't do the caves since we were going to visit Lava Beds next!). Bumpass Hell is another trail option.
Lassen is one of the least visited National Parks. What was great about that was it wasn't very busy. After coming from Yosemite this was so nice!! If you have a chance to visit this beautiful National Park you should do it!
Where To Stay
Hotel: There aren't to many options close by. But you can check out this link to learn more about the options.
RV/Camping: Lassen Volcanic National Park – if possible stay in the park!
Lava Beds National Monument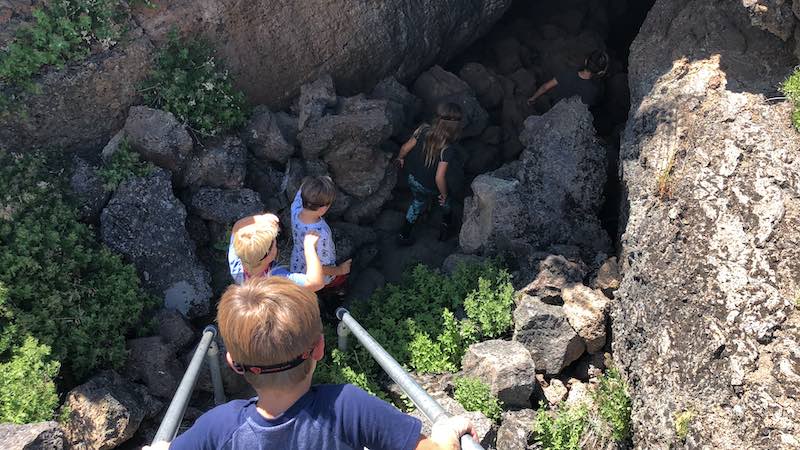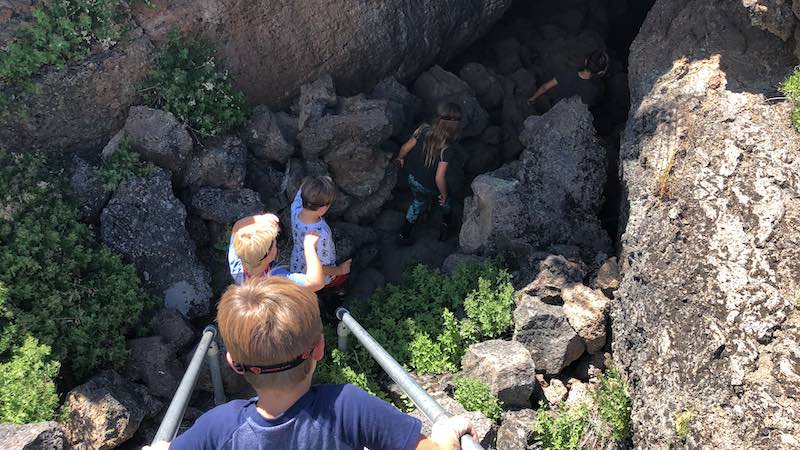 We pulled in to camp here and it was another beautiful and peaceful spot. The further north we got into California the more we liked the state! It became so much more beautiful and peaceful.
We stopped at the visitor center to learn all about these caves and what we could do in the national Monument. They pointed us in the direction of the caves. There is a 2 mile loop you can drive that has 20+ caves you can explore!
They recommend flashlights and helmets and even knee pads. If you are doing the more difficult ones I can see why you need all that. But we did it all with only flashlights. We did buy the kids headlamps and I would recommend doing that somewhere other then the visitor center before you come – it would probably cost a lot less.
We did end up with a few bumped heads and scraped knees, but it was totally doable without all the gear. The Visitor Center will have you walk on a disinfectant type of mat to clean off the bottom of your shoes so you don't bring any diseases in to the bats.
Here are the caves we did:
The first cave we did was: Sunshine Cave. This was is ranked as a medium difficulty trail. We did this as our first one and it went fine. It was really cool to walk down into the cave, walk around it and come back out to the bright sunshine.
After conquering that one we felt like we could do a hard level cave. That sent us to Hercules Leg and Juniper Cave. These are 2 caves connected in the middle. You go into one cave and then walk through it and into the other and out a different end.
It is over a 1/2 mile walk and at some points it is pitch black and at some points we had to crawl!! It was a really cool experience and if you have a group that can crawl under low openings I would highly recommend it!
Once we got out we had to walk about a half mile back to our cars and then we headed out.
You could spend multiple days here if you want to explore all of the caves or just stop for the day and do a couple like we did.
Where To Stay
Hotel: There are not many places to stay in the area so you may have to make this a stop on your way to your next location unless you are camping. Then there are options with the National Monument.
RV/Camping: Lava Beds Campground. We really enjoyed staying at the campground in Lava Beds National Monument! Beautiful views and very peaceful and quiet.
Northern California would be fun to explore by car but we have to say we are partial to RV travel! It would make a great RV road trip! Click here to rent an RV for your own Northern California RV Road Trip!
Check out these great road trips in California too!
More On Northern California
Want more info on Northern California? Check out: Stunning Spots You Must See In Northern California
Interested in learning more about Northern Californias 5 National Parks? Check out this great post: The Ultimate Guide To National Parks in Northern California.  Did you know there are also hot springs in California? This state seriously has it all!
Interested in skiing more of the United States? Check out this post on The Top 14 Best Family Ski Resorts To Visit This Year and this one for more California winter fun 10 Amazing Winter Destinations In California For Families.
This wrapped up our North California trip and next we headed into Oregon!
Things To Do In Southern California: 
15 Magnificent Things To Do In San Diego With Kids
The 23 Most Epic Things To Do In Los Angeles With Kids
19+ Unforgettable Things To Do In Sequoia National Park
14 Magnificent Things To Do In Big Sur California
12 Amazing Things To Do In Olympic National Park [Itinerary Included!]
Pin This Post: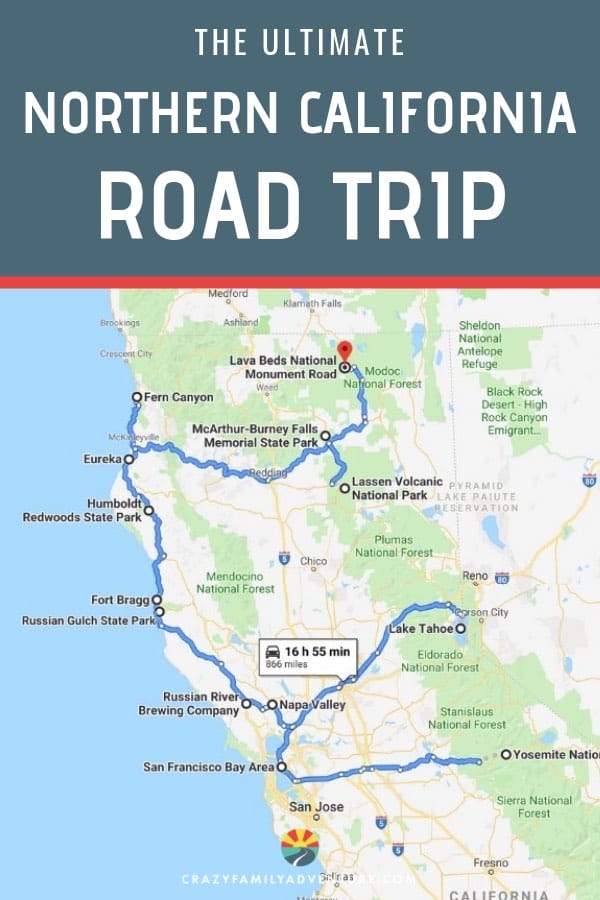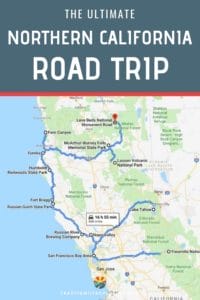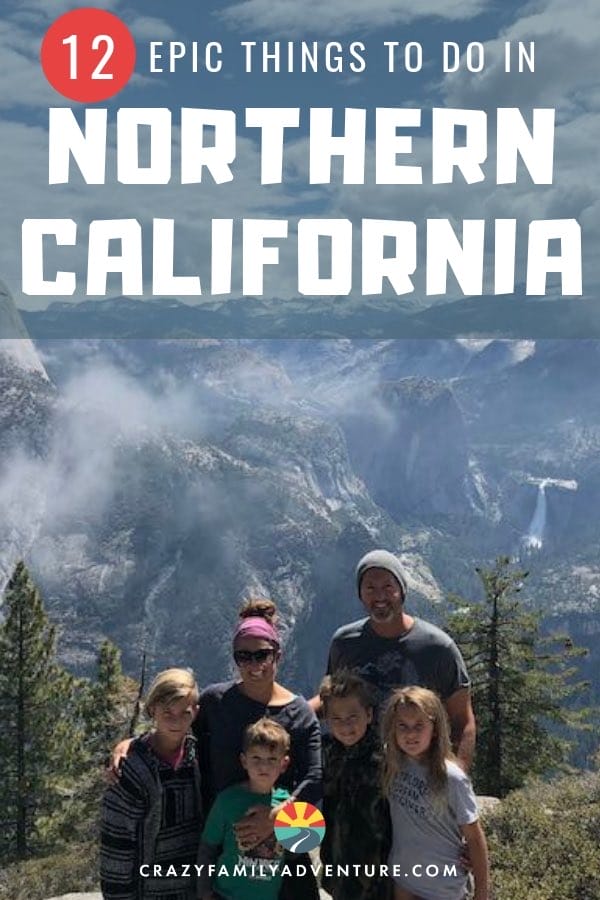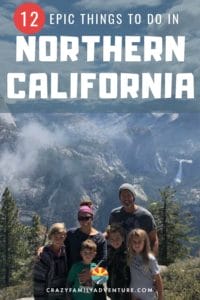 DISCLOSURE: This post may contain affiliate links, meaning I get a commission if you decide to make a purchase through my links, at no cost to you. Please read my disclosure for more info.