Big Sur, California and the Monterey County area is a magical and beautiful place. When we were there I actually felt like we were in a different country the landscape is so drastic and beautiful. The rock formations and coastal views are magical. Our post is going to start up in Monterey and then make its way down the Pacific Coast Highway into the main Big Sur area sharing our top 14 things to do in Big Sur.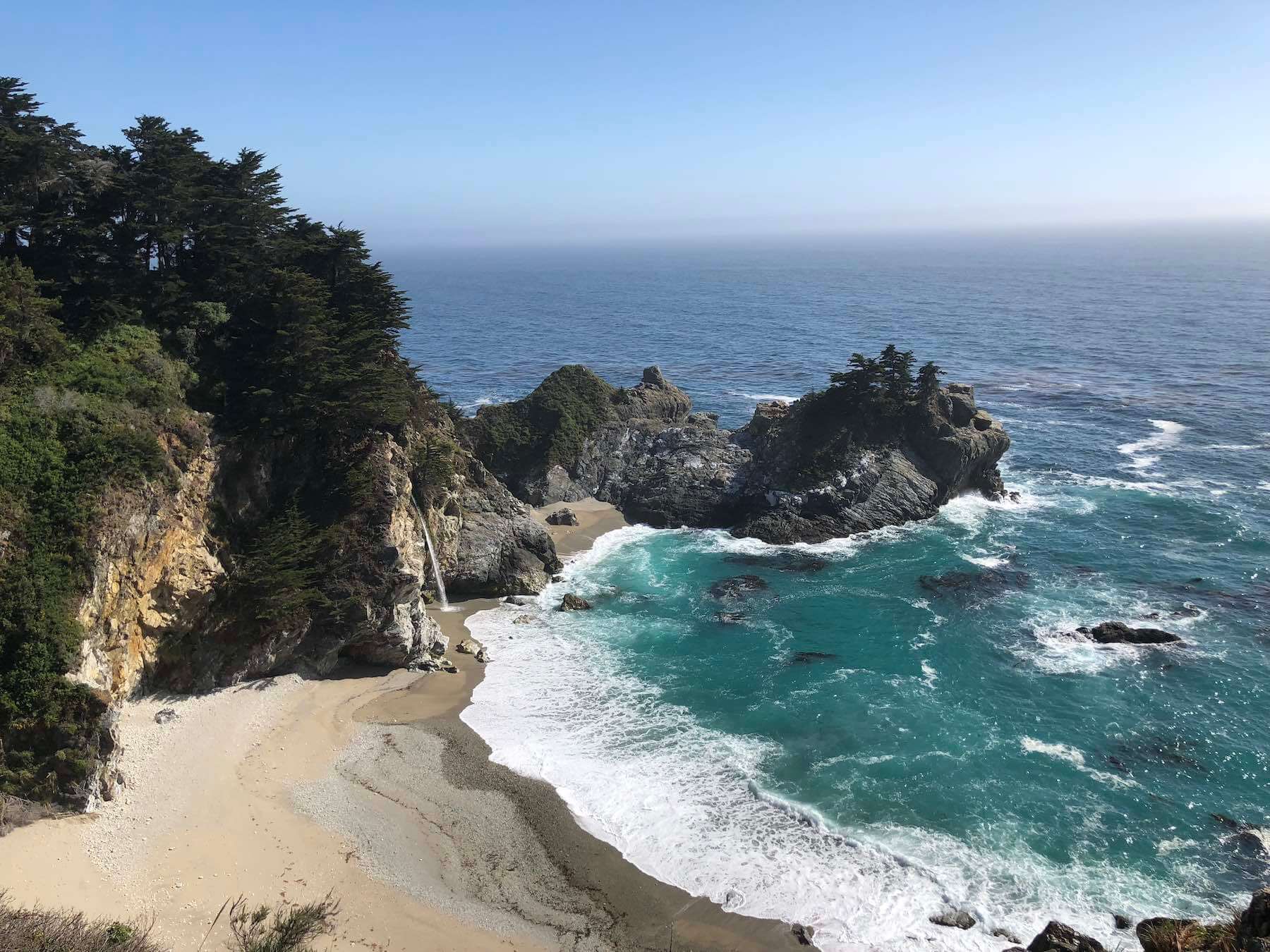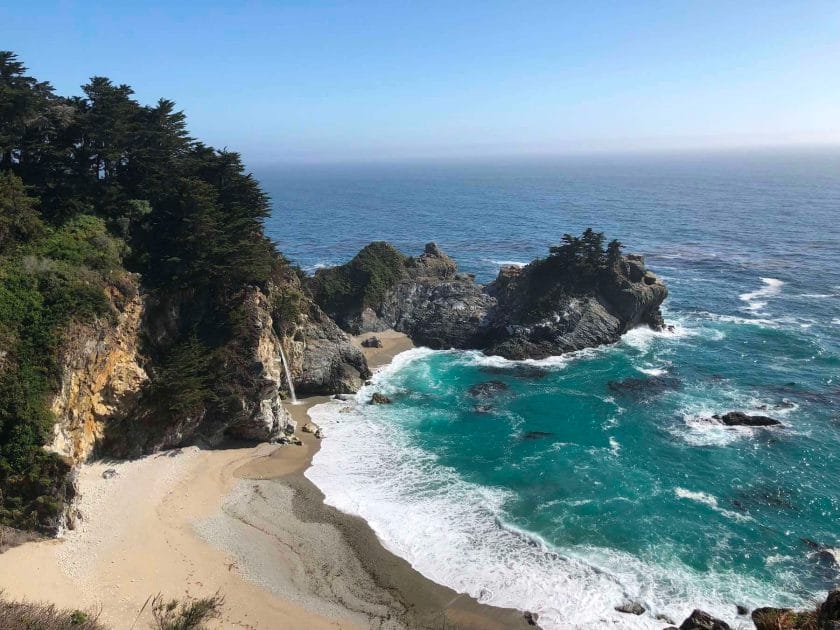 Always be sure to check the state park websites to see if there are any full or partial park closures. With fires and rock slides things can be closed in Big Sur.
Featured Things To Do And Places To Stay In Big Sur
---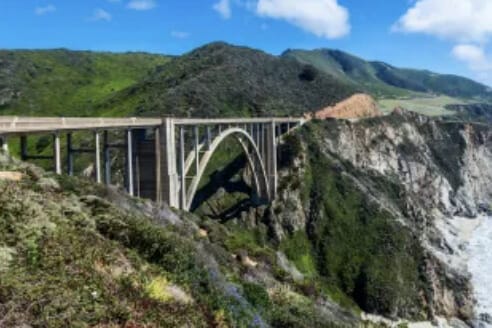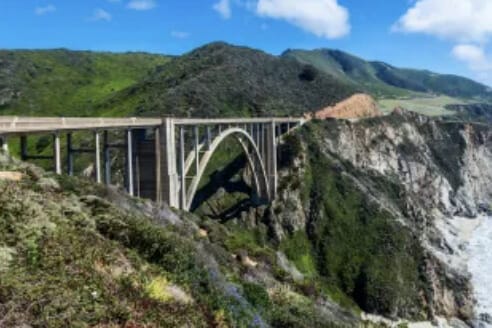 Big Sur Half Day Guided Tour
Leave the driving and planning to a guide on this half day tour of Big Sure.
---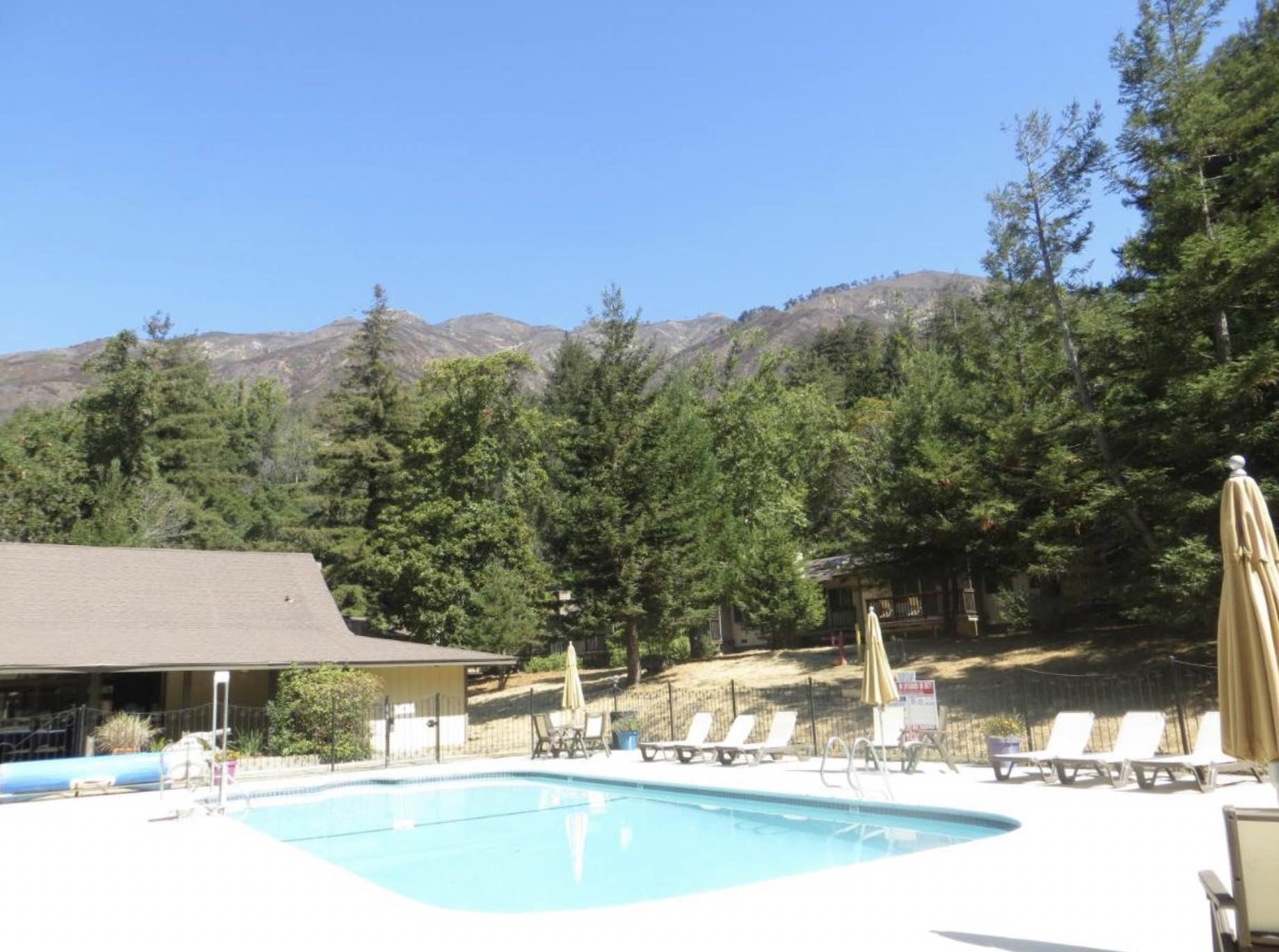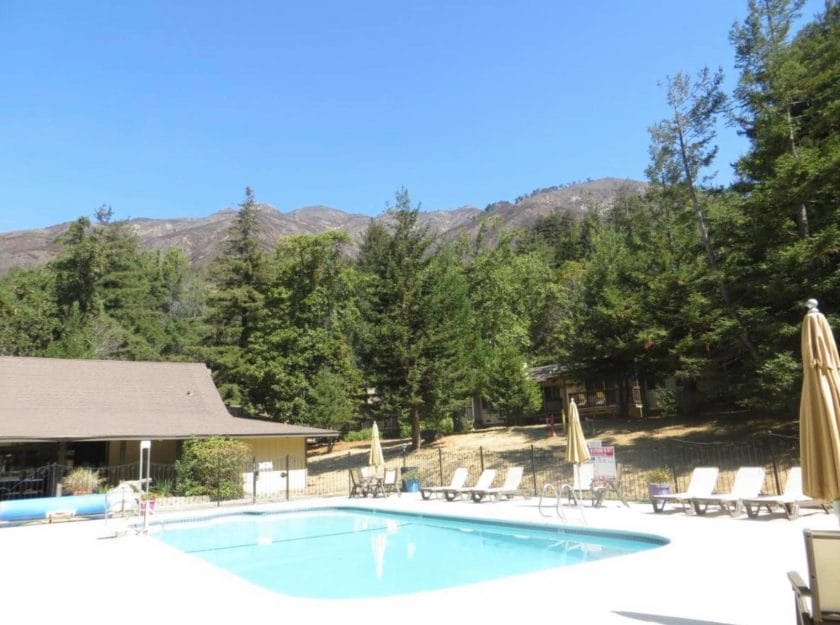 Where To Stay: Big Sur Lodge
Featured a restaurant, seasonal outdoor pool and a bar. The lodge is a great place to stay when visiting Big Sur.
---
A map of where we will cover:
Best Way To Travel Here
Big Sur is an awesome RVing destination! When we explored we were in our RV and it was great since then you can stay right in the State Parks and it is a lot cheaper then the hotels in the area. Note that for Pfeiffer Big Sur State Park your trailer has to be under 27 feet. If you have a larger rig check out: Big Sur Camp.
Don't have your own rig? Rent one from Outdoorsy! A great company where you can rent RV's from people – like airbnb for RV's. It is great since you can pick from all different kinds of RV's.
Click here to check out the RV's available to rent in the Big Sur area. We also have a post with tips on how to rent an RV and tips on planning an RV trip.
Is the Big Sur drive dangerous?
Before we went I was definitely worried that it may be. But it wasn't! We have been on a lot more dangerous road in the US. We also drove it while towing our travel trailer and it was totally fine.
Don't let the drive stop you from visiting!
If you don't want to take an RV you can also fly into Monterey airport for a quick drive to Big Sur. Or fly into San Francisco for a 150 mile drive to get to Big Sur.
Is Big Sur worth visiting?
Heck yeah! No question about it. The Los Padres National Forest, the coast line, the rock formations it is all amazing and reminds me of being in Scotland. California is so busy and there is so much hustle and bustle.
When you head to Big Sur you feel like you are entering another world. It is much calmer, filled with natural wonders and an overall amazing place to explore.
What should you not miss in Big Sur?
The simple answer is everything! The realistic answer is you want to be sure to visit Pfeiffer Beach, Point Lobos Natural Reserve and walk the Bird Island Trail, and check out the waterfall overlook trail.
You also want to set aside time to hang out and play in the Big Sur river! Make sure you have a hammock and a board or tub to play on. Below is our list of what to do in Big Sur.
What is there to do in Big Sur for a day?
If you only have a day to drive over to visit you have a few options. You can either spend the day doing the drive all the way down the 1 and stopping to take pictures and get out to take in the scenery at the lookouts. Or you can pick a couple hikes to do and then end with watching the sunset at Pfeiffer Beach.
Ideally you will have more than one day to explore Big Sur. It has so much to offer and definitely deserves more than one day!
Guided Big Sur Trip
If having someone else drive and take you around Big Sur sounds like a better option be sure to check out this Big Sur Half Day Guided Tour.
If you are ready to drive it yourself check out this Self Guided Tour.
If you plan to fly into San Francisco check out this Carmel, Monterey and Big Sur Full Day Private Tour.
Point Lobos Natural Reserve
We had heard that Point Lobos state park was the most beautiful state park in all of California. That is a lot to live up to but it really did deliver! Plus it is a great place to see California sea otters.
When you get there you have 2 options you can park outside of the park on the street and walk in. Or you can drive into the park pay the entrance fee and park back by the trails. I would recommend doing that. Or else you are hiking pretty far to get to the trail heads.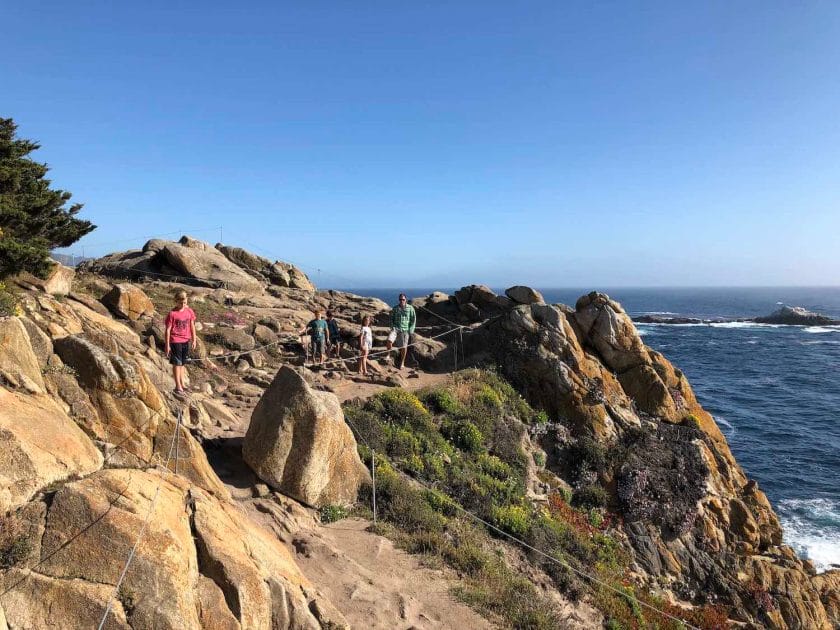 Cyprus Grove Trail
The first trail we did was the Cyprus Grove Trail. It took you on a nice short walk along the beautiful coast line. Be aware of where your kids are on this hike as there are lots of cliff areas.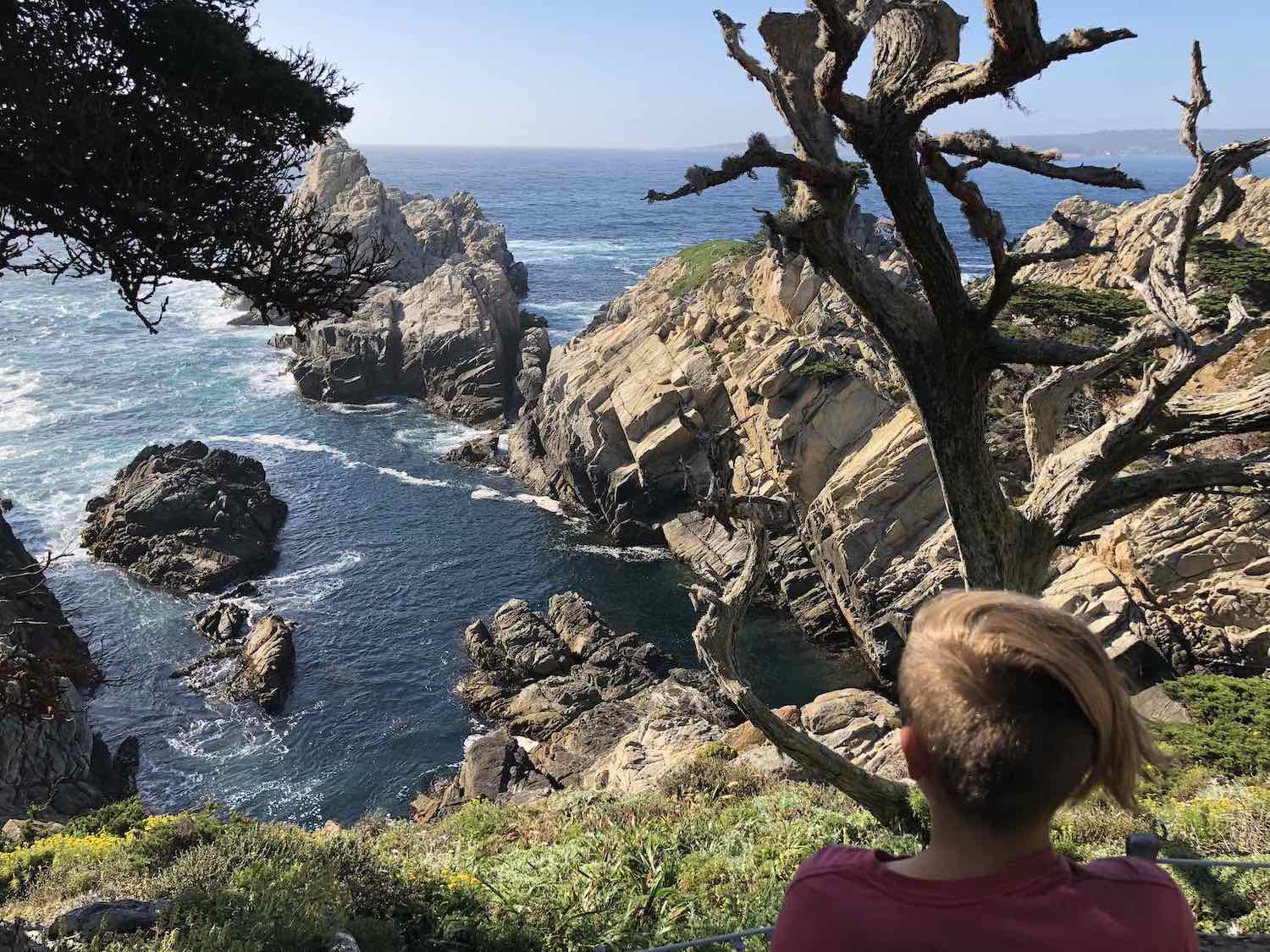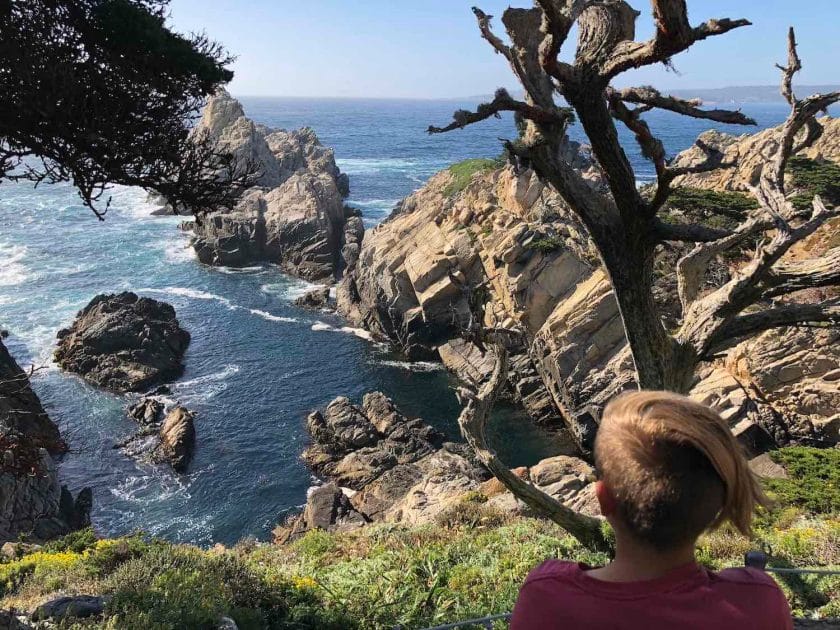 The color of the water is unbelievable and the rugged coast line has such a unique look to it. This is also where we spotted Bird Poop island. Well that is what the kids called it :). A big rock in the ocean that was white from all the bird poop!
Bird Island Trail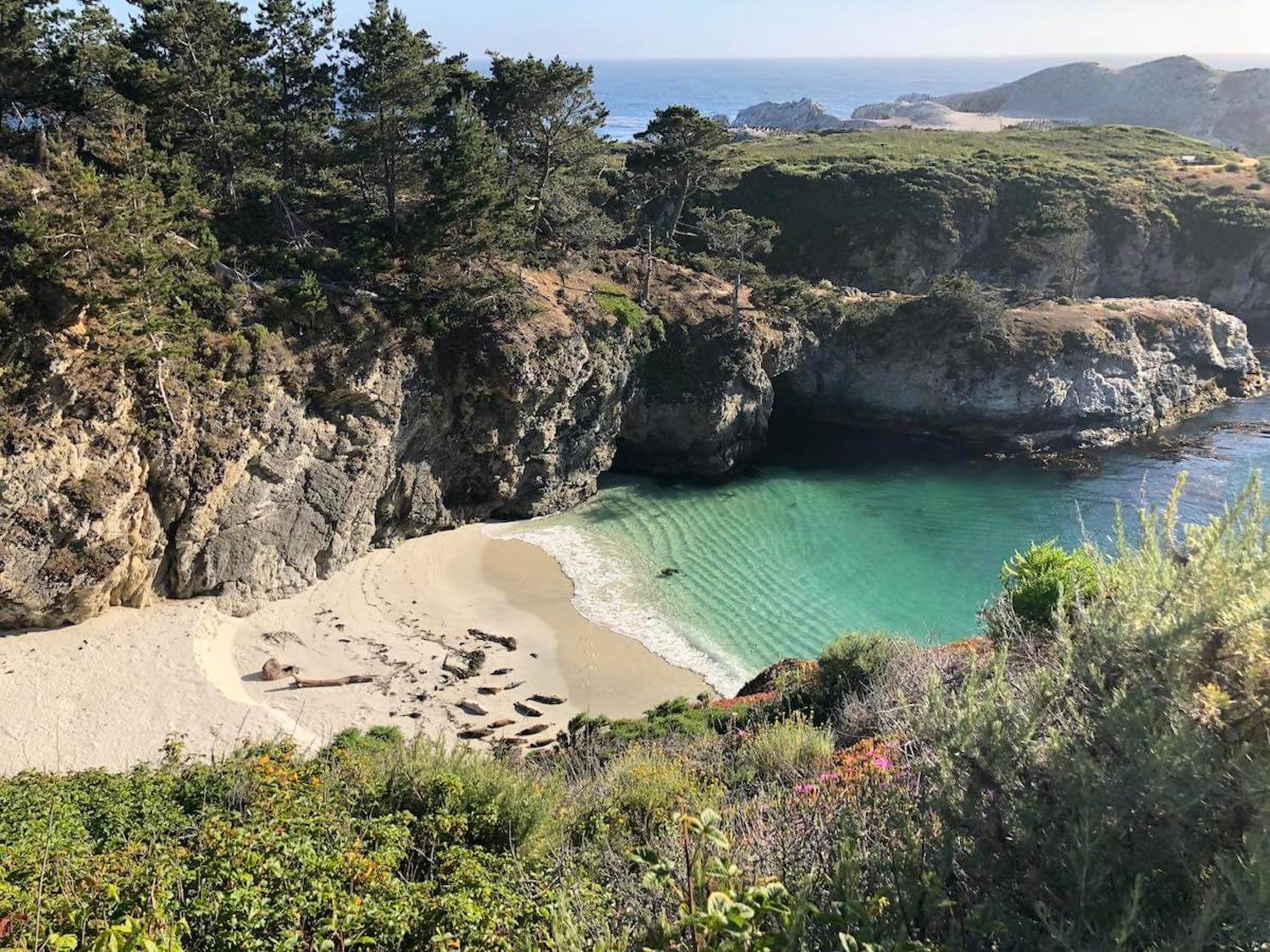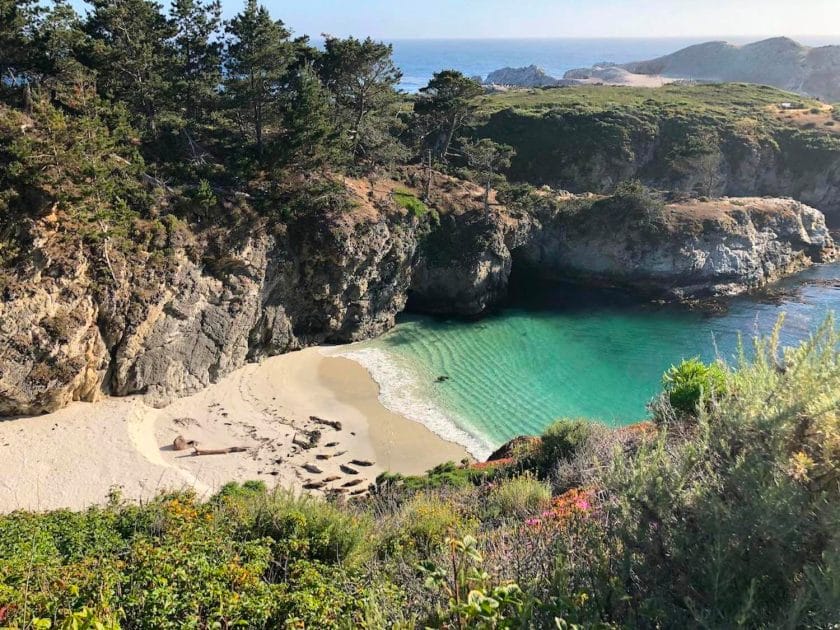 Next we drove down to the Bird Island Trail. This was one of my favorite trails. It takes you by this cove that seems like it isn't even real. The water color is spectacular and the sand looks so soft and the Sea Lions are just laying there sun bathing.
I just wanted to stand there and stare for hours at the cove. I really wish you could go down there but totally respect and understand why they don't want people on the beach.
Next you round a corner and see a beach that you can walk down to. Before we did that we continue the loop out to see Bird Island. Which was a rock in the ocean with 100's of birds on it.
We then back tracked to Gibson Beach and took the steep stairs down to dip our toes in the white sand and take in the beauty of the water and beach. There were people there that had setup for the day. So had we had more time it would have been a great place to hang out and play for the day!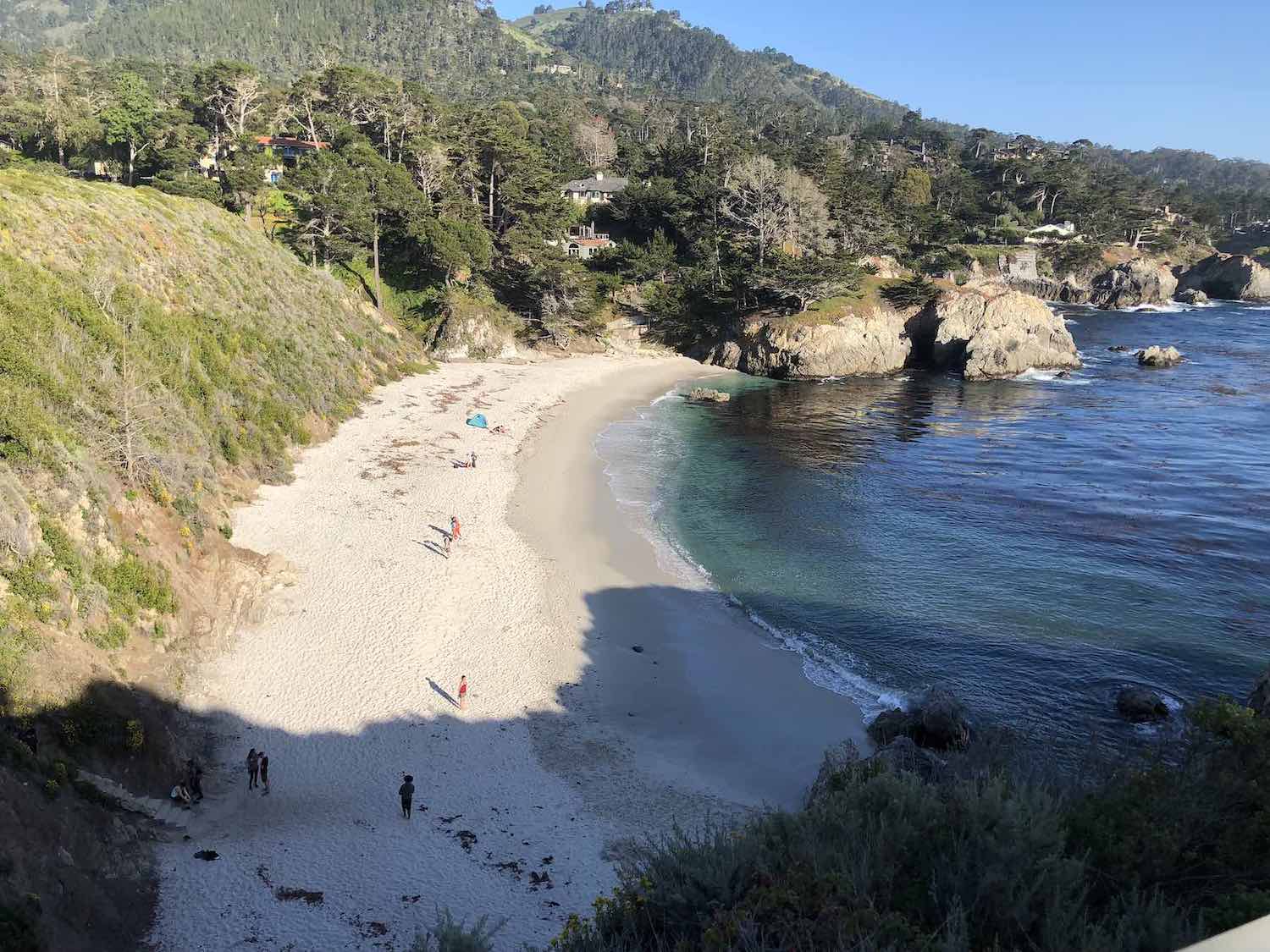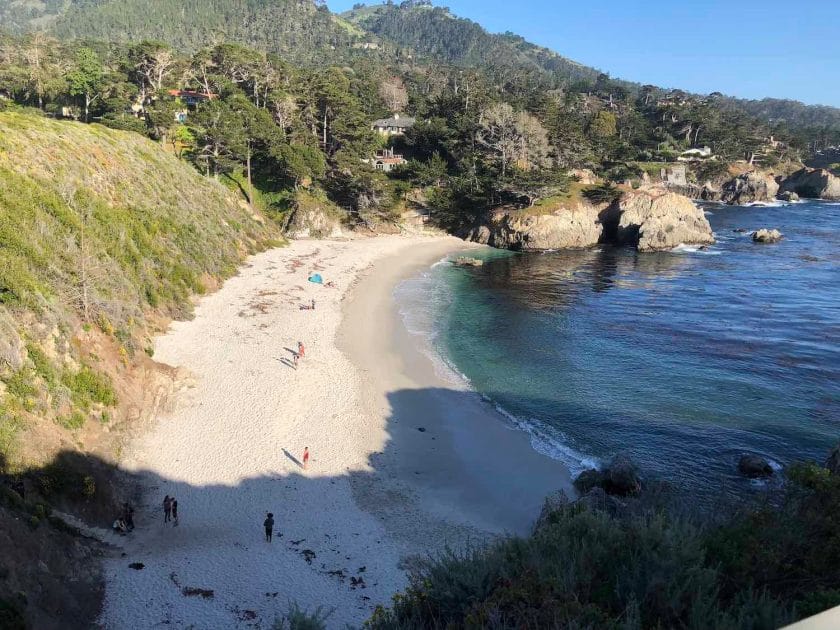 With one beautiful view after the other I would have to agree it was one of Californias most beautiful state parks.
Is the 17 Mile Drive worth it?
This is a total tourist thing but if you are coming through the Pacific Grove area and want to see what it is all about, then just do it. We were glad we did and thought it was worth the price we paid.
How much does it cost to drive the 17 mile drive?
You pay $15 to take the drive (it goes through a residential area so they have figured out how to charge you for it). They give you a map with the stops and then you can decide if you just want to drive through or stop at each stop. You can learn more here and see the most current pricing.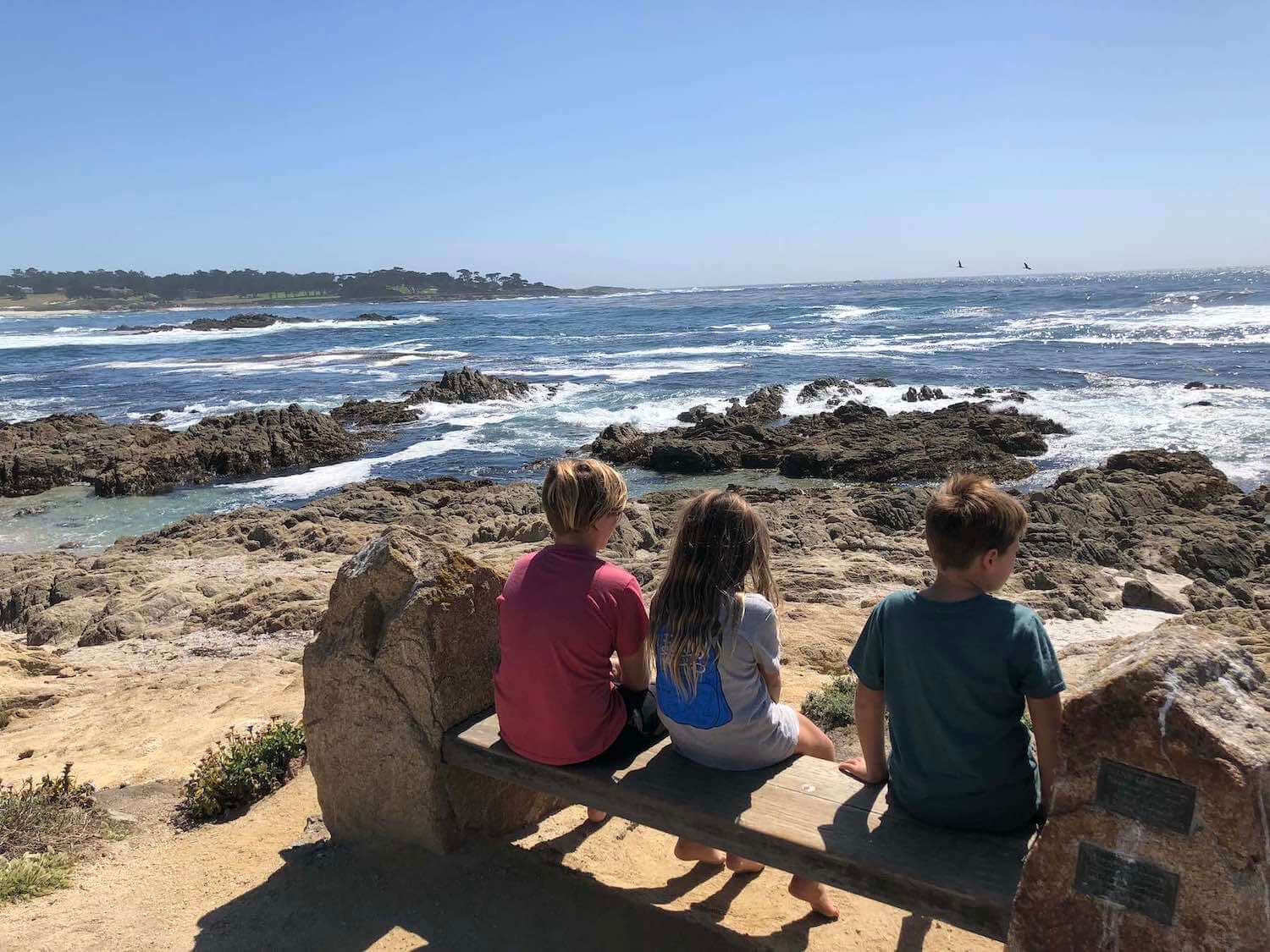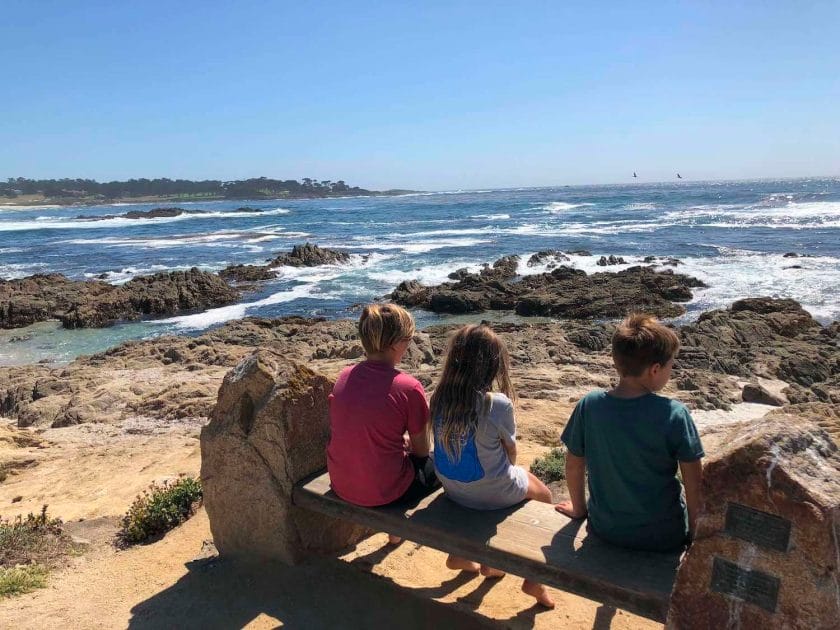 We did a little bit of both. We stopped to take in the beauty of the coast at a couple stops and then again to see the Lone Cyprus Tree.
Our final stop was Pebble Beach. Craig was so excited as he loves golf! You can walk right into the hotel by the golf course, buy a drink, and head out onto the lawn where you can watch people playing what we think is the 18th hole. Craig got a beer from a local brewery and the kids got kiddie cocktails and we headed out to take in the golf course and the beauty of the surrounding area.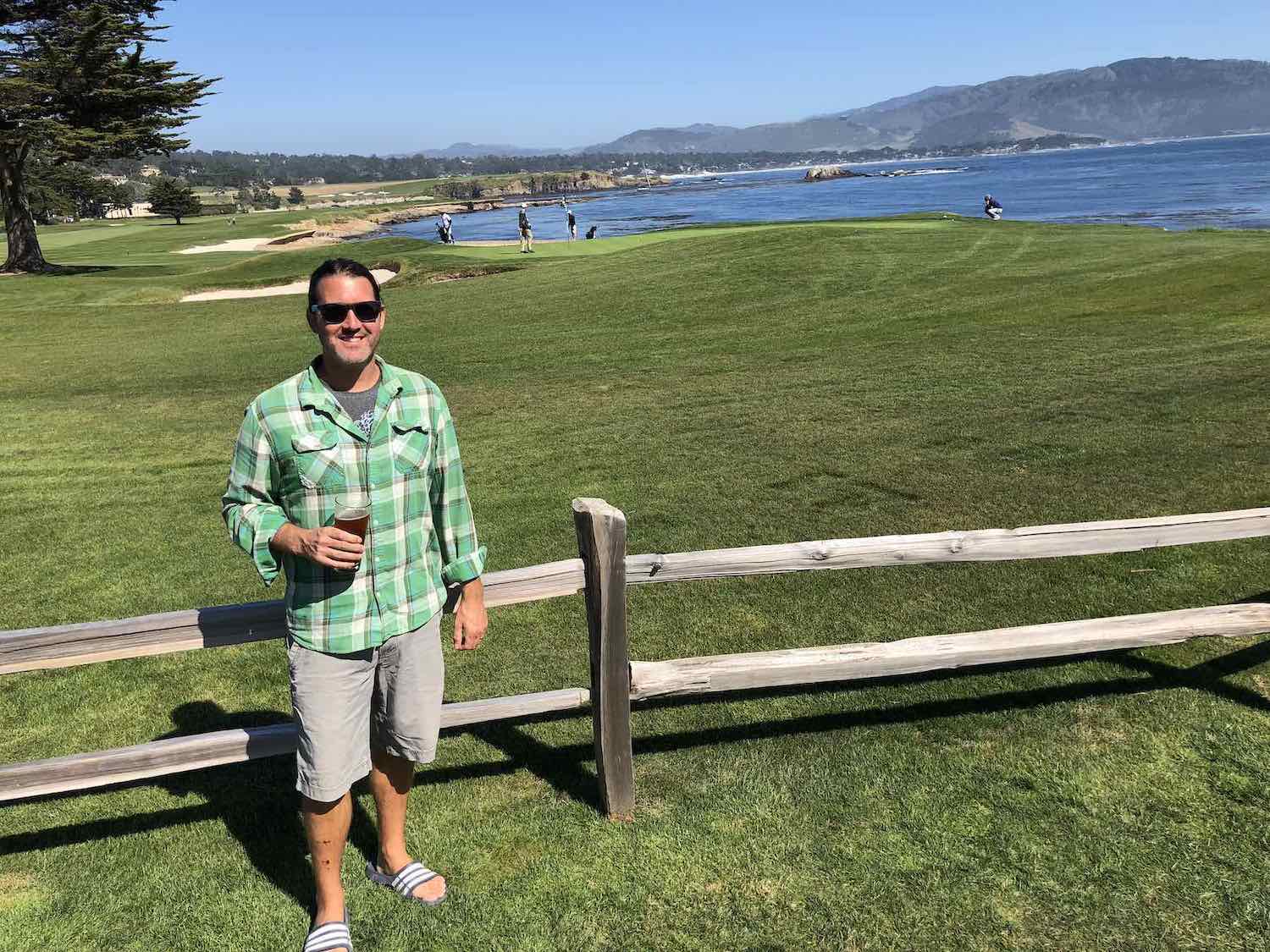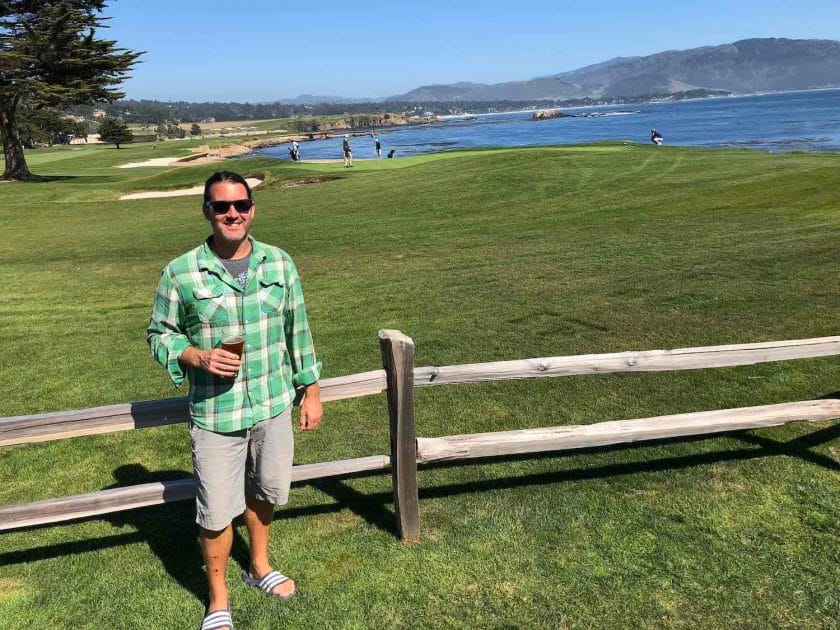 It is a beautiful place and was well worth the stop!
We did all the above from a campground that was further inland (San Benito Thousand Trails). Then the next day we took the trailer and headed into the Big Sur area to camp in Big Sur.
Bixby Bridge
We were a little nervous to drive the trailer on the 1 into Big Sur but it ended up not being that bad. You know you are getting into Big Sur when you drive over the iconic Bixby bridge. Since we were pulling the trailer we didn't stop at the pull out for any pictures. But man these are the types I wish I had a drone following us so we could get some epic shots of us driving the trailer!
The landscape was so beautiful and felt like we were in the highlands in Scotland. Plus the color of the Pacific ocean water is unbelievable. And we loved the ocean views as we were driving!
Big Sur Visitor Center
I am all about making the first stop at the Visitor Center to ask what the experts for the area recommend you do. Especially since we were just there for a short time. I thought it would be cool to do the drive all the way down to where the road stops (it was closed due to mud slides and road damage from the rain last year – but I believe it is open now and you can go to San Luis Obispo county and beyond to San Diego or Baja :)).
The guy at the visitor center basically said it isn't really worth it . . . well alrighty then! Instead he recommended a few hikes and beaches to visit. So off we went to explore the beauty of Big Sur.
Pfeiffer Big Sur State Park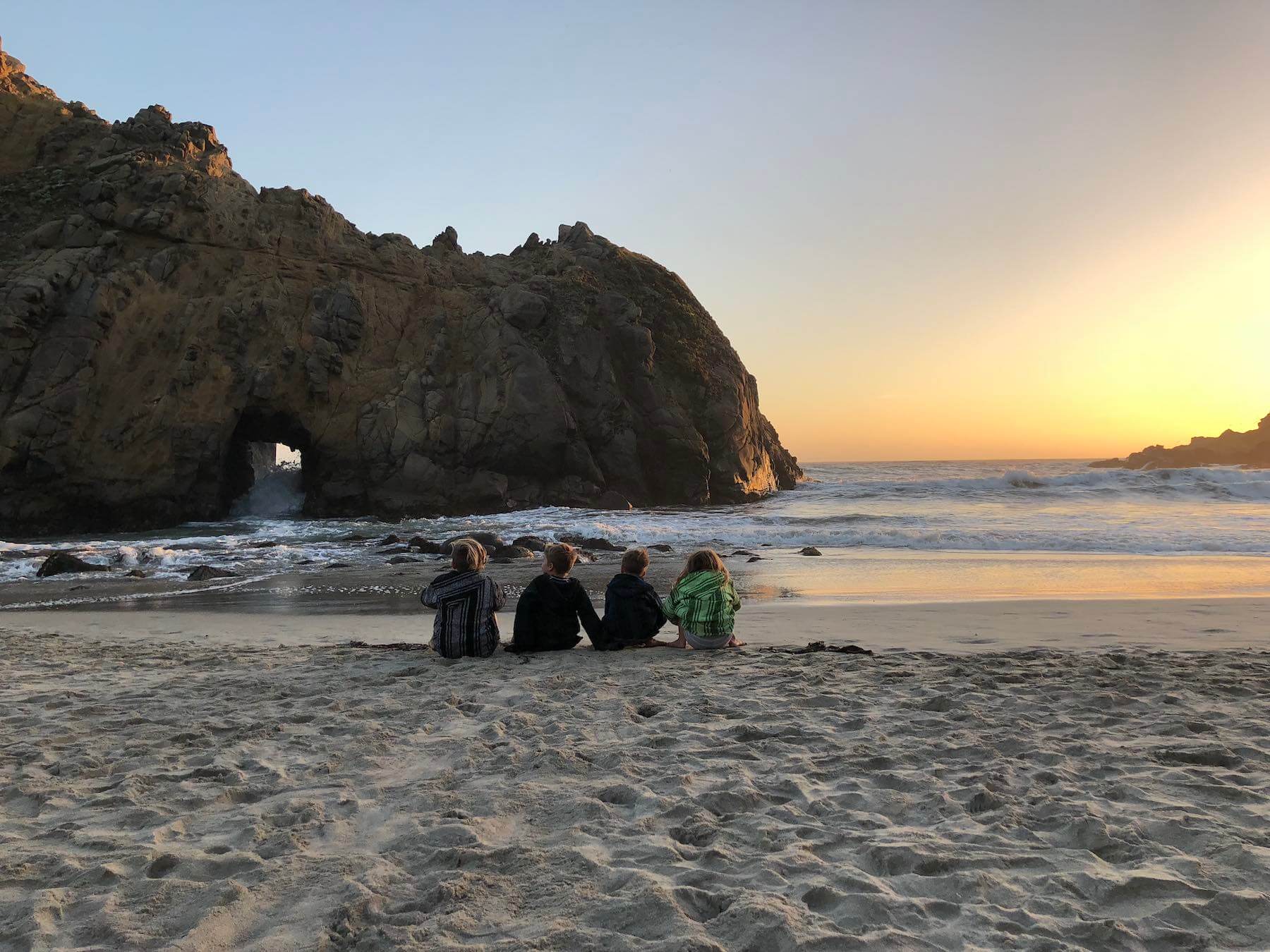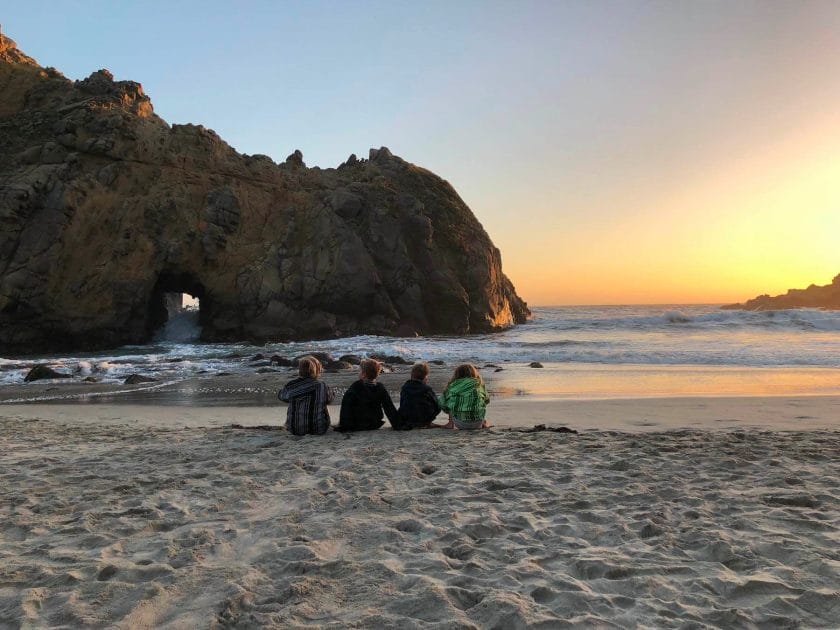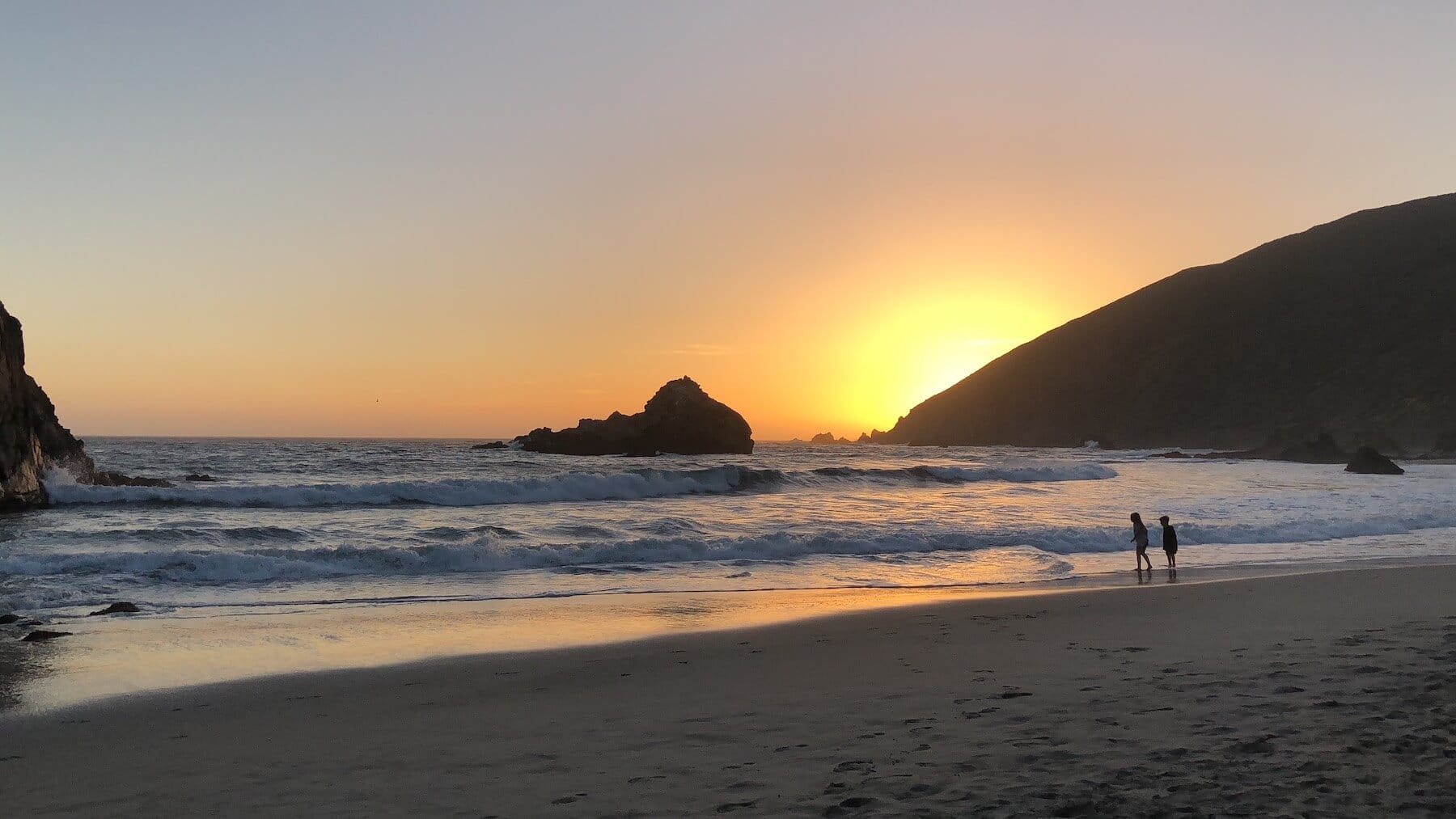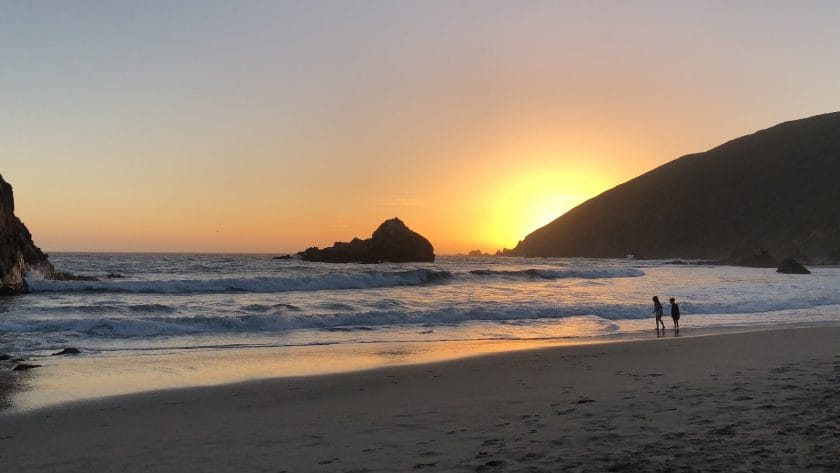 The state park is located less then a 1/2 mile south of the Big Sur visitor center/ Big Sur station. We stayed at the campground here and it was a beautiful park with its redwood forests and redwood groves.
There are trails you can go on in the State Park by either walking up to the entrance or parking in the trailhead parking lots and then heading out to explore. The trails were good (we did the Buzzard Roost one – explained below) but the river was the best!
There aren't any national parks in Big Sur but Pfeiffer Big Sur State Park does offer a good variety of Junior Ranger activities in the summer months.
For more hiking at Pfeiffer Big Sur check out this post.
Big Sur River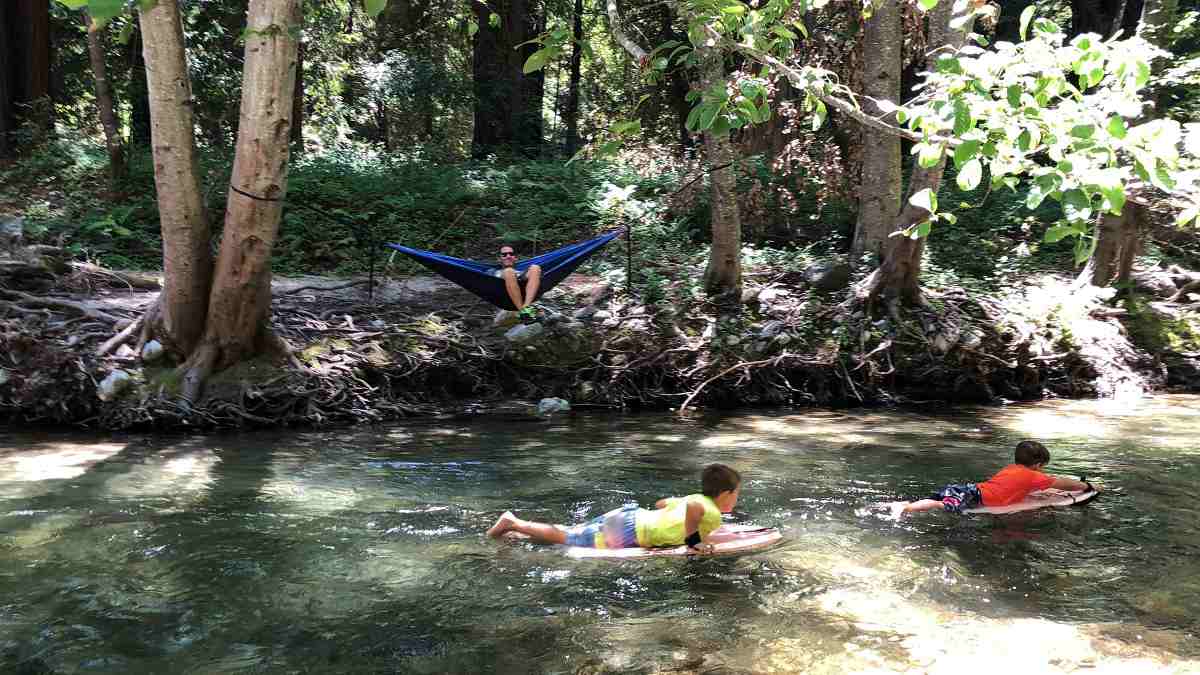 After that we headed to the Big Sur River by the Pfeiffer Big Sur Campground. We parked at lot 2 and walked down to the river and found a great place to set up the hammock and to hang out by the river so the kids could boogie board down it!
I think tubes would have been way better :). But we had the boogie boards so they made it work! It was a great place to hang out and the water was cold but when you were in the sun it was so refreshing.
Buzzard Roost Trail
We gave the Buzzard Roost Trail in Pfeiffer Big Pfeiffer State Park a go, and to be honest, we wouldn't recommend it unless you are looking to get a good workout in on an uphill trail. I am all for uphill trails if you get an amazing view at the top but this one wasn't really that amazing . .
The trail up was cool through the trees but again not really worth having the kids do a 4 mile hike for what it was.
Julia Pfeiffer Burns State Park – Waterfall Overlook Trail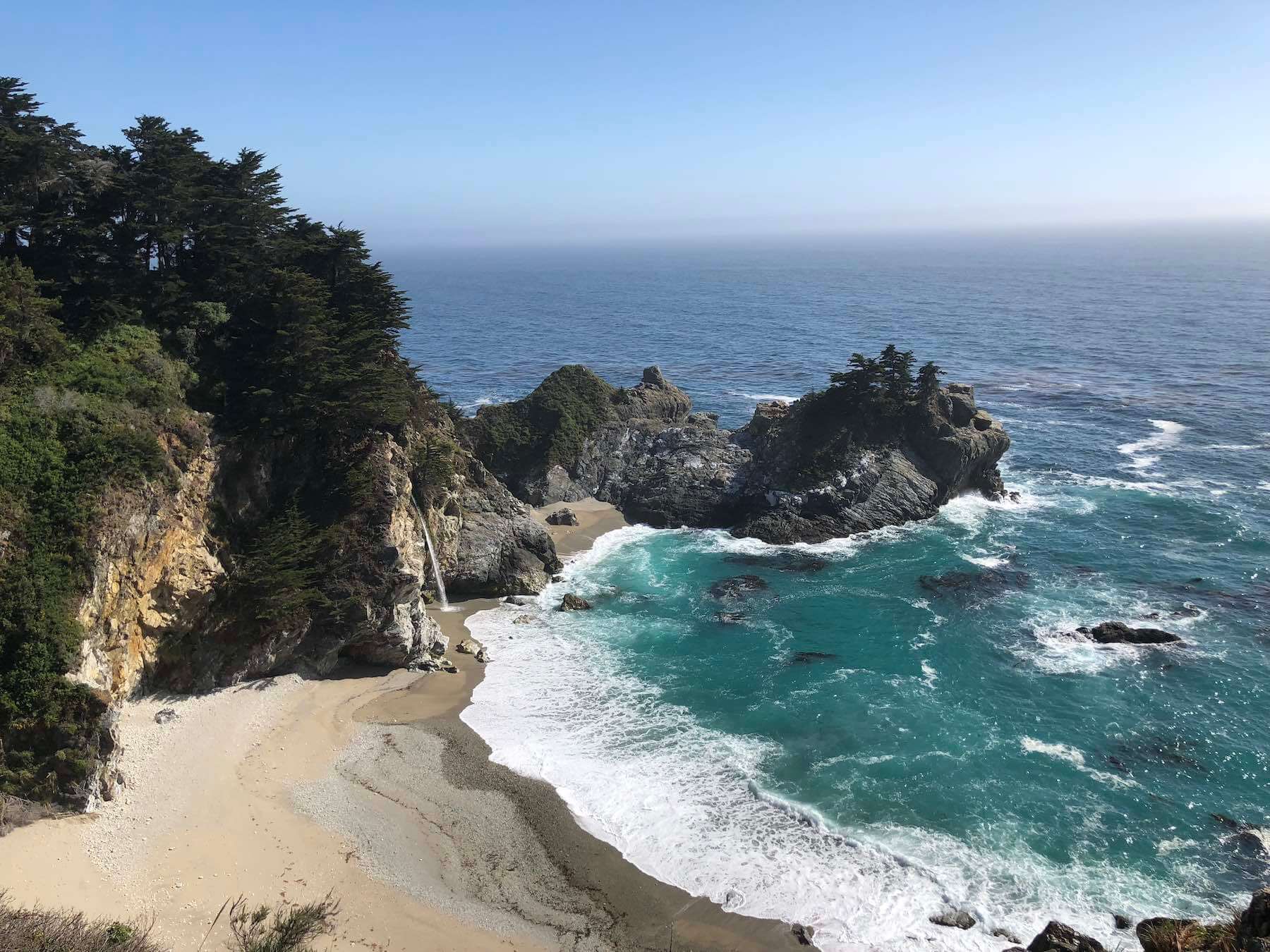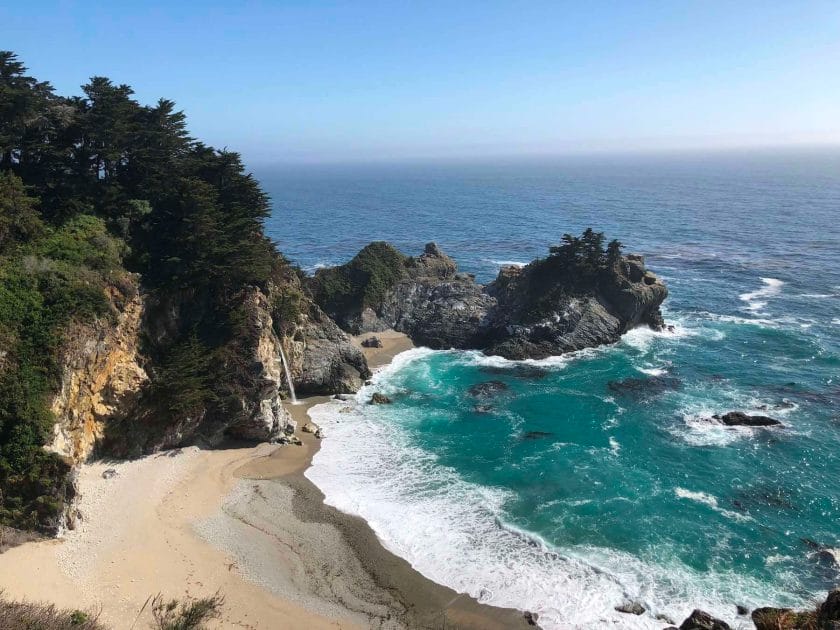 I couldn't wait to see the Mcway Falls that come down onto the beach at Julia Pfeiffer Big Sur state park. Oh how I wished I could go down there to stand under the waterfall! It was a short hike from the parking lot, through a tunnel and to the overlook of the beach.
There really wasn't much to it besides seeing it and getting a couple pictures but it was pretty epic! The Big Sur coast is amazing. Be aware there are usually a lot of people here and the viewing area is pretty small so be patient. . .
There looked like there were some other really neat trails but they were all closed due to erosion. Be sure to check out to see if they are open when you go. One we have heard is good is: Partington Cove.
Andrew Molera State Park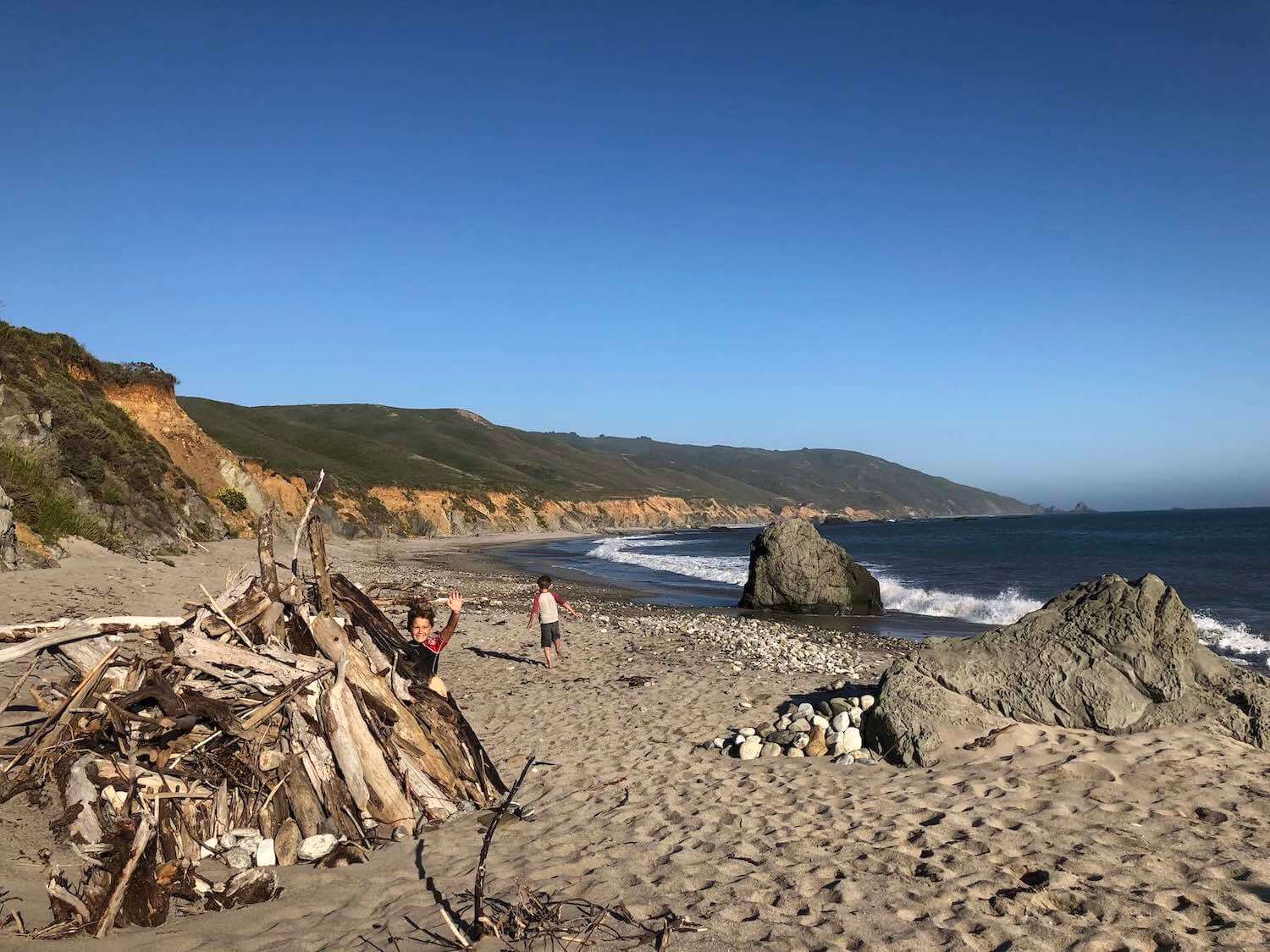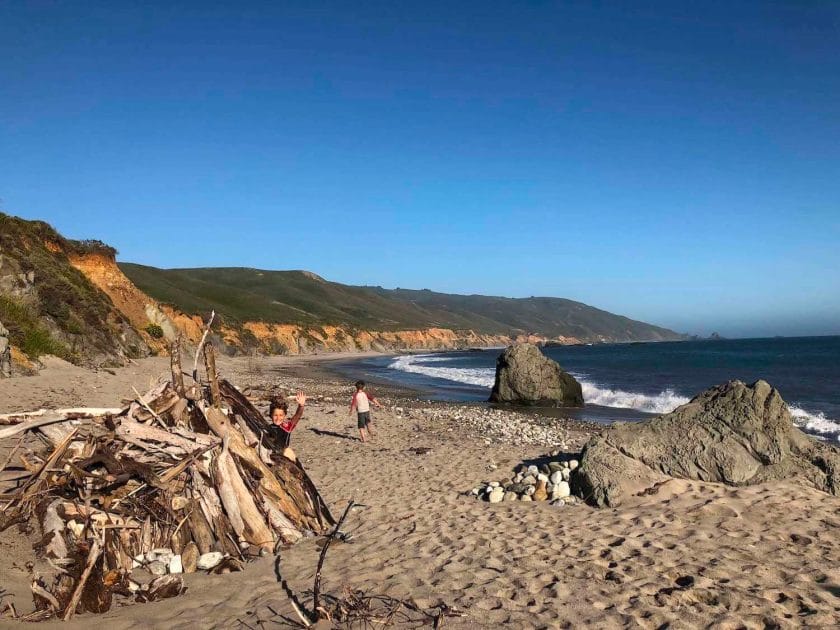 Our next stop was Andrew Molera State Park where we had read about a couple of trails we could do. It was actually really confusing when we got there since the trailhead is behind the parking lot by what looks like someone's house. But that was the trail. It was the Creamery Meadow Trail.
We headed down it and came to a creek we had to cross where you either had to take your shoes off or they were going to get wet. It was almost up to my shorts as we hiked across it! I read online that they do put in a seasonal foot bridge – I guess we were there before they did that . . .
Then it was a nice smooth walk on a sandy trail back to the beach. At one point we could have gone left and did the cliff hike where we hiked along the edge looking down at the water but instead opted for the trail that took us to the beach.
In true Big Sur style the beach was rugged and windy but oh so beautiful. We had a blast playing on the beach and climbing on the rocks.
Pfeiffer Beach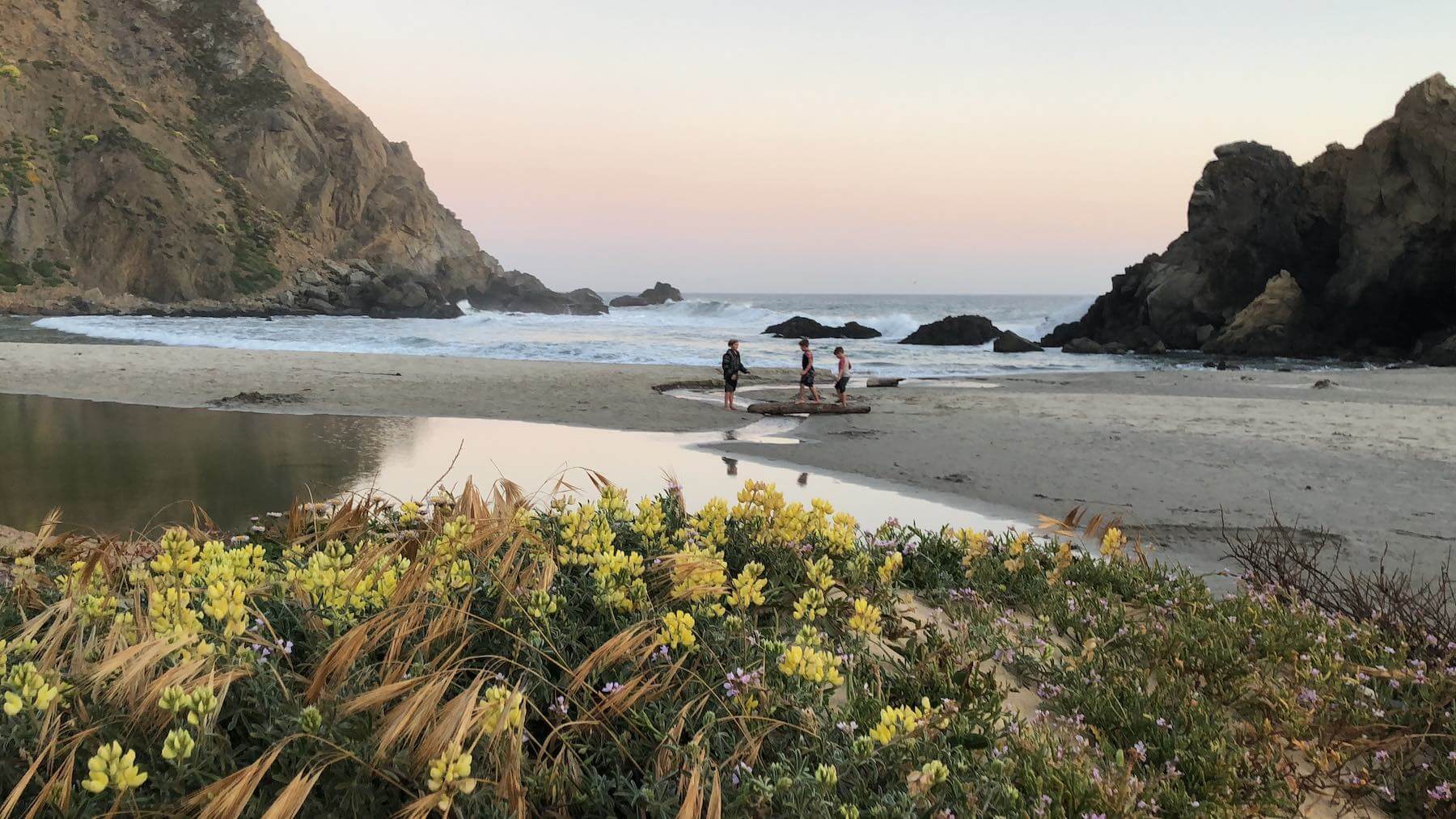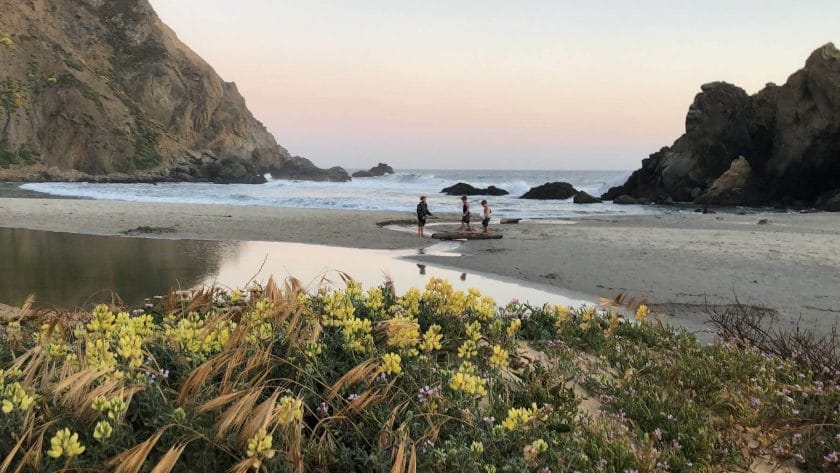 We had to drive back and forth a few times before we really figured out where the entrance was to the beach. And we had been told there are times a ranger sits up at the entrance and turns people away since there isn't any parking.
Talk to the folks at the visitor center to get details on how busy the beach is that day. They also offer a shuttle bus from the visitor center but it was pretty expensive per person. You can learn more about how to get there on our Pfeiffer Beach post.
If you are looking for the road it is here: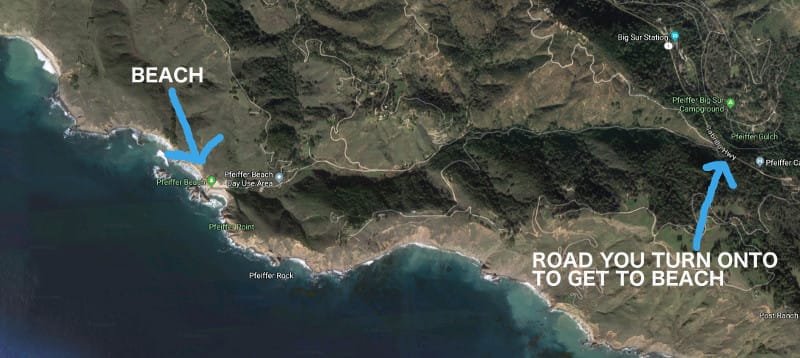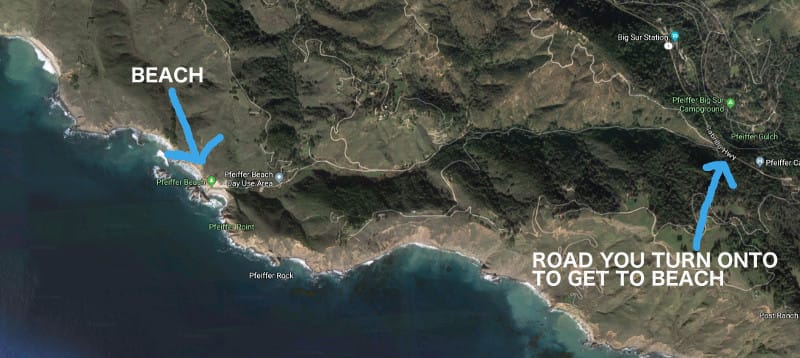 And this is the sign you are looking for (this is if you are driving south on Hwy 1).It is the ONLY signage for the beach road entrance . . .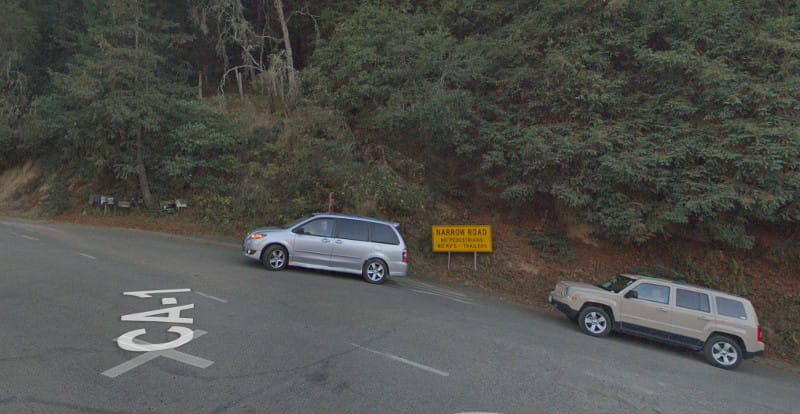 Here is a close up of the road – we missed it a lot so wanted to help show what was before/after the turn so you don't miss it: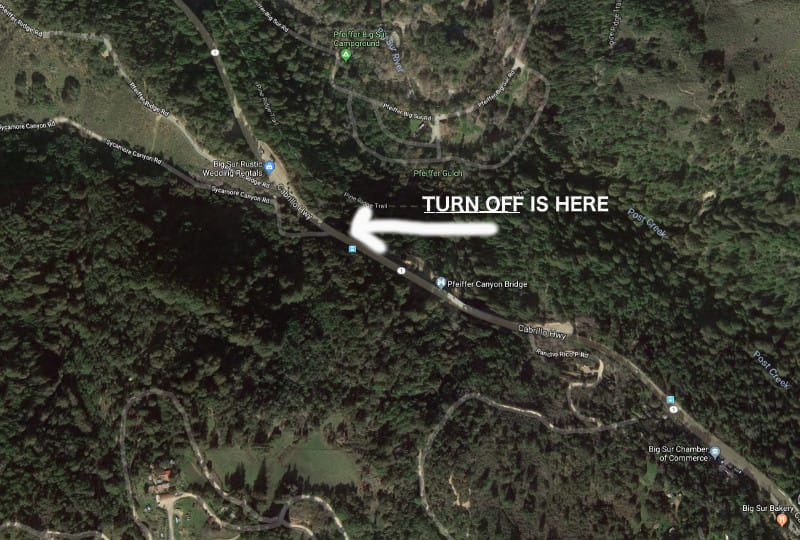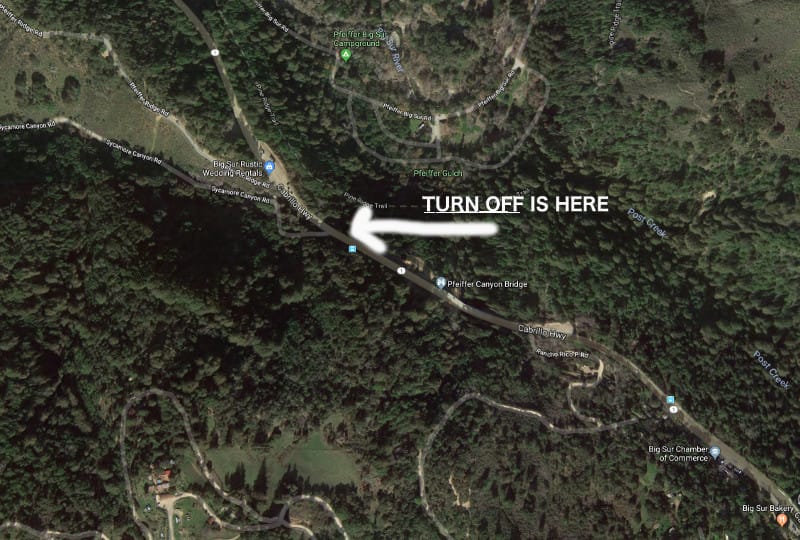 We were coming in right around sunset so the place had really cleared out so we were good to go. It was about a 2 mile drive down to the beach.
You go on some pretty crazy dirt roads through a residential area, so be prepared for that. Once you get there you have to pay a $10 fee to park and go onto the beach. It was worth it.
The beach was so beautiful and the kids loved running away from the waves and then building a bridge out of a log. Plus it was a great spot for watching the sunset. I would have loved to have more time to just hang out at this beach and enjoy the views and the sound of the waves crashing.
Big Sur Bakery
We thought we would grab a nice quick breakfast at the bakery the next day . . . it was good but SUPER expensive. A scone was like $8 . . . that adds up fast and the kids of course were hungry after just one scone. So we ended up stopping at the convenient store so they could grab something else too.
It was a cute setup and if the prices don't scare you away then it was a good place to grab breakfast.
To answer the question: Is Big Sur expensive?
We say yes it is . . . the food was more expensive, the lodging is expensive. From what we can tell everything was more expensive. It is just an expensive area of the country.
The solution – stay at one of the state park campgrounds (they are reasonable per night) and bring your own food. Problem solved!
What can you do in Big Sur with Dogs?
Unfortunately, our dog was too old at the time to come out exploring with us. But if your dog is ready to go, there are a good amount of things to do with dogs in Big Sur! Check out this post about all the great things to do with dogs in the area.
Other Places To Check Out In Big Sur Or The Surrounding Area
Henry Miller Memorial Library – it has a bookstore and art center. It is also a performance venue.
Limekiln State Parks – coastal views, redwoods and cultural history of limekilns.
Carmel By The Sea – is a small beach town known for its museums and fairytale cottages.
Monterey Bay Aquarium – we have heard this is a lot of peoples favorite aquarium.
Garrapata State Park – located north of Big Sur.
Point Sur State Historic Park – park with a cool lighthouse.
Want a book to read about Big Sur? Check out Jack Kerouac's Big Sur.
Travel Info
Flights
If you are looking to take a flight to get to Big Sur we recommend checking out WayAway. They offer cash back options on flights! Click here to learn more about flights to Monterey Airport the closest airport to Big Sur. Another option is to fly into San Francisco. But note it is about 150 miles away from Big Sur.
Big Sur Camping
Pfeiffer Big Sur State Park
We had a campsite reserved at the Pfeiffer Big Sur State Park. It was a small site and we just barely fit with our 21 foot trailer. If you have a larger rig you may want to look into some of the other Big Sur campgrounds in the area.
If you want to camp outside of the Monterey County area check out the Salinas Valley. Lots of great wineries there and usually warmer then the coast.
Another campground in the area is Marina Dunes RV Park in Marina, CA. It's a little less than an hour from the Big Sur area.
Hotel Stay
Big Sur Lodge
There were are some amazing (but expensive) hotels in the area. But not sure how family friendly they would be . . . I like the location of this one and the price is decent for the area: Big Sur Lodge.
Lucia Lodge
The Lucia Lodge by the Santa Lucia mountains look pretty epic too!
Ragged Point Inn & Resort is also recommended.
VRBO Stays
Another cool option would be to stay in a VRBO like this awesome oceanfront home on Monterey Bay or maybe an off-the-grid tiny house.
Big Sur has been on my list of places to visit for a long time and it did NOT disappoint! It was amazing and beautiful and I wish we could have stayed longer. But for now on to our next stop on our Pacific Coast Road trip: San Francisco. If you get a chance when you are here check out Monterey Bay too!
Want more California fun?! Check out these posts:
15 Fun and Exciting Things To Do In San Diego With Kids
21 Magical Things To Do In Redwood National Park
12 Epic Things To Do In Northern California [Map Included]
The 23+ Most Epic Things To Do In Los Angeles With Kids
11 Awe Inspiring Things To Do In Southern California
12 Tips To Enjoy An Amazing 1 day Disneyland Park Hopper Trip
14 Awesome Things To Do In Death Valley National Park [And Where To Stay]
17 Unforgettable Things To Do In San Francisco With Kids
19+ Unforgettable Things To Do In Sequoia National Park
21 Epic Things To Do In Yosemite National Park With Kids
32 Spectacular Things To Do In Lake Tahoe [Maps Included]
The Best RV Camping in Northern California
Pin this Post: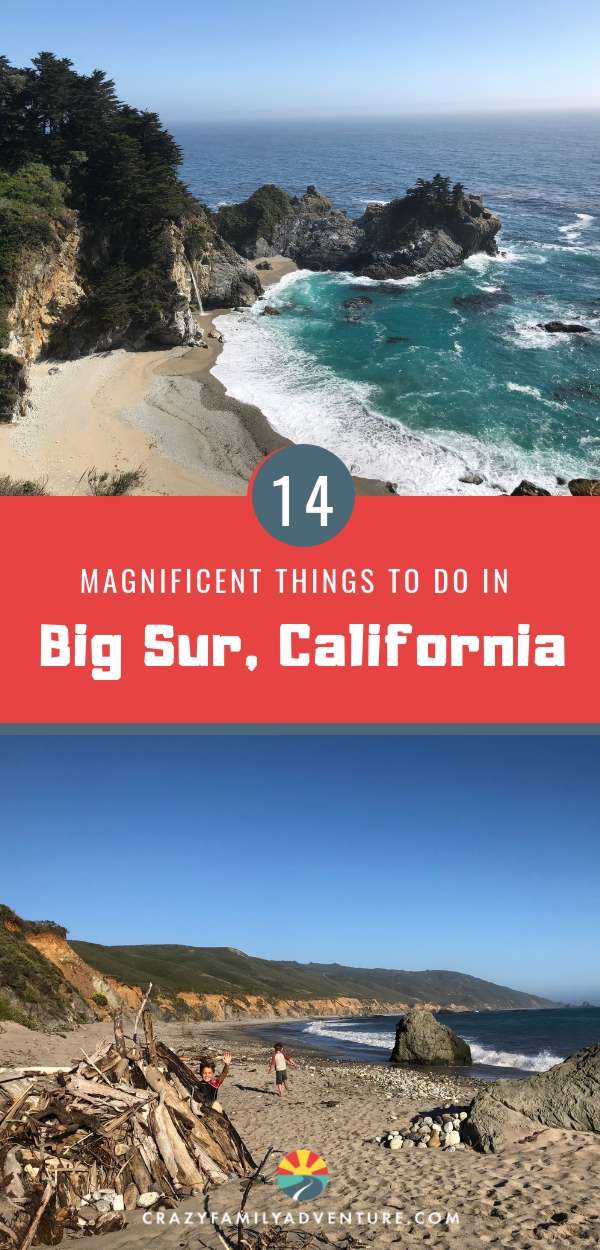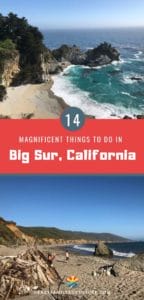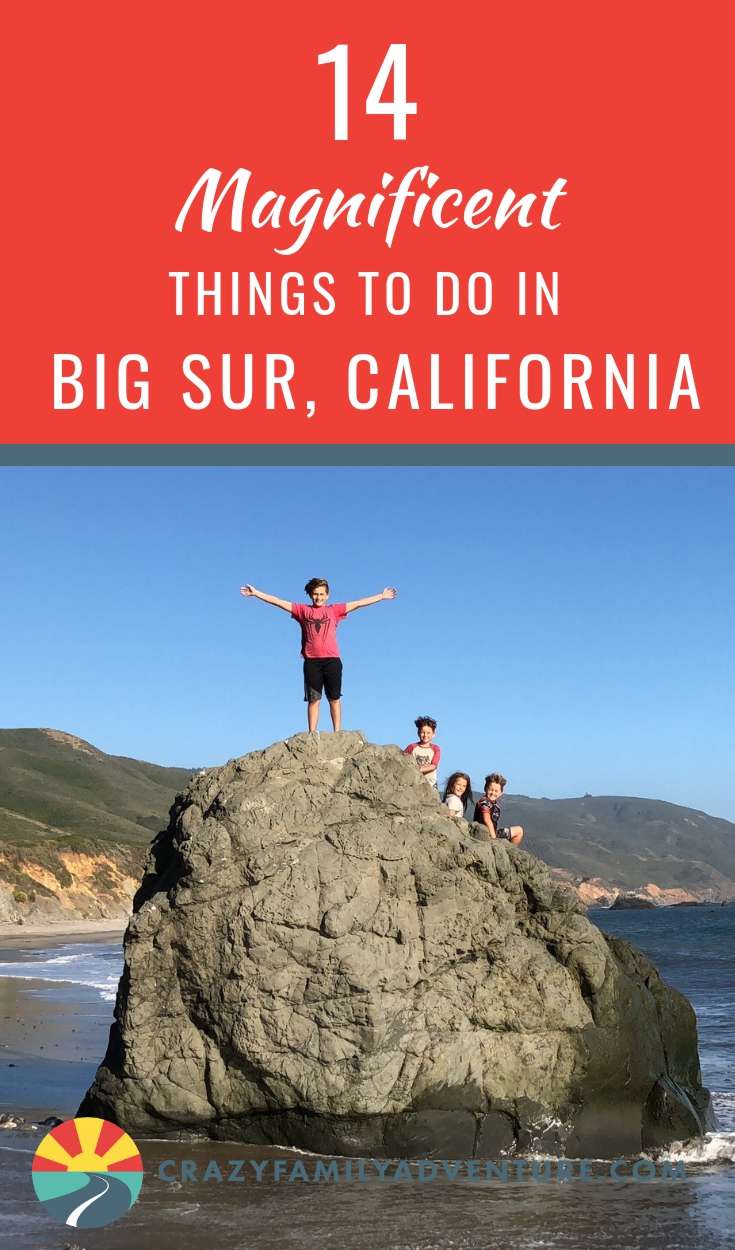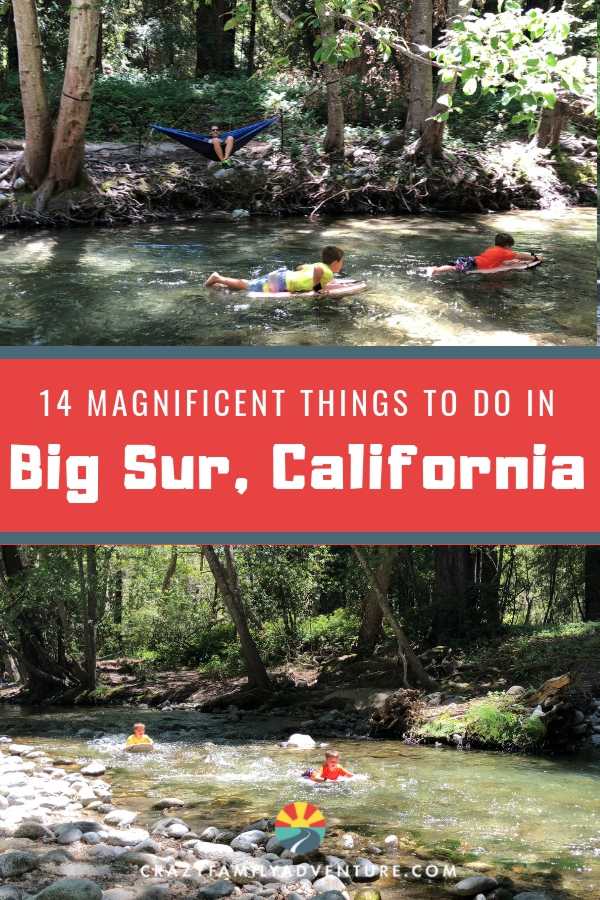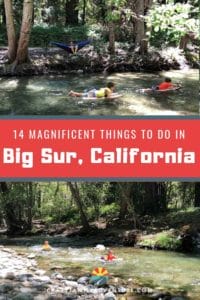 DISCLOSURE: This post may contain affiliate links, meaning I get a commission if you decide to make a purchase through my links, at no cost to you. Please read my disclosure for more info.