When you travel or live in an RV you are going to want to know all of the best RV basement storage ideas! There's nothing quite as annoying as digging through a messy outdoor storage compartment to find that one tool you need before the sun sets or the rainstorm hits.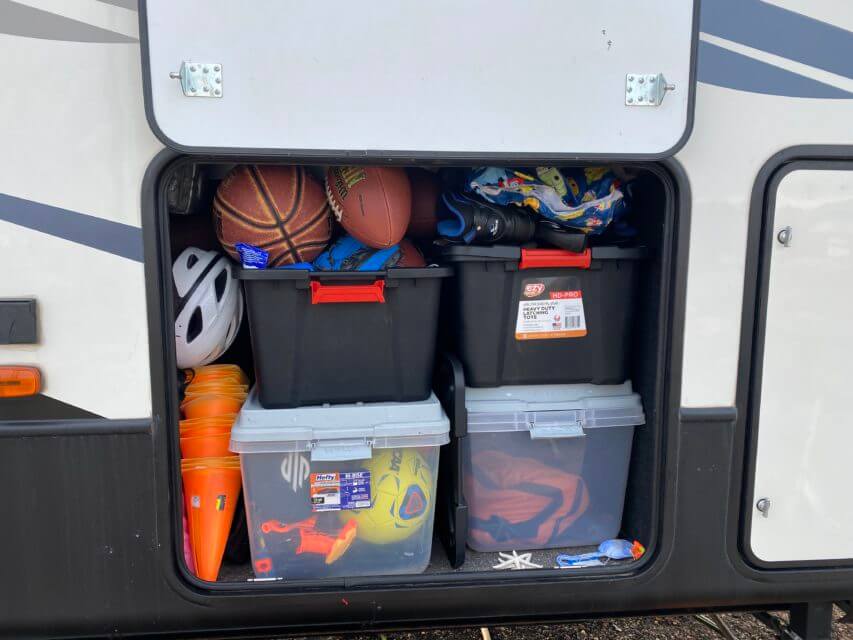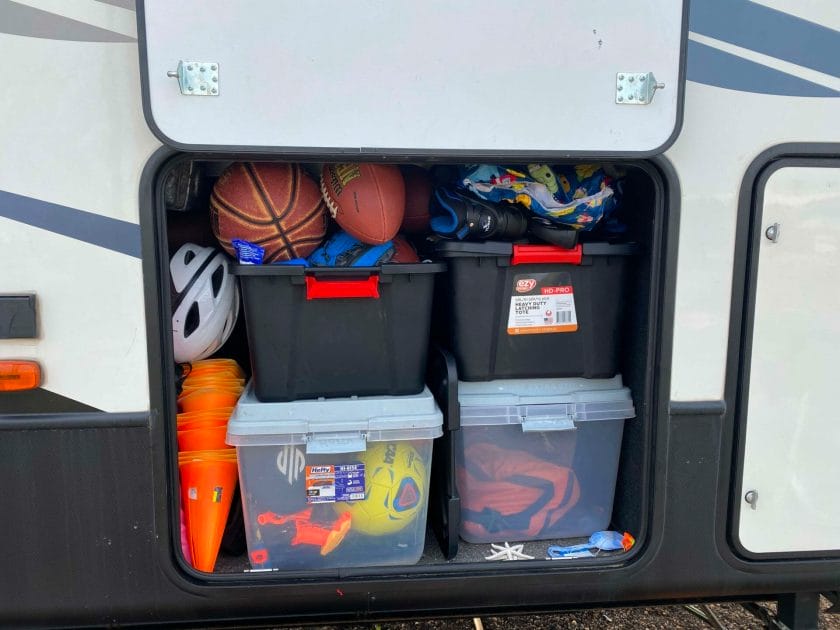 We have lived and traveled in our RV for over 8 years and have reorganized our RV basement 20+ times. Due to this, we have learned some of the BEST things you can do to get your RV basement organized. Cargo trays, bins, command strips, hose and plug organizers and more!
These are helpful if you live in your RV or if you take yearly RV trips. You are going to love to having your RV basement organized.
Our Top Picks
Let's start by discussing our top three RV basement storage solutions. These are all products we use in our own little home-on-wheels. They have served us very well over the years.
MORryde Sliding Cargo Tray
One great way to organize your RV is with the MORryde Sliding Cargo Tray. This slide tray is mounted to the walls of your storage bay. It slides in and out, providing you with a large drawer-like shelf that holds all of your things. Making it easy to reach things in the far back of the basement.
Pros: comes in a variety of sizes; large 800lb capacity; carpet or plastic flooring; easy installation
Cons: requires screwing into the RV floor. It also takes away some of your storage area since there has to be room for the travel to roll in and out.
IRIS 27-Gallon Utility Tough Tote
Sale
Storage bins are an RV storage must-have and are often the best way to keep things neat and organized in RV basements. We really like these large IRIS tubs, which are durable, stackable, and secure, making them one of the best RV basement storage ideas out there.
Note it is also important they are stackable. Just be sure to measure how much space you have and how big the door opening is. The inside space will be taller but it will be really hard to get the bin out if you stack them higher than the door opening.
Pros: deep lids mean stacked bins stay in place; lid locks into place to ensure everything stays safe and dry; four bins per pack
Cons: a little bit expensive
Sterilite 70-Quart Ultra Box Clear with Latches
Another great bin choice is the Sterilite 70-quart clear box with latches. We like that these boxes latch shut—meaning they won't come open while traveling—and that they are clear, so it's easy to see what's inside. These bins are great for storing everything from cutting boards, extra paper towels, shoe organization is a tiny space.
The clear ones are nice since you can see inside of them. But they normally tend to break sooner. At least that has been our experience.
Pros: clear plastic makes it easy to identify contents; latching lids keep everything closed up tight; can be stacked; comes in a 4-pack
Cons: these boxes don't stay stacked as well as the totes mentioned above; also aren't as sturdy as some other options
Other Great RV Basement Storage Ideas
The cargo slide tray and storage bins above are our favorite storage bay organization solutions. That said, they are far from the only products for getting the basement of your travel trailer, 5th wheel, or motorhome under control.
Below are some more RV basement storage ideas, all excellent ways to make the most of your RV space.
Scotch 3M Command Hooks
Sale
Command Hooks are a great way to make use of otherwise useless wall space and ceiling space, and many of the best RV storage ideas involve these hooks. We love that the hooks simply stick to the wall using a strong adhesive, removing the need to screw into the RV walls.
Because Command Hooks come in a wide variety of sizes, they can be used to hang a variety of items. We've seen people use them to hang helmets, tools, power cables, water hoses, and more.
Pros: incredibly easy storage solution that doesn't require any tools; great for storing a wide variety of items
Cons: adhesive can wear out over time and will need to be replaced eventually; some hooks can be expensive
Scotch 3M Large Shower Caddy
Another Command product we love is their metal shower caddy. Obviously, this is great for placing in the shower to hold soaps and shampoos. However, it's also an excellent way to give yourself extra space for storing chemicals and other small items in the storage bays.
Like the hooks mentioned above, this caddy is hung using a strong adhesive. This means you won't have to use any screws or tools to mount one to your basement wall.
Pros: no screws or tools needed to install; holds small items in place; takes advantage of unused wall space
Cons: adhesive can wear out over time and will need to be replaced eventually
Wall Control 4-Foot Metal Pegboard and Accessories
Sale
A third great idea for using you vertical space up the wall is to create extra storage in your storage compartments. Giving yourself easy access to frequently used items is to hang a pegboard. This idea works especially well in very shallow bays that can't be used for much else. However, it can also work in larger bays just as well.
We love that the pegboard can be rearranged as needed, meaning your storage space can evolve with your RV travel style.
Pros: very versatile storage space; can be changed as needed; gives you easy access to frequently used items; ideal way to use shallow bays
Cons: can be difficult to install if you don't want to screw into RV walls; can be heavy; tools might slide off of hooks in transit
Woods E103 Cord Storage Wheel
Sale
RV water hoses and power cables can quickly take over a lot of storage space. The best way to get rid of this problem? A hose reel.
We like this reel because it can be used for both hoses and cables, and we recommend purchasing one for every hose or cable you own. We also appreciate the relatively low price, so purchasing two, three, or even four of these space-saving tools won't break the bank.
Pros: keeps hoses and cables neatly wound up and out of the way; relatively inexpensive; very portable
Cons: requires a bit of work to set up in a way that allows you access both ends of the cord or hose
Sterilite Clear Plastic Storage Drawers
Sale
In some cases, it makes more sense to store items in drawers rather than bins. We recommend doing this with things you'll use on a very regular basis, as opening a drawer is much easier than pulling a whole bin out, especially if it's stacked.
One solution we really like is the Sterilite clear plastic drawers because it's easy to see what's inside each drawer without even opening it. We also appreciate that these drawers come in a variety of sizes, so even if the one linked doesn't work for you, there is almost certainly a version that will.
Pros: clear plastic makes it easy to see inside; comes in a variety of sizes; easy to open and shut
Cons: could be more durable; tends to open during travel (though it can be secured with a bungee cord)
Valterra E-Z Hose Carrier
Sale
We've mentioned the fact that water hoses and power cables can fill small spaces quickly. What we haven't yet pointed out is that sewer hoses can do exactly the same thing and come with a nasty set of germs and a horrible smell to boot.
Many people choose to store their sewer hoses in a bin or in the rear bumper of their RV. This works fine, but we also really like the Valterra E-Z Hose Carrier. This stays shut better than RV bumpers tend to, and it will save your bumper from rusting. Additionally, it's mounted under the RV, meaning you won't be using valuable basement space for your "stinky slinky" and will be able to keep the hose away from everything else. 
We just got a new RV for a trip to Alaska and this was high on the list of things my husband wanted to get before the trip!
Pros: keeps sewer hose out of storage bays; saves your bumper from rust; no problems with losing end caps
Cons: mounting requires some DIY skills
Muscle Rack Black Milk Crate
Milk crates are an ideal storage product for extra propane tanks. They also do an excellent job of holding onto large water jugs, preventing them from rolling around the basement and leaking on things.
We like these milk crates from Amazon because they are incredibly tough and come in a pack of two. They are also the perfect size and shape for a variety of jobs, making them a versatile tool to have on hand.
Pros: heavy duty; comes in a 2-pack; versatile
Cons: space-consuming when not in use; a bit expensive
Brilliant Evolution BRRC133 Wireless LED Puck Light
Sale
Even an organized storage space is annoying to dig through in the dark. Shed some light on your RV basement by adding battery-operated LED puck lights. These lights are super inexpensive, and because they're battery-operated, they don't require any electrical work to install. These lights are also great to place inside cabinet doors to help light up a dark cabinet.
Pros: LED lights are nice and bright; very easy to install; no electrical work necessary; batteries last a very long time; comes in pack of 3
Cons: included adhesive may not hold (use screws or Command Strips instead)
Lippert 236558 RV Double Box Under Chassis Storage Unit
Sale
Need to find a way to give yourself more outdoor storage space? Lippert's under-chassis storage boxes might be just the thing. As the name suggests, these boxes are installed under the RV and provide you with large drawers to store all of those items that won't fit in the RV's storage bays.
Pros: awesome way to add a lot of storage space; easy to access the space provided
Cons: heavy; installation does require some DIY skills; no locks included
It can be hard to find the perfect solution for your basement storage for your RV pass through storage organization. But with some measuring and trial and error, you can set up a system that really helps with your rv organization.
When you are in your rig full time it is especially helpful to have your storage areas in order. And use all the RV organization tips! Now if we could only find a way to get more counter space in our rigs!
Check out these other great RV posts:
8 Best RV Wheel Chocks And How To Pick Yours
7 Best RV Roof Sealant Options
Pin This Post For Later: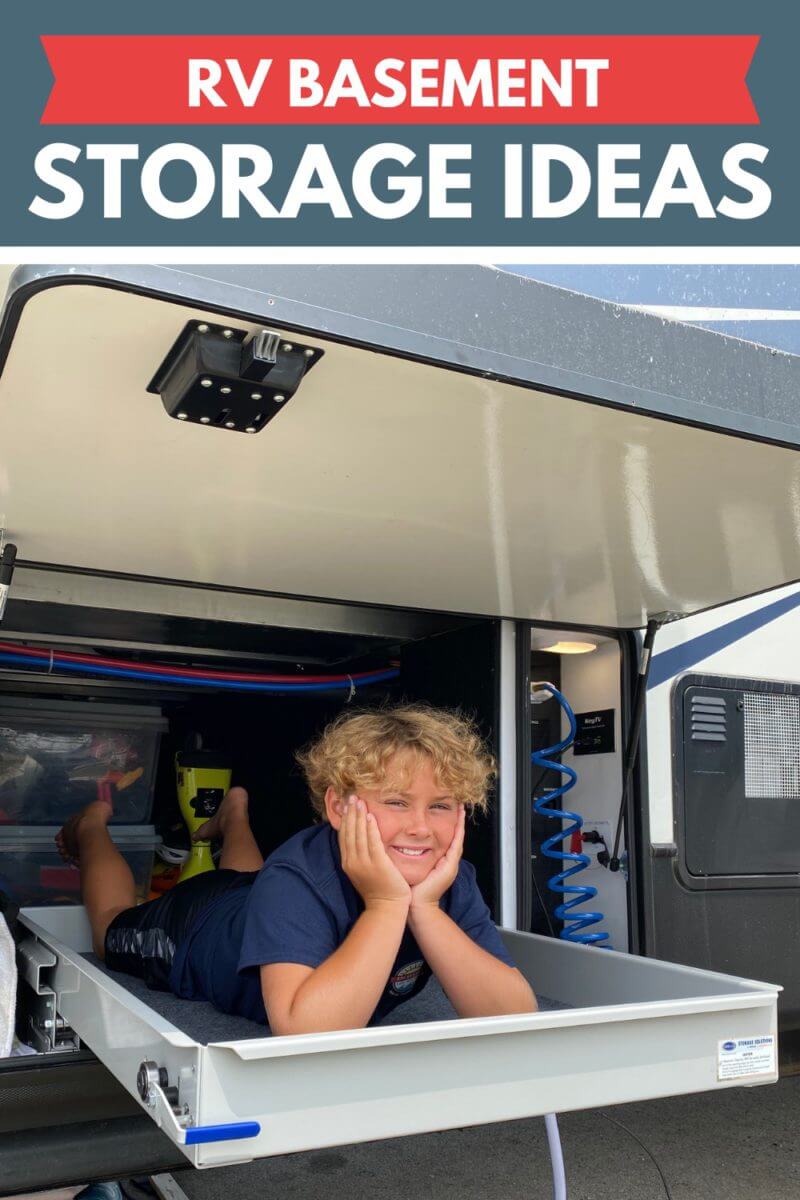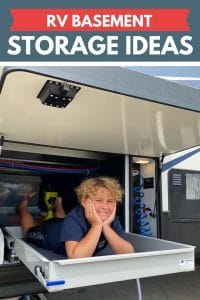 DISCLOSURE: This post may contain affiliate links, meaning I get a commission if you decide to make a purchase through my links, at no cost to you. Please read my disclosure for more info.