If you're an outdoorsy person and love National Parks, scenic drives, outdoor activities like hiking, biking and climbing then visiting the parks in Utah is the right road trip for you. This Utah road trip will focus on the Big Five Utah National Parks (Utah's mighty 5) as well as an epic state park and a few extra stops too.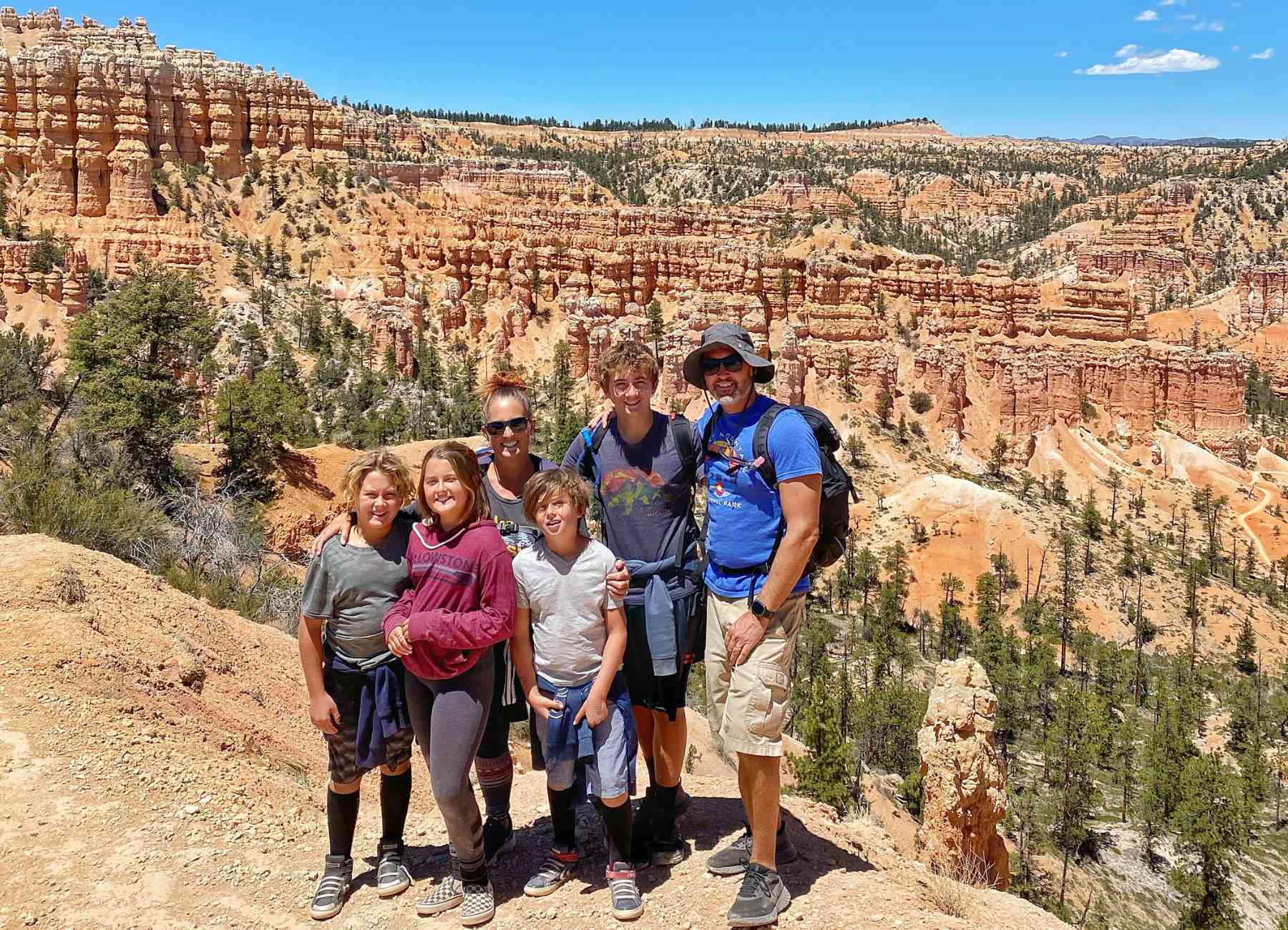 Get ready to explore geological wonders, natural bridges, slot canyons and diverse landscapes on this Utah National Parks road trip!
We will cover: Arches National Park | Canyonlands National Park | Capitol Reef National Park | Bryce Canyon National Park | Zion National Park | Grand Escalante
Plus a few other awesome stops on your trip!
Map Of The Ultimate Utah National Park Road Trip
Rent An RV
Utah is also a great place to take an RV road trip! If you don't have an RV you can rent one. Click here for great RV Rental options for your Utah road trip.
There are so many great things to do in Utah so the longer you can make your trip the better!
Moab
We'll begin the ultimate Utah road trip in Moab. This is a great recreation area where you can do all the outdoor adventure you could possibly ask for as well as being a great home base to visit 2 of the Big Five Utah National Parks: Arches National Park and Canyonlands National Park. There are more things to do in Moab than you would have time for! Here are our recommendations on things to do when you visit Moab.
Things To Do
Jeep Trip
We had no idea how much we were going to love this! There are some awesome jeep trails throughout Moab – we really enjoyed the Fins and Things trail or you can check Hells Revenge trail!
The nice thing is you can rent a jeep from one of the many rentals in Moab and head out on your own. Or if you aren't sure what you are doing you can get a guide too. We highly recommend that if this is your first time!
Rent An OHV
Moab is essentially an oasis in the middle of the desert. The scenery is gorgeous and could be a destination just to take amazing scenic drives. You can also drive right in the scenery by renting an OHV or dirt bike at one of the many rental places on the main road in Moab. Check out these two 4×4 Driving Tours: Arches National Park or Canyonlands National Park
The OHV's (Off Highway Vehicles) can also be driven on the streets of Moab as long as you follow some local laws.
Mountain Biking
If biking is more your thing, bring your own, or again you can borrow from one of the many Moab bike rentals along main road. There are some of the best bike trails in the entire country in Moab and have different levels of difficulty for all abilities. Definitely a great spot to bike.
Take a half day mountain bike tour!
Rock Climbing
Moab also offers rock climbing. You're free to do it on your own, or hook up with one of the many guide companies in the area.
You can even climb inside Arches National Park as long as you pay attention to the rocks you are climbing. For the details on that check out https://www.nps.gov/arch/planyourvisit/rockclimbing.htm.
Take a rock climbing trip in Moab!
Rafting
As for rafting in Moab, the Colorado River offers pretty much all you could ask for. From slow river floats to Class IV rapids, you'll see it all. You can choose from half day or full day rafting options leaving from Moab.
You can also kayak and SUP the river.
Helicopter Tour
If you want to see more remote areas and amazing rock formations, you may want to check out this Arches Backcountry Helicopter Flight. This tour is a 20-30 minute flight that departs from Canyon fields Airport. Talk about breathtaking views!
Sound and Light Show with Dinner
For a more relaxed evening activity, check out the Sound and Light Show with Dinner. Enjoy a calm ride down the Colorado River while watching an amazing show that details the canyon's creation. Don't miss this unique experience!
Corona Arch
Another great hike in Moab is Corona Arch. This is about a mile and a half roundtrip that includes ladders and some steep rock scrambles. You'll end up under Corona Arch which is just amazing.
Highway 128 Scenic Drive
Another great thing to do in Moab is to take the scenic drive on Highway 128. Your drive time can range from a few minutes to a few hours on this beautiful road. We stopped a few times where the road was near the Colorado River to check it out and toss some stones in the river.
Dead Horse Point State Park
Even though the name doesn't make you think happy thoughts this is a gorgeous state park and worth checking out for sunset.
Arches National Park
Arches National Park is just a few miles north of Moab. Being one of the Big 5 National Parks, it's a must-visit when in Moab. We really liked the park for the hiking trails as well as climbing near the arches and the beautiful red rocks.
It's also incredibly busy and now requires a timed entry ticket to get in from April to October. If you want to maximize your time in the park, we have the perfect itinerary guide for you. It will show you a 1 day itinerary for Arches and a few bonus day activities.
There's a single road that goes through the park that is 18 miles long, so you could see the whole thing in a day if that is all you had. I'd recommend giving yourself 2 or 3 days to see more of the park and to do some hiking while there.
Best Hikes in Arches National Park
Delicate Arch
There are several hikes that we really enjoyed in Arches. The most iconic being Delicate Arch. This hike is about 3 miles roundtrip and felt like it was uphill the whole way. It culminates at Delicate Arch which is just an amazing structure.
You can get right under the Arch for a great picture even though you'll be the size of an ant in the picture. This is a must-do on the Utah road trip.
Windows
Another fun hike is the Windows section. It's really a short hike that gets you up close and personal with several fantastic arches. We were able to do some climbing and rock scrambling here, which the kids loved.
Fiery Furnace
To hike Fiery Furnace, you either need a special permit or do the Ranger-led hike. This is because several people have gotten lost on the trail and that's no good in the desert. We opted for the Ranger-led hike since we were first timers.
It was about $16 per adult and $8 per child (there are age restrictions as well), so it wasn't cheap, but it was worth it. For one, we all made it out alive and secondly, we got some great information about the geology we were seeing. Check out their site for more info on the Ranger-led hike.
Landscape Arch, Devils Garden trail and Double Arch are other great hikes to check out in Arches. You can read more about hiking in Arches here: Best Hikes in Arches National Park
Check out these great tips on hiking with kids.
Canyonlands National Park
Stop #2 on the Utah road trip and another one of Utah's Big Five National Parks close to Moab is Canyonlands National Park. There are 2 ways to get into Canyonlands from Moab. You can head north and visit the Island In The Sky which is an amazing place to drive through and check out all the amazing overlooks and grand views during the drive.
You can also head south from Moab and drive about an hour and a half to the southern section of Canyonlands National Park. In this section of the park you'll find The Needles district. We did a couple of hikes in The Needles including Cave Spring and Slickrock.
Cave Spring was a fun, short hike that had a few ladders to scale throughout the hike. Slickrock was a bit more strenuous as it was 2.5 miles and very hot when we visited in October.
Mesa Arch and Grand View Point are a couple other great hikes to do in Canyonlands.
Where To Stay In Moab
RV Options:
The main road in Moab has several hotels, motels and resorts to choose from. We stayed at the OK RV Park at the southern end of the city during our Utah road trip. This was a nice place to stay and had full hook-ups and also has a deal through Passport America. I'd stay there again.
Sun Outdoors Moab Downtown Campground, Up the Creek Campground, and Sun Outdoors Arches Gateway are all good options for staying in the city of Moab.
There is also a ton of BLM land on the outskirts of Moab that offer free or very cheap dry camping (no hookups at all). This is a great way to stay on the cheap for a few nights while you explore. Here's more information on where you can find the BLM land.
Rent an RV! Utah is a super RV friendly state. Click here to learn more about renting an RV in Utah.
Hotel Options:
SpringHill Suites By Marriott. We keep driving by this hotel and I wish we were staying there! It is in a good location just outside Arches and right before you get into the city.
VRBO Options:
There are a lot of VRBO options throughout the city and some even offer the chance to stay in an RV! If you want a place downtown with the space to sleep 10, check out this modern downtown house that also offers trailer parking.
If you plan to spend time any time in Salt Lake City, Utah be sure to check out this post: Best Airbnb Salt Lake City.
Where To Eat In Moab
Along with many of your usual restaurants, Moab has a few unique ones as well. We really liked The Moab Brewery. They had a good selection of their own brews (despite Utah's strange liquor laws), as well as many vegetarian options and a decent kids menu. Definitely worth a stop.
Moab is the perfect place to stay to visit Arches and Canyonlands National Park!
Goblin Valley State Park
Continuing on the Utah road trip, the next stop will be Goblin Valley State Park. This is a super cool state park that is a perfect place for kids. The park has several hikes, a small campground, a disc golf course, and the best part is the valley itself.
The parking lot for the valley sets the scene as you get out of your car and look down over the valley you see thousands of hoodoo structures below that are all in the form of little trolls, hence the name Goblin Valley.
The park is very relaxed in that they allow climbing on all the structures, which was a welcome treat for the kids. We played hide-and-seek and explored for hours.
The other thing we really liked about Goblin Valley was the dried up riverbed that runs through the park. It was about 5 feet deep and zig zagged it's way through the valley. We hiked it for quite a way and it seemed we were in a giant maze.
The valley also has rock climbing along some of the cliffs at the back of the valley. Again, you can hook up with a guide group to get you set up properly. Check out this 4-hour Canyoneering Adventure!
For more information on Goblin Valley, check out their website.
Where to Stay
RV Options:
As for where to stay or where to eat when visiting Goblin Valley, your options are pretty limited. There is the campground in the park which has tent sites and a few RV sites, but all of those are without water or electricity at the sites, but there are flush toilets, showers and communal water available for campers.
They also have 2 really cool Yurts available for rent. These have heat and a/c as well as beds, furniture and a great porch to relax on. They looked really cool.
We stayed just outside the park on BLM land which was free and provided a great place to stay while only being minutes from the park. The BLM land had fire pits and was situated near some mountains that we hiked and explored. The night sky was amazing here since there weren't any city lights for miles around. This is boondocking with no hookups so be prepared for that.
Rent an RV! Utah is a super RV friendly state. Click here to learn more about renting an RV in Utah.
Hotel Options:
There aren't many in the area. You could either make this a stop on your way from Arches to Capitol Reef and then continue on to Capitol Reef or you could stay in a cabin here (which is about 45 minutes from Goblin Valley State Park): Duke's Slickrock Cabins.
Where to Eat
You'll have to bring what you want to eat as there aren't any restaurants or stores in the park or anywhere close. The closest town is Hanksville which is about a half hour away and has a few small restaurants and even a couple motels. This would be your closest option for food and other accommodations.
Capitol Reef National Park
After visiting Goblin Valley State Park, head towards Capitol Reef National Park. This was our favorite out of all the Utah National Parks on our Utah road trip. Between the hikes, off-road driving, fruit picking and scenery, it is hard to beat. We actually almost didn't go since it is a little bit off the main road but we are so glad we did and wish we would have stayed longer!
Capital Reef National Park is defined by the Waterpocket Fold which is an almost 100 mile long warp in the Earth's crust. It is a monocline formation with the step-up in the rock layers. It is pretty amazing.
There is a tour that leaves from Salt Lake City if you stay in that area and want a private tour of Capitol Reef National Park!
Best Hikes in Capitol Reef National Park
Cassidy Arch
This is a longer day hike but worth it since you can actually walk out on the Arch! The trail takes you up to the arch and it is a difficult hike with a few spots that had me gripping the kids hands to make sure they stayed close to us.
You'll climb almost 700 feet up as you make your way 1.7 miles to the Arch. And then 1.7 miles back down – which is easier but you still hit a few spots that are nerve wracking with kids. All that aside, we still recommend going! When you get to the arch there is a nice area where you can sit and have a snack and the kids can safely run around and explore (not on the arch but overlooking it).
Capitol Gorge Trail
We had heard this was a good trail to do but we weren't prepared for the amazing views and drive to get there! It is in the park but you actually leave the main road and drive on a dirt road to get back to the trailhead. It is tight drive but popular so the road is well defined. Just keep an eye on the weather since you DON'T want to be driving on here if it is raining since it can get flooded.
Once you come to the trailhead you walk on a dried up riverbed with huge gorges on each side of you. It is so cool! Once you get to the end of the trail (about 1 mile in) you can choose to walk up the mountain to see the Tanks – these are water pools at the top of the cliff. Honestly it isn't worth it to climb up there to see the tanks but it is worth it just to have the fun of climbing up the mountain.
You will also see historic inscriptions on the canyon walls that are over a hundred years old and if you are walking back around sunset you may end up with bats flying around your hat as you walk back to your car through the canyon walls. It was one of those cool yet scary situations – I didn't want a bat to get caught in my hair!
Hickman Bridge
This is a very popular hike and for good reason. The views are amazing as you are hiking to the bridge. It is about a 1.8 mile hike roundtrip with an elevation gain of 400 feet.
Once you reach the bridge you can walk up and behind it or view it from the bottom. It is a very cool natural structure and you just hope when you are there isn't the day it crumbles and falls!
Where to Stay
RV Options:
BLM Land
We found an amazing BLM location that meant we were 6 miles from the park entrance and a short distance from the main road (This is important to us with our big rig since we don't want to get a situation we can't get out of) and it was FREE camping! We even ended up having good enough 3G Verizon coverage that we could work from the RV.
This allowed us to stay longer then we thought we were going to. Getting in was a little stressful since there were a lot of rocks and divots – but as long as we took it slow we were OK.
We would recommend it for a place to stay on your Utah road trip. The location was great and the views were beautiful too! This is the exact location.
RV Options:
Camping Near Capitol Reef National Park
Next to the Gifford House is the Fruita Campground. They have 64 RV/tent sites along with 7 walk-up tent sites. There are no hookups at this campground but they do have a potable water fill as well as a dump station in the campground.
Plus you are in the park which would be awesome. They also have apple picking here if you come in season. Here are some great apple picking tips.
If you don't mind driving in to the National Park, Flying U Country Store & RV Park is located in Joseph, Utah about 90 minutes from the park entrance.
Rent an RV! Utah is a super RV friendly state. Click here to learn more about renting an RV in Utah.
Hotel Options Near Capitol Reef National Park
If you're looking for a hotel stay when visiting Capitol Reef, there are several resorts just up the road. Capitol Reef Resort is just a few more miles up the road and offers nice rooms, pools and other amenities.
Town of Torrey
About 10 miles up the road and 4 miles from the boondocking site is the small town of Torrey. They do offer more hotels, RV parks, restaurants and shopping but just know it is a very small town.
Where to Eat Near Capitol Reef National Park
We stopped for ice cream at Slackers in Torrey and also had dinner at the pizza place: Red Cliff Restaurant. It is a small dining room but the pizza and service was great and if it is warm outside they had a nice patio area!
You can also get ice cream cups in the the National Park at the Gifford House and yummy apple pie!!
Capital Reef and Goblin Valley were definitely our favorite places to visit on our Utah road trip. I don't know if it was because they were less busy, the openness, the amazing views, the fun hikes, or all of the above!
Bryce Canyon National Park
The cool thing about the Utah National Parks is that they are all unique in their own way. None of the parks feel like each other and they all have their own unique flair. When you come into Bryce Canyon National Park your first stop is the Visitor Center.
We like to make that our first stop so we can ask the rangers what they recommend. They know the park the best and we have always been happy with the suggestions they have made.
However, if you want to take a tour with a local guide, check out this 3-hour Sightseeing Tour. Another tour option if you are staying in the Salt Lake City area is this Private Bryce Canyon National Park Tour. A third great option if you are staying in the Las Vegas area is this tour that includes both Bryce Canyon National Park and Zion National Park.
Also note when you are in Bryce they highly recommend you take the shuttle service vs. driving your car. There is very limited parking throughout the park and the shuttle runs consistently. We don't normally like to go this route since with kids we like having immediate access to our car if we need it.
But the first day there we did do the shuttle and it worked out great. The next time there we drove our car and had no problem finding parking. We were there in October which is off season – so my guess is parking is out of control during the busy season and the shuttle would make sense.
Best Hikes in Bryce National Park
Navajo Loop Trail/Queens Garden Trail
This was definitely our favorite hike in Bryce and the one the ranger recommended. She actually recommend that we do "Wall Street" first and walk down there vs. walking up. This was a great suggestion and made the hike that much better for our family.
The people walking up looked exhausted!! Wall Street is a combination of switch backs that takes you down into the canyon. It was such a fun trail. We started at Sunset Point (you can start from either end of the trail).
Once in the canyon you are walking among the beautiful hoo doo's that are such crazy and cool looking rock formations they almost don't seem real. You also walk through holes in the formations and gradually make your way back up. I say gradually but it is definitely a tiring hike on the way up. Luckily the views are great and there are multiple places you can stop to take a breather or grab a quick picture.
For more information on this combo hike click here.
Mossy Cave Waterfall
This is a short hike at less then 1 mile roundtrip and is actually located at a location where you have to leave the main national park and go a few miles to get to the trailhead. For that reason it is less busy but totally worth the trip.
You hike to a fork where you can either go view the waterfall or the cave. You can easily do both and we definitely recommend that. The waterfall is beautiful and the cave was really cool!
View Points
You can drive the whole road of the park and make spots at the pullouts along the way for a variety of different views and observation points. Even though we did start to feel like they all were really similar and we didn't really need to stop at every pull out. The one we do recommend is: Inspiration Point.
It is a short hike straight up the hill to get to the point but the views are worth it and it is also a great place to catch a sunset! The other place is Sunset Point which gives you another amazing view of the hoodoos or Sunrise point on the other side. They really are a sight to see. Bryce was spectacular with all of its sandstone cliffs and unique structures.
Where to Stay
RV/Camping Near Bryce National Park
Bryce Canyon has 2 campgrounds right in the park. The North Campground has 99 sites in a mix of RV and tent sites with no hookups. There is a General Store in the area that offers laundry, showers, snacks and supplies.
There is also Sunset Campground, which is a mile and a half further into the park and consists of 100 sites. Again, no hookups at this campground either.
For more information on camping in Bryce Canyon click here.
We did not stay at one of these but instead stayed in Panguitch which was about a 30 minute drive from Bryce on Hwy 89: Paradise RV Park. We stayed for 2 reasons. 1 there were full hookups and after boondocking with no hook ups for over a week we were ready for hookups and 2 it was only $100 for the whole week! That is really cheap for an RV park. To get this price we did use our Passport America card again.
The town of Panguitch has a few restaurants, grocery stores, etc. It is by no means large but had what we needed.
Both Circleville RV Park and Duck Creek Village RV are about an hour from the National Park if you don't mind driving in a bit.
Rent an RV! Utah is a super RV friendly state. Click here to learn more about renting an RV in Utah.
Hotel Options Near Bryce National Park
The town of Bryce is located right outside the entrance and there are plenty of hotels and restaurants to chose from. The one that stuck out to us was Ruby's Inn which is a hotel, RV resort, and campground.
It looked like they also offered activities like horseback riding, mountain biking and ATVing. I'm not sure who Ruby is, but she pretty much has the town of Bryce locked down!
Where to Eat Near Bryce National Park
We stopped for a quick dinner at the Canyon Diner (which is also part of Ruby's conglomerate), which is a cafeteria style fast food joint. The food was OK but it offered a quick dinner for a reasonable price, so that worked for us!
Our top recommendation and where you can get great pizza at an amazing price is The Pizza Place in Tropic. One of the lady's who worked at a gift shop in Bryce told us about it and we were so glad she did. The pizza was yummy and the price was right (more like normal small town prices vs. National Park town prices).
We did have to drive about 15 minutes from the park on Hwy 12 and if you blink you will drive right through the town. But we would definitely go back and highly recommend it.
Next time we come through Bryce I really want to stay in the National Park. The park has a great walking/biking trail and we liked the vibe inside the park. It would be fun to stay at the campground and be able to ride our bikes to the trail, visitor center, restaurants, etc. in the park.
Zion National Park
The last stop on the Utah road trip is Zion National Park in southern Utah. We actually visited from the same campground that we stayed at for Bryce – because like I mentioned it was $100 for a week for full hookups! That meant we had to drive an hour to get there but it was a pretty easy drive and the campgrounds we found around Zion were expensive! And everything we found looked like there weren't really many boondocking options especially for a large rig like ours (39 feet).
This meant when we got there we entered through the tunnel. This tunnel is no joke! It is about a mile long and feels like it goes on forever as you drive through the mountain. Quite an entrance!
We have heard it can get really back up since they only let one way go at a time. Luckily we only had to wait about 15 minutes.
For more information on the tunnel including vehicle restrictions and specifics on the special permit, please click here.
Once in we kind of got the feel that we were at Disney World. There were signs all over the place, LOTS of people, and only a shuttle service – so you didn't even have the option to drive your car in the park. I have mixed feelings about the setup. I am glad so many people are visiting but we were definitely missing the more relaxed feel of Capitol Reef!
If you want to book a tour that includes both Zion National Park and Bryce Canyon National Park, check out this option!
Best Hikes in Zion National Park
The Narrows
The first thing we did was meet up with Arika from Zion Adventure Photog! They have a photography company where they will take your family pictures as you explore part of the park. How cool is that?! We met Arika and took the shuttle to the famous Narrows Zion hike that takes you in the water as you walk through the gorge with super high walls on each side.
It was cold but so fun to do this hike and have Arika capture it for us. She took amazing pictures and we love having family pictures that show us out doing what we love to do! Arika was great with the kids and I think the pictures do an amazing job of telling how great she was and how much fun we had.
If you are in Zion you should definitely plan on doing the Narrows. We love unique hikes and this is one of them. If you want you can rent water shoes and wet suits from a location outside of the park.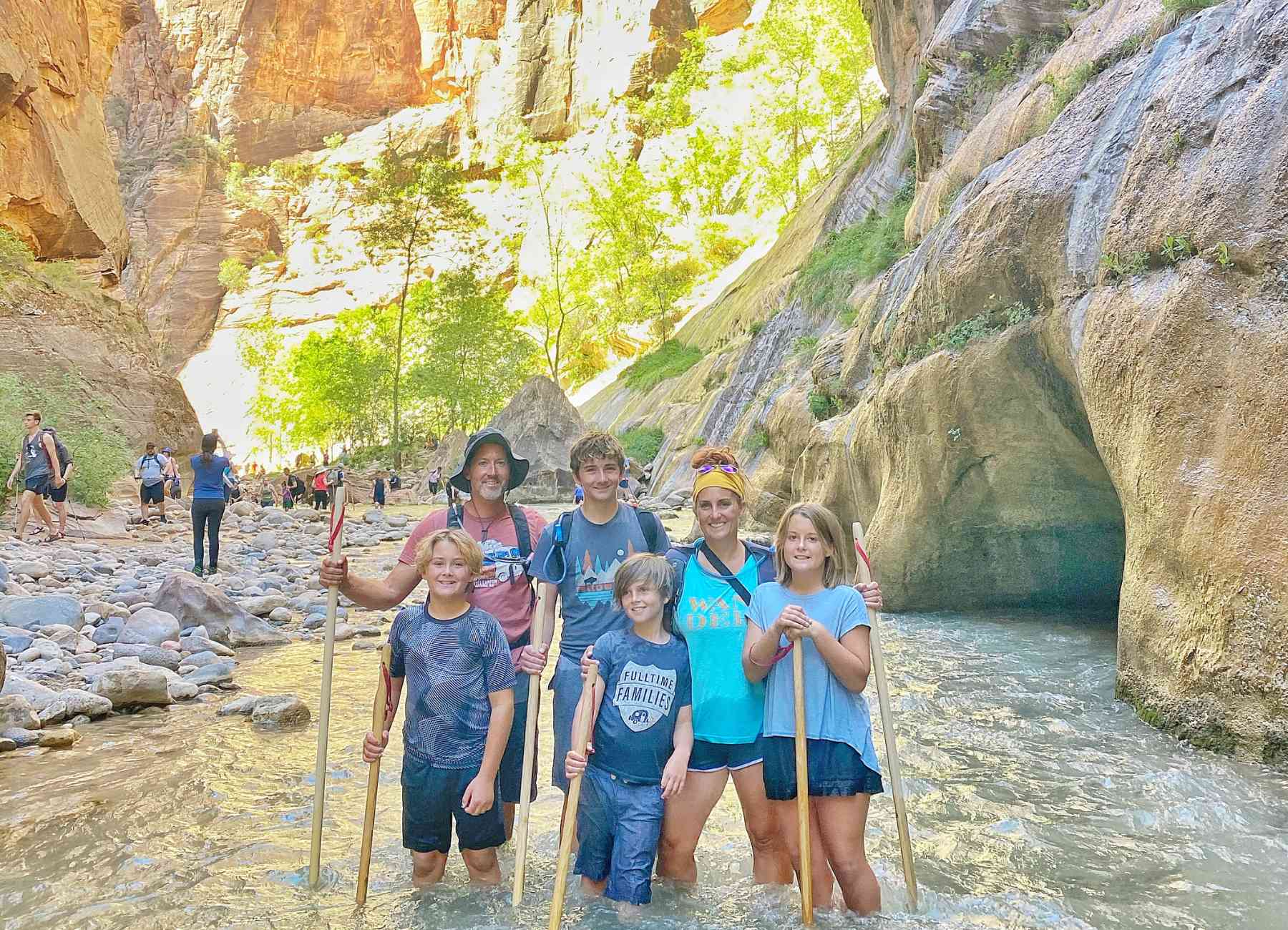 The nice thing about the Narrows is you can go in and hike as far as you want and turn around. You don't have to hike the whole thing – which is 16 miles and you need a permit to do it. You walk on the Riverside Walk for one mile from the Temple of Sinawava before you get to the Virginia River and start to walk in the water. As you can see this hike is going to take some preparing but it is worth it.
We did it in our Keens with nice picture clothes on 🙂 and brought a backpack with a change of clothes for when we were done. Being that we went in October it was COLD but I have heard no matter when you go the water is cold but it would obviously be warmer if the temperate was in the 90's and not the 60's. I have also of people going in the winter and loving it (with wet suits on).
Learn more about the Narrows hike here.
Book your own sessions with Arika from Zion Adventure Photog!
Emerald Pools
The second hike we did – on a different day was the Emerald Pools hike. This hike was OK we didn't like that the views weren't that good on the hike. There are 3 pools, Lower Emerald Pool, Middle Emerald Pool and Upper Emerald Pool that are fed from the Virgin River.
These are 3 separate hikes, but can be done all at the same time. It is about 3 miles round trip.
It was fun when we got up to the top pool and we really liked the part where you walk under the wall that has water falling down from it! Before this hike we had fun walking around the grounds by the Zion Lodge. It had a large grassy area, a cafe on the porch (that sold beer) and other things :). It was really cool that they had a place like this in the middle of the park!
For more information on hiking in Zion, including maps, check out their website. One of the hikes I know we want to come back and do when the kids is older is Angels Landing – it looks amazing but not for young kids!
I also think we need more days in Zion to really explore the park. We will be back!
Where to Stay
Camping Near Zion National Park
Like I mentioned we stayed at the Paradise RV Park which was about 1 hour away. If you are looking for camping/RVing closer to the park there were a few options but like I had mentioned they are more on expensive side. There is also camping at the campgrounds inside the National Park.
Learn more about lodging options here.
If you want to splurge a bit, Glampers Inn RV Park is only about 30 minutes from the National Park in Hurricane, Utah and offers a really cool atmosphere and fun amenities.
Rent an RV! Utah is a super RV friendly state. Click here to learn more about renting an RV in Utah.
Hotels Near Zion National Park
If you are looking for a hotel you would want to look into the city of Springdale. It is literally right outside of the park – like you could walk into the park from the city. The main road has a variety of hotels where you could stay.
Where To Eat Zion National Park
The city of Springdale had a lot of really cool restaurants but was also very busy. Instead of waiting for 30 minutes for a table we opted for the Subway. Which worked out great for us! If you want more of a restaurant experience Springdale will have you covered.
If you want to keep exploring Southern Utah also check out the town of Mount Carmel for some more great outdoor activities and hikes.
We had an amazing time visiting Utah and all of the National Parks. My sister and her family enjoyed driving down the east side of the state and didn't see as many of the National Parks but really enjoyed the remoteness of that part of Utah too.
There are also a few other places we would like to come back to explore: Salt Lake City, Grand Staircase-Escalante National Monument, and Monument Valley.
Update: Check out our post on Grand Staircase-Escalante National Monument and our video below on Monument Valley!
Here is our video of when we got to go back to Monument Valley:
The most challenging part for us while being in Utah was getting beer and wine! Utah has a law that they can only sell beer that has a 3.5% alcohol content. But still costs the same . . . Plus you can't buy it at the grocery store so you have to find a liquor store.
If you like to have your beer and wine be sure you stock up before you head into the state!
If you haven't yet we highly recommend taking a road-trip through Utah you could literally spend months exploring this park. But even if you only have a 2 weeks you could still see a lot of this amazing state!
Other places to visit in Utah:
We have now visited Grand Staircase-Escalante and it was awesome! You can take one of the most scenic byways in the US to get here – Hwy 12. We did it with our RV – it was scary at times but also totally doable!
Lake Powell, Page, Arizona, Las Vegas and the Grand Canyon are just a few ways that you can continue your road trip in and beyond Utah. Including the gorgeous Antelope Canyon.
Being able to see Bryce Canyon, Canyonlands, Capitol Reef, Arches and Zion National Park in the Colorado Plateau all in one trip is simply amazing and makes it one of the best United State road trips.
Rent an RV! Utah is a super RV friendly state. Click here to learn more about renting an RV in Utah. Note – if you do rent a larger RV you may also want to get a rental car so you can get to some of the harder to reach hikes and locations.
Any other stops you'd recommend for a Utah road trip? What is your favorite part? If you want to continue your road trip head down to Las Vegas – always a fun spot!! Or go north for all the fun things to do in Salt Lake City!
To learn more about us, Start Here!
We can definitely see how Utah made this list of Best Us Family Vacations!
Take a look at all of our Utah National Parks posts:
11 Utah Mountain Biking Trails Youll Want To Check Out
7 Arches National Park Hikes You Don't Want To Miss
Best Hikes In Canyonlands National Park [Maps Included]
8 Of The Best Hikes In Capitol Reef National Park
Top 11 Awesome Things To Do in Bryce Canyon National Park
15 Awesome Things To Do In Zion National Park [Plus Where To Stay]
12 Amazing Things To Do In Grand Staircase Escalante National Monument
12 Epic Things To Do In Page, AZ
Pin It For Later:
DISCLOSURE: This post may contain affiliate links, meaning I get a commission if you decide to make a purchase through my links, at no cost to you. Please read my disclosure for more info.