Before we started traveling and living full time in our RV, we didn't give much thought to how much campgrounds would cost. In our lack of experience (we had never RV'd before we started to go down this path) we assumed it wouldn't cost that much . . . We were wrong! Campsites can be darn expensive.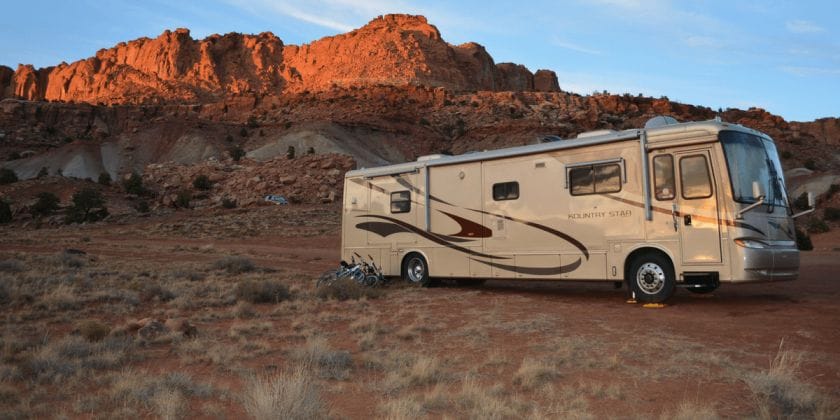 This has led us to figure out how to camp for free as much as possible. It is helpful if you are living in your RV or if you planning an RV trip. Check it and see which one you want to try on your next trip.
Here are a few ways we have learned to RV or camp for free
Parking Lots
This is when you literally stay in a parking lot. No hookups, just free overnight RV parking. This is an amazing way to camp for free if you are driving long distances and you don't want to pay to stay somewhere if you are just stopping for the night to the continue on your journey.
It can also be used for a way to explore an area for a day. Maybe you are driving through somewhere or are short a night at a campground you are staying at. Parking lots are a great filler. Yes, you could stay multiple days, but it gets old.
Here are a few places that allow free overnight RV parking: Walmart, Cracker Barrel, Cabelas, Lowes, Camping World, and Truck Stops. Sometimes a Target or Costco will too!
We suggest to call the place you plan on parking overnight to see if it is ok. We have even stayed in hotel parking lots overnight when we were visiting friends at the hotel. You just never know.
Here is a link with more information about Walmart overnight parking: http://www.walmartlocator.com/rv-parking-at-walmart/
Driveways
The RV version of couch surfing. Yup, we have done it. Staying in the driveway at our parents' houses has been a great way for us to visit our hometown and not have to pay for where we are staying. Plus, we all love being so close to the grandparents so we can spend a lot of time together while we are there.
We have done this at my parents house for weeks at a time before they sold their house and hit the road with us. Last summer, we spent over 2 months in Craig's parents' driveway. It obviously has to be the right driveway that can fit your rig, is OK with the neighborhood, and ideally you will need some kind of plug if you plan on being there for a while. We normally just plug into a normal 15 amp outlet near the garage so we can keep the lights on and watch TV (but make sure to use a heavy duty extension cord!).
We have also done this in friends' driveways and it is a fun time for us and the kids! Almost like a big sleep over. Normally this is just for a night or two – we don't want to overstay our welcome, unless we are at the grandparents house :).
RV Boondocking
There is free land around the country that are great places to camp for free for up to 14 days. Again, no hookups and sometimes the sites can be hard to get to with a larger rig, but usually they are amazing and have beautiful scenery and a lot of space! A lot of it is part of BLM (Bureau of Land Management) land.
Also note these normally don't have defined camp spots so you kind of have to figure out where to set up camp – usually it is by a fire ring.
We have boondocked just a few miles from multiple National Park entrances, then used our National Park pass to get in for FREE to the parks. Talk about a budget vacation!
We usually use the following sites to find where to camp for free: www.freecampsites.net or www.campedium.com. You can also google "free camping near (city)" or "rv boondocking near (city)" or even "free camping near me" and usually someone has written a blog post about a site they stayed at if there is one available.
These free campsites aren't always easy to find if you are on the east coast or by large cities. But in some cases they have them, so we always check to see. They can also sometimes be hard to get into. So depending on the type and size of your rig you are going to want to do a lot of up front research and always have a backup plan.
In our 39 foot motorhome, we are always looking for spots just off the road so we don't have to drive long on a dirt road or get in a situation where we can get stuck. When we get to a location, we will unhook the car and I will go check it out first before we drive the rig back. With a smaller rig this would be a lot easier to do!
Boondocking Sites
Also note these normally don't have water sources, dump stations, etc. But you can usually find water at a near by ranger station or BLM office. And in locations where there is BLM land there are normally dump stations at gas stations, ranger stations, etc.
Also note cell service can be limited in these locations. The sites mentioned above will usually have accurate information on if you can expect your cell service to work when camping at the location. Reading the reviews can answer this as well.
Staying on public lands always follows the leave no trace principles. Whatever you bring in you bring out. Nothing should be left behind.
Membership
We bought a Thousand Trails membership in the first year we were on the road. We started with a zone pass to try it out, then bought a used membership from Chad Hoel (we highly recommend Chad, contact him at chadhoel@aol.com). The membership cost us $3000 up front, then each year we pay $540 that we actually broke into monthly payments of $47. This allows us to stay for up to 3 weeks in a row at a park before we have to leave to go to another park – you need to be out of each park for 1 week after you were there for 3. I know confusing . . . the membership kind of is.
The membership gets us a free campsite at all of the Thousand Trails parks that are on our membership. You can check out where they are here: www.thousandtrails.com.
I need to do a full review post on Thousand Trails, but what I will say here is that it is free rv camping with hookups, usually picnic tables, basically overall developed campgrounds – finally we can do laundry and take a shower in our rig 🙂 – it is great having the membership. The only problem is a lot of the time the parks are a 45 – 60 minute drive from the attractions you want to visit. Also internet can sometimes be a problem and usually the campsites are really close together.
All that being said, it is a basically somewhere to camp for free and the membership paid for itself after the first few months and again each year we easily make up for the $540 we paid when we stay at a park. Normal full hookups site around the country start anywhere from $25 to over $100 a night! It is also easier for planning since we know they are there, can easily book online and can change reservations easily. Plus our kids love the pools at the resorts!
TT Campgrounds
The campgrounds aren't high class – they do have that option with their Encore membership which is more expensive and the resorts are nicer, but they are also more driven to retired couples and not families. Usually the Thousand Trails are family orientated. OK I need to write the post about them so I can go into all the details. Add it to the list of things I want to share with you!
National Forests
Sometimes you can RV boondock in National Forests for free or else you can pay $5 – $10 a night. There are usually no hookups, but if you are paying, there are well defined sites, fire pits, etc. and usually bathroom facilities that you can use. The best way to find these is on the rv boondocking websites I mentioned: www.freecampsites.net or www.campedium.com
Casinos
Winner Winner Chicken Dinner! You can stay in quite a few casino parking lots for FREE. Sometimes for multiple days in a row. The nice thing is they are normally open 24 hours which means there is security driving around 24 hours, so you feel pretty safe. Yes, it can be loud and no, we don't take the kids into the casino. Plus the locations can get you closer to the city. We found free camping in Arizona by staying at the Casino Arizona for 3 nights absolutely free and we were very close to Mesa, Phoenix and Scottsdale. Boom!
You can usually find those on the same camp for free websites mentioned above: www.freecampsites.net or www.campedium.com
Harvest Host
You have to pay a yearly membership, but once you do, you can stay at all the Harvest Host spots for free! However, you are expected to visit the locations that are hosting you. But guess what, most of them are wineries, breweries, or farms with farm stands. How cool is that! The challenge is not spending as much on beer and wine as you would have on a campground for the night.
These locations are usually really cool and offer a different perspective than a campground. Most places can only take a few RV's at a time – sometimes only one. And there can be length restrictions and rules on kids and pets. Their website is great and gives you all of this information up front.
Our Experiences At HH
We have stayed in a brewery parking lot right next to large open field. It was perfect! It also happened to be right across the street from the semi truck repair shop that we had to take our rig to to get fixed. My parents have stayed at multiple wineries throughout the country and raved about how beautiful each of them were. There were a few that were a little off the beaten path so be sure to do your homework.
We had planned to stay at a Pumpkin Farm in South Carolina right before Halloween one year, but unfortunately a big rain storm came through and everything was pretty flooded so we opted not to risk it. If you do plan on visiting I recommend calling ahead of time to make sure it is OK with the owners – this can be as close as the day before or even on your way in if you have a back up plan.
You can learn more here: www.harvesthosts.com
Passport America
This isn't free camping, but definitely a way to do some cheap camping. Passport America can get you rates up to 50% off the normal cost of the campsite! They are located all over the country and each one has its own set of rules – so it can get a little frustrating.
I always like to check where the Passport America campgrounds are before we go because usually I am able to find one and a lot of the time they are in a great location. It is helpful that we travel in the offseason since some them are only good during certain months and in the middle of the week. Some you can use for a single night and some are unlimited. It is always important to read the fine print.
WWOOFing
I have looked into this, but we have never done it. However, I wanted to include it because I think it is a really great option! It stands for Worldwide Opportunities on Organic Farms, but is way more fun saying the acronym. You can learn more about it here: https://wwoofusa.org/
Workcamping
You've heard the expression "there's no such thing as a free lunch", right? Well, workamping isn't totally free since you have to work to get the site, BUT the site and amenities are free! We did a workamping gig last summer at a campground outside of Glacier National Park and it was a great fit for our family. The campground owners were fine with our kids being with us while we did our job – which included cleaning cabins, restrooms, and the grounds.
We worked 5 out of 7 days, but were done most days before 1pm so we still had plenty of time to explore. Not all workamping gigs are like this and some require you to work 40 hours a week. That would not have worked for our family. Some also pay, but then you may or may not pay for your site.
It is always worth it to talk to the owners over the phone – which they will probably want to do anyways to interview you – to get your questions answered and to make sure everyone is on the same page around expectations. If possible, it is good to talk with someone else who has workamped there to see what they thought about the experience too.
We have never used this site, but I have heard it was a good one: https://www.workamper.com/ . We found our gig through the Fulltime Families facebook group.
Conclusion
So there you have it! 10 ways to camp for free in the USA! Now here are some tips for a successful night of FREE RV boondocking (aka dry camping): http://www.crazyfamilyadventure.com/rv-boondocking-tips/
RV boondocking isn't always fun . . . not showering for multiple days in a row when you are staying somewhere hot can get stinky. You also may get tired of worrying about every drop of water you use. But overall it is a very fun experience and another way for your family to bond through a new experience or from being out in a location where there are no lights around the stars are shining bright above you.
There are travelers who make it a goal to camp for FREE as long as they can! We haven't been that brave yet. We would need a smaller rig (our current one is 39 feet long) so we can maneuver into more of the RV boondocking sites. Plus we would like to have solar and also a composting toilet (yes it is a thing!).
Great tips on Car Camping with your family. You can always check local state parks for spots as well. They aren't always free but can be lower cost compared to a campground resort.
These are the best ways we have found to find free camping in the United States. Free camping is great and can add a sense of adventure to your road trip! At some of these places you are able to tent camp too! Happy FREE camping!!
DISCLOSURE: This post may contain affiliate links, meaning I get a commission if you decide to make a purchase through my links, at no cost to you. Please read my disclosure for more info.