Ever considered making a lifestyle change to downsize substantially, live minimally, and travel as a full-time nomad? According to the Washington Post, over 1 million Americans have transitioned from the traditional sticks and bricks home to living in a camper. The American dream is no longer having the stability of owning a traditional home but has changed to living full-time in an RV, traveling the country, and working remotely.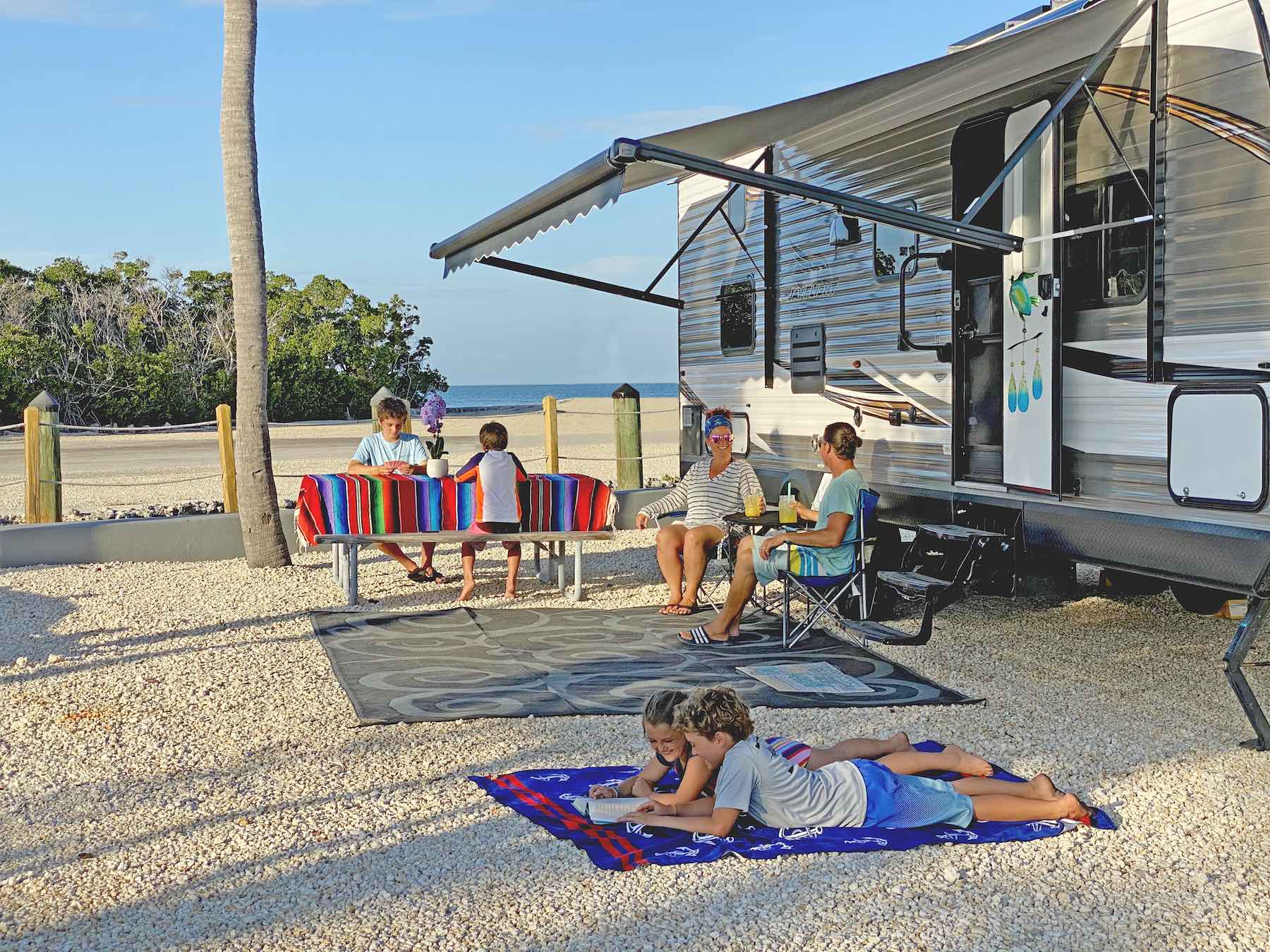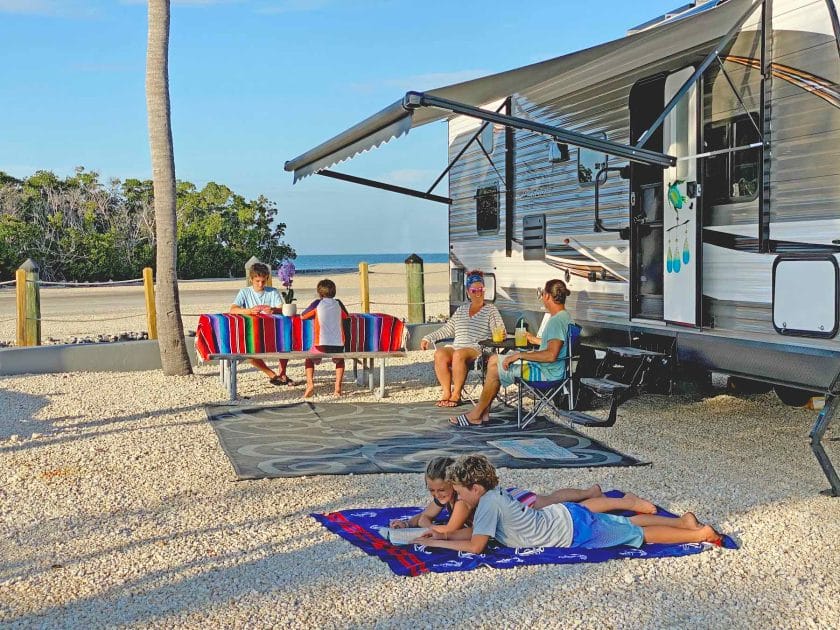 Below we bring you a post from Traci with Going With The Flow RV talking all about Living In An RV!
When my family decided to make the unforgettable lifestyle change, to sell our house and everything in it, move into our 5th wheel RV, and travel the country full-time, I had no idea how exciting our new RV lifestyle would be. We have been able to explore our favorite travel destinations, experience amazing travel adventures, and spend more quality time together as a family!
Living Comfortably In A Camper Is A Matter Of Perspective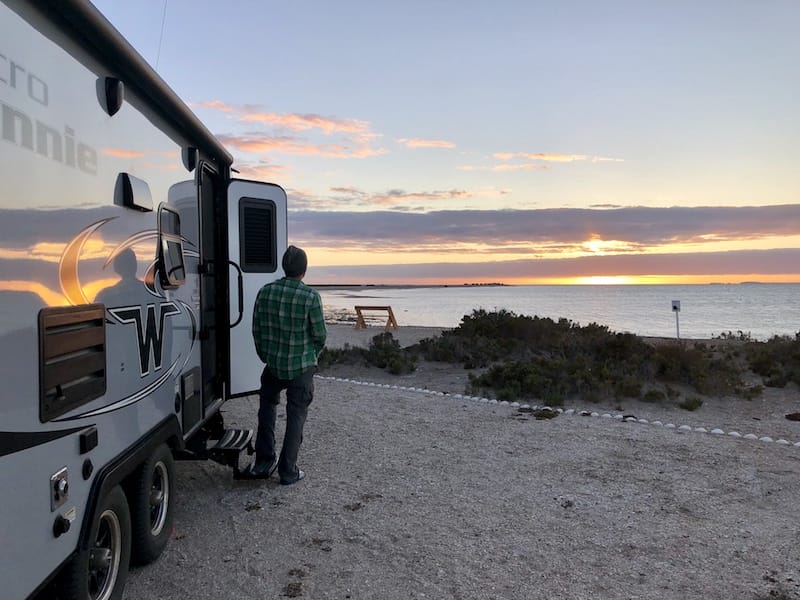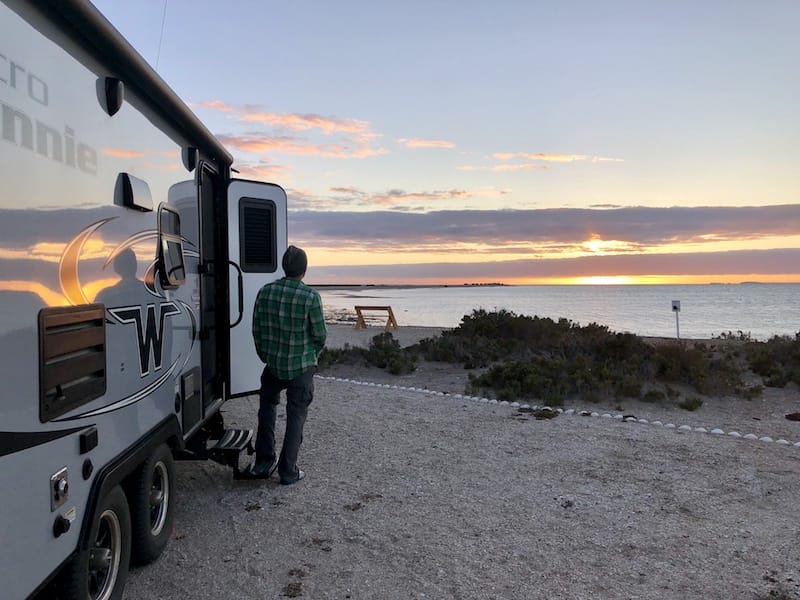 Living full-time RV life on the road has been the most amazing experience for my family. It has many benefits like saving money, paying off debt, and just having the freedom to travel when and where we want. However, living in such a small space can be challenging at times. We've had to learn how to be patient with one another, compromise at times, and know that communication is the key to a happy life!
Tips For Small Space Living
Everything should have an essential use or can be used for multiple purposes.
Learn how to stay organized, everything needs to have it's designated place.
Have a schedule for work time, playtime, family time, and alone time.
Family members should always share the chores, even if it means taking out the stinky trash.
Good communication is the key to a happy life, especially on travel days.
Respect each other's privacy and have boundaries.
Laugh often, even when things don't go according to plan.
Know that life is too short, so don't argue over who gets the bathroom first.
Understand that cooking in a small kitchen may sometimes take longer.
Make sure you find some good extras to have like a good camping table and outdoor chairs.
These tips have helped my family understand that even though our living space may be small, our life together can still be functional, comfortable, and most important – HAPPY!
Living On A Budget Doesn't Mean Giving Up The Extras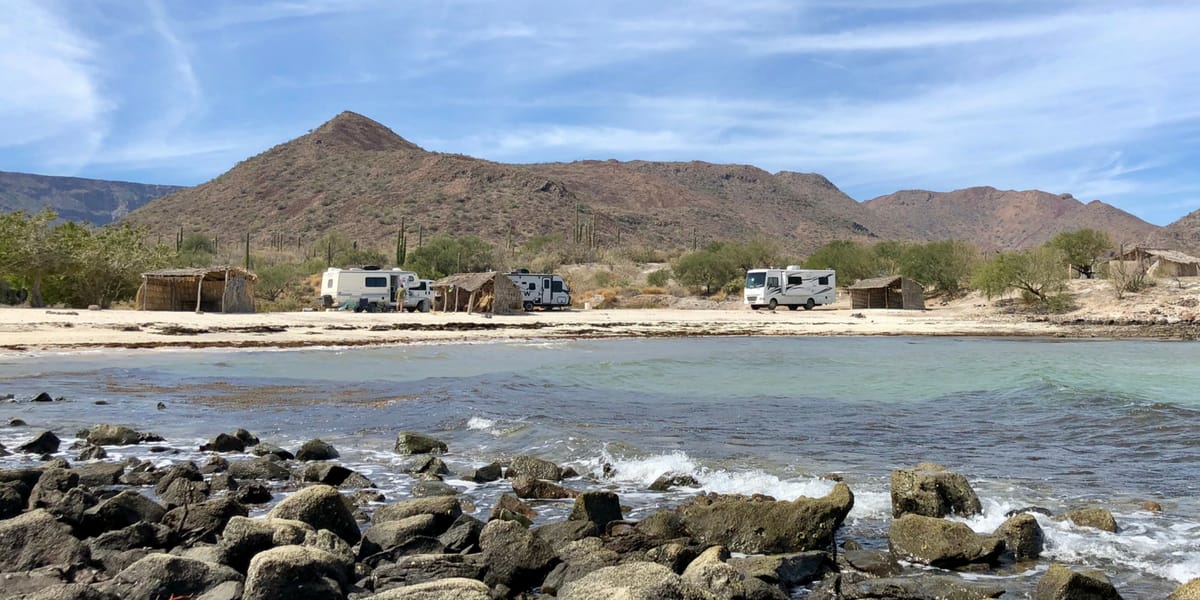 Many people choose to RV full time to save money and pay off debt, but that doesn't mean you have to give up the extra travel adventures. By making and living on a budget, you can live comfortably and still enjoy all that the RV life has to offer.
The RV lifestyle can be as expensive as you want or can be done living on a budget. Not all RVers are retired, or have a ton of money just sitting in the bank. Many families that I know still have full-time jobs, have kids that are in school, and are normal people living their everyday lives – just not always in one place.
Finding An Affordable RV Might Be The Perfect Home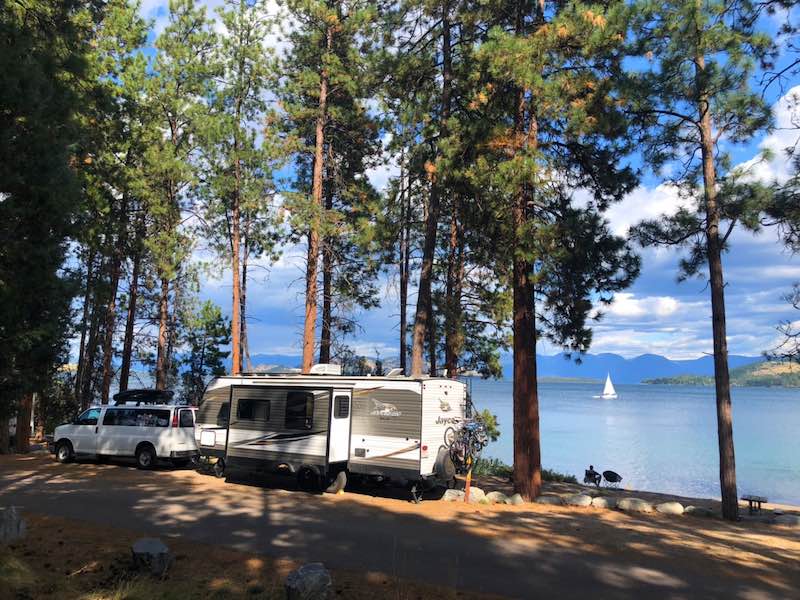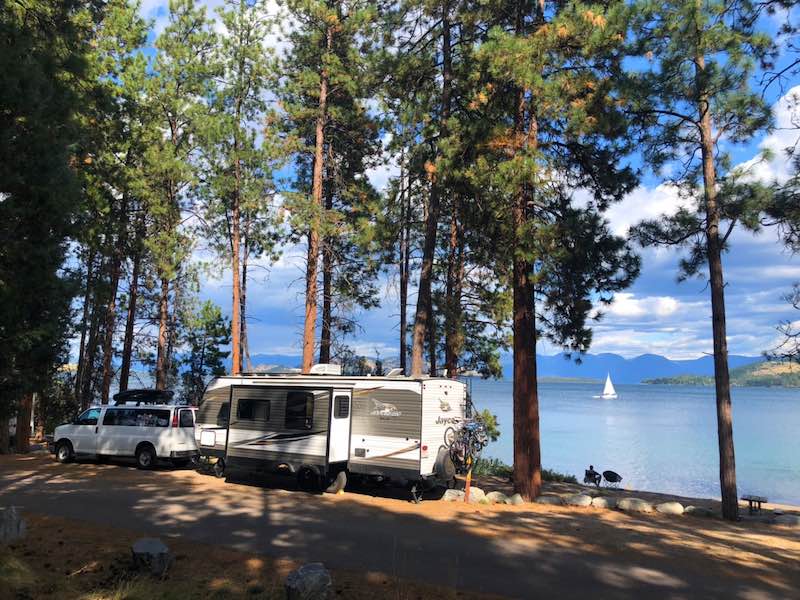 The first and probably the most important decision you will have to make when deciding to live full-time in a camper is shopping for the perfect home on wheels. Not only do you have to choose the type of camper (travel trailer, fifth wheel, class A, etc) but also the functionality.
Whether you want to live in a million-dollar, top of the line motorhome or a camper van with only 48 square feet of living space, spend time to consider how much you want to spend on your new RV. Often, with a little time and research, you can find an affordable second-hand camper that will be perfect for your families tiny house on wheels.
Investing In RV Memberships Can Save Money
Did you know that in the RVing community there are several RV memberships that can help save money on RV park and campground fees? Most of the time, these memberships allow RVers to stay in campgrounds at little to no cost, park your RV at businesses like wineries, distilleries, and museums, or even stay overnight on private property. These are a few RV memberships to consider:
Thousand Trails – Cost varies depending on the membership plan you choose.
Harvest Hosts – Membership allows RVers to stay overnight at over 1,400 businesses around the country.
Boondockers Welcome – Membership that allows RVers to boondock or dry camp on private property for free.
Passport America – RV club that allows camping in many popular campgrounds at 50% of the normal cost.
Escapees RV Club – RV club that has several benefits including mail service, campground savings, and RV roadside assistance.
Consider Staying In One Place Long Term
When you travel in an RV, you have several options when it comes to where you can stay and how long you can stay in one place. To help cut-cost, many full-time RVers choose to stay long term in campgrounds or mobile home parks. These parks typically have full hookups including electricity, water, and sewer, have amenities like tennis, shuffleboard, pickleball, and putt-putt golf, and are perfect for retirees, RVers who travel and work full-time, or families just wanting to stay in one area for a while.
Cooking In An RV Takes Longer So Be Patient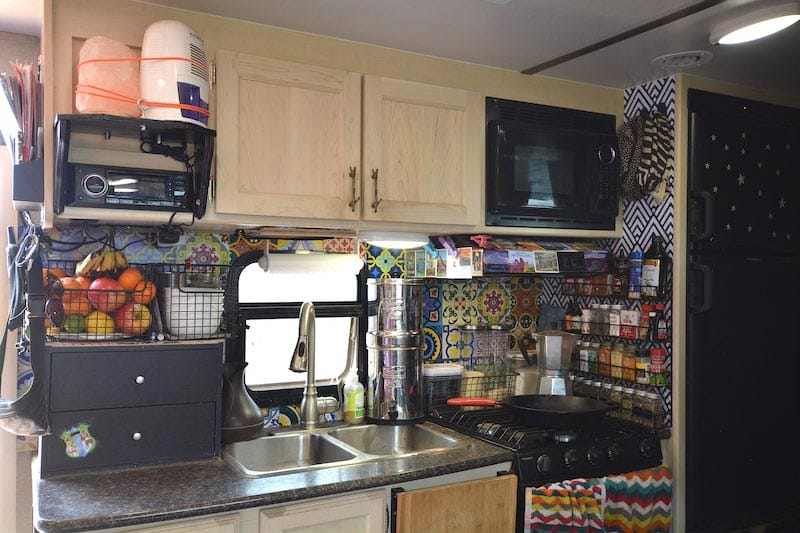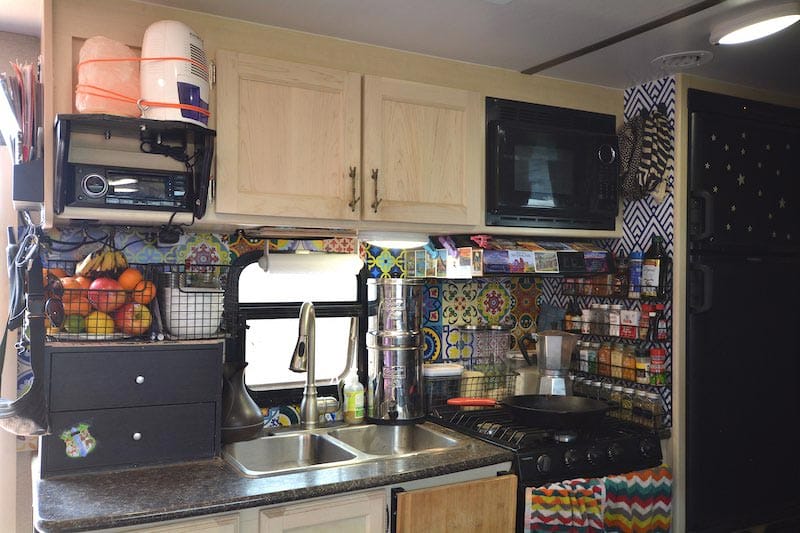 Have you ever been to summer camp and participated in the traditional "banging your utensils" on the table? This is the nightly ritual for my family! To save money and cut costs, we cook meals at home most of the time. However, the kitchen is small, there's not enough room to cook the whole meal at once, and it just takes longer!
I've learned to plan ahead for mealtime, prepare quick and easy meals, utilize the outdoor grill, and make mealtime a family activity. Everyone helps in the preparation, and is a time that the whole family enjoys!
Consider Working Remotely To Still Make A Living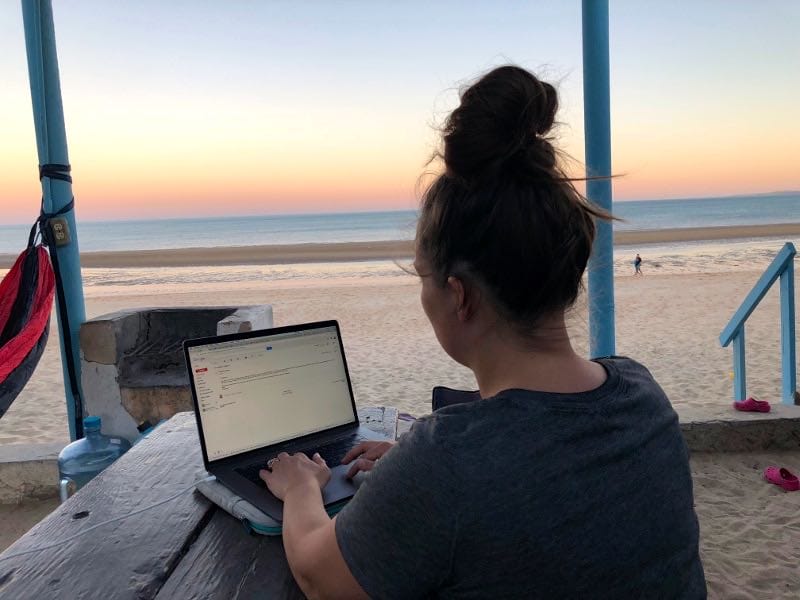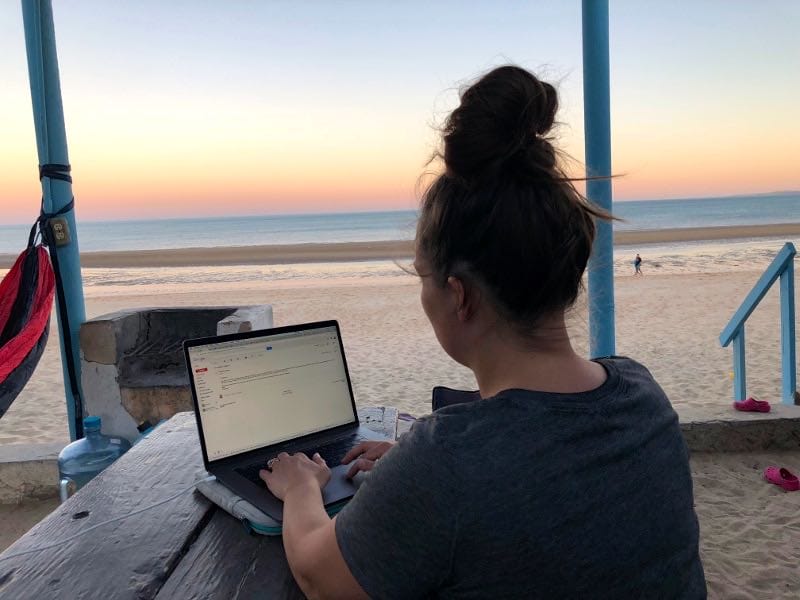 Many RVers choose to work remotely to support their full-time RV life. Some already have careers that allow for full-time travel like traveling nurses, engineers, IT computer technology, and much more. Others turn their travels into making money by creating content for YouTube, doing freelance work, or becoming virtual assistants. If you still need to work full-time, here are some popular options for finding remote work:
Living In A Camper Year Round Doesn't Mean You're Homeless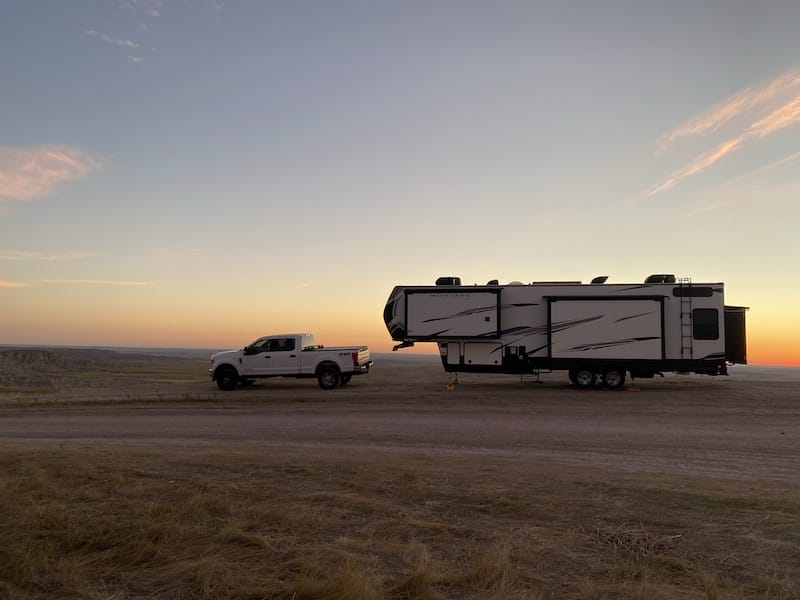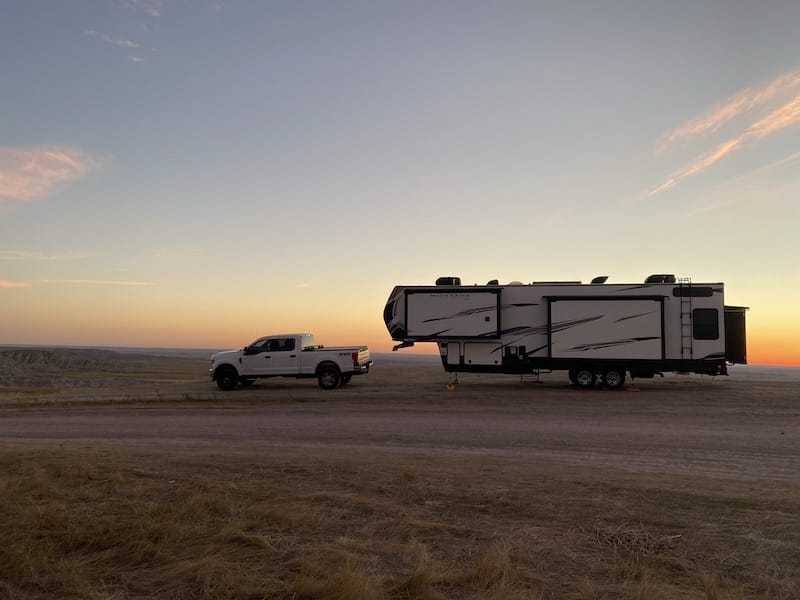 Contrary to society's standards, living in a camper doesn't mean you don't have a home. I can't help but laugh at the looks I get when I tell people that my family travels full-time in an RV. Sometimes they actually think we are homeless!
Society has told us all along that when you become an adult, you go to school, get a job, get married, have a family, buy that perfect house in the perfect neighborhood, and don't forget that white picket fence. I want to tell you that full-time RVers have all those things, just maybe not the fence.
Yes, you can live in a camper full-time and still have a home! The benefit of moving into an RV is that your home travels with you. Whatever town you decide to visit, your home is right there. You still get to sleep in your own bed, cook in your own kitchen, and get ready in the mornings in your own bathroom. The only difference in living in a camper is that you get to wake up every morning to a different view!
Living In A Camper Has Been The Best Decision
I never thought that becoming a full-time nomad would give me such an appreciation for our country's history, for all that it has to offer, and the educational experience my family would receive. We have been able to totally embrace the culture of each place we have visited, learn so much from the community, and experience nature like others only dream of.
We have had our challenges living and traveling as full-time RVers, but the memories that we have been able to make as a family has far outweighed those challenges. I hope that by sharing these lessons we have learned from living in a camper we will inspire you to take that first step toward your full-time RV life. It is possible to live full-time in a camper, travel when and where you choose, still have a home, and live the most rewarding life ever!
Now it's time to hit the road!
More posts on RV Travel from Crazy Family Adventure:
10 things we learned from 365 days of living and traveling in an RV
RV Living With Kids – What We've Learned After 2 Years
11 Things We Have Learned After 3 Years Of Full Time RV Living
Keystone Montana – 7 Owners Share What They Love About It
How We Afford Full Time Family Travel
Fun And Simple RV Remodel Ideas For Your 5th Wheel
29 RV Kitchen Accessories For The Best RV Kitchen
Pin This Post: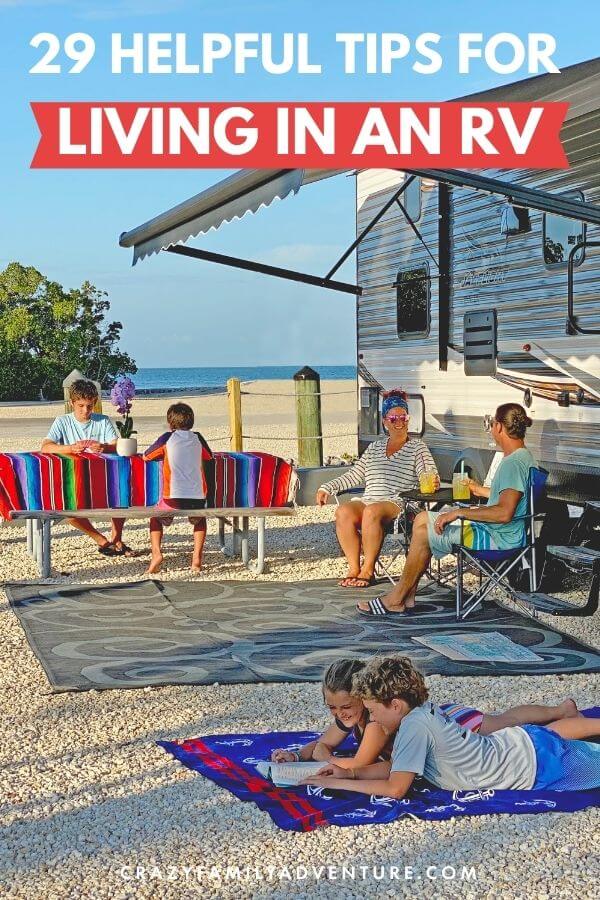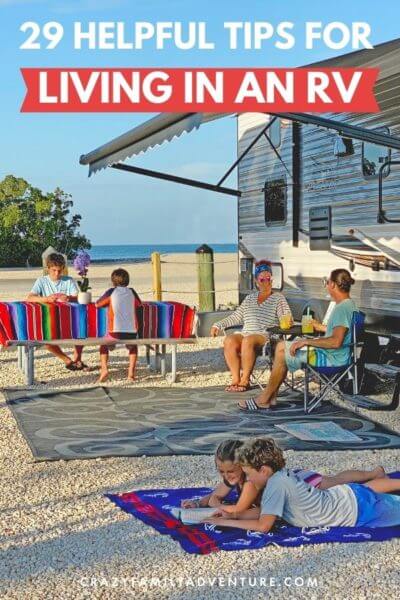 DISCLOSURE: This post may contain affiliate links, meaning I get a commission if you decide to make a purchase through my links, at no cost to you. Please read my disclosure for more info.