One of the biggest questions we get asked is how much does living in an RV full time cost? I know I want to know when we see other families living this life, so here you go. The post will be as transparent as possible in explaining how we are LEARNING to afford this lifestyle. Learning because I don't think we have it all figured out yet!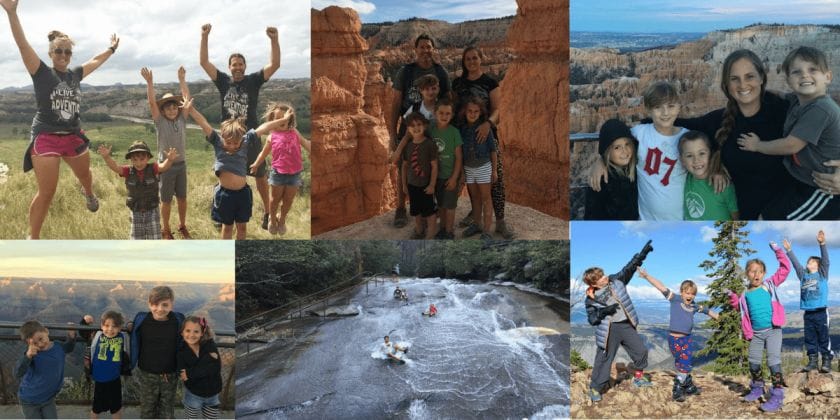 I would also add that there are a lot of different full time RV lifestyles. Are you looking at this lifestyle to save money, go on an ultimate road trip moving every few days, or do you just want to stay in RV parks for months at a time? All of these things do factor into how much full time RV living costs.
For us we always wanted to travel and travel a lot. We move every few days or after 1-2 weeks. And did not choose this lifestyle to save money. But did want the freedom of not having to work 60-80 hours a week.
First and foremost we lowered our burn rate. Your burn rate is the amount of money that you spend each month. We did this so we could have more freedom and travel more.
Our Bills for Full Time Family Travel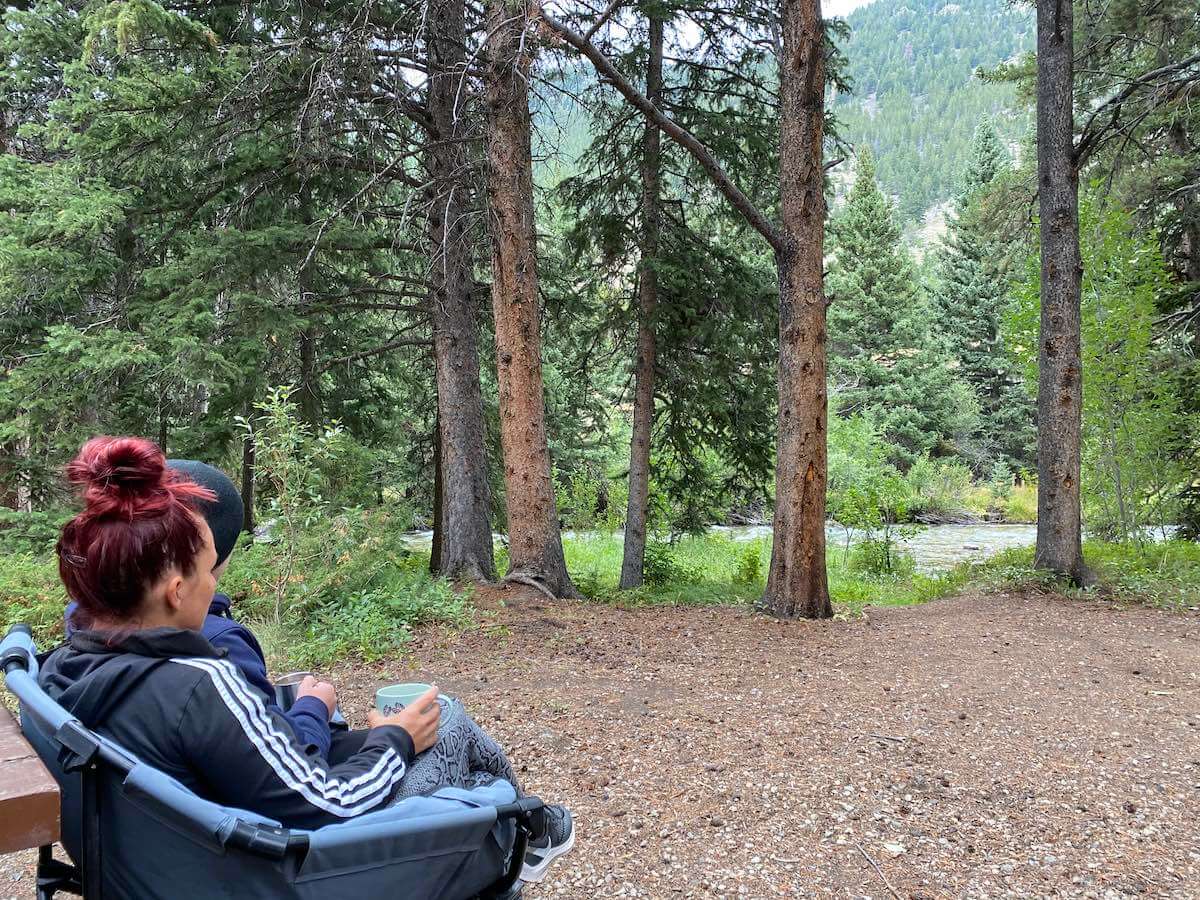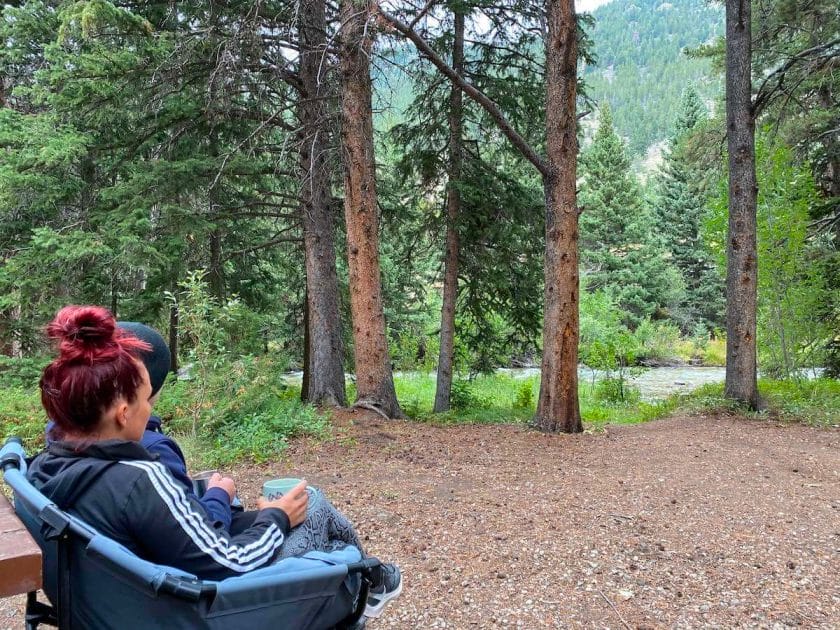 Here is a look at our set monthly bills:
RV payment: $533 a month
Car payment: $320 a month
Insurance: $170 a month:
(RV, car, and our stuff – since we don't have home owners insurance, we have a policy on the items in our RV since the RV insurance does not cover that).
My cell phone: $55 a month:
Through Straight Talk – with Verizon coverage – 10g data and unlimited talk and text. I had previously purchased a phone outright.
Craig's cell phone: $49 (he purchased a phone out right as well)
Internet: $70 a month
This is really low and one of the biggest challenges for families living on the road. The key is to keep an eye out for new unlimited plans that pop up.
These have proven to not last very long, but you never know. In reality, you should expect to pay closer to $200 a month for internet. It all depends on your needs though.
Kids stock: $50 a month
We invest $50 each month and rotate which kid gets it. No, $150 a year isn't much for each kid, but it is something.
Hulu: $12 a month
Yup, we got it. Yup, we pay for the non-commericial version. It's great to be able to watch the Bachelor without commercials 🙂
Life Insurance: $64 a month
This is for Craig and I.
Thousand Trails Membership: $50 a month
We bought a used membership to the Thousand Trails system. This is basically a campground timeshare. The membership costed $3,000 which is fully paid for, but we have to pay $550 as a yearly fee. The membership allows us to stay for free at any Thousand Trails campground.
We can stay for 2 weeks at a time, then we have to go to another Thousand Trails campground. If we wanted we could camp all year for free if we always stayed at a Thousand Trails campground. We don't do that, but this really helps offset higher costing campgrounds we stay at.
Health Insurance: $178 a month
This is through the Marketplace. We get a subsidy from the state we are residents of – Wisconsin. Yes this is low.
But we don't make much money and we have 6 people so we get a really good subsidy. We are nervous what is going to happen in the coming years . . .
This comes out to $1,561 a month for our bills.
Living Expenses for Full Time Family Travel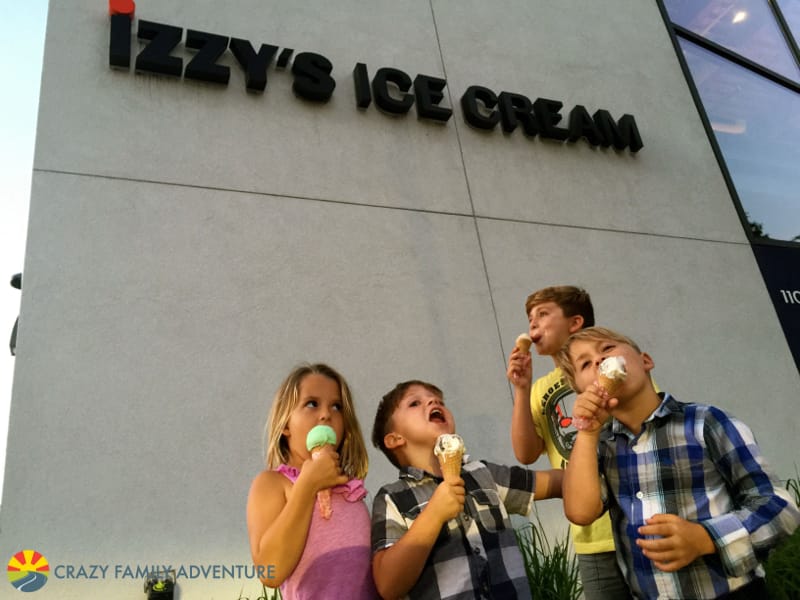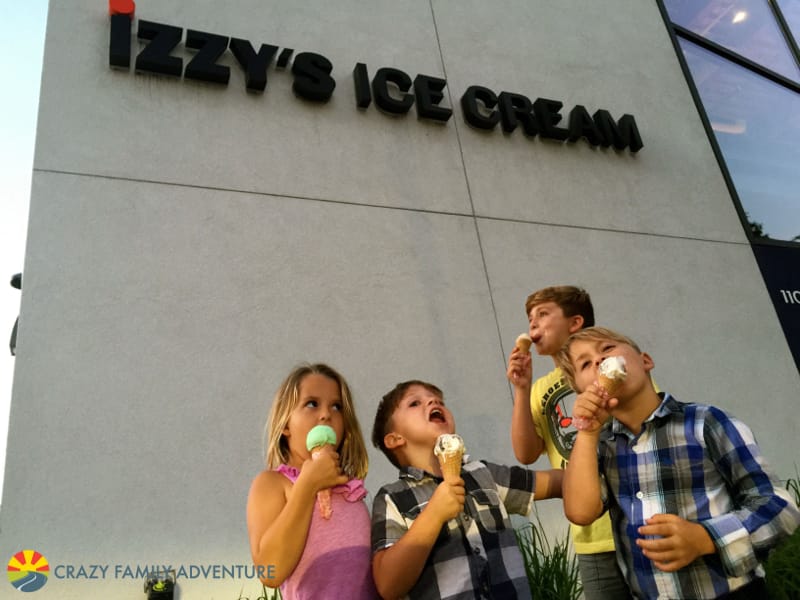 Next comes living expenses. Things like food, gas, paying for our campsites, and spending money. These costs really vary and is part of what we are trying to work on.
That said, these numbers are not 100% accurate since they change from month to month. But this is what we aim for.
Groceries: $1000 – $1200 a month
We would like this more in the $800 range, we are working on it. Here's some more info on what we do for groceries and meal planning.
Gas for the car: $150 a month
To be honest I have no idea how accurate this is. And it all depends on the activities that we do in that month and how far we have to drive.
Campgrounds: Free to $2,100 a month
We want to aim for $600 a month. Yes, there's quite a difference between $0 and $2,100. We chose a couple of locations this year that were out of our budget range, but we splurged. So, yes, if we are really trying, we want it to be around $600 which we have done some months and other months, we have been way over.
Spending: $500 – $1000 a month
Again totally varies and we are trying to work at keeping it at $500 for a month. Spending money would be what we spend on doing activities, going out to eat, and any other money we just spend here or there.
Extras:
RV Gas: $300 or more a month
It depends on where we are traveling.
RV Maintenance and repairs: ??
Who knows! An oil change is a couple hundred but it all depends on how far we drive how often we need one. And who knows when something is going to need to be fixed with the RV.
So it is really hard to plan for. We basically figured our savings would have to cover it.
Living expenses comes out to $2500 – ? per month
Adding both together, it comes to about $4200 a month
As you can tell this does not include savings or retirement planning and also does not leave a lot of room for error. We have decided to change our lifestyle so we work less, need less, and live more on the edge. Where we have to be comfortable with the unknown.
There are other full time travelers who make a lot more money and spend a lot more money. So please don't think this is the only way this lifestyle works.
There are also other families who have learned to live on even less than us. We are striving for that still. Ideally we would love to get rid of our RV payment and car payment and may do that by downsizing.
Also we both have 401K's from previous employments. Should we still be saving for retirement? Yes. Is that a priority, not so much when we are kind of living our retirement now :)!
But we do want to add in retirement planning again as soon as we can.
No, we aren't actively adding to our savings. Would that make some people uncomfortable? Yes. Does it make us uncomfortable, not really.
We are living for the moment and putting our money into that. Would we like to save? Yes. Will we in the future – I am sure we will.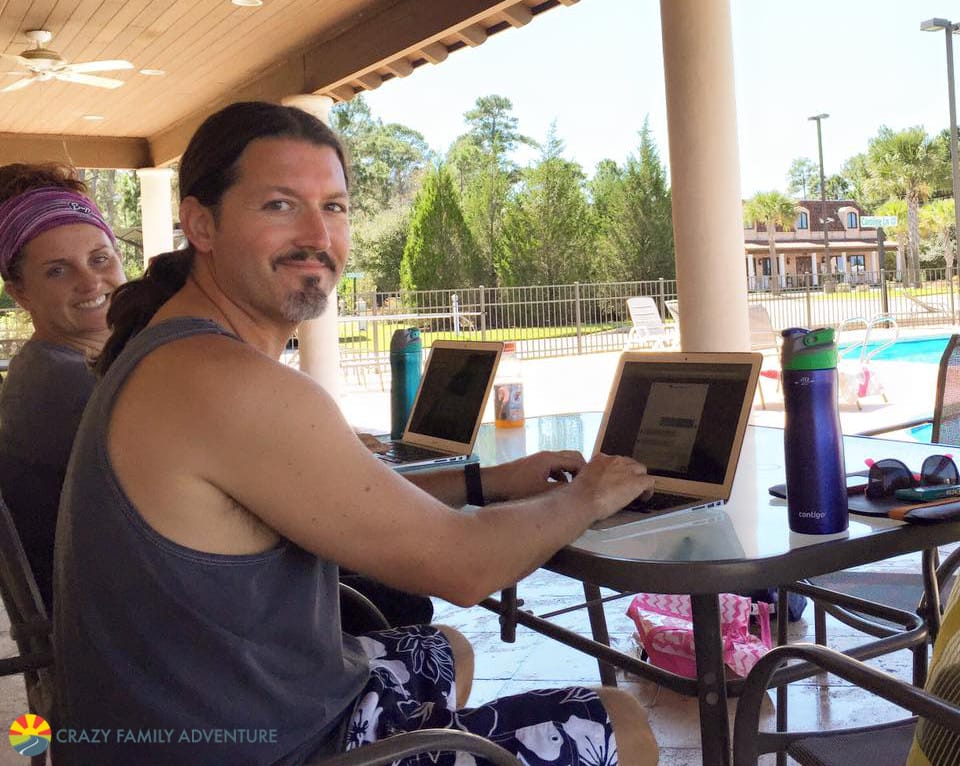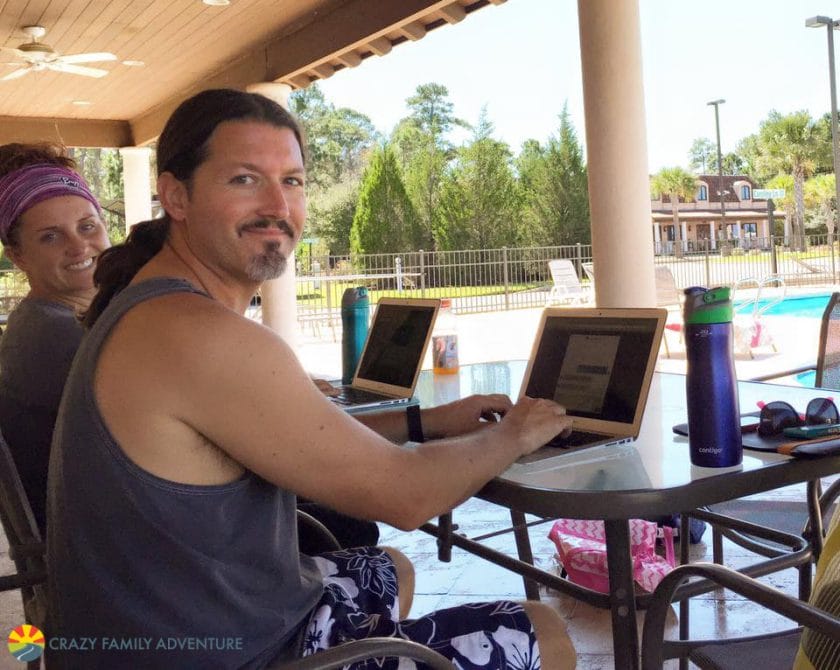 So how do we make $4200 a month while living on the road?
It has been an interesting process and started with Craig taking his full time job and working it out with his boss to be able to work remote 40 hours a week. We quickly realized we didn't like him having to work 9 to 5 so we decided to start our own business so that we could work when we wanted and as much as we wanted.
Our Virtual Business
In September 2014 I started my Virtual Assistant business Virtual Powerhouse. Since then I have been able to grow my business so that Craig was able to put his notice in at his job at UW Parkside and in July 2015 we became full time entrepreneurs. Craig has now joined the team and does website and SEO work and also some consulting for his old job at around 5 hours or so a week.
I know from our blog and social media posts it may not look like we are always out having fun – and a lot of the time we are. But there are also nights when the kids go to sleep that Craig and I stay up until 2am working. Or when internet is bad – like when we were in Yellowstone I was up until 5am because that was when the internet worked.
We have started a plan of me working all day on Mondays – trying to get in a good 12 hours if possible and then Craig doing the same thing on Tuesday. Then throughout the week we fill in time where it is needed. Our goal is for both of us to work 20 hours a week. At this point we are pretty close to that!
Through the business we are able to bring in around $4000 – $5000 a month pretty much split down the middle with me bringing in $2000 – $2500 and Craig doing the same. If we wanted more we would just have to work more – but we don't want to!!
2020 Update: Craig no longer does website design and instead we made the switch for me to focus on Pinterest support for small businesses. I have since built the team to 8 independent contractors that help me support 45+ clients. With this business I am able to bring in between $4000 – $6000 a month (after expenses, taxes and paying everyone).
Taxes – aren't much since we have 4 kids and don't make that much!
Anyone who is an entrepreneur knows this lifestyle is filled with ups and downs and lots of uncertainty. I would be lying if I didn't say it has been hard and continues to be hard. I am constantly having to push myself out of my comfort zone and have had to adjust from the role of Stay at Home Mom to the role of business owner and partly responsible for our income to live!
Blog
Our travel blog. Like I mentioned we want to be making more money with our blog, but at this point we are focusing on growing it and looking for those opportunities as they arise. In the mean time what the blog does is give us is a lot of really cool opportunities to do experiences in exchange for us posting on social media and doing blog posts and videos about them.
This has been huge in allowing us to do everything we do and still have enough money to live each month. I will not say we get these opportunities for free, because we don't. Running a blog is a lot of work.
Before starting this I never realized the amount of time and effort that goes into taking pictures, taking video, writing content, completing a blog post and posting on social media. But we also love being able to share everything we do with hopes of encouraging others to get out and travel more with their families!
There are also other activities where we get a discount, but we still have to pay. Or some we choose to pay for because we weren't able to set up another option with the location or we just want a break from the pressure of having to document it all!
If you are interested in starting your own blog check out our post on How To Start A Blog.
2020 UPDATE: We are now usually making over $5000 a month from our blog. Sometimes it can be less somethings it can be double or more!
Savings
Before we hit the road we had about $25,000 in our savings account. Going through all of this transition has seen that number fluctuate up and down. Ideally we would like to stay above $20,000 but have gotten down as low as $15,000.
In summary:
We lowered our burn rate and rarely go to Target or spend "extra" money. Our kids aren't in activities, I don't get my nails done or belong to a gym, Craig doesn't golf regularly, we have limited clothes and shoes and we rarely go out to eat (and when we do Craig and I and the kids split meals). Each and every day we are trying to figure out how we can cut back even more.
We work and work hard for what we are earning and are constantly pushing our comfort zone and looking for other opportunities.
Our blog helps to allow us to do a lot of really cool activities. Which is awesome since then we can share with our followers the activities we truly think are the best and are the ones we would have paid for.
We have to be able to live with the uncertainty of how much money we will need that month and where all of it will come from. Anyone who is an entrepreneur understands that. And we are quickly learning that is a whole different lifestyle and way of thinking!
Our goal is to keep growing my Virtual Powerhouse business and to keep growing our blog all while maintaining the 20 hour a week work week for both of us. Ideally we would love that to be even lower!
Total expenses: Approximately $4,200 a month
Total income: Between $4,000 – $5,000 a month
Post on what we spent in a month: Full Time Family Travel Budget October 2016
Ideally we would like to be down to less than $4,000 a month for total expenses but have been feeling more and more like realistically we could live on $5000 and still go out to eat and do more of the things we want to do.
I hope this helps explain how we are able to make living full time in an RV work for our family. AGAIN there are multiple ways that this can work for full time RVers, but this is what we have made work for us. Fulltime Families is a great resource for looking at some budget charts of other families on the road to see how they make it work.
Learn more about Health Insurance for RVers here. Check out our friends, Follow Your Detour's post on the Cost Of Full-Time RVing. Fulltime Families also has a post on the Cost of RV Living and one on RVing taxes. So many great resources out there!
If you are interested in learning how to start your own online business be sure to check out our course page: How To Start A Virtual Business So You Can Travel Full Time.
Learn more on RV living here.
And if you are ready to start your own blog check out our post on How To Start Your Own Blog!
Want to learn more about buying an RV. When you live in it you do spend a good amount of time in an RV so you want to get the right one! We have been in a class A, class C, travel trailer and a 5th wheel. You can check out our post here to learn more about our experiences:
Everything You Need To Know To Pick An Awesome Family RV
What do you think? Are you ready to leave the real world and become a full timer?!
If you want to stay informed on what we are doing in our Crazy Family Adventure please sign up for our newsletter:
Follow us on social media for daily updates!
Facebook, Instagram, Twitter, Pinterest and YouTube
More great posts:
40+ Helpful Tips For Planning An RV Trip
7 Things We Love About Full Time RVing
7 Things We Hate About Full-Time Family Travel
How To Make A Successful Income While Full Time RVing
10 Helpful Tips For Making Friends While Living Fulltime In An RV
29 RV Kitchen Accessories For The Best RV Kitchen
DISCLOSURE: This post may contain affiliate links, meaning I get a commission if you decide to make a purchase through my links, at no cost to you. Please read my disclosure for more info.