There are so many fun things to do in Key West it can be hard to decide what to do! We have visited multiple times and have put together a list of our recommended attractions, activities, beaches, restaurants, and places to stay when you visit. They are great things to do in Key West with kids or without!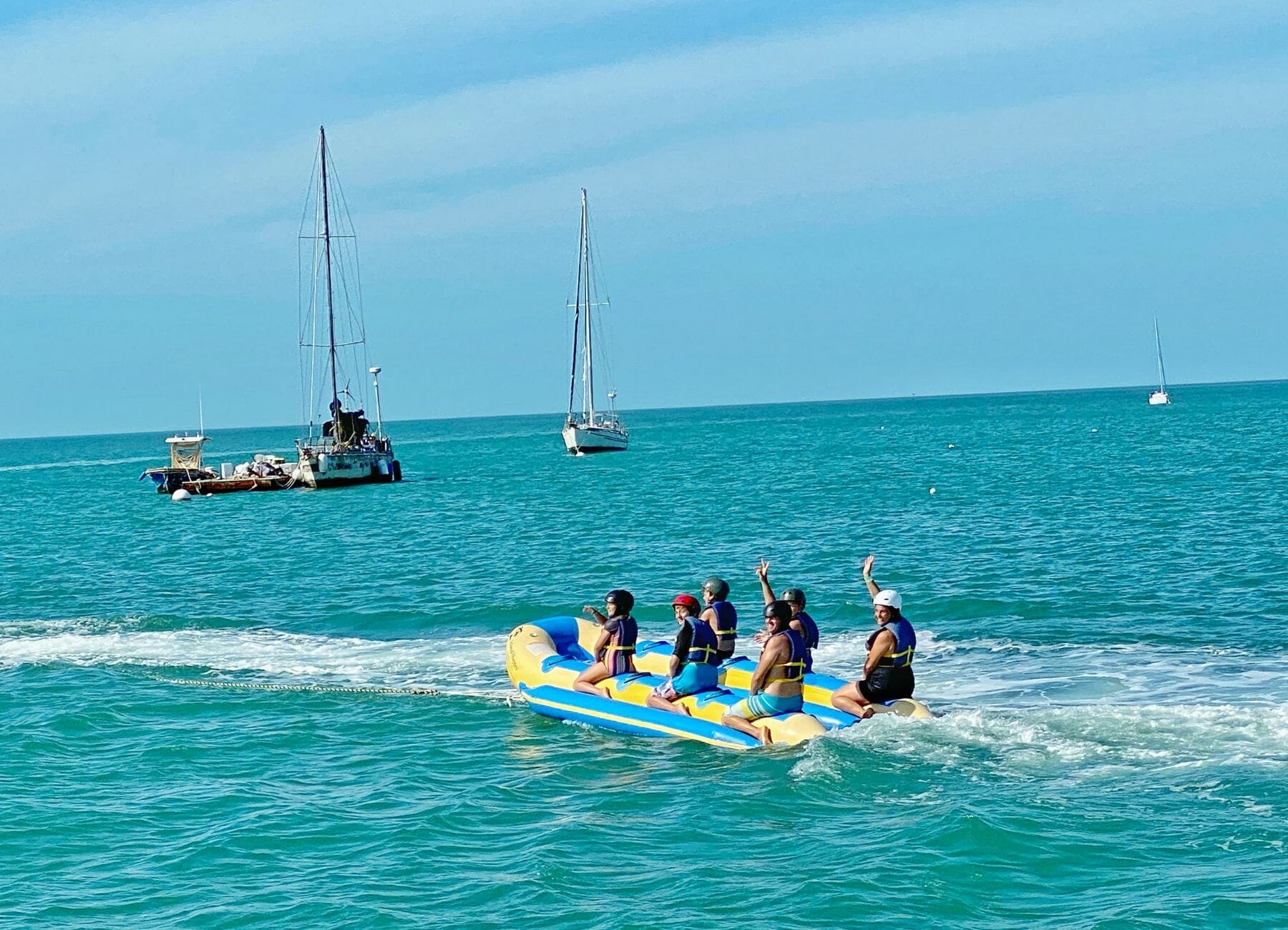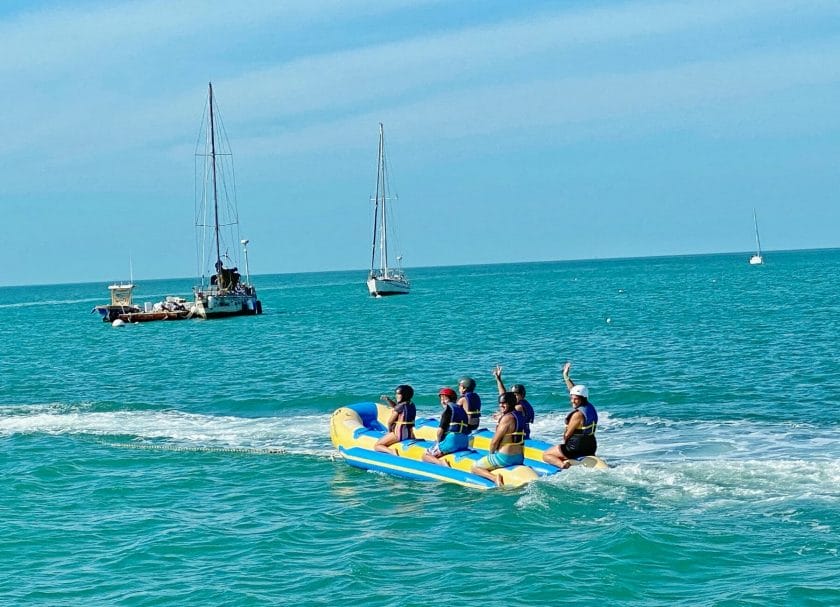 Key West Highlights:
Key West Excursions
Fury Ultimate Adventure
Fury Ultimate Adventure is my number 1 recommendation for anyone going to Key West. It is an awesome day and you get to do so many activities it is well worth planning 6 hours of your time in Key West to head out on the ocean!
If you are into water sports this is a must for any family that takes a trip to Key West! You get on a large catamaran and go out on the water for 6 hours. During this time you will snorkel, parasail (6 and older), jet ski, and play in the ocean on big inflatable structures.
Plus you eat breakfast and lunch with all-you-can-drink sodas (alcoholic beverages too after you are done jet skiing). We had such a great time and did not want the day to end!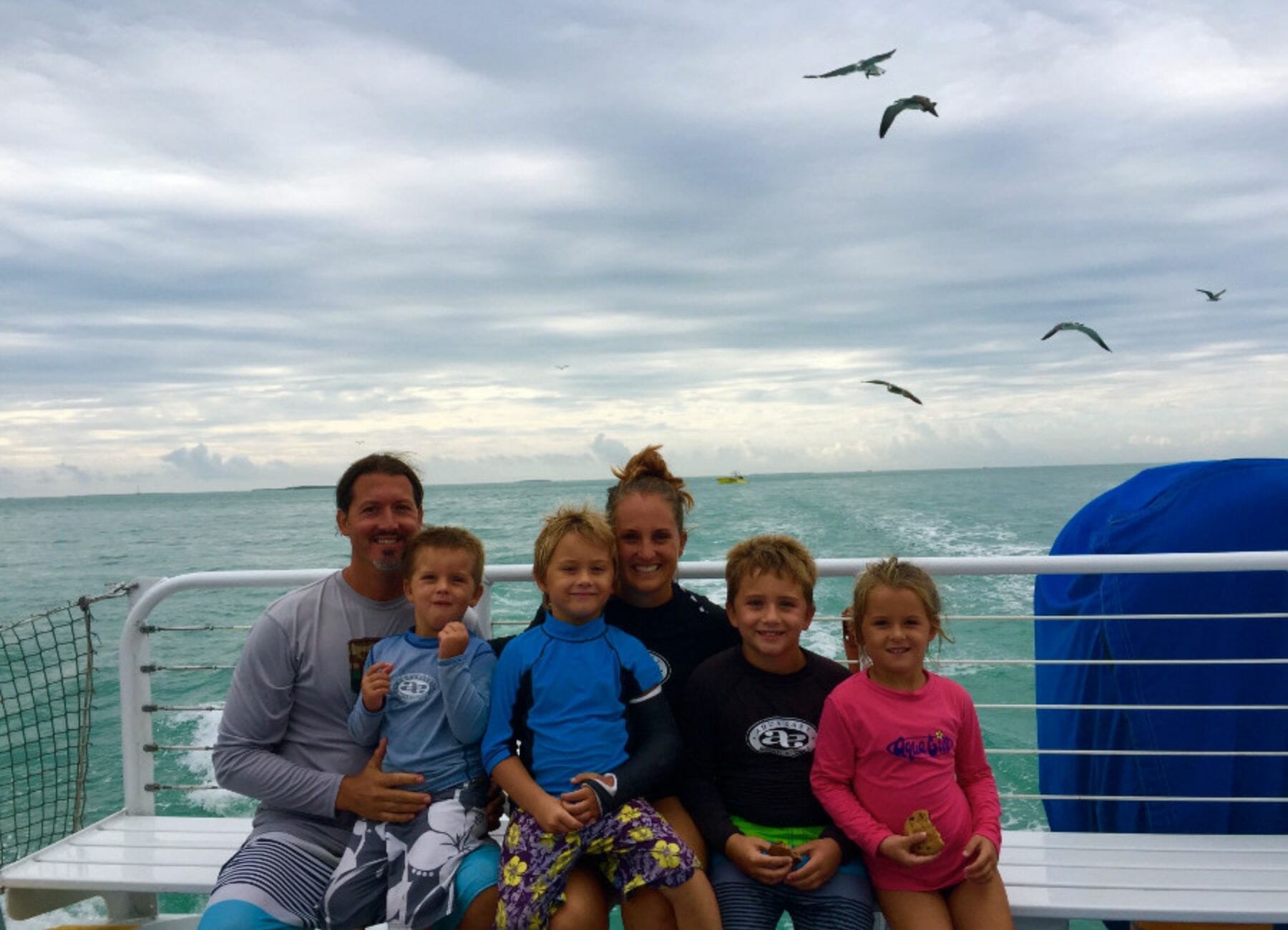 You can read more about our day trips on the Fury Ultimate Adventure here.
Do It All Adventure
This is a similar tour to Fury just run by a different company: Sunset Watersports. You are on the water for 6 hours with 12 unlimited activities including kayaks, paddleboards, snorkeling, jet skis, floatables, water trampolines, banana boat rides, kneeboarding, skiing, and windsurfing. Plus you get lunch, soda, water, and beer after activities are complete.
You can learn more about it and buy tickets for it here.
If you are interested in just the parasailing you can book that here.
For more water sports ideas check out our post: The 4 Best Water Activities in Key West With Kids
Snorkeling
When in the Keys you want to be sure to get out to do some snorkeling. You can snorkel along North America's only living coral reef. And a big part of the fun is going out in a catamaran to the reef! Being on the water in the Keys is a must!!
If you are interested in snorkeling in with a choice of morning or afternoon be sure to check out this 3-hour snorkeling tour.
Key West Sunset Tour on a Schooner
Another great way to get on the water is to go on a Schooner to catch the sunset. And even better you can drink champagne while you take in the beauty around you.
Barefoot Billy's Jet Skiing
I caution you that this is a wild ride so if you or your kids aren't up for it then don't do it. But if you have a thrill-seeking bunch that wants to go 40MPH on a Jet Ski then go for it!
When we went I had one kid in front of me and one behind. And had never ridden a jet ski before . . . I have to say the staff was amazing and made sure that we didn't lose the pack and gave me some tips and encouraging words so that I could keep up with the bunch – which we did.
Besides the ride itself, it was also fun to see Key West from the water. Plus the tour takes you on a route where you are in the Gulf of Mexico and then over to the Atlantic Ocean!
But again for everyone's sake (you go out with a group of about 10 jet skis) if your kids is going to cry the whole time or if you just aren't really the jet skiing type this may not be the right choice for you and your family.
Book your Jet Skiing adventure now!
Key West Island Adventure Eco Tour
Take an Island Eco Adventure on a catamaran with snacks, snorkeling, and kayaking!! Each trip is different and is run by a local to give you an intimate look into the Keys. Anytime you can get on the water in the Keys – do it. It has such beautiful colored water and there is so much sea-life to see.
Dry Tortugas National Park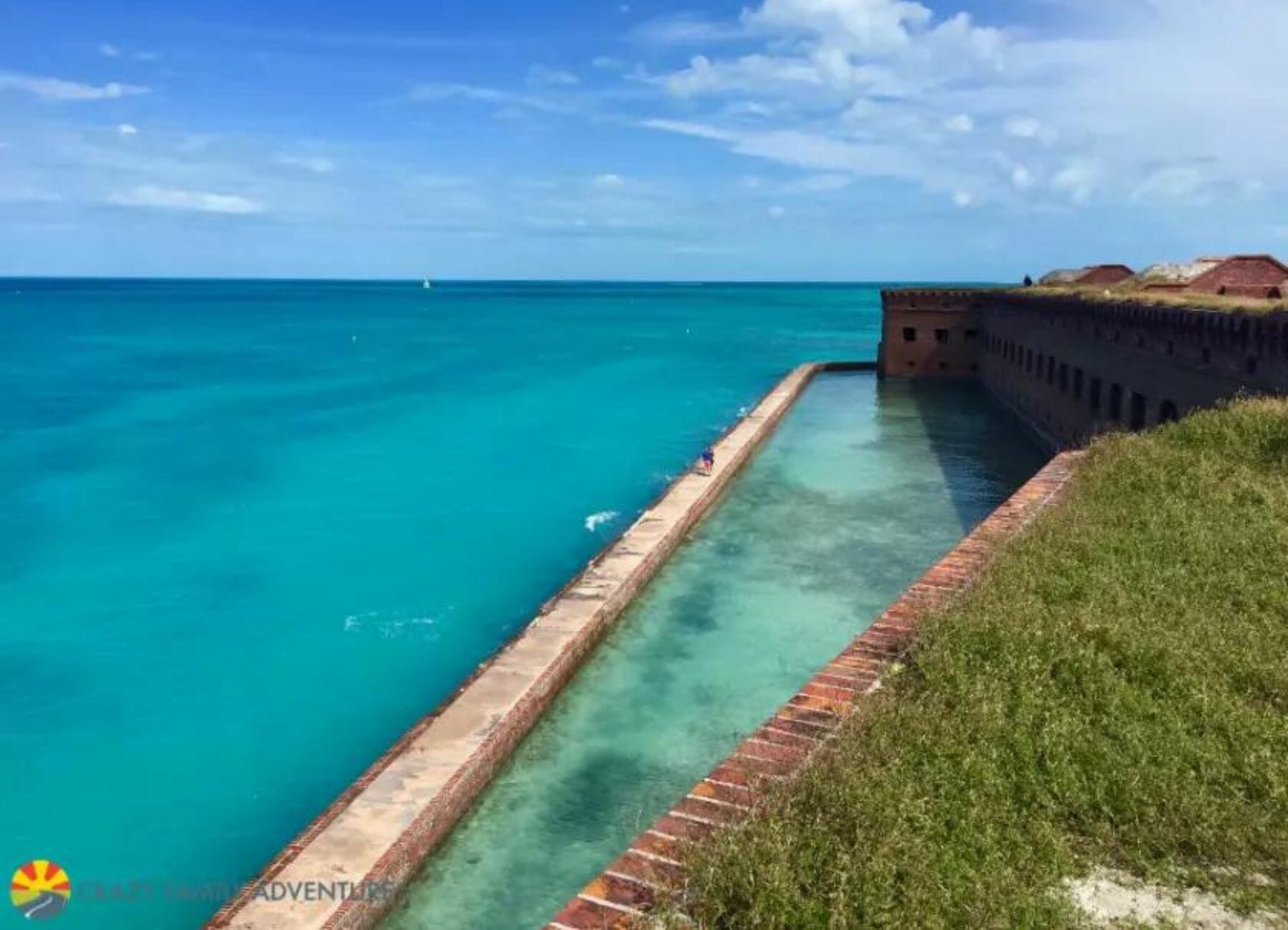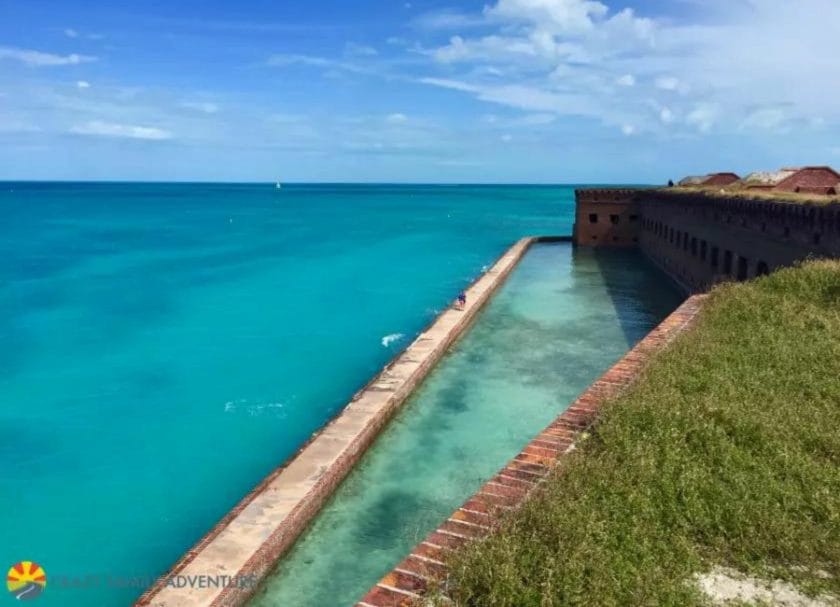 If you have a full day available book a ferry out to the Dry Tortugas! It is a pretty bumpy 2-hour ride 70 miles out to get to the island but it is well worth it. Just be prepared with Dramamine.
Once on the island, you can explore Fort Jefferson search for conch shells, and just enjoy the beauty of this tiny island out in the middle of the ocean. I would argue to say it is one of the most beautiful places in the United States. Yes, it is that amazing.
We would also love to go back to camp on the island for 2 or 3 nights. We have friends that did this and it sounded amazing!
You can check out our full post on the Dry Tortugas National Park to learn more about it.
Danger Charters
Sail away for a 4.5 hour morning or sunset excursion with Danger Charters. Includes sailing, kayaking through Key West backcountry and snorkeling the crystal clear waters of Key West. Drinks and Light healthy snacks are included.
Key West Attractions
Key West Aquarium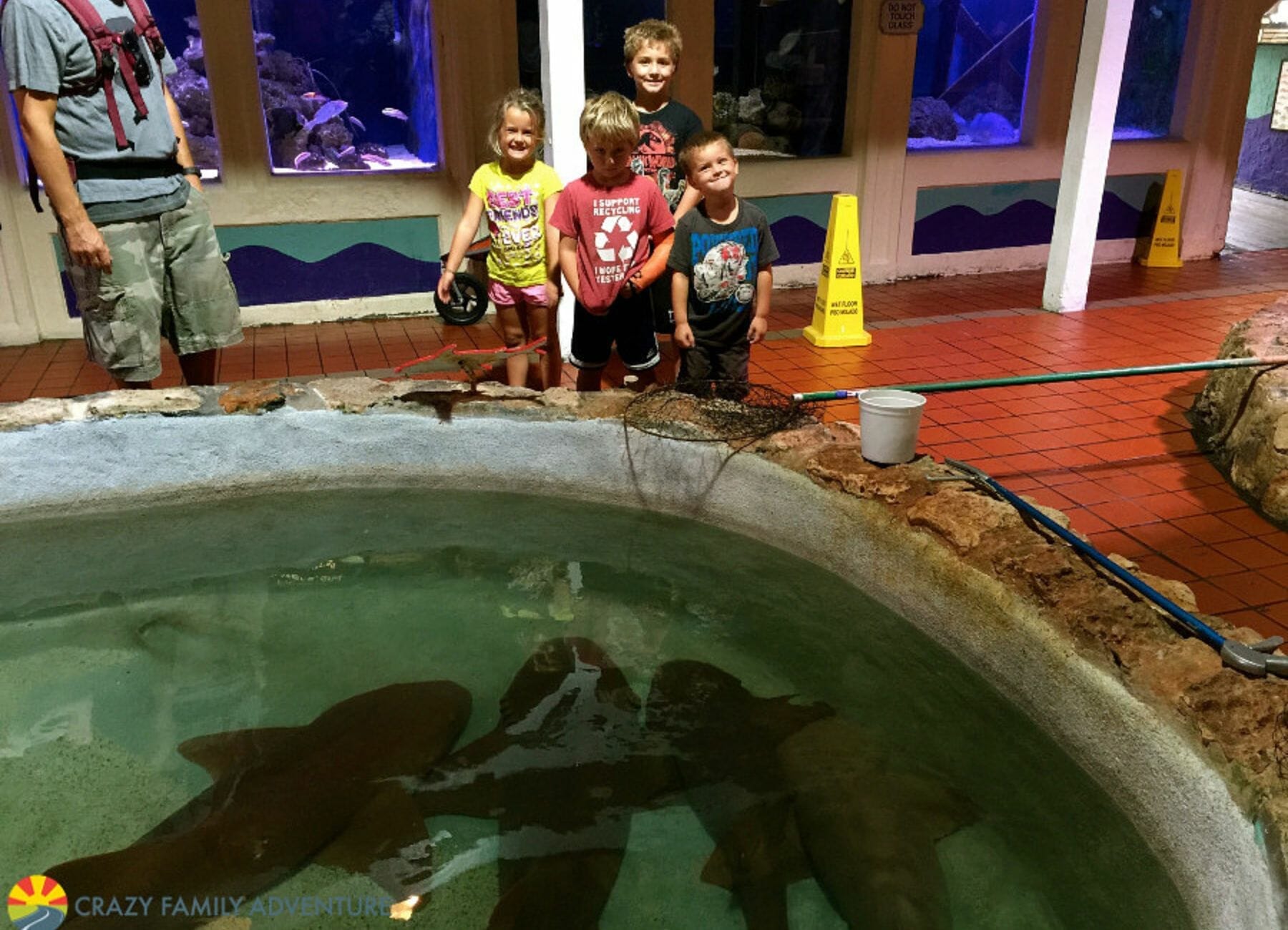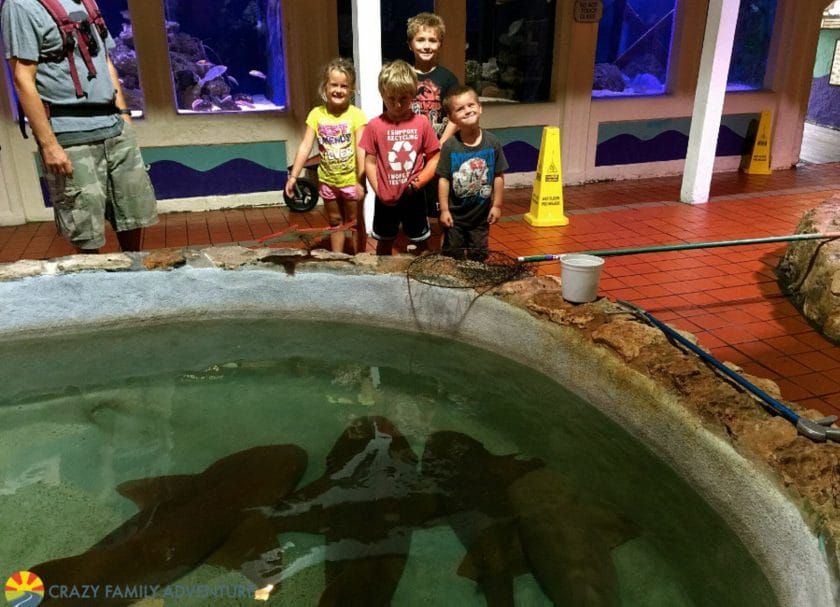 The Key West Aquarium isn't huge, but in true Key West style, you can get up and close and personal with sharks. Yup, they have an open shark tank that you can literally fall into. Plus, you can feed the sharks!
They also have a couple of touch tanks and do lots of shows throughout the day so make sure to grab a schedule so you can catch the shows that interest you. We recommend feeding the sharks and also watching them feed the big sharks in the outside tank.
If you check out multiple shows while you are there you can easily spend an afternoon checking out the fish, experiencing the multiple fish tanks, and watching the shows.
Book Your Tickets For The Aquarium Here
Check out our video of our time at the Key West Aquarium!
Conch Train Tour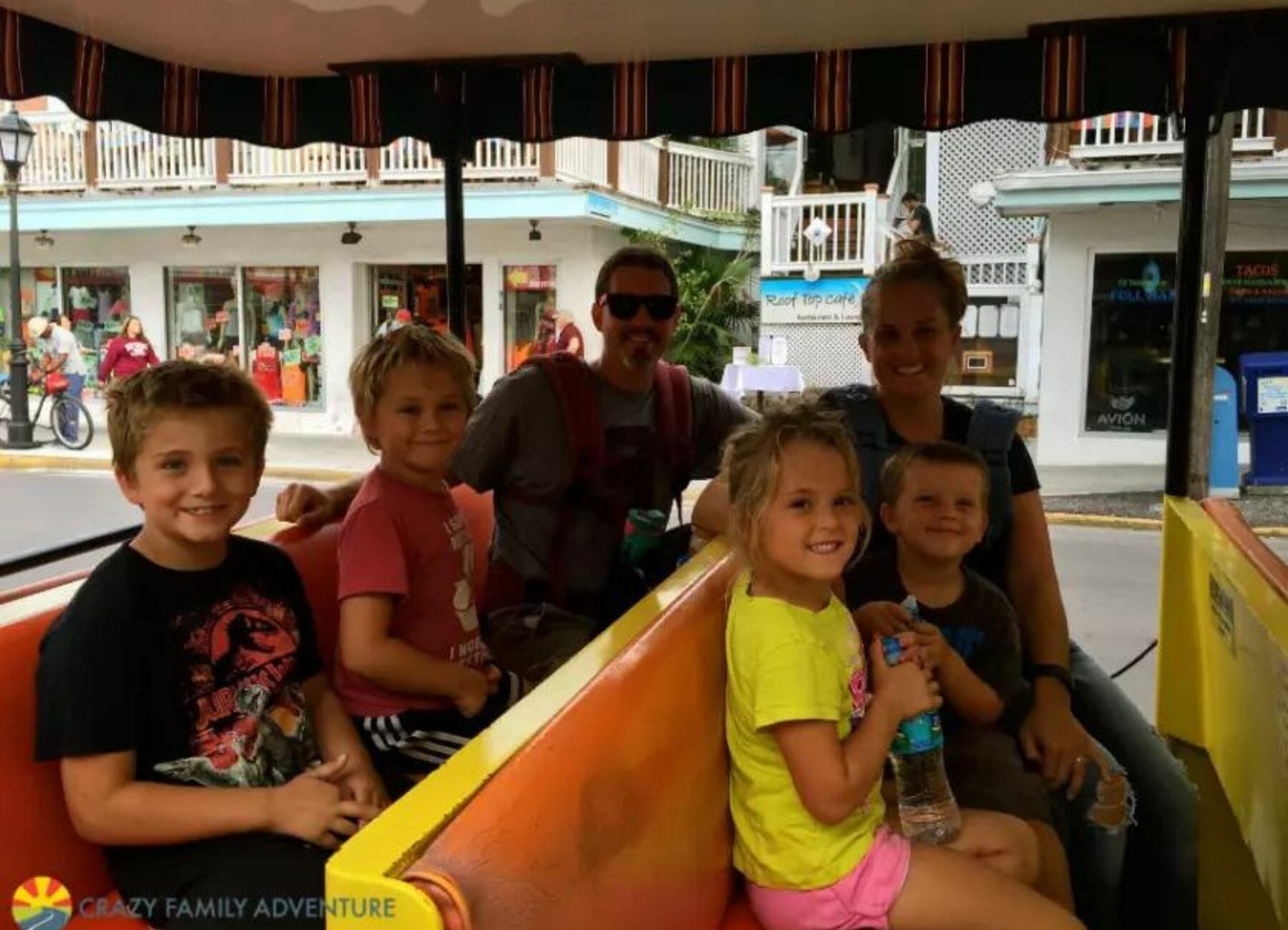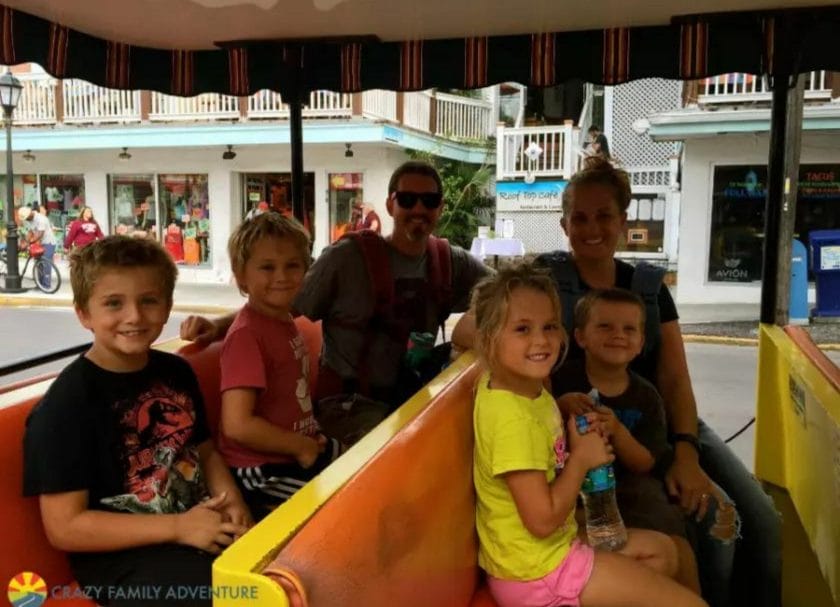 The Conch Tour Train takes you all around Old Town Key West. If your kids are like ours, they see a "train" and want to get on. It is a nice ride and it is cool to see other parts of Key West that you normally may not know about or wouldn't see if you were just on your own driving through or walking around.
The guides also do a great job of throwing in some humor and giving you a good history lesson of the area. Ours did an uncanny imitation of Joe Pesci!
The first portion of the ride is 45 minutes long so if your kids have a hard time sitting still be sure to have a snack or something for them to do.
Click here to book your tickets for the Conch Train!
Old Town Trolley Tours Key West
Here is another Historic Tour of Old Town Key West. You can book a one or two day pass and have the ability to hop on or off at any of the 13 stops. The trolley runs every 15-20 minutes on these guided tours and the total ride is over 90 minutes. Over 100 points of interest are pointed out for you, including places to eat, shop and recreate. You can ride the whole tour at once or take different parts throughout the day, it is totally up to you!
Shipwreck Treasure Museum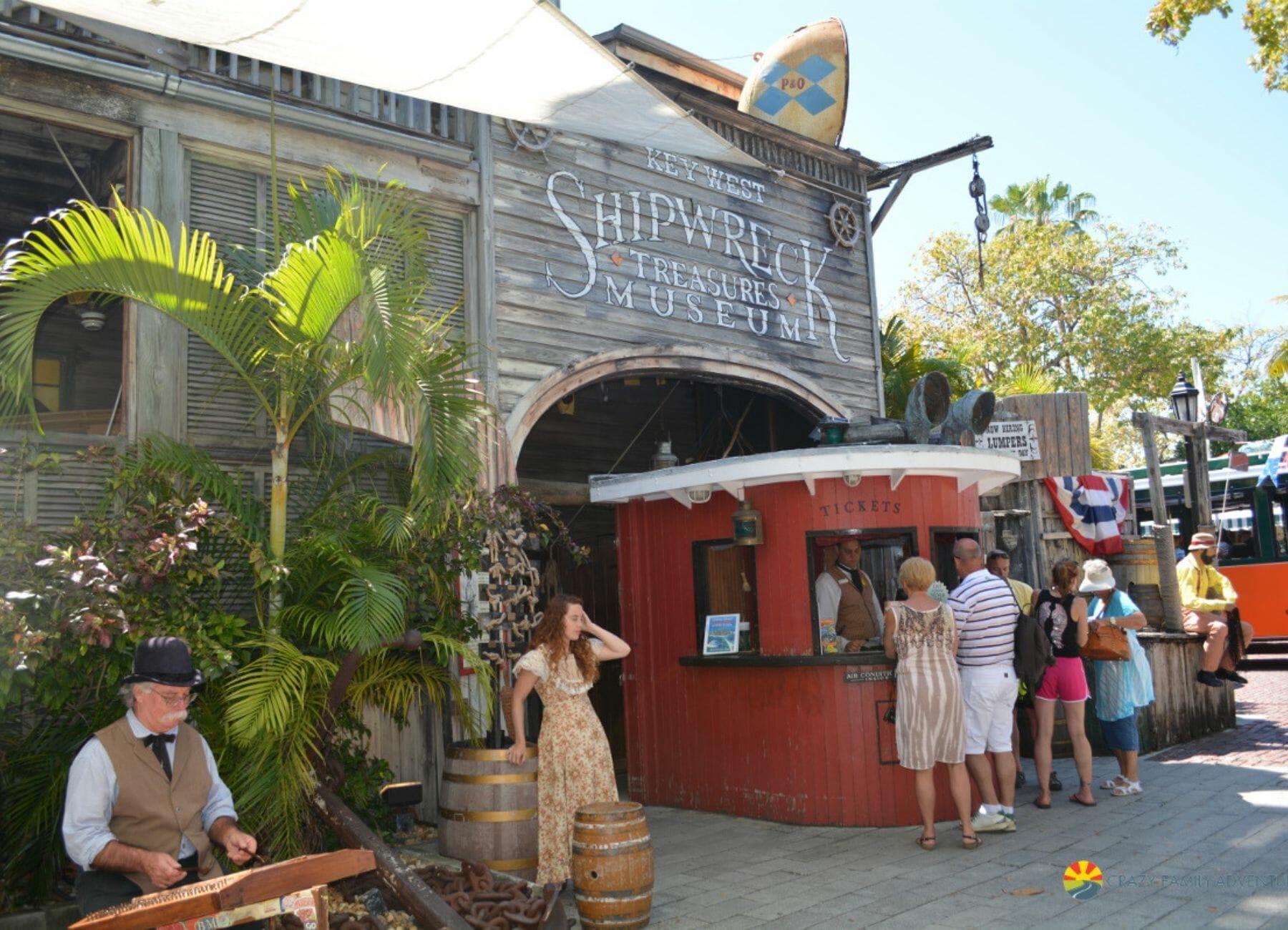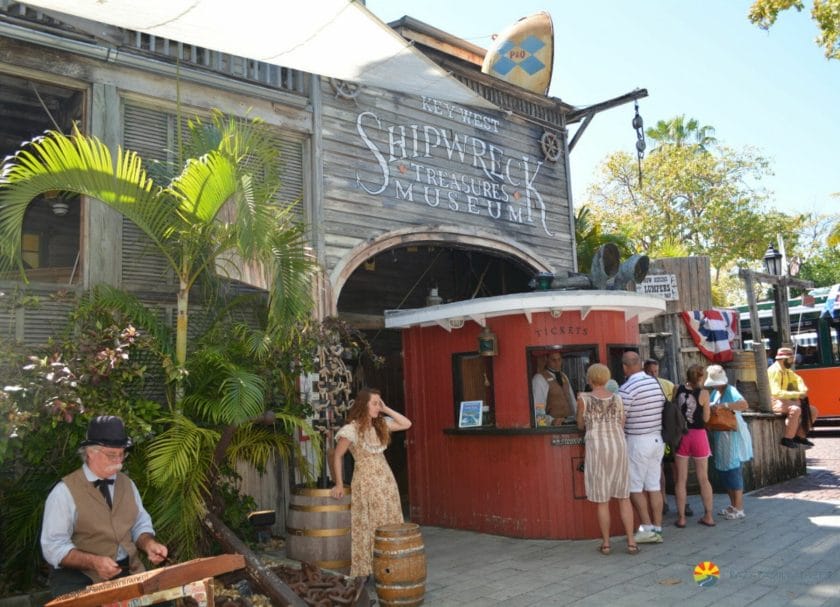 The Key West Shipwreck Museum has artifacts from a lot of the ships that crashed around Key West. There is some great history, a huge silver bar you can try to hold up, a scavenger hunt for the kids to do throughout the museum, and a movie in their basement – which is BELOW sea level! And our favorite part, climbing up the tower!
Besides coming in on one of the large cruise ships I think the tower gives you the best view of Key West. If you visit the Shipwreck Treasure Museum, don't miss climbing the tower.
They also offer a guided introductory tour of the museum if you are interested. There is a lot to look at and read in the museum, but I don't think it is for younger kids. They're not quite interested in reading everything or looking closely at all the cool artifacts. For older kids, however, it is awesome!
Book Your Tickets For The Shipwreck Museum Here!
If you like the idea of seeing shipwreck treasure, you can also check out one of the two Mel Fishers Treasures in Key West. These are showrooms that display and sell actual treasure from a recovered 1622 Shipwreck!
Fort Zachary Taylor Historic State Park
You do have to pay to get into Fort Zachary Taylor Historic State Park but it is worth it and it isn't too expensive – it was $10 for our family of 6. There is a large parking lot, and the park offers a civil war fort, beach, concession stand, and chair rental. It is about a 1-mile walk to get to Mallory Square from the fort but it is a nice walk so you could park here for the day and walk into downtown Key West.
HOWEVER, please note that the park closes right after sunset and you will NOT make it back from Mallory Square (if you wait to watch the sunset) before the park closes. The park staff said when the gate closes, it doesn't open until morning, so if your car is there you can come back in the morning to get it. . .
There is parking right outside of the entrance to the state park which is free. It is a large open lot or else towards the water there are parking spots that are free as well. So you could walk to the fort and also into downtown without worrying about your car being locked up.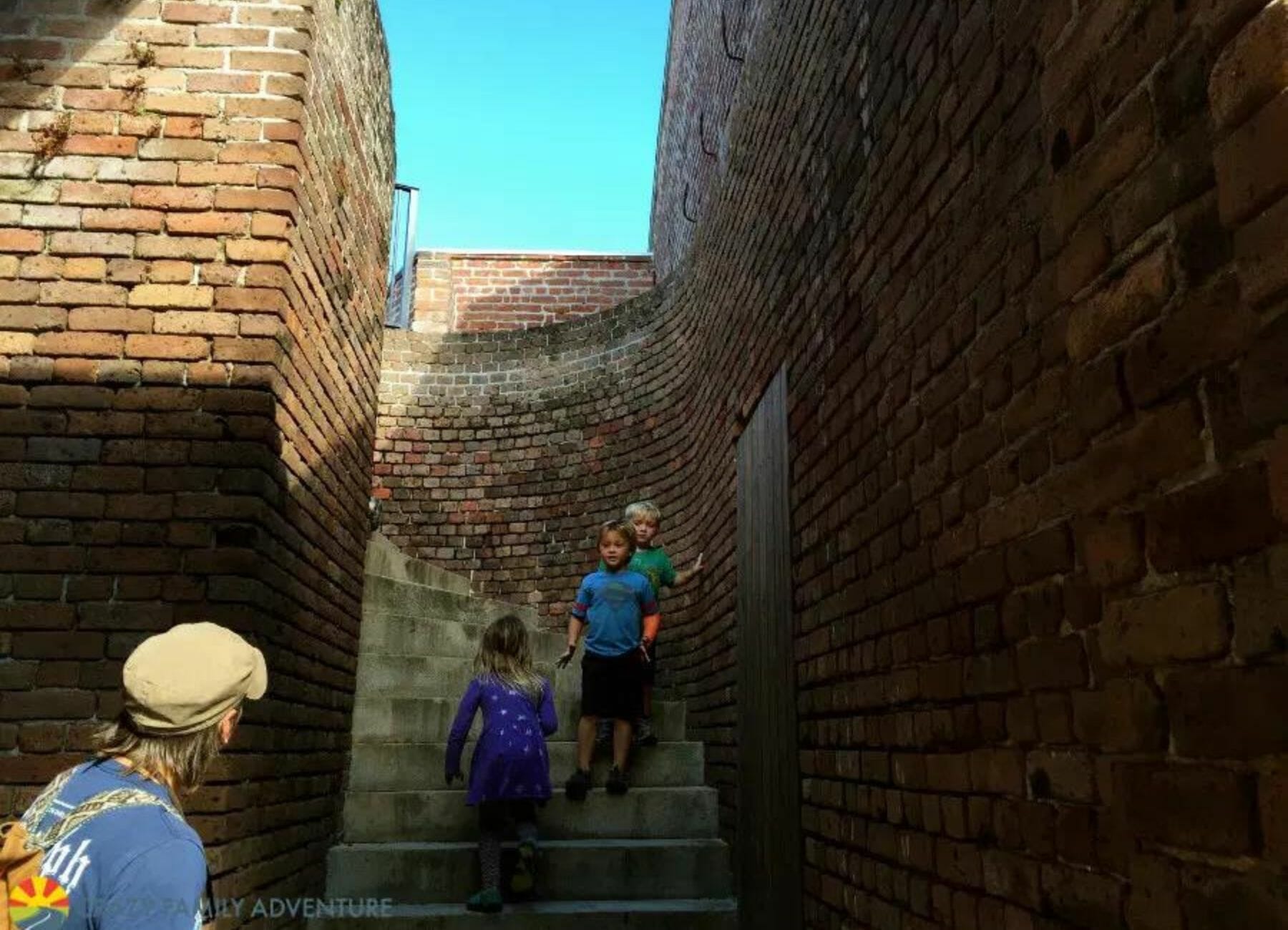 You can explore the fort while you are here which is definitely worth it. You can climb up to the top to look out over the ocean and also explore inside the fort to get a feel for how people use to live there. Crazy!
You can spend the whole day in the park. Hanging out at the beach in the morning, having a picnic lunch or buying lunch at the concession stand, then checking out the fort in the afternoon, bring your grill and grill out in the parking lot and watch the sunset and see the sunset cruises sail across the setting sun. It is beautiful from the park!
This definitely made the list of our Top Beaches in Key West. Be sure to check it out!
Key West Butterfly and Nature Conservatory
Stroll the Key West Butterfly and Nature Conservatory to experience this tropical paradise filled with 100's of butterflies. It is a great way to get away from the hustle and bustle of Key West!
Truman Little White House
Tour President Harry S Truman's winter home in Key West. It became the winter White House of America while Truman was in office and was a naval command center during the world wars. A great fit for any history buffs in your family.
Ernest Hemingway Home
Tour The Ernest Hemingway House and see all the 6 toed cats – and there are a lot of them! Plus they are friendly so you can pet them. Ernest Hemingway lived here with his wife Pauline.
The Audubon House and Tropical Gardens
Step back into 19th-century Key West and tour the inside of a house built by Captain John Huling Geiger. Another great fit for any history buffs you have in your family!
Key West Lighthouse
Climb 88 steps to the top of the lighthouse and take in the amazing views of Key West and the surrounding ocean from the Key West Lighthouse!
Escape Rooms with Southernmost Escape
Come together with family or friends to Escape in one of three family-friendly escape rooms. (There is one adults only room, if mom and dad need a date night alone!). You will have one hour to put together clues and escape! Escape rooms offer a great teamwork exercise for kids and a fun experience for the whole family. Check out the Key west escape rooms here.
Free Places To Visit In Key West
Southernmost Point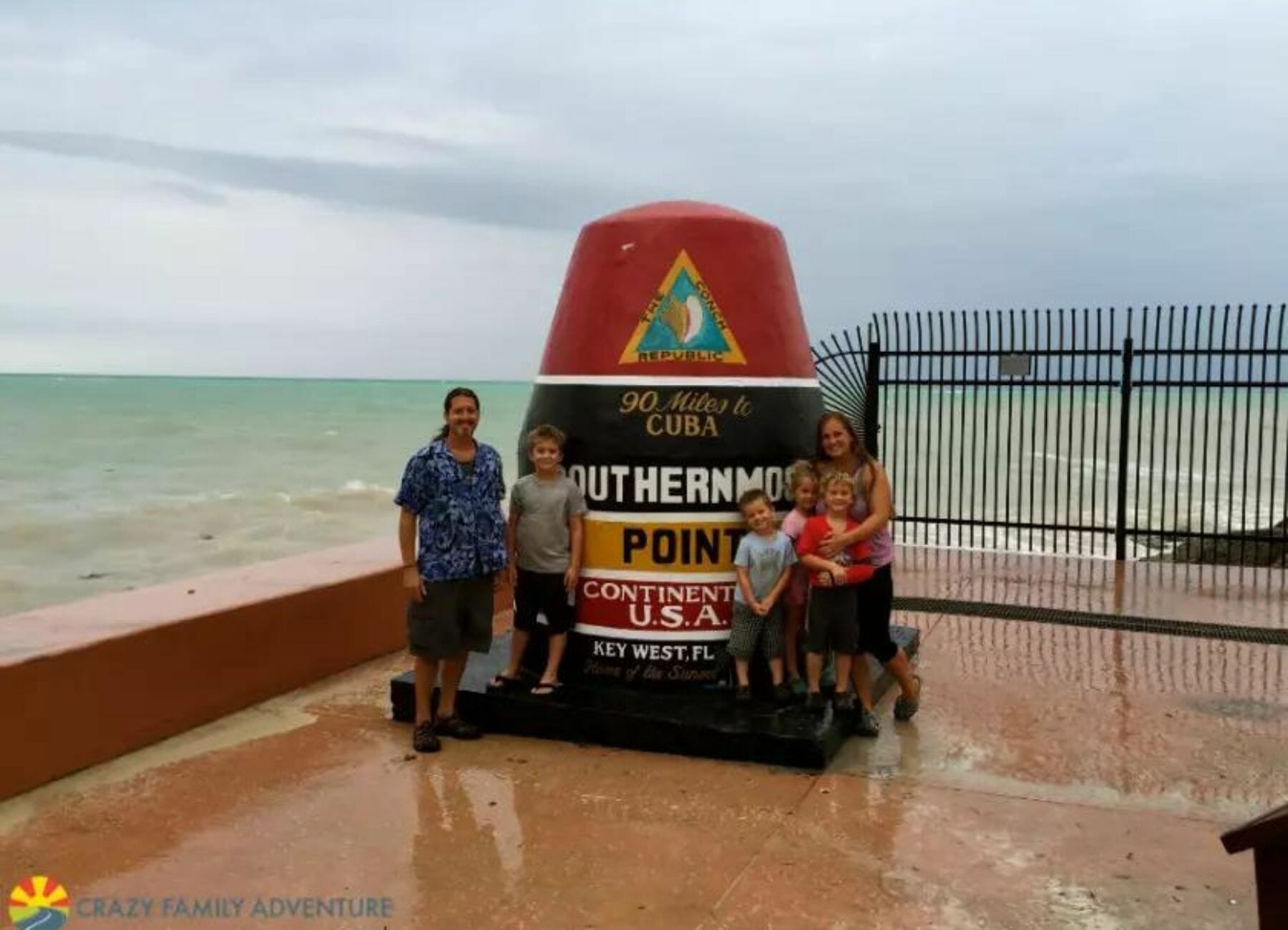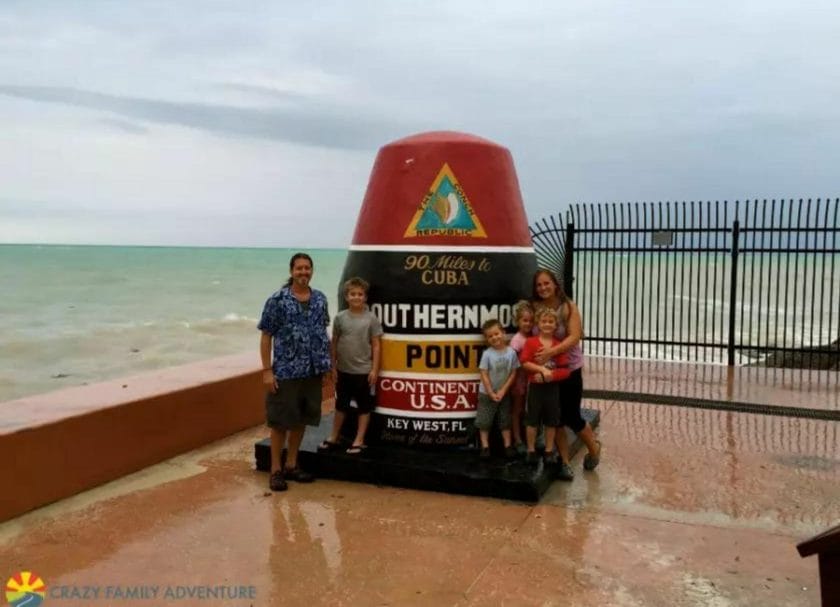 Take it or leave it, if you want the picture and to say you have been there, plan on doing it. Even though there are arguments that it really isn't the southernmost point and that somewhere in Texas is. Splitting hairs if you ask me.
If you get there first thing in the morning you won't have to wait in line (Which is what we did). Or else plan on standing in line for awhile to get your picture there.
Florida Keys Eco Discovery Center
It is FREE! It is a nice discovery center that has a nice learning center that teaches you about the Keys and the surrounding area. You can check out their 2500 galloon reef tank that is home to living corals and tropical fish.
It is closed on Sunday, but any other day it is free and is definitely worth stopping at. It is located right next to Fort Zachary Taylor.
Mallory Square Sunset Celebration
To be honest, the first time we went, I was a little nervous about if it would be appropriate for kids. But it totally was and the kids loved it and it was family-friendly! Yes, there is some vulgar humor but they make it so it pretty much goes over your kids head, and gives you a good laugh.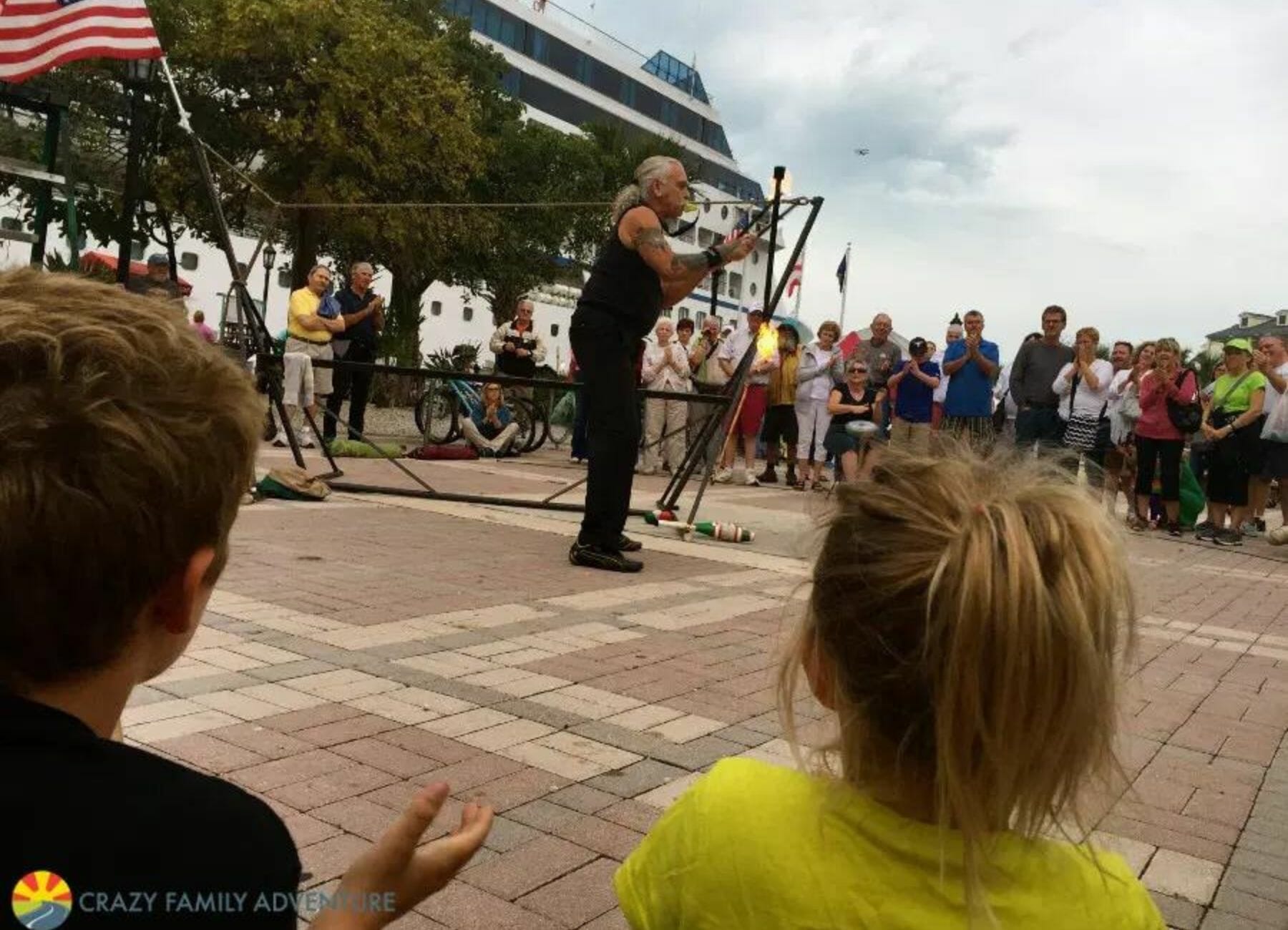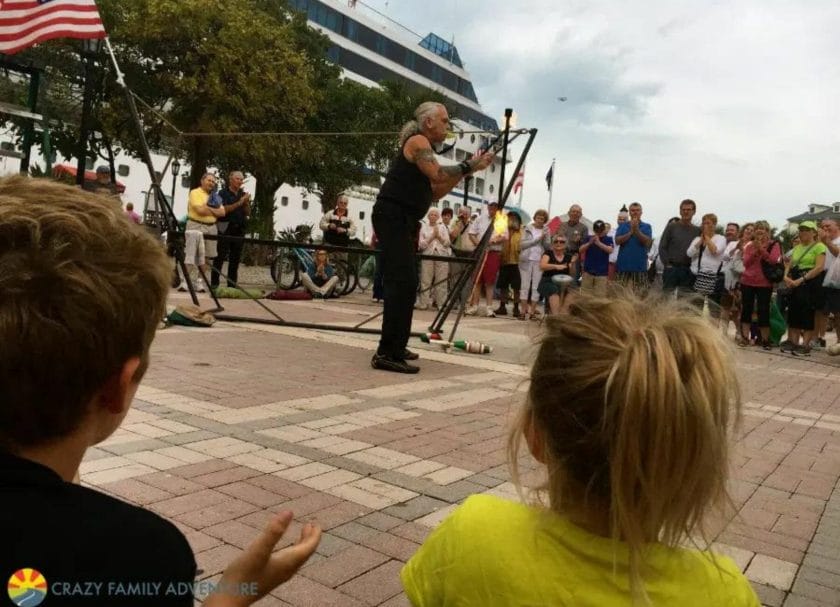 Our kids loved the fire and knife jugglers, drinking and eating a coconut fresh off of the tree from Key West, the sword swallower, and just having room to run around Mallory square. The street performers really do a great job and it is worth seeing a couple of performances.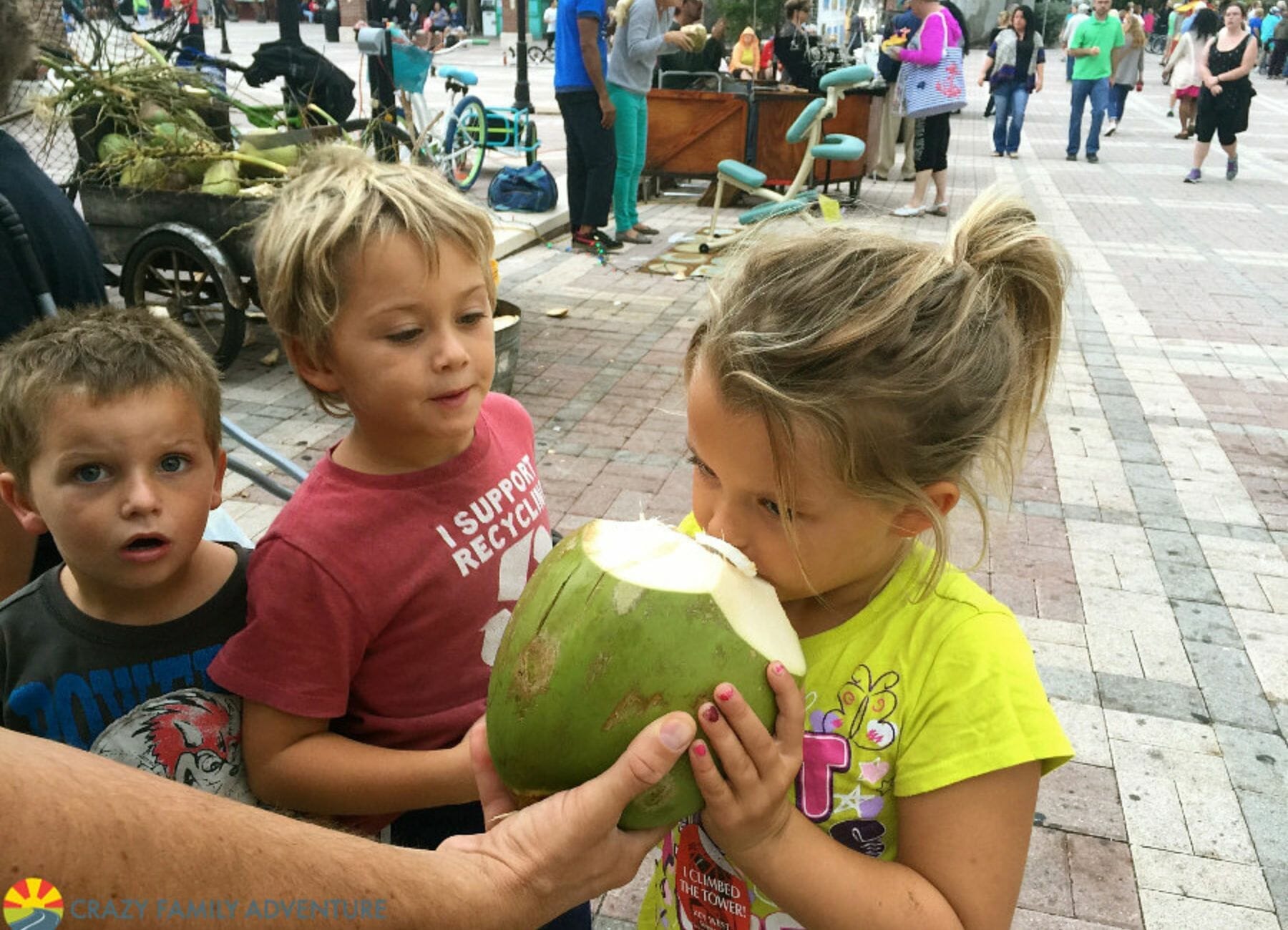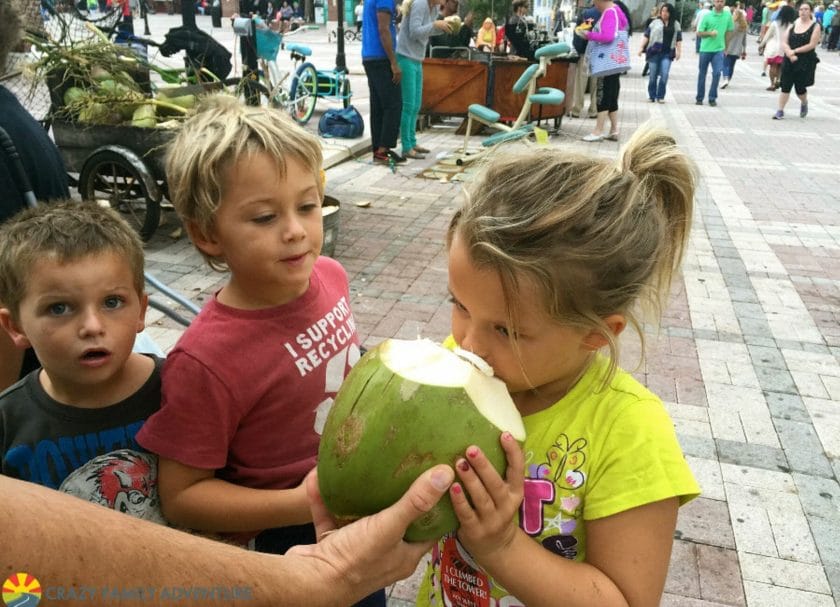 I will add sometimes you see the sunset and sometimes you don't. A lot of the time big cruise ships are there blocking your view, or else the crowd of people there will make it hard to see, or it is cloudy. So if you are looking for an amazing Florida Keys sunset this may not be the place. But if it is a good sunset and you have a good view it is amazing!
A few other places you may want to check out are The Hemingway Home and Museum and the Key West Cemetery (Check out this self guided tour of the cemetery).
Places To Visit Outside Of Key West
The Turtle Hospital
If you are OK taking a drive up to Marathon (about 1 hour from Key West) then go visit The Turtle Hospital. You will be able to get up front and personal with these beautiful creatures and you and your kids will learn about how to protect sea turtles.
Key West Beaches
Fort Zachary Taylor Beach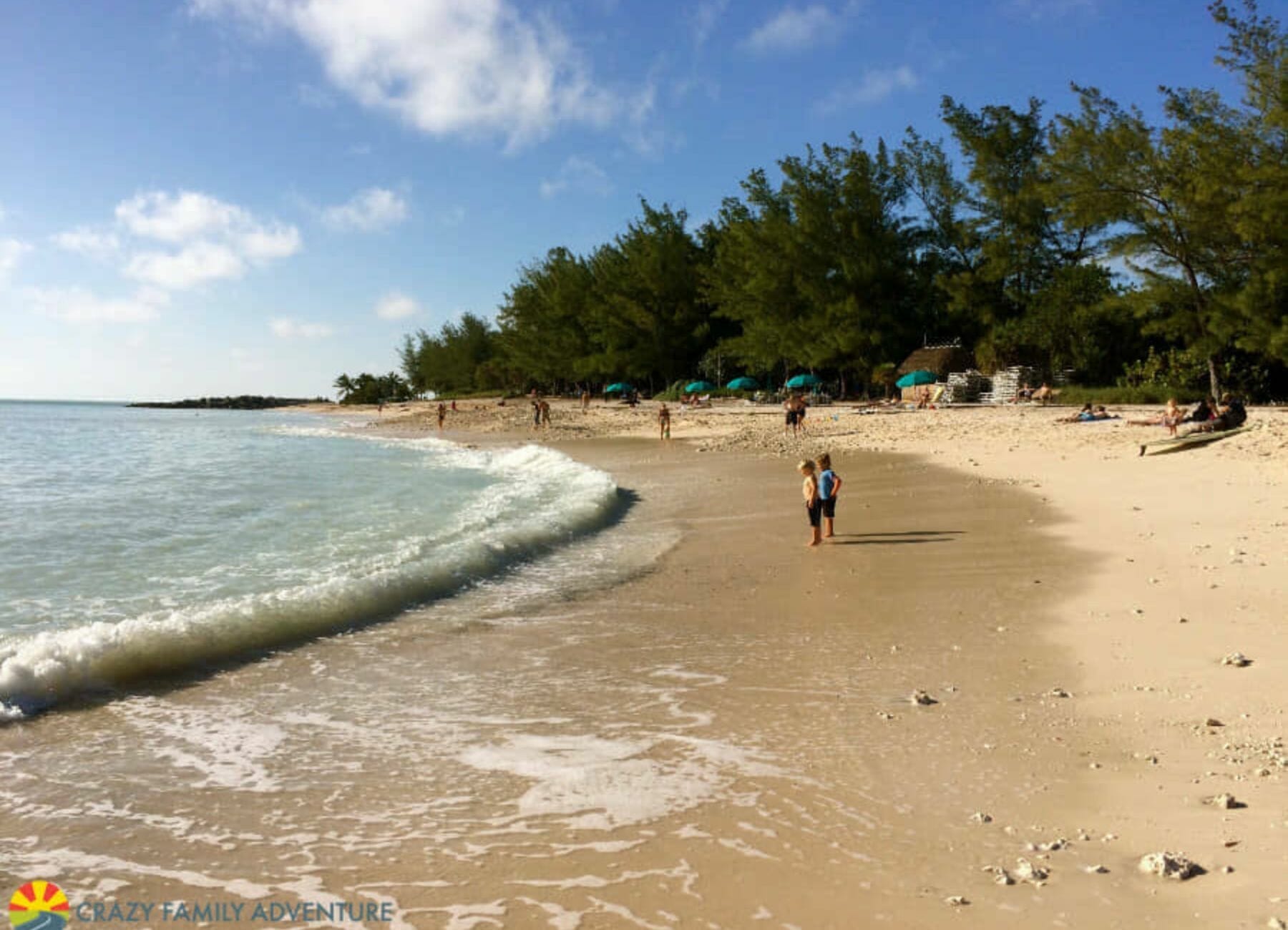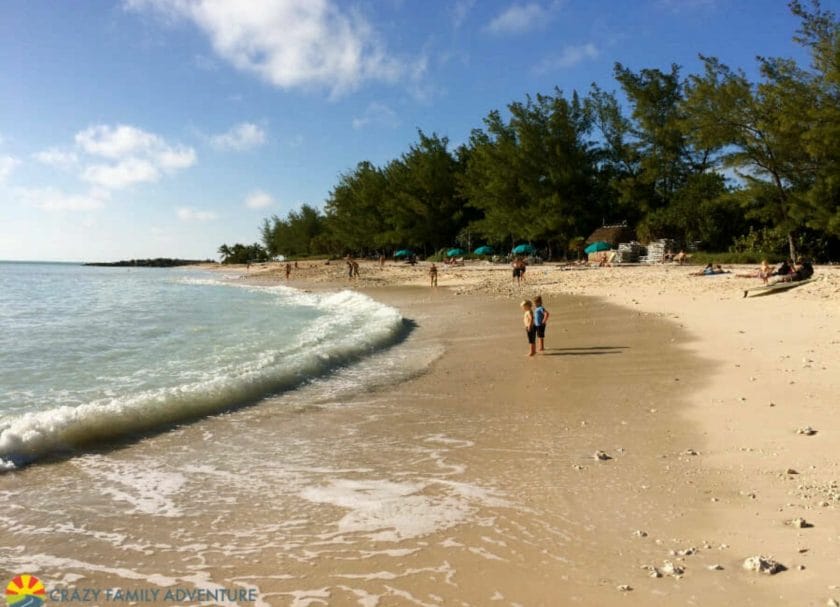 This is a Florida State Park beach. We talk about the fort above so you could come to visit the fort then head over to the beach. You have to pay to get into the state park, but it's just a few dollars. For our family of 6, it was like $10 or so.
The beach area has a small food/restaurant area where you can get lunch and grab a beer (you do have to drink it on the restaurant porch). Or you can bring your own food and eat at one of the many picnic tables in the shade of the trees.
If you venture out in the water about 20 yards or so there is a reef area where you can do some snorkeling. Just remember like all beaches in the Keys and on the coast of Key West this isn't soft white sand. It is more rocky sand. But it is still a great place to hang out!
Smathers Beach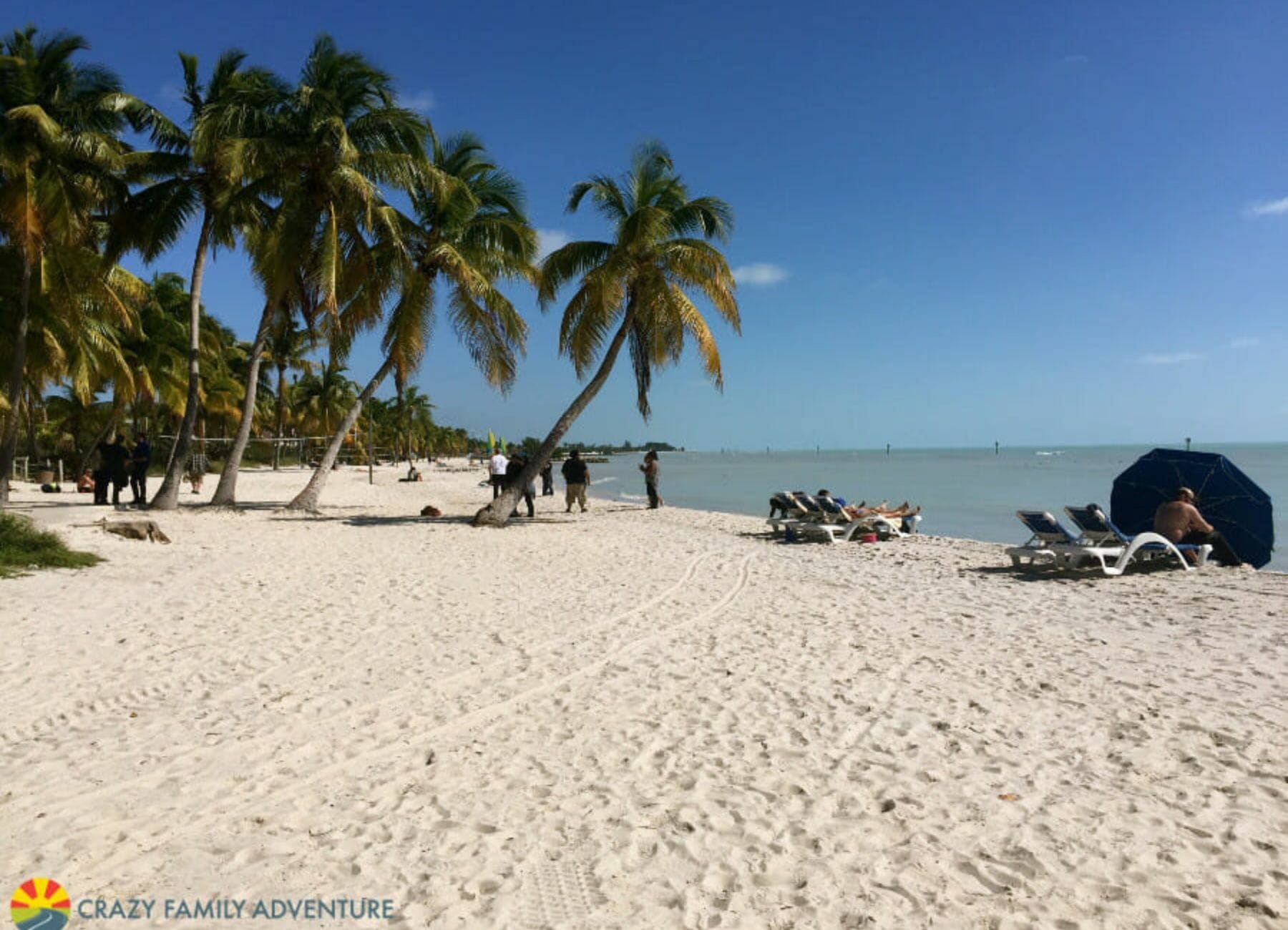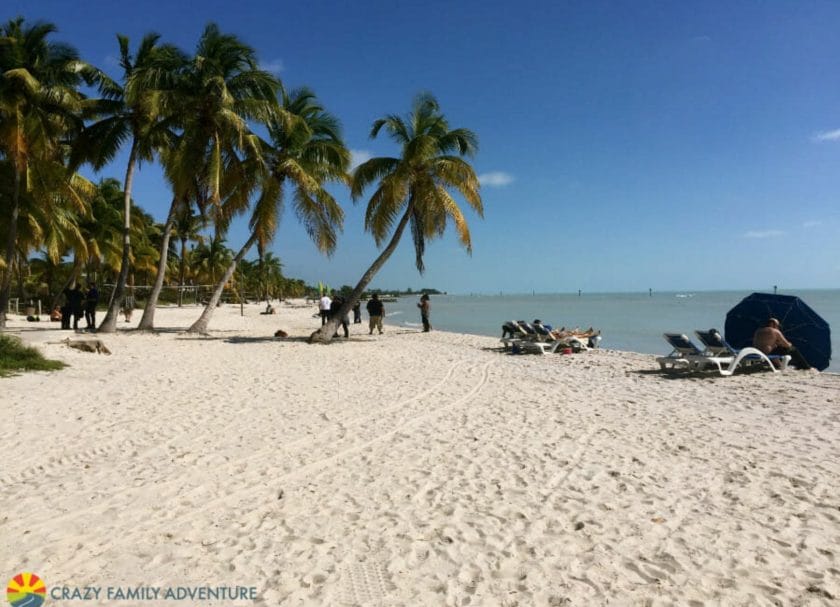 This beach is located on the opposite side of the island from the craziness of Duvall Street and Mallory Square. So if you are looking for more of a low key feel, this is where you would want to hang out. It is off of A1A (beachfront avenue)! Which is also a pretty drive. Plus there is a bike trail/sidewalk that runs the length that you can walk/ride on.
Higgs Beach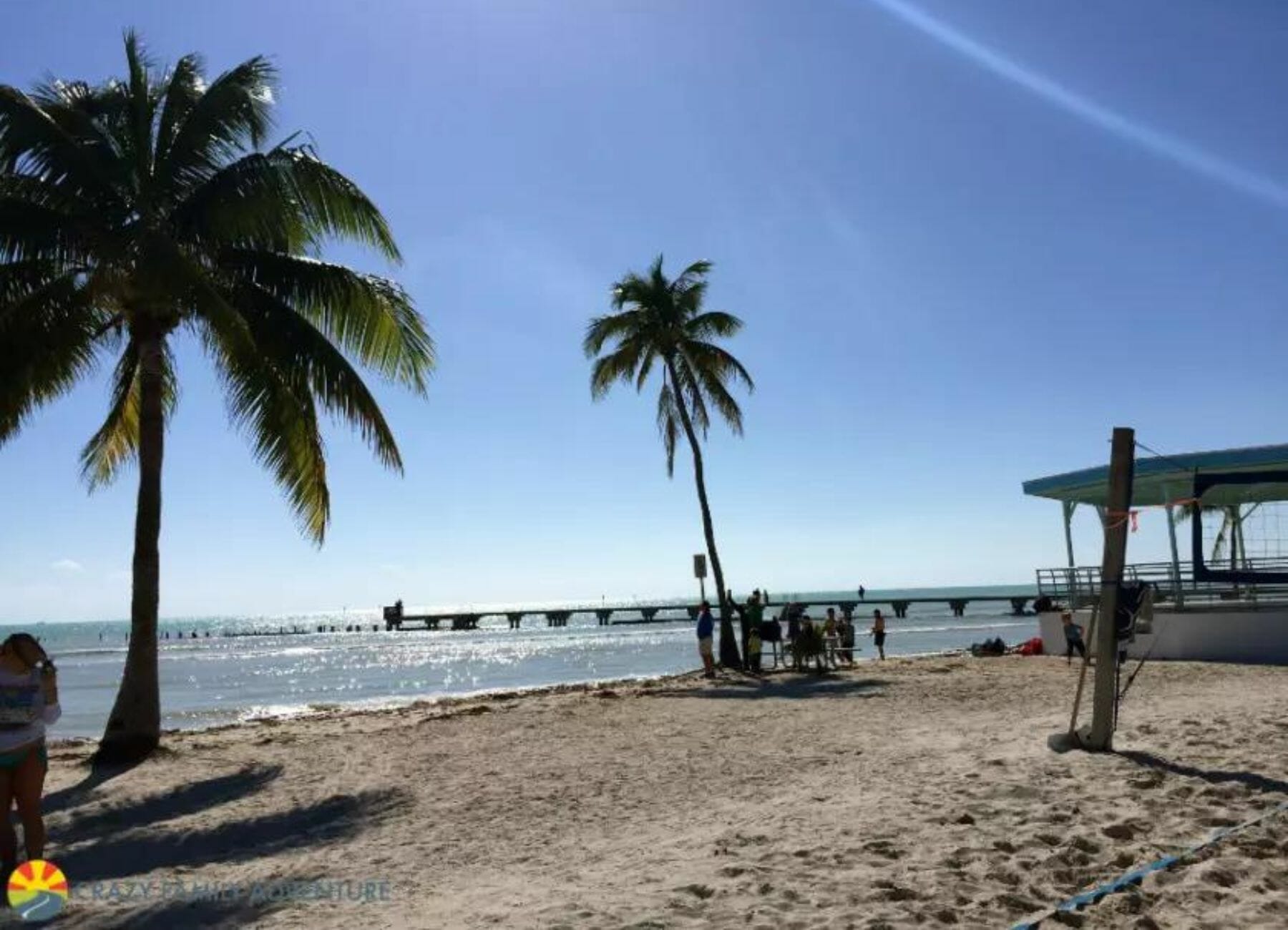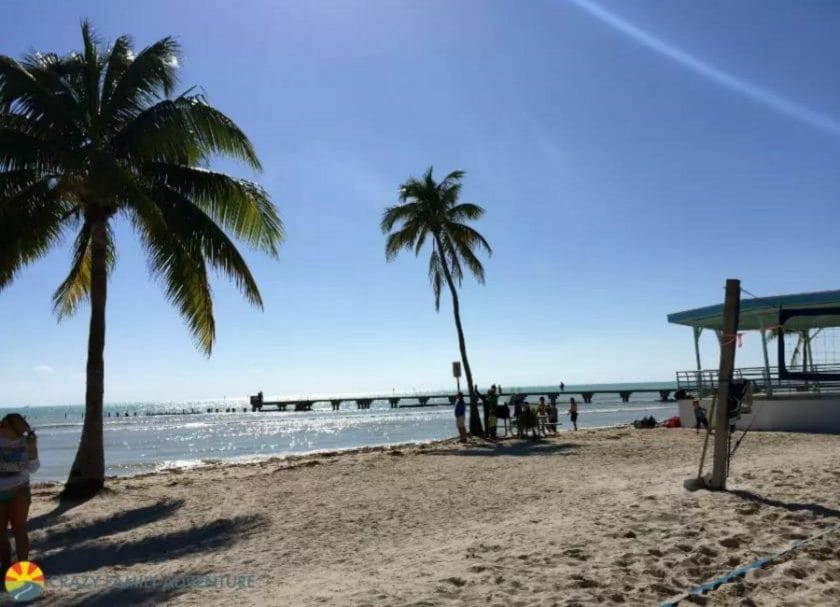 If you are looking to do some walking around, Higgs Beach Pier is perfect for that. You can walk out on the pier and at the end of the pier is a large open area for your kids to run. It is a great FREE location to take your family for a little something different in Key West. Find out why visiting Higgs Beach is one of the best Key West things to do with kids.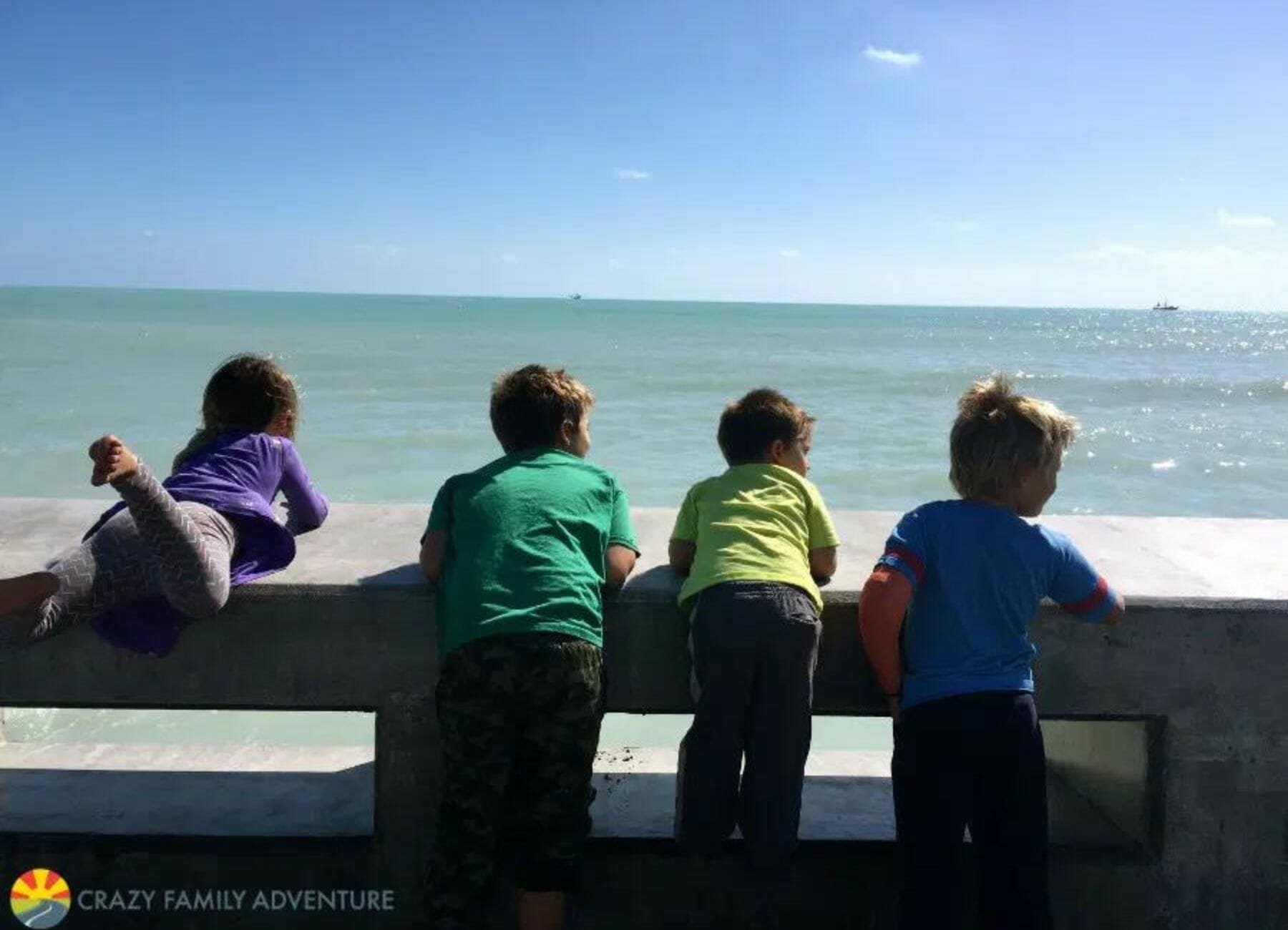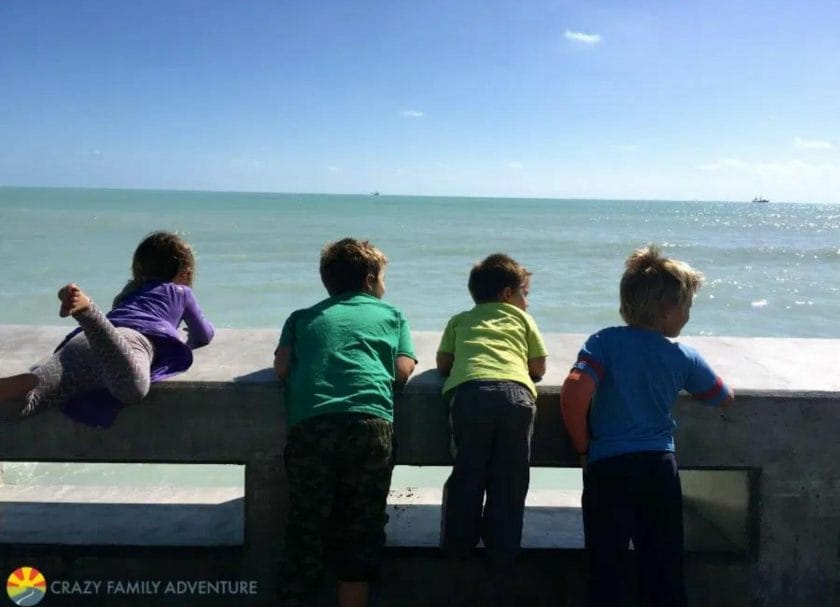 After walking to the pier you can walk over to the park on the beach and let the kids burn some energy there as well! When they get hot head over to the beach. The water level at the beach is super low all the way out. The beach is pretty rocky so bring water shoes, but it is the perfect depth for kids to play in.
For more beaches in the Florida Keys check out our Best Beaches in the Keys Post!
Check out the video of our day with kids in Key West:
Where To Eat
Wondering where to eat in Key West? Check out some of our favorites below!
Island Dogs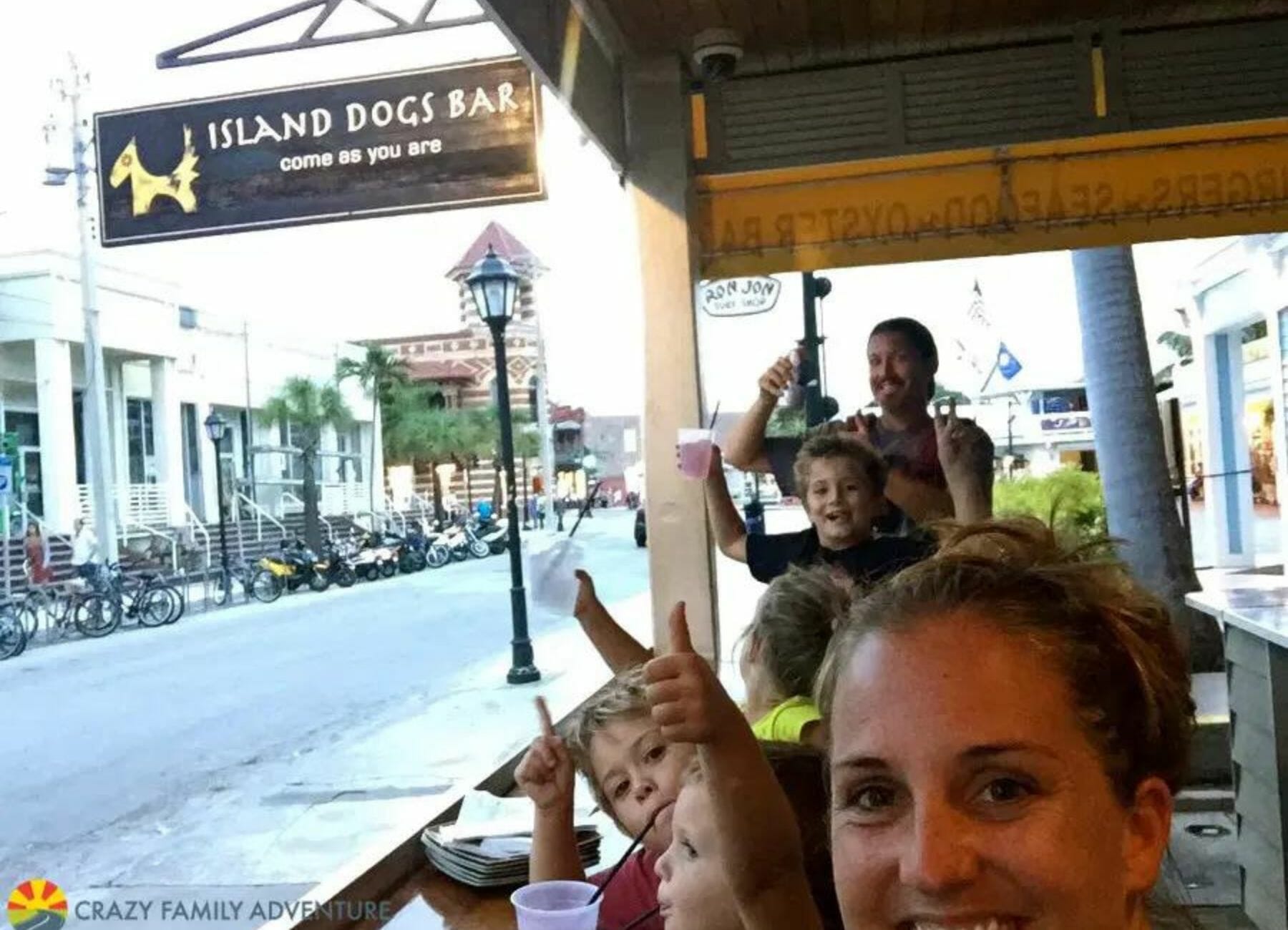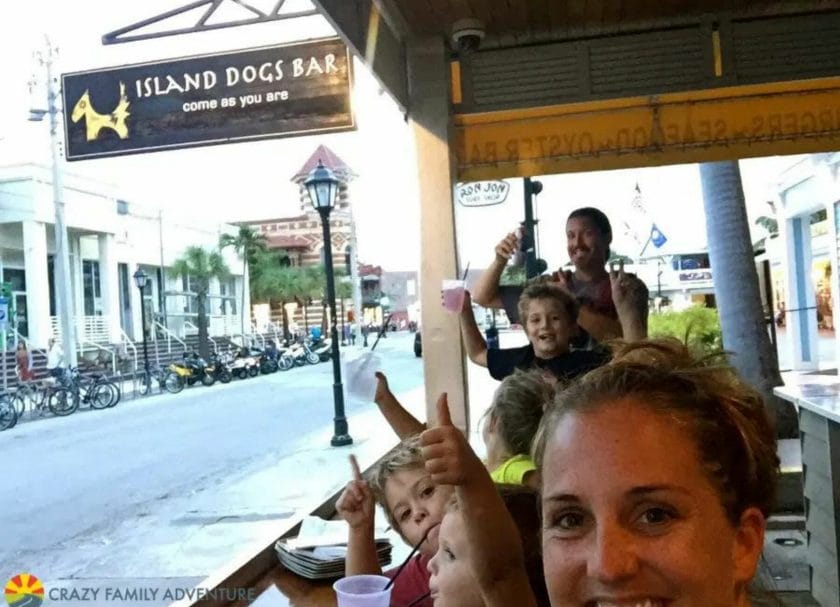 If it's busy, forget about it. If the Patriots are playing, forget about it. Otherwise, it works great with a family. You can sit out at one of the tables that lines the street and you and your family can people-watch as you wait for your food. Their happy hour specials are enough for a meal so try to get their during happy hour if you can. And of course, check out the Key Lime pie for dessert!
Lagerheads Beach Bar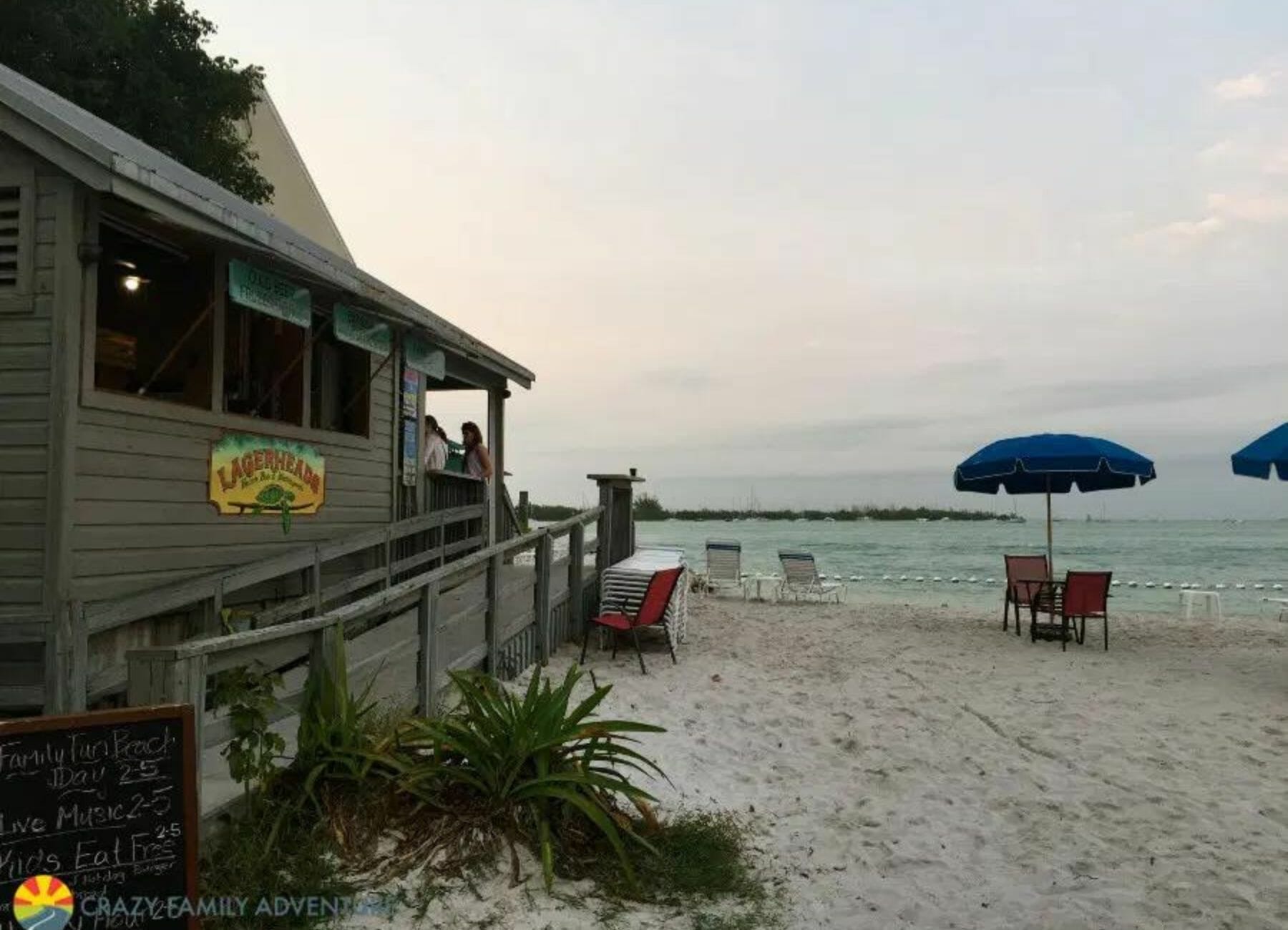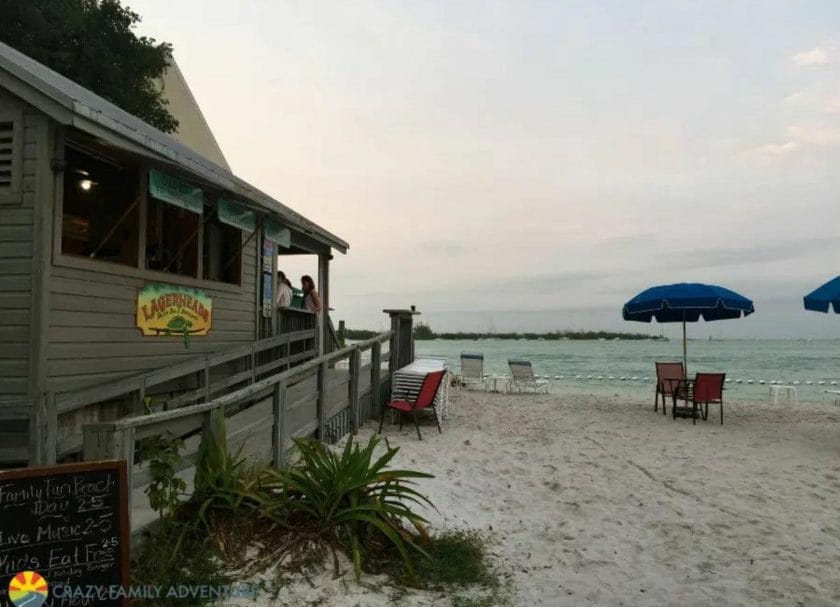 Lagerheads is the perfect restaurant to stop at with kids in Key West. It is a little out of the way, but the atmosphere is perfect.
It's a walk up, order at the window, type of joint and all of their tables are on the beach. It's perfect for the kids to run around while you are waiting for your food.
Plus it isn't overly priced. The kids can share one of the foot-long hot dogs. Their hours are a little weird and they close by like 5 pm, so be sure to call before you go to make sure they are open.
Sloppy Joes
If you are looking for a place for just the parent's to visit and you enjoy history, you might check out Sloppy Joe's Bar. Originally a Prohibition Era Speakeasy, this bar is still around (and legal) today.
Glazed Donuts
If you are in to gourmet donuts, plan on making a stop at Glazed Donuts on Eaton Street! It doesn't have to be for breakfast, you could also stop for lunch :). They do close early and I know they run out of donuts so be sure to check it out before you go.
Where To Stay
Check out this post to learn more about how to get to Key West and The Florida Keys. Below we share a variety of different options on where to stay.
RV Parks
If you are looking for an RV park we recommend any of the state parks in the Florida Keys or the following RV parks.
Sunshine Key RV Resort – Located about an hour outside of downtown Key West in Big Pine Key, this campground offers so many amenities like a swimming pool, playground, and fishing as well as rentals to go exploring on the water!
Boyd's Key West Campground – We have not stayed here but have heard good things about it. If you want to be closer to downtown Key West, this might be the campground for you!
Pelican RV Resort & Marina – If you want to be away from the busyness of Key West, check out this campground located a little over an hour in Marathon. Here you will have access to 300 feet of secluded waterfront, a private marina, and a Tiki Hut pavilion!
Riptide RV Resort & Marina – Another option located about two hours outside of Key West is Riptide RV Resort & Marina in Key Largo. If you have friends wanting to join you who don't have an RV, there are cottage rentals and rooms for rent onsite!
If you don't have one, then Rent an RV!
Check out an RV rental for your trip from Outdoorsy.
Hotels
Casa Marina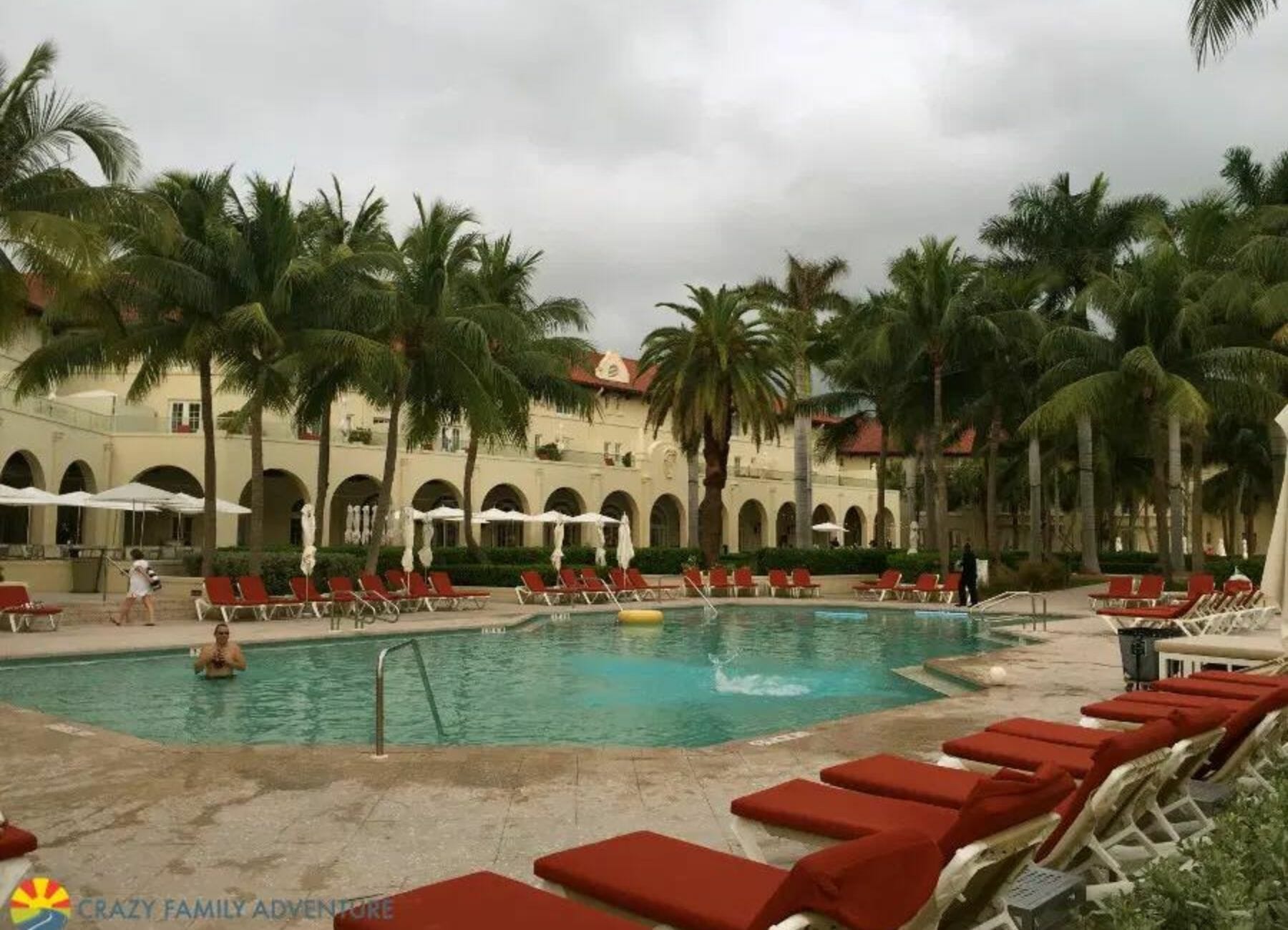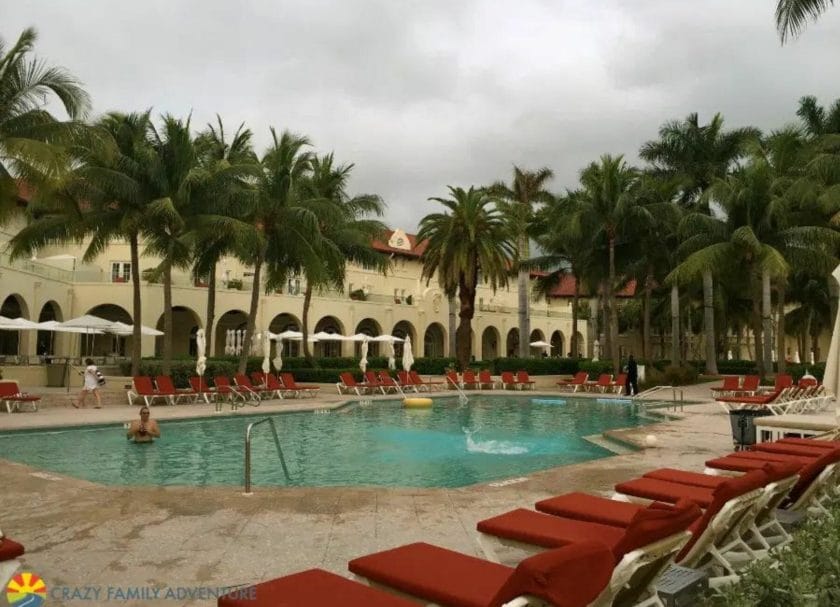 If you are looking for a hotel in Key West we recommend staying at Casa Marina. It is a beautiful resort on the east side of Key West (away from the craziness of downtown). Plus it is right by Smathers beach, has an amazing pool, and a beach right on the hotel property.
Click here for great deals on the Casa Marina!
We did get a chance to check out Casa Marina and it looks amazing. Stay at the Truman Hotel in downtown Key West. Would love to check out some hotels ourselves the next time we go. If we do we will update the post.
We have also heard that Key West's Laureate Hotel is amazing!
Vacation Rental
If you'd like to stay in a vacation rental, there are plenty of options in Key West, here are just a couple family friendly stays:
New home with private pool and rooftop patio.
Quiet Residential Neighborhood – with shared pool.
You can easily spend a week with your family in Key West and we really fell in love with the city. With all of the beach visits, multiple water activities, restaurants, and attractions, you'll never run out of options for things to do in Key West with kids!
There are also a lot of great things for people without kids to do in Key West!
What more Florida Keys? Check out our Florida Keys Road Trip Post!
I'm sure when people think Key West, Florida they picture naked, drunk people on Duval Street and a never-ending party… that may happen during Fantasy Fest (Google it, but totally NSFW), but during the day, it really is a great family vacation destination and is very kid friendly!
If you like this post, you may also enjoy:
25 Epic Things To Do In Destin, Florida [Including Where To Stay]
Driving From Miami To Key West
4 Favorite Florida Beaches – From a near native Floridian
Hawks Cay: The Best Resort In The Florida Keys
Fiesta Key RV Resort in the Florida Keys
29 Best Things To Do In Gulf Shores, Alabama
7 Things To Do In Miami With Kids
Top 7 Amazing Indoor Water Park Texas You'll Want To Check Out!
Pin This Post: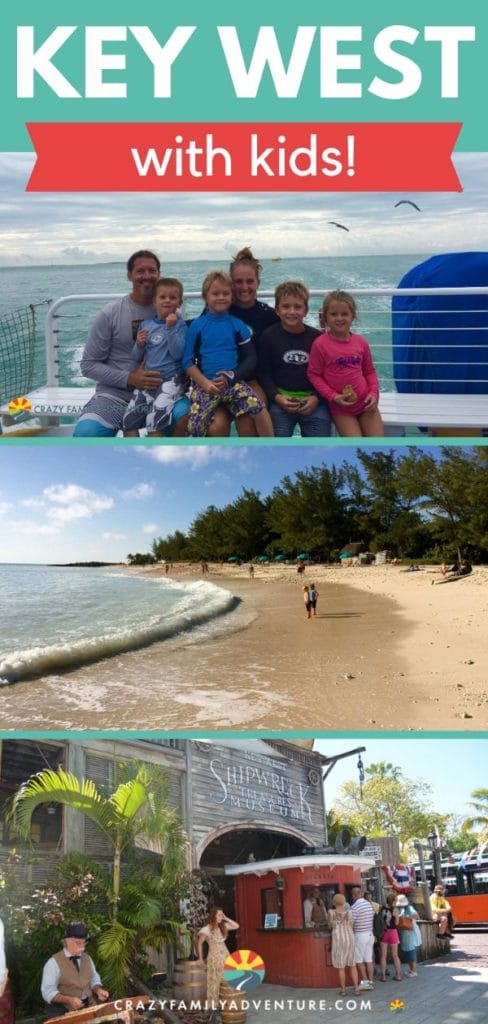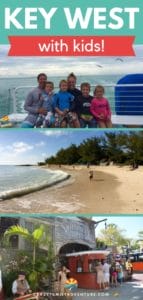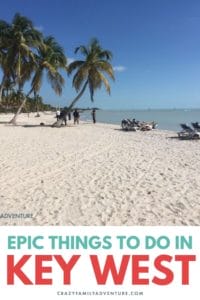 Disclosure: A HUGE thank you to Historic Tours of America for hosting us on The Conch Train, Aquarium, Shipwreck Museum and our Dry Tortugas trip. All opinions expressed are my own. #truth
DISCLOSURE: This post may contain affiliate links, meaning I get a commission if you decide to make a purchase through my links, at no cost to you. Please read my disclosure for more info.