Considering it's the live music capital of the US, most people know that Austin, Texas is a great place to visit. You may not know that there are also tons of amazing things to do with kids in Austin. We've had the opportunity to visit Austin with our kids more than once, and we would definitely go back in a heartbeat.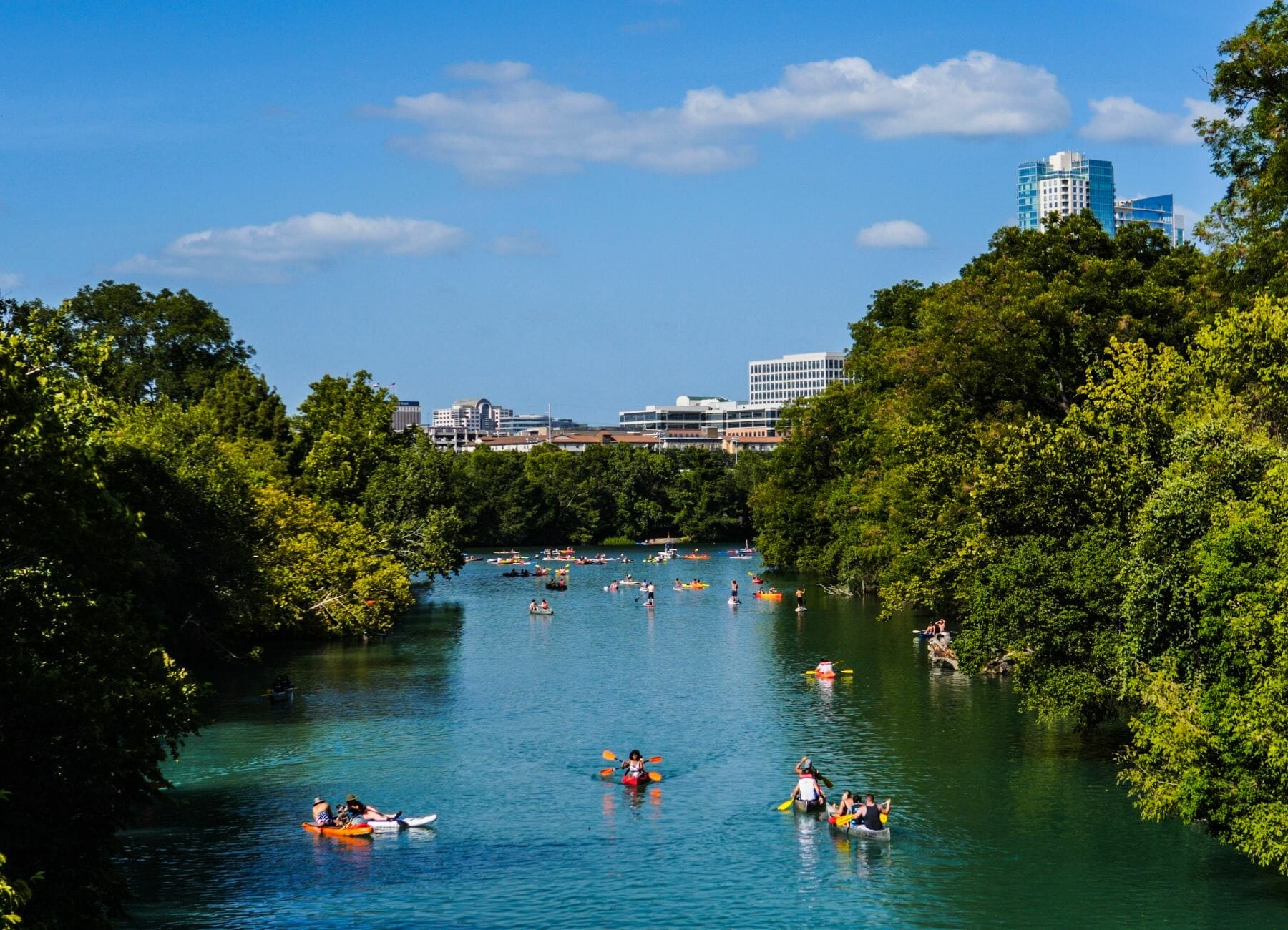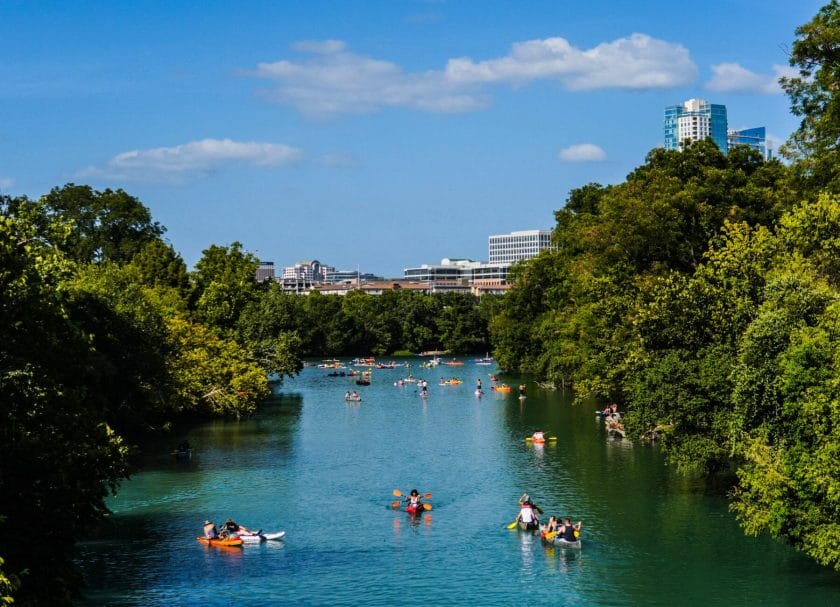 Sure, the city has its fair share of nightlife and rowdy music festivals. Still, you'll also find lots of family-friendly live music, kid-friendly museums, opportunities for outdoor activity as a family, and of course, plenty of delicious food!
Do you want to visit Austin but feel overwhelmed by planning such a trip? We get it—leaving the serenity of Texas Hill Country and jumping into the colorful arts, and music scene of Austin city limits can be a bit much. Lucky for you, this article is an excellent trip guide that makes visiting Austin a breeze.
Things to Do
The first thing to consider is what you want to do when visiting the city. From the museums of downtown Austin to the plentiful outdoor recreation opportunities, you're sure to find a whole host of great things to see and do with your little travelers.
We've been lucky enough to experience the majority of what the city has to offer families. Below are our top picks when it comes to things to do with kids in Austin.
Bullock Texas State History Museum
First, there is the Bullock Texas State History Museum, one of the top kids activities Austin. This is the place to go to learn about the history and formation of the state of Texas, and if you happen to be traveling Texas on a roadschooling adventure, it is a must-see.
The exhibits start in the 1500s and work their way to the present day. They are well-laid-out and, in many cases, interactive, making it an engaging place to learn about this fascinating state.
Austin Zoo
A visit to the zoo is always an excellent way to spend the day as a family, and the Austin Zoo is an excellent place to spend your next zoo day. This is a non-profit rescue zoo with a mission to assist needy animals. The residents here include animals that have been rescued from a wide variety of less-than-ideal circumstances and the zoo staff work to educate visitors to help prevent some of these situations in the future.
This is a smaller zoo, but in some ways, we loved that. It made it easier to visit with young children, especially on a hot Austin summer day. The zoo is always a great place to visit for fun things to do in Austin.
Austin: Museum of Ice Cream
The Austin Museum of Ice Cream would be a great place to add to your list of things to do in Austin! Check out how cool this museum is. There is a rainbow tunnel to explore, and you don't want to miss your chance to dive into the infamous sprinkle pool.
At the Museum of Ice Cream, you will interact with 12 multi-sensory stations, beginning your adventure by sampling one of their signature pink lemonade popsicles. After that, you will work your way through the tasty stations, sampling tasty treats such as pink vanilla soft-serve, fluffy pink cotton candy, and an array of candies.
This attraction sells out quickly, so be sure to get your tickets early to sample some of the best sweet treats Austin has to offer!
ZACH Theatre
We mentioned the incredible arts scene in Austin earlier, and ZACH Theatre is a perfect example of it. This local theater company puts on a number of stage productions throughout the year. Many are family-friendly, and while children under 3 are not allowed into mainstage productions, they are welcome to attend "Family Series" shows.
We love that this theater works to make the performing arts accessible to all. They offer the aforementioned family-oriented shows, accessible performances, sensory-friendly shows, and even a "Pay What You Can" week for those who may not be able to visit the theater otherwise.
Be sure to watch their social media for the latest information leading up to your visit.
Austin: For The 'Gram Photo Tour
Show your friends just how much fun you've had on your trip to Austin when you visit Austin: For The 'Gram Photo Tour! Bring your camera and friends to capture some amazing photos to share on social media. Not only will you get some great photos, but you will also get a tour of the city.
A tour guide will direct you to the most instagrammable areas of the city, including iconic buildings, street art murals, and more. For more fun and custom photos, grab a photo prop provided, such as a fun wig, sunglasses, guitars, signs, and more. You will make memories to share on social media giving your family and friends a small glimpse into your trip to Austin.
Peter Pan Mini Golf
Peter Pan Mini Golf has been a favorite family attraction in Austin since 1946. The beloved T-Rex sculpture has been a part of the golf course since then and has spent all those years overlooking Lamar and Barton Springs, becoming a sort of landmark icon. Mini golf is always one of the best things to do in Austin with kids.
In addition to that T-Rex, guests of this mini-golf course will find a variety of other fun and colorful sculptures around every corner. Look out for Tinkerbell, Captain Hook, a giant shoe, and more! We found that seeing the fun pieces of art scattered across the course was just as fun as playing putt-putt.
iFly Austin First Time Flyer Experience
This experience may not be at the forefront of your mind when thinking about things to do with kids in Austin, but don't mark this off! iFly Austin First Time Flyer Experience offers a fun indoor skydiving experience for adults and children.
Get ready to get your heart pumping when you head to iFly Austin. This venue is genuinely for first-time flyers, and children as young as 3 years old can fly using their state-of-the-art wind tunnel technologies.
All flyers will receive flying gear included in the cost of the attraction, along with 1-on-1 instruction. Get ready to experience a thrill of a lifetime while visiting Austin.
Thinkery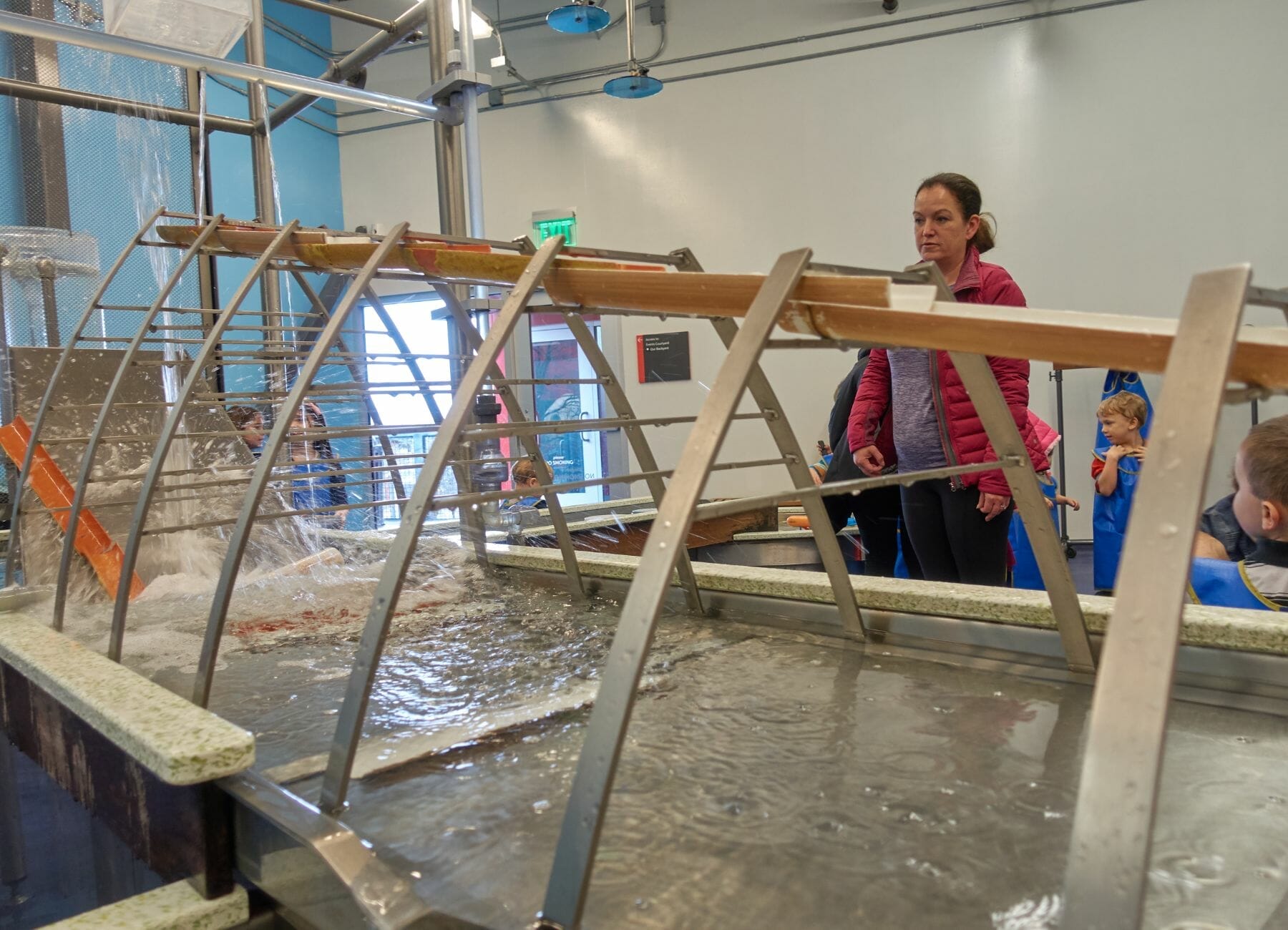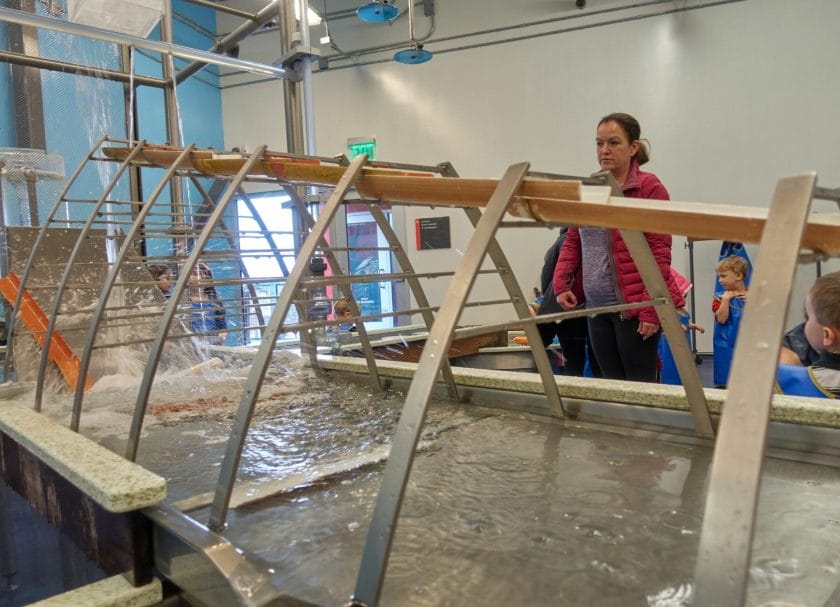 My family loves a good children's museum, and we've made a point of visiting such museums all across the country. The Thinkery in Austin made it onto our list of top 10 children's museums in the US. Be sure to add this museum to your list of things to do with kids in Austin.
The Thinkery in Austin is a place where you can be side-by-side with your children learning and exploring. There are many exhibits throughout the museum you will enjoy sharing with your kiddos, such as the Story Nook area, where you can curl up on a giant pillow and read.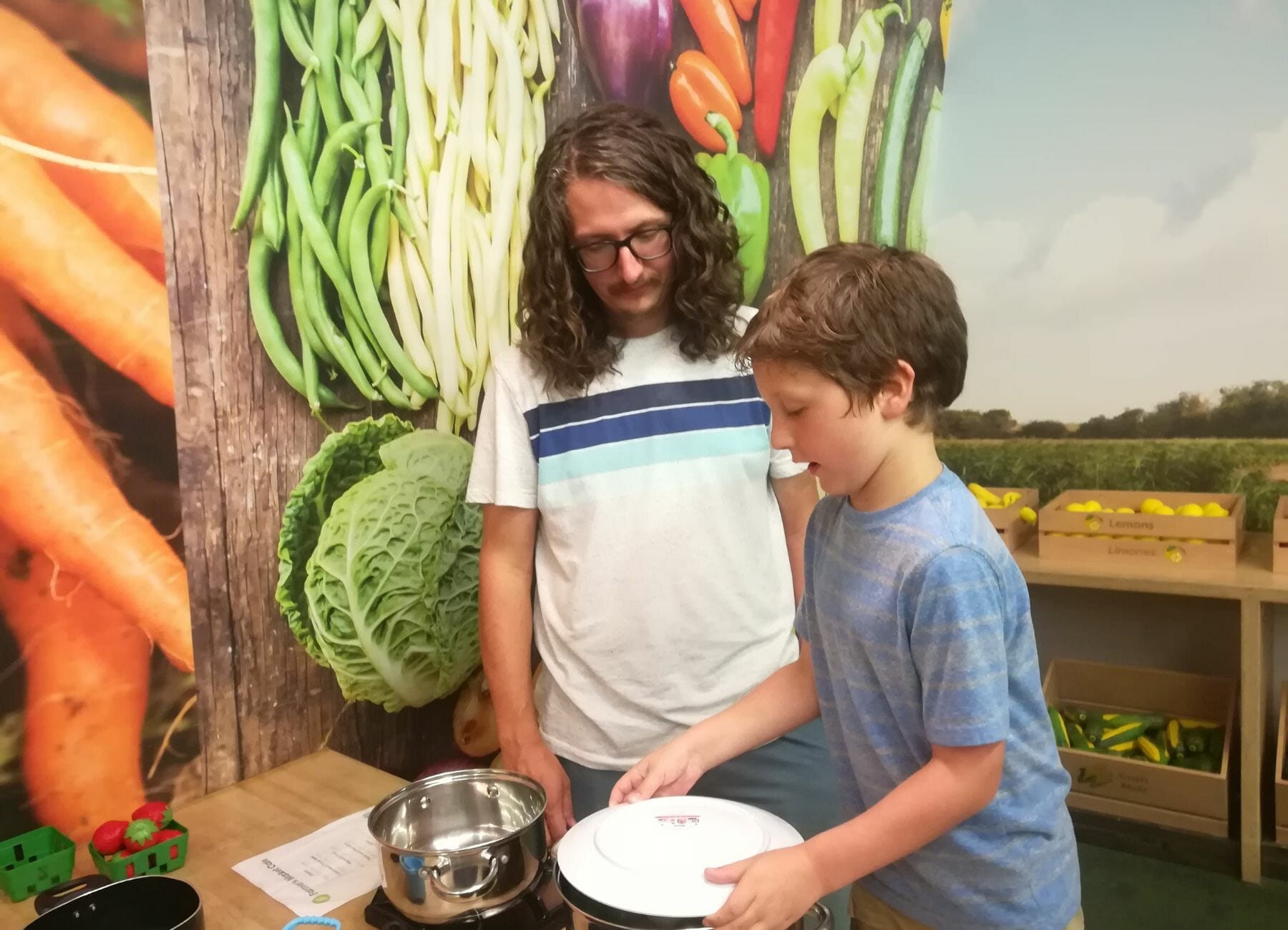 Thinkery also offers an area specifically designed for children 6 years and younger. The Fresh! Farm Market provides a space for children to play grocery store or whip up their own recipes using pretend food. This area offers the best imaginative play.
This modern and clean museum offers tons of fun hands-on activities for kids of all ages. It is the perfect place to let the kids play and get rid of some pent-up energy. In addition to being lots of fun, the outside play area is a work of art and the water play section is an absolute blast.
Escape Game Austin
The Escape Game is a wonderful indoor activity for all ages. Located in downtown Austin, there are 5 rooms with varying difficulty levels to choose from. Groups of up to 8 people are placed in a room, you have to solve clues to escape in under 60 minutes.
We highly recommend taking your family to Escape Room Austin for an unforgettable family fun experience. Book your tickets to The Escape Game Austin here!
Austin: Taco Breakfast Tour
Make your way around South Austin with a fun tour guide, stopping in at 3 different spots in the area to grab a bite on the Austin: Taco Breakfast Tour. The official breakfast of Austin is undeniably breakfast tacos, so what better way to experience it all than on our tour. You will explore the neighborhoods of South Austin and share some of the best tacos and guacamole your tastebuds have ever come in contact with.
Come hungry and end the tour with a full belly, ready to see what the city of Austin has to offer!
McKinney Falls State Park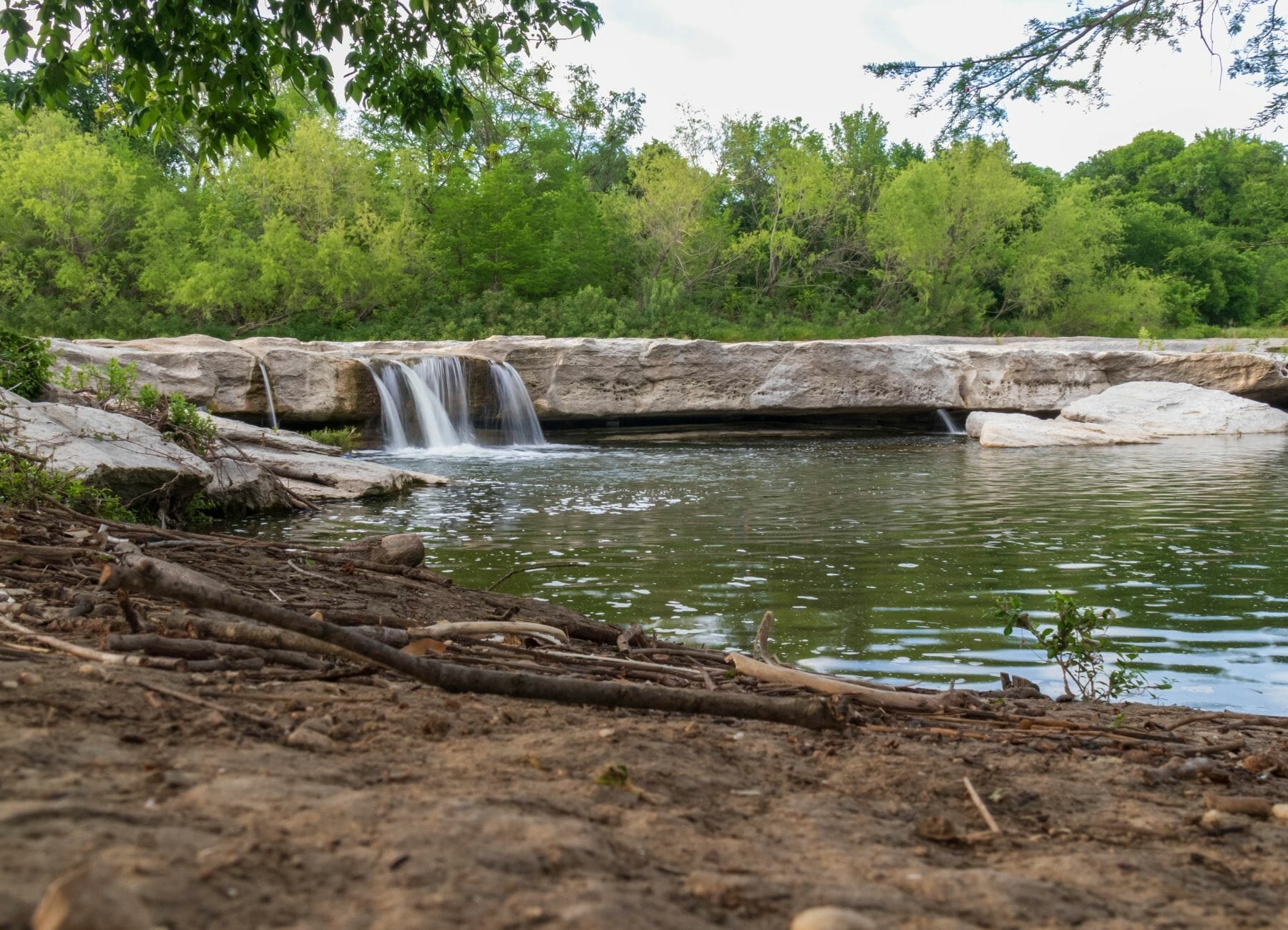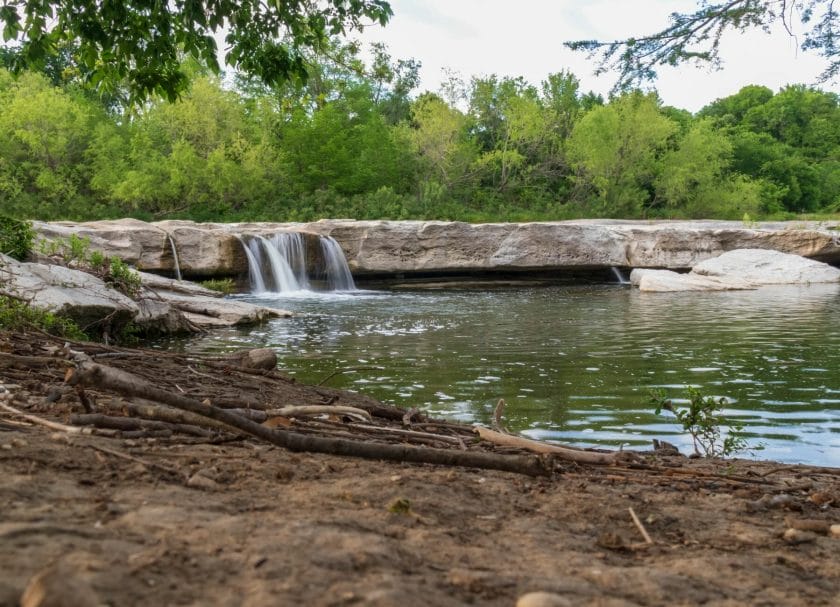 We actually camped at McKinney Falls State Park during our most recent visit to Austin. Having done so, we can tell you that this beautiful state park is well worth a visit even if you aren't camping there.
A day visit to this park is only a few dollars and includes access to a number of lovely hiking trails. Many of these follow the path of the water, and the falls here are beautiful. One of the falls areas even allows swimming, making this a great place to cool off during the summer.
Barton Creek Greenbelt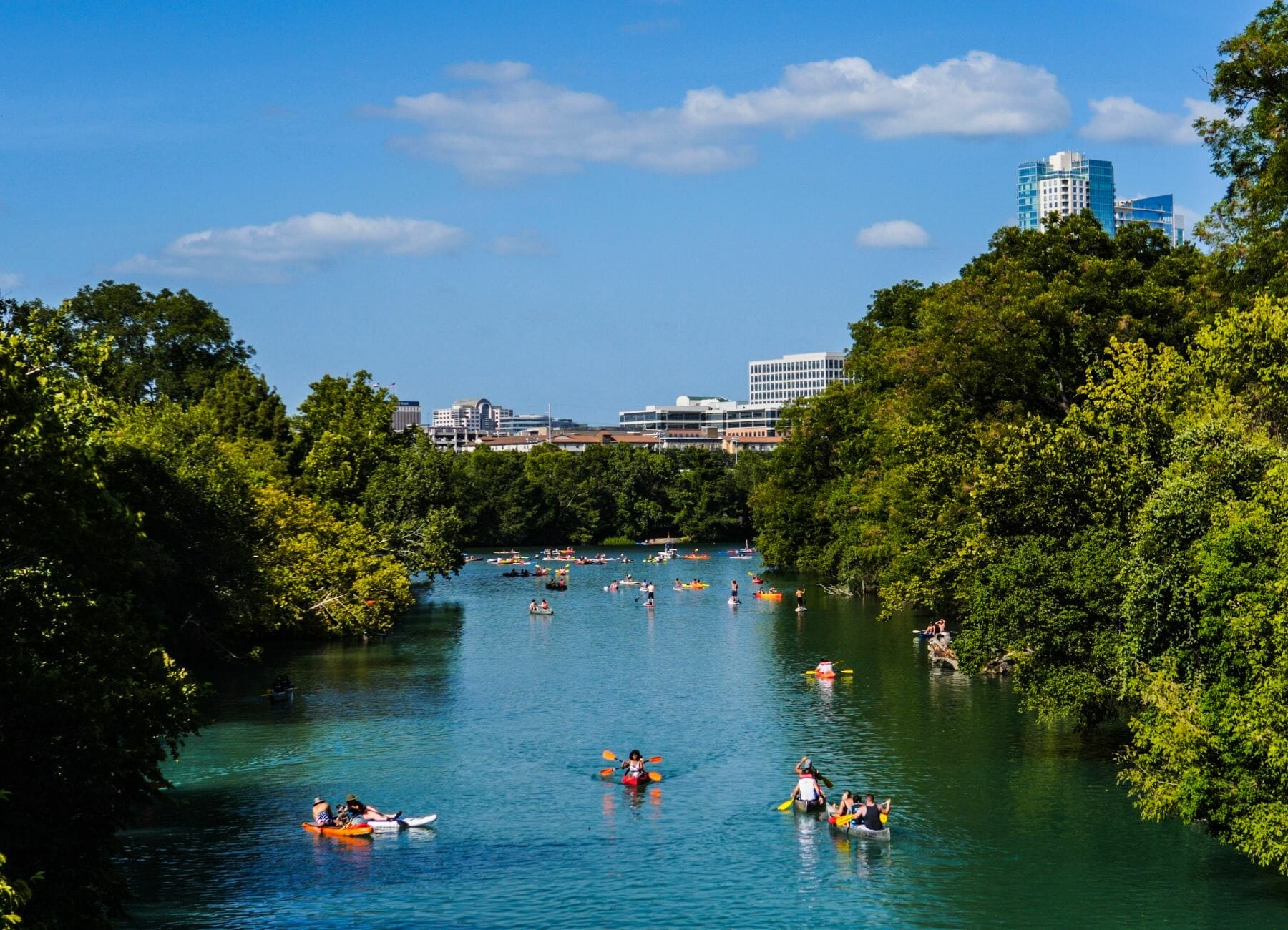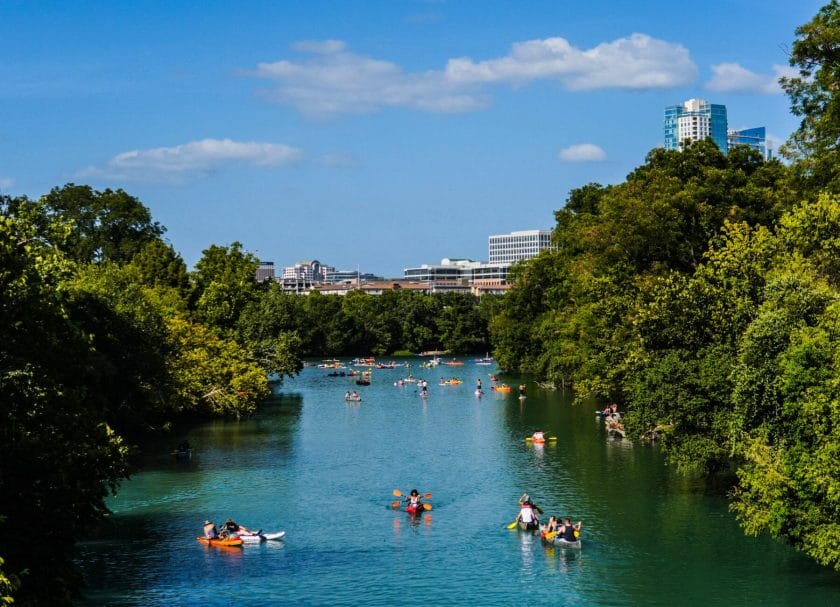 Looking for another gorgeous spot to escape into nature while visiting Austin? Be sure to check out Barton Creek Greenbelt. This is Austin's most beloved park and is great for those looking to hike. It is also great for kayaking, mountain biking, rock climbing, and trail running. It has 7 different access points and includes 7 miles of trails.
If you happen to visit Barton Creek Greenbelt during the spring or early summer, visit Twin Falls or Sculpture Falls to swim in the naturally formed swimming holes.
Zilker Park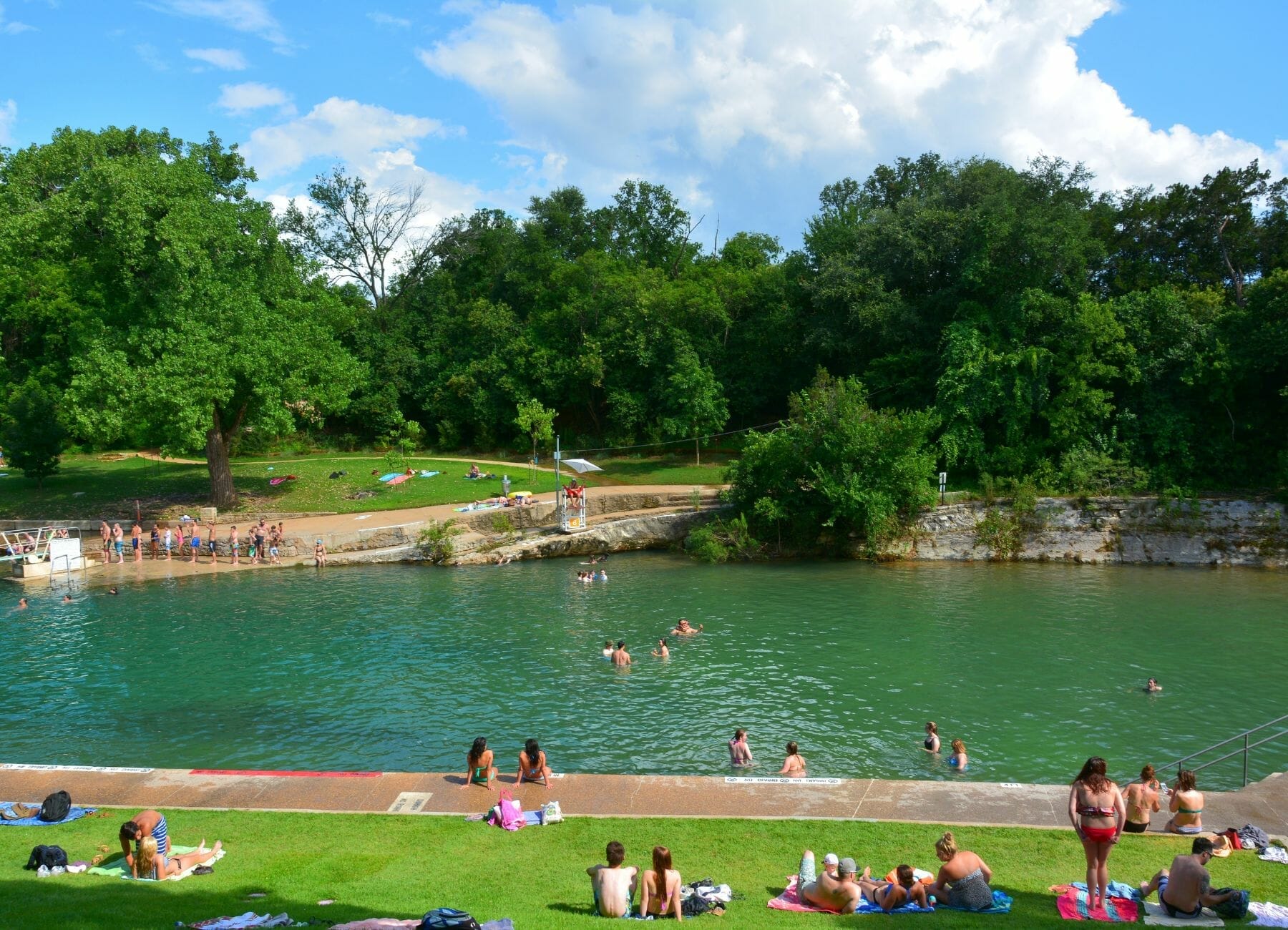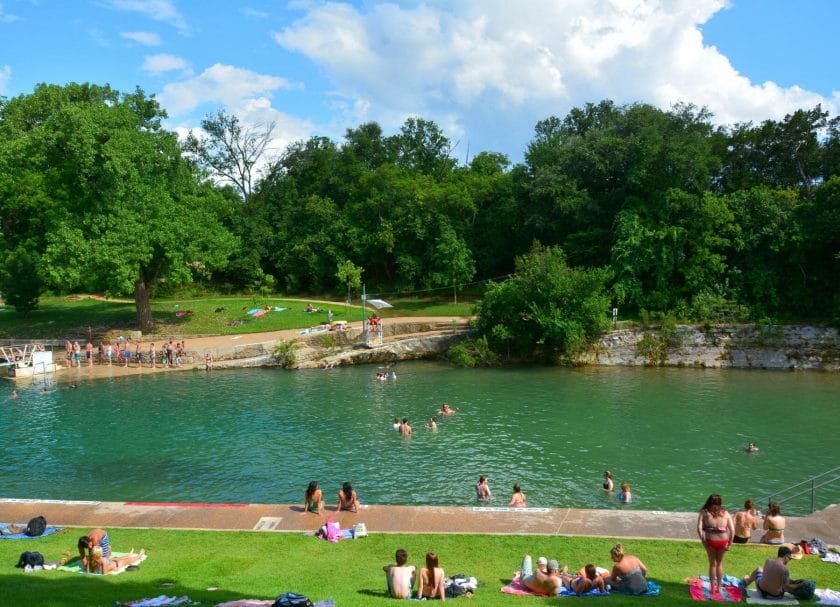 Speaking of swimming, Barton Springs Pool in Zilker Park is another must-visit spot for taking a dip. This is a natural spring-fed pool with a year-round temperature of about 68 degrees (°F) , perfect in the blasting hot Texas summer sun.
Other awesome features of the park include a play area, a disc golf course, volleyball courts, and an outdoor theater. Here you will also find the Austin Nature and Science Center (which offers free admission) and Zilker Botanical Garden.
Lady Bird Lake
Another fantastic place to spend time outside as a family is Lady Bird Lake. This man-made lake was originally created to act as a cooling pond for a power plant. These days, it is used almost entirely for recreation.
We love going to Lady Bird Lake for an evening stroll. That said, many people enjoy other activities on and by the lake. These include bicycling, hiking, kayaking, canoeing, paddle boarding, fishing, and more.
Mount Bonnell
Located in Covert Park, Mount Bonnell is the last of the Austin outdoor recreation areas on our list. The peak of this mountain is the highest point in Austin and offers some spectacular views.
You will need to hike 781 feet up on the Mount Bonnell Trail to reach those views. Fortunately, this trail is actually quite easy, and the end reward is definitely worth climbing those last 102 stair steps to get there.
Access to this trail is totally free, as is parking at the trailhead. You have no excuse not to check it out!
Congress Avenue Bridge Bats
Okay, so technically, I could have included this under the Lady Bird Lake section earlier. However, this is such an amazing experience that I feel it deserves its own place in the article.
The Congress Avenue Bridge is a bridge that crosses Lady Bird Lake. Beginning in late March and ending sometime early in the fall season, the underside of this bridge is inhabited by hundreds—sometimes thousands!—of Mexican Free-Tailed Bats.
At sunset, these bats fly out en masse from under the bridge in search of food. The result? A spectacular 30–45 minute show that people gather for each and every night of the season.
While in the South Congress Avenue section of Austin, be sure to check out the walkable shopping area, movie theater, and nearby Umlauf Sculpture Garden and Austin Visitors Center.
Where to Eat
The result of exploring such a busy city? Hungry bellies, of course! Fortunately, Austin is home to some of the best food we've tried in our extensive travels. From incredible Tex-Mex to some serious barbecue, good food is around every corner in this place.
Hat Creek Burger Company
The Hat Creek Burger Company started as a food truck founded in Austin and has grown ever since! This restaurant is the place to go when you want to grab a burger and let the kids play. Their playground is the perfect stop for kids after they have finished their meal.
Known for their simple, delicious burgers, fries, and shakes, their menu will satisfy everyone in the family. The menu has expanded over the years to now include chicken nuggets, chicken sandwiches, hot dogs for kids, a lettuce wrap burger, and even a few salad options.
Did I mention that Hat Creek Burger Company also serves breakfast? They do! And their menu choices make it worth a visit during breakfast hours! From breakfast tacos to pancakes, everyone will leave with a full belly.
Waterloo Ice House
This restaurant has been a staple in Austin since 1976, where they have been serving burgers, sandwiches, Tex-Mex options, and salads. And don't forget their breakfast options. The kids in the family will love their special 'kiddos breakfast' with eggs, bacon, and a bear-shaped pancake.
Although the food at Waterloo Ice House is delicious, what truly sets this restaurant apart is the family fun activities.
After getting your belly full (or even before your meal), you'll be able to enjoy the outdoor activities at Waterloo Ice House. Their kid's area offers a playscape with tunnel slides, a sandpit, and even outdoor seating with plenty of tables in the shade.
Terry Black's Barbecue Austin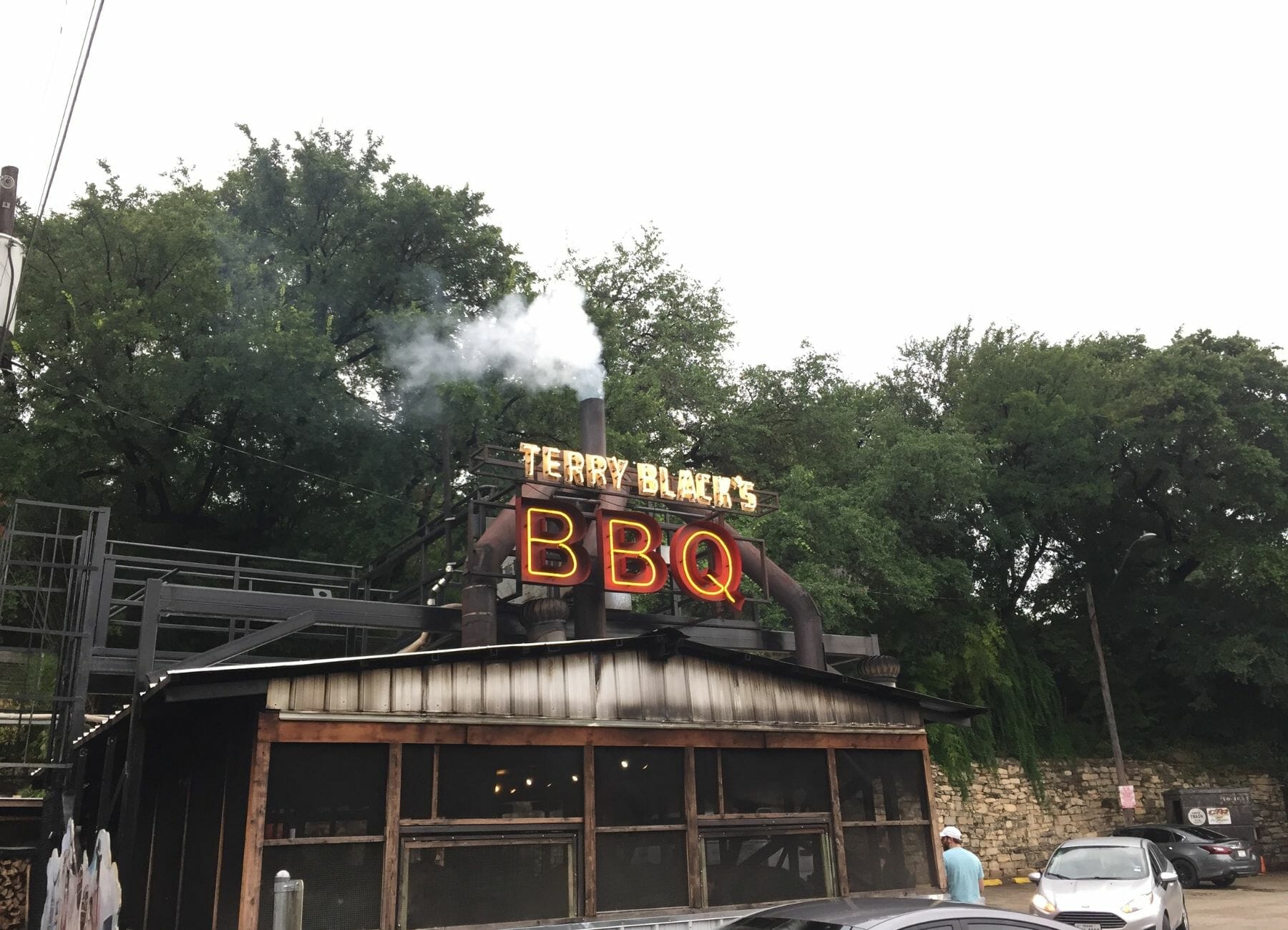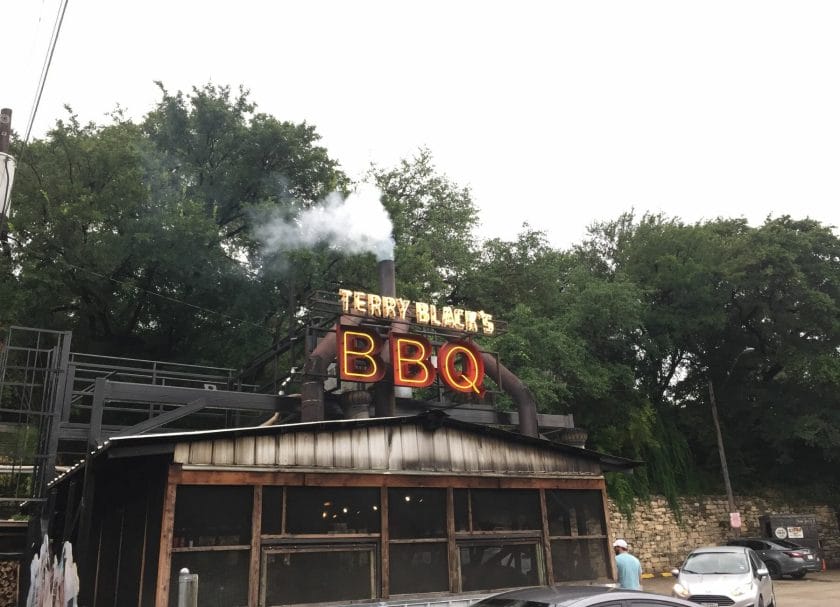 Austin goes hand in hand with barbecue, and visiting the city without trying some barbecued meat would be a sin. We tried a few spots while in town, and Terry Black's Barbecue (not to be confused with Black's BBQ, although that one's worth a visit too) was our favorite. This spot makes excellent meats and has great sauces and sides to boot.
Rainey Street Food Trucks
Another popular place to eat, shop, and hang out in Austin? Rainey Street! While there are tons of amazing eateries in this district, we actually recommend dining at the Rainey Street food trucks for a taste of Austin food truck culture. (Psst… Find some tacos. Trust us on this one.)
Home Slice Pizza
Home Slice Pizza has a few different locations throughout the city. That said, our favorite location is found in the popular South Congress neighborhood. Be sure to stop by and grab a slice of this delicious Austin pizza while visiting the super fun area.
Amy's Ice Creams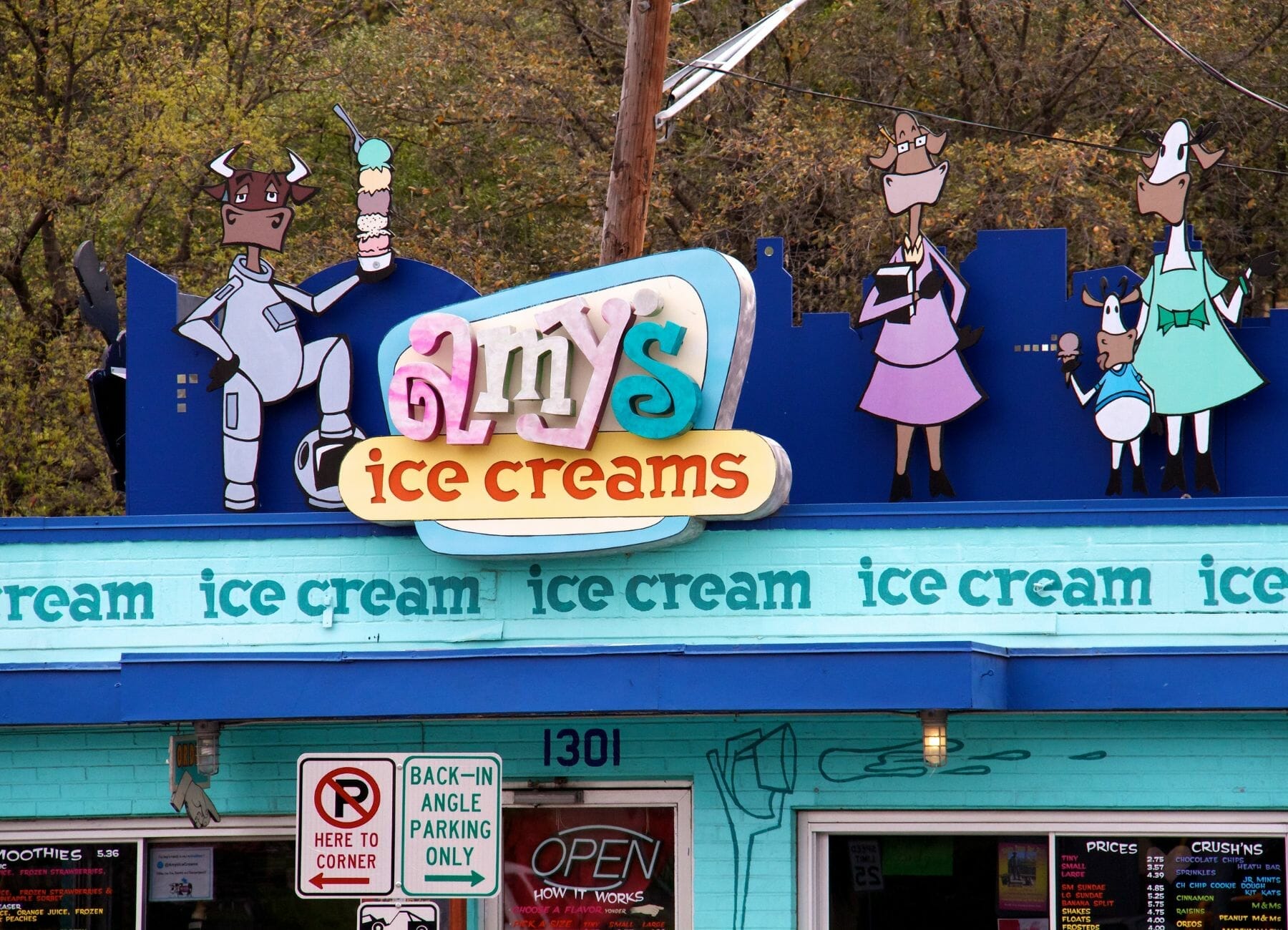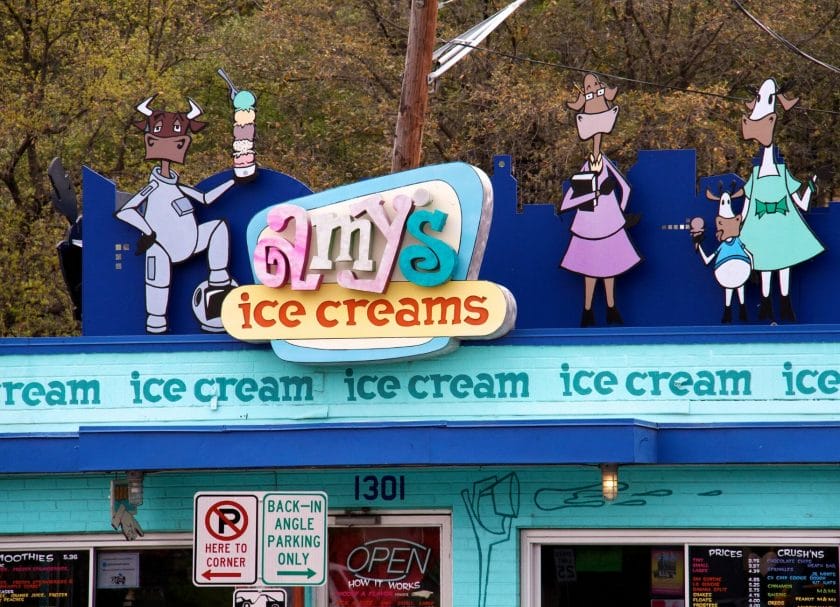 Hoping to grab some dessert? Amy's Ice Creams locations are scattered all across the city, one of which is within walking distance of the aforementioned Black's Barbecue. This local ice cream company offers an excellent product you must try before leaving town. Our favorite flavor? Mexican Vanilla. Feel free to add whatever mix-in you prefer.
Phil's Ice House
Another great dining option when planning things to do with kids in Austin is a visit to the Phil's Ice House. With three locations now serving the Austin area, you will be able to find a location close.
The chicken sandwiches and burgers will be sure to satisfy the entire family. When the kids finish – we know they always finish after a few bites – you can keep the kiddos entertained while exploring their great playscape for kids or climbing on the huge cows.
If you visit the location on Burnett Road, one of the highlights is always the fact that it's right next door to Amy's Ice Creams!
Where to Stay
Finally, you will need a place to crash while spending time in Austin. The rental homes, hotels, and campgrounds below are all excellent choices for lodging in and near the city, and they are sure to allow you to get some good rest, so you have plenty of energy for exploring for the next day!
Vacation Rentals
Downtown Oasis
An adorable townhouse, this awesome rental is located right by all the fun the city of Austin has to offer. We love that the house will sleep the whole family, and the rooftop deck is the ideal spot for cooking out and taking in those gorgeous Texas sunsets.
House on the Lake
Prefer a lakeside rental? If so, this lovely little house on the lake might be the place for you. Here, you can comfortably sleep six, and you are within walking distance of Lake Austin, some eateries, and a coffee shop.
Hotels
Hampton Inn and Suites Austin University Capitol
Those looking for a good value hotel room will love the Hampton Inn and Suites Austin University Capitol. This hotel is just one mile from the capitol building as well as the Sixth Street entertainment district. Guests appreciate the hot breakfast buffet and the clean, modern rooms.
Fairmont Austin
Fairmont Austin is another excellent hotel pick. This hotel is right next to the Austin Convention center and a short drive from the many attractions the city offers. The property boasts several dining options, and the pool and fitness center are favorites of many guests.
Campgrounds
Austin Lone Star RV Resort
If you're looking to take your RV on your Austin adventure, Austin Lone Star RV Resort might be the right lodging option for you. This RV park is just 5 miles from downtown Austin and features full hookups, a heated pool, a playground for the kids, and more.
Sun Outdoors Lake Travis
Hoping for lakeside camping? Sun Outdoors Lake Travis is another wonderful camping option. This RV resort is absolutely lovely and is home to multiple swimming pools, an exciting playground, a well-maintained mini-golf course, and full-hookup sites.
As you can see, there are tons of amazing things to do with kids in Austin. Not only that but there are also lots of incredible dining opportunities to explore, as well as comfortable, well-rated places to stay during your time there.
So what are you waiting for? Start planning your Austin vacation today so you can get away and experience this incredible city as soon as possible. I know you'll love it as much as we did!
More Info Check Out:
The 18 Best Things To Do In San Antonio With Kids
18 Amazing Things To Do In Big Bend National Park
12 Best Things To Do In Houston With Kids
12 Best Things to Do In Dallas With Kids
23+ Fun Things To Do In South Padre Island, Texas Top
9 South Padre Island RV Parks For Your Next Vacation
15 Best VRBO South Padre Island Locations For An Amazing Vacation!
7 Amazing Indoor Water Park Texas You'll Want To Check Out!
Top 13 Amazing Indoor Water Park Dallas You'll Want To Check Out!
37 Stops For The Best Cross Country Road Trip [Map Included]
Pin This Post: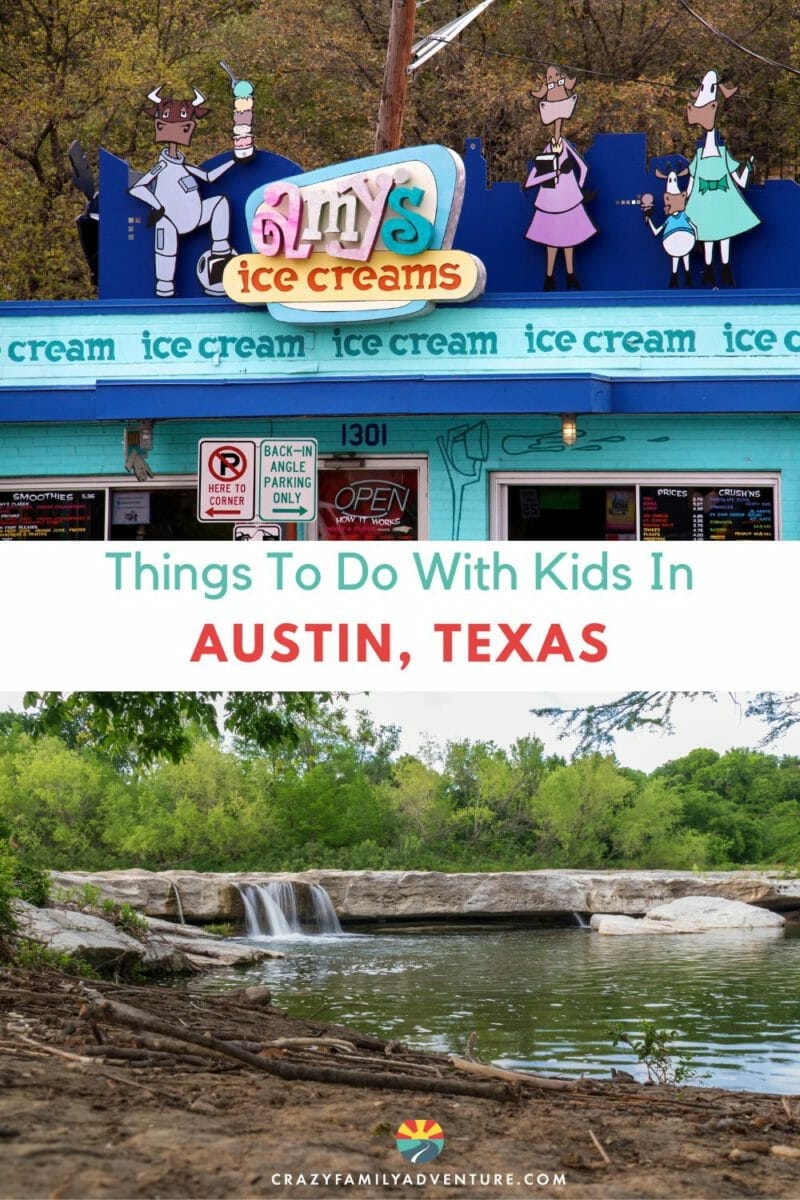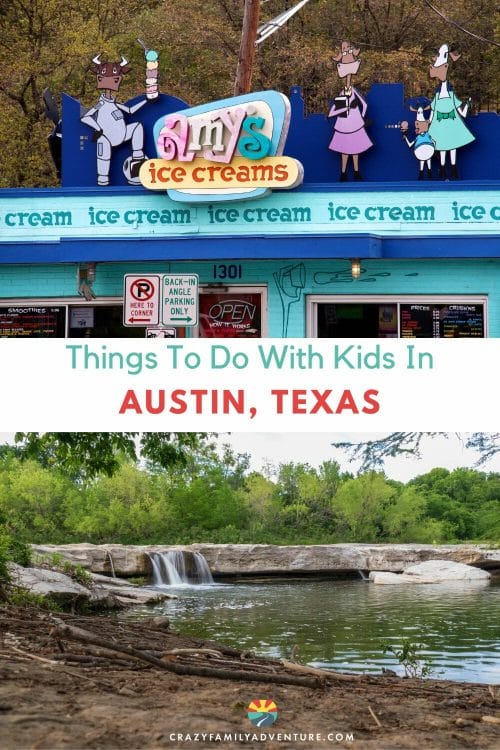 Latest posts by Chelsea Gonzales
(see all)
DISCLOSURE: This post may contain affiliate links, meaning I get a commission if you decide to make a purchase through my links, at no cost to you. Please read my disclosure for more info.