There are so many things to do in Big Bend National Park – one of the most remote of all the National Parks with only about 400,000 visitors annually. Compare that to the estimated 4.4 million visitors going to Yellowstone every year. If you're looking for a place with scenic beauty without the crowds, Big Bend is it.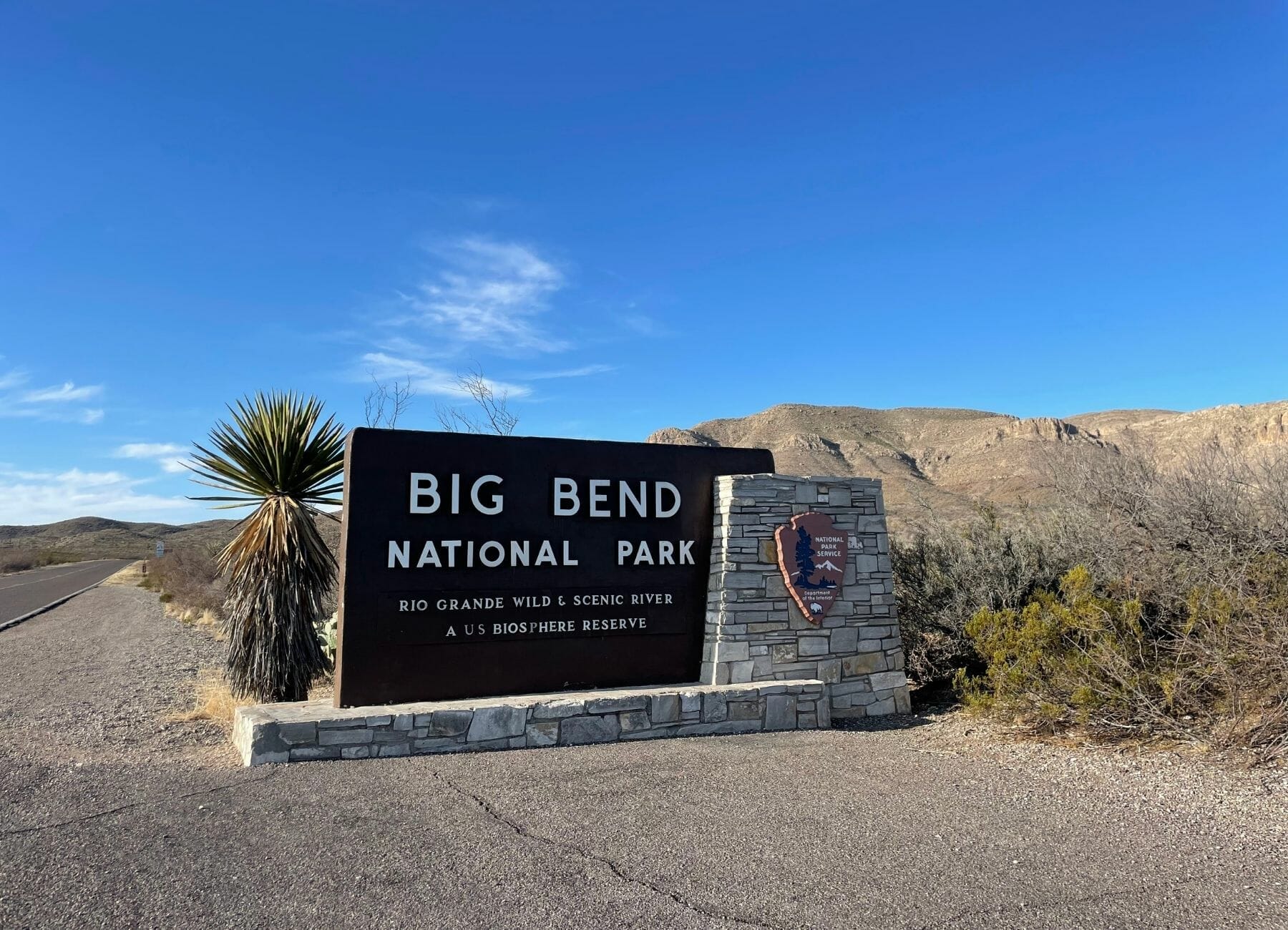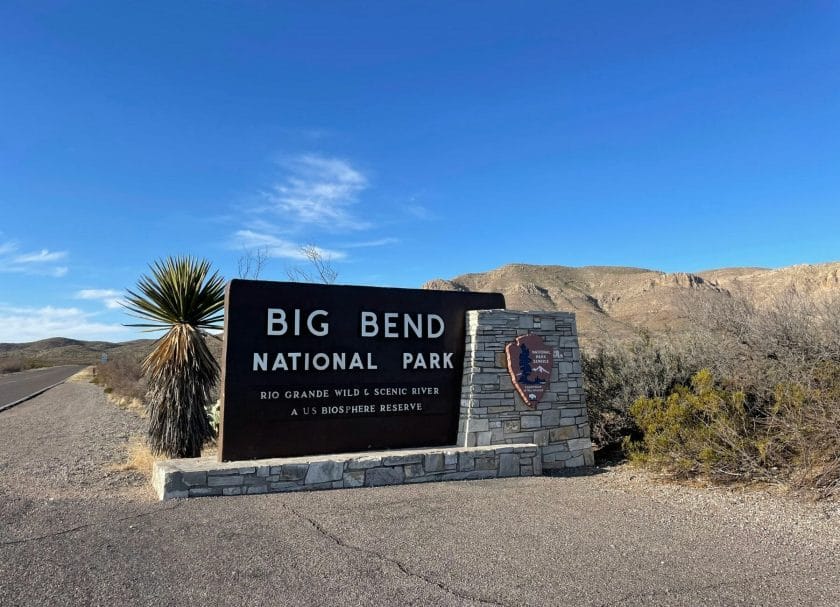 Big Bend is home to major biodiversity – from the arid Chihuahuan Desert to the Chisos Mountains, which are fully contained within the park's boundaries. The various ecosystems support tons of different flora and fauna too.
According to the National Park Service:
"Big Bend National Park's varied habitats support an amazing variety of wildlife, including 11 species of amphibians, 56 species of reptiles, 40 species of fish, 75 species of mammals, more than 450 species of birds, and about 3,600 species of insects. The park boasts more types of birds, bats, butterflies, ants, and scorpions than any other national park in the United States."
Despite all this beauty, Big Bend sees fewer visitors because of its location. Situated on the "big bend" in the Rio Grande River on the Mexican border in west Texas, the park is about 200 miles from the nearest airports in El Paso or Midland/Odessa and over 400 miles from San Antonio. But it's definitely worth the drive.
Here are some of our favorite things to do in Big Bend National Park when visiting.
Things To Do
Stop at the Panther Junction Visitors Center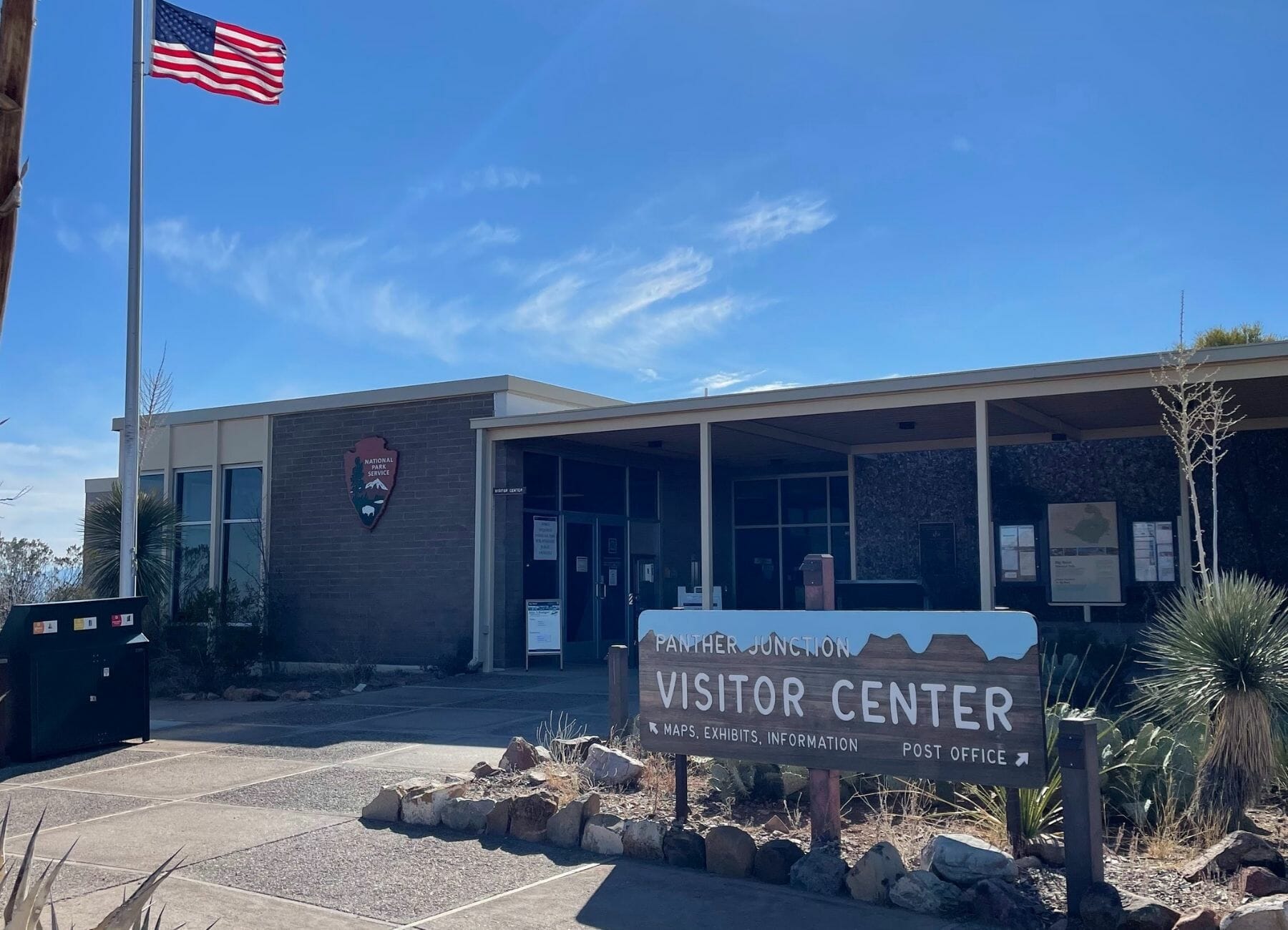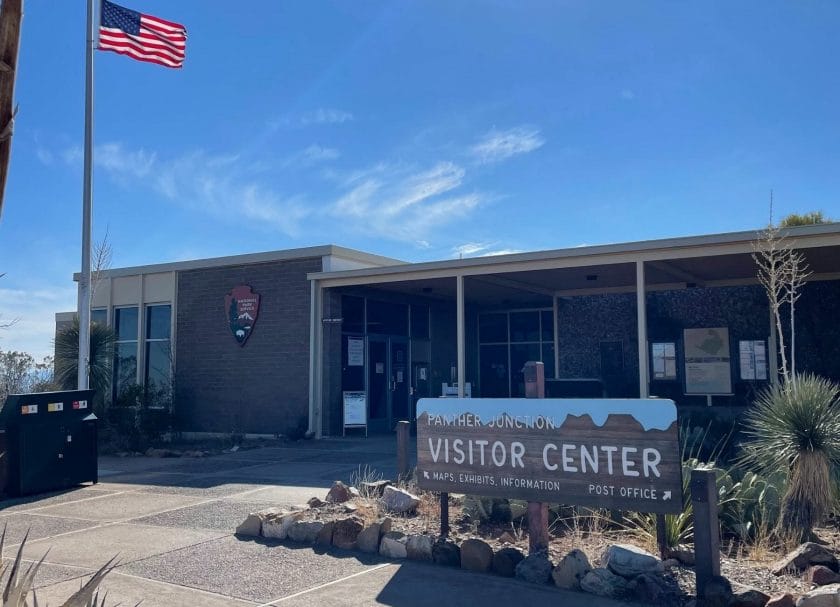 This visitors center is a great place to stop in and use the restroom, look at maps, get oriented and buy souvenirs. This stop also has water available (up to 5 gallons per day allowed per person), and you don't want to go out on the trails without it, so fill up here.
Speaking of filling up – just up the road from the visitor center is one of the only gas stations in Big Bend. So if you think there's even a chance, you'll be low on fuel, fill up in Panther Junction.
Visit the Fossil Discovery Exhibit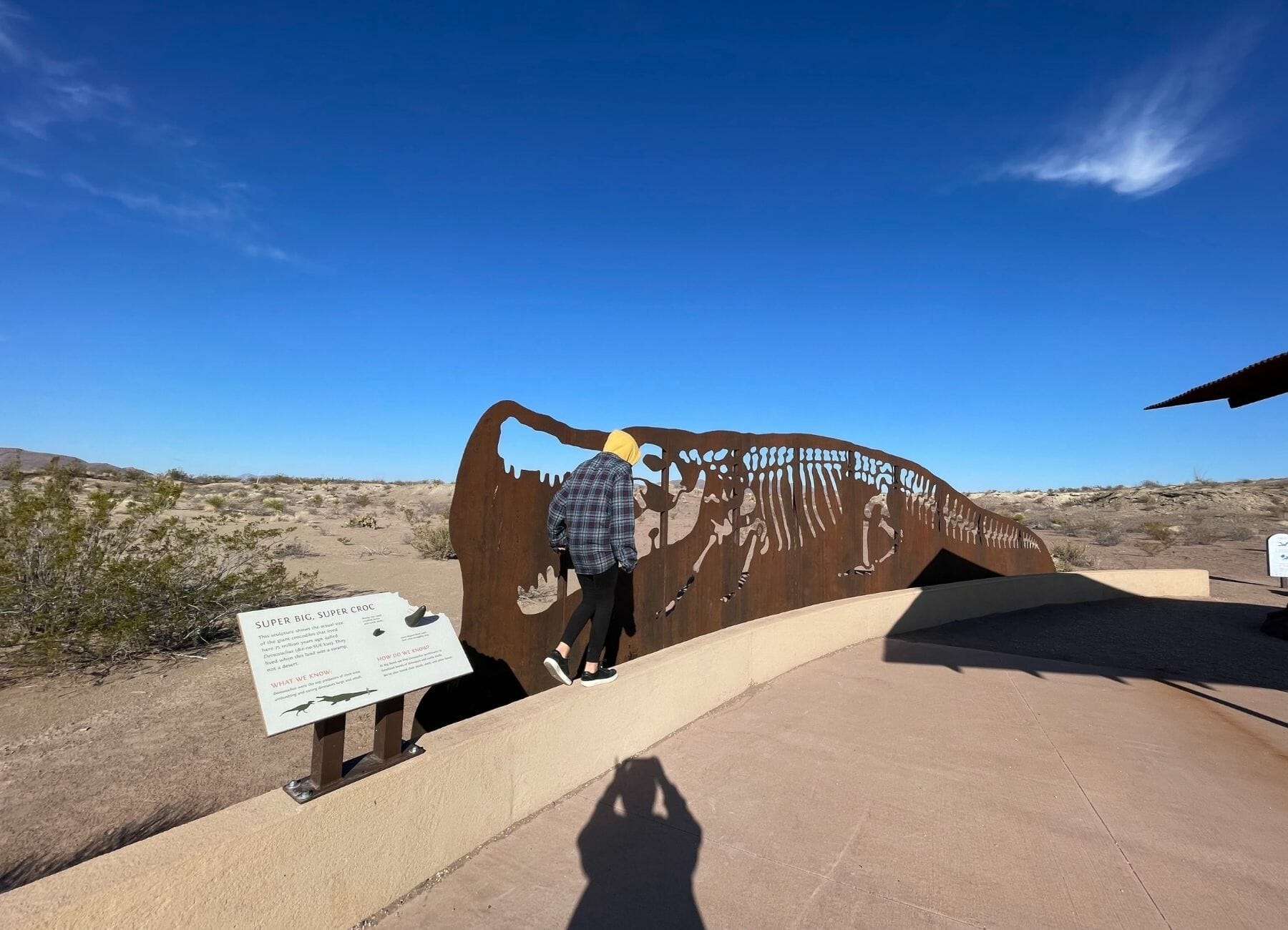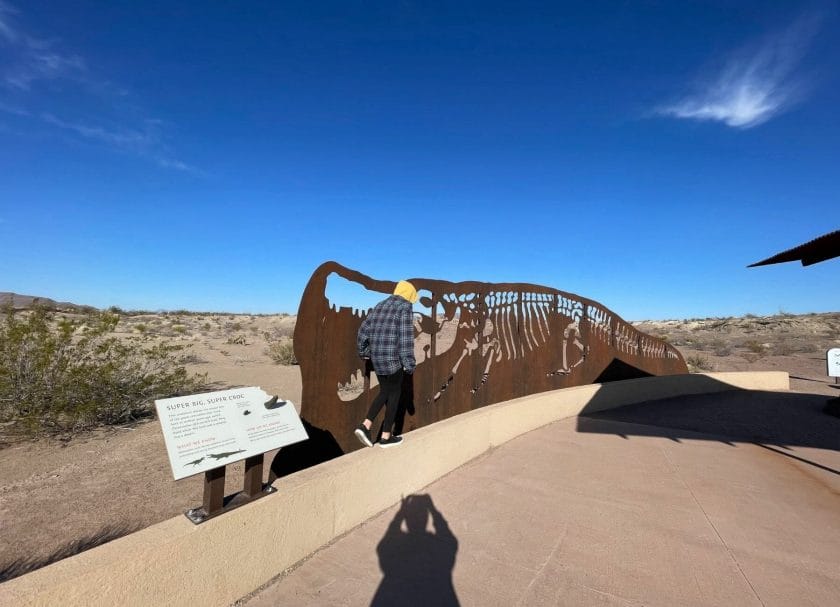 The Fossil Discovery Exhibit is located 8 miles north of Panther Junction on Highway 385. You'll miss the entrance if you blink, so keep your eyes open.
The exhibit is split into a few sections. First, all around the parking lot is an outdoor exhibit about the fossils found in the area and animals that lived there millions of years ago. This outdoor interpretive area is great for young kids to interact with.
There is also an open-air building where you can walk through the area's history over the prehistoric periods and learn about the changes in geology and animal life through the eras. The exhibit includes casts of the original fossils found in the area and murals of what the animals would have looked like.
You can also take a short climb up a rocky formation with great views of the basin area. Along the way, there are interpretive signs that explain where fossils were found and how the exhibit came to be.
Drive the Ross Maxwell Scenic Drive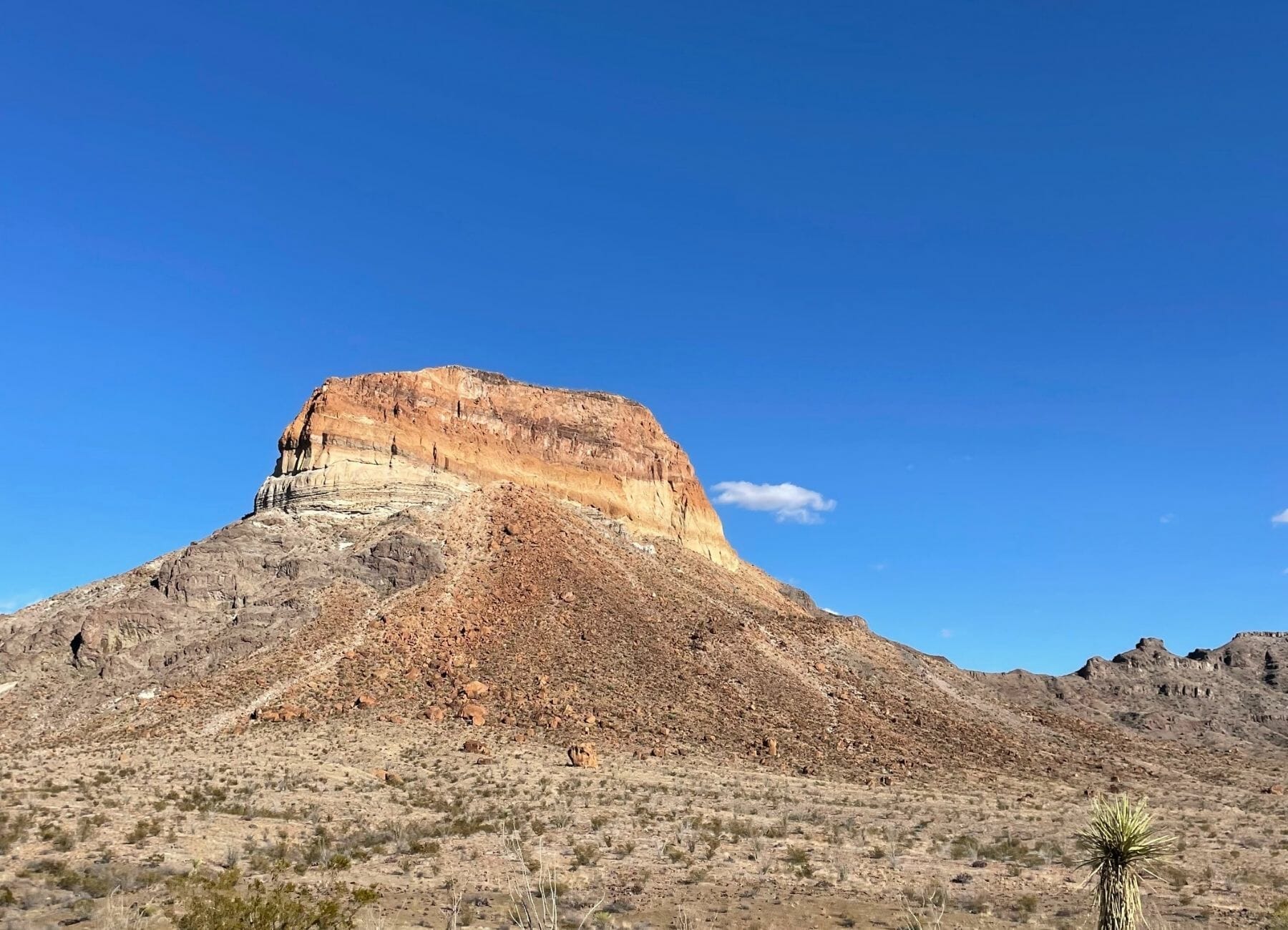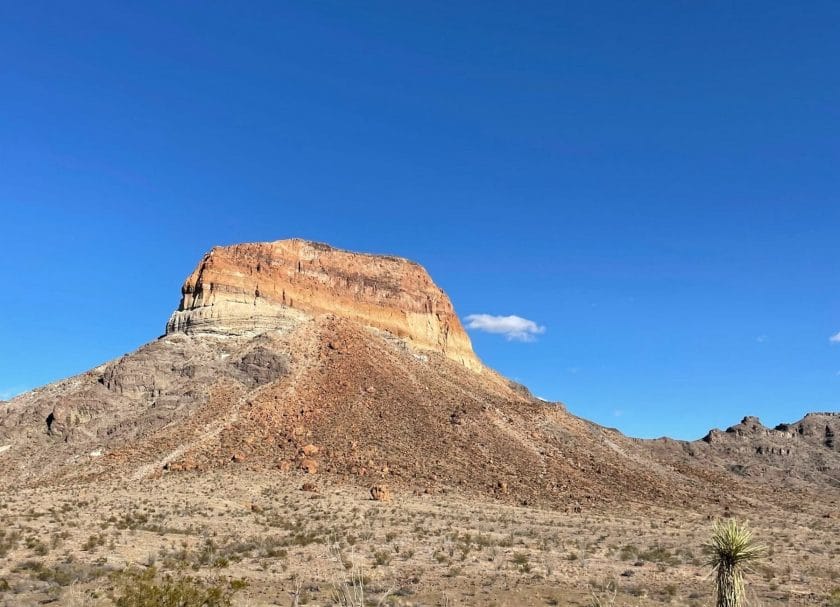 Although Big Bend is full of scenic drives, this section of the main road through the park is especially beautiful. The 30-mile stretch runs from just north of one of the park's historic sites – Sam Neil Ranch – all the way to the Mexican border and Santa Elena Canyon.
In the middle of the drive, you'll gain a lot of elevation to the top of Sotol Vista. This overlook and picnic area give you panoramic views of the Chisos Mountains and a preview of the Santa Elena Canyon in the distance.
You'll go through several different ecosystems and habitats as you drive this route. You'll be amazed at how much the landscape and rock formations change in just 30 miles. And there are plenty of overlooks and pull-offs to stop and take in the beauty.
Go Down Into Tuff Canyon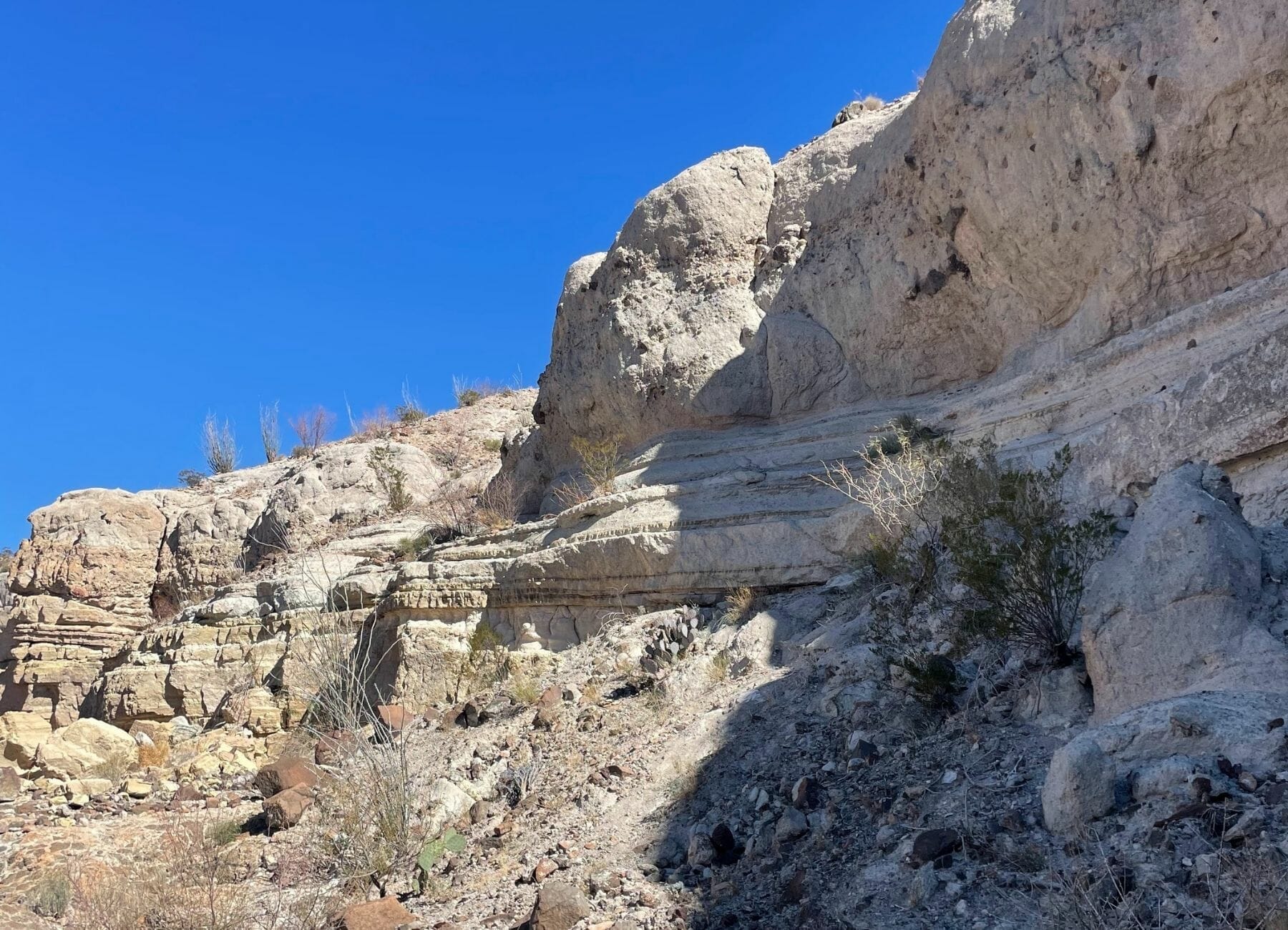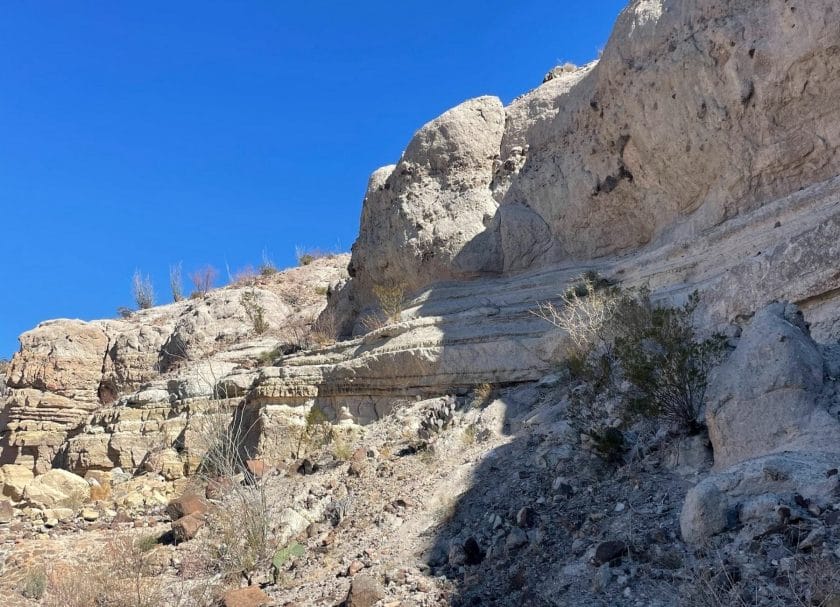 One of our favorite hikes in the park is along the scenic drive – Tuff Canyon. It looks like a small pullout on the side of the road, but there are two observation decks and a short trail leading to the bottom of the canyon. And the hike is anything but tough.
After an easy descent to the canyon floor, you can see the layers of volcanic rock that have been carved by erosion over the years. If you keep going up the canyon, you can climb up over these formations and may even find pools of water and evidence of waterfalls. This short and easy hike was a beautiful stop on the scenic drive.
** This trail may be closed due to rock fall and unstable rocks **
Visit Castalon Village
Along the Ross Maxwell Drive is the historic Castalon Village. This little town was mostly destroyed by wildfire in 2019, but we still enjoyed our stop here.
There is a visitor center – which is not open in the summer – where we met some friendly volunteers who gave us info about some of the plants we had photographed. They also gave us tips on where we should stop and hike on the way to Santa Elena Canyon.
The village has great views and some signs explaining the area's historical significance. There is also a small store with snacks for sale and some spots to sit outside and enjoy them.
The big bonus of this stop is the clean restrooms with flushing toilets and running water! Every other bathroom we encountered in the park was a pit toilet and no sinks.
Spend Some Time Around Rio Grande Village
The east side of Big Bend National Park boasts many park activities and could easily take one whole day to explore. If are searching for things to do in Big Bend National Park and you want to spend the night, check out the Rio Grande Village Campground. We recommend at least an afternoon in this region alone.
The Rio Grande Village Visitor Center is a good place to start before exploring the other sites. The village also has a store and other gas stations within the park if you need to fuel up. From there, you can easily visit Boquillas Canyon for a short hike.
Boquillas Canyon
Boquillas Canyon is the longest and deepest canyon in Big Bend National Park but still not as impressive as Santa Elena, in our opinion. To get there, take Boquillas Canyon Road off the main road to the Boquillas Canyon Overlook. From there, a 1.4-mile round trip hike takes you to the river's edge at the entrance to the canyon.
The best way to visit the canyon is a 3 to 4 day trip by boat. It's easy to navigate, but the 33 miles from Rio Grande Village to Heath Canyon are true wilderness trips. The river is calm for most of these miles, and there are lots of side canyons to explore for hikes or overnight camping spots.
Historic Hot Springs District
After a day of hiking, one of the best things to do is enjoy a soak in the historic Hot Springs along the Rio Grande River. There used to be a bathhouse here, but now there are just ruins and the springs.
To get there, follow the two-mile-long gravel Hot Springs Road that descends through a rough wash to the Hot Springs Historic District and trailhead area. (Important: RVs, duallys, and oversize vehicles are not allowed on the one-way sections of the Hot Springs Road, and you might want a high-clearance vehicle to make this drive).
From the trailhead, the Hot Springs are a half-mile round trip hike. Once you're there, you can soak in the 105-degree mineral water while looking out at the Rio Grande. Or hop back and forth from the river to the spring for a cold-hot-cold shock.
There are some rules and things you should know about visiting the Hot Springs:
This is for soaking only. No bathing, soaps, or oils are allowed.
Be careful with your kids – the water can get very hot in spots, and 105 is no joke for little ones.
There is nowhere to change by the Hot Springs, so layer your swimsuit under your clothes or be prepared to change in or near your vehicle.
Swimming in the river is not recommended. Beware of the currents in the Rio Grande.
Alcoholic beverages and glass containers are prohibited.
No overnight camping in the Hot Springs area.
Stay Out After Dark for Some Dark Skies Beauty
Many local organizations and municipalities are teaming up to make the Big Bend area a certified Dark Skies Reserve. This means they are working to eliminate light pollution and create beautiful night skies that are perfect for stargazing.
The dark sky efforts do more than create stunning nighttime views. True darkness at night – without electric lights – is good for the wildlife that lives in the area. Animals, especially nocturnal ones, need to know the difference between night and day for survival.
If you camp at any of the local campgrounds or if you are in the park after dark, make sure you get outside and lookup. And if you want to learn even more about the night sky and the dark skies efforts, you can visit the McDonald Observatory, which is about 2 hours from Big Bend near Fort Davis.
Visit the Big Bend Ranch State Park
It's not often that you get to visit a national park and a state park at the same time, but in Big Bend, it's possible. Big Bend Ranch State Park is next to the national park but offers a very different experience.
One of the most popular things to do in Big Bend National Park is Big Bend Ranch – it takes the scenic FM-170 River Road for a scenic drive along the Rip Grande. Some say this is one of the most beautiful drives in America.
Hiking Trails Perfect for Day Hikes
Balanced Rock and the Grapevine Hills Trail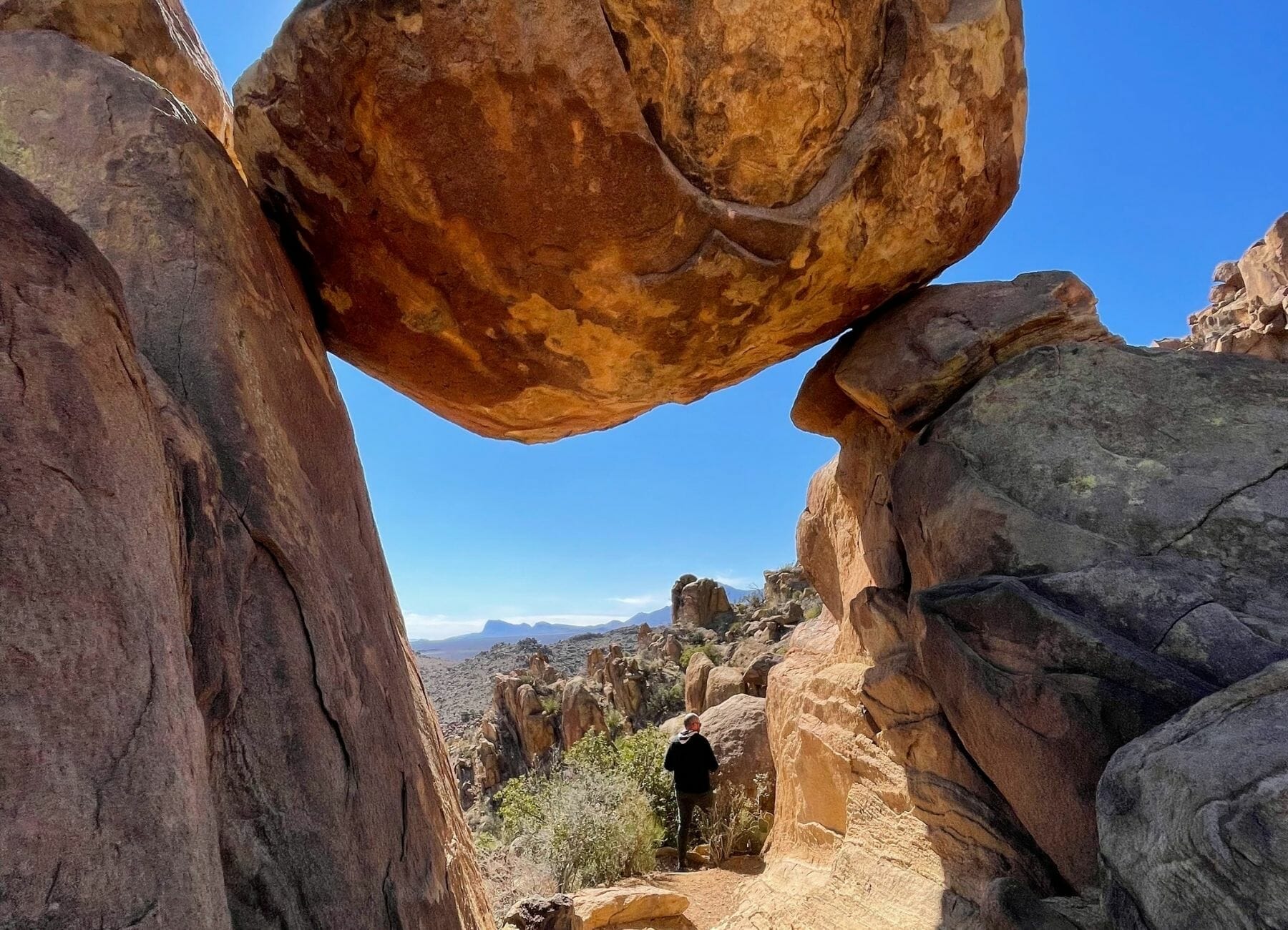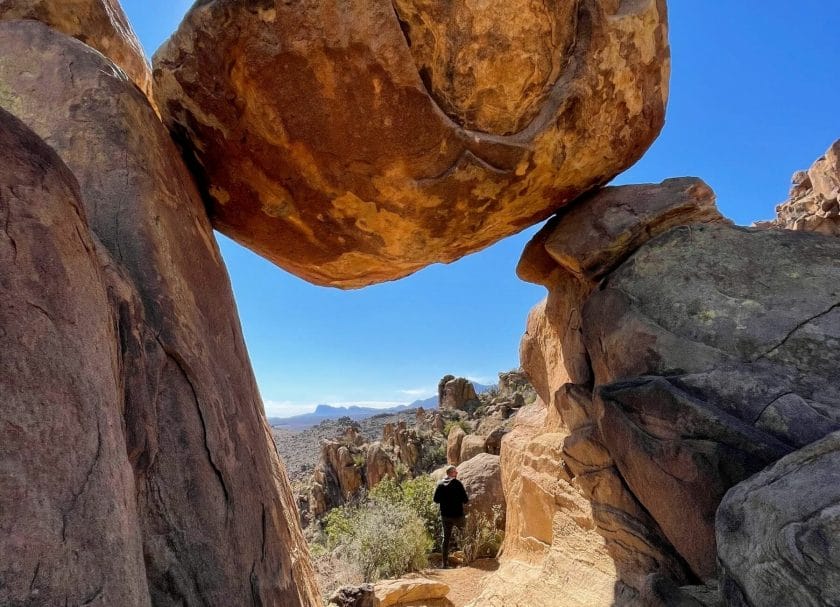 Balanced Rock is one of the most photographed places in Big Bend, but we were surprised to only pass about six other groups on our hike to and from the rock. Part of the fun of this location is getting there.
The drive to the trailhead is just over 6 miles on one of Big Bend's many dirt roads – Grapevine Spring Road. This rocky, bumpy road starts on Gano Springs Road near Panther Junction.
We were glad we had a Jeep for this driving adventure. It's something you will want a high clearance vehicle for and maybe even a 4-wheel drive. We saw smaller cars and vans making the trek, but it looked nerve-wracking.
At the top of the road is a small parking lot where the Grapevine Hills Trail begins. This is a 2.2 mile out and back hike through a sandy desert wash and then up some rocky cliffs. This last part of the trail is challenging but really fun as you scramble up and over boulders to the top. Plan to spend about 90 minutes for the whole hike.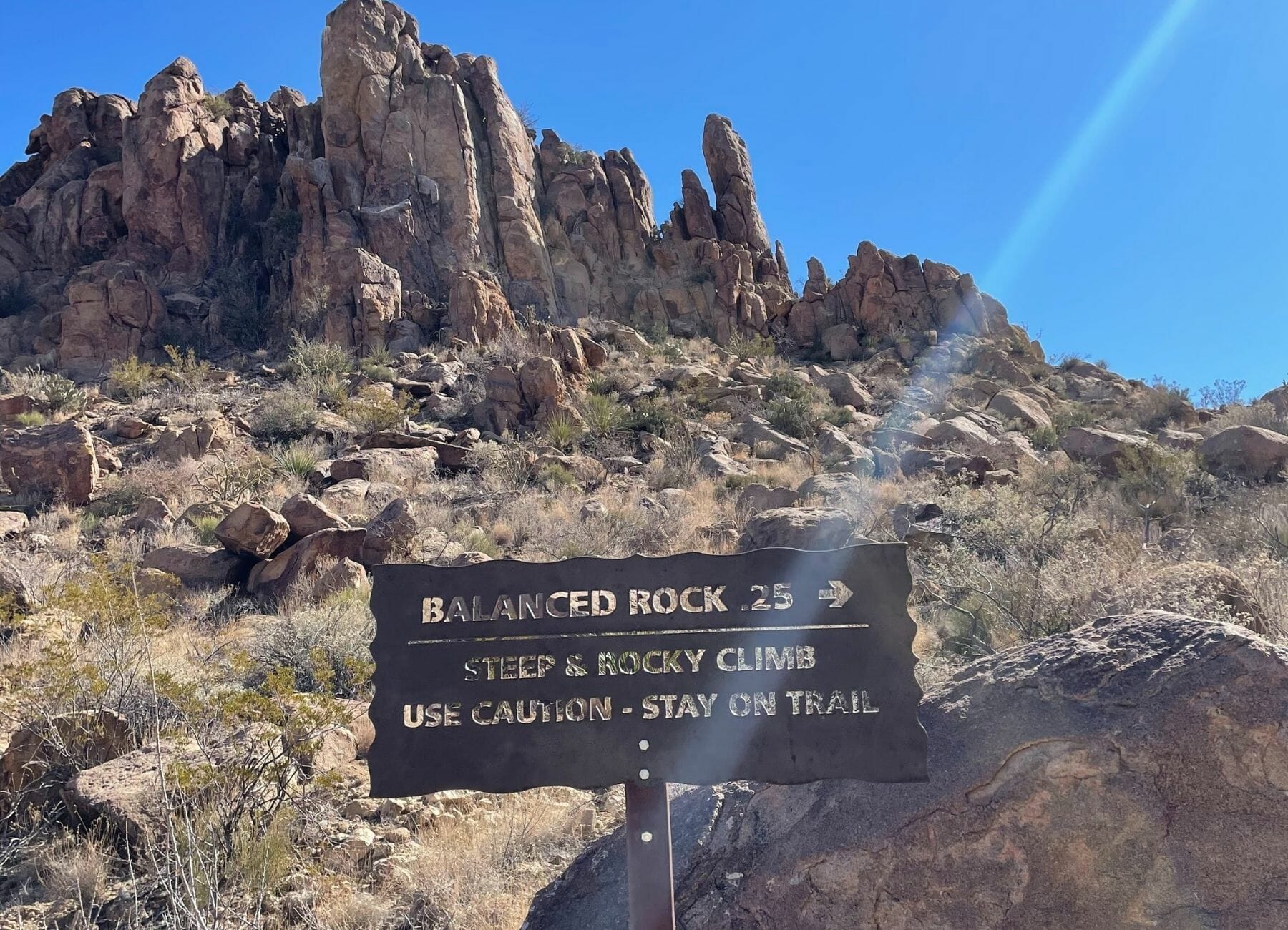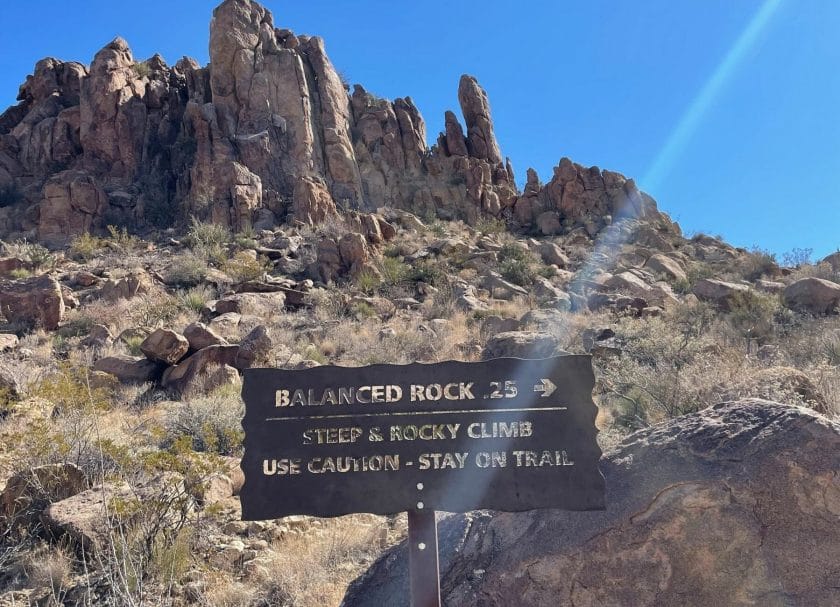 The rocky portion of the trail can be hard to follow, so look for the rust-colored way-finding signs.
Once you're at the top, you'll find the famous Balanced Rock. It looks like someone picked up the giant boulder and set it up between two rocks. It just sits there, suspended in the air.
Depending on how busy it is, you may have to wait your turn to take pictures with the Balanced Rock. But there are plenty of areas around the rock to scramble and hike to keep you entertained while you wait.
Santa Elena Canyon Trail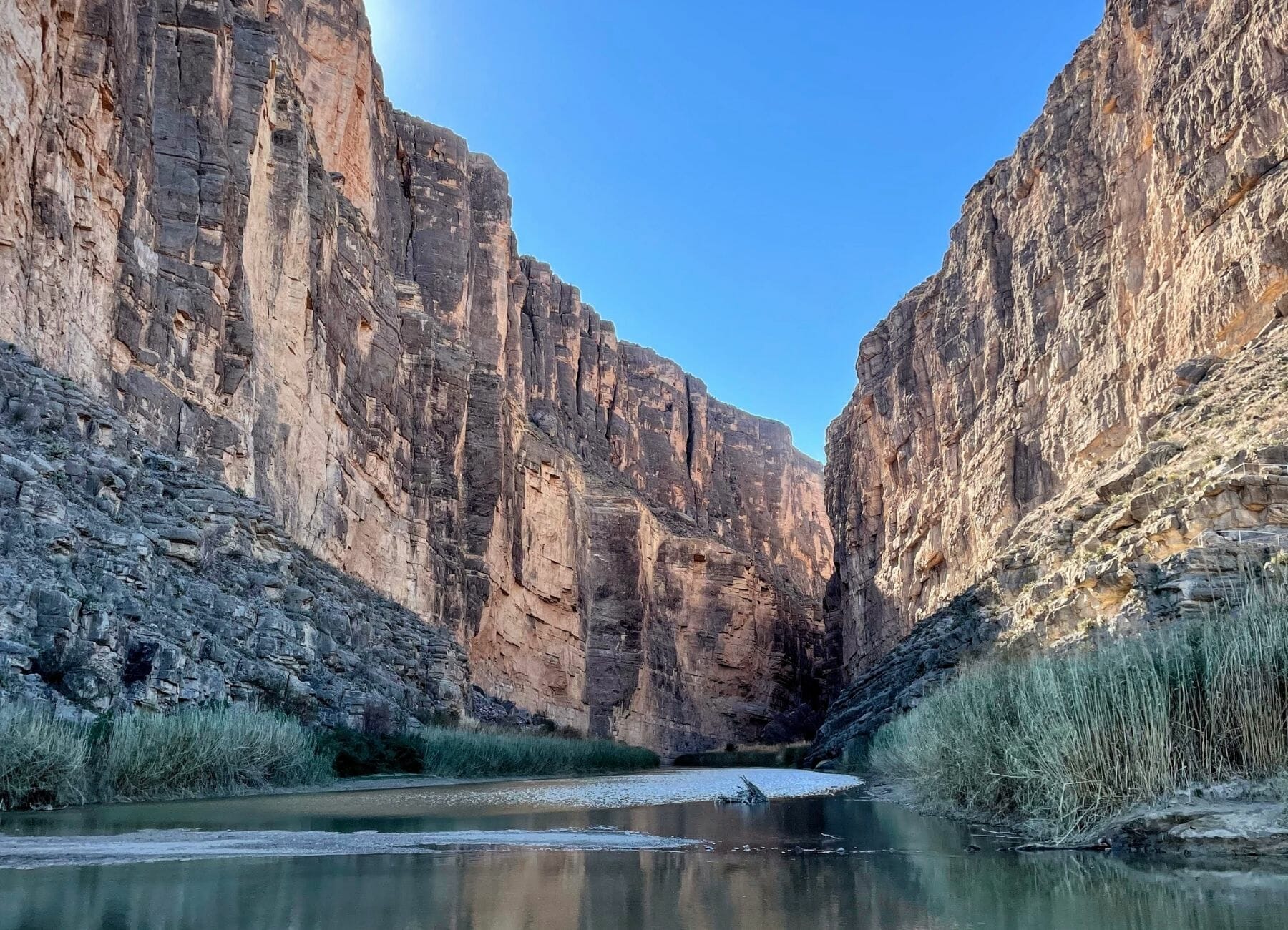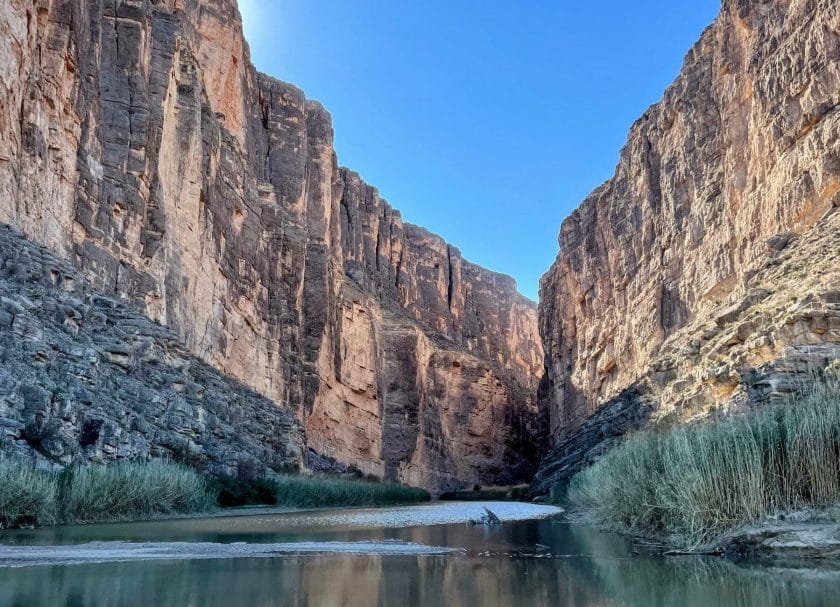 Approaching the Santa Elena Canyon looks a little like driving up to the north wall in Game of Thrones! There is a 1,500-foot tall sheer rock face jutting up from the banks of the Rio Grande, and it makes you feel really small.
Once you park and walk the short, sandy trail to the mouth of the canyon, it's even more impressive. Depending on the water depth, you'll cross a small creek or the Rio Grande to get to the Santa Elena Canyon Trail.
The short nature trail climbs up several flights of stairs and ramps along the canyon wall before leading down to the base of the canyon. It's the second-best way to view the canyon. The first is by canoe, kayak, or raft. There are several outfitters in the area that rent boats.
Mule Ears Trail and Overlook
The Mule Ears SpringTrail is a 3.8 mile round trip trail through the Chihuahuan Desert. You start at the Mule Ears Overlook, a parking area on a dirt road just off the Ross Maxwell Scenic Drive.
View the Mule Ears from the overlook – two towers of igneous rock that look like, well, mule ears! You can photograph it from here and move on or take the trail for an hour or two hike. The hike takes you past the ruins of an old ranch that used to be located near the spring.
The spring is a delicate ecosystem and one of the few water sources in the desert, so take great care not to disturb or pollute it. And pack plenty of your water and sun protection. This trail is not shaded.
Chisos Basin Area Trails
The Chisos Basin Area of Big Bend is filled with hiking trails and park activities. You could easily spend a few days just in this area. (And you can! At the campground or the Chisos Mountains Lodge).
This area of the park gives you beautiful views of the surrounding mountain range and an opportunity to hike and climb with your choice of short and easy hikes up to long and challenging hikes.
Here is a list of the trails from shortest to longest you should plan to do when planning things to do in Big Bend National Park:
Window Veil Trail
Easy, paved 0.3 mile round trip trail beginning at the Chisos Basin Trailhead. This trail is wheelchair accessible and circles a low hill, giving views of the mountains surrounding the Chisos Basin.
Chisos Basin Loop Trail – Moderate, 1.8 mile round trip trail beginning at the Chisos Basin Trailhead. This trail has opportunities to see lots of wildlife, including some of the 450 different species of birds that call Big Bend home. Keep an eye out for hummingbirds in the agaves and Mexican jays in the pines.
Boot Canyon Trail
Strenuous, 3.5-mile hike beginning from the Chisos Basin Trailhead. You can then continue 2.8 miles to the South Rim if you wish. This is a tough hike but may have the payoff of seeing water pooled up in the canyon along the way, depending on recent rainfall.
Lost Mine Trail
Moderate, 4.8 miles round trip trail beginning at mile 5.1 on the Basin Road. There is limited parking here, but people come and go throughout the day, so if it's full, circle back soon. If you are short on time, the first mile of the hike lands you at a saddle with stunning views of Casa Grande and Juniper Canyon.
Window Trail
Moderate, 5.6 miles round trip trail beginning at the Chisos Basin Trailhead. This hike gives you a view through the famous "window" in the Chisos Mountains. But be very careful on this trail. The top of the Window Trail is a slick rock with no railings, and the return hike is uphill. It may not be suitable for young kids.
Emory Peak
Super strenuous, 10.5 mile round trip beginning at the Chisos Basin Trailhead. The beginning of this trail is a gradual incline through forested foothills, but the last quarter mile or so climbs steeply. And the last 25 feet is an unsupported scramble up an exposed rock face. Once you reach the summit, the 360° view from the highest point in the park is worthwhile. This is not recommended for young children.
South Rim
Strenuous, 12 to 14.5 mile round trip trail beginning at Basin Trailhead. The difference in miles is because you have a choice of two trails: either the steep Pinnacles Tail or the more gradual Laguna Meadows Trail. This difficult trek is worth the 2,000 foot gain with stunning views from the South Rim midway up.
When To Go To Big Bend
The best time to visit Big Bend National park is September to April. The park is really popular in the spring, with visitors trying to get a view of the rare bluebonnet blooms and other plant life coming to life. There are also a lot of visitors in the cooler fall months.
We visited in the winter (February), and the weather was sunny but cool, and the crowds were almost non-existent. The nearby towns were also quiet during this time, but everything was still open and running. It was the perfect shoulder season time to explore the park and surrounding area.
As you might expect, it gets really hot in west Texas in the summer. Some of the park activities and amenities even close for the season during the summer vacation months.
Where To Eat Near Big Bend
For the most part, in the park, you might want to pack a picnic and lots of snacks (and water!) to hold you over. But there are also many great places to grab meals around the park. Here are some of our favorites.
DB's Rustic Iron BBQ – Terlingua Ghost Town
Widely regarded as some of the best Texas barbecue you can get, this little food shack packs a lot of flavor. It's only open Wednesday through Sunday and only until the food runs out. Depending on the crowds, this could be early, so plan accordingly.
For more information, check out DB's Rustic Iron BBQ – Terlingua Ghost Town here.
The Starlight Theater – Terlingua Ghost Town
This historic building was once the movie theater in Terlingua when it was a bustling mining village. Now it's a super popular restaurant open for dinner only. The menu ranges from burgers to steaks, and they have a kids' menu.
Some nights there is live music; every night, there is a wait. We arrived at 4:30 pm (a half-hour before opening), and there was already a line of people waiting for a table. There may be less of a wait when going later in the evening.
For more information, check out The Starlight Theater – Terlingua Ghost Town here.
Where To Stay When Visiting Big Bend
VRBO
The Bank at Ten Bits Ranch – Terlingua, TX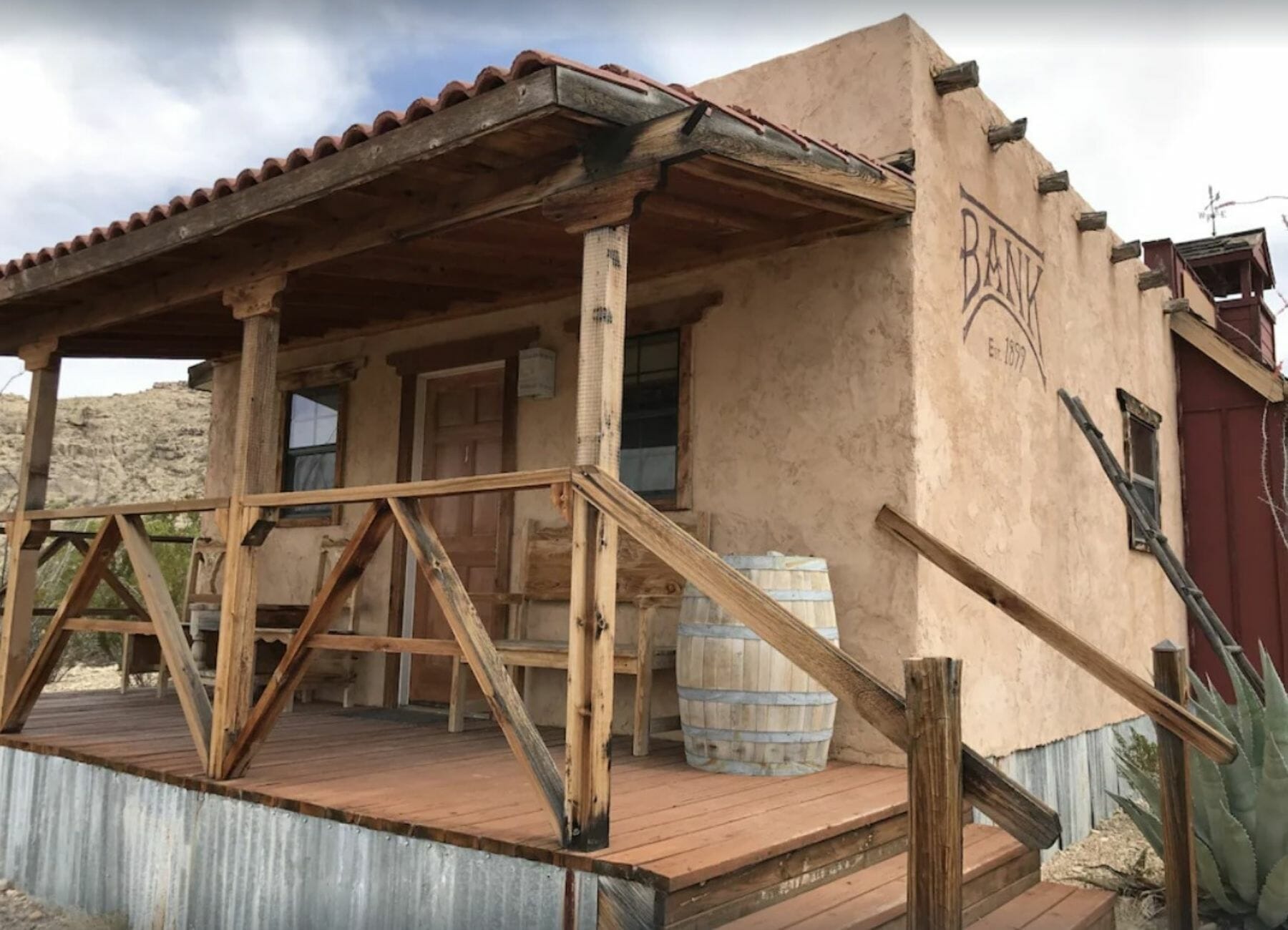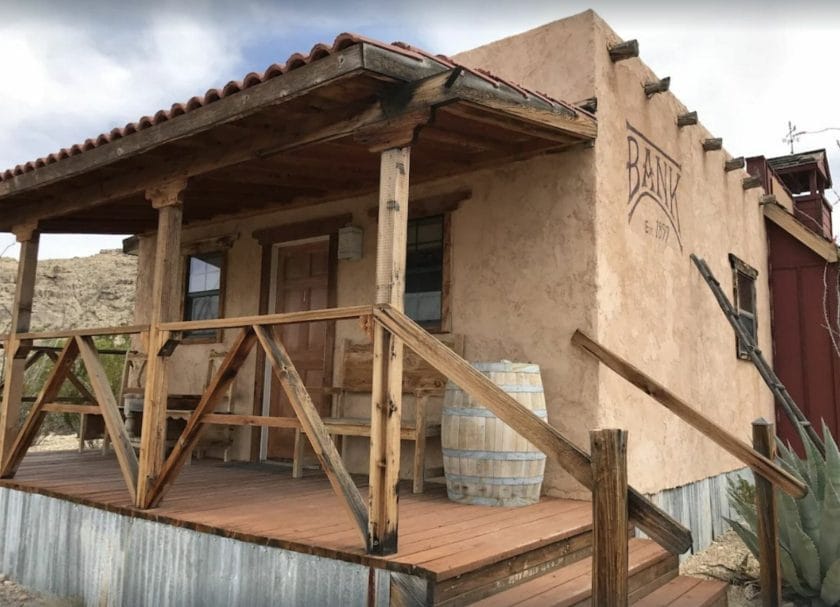 Ten Bits Ranch is a unique 550-acre guest ranch with West Texas-themed rooms, including this 400 square foot cottage modeled after an old west bank. The property offers continental breakfast, but there is also a kitchen in each cabin, so you can cook your own meals and save some money that way.
Ledge Rock Bungalow – Study Butte / Terlingua, TX
This modern and spacious casita is well appointed and luxurious after a day in the desert. The prime location on State Highway 118 in Study Butte is close to restaurants, shopping, and the western entrance of Big Bend National Park.
Hotels
Terlingua Ranch Lodge – Terlingua, TX
This is more of a lodging community than a hotel but a great spot to call home in Big Bend. An outdoor pool, free WiFi, and laundry facilities are available on this 425-acre guest ranch.
Terlingua Ranch Lodge has cabin guest rooms, RV sites, a private campground, and a horse camp. Plus an onsite restaurant that has entertainment on the weekends.
Lajitas Golf Resort – Terlingua, TX
This high-end boutique resort is a favorite of couples or families looking to add a little luxury to their Big Bend vacation.
There's plenty to do at this resort, featuring one of the best golf courses in Texas and world-class zip line adventures with 8 stations and over 8,000 ft. of ziplines. In the evening, enjoy the restaurant with outdoor seating with incredible views of the Big Bend mountains.
Campgrounds
Maverick Ranch RV Park – Lajitas, TX
This campground is the way to enjoy all the amenities of the Lajitas Golf Resort while staying in your RV. With level and paved sites, full hookups, and great amenities like a dog park and a clean bathhouse, this is a nice way to camp near Big Bend without really roughing it.
Marathon Motel and RV Resort – Marathon, TX
While it's a little bit of a drive into Big Bend from here, we enjoyed our stay in Marathon and our site at this RV Park. Established in 1940 but recently updated, the Marathon Motel sits on 10 acres and has 19 full hookup spots plus several with electric/water only and space for dry camping. There are also 10 casita-style motel rooms divided among four duplex cabins.
The property takes part in the local dark skies initiative and has a beautiful outdoor courtyard with a community fireplace where you can gather with new friends after a day in Big Bend.
If you want to keep exploring you can check out Boquillas del Carmen which is a town in Mexico right across the river. The Big Bend National Park site has information about visiting Boquillas del Carmen.
More Info Check Out:
6 Epic National Park Road Trip Ideas [Maps Included]
19 Best Things To Do In Tulsa With Kids
The 18 Best Things To Do In San Antonio With Kids
17 Exciting Things To Do In St. Augustine With Kids
23+ Fun Things To Do In South Padre Island, Texas
Utah Road Trip: All 5 Utah National Parks & More [Map Included]
12 Best Things To Do In Houston With Kids
11 Best Things to Do In Dallas With Kids
Pin This Post: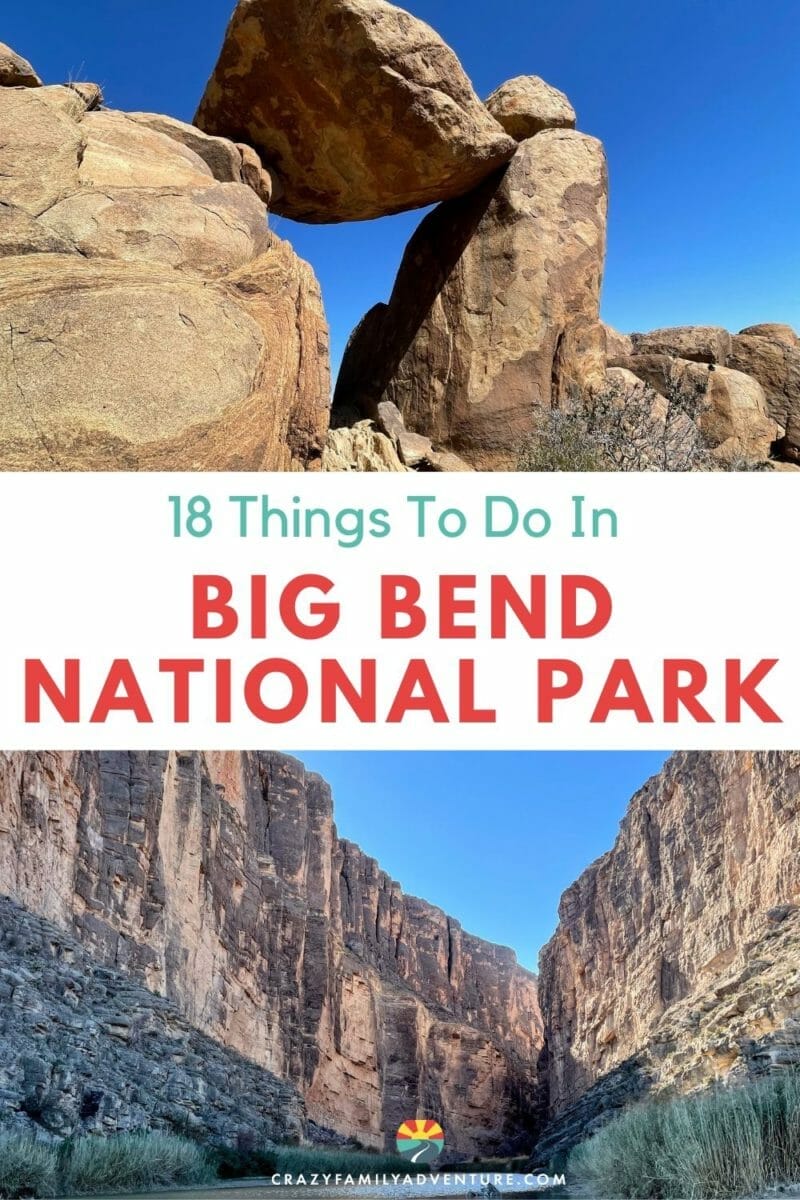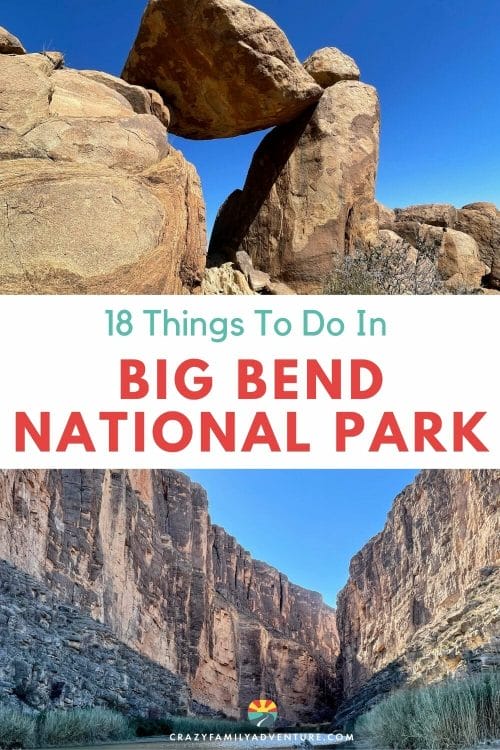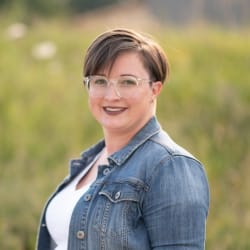 Latest posts by Lacey Reichwald
(see all)
DISCLOSURE: This post may contain affiliate links, meaning I get a commission if you decide to make a purchase through my links, at no cost to you. Please read my disclosure for more info.