Planning a visit to Oklahoma State? If so, you simply must spend some time in Oklahoma City and check out all the amazing things to do in Oklahoma City with kids.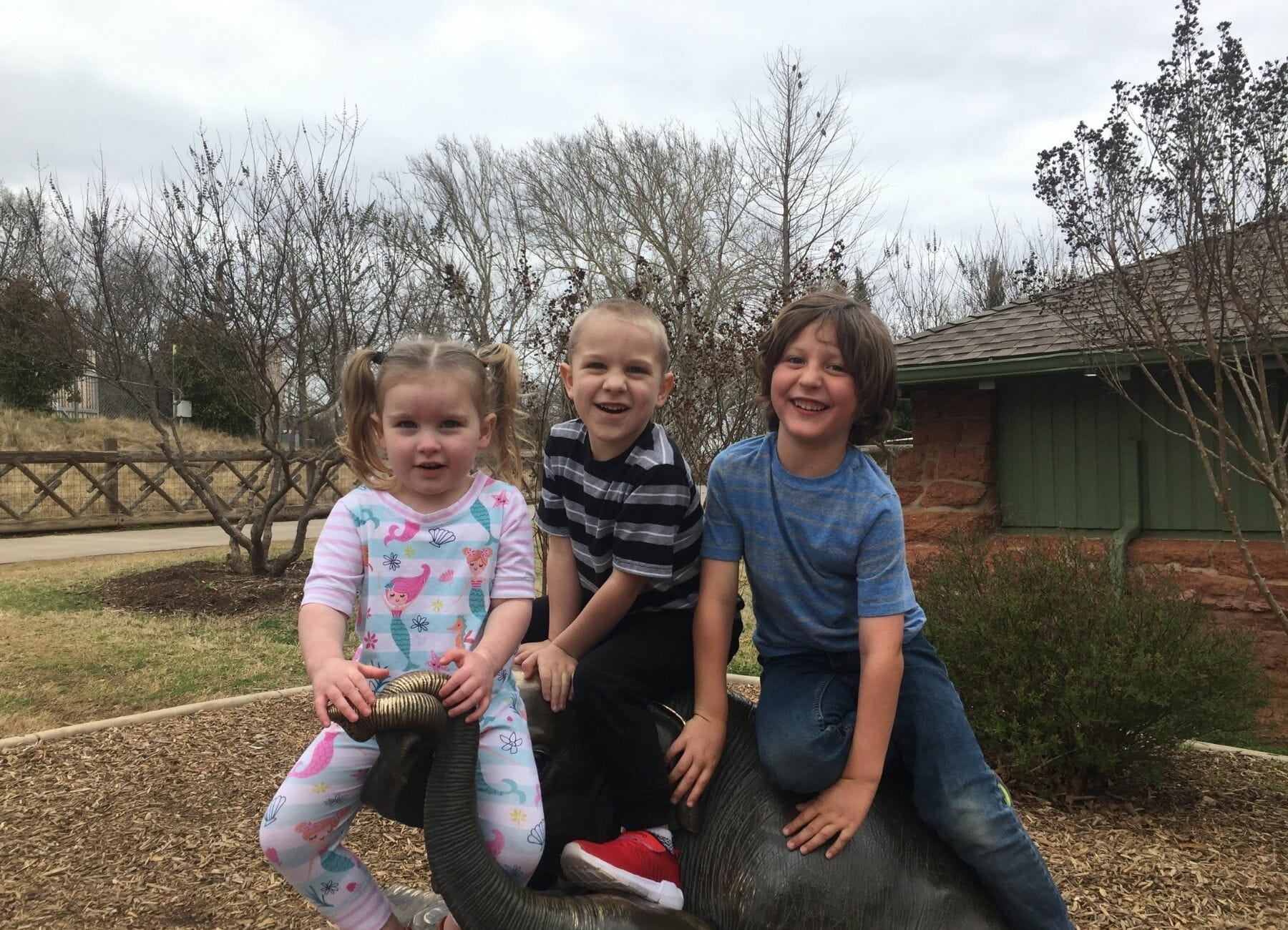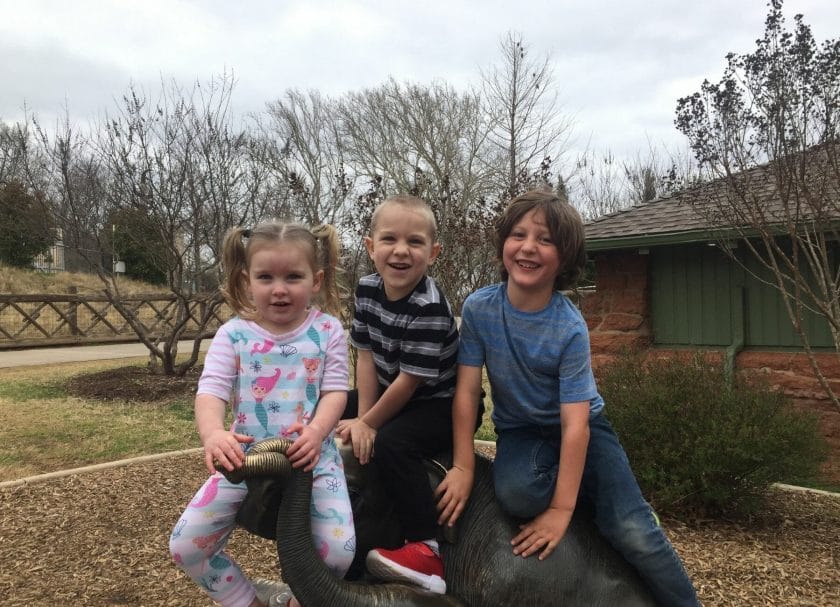 Cousins at Oklahoma City Zoo, Image Source: Wonder Wherever We Wander
Because my family is from Oklahoma, we have spent a lot of time in Oklahoma City and have found countless ways to fill our time when there. Whether you prefer museums, outdoor activities, or exciting theme parks, there is something for you in this beautiful city. In fact, you might just be surprised by everything OKC has to offer!
Not sure where to begin? We're here to help with a list of our top family-friendly activities in the Oklahoma City area.
Things to Do
Below is a list of the best kid-friendly attractions to check out when visiting Oklahoma City. Pick and choose from this list, and you're sure to have some serious family fun that your crew will remember for years to come.
Science Museum Oklahoma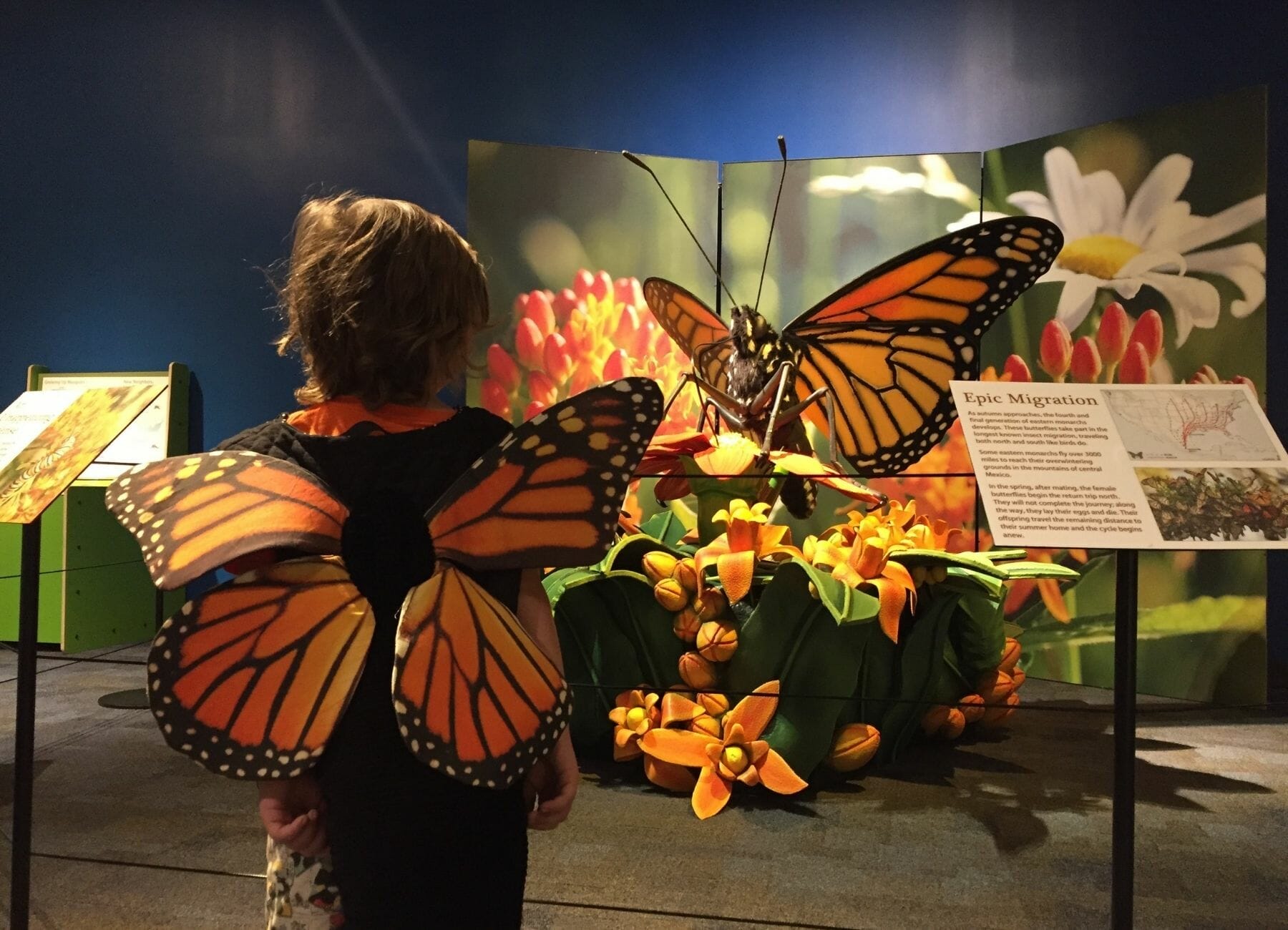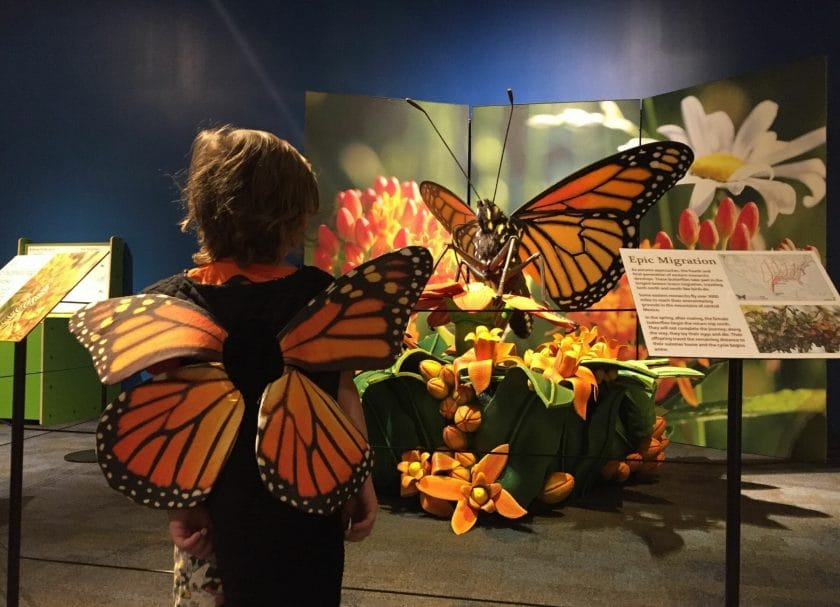 One of the most fun educational attractions we have had the pleasure of experiencing is probably the Science Museum Oklahoma. The hands-on learning opportunities are immersive and engaging, and even after visiting science centers across the country, we still manage to find unique exhibits in this museum.
We especially appreciate the huge play structure in the back of the museum and the revolving exhibits that change each time we visit.
Scissortail Park
A relatively new addition to the lineup of downtown Oklahoma City attractions, Scissortail Park, is one that we haven't had the chance to visit yet. It is on our to-do list, and we plan to see it when we are there next month.
The "Sky Rink" skating rink, "Sprayground" water play area, and unique playground all look awesome, and I know we will have a great time playing with our kids there.
Myriad Botanical Gardens
Folks who enjoy a good garden stroll will love Myriad Botanical Gardens. Set in downtown Oklahoma City—surprisingly close to the convention centers, office buildings, and the hustle and bustle—this botanical garden offers guests an escape into a green wonderland that will lift your spirits.
We love the special events put on by the gardens, including festivals, workshops, and more. We also adore the children's play area, which you will definitely want to make time for if you're visiting with kids.
Oklahoma City Museum of Art
The Oklahoma City Museum of Art is an art-lover's paradise, a fantastic place to explore. The glasswork by Dale Chihuly is absolutely gorgeous and very memorable. Meanwhile, the many works on the second floor are beautiful to admire and deserve a good chunk of time to be fully appreciated.
We highly recommend using a visitors guide when you go. If you take the kids, make sure to chat with them about the rules of art museums. It can also be helpful to discuss how the art makes them feel, which piece is their favorite and why, and what the artist might have been thinking when creating a certain piece.
Bricktown
Bricktown is the place for fun and nightlife in downtown OKC. The Chickasaw Bricktown Ballpark is located in this area and is tons of fun to visit when a baseball game is happening. The movie theater and bowling alley also offer family fun, and the water taxi that runs along the canal is a great way to learn a little about the city.
We don't visit Bricktown all the time because parking and traffic can be pretty crazy. That said, we always have a good time when we visit, and we recommend doing so during your time in the city.
Oklahoma City Zoo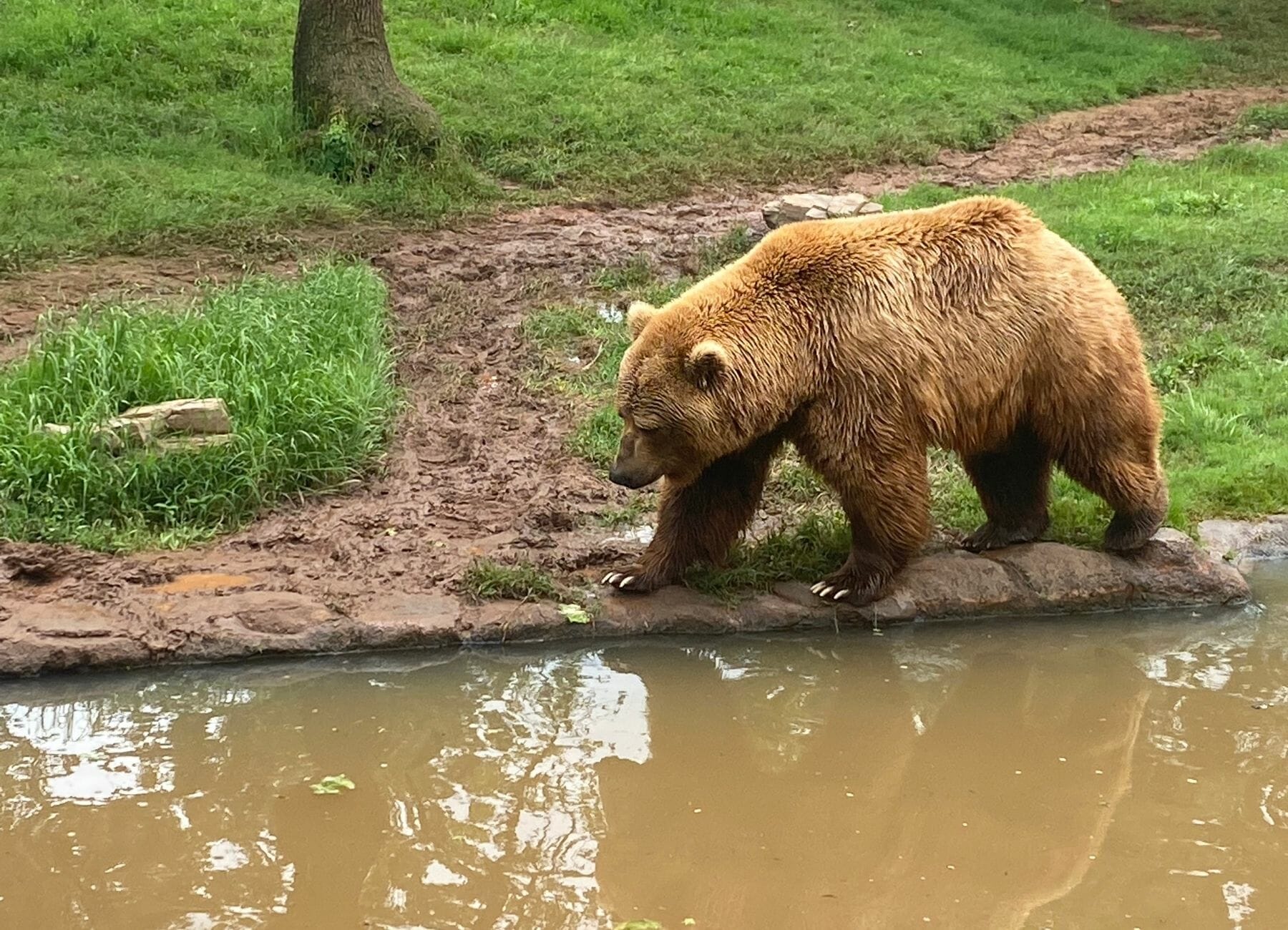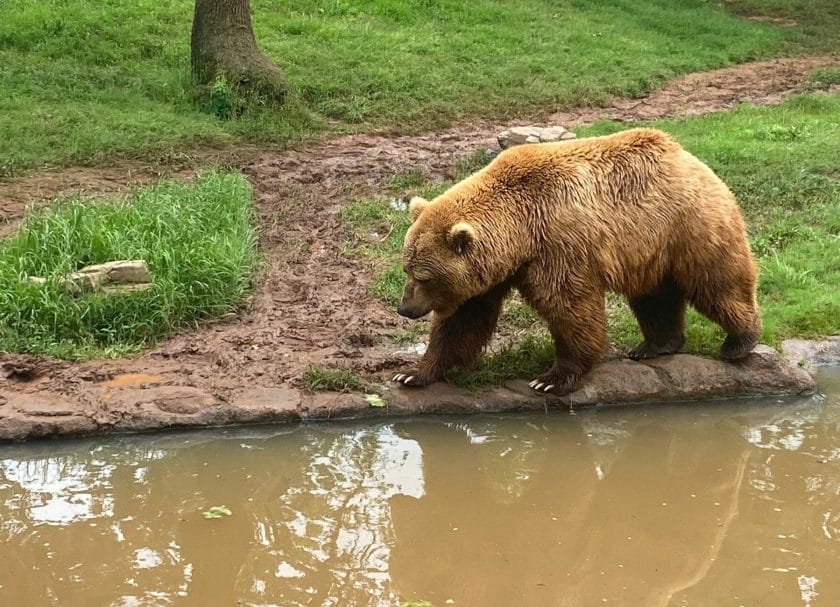 Still near the top of our list when it comes to zoos, the Oklahoma City Zoo is another attraction we recommend checking out, especially if you have kids. The grounds are well-kept, the animals are plentiful, and the enclosures are lovely.
We love the carousel, giraffe feedings, and playgrounds here, and the educational aspect offered by the on-site animal hospital is fantastic.
Frontier City
Are you a thrill-seeker who needs roller coasters to be a part of any vacation? If so, Frontier City is the place for you. These days, the theme park is owned by Six Flags, and the company has made huge improvements to this decades-old attraction.
The gentle but totally fun Steel Lasso is the perfect family coaster. Meanwhile, those who want something more thrilling will want to try the Brain Drain coaster. Consider visiting during one of the many summertime concerts the park hosts for extra fun.
Hurricane Harbor Oklahoma City
If visiting during the summer, water park thrills might be more fitting. In this case, you'll want to head to Hurricane Harbor. This park is also owned by Six Flags, and Hurricane Harbor/Frontier City combo tickets are available, giving you a discount if you plan to visit both.
The 25-acre park features a huge variety of water slides, including super-fast slides, slower slides that the family can enjoy together, and small slides for the little ones. The lazy river is also a lovely way to relax and cool off on a hot day.
Museum of Osteology
The Museum of Osteology is a niche museum that many wouldn't think to go to. This unusual attraction is completely focused on bones, and while that might sound odd or even creepy, it's actually interesting.
Here you will see an incredible number of animal bones and learn how those bones help the animals adapt and live in the wild. Have a question? Be sure to ask a staff member. They are knowledgeable and happy to help.
Oklahoma History Center
The perfect place to learn about the history of the state, the Oklahoma History Center provides a fun peek into the past that the whole family can enjoy together.
This museum covers an incredible 215,000 square feet and is chock-full of awesome hands-on exhibits, artifacts, and information. Learn about prohibition in Oklahoma, the hand that Oklahomans have played in space exploration, the Native American tribes of Oklahoma, and much more.
National Cowboy & Western Heritage Museum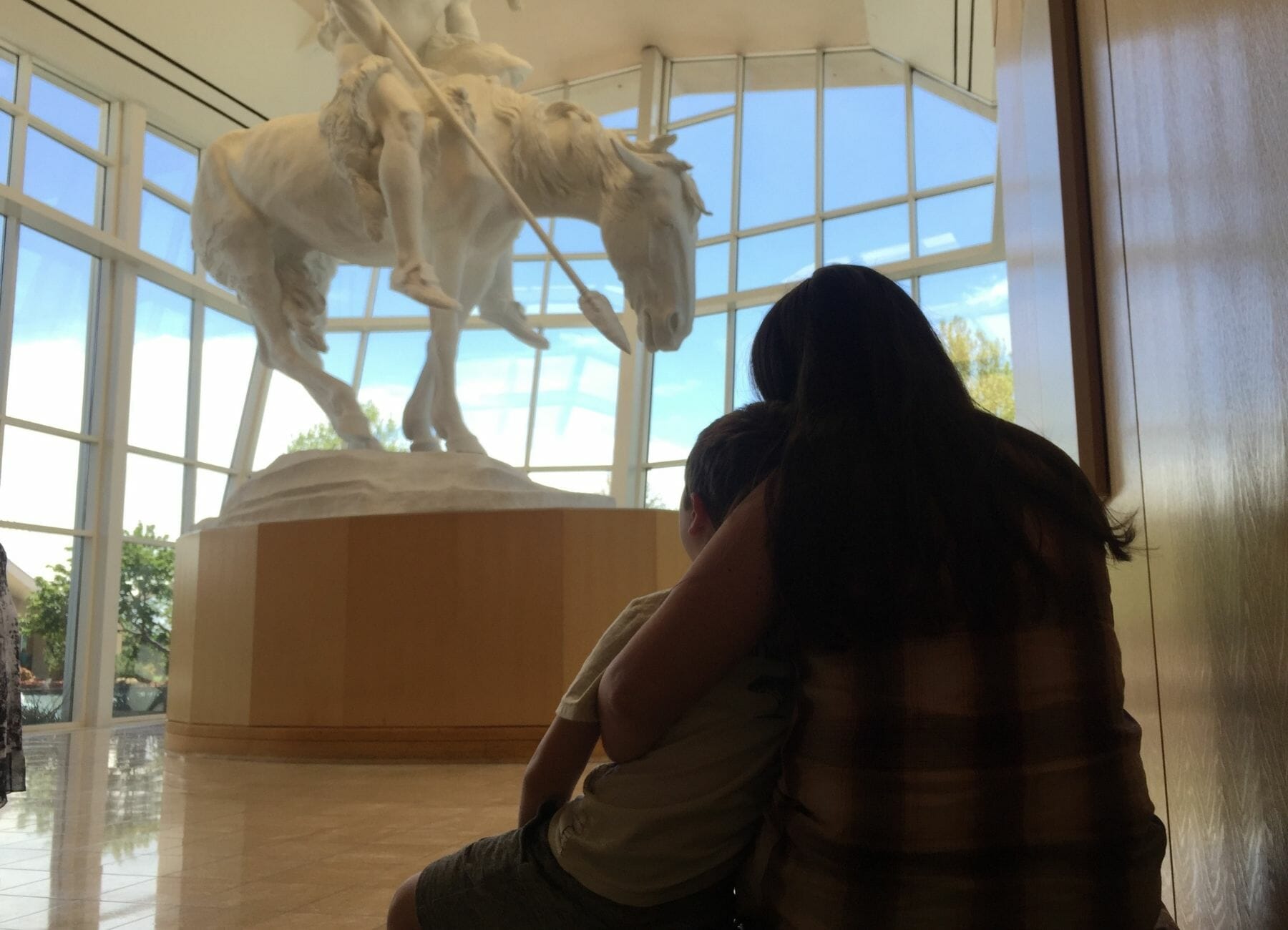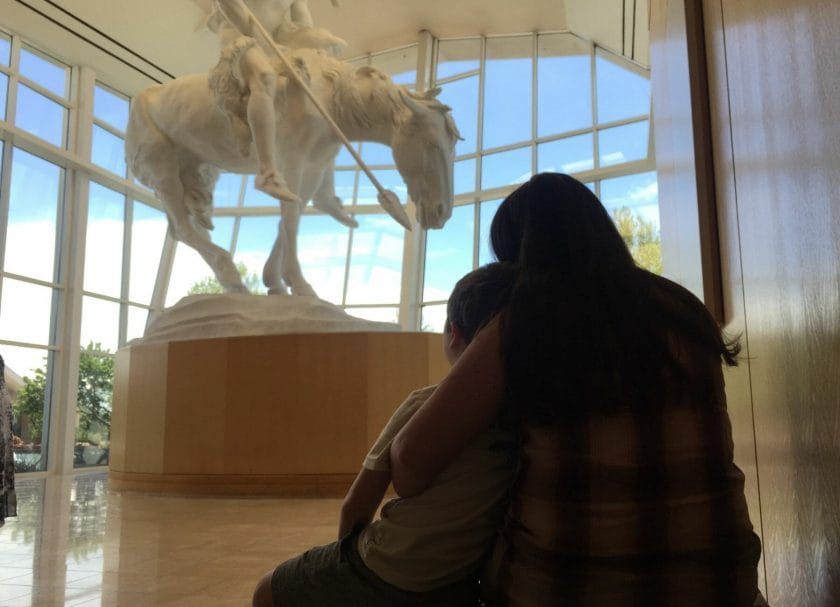 If the Wild West intrigues you, you have to plan a day at the National Cowboy & Western Heritage Museum. Featuring western art, Native American artifacts, and all kinds of information on the lives of cowboys, Native Americans, and other people of the "old west," this museum is tons of fun to explore.
We especially enjoyed the hands-on area that allows kids to explore through play. That said, we explained things to our then-7-year-old throughout the rest of the museum, and he stayed engaged and interested for our entire visit. If you're visiting in May, be sure to check the dates for the Annual Chuck Wagon Festival!
Oklahoma City National Memorial & Museum
The Oklahoma City National Memorial & Museum is probably best with older children and teens. This NPS site focuses on the tragic bombing of the Alfred P. Murrah Federal Building, which took place on April 19th, 1995.
A visit to this site is sobering for sure, but it is also an excellent educational opportunity, as it presents this unfortunate part of our past in a very real and relatable way.
Sam Noble Oklahoma Museum of Natural History
Dive into the past at the Sam Noble Museum of Natural History. Located just south of OKC in Norman, OK, this museum is worth driving down for.
Kids love the dinosaur exhibit, which features all kinds of fun and interesting information about the creatures. We also really appreciate the Hall of World Cultures, where we can look back at how people used to live and how our ways have evolved since then.
Pops 66 Soda Ranch
This is another one that requires a bit of a drive. However, this time, you'll be driving north to get to Pops 66 Soda Ranch.
Here you'll be greeted outside by a gigantic soda bottle that lights up and is impossible to miss. Walk inside the gas station and check out the walls full of unique and interesting sodas, a selection that cannot be found anywhere else in the world. You're going to want to fill one of those 6-pack boxes, and you might even find yourself taking a few boxes home.
RIVERSPORT Adventure Park
RIVERSPORT Adventure Park is another new addition to the lineup of OKC attractions. Located in the OKC Boathouse District on the Oklahoma River, the park looks like an absolutely incredible way to experience the outdoors in Oklahoma City.
The state-of-the-art rapids facility at this attraction allows guests to go whitewater rafting. Other activities at the park include zip lines, surfing, kayaking, a ropes course, a bike park, and more.
Where to Eat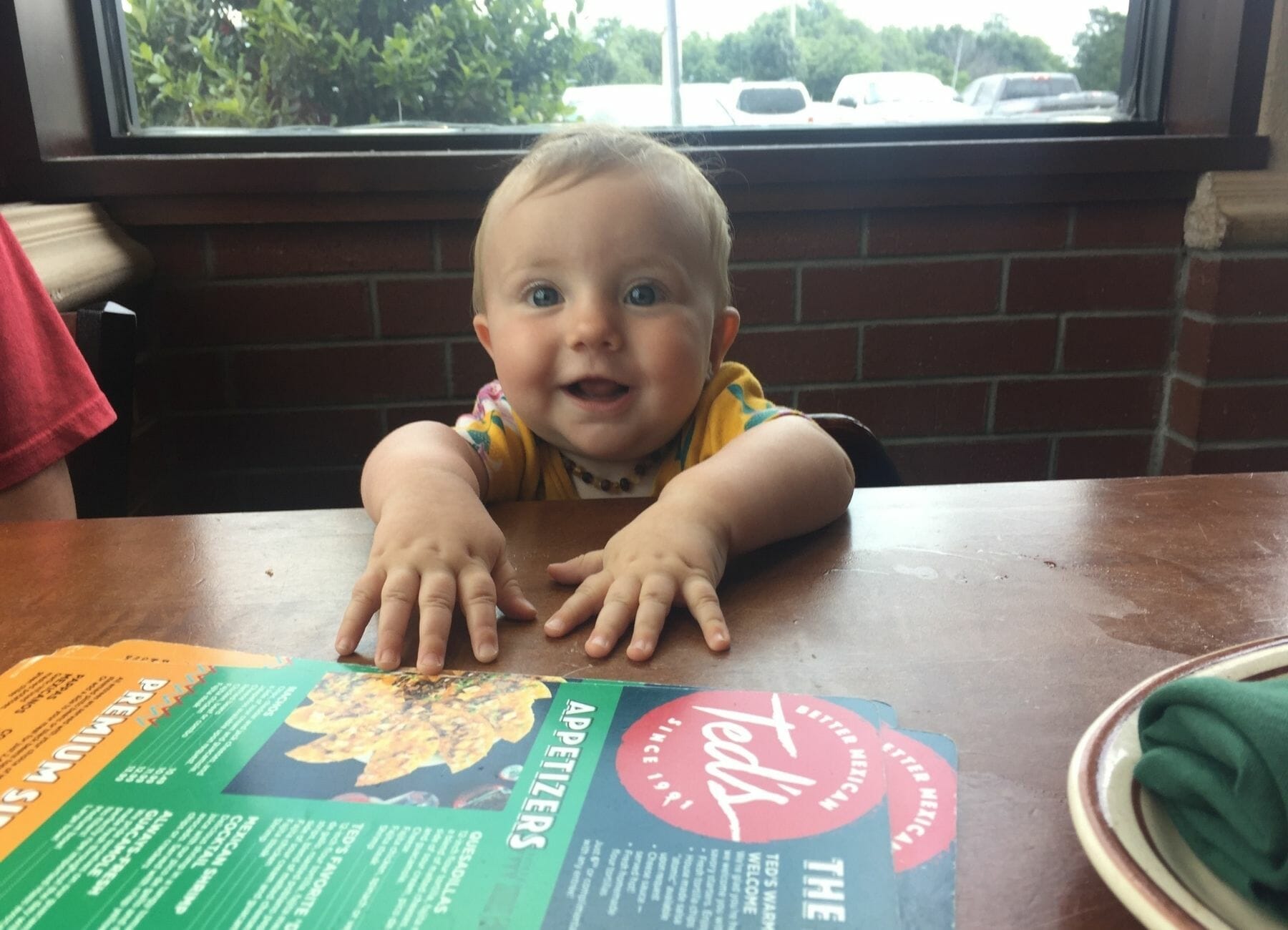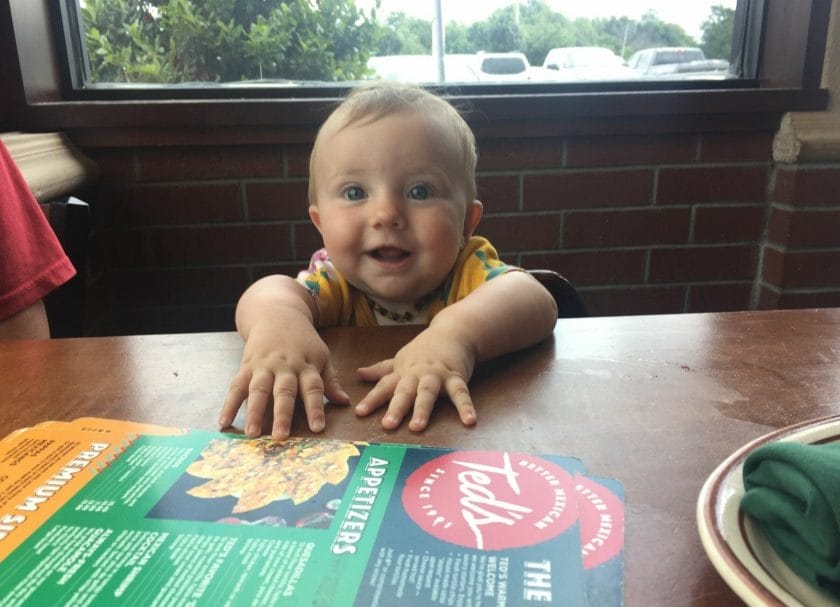 Obviously, you will need to eat during your time in OKC. Fortunately, the city has some incredible dining choices, meaning you definitely won't go hungry. We especially love the Tex-Mex and the barbecue in the area, so be sure to try both!
Empire Slice House
In the mood for pizza? We highly recommend stopping in at Empire Slice House. The pizza here is fantastic, and many of the toppings are unusual, making it an even more fun place to eat. I especially love the "Fungus Among Us" pizza, which features cremini, baby bellas, button mushroom, spinach, and truffle oil.
Big Truck Tacos
Big Truck Tacos is another local favorite that you should try. This place started as a simple taco truck but quickly took off and now has its own building. The tacos are delicious, but I actually go for the burritos, which are huge and wonderful. The several varieties of salsa provided are also amazing, and I highly recommend the mango-habanero salsa, lovingly named "Asphalt."
Swadley's Barbecue
I mentioned above that the city does barbecue well. One of my favorite places to get barbecue? Swadley's Barbecue. Every meat we have tried at this restaurant has been excellent, and the campfire taters and fried okra are also to die for.
Braum's Ice Cream and Dairy
I mentioned Braum's in my post about Tulsa, but I couldn't write a post about OKC without mentioning it again. This local fast food joint is a must-visit for us every time we are in the state. The burgers are fresh and delicious, the crinkle-cut fries are yummy, and the ice cream is some of the best in the country.
Best of all, the prices are incredible, meaning we can visit often!
Ted's Cafe Escondido
Ted's Cafe Escondido was also mentioned in the Tulsa post. There are a few Ted's restaurants around, and OKC happens to be home to a couple. This Tex-Mex eatery is our favorite one that we have had the pleasure of visiting. The house-made tortillas are wonderful, the atomic salsa is flavorful and spicy, and the fajita chicken is well marinated and delicious.
Where to Stay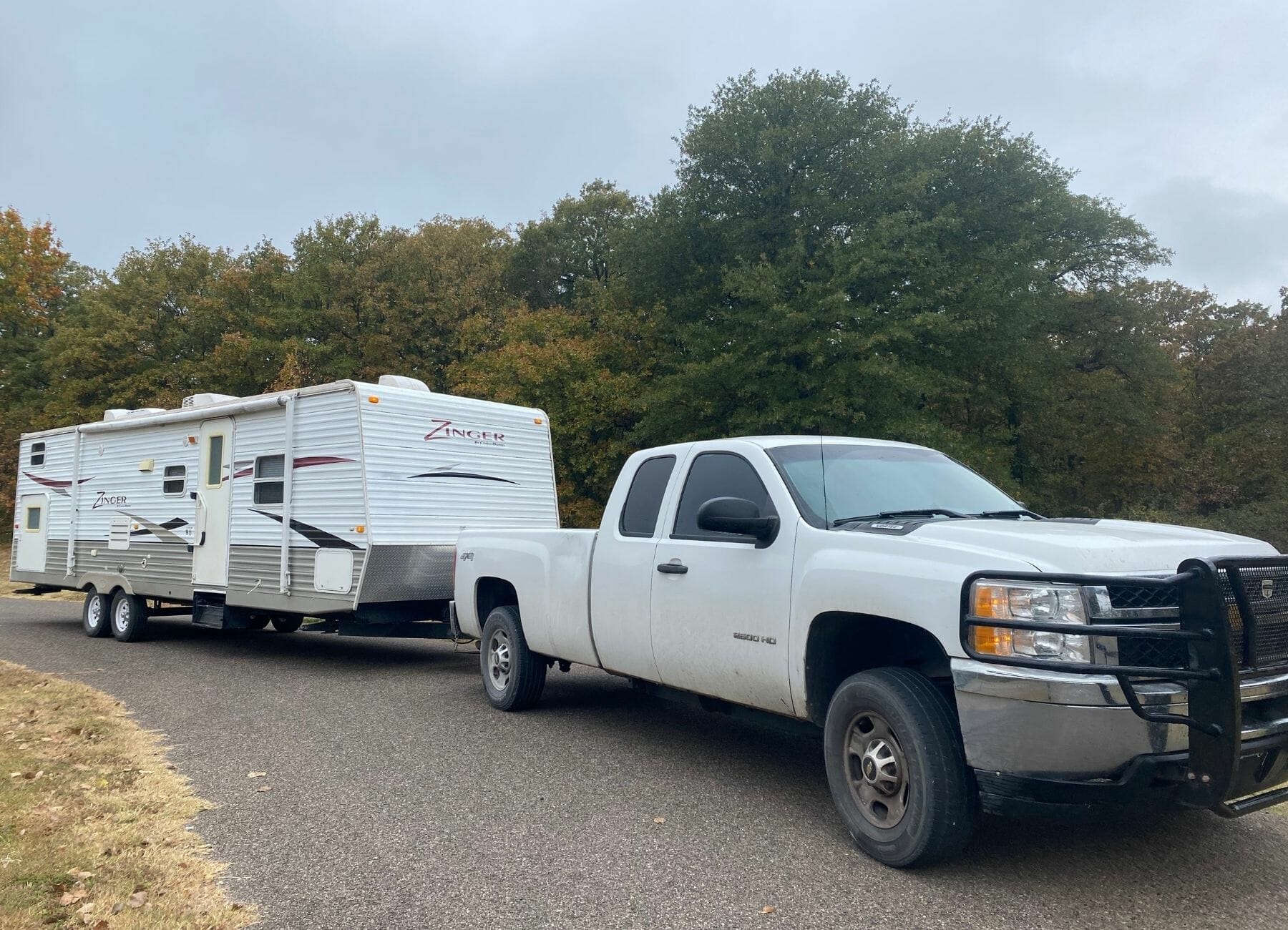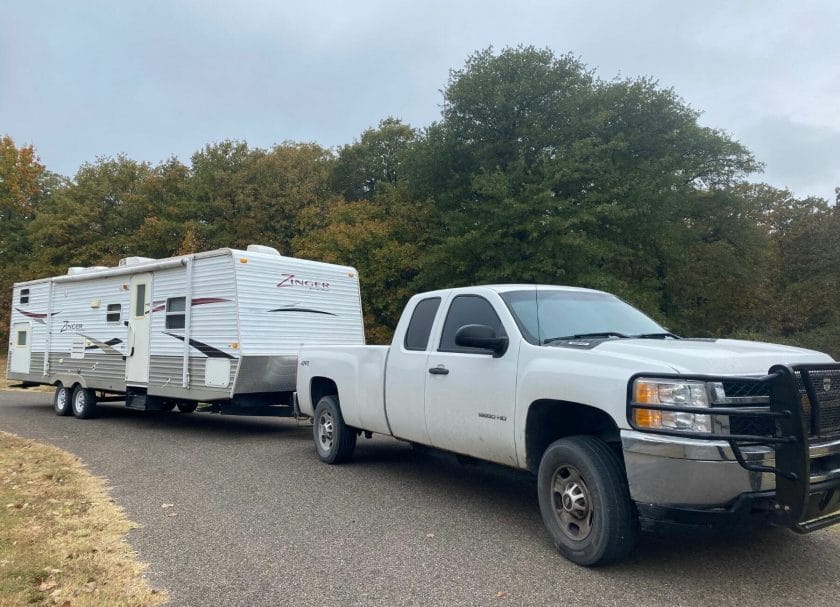 Sightseeing and dining are both lots of fun, but you will probably be pretty ready to chill out and rest at the end of each day. That's where these excellent Oklahoma City lodging options come into play. Spread out in a rental, get comfy in a hotel room, or take your RV camping.
VRBO
Want a large place where you and your family can really make themselves at home? We recommend a vacation rental through VRBO.
Stylish Apartment
This stylish apartment is the perfect place to call your home away from home. The many windows mean it's filled with light, and the modern decor creates a welcoming environment. We also love that the location of this apartment allows you to walk to many places!
Modern Bandit
People who'd like to stay in a house rather than an apartment should take a look at this gorgeous house. Located in the Plaza District, this home also has plenty of options within walking distance. We especially love the coffee bar and balcony this rental house offers guests.
Hotel
Prefer the amenities offered by a hotel? Fortunately, there are plenty of excellent hotels in the OKC area. Why not choose one of these below?
Hyatt Place Oklahoma City Bricktown
Want to be right in the middle of the action? Hyatt Place Oklahoma City Bricktown is located in Bricktown, meaning you can walk from your room to all kinds of excitement. The rooms are well furnished, and the amenities—such as a pool, an awesome view, and a community fire pit—are all wonderful.
21c Museum Hotel Oklahoma City
Another great option for those who want to stay near some of OKC's best attractions is the 21c Museum Hotel. This one is located right by the Oklahoma City Museum of Art and is within walking distance of Myriad Gardens, the Oklahoma City Memorial, and more. The on-site restaurant is wonderful, and the spa provides a great place to relax.
Campground
Those who are visiting in an RV will need a place to park. While there aren't a lot of RV parks in Oklahoma City itself, there are plenty to be found just outside of the city, meaning you can have the tranquility of the countryside without wandering too far from town.
Lake Carl Blackwell
Located about 50 minutes from Oklahoma City, Lake Carl Blackwell is the perfect escape into nature. Enjoy water views and the shade of green trees. Fishing, hiking, and volleyball are all available on-site, and the rates at this campground are incredibly affordable.
Mustang Run RV Park
Another excellent RV camping option is Mustang Run RV Park. This is OKC's newest RV park and can be found on the city's west side. Amenities include a pool, rec hall, fishing, and a laundry room. We love that this park is located close to the highway, meaning it's easy to access any part of the city.
As you can see, there are tons of amazing things to do in Oklahoma City with kids, right here in the United States. Why not start planning your getaway today, so you're fully prepared and ready to have a great time when vacation time rolls around?
More Info Check Out:
16 Spectacular Things To Do In Hot Springs, Arkansas
33 Things to do in Fort Smith Arkansas
12 Epic Things To Do In Page, AZ
11 Things To Do At Devils Den State Park
18 Amazing Things To Do In Big Bend National Park
19 Best Things To Do In Tulsa With Kids
Pin This Post: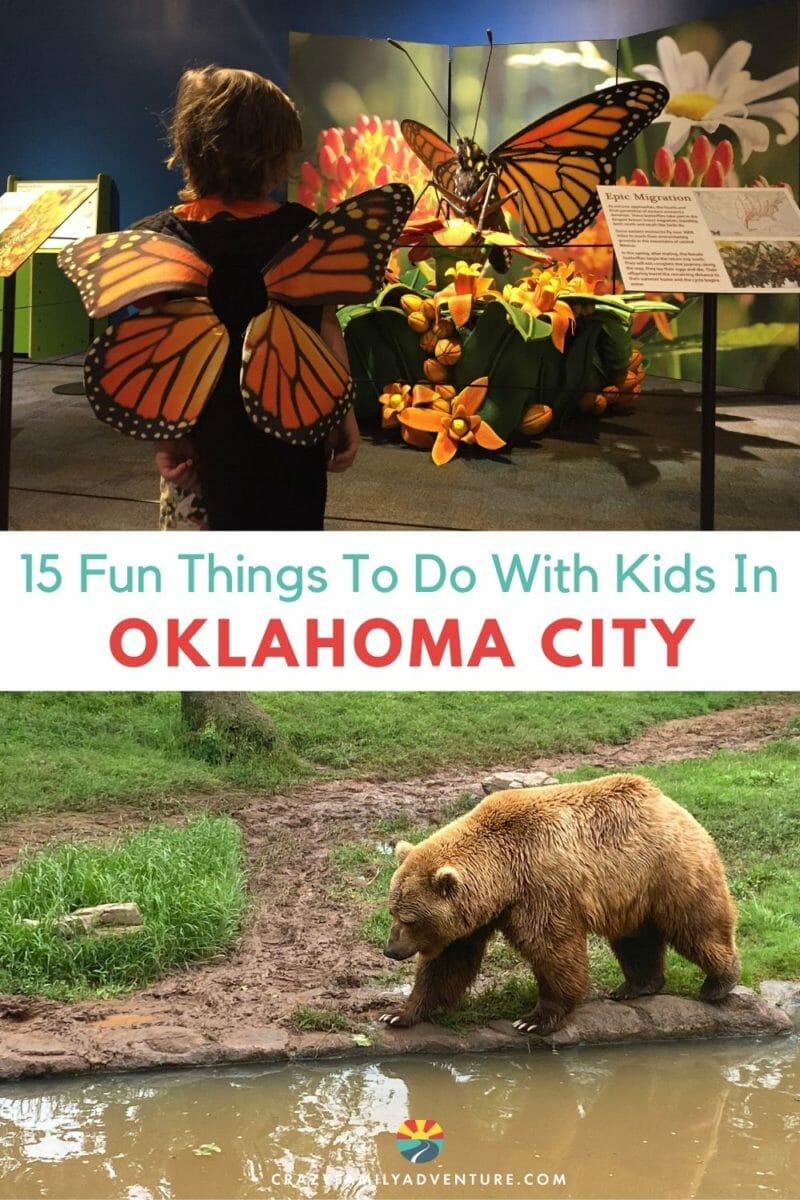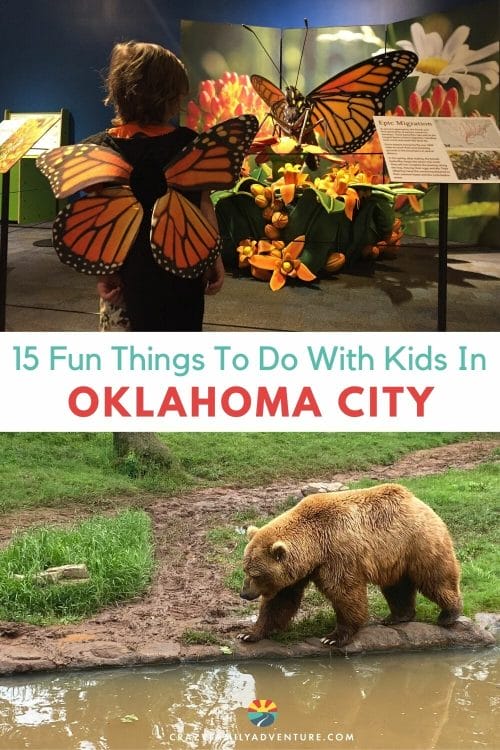 Latest posts by Chelsea Gonzales
(see all)
DISCLOSURE: This post may contain affiliate links, meaning I get a commission if you decide to make a purchase through my links, at no cost to you. Please read my disclosure for more info.