There are so many cool things to do in Hot Springs, Arkansas! When we were heading in I started to do research on the area and was pleasantly surprised by all the fun things we could do with our kids. It is a popular vacation destination in Arkansas and we can see why.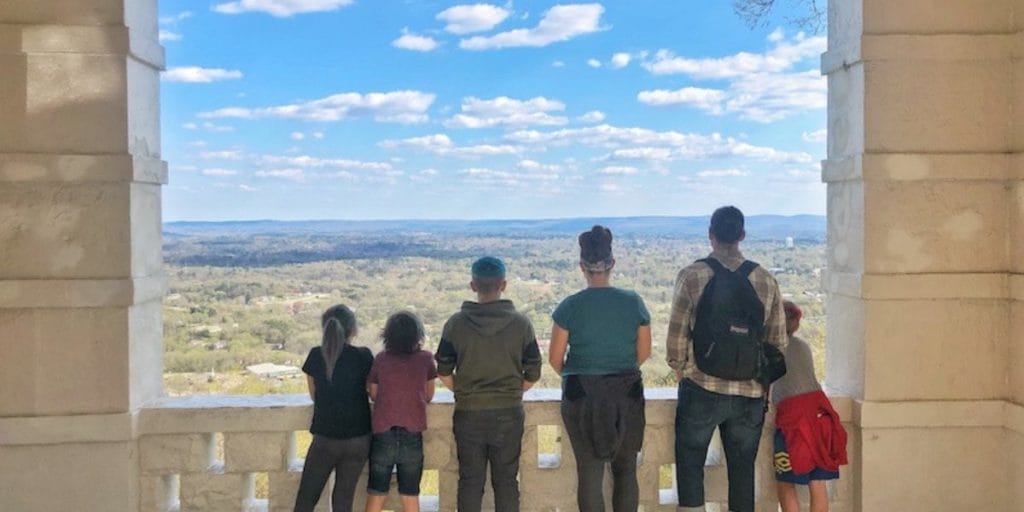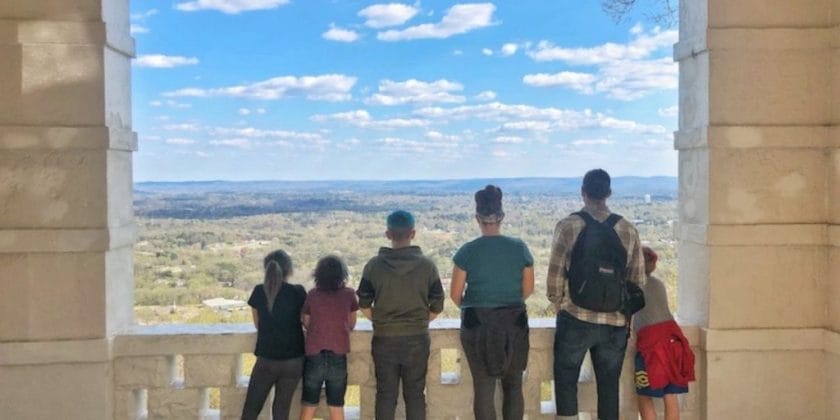 What To Do:
Hot Springs National Park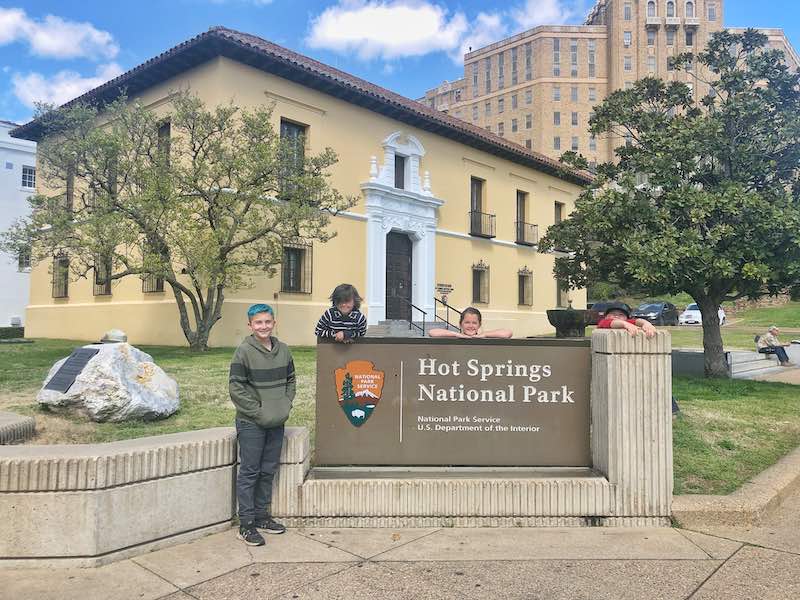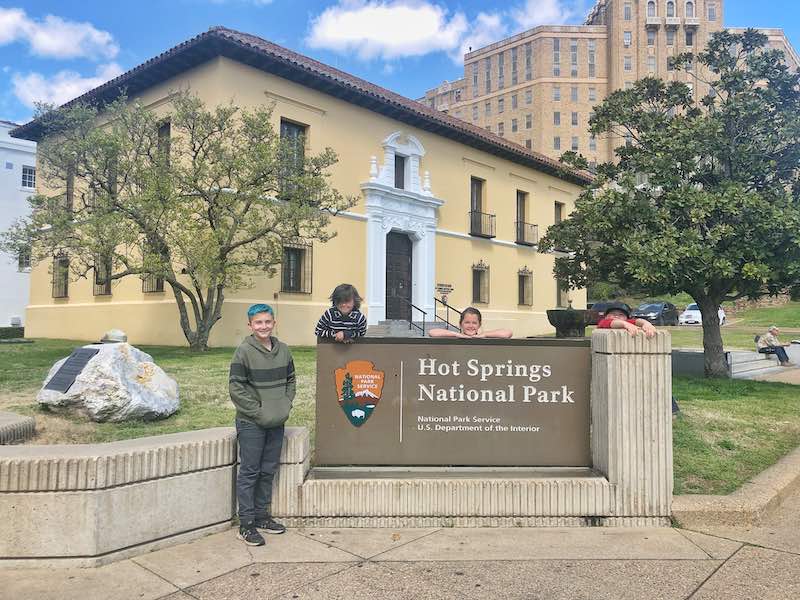 I had to list the National Park first as this is why we came to Hot Springs. The National Park here is not what you are used to when it comes to National Parks. Instead it is a National Park located IN the middle of the city. Say what?? Seriously, the National Park is part of downtown Hot Springs.
There actually isn't even a parking lot for the National Park – instead you just park long the street (there are meters that take change). Then you have to find the National Park visitor center. We ended up in the National Park administration building – but never fear there was a sign telling us where to go to find the visitor center. I am assuming this happens to a lot of people!
The National Park consists of a row of Bath Houses – 2 are still working and the other buildings have been transformed into gift shops, the visitor center, and a brewery!! Yes a brewery in a National Park. This is our kind of place!
Fun Fact: The United States Congress made Hot Springs a Reservation (an area to be preserved for future recreation) in April 20, 1832. It then became a National Park in 1921.
Check out these other National Parks in Arkansas.
Visitors Center/Museum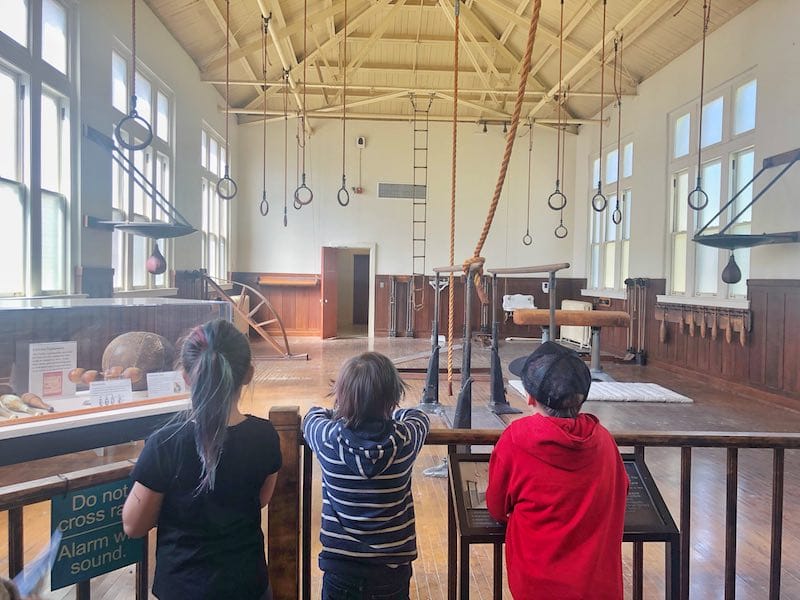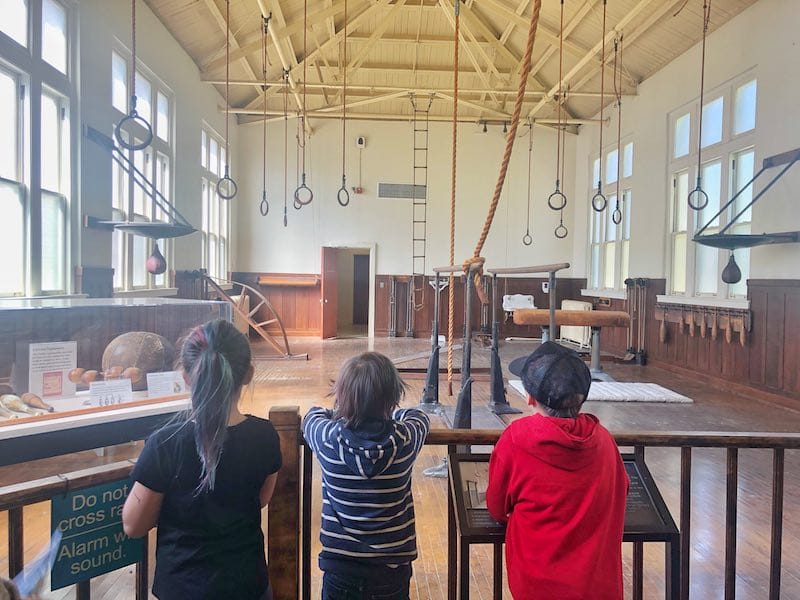 The Fordyce Bathhouse Visitor Center is actually a large 4 story museum. You walk through it and get a real feel for what life was like back when the building was being used as a bathhouse. Plus they have a nice 15 minute video on Hot Springs. We also enjoyed checking out the old school gymnasium – it looked like an American Ninja Warrior course!
I love those videos that give all of us a quick overview of the National Park. They also have the Junior Ranger program here.
We spent about an hour walking through and exploring. You can also do a guided tour if you would like.
Gift Shop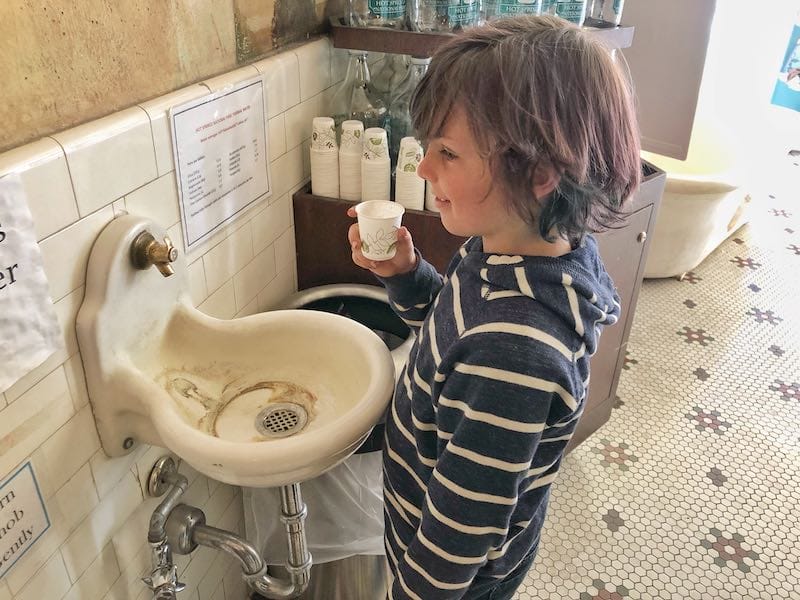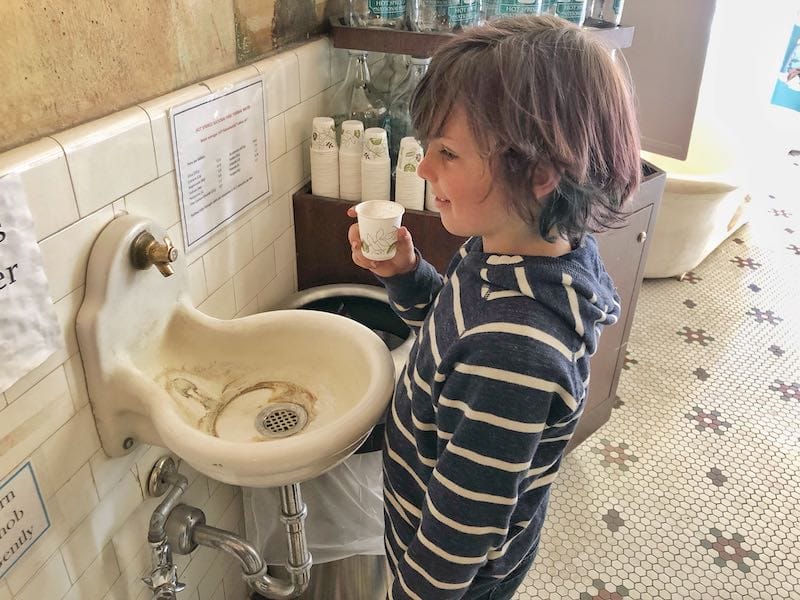 If you walk down Bathhouse Row (more on this below) you will come to the National Park Gift Shop. This is where you can actually sample/drink the hot springs water!
They have a little drinking fountain area with cups. And the water has been temperature controlled so it isn't super hot. The worker told us we were drinking 4,000 year old rain water! The kids were hesitant to drink it then, but they did try.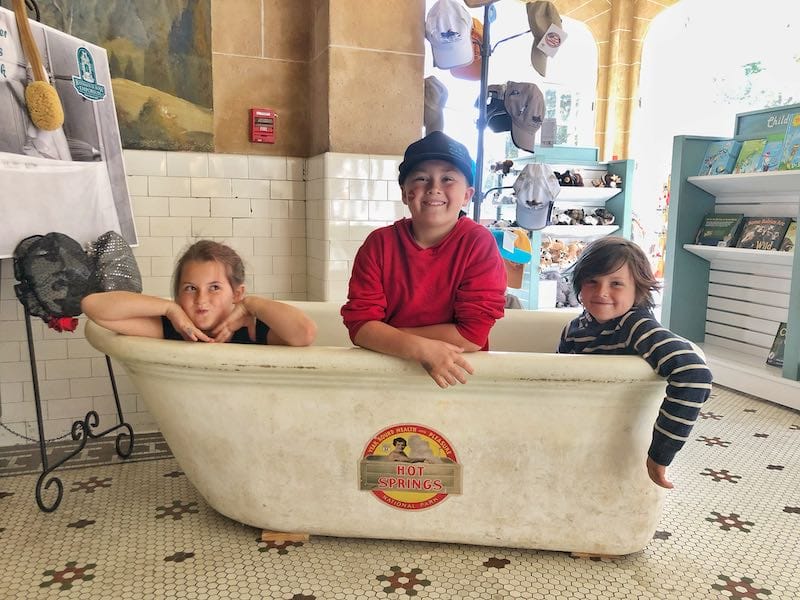 They also have a cute photo op here where you can jump in one of the old bathhouse hot tubs and take your picture.
Bathhouse Row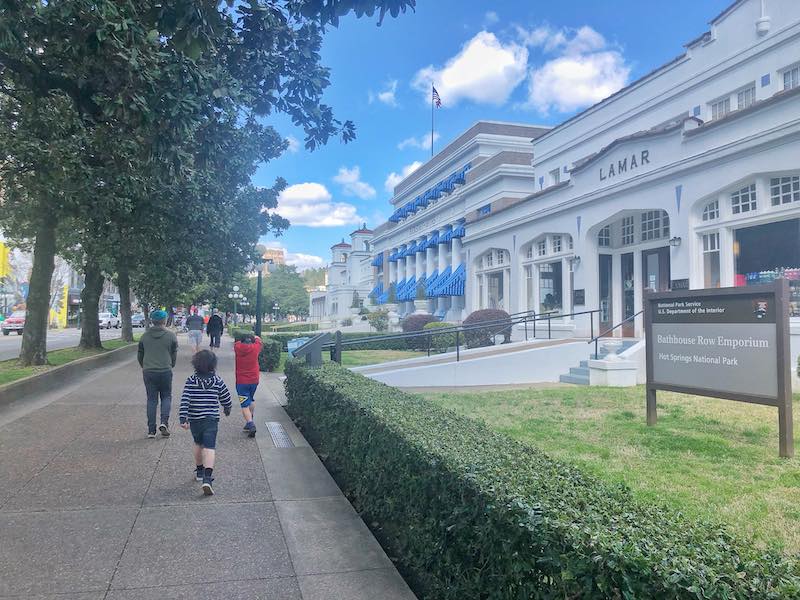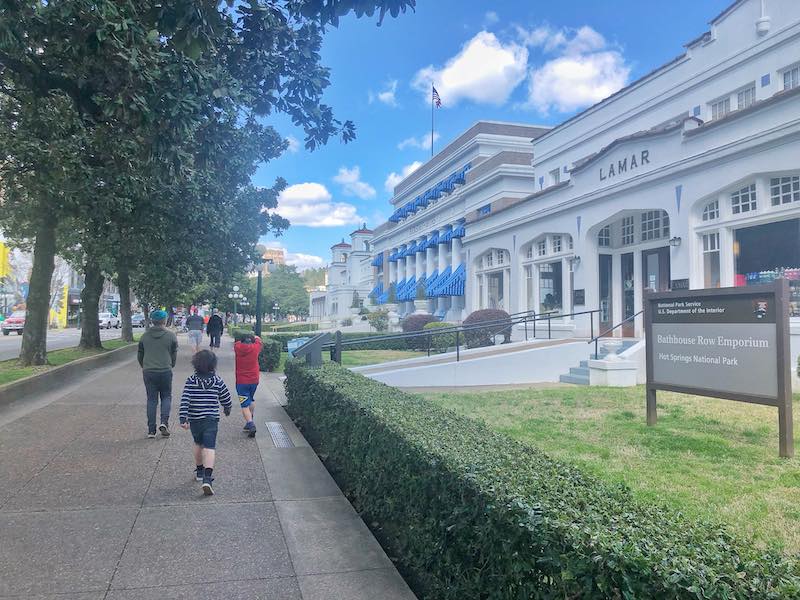 This is the main stretch of road that makes up the National Park. It is a nice wide sidewalk that you can walk on as you go from building to building. It is really well kept and pretty.
Across the street is the city of Hot Springs with a bunch of shops and restaurants. Bathhouse Row is located on Central Avenue which is the main street that runs through Hot Springs.
Display Spring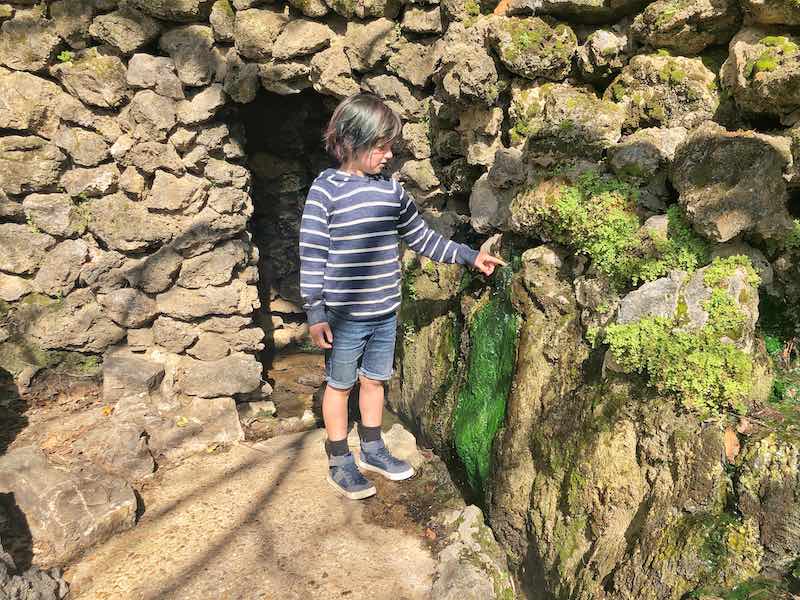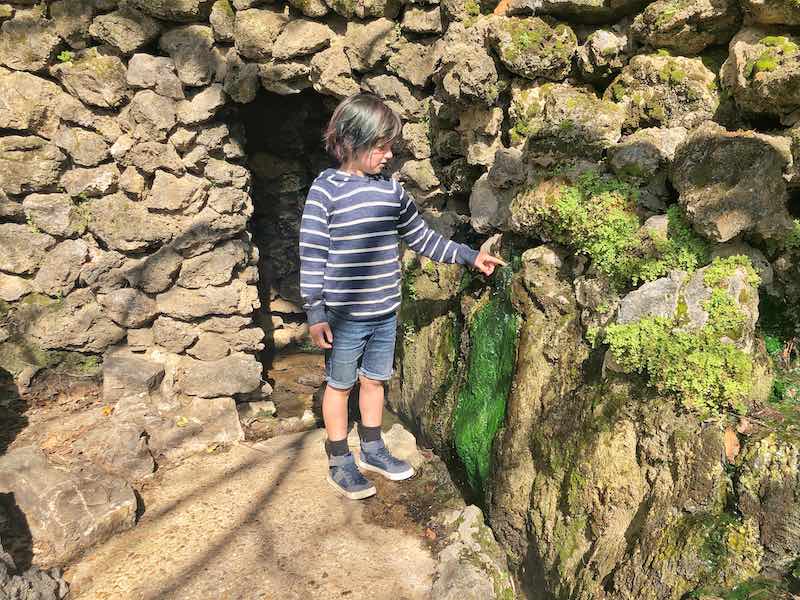 I knew we weren't going to make it into one of the working bathhouses – just too hard to figure out with the 4 kids. But I was hoping we would at least be able to touch the springs to see how hot they were.
If you walk up and around the back of the Visitor Center there is a Display Spring (it is actually called that). Where you can stick your hand in the water or walk towards the back and put in your hand in the small waterfall that is coming down from the mountain. Be careful, the water is hot!
We touched the Hot Springs – check and check!
Grand Promenade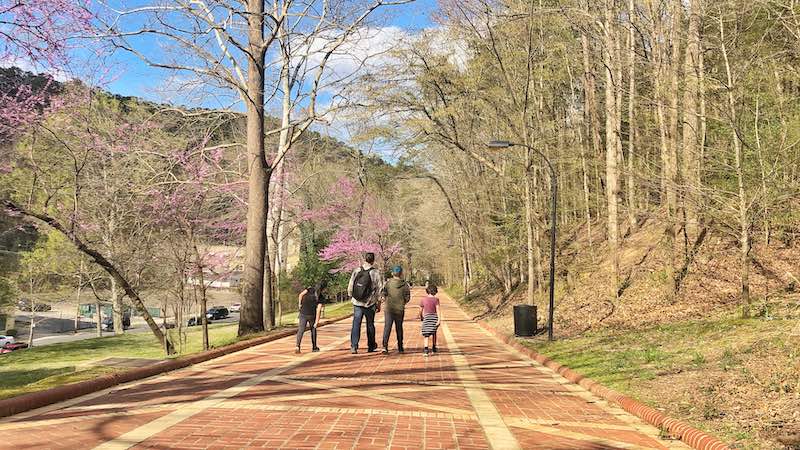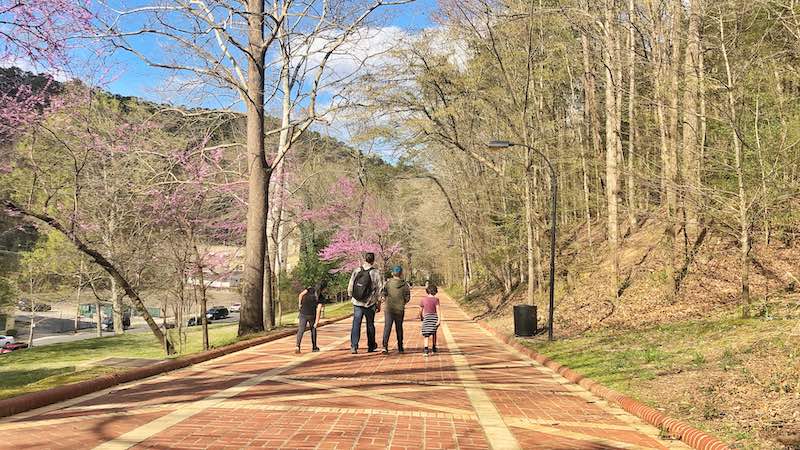 If you keep going up the stairs from the Display Spring you will reach the Grand Promenade. I beautiful walk way that is up above the street and behind Bathhouse Row.
This is a great place to come and walk with kids since there aren't any cars around and it is nice wide walkway. It is also very pretty. From here you can start on a couple of the hikes in the area.
Hot Springs Mountain Tower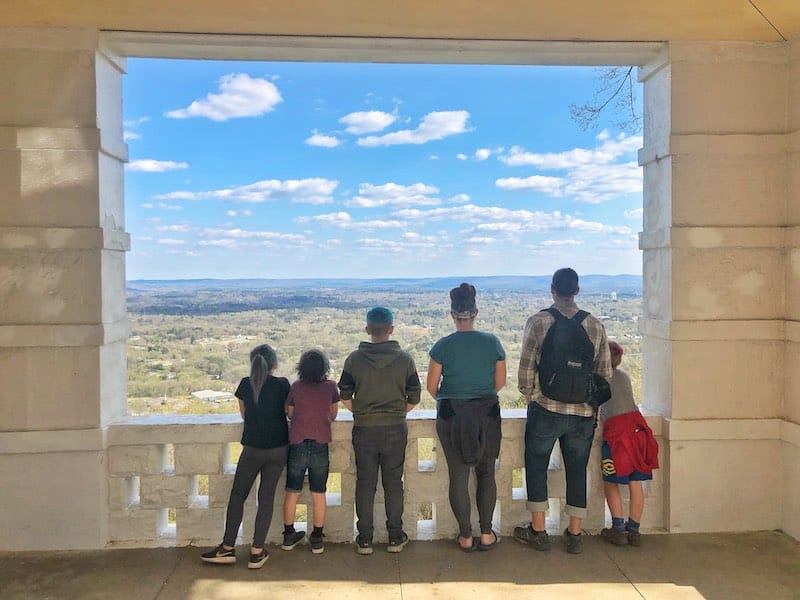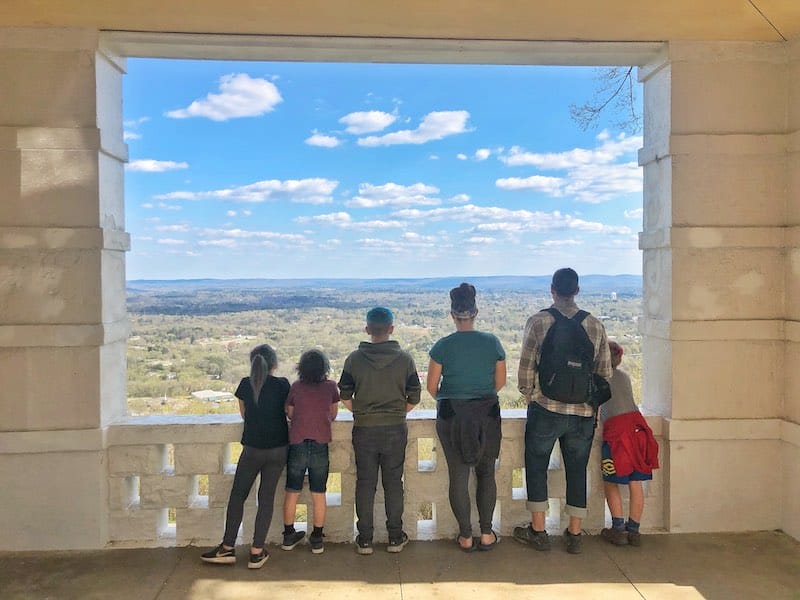 You will see the big tower as you are driving into the city. From behind the National Park Visitor Center you can take the Peak Trail and hike .6 miles up (it is up the whole way) to get to the tower.
Once there you have to pay per person I believe to go up to the observation deck. We opted not to do that and instead went across the street to a lookout area and then hiked back down.
If you don't feel like hiking it you can drive up there.
Hiking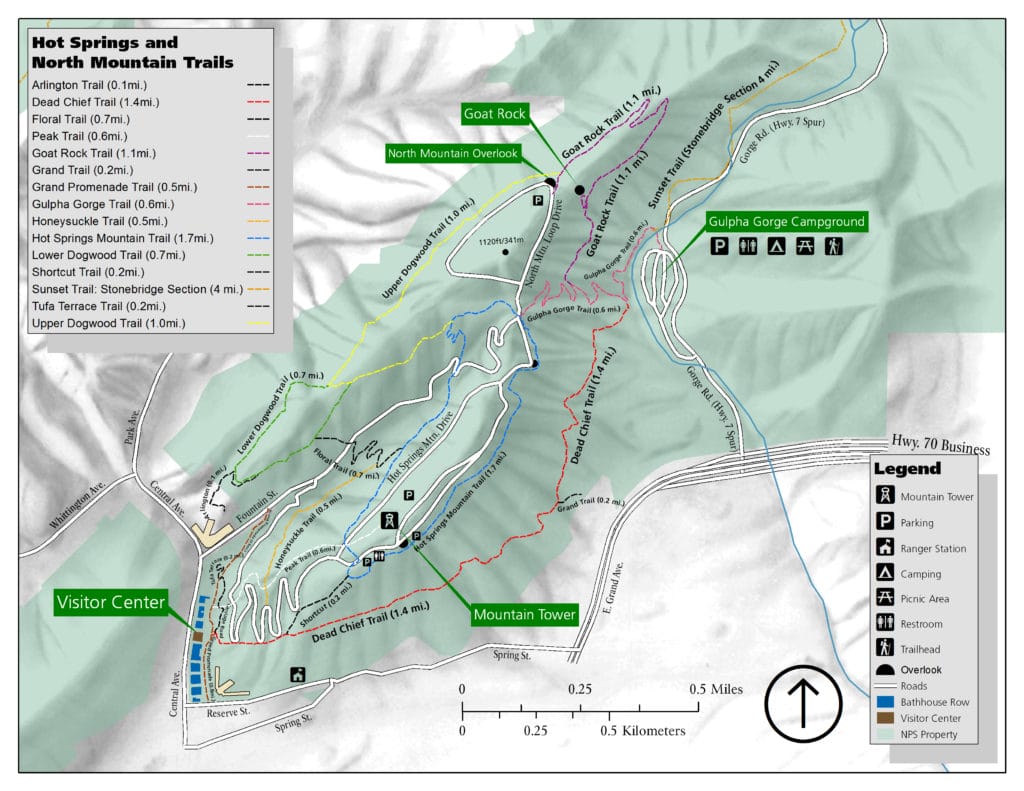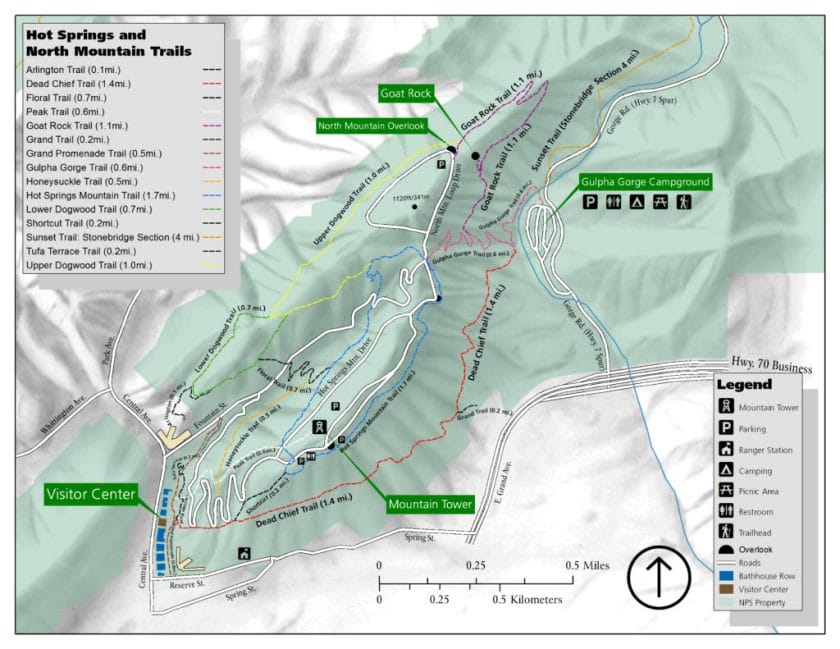 There are a variety of other hikes in the area and all different lengths. You could definitely spend some time hiking here!
Oaklawn Racing And Gaming
If Horse racing and casino's are more your thing you will want to check out Oaklawn Racing and Gaming (formerly Oaklawn Park). They have a variety of events and live racing so be sure to check out their site for more info.
Ouachita Mountain
If you are looking for outdoor activities the Ouachita Mountain range located in the Ouachita National Forest has a lot of offer. Everything from mountain biking to hiking, fishing and boating! Hot Springs is the hub of the mountains and the Ouachita National Forest spreads for 1.8 million acres around Arkansas.
You can see the mountain if you go up in the Hot Springs Mountain Tower. You can also explore Lake Catherine State Park and do water sports like fishing and boating or head out hiking.
Garvan Woodland Gardens
I was disappointed we didn't make it here on our stay. The Garvan Woodland Gardens are the botanical gardens of the University of Arkansas. You can tour the gardens and the beautiful surrounding area (there is an admission fee). Then head over to check out the Anthony Chapel.
The Chapel is an unbelievable structure that is filled with windows. You can visit the chapel without paying the admission fee to the gardens. Please note the chapel is closed if there is a wedding or event going on.
Arkansas Alligator Farm
If you are interested in alligators then you will want to visit the Arkansas Alligator Farm! You can hold baby alligators all year long plus there is a petting zoo area where you can pet emu, goats, sheep and more.
There are also times of the year when you can feed meat to an alligator on a stick. They have a variety of other animals you can see as well. If your kids (or you) are into animals add this place to your list of spots to check out.
There is a fee to get in. Check their website for pricing.
Gangster Museum Of America
Located right across the street from the National Park you will find the Gangster Museum of America. In the 20's, 30's and 40's Hot Springs was a popular place for Gangsters to come and visit.
You will take a tour that will bring you up to speed on Hot Springs in the the early to mid 1900's. And how the gangster population visited here. You will also get a chance to play in the antique casino!
Mid-America Science Museum
A science museum in Hot Springs, AR with over 100 hands on exhibits. You can find things to do both inside and outside.
Art Gallery
If fine art is your scene Hot Springs does not disappoint! There are a variety of art galleries along with musical events going on throughout the year.
Galaxy Connection
A storefront museum with superhero and Star Wars props and toys plus a gift shop.
Visiting A Bathhouse
Like I had mentioned we opted not to do this. But I did find a great article that compares the bathhouses in the area in case this is something you want to check out: Which Hot Springs Bathhouse Is Right For You?
Fun Tip
When we were heading out we walked by the National Park administration building and the sewer was steaming from the Hot Springs! It was cool to see and we stood on it and felt the warmth.
We then noticed at the front of the building were spigots where you could fill up your own jug with Hot Spring water. We didn't do that but it was fun to turn the spigot on and feel the hot water.
Where To Eat
Superior Bathhouse Brewery
I know I mentioned the brewery above and have to mention it again here. The beer is brewed using the hot spring water – how cool is that! Plus the brewery is actually IN the National Park. We vote for all National Parks having a brewery!
The food was really good too. Be sure to get their Beer Cheese and chips – Yum!!
Where To Stay
We stayed at the National Park campground. We figured that in the middle of the week we would be fine. Not so much!
We got there and got the last spot. It is all first come first serve so get there early.
They have full hookups and you are right on the river so it is a great campground. You can take a hiking trail right from the campground and actually hike over to the National Park visitor center – but it is pretty far.
Rent An RV
Want to take an RV road trip but don't have an RV?! You can rent one! Outdoorsy is like the AirBnB for RVs. Click here to check out RV's available in Arkansas.
Hotels
The Waters is a great hotel option right by Bathhouse Row! Click here to check it out.
Vacation Rental
Vacation rentals more your style? Check out this great place:
Capone's Loft – Most unique luxury place to stay in downtown Hot Springs!
Free Vacation Guide
If you want more on the area check out the Free Vacation Guide.
Looking for another cool place to visit around Arkansas? Check out Oklahoma City! Or this great 6 Epic National Park Road Trip Ideas [Maps Included].
Love National Parks?! Be sure to check out our other National Park posts:
33 Things to do in Fort Smith Arkansas
11 Things To Do At Devils Den State Park
11 East Coast National Parks You Want To Visit This Year
A Guide To The Best Yellowstone Vacation and Beyond
19 Magical Things To Do In Glacier National Park [Map Included]
21 Epic Things To Do In Yosemite National Park With Kids
15 Fun Things To Do In Oklahoma City With Kids
Pin This Post For Later: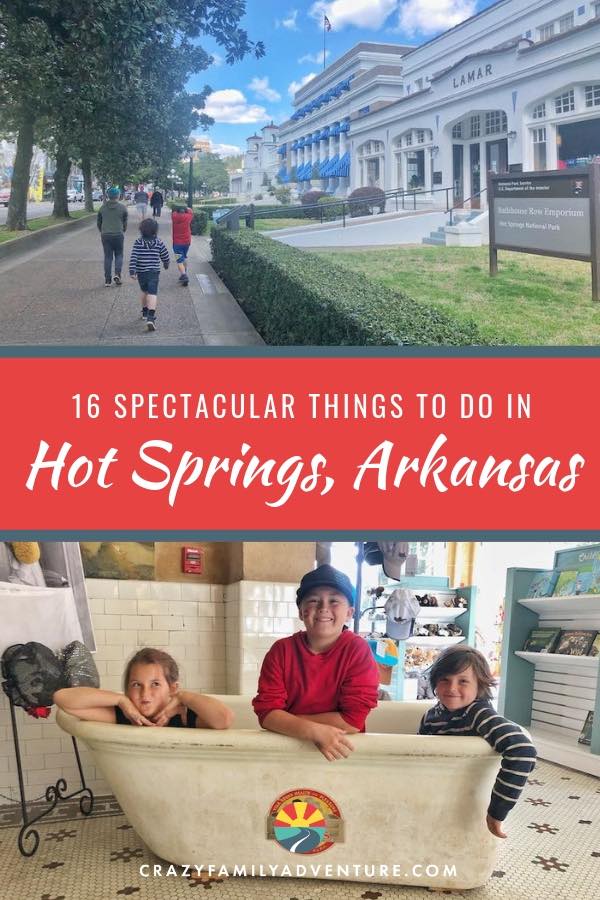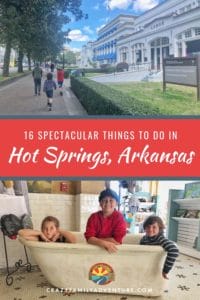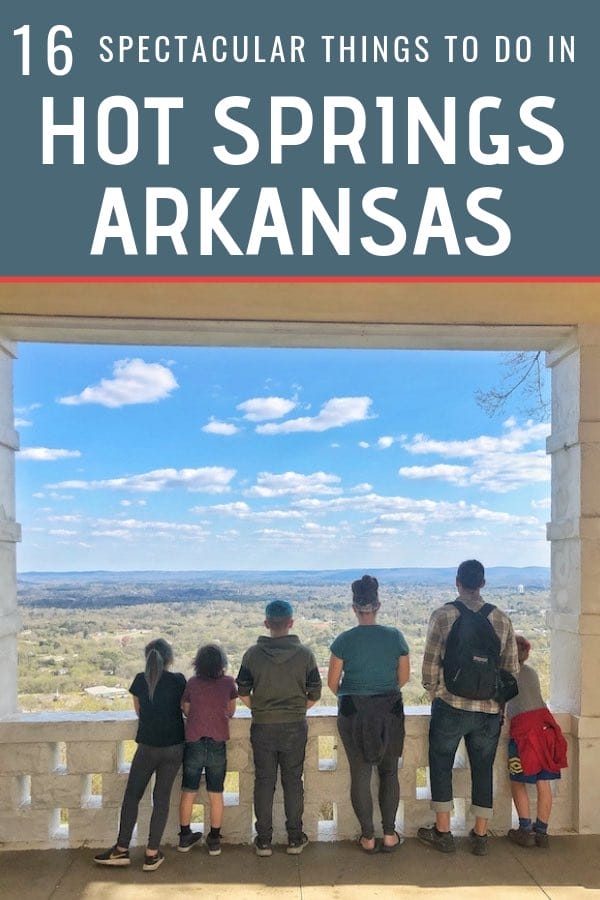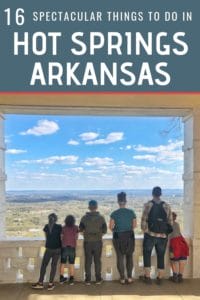 DISCLOSURE: This post may contain affiliate links, meaning I get a commission if you decide to make a purchase through my links, at no cost to you. Please read my disclosure for more info.