Moab, Utah is definitely one of the coolest places we've visited. It has such a scenic landscape and so many outdoor adventures available. Free dry camping is abundant in this area, as are campgrounds and RV parks with all the amenities you could want.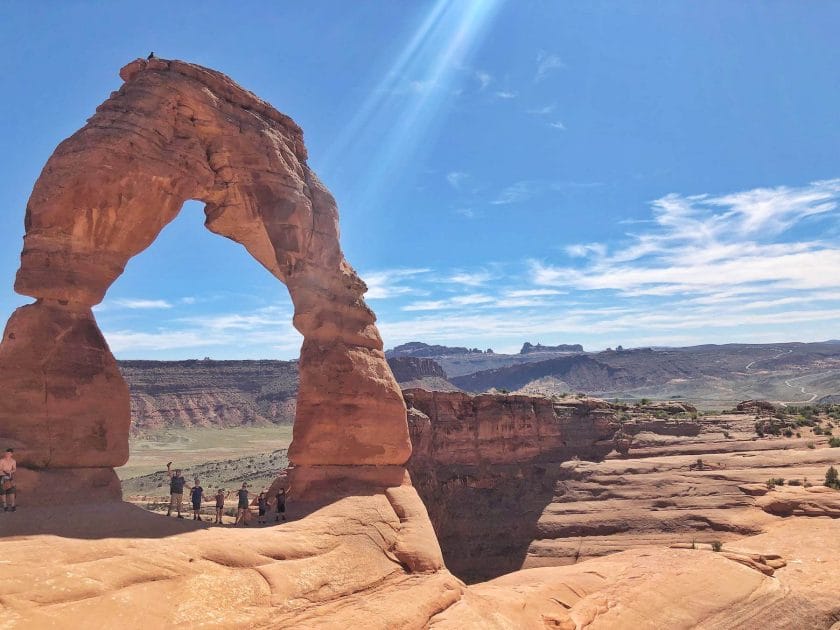 Best of all, Moab is near two incredibly cool national parks – Arches National Park and Canyonlands National Park, making this an even more fantastic place to visit. Add Moab to your Utah National Parks Road Trip or a National Park Road Trip.
Looking for things to do in Moab? You've come to the right place. Check out all our top picks and tips and tricks below.
Jeep Driving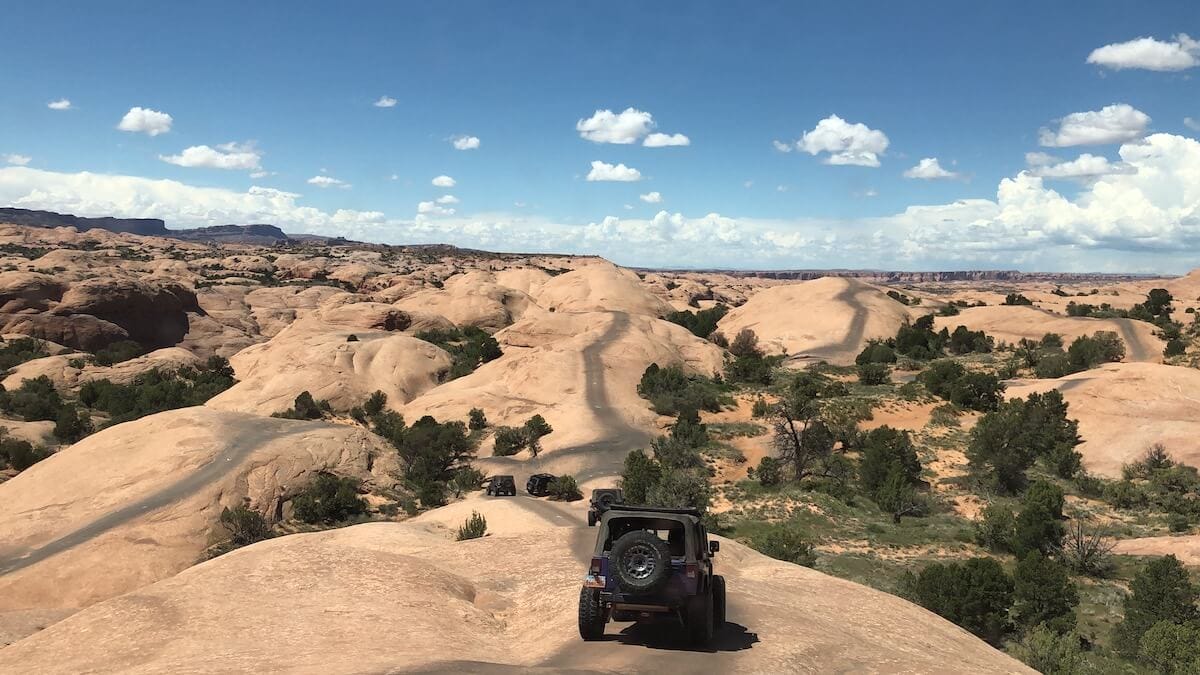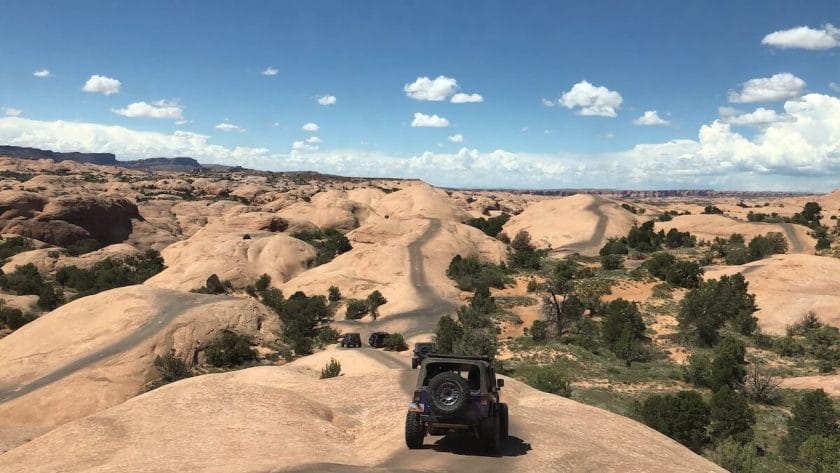 We had no idea how much we were going to love this! There are some awesome jeep trails throughout Moab – we really enjoyed the Fins and Things trail.
The nice thing is you can rent a jeep from one of the many rentals in Moab and head out on your own. Or if you aren't sure what you are doing you can get a guide too. We highly recommend that if this is your first time!
Off Roading
Driving through downtown Moab, you may feel a little out of place since you'll see a bunch of OHV's (off-highway vehicles) sitting next to you at the stoplight. Apparently it's totally cool with local law enforcement.
All of these off-road vehicles are heading out to some of the best trails in the country. Want to get in on this fun? There are several places to rent dirt bikes, 4-wheelers, or even Jeeps and Hummers, so you too can experience these trails.
When we were there we opted to rent a jeep and we were lucky enough to have a friend that could take us out on the trails. Honestly, we had no idea what we were getting ourselves into until I was behind the wheel driving. We ended up driving up and over rocks I didn't know you could manage in a jeep and we went on some amazing trails. This Jeep adventure was an awesome experience that we will never forget.
If you aren't up for driving yourself there are tours where a driver will take you on this trip. If you don't have someone experienced to show you the ropes I definitely recommend going with a driver!
For more information on the off-road trails and requirements, check out this page.
For a guided option check out this Off-Roading Adventure.
Mountain Biking
Along with some of the best off-road trails in the country, Moab is also home to some of the best biking trails as well. Many of these are located in Slickrock Recreation Area. There are dozens of trails and each is rated as easy, intermediate, or difficult to help bikers choose one that suits their skill level.
There are also plenty of options when it comes to bike rentals in Moab, so if your old Schwinn isn't up to it, rent a legit bike. You'll be glad you did.
For more info on the biking trails check out this page.
To book a biking tour in Moab check out this Mountain Bike Half Day Tour.
Rock Climbing
Moab is a city of outdoor activities. What better way to get in the spirit of that than to do some rock climbing?
You can be a seasoned veteran or a beginner. If you're a complete beginner, there are plenty of guides that will take you out, show you the best place to climb for your skill level, and get your started,
You can even climb inside Arches National Park. That said, there are definitely rules on what you can and can't climb on in the National Park, so check out this page for all the details of climbing in the park.
If rock climbing is what you want to do check out this Moab Half Day Rock Climbing Adventure.
Rafting
If sailing the high seas is your game, river rafting on the Colorado River is definitely something to check out. Ranging from a scenic float in the Fisher Towers section of the river to a raging Class IV near Westwater and Cataract Canyon, there are rafting trips for everyone and every family. Kayaking and stand up paddle boarding are also allowed on the river.
Click here for great Moab rafting trip options.
Hiking
Hiking is abundant in and around Moab. There are trails inside of the national parks and trails that stand completely on their own. Some intersect, some lead to amazing views, a few are super challenging, and others are perfect for families with kids.
We had the pleasure of checking out two hikes in Moab that were not a part of the national parks, and both were absolutely fantastic.
Corona Arch Hike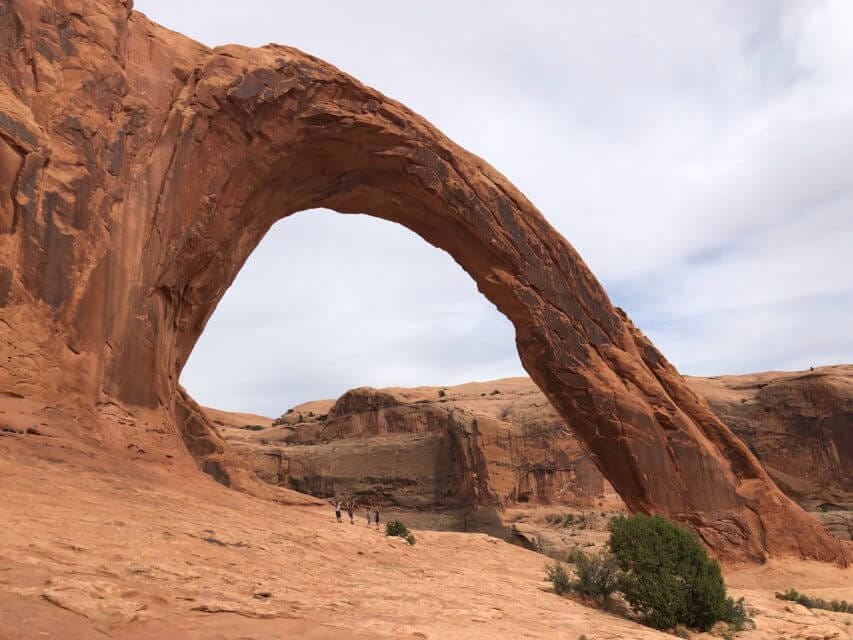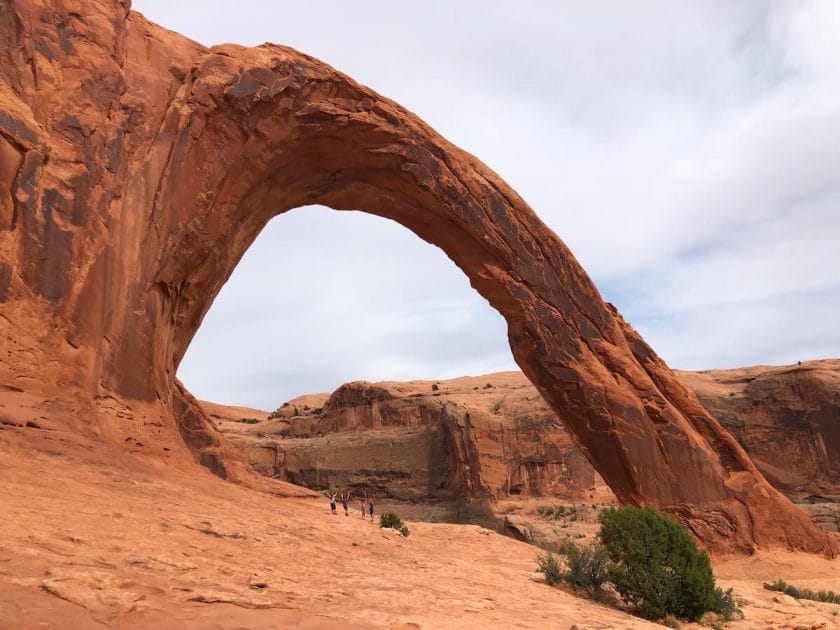 One great hike — and great arch — is Corona Arch. The trail head is on Highway 279, 10 miles west of the 279/191 junction in Moab.
This fantastic hike is about a mile and a half roundtrip, and includes chain supports and ladders to get you back to the arch. The views along the way are amazing, but it's the arch that is the jewel. It's enormous at 140 feet tall and has a 105 foot opening. You can get great pictures under and around the arch, and these photos and the incredible views are an excellent reward for your hiking efforts.
For more information on Corona Arch, check out this page.
Fisher's Tower Trail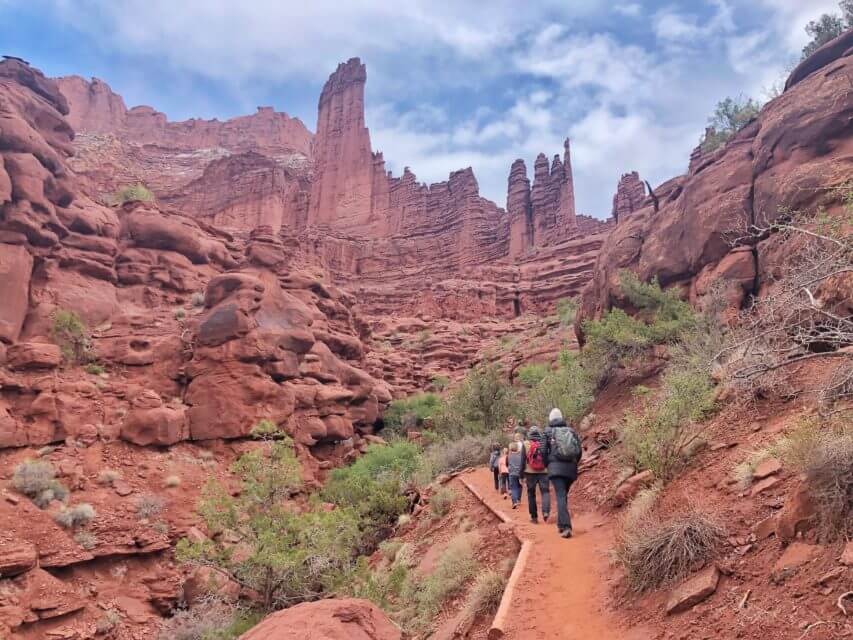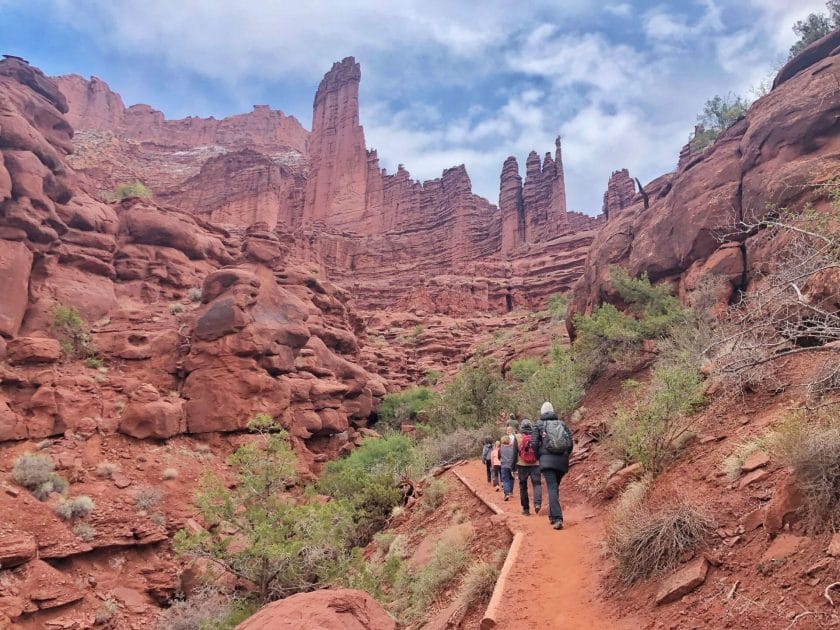 The other hike we took was along the Fisher's Tower Trail. This trail is load ates about 16 miles northeast of Moab and can be accessed from Fisher's Tower Road off of Route 128.
The trail is absolutely gorgeous, with incredible rock formations in view nearly the entire way. We has a fantastic time on this hike and would recommend it to anyone visiting the Moab area.
Scenic Drives
There are a couple of scenic drives in Moab. One of these is Scenic Byway U-279 (also known as Potash Rd) and the other is Scenic Byway U-128. Both follow along the Colorado River and both have spectacular views and scenery. Taking this drive at sunset is just amazing. Also you'll see plenty of BLM land along the way which offers free dry-camping.
Arches National Park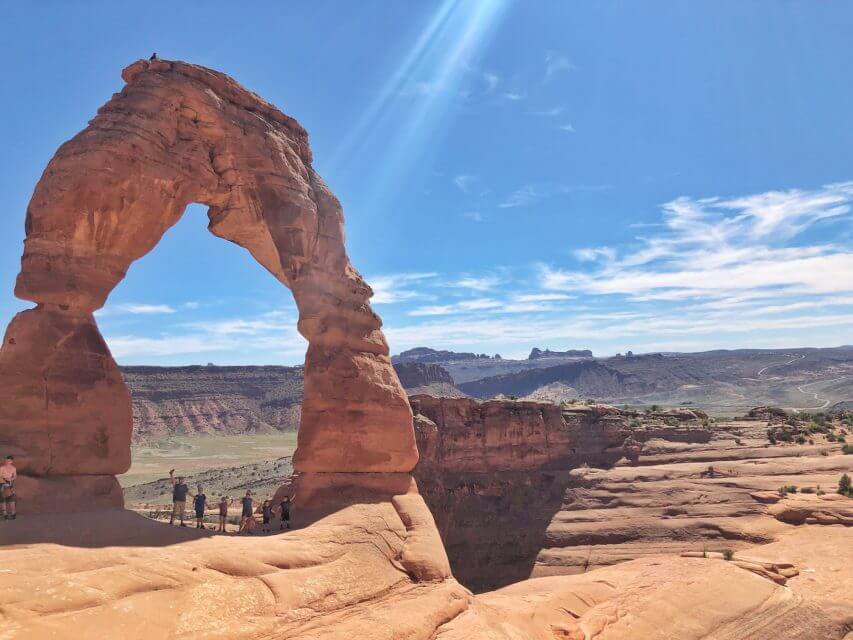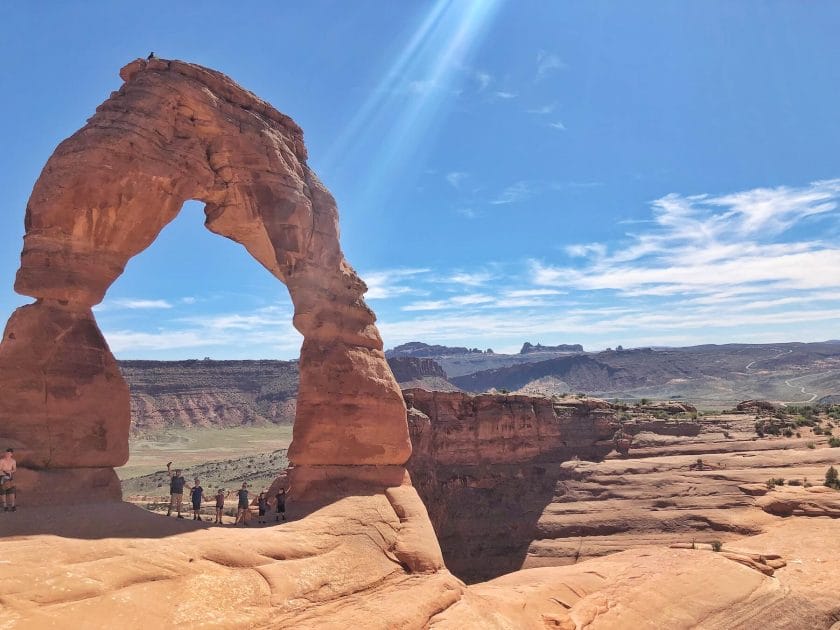 Arches National Park is about 5 miles north of Moab, with the entrance to the park on Highway 191. This is a must do on any Moab itinerary!
We've made it super easy to plan your own trip to Arches with our Ultimate Guide to Arches. This one-day, digital guide is a complete, stop-by-stop itinerary to take the stress out of planning your trip.
Upon entering Arches, the Visitor Center is off to the right. Stop in and talk to a ranger about hikes they recommend or things to look for during your visit. You can also catch a short video that gives a great background on the geology and landscapes in the park. If you have kids, be sure to grab a Junior Ranger booklet to complete while you're at the park. There is also a small gift shop in the visitor center so you can pick up something to remember your visit by.
The park consists of an 18-mile nicely paved road that takes you from the Visitor Center all the way back to Devils Garden. All along the way there are pull-outs to take in the beautiful views.
Some notable stops are:
Park Avenue – Rock formations that resemble the famous street in New York City.
Courthouse Towers – Formations that resemble an actual courthouse.
Balanced Rock – A gigantic boulder balancing on a very thin rock formation.
The Windows Section – Several arches that you can walk under and snap some great photos.
Delicate Arch Viewpoints – These offer some great views of the most iconic arch in the park.
Devils Garden – This area has short hikes to several arches.
Hiking in Arches
Speaking of hiking, there are several hikes in the park that are definitely worth doing. The Windows Section in the park has several short hikes that take you in and around some great looking arches including the North and South Windows as well as Double Arch.
Another great hike is going to Delicate Arch. This hike gets you right under Delicate Arch and offers a much more up close and personal view of the arch than the viewpoints do. This hike is a bit demanding even though it is only 3 miles roundtrip. It climbs about 480 feet and you travel over rocks, through sand, and around some breathtaking cliffs. If you're brave, you can walk down the side-sloped rock and get a great picture standing under the arch.
Finally, there is the Fiery Furnace hike. To participate in this experience, you either need to sign up for the Ranger-led hike or obtain a special permit. Sounds intimidating, right? Well, it's not that bad. The problem is that the trail is not marked and there is a chance of getting lost if you're not familiar with the route. There are also some tricky spots during this hike including tight passages and getting over gaps that have a 20 foot drop.
We did the ranger-led tour and am very happy we did. We got a lot of great information about the park and loved having the ranger point out things we normally would have just hiked past.
Star Gazing
While staying in or around Moab, head into Arches on a clear night for some amazing star gazing. We drove to Windows to check out the stars shining through the arches. It was pretty amazing!
For more information on Arches National Park, check out this page.
Canyonlands National Park
Another one of Utah's Big 5 is Canyonlands National Park. This park is about an hour and a half drive from Moab, and is the most worthwhile of the many day trips you could take from Moab.
Canyonlands is a pretty large park, so you'll want to plan to spend a full day there. It is divided up into 3 sections: Island In The Sky is on the northern end of the park, The Maze is on the western end of the park, and The Needles to the southern end of the park.
Island In The Sky
We took the drive through this section of the park and checked out the amazing views from several of the overlooks in the park. The cool thing about this park is that it really is an island in the sky because all of the overlooks are looking down at the geological structures below. It's a whole different perspective.
The Maze
The Maze is an interesting section of the park because it's only accessible by unpaved 4-wheel drive roads or by hiking in. There are several campgrounds in this section for those doing overnight trips.
The Needles
When visiting The Needles, be sure to stop in at the Needles District Visitor Center to learn more about the park and grab something from the gift shop.
From there, continue the drive toward Big Spring Canyon Overlook. We stopped and hiked at Cave Spring, which was a short and fun hike. It led under big rock overhangs and up steep rocks where you had to use a ladder to get up. Our kids loved it!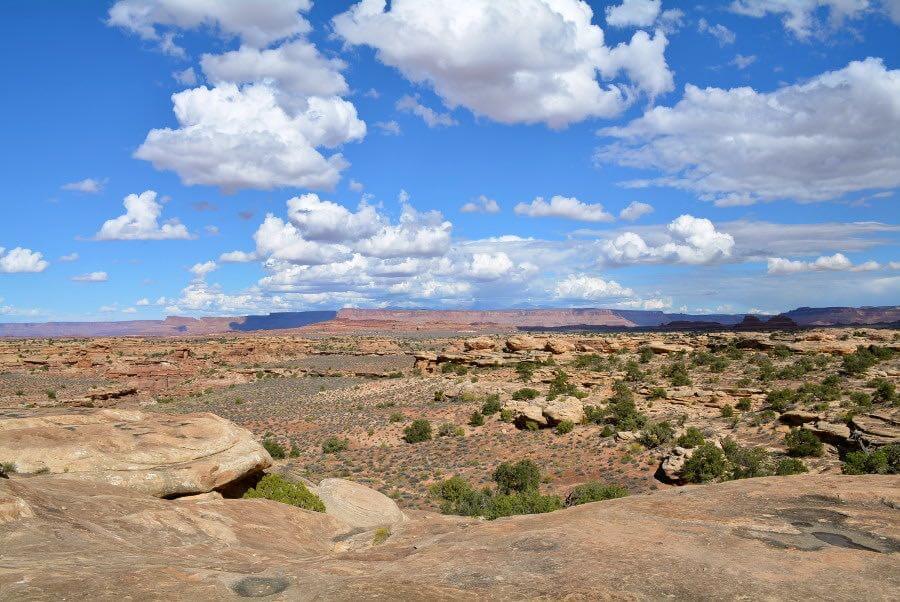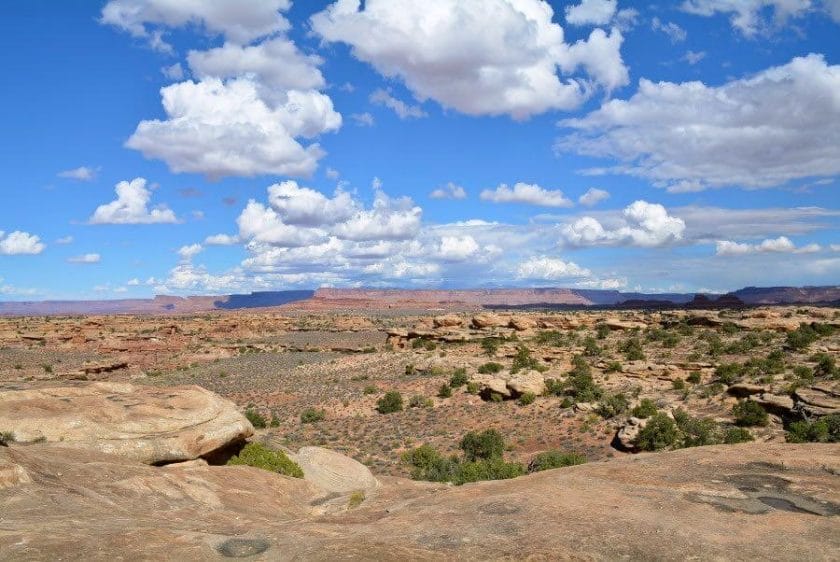 We also hiked Slickrock Foot which was a bit more strenuous. While it was only at 2.4 miles, it seemed longer for some reason. It may have been because it was rather warm and very dry. We all packed enough water, but we were all still thirsty throughout the hike.
For more information on Canyonlands National Park, visit their website here.
For more check out Moab with kids and also this 4 day Moab itinerary!
Where to Eat in Moab
Obviously, you are going to need to eat while in Moab. Fortunately, there are plenty of amazing local places to grab some grub after a long day of adventuring.
Our top picks for food in the town of Moab include:
Moab Brewery
This was great place for burgers. We also enjoyed trying some local beer, and the atmosphere was fun and casual. Definitely a great pick if you're looking to end the day on a high note.
Moab Food Truck Park
As small as Moab is, it seemed to have quite a few food trucks. This was fine with us, as food trucks are lots of fun. We especially loved the trucks that were congregated at Moab Food Truck Park because multiple food trucks close together mean everyone can pick what they want to eat.
Thai Bella
Honestly, we didn't expect to find good Thai in Moab, but this place was absolutely delicious! It should be noted that this is a very small restaurant, so it may not work well for large groups.
Quesadilla Mobile
Yes, we are mentioning another food truck. This one was not a part of the aforementioned food truck park, but the food here was just as good as the food from the other trucks, or possibly even better. This is an especially great option for a grab and go food to eat as you stroll around Moab.
Sunset Grille
Looking for a sit down place with a more peaceful atmosphere? Sunset Grille is your place. This restaurant serves up delicious steak and seafood and offers amazing views of the gorgeous Moab landscape.
Zax Restaurant
Lastly, we must mention Zax Restaurant. This relaxed eatery is located in downtown Moab and offers pizza, soup, salad, and a full bar. The place has an eclectic feel to is, and the roof top seating is tons of fun.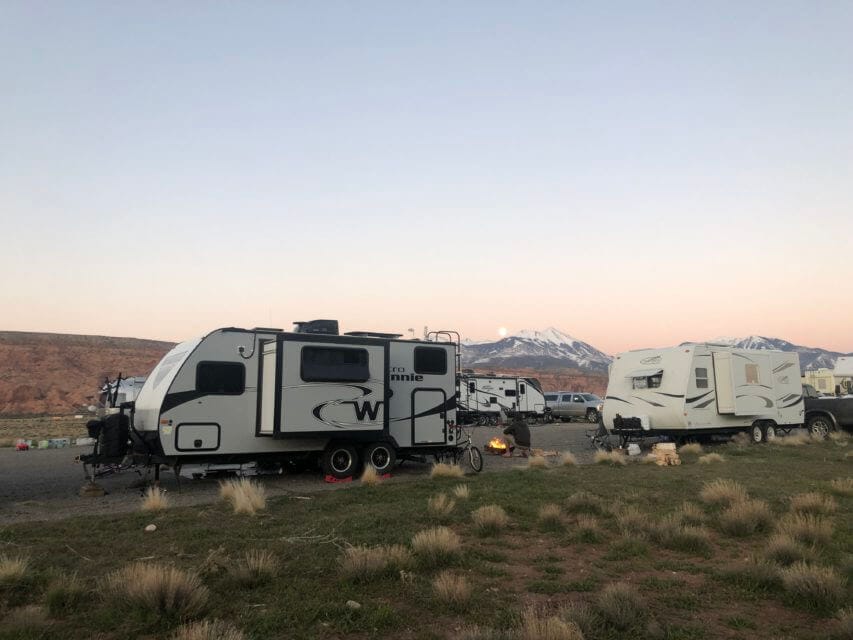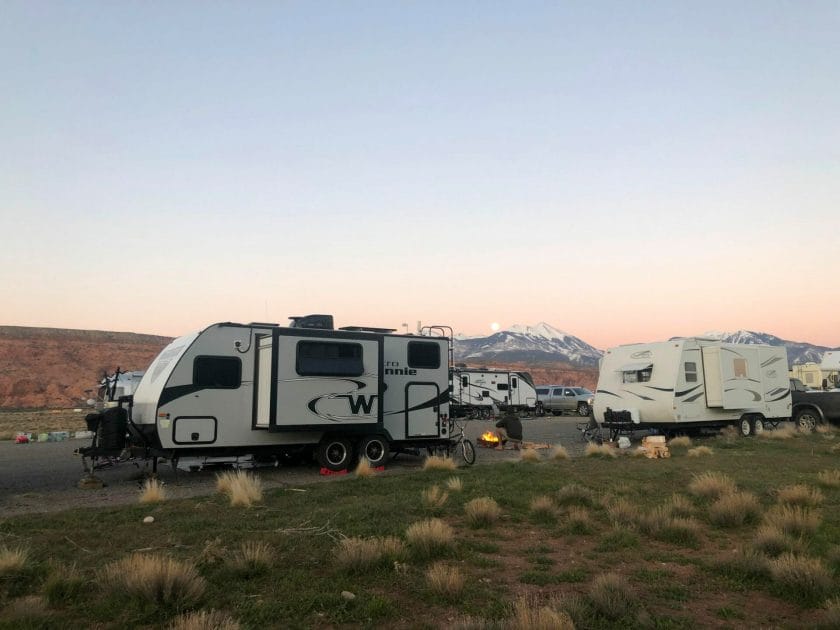 Where to Stay in Moab
Finally, you will need a place to stay during your visit. As mentioned before, there is plenty of free dry camping available. That said, if you're looking for something with more amenties, there are options.
Devil's Garden Campground
Want to stay in Arches National Park? You can camp in the park at the Devil's Garden Campground. This campground is located in the back of the park and offers flush toilets and drinking water, but no RV hook ups. We love that the Broken Arch hiking trail can be found right off of the campground.
OK RV Park
Those looking to park their RV in a full blown RV park might prefer OK RV Park. This park is located outside of downtown Moab and a 18 minute drive to Arches National Park. It offers full hook ups, wifi, cable TV, and more.
Hyatt Place Moab
If you want a nice, luxurious stay after your day out hiking in the heat, check out the Hyatt Place Moab for all of the amenities! It is one of the number one hotels in Moab, and is the perfect place to rest your head if you don't want to camp.
Moab Springs Ranch
Looking for a more resort like feel? Check out the amazing Moab Springs Ranch. You can rent a one or two bedroom townhouse for the night with full kitchen and bathrooms. Not only that, the resort has its own parks, ponds and hammocks in the shade as well as the requisite hotel pools and hot tubs. A truly relaxing stay after a day full of hiking!
We have also heard good things about the Hoodoo Moab Hotel!
These were our favorite things to do and see while in Moab. That said, they are far from the only ways to fill your time. If you're looking for even more Moab area fun, try going for a hike at the nearby Dead Horse Point State Park (off of the scenic Potash Road) or spending the day in prehistoric times looking for dinosaur tracks at Moab Giants Dinosaur Park. No matter what you choose to do, we are certain you'll have a fabulous time in this amazing town!
There is so many more cool places to visit in Utah too! Check out our posts:
11 Utah Mountain Biking Trails You'll Want To Check Out
12 Epic Things To Do In Page, AZ
6 National Park Road Trips To Take
Pin This Post For Later: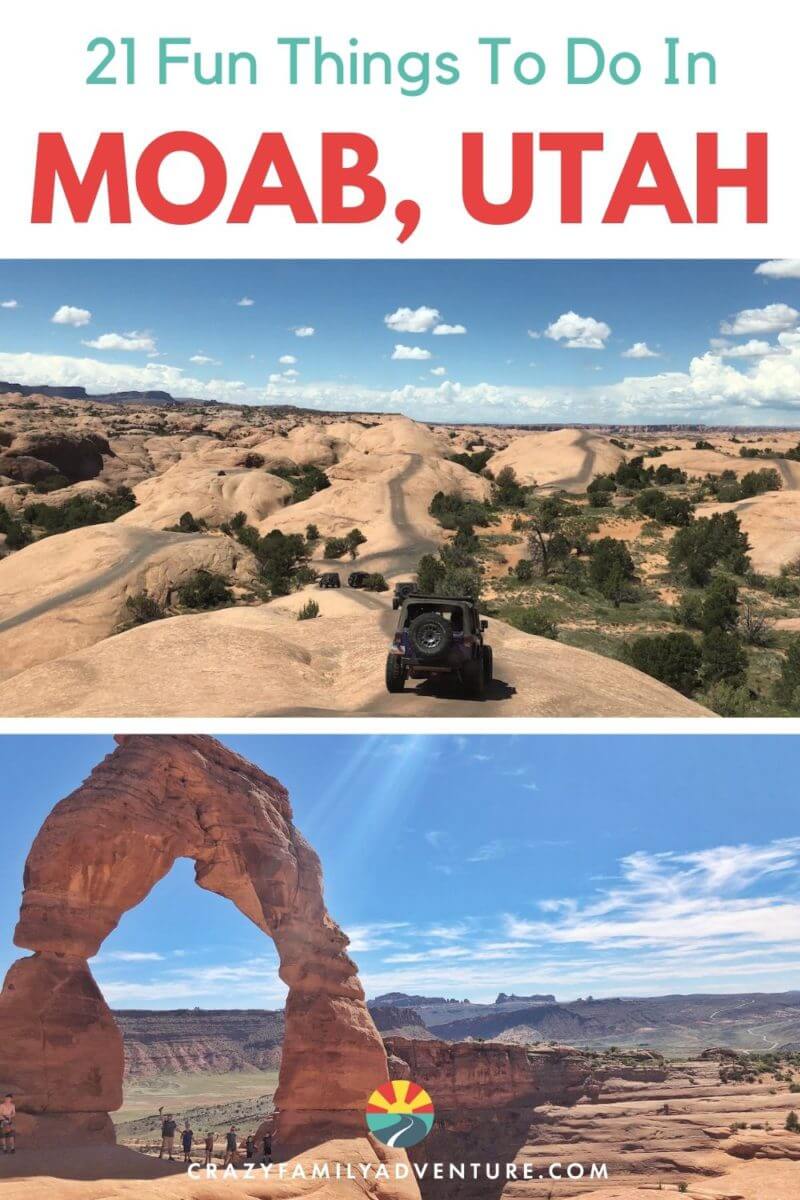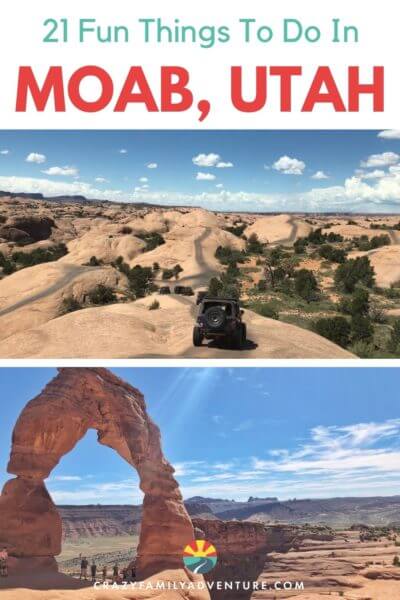 DISCLOSURE: This post may contain affiliate links, meaning I get a commission if you decide to make a purchase through my links, at no cost to you. Please read my disclosure for more info.