Boondocking is basically dry camping in your RV which means you don't have access to hookups. No water, electricity or sewer. It's very primitive, but will most likely be an amazing experience..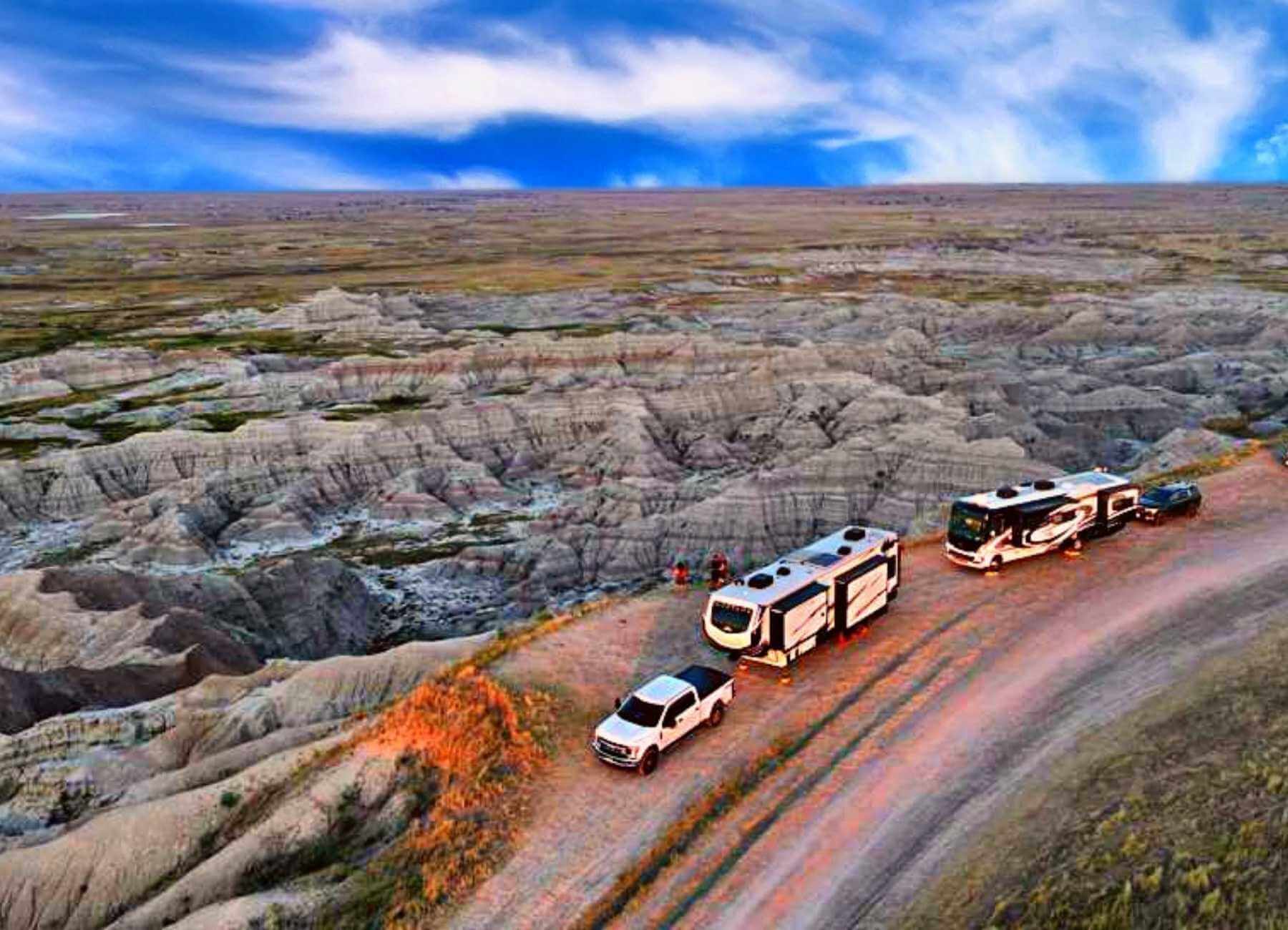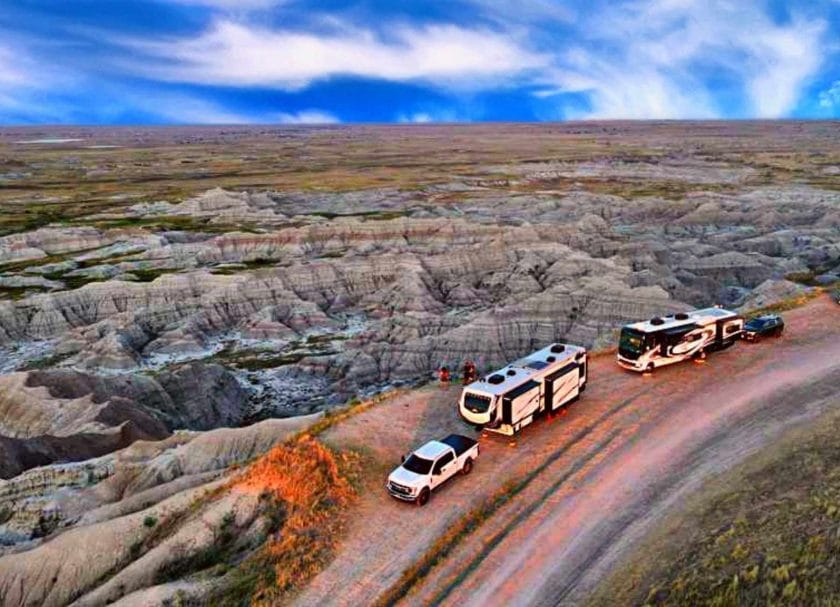 We've been boondocking for quite a few years, so we'll share below more information on it, where you can boondock, what you'll need to boondock and some boondocking tips.
We love boondocking because it really gets you off the beaten path and out into nature. Some of the very best camping we've done has been boondocking. Whether that's been up in the remote mountains of Montana or on a beach in Mexico.
RV boondocking also gets you out of traditional rv parks, which is great for us because our kids can run wild and not have to really worry about being loud too for neighbors.
Sometimes boondocking is free camping, sometimes you have to pay a small fee. Sometimes its out in the middle of nowhere, sometimes its in a Walmart parking lot.
Boondocking can be a mission to find the most remote spot ever or it can be just overnighting on your way to your next destination. Some people do it to get away from people and find solitude while others just love nature and want to immerse themselves in it.
There really isn't a "right" way to boondock, but there is definitely a bit of a learning curve to have a good time while doing it as well as a few things to allow you to boondock longer.
We've been boondocking off and on since shortly after we hit the road in 2014 and have learned a thing or two along the way. Hopefully this article will help you get out and boondock on your next camping trip and love every minute of it!
Where To Boondock
Finding the best boondocking spots is the fun part! There is definitely an art to it, but there is a ton of information out on the internet and some really great apps to help you find a spot.
You can pretty much find boondocking locations all over the United States, but some of our favorites definitely tend to be on the west coast. There is much more space out there and the weather usually cooperates much better. No one likes camping in the rain.
Public Land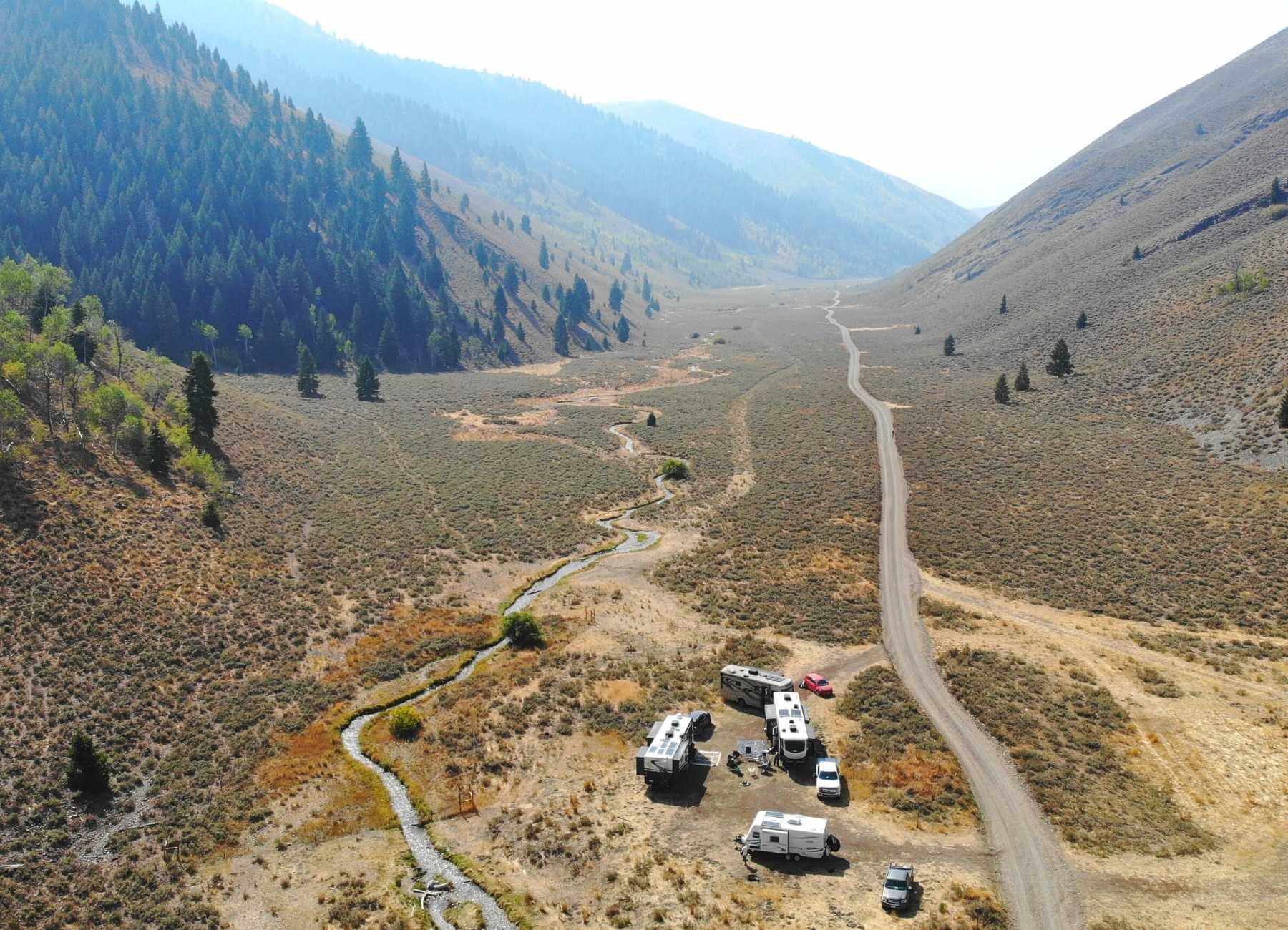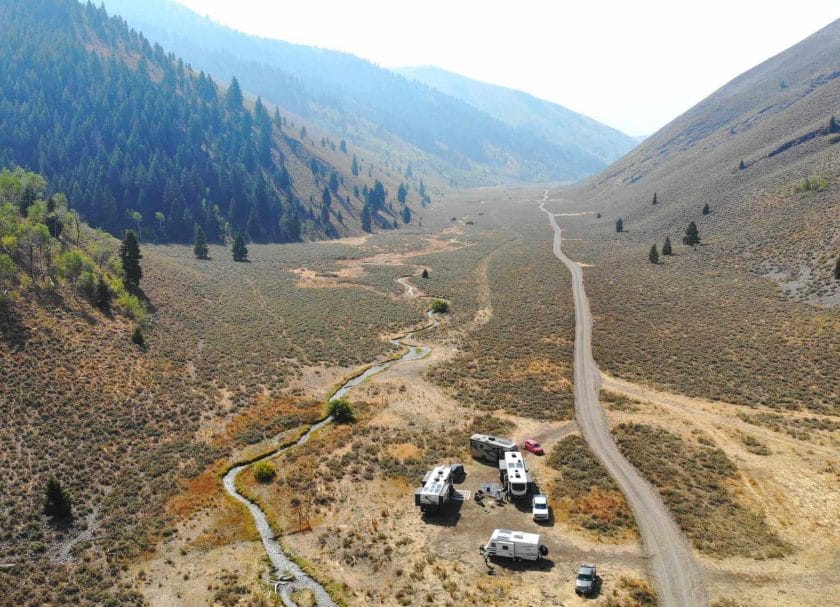 There is free, accessible public land all over. The Bureau of Land Management (BLM) is in charge of it and allow the public to camp, climb, hike and more on this land.
Check out their website for more information on where these lands are and some of the rules that go along with staying there. There are different stay limits for each area, for instance.
BLM land consists of both developed campgrounds as well as dispersed camping. Some of the developed campgrounds have water accessible (some even electric, but were here to dry camp!). These campgrounds usually require a fee or permit to stay.
Dispersed camping on BLM land however, does not offer any improvements or amenities and is free a lot of the time. Some of these dispersed locations are rough to get to, so you'll have to know your limits and your vehicle's limits when planning a trip there.
On the other hand, imagine setting up camp at a boondocking site up in the mountains where you get a fantastic sunset. That's what makes boondocking so special.
National Forests or Parks
Another great boondocking location is in National Forests or National Parks. Many National Parks have campgrounds in them, but many of them don't have hookups, so you're boondocking!
If you have this opportunity, don't pass it up! Anytime you can camp inside a National Park is a treat since you don't have to waste precious time driving in and out each day.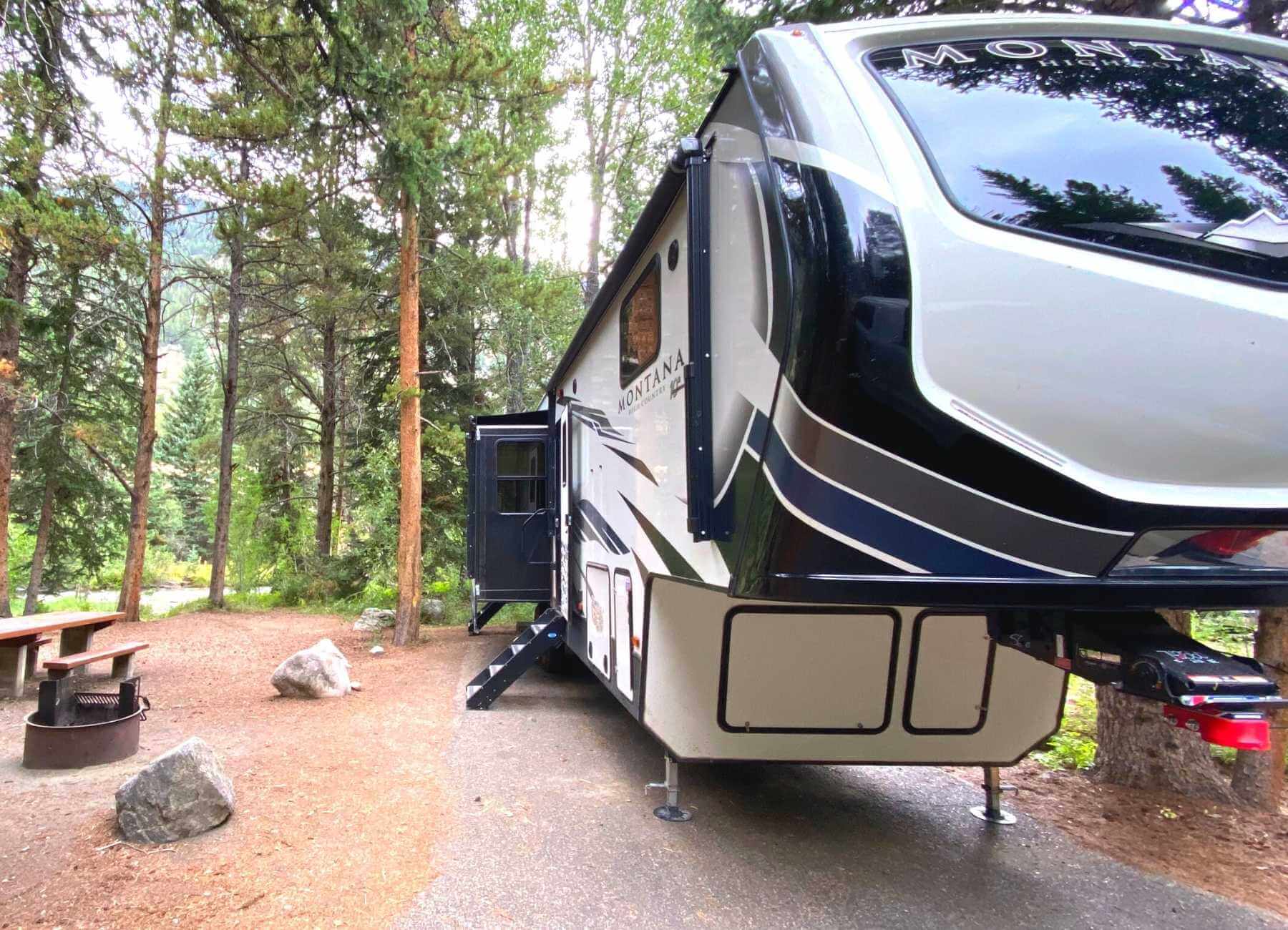 National Forests are kind of like a secret treat when it comes to camping. There are so many epic National Forest spots, but they just aren't as popular as the National Parks. If you're looking for solitude, boondock deep in a National Forest and you'll find it.
Check out their website to find a great spot!
Also, some state parks offer boondocking opportunities as well. It all depends on the park you're looking at. Again, it may be a developed campground without hookups or it may be dispersed.
Overnight Stops
Now for the less glamorous side of boondocking. These are more for overnight stops when you're on a long haul drive. We've stayed at several of them and they're convenient to stop at night to sleep and get back on the road early in the morning.
These include places like parking lots. Walmart boondocking is a thing. Most of them allow overnight stays and running in to the store for some supplies or just road trip snacks is super convenient.
If you plan on Wallydocking, make sure to call the store before arriving to make sure they allow overnighting. They may have a certain area in the lot they want you to park as well.
Another option is a highway rest area. Some of these allow overnight stays and some even provide security. This is a really good option since you can be off and on the highway in minutes.
Lastly, and one that I wouldn't necessarily recommend unless you are in a pinch is a truck stop. These are also pretty conveniently located off the highways and have plenty of room for big rigs, but they're loud and a lot of traffic throughout the night which may not translate to the best night sleep.
Moochdocking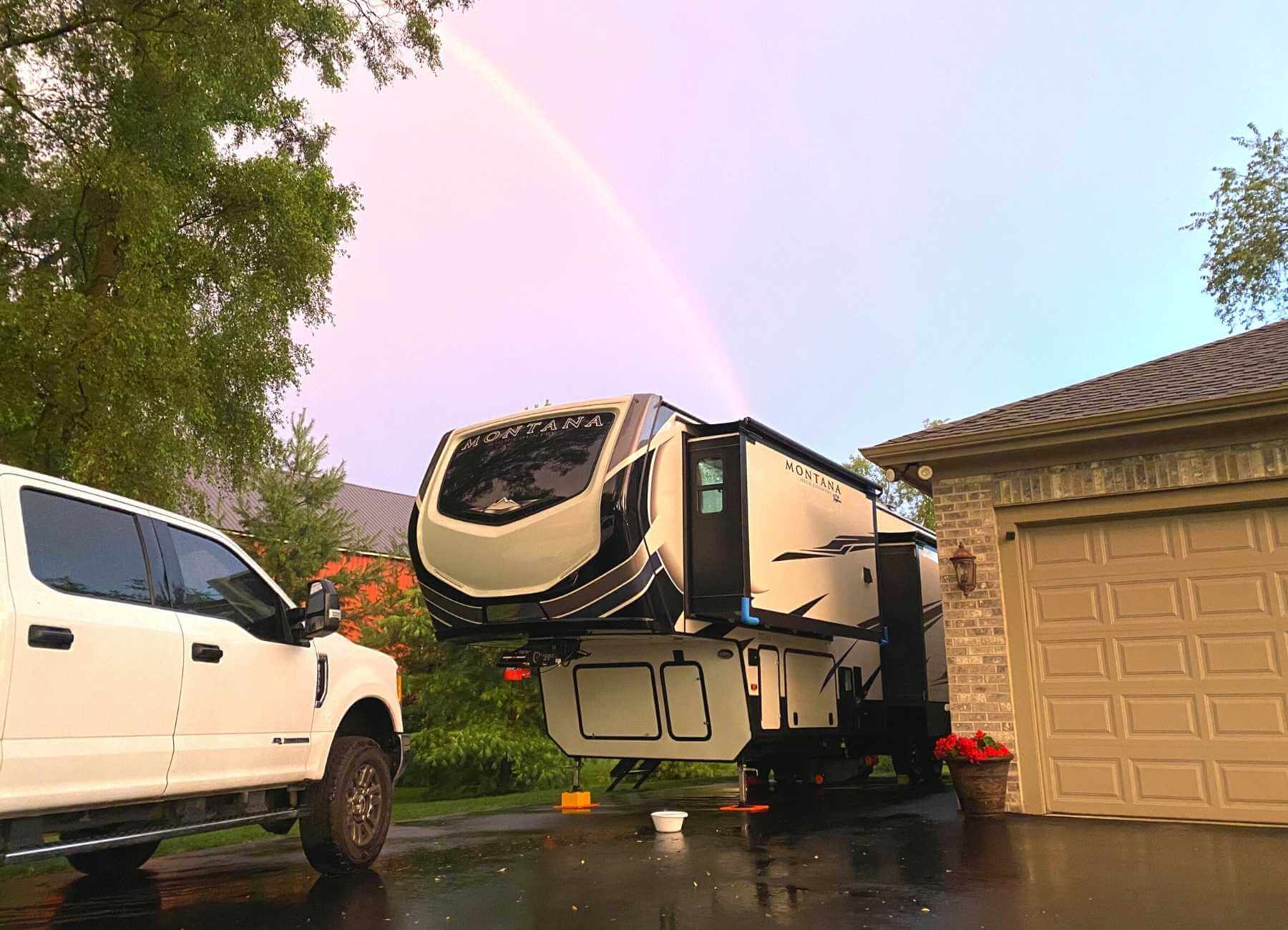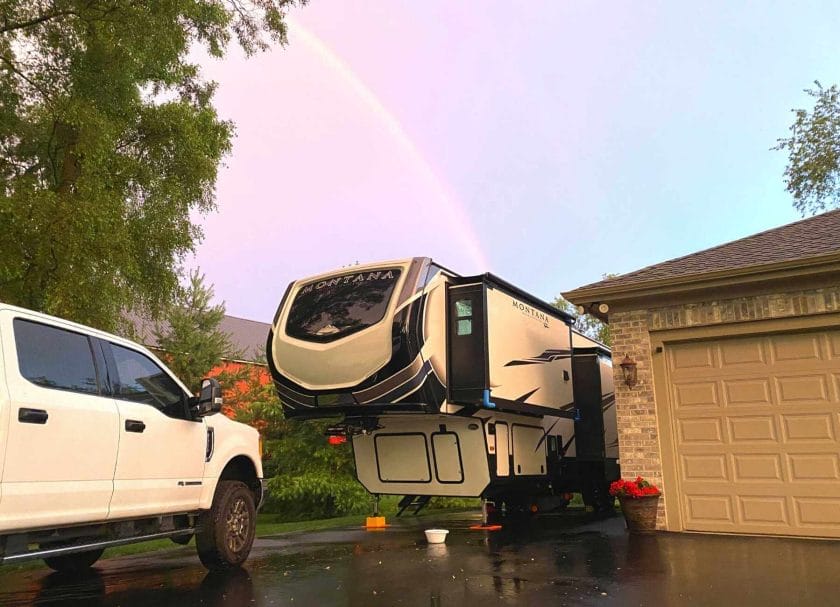 Moochdocking or driveway surfing is another form of boondocking. This is when you stay in a family member's or friend's driveway. We've done this quite a bit at my parents house in Wisconsin.
This is a great way to reconnect with people while staying close, but not too close. It's also great for full timers who have all their stuff in their rig making it more convenient to stay in the RV rather than packing a bag to stay inside the house.
Boondocking Apps and Websites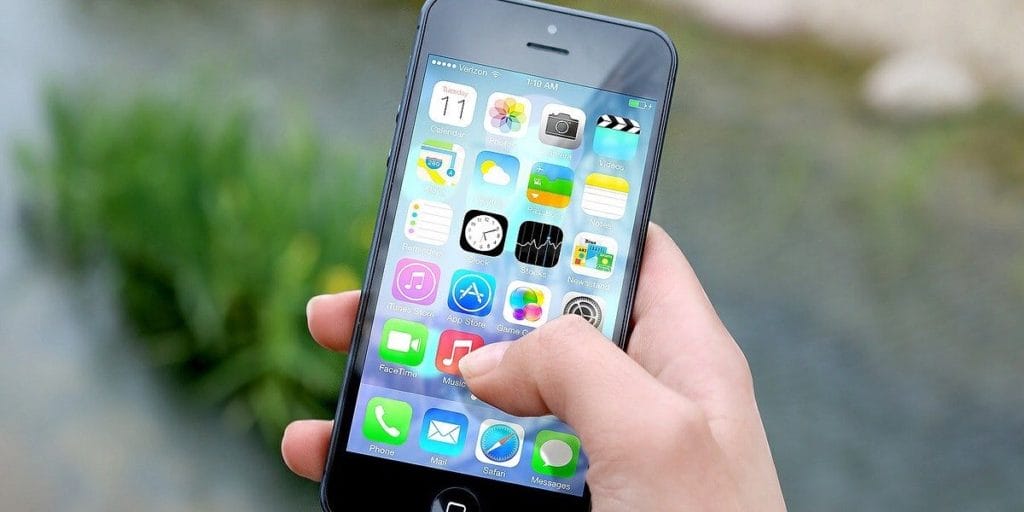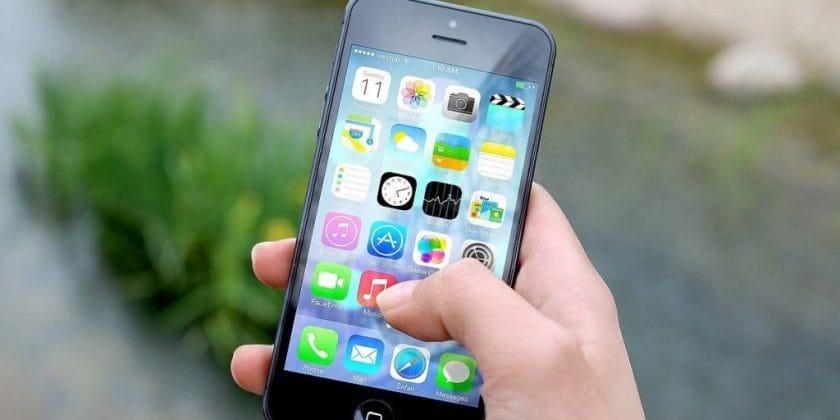 There is a ton of information out on the internet to find the perfect boondocking spot. Here are a few apps and websites that have put all that information together in an easy to use and navigate app. They also have reviews by people who have stayed there so you can get some first hand information before going there.
We also wrote a post about camping for free in the USA, so check that out!
What You Need To Boondock
Now that you know what boondocking is and where you can do it, next is to figure out what you'll need in and on your rig to make your stay comfortable.
This by no means is a complete list, but it is what we've found useful during our boondocking trips. On the same token, you may not need some of these things for your trip.
Solar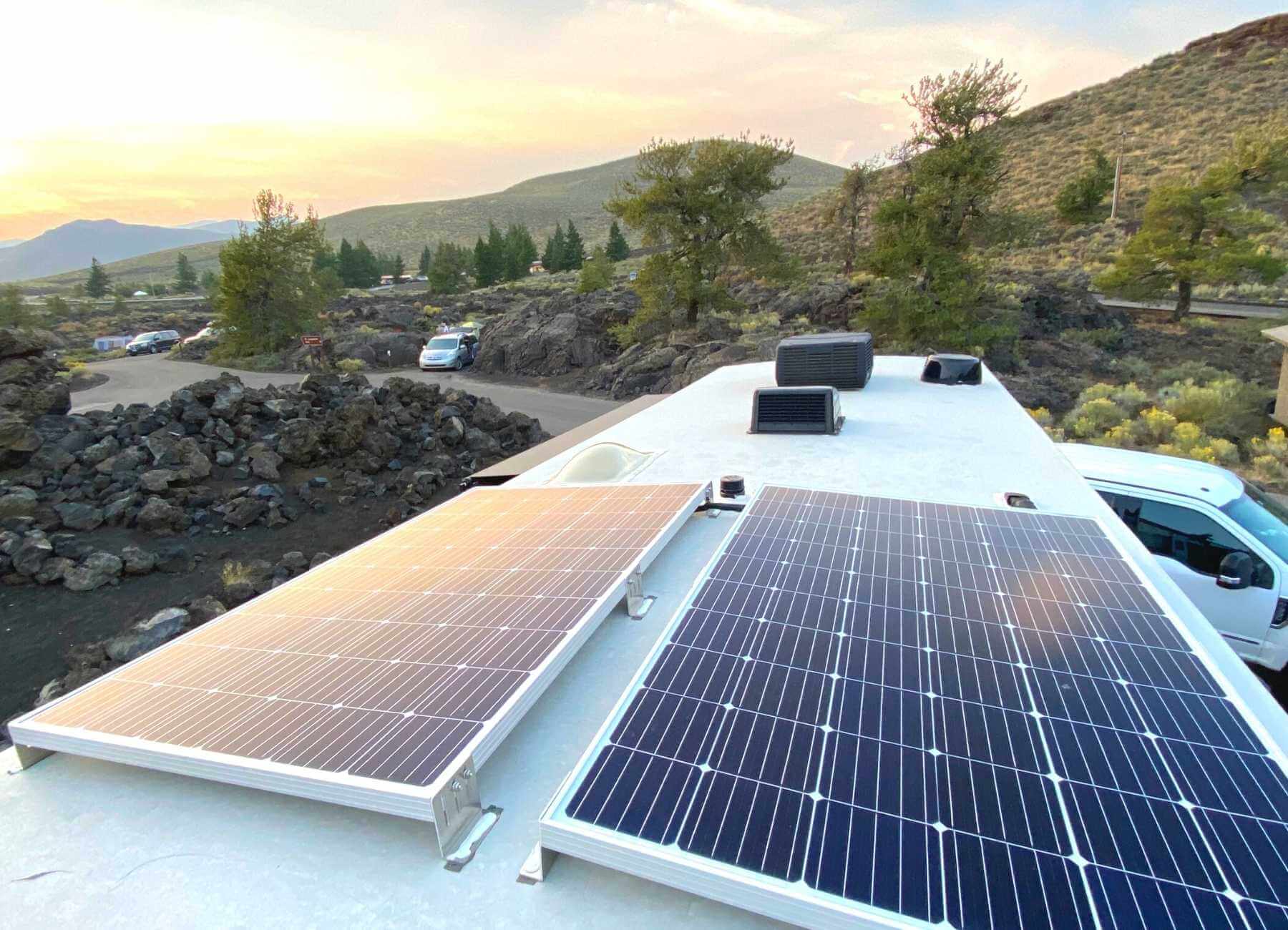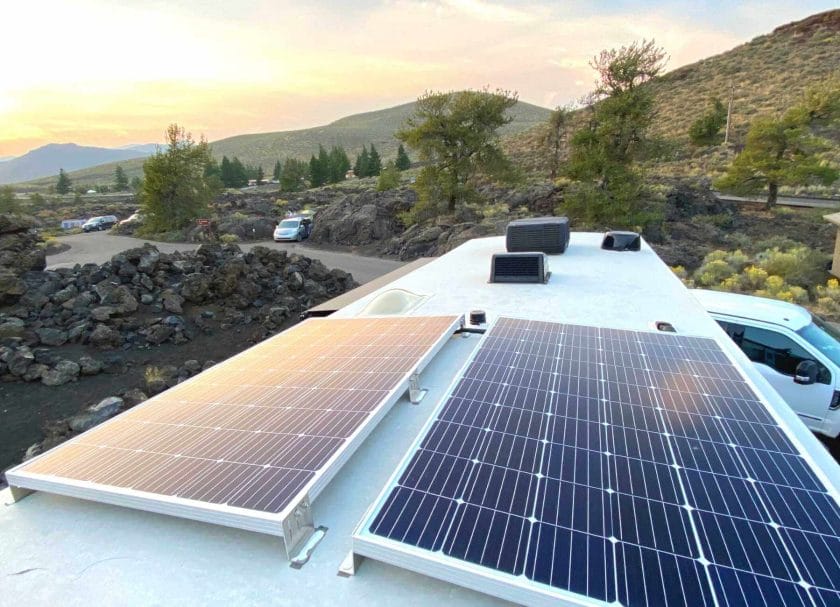 Solar is a great way to make sure you have enough electricity to keep your batteries charged and run all the necessary items like LED lights and your water pump. You can also charge your phones and computers as well as maybe watch some TV at night.
Solar is also a term that encompasses a much larger system than just the panels on the roof. Let's break down the system a bit more so you know what you'd need on your rig to have a nice solar set up.
Solar Panels
For a complete solar setup, you're going to need solar panels on the roof. These are on the front line to absorb the energy from the sun and turn that into stored electricity. The more panels on your roof, the more energy you can harness.
Solar panels come in all shapes and sizes as well as different technology. I'd recommend getting monocrystaline panels. Renogy sells some great ones.
Solar Charge Controller
Next you'll need a solar charge controller to control the solar power coming in from the panels. The charge controller regulates how much electricity is sent to your batteries or other loads in your RV.
Again, these come in all different specs and technology. I'd recommend getting an MPPT controller as the technology is more advanced. We have Victron controllers in our rig and they're fantastic.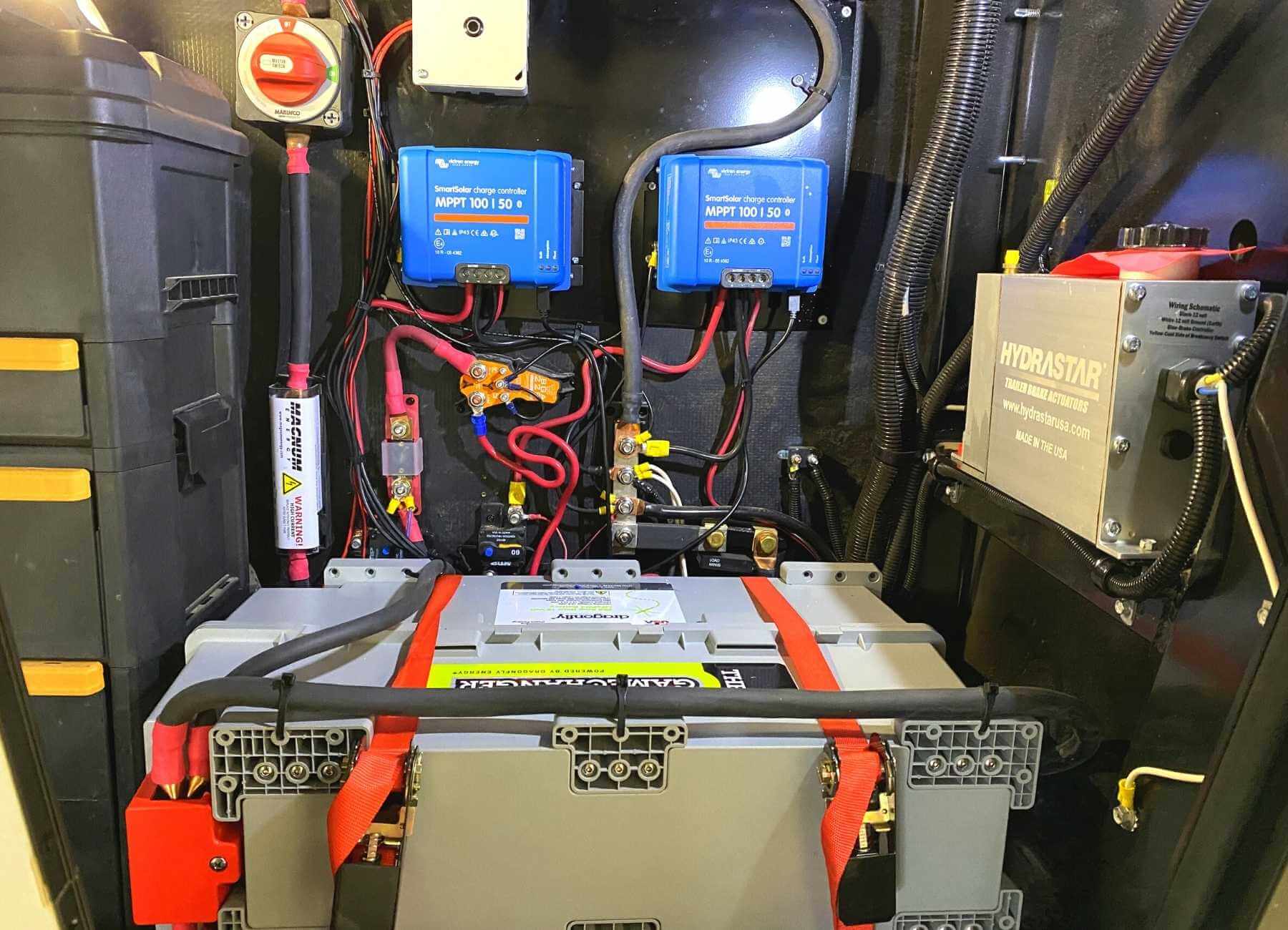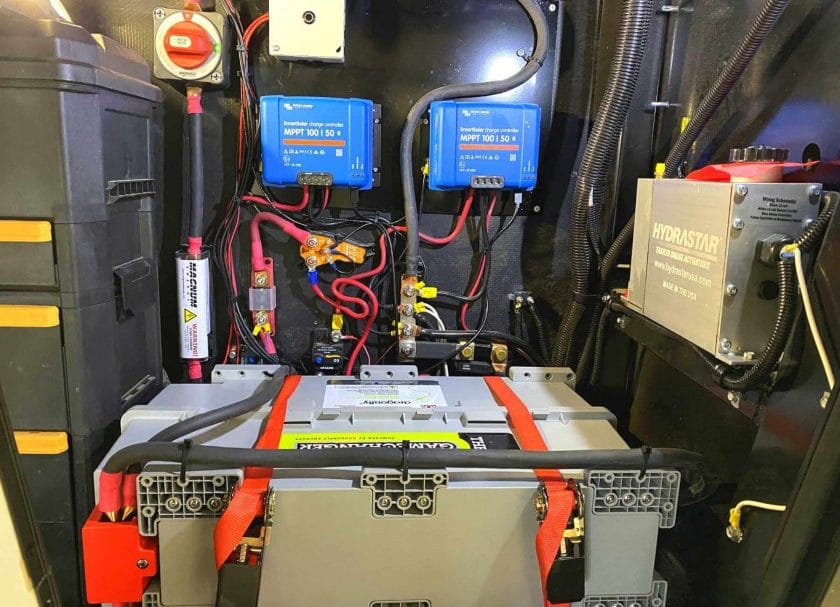 Batteries
The batteries are arguably the most important piece to successful boondocking. Solar is a way to charge your batteries, but at the end of the day, your battery bank is where all your usable power is stored.
The more batteries (as well as type of batteries) you have, the more power you will have. Lithium batteries are all the rage these days and for good reason. They're super light weight compared to traditional lead acid batteries. You can use 100% of a lithium battery, unlike lead acid, and they charge super fast.
We have 2 – 255 amp hour lithium batteries from Battle Born similar to these. They are absolutely fantastic and totally recommend them!
Inverter
Now that you have a decent battery bank and a way to keep them charged, you want to use that power, right? That's where an inverter comes in. This will take the 12 volts power from your batteries and invert it to 120 volts which is what a normal plug requires.
We have a Victron Multiplus 3000 inverter/charger in our 5th wheel and it can power our entire coach. We had this installed by Future Solutions, but now when we're off-grid, we can run every appliance in our rig, even an air conditioner!
Generator
Solar is the perfect complement to boondocking as it is harnessing free energy from the sun and is silent. The only requirement for all of that to work is the sun, which can be unpredictable sometimes.
When you're not getting enough sun to power your boondocking experience, I'd recommend having a Honda generator as a backup. We have one of these and they are as quiet as a generator can get and run super efficiently.
Many motorhomes have on board generators that are properly sized for the electrical needs of your rig. This is super convenient as you just have to push a button to start it up and you're good to go.
Water
The next thing you'll need while you're out boondocking is fresh water. You'll need it to drink, cook, wash dishes, brush teeth, flush toilet, etc.
Fresh Water tank
Pretty much all RV's will have an on board fresh water tank. They will range in capacity, but most will have it. I usually don't travel with a full tank, but when we plan on boondocking, it's a good idea to fill up the fresh water before you head to your spot.
If you're careful about water usage, this tank can last a few days or more. A few ideas on conserving water is to make sure to turn off the faucet when you're washing, only turn it on for quick rinses. Don't shower while boondocking. Either use body wipes, find a lake or river to swim in or just have a natural smell for a few days.
The main thing to keep in mind is that your water is limited and by knowing that, you'll use less.
Portable Jugs
Another option for carrying more water or replenishing your fresh water is to carry some portable jugs with you. We have a 5 gallon jug which we have used for several years.
These are durable, easy to use and easy to fill. They can be transported easily in your car to go get more. You can also use this to fill up drinking water at a purified water station.
I have a gravity fill spot on my RV which I can just pour the jug into, however if you don't have that, here is a cheap and easy way to pump water into your tank.
Bladder
Another way to refill your fresh water tank without having to move your RV is to get a water bladder. We recently got one of these and it has been great.
There are a few things to note before going this route however. We got a 60 gallon bladder which is enough to just about completely fill our on board tank. The thing is that 60 gallons of water is HEAVY and cannot be moved.
We lay ours flat in the back of our truck bed then fill it. It becomes a huge pillow that weighs almost 500 pounds, so the only way to get it out of the truck is to pump it out of the bladder and directly into our RV.
To do this, I got a small water transfer pump that plugs into an outlet (they also have 12v models that plug into a cigarette lighter in your car). I then hook up a hose to the bladder that goes to the pump, then another hose from the pump and into our RV. It takes several minutes, but it transfers all the water into our rig.
So if you want to get a bladder to transfer more water, be sure you have a vehicle that has room and can support the large bladder as well as the other components to get water into and out of it.
Sewer
Now that you have fresh water in your RV, once you start using it you'll be creating waste water. This will either be grey water (from sinks) or black water (from toilet). Either way you'll have to do something with this or make sure you have enough capacity to hold it until you can get to a dump station.
I definitely recommend hitting a dump station before you head out to boondock. That way you'll have empty holding tanks you'll be ready for your trip.
A great website that helps find nearby dump stations is Sanidumps. Here you can find dump stations close to you.
Holding Tanks
Just as most RV's have fresh water tanks, they also have holding tanks for grey and black water. These will also vary in capacity. You may have sensor lights near your control board of your RV to keep an eye on how full they're getting, but sometimes those aren't very accurate.
Before you head out to boondock and you're at a campground, take note on how long it takes to fill your black and grey tanks. That way you'll have an idea of what to expect when you're boondocking.
Once those get filled, you'll have to head out to a dump station or use a portable sewer tote to transport the waste.
Portable Sewer Tote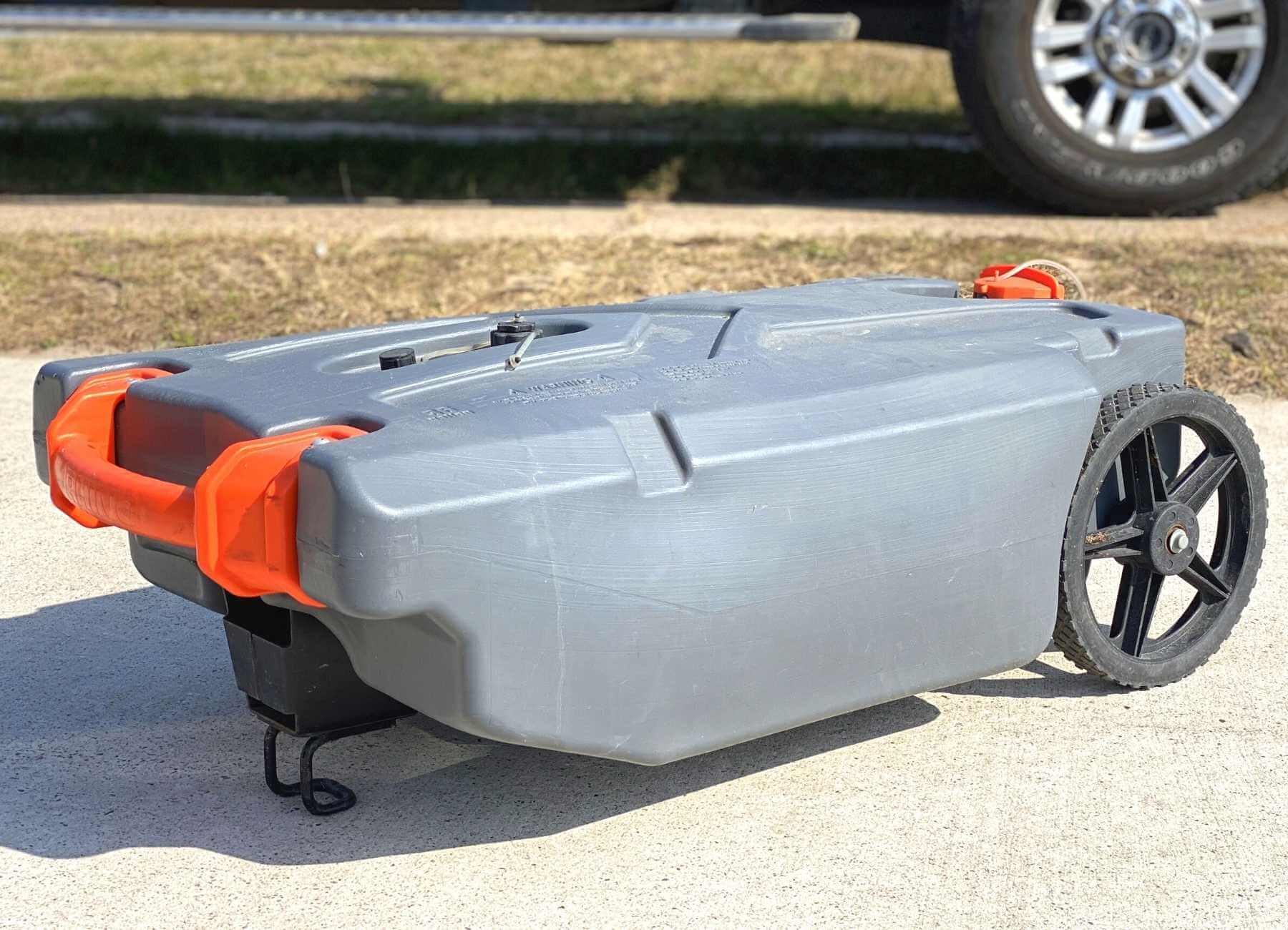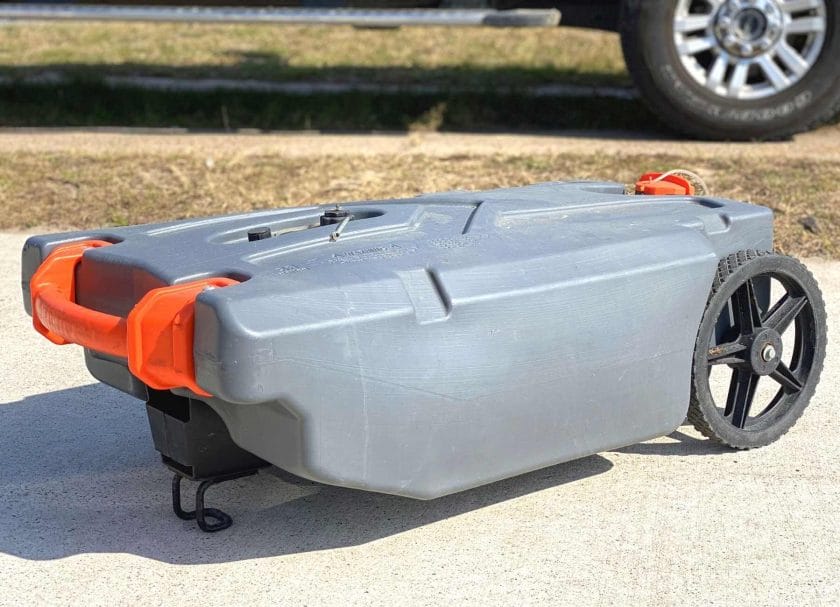 We have a 36 gallon Rhino portable sewer tank. This works really well if you have a dump station near by. It comes with all the connections and even an adapter to hook it up to the tow ball of your truck.
You basically hook it up to your RV's sewer outlet with the same hoses and connections you would at a dump station. Then you pull the valve to dump your waste into. Keep a close eye on how full the tote is getting so you don't over flow it. Then close the valve on your RV and bottle up the tote.
Then you either pull it or hook it up to your vehicle and tow it to a dump station.
This doesn't work so well if there isn't a dump station close, since you won't want to tow the sewer tote any faster than a couple miles an hour. If the dump station is further, you have another option which is using a pump to transfer the waste.
Macerator Pump
If you have to drive a little ways to get to a dump station, you can still use your portable sewer tote, you just need a better way to transport the tote.
This is where a macerator pump comes in. This type of pump will dissolve solids and pump the sewage uphill into an external container.
This works great if you get the sewer tote set up and orientated right in your truck bed. You can then use the pump to pump your sewage up into the tote and then easily drive it to the closest dump station.
Again, be sure not to overflow the sewer tote as well as making sure all the caps and lids on the sewer tote are nice and tight.
One thing to note is that a macerator pump requires water for it to puree the poop. So there is definitely a trade off here, do you use precious water to get rid of your waste water? Definitely something to consider.
Composte Toilet
If you really get into boondocking, there is another option for your toilet. It's a composting toilet which uses bacteria to break down the waste.
I won't get into all the details, but basically it means you won't have any black water in your RV anymore and dispose of the waste in the garbage. Do some research on this and if you're hard core enough, go for it!
Fuel Levels
Definitely check your fuel levels before you head to boondock. Typical RV fridges are dual mode (electric and propane), so you'll want to be sure your propane tanks are topped off to have enough to cool the fridge and do any cooking during your trip.
With a motorhome, you'll want to be sure to have enough gas in the tank. If you have an on board generator, they use the gas from your tank and have a shut off if you get down to a quarter of a tank.
Make sure you have enough fuel to run your generator if needed.
Trash
Taking care of your garbage is also something to think about when boondocking. You usually don't have a dumpster nearby, so you need a plan for it.
Whatever you do, don't leave your trash at the boondocking site which is rude and may cause the site to be closed. Just like hiking, leave no trace you were there. Be sure whatever you pack in, pack out.
There are usually dumpsters at dump stations, so you can again use Sanidumps to find one.
Internet
Internet is usually spotty at best when you're out boondocking. It's usually the better the boondocking spot, the worse the internet.
Be prepared for this and get all your business taken care of before going. Bring appropriate entertainment for kids (games, dvd's, downloaded movies, etc.) and don't stress about not having signal. Enjoy nature!
RV Boondocking Tips
Here are a few boondocking tips for when you're ready to head out to the wild.
Conserve Resources
Water, power and sewer space are all finite commodities when you're boondocking, so be sure to use them wisely. We've had to teach our kids this as well and they do great with it.
They always ask what kind of hookups we have when we get to a campground and when I say we're boondocking, they know what to do.
Size of Rig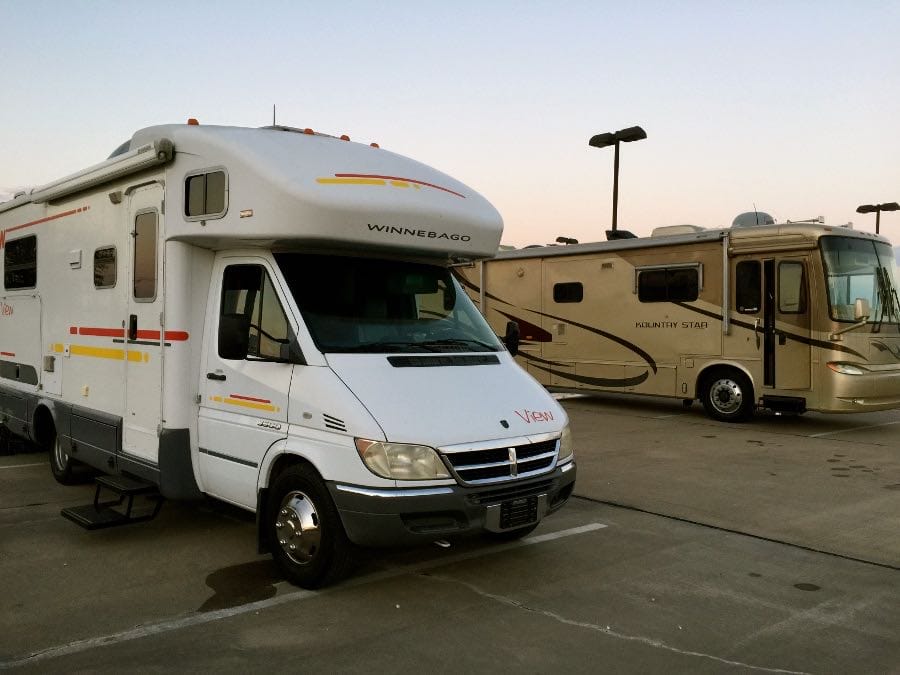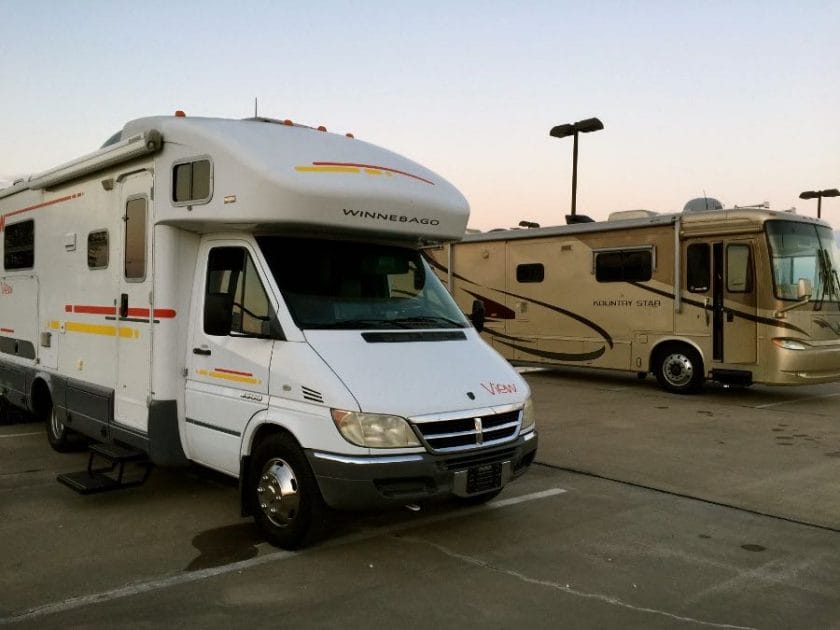 Smaller rigs can get deeper into the woods than a larger rig. They can also turn around easier in tight spaces. Smaller rigs definitely have their advantages.
There are advantages to bigger rigs as well. They typically have large water tanks which can mean a longer boondocking trip.
No matter what size rig you have, you can boondock. We've seen 40 foot diesel pushers get around to some pretty rough spots in Baja, Mexico.
Use some of the apps mentioned above to find spots that are big-rig friendly and read the reviews on the roads to get to the spots. You'll have a pretty good idea of what you're getting yourself into.
Weather
Weather is an important thing to keep an eye on when boondocking. Most of the time you are off-road, so if there is rain, you may risk getting stuck. Know the forecast and plan accordingly.
Use Existing Roads
When heading into the boondocking spot, be sure to use existing roads. I know this may be difficult to tell sometimes, but use your best judgement. We don't want to hurt any vegetation or damage anything while getting there.
Use Existing "Campsites"
Similar to using existing roads, also use existing campsites. You'll be able to tell where people have camped before and rather than bushwhacking your way to a new spot, pick a spot that is already there.
Forest Fires
Along with weather, forest fires are something to watch for. During the summer months in areas of the country that are prone to wild fires, you want to be aware of the situation when boondocking.
Fires spread fast and so does smoke. You want to know what's going on and avoid the area if it is danger.
Respect wildlife
Using existing roads and campsites is a way to respect the land. You want to enjoy it, but not abuse it. The same goes for wildlife. Be sure to follow similar rules to that of National Parks when boondocking.
Don't feed wildlife, don't disturb them and be sure to keep your distance.
Enjoy!
Above all, have a great time when you're out boondocking. It is such a different experience than campground camping. You'll be so close to nature and it gives such a great feeling to "unplug" from everyday life.
Whether you full time or just weekend camp, I hope this will give you the information you need to find a great boondocking spot as well as being prepared when you get there!
Here is a post on our Top 15 RV Campsites You Will Want To Stay At.
Pin it for later!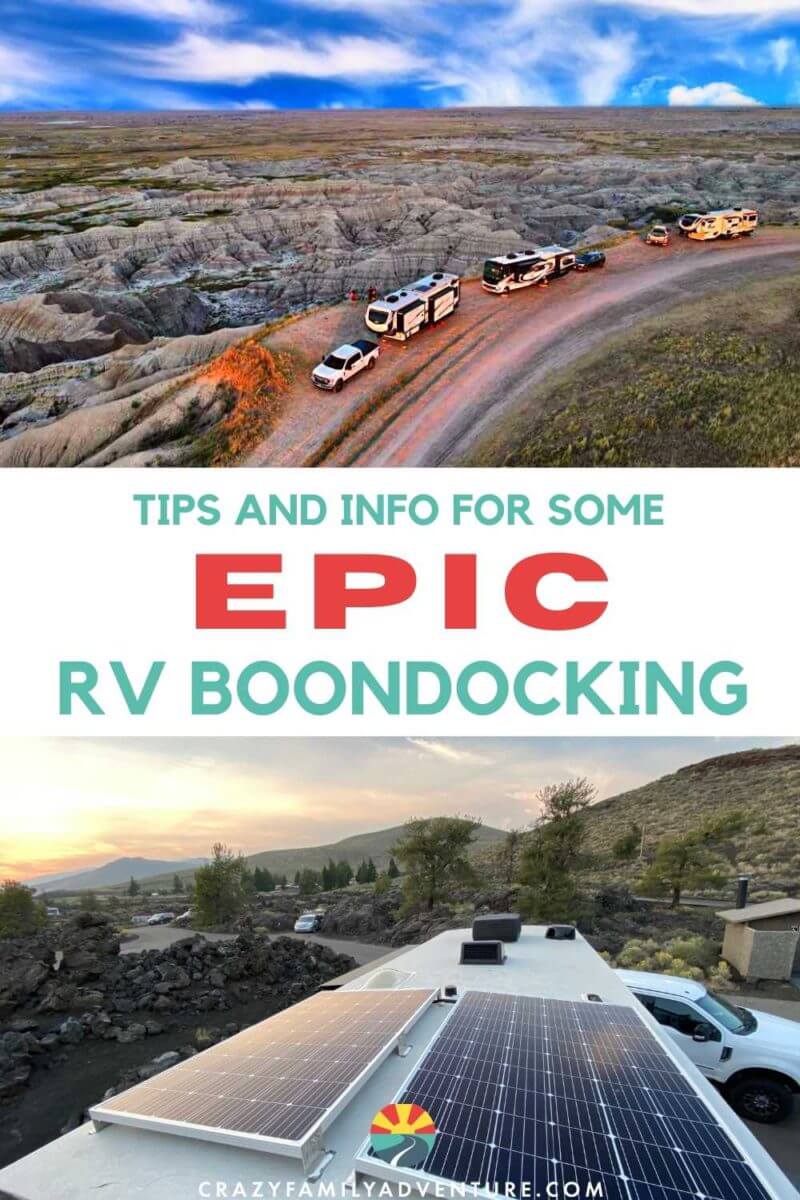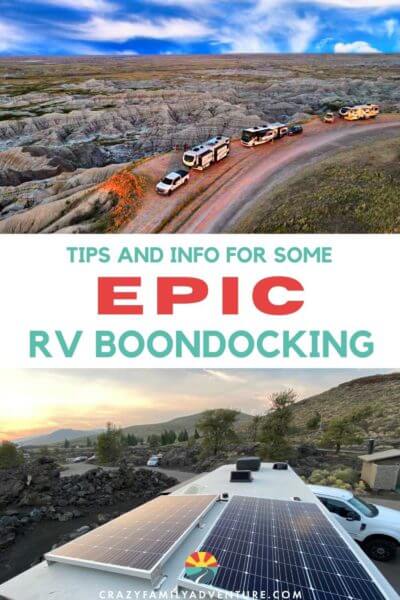 DISCLOSURE: This post may contain affiliate links, meaning I get a commission if you decide to make a purchase through my links, at no cost to you. Please read my disclosure for more info.