If your wanderlust has you seeking an escape to get out and explore new or favorited destinations, but you're not quite sure about air travel yet, then a long road trip might be just what you need!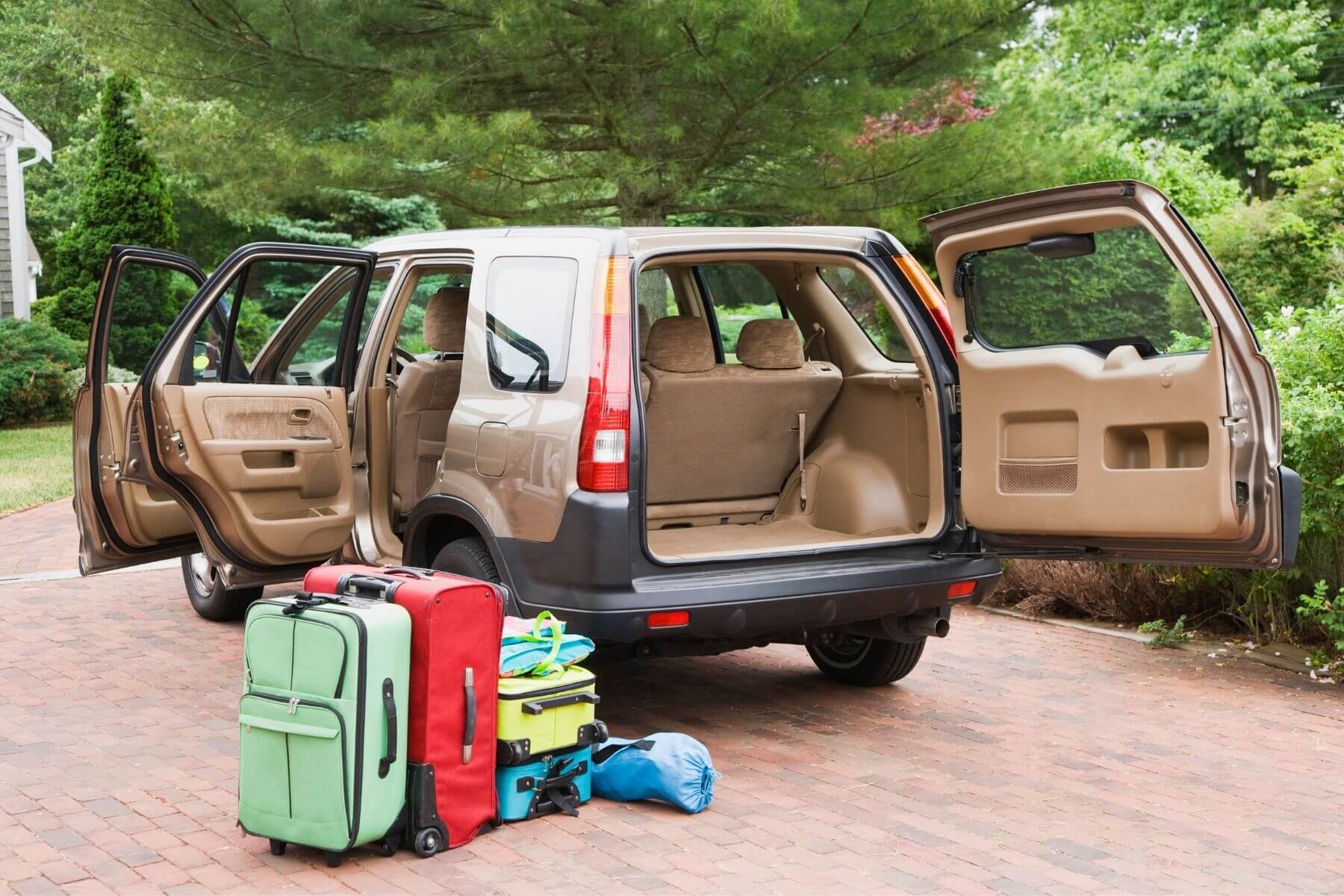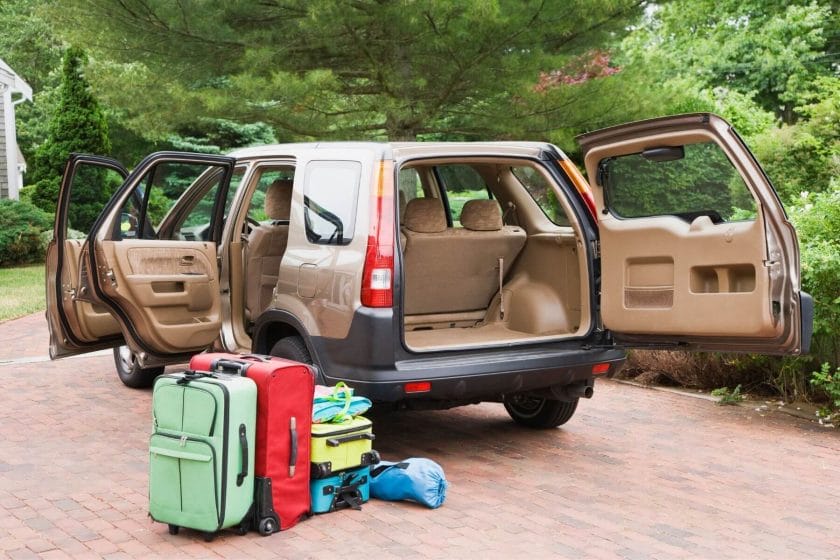 Before you pack up the car though, you'll definitely want to check out our list of 30 Road Trip Essentials You Don't Want to Leave Home Without.
These items will ensure that you're covered in every area for a smooth sailing and enjoyable experience if you are on a National Park road trip, Florida road trip or Cross Country road trip!
What do I need to know before a road trip?
Before getting into the list of road trip essentials to pack, there are a few things you'll want to consider and have knowledge of before leaving. Ideally, if you have a planned destination, you'll want to have your route somewhat mapped out so you can figure mileage and gas.
You'll also want to have a budget in mind, so that you don't overspend along the way and leave yourself stuck without money. Lastly, make sure you know the specifics of the vehicle that you are driving such as: make, model and engine specifications, in case you need to stop for oil or other car parts along the way.
How do you prepare for a long car ride?
When venturing out on a long car ride, you'll want to make sure that your vehicle is in tip top shape before leaving. Be sure to check your vehicle's fluids (oil, water, antifreeze), tires (check air pressure and tread) and also brake pads, or just take your car to a trusted mechanic and have them perform a tune up.
Lastly, you'll want to make a road trip packing list, including the following road trip essentials we have outlined. All of this will help you avoid road trip mistakes!
What essentials do I need for a road trip?
Take it from us, we're a family of 6 who travel full time in our RV with four kids; this list is practical and tested. We've utilized these essentials over and over again on adventures like: Glacier National Park, Baja, Mexico, and our Utah Road Trip. When packing for a road trip, it is best to plan for emergencies and hang ups, even though you might not encounter any. Also, you'll want to keep comfort in mind on long driving trips.
Vehicle Documents
First and foremost, make sure all of your paperwork is in order before hitting the road. In the event of an accident or routine traffic stop, you'll want to ensure that you have registration, car and travel insurance and/or car rental documents easily accessible. Furthermore, review your insurance policy to see if roadside service and towing is included; if they're not you might consider purchasing an add on service.
We have always used State Farm Insurance which includes roadside assistance and towing. If you're searching for a separate roadside service, here's a 2020 Breakdown of the Best Roadside Assistance Services. For travel insurance, according to Forbes, these are The Top Travel Insurance Companies of 2020.
Tools
Basic tools are always helpful to have on hand, whether you're going on a 10 hour road trip or just commuting to work. These can be handy when roadside service isn't available. Here's what we keep on hand when we travel:
Lug Wrench (Tire Tool)
A few Standard wrenches
A basic set of sockets
Pliers
Small Screwdrivers (phillips and flathead)
Duct Tape
Zip Ties
Bungee Cords
You can find these tools at most hardware and/or automotive parts stores. We've included links above for a few of our favorites.
Navigation App (more than one)
This one is somewhat self explanatory, but you might be wondering why we recommend having more than one. Not all GPS apps are created equally. Some apps are better than others at identifying upcoming traffic, accidents and even speed traps, while others may have more recent street names and updated content (like routes).
Most navigation apps are downloadable from the App Store on your phone, such as Google Maps. Not sure which apps to download? Try a few! Here's a list of the Top 15 FREE GPS Navigation Apps of 2020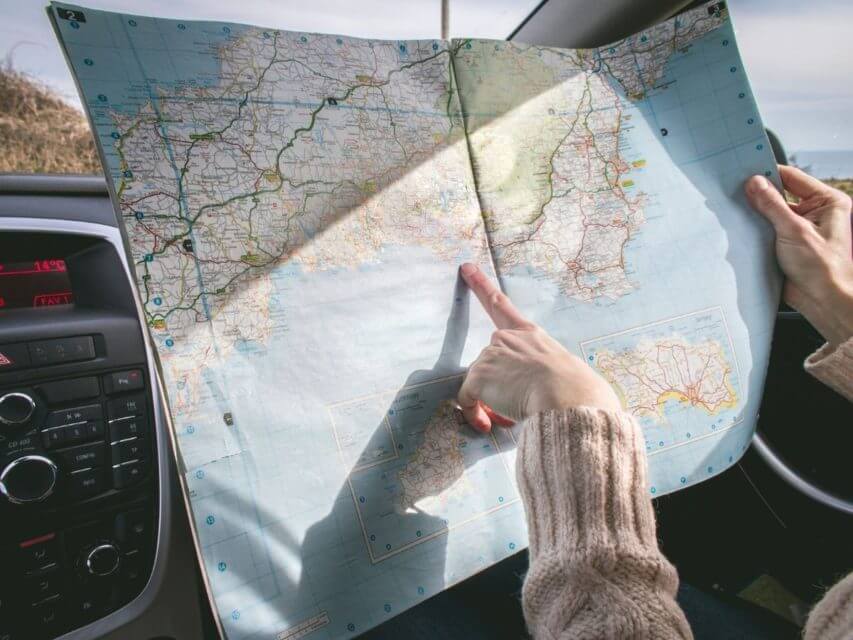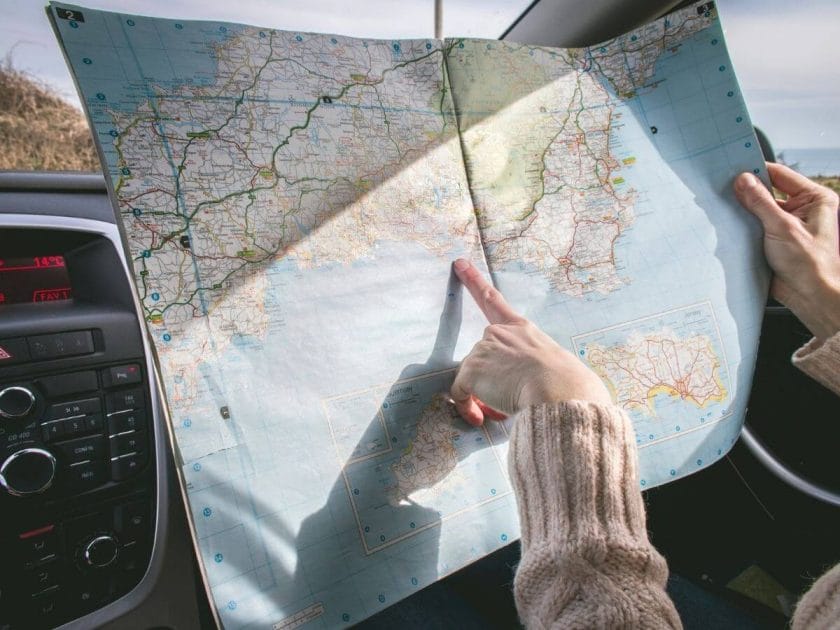 Road Atlas/Paper Map
Yes, digital navigation apps are now the go to, but having a paper map or road atlas as backup is always a good rule of thumb. Ideally your GPS app will work even without internet or phone signal, but in the event your phone dies or is lost or stolen, having a back up paper version can save you from getting totally turned around on unknown roads.
You can find a basic road atlas at most WalMarts or Targets or order them online. Looking for adventure on your road trip? Try this National Geographic Road Atlas Adventure Edition.
First Aid Kit
Bug bites, scrapes/cuts and allergic reactions can happen anytime on the road. Additionally, long car rides and gas station hot dogs can wreak havoc on your digestive system. Having some band aids, antihistamine cream and evenTums handy, will save the day.
Customize your own first aid kit or purchase one online with everything you need. Here is a great water resistant option with labeled compartments for easy and organized access in the event of an emergency: Surviveware First Aid Kit.
Blankets and Pillows
Comfort is king when driving long distances, especially with kids. Keeping everyone rested and comfortable helps to maintain a peaceful car ride. If you need a quick cat nap before getting back behind the wheel, you'll be glad to have a comfy pillow and blanket to rest with.
**Please be safe and utilize designated rest stops if pulling over to sleep.
We love these travel neck pillows by Rokeye. They are 100% memory foam, breathable and washable. For blankets, opting for sleeping bags also prepares you for a spontaneous overnight camp, should the occasion present itself.
Snacks
Relying on fast food and/or gas station specials is not only unhealthy but expensive. When traveling with children, it's much easier to bring their favorite finger foods already prepped, ready to eat and packed in reusable containers. Additionally, if you have special dietary needs you'll be better off packing your own snacks.
Obviously this will be different for everyone and will depend on your specific dietary needs and preferences. When packing snacks with children in mind, we love this High Road Car Organizer with Snack Tray and Cooler.
Reusable Water Bottle
Staying hydrated is critical, but buying plastic water bottles is not only bad for the environment but also not cost effective. You can fill your reusable bottles up for free at many gas stations, truck stops and restaurants on the road.
There are a slew of nifty reusable water bottles out there to choose from. This Stainless Steel Insulated bottle by Contigo has a one-handed autoseal button, which makes it great for road trips.
Chargers and Batteries
Don't forget chargers, extra usb ports, and backup batteries when packing for a road trip. Staying connected is a necessity these days and you can't do that with a dead battery.
If you're traveling with a group, it's easy to run out of charging ports. We recommend investing in a multi port usb hub like this one: Jelly Comb Multi Port Car Charger.
Entertainment
Long road trips can be daunting if you're not doing the driving. For little ones, packing plenty of road trip games, activities and yes, electronics (if you approve), will make the trip more enjoyable for everyone. Having access to stream movies (or having some pre-downloaded in case of signal issues) is also a plus.
Here is a great post by the Traveling Mom with 21 Road-Tested Car Games for Kids. She has ideas for all ages and games for the entire family, too.
What should I watch on a long car ride?
For kids, utilizing streaming services like Netflix, Amazon Prime or Hulu (if signal permits) is always a great option, especially if they each have their own device. More mature audiences looking for some travel or adventure inspiration, we recommend: Into the Wild, Motorcycle Diaries, Wild and The Way. For a good laugh, try one of these travel centered classics: Planes, Trains and Automobiles, National Lampoon's European Vacation, Tommy Boy or Eurotrip.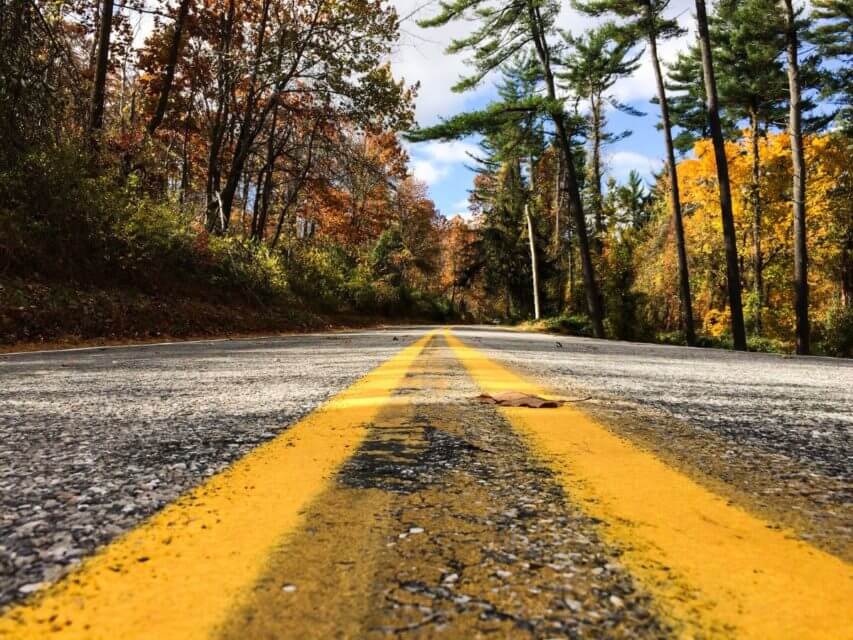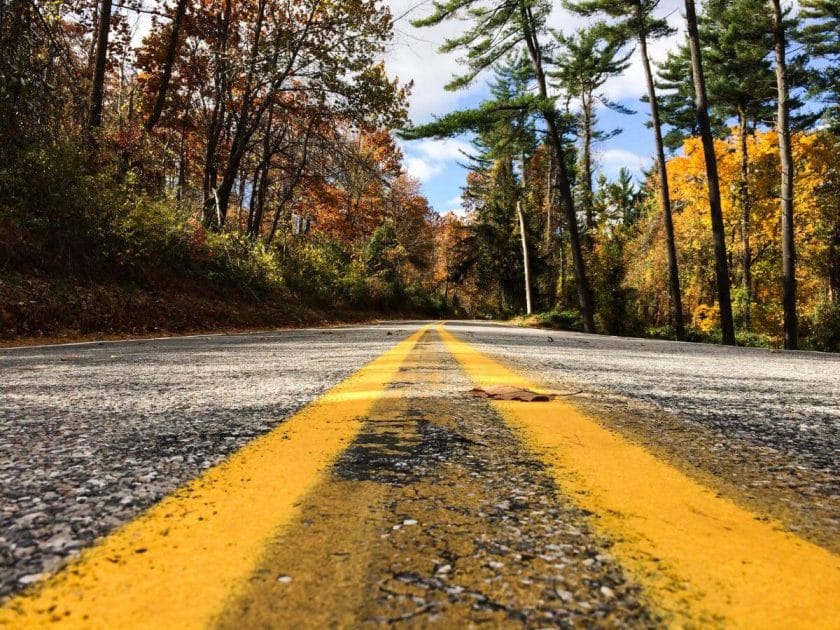 Sunglasses
This one probably goes without saying, but you never know when you'll hit a sun-blinding curve when driving for hours. Be sure to pack your favorite shades when gearing up for a long trip.
If you don't already have a favorite pair, browse online and order some ahead of time. If you're more carefree on this, you can grab a pair of sunglasses at the gas station when you fuel up for the trip.
Toilet Paper and Wipes
If you're not in the comfort of an RV when taking a long road trip, you'll definitely not want to rely on rest stops and gas stations to always be fully stocked and supplied. Nothing is worse than realizing there is no paper, after the fact. Be safe and bring your own just in case.
Ummm.. pretty much anywhere…well maybe not these days. : ) These Toilet Tissues to Go can be easily stashed in your glove compartment to take up minimal space. If you prefer wipes, try these Biodegradable Flushable Wipes.
Music Playlist
No road trip is complete without the right music! Be sure to compile your tunes ahead of time. We recommended having a downloaded playlist (as backup) for areas with minimal signal and limited streamability.
There are numerous options for music. Among the most popular are: Spotify, Apple Music or Amazon Music.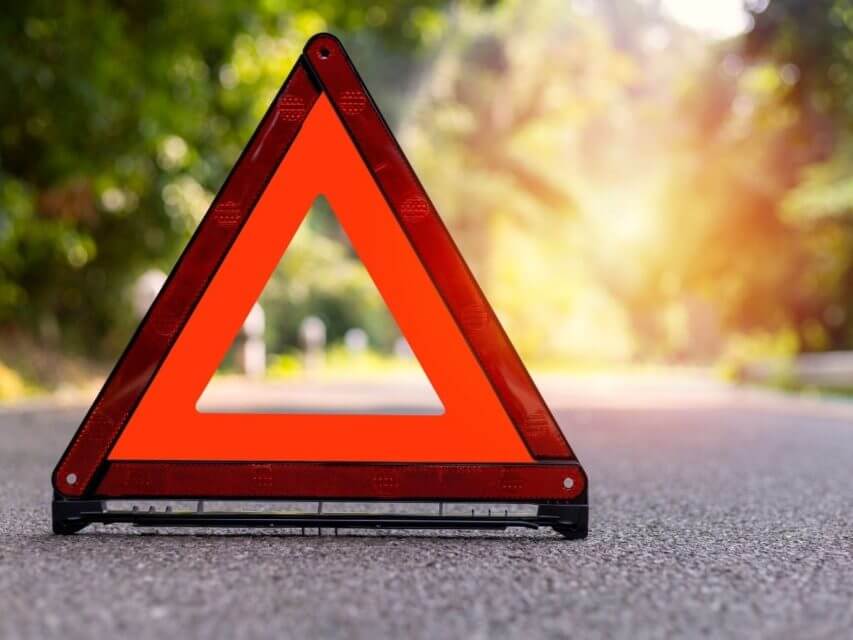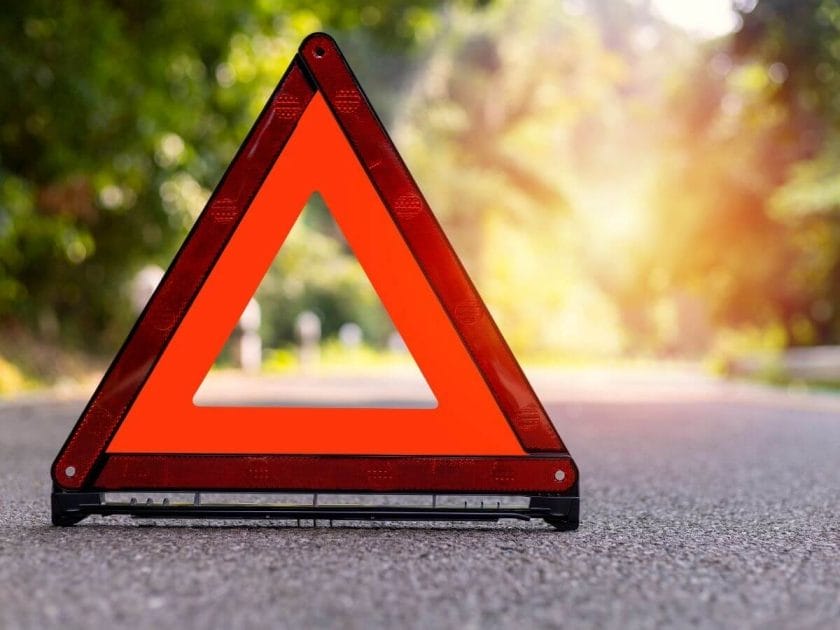 Roadside Emergency Kit
Hope for the best and prepare for the worst is always our motto and it has served us well thus far. Having emergency supplies like jumper cables, reflective triangles, flares, a flashlight and a fuel can is just smart and responsible traveling
Most automotive stores sell these items or you can order a kit online with most of these supplies included, like this one: SlimK Premium Auto Emergency Kit. Some items may need to be ordered separately.
Trash Container
You'll be amazed at how much trash you compile on a road trip. Keep your car clean and organized by bringing a travel size trash receptacle. A reusable option cuts down on clutter and is more environmentally friendly.
This Hanging Lusso Gear trash can is perfect for any vehicle and can be attached just about anywhere. It's also spill proof and has pockets for extra storage.
Hiking or Swimming Gear
For any spontaneous activities along the way, of course! Part of the excitement of road tripping is discovering new places- this might include an awesome hiking trail or swimming hole.
Chances are you already have these items on hand. If not, stock up at a sporting goods store near you. Don't forget things like a rain jacket and hiking sticks!
Pet Supplies
If your furry family members are joining you on your travel adventures, you'll want to make sure you have everything to cover their needs, as well. Ideas to consider packing: plenty of food, treats, biodegradable waste baggies, collapsible water bowl, any special medicines, car seat cover, leashes and harnesses.
Head to your nearest PetSmart or Petco store to grab these essentials. You can also order travel-specific gadgets for your pets online, like these Collapsible Travel Bowls With Lids.
Extra Cash or Credit Card
It's not a great feeling to lose your wallet or purse when you're on the road and nowhere near a familiar face or business. For this reason, we recommend stashing some extra cash or an extra card somewhere in your vehicle, just in case something unfortunate like this happens to you.
There are a variety of products available to help you safely stash money or other valuables. This Diversion Safe Water Bottle has a secret compartment for your valuables, while doubling as an actual, usable water bottle.
Quick Drying Towel
Perfect for backseat spills or spontaneous swim stops along the way! Having compact, quick drying towels on hand is a win-win for road trips.
These Bagail Microfiber Camping Towels are perfect for long road trips. They come in cute compact cases and in multiple sizes, so everyone can have their own.
Headphone Splitters
Definitely a must-have if you are traveling with children. Kids can enjoy their own movies and music in the backseat, while parents can conversate, read and have some rare peace and quite up front.
Here's an affordable option by Amazon with 5 ports. Works with any device with an AUX port.
Audio Books
Audio books are wonderful for helping the time pass. Audiobooks are a great way for the entire family to enjoy a book together. Plus, if you're prone to car sickness, reading on a screen or an actual hardcopy book probably makes things worse.
This review breaks down the good, the bad and the ugly of 9 different Audiobook Services. Free and paid options available.
Phone Mount
For safe, hands-free navigation access. Keep your eyes on the road and your loved ones safe.
This is a great 3 in 1 option that works with a variety of phone sizes. Option to attach on your windshield, dash or air vent.
Bluetooth Receiver
Driving an older vehicle? With the help of this little device, you can now enjoy hours of wireless music from your smartphone, tablet or Mp3 player via the Aux port. Instantly give your older car stereo bluetooth technology.
This Mpow BH129 Bluetooth Receiver can connect two devices, simultaneously. Listen to music while not missing any calls.
Trunk Organizer
Keep your vehicle tidy, organized and stress free by having a place for everything. Trunk Organizers are great for day to day life too, not just road trips. Take it from us, this is a must-have!
Trunk Organizers are pretty much universal for all vehicle types: cars, trucks, vans and suvs. Check out this list of the 10 Best Trunk Organizers of 2020 to find the perfect one for your vehicle.
Keychain Car Escape Tool
Easily break your car windows and slice your seatbelt to prevent being trapped in your car, in the event of an accident. Plus, it's small and fits on your keychain. Why not?
There are multiple versions of these life-saving gadgets online. Resqme brand has a good reputation and high rating.
Spare Tire
It is also good to check and make sure that your spare tire is good. It is no fun to be stuck on the side of the road with a flat tire and you can't find a new tire to replace it!
There you have it! You should be ready to roll for your favorite road trip or even just a day trip!
Road trips we recommend:
6 Epic National Park Road Trip Ideas [Maps Included]
Pin This Post: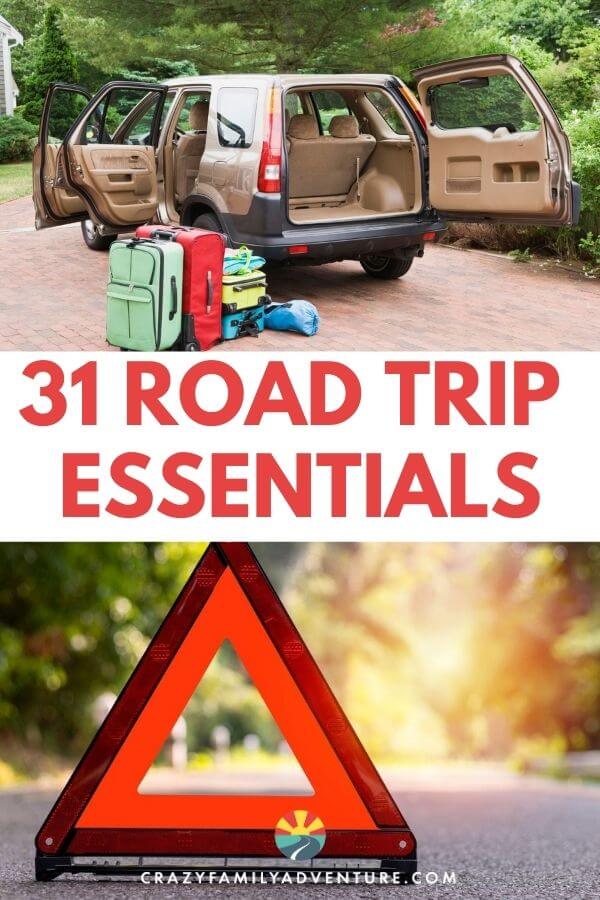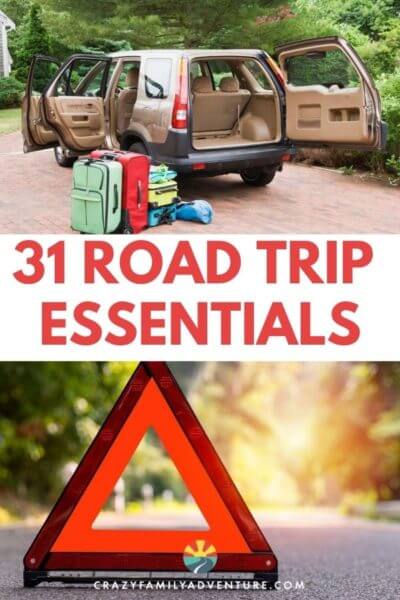 DISCLOSURE: This post may contain affiliate links, meaning I get a commission if you decide to make a purchase through my links, at no cost to you. Please read my disclosure for more info.