When we were living in our house and started planning for this life of full time family RV travel I was ready for an exciting and happy life of travel. What I have come to find out is that it IS exciting and happy but it is also a roller coaster ride of emotions.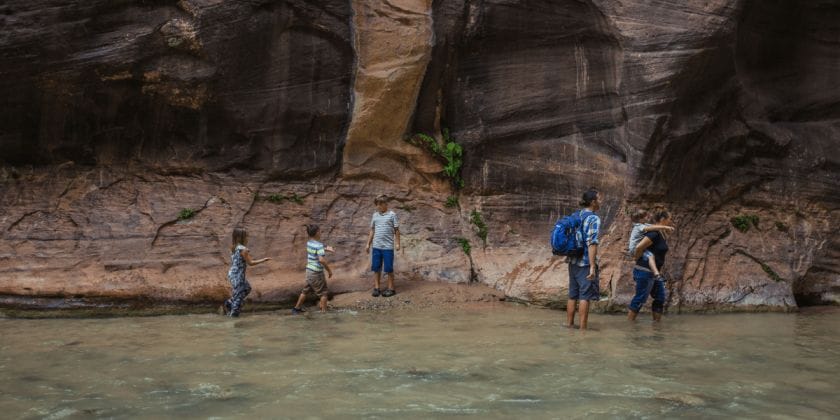 You would think with being on the road for over 2 years we would have it all figured out. Not quite. Not even close actually. We are just now starting to realize the type of travelers we are. We have tried the go, go, go kind of traveling where we are moving every week or 2. Then we have tried the stay in one place for 5 weeks kind of travel. And also the slow travel where we move about every 3 weeks but we don't do much when we are at the places. More hanging out at the RV, sleeping in, and kind of being lazy.
What we have figured out is that as a family we work best when we are out and about doing things together. Then we head home and everyone is more content to watch a movie, play a game, or just find their own thing to do.
We have also found that when we get out and do things (even though our kids complain a lot about getting in the car and going a lot of the time) the kids open up and talk to us a lot. They share their thoughts and ideas. Which may not be tied at all to the activity they are doing but more something they want to do – like making a video, playing a video game, learning about something, sharing their latest accomplishment, or what they want to do tomorrow, etc. It is amazing how many questions have been asked and answered as we hiked as a family. Everything from evolution to why the landscape looks like it does.
When we stay in the RV a lot we all get wrapped into what we are doing and have a harder time working together as a family or really focusing on each other. When we are out exploring together everyone is more engaged in what we are doing. We lost sight of this for a while and were trying to do more slow travel and just hanging out. It just doesn't work as well for our active family.
I am glad we tried that route and now know that isn't the best fit for us. Now we know if we get the kids out so they can run, hike and climb they are going to sleep better at night and also be happier with us and each other when they are back at the RV. I am excited for the next leg of our adventure now that we have a better insight around what works for us.
I know there are families that travel all different ways and I think each family has to find what works for them. I also think it is ever evolving so next year at this time we may be ready to go another direction. And that is OK. I also know we are going to have to find the balance between getting out and finding those times to be lazy together (which I do believe is important as well).
When your whole day, every minute, every hour, your whole week, your whole month is wide open, no work schedule, no school schedule, no activities schedule, except the things you choose to plan, it can be challenging to figure out what to do with your time. There is also the guilt that comes in around should our kids be in activities, should we be doing more focused school work, should we be reading more, should, should, should . . .
We are gradually learning what to do with our time and learning how to push those should's away and instead pay attention to each other and the needs and wants that we each have. We didn't decide on this lifestyle to be busy all the time. But instead to have more time to focus on our family and growing our relationships.
It has been amazing how hard that really is. Of course every parent wants to spend time with their kids and give them the best life possible. Then why is it so hard? Why do I tell the kids "maybe later", "I don't have time", "not right now", so often? I know why because there are still so many distractions in our life. From travel plans to dinner to work to family to friends. Everyone gets it – everyone is busy.
It has been a hard road for me to realize that if my family is a priority then I have to make that family time a priority. When the kids ask me for something I have to consciously make the decision to stop what I am doing to help them. I have to be more PATIENT. I am not a patient person . . . I need to learn to say YES to my kids more and focus on doing that.
Looking at this lifestyle of being a full time RVing family  it seemed like there would be so much time to do fun things as a family, hang out, and forget everything else. Nope – not the case. It has to be a decision made each and every day to focus on our family. And darn it but it always seems like there is something else to do.
I am happy that we have chosen this lifestyle so that we can focus on how to spend more time together as a family and what that looks like. And also to have the freedom to chose how we spend our time. Both Craig and I grew up in a childhood filled with school, activities, sports, and day after day filled from morning to night. I can see how in that lifestyle you don't even have 2 minutes to think about how you want things to be. Instead things just are what they are.
We feel lucky that we have the freedom to make changes and decide how we want our day to look from morning to night. It also adds a pressure of not wanting to mess it up! I know as parents we all want and do what we think is best for our families and that before we know it our kids all grown up.
By living our life this way it is making us all more conscious people who are aware of each and every decision we make and who are in control of our day, time, and choices. But man I had no idea it would be so hard! I thought we were signing up to be on vacation all the time . . . not quite, not even close!
But what we have gotten from this adventure of full time rv family travel so far and how we have grown as individuals and as a family has made all of the struggles worth it. And we really do get to see and do some amazing things. So no it is not vacation 100% of the time but it sure is an amazing life that we continue to grow and learn from.
I have no doubt that the emotional roller coaster will continue. But I also feel deep down that we are making some real progress and I am excited about where that progress will lead us and what this next chapter of our adventure will be!
Pin it for later: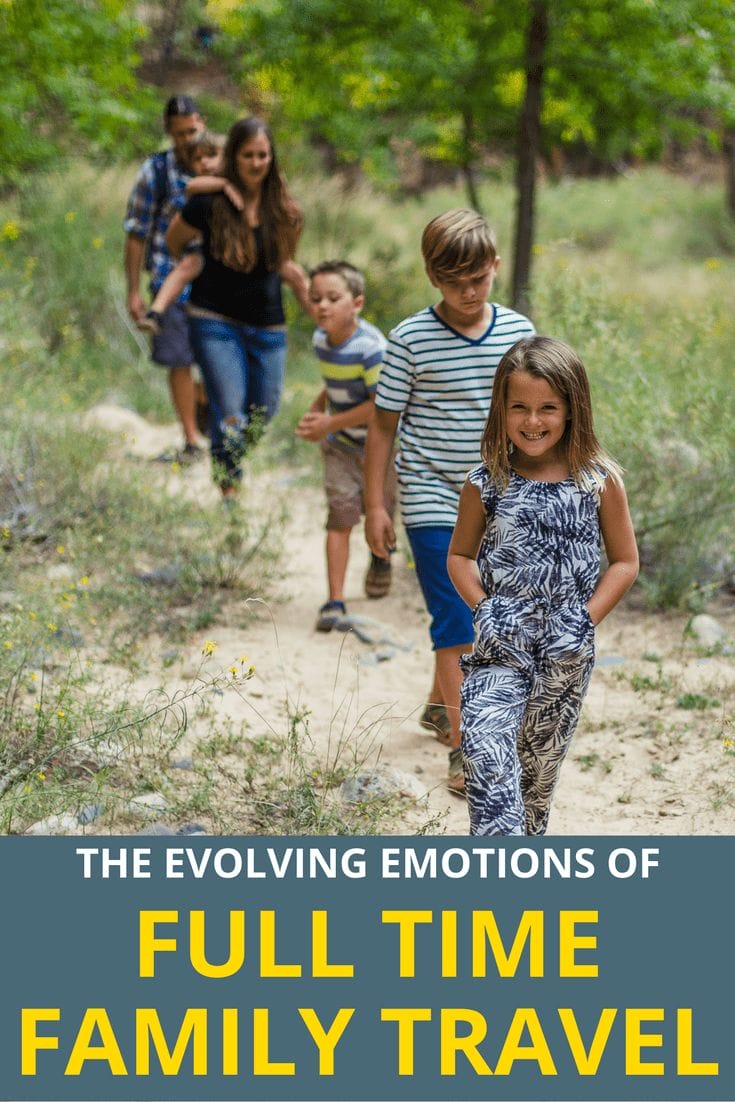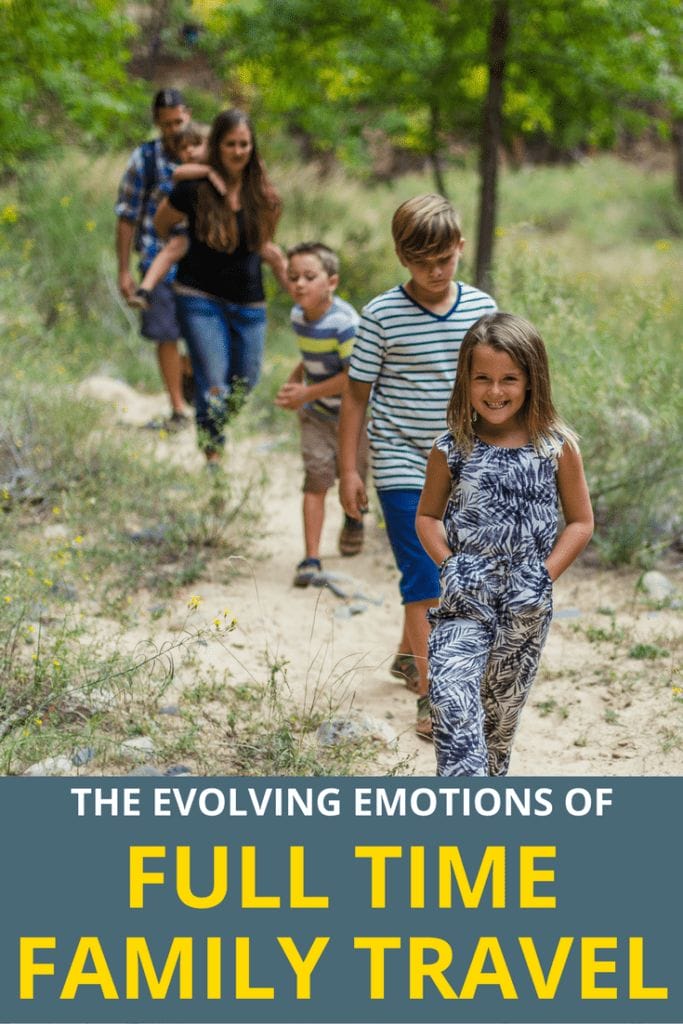 Do you want to start your own blog? Check out our step by step guide to learn how to set one up: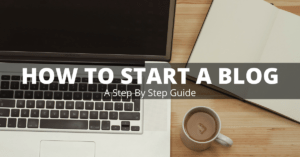 How we became a full time family: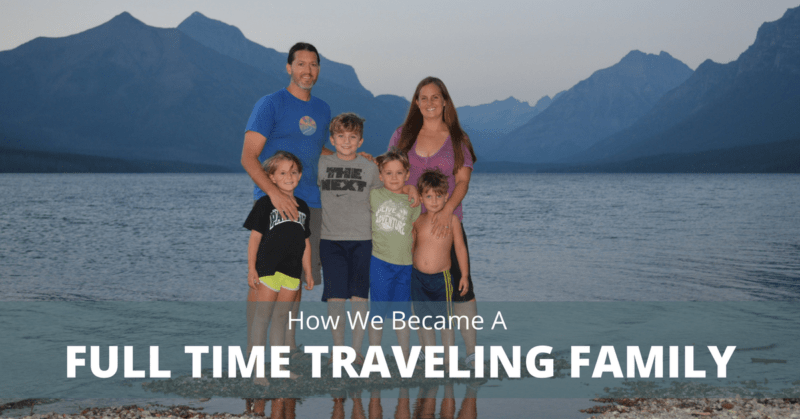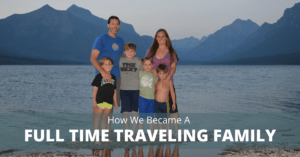 Featured image credit: www.zionadventurephotog.com
Full time family RV travel is an interesting thing! We would love to hear your thoughts on it in the comments.
DISCLOSURE: This post may contain affiliate links, meaning I get a commission if you decide to make a purchase through my links, at no cost to you. Please read my disclosure for more info.