*Written in Spring 2014 – while we were still in our house going through the process of downsizing to fit everything in the RV*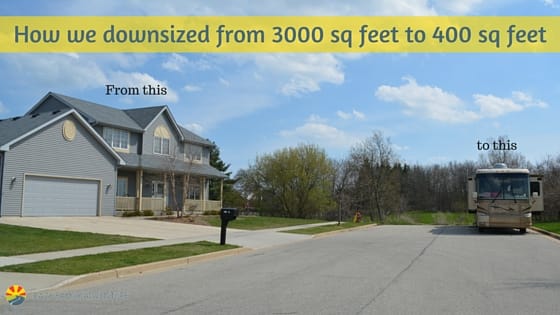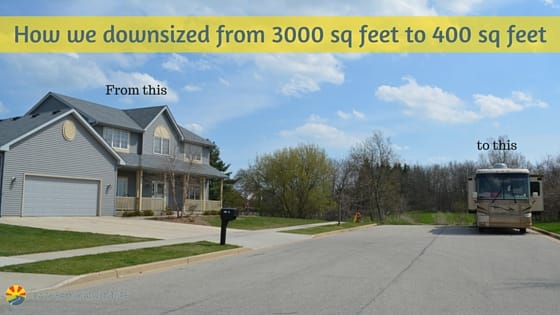 This has been an interesting process. As my sister says we have done a LOT of stretching since we started thinking about doing this last year. We just had our BIG rummage sale. It took us almost a month to prepare for it. Which meant going through every room in our house and pulling out all of the things we thought we wouldn't need and/or have room for in the RV. Some of the rooms weren't that hard.
For example the Kitchen was pretty easy. We had cupboards full of glasses, plates, bowls, platters, etc. That we used maybe once or twice a year – we took everything lined it up on the counter and then actually decided to just donate those items.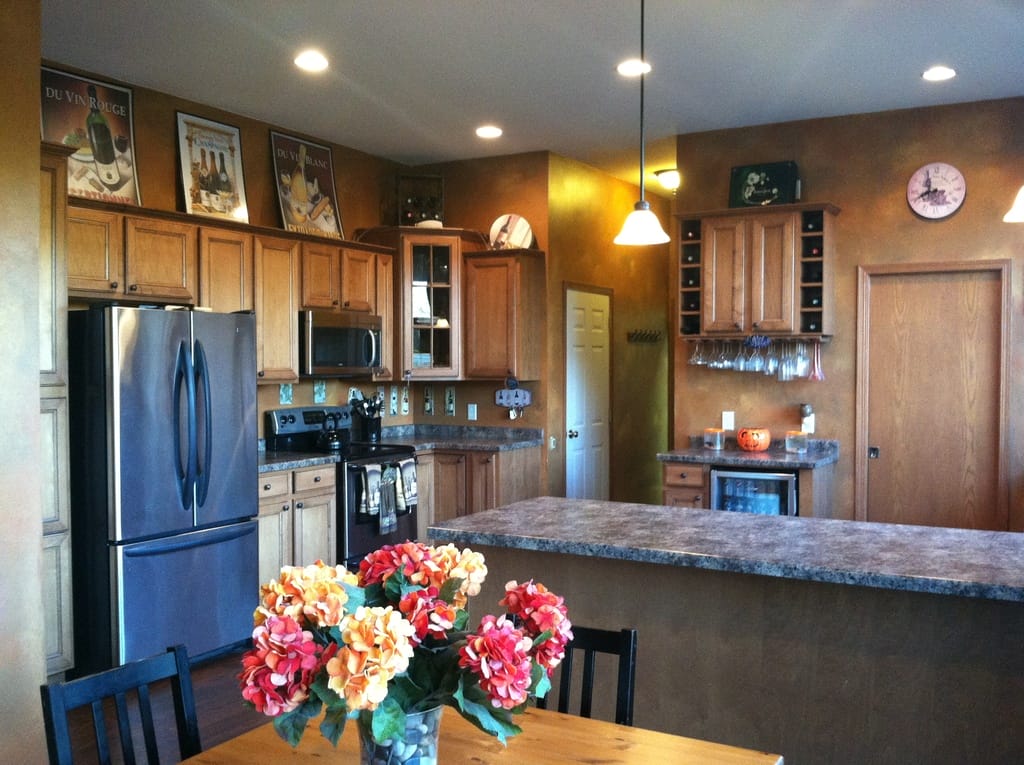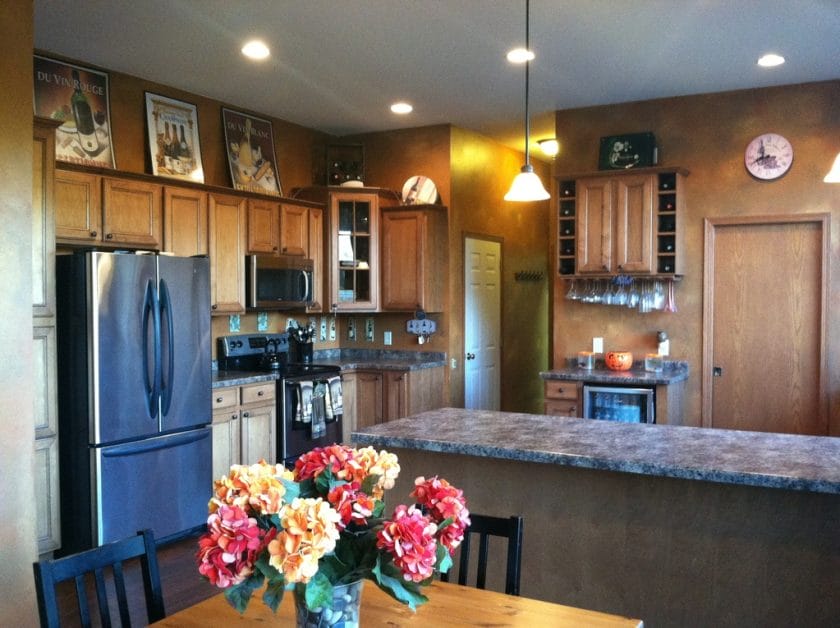 Next it was the Dining Room – my plan was to empty that room out and then use that room to put all of the things that we were going to sell in the rummage sale. Again – not to hard. It was mostly pictures that I just took out of the frame so we could sell the frame and save the pictures. Then we posted the book shelves, hanging mirror, and decorations and sold most of that on Facebook.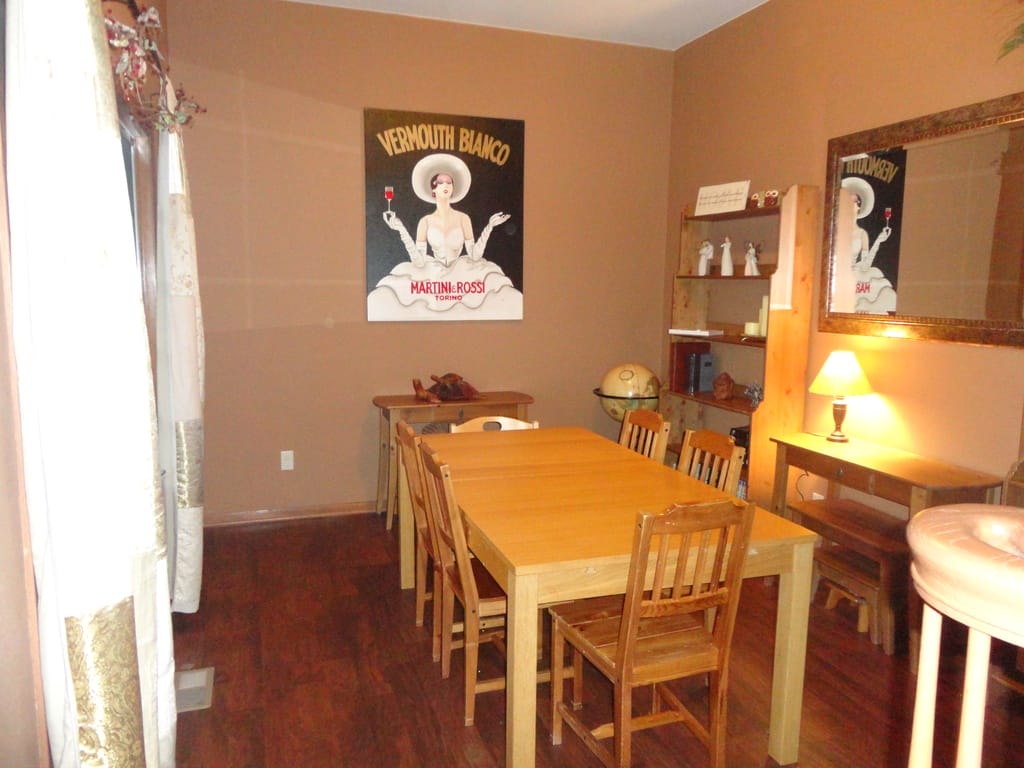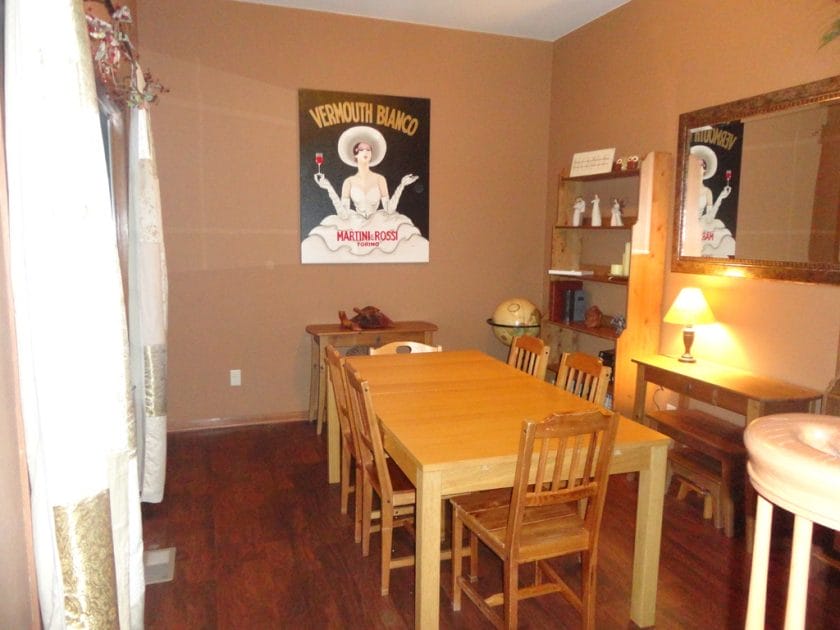 Next came the office (I hear music in my head going – like what you hear when a scary thing is going to happen in a movie). So I dug in . . . I kept a lot of the art and craft items and told myself we were going to have to be doing a lot of art and crafts so that we could use everything we had (it is like I had been saving all of it for some reason instead of using it – now we started actually using it!).
Next was the paperwork. Luckily my husband took that on because emptying the file cabinet was something I definitely was not looking forward to! He got through everything and took most of the documents to work to shred them. We narrowed it down to a small carrying file box. We are almost done . . . wait I forgot about the closet! Another 8 bins full of things and a shelf that is stacked with stuff as well. How the heck did we collect so much stuff??!! I dug in and narrowed all of that down as well. Finally the office was done!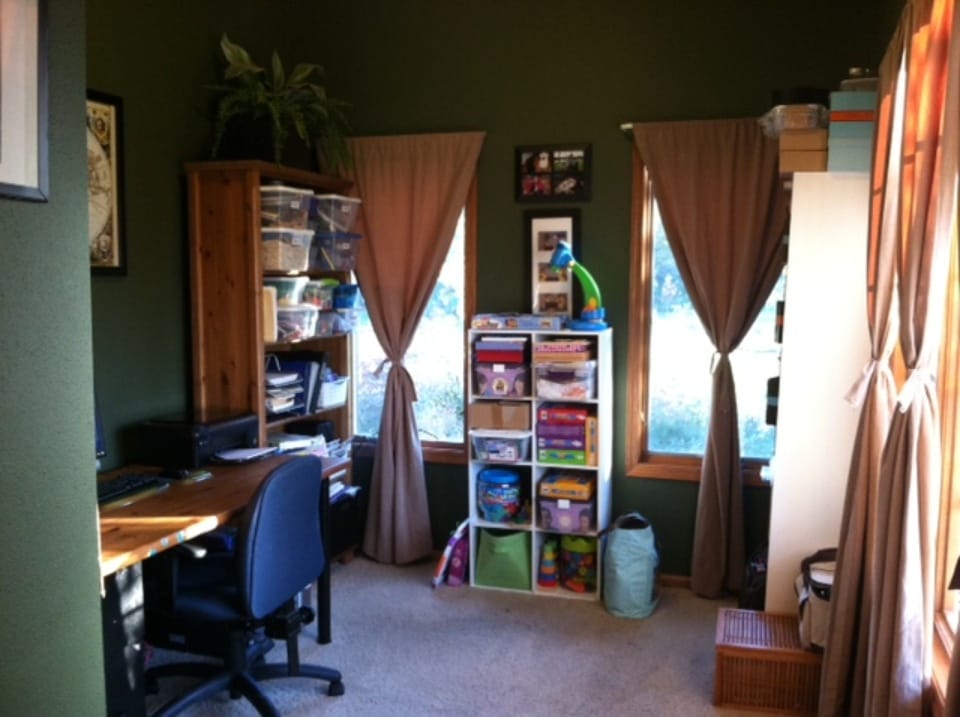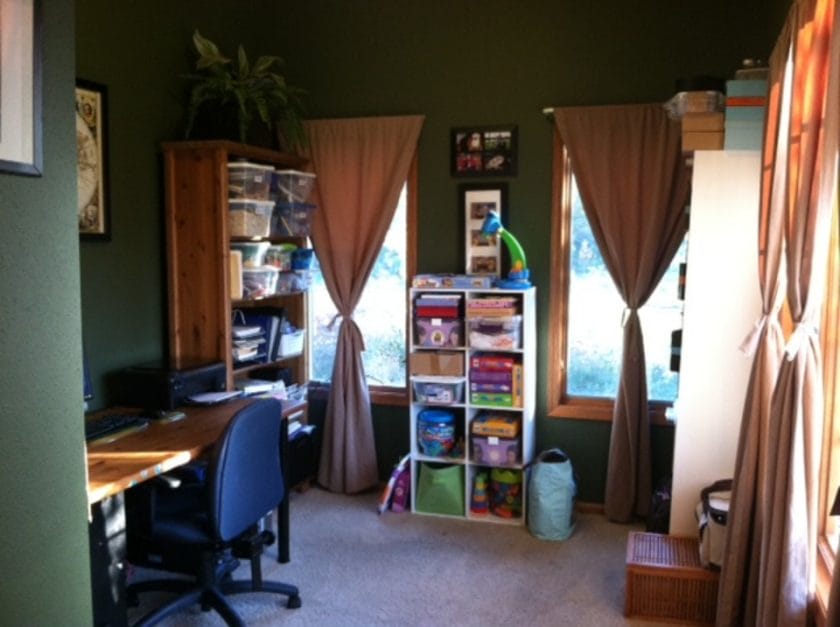 Then came the kids books – this was a challenge! We had a ton of kids books. How do you get rid of these things . . . but I did it – I narrowed it down to a large bin full for now.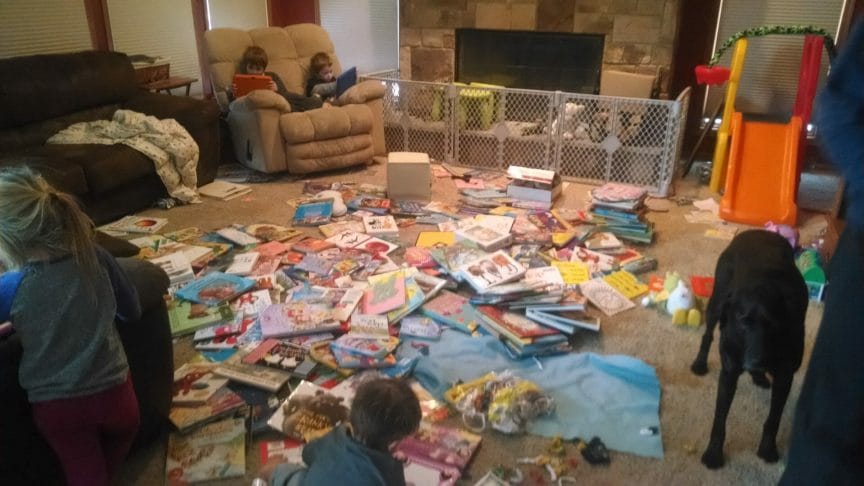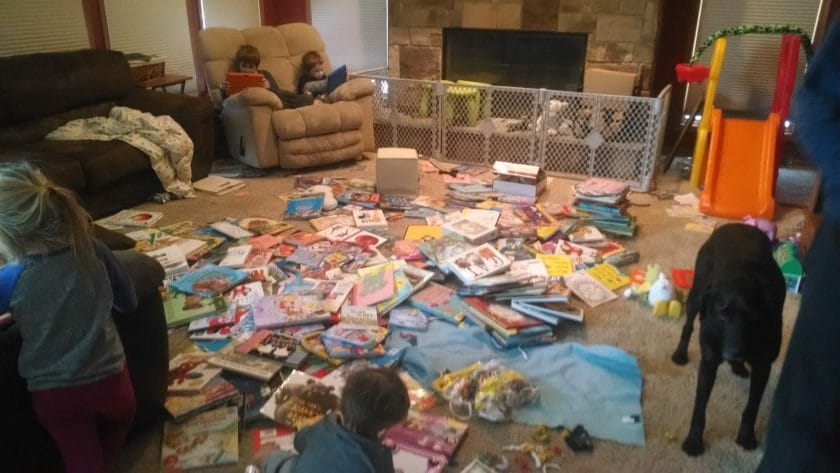 Next came the basement and all of the big toy items we had down there. Luckily my parents took a couple of things – especially the roller coaster which the kids love! The rest went on Facebook and we started selling more! Felt great to make some money and get rid of some things! People definitely jump on kids toys.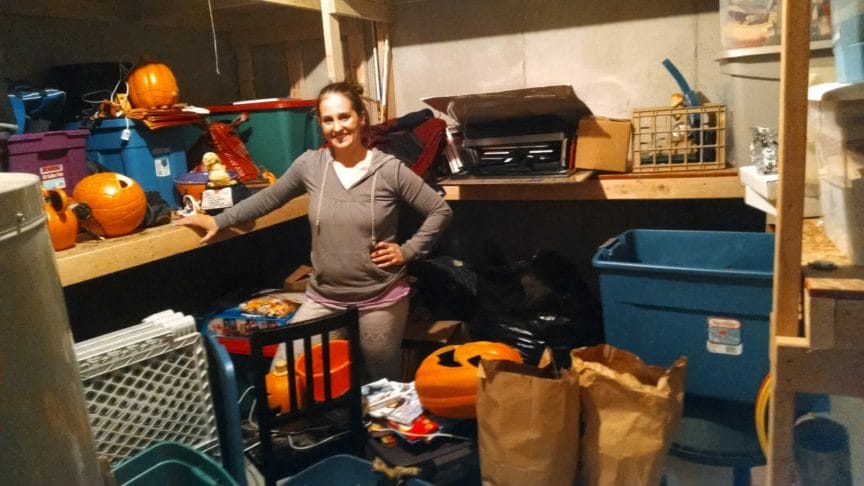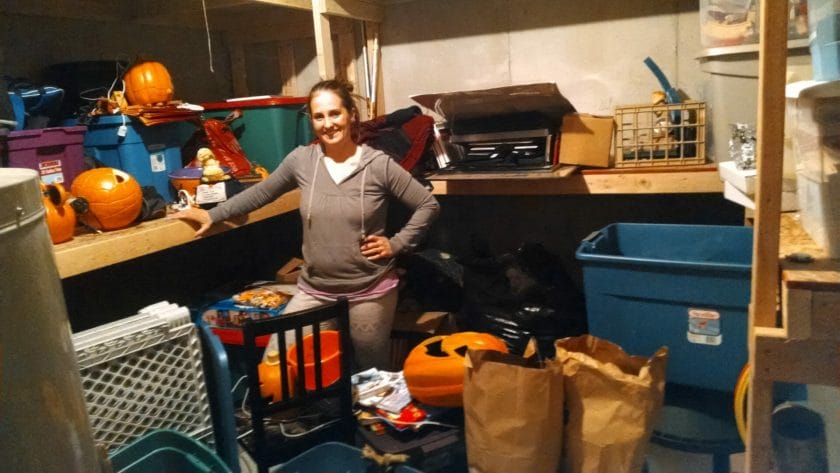 After getting some of the basement done I decided to move on to the kids clothes . . . Some of them had more clothes than me! We have been lucky enough to have people give us clothes for the kids so between that and what we bought we had way to many! Started with the boys closet and narrowed everything down to what I think will be the necessities.
One pair of pj's for each season, a couple sweatshirts, one bathing suit, a handful of long sleeves, short sleeves, pants, shorts, etc. Then it was the little guys closet. With being the 3rd boy he had accumulated a lot as well. I went through and did the same thing and emptied out the rest of his closet – lots of baby blankets, old shoes, etc. I then do our daughter's room – she had a LOT of clothes! She actually helped me go through and pick out what she wanted to keep and we were able to narrow it down.
By this point the dining room is filling up. And it is starting to be crunch time the rummage sale is just a couple of weeks away. I feel like every day all day this is all I am doing! We take the first load over to my sister's house and put everything in their basement for now. Here we go next round.
I tackle the toys . . . . again how do you decide what games to keep and get rid of?? I start to think what are the games they play and enjoy? What are the games where all the pieces come out but we never really play the game for more than a minute. I get that all narrowed down to one large bin. Then I start to go through the toys in the basement . This is a task .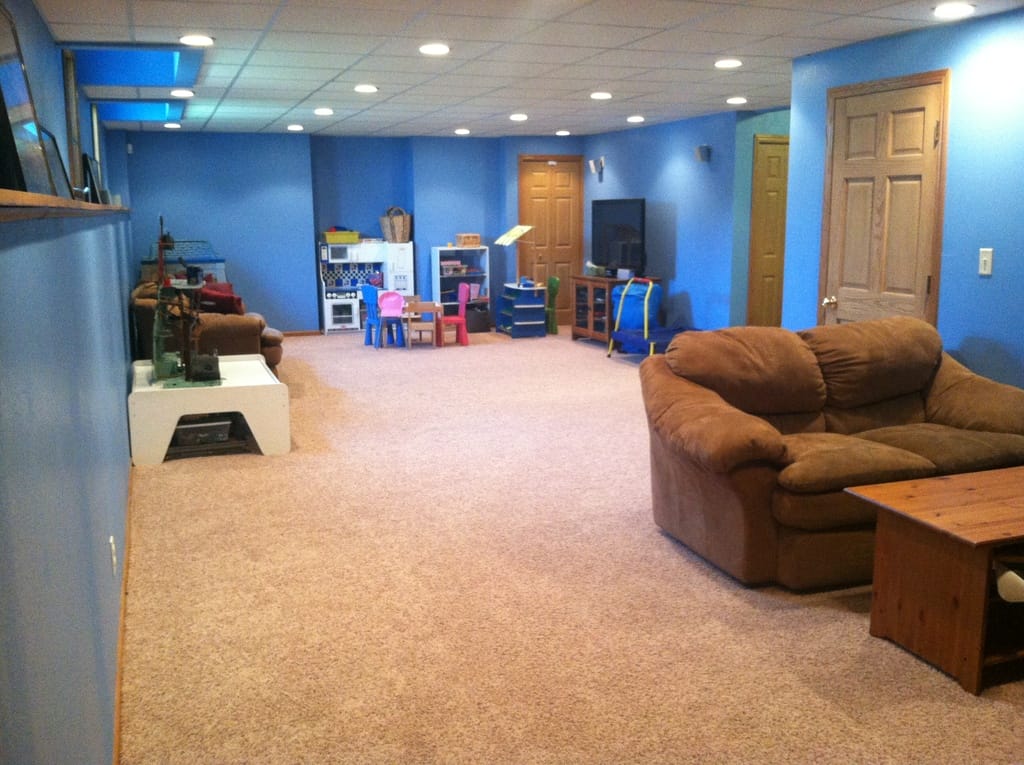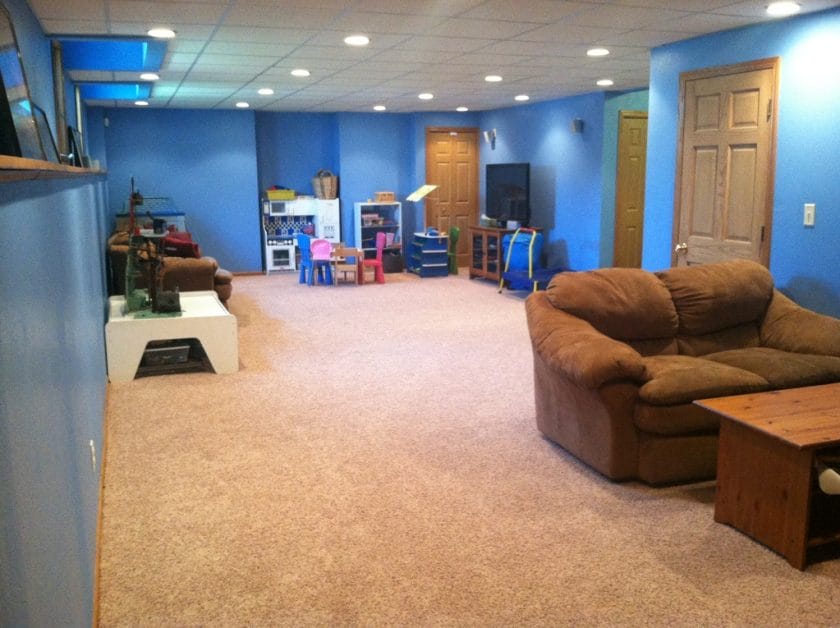 Emotions – If I would have tried to do this a year ago I would not have been able to get rid of half of what we did. It has taken a lot of stretching but each round I feel like I stretch more and more and I get less emotional and attached to everything. As I was asking the kids about getting rid of things they were so much more less attached to their things than me. I hope we can keep this mindset going with them! Getting rid of things that we had literally just bought them for Christmas was hard (just thinking of the money wasted) but they rarely ever played with them!
Our last big rummage sale. NOTHING came home with us everything was either sold – we did a name your own price – or donated. We did really well and made some decent money. And also were able to donate about 4 van loads full of things.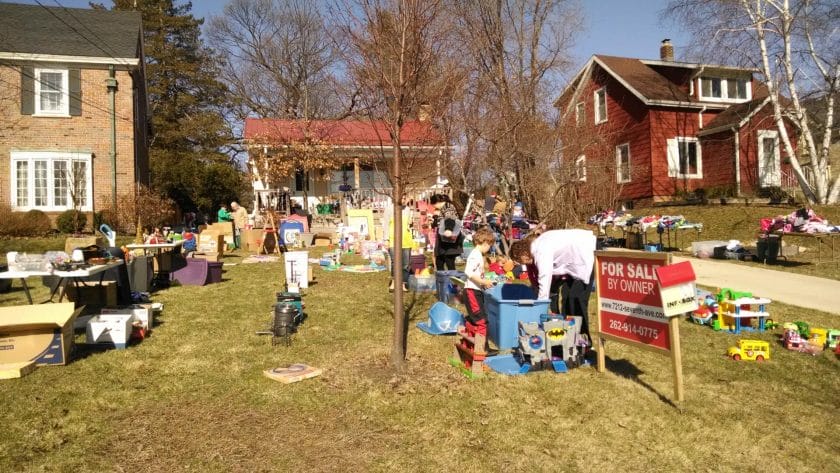 When all was said and done we did it. We ended up with 4 bins that went to my parents storage garage. And they kept a few big toys for us. But other then that we got it all down to what would fit in our RV and Car. At the time we were keeping 2 cars and YES Craig's car turned into our "garage" for a while. But we continue to downsize all the time.
From this to this: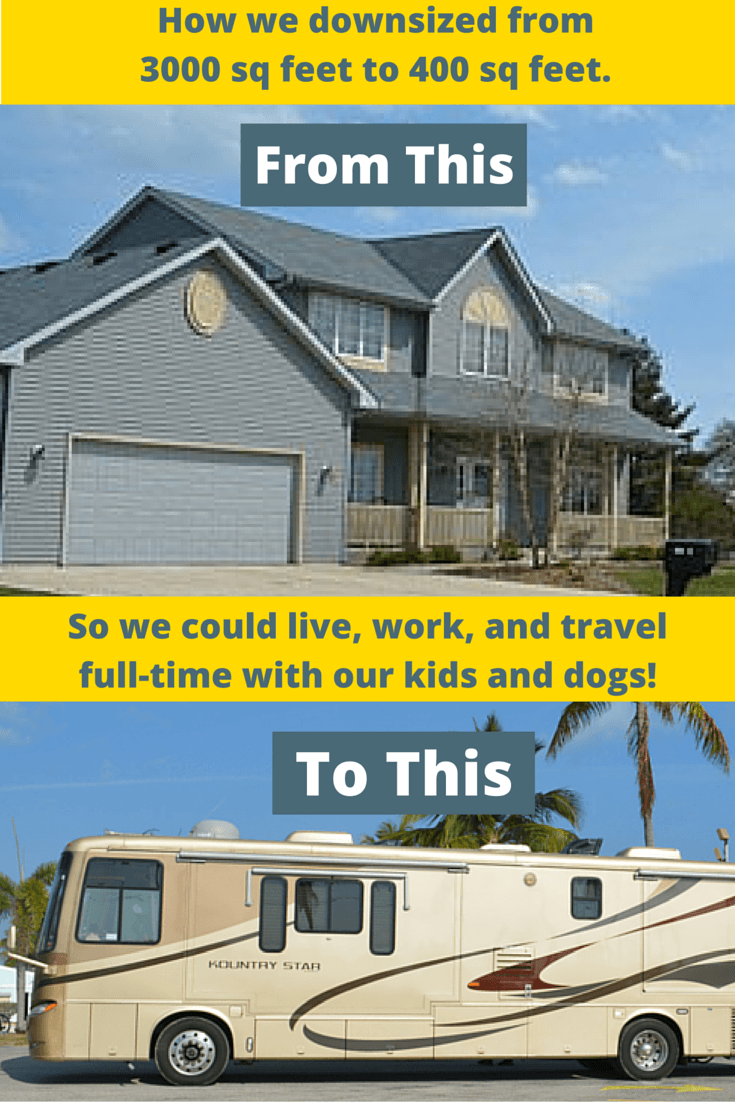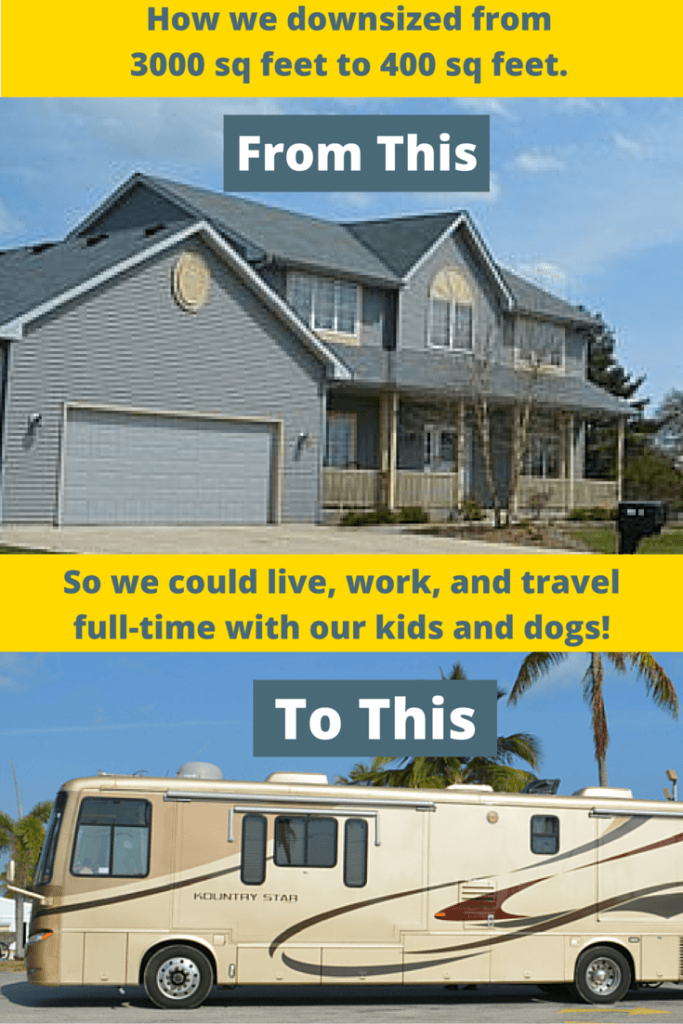 DISCLOSURE: This post may contain affiliate links, meaning I get a commission if you decide to make a purchase through my links, at no cost to you. Please read my disclosure for more info.