Deepening our family bond is one of the main reasons that we decided to travel full time. In the beginning we thought it would be super easy to make that our focus. In reality it wasn't since there were so many other things that came up by living a life of full time travel. Things like becoming entrepreneurs, planning where we were going to be traveling to, moving days, and overall the fear and inconsistency of this lifestyle.
It has taken us time, but we now feel like we are making a move back into our family bond being at the top of our priorities and we wanted to share 8 ways that we are using travel to deepen our family bond.
1. We go into every trip or activity we do knowing that we are doing it is a family.
We really feel this is the most important piece of learning how we can bond as a family as we travel. Craig and I remember the trips we took as a couple before having kids. Yes there are times when we miss that kind of travel, but we have also accepted that at this point in our lives the traveling we are doing is about our family and what is going to work for everyone.
By approaching it this way it helps us set expectations so we aren't let down when we can't sit through a nice formal dinner or have to settle for a quick beer instead of sampling a few at the local brewery. The way we look at it is, and anyone who is a parent has heard, they grow up so fast. Before you know it, they are getting married and having their own kids.
With that in mind we have made the decision that the majority of our traveling is going to be purely family focused. We aren't trying to squeeze in magical couple moments or solo travel. Which we feel just brings too much stress and disappointment since it never works out the way you want it to. Instead we are embracing this point in our lives as parents and are striving to enjoy these family travel moments instead of always wishing for alone time or that we could be doing something different.
To be totally honest, it isn't always easy. However, the more we do it the easier it gets. When we settle into this mindset and aren't looking for how to get out of it – it really does become enjoyable and allows us to live more in the moment.
For the ultimate child-led vacation, check out our post on Why You Should Put Your Kids In Charge For An Amazing Family Trip.
2. Setting the right expectations.
Our kids are still kids. Just because we are traveling or doing a really cool activity doesn't mean everyone is going to be happy 100% of the time. There will be break downs and disagreements and stressful moments. We have accepted that is family travel.
The goal for us is to not make those breakdowns the focus of our day, but instead address the situation and move on and not dwell on it. Yes, it has taken time for us to get to this point, but seriously it works. Our day is no longer ruined by one or even two or three breakdowns. We all address it, let it go and move on to better times.
3. Building in down time.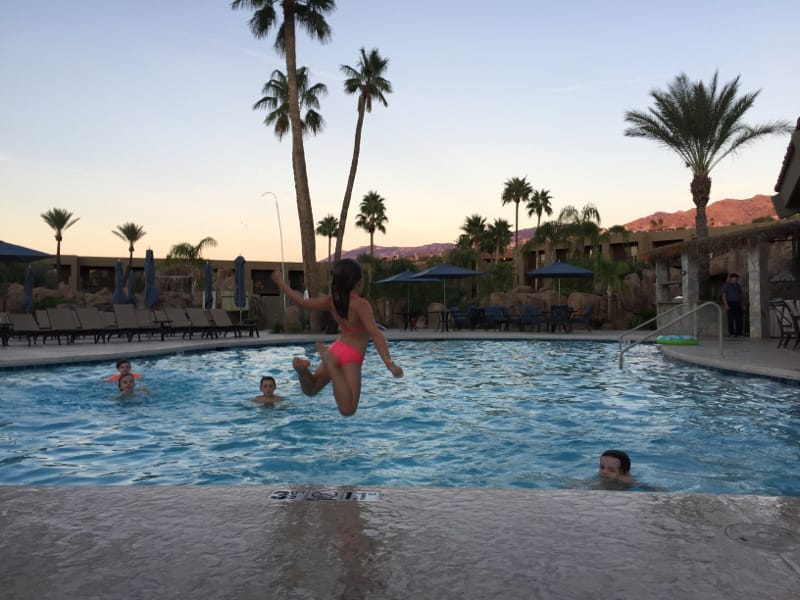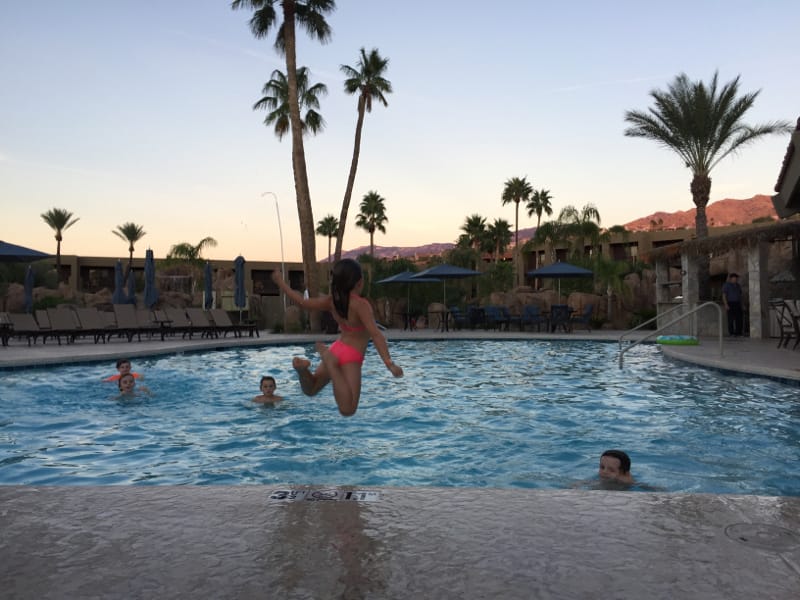 We have found this to be key to successful family travel. The worst formula for kids is too many planned activities without a break. We plan for this and setup down time where we just snuggle in bed, swim in a pool, or visit a local park. It makes everyone happier!
We have done some really cool things that all of us have enjoyed and had some super busy days filled with all sorts of fun activities. Yet it never fails that the kids still look forward to those days when they can just play without a lot of rules and restrictions. They actually ask for them.
I tend to like to go, go, go so it has been a process of pushing my comfort zone for me to be OK with lots of down days and time to just hang out. I am not perfect at it yet and keep striving to be even more like that and to take on more slow travel. But the progress I have made has been good and I can see how much the kids enjoy it which makes me want to do it more.
Check out what a down day looks like for us!
4. We take into account what activities we are going to do with our family.
Kids and lines don't usually mix well. So we don't put our kids in that situation day in and day out. It isn't a good formula for any of us. Instead we take breaks from those kind of activities and find things to do where our kids can run and scream and be a kid! Local parks are the best for this! Or when we were at Disney World we took a break and bought the kids bubble guns and they ran around playing with those for an hour. We also spent time at the splash pad at Disney World just letting the kids play. (we only had 1 day at Disney, but we didn't try to cram it all in and instead took our kids lead).
It really is as simple as finding a field, packing a picnic lunch, and playing tag with our family for a morning or afternoon. Or grabbing a bat and ball or kickball to play a pick up game. Nothing complicated just lots of free time and open space.
The kids love when they see a big field. They just want to run, play tag, or wrestle around. Whenever possible we give them time to do this. It helps them burn that energy so when we move on to another activity they are ready and prepared to be patient (this doesn't always work but a lot of the time it does!).
Here are a few Places To Avoid When Traveling With Kids from our experience.
5. Where we eat.
We don't put our family through a formal meal – or if we have to, we let the kids bring a tablet or watch a movie on our phone. A formal meal is a perfect example of a situation that can easily become anti family bonding time and instead a time of constantly disciplining your kids and yelling at them for not sitting still. Which is why we try to avoid them!
We have found that by the time we spent the $70 on the meal, drinks, and a tip it wasn't even worth it. Craig and I didn't really get a chance to relax, we all ate our food quickly and usually the kids don't eat everything so then we feel like we wasted money . . .
What works for us is to either go somewhere like Chipotle since you get your food pretty quickly and it doesn't as cost as much as a sit down restaurant. Or else we go for pizza and bring the kids tablets or go with other families or the grandparents so there are multiple people to keep the kids engaged while we wait for our food.
6. We ask our kids what they want to do.
Easier said than done, but very effective. We aim to give the kids as much freedom in their day as we can. If we are somewhere and they want to leave, we put it to the group to see if everyone agrees. If they do we leave. If they don't we talk about why we are staying.
If we know there is something that one of the kids has an interest in we will ask if they want to check it out while letting the other kids know we will do what they want next. They are usually really good at taking turns making the decision if we tell them up front their turn is coming.
Kids, like adults, want to know they have control over their own space and time. This is big to us and something we want to give our kids as much as we can. Yes it is challenging with 4 kids and no it doesn't always work the way we want it to, but the more choices and options we can give our kids the better.
Meals can be frustrating when everyone wants to order something different. We try to be patient and give them a chance to pick what they want – when we can. Have you ever asked for a pizza with half cheese, a quarter sausage, and a quarter pepperoni . . .
To us it is the little things that add up to big things. So whenever the opportunity presents itself to let our kids choose for themselves, we give it to them. Then in turn when situations arise where we can't do that for time, money, or the location we are at, the kids are more likely to be OK with it and not put up a fight (not all the time . . . but a lot of the time).
7. We do electronics together.
Don't worry, I'm not going to preach about putting your devices down when you travel as a family. Instead we focus on engaging with our family on said devices. Technology is here to stay so we are trying to learn how to embrace it as a family and not make it a forbidden fruit.
If our kids want to be on their devices, we sit down with them to see what they are doing on them and ask them to share with us. We may build a house on Minecraft or watch one of our kids movies on their tablet. Whatever we can do to engage with what they are doing and vice versa if we are doing something cool on our phone, we share it with our kids.
If our kids want to show us something on their device we stop and give them our full attention. We don't shun the devices or make them feel bad about it, instead show our excitement in what they are doing on it.
8. Push our comfort zones as a family.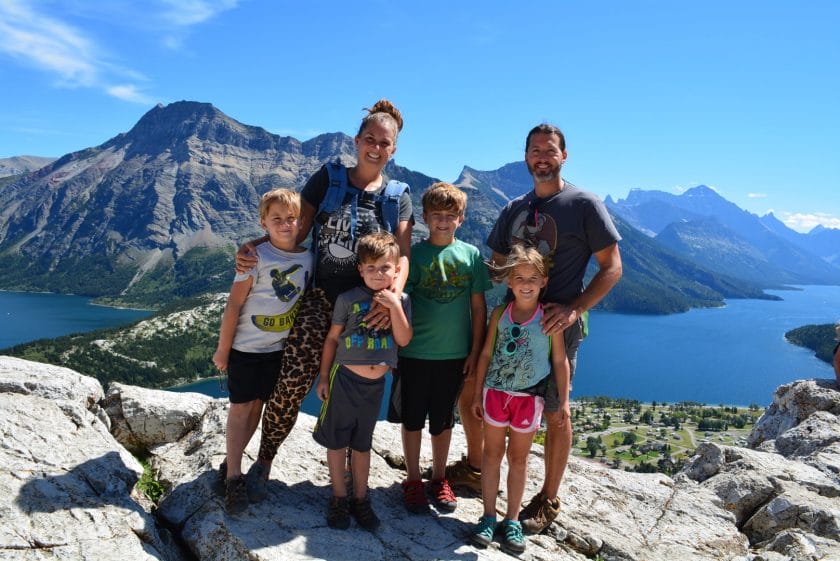 This one may seem out of the flow of the ones above this, but I think it is very important to add. While we do listen to our kids and encourage them to help us make decisions there are also times when we push their comfort zones a little bit and ours too! We love taking on a new challenges and experiencing new things as family and the majority of the time whoever went into it being scared is so happy that they did it when it is all said and done.
We always make sure to do it in a respectful way and if someone is adamant about not doing it, we listen. However we do always encourage them to try new things and to face their fears. We do this by talking through what they are afraid of and answering any and all questions that they have.
Some of our best family bonding moments have been from doing challenging things as a family. Like climbing 10,000 feet up to the top of a mountain or cliff jumping into freezing cold water. The key for us is that all of us are there participating in the activity or cheering each other on. The combination of all of us being present and pushing through fears leads to an amazing bonding experience.
Summary
In summary traveling as a family doesn't have to be all about finding the most amazing places to visit but instead we try to focus on our FAMILY and what each one of us loves to do.  Each and every day we strive to make our kids' desires and needs a priority and act on that. If that means skipping something and staying in for a whole day to snuggle in bed, order a pizza and rent a few movies, then we do it! We focus on remembering that family travel should be about our family and that if we really want to spend quality time together as a family and focus on deepening our family bond then we need to make that a priority each and every day we are on the road.
Want more tips on traveling with kids? Check it out: Top 10 Tips For Traveling With Kids (from a Mom of 5).
Pinterest image and Featured Image from: Zion Adventure Photog
Pin it: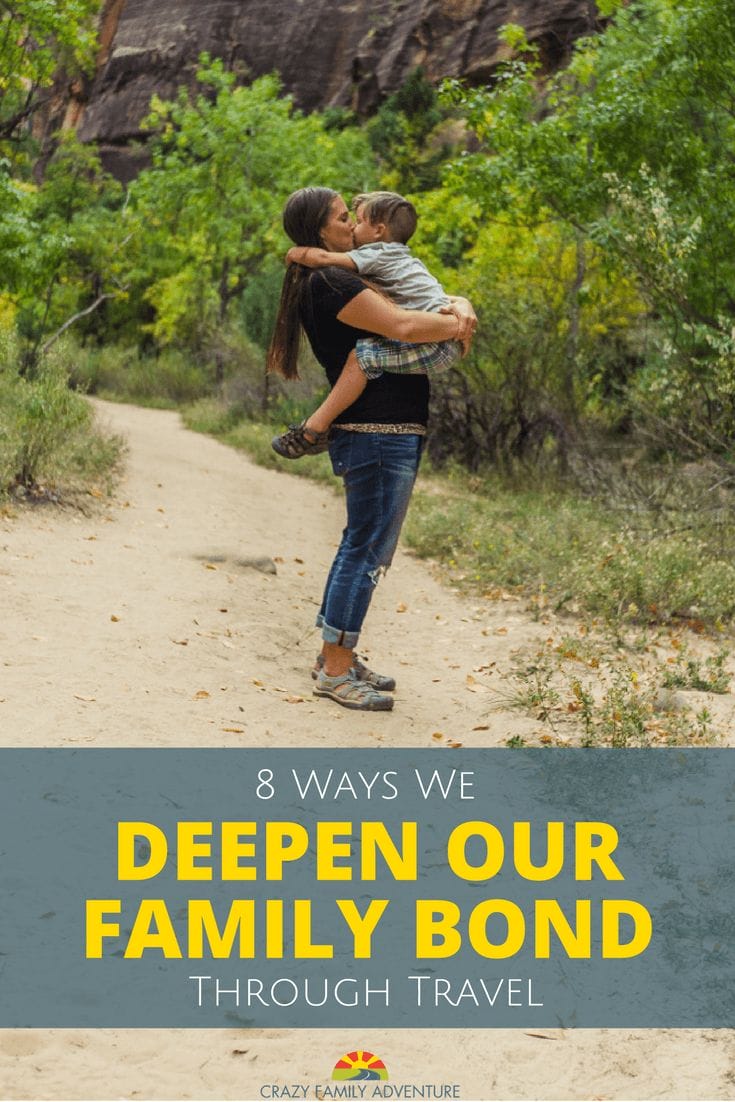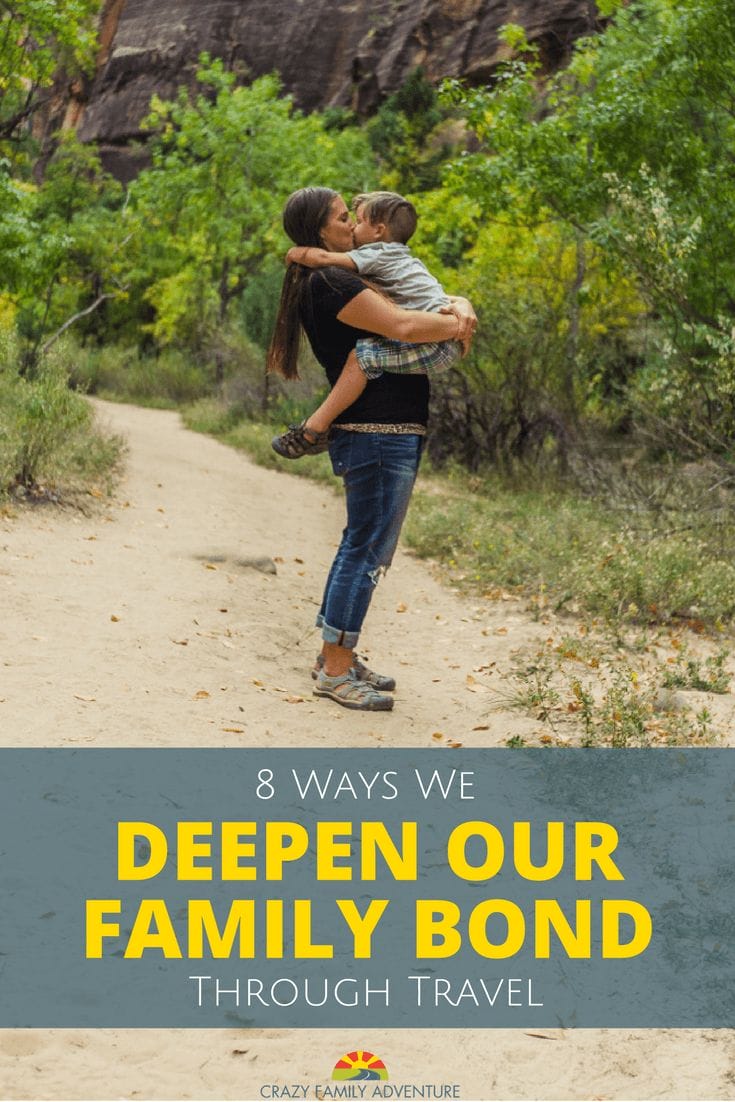 DISCLOSURE: This post may contain affiliate links, meaning I get a commission if you decide to make a purchase through my links, at no cost to you. Please read my disclosure for more info.