It can be difficult to find something to please the person who only wants adventure, not stuff. For this reason, many people shopping for road trip gifts for road-tripping friends and family is a challenge. What in the world can they possibly buy for someone who values experiences like hiking or visiting National Parks or a new city over things?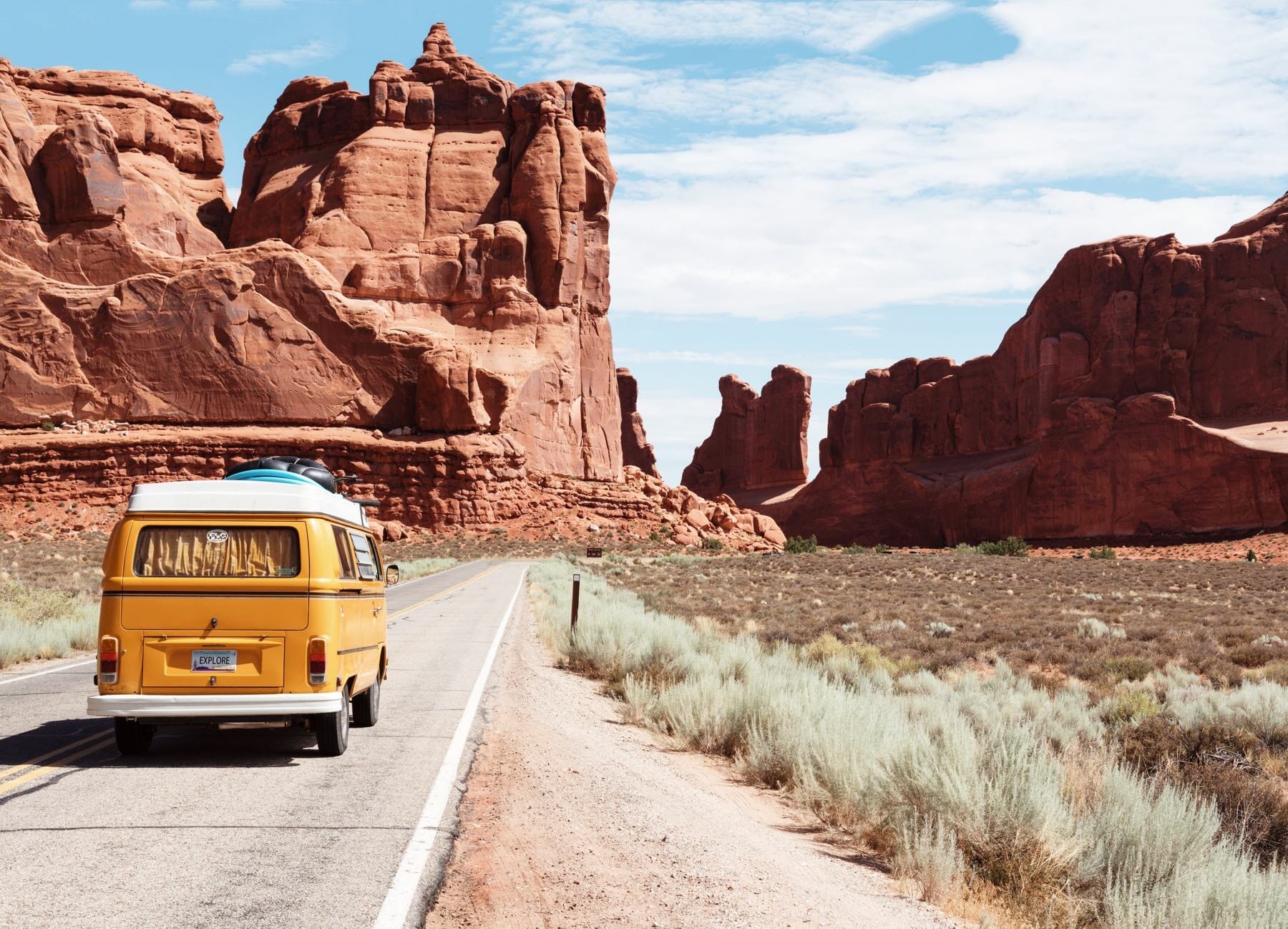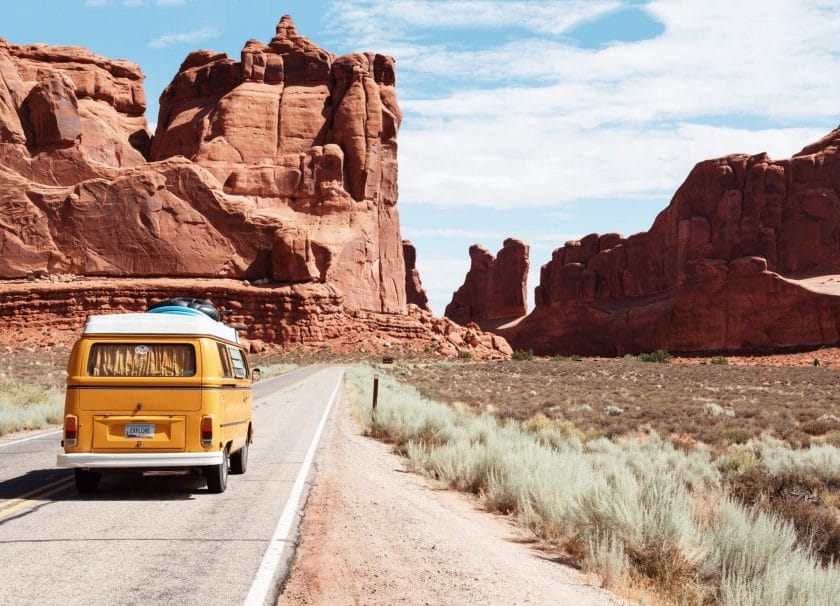 The answer? Items that help them take those amazing road-tripping adventures.
But most avid road trip travelers already have the road trip essentials. This means the gift giver will need to get a bit more creative when searching for the perfect gift. Fortunately, there are plenty of amazing options for road trip gifts.
Not sure where to begin? The road trip gift ideas below are a great place to start.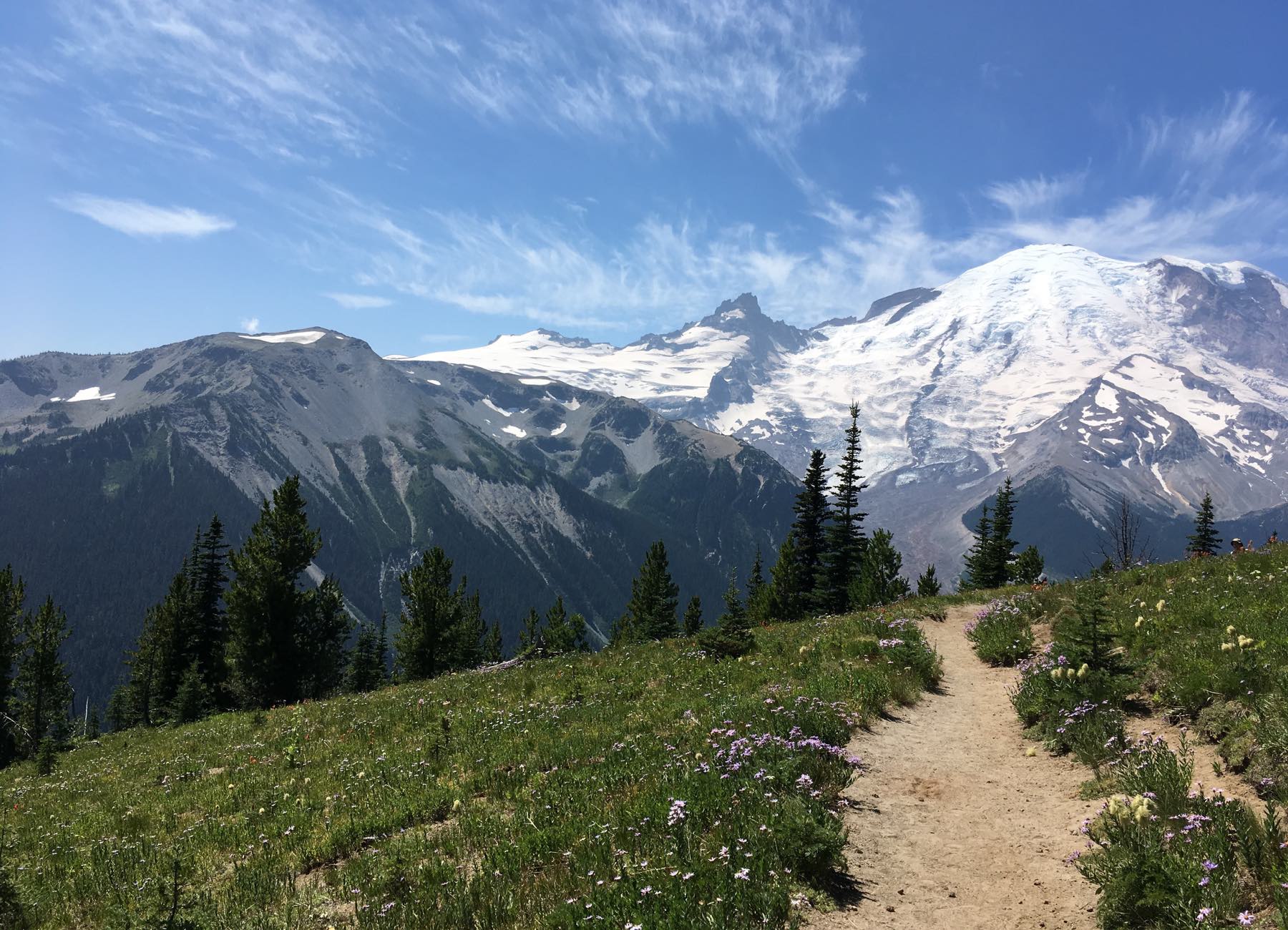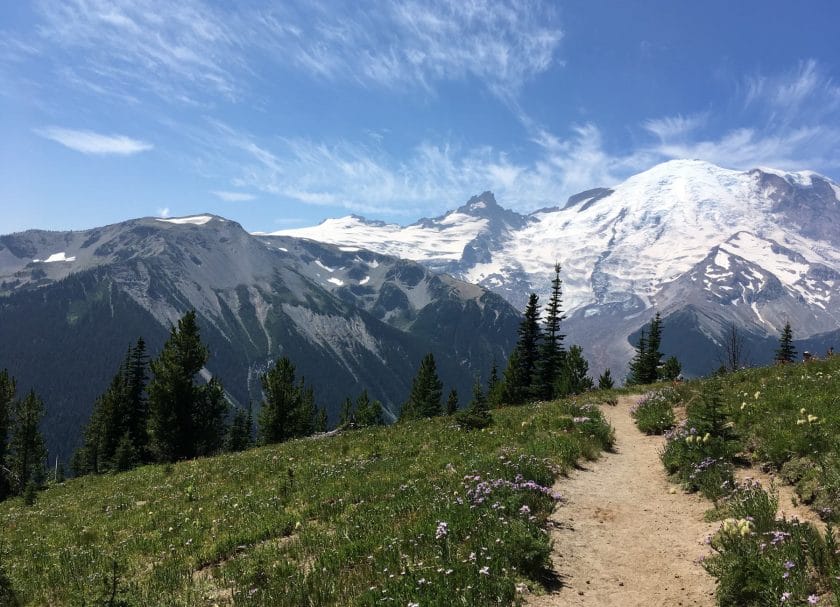 "America the Beautiful" Pass
Perhaps the most amazing gift you could give a person who is constantly seeking adventure is the ability to visit any national park, national forest, or other federal lands without paying a dime. This opens up a whole new world of places to be explored and it will save your wandering friend some pretty big bucks to boot.
Wondering how you might offer such a gift? The "America the Beautiful" interagency pass is your best friend. This pass allows the card holder to visit all federal lands without paying any fees, making it an awesome option when it comes to road trip gifts.
The Road Trip Survival Guide
Is your friend new to the world of road tripping? Maybe you think they'd appreciate some tips for smoother and more fun trips? If so, The Road Trip Survival Guide is an excellent option.
This amazing book offers some wonderful advice that is sure to help your loved one get more out of their great adventures. It is awesome for beginners, obviously, but many of the travel tips would also be useful for a more seasoned traveler, so don't shy away if your road tripping loved one has been traveling for a while.
The Ultimate Glacier Guide
One of our absolute favorite national parks is Glacier, and we highly recommend everyone visit at least once. Our Ultimate Glacier Guide might be just the push your traveling friend needs to start planning their trip to this amazing national park.
This guide is chock-full of helpful hints that will make any visit to Glacier National Park extra magical. The guide includes one-, three-, and seven-day itinerary options and tells you exactly what you absolutely must enjoy while you're there.
BONUS GIFT IDEA: Have a Disney fan in your life?! Get them Discount Disney Gift Cards!
Anker PowerPort Solar 21-Watt Charger
When it comes to gift ideas for road trippers, we can't think of very many things that would be more useful than the Anker Powerport Solar 21-Watt Charger.
This handy portable charger folds up small for easy storage and lays flat when it comes time to charge it up in the sun. Once it's charged, plug your devices into the two USB ports so charge gets transferred and your devices are ready for adventure.
Andobil Auto-Clamping Phone Car Mount
When you're on the road, your cell phone is a valuable tool. It can be used as a GPS, a research tool, and of course, as a phone in case of emergency. Considering how important it is, it's probably a good idea to have a good place to put the device.
Enter the Andobil Auto-Clamping Phone Car Mount. This awesome phone mount can be attached to your dash or your car vent. It is adjustable, allowing you to move the phone to the correct angle, and the auto-clamping arms close tightly onto your device, no matter its size. Best of all, the mount charges your phone as you drive.
Rumpl Original Puffy Blanket
Multi-use items are always a bonus when it comes to packing for a road trip. That is why we think the Rumpl Original Puffy Blanket is one of the best road trip gifts you can give.
This awesome blanket is warm, waterproof, and lightweight. It doesn't mind being outside and won't be ruined from being used as a picnic blanket. The blanket is machine washable and includes a small storage sack that compresses the blanket, making it easy to pack and store.
Therm-a-Rest Compressible Pillow
To go along with the Rumpl Blanket, we recommend the Therm-A-Rest Compressible Pillow. Together, the blanket and pillow offer comfort wherever your loved one may roam, and this particular pillow has a pretty cool feature.
You see, this incredible pillow is stuffed with compressible foam. It can be squished down into travel pillow size or opened up to form a full-size pillow. It is easy to pack and works well in the car when smashed down, and offers ultimate comfort on a hotel bed or while stargazing outdoors.
Physix Gear Sport Compression Socks
This one might seem a little silly, but hear us out. Sitting in a vehicle for long stretches is hard on your body. Compression socks can help.
The Physix Gear Sport Compression Socks assist with circulation, so road trippers can arrive at their destination ready for hiking or sightseeing. They also wick moisture and odors away, so your friend's feet won't be left feeling sticky and stinky after they've had a long day of driving.
No products found.
Lusso Gear Heavy Duty Back Seat Car Organizer
Nobody likes a messy back seat. Unfortunately, messes tend to happen in the car, especially if you're on a road trip. The Lusso Gear Heavy Duty Back Seat Car Organizer might be the solution.
This nifty product hangs on the back of the front seat and provides a huge number of pockets in various shapes and sizes for organization purposes. The heavy-duty design means you won't have to worry about rips, and the 12 different storage pockets can hold anything from road trip games and books to iPads, water bottles, and more.
Anker Soundcore Life Q20 Hybrid Active Noise Cancelling Headphones
One rule we always follow? You never want to head out on a road trip without headphones. No, you can't wear them while driving, but you can definitely put them to good use any time you're the passenger, and they also come in handy when trying to get work done in a busy coffee shop.
We're willing to bet the Anker Soundcore Life Q20 Hybrid Active Noise Cancelling Headphones are one of those amazing road trip gifts that your friend or family member will absolutely adore and want to use often for years to come. Fortunately, they hold up well, so this shouldn't be a problem!
Eagle Creek Pack-It Cubes
Packing cubes are a seriously amazing invention. They allow travelers to organize their suitcases in a way that makes sense and make it easy to pull out only the items needed without making a mess of the rest.
We particularly love the high quality construction and lifetime warranty of the Eagle Creek Pack-It Cubes. Of course, it's also nice that the cubes are washable, water-resistant, and odor-resistant.
Hydro Flask Water Bottle
We all know how important hydration is, and when you're on a road trip, the best way to stay hydrated is to keep water close at hand at all times. Obviously, any water bottle makes this possible, but we think Hydro Flask's bottles are our favorite options.
We love that the bottles from Hydro Flask are double-walled and vacuum-insulated, meaning the beverage inside remains the proper temperature for a full day, but the outside of the bottle will always be comfortable to hold. The fact that these bottles are stainless steel is also a major bonus, as it means they are easy to clean and durable.
As an added bonus, these bottles come in a wide variety of pretty colors, so you can choose one that suits your friend's personality.
AeroPress Go Travel Coffee Maker
Another of our absolute favorite road trip gifts is the AeroPress Go Travel Coffee Maker. This portable coffee maker combines the incredible AeroPress with a well-made travel mug and lid that doubles as a carrying case.
Included in the set is a scoop, a stirrer, and a filter holder, and it all packs up nicely along with the brewer itself into the aforementioned mug. We love that this set is all you need to make an excellent cup of coffee on the go, and we appreciate that it is very affordable.
Road Trip Gift Basket
If you're looking for personalized road trip gifts, we highly recommend putting together a road trip gift basket. Such a basket can include practical items such as a paper road atlas, roadside emergency kit, and first aid kit, as well as fun things like books, games, and of course, road trip snacks.
A road trip gift basket does not have to be expensive to be useful and fun. On top of that, the fact that this gift can be customized to suit the needs and interests of the receiver makes it even more exciting to give.
Most of the items above aren't things we would consider road trip essentials, per se. Instead, they're fun, useful, and interesting items that will make traveling even more exciting.
With any of the items listed, your traveling loved one is sure to feel even more ready to hit the road, and we're confident they will appreciate the thoughtfulness of the gift. Which road trip gifts will you buy to show your wandering friend how much you care?
Check out more posts from Crazy Family Adventure:
43 Amazing Gifts for RV Owners
31 Road Trip Essentials You Don't Want To Leave Home Without
6 Epic National Park Road Trip Ideas [Maps Included]
37 Stops For The Best Cross Country Road Trip [Map Included]
Utah Road Trip: All 5 Utah National Parks & More [Map Included]
Pin to Save for Later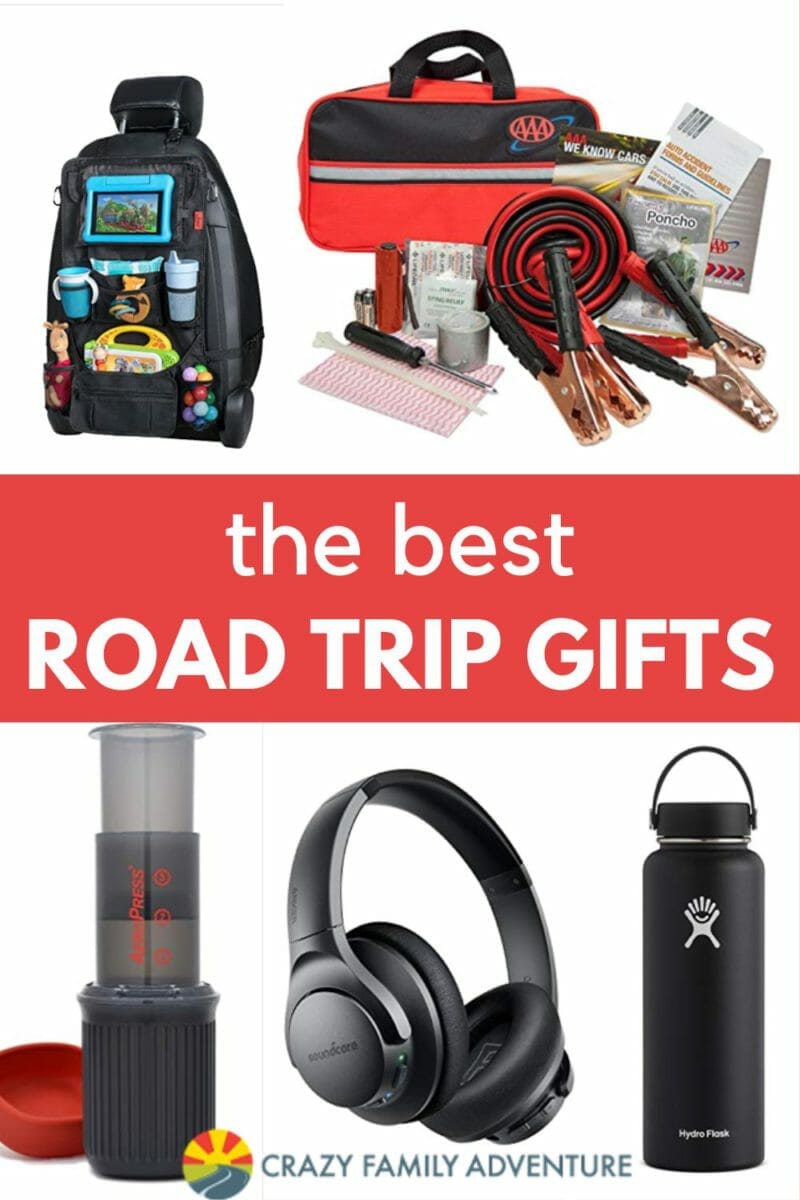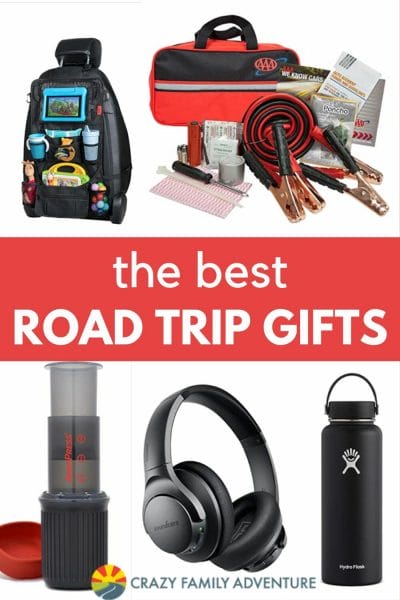 DISCLOSURE: This post may contain affiliate links, meaning I get a commission if you decide to make a purchase through my links, at no cost to you. Please read my disclosure for more info.