Do you have an RVer in your life and you want to find the perfect RV Christmas Gifts?! We have you covered! First things first. Most RVers have limited space so you want to be very thoughtful when getting a Christmas Gift For an RVer.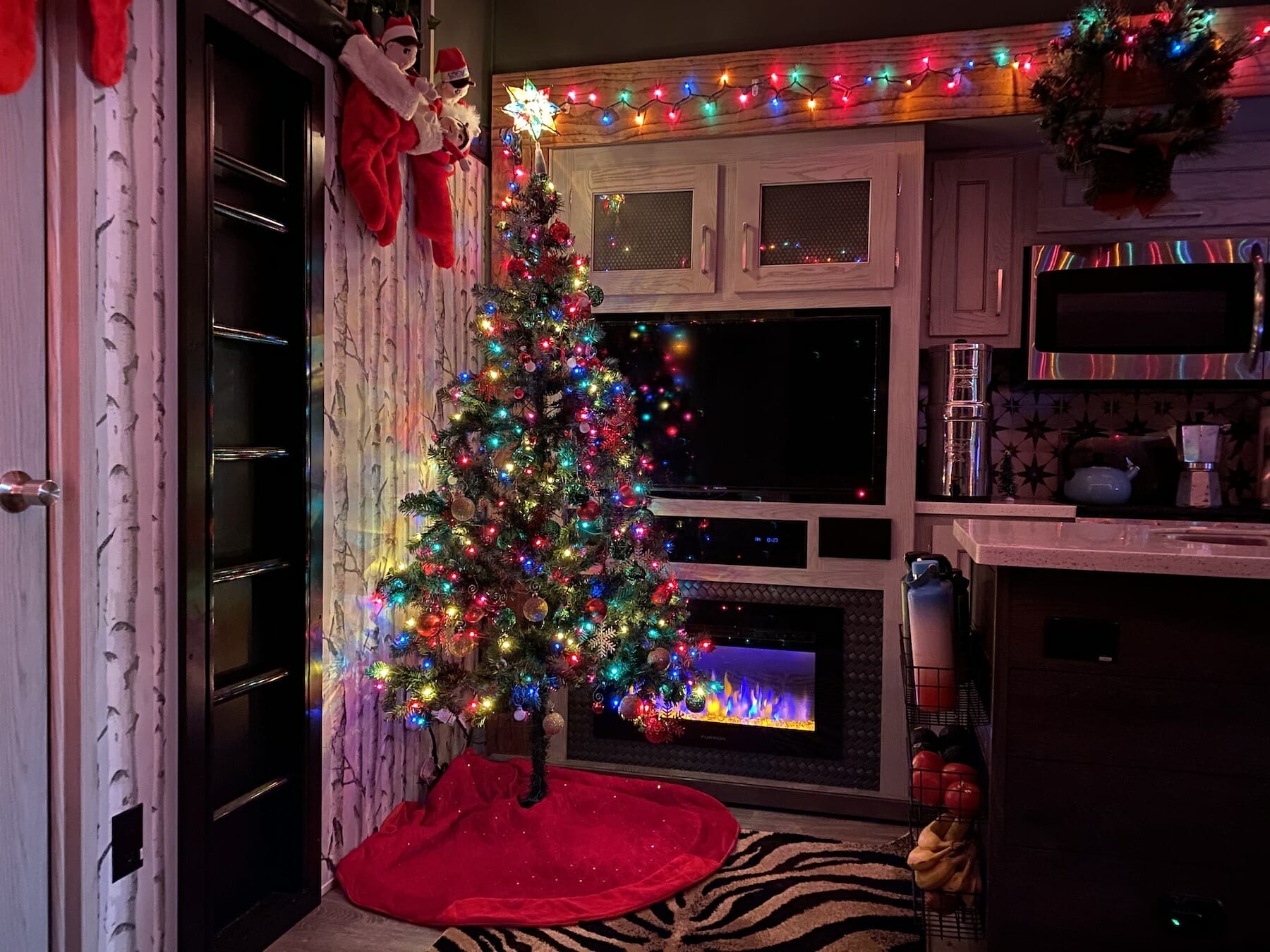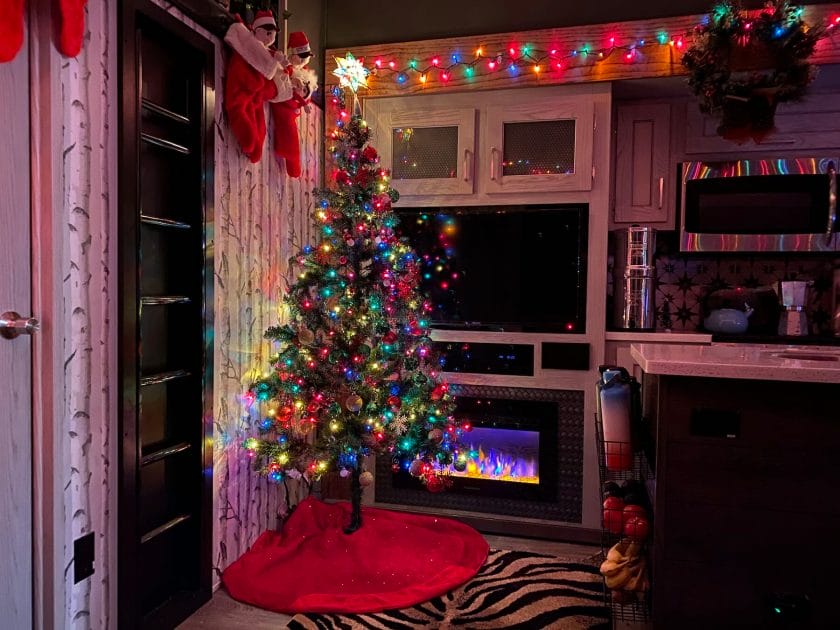 For that reason, we have some options listed at the bottom that are memberships and passes you could buy if they have asked you not to get them any things.
Here are our recommendations on things the RV owner in your life would appreciate and enjoy this holiday season!
Camp Chair
Yes, this chair is big but if they don't have this chair yet (a lot of RVers do since once they see someone with it they want one!) they will be glad you got it for them!
It is super comfortable and feels like you are sitting on a couch out around the fire. Plus it is great if you have little ones that want to climb up on your lap or squeeze in next to you. It would be a great gift for RV life or just weekends!
Hammock
A hammock is great for at your campsite or to quickly pack in your bag for a hike or a day hanging out at the park. It is also a good thing to have with kids who will spend hours playing around on the hammock or swinging in it with you. We love the ENO brand hammock and have used them for years!
Propane Fire Pit
I was anti-propane fire pits for years. Until I saw how easy and simple they were to turn on and off (no need to worry about getting wood). I am telling you this is a must-have for these cool nights.
Table Cloth
You can't have too many tablecloths as given the sometimes harsh weather or hot sun table clothes get worn out. This set comes with a cover for the picnic table benches too – which is so nice to have since some of those campsite picnic tables are not the best!
Lantern
Solar lanterns are a great way to keep your campsite safe at night with light and also add some decoration to your site. We loved having these around our campsite! We used these at our campsite in South Padre Island, Texas that we stayed at for 3 months and we loved them!!
Headlamp
Craig would not know what to do without his headlamp! It comes in so helpful when he is working on things, or when we are walking at night, or when we go to a campfire. He just leaves it on his head and turns it on and off as needed. This is one of the practical gifts we recommend but it will be appreciated.
Camping Coffee Cups
Everyone loves a fun camping mugs! I like how these are the really wide mouth ones. My favorite is the Let's Get Toasted one.
Coffee Maker
We have been using this Moka Express coffee maker for years and love that you don't need any electricity to make your coffee. This comes in very handing when you are boondocking. Now that I am used to this coffee I can't find any good coffee at coffee shops! It is that good.
RV Blanket
As mentioned above us RVers like to show we love RVing. And how awesome is this Camping Rules blanket! Plus you can never have enough blankets – my husband might disagree but give me all the blankets!
Click here to buy this RV Blanket.
Apron Set
This is just fun! I want a set! If the RVer in your life also likes cooking this is a win-win!
Push Pin Map
A push pin map is a great way to track the locations you have visited in your RV. Plus you can hang it right on your RV wall! We used command strips and hung it on our RV wall and it stayed put on our whole trip to and from Alaska. And those Alaska roads are not very smooth!
Plastic Wine Glass
If you like drinking wine it is nice to still be able to drink it out of a wine glass when you are RVing. But wine glass easily break so having unbreakable plastic glasses to use when RVing is the way to go! We have had these glasses for years and they work really well and have not broken!
State Sticker Map
This is a thing with RVers. We like to put a map on our RV and add stickers of each state we have been to! These sticker maps do fad so having a new one is always fun too!
Draw Organizer
If you know an RVer who likes to be very organized this could be an unexpected gift. We bought these before our Alaska trip to organize our kitchen drawers and it worked out well. The nice thing is you can cut them to size so it works for any size drawer!
S'mores Box
A fun way to keep all your S'mores material together in one place. Including any left over s'mores ingredients so you can use them all week!
Full-Time RVing With Kids
I couldn't leave out my book! Full-time RVing With Kids An Insider's Guide To Life On the Road. Even if they aren't full-timers it is a good book to read about traveling in an RV with kids!
Click here to buy the book on Amazon.
If you know they like to cook in their RV you can also look at things like collapsible measuring cups and bowls (to save on storage space) or maybe even an instant pot!
Non-Material Things
With RVers having limited space it is a good idea to look at non-material things as well. This can include digital guides, memberships, kindle books, etc.
Camping World Gift Card
Still not 100% sure what to get? A Camping World Gift Card is always a safe bet. Let them pick out some cool string lights, maybe a solar panel, or any of the other 100's of RVing things that Camping World has online and in store!
You can click here to buy a Camping World Gift Card.
Good Sam Roadside Assistance
A must-have for when you are on the road and something goes wrong. This has saved us multiple times on the road. It is a must have. You can learn more about it here: Benefits Of Good Sam Roadside Assistance
National Parks Pass (America The Beautiful Pass)
An annual National Park Pass (America The Beautiful Pass) is a great option. National Park road trips in an RV are such a fun time and having this annual pass makes it easy to go in and out of the parks!
Click here to purchase the National Park Pass.
Harvest Host Membership
This is a great option to get away from the RV parking lot experience you can sometimes get at RV parks and instead stay overnight at a winery, farm, brewery, museum, golf course, etc!
Click here to check out Harvest Host.
RV Life Trip Wizard Membership
This is a great tool to use to plan your RV trip (we used it to plan our whole 2 month trip to Alaska). You can put in your RV weight and height and it will give you a RC safe route.
Click here to get your RV Life Trip Wizard Membership
National Park Planning Workbook
If you are an RVer you are most likely going to have it on your bucket list to visit a National Park. This digital National Park Planning Workbook will help you plan the ultimate National Park trip!
Click here to check out the National Park Planning Workbook.
National Park Travel Guides And Itinerary
If you know they are making a trip to one of these National Parks get them one of our detailed guides with itineraries to help them plan their trip!
Click here to check out the guides
There you go! Multiple options for gifts for RV campers in your life! We have a couple of other gift guides you may want to check out too that share more of our favorite RV accessories:
29 RV Kitchen Accessories and 10 Tips For Your RV Kitchen
Best Gifts for RV Owners – 43 Gifts They Will Love
And here is a video of some of our must-have (more practical ideas versus gift ideas) things for RVers:
DISCLOSURE: This post may contain affiliate links, meaning I get a commission if you decide to make a purchase through my links, at no cost to you. Please read my disclosure for more info.