If you're craving new adventures, the list of things to do in Crater Lake National Park and its dramatic scenery will surely satisfy you.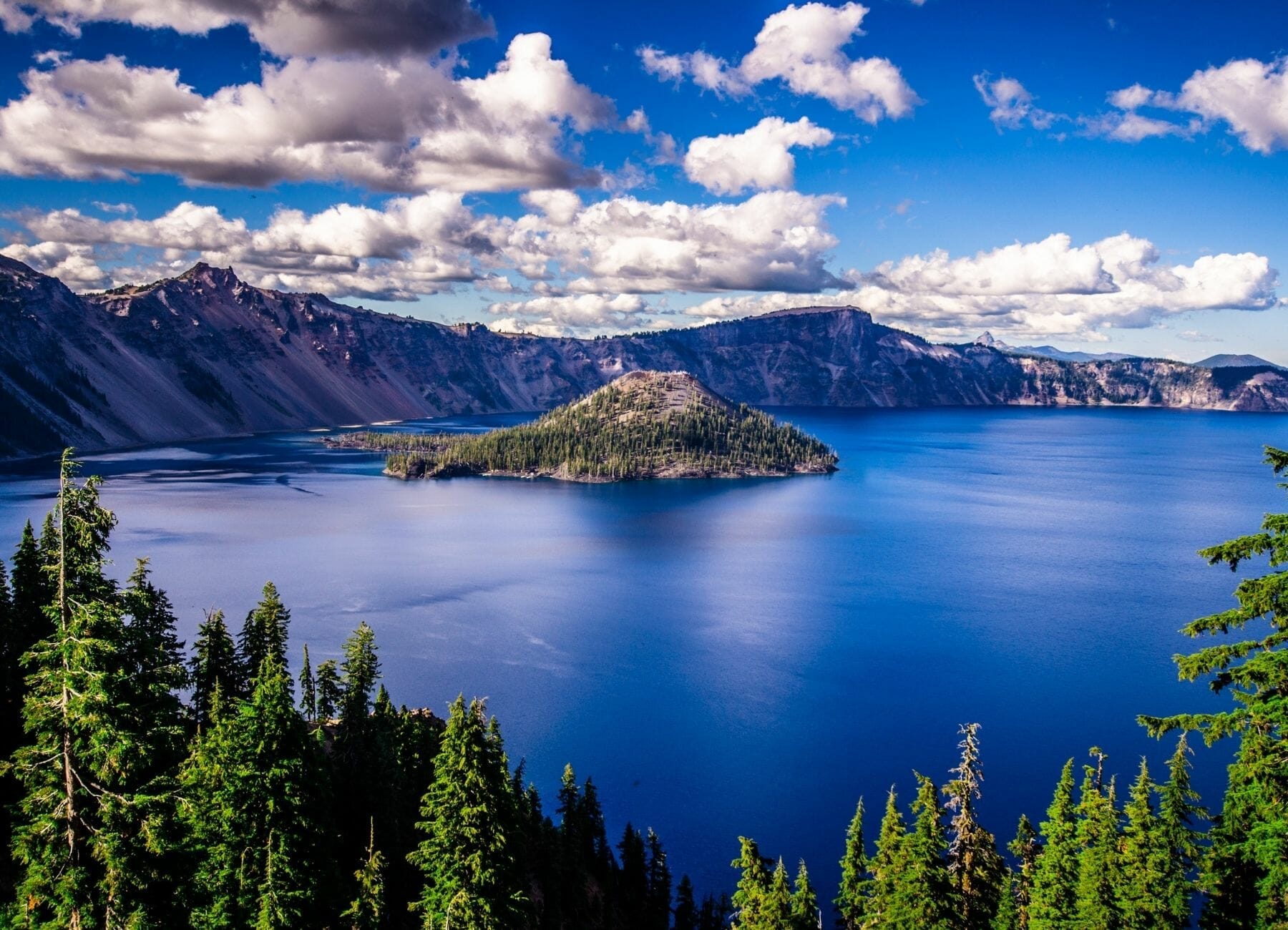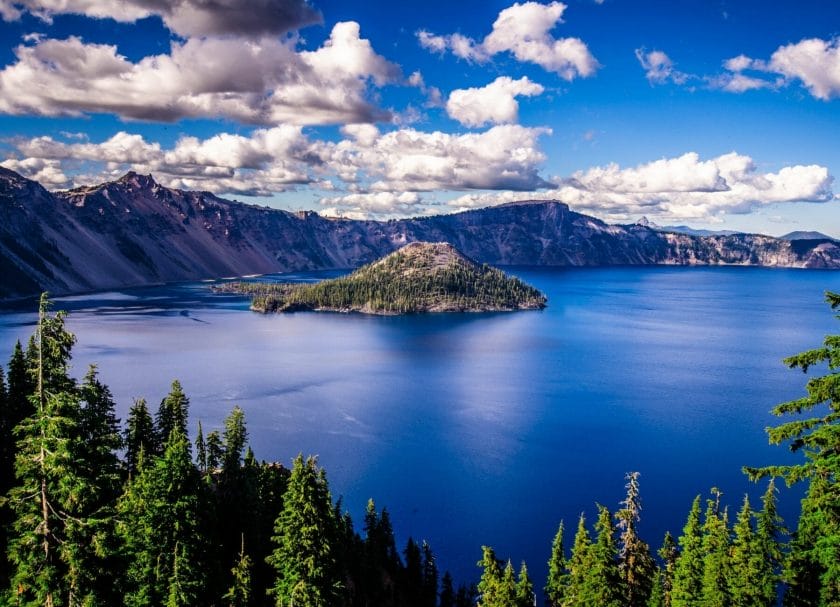 We couldn't wait to get here and explore this National Park. There is no way the water could be THAT blue. It had to be filters on the pictures people were taking. NOPE. It really is that blue.
The moment we saw the water we couldn't believe it. It really looks like someone dropped food coloring in there. I personally have something for beautiful water and I could have sat there all day just starting at it.
The kids weren't having that so we made plans to go out and explore and to take a plunge into the water!! Read on to learn more!!
Learn More About Crater Lake
Crater Lake is the deepest Lake in the United States. It has a depth of 1,943 feet and boasts deep blue waters framed by rocky cliffs. To say that this pristine destination is breathtaking is an understatement.
Aside from being a stunning site, it unofficially holds the world record for being the cleanest large body of water, according to environmental scientists. It sits on a dormant volcano system called Mount Mazama that used to have a peak of 12,000 feet before it collapsed after a major eruption seven millennia ago.
The Phantom Ship and the Wizard Island were born from this fiery eruption. The Wizard Island is a volcanic cinder cone that dominates the water landscape. The eruption left in its wake the calm, intensely blue-hued Crater Lake.
Because of its geologic history, Crater Lake National Park is teeming with volcanic features, many of which are found in Crater Lake itself.
The rest of the park is covered with lush old forests rich with diverse wildlife, a green expanse, rivers, and waterfalls.
This 183,224-acre national park near the town of Klamath Falls in Oregon offers a variety of adventures starting from the scenic drive that leads up to it. Interesting fact: Crater Lake is the only Oregon National Park.
In this article, we'll tell you all you need to know to plan a visit to wondrous Crater Lake.
Getting There
The nearest airport is Eugene Airport, located about 120 miles northwest of the park if you're traveling via air.
The park can be reached by land through the following routes:
Highway 62 in Medford from which you can access the park's west entrance
Visiting from the south in Klamath Falls via Highway 97, then Highway 62
From the north in Eugene via Highway 58 followed by Highway 97, then turn west to Highway 138
From the northwest in Roseburg via Highway 138
We visited on an Oregon coast road trip where you jumped further into the state to visit Crater Lake. We knew we didn't want to miss it! Friends of ours did it in a LONG day trip from Bend, Oregon.
I will say 1 maybe 2 days is plenty of time when you are exploring the park.
Best Time to Visit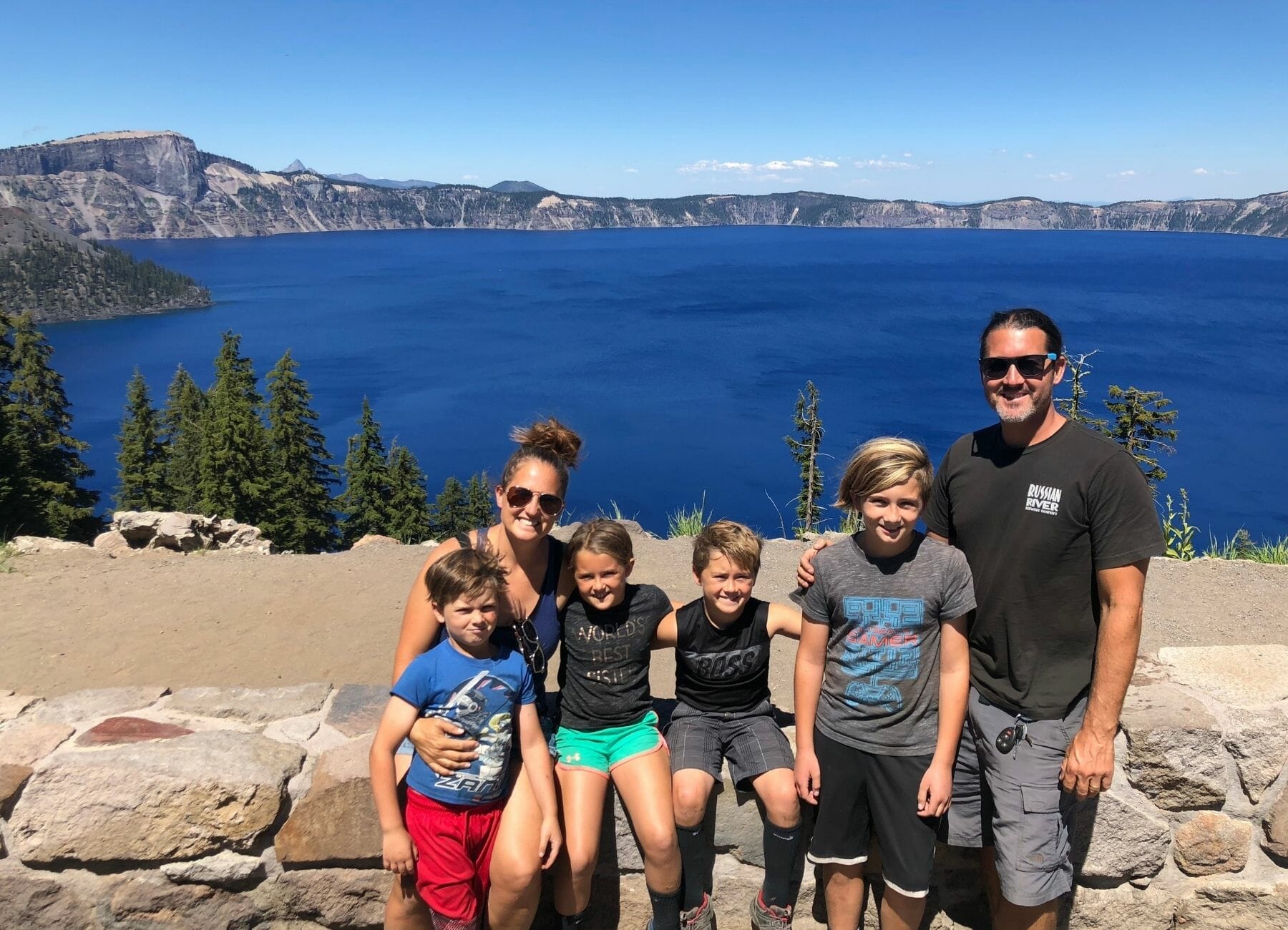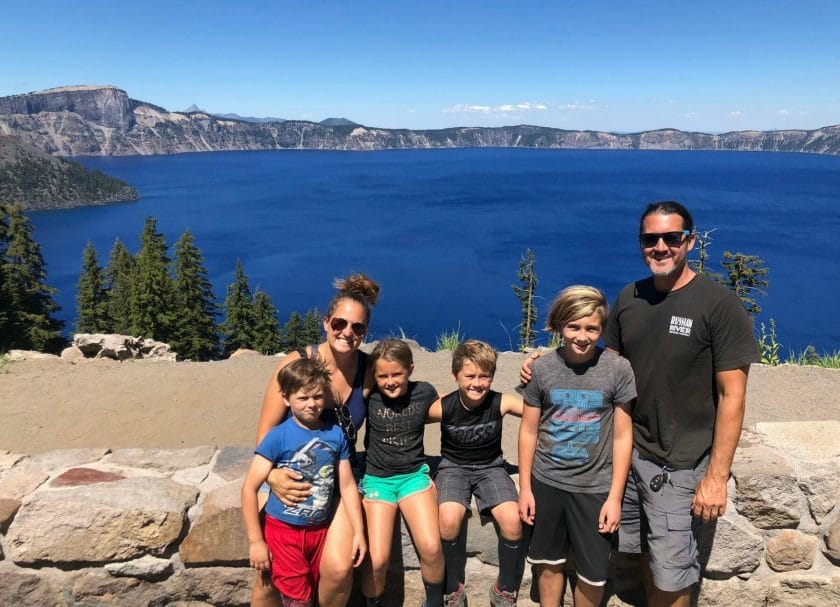 Doesn't the water look fake in this picture?! I promise it isn't!!
We recommend visiting from July to September because that's when all roads, trails, and amenities are fully open to the public. Visiting during other times of the year can mean limited access because of winter snow and lingering frost in the area.
Visiting Crater Lake National Park during the winter months of November to early May is still a good idea despite some closed roads. After all, this is Oregon, and it is as lovely in winter as it is any season.
Year-round Charm
December to February are usually the coldest months, with heavy snowfall and an average of 15 rainy days for each month. It's a great opportunity to see the Lake cloaked in glistening snow while enjoying winter activities.
The Lake itself doesn't usually turn to ice, so the blue water against its white surroundings provides an attractively striking contrast.
During the rest of the year, it's an endless haven for thrill-seekers and those wanting to immerse themselves in relaxing scenery. The trails and roads are fully open, the breeze is warmer, the sun is beaming, the vistas are irresistibly inviting, and Crater Lake looks glorious during sunny days.
Year-round there is something for everyone, whether you're traveling as a family, as a couple, or a solo backpacker.
Things To Do and Places to Visit
There's no shortage of scenery and activities come sun or snow at Crater Lake National Park, which is why it draws millions of tourists every year. It has some of the coolest natural formations, swaths of forests, mountain peaks, meandering waters, and lush flora and fauna.
Recreational Activities During Winter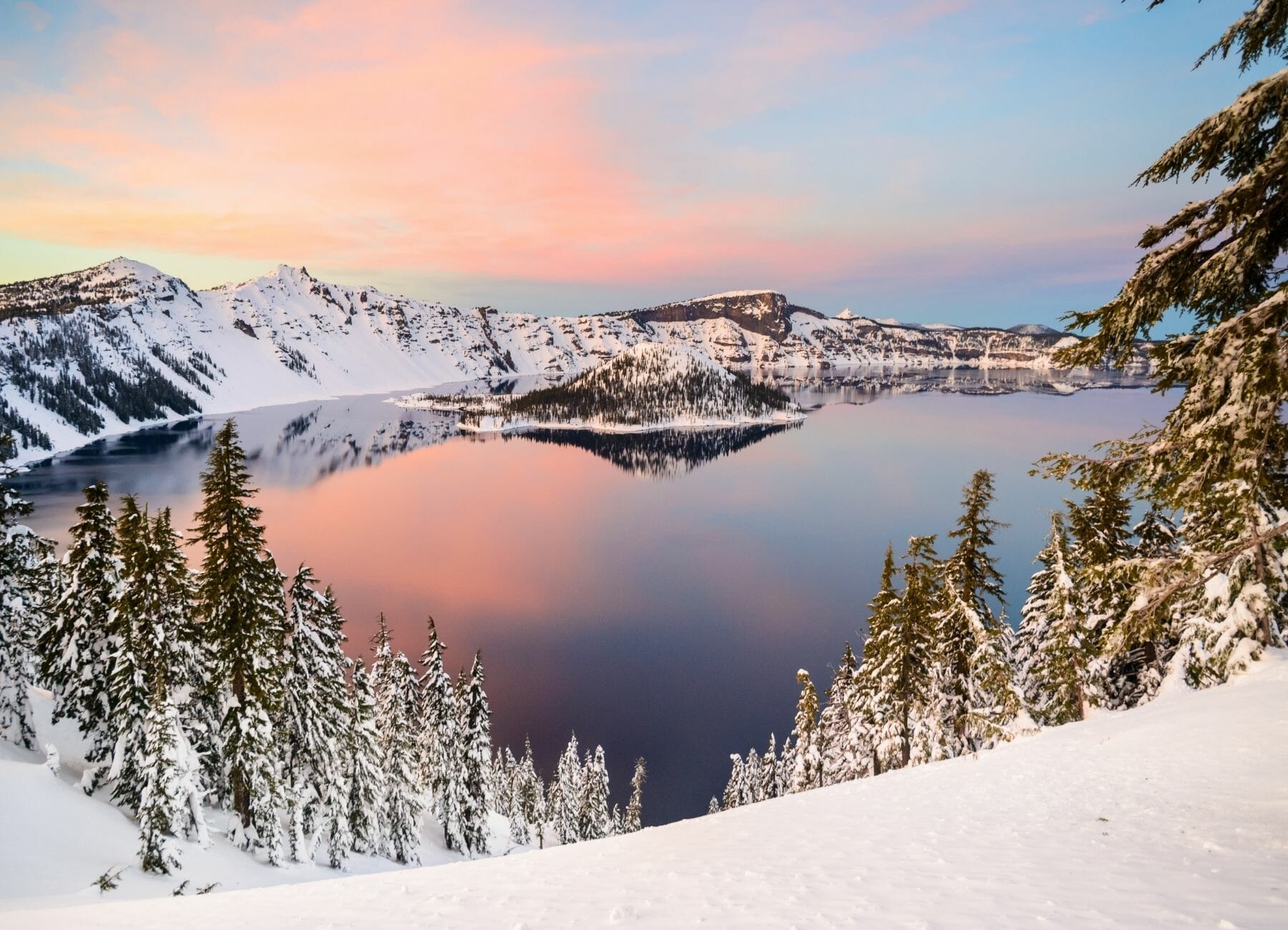 When the snow comes, here are some fun activities you can enjoy in this winter wonderland:
Snowshoe Walks
It's free, ranger-led, and open to 8 year-olds and above. Snowshoe walks are moderate activities that can engage the whole family as you revel in the glistening snow.
It's safe enough for the little ones and enjoyable for adults.
Snowshoes are available for rent.
Skiing
Crater Lake has some of the most exciting and scenic cross-country skiing in the US. Skiing is best done around Rim Drive or through the forests, where you can appreciate its breathtaking views.
You can circumnavigate the Lake wherever it's allowed; however, skiing inside the protected caldera rim is prohibited.
Sledding at Crater Lake
There are many great spots with gradual slopes that are perfect for sledding. You can explore trails and villages where sledding is permitted.
Snowmobiling at Crater Lake
This is best done from December to March. Snowmobiles have a specific 9-mile route that goes from the park's north entrance to the caldera rim.
Note that snowmobiling isn't allowed past the North Junction and other snow-covered parts of the park.
Winter Trail Hiking
Trails like the Discovery Point Trail and the Sun Notch Trail are great for beginners and amateurs.
Easy to moderate hikes are available for the Discovery Point Trail, West Caldera Rim, Hemlock Loop, and Raven Trail.
Backcountry Camping
Various campsites require a permit from November to May, so make your reservation in advance.
The night skies are perfect for stargazing, while the camp facilities provide some modern amenities.
Recreational Activities for the Rest of the Year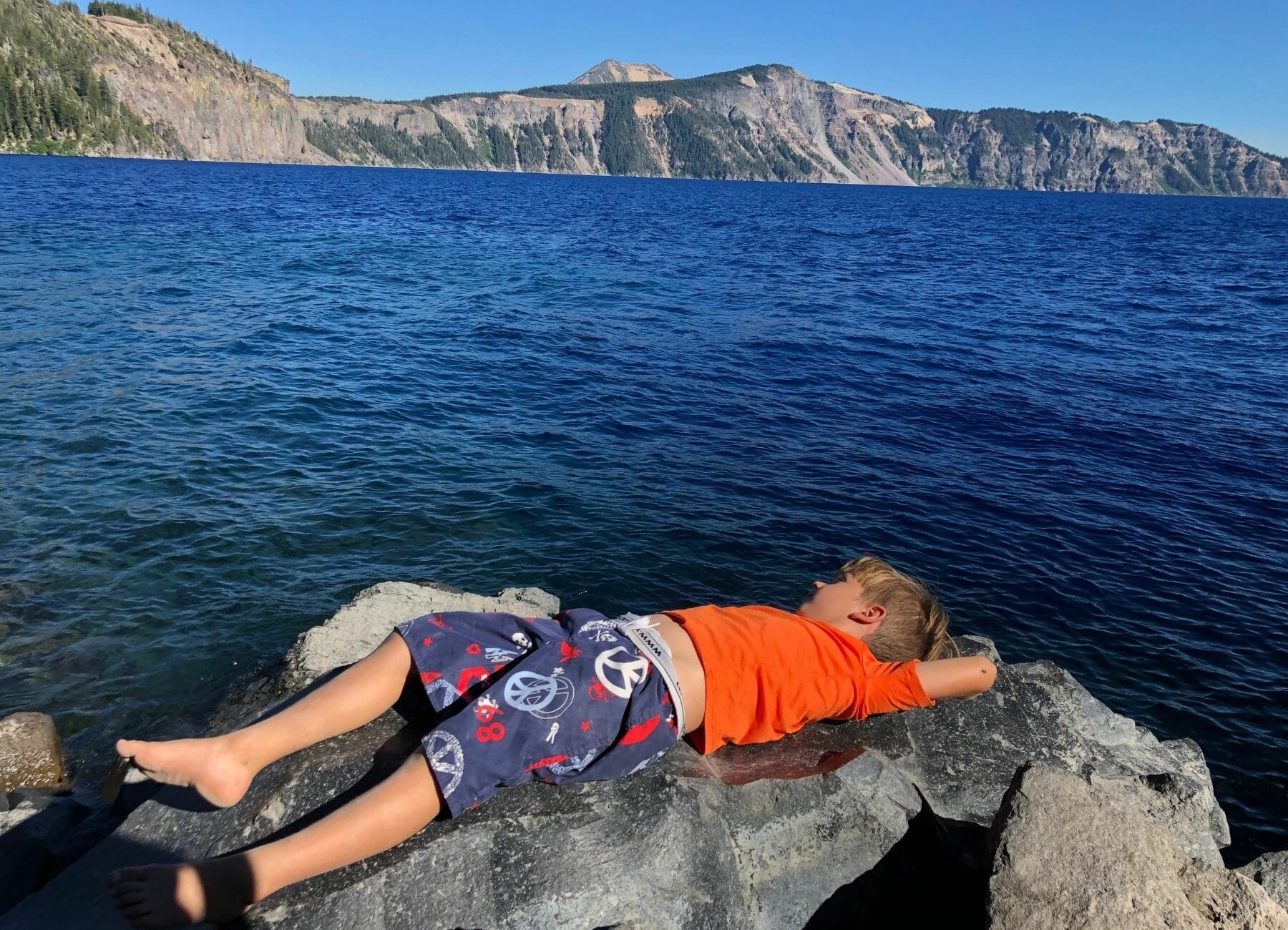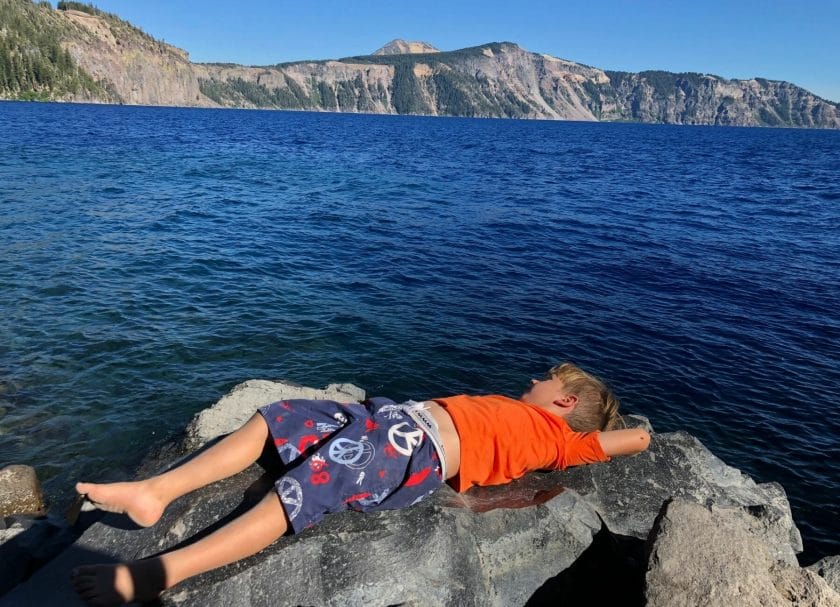 For the rest of the year, here are some popular ways to enjoy the park:
Hike or Bike Along Rim Drive
Rim Drive is a scenic 33-mile route that lets you enjoy magnificent views of the Lake and other trails.
You can park your vehicle, take in panoramic views, and immerse yourself in nature's glorious beauty.
Boat Tours
Led by a ranger during summer, boat tours go around the caldera and go up to Wizard Island. The boat tours allow visitors to admire the lake and its islands up close.
Trolley Tours
This is a more leisurely way to enjoy scenic Rim Drive. Trolley tours have several stops and a ranger onboard narrating facts and stories about the locality.
Hiking Trails
The park offers several hiking trails for all levels. There are kid-friendly routes as well as popular trails that lead you through primeval forests and colorful fields dotted with wildflowers.
Cleetwood Cove Trail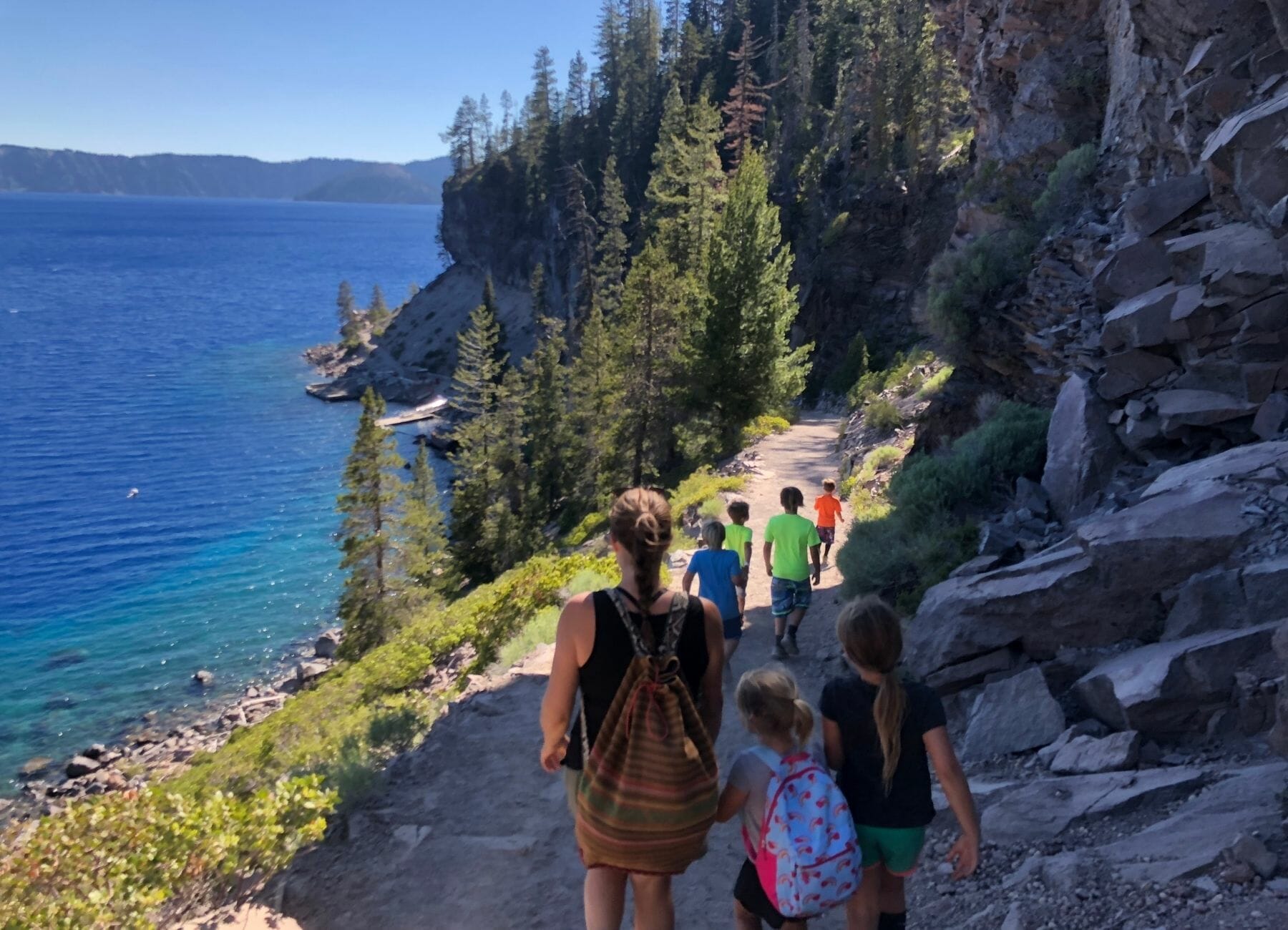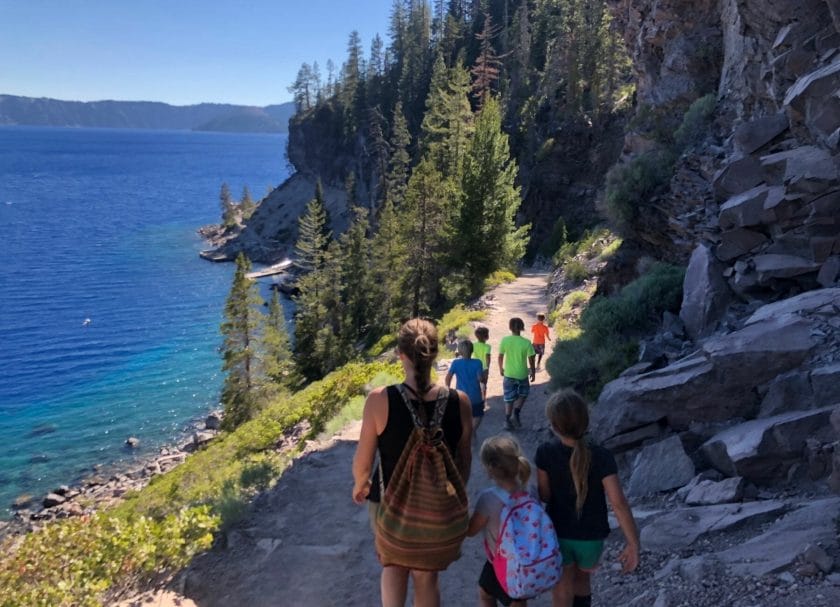 If you only do one hike in the park, this is the one we recommend. It is an easy and beautiful hike on the way down. When going down you go from the rim you were just driving on down to the edge of the Lake.
The hike up is hard as you now have to make your way back up to your car! But it is totally worth it. Just make sure you are in good enough shape to make the hike back up.
Swimming in the Lake
If you want to take a refreshing dip in the Lake, take the Cleetwood Cove Trail. This trail leads to the water once you reach the bottom of the lookout points.
Cliff Jumping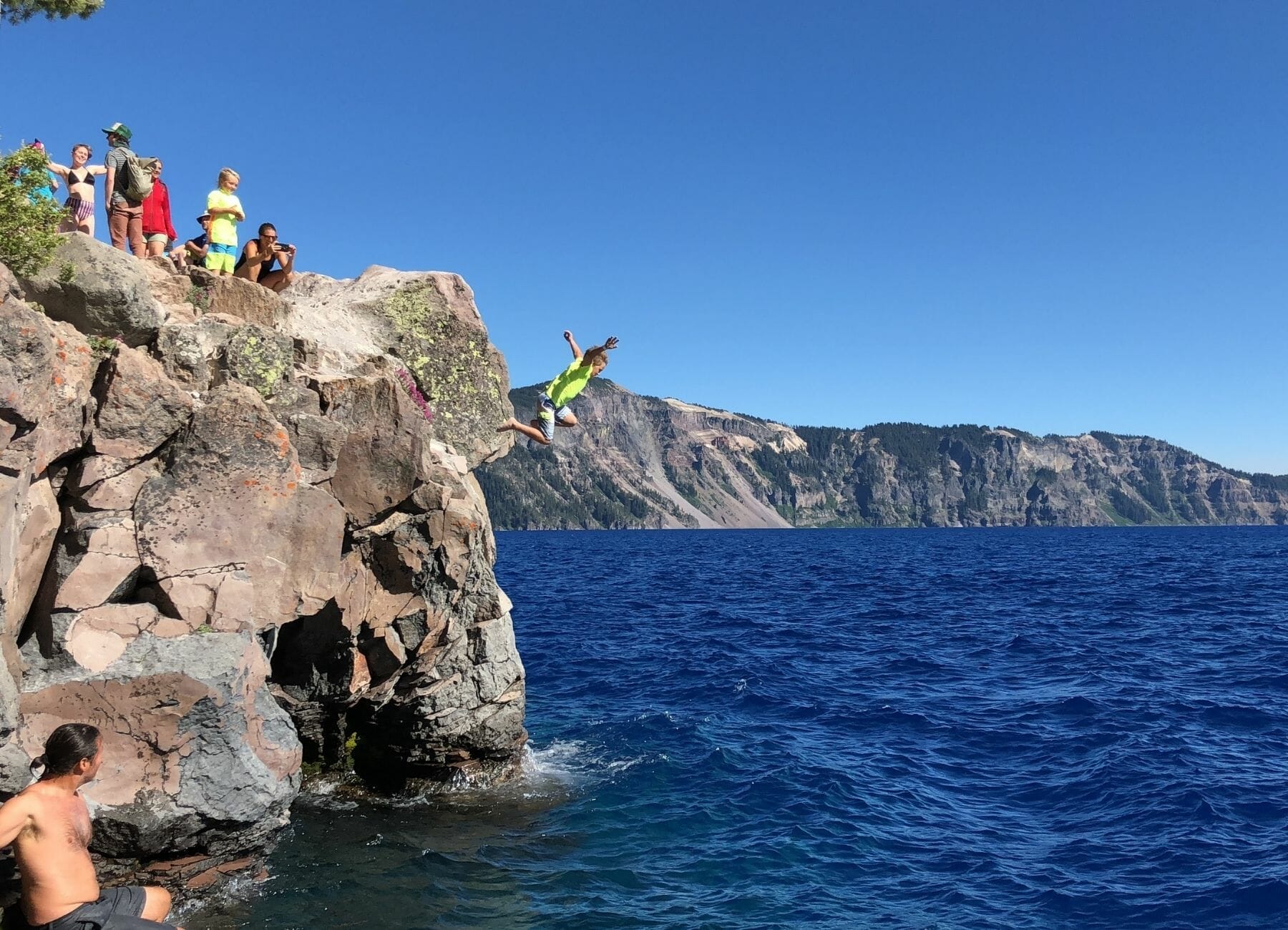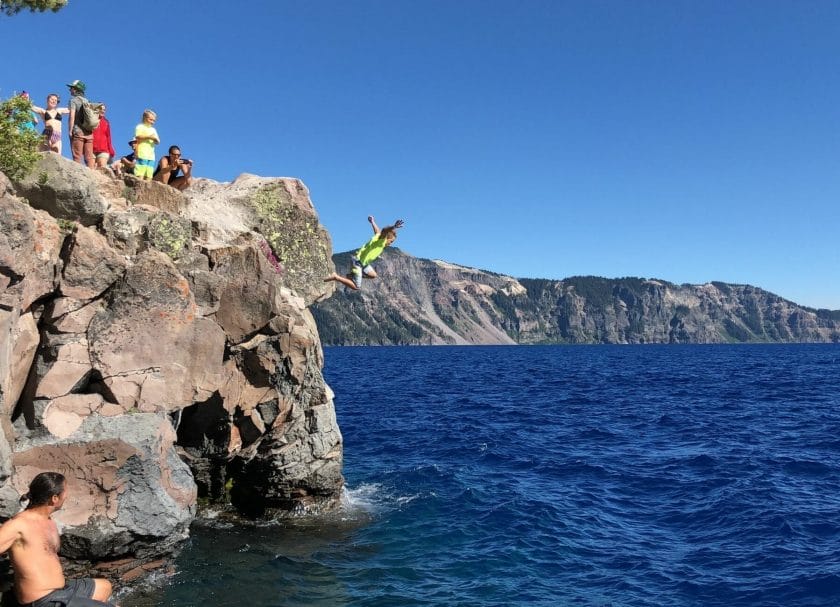 You are also able to jump off the cliff at the end of the Cleetwood Cove Trail into Crater Lake. The water is freezing, so make sure you are in good health and a good swimmer before you do this. Always ask at the ranger station before you go to make sure it is still legal in the park.
Lake Viewing Along Rim Drive
There are various vantage points along Rim Drive where you can marvel at Crater Lake's beauty from different angles.
See the awe-inspiring stillness of Crater Lake as it reflects the blue sky by day and the star-filled sky by night.
Park Attractions You Shouldn't Miss
Outdoor enthusiasts will love the endless scenery and adventures, from hiking trails to waterfalls to various Rim Drive views, forests, and green fields.
Rim Drive
Rim Drive is 7,000 feet above sea level. It loops around the rim of Crater Lake, which has a total of 30 overlooks, providing access to the most scenic spots in the park.
These include Rim Village, Garfield Peak, the Discovery Point Trailheads, Wizard Island, Phantom Ship Overlook, Crater Lake Outlook, Watchman Overlook, Cleetwood Cove, Mount Scott Trailhead, Pumice Castle Overlook, Cloud Cap Overlook, Phantom Ship Overlook, Pinnacles Overlook, Plaikni Falls, Sun Notch, Crater Peak Trailhead, Vidae Falls, the Castle Crest Wildflower Garden Walk.
Just a mile off Rim Drive is Cloudcap Overlook, the highest overlook in the whole park.
Waterfalls
The peaks, winding rivers, and rushing waters have blessed the park with some of the most scenic waterfalls in the country. While here, you'll easily find yourself enjoying views of Vidae Falls, Whitehorse Falls, Toketee Falls, Plaikni Falls, Boundary Springs, and Muir Creek Falls.
Trails
Visiting Crater Lake means discovering various trails that lead to unforgettable scenery, wildlife, and awesome adventures.
The top trails that draw the most tourists are Pinnacles Trail, Discovery Point Trail, Annie Creek Canyon Loop Trail, Garfield Peak Trail, Rim Trails, Cleetwood Cove Trail, and Plaikni Falls Trail.
Where to Eat Inside or Near Crater Lake National Park
What better way to immerse yourself in your destination than by sampling local cuisine?
Add flavor to your adventure by trying out the local restaurants inside the park and in the nearby areas. Here are some places to try:
Crater Lake Lodge Dining Room
This reservation-only fine dining restaurant is located in White City. It offers a chef-curated breakfast and dinner buffet (currently available for lodge guests only). Breakfast is served at its complimentary grab-and-go breakfast bar from 7:00 AM to 9:30 AM.
Dinner starts at 5:00 PM with three menu options. You can also order lunch packs in advance and pick them up between 11:30 AM and 2:00 PM.
This restaurant's menu offers the best of Northwest cuisine. Center Lake Lodge Dining Room uses locally sourced ingredients like fresh seafood, steak, venison, duck, berries, vegetables, cheeses, and mushrooms. It also offers a wide wine selection that you can enjoy alongside breathtaking views of the Lake.
Annie Creek Restaurant
This casual, family-friendly restaurant in Mazama Village offers comfort food, classic country dishes, a salad bar, kid's meals, dessert options, and wine selections.
It is seasonally open and serves lunch from 11:00 AM to 3:00 PM with dinner from 5:00 PM to 8:30 PM.
You can sample dishes like tomato basil soup, Tillamook Caesar Salad, smoked pulled pork sandwichs, fish and chips, as well as pizza.
Rim Village Café and Gifts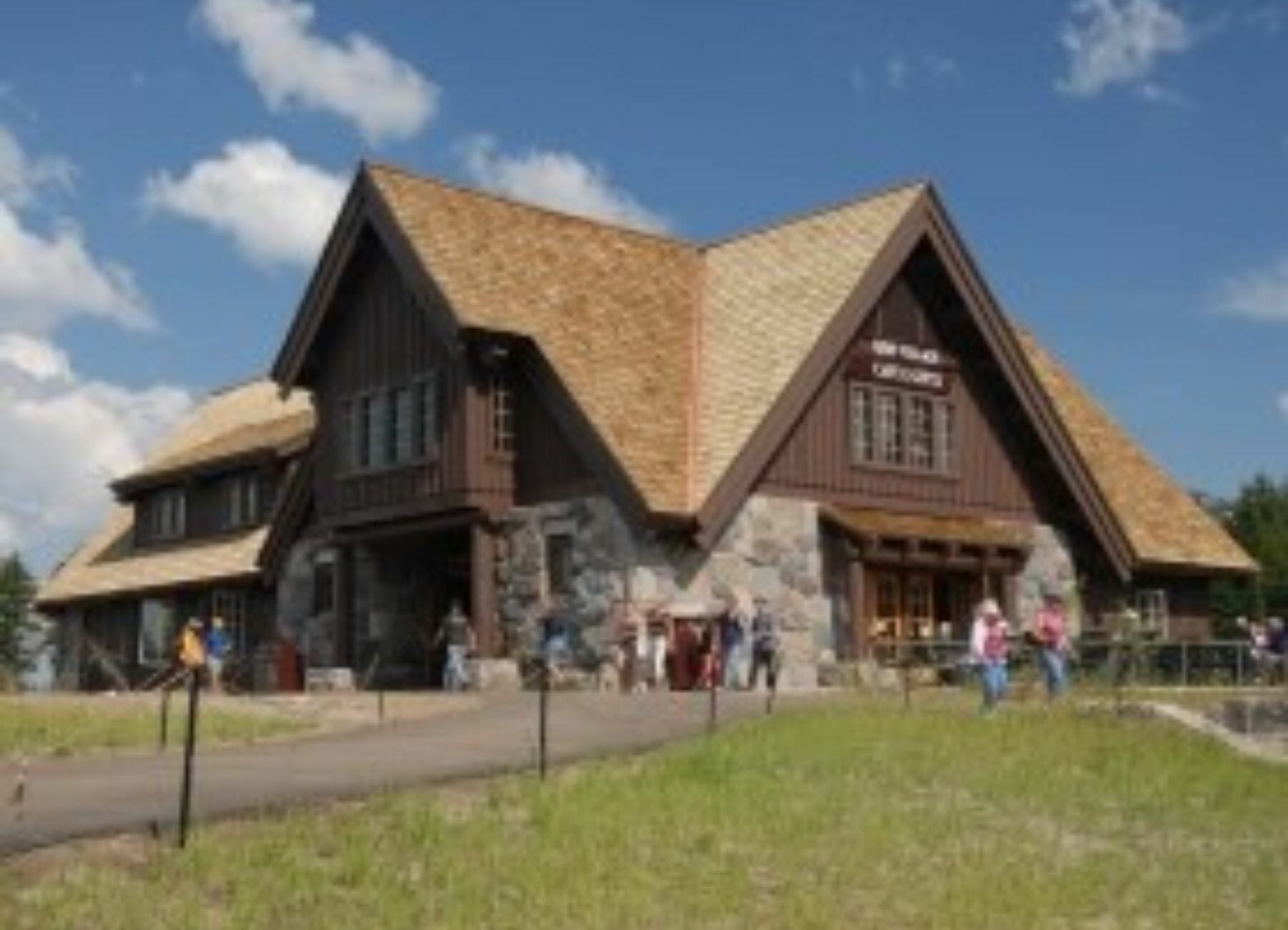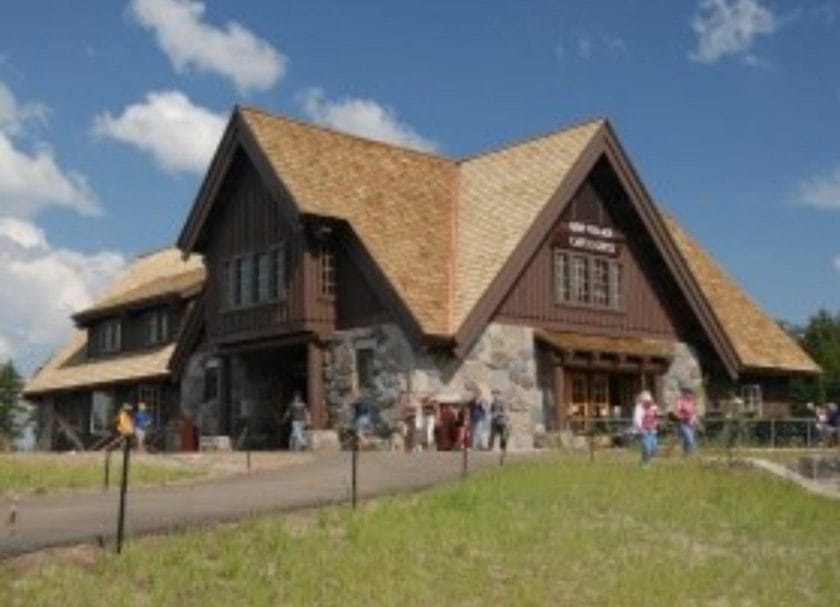 Open year-round except during heavy snow, Rim Village Café and Gifts is located in Rim Village near Crater Lake's north entrance. It's a popular stop for park visitors looking for food and souvenirs.
They sell hearty grab-and-go food selections like salads, sandwiches, hot soups, beverages, and snacks.
Beckie's Café
This rustic diner is located 15 miles from Crater Lake's south entrance, along Route 62 in Prospect. It was built in 1926 by a husband and wife team from Union Creek.
This heritage café is known for its freshly baked homemade pies like classic a la mode, huckleberry, coconut cream, and pies featuring other seasonal fruits.
It also offers all-American staples for breakfast, lunch, and dinner like country-fried steaks, sandwiches, burgers, fries, fish and chips, soups, and more.
Listed in the National Register of Historic Places, it's a popular stop for tourists going to and from Crater Lake and searching for a hearty meal.
Loree's Chalet Restaurant and Lounge
Located along Route 97 in Chelmut, Loree's Chalet offers a wide menu from soups, salads, and sandwiches, to appetizers, entrées, desserts, and beverages.
Their bestsellers include chicken steak, chicken strips, classic beef steak, prime rib, jalapeño poppers, craft coffees, and their classic burgers.
Where to Stay
Plan at least a three-day stay to fully enjoy this gem in southern Oregon. You can choose from several accommodations with various amenities to suit your tastes.
Most are seasonally closed, so make your inquiries and reservations well before your trip. Here are some of your lodging options:
This stately and historic hotel has 71 guestrooms and a rustic and elegant ambiance. Crater Lake Lodge has a majestic fireplace in the grand lobby that offers stunning views of the Lake, peaks, forests, and hiking trails. It also has a fine dining restaurant called Crater Lake Lodge Dining Room.
The hotel was opened in 1915 by American journalist William Gladstone Steel in partnership with real estate developer Alfred Parkhurst. After President Theodore Roosevelt declared Crater Lake a national park in 1902, the lodge was designed to accommodate tourists visiting the conservation area.
Crater Lake Lodge was designed to withstand harsh seasons while providing relaxing and tasteful lodging for visitors. Some of its amenities include complimentary wireless internet, business center services, laundry services, a gift shop, a nearby camper store and fuel station during summer, and a full-service restaurant with a complimentary breakfast bar.
Seven miles south of Rim Village, The Cabins at Mazama Village are perfect for a relaxing stay after a day of hiking, trekking, or boating. The rustic vintage interiors pay homage to the local history, culture, and nature.
Cabins offer basic amenities that blend well with the quiet, serene environment and the Ponderosa pine trees in the area. With an elevation of 6,000 feet, you can enjoy the fresh cool mountain breeze.
It has a total of 10 cabins, each with an en suite bath. Nearby amenities include Annie Creek Restaurant and Gift Shop and the Mazama Village Store, which sells camping goods, grocery items, fuel, and firewood.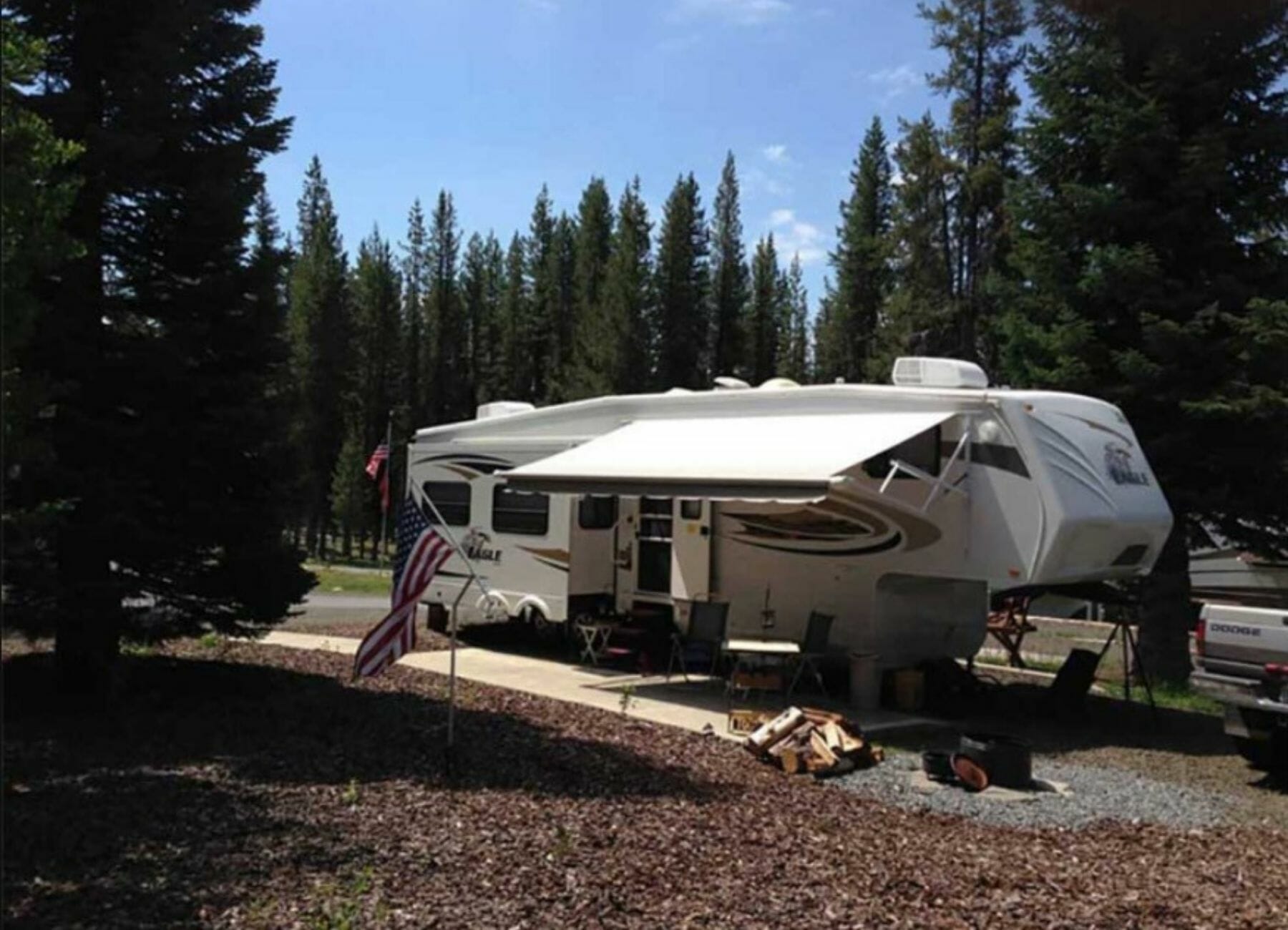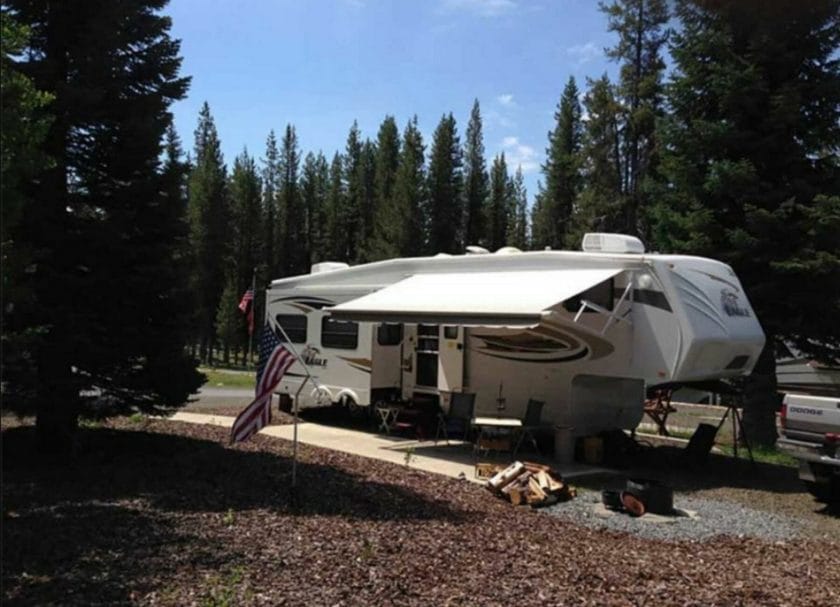 This contemporary family-friendly resort along Resort Drive Diamond Lake is a year-round destination that offers summer and winter recreational activities. It also has an RV park in Diamond Lake Loop.
Diamond Lake Resort offers 38 motel rooms, 10 studio units, 33 two-bedroom cabins, a family cabin with 4 bedrooms, 4 vintage cabins, and a retreat cabin.
This site is located in the forest, off the park's south entrance, and 7 miles from Rim Village. Here, you can immerse yourself in nature by pitching a tent or parking your RV.
Crater Lake National Park is also famous for the dazzling night skies that make it perfect for stargazing enthusiasts. The Mazama campsite can serve as your base as you explore the park's trails and sights.
Mazama Campground has 214 sites in all that are equipped with restrooms, food lockers, potable water, picnic tables, fire rings, and dumping stations.
Rates range from $5 to $42 depending on the services you want to avail of.
With idyllic mountains and river views, Crater Lake Resort in Chiloquin City, Fort Klamath offers many types of accommodations in the Courtyard and River View areas.
They have family tents, Comfort Cabins, Deluxe Cabins, Family Cabins, and more. All their accommodations have beds, heating, fans, toiletries, TVs, and private bathrooms.
The pet-friendly resort offers free parking, wireless internet in public areas, laundry services, and housekeeping. There's also a convenience store, library, conference space, fire pits, and picnic areas.
Also located in Chiloquin, Klamoya Sleep Inn & Suites is a modern hotel with a fitness center, casino, business center, banquet facilities, and an indoor pool. They offer wireless internet and complimentary American breakfasts.
Each spacious room comes with modern comforts like a flat-screen TV, a coffee machine, comfy beds, and an en suite toilet and bath.
Guests can also enjoy free parking, a lounge area, housekeeping, a hot tub, a spa, and a wellness center, as well as access to recreational activities.
Forty-four kilometers from the park's south entrance lies Melitas Crater Lake, a hotel with 24-hour front desk service, Wi-Fi, outdoor picnic areas, free parking, and other amenities.
Each guestroom has comfortable beds, a flat-screen TV, a mini-fridge, and a private bathroom.
If you're looking for a private place for your family or a small group, this charming home in Shady Cove is a good option. It offers lovely views of half an acre of cedars and pines as well as wide green meadows that lead to the Rogue River.
This vintage home comes with a fully functioning kitchen, large beds, closets, a shower and bathtub, and spacious front drive parking that can accommodate RVs. It's also just a block away from parks, groceries, restaurants, and shops.
Shady Cove River House is a great place for some fly fishing, water rafting, hiking, and biking.
Offering a park-like setting, this pet-friendly campground offers a heated swimming pool and wireless internet in the main building. There's also a playground, bathrooms, a general store, a dog park, and access to laundry services.
On-site, you can enjoy basketball with an ice cream station nearby.
Before You Go: Visit the World's Cleanest, Clearest Large Body of Water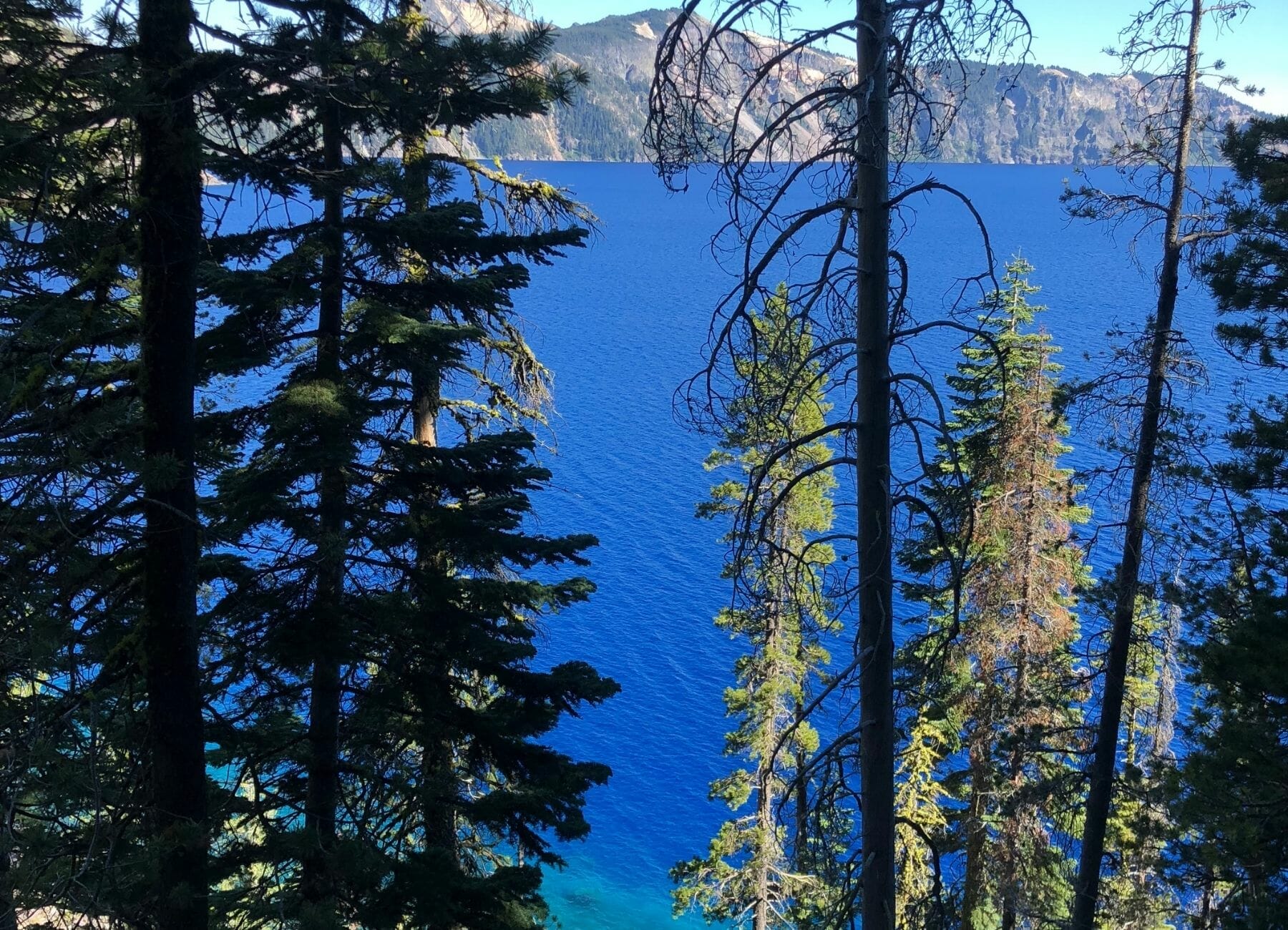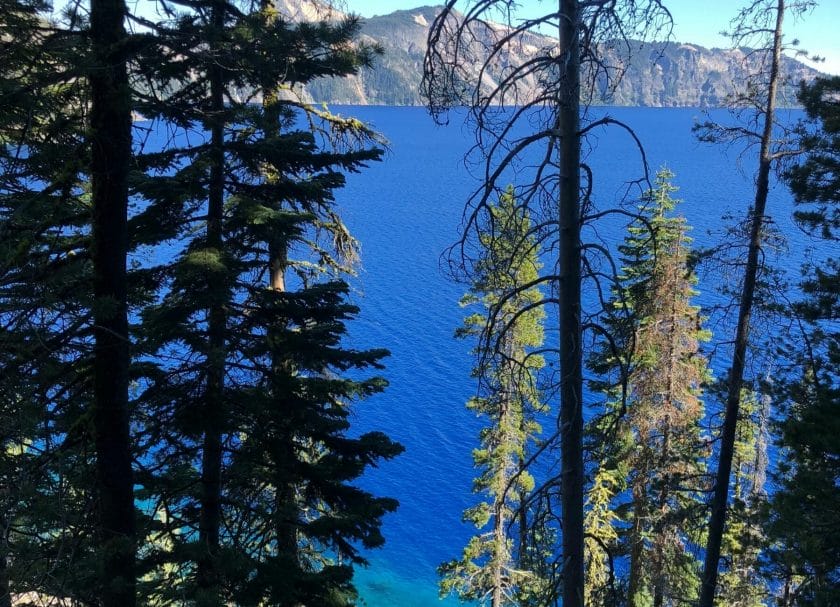 Known for the Lake's deep blue color and purity, Crater Lake and the surrounding area are must-visits for outdoor enthusiasts and nature lovers. Whether in the winter or other times of the year, you'll find a wide selection of activities filled with unforgettable views to satiate your wanderlust.
Crater Lake is a wonderful place to visit on your own, with your partner, with family, and with a group of friends. No matter how you choose to experience it, its spectacular beauty will stay with you for a long time even after you've left.
More Info Check Out:
23 Fun Things To Do In Bend Oregon [Plus where to stay]
7 Best Oregon Coast Camping Spots & 20 Things To Do
How To Spend 3 Amazing Days In Mckenzie River Oregon
21 Best Oregon Waterfalls You Will Want To Visit
26 Oregon Coast Road Trip Stops You Don't Want To Miss
Pin This Post: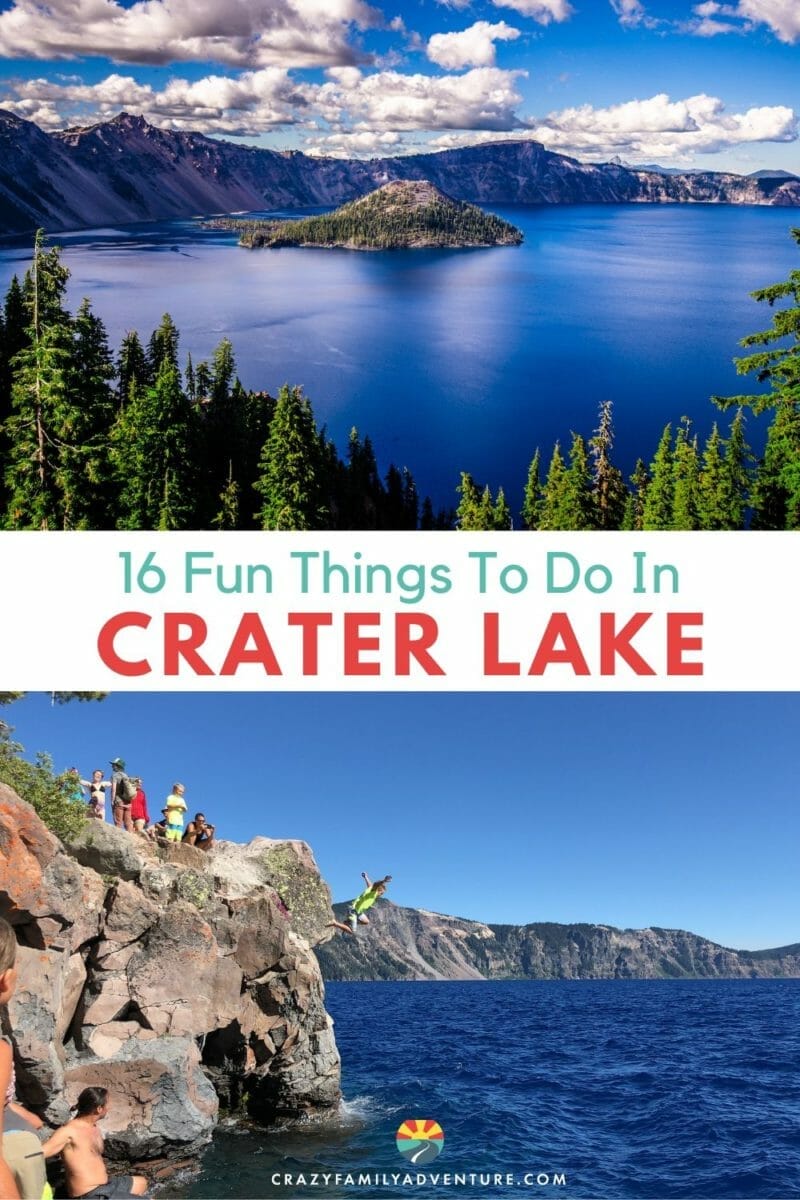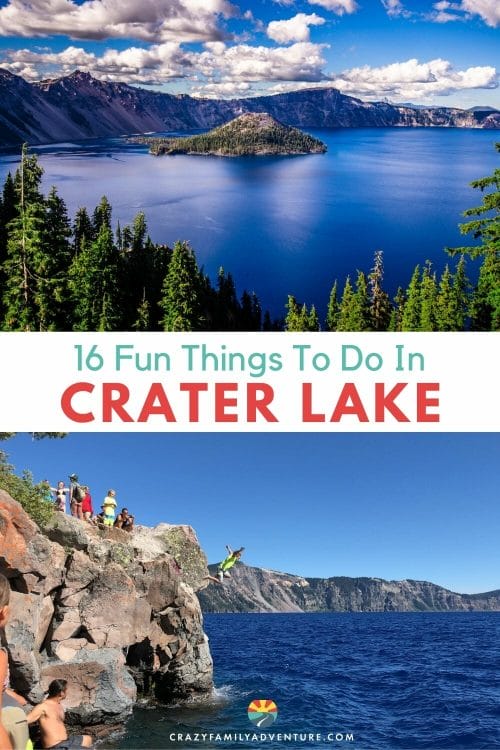 DISCLOSURE: This post may contain affiliate links, meaning I get a commission if you decide to make a purchase through my links, at no cost to you. Please read my disclosure for more info.